Have you heard of Kilkee, Ireland or the Loop Head Peninsula before? For a truly off the beaten path thing to do in Ireland, check out our guide for visiting.
Without a doubt, Ireland is famous for its dramatic cliffs and seascapes. Places like the Cliffs of Moher and the Ring of Kerry attract millions of visitors each year, and with good reason – it's absolutely beautiful.
However, as popularity increases in these gorgeous places everyone wants to get a glimpse of for themselves it's getting harder and harder to find unheard of or empty destinations with dramatic landscapes that leave you in awe.
We never heard of Kilkee Cliffs or Loop Head Peninsula before our visit to Ireland. So, when we went, we came without any expectations. We ended up leaving feeling like we stumbled upon one of the most beautiful, pristine places on earth without the crowds.
With a small population and protected environment so that no development can happen along dramatic cliffside scenery, find out why Kilkee Ireland and the Loop Head Peninsula should be on your radar.
Best Things to Do in Kilkee, Ireland
Visit the Kilkee Cliffs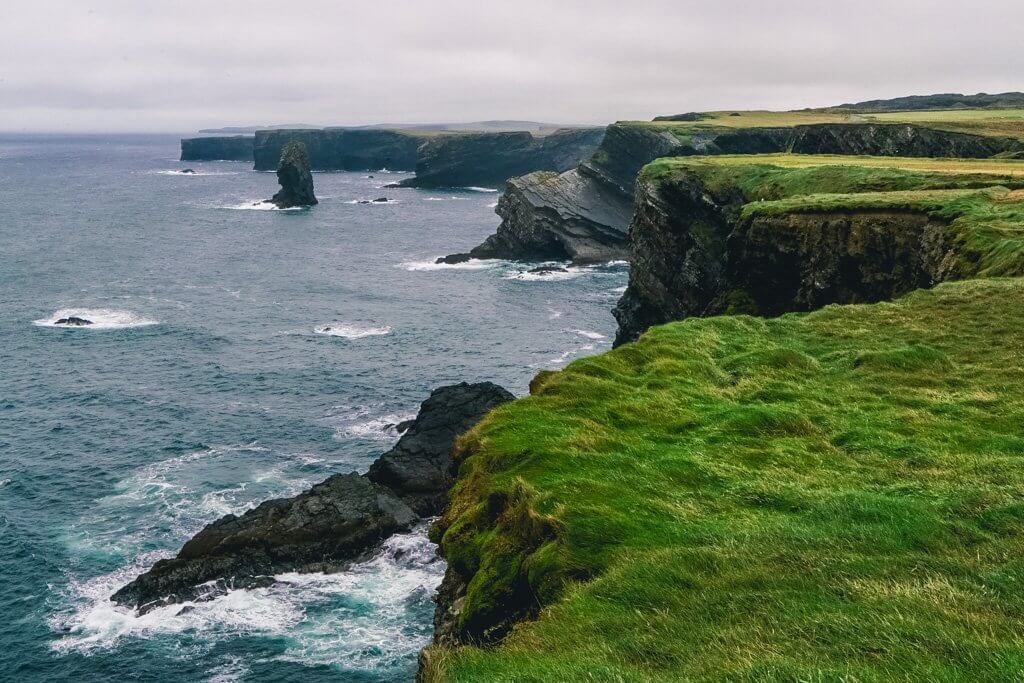 The Kilkee Cliffs give Cliffs of Moher a run for their money. Just as dramatic and insanely terrifyingly beautiful are the rock walls hundreds of feet high that just emerge out of the Atlantic Ocean and without any crowds.
Drive or walk along Loop Head Drive for the unobstructed, protected views of the coastline with the intensely massive Kilkee Cliffs. We recommend stopping the car and walking because you do not want to be distracted while driving next to those cliffs.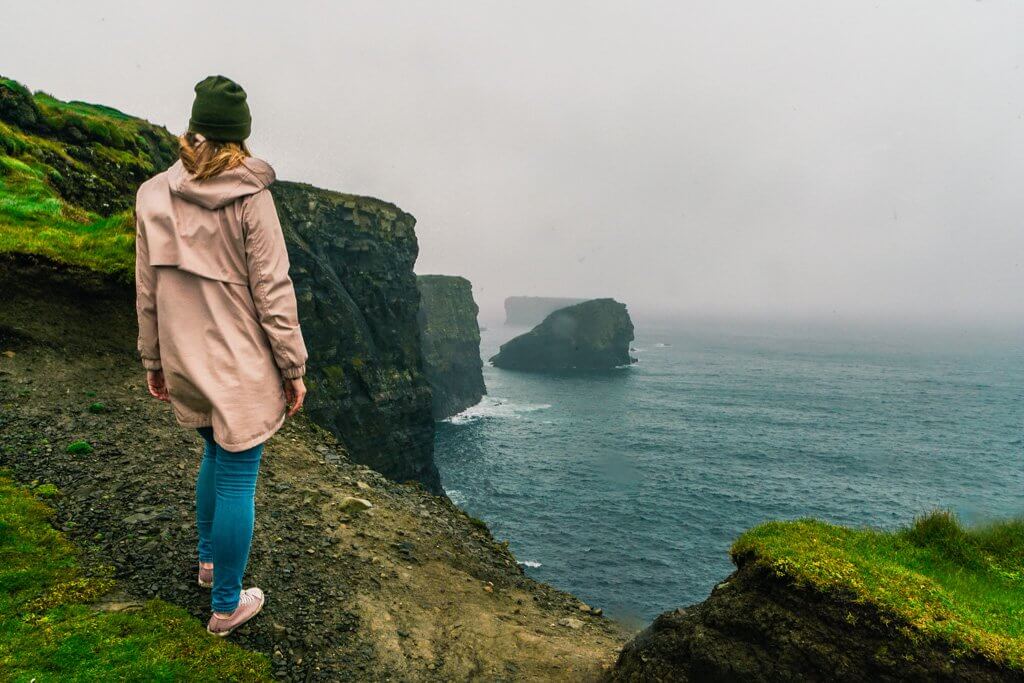 There is a designated parking area where the walking path is. Do not just stop there, get back in your car and continue down the road for more incredible scenery. This is where you will want to pull off to the side of the road for more photos.
Instead of homes built overlooking the insane views, there are cow pastures with what must be the happiest cows on earth. If you only have time to see one set of cliffs during your trip, make them the less traveled Kilkee Cliffs.
Enjoy the Small Towns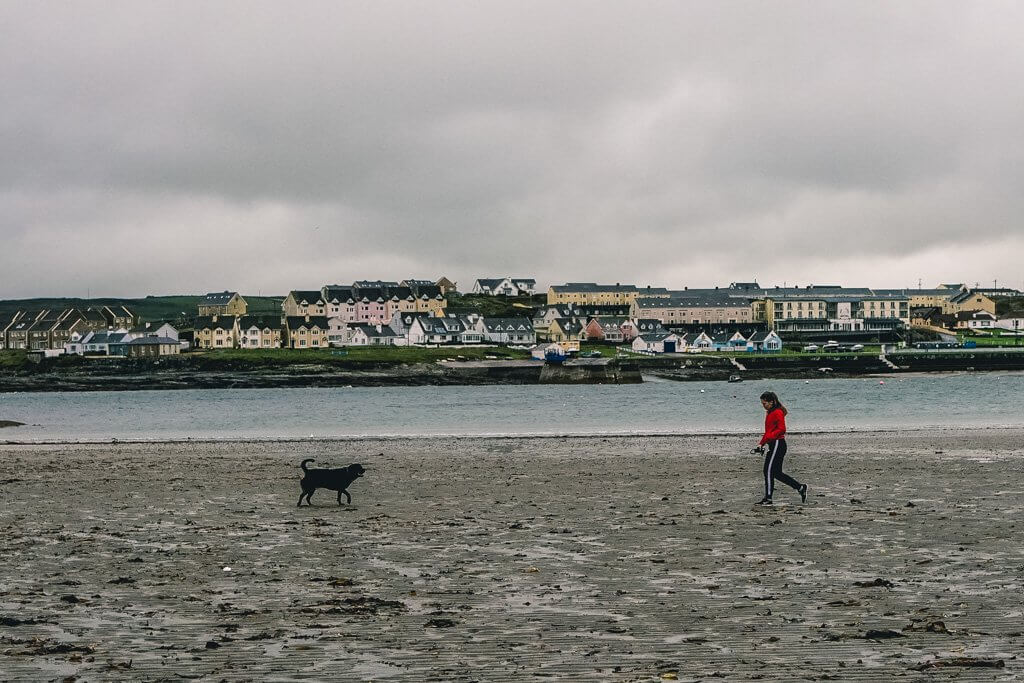 Kilkee, Ireland is Loop Head's main town with a population of just over 1,000 people. You can sense the small town charm immediately in this small fisherman village.
Besides Kilkee, you can visit Kilbaha, Carrigaholt, and Riverside. All of which have an even smaller population and are just a few minutes drive away.
There's something about small towns, and even more specifically small Irish towns and their friendly locals. Overall, Irish people have been incredibly warm, welcoming, talkative, and friendly. And here you can absolutely find that.
The locals here are proud of their hometown and take pride in sustainable tourism. They also are welcoming and easy to strike up a conversation with.
This is something you just don't get anywhere and something we really enjoyed while visiting Kilkee, Ireland.
Don't Miss Trying the Seafood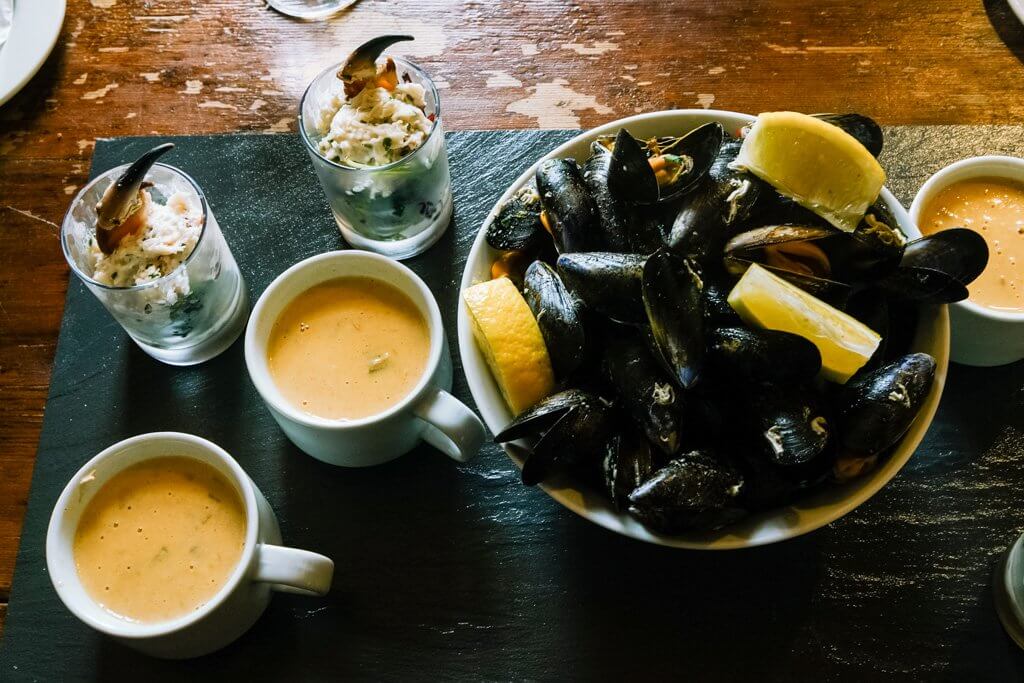 We have had our fair share of delicious seafood in Ireland traveling along the Wild Atlantic Way. However, we have found our favorite restaurant in the country and some of the best seafood we have ever had the privilege of eating at the Long Dock in Carrigaholt.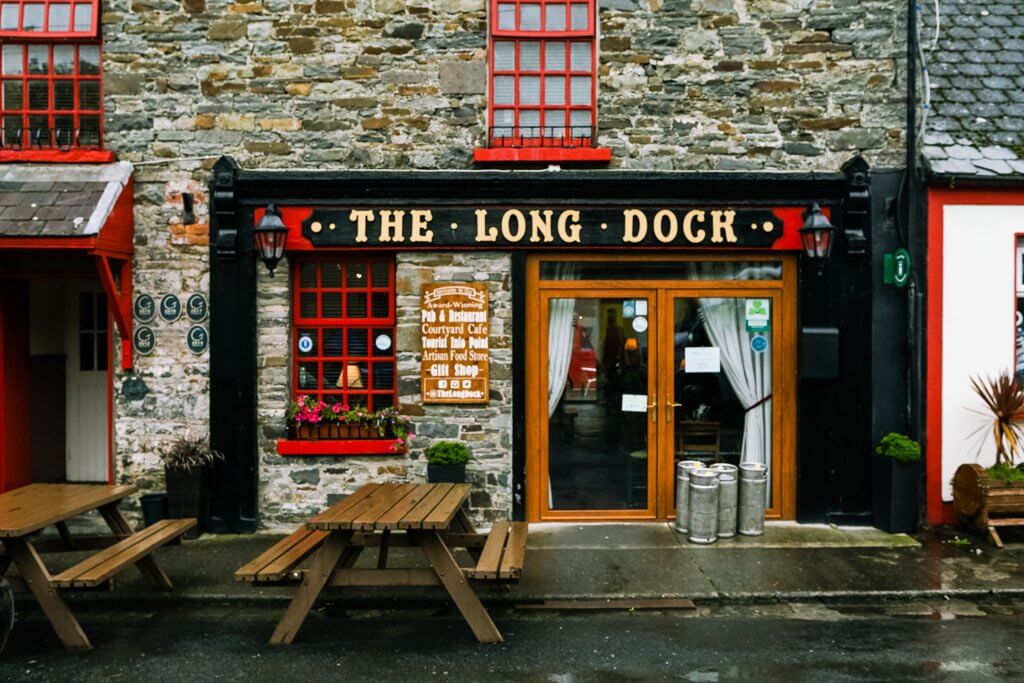 The Long Dock is run by a couple who sources all of their food locally. The cozy pub environment with the peat burning fireplace is the perfect cozy setting for the chilly rainy Irish weather like we experienced the day we visited.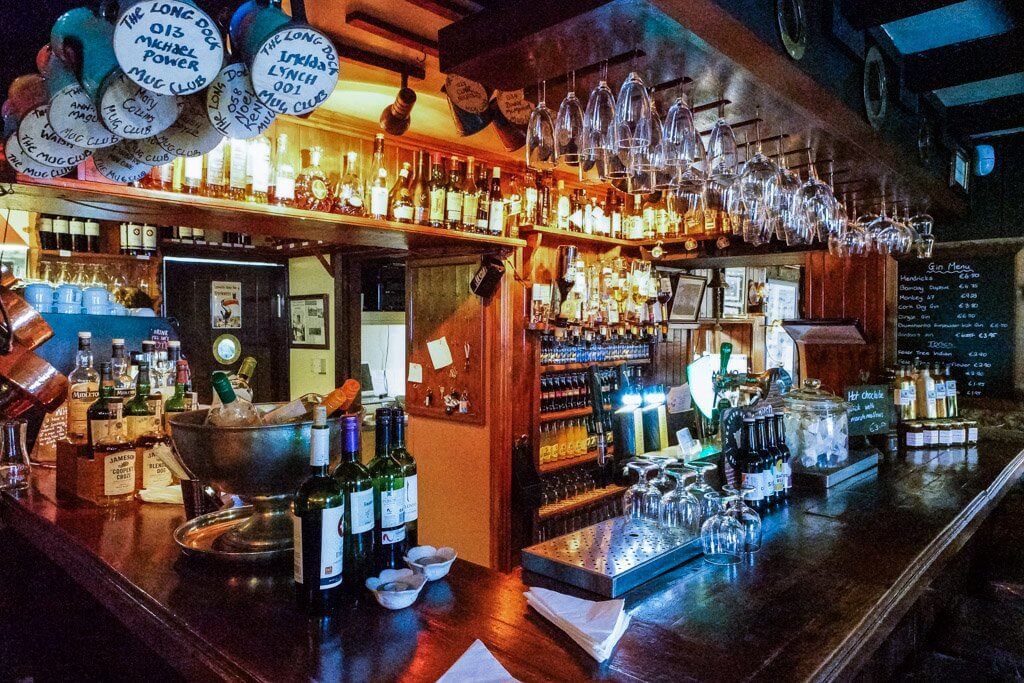 We sampled our way through their menu with a group of 11 other travelers, and we all agreed in unison that the seafood and food here were out of this world.
There will rarely ever be a full house as our local guide explained there are only about 60 people who live in Carrigaholt. Although, the locals from the other nearby fishing villages do come here as it's just a short drive and everyone is like family on the Loop Head Peninsula.
The husband and wife duo were also a pleasure to be around and to treat us like the locals who also have dined here for years. Although, it would be impossible for visitors to join their "Mug Club," you can see ceramic mugs hanging above the bar with names written on the bottom.
These are for the locals in the club who meet once a month over pints of their favorite drink. We asked if we could join, and Imelda cheerfully and politely said they were closed for enrollment.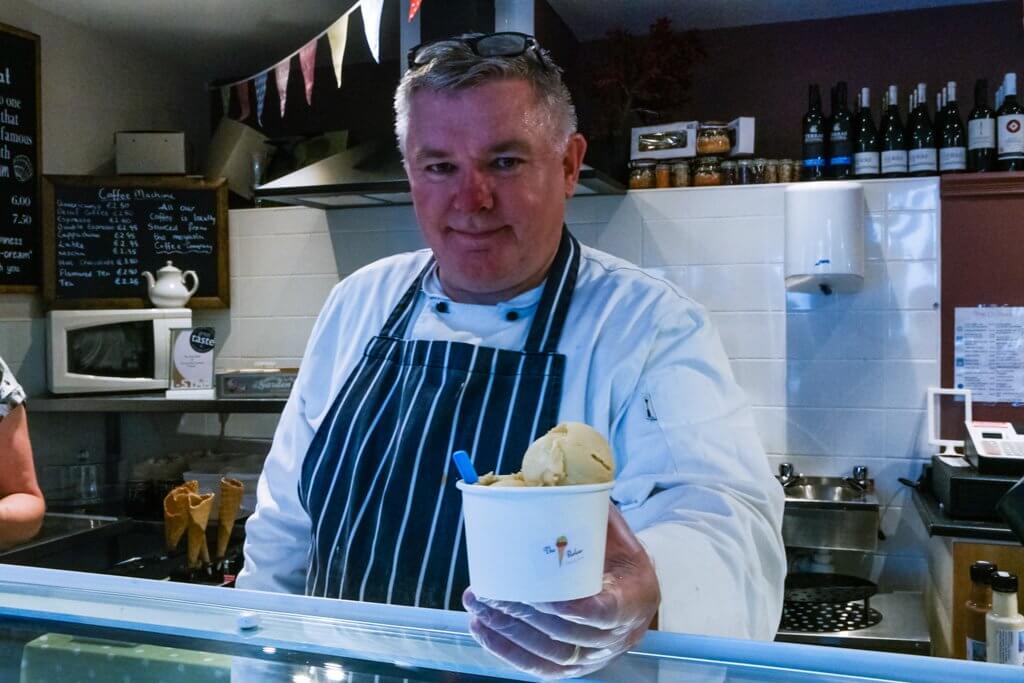 If the Long Dock couldn't get any better we discovered they made homemade ice cream in the parlor out back. Everyone in our group found enough room to fit in a cone or cup of their delectable flavors. My favorite was the Lemon Cuddles and Scott's was Salted Carmel.
If we could give the Long Dock our own version of a Michelin Star, we would. This is a restaurant worth making a trip for.
Check out some Star Wars Filming Locations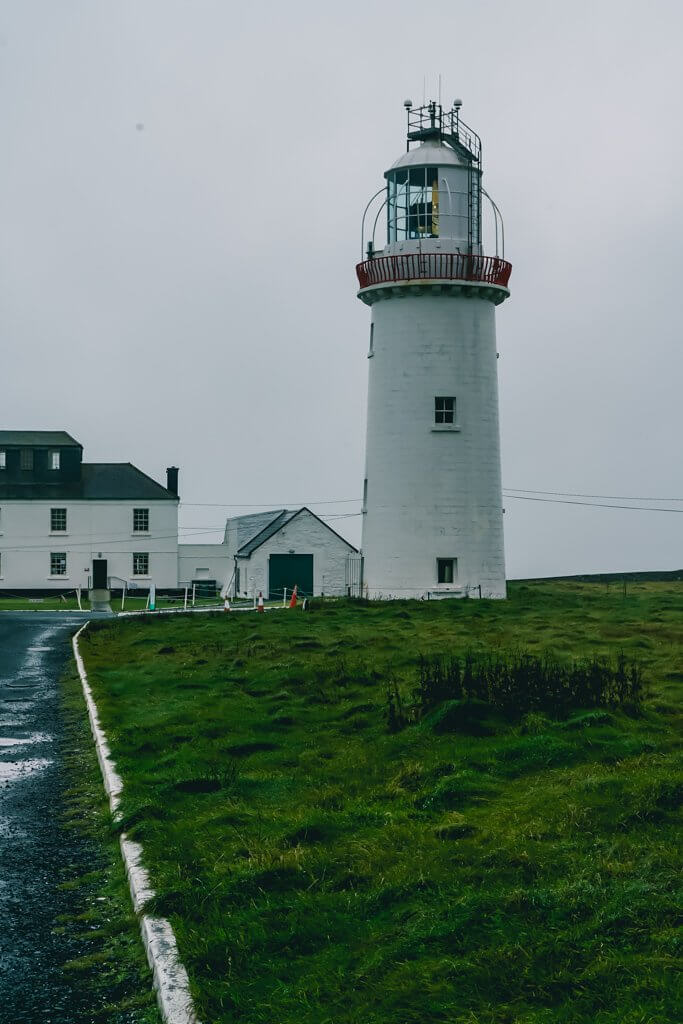 If a location is good enough to be featured in a Star Wars film, you know it must be good. The lighthouse at Loop Head Peninsula just a few minutes drive from Kilkee, Ireland was another filming location for Episode 8 The Last Jedi.
While during our visit you could barely see much due to the wind and rain, we used our imagination a bit a tried to imagine what our favorite new Star Wars characters would be doing in a place like this.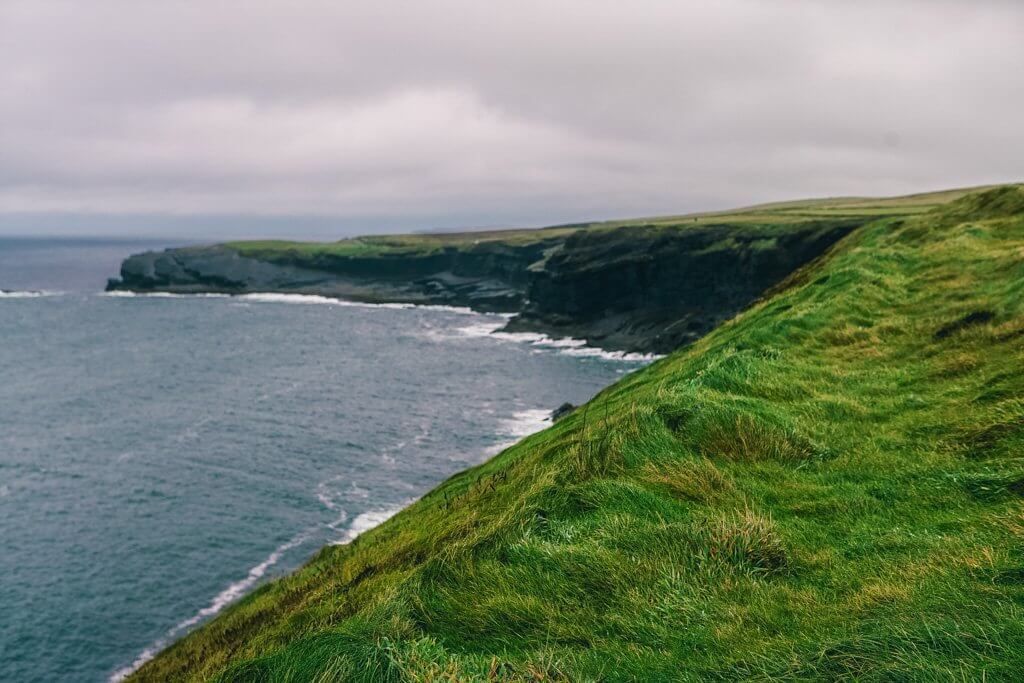 Movies like Star Wars and the popular "Game of Thrones" have inspired a whole new and successful swarm of tourism. Skellig Michael, where the final scene from the Force Awakens was filmed has already become even more difficult to visit. Besides the limit on daily visitors, the weather can get too rough for a visit.
We missed Skellig Michael due to weather and time of year but we did make it to the other filming locations in Dingle. Needless to say, we were excited to find out while visiting Loop Head Peninsula that this was also a Star Wars filming location.
Explore the relics in Kilkee, Ireland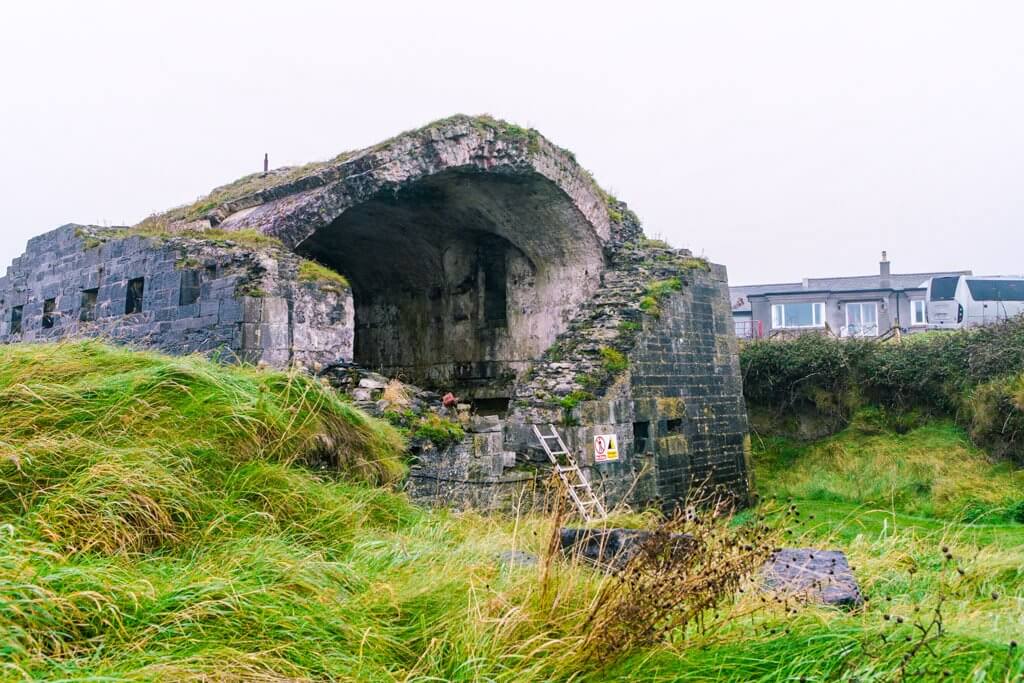 You can spot ruins and other relics of history all throughout Kilkee, Ireland and the Loop Head Peninsula. From Carrigaholt Castle ruins to shipwrecks, fairy forts, a wooden church on wheels with an interesting story, to the Napoleonic Sea Battery at Doonaha Fort, there's so much to see.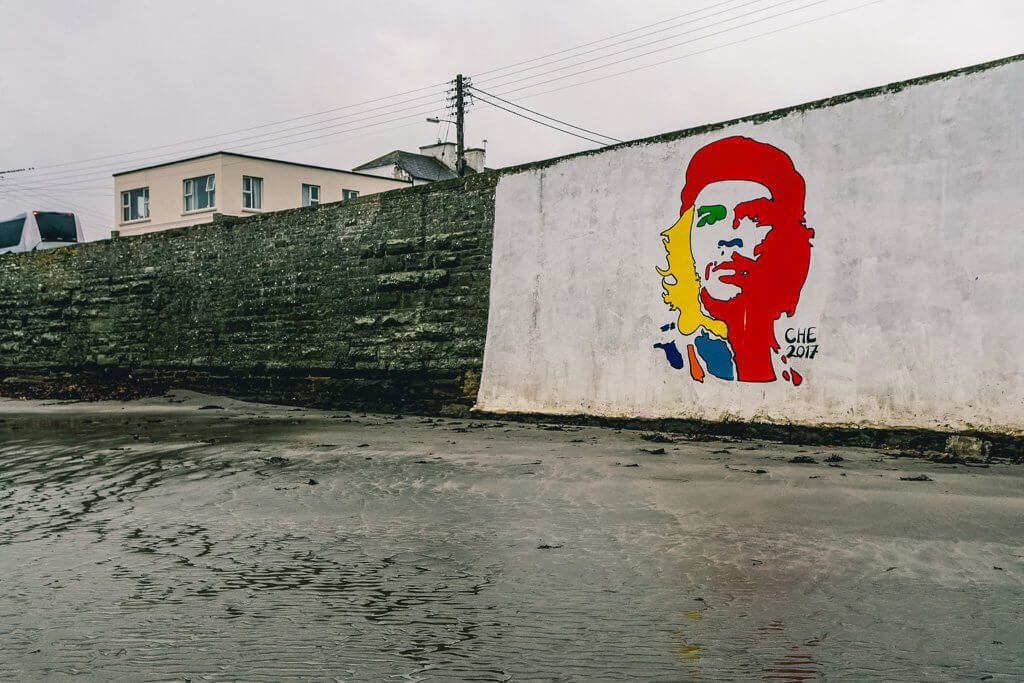 There is so much to learn and explore in this area for history buffs. Just about anyone will find something interesting to find, like the symbolism behind all the Che Guevara murals around Kilkee Ireland.
We recommend getting a private tour with Emerald Irish Tours to see and learn more about the historical and cultural sites in the area.
Take in all the Nature and Adventure in Kilkee, Ireland
Besides the obvious;y gorgeous Kilkee Cliffs there are quite a few options in and around the Loop Head Peninsula for every type of adventure and nature lover.
For nature lovers, you have bird watching, scenic walks, dolphin watching, horseback riding, to sea angling with local fishermen.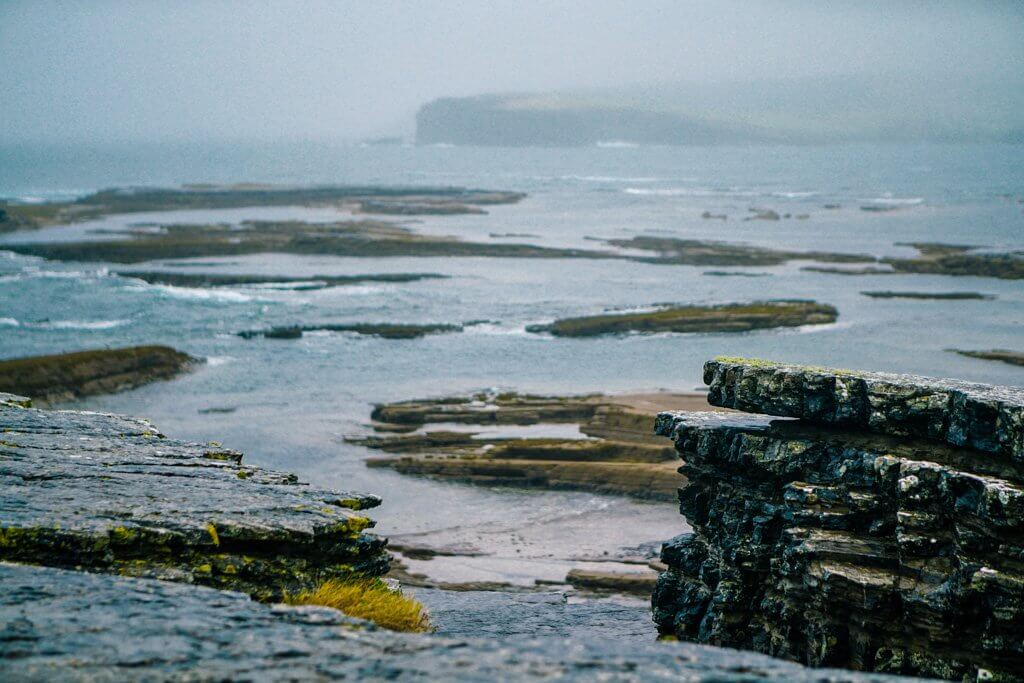 For the ones, a little more adventurous you can go sailing, kayaking, windsurfing, paddle boarding, coasteering, rock climbing, surfing, or even snorkeling or diving in the chilly Atlantic waters.
Do a Wellness Retreat
Kilkee, Ireland is also a fantastic place to visit for wellness. Loop Head Peninsula is known for having some of the freshest air in Ireland and after taking a scenic walk along the cliffs you can't help but feel refreshed and rejuvenated, even on the days where the weather isn't exactly participating.
The area is also known for its seaweed. Besides using seaweed in recipes and food for its health properties you can enjoy Thalassotherapy or seaweed therapy. From seaweed wraps, baths, to facials you can find many different treatments to suit you at the Kilkee Thalassotherapy Centre.
If you're looking for even more relaxation and healing then you can go glamping at a yoga retreat at Pure Camping. The retreat is completely eco-friendly on a farm surrounded by woodland and even an ancient ring fort. Sleep in a dome tent or cabin, watch for the local wildlife during the day, spend your evenings around a campfire, and of course yoga.
This is something we would love to come back for. We were lucky enough to spend the morning with the owner of Pure Camping and regret not knowing about this sooner!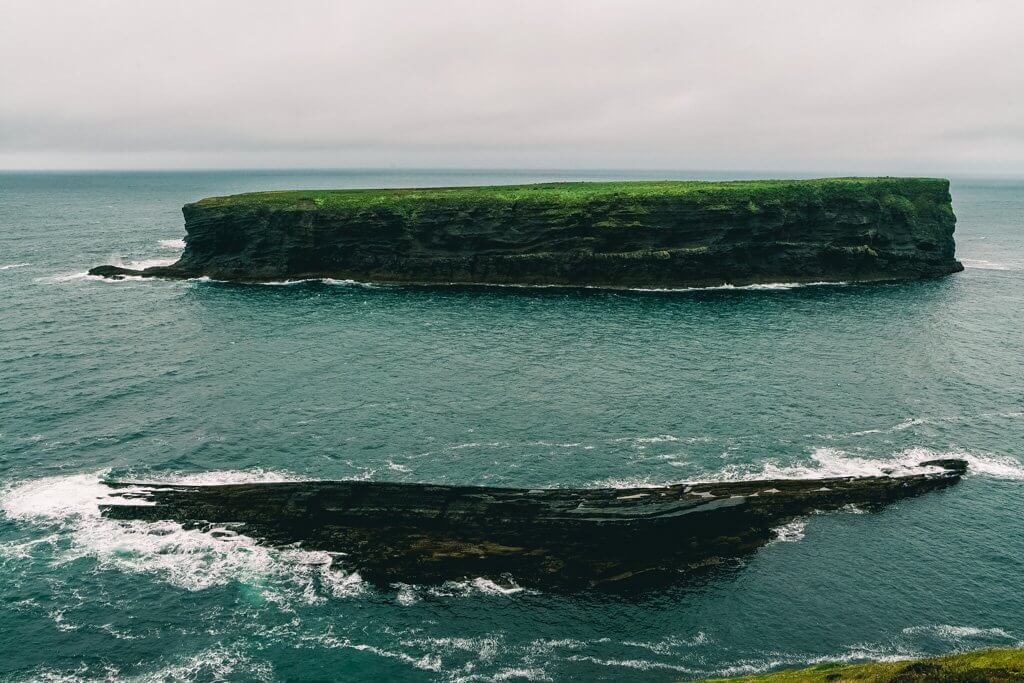 Where to Stay in Kilkee, Ireland
We recommend staying in the heart of Kilkee overlooking Kilkee Bay at Stella Maris Hotel. The family-run hotel offers spacious rooms and fine dining options. Breakfast is included and some rooms even offer sea views.
Check rates and availability here and read TripAdvisor reviews here.
For more places to stay in Kilkee, check below
---
Don't just take our word for it. The Loop Head Peninsula has already won awards and continues to put effort towards sustainable tourism.
The locals are sharing their land with visitors while protecting the land and continuously working towards responsible tourism.
We fell in love with the area. We also appreciate the efforts put forth by the locals to protect their home as well as open it up for visitors. If you're planning a trip this way be sure not to miss Kilkee, Ireland.
Liked this post on Kilkee Cliffs and the Loop Head Peninsula? Share the love on Pinterest below.