Brrr…winter is here and you need a break from the cold. Good thing there are several sunny and warm winter vacations in the USA you can get a much-needed break from the darkest of winter days for a much-needed dose of Vitamin D and recharge to get you through the rest of this sluggish season.
Don't get me wrong, we love winter, but at a certain point and too many weeks of low light, grey skies, slush, and cold weather can get to anyone, even winter enthusiasts. That's why we always try to book at least one trip towards the middle to end of winter (we know the spring season and those mild days can take her sweet time getting to us) to some of the warmest places in the USA in winter!
Whether you live in a destination that gets all four seasons like us or you live in one of the warmest places in the USA in winter and are looking to avoid the cold, this guide is for you!
Without further ado, here are some of the best warm vacation spots in the US to check out whether you only have a 2-3 day weekend escape or a whole week to get away for some sunshine and mild weather organized by state.
Disclaimer: This post contains commissionable links at no extra cost to you.
Warm Winter Getaways in USA: Alabama
Alabama is a great spot for a warm winter getaway in the US because the state has relatively mild weather, especially the further south you go in Alabama closer to the Gulf of Mexico.
The typical weather along the Gulf of Mexico in Alabama stays mild, sunny, and typically dry averaging anywhere between the 50s – 70s during the day in the winter to lows staying above freezing making it an increasingly popular destination for snowbirds (and anyone who wants a warm winter vacation spot in the US!).
Gulf Shores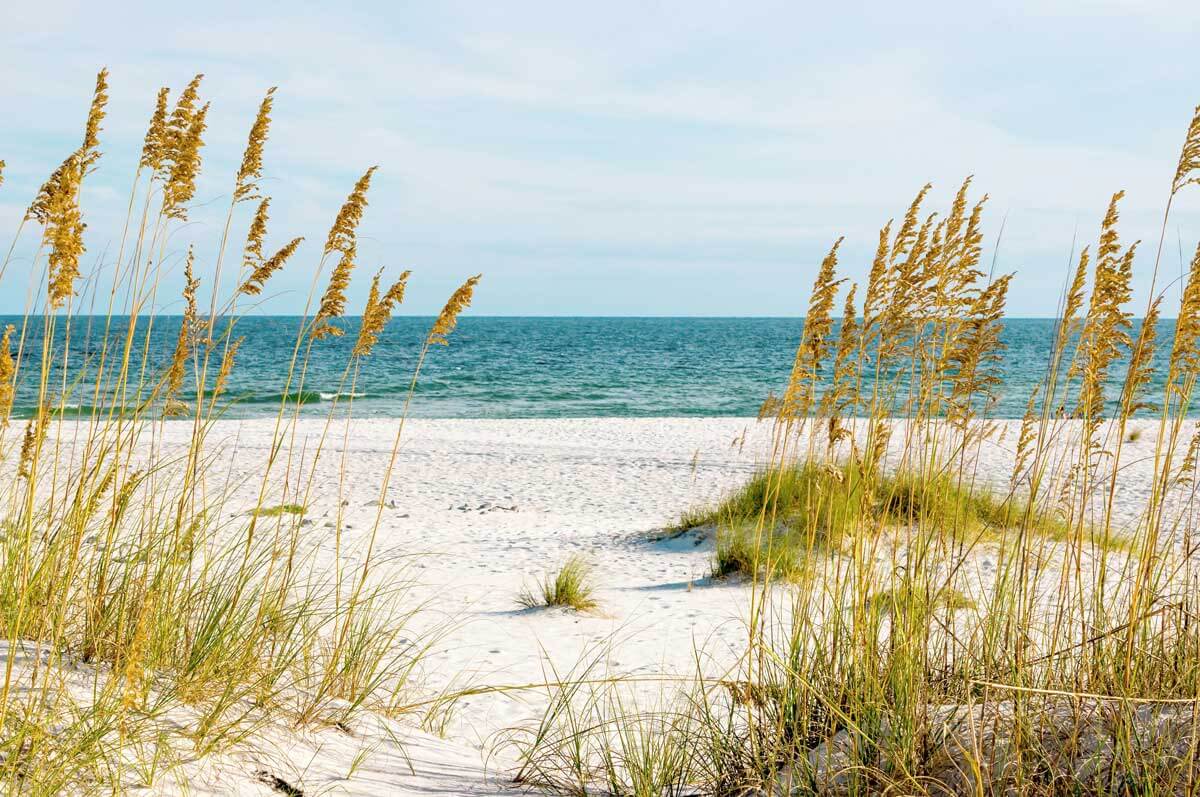 Head south to Gulf Shores, Alabama, for the best warm winter vacations in the USA. By the time winter comes around, Gulf Shores and the entire gulf region are past hurricane season. Instead, you'll get to enjoy comfortable, sunny days with clear blue skies and average temps in the 50s!
The coastal city of Gulf Shores is a casual, laid-back community with attractions for couples and families alike. It's best known for its sparkling white sand beaches. And while swimming isn't recommended this time of year, there's still plenty to do on the water. Go fishing, book a charter, or just go for a stroll.
In Gulf Shores, you'll find great hiking trails at Gulf State Park. You can rent bikes and cycle along the beach. Or if you're up for a thrill, head to the airport and try your hand at flying a gyroplane along the coast! And if you're on Gulf Coast for Valentine's Day, book a relaxing sunset sailing cruise with Back Bay Sailing.
Where to Stay: Best Western on the Beach is located right on the sand with a stellar waterfront location. There's also a heated indoor pool and two hot tubs for guests to enjoy and you can book a room with a balcony overlooking the Gulf! Book here.
Warm Winter Getaways in USA: Arizona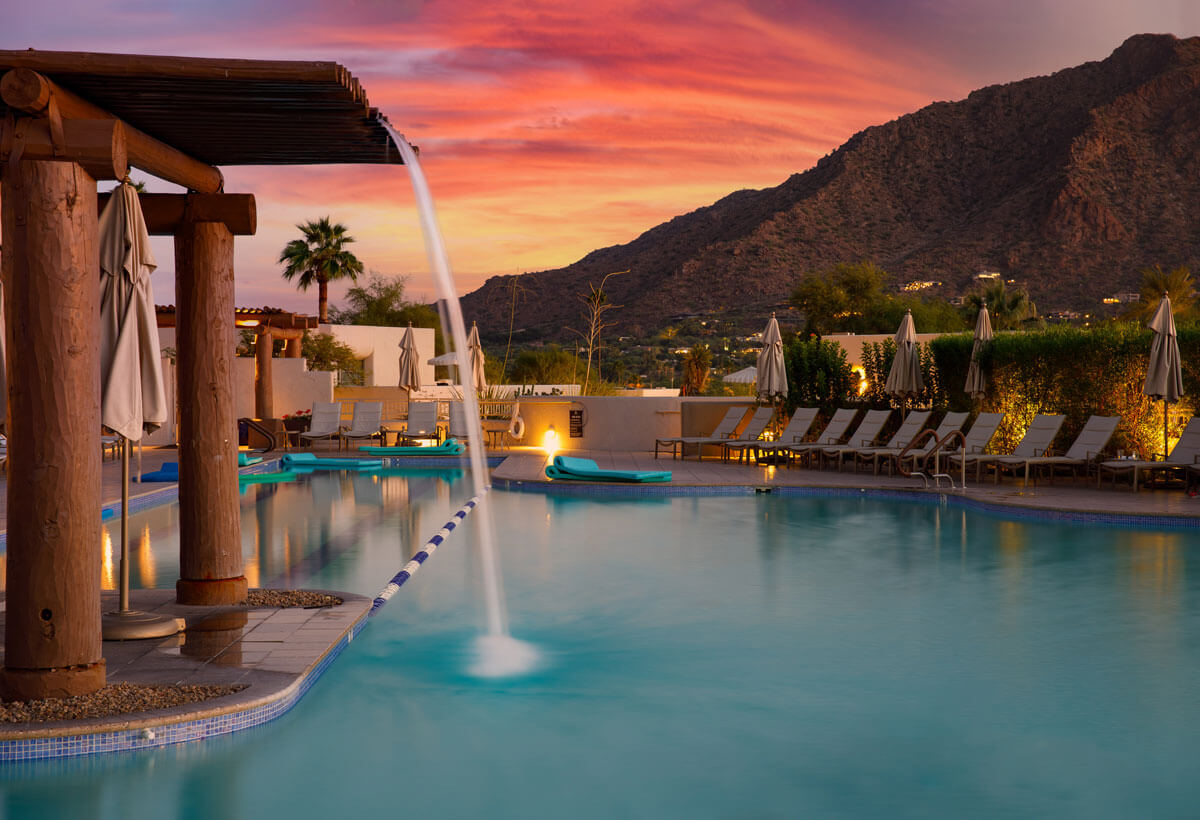 Some of the best warm vacation spots in the USA can be found in Arizona, specifically the southern portion of the state in the desert where temperatures average in the high 60s and low 70s during the day and their lowest average temperatures (typically at night) staying above freezing.
Tucson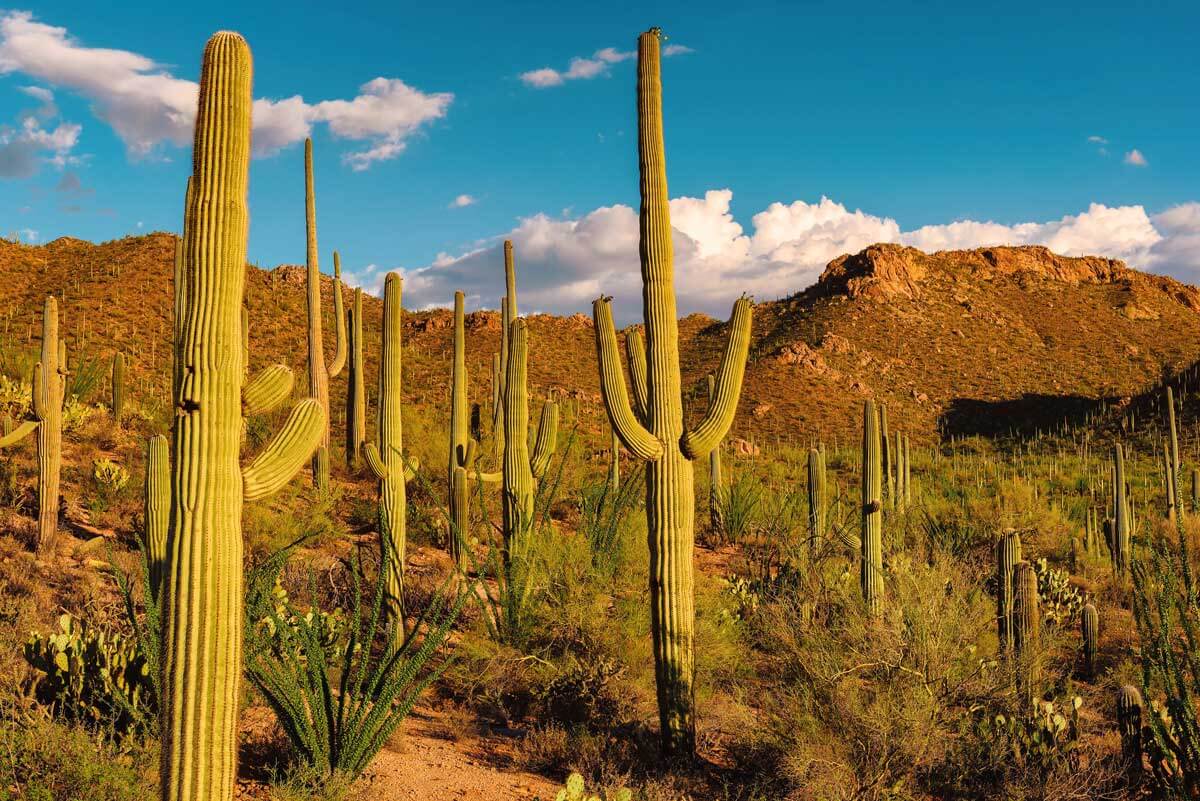 When you're over the cold and sunless days of winter, thaw out in sunny Tucson another one of the best warm winter vacations in the USA! Temperatures average around 75, though nights in the desert can get down to 45 in January. This is the ideal time to enjoy all of the outdoor adventures you can get your hands on before the heat of summer keeps you indoors.
On both the east side and the west side of the city, there are sprawling desert mountain parks. They're popular places to go mountain biking, horseback riding, and hiking. We recommend Tucson Mountain Park, which has a variety of hike trails among the towering saguaro and even a theme park created from a former Old Western film set!
Besides desert outdoor spaces, Tucson is known for its rich cultural heritage going back hundreds of years. The food scene is top-notch, shaped by both Mexican and indigenous cultures, as well as unique local ingredients. In fact, Tucson was recognized as a UNESCO City of Gastronomy, so you know they're legit! For some of the best food in Tucson, try restaurants along N 4th Avenue in the historic district.
Where to Stay: The El Conquistador Tucson, a Hilton Resort is one of the best locations to stay during your winter getaway in Tuscon, this AAA Four Diamond resort offers incredible views of the Sonoran Desert including a heated outdoor pool you can enjoy year-round. There's a spa for anyone looking to add on to their vacation and rooms with fireplaces and views of the desert. Book here.
Phoenix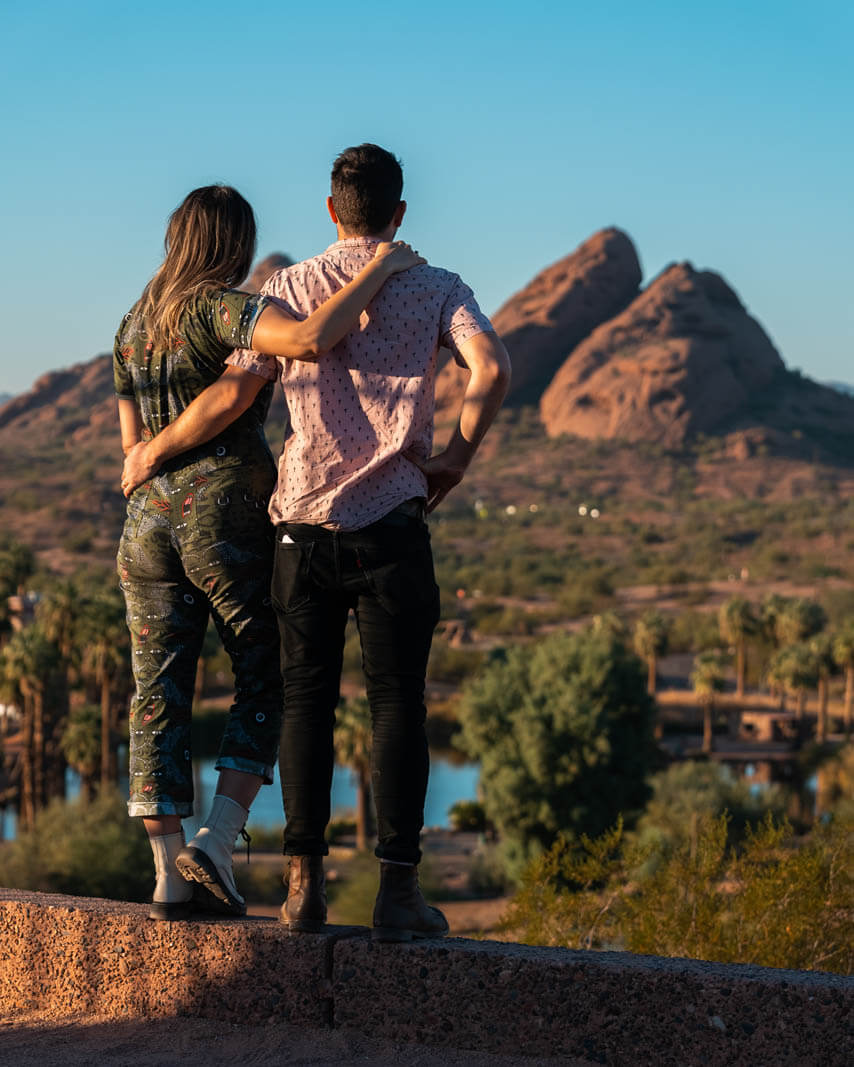 North of Tucson, Phoenix is a massive metropolitan area known for its stunning desert scenery, southwestern culture, and high-end attractions. It's one of the best warm vacation spots in the US, with mild highs in the 70s and tons of sun! Just bring layers because it can get close to freezing at night.
Phoenix is a great warm winter vacation destination because of all the outdoor things to do. You can stay central and hike one of the many desert parks, like the Phoenix Mountains Preserve. Or go off-roading with an ATV tour of the desert around Phoenix. It's a great way to see local flora and fauna while you have a blast!
Part of the Valley of the Sun, make sure to take time and explore Old Town Scottdale. Or head to Papago Park and visit the Desert Botanical Garden at night. And Tempe, just across the Salt River from Scottsdale, is home to the ASU Tempe campus. Architecture lovers will want to walk the campus and admire the stunning educational buildings. At ASU you can even hike Hayden Butte to see the bit 'A' and enjoy views of Phoenix from above.
It's easy to spend 3 days in Pheonix if not longer as there's so much to do and see around here!
Where to Stay: Sanctuary Camelback Mountain, a Gurney's Resort and Spa has one of the most beautiful hotel pools in North America with a backdrop of Camelback Mountain, not to mention it's one of the best resorts in the Southwest. Plus they have an incredible spa and amenities including incredible sunset views of the desert and heated outdoor pools. Book here.
Warm Winter Getaways in USA: California
There could be an entire website dedicated to the warmest vacation spots in the US just in Southern California alone. Being our old home base, we know that there are SO many good spots which is why we highly encourage you to explore more of our California travel guides on our site.
Temperatures in Southern California are comfortable all year long, same with Central California, but the further south you go it's slightly warmer on average.
Central California stays comfortable and mild averaging in the 50s and 60s during the day in winter and the lowest temps can get down to the 30s at night but never below freezing.
Southern California averages in the 60s and 70s during the day with the lowest being typically in the 40s and 50s at night.
While you will see people out on the beach surfing, keep in mind you'll need a winter wetsuit if you plan on going in the water as the Pacific Ocean tends to be colder in general and in winter is too cold to swim. Touch the water with your toe and you'll find out!
Laguna Beach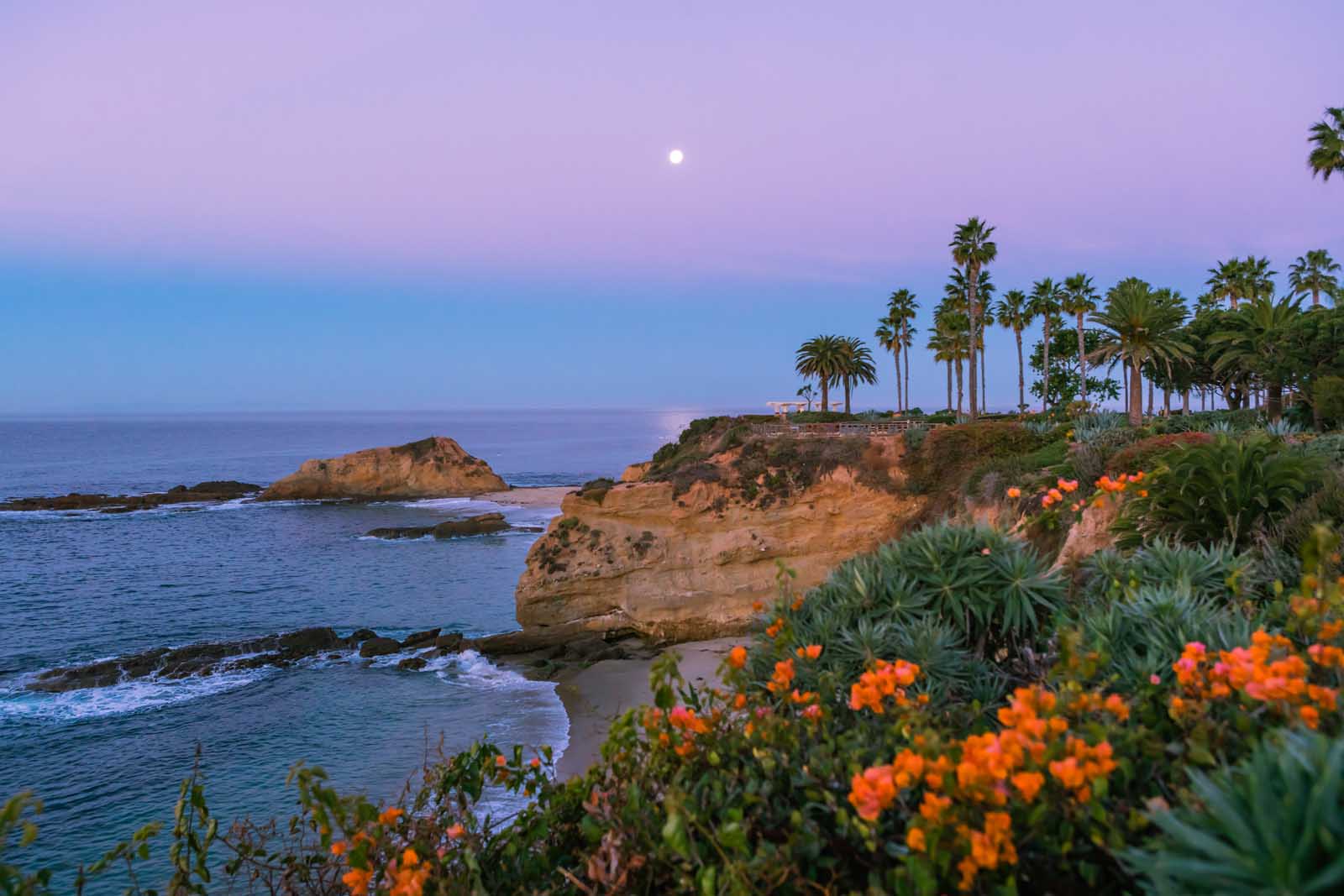 One of the most charming beach towns in California to visit is Laguna Beach in Orange County is the perfect place for warm winter vacations in the USA. The weather tends to be mild and hovers between 50 and 65 degrees in the winter months. While winter is the area's rainy season, that's relative to regularly sunny California. Just be flexible in case there's an afternoon rainstorm, and you're good to go!
Laguna Beach holds a special place in our hearts because we lived there! Some of our favorite things to do in Laguna Beach are perfect for winter travelers, including checking out all the amazing restaurants and bars. And you'll find wonderful boutique stores that are perfect for checking items off your holiday gift list.
Enjoy the balmy weather and go hiking, explore picturesque beaches, or check out the Saturday morning farmers market. Plus, Laguna Beach always has something going on, whether it's endless holiday events or First Thursdays Art Walk held across town every month.
And don't miss the views from the Top of the World either or walking along Heisler Park in downtown.
Where to Stay: La Casa del Camino is located right on the PCH and Cress Street. You not only have access to a small beach but you're easily able to walk downtown, to more beaches, and tons of restaurants and shops. Book here.
Catalina Island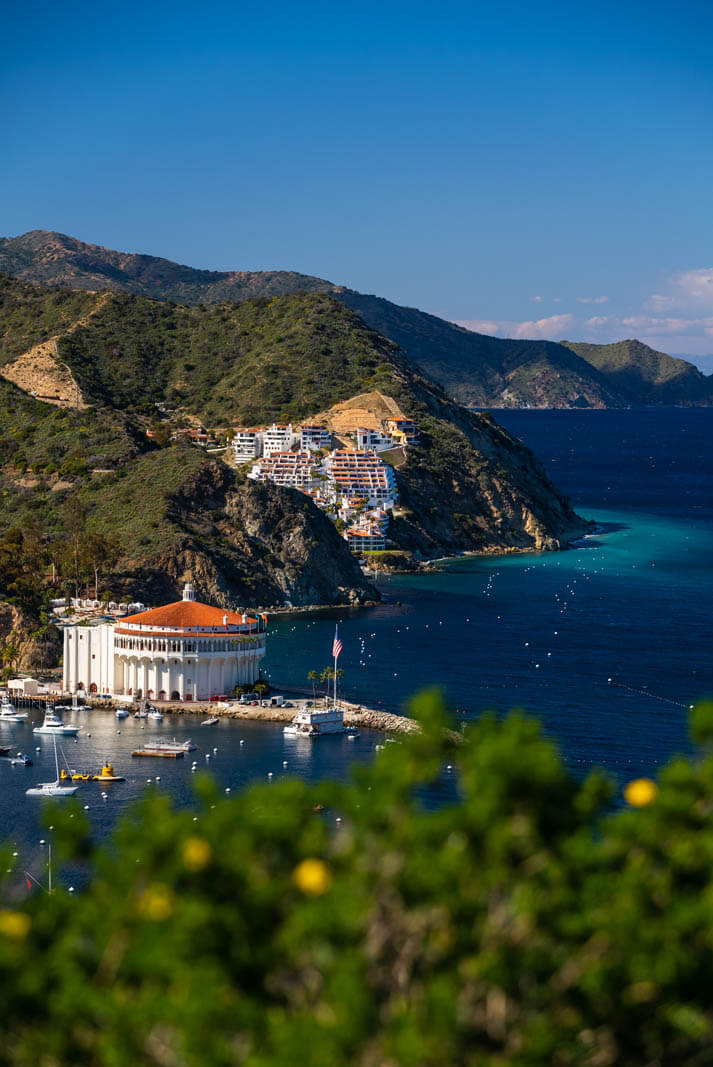 A sunny island vacation just off the coast of Southern California? Catalina Island is the ideal warm winter retreat with temperatures of 65 to 70 degrees year-round! You can easily do a day trip from LA. However, prefer to spend a few nights there and we even created the perfect Catalina Island weekend trip itinerary for you.
When visiting Catalina Island in the winter, you just have to plan for there to be fewer ferry shuttles than in the summer, but know that there is daily service. But there are also fewer people and usually good deals on hotels for where to stay on Catalina too! Which is awesome, because this place gets packed in the summer months. This also happens to be one of our favorite places EVER too!
And there are only two towns on the island. One of them is Avalon, a former resort community going back to the early 20th century when Hollywood movie stars came here to get away from it all, which is where most people visit as Two Harbors is more meant for those who have a boat to get around.
If you want to get in the water this time of year, it's best to don a wet suit and go scuba diving or snorkeling! Winter is a great time for an underwater adventure off Catalina Island because the water is very clear in the winter and you'll see their famous orange Garibaldi fish everywhere. In Avalon, you can also take glass-bottom boat tours or go kayaking in the bay.
There are also tons of different trails across the central, rural part of the island for amazing coastal views. And it's tons of fun to rent a golf cart and explore Avalon's attractions and wonderful restaurants. Take a tour of the Catalina Casino in Avalon, which is actually a 100-year-old movie theater! And there are great tours and all kinds of hikes across the entire island, which are some of the best things to do at Catalina Island.
Where to Stay: Zane Grey Pueblo Hotel is not only one of the best hotels on the island but is also a historic property that was once where famous author Zane Grey lived. Located on a cliff overlooking Avalon, you can't beat the views and beautiful rooms here as well as their great amenities including a heated pool! Book here.
San Diego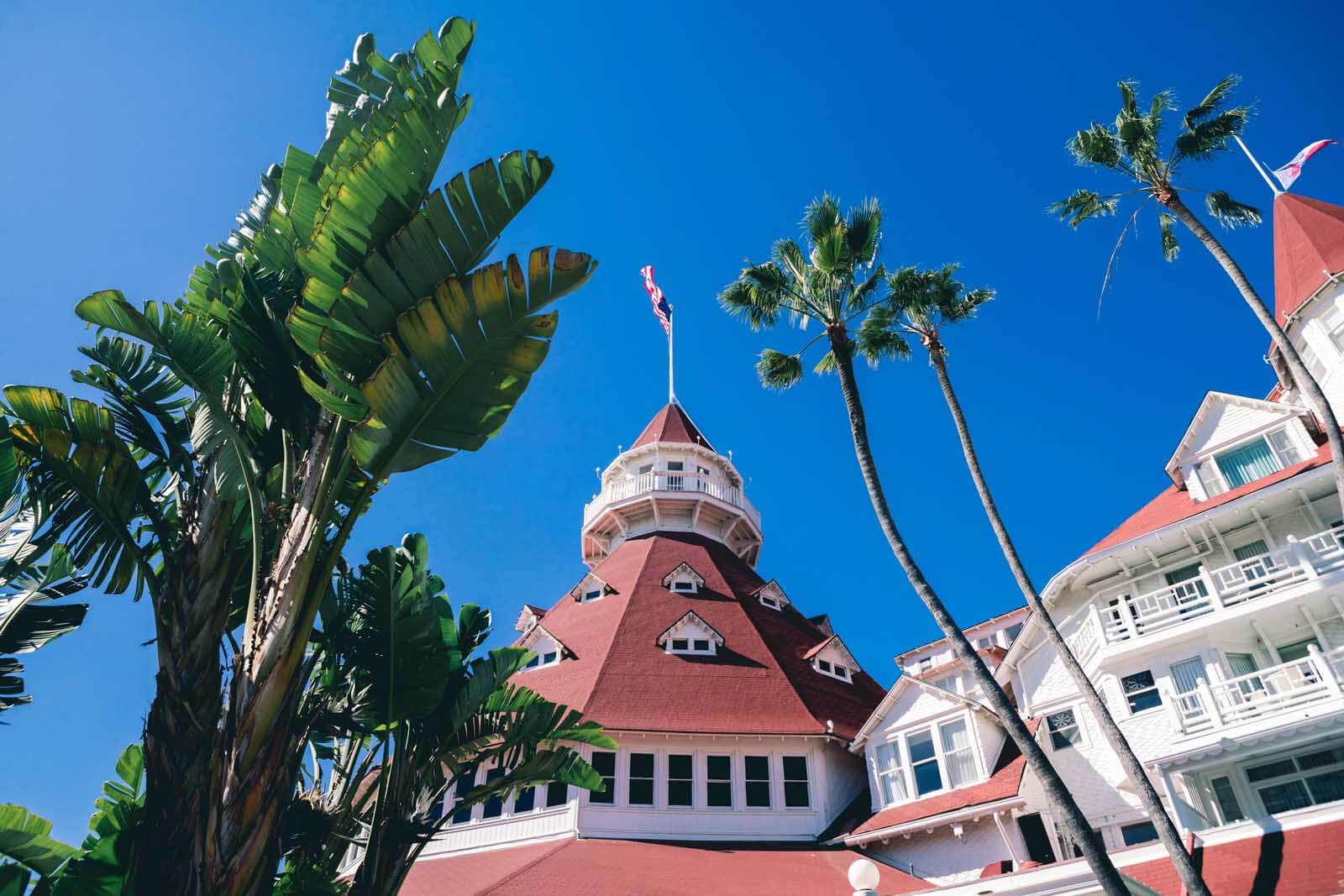 Snowbirds head to San Diego for the winter, and for good reason. Even if it's California's rainy season, that means a few days a month of wet weather. The rest of the time you can enjoy dry, sunny days in the 60s and 70s! It's always tourist season in Southern California, and this is your chance to check out some of the city's most iconic sites.
Head downtown for all the best things to do in San Diego. There's the exciting nightlife in the Gaslamp Quarter and good eats in Little Italy. Take at least half a day for Balboa Park, home to the San Diego Zoo, botanical gardens, tons of museums, and more.
December through April is whale watching season in California with gray whales migrating to the warm waters off the coast! You can find whale-watching tours launching from the marina.
If you've been curious about Old Town San Diego, winter is the best time when school is in session and crowds are much thinner. You can peruse great shopping in La Jolla Village or hike the coast trails at Torrey Pines State Reserve.
There are so many ways to spend your time here, check out our itinerary for 3 days in San Diego to help you start planning!
Where to Stay: Hotel del Coronado is the most iconic place for where to stay in San Diego. This historic Victorian hotel dates back to 1888 and is right on the beach and offers winter packages for Valentine's Day too! They also have beach bonfires, beachside igloos in the winter, a spa, and multiple heated pools with cabanas. Book here.
Palm Springs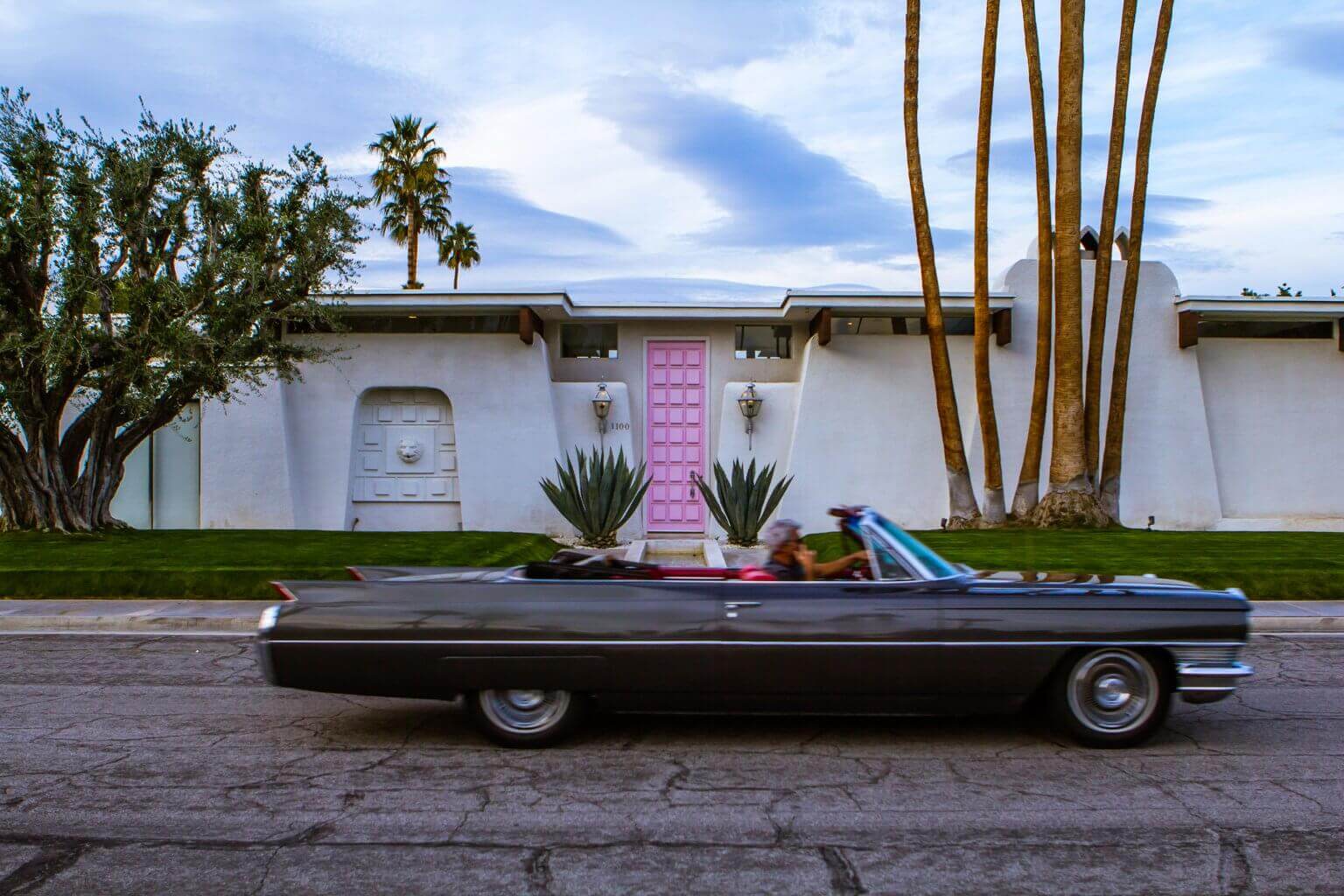 Move inland to the desert oasis that is Palm Springs, California. With days that most often run 78 degrees and sunny, it's one of the best places for warm winter vacations in the USA. Instead of waiting for the snow to melt, plan a weekend in the Colorado Desert where you can enjoy mimosas and outdoor seating at brunch every day in downtown Palm Springs.
Once vacation central for the stars, Palm Springs has iconic views of modular homes surrounded by palm trees with desert mountains in the background. This is the place to be if you love mid-century-style homes! It's known for its luxurious spa resorts, the best shopping, and fun restaurants. As big foodies, we recommend trying the kettle-boiled bagel at Townies, or the cuisine and cocktails at Farm, a French Provençal restaurant.
Downtown Palm Springs is also home to Agua Caliente Casino. Here you'll find even more restaurants to choose from, live music, and of course plenty to do on the casino floor. And you'll forget it's the dead of winter when you head to the stunning Tahquitz Canyon on the Cahuilla Indian Reservation.
Where to Stay: La Quinta Resort & Club is one of my favorite places to stay in Palm Springs. This Waldorf Astoria luxury property lets you choose between your own casita, private haciendas, and villa-style accommodation with a backdrop of the Santa Rosa Mountains (+ 5 golf courses on the property). There are 41 heated pools on the property so it's easy to find a little spot all to yourself. The restaurants on site are also so good it makes it hard to leave the resort! Book here.
Los Angeles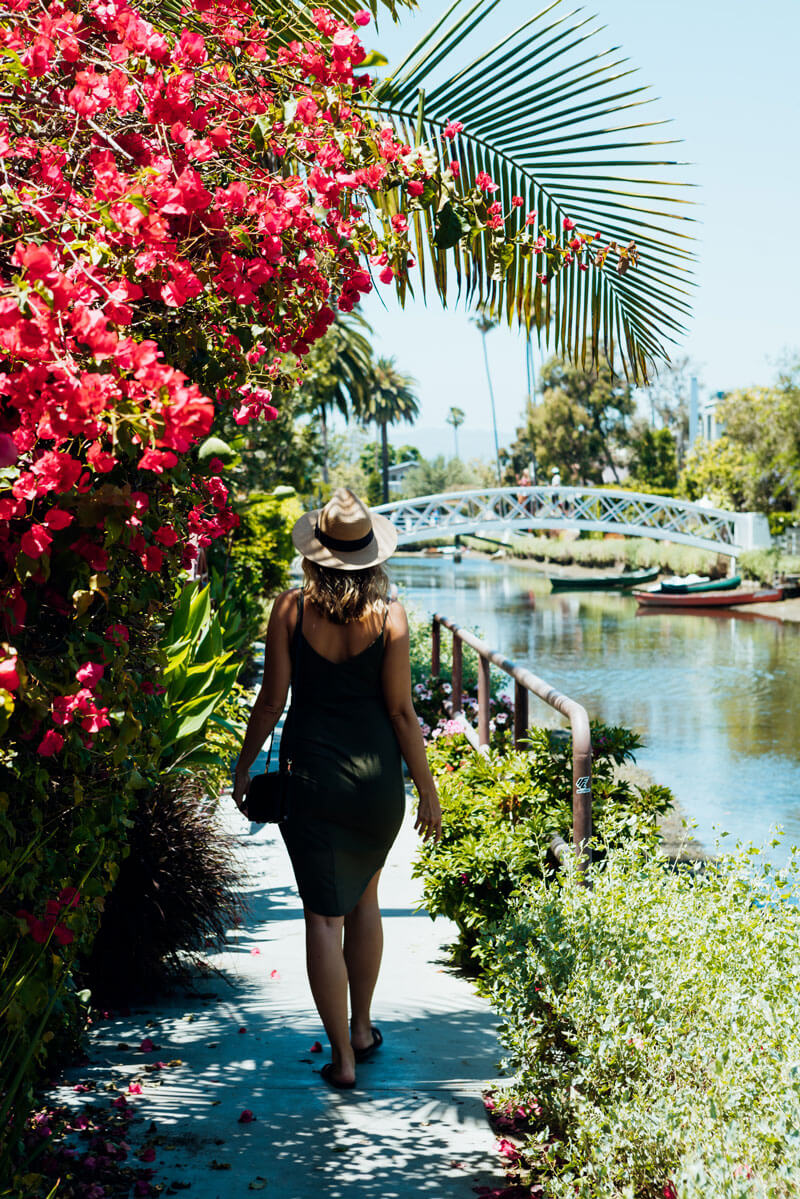 The breezy winters of Los Angeles make this the perfect time to do some sightseeing, and don't think you have to stay off the beaches! While temperatures hover right around 70 degrees, you won't be going in the waves. But the beach is still a great place to be in the winter.
Go for a drive along the Pacific Coast Highway to Malibu and explore the narrow cliffside beaches. You can watch surfers at Zuma Beach, peep at stunning mansions along the highway, and stop at a roadside diner or cafe.
The PCH takes you directly back to Santa Monica Pier, in Los Angeles, which welcomes guests with open arms 365 days a year! Play games at Pacific Park, ride the Pacific Wheel, or grab some food and enjoy it on the pier. Take some time to soak up the warm winter sun on the beach, or head to Ocean Avenue for great shopping.
Nearby, is the infamous Venice Beach, which is almost a requirement to visit when you're in LA! Do some souvenir shopping along the Ocean Front Walk. Rent bicycles and ride down to Muscle Beach and the Venice Public Art Walls. Or walk the historic canal district.
We have a lot of coverage on all the best things to do in Los Angeles too so you'll never be bored from all the best museums in Los Angeles to the best scenic spots in LA and of course the best beaches in LA. So don't miss those guides to help you plan a dreamy warm winter vacation!
Where to Stay: Shutters on the Beach is a gorgeous 5-star, ocean-front hotel in Santa Monica has everything you want out of a California winter vacation including access to the beach, a heated pool, and restaurants on-site, not to mention a great location, and a spa. You can book a room with a fireplace and a private oceanfront terrace and balcony too. Book here.
Warm Winter Getaways in USA: Hawai'i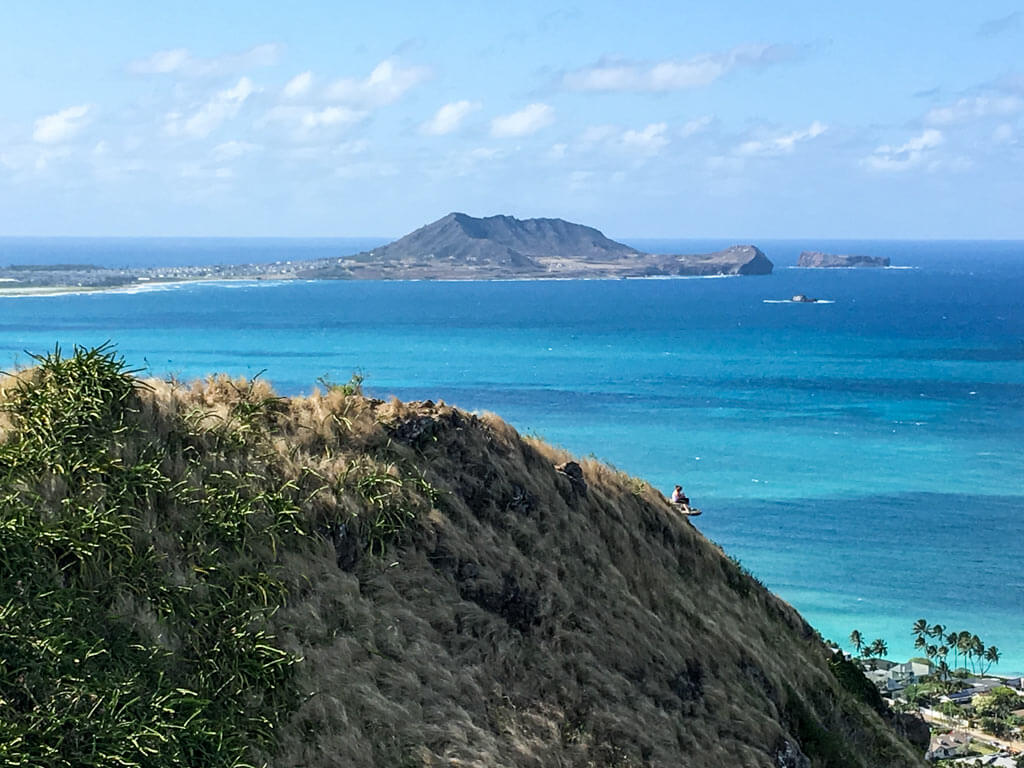 When it comes to the warmest places in the United States in winter, Hawai'i tops the charts. There are only really two seasons in Hawai'i, and it's always warm. The average winter temperatures in winter typically are in the high 70s, making it incredibly comfortable and definitely still weather you can enjoy a beach day or swimming in.
O'ahu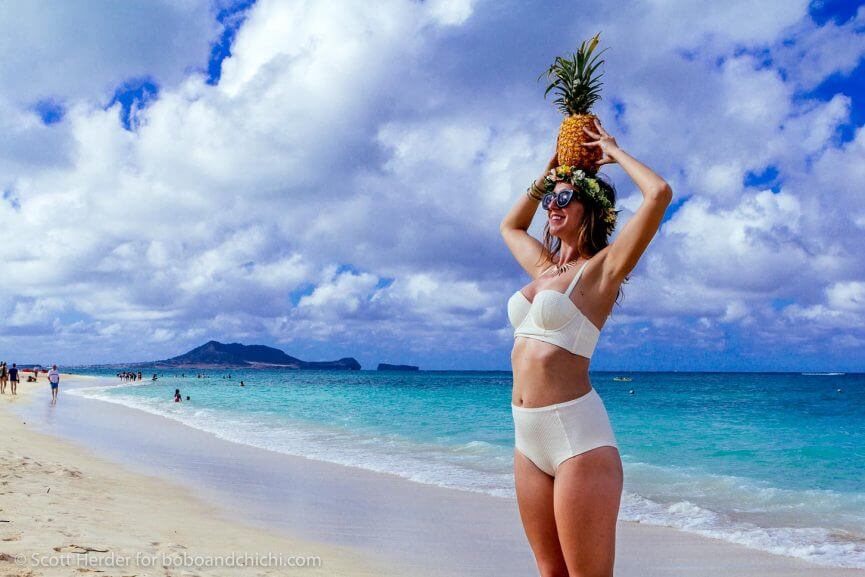 Some of the most popular warm winter vacations in the USA can be had in the Hawaiian Islands, with O'ahu being one of the most popular islands. Temperatures stay around 80 degrees all season. The only thing you need to think about is when exactly you want to be there. Hawai'i experiences a secondary high season during the holidays, so come January through March for the best deals.
Winter in O'ahu means the strongest waves, so if you're an experienced surfer, you'll want to head to the surfer village of Haleiwa. But even if you just want to sun or swim on beautiful Waikiki Beach, you won't be disappointed.
Use the quiet off-season to enjoy attractions that are normally crowded! Visit Pearl Harbor Memorial or take pictures at the Instagram-famous Hoomaluhia Botanical Garden. And don't miss gorgeous beaches including Lanikai Beach and the jaw-dropping views from the Koko Head Hike.
Winter is also a great time to take advantage of low prices when shopping along Kalakaua Avenue in Waikiki. Pick up classic souvenirs at Duke's Marketplace or head to the high-end shops in the International Marketplace.
Where to Stay: The Royal Hawaiian is one of the most iconic hotels to stay at in the heart of Waikiki. This historic pink hotel has a great location, two pools, views of Diamond Head, and an easy spot to walk along the beach right from your hotel. Book here.
Maui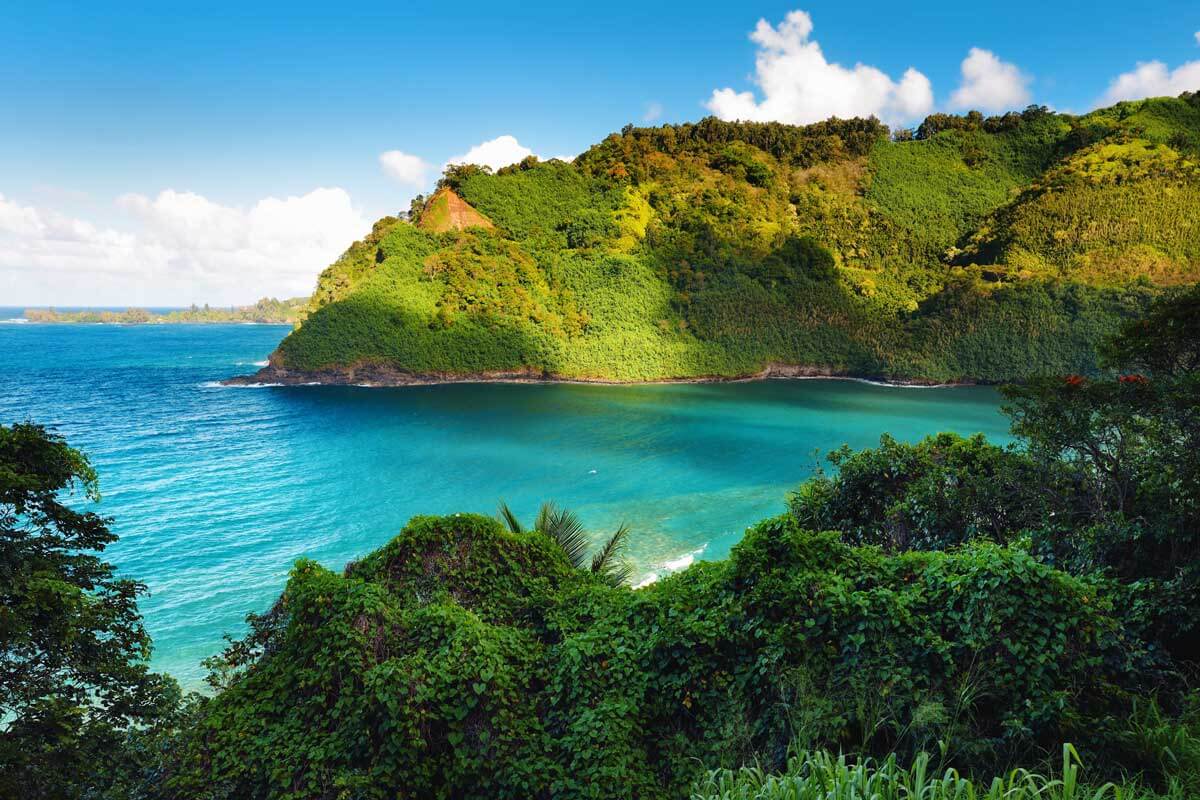 As Hawaii's second largest island, Maui experiences winter differently, depending on where you are on the island. Winter is Hawaii's rainy season, but that just means you'll want to check the forecast before planning a rainforest hike. For highs of 75 and sunny beach days, coastal West and South Maui are your best bet.
In fact, Maui is the best Hawaiian Island to see whales. Sometimes you can see them from the beach! Book a whale-watching tour and see where humpback whales migrate to the Auaua Channel between Maui and Molokai to mate from December to April. And winter is the best time to find deals on luxury resorts in both West and South Maui.
Inland, just check weather forecasts before heading out on a rainforest hike, which can be dangerous if it's raining! Instead, take a day and drive the Road to Hana, Maui's biggest attraction that also happens to have many roadside waterfalls! Don't want to rent a car for the 60-mile trip? Book a bus tour or a private jeep tour.
Where to Stay: The Four Seasons Maui at Wailea is the ultimate place to stay on the island. This luxurious resort has it all set on Wailea Beach. Amenities include 3 pools and restaurants on site. The rooms are out of this world with options to book with garden views, mountain views, or ocean views. Book here.
Kauai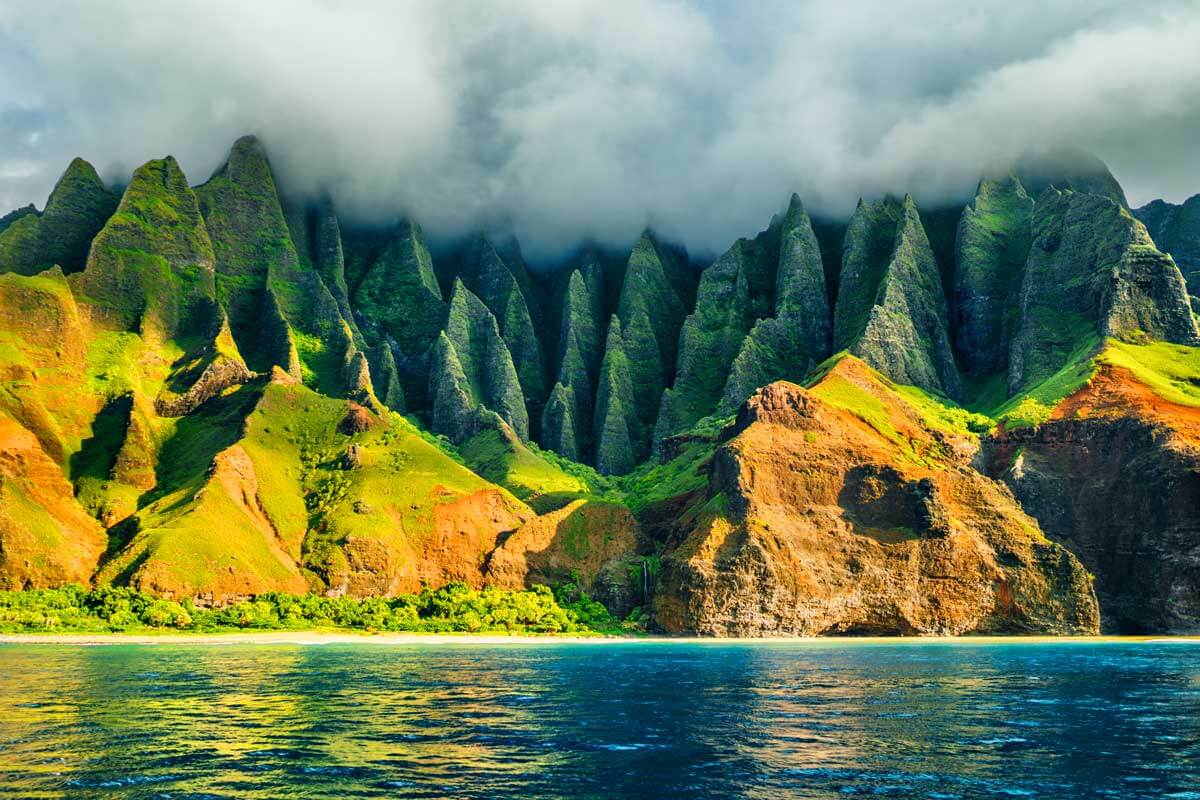 Dubbed "The Garden Isle," Kauai is a rugged wonderland of rainforests, deserts, and verdant cliffs. The island receives more rainfall than almost anywhere else in the world, especially in the winter! With highs in the low 70s, it's perfect weather for outdoor adventures.
Enjoy roaring waterfalls and green, rippling mountains from a helicopter tour of the Na Pali Coast. Or enjoy the milder temperatures and hike Waimea Canyon, with its sweeping views in deep purples, reds, golds, and even greens! You can always head back to the classic beaches you'd expect in Hawaii by booking a hotel in Poipu on Kauai's sunny and dry South Shore.
During your winter island getaway, you'll want to enjoy all the fresh tropical fruit you can. Kauai is the best place to do that with the island's famous food truck tours! Gobble up fresh fruit smoothies, order plates of kalua pork, or enjoy all kinds of poke bowls. You can find out the latest location of food trucks in Kauai by checking the food truck tour website.
Where to Stay: Ko'a Kea Resort on Po'ipu Beach is one of the best resorts on Kauai's south shore right on the beach. Enjoy a day at the pool and be sure to book a room with ocean views. Book here.
Big Island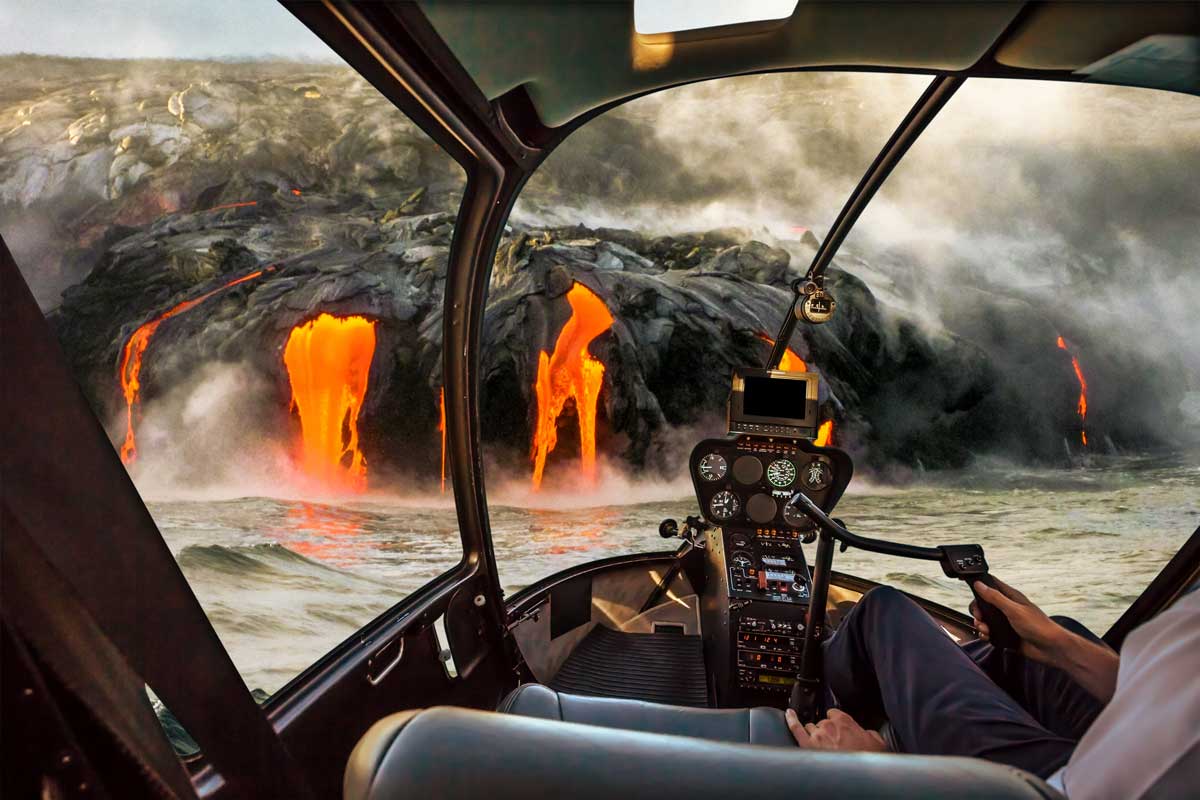 Big Island is massive, hence the name, and there's so much to do. The island has stunning beaches and coral reefs. You'll be able to enjoy some time in the water with winter highs in the low 80s! But temps really depend on where you are on the island. At an elevation of almost 14,000 feet, Mauna Kea can get as cold as 25 degrees in the winter!
When it comes to mountains, Big Island is king, with Mauna Kea being Hawaii's highest point. The island is also the only place to see lava, so plan a helicopter tour over volcanos or hike of Volcanoes National Park. And you can hike coastal trails, rainforest waterfall trails, and volcanic desert trails, or for the more adventurous, join a tour to the summit of Mauna Kea.
If you're looking for warm winter vacations in the USA where you can swim, head to Big Island. Spend your days on white sand beaches, black volcanic sand beaches, or even rare green sand beaches! And you'll want to take advantage of lighter crowds and book a Kona coffee farm tour.
Where to Stay: Fairmont Orchid is situated along the coast offering stunning oceanfront views in Waikoloa. Witness sea turtles swimming along the white sandy shores, walk along the landscaped tropical gardens with waterfall views or float in their beautiful pool. Be sure to book a room with a view too! Book here.
Warm Winter Getaways in USA: Florida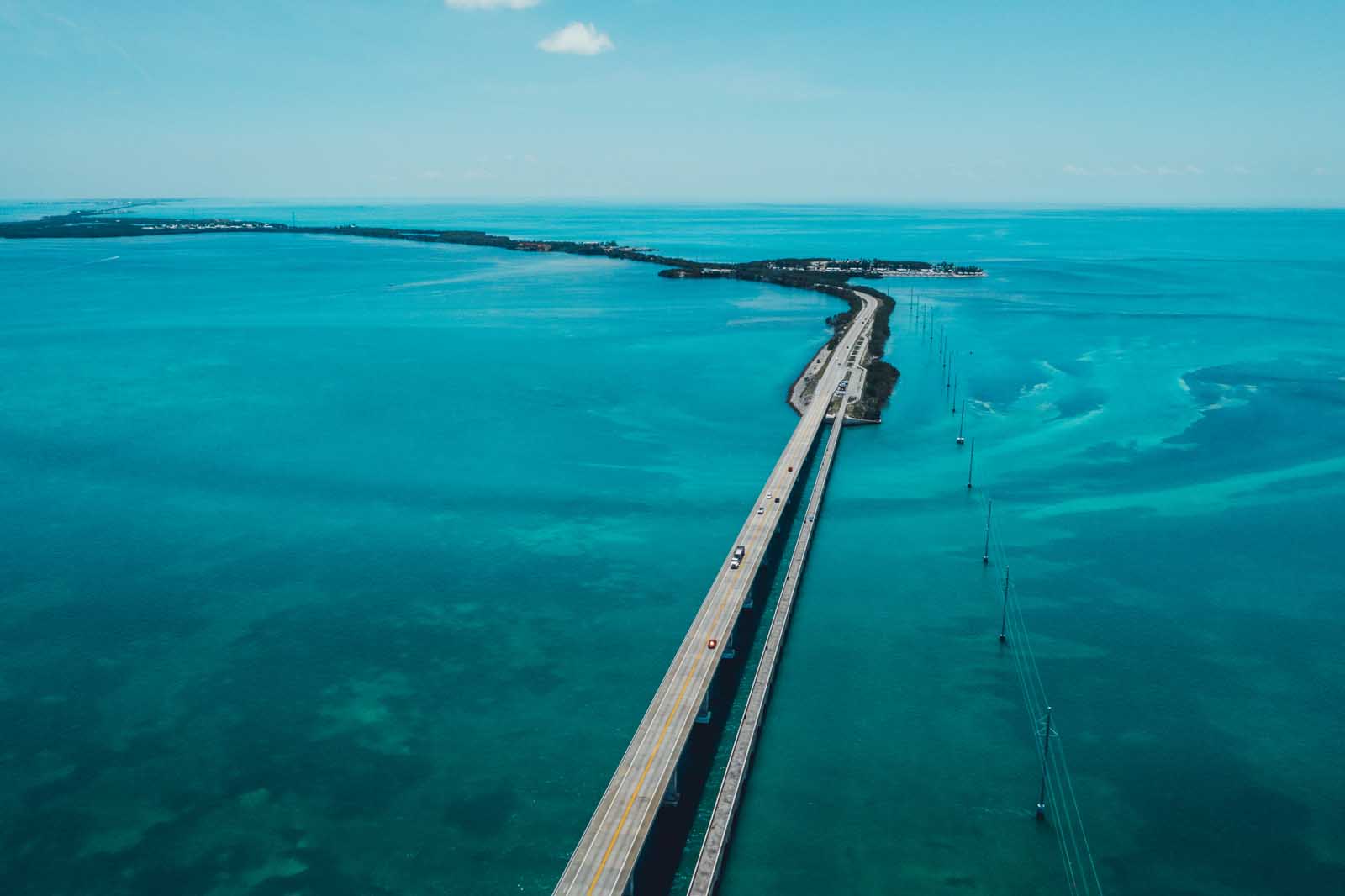 Without a doubt, the state of Florida is known for being one of the warmest places in the USA in winter that's attracted retirees and snowbirds for ages.
The entire state has some of the mildest temperatures on the mainland in the country during the winter. Northern Florida and the Central part of the state stay between the 50s and 70s where when you move further south towards Miami and the Florida Keys, you can have comfortable 70s to 80s temperatures.
Plus, by winter, hurricane season has passed.
Florida Keys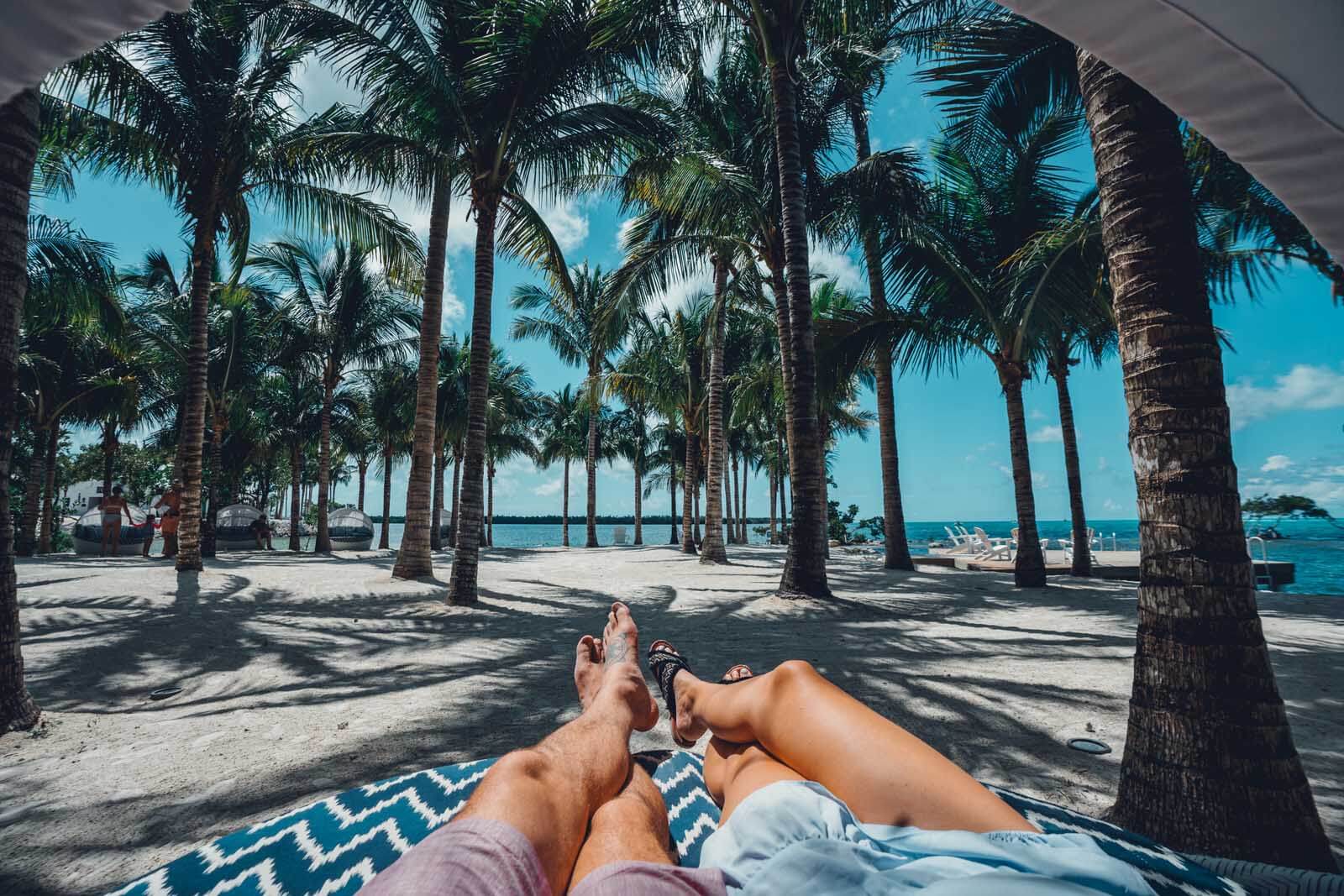 One of the warmest places in the USA in winter, the Florida Keys average 80 degrees but can get even higher. Plus, hurricane season is long gone, and you can enjoy some of the calmest weather in Florida! We recommend packing your reef-safe sunscreen and planning on spending around 5 days in the Florida Keys spread across 3 or 4 of the keys.
Along the entire archipelago, you'll find stop-offs with beaches, kayak rentals, and chances to snorkel. We loved snorkeling at John Pennekamp Coral Reef State Park, the only reef system in the mainland US. There are also some wonderful animal rehabilitation centers, which are important to support over tourist attractions that don't treat marine life with respect. We loved our experience at both the Florida Keys Wild Bird Center and the Turtle Hospital, find more at our guide to sustainable activities in the Florida Keys.
During your trip, make time to really explore Key West. Not only will you find fun attractions like the Southernmost Point buoy, but seeing the historic district is a must. Walk down colorful Duval Street, visit the Hemingway Museum, and learn about the Truman Little White House.
Where to Stay: There are many great places to stay in the Florida Keys, one of our favorite places we stayed at was Isla Bella Resort , which is situated on a beach with hammocks and day beds around to sway in. You're also in a central location for exploring the Florida Keys too making it one of the best warm winter vacations in the USA as you have an idyllic tropical place to stay. Book here.
If you're looking to stay in Key West, The Marker Key West has a great location in the heart of it all plus 3 pools and bike rentals. Book here.
Miami
Miami winters tend to run between 50 and 70 degrees, but between December and March, you'll often see days in the 80s. You're still far enough south that the water is warm and you can enjoy beach days on some of the most iconic beaches in the country!
And even though winter is popular with snowbirds, there are still thinner crowds and fewer lines than in the busy summer season.
One of your first stops in Miami should be South Beach! The bars, clubs, and restaurants here offer the best nightlife in the city. You could just relax on the beach or rent fat tire bikes and ride on the sand.
And fans of art deco will want to stop at the Art Deco Museum to book a walking tour of the art deco buildings along Ocean Drive.
While you're in Miami, go for a ride on the Skyviews Observation Wheel at Bayfront Park. It's beautiful during the day with the sparkling city skyline, but it's really stunning at night. And even in the winter, you can take a fun tour of South Beach and Biscayne Bay in an amphibious bus with Duck Tours!
Where to Stay: 1 Hotel South Beach not only has a prime location but one of the best rooftop pools (that faces the water) in Miami, not to mention a few other pools on the property too. Book here.
St Petersburg & Clearwater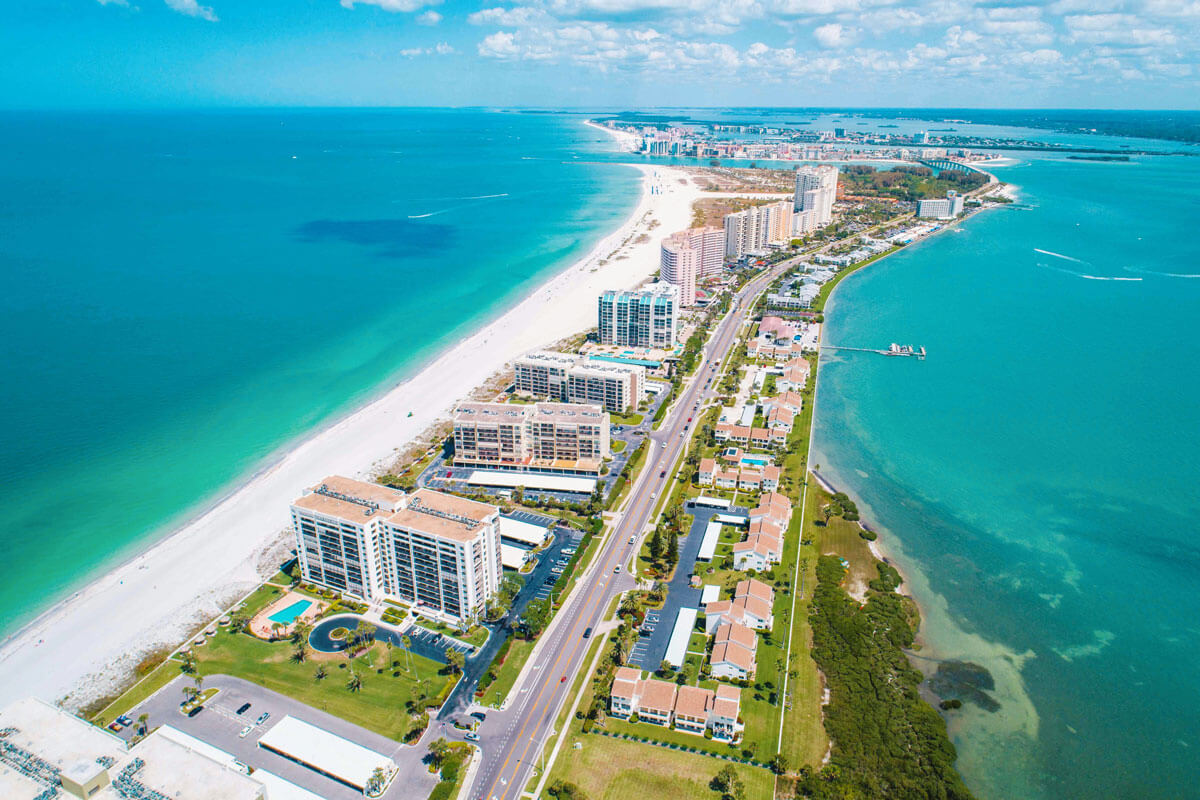 St. Petersburg and Clearwater are part of the Tampa Bay area on the west coast of Florida, and truly some of the most underrated cities to visit in the United States. A bit further north, temperatures tend to stay between 50 and 70 degrees. It might not be warm enough to swim, but the area's pleasant weather still offers plenty of outdoor and unique things to do.
One of the best things about St. Petersburg is the waterfront parks with gardens, attractions, and museums. Walk down the beautiful new St. Petersburg Pier with its shops and cafes. Check out the Dali Museum (the building itself is worthy of the surrealist artist!). More inland, the Sunken Gardens is a must-see with rainbow eucalyptus, tropical flowers, a butterfly atrium, and must more.
The Tampa Bay area makes for one of the best warm winter vacations in the USA because of the variety of things to do! For more outdoorsy activities, head to Clearwater, known for its white sand beaches. Even in the winter, you can take kayaking tours of the mangroves at Caladesi Island State Park. Or learn about marine life being rehabilitated and homed at the Clearwater Marine Aquarium.
Where to Stay: The Vinoy Renaissance St. Petersburg Resort & Golf Club. This historic "Pink Palace" is located in the heart of the city overlooking the bay and the beautiful new pier. Book here.
Warm Winter Getaways in USA: Georgia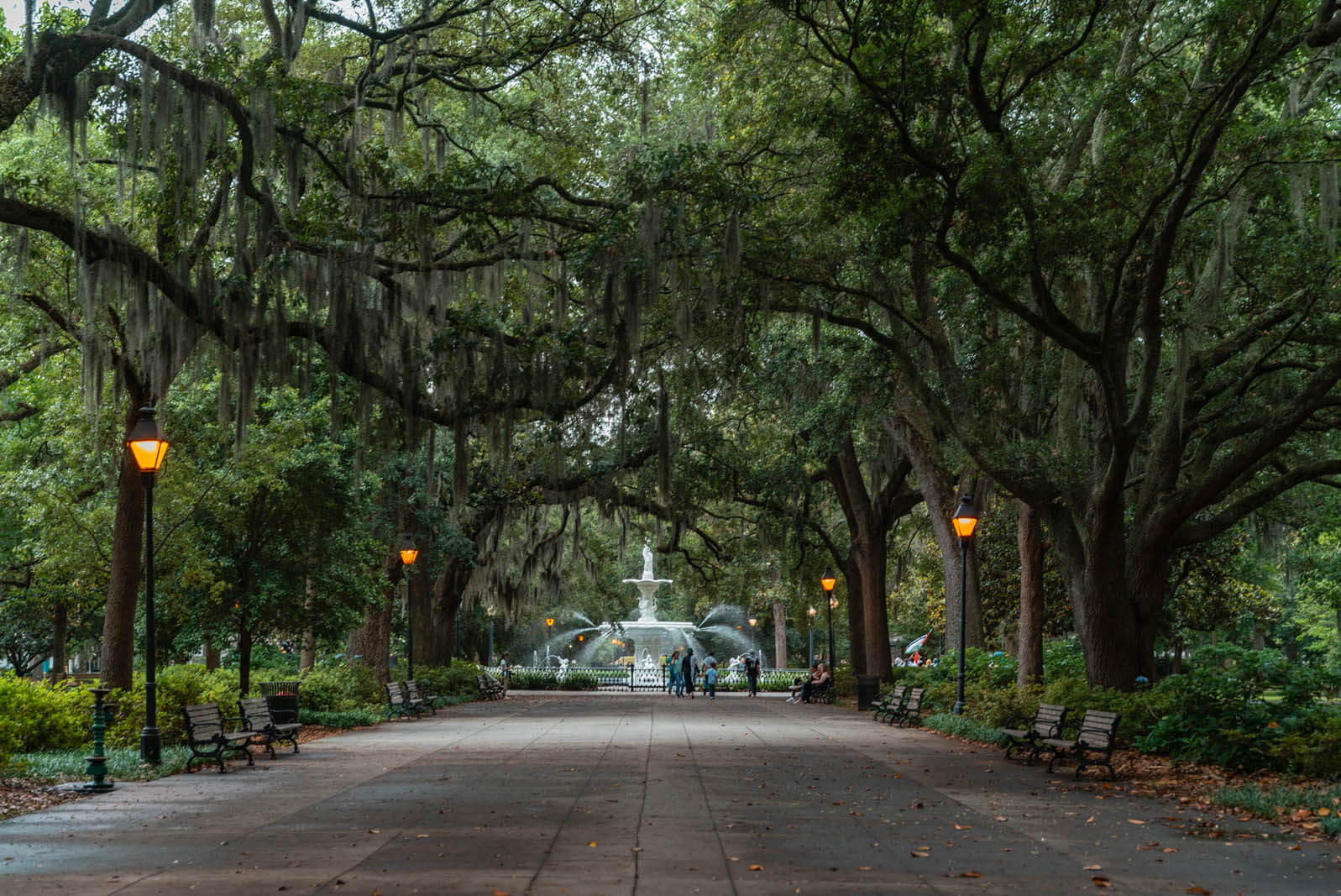 Georgia is another state with mild weather making it a great place for a warm winter vacation in the United States. We focus mostly on Savannah as this is a great time of year to visit as the warmer seasons bring oppressive humidity with higher temperatures. The winters stay mild and comfortable ranging typically in the 50s and 60s and lows in the 40s typically.
Savannah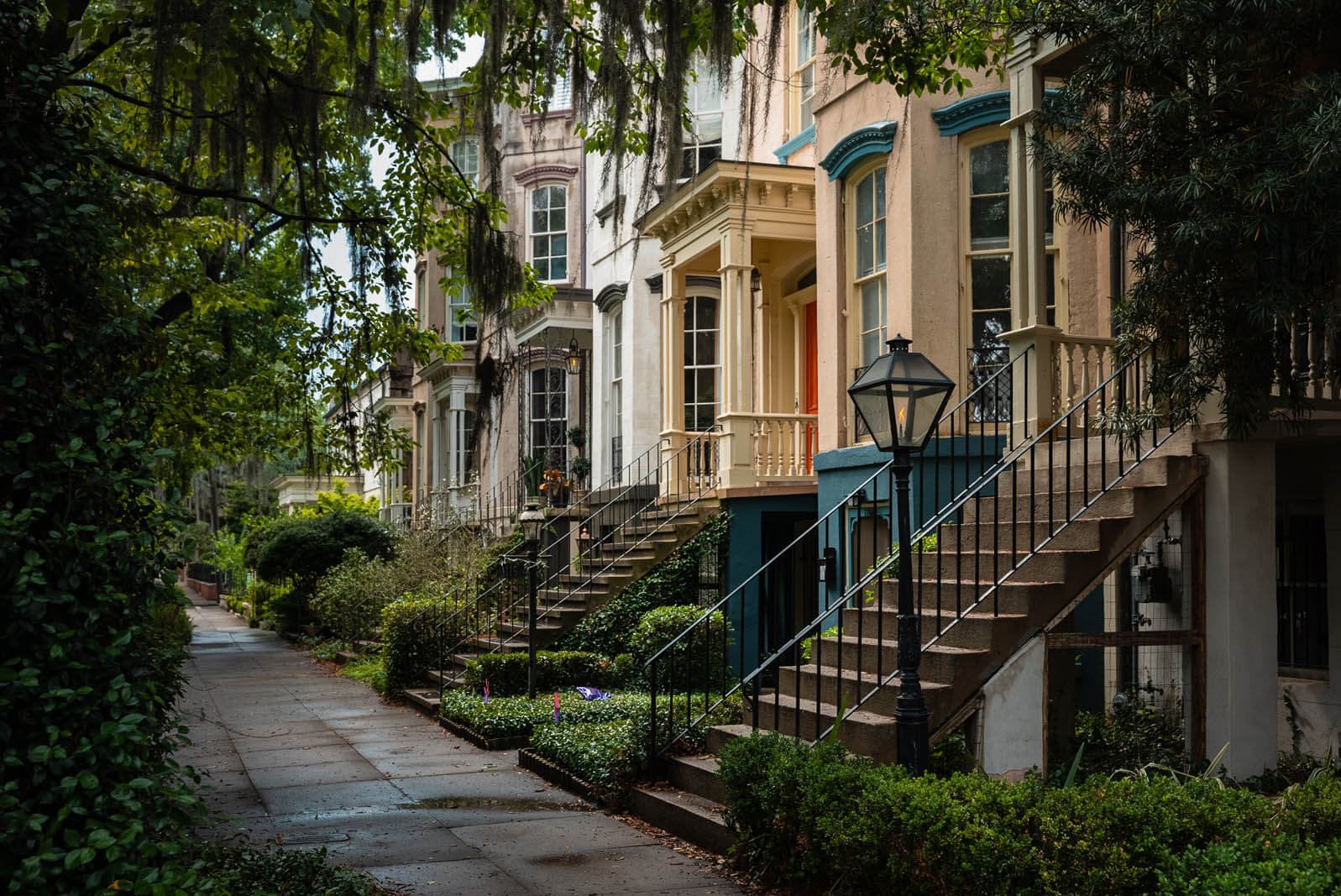 The stunning city of Savannah is a great place to visit all year round, but winter is especially inviting. December sees a pick-up in tourism around the holidays and January and February are the low season. You'll enjoy weather between 40 and 60 degrees all winter. What lovely weather to explore this historic city, over the humid, hot summer!
One of our favorite things to do in Savannah is explore the historic district downtown. There's Forsyth Park with its romantic fountain and beautiful knotty oak trees. And we loved seeing the old historic squares of Savannah, each with a different story.
Winter might be a good time to get reservations at The Olde Pink House Restaurant off Reynolds Square, which is normally booked weeks in advance!
If you're in Savannah in February, it's Black History month! This is the perfect time to support local Black businesses and see some of the most historically significant sites in Black Savannah. Enjoy soul food and live jazz at Good Times Jazz Bar & Restaurant. Or tour the Owens-Thomas House & Slave Quarters Museum which recognizes the men, women, and children who built the Regency-style home.
If you're planning an extended weekend stay, check out our 3 days in Savannah itinerary, which gives you a really great, well-rounded trip covering historic highlights and hitting up all the best food spots.
Where to Stay: The Mansion on Forsyth is a gorgeous hotel and property overlooking the picturesque Forsyth Park, just a short walk to all the incredible things to see in Savannah. The rooms are beautiful with views of the park and there's a great gallery and pool on site. Book here.
Warm Winter Getaways in USA: Louisiana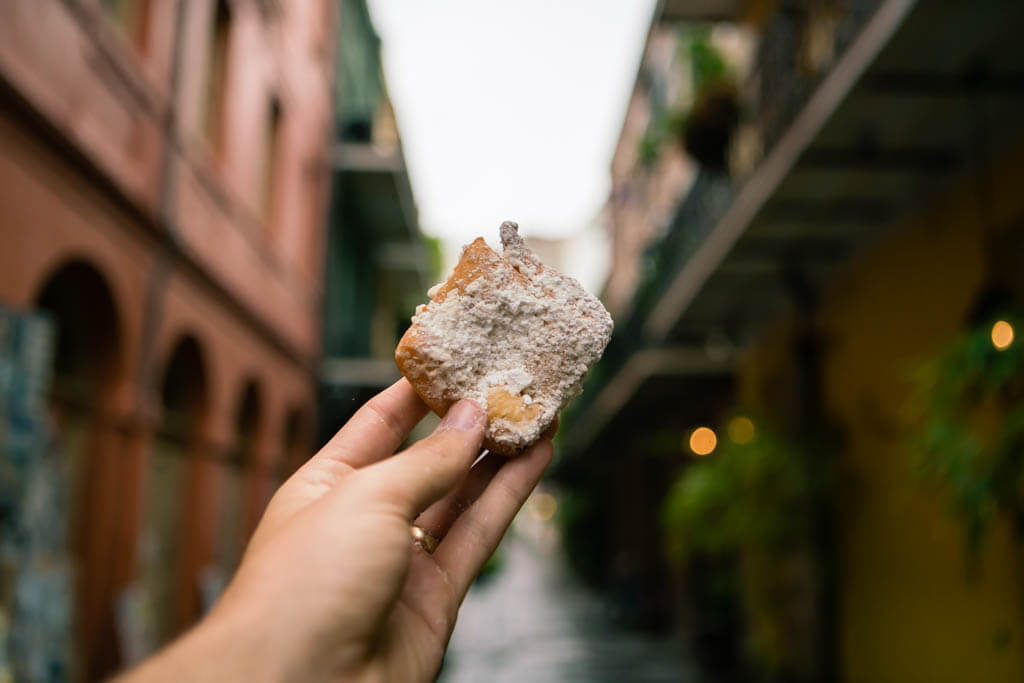 ""'[;p,,,
For more of the best warm vacation spots in the US, look no further than Louisiana. We focus primarily in New Orleans and Lafayette, which are both very close to one another. Their winter temps are very comfortable averaging in the 60s during the day and never dipping below the 40s by night.
The warmer seasons can be really hot and humid, so this is a really comfortable time to visit too.
Lafayette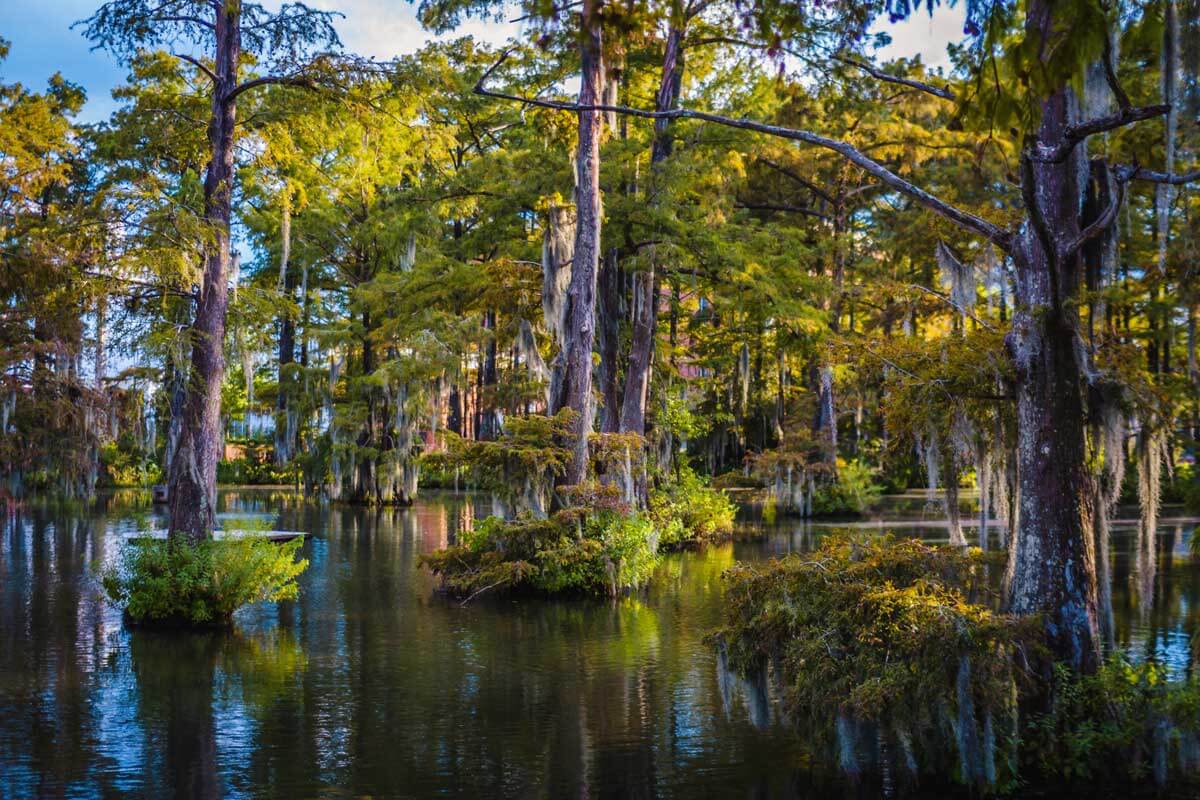 While the weather can dip into the mid-40s in January at its lows, Lafayette winters are mild and tend to average around 50-60 degrees. Skip the muggy, wet summers of southern Louisiana and explore this town in the winter. You'll love it here if you're looking for fun events!
Winter in Lafayette is a never-ending party. In December, you can experience a Creole Christmas at the Acadian Village living museum with Noël Acadien Au Village. Or visit one of the many winter villages and special events downtown and across the city's parishes.
In January, there's the Mid-Winter Fair & Rodeo with bronco rides and live music. Or head north to Opelousas at the end of the month for the annual Opelousas Gumbo Cook-Off.
And in February, the city kicks off Mardi Gras on the bayou with parades, a royal court ball, King Cake, and more.
Where to Stay: Home2 Suites by Hilton Parc Lafayette is a no-frills stay that's comfortable and has just what you need for a warm winter vacation. Book here.
New Orleans
Consider New Orleans when you're thinking about warm winter vacations in the USA. Winter is one of the most comfortable times to visit when humidity is low and temps are in the 60s. To beat the crowds, visit New Orleans in December or January when it's quiet. If you're coming in February, things pick up early with Mardi Gras, so book reservations early and get ready for a party!
Take advantage of the nice weather and explore the city's unique districts that are full of history and rich cultural heritage. Some of the best food in New Orleans to try are the beignets in the French Quarter and enjoy amazing cocktails and live jazz on Frenchmen Street in the Marigny District.
One of our favorite things to do in New Orleans was wandering the Garden District with its stunning 19th-century mansions. And you must visit Saint Louis Cemetery No. 1, New Orlean's oldest cemetery.
And while Mardi Gras officially begins sometime around the end of February or the beginning of March (the day before Ash Wednesday) celebrations begin on January 6th! Across the city, but especially in the French Quarter, you can find parades, festivals, block parties, and festive food.
If you need some inspiration, check out our guide for how to spend 3 days in New Orleans itinerary, and check out our guide for where to stay in New Orleans by neighborhood.
Where to Stay: Bourbon Orleans Hotel in the French Quarter is an excellent choice. You're steps away from all the action on Bourbon Street, while still having an impressively quiet location to retreat to. There's a gorgeous courtyard with a pool and you're walking distance to anything you want to do! Book here.
Warm Winter Getaways in USA: Nevada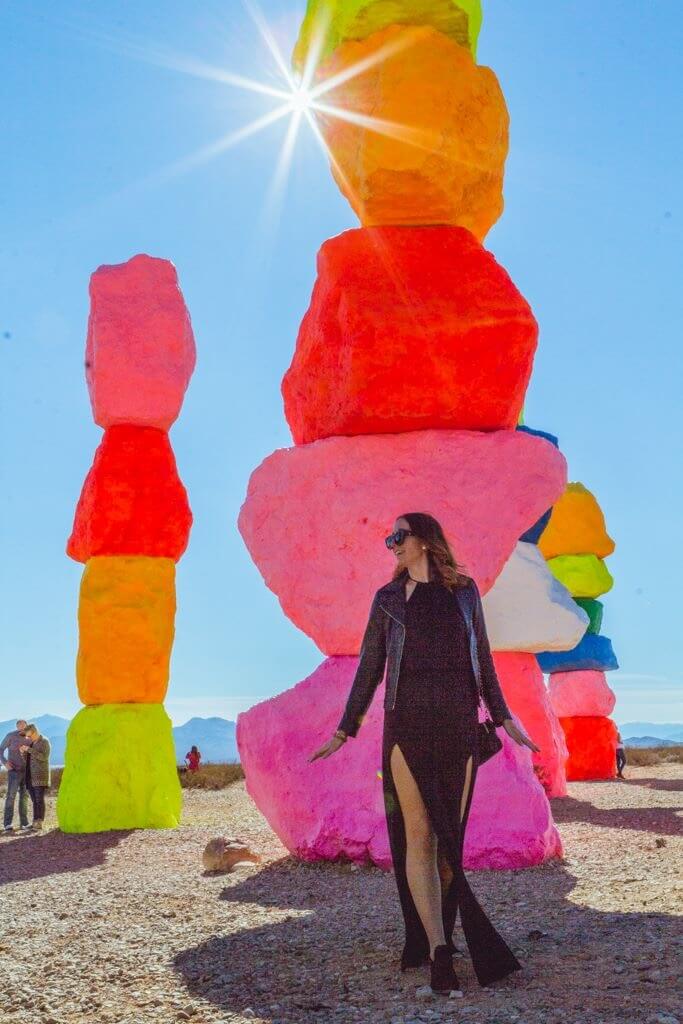 Much of Nevada, despite being in the desert, gets cold in the winter. With that being said, Las Vegas does have mild temperatures throughout the day in the winter though hovering around the 50s and 60s during the day. Keep in mind, the evenings in the winter, even in Las Vegas can dip in the low 30s though.
You'll still need to dress appropriately, but the daytime can be very comfortable even in the middle of the winter in Sin City.
Las Vegas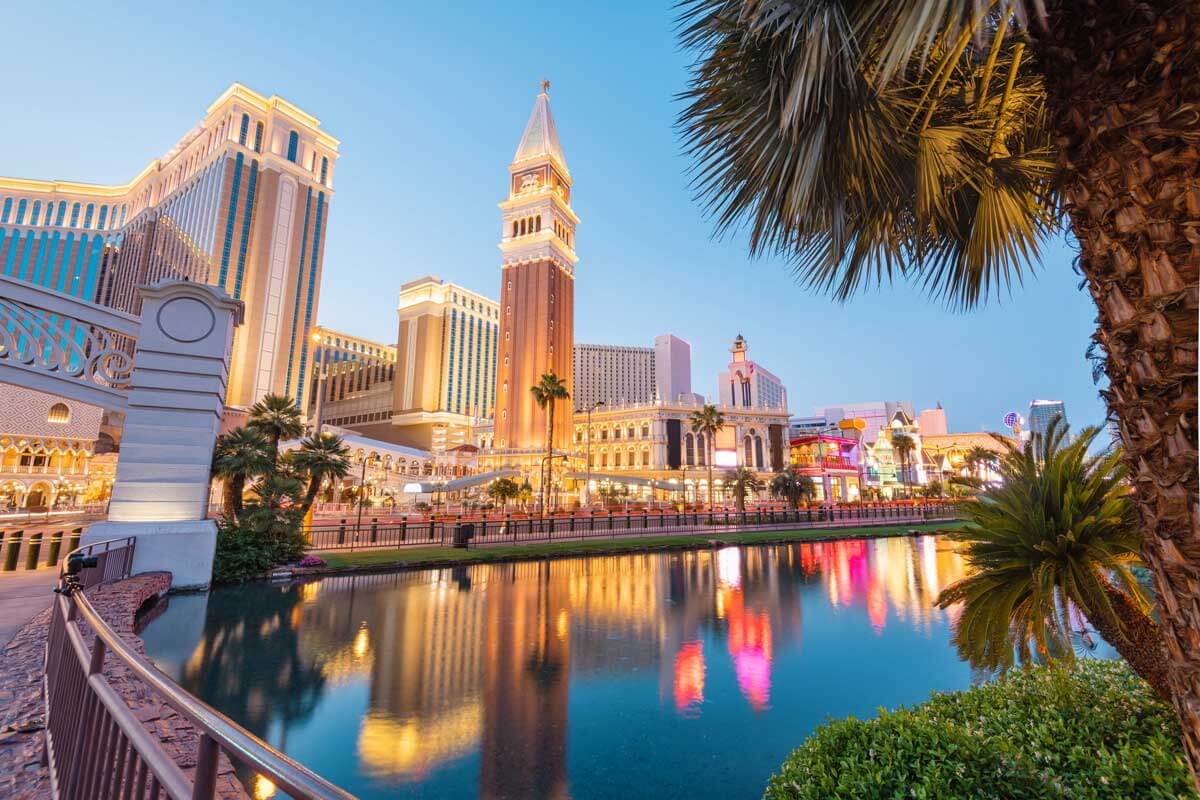 Located in the Mojave Desert region, Las Vegas experiences winter lows in the 40s (and even sometimes in the 30s at night) but highs in the 60s! Definitely one of the mildest and best warm winter vacations in the USA, you can expect days full of sunshine for all kinds of extravagant Las Vegas adventures.
The holidays experience a boom in tourism. Then there's a low season beginning on the New Year that continues through February.
While the main attractions in Las Vegas on along The Strip, we wanted to start with the top-notch outdoor things to do in Vegas. The city is bordered on all 4 sides by massive natural areas, including a wetlands park that's perfect for nature walks.
During the warmer months, the sun is too intense to go for long hikes, but winter is a great time to plan a full-day excursion or even a multi-day trip. And across the city, you'll find great tour companies that will take you on ATV tours or guided hikes in the desert.
In December, Vegas turns into a Christmas wonderland with a Santa Run, light shows, and holiday decorations everywhere. In January, take advantage of classic Las Vegas experiences without the crowds! Hit the casino floor or take in a show. At Fremont Street, you can visit the shops and "ooh" and "aah" at the lights.
And the Neon Museum (make a reservation in advance) and the Pinball Hall of Fame are quirky Las Vegas treasures that we consider a requirement while visiting Vegas!
Where to Stay: The Cosmpolitan is a great location right on the Strip and one of the best luxury options too featuring rooms with views of Las Vegas and even rooms that overlook the Bellagio's fountain so you'll get a unique view of the water show right from your room! Book here.
Warm Winter Getaways in USA: Texas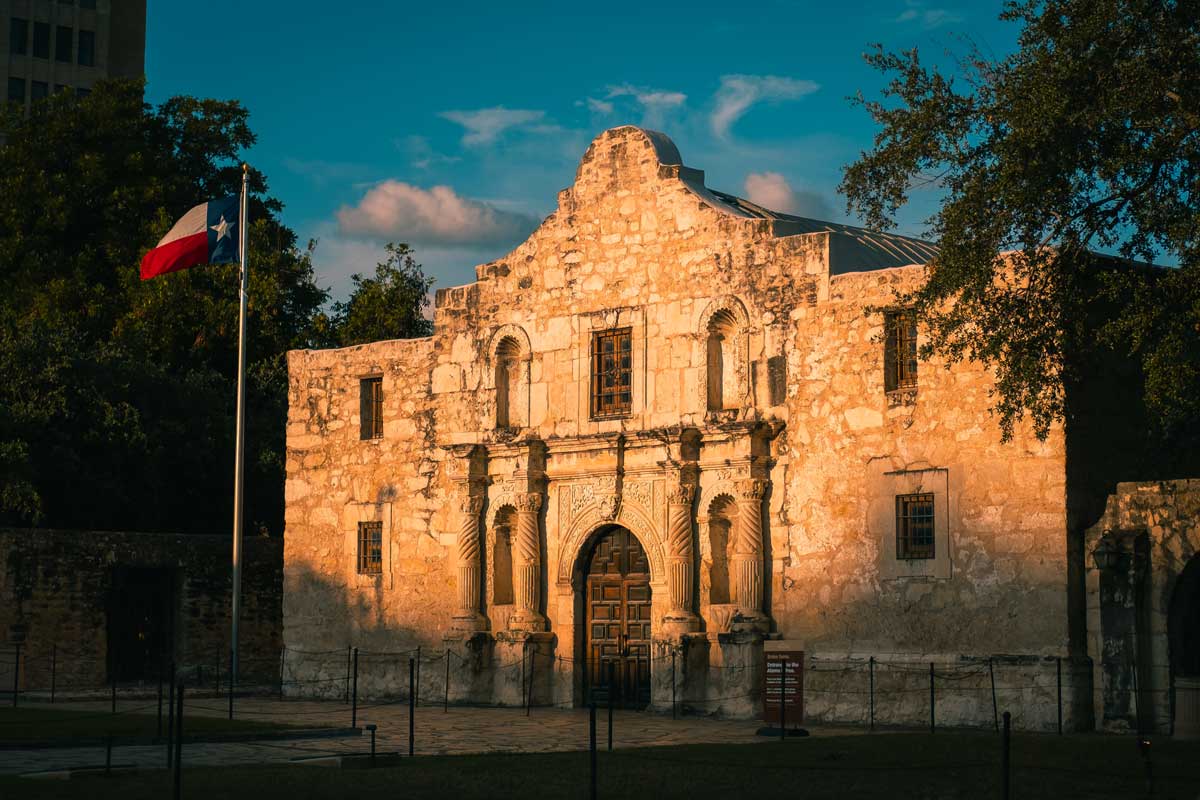 Some of the best warm vacation spots in the United States can be found in the southern half of Texas. Austin is the furthest north of the warm weather getaways to take in winter featured on this guide averaging in the mid-60s during the day during winter.
San Antonio features similar weather as Austin, and further south at South Padre Island, you get slightly warmer temps averaging in the low 70s.
Austin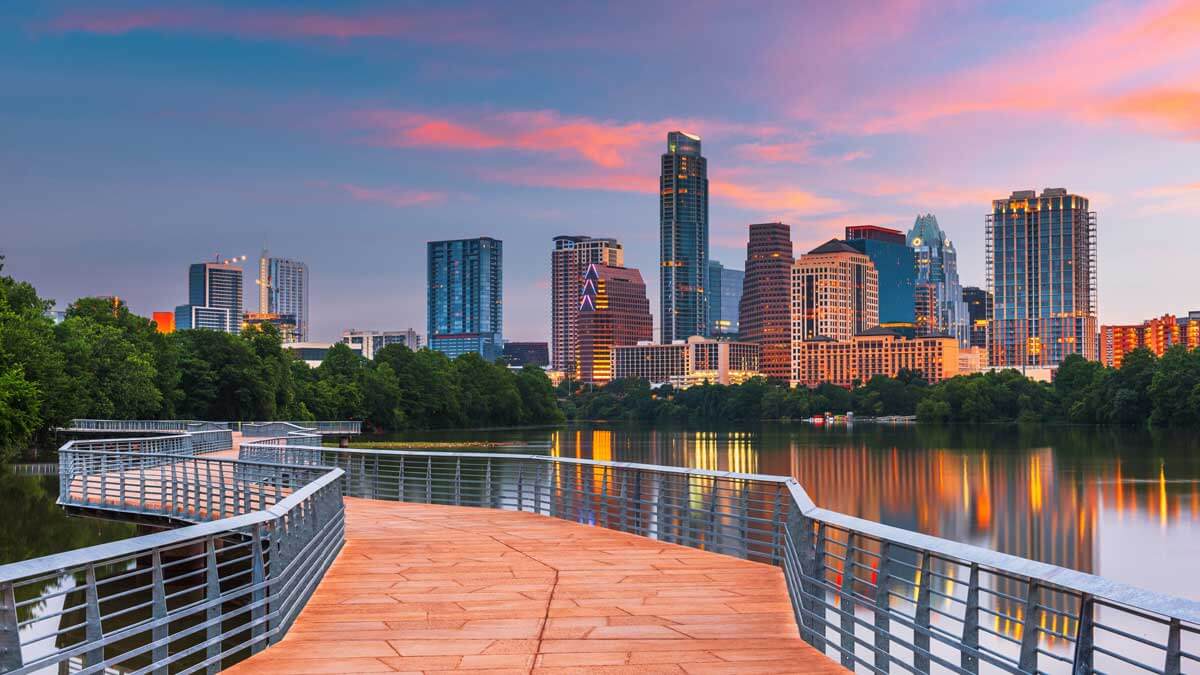 Austin is weird, and sometimes so is the weather! While temps are usually in the 60 all winter long, much of Texas is known for surprising dips below freezing. But for the most part, Austin is a mild winter destination with plenty to do all season long with lows reaching the 40s.
Enjoy balmy winter days with an outdoor adventure. Set in the hill country of central Texas, Austin has beautiful rolling outdoor spaces in the middle of the city! One of the most treasured is the Barton Creek Greenbelt with gorgeous limestone rock formations, a winding creek, waterfall hikes, and more.
And cool nights are perfect for curling up under a blanket at an old-fashioned drive-in movie at Blue Starlite Mini Urban Drive-in.
Foodies will want to hit up one (or all) of the food truck parks across the city. Or you could do a street art tour of Austin, including the "Greetings from Austin Mural" at 1720 S 1st Street.
And January is a great time to visit Austin, with Free Week, a completely free music festival! Head downtown where a dozen venues including the famous Austin City Limits at Moody Theater will host free shows.
Where to Stay: Hotel Van Zandt is a gorgeous boutique hotel located in the heart of downtown Austin. Enjoy the incredible fireplace by the rooftop pool or book a room with a giant bathtub next to a panoramic window overlooking the city. The entire property is so stylish, you might not want to leave. Book here.
San Antonio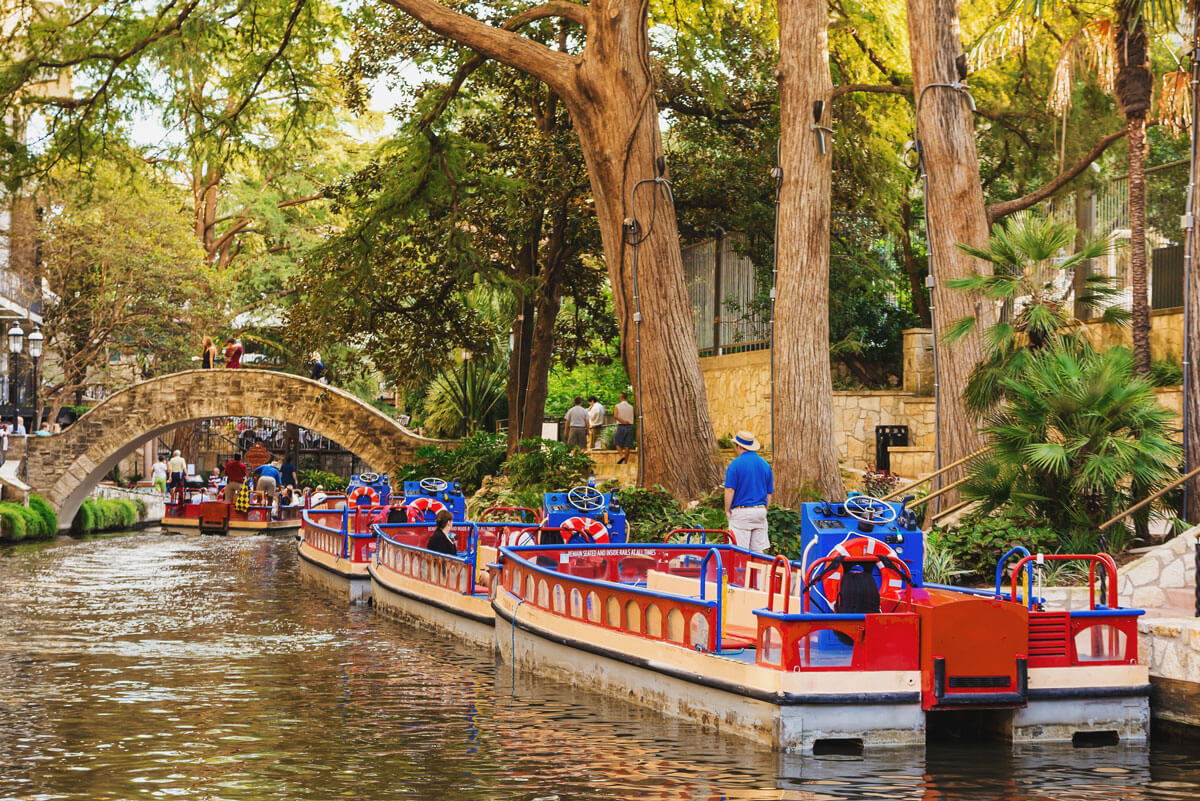 Much like Austin, San Antonio hovers between the 40s and 60s with occasional freezing temps at night. For the most part, you'll have clear blue skies to explore the Alamo City. One of the best warm winter getaways in the USA, the city is magical during the holidays. Plus, it's the low season with great deals on hotels and souvenirs!
It's been said that the San Antonio River Walk feels like a tropical destination, and that's no less true at Christmas time. From Thanksgiving through January 2nd, the historic downtown district explodes with thousands of twinkle lights dripping from trees over the water.
Just walk some of the 15 miles of the Riverwalk with its stone bridges, riverside restaurants, and live music. You can take a riverboat cruise all the way to the historic Pearl Brewery, a hub for Michelin-star restaurants, breweries, shops, and more.
Enjoy historic sites without the crowds, including the Alamo and the Tower of the Americas. For more festive things to do, start by getting tickets to The Nutcracker at the historic Majestic Theater. And make time to explore the 250-year-old Historic Market Square. Eat Christmas tamales at Mi Tierra Café and do some holiday shopping up and down the pedestrian Produce Row.
This is an especially great warm winter vacation in the USA if you're looking to spend the Christmas and holiday season somewhere not so cold!
Where to Stay: It's best to stay around the Alamo if you want to experience the best of San Antonio and the cool historic hotels like the Crockett Hotel, The St Anthony, and the Menger Hotel.
South Padre Island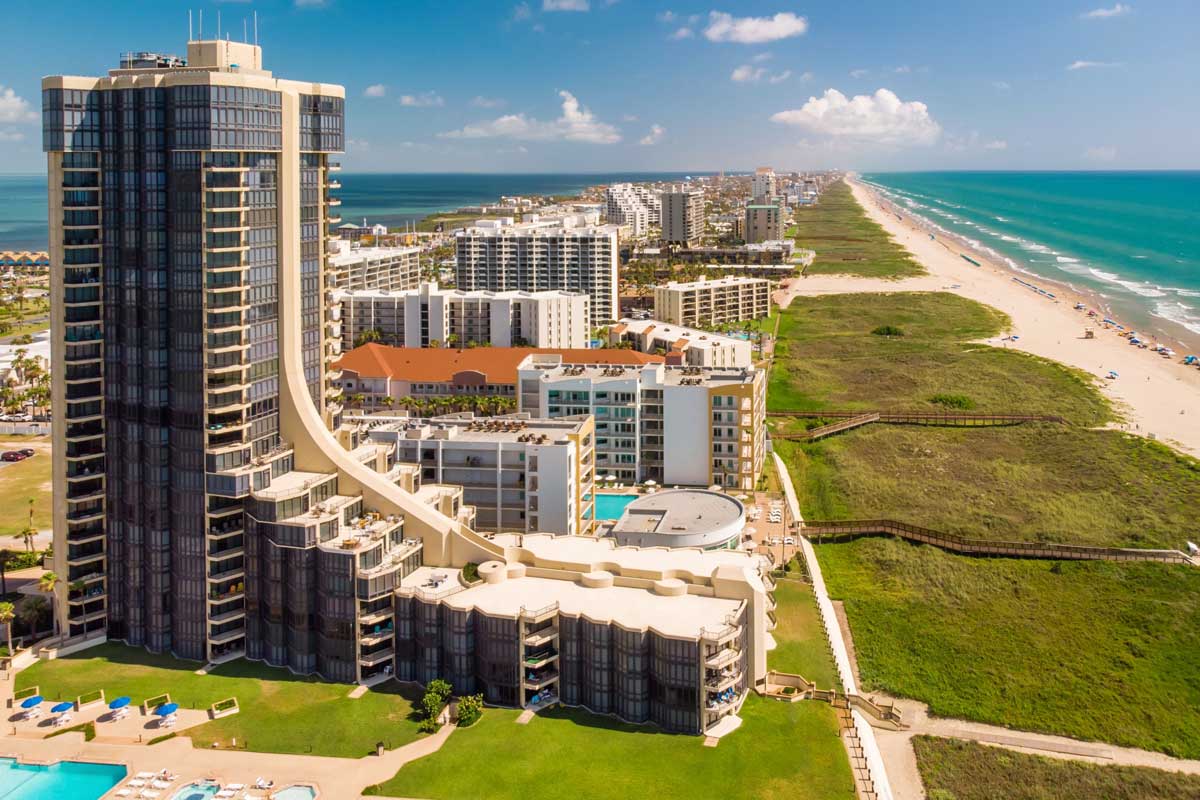 With steady temperatures in the 70s, South Padre Island is the place to be in the middle of winter! A barrier island on the Gulf at Texas' southern border, the weather is laid back and sunny, which means you can enjoy all the outdoor things everyone loves to do in South Padre. It might be too cold to swim unless you're wearing a good wetsuit, but that doesn't mean you have to stay out of the water!
You'll find a handful of friendly rental shops along the beaches in South Padre where you can take surf lessons and rent SUP boards, kayaks, and canoes. You'll also see people riding rental bikes along Gulf Boulevard or around town. And it's a great idea to support the good things happening at South Padre Island Birding And Nature Center.
Soak up the winter sun on South Padre Island and dine on fresh gulf seafood. The Pina Coladas and ceviche at the beachfront Wanna Wanna Inn Beach Bar and Grill are a must. And if you're in South Padre at beginning of February, check out the SPI Kitefest or enjoy samples at the South Padre Island Chili Expo (SPICE) and Cajun Gumbo Cookoff!
Where to Stay: Isla Grand Beach Resort offers a beachfront location overlooking the Gulf of Mexico and has a vintage holiday resort feel to it. Be sure to take advantage of their hot tubs too! Book here.
---
Enjoyed this guide to all the best warm winter vacations in the USA? Bookmark for later or share the love below on Pinterest!