Southern California has so many incredible things to do or see especially along the coastline. One of the more popular things to do that has boomed with Instagrammers over the past few years is Salvation Mountain near the Salton Sea.
However, Salvation Mountain is a bit of a hike no matter where you're coming from, San Diego, Orange County, or Los Angeles. So why not make an entire day trip out of it? To our surprise, there are actually quite a bit of things to do near Salvation Mountain.
We are going to break down all the awesome things to do at the Salton Sea to make your trip to Salvation Mountain 100% worth the drive. What we discovered was Salvation Mountain didn't end up being the highlight of our trip, discovering the history of the Salton Sea and the counterculture movement going on here is what really struck us as fascinating.
You'll want to plan an entire day from morning until late afternoon discovering all the things to do at the Salton Sea.
Background of the Salton Sea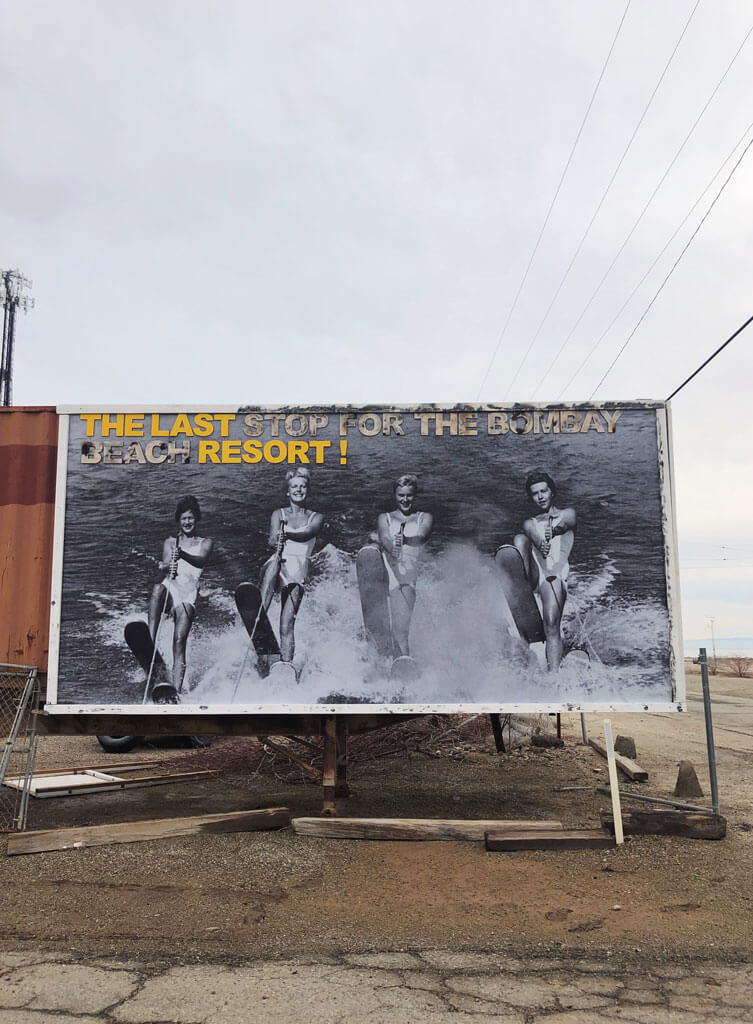 The Salton Sea has an incredibly interesting background story. It's located directly on the San Andreas Fault line and is one of the lowest elevation points in the US 236 ft below sea level.
For millions of years, the Salton Sea was a freshwater lake in cycles fed from the Colorado River. The cycle happened every 400-500 years until the most recent inflow in 1905 that was made by an accident when engineers were trying to increase the flow for farming and irrigation causing the lake to fill.
With a new inland sea locals made it a tourist haven and even introduced fish to the lake. At one point in the 1950s, the Salton Sea even saw more visitors than Yosemite National Park. This didn't last long, by the 70s all the resorts and tourists were long gone.
Since the outlet to the Colorado River was cut and there was no outlet the sea became endorheic, very salty, and run off of fertilizers from the nearby farms ended up in the lake. All of the freshwater fish died off and saltwater fish were introduced.
By the 1980s consuming fish from the Salton Sea was prohibited as it was considered too toxic. Then there was the sudden bloom and boom of the phytoplankton algae that let off a nasty smell.
Birds started migrating here from the growing of Los Angeles with no else to go but that didn't last long either. During the 1990s there were two mass bird deaths at the lake from the toxic waters a disease passed on to them from the dying fish in the lake.
Today, you can see the ruins of this once tourist haven. The beach of the Salton Sea is made up of old fish bones and the surrounding area almost feels like you're in the wastelands or living in a Mad Max dystopian world.
Bombay Beach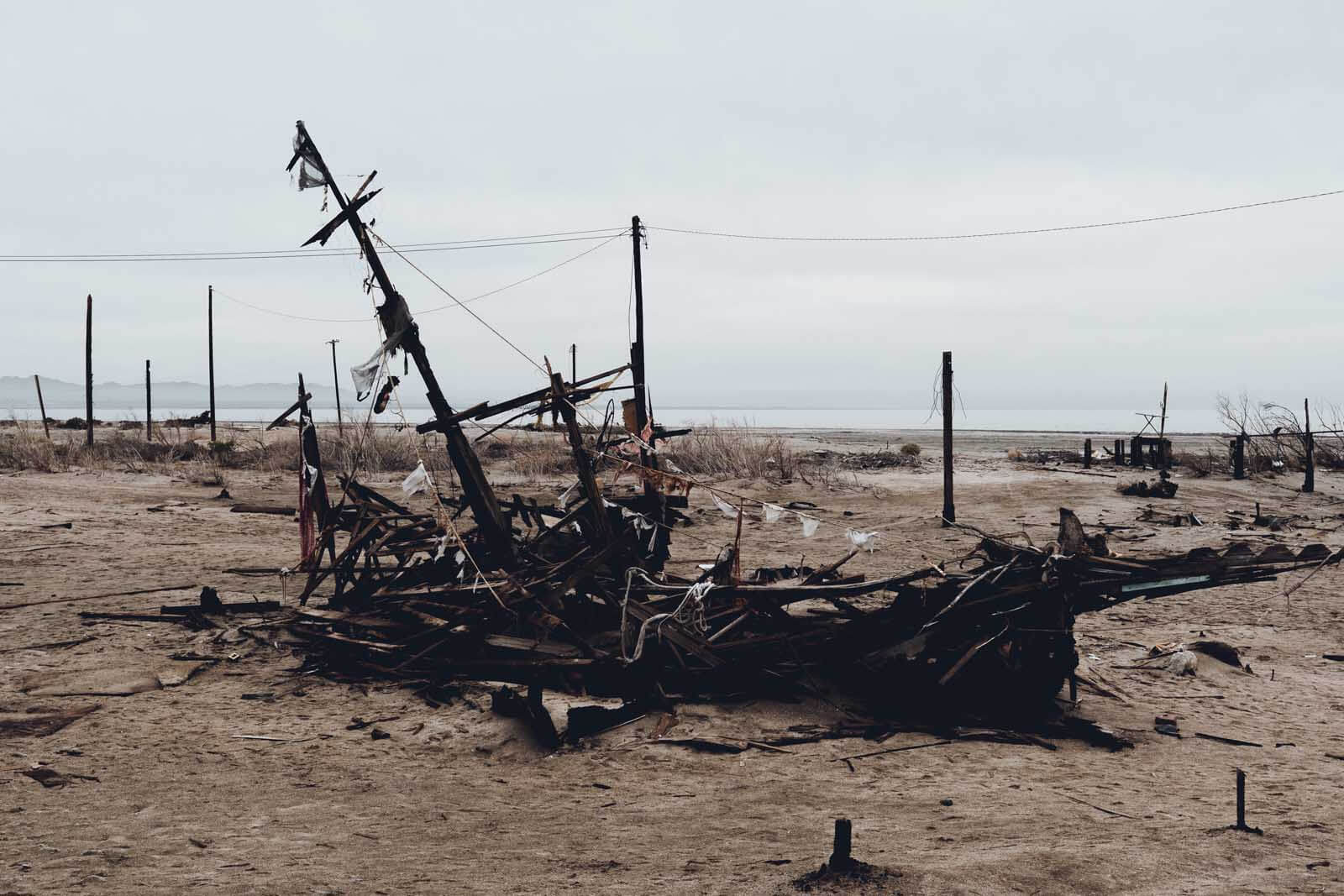 One of the best things to do at the Salton Sea if you want to see remnants of the yesteryear days when the Salton Sea was a tourist haven, this is the place to go. Not to mention, Bombay Beach is also one of the lowest towns in North America located 223 feet below sea level.
You're greeted to Bombay Beach by old billboards of ladies water skiing that remind you that this was once such a thriving tourist destination it saw more visitors than Yosemite. It's incredibly hard to imagine when you're there in person.
The Salton Sea levels change frequently and at one time the levels rose so much that the toxic waters swallowed part of the trailer park community that call Bombay Beach their home. Today you can see ruins of some of the lost trailers halfway stuck in the mud of the shores of the beach or they were completely succumbed by the toxic waters.
This caused the population to decrease even more, the last census recorded only 295 people living in Bombay Beach in trailers or mobile homes on the grid-like avenues leading up to the beach.
Visitors flock to Bombay Beach to witness and photograph the ruins. This apocalyptic looking place though is starting to get a fresh new and positive image.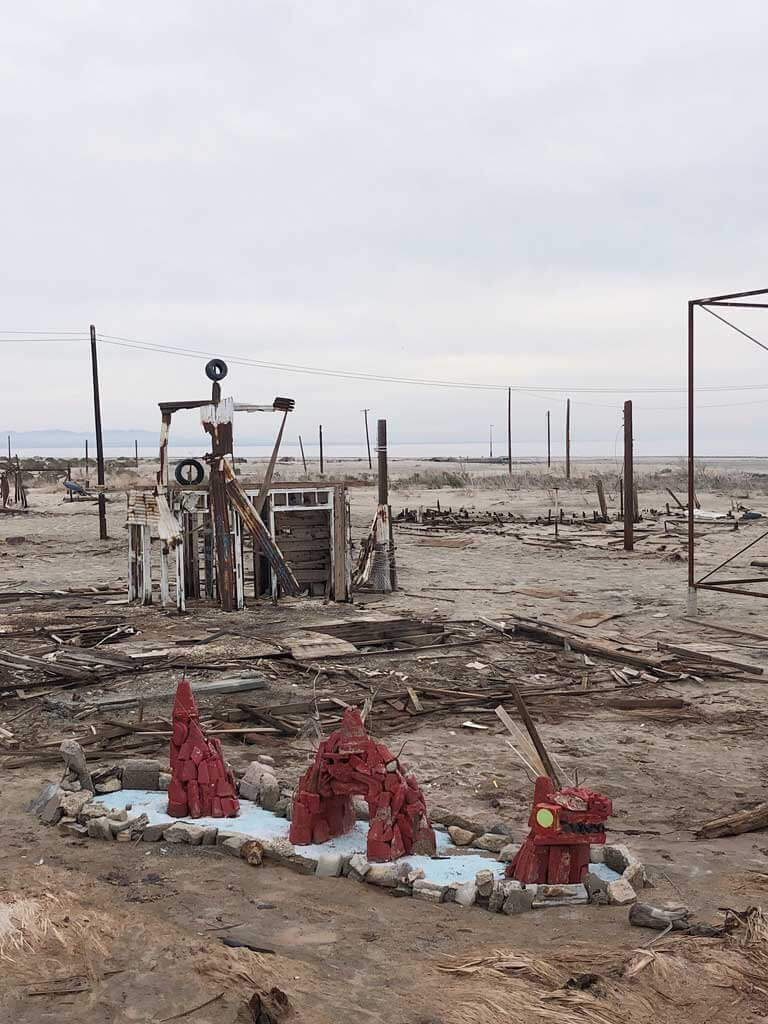 Artists and intellectuals are moving into trailers and mobile homes in Bombay Beach and transforming it into a bit of a bohemian sanctuary. From creating a local Opera House to hosting an intellectual festival featuring ballet, poetry, and philosophy. There was even an episode of Anthony Bourdain No Reservations that was filmed here.
The place is slowly transforming and is interesting to visit. Even the beach ruins are getting a facelift with large metal sculptures going up in the sand from dragons to a giant cube known as the tesseract.
This is one of the more interesting things to do near Salvation Mountain and worth a visit.
International Banana Museum
This is definitely one of the more wacky and light-hearted things to do at the Salton Sea. The International Banana Museum is located right along the Salton Sea and is comprised of a collection of all things banana.
What started as a man who liked handing out banana stickers to make people smile slowly turned into a huge collection of over 17,000 banana related items.
The museum started in 1976 and is one of the few things to survive the rapid decline of the Salton Sea even though the museum location has moved a few times.
Visiting hours are only between 1 – 5 pm, so plan your trip accordingly. We showed up too early and couldn't see this nanner collection for ourselves.
This is a quick and easy stop on your way to or from Salvation Mountain.
Salvation Mountain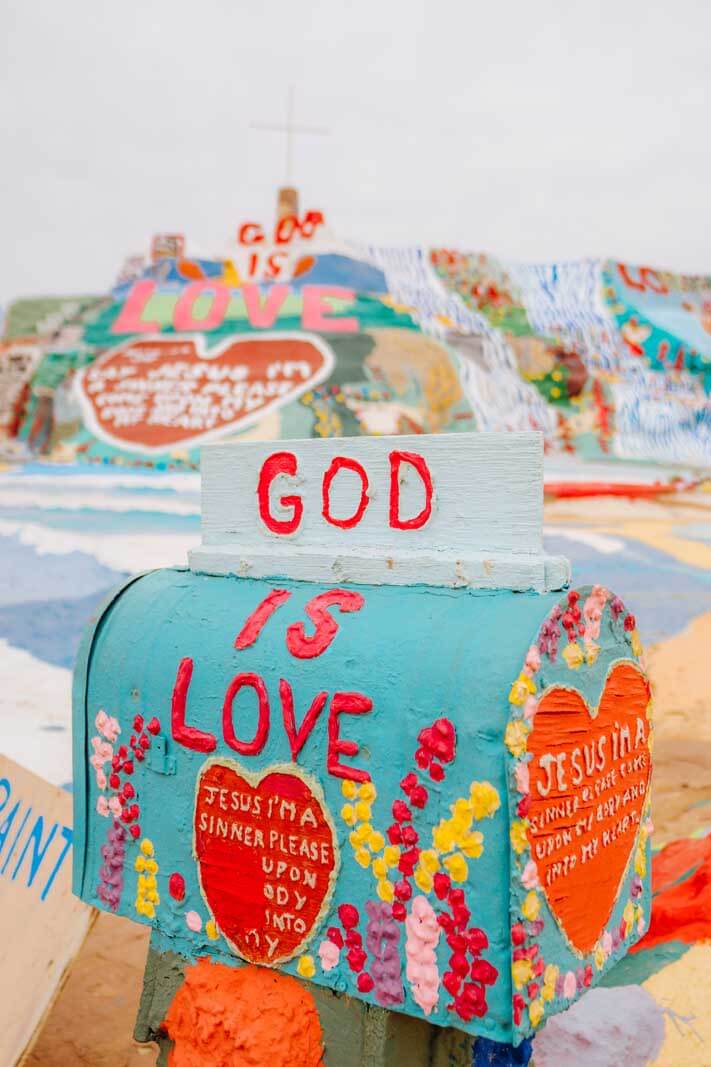 I am not going to even pretend that I knew much about Salvation Mountain before our visit as this is the main thing to do at the Salton Sea that brings tons of visitors a day to get a cool photo of this colorful mound in the desert.
I am guilty of wanting to come for the photos and to see this quirky colorful sand mountain in the middle of nowhere, have you even seen photos of this place? It looks like a magical candy land of colors. Not to mention its also been in numerous music videos, the place has a way of drawing people in.
However, when arriving to Salvation Mountain my first instincts were, this is it? It was much smaller than I had imagined and during our visit there was no climbing or walking on it like we had seen in photos due to wet paint. However, this wouldn't stop us from appreciating the place and its origin of how it became what it is today.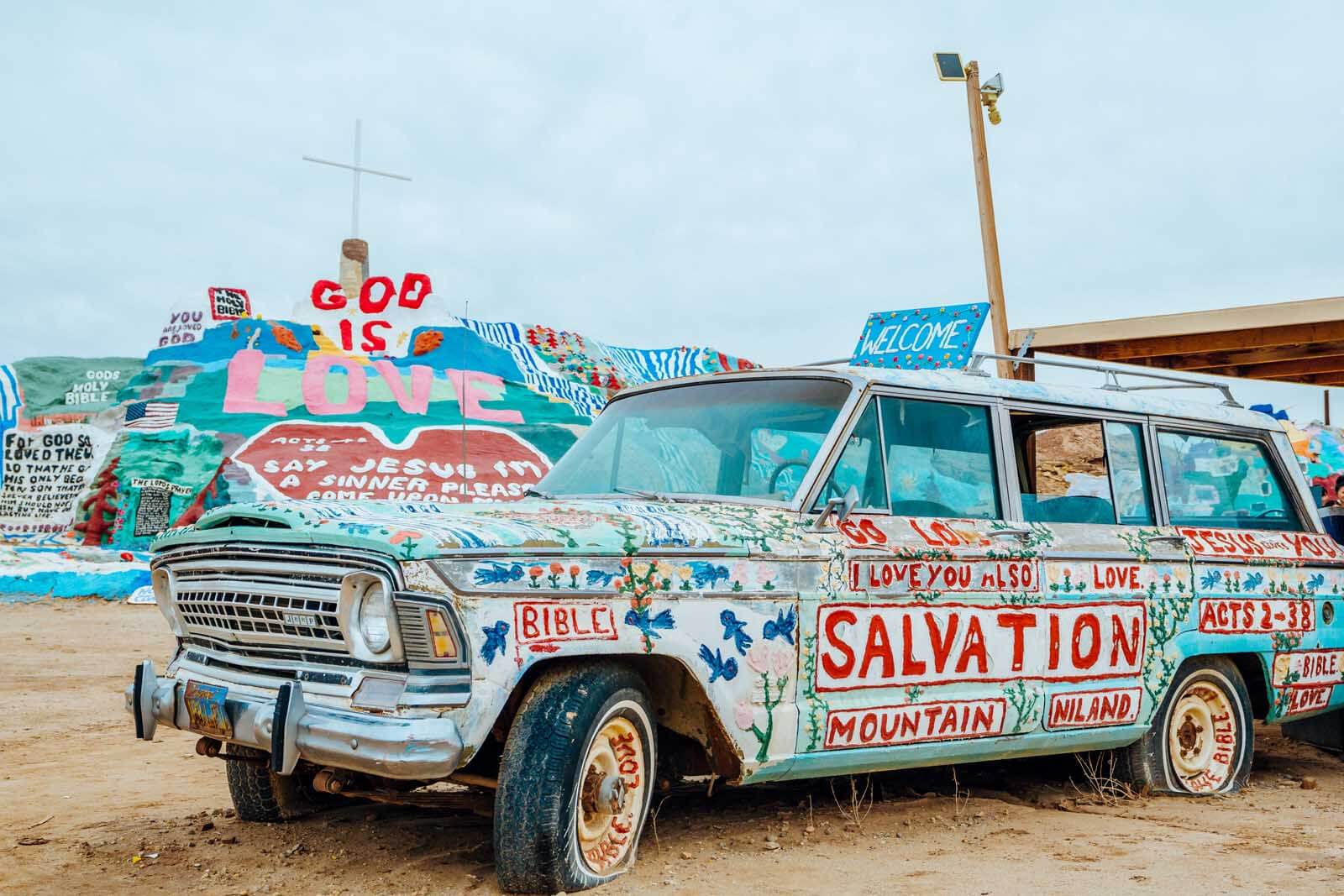 What also surprised me was how religious this site was. I should have seen that coming though as the most famous photos of this place always display the giant, "God is Love," on the top of the mountain with a cross. But this was also my ignorance on display as I didn't do any research before visiting Salvation Mountain.
Just like all the other things to do at the Salton Sea, there is an interesting backstory to the origins of Salvation Mountain.
Leonard Knight dedicated 28 years to creating and maintaining Salvation Mountain out of his devotion to God living in his van without running water or electricity.
It started when Leonard came out to the desert to fly a hot air balloon he made, long story short the balloon didn't work and he was about to leave the area until he decided he was going to make a statement before he left.
He ended up making a monument built out of sand mounts, hay bales, mud, and whatever he could get his hands on and paint it. After about 3 years, the original collapsed and so he didn't let that stop him and he started rebuilding out of adobe clay to what the mountain is today.
Today volunteers live on the premises or nearby in Slab City to maintain and preserve the legacy of Salvation Mountain and what Leonard Knight left behind.
If you plan on visiting and want to contribute to the preservation of Salvation Mountain consider bringing paint to donate to the volunteers who maintain the mountain today.
After learning more about the backstory of Salvation Mountain we do have a new perspective and respect for the place. What we find most fascinating are the people who devote their time to preserving this place that so many people love to visit.
East Jesus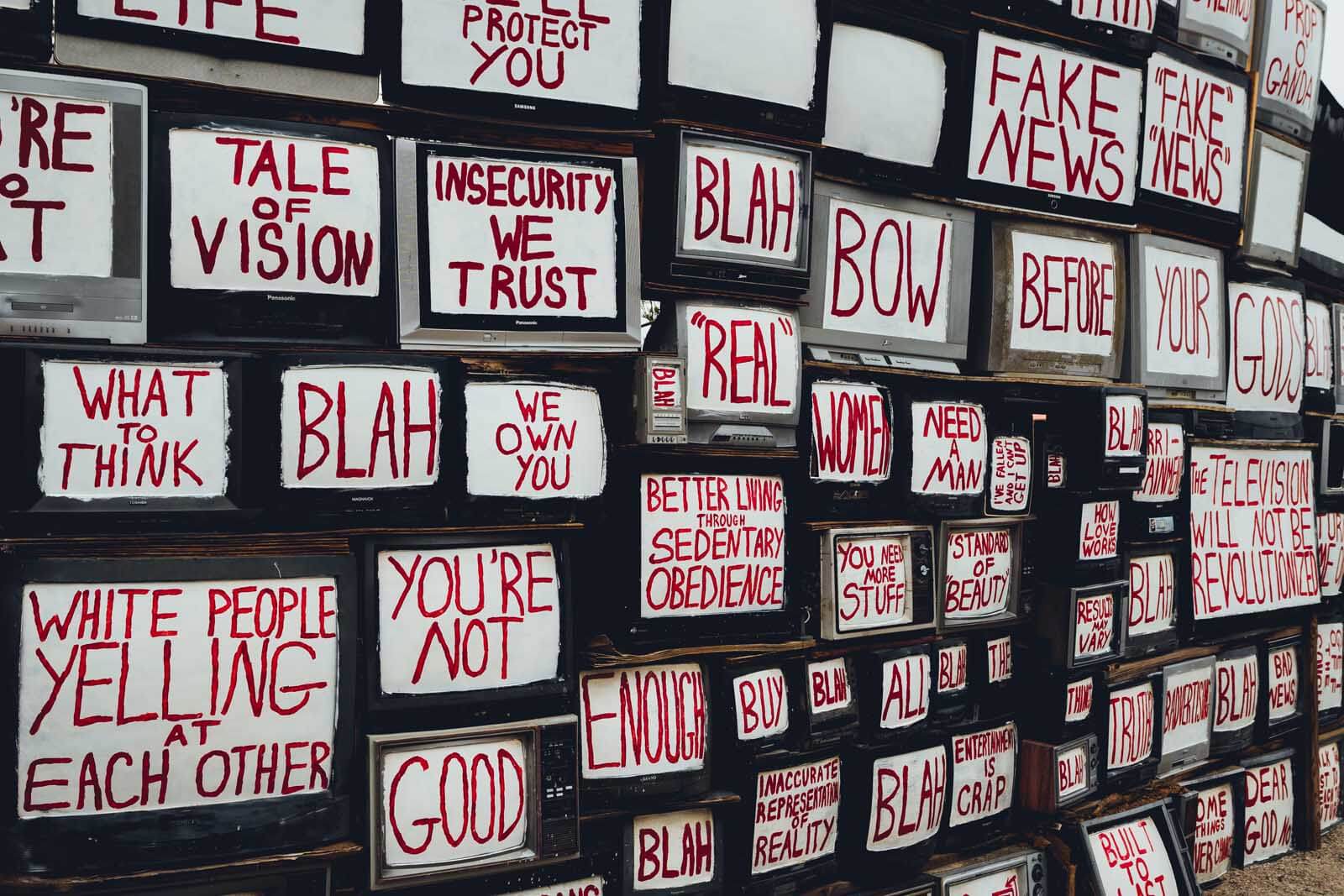 East Jesus ended up being our favorite thing to do at the Salton Sea and our favorite thing to do near Salvation Mountain. We had no idea what to expect and after visiting Salvation Mountain we thought we were getting ourselves into another religious place given the name East Jesus.
However, that could be further from the truth. The name East Jesus refers more to being off the grid. This compound is a part of Slab City and is an experimental outdoor art museum full of installations made up of recycled materials or what some might say a junkyard.
This is a living, breathing example of the saying, one man's trash is another man's treasure. The habitable outdoor art installation welcomes visitors to see, touch, and walk through their recycled and repurposed art museum and exhibits.
Volunteers run this place and give free tours and greet visitors with their three rules. We overheard a few volunteers giving out the rules which consisted of some version of the following.
You don't have to stay on the carpeted path.
You can touch whatever you want.
If you break something, say it was already broken.
You can't help but admire the carefree life here living off the grid in a community of people who encourage self-expression. It might even be one of the most underrated cities in the US if you ask us.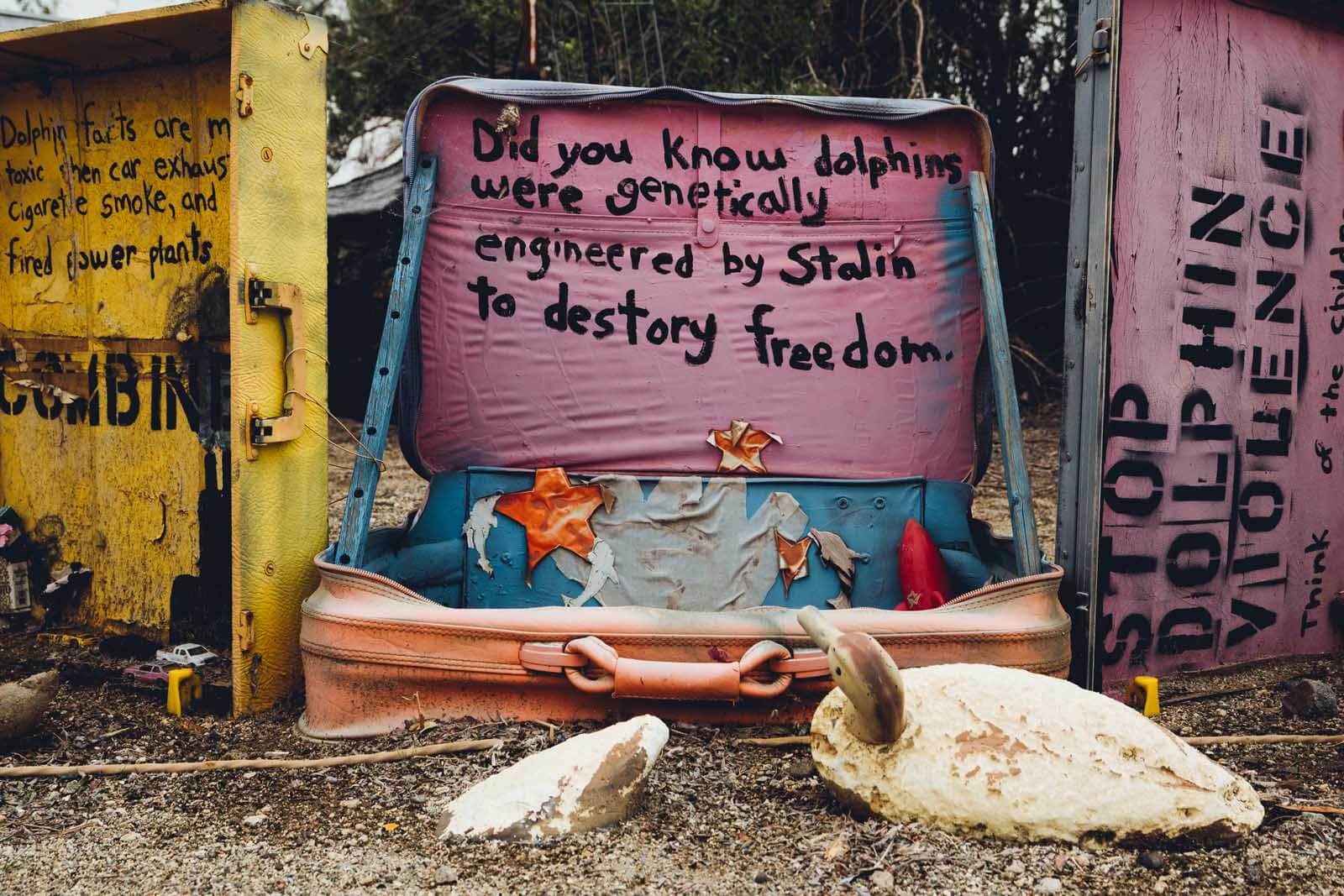 Some of the installations were thought-provoking with real messages about today's society that made you think and others were just fun and meant to give you laugh like the pieces dedicated to trying to prove dolphins are some kind of evil creatures that are going to destroy the world.
If you wish to donate or give back the volunteers encourage you to bring your junk from your garage that you don't want anymore or you can give a small monetary donation if you wish.
I can't wait to clean out some items I don't need anymore and find an excuse to go back to East Jesus. This is one of the unmissable things to do at the Salton Sea.
Slab City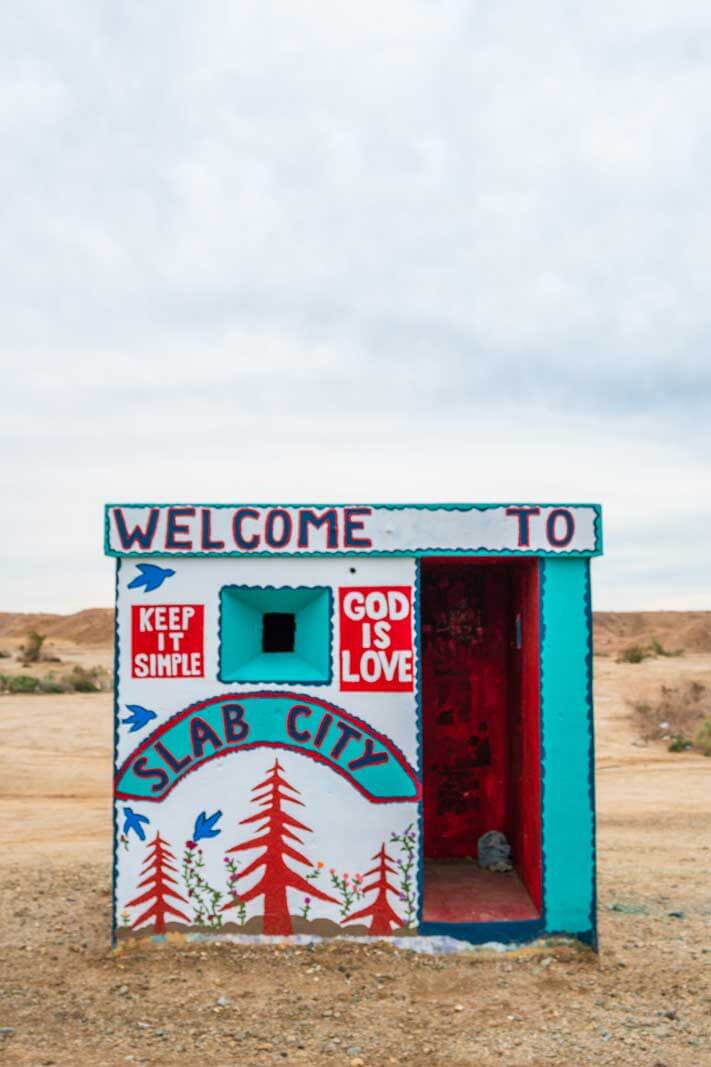 Slab City has become the mecca for squatters and mobile home vagabonds in the heart of the California Badlands and is one of the best things to do at the Salton Sea.
While technically both Salvation Mountain and East Jesus are considered a part of Slab City we decided to include it by itself as this is where you will find people residing off the grid whether out of a camper, car, mobile home, or homemade house out of whatever resources are available.
This city is considered the Wild West as it is decommissioned and under no particular control of anyone and is essentially lawless. There is no running water, electricity, plumbing, or even toilets. Anyone can come and live there and it's where a melting pot of personalities and eccentrics call home.
Vice News even did a compelling documentary about Slab City being the last 'free place' in America.
There is a fear that Slab City won't be around forever. The land that Slab City is on is owned by the State of California. If they decide to lease or sell the land the communities could be bulldozed or permanently removed.
Slab City is truly a unique place and there is no place like it anywhere else. We highly recommend checking it out as one of the best things to do near Salvation Mountain especially if you will be driving through to see East Jesus you will be able to see it.
Salton Sea State Recreation Area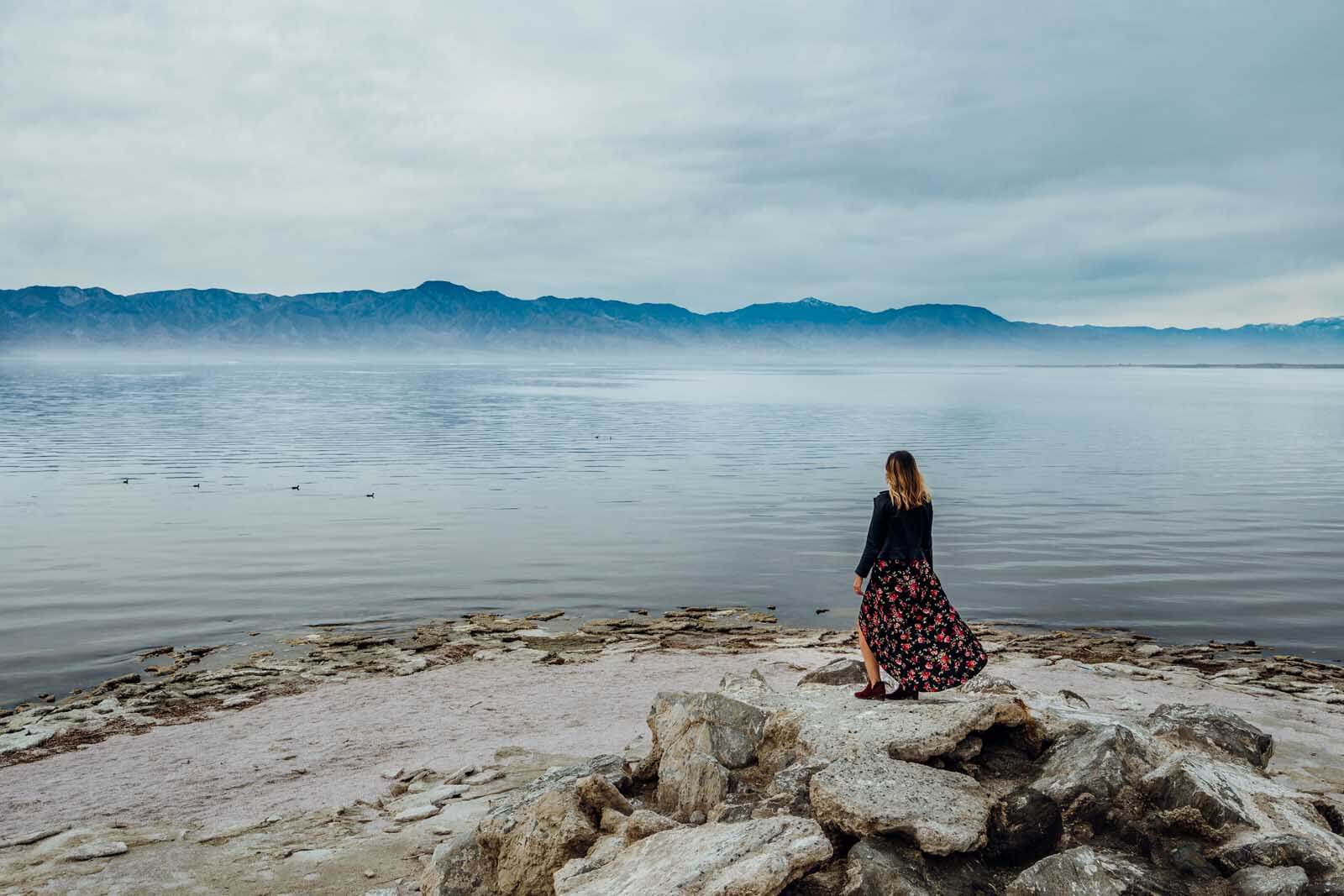 Visiting the Salton Sea State Recreation Area is one of the best things to do at the Salton Sea if you're looking for a good picnic spot or to walk along the beach made up of dried up, dead fish bones.
Believe it or not, you can actually fish, hunt, and swim here however after learning how toxic the water is I don't think I would dare to try any of those activities.
This is, however, a great spot for photos of the lake, walking on the beach and experiencing the odd sand which is made up of dead fish bones and enjoying a picnic at the tables. There's also a visitor information center here too.
Dos Palmas Preserve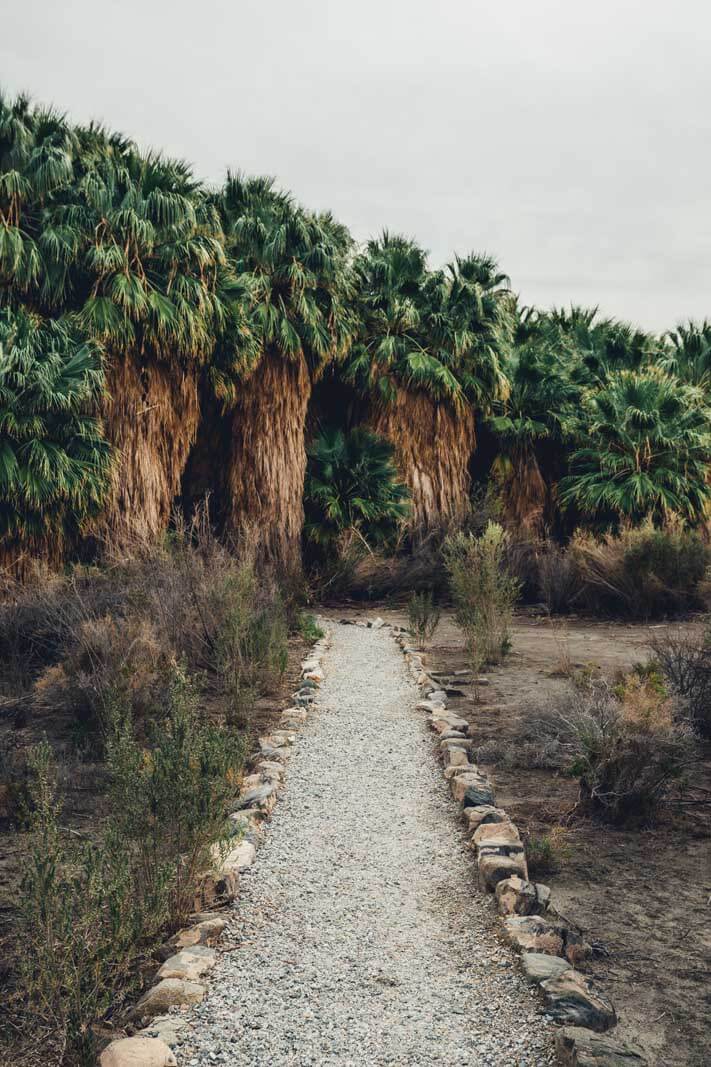 This next thing to do at the Salton Sea is great for nature lovers and hikers. Visit the Dos Palmas Preserve for hiking to the different oases and score yourself a chance at experiencing any of the badlands endangered species from various species of birds to mice and lizards.
The preserve is huge and 14,000 acres. You're not going to be able to see that so we recommend either doing the 5 minute walk up to the San Andreas Springs Oasis or walk a mile from the parking area to the Dos Palmas Oasis.
We only made it to the San Andreas Springs Oasis because we didn't come dressed or prepared for a mile walk in the desert. We were in awe at the beauty and overgrown palm trees. We sort of felt like we were walking through a Jurassic World.
The seismic activity along the San Andreas fault line is what is believed to be feeding spring water to these desert oases.
What makes this spot especially cool and a unique thing to do near Salvation Mountain or the Salton Sea is that you won't see many other people here. We were the only people in sight during our visit and it was kind of fun and eerie at the same time to have the oasis all to ourselves.
The New Mud Pots
This next thing to do at the Salton Sea is as mysterious as it gets. Along the San Andreas fault line and the Salton Sea are the mud pots or mud volcanoes that is basically a mudhole mud hole in the ground.
I won't even begin to try and explain the scientific background behind this, National Geographic does a better job of that, but what is really getting scientists and researchers confused is as to why the mud pots seem to be moving around 20 feet the last few years.
Apparently, there is no other mud pot in the world like this one because it not only moves but it also is producing 40,000 gallons of water per day.
Getting to the mud pots is a longish drive on a dirt road. We ended up having to turn around after almost arriving to the mud pots driving around 15 minutes because the road was closed due to mud. We had just experienced days of heavy rain which isn't so common for Southern California and combined with low elevation you can imagine it was a bit swampy.
We were disappointed but that is something to be aware of if you plan on visiting the mud pots. Don't attempt after any heavy rain, otherwise, you shouldn't have any issues.
It's best to take MacDonald Road off of the 111 highway then make a left on Davis Road. The mud pots will be at the corner of Davis Road and Schrimpe Road.
Nearby Things to do at the Salton Sea
Joshua Tree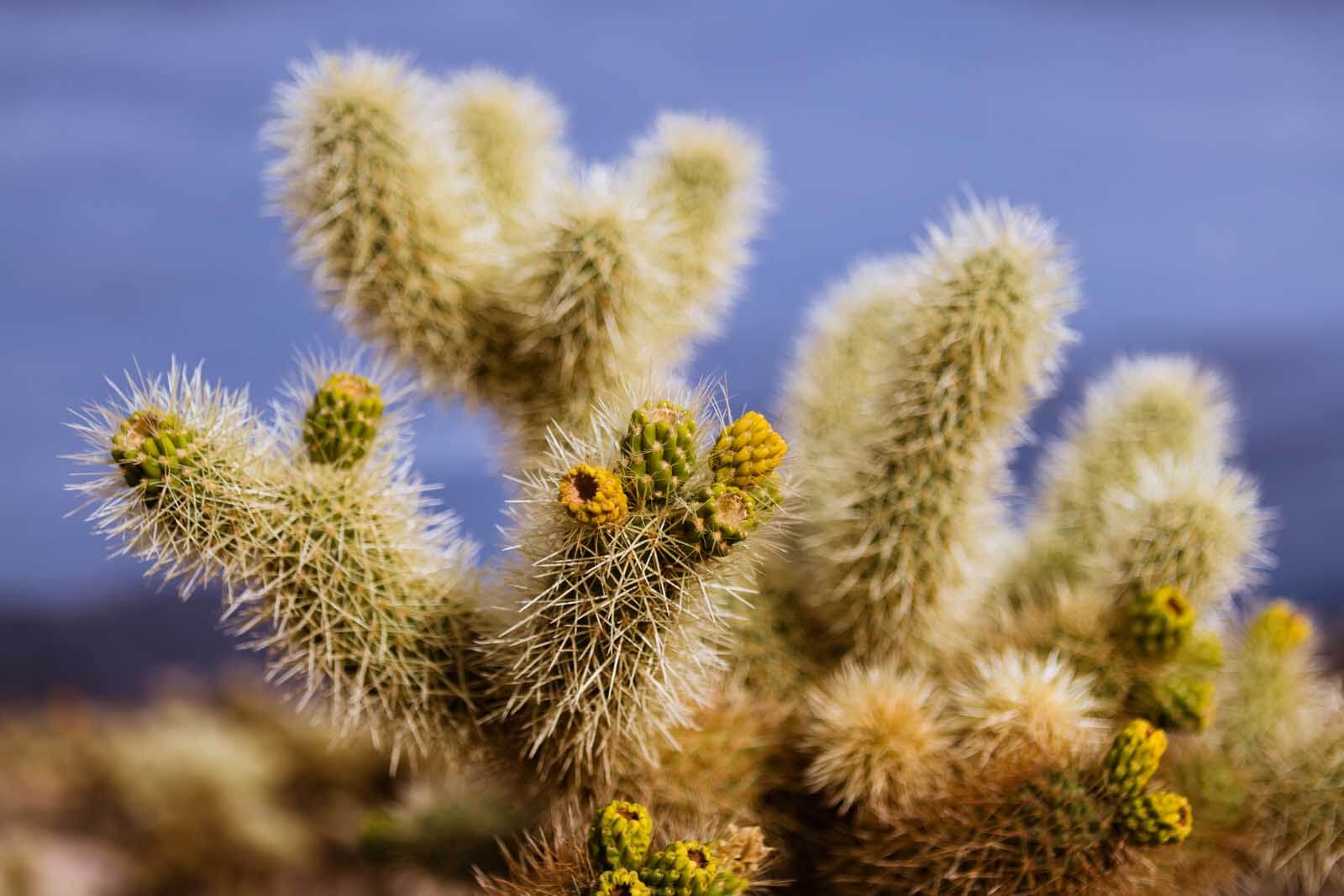 Another one of the best things to do at the Salton Sea is to make your way over to Joshua Tree National Park. Joshua Tree is located around a 90 minutes drive from Salvation Mountain and is a great place to base or stop to make a wonderful Southern California road trip.
This is the place to go for an instant refresh, photography, inspiration, star gazing, camping, and just appreciating mother nature and the unique looking Yucca trees.
See our guide to Joshua Tree to help you plan your trip.
Palm Springs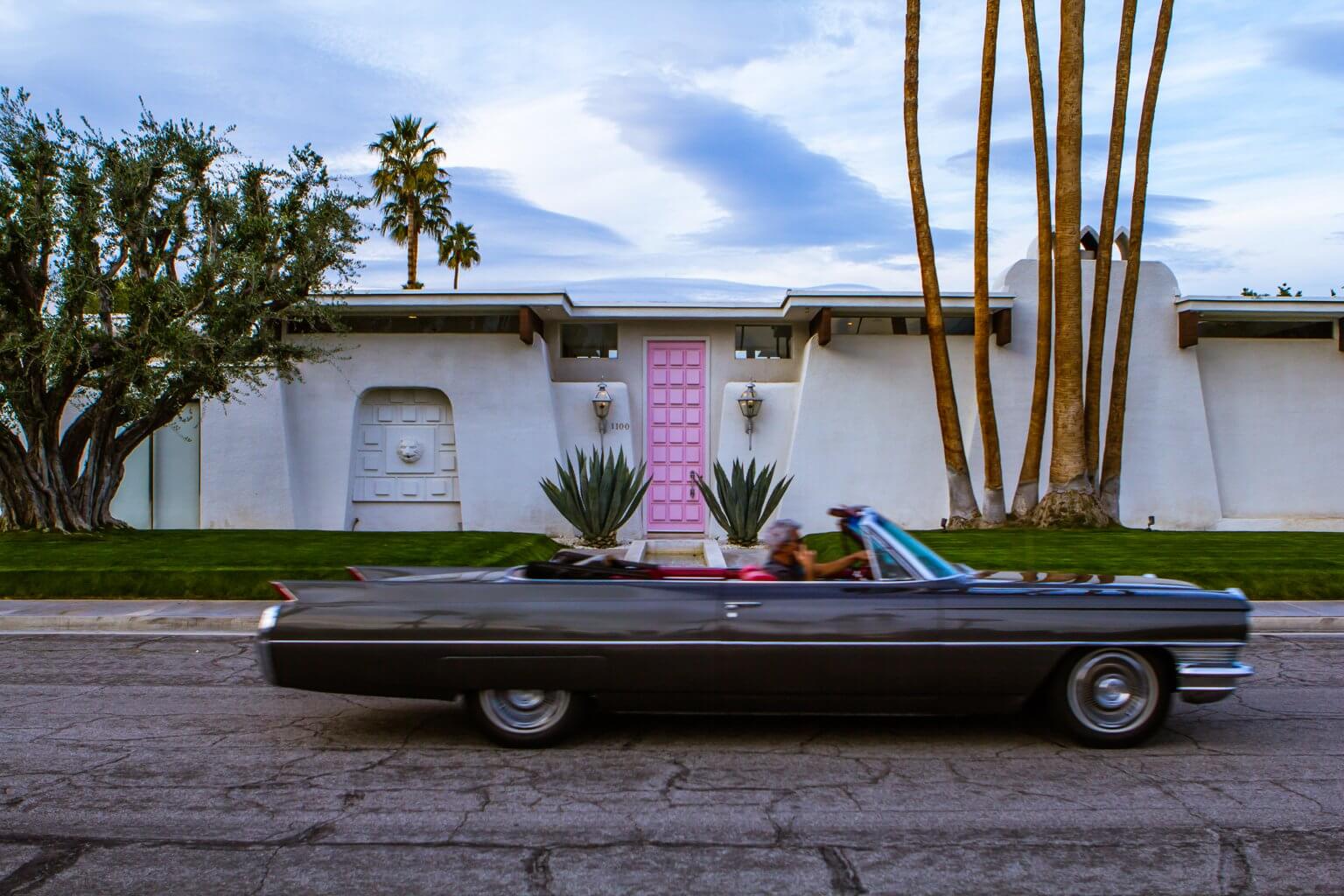 One of the best things to do near the Salton Sea or to base out of is Palm Springs. Around a 90 minute drive to attractions like Salvation Mountain, you can easily make yourself a nice Southern California road trip by adding a Palm Springs getaway to the trip.
Palm Springs feels straight out of the 1950s and 1960s with its retro architecture and history with frequent celebrity visits from Marilyn Monroe, to Dean Martin, Frank Sinatra, Elvis Presley, and Sonny and Cher to name a few.
There are a ton of amazing things to do be sure to check out our guide to Palm Springs.
---
Liked this post about the best things to do at the Salton Sea and the best things to do near Salvation Mountain? Bookmark for later or share the love below on Pinterest!