Post overview: Recommendations and picks for best things to do in Owego, New York
It's no secret that we are big fans of the Finger Lakes region in Upstate New York, we have quite a few articles on the area including photos of the Finger Lakes that will make you want to book your next vacation or getaway here. We have personally visited several times and keep uncovering places in this destination that make us keep coming back for more, including Owego, New York named one of America's Coolest Towns.
Coming in from NYC this is one of our first stops in the Finger Lakes region and one that we are happy to stop at every time we drive out because it's not only eye-catching from the freeway as you drive by, but it's really one of the coolest towns in the Finger Lakes and in New York.
From the freeway, you can see Owego, New York as you pass, the lantern and flag lined bridge across the scenic Susquehanna River leading to Owego's picturesque town hall.
This is one of those driveby moments that made us want to turn around on our first drive to the Finger Lakes, and luckily on one our trips we did make that stop and found it to be one of our favorite things to do in the Finger Lakes and a regular stop each visit, whether it be for lunch at one of their many amazing eateries, antiquing, visiting one of the best bookstores ever, or just for a scenic river walk.
Check out all our picks for best things to do in Owego, New York – one of upstate New York's coolest towns!
Read Next: Why the Finger Lakes is One of the Most Underrated Destinations in the US
About Owego, New York
Owego, New York is situated on the on Susquehanna River in Tioga County. You can easily access some of the best of New York's wine scene and Finger Lakes region from Owego.
Owego has a famous annual Strawberry Festival in June that attracts visitors and is home to many famous historic figures including Belva Lockwood (more on her later on in this guide).
The name of Owego comes from the Iroquois Native Americans, the word Ahwaga which means 'where the valley widens.'
Owego distance to:
Ithaca, NY & Cayuga Lake: 30 miles, ~40-minute drive
Corning, NY: 53 miles, ~52-minute drive
Watkins Glen, NY & Seneca Lake: 44 miles, ~58-minute drive
Hammondsport, NY & Keuka Lake: 84 miles, ~80-minute drive
Things to do in Owego
Owego Riverwalk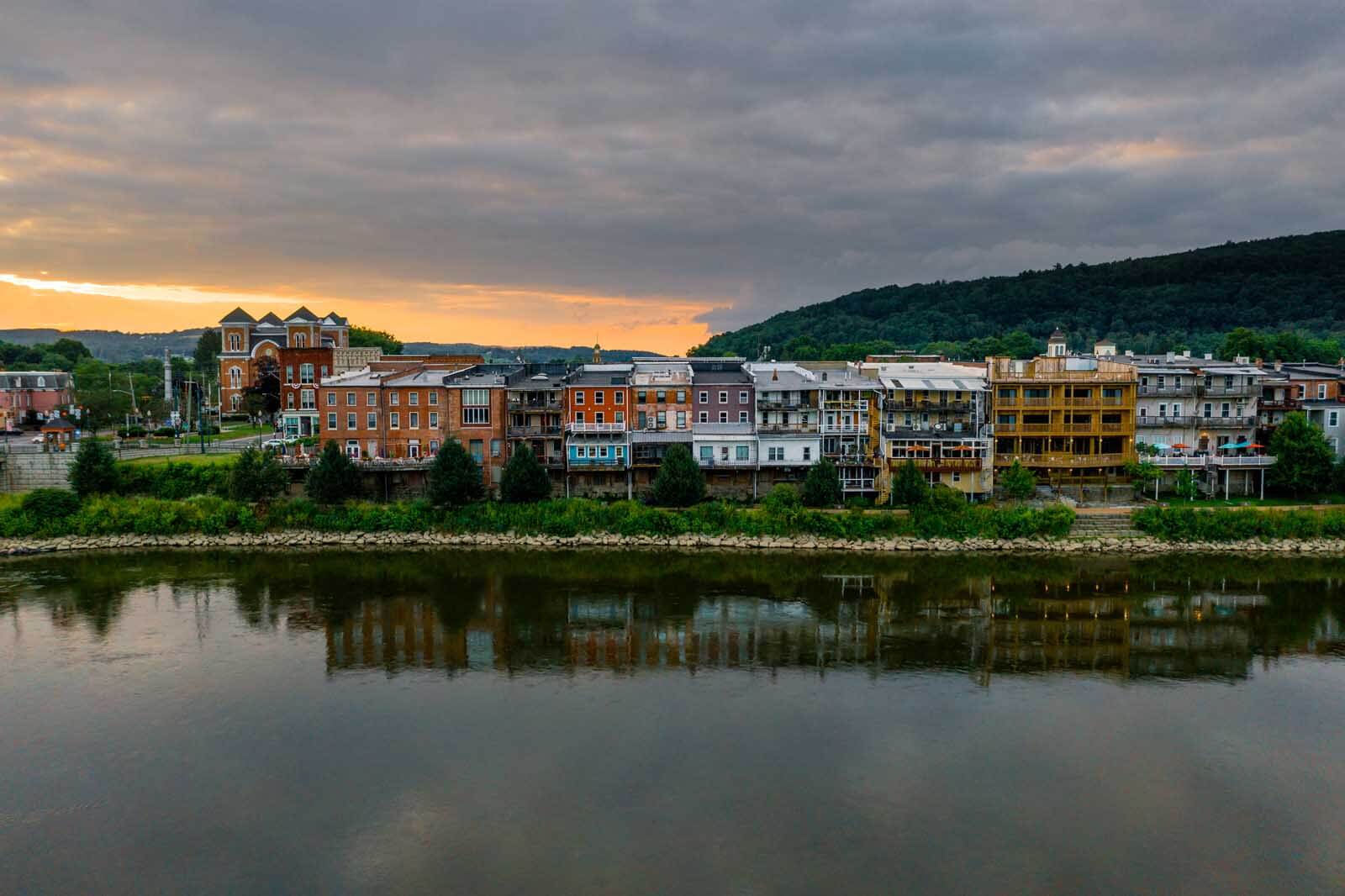 One of the best things to do in Owego is enjoy the pretty, scenic walk along the Susquehanna River on the Owego Riverwalk tucked under the businesses on Front Street.
There are a few places to stop to take a seat and just enjoy a pretty sunset or take a little quiet break including steps that lead down to the river or the park on either end of the riverwalk where you can find benches and even a swinging chair.
Enter the Owego Riverwalk either at Ahwaga Park at 180 Front Street or at the opposite end at Draper Park at 132 Front Street across from the Parkview Inn.
Riverrow Bookshop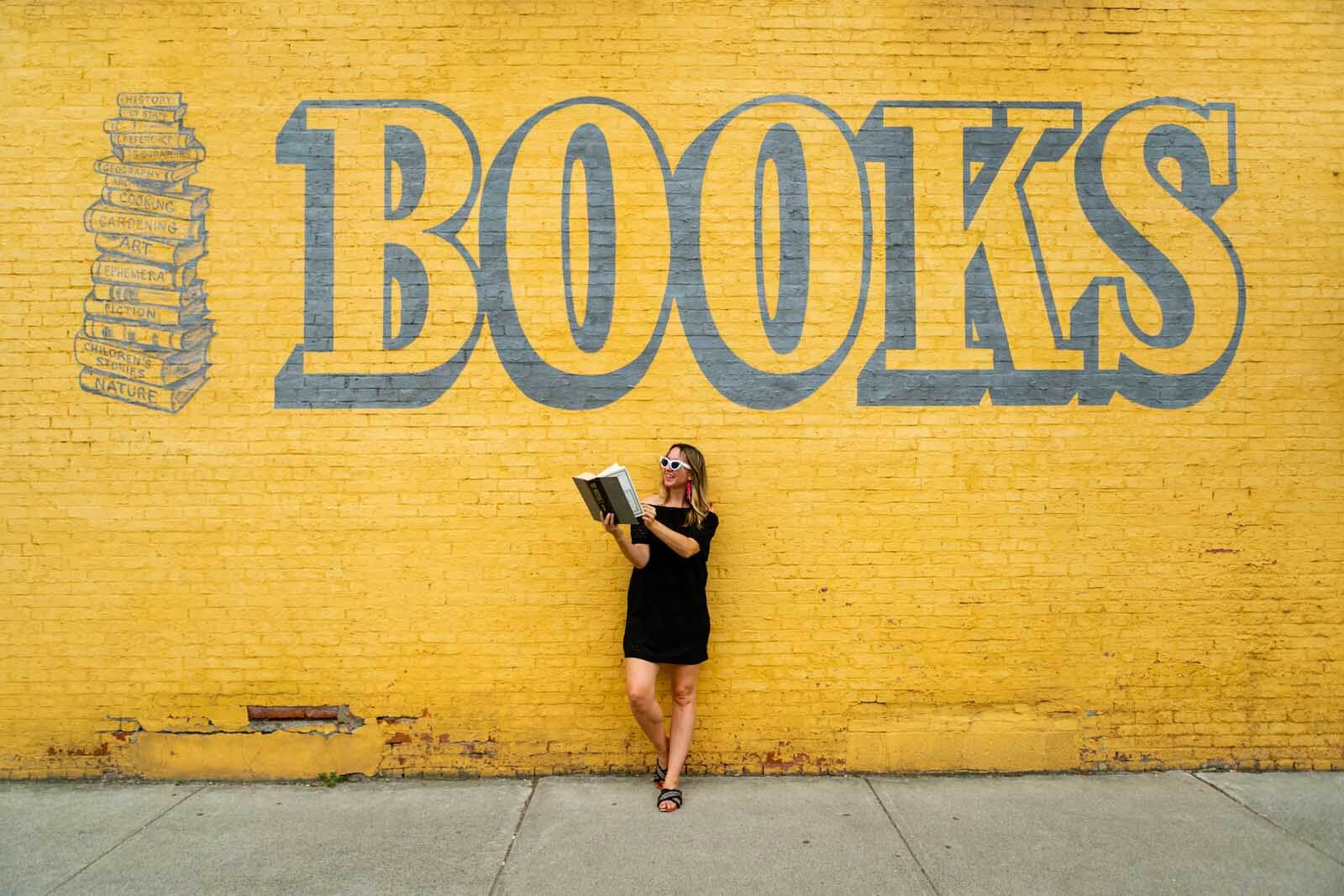 Another one of our favorite things to do in Owego, New York – quite literally every time we visit is to check out Riverrow Bookshop in the bright yellow colored brick building on the corner of Front Street and Lake Street. Before (or after) going into the wonderful world of new and used books be sure to check out the lettering mural on the side of the building on Lake Street. This is one of our favorite photo spots in town.
If you have the pleasure to visit during the holidays, the bookshop has fun 'book' Christmas tree displays in the window. Plus there are plenty of options for great gift ideas in here for your favorite book worm.
Antique Shopping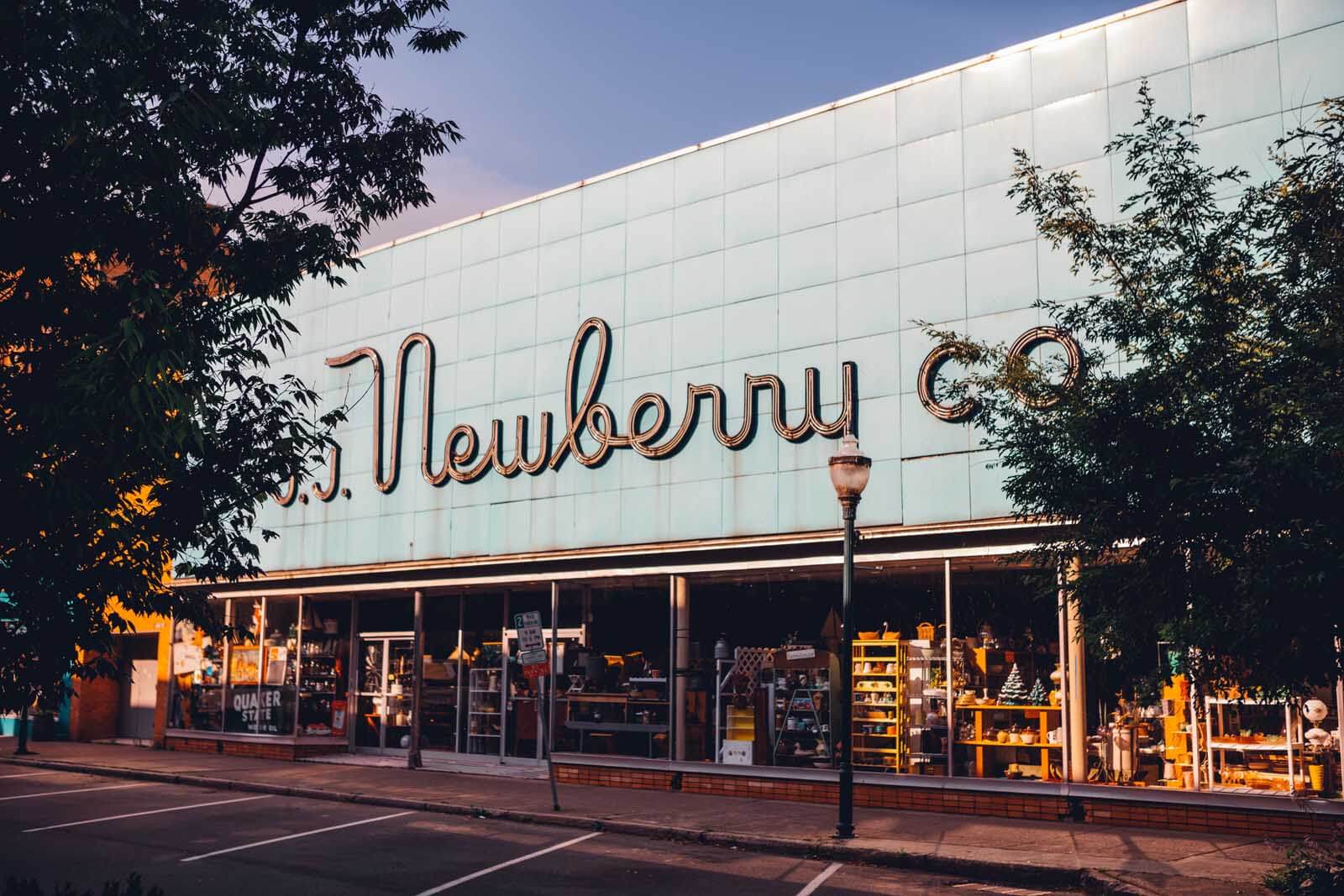 Calling all antique and vintage lovers, one of the best things to do in Owego is enjoy the epic antique shops right here! Whether you want some vintage Corningware from nearby Corning, or any other fun treasures and finds, there are some great antiquing options in Owego.
Our favorite antique shop and must thing to do in Owego while you're exploring this charming village is Early Owego Antique Center on Lake Street in the historic J.J. Newberry building, a former five and dime store chain that was popular in the 20th century.
Inside you'll find different vendor stalls selling all kinds of antiques from home furnishings, kitchenware, decor, coins, clocks, clothing, jewelry, and more.
If you're anything like me you'll get lost in here.
If you're REALLY into antiquing then you will be excited that there are more options in Owego, New York! There is also Owego Schoolhouse Antiques & Art Gallery.
The Foodie Scene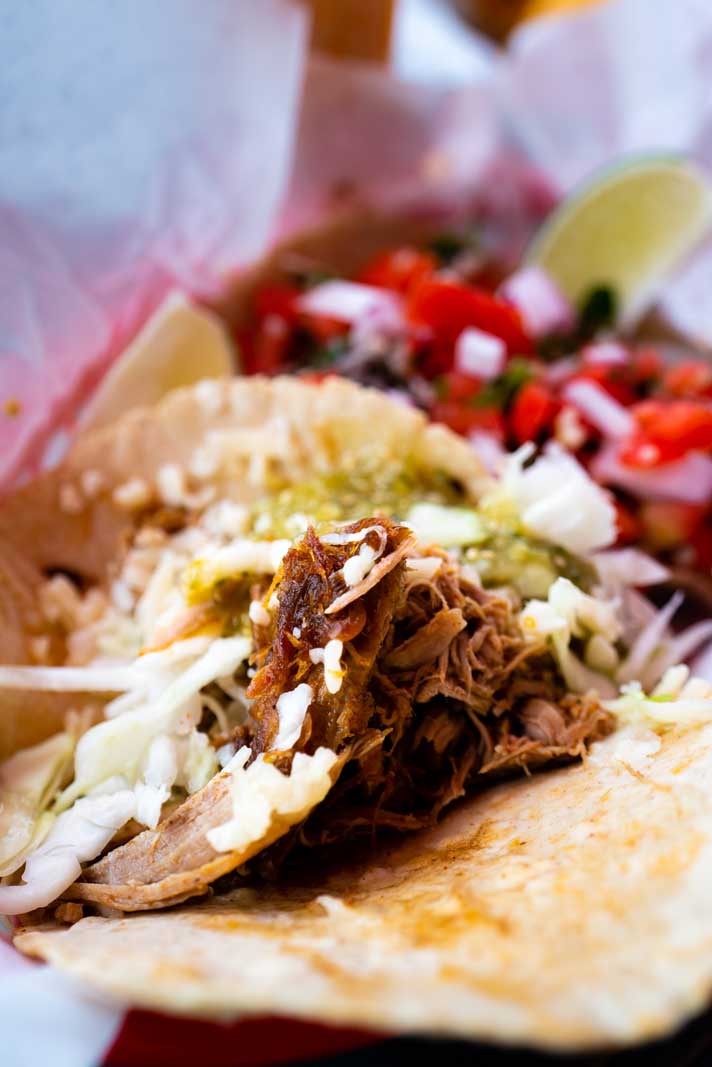 For being such a small town, Owego, New York has a killer food scene. If you're just passing through and only have one meal we recommend grabbing tacos at Las Chicas Taqueria. We are a bit of taco snobs after spending so much time in Mexico and living in California, but we have to tip our hats to this taco spot, they got it handled and their queso dip is a must.
Another great spot for breakfast or lunch is The Owego Kitchen, they have a killer selection of different flavored iced teas as well as casual cafe eats from sandwiches, soups, and salads.
If you're looking for a nice sit-down restaurant for dinner we recommend The Cellar Restaurant and Bar on the River on Front Street. This is one of your only more elegant options for dining if you're on a romantic getaway. The menu includes dishes like a beef Wellington, lobster, steak as well as a wide array of drinks to accompany your meal.
You really can't go wrong if you try any of these, we've been several times now and pretty much go back to the same spots over and over, definitely plan your adventuring around all the best things to do in Owego around enjoying some meals here.
Tioga Downs Casino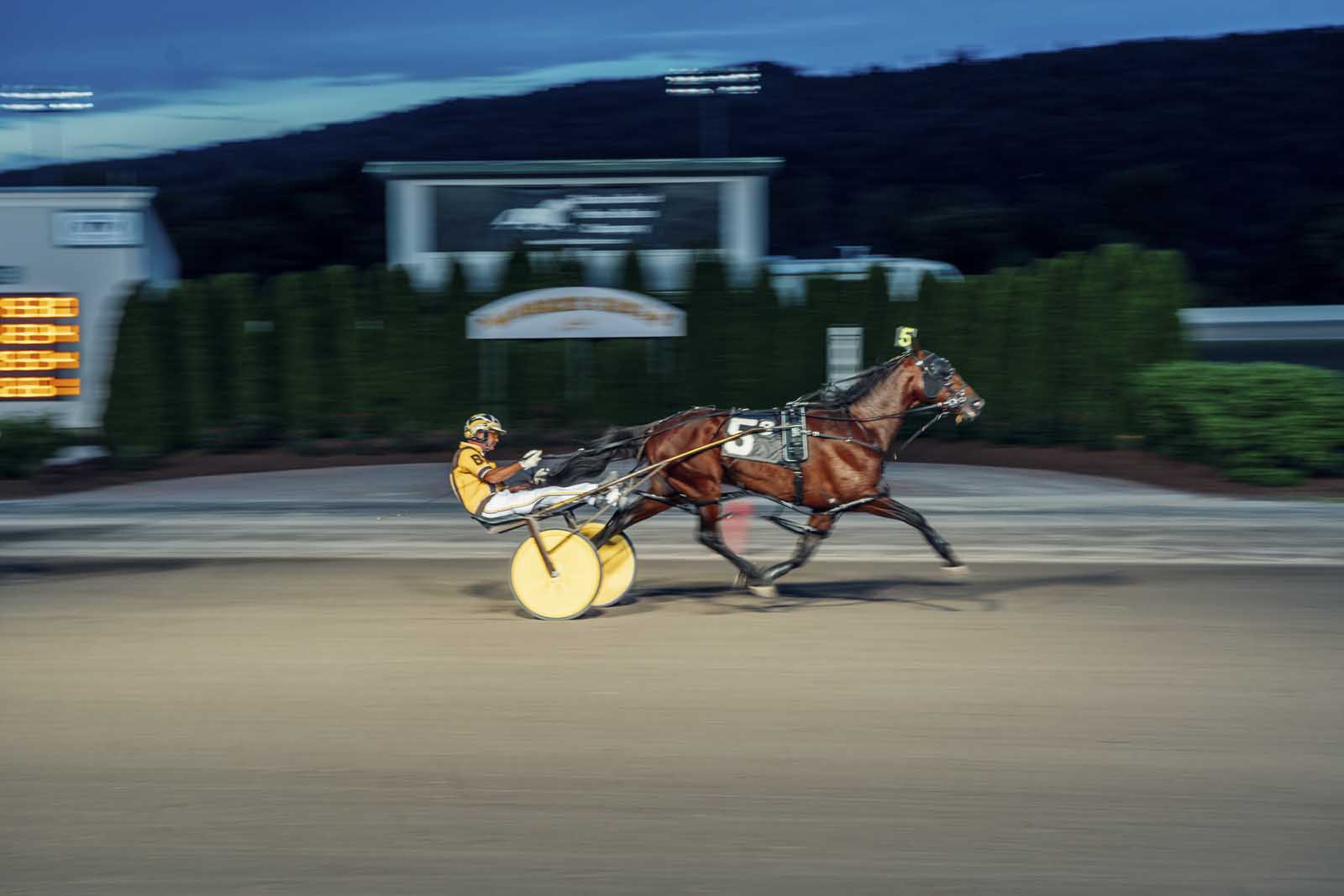 Feeling lucky? This next thing to do in Owego is for gamblers just a 15-minute ride from downtown Owego. Tioga Downs Casino Resort has a horse race track and a casino.
While neither of us are huge gamblers, we like to play with a few dollars here and there. Whether you want to play classic casino card games like poker or try your luck at slots, there are games for everyone.
What makes Tioga Downs popular though is that they have live horse races. We did get to attend these on our first visit to the Finger Lakes and I was the lucky lady who won $2 on my horse. I tried not to spend it all at one place.
If you're stopping here and need to eat then we can't recommend enough the famous NYC steakhouse, PJ Clarke's which as a location here. We recommend one of their famous burgers.
The Waverly Glen
Just a 25-minute drive from the town center is another one of the best things to do in Owego for outdoor and nature lovers. There are pretty, forested trails around the Waverly Reservoir that are fun to explore as well as one of the many waterfalls of the Finger Lakes.
The Waverly Glen Waterfall is just a short walk from the parking area, so if you don't have alot of time you can just see the waterfall or if you want to spend a little more time you can enjoy light hiking around the reservoir.
Farm Hopping
Another great thing to do in Owego is check out the farms that you can visit in the region. From honey farms to fresh produce to horseback riding and other fun activities.
You can find some great farms to visit near Owego on the Tioga Tourism website.
Mark Twain Country
Calling all American Literature lovers, this next thing to do near Owego is for you! Just over a half an hour drive away is Mark Twain Country in Elmira, New York. Enjoy an afternoon exploring the historical sites and landmarks from famed American literary Mark Twain who fondly spent his summers here for over 20 years.
You can visit Mark Twain's study where he worked on some of his most famous literary works now located at Elmira College. This wasn't the original location, but for preservation and educational purposes its been relocated here. Twain loved this part of New York and said it even inspired much of his work.
He also is buried in Woodlawn Cemetery in Elmira which you can also visit. We recommend visiting both of these sites by taking the Mark Twain Trolley and tour from the Chemung Valley History Museum.
If all that fun stirred up an appetite or made you thirsty, head over to The Finger Lakes House for some samplings of the local wine in the region as well as light snacks like flatbread.
Explore Wine Country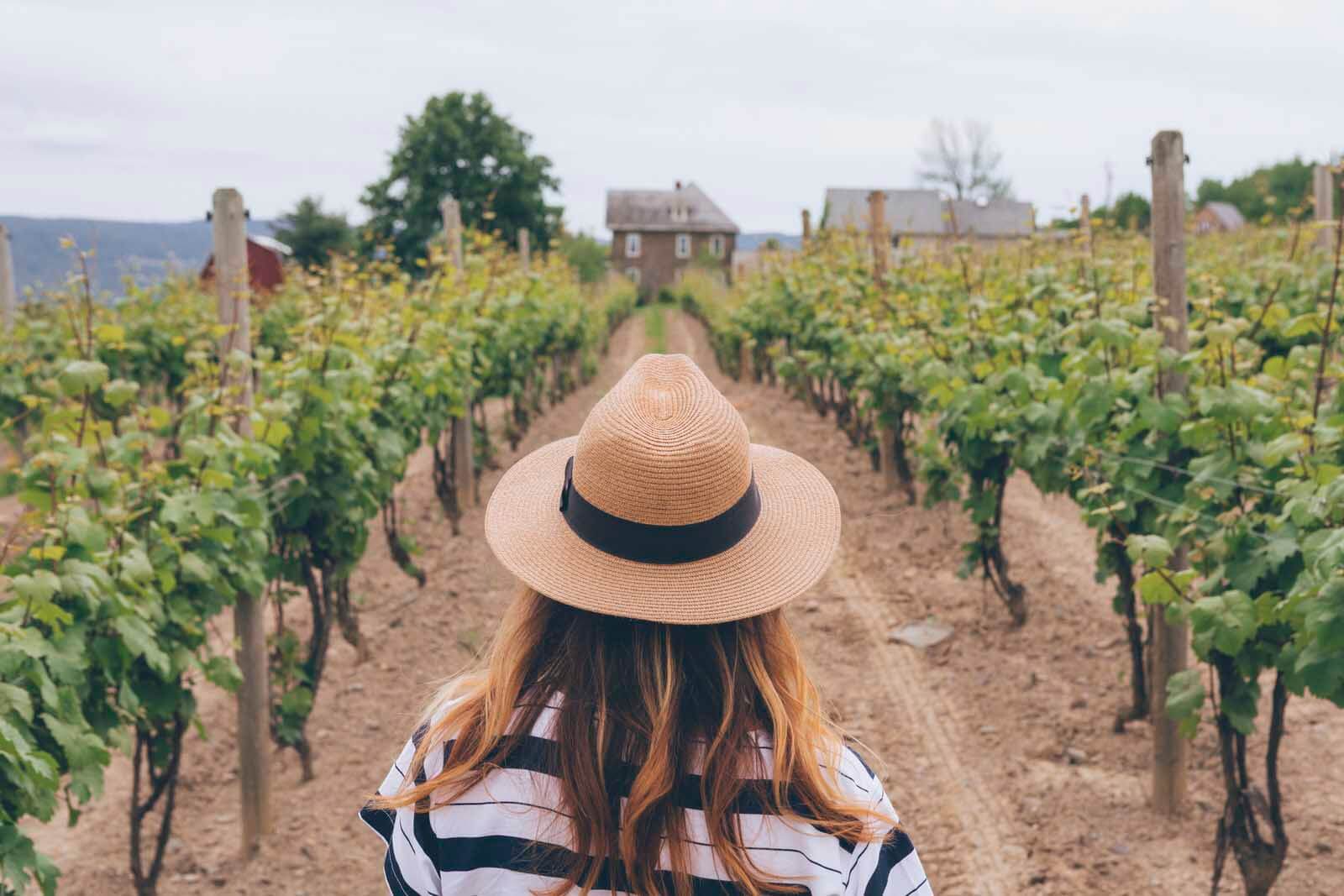 We recommend stopping to enjoy all the great things to do in Owego, New York before moving on to the rest of the Finger Lakes region or also use it as a base to continue to explore Finger Lakes Wine Country which consists of wineries around Cayuga, Keuka, and Seneca Lakes.
The closest lake to Owego, New York is Cayuga Lake and the famous Ivy League college town of Ithaca, home to Cornell University and some incredible waterfalls. From there you can visit places like Taughannock Falls State Park or Buttermilk Falls plus all the awesome things to do in Ithaca.
Continue to Watkins Glen where you can explore the gorgeous cascading waterfalls in New York at Watkins Glen State Park trails as well continue to the Seneca Lake Wine Trail, we recommend heading to Wagner Vineyards in Lodi, NY. On your way you'll also pass one of our favorite waterfalls in the region, Hector Falls which is a roadside attraction and you don't even have to leave your car to enjoy this gorgeous waterfall.
Make your way to Hammondsport at the southern tip of Keuka Lake, the Y shaped Finger Lake and explore some of the stops on the wine trail. If there's only one winery we recommend it would be Dr. Konstantin Frank, as Dr. Frank himself is responsible for bringing the famous vinifera variety from Europe to Upstate New York and basically shaping the wine region here as we know it.
There are tons of wineries to explore, to see more of our top picks check out our guide on all our favorite things to do in the Finger Lakes.
Where to Stay in Owego, New York
As mentioned earlier, we recommend at least staying one night to enjoy all the awesome things to do in Owego, New York if not extending your stay to use this as your base for exploring the Finger Lakes region.
The most charming option for accommodation also happens to be a historical one and a really cool way to learn about the local legendary woman in history, Belva Lockwood at the Belva Lockwood Inn in Owego.
The Inn is run by a local couple who restored a gorgeous home from 1872 into a 5 room quaint Inn that's more than just a hotel bed for the night, its an entire experience. So much care is taken into your stay with each uniquely designed and restored room to the morning picnic basket breakfast delivered to your door.
You can also learn about the legndary Belva Lockwood herself, a former Owego resident who started fighting for equal rights at the age of 14 in the 1800s before women could even vote. She was also the first female to run for president, not once but twice in 1884 and 1888.
Her history is truly fascinating and the owners are more than happy to share her history and help make more people aware of this incredible woman forgotten in history.
If that's not enough reason to visit, this property was also featured on an episode of House Hunters and the owners have put their heart and soul into redoing this historical home and making each of their five rooms a unique experience.
Book on Airbnb | Read TripAdvisor Reviews
We also recommend reading our guide on where to stay in the Finger Lakes if you're wanting to explore more of the region! We also recommend checking out some of the best glamping in Upstate New York as there are many great options here in the Finger Lakes region!
---
Liked this post on the best things to do in Owego, New York? Bookmark for later or share the love below on Pinterest.