Looking for all the best things to do in Santa Monica, California? We got you. If your dream getaway is a Southern California getaway taking in a morning stroll on the beach, biking to an oceanfront restaurant for brunch, and spending the rest of the day walking around the city's downtown area to enjoy the shops and parks, then start preparing a getaway to Santa Monica.
There are a fantastic array of things to do and places to visit in Santa Monica, ranging from the beach to unique attractions. And, the city is in close proximity to other well-known destination cities in southern California, meaning you can easily get to other areas to explore on a Southern California road trip.
In this guide, you'll find out all of the Santa Monica sightseeing spots you won't want to miss out on during your Los Angeles itinerary.
What to do in Santa Monica
1. Santa Monica Pier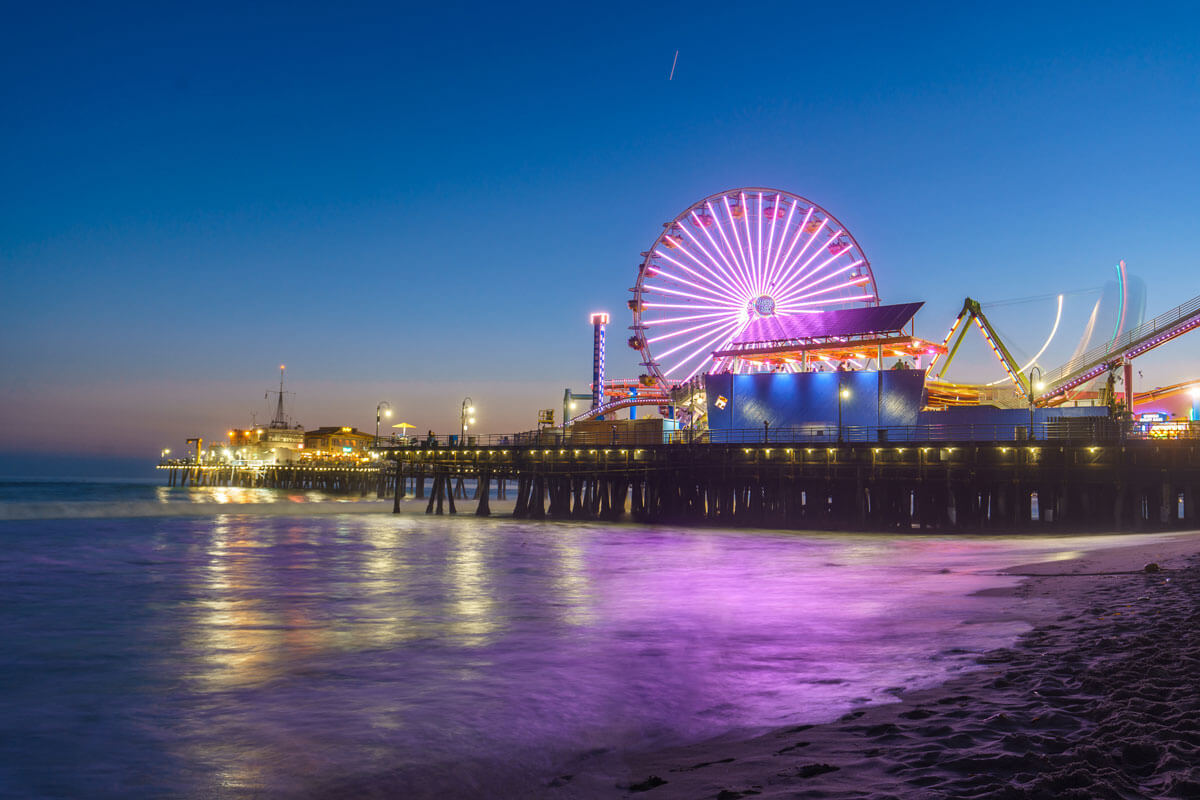 Perhaps the most recognizable of Santa Monica attractions is the Santa Monica Pier. This pier is iconic and a great place to go if you have kids, want to go on a fun date, or love iconic landmarks. The Santa Monica Pier has an amusement park and rides known as Pacific Park, an arcade, street performers, and shops, and you can even fish at the pier too.
There's a great selection of places to dine as well, from standard burgers to Mexican offerings and, of course, seafood. This is the place to visit in Santa Monica while you're here, even if it's for a quick walk around the pier or just checking it out from the beach.
For the history buffs, the Santa Monica Pier was built in 1909 and was the first concrete pier not only in California but the West Coast. And be sure to check out the historic Santa Monica Pier Carousel, which dates back to 1939 and is a National Historic Landmark.
And for anyone who wants a bit of an adrenaline rush, you can of course ride the rollercoaster and rides at Pacific Park on the Santa Monica Pier, or you can join a flying trapeze experience at the Trapeze School of New York (TSNY) Los Angeles located on the pier!
2. End of Route 66 Sign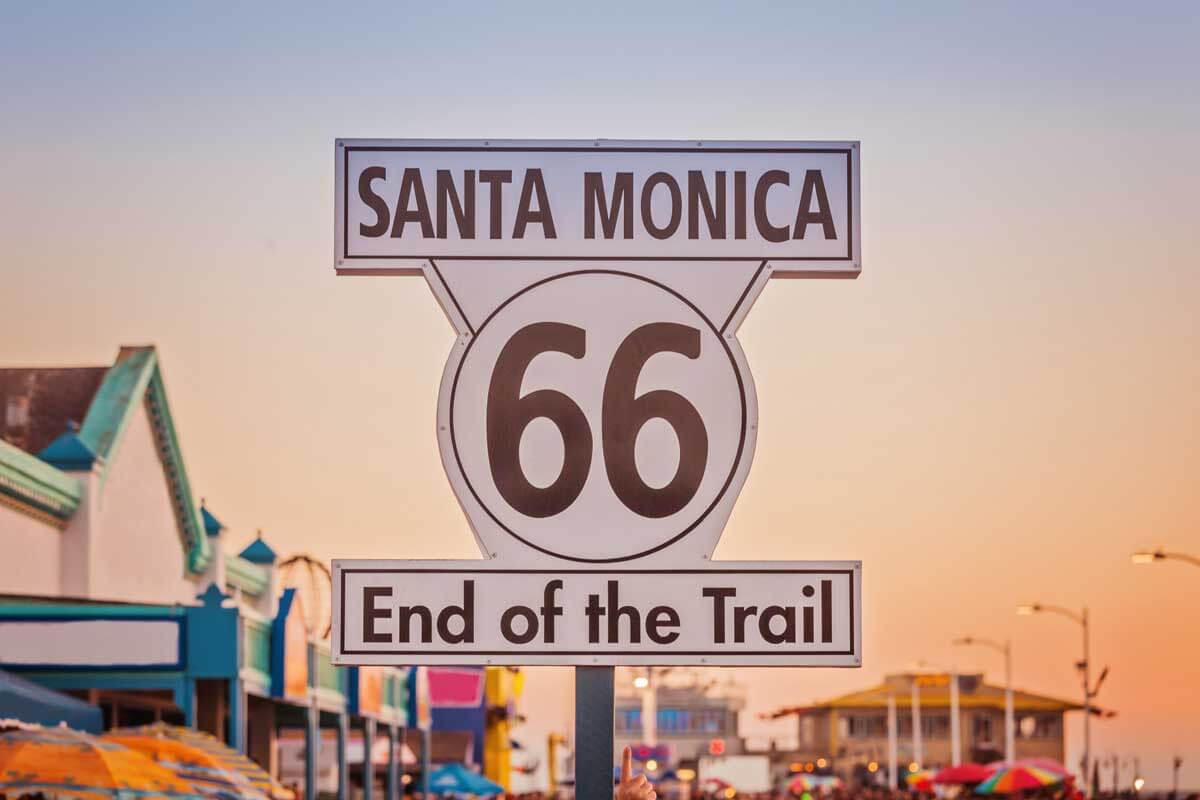 While you're visiting the Santa Monica Pier, be sure to check out the End of Route 66 sign. It was originally erected to signal that Route 66 ended at that point, because if you kept going you would end up in the Pacific Ocean.
Route 66 is one of the original roads in the United States and one of the most famous nicknamed "The Main Street of America," which originally ran from Chicago through the Midwest (Missouri, Kansas, and Oklahoma) down to Texas, New Mexico, and Arizona before ending here in Santa Monica totaling in 2,448 miles in length.
So while you're walking on the pier, look for the arcade, and you should see the sign just in front of it. Don't miss this iconic Santa Monica sightseeing spot!
3. Third Street Promenade
Head towards downtown Santa Monica, and you'll find the Third Street Promenade. This outdoor shopping and dining area covers three blocks in total and is what to do in Santa Monica if you're looking to shop or find a great spot to eat.
Along the Third Street Promenade, or 3rd Street Promenade, you'll also spot buskers and street performers to entertain you as you pass on by between shops and restaurants.
The largest shopping destination is Santa Monica Place, which is a shopping mall that's open-air and covers three floors of well-known brands and luxury retailers that serves as the anchor of 3rd Street Promenade.
One standout restaurant is Mel's Drive-In, which offers typical diner menu items and is a Los Angeles institution with 7 locations across the city, including one in West Hollywood, and it was featured in the film American Graffiti.
Another great option for dining along Third Street Promenade is Wexler's Deli, an old-school Jewish deli with great pastrami sandwiches.
4. Montana Avenue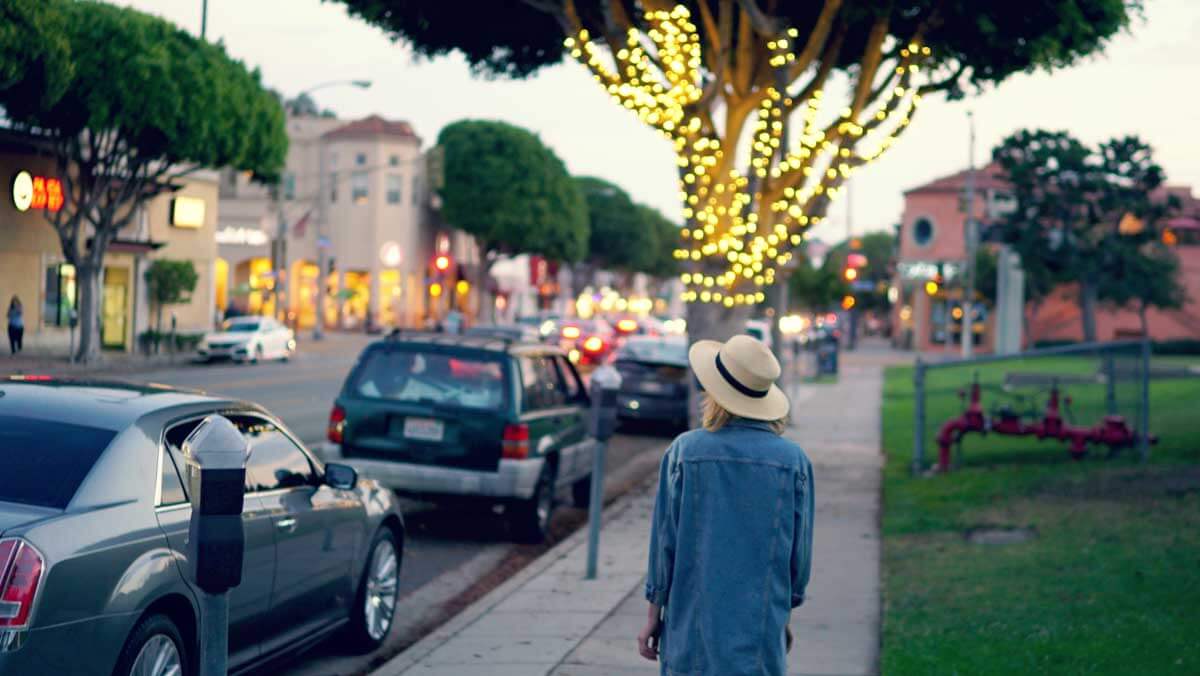 If you're looking for what to do in Santa Monica that's more of a relaxed atmosphere compared to the buzz of Third Street Promenade, head to Montana Avenue. There are over 150 shops and restaurants to check out along with walls covered in colorful murals.
If you need to pick up a gift or souvenir, check out Brentwood General Store. For some bright, colorful shirts, head into Citron. And if you want to pick up a bottle of wine while you're in California, since you're so close to wine country, browse the selection at Fireside Cellars. The assortment of options make this quite the fun thing to do in Santa Monica if you're looking for some locally-made wines either to bring home or just have back at your hotel room later that evening. They also have a selection of craft beverages and unique liquors too.
5. Santa Monica State Beach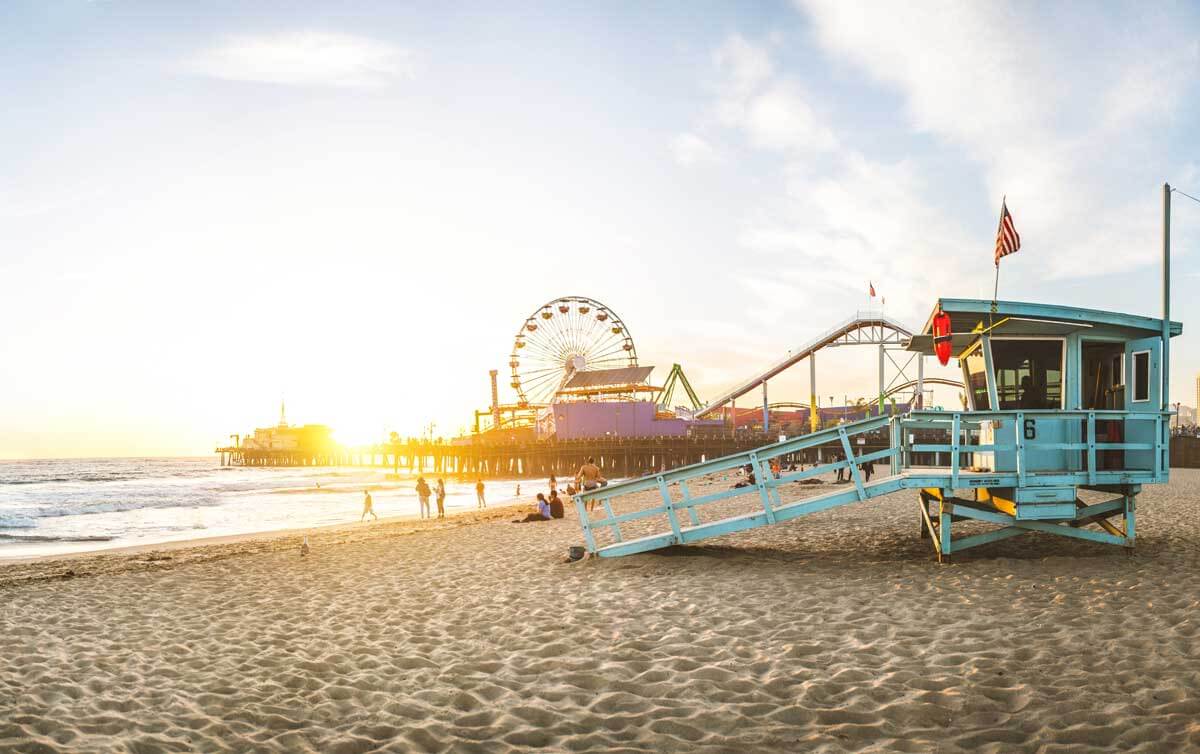 One of the best places to visit in Santa Monica would have to be the beach! Santa Monica State Beach offers over 3 miles of soft sand and is in close proximity to pretty much all the best Santa Monica attractions, restaurants, and shops in the area, not to mention is one of the best beaches in Los Angeles to enjoy.
And when you're visiting Southern California from out of town, you'll probably want to take advantage of the beach anyway. Santa Monica State Beach has many pedestrian access points, and several lots for parking if you drive, so this is one thing to do in Santa Monica that should definitely be on your to-do list whether you're basing here or passing through on your California coast drive.
Also, this is a great way to relax before or after enjoying all the fun on the Santa Monica Pier too! Or, if you need a beach break, it's easy to get to many of the surrounding restaurants and great dining options just a short walk away.
6. Bike Around Santa Monica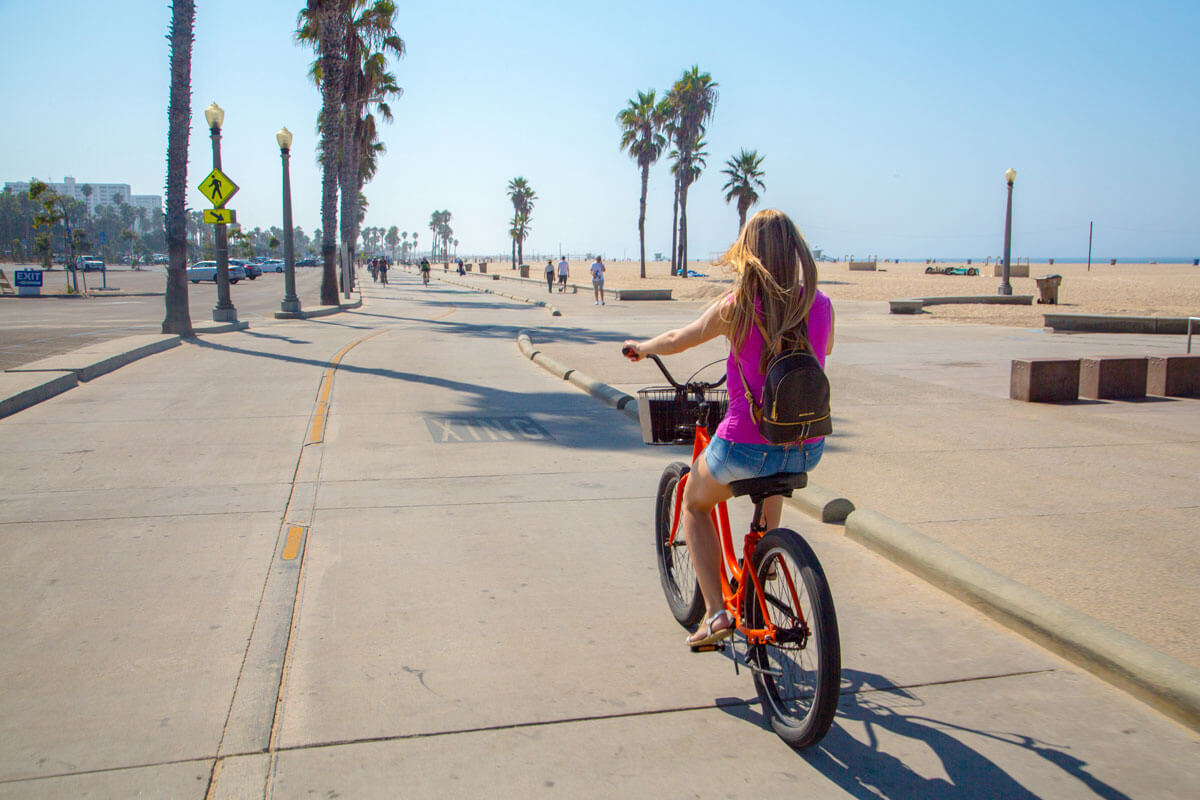 One of the great things about Santa Monica is that it is very bike-friendly. The Marvin Braude Beach Trail is a 22-mile stretch that will take you by a handful of beaches, which means you'll be able to watch surfers catch some waves while you cruise along that fresh, coastal salty air.
Another amazing option for Santa Monica sightseeing via bike is taking the bike path that directly connects to its neighbor to the south, Venice Beach.
If you don't have your own beach cruiser, you can rent a bike and get from Santa Monica to Venice Beach in about 15 minutes using the 3-mile bike path. There are quite a few places to rent a bike here including Lyft bicycle and e-bike rentals as well as this full day bicycle rental in Santa Monica you can book in advance to reserve a bike for you – which is ideal especially on weekends or during peak summer travel season to ensure you have a bike!
Another cool option and one of the most fun things to do in Santa Monica is joining a 3-hour guided bicycle tour that covers both Santa Monica and Venice Beach with fun stops along the way. All tours are small groups so the tour will be more intimate with stops at some of the coolest Santa Monica attractions (& Venice Beach) like Muscle Beach, Venice Canals, and of course nearby spots like the Santa Monica Pier. Book your tour in advance here.
There's also a similar 3-hour electric bike tour of Santa Monica and Venice Beach you can join too. Your e-bike, helmet, water, and tour guide all are included with this experience. Book your tour in advance here.
7. Santa Monica Farmers Market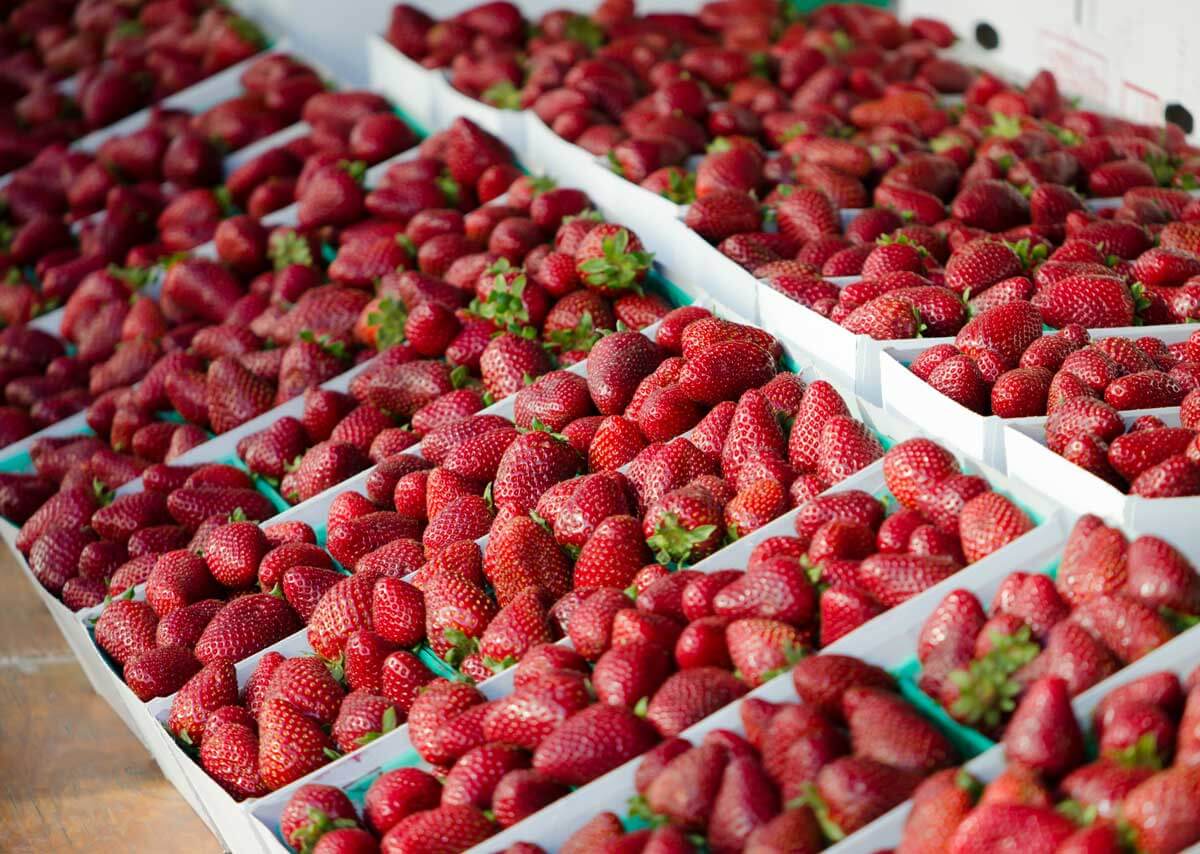 A quintessential California pastime are the farmers' markets, and luckily, even to this day, Santa Monica has several. You can browse fresh produce, prepared foods, and crafted artisan items while mingling with the locals.
Some markets have live music, which makes it a fun thing to do in Santa Monica for an easygoing time. The majority of farmers' markets occur on Wednesday mornings and weekend mornings in Main Street, Downtown Santa Monica, and Pico, so plan accordingly.
Also, you'll want to make sure that you bring your own bags, as well as cash or hit up the ATM on the way over. Many vendors take debit/credit cards, but not all do, and if you do need to grab some cash quickly there are ATMs close by. 
This is definitely what to do in Santa Monica if you're visiting on the weekend (or Wednesday am).
The Downtown Farmers Market (Wednesdays & Saturdays from 8 AM to 1 PM at Arizona Ave & 2nd St), Pico Boulevard Farmers Market (Saturdays 8 AM to 1 PM at Pico & Cloverfield), and Main Street Farmers Market (Sundays at 8:30 AM to 1:30 PM at 2640 Main Street).
8. Palisades Park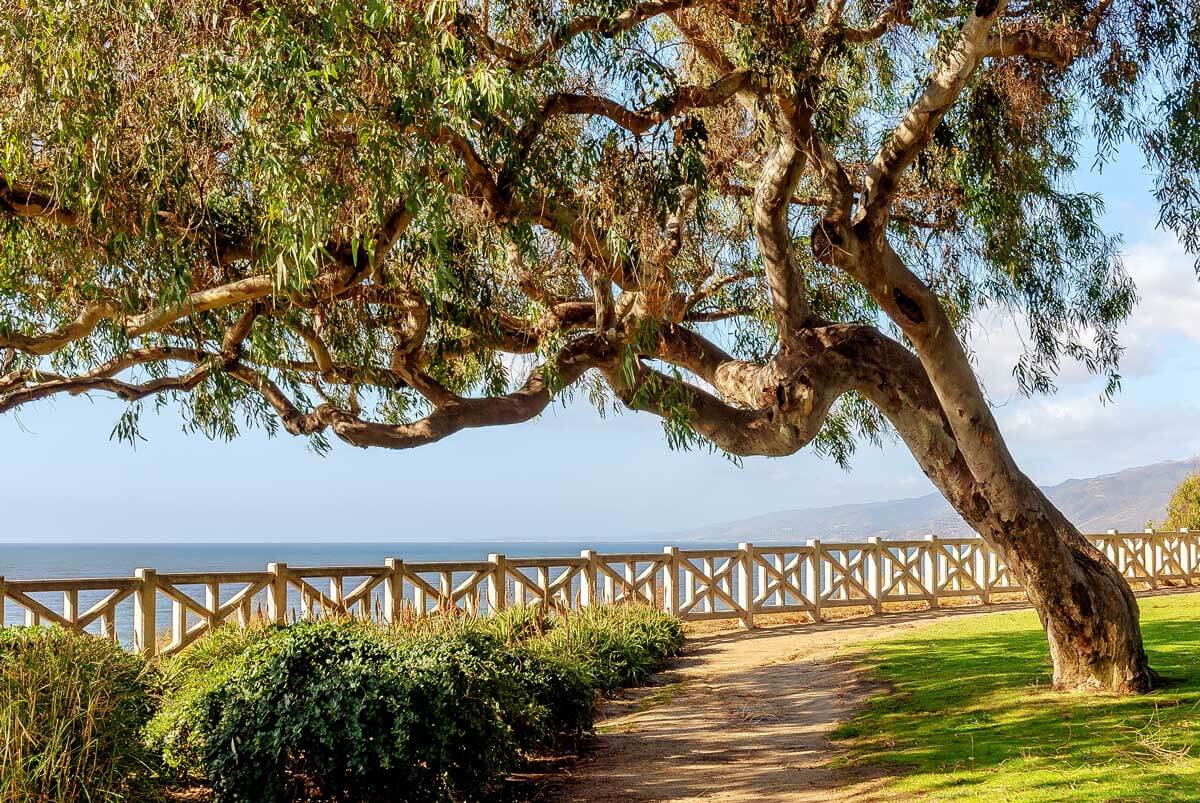 When you're ready for a bit of downtime, one place you should visit in Santa Monica is Palisades Park perched on the bluffs overlooking the coastline. This park is a 1.6 mile stretch of park featuring great views and an ample amount of space for picnicking.
Palisades Park also has several art pieces to view, like the Santa Monica concrete sculpture and the totem pole.
There are also incredible views of the Santa Monica Bay, and the Beacon Overlook is a great place to take those views in, we love the scenic viewpoints of Los Angeles and this is surely one of them.
You can also visit the rose garden, relax under one of the pergolas, and visit the Camera Obscura, which is discussed further down on this list of fun things to do in Santa Monica!
9. Heal the Bay Aquarium
Situated under the Santa Monica Pier is the Heal the Bay Aquarium, which offers a glimpse into the marine life in the Santa Monica Bay, and the efforts being taken to protect it.
Some of the animals you can see in their exhibits include sea jellies, sharks, and eels. You'll also learn about the issues affecting the marine environment, and what the aquarium is doing to combat these problems. Make sure you add this fun and educational Santa Monica attraction to your itinerary.
And if you're looking for what to do in Santa Monica that's environmentally friendly, Heal the Bay Aquarium regularly hosts multiple beach cleanups with volunteers.
This Santa Monica attraction is included on the Los Angeles Go City Pass, which is a pass you can purchase (choose between a 3, 5, or 7 day pass) that allows you into over 40 Los Angeles activities and attractions including Heal the Bay Aquarium. These city attraction passes help you save money and see more! Learn more and purchase here.
10. Tongva Park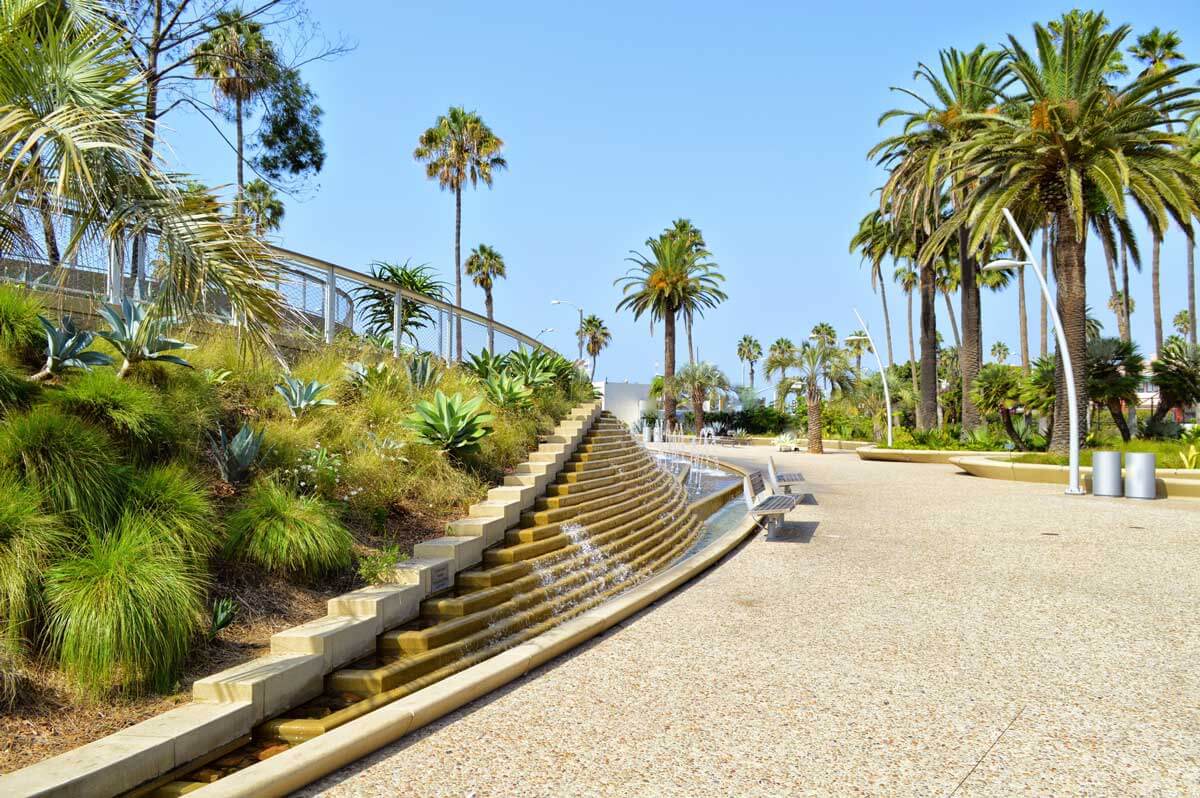 Another one of the most beautiful places to visit in Santa Monica is Tongva Park, a short jaunt from the Santa Monica Pier.
There are modern structures to gaze at, a splash pad and playground for the kids, as well as picnic tables to relax at for a bit while taking in the surrounding assorted greenery.
The park is named after the Tongva People, an indigenous group of people who lived in the Los Angeles area for thousands of years in the Los Angeles Basin as well as the Southern Channel Islands.
While visiting Tongva Park, be sure to check out the four main sections and areas to explore including Gathering Hill, Garden Hill, Discovery Hill, and Observation Hill which are filled with native plants to the area.  Make sure to include this on your itinerary as a must-see place to visit in Santa Monica especially if you're traveling with kids.
11. Santa Monica Mountains National Recreation Area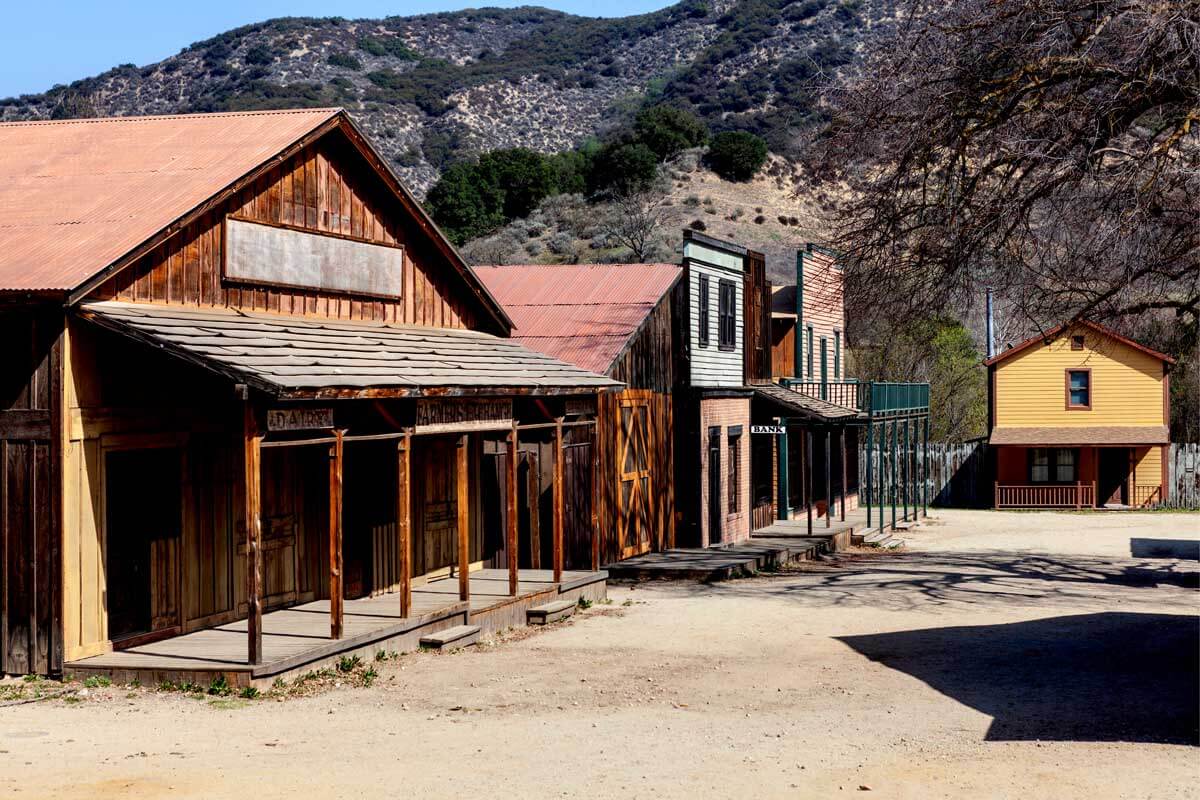 If you want to escape the city Santa Monica sightseeing and head for the hills, make a visit to the Santa Monica Mountains National Recreation Area. Here you'll find hiking trails, Native American cultural sites, and Malibu beaches.
This area is the nation's largest urban national park, which is a good reason to add this to your list of fun things to do in Santa Monica. There are a range of different trails to choose from (over 500 miles of them!), and whichever one you pick will be a scenic hike with lots of plants and flowers to see.
A few of the easier hikes to check out include the Solstice Canyon Hike (2-3 miles) which passes a waterfall and the Roberts Ranch House ruins along with views of the rolling hills and is one of the most popular hikes in the area.
A more moderate hike, check out the Mishe Mokwa Trail to Split Rock hike (3.5 miles to 5.6 miles). This hike starts at Circle X Ranch, which is also a ranger station and a great place to ask any questions or grab a map before heading off. Visitors are rewarded with great views and should only be attempted if you're up for more of a challenge and adventure as there is one more shallow river crossing on this trail!
You can also find the Paramount Ranch here, an operating film set that's been operating since 1927 where famous shows like Dr. Quinn Medicine Woman and Westworld were filmed as well as classic films like The Cisco Kid.
12. Annenberg Community Beach House
Looking for what to do in Santa Monica with kids or the whole family? Check out the Annenberg Community Beach House, a public space that offers beach access, a historic pool, splash pad, playground, beach wheelchairs, volleyball courts, and a great viewing deck!
This place has an interesting backstory; the land that the property is situated on was initially built by William Hearst for Marion Davies in the 1920s. She was a close associate, aka lover, of Mr. Hearst, and was known for putting on opulent parties at the Beach House, as well as the Hearst Castle in San Luis Obispo.
The property exchanged hands a few times, and ultimately was acquired by the State of California. It underwent a lengthy rehabilitation in the late 1990s, and today it is one Santa Monica attraction you won't want to miss as you can play at the facilities here, on the beach, check out the Marion Davies guest house, hang out poolside, and enjoy this hang out place for the community and visitors of Santa Monica, California.
Just keep in mind that the pool is only open seasonally in the summer months!
13. Looff Hippodrome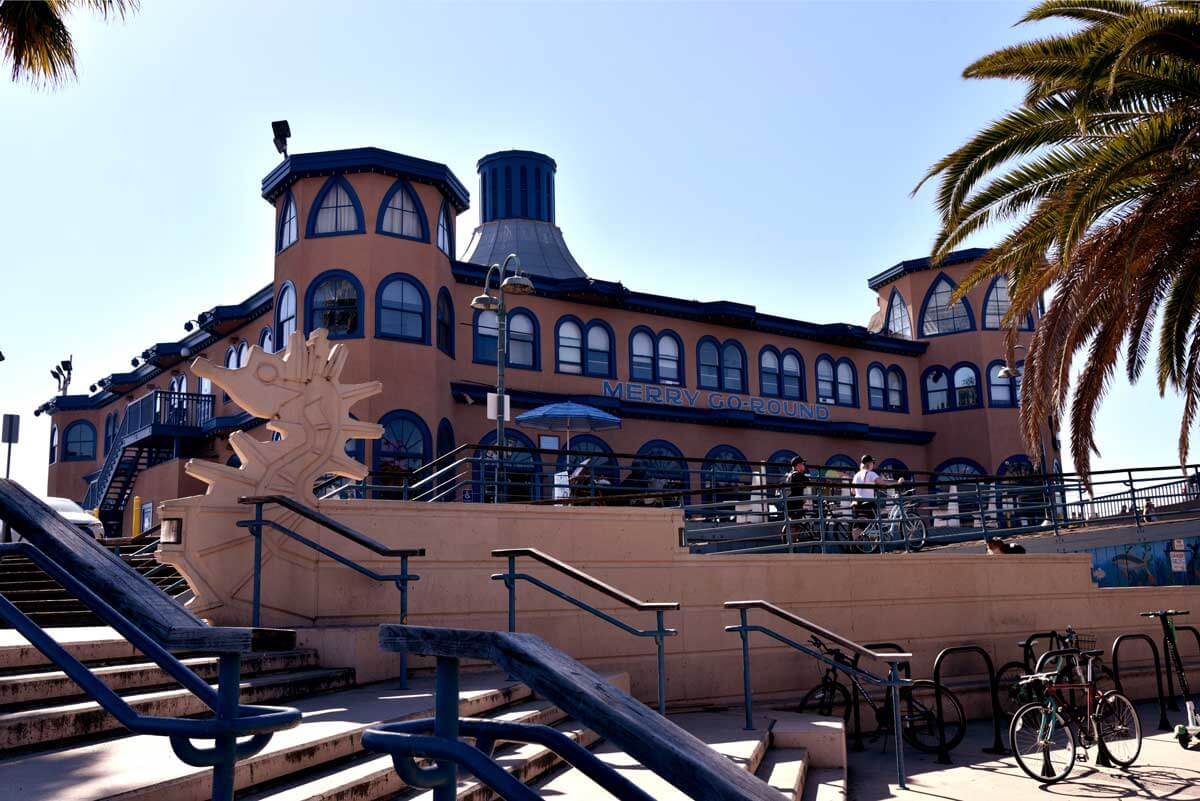 One of the more unique things to do in Santa Monica is visit the distinctive Looff Hippodrome, located on the Santa Monica Pier. The visually unique building houses a delightful, old-fashioned carousel, one of the highlights of the Santa Monica Pier mentioned earlier in this guide.
The renowned builder Charles I.D. Looff built the Looff Hippodrome in the early 20th century, and it was quite a popular attraction in what was considered the golden age of carousels.
The original carousel was the last carousel that Looff made and was dismantled and sold after several decades. The Philadelphia Toboggan Company built a new carousel for the property in 1954, which is what you see today.
This is one Santa Monica sightseeing spot you'll want to include on your itinerary if you're into historic sites!
14. Camera Obscura
Another one of the most unique things to do in Santa Monica, located in Palisades Park is Camera Obscura, a peculiar attraction housed in a funky mid-century modern building.
Camera Obscura is a pinhole camera that picks up images from the outdoors and projects them in a dark room. This attraction first made its debut back in 1898, and after being relocated a few times over the years, it currently is housed at the Senior Recreation Building in Palisades Park.
It has the honor of being one of the only types of cameras of its kind in the world. The Camera Obscura Art Lab also regularly hosts in-house artist residencies that are worth checking out. It's worth checking what's happening at this unique Santa Monica attraction during your visit as sometimes it's not open to the public when it's under repairs.
15. California Heritage Museum
Hidden and nestled in a quaint, modest house is the California Heritage Museum. A variety of exhibitions that showcase the diversity of California's history are on display inside this charming property.
Past exhibits at this Santa Monica museum have included photography, textiles, and watercolor paintings. The California Heritage Museum is located on Main Street, just one block from the beach and steps away from many of the exciting things to do in Santa Monica for those who love diving into history and museums.
16. Catch a Performance At The Broad Stage
Looking for what to do in Santa Monica for those who love theater, film, and live performances? Check out The Broad Stage at Santa Monica College. Artists from a range of backgrounds come here to perform through live musical performances, plays, musicals, dance, symphonies, film, and more.
Some performers who have graced The Broad Stage include Patti LuPone, Sutton Foster, and Mikhail Baryshnikov to name a few noteworthy artists and creatives this intimate 500-seat venue and performing arts center has seen!
17. Aero Theater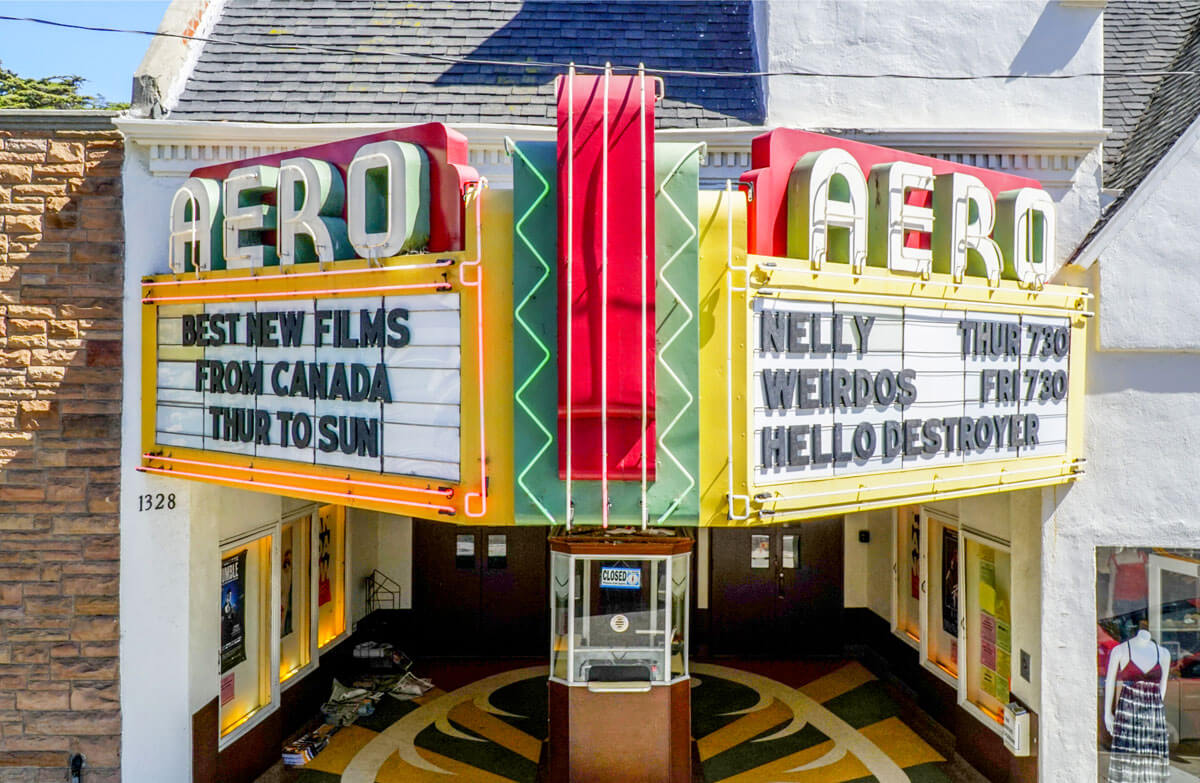 Another one of the most fun things to do in Santa Monica for a cool retro movie theater experience is check out the Aero Theater. It was founded in 1940 by the Douglas Aircraft Company, and movies were played around the clock so that the company's employees could catch a film after finishing their work at the nearby aero plant.
The theater screams yesteryear with the illuminated marquee, stand-alone ticket booth out front, and old-fashioned architecture.
The American Cinematheque has been at the helm of making upgrades to the theater in recent years, so moviegoers can enjoy their experience. The theater has a variety of offerings, including sneak previews, retrospectives, and classic films. So as you're building your itinerary, add this historic Santa Monica sightseeing spot to the list.
And if you're a movie buff, you're in Tinseltown after all, you may recognize this theater as it's been used for filming! One of my personal favorite things that have been filmed here were scenes from Donnie Darko starring Jake Gyllenhaal.
And if you happen to be visiting in October and love horror movies, check out their annual "Dusk to Dawn Horrorthon" event where they play a back-to-back lineup of horror genre movies!
18. Museum of Flying
Staying on theme with aviation, if you're an aviation history buff, this is the place to visit in Santa Monica. This museum is the brainchild of Donald Douglas Jr., son of Donald Douglas Sr., the founder and president of the Douglas Aircraft Company, who opened the Aero Theater above.
The collection started as artifacts from Donald Douglas Sr. and expanded over time to include vintage aircrafts, in particular the World War II fighter aircraft. Today, the museum boasts many of the original artifacts, art, various exhibits, and aircraft models which you can see when you visit.
19. Bergamot Station Arts Center
Love art galleries? If so, this is what to do in Santa Monica for you! The Bergamot Station Arts Center is a complex that houses around 20 different art galleries and businesses, as well as various cultural and educational events that are put on throughout the year.
A fun history tidbit about the property is that it has gone through many transitions, including a railroad station, a celery-packing operation, and an ice-making plant before eventually becoming what it is today.
There is no admission fee, and it's your lucky day if you are driving because parking is free at Bergamot Station. This is one of the best things to do in Santa Monica if you are looking for something free to do!
20. Original Muscle Beach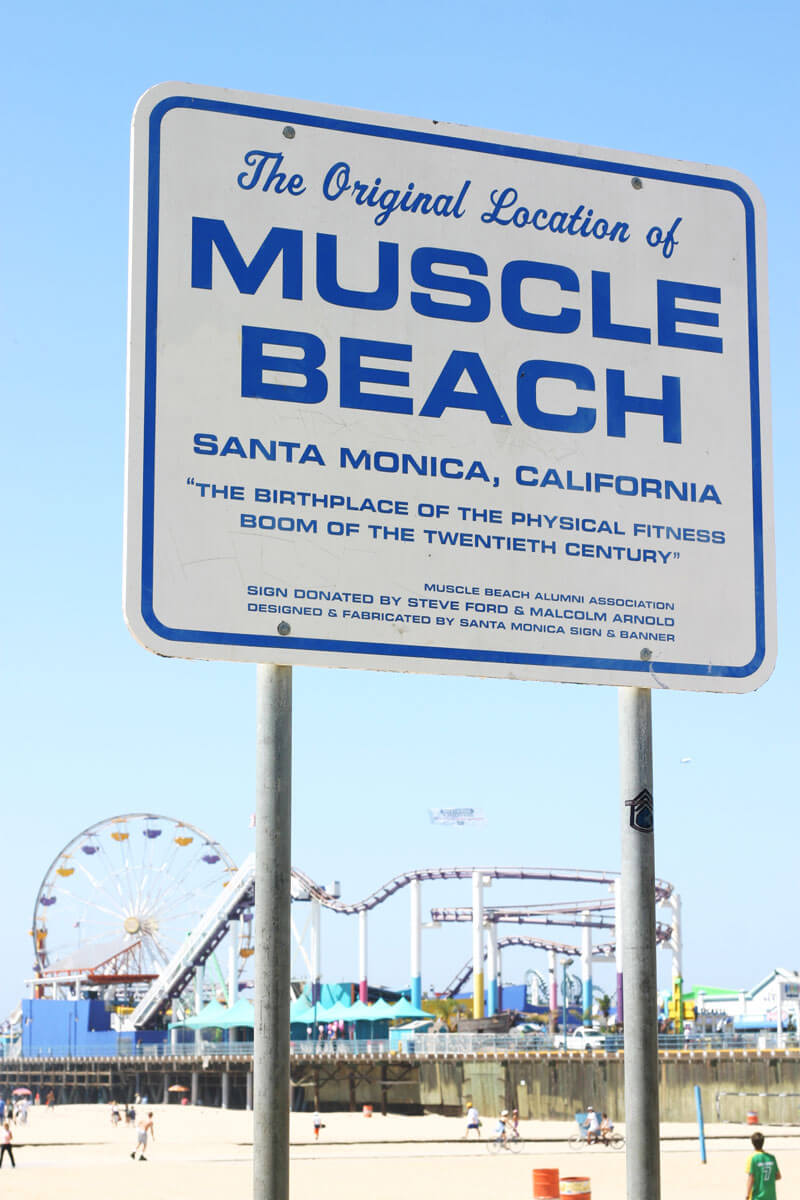 Last but certainly not least, while you're at Santa Monica Beach, one attraction you can make a quick stop by is the Original Muscle Beach, not to be confused with the other Muscle Beach. It's been around since the 1930s (located near the pier) and became famous for drawing athletically-inclined people there to use the outdoor equipment, and onlookers would watch them show off their skills.
Nearby Venice Beach also has its own Muscle Beach, but the Santa Monica one is the original. You can go there today and watch people display athletic prowess on the equipment, or even try it out yourself! There are ropes, parallel swings, and other equipment you can use to test your strength!
What I love the most about this Santa Monica landmark is the story behind it. During the Great Depression, acrobats, gymnasts, stunt people, and other athletes would come to practice their strength and talents to distract people from their own financial woes of the time. Basically, a gathering place for free entertainment for the masses during a tough time in American history.
Where to Stay in Santa Monica, California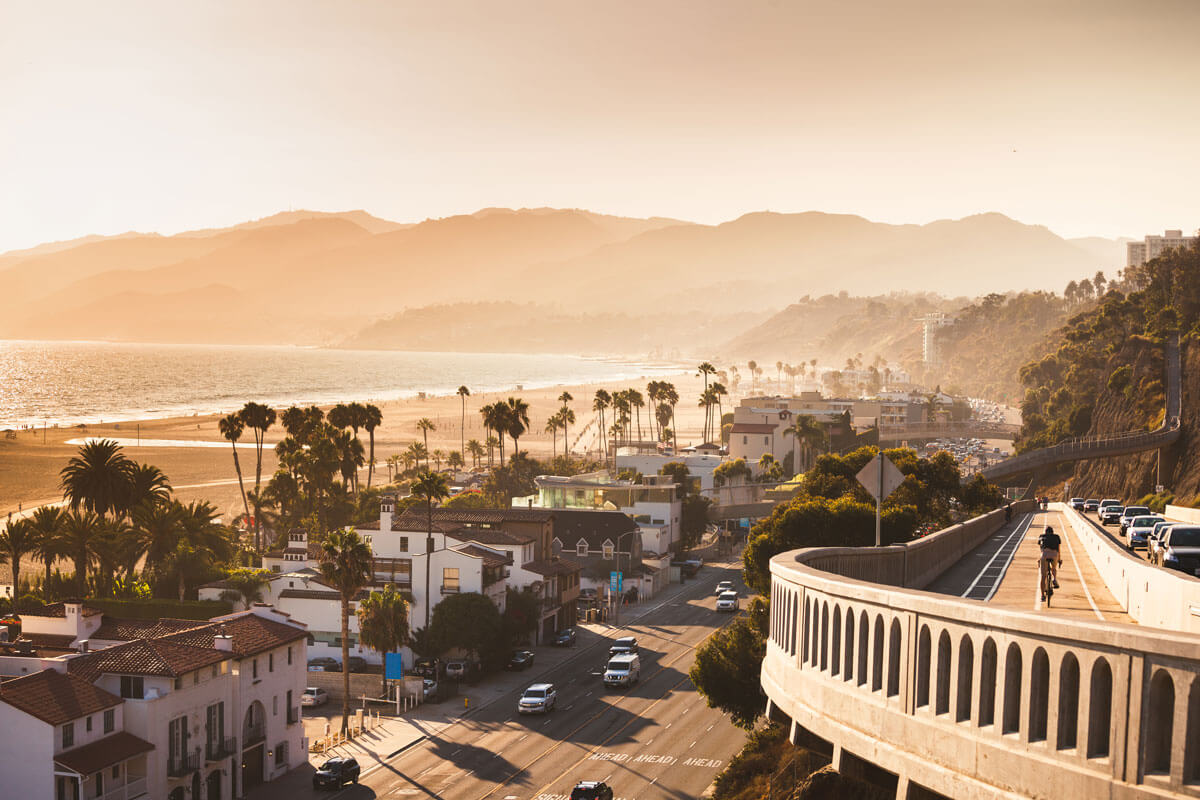 Santa Monica is a great base for where to stay while exploring all the best things to do in Los Angeles, whether you're a first-time visitor or a seasoned, returning visitor! Because of the coastal location and central location to exploring Downtown Los Angeles, Malibu, Venice Beach, and other LA hotspots, this really is one of the most popular places to stay in the city.
Something to keep in mind about staying in Santa Monica is that this is where you can find a lot of luxury stays, which is excellent if your budget allows for this as you have some of the best oceanfront views and location in Los Angeles, however, there are less budget-friendly options. I have included one budget-friendly option below along with the other mid-luxury stays available here.
$ Santa Monica Motel
The Santa Monica Motel is one of the few budget-friendly options in Santa Monica without sacrificing location! Only a 15-minute walk to Main Street and the beach and less than 20 minutes by foot to Third Street Promenade! Not to mention a 15-minute commute to LAX (if you're flying at nonrush hour). This motel has a 24-hour front desk, free parking, and classic, cozy California rooms. Book here.
$$ The Georgian Hotel
The Georgian Hotel is one of the more charming Santa Monica hotels and accommodation options. This historic 4-star beach hotel dates back to 1933 and was dubbed Santa Monica's First Lady built in a beautiful combination of Romanesque Revival and Art Deco aesthetics. This history of the hotel alone is fascinating, having also been home to a speakeasy during the prohibition that attracted many of Hollywood's biggest stars. Stay in one of their 14 ocean-facing suites with incredible sunset views just steps away from all the best places to visit in Santa Monica. While you're staying at one of LA's most iconic hotels, don't miss out on cocktails on the Verandah either! Book here.
$$$ Shutters on the Beach
Shutters on the Beach is a gorgeous 5-star, ocean-front hotel has everything you want out of a California vacation, access to the beach, a pool, and restaurants on site, a great location, and a spa. Not to mention there are poolside cabanas you can lounge around at all day. The rooms are refined and decorated in a luxury coastal cottage style, some even with fireplaces and private oceanfront terraces and balconies. Book here.
$$$ Loews Santa Monica Beach Hotel
Loews Santa Monica Beach Hotel is another luxury, 5-star oceanfront hotel in a prime location that's worthy as being your vacation destination on its own right. Enjoy the pool and poolside bar, hot tub, fitness facilities, and gorgeous property at your stay away from home. The rooms are contemporary and refined, featuring upgrades to ocean view rooms, rooms with firepits, and rooms with their own private balconies. Book here.
As you can see, there are so many incredible places to visit in Santa Monica, enough to fill an entire vacation! Whether you go on a solo trip, or bring family and friends, there will be a Santa Monica sightseeing spot for everyone. So get out the suitcase, start packing your beach attire, and get your list ready of all the Santa Monica attractions you want to explore!
---
What is Santa Monica famous for?
Santa Monica is famous for being one of the best beach areas of Los Angeles with plenty of tourist attractions, shopping, dining, historic sites, and of course a beautiful beachfront. Santa Monica is also famous for being home to many movie stars and celebrities too.
How long should I spend in Santa Monica?
If you're visiting Santa Monica, you need at least 2-3 hours so you can walk around to see iconic attractions like the Santa Monica Pier and Pacific Park amusement park, Original Muscle Beach, Santa Monica State Beach, and one of the parks like Tongva Park or Palisades Park. However, you can easily base your Los Angeles trip in Santa Monica since there are so many great dining and shopping options here as well as hotels.
When is the best time to visit Santa Monica?
When is the best time to visit Santa Monica or Los Angeles? You're in luck as this is a great year-round destination. To avoid crowds the best time to visit Santa Monica or Los Angeles is March through May and September through November. The summers are very popular in Santa Monica, especially around the beach.

And something to keep in mind is that the months of May and June are nicknamed "May Gray" and "June Gloom" due to the dense fog and marine layer this time of year.
---
Best Things to do in Santa Monica Summary
Santa Monica Pier
End of Route 66 Sign
Third Street Promenade
Montana Avenue
Santa Monica State Beach
Bike Around Santa Monica
Santa Monica Farmers' Market
Palisades Park
Heal the Bay Aquarium
Tongva Park
Santa Monica Mountains National Recreation Area
Annenberg Community Beach House
Looff Hippodrome
Camera Obscura
California Heritage Museum
The BroadStage
Aero Theater
Museum of Flying
Bergamot Station Arts Center
Original Muscle Beach
---
If you found this guide for what to do in Santa Monica helpful, consider bookmarking for later or sharing with a friend!