Looking for all the amazing things to do in Salem, Massachusetts? You've come to the right place. You probably know about Salem because of its dark history during the colonial Massachusetts era between the period of February 1692 and May 1693 when there was mass hysteria and false accusations of witchcraft that resulted in imprisonment and the execution of 20 individuals that were accused along with an additional 5 victims who wouldn't survive their time in prison.
This dark chapter of mass hysteria in Colonial America has been used since as a teachable moment in time as well as popularized in literature and film since these events took place over three centuries ago pointing out the dangers of religious extremism and false accusations.
Fast forward to today, where Salem has evolved into being one of the best places to celebrate Halloween as well as a spiritual pilgrimage and space for those who identify with the accused as well as a place that attracts practicing Wiccans (modern-day witchcraft) and the headquarters for the Satanic Temple.
The irony of witches gathering here to practice openly isn't lost. Although, modern-day witchcraft isn't what most people think it is as it's based on more of nature-based spirituality and mindset and many of the shops in Salem Town are actually owned and operated by Wiccans.
Beyond the spooky and witchy things to do in Salem, there are also cultural and other historic landmarks as well as events that take place here that are exciting too.
As a matter of fact, even though all the witch-related Salem attractions are the hit of the city today, the witch trials were bit of sore subject in Salem until the 7th season of the hit television series, Bewitched filmed here in 1970 sparking the new nickname for town as "Witch City," making witches fashionable again as well as something the local community could commodify according to this great read by Vox.
Whether you're planning on visiting all the best things to do in Salem in October (the peak and busiest time of year to visit especially around Halloween, plus you get the beauty of New England in the fall) or you are coming offseason, here are some of the best spooky and historic things to do in Salem, Massachusetts, an easy visit from Boston or a weekend trip on its own.
And if you do get a chance to visit in the month of October with the million others, be ready for full-on Halloween costumes all month long and tons of black, pointy witch hats!
Disclaimer: this post contains affiliate links.
How to Get to Salem
Depending on where you're coming from you can drive to Salem (but check with your accommodation about parking), take a train to Salem, or fly to Logan International Airport (BOS) in Boston which is a 30-40 minute commute away.
If you didn't plan ahead and secure accommodation months in advance in Salem, staying in Boston is a great choice as it's easy to get to Salem from Boston.
Take a relaxing train ride with a great view by jumping on the Newbury/Rockport Line from Boston to Salem. A one-way ticket costs $8 during the week and takes 30 minutes. Go on the weekends for $10 and get unlimited rides all weekend.
When you're planning things to do in Salem, Massachusetts in October, give yourself a little extra time. This is Salem's busy season. While they add extra trains during the season, ridership is definitely up!
You can also use a rideshare app like Uber or Lyft, but expect there to be price surges if you're planning on travel around Halloween as this is the busiest day of year. Also, if you're staying in Boston expect around a 30-minute drive without traffic. This isn't the most affordable way to Salem, but it is a convenient option.
You could also book a local Salem hotel for your stay, but you'd have start looking to book about a year out. The easiest thing to do is to take the train from Boston. Just plan ahead a little, sit back, and enjoy the scenic ride!
Fun & Witchy Things to do in Salem
From the solemn to the spellbinding tourist spots. You can find all kinds of witch-themed things to do in Salem, Massachusetts that ties to paying homage and respect to those lives lost due to the Salem witch trials to hitting up all the spots that make this America's number one Halloween town from movie filming locations to museums inspired by the horrific events that took place here.
Learn about the tragic history that made this town embrace its dark colonial past through historic sites, tourist sites, and all the witchy things to do in Salem, Massachusetts.
The Burying Point
Also called the Charter Street Cemetery, the Burying Point was established in 1637. This makes it one of the oldest cemeteries in the United States.
Among Salem attractions, this is a must if you want to visit the final resting site for many historic figures tied to the history of Salem as well as American history as the burial site for the judges of the Salem witch trials, family members of the victims of the witch trials, and victims of the American Revolutionary War, as well as a popular site for paranormal investigators and ghost hunters to explore.
It's fascinating to walk around and see how old some of the headstones are. Take some time to read some of the epitaphs. You'll see efforts to preserve some of the oldest headstones, like Judge John Hathorne's, who oversaw the Salem Witch Trials. You can also find headstones for colonists who came to Salem on the Mayflower.
The Burying Point has a very detailed history behind its creation. A lot of people believe that it's haunted. The cemetery draws ghost hunters all year long. Some say that Judge John Hathorne is destined to aimlessly haunt the cemetery. He can be seen in pictures taken near his grave.
Interesting Fact: Judge John Hathorne, the judge who examined Sarah Good, Tituba, and Sarah Osbourne, is the great-great-grandfather of writer Nathanial Hawthorne (who wrote The House of Seven Gables, another Salem attraction, and the Scarlet Letter).
It is said that since Judge Hathorne never expressed regret for the victims of the Salem Witch Trials or his role in it, his relatives were so ashamed of their connection with him they changed the spelling of their surname to be Hawthorne to distance themselves from him.
Salem Witch Memorial
Connected to the Burying Point is a very simple but emotionally intense memorial for the victims who were tried in the infamous 1692 Witch Trials. This is one of those more stoic things to see in Salem, but worth visiting to pay your respects.
You almost miss the memorial, which feels like part of the point. A low stone wall surrounds a grassy area. Look closer and counterbalanced stone benches coming out of the wall. Each bench has the name of the accused along with the date they were executed and visitors sometimes leave a rose.
At the entrance of the memorial, find a stone path containing quotes from those who died in the Witch Trials. The quotes are unfinished, cut off by the wall. This is meant to symbolize how no one listened to them.
Proctor's Ledge
Visit Proctor's Ledge, located on the west side of Salem off Pope Street. This is a memorial marking the location where the victims of the Salem Witch Trials were executed. The location of the tragic events that took the lives of the innocent were believed to be at Gallows Hill until 2016 when historians and researchers confirmed the executions actually took place at Proctor's Ledge, a finding that historian Sidney Perley suggested in the 1920s.
Infamous among Salem attractions to pay homage and respect to the innocent victims, Proctor's Ledge is the location of the Salem Witch Trial execution hanging site. It's also the place where the bodies of the deceased were cruelly and unceremoniously dumped and buried in shallow graves.
It could be for all these reasons that the site is thought to be haunted by paranormal investigators. Locals and visitors report feeling a cold, dark presence in the area. Some see the famous Lady in White walking around. Many think Proctor's Ledge is haunted because of the souls that were never allowed to rest.
In 2017, a memorial at this location was dedicated by the City of Salem on the 325th anniversary of the first of three mass executions that took place here. You can find the names of victims Elizabeth Howe, Susannah Martin, Rebecca Nurse, Sarah Good, and Sarah Wildes engraved on the circular stone wall memorial.
This memorial is a bit more difficult to visit than the Salem Witch Trials Memorial at the Charter Street Cemetery, aka Burying Point as there is no public parking and it's about 1 mile away from most of the Salem attractions in a residential neighborhood. If you have a car, park at Gallows Hill Park and walk down to Proctor's Ledge.
The Witch House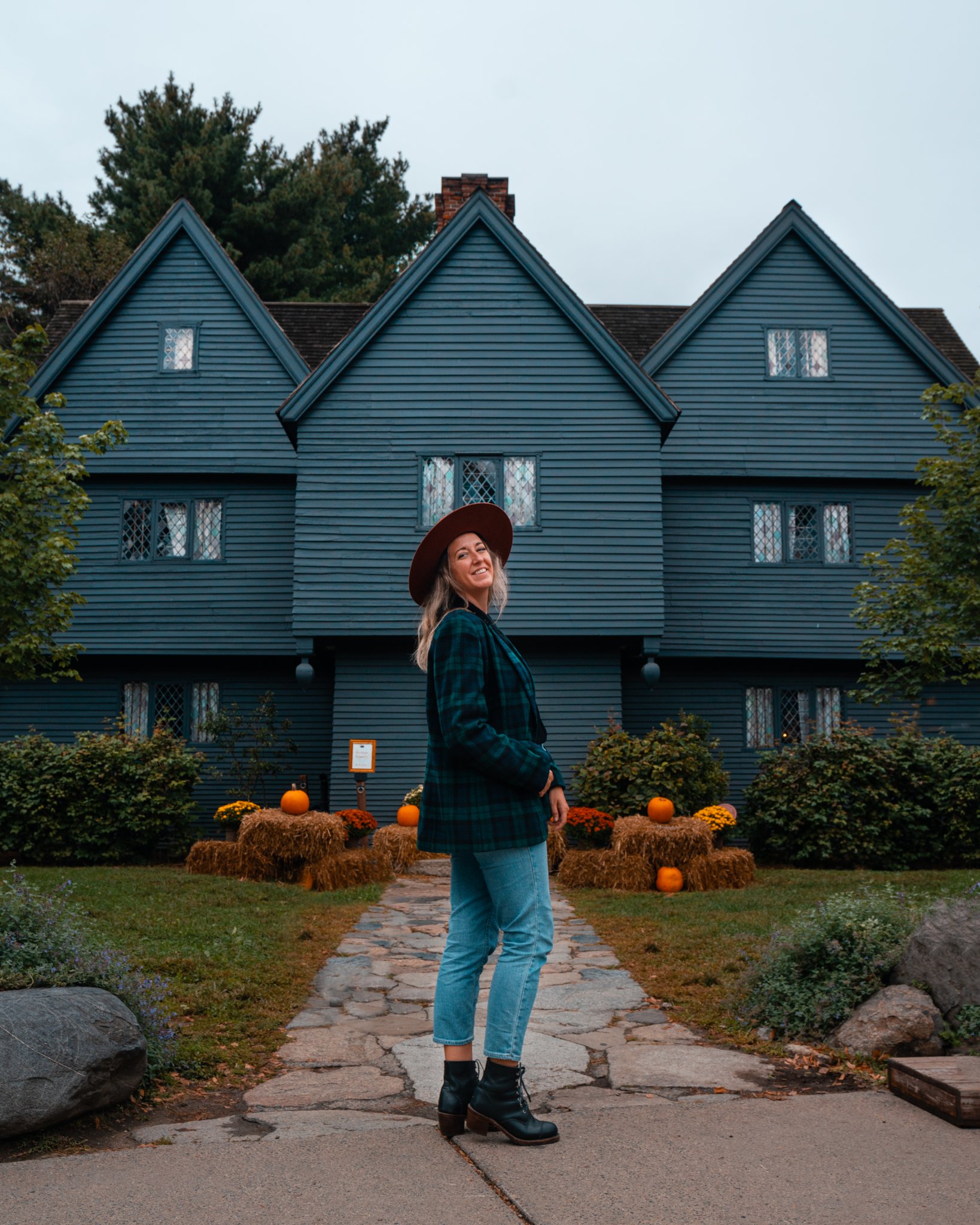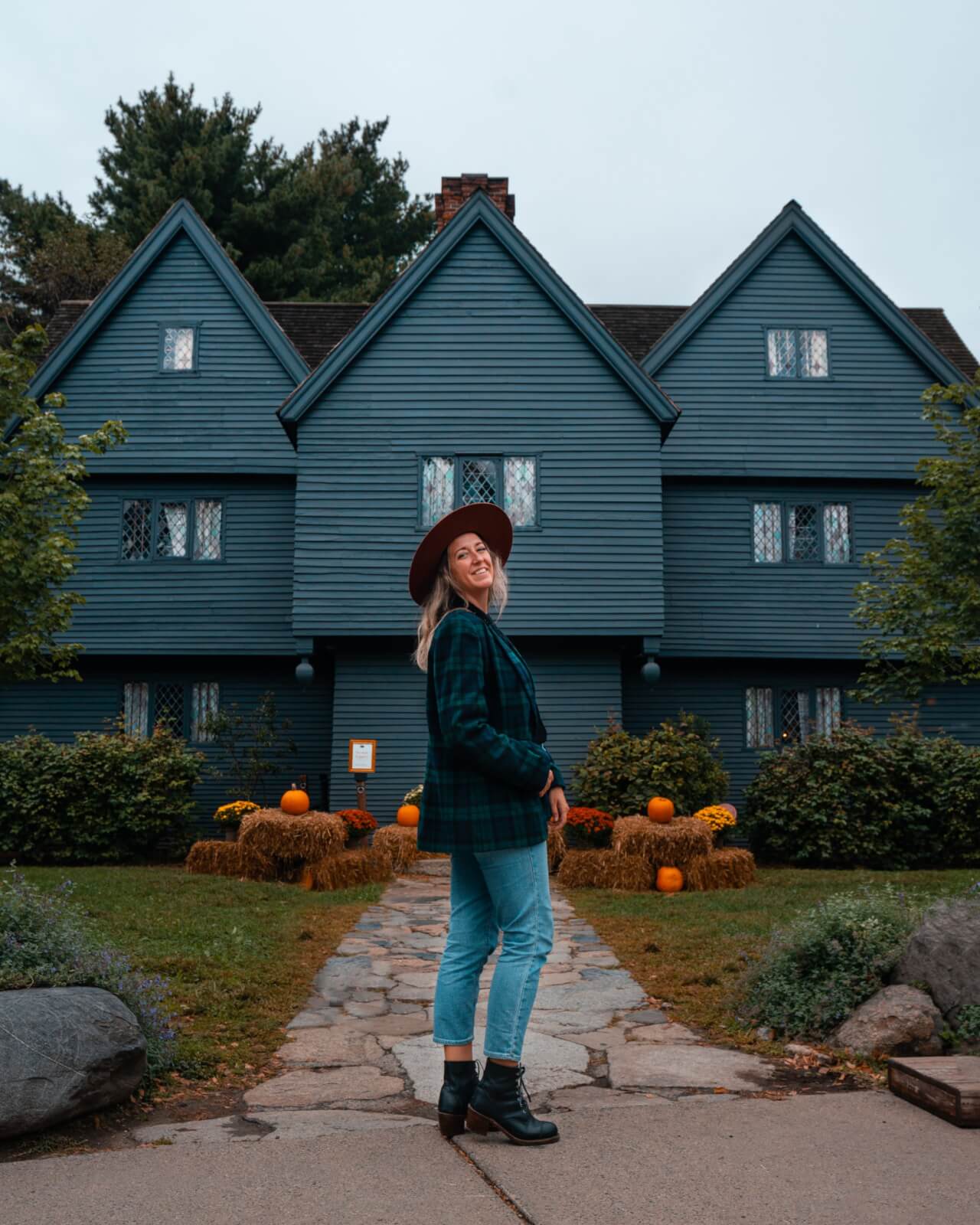 Find the Witch House on Essex Street and Summer Street. When you're looking for witchy things to do in Salem, Massachusetts in October (or anytime of year), we recommend this site which is the last structure still standing with ties to the witch trials.
The house was once the home of Judge John Corwin who led the investigation of the Salem Witch Trials and serves as a historic house museum.
Among Salem attractions, the house is special because it's the only building left from the time of the trials. This is why it's called the Witch House.
It's been restored and preserved, as well as moved over a few feet when they needed to widen the road. Take a guided tour or enjoy a self-guided stroll through the house and see artifacts from the trials, as well as items that would have been a part of daily life in Salem in the 17th century.
Tickets can be bought directly on their website and are non-refundable.
Witch Museum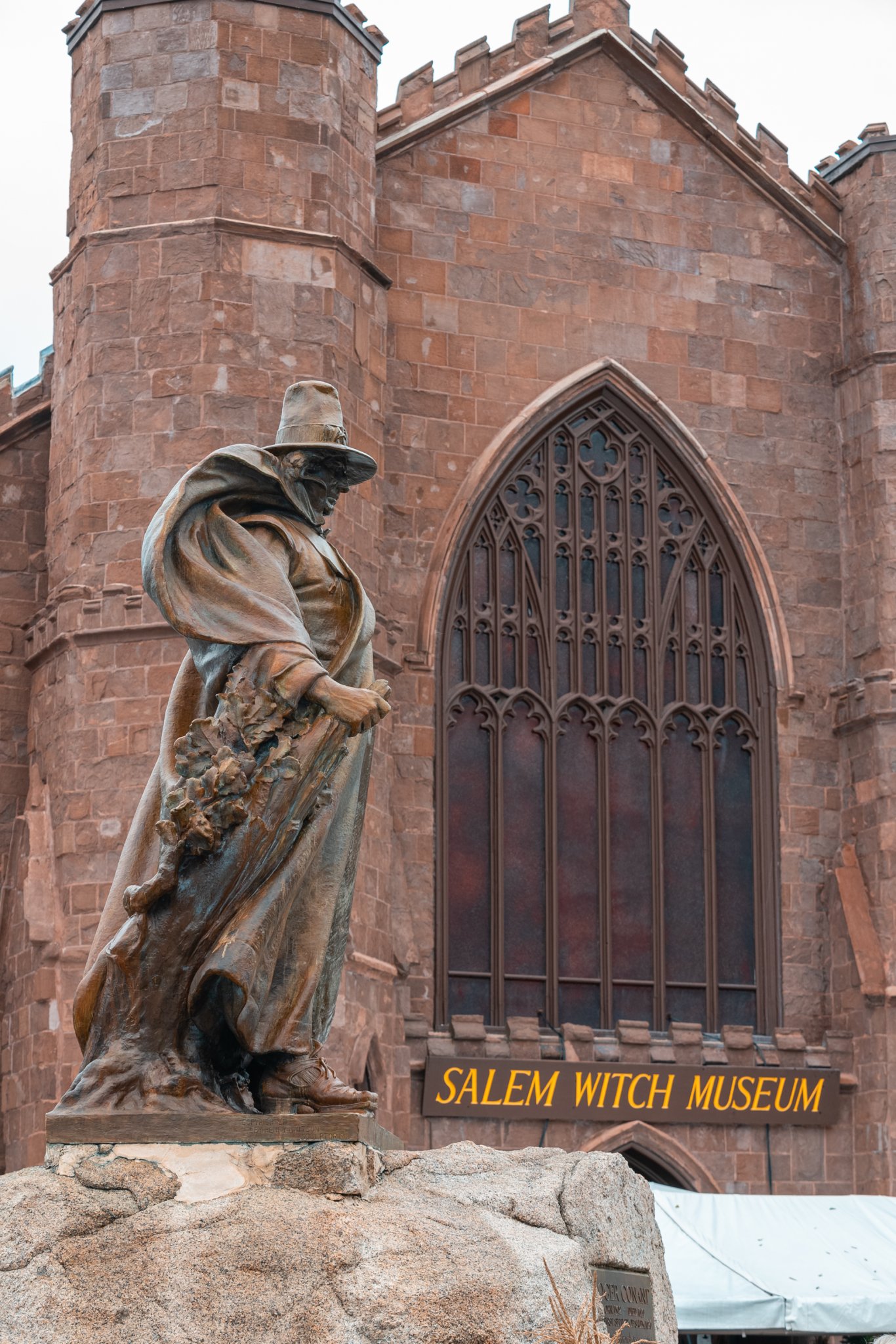 Find the Witch Museum across the from Salem Common. You can't miss the museum in its cathedral-like building, it's set in a former church, and its two main exhibits and presentations. On the list of things to see in Salem, this is one of the top and most popular attractions.
The museum features two presentations, an interactive, immersive experience that teaches you all about the 1692 trials and the presence of the word "witch" throughout history as well as examining the European witch trials which led to the trials here in Salem.
Be aware that this is not an exhibit for the faint of heart or young children. It's emotional and the museum recreates the dark period of trials through life-size stage sets that are narrated including the execution of victims Corey Giles who was pressed and the hanging of George Burroughs.
When planning things to do in Salem, Massachusetts in October for Halloween hours are extended during the peak spooky season.
Hocus Pocus Filming Locations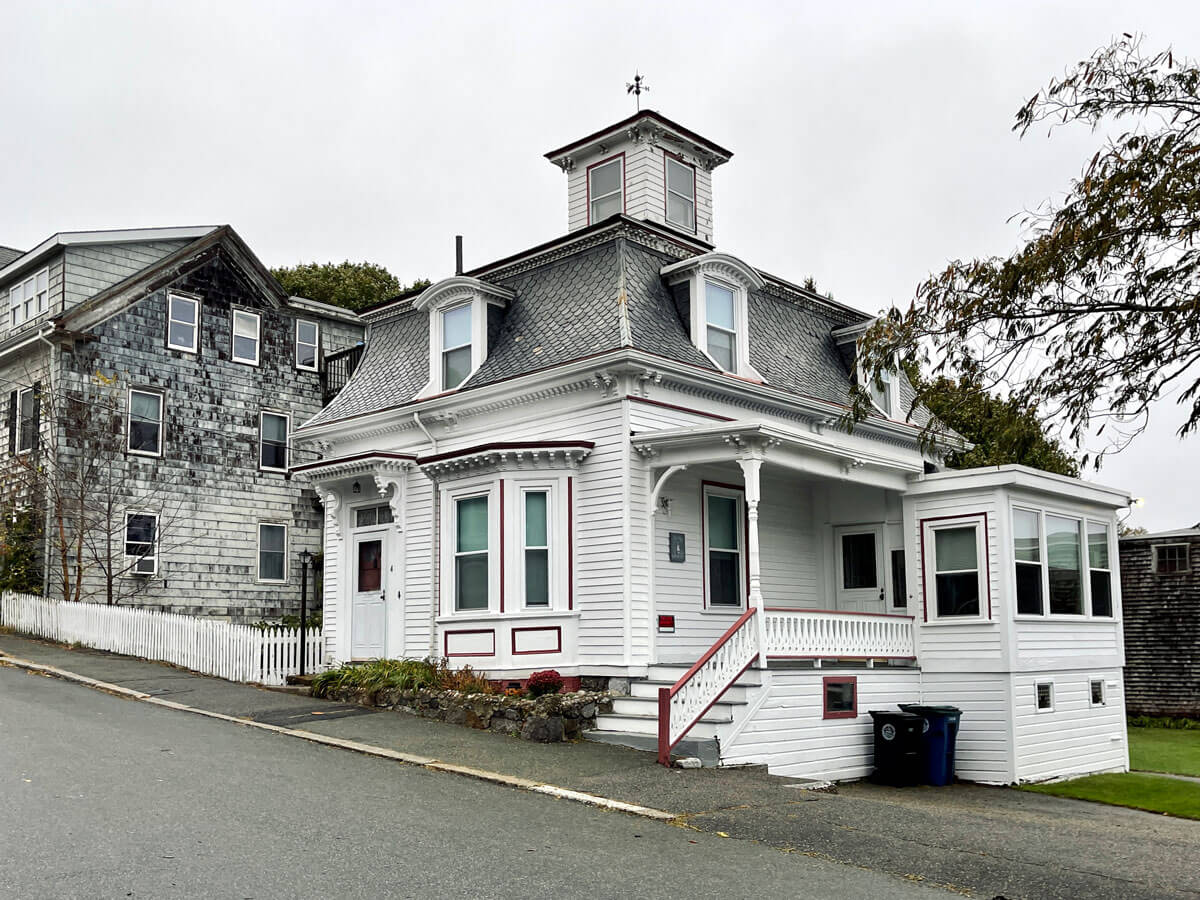 On the lighter side of things, some of the most popular Salem tourist attractions are filming locations from the cult classic, Hocus Pocus.
The opening 17th-century scene of Old Salem Village where Thackery Binx's house is was filmed in Salem's Pioneer Village. A lot of exterior scenes were filmed at locations you can walk to and take pictures in front of the homes when the village is open.
Just a short walk away from Salem's Pioneer Village is one of the most popular things to see in Salem from the Hocus Pocus movie! It's the house that Dani and Max live in also known as the "Hocus Pocus House," located at 4 Ocean Avenue.
We walked to both the Hocus Pocus House and Salem's Pioneer Village. However, it was around a 20-30 minute walk. So if you don't have alot of time, you might want to drive to these sites!
In town, a few of the easy Hocus Pocus filming locations to check out include the Old Town Hall (32 Derby Square) where all the adults are partying at the town's Halloween party.
Another is the Ropes Mansion (318 Essex Street) which served as Allison's house and is probably one of the most popular Salem attractions for photos due to its proximity to all the other fun things to see in Salem and its ties to the movie, not to mention it's also a historic site operated by the Peabody Essex Museum.
Some of the cemetery scenes, like where Max rides his bike, can be found just south of Salem in Marblehead at Old Burial Hill. This is one of the Hocus Pocus filming locations you might need to drive to as its a bit of a distance.
Hocus Pocus things to see in Salem don't end with film locations. Check out Count Orlock's Nightmare Gallery, a museum that houses a figure of Bette Midler's character from the movie.
Be sure to also read our full guide detailing the legendary Hocus Pocus filming locations in Salem for more!
Witch Dungeon Museum
For educational things to do in Salem, Massachusetts for all ages, visit the Witch Dungeon Museum on Lynde Street. Watch highly praised live reenactment of the trials adapted from the actual 1692 court transcripts.
Afterward, take a tour of replicated dungeons that the accused were forced to stay in poor conditions. They show how the accused were imprisoned until they were tried.
There's also a photo spot where visitors can take a picture in the stockades out front.
Count the Witch Dungeon Museum among the more family-friendly Salem attractions, keeping in mind that the history is still dark. It's a little quaint, being dated and kitschy, but a lot of fun. The museum is open seasonally with extended hours in October. Get in a for a small fee.
Check out All the Halloween Decorations!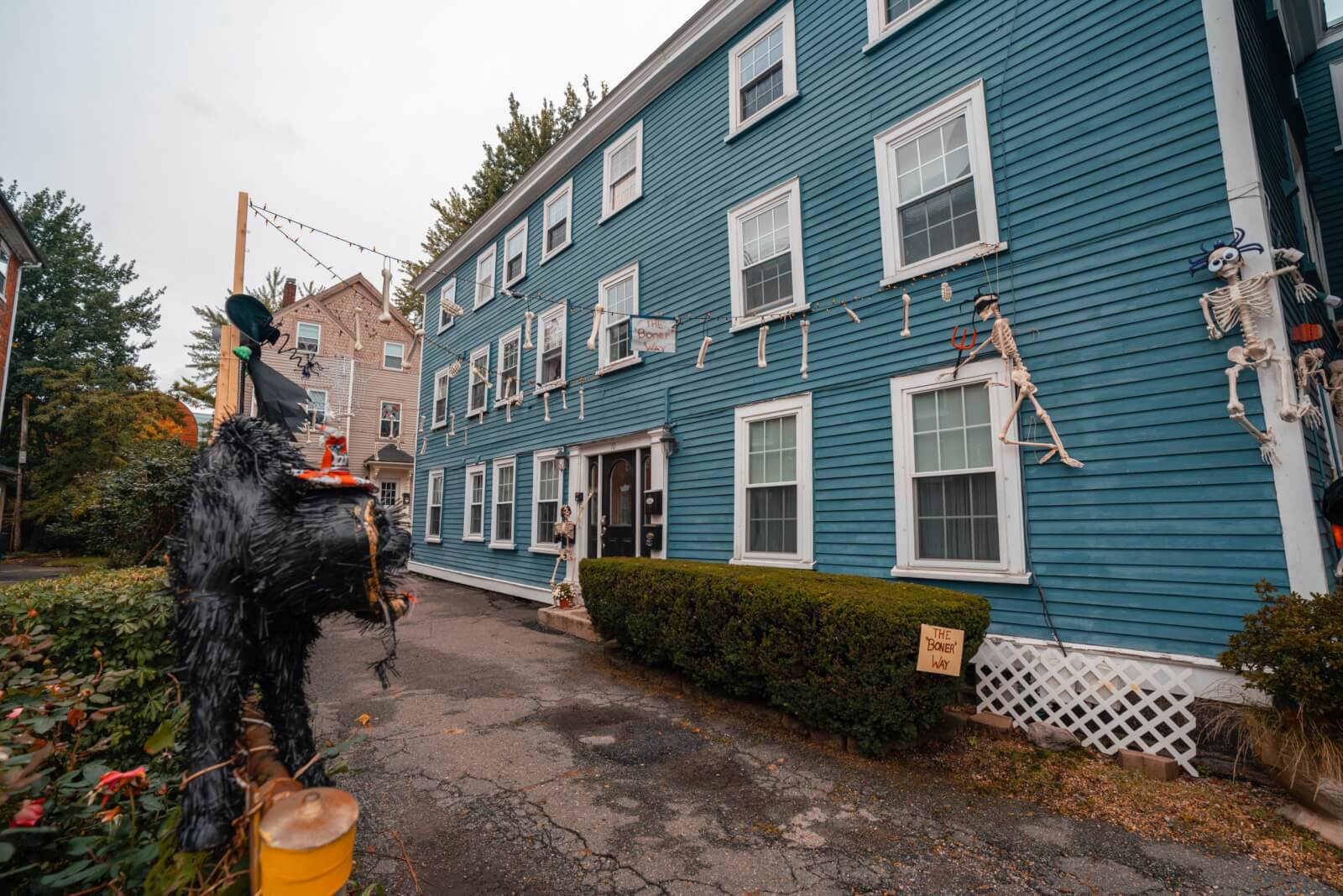 One of our favorite things to do in Salem, Massachusetts in October is to take in all the festive décor! Salem starts celebrating Halloween at the beginning of October and decorating starts early.
From smoking caldrons to cobwebs and quirky jack-o-lanterns, everyone in town is ready on October 1st. Salem is beautiful any time of the year but we suggest going in the early fall. This is when Salem tourist attractions start getting spooky!
It was incredible to see SO MANY homes decked out with spooky decor!
Costumed pedestrians will get you in the mood to celebrate. Plan a witchy costume and join in on the fun. Since this town makes Halloween a month-long event, go early in the month before the crowds really pick up and still enjoy tons of Halloween and witchy things to do to get you in the Halloween mood!
Do a Witch Photoshoot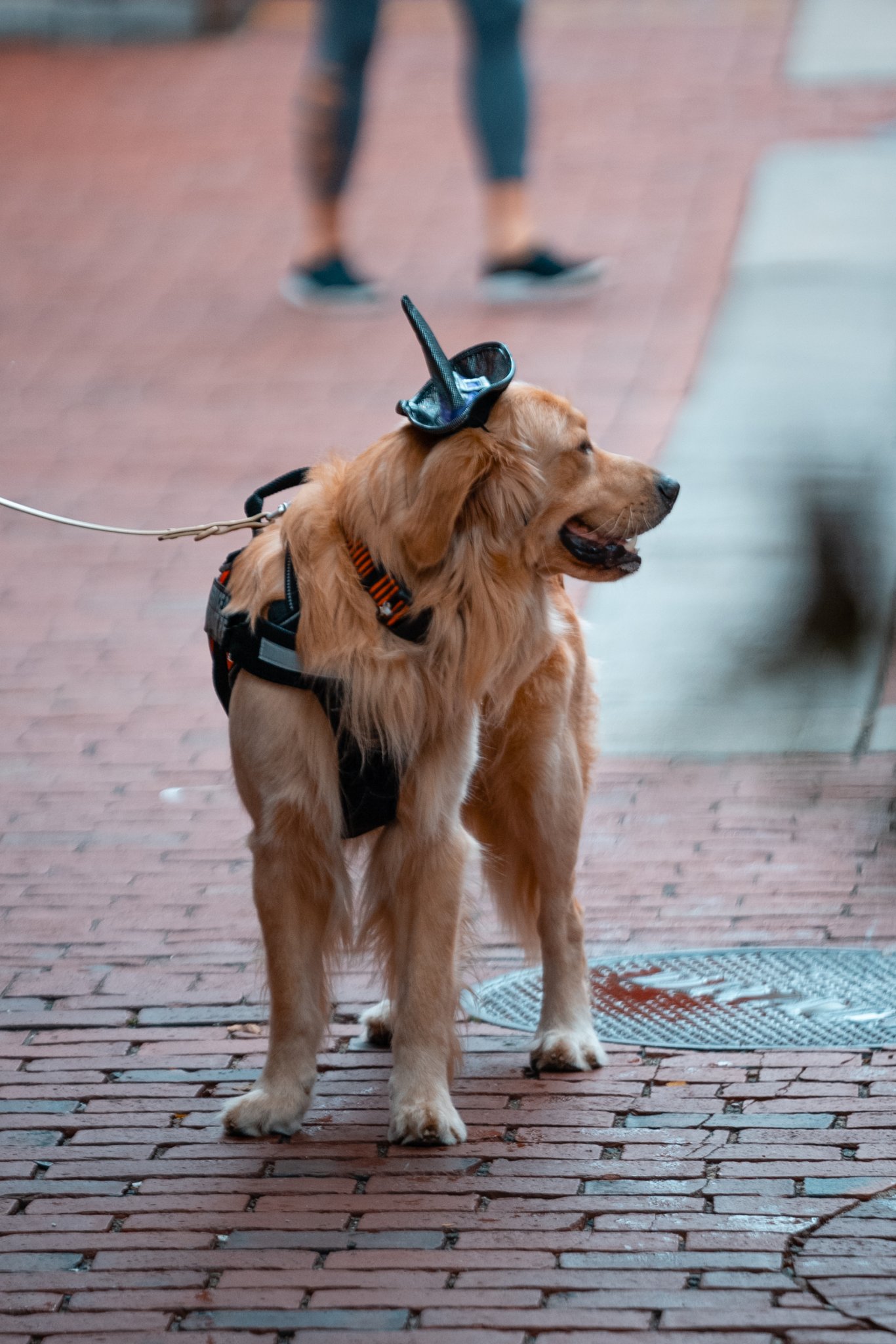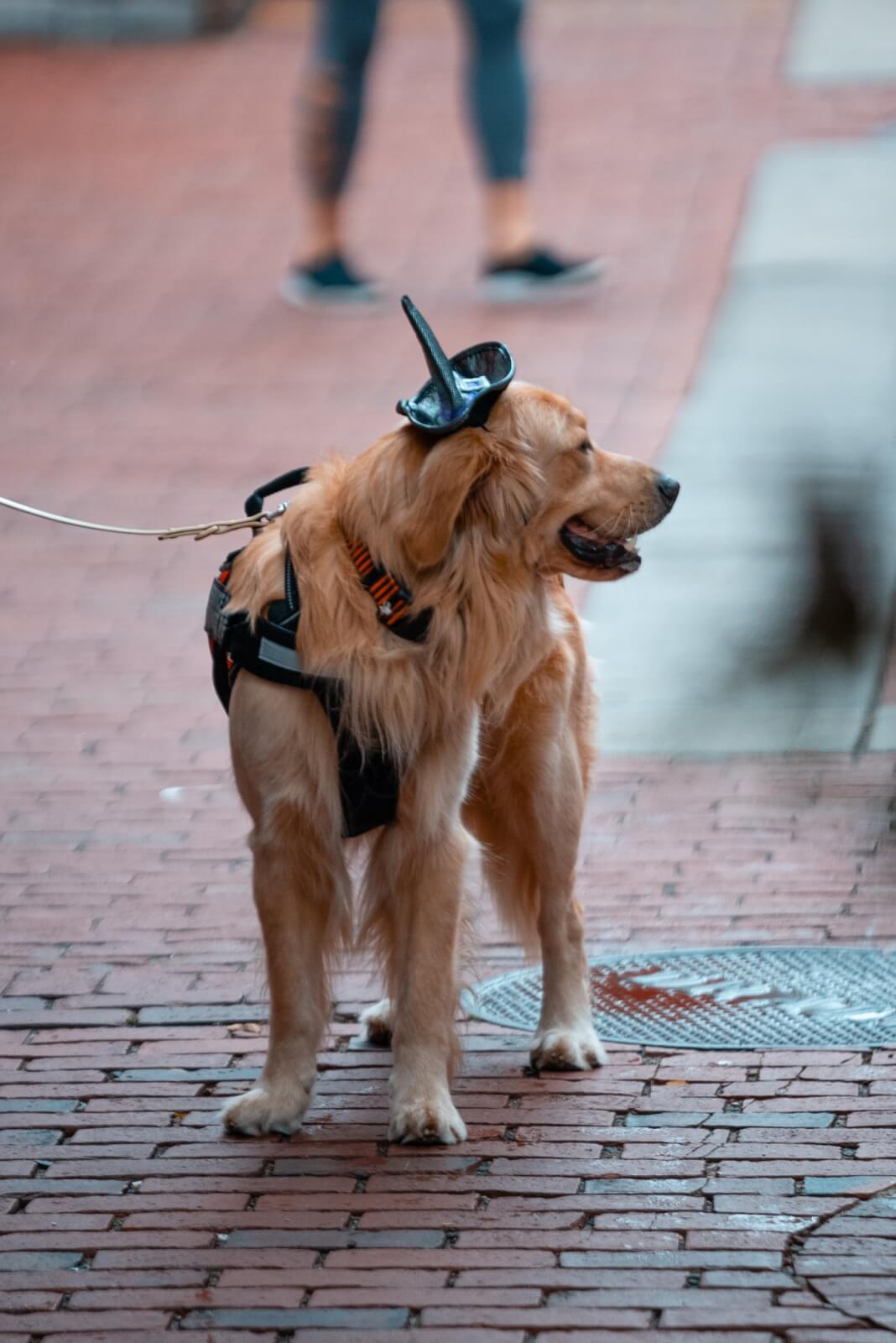 Let your inner witch come out to play. You'll quickly see that one of the most popular things to do in Salem for tourists is to wear a witch hat or dress up and walk around.
Someone with a genius business idea figured out how to capitalize on that by setting up a witch photoshoot in the Witch City Mall where at Witch Pix on Church Street complete with a huge witchy wardrobe. Think about those old-timey western photoshoots where you can dress up and take a sepia-tone photo but witches only.
Pick out your witch outfit and get ready to pose with hand-painted backdrops and smokey special effects, owner Hope Hitchcock has created a quality Salem experience. Wear a beautiful flowing cape and witch's hat. Take stunning individual or group photos with the expertise of the staff at Witch Pix.
This is one of those quirky things to do in Salem, Massachusetts you aren't going to get a chance to do anywhere else!
Bewitched Statue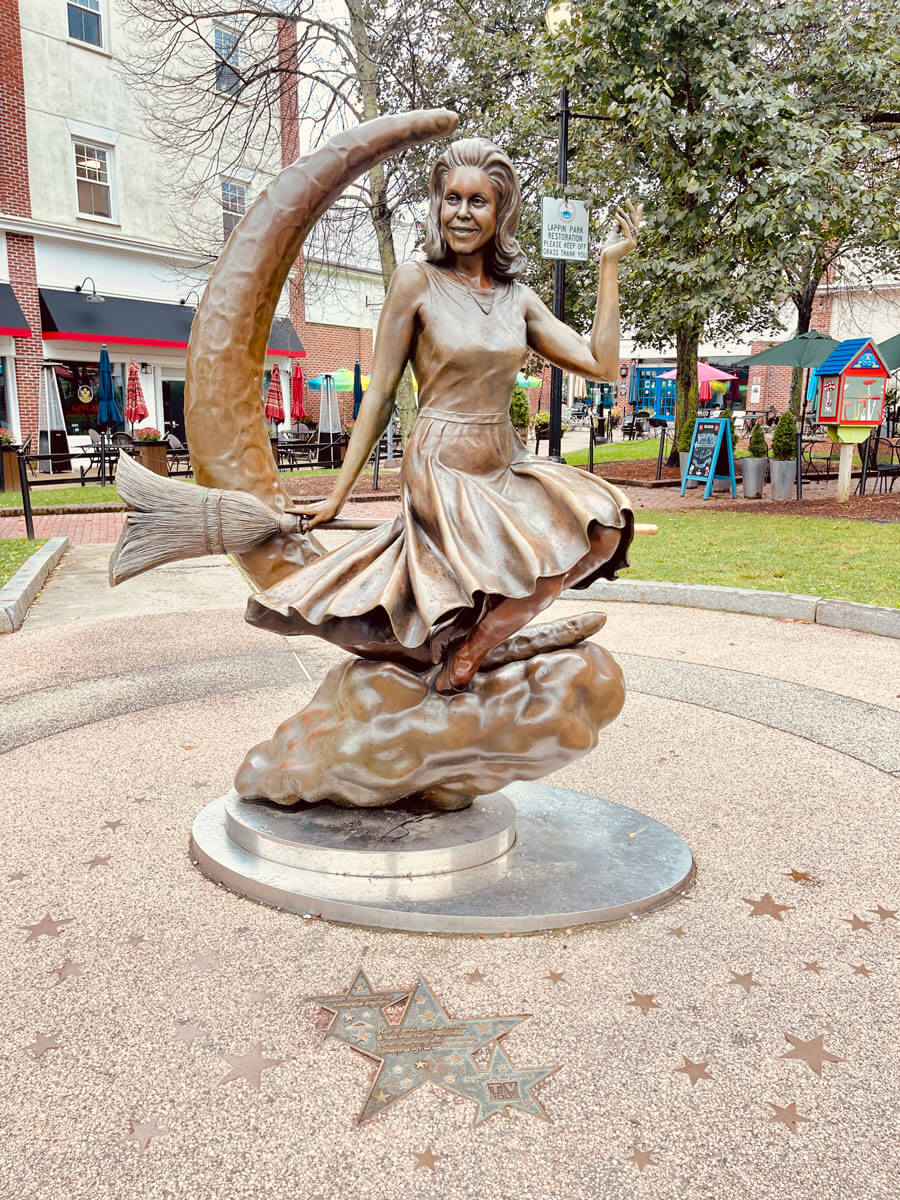 True fans of Bewitched will know the significance of the Bewitched statue, one of the best Salem attractions. This is more than just one of those witchy-themed things to see in Salem. A series of episodes of Bewitched (season 7) was filmed on location in Salem.
These episodes became known as the Salem Saga. They showcased a lot of famous Salem locations and really changed local perceptions of the dark and storied past with witches, which was a bit of a sore spot and not really talked about much.
The show's popularity and filming here also helped Salem become a popular tourist destination in the United States. These episodes also kept the show running after its Hollywood set burned down.
This 6-foot tall bronze statue features a sculpture of Elizabeth Montgomery and was financed by TV Land. The statue has been in Lappin Park since 2005, so you have to go find it and take a picture!
Old Town Hall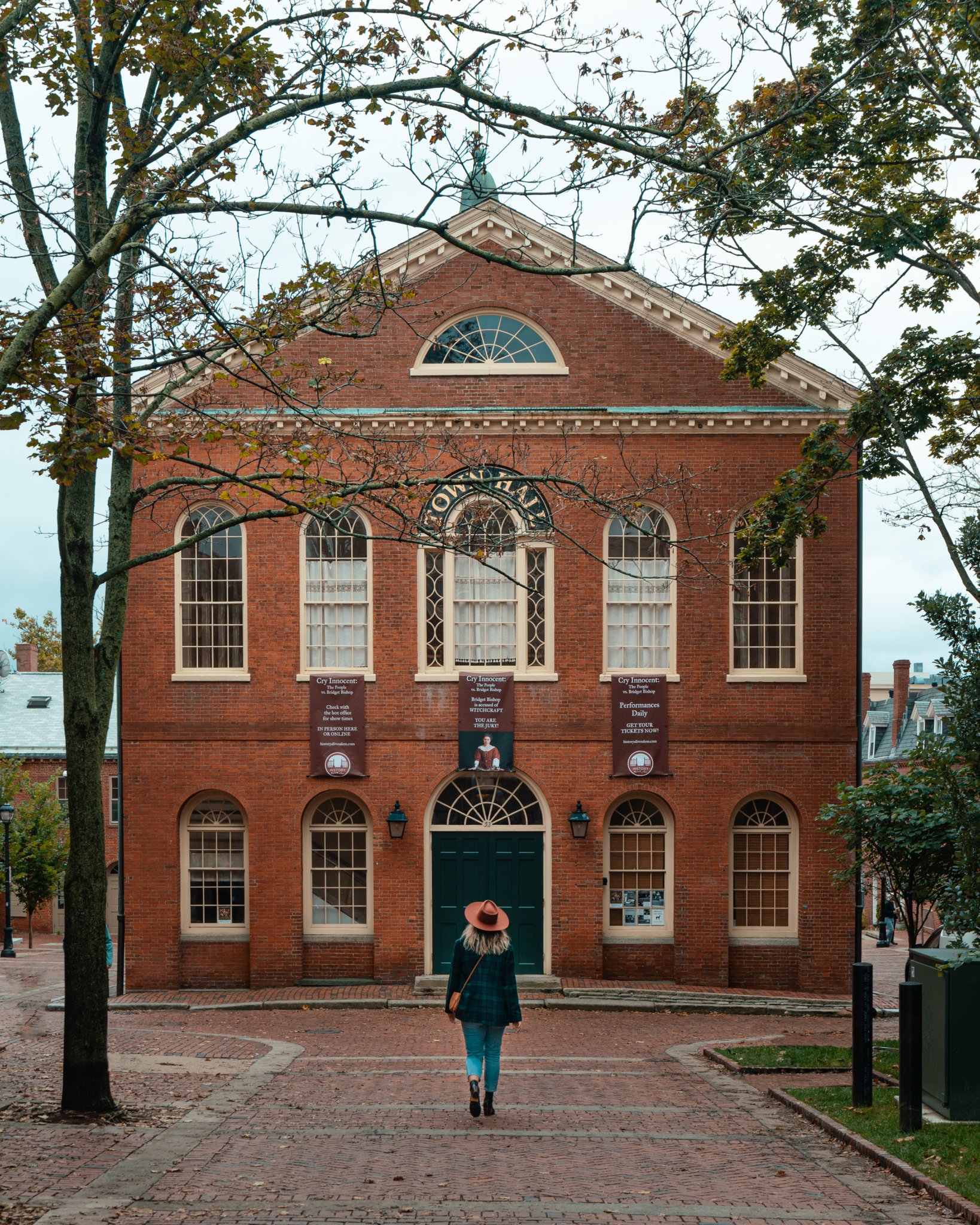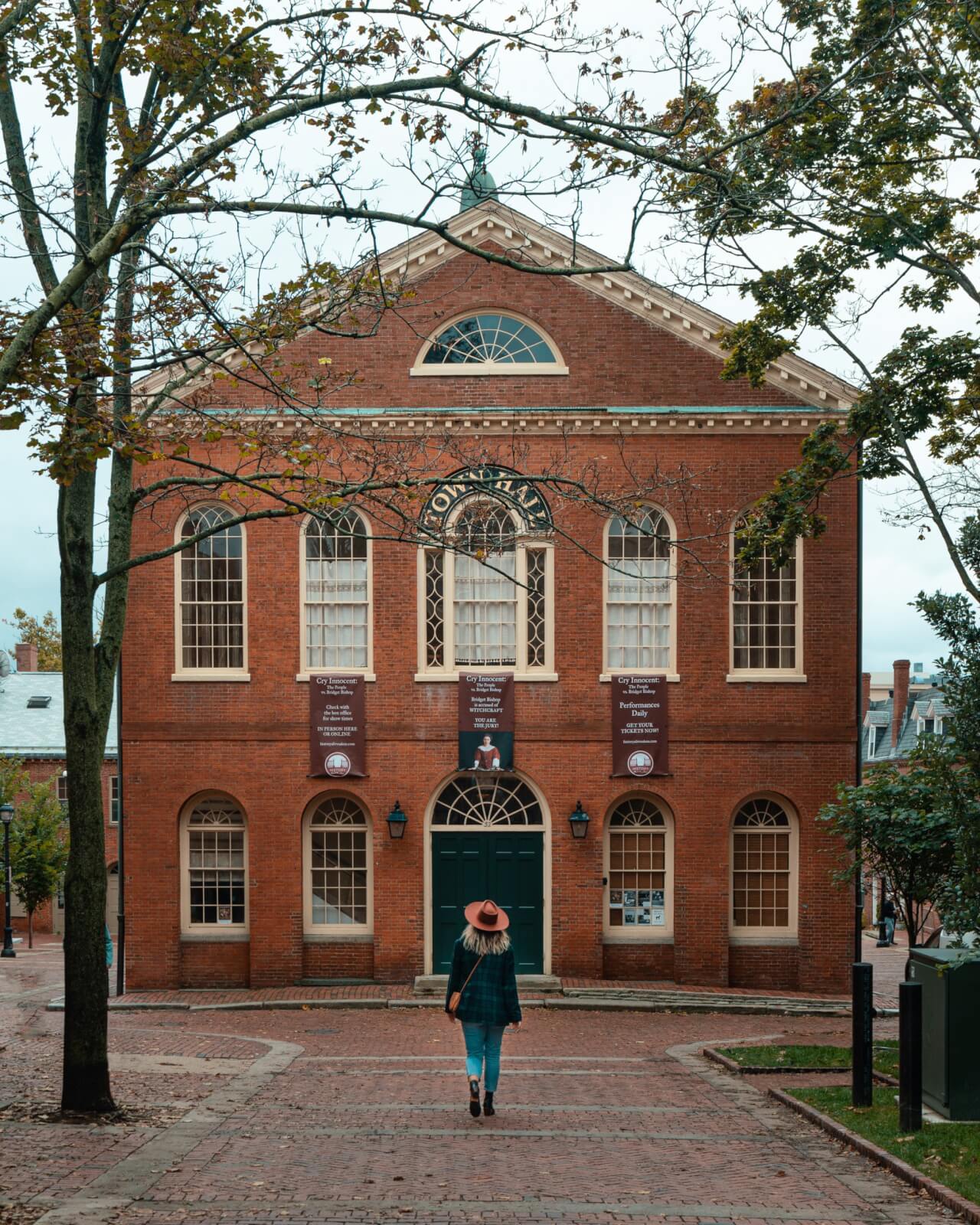 Find the Old Town Hall on Derby Square in the Essex Street Mall. This building dating back to 1817 is one of the most haunted Salem tourist attractions and historic sites. It's both beautiful and said to be very haunted with poltergeists and ghosts.
Take a walking tour or ghost tour to learn about the building or just take a stroll inside and enjoy the classic architecture. There's a museum on the first floor and a trial reenactment theatrical show on the second floor called Cry Innocent that tells the story of the trial of Bridget Bishop.
This historic hall has had many lives, including being a filming location for the Hocus Pocus Halloween party as mentioned earlier.
Shop at the Witchy Shops!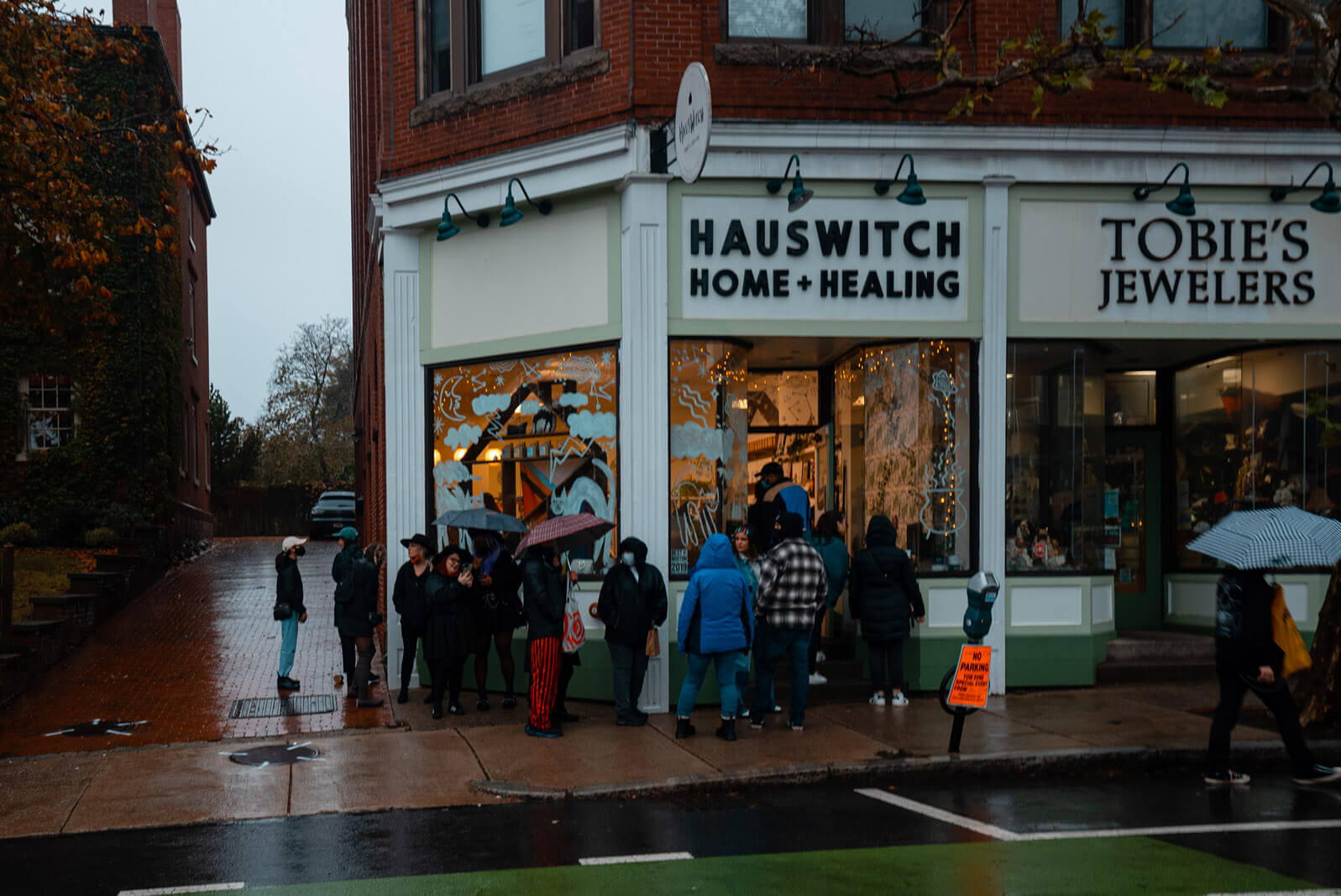 When planning things to do in Salem, Massachusetts, don't forget about the shopping! From getting a reading from mediums and psychics to fun costumes and souvenirs, you'll find all kinds of things at witchy shops. You can even join a seance if you desire!
Stock up on crystals and incense at Omen (184 Essex St), and then get a psychic reading. Vampfangs (244 Essex St) is the place to find realistic fang veneers or anything else vampire-themed.
The Witchery (61 Wharf St) is a unique stop! Make your own witch's broom embellished with charms and dried herbs and flowers.
Artemisia Botanica (3 Hawthorne Blvd) is your one-stop-shop for all things witchy and healing. Have your tea leaves read, take a herbology class, or pick up an herbal face cream here.
Hauswitch Home + Healing (144 Washington St) literally had a line to enter the store the entire Halloween weekend and by the brief windows hopping I did I can see why. This shop describes itself as a modern metaphysical lifestyle brand and shop filled with witchy and handmade products from local New England makers and creators themed around magic and healing.
What a perfect combo for a town like Salem! I didn't want to wait in line, so I just peeped through the window, they had some fun gifts and trinkets inside, I am sure I could have done some damage if I did go in!
Another cute shop located directly across from Hauswitch was Oak + Moss (143 Washington St) which sells more gifts and plants and isn't witchy – but cute enough to mention while we are talking about the magic of shopping!
Historic Things to do in Salem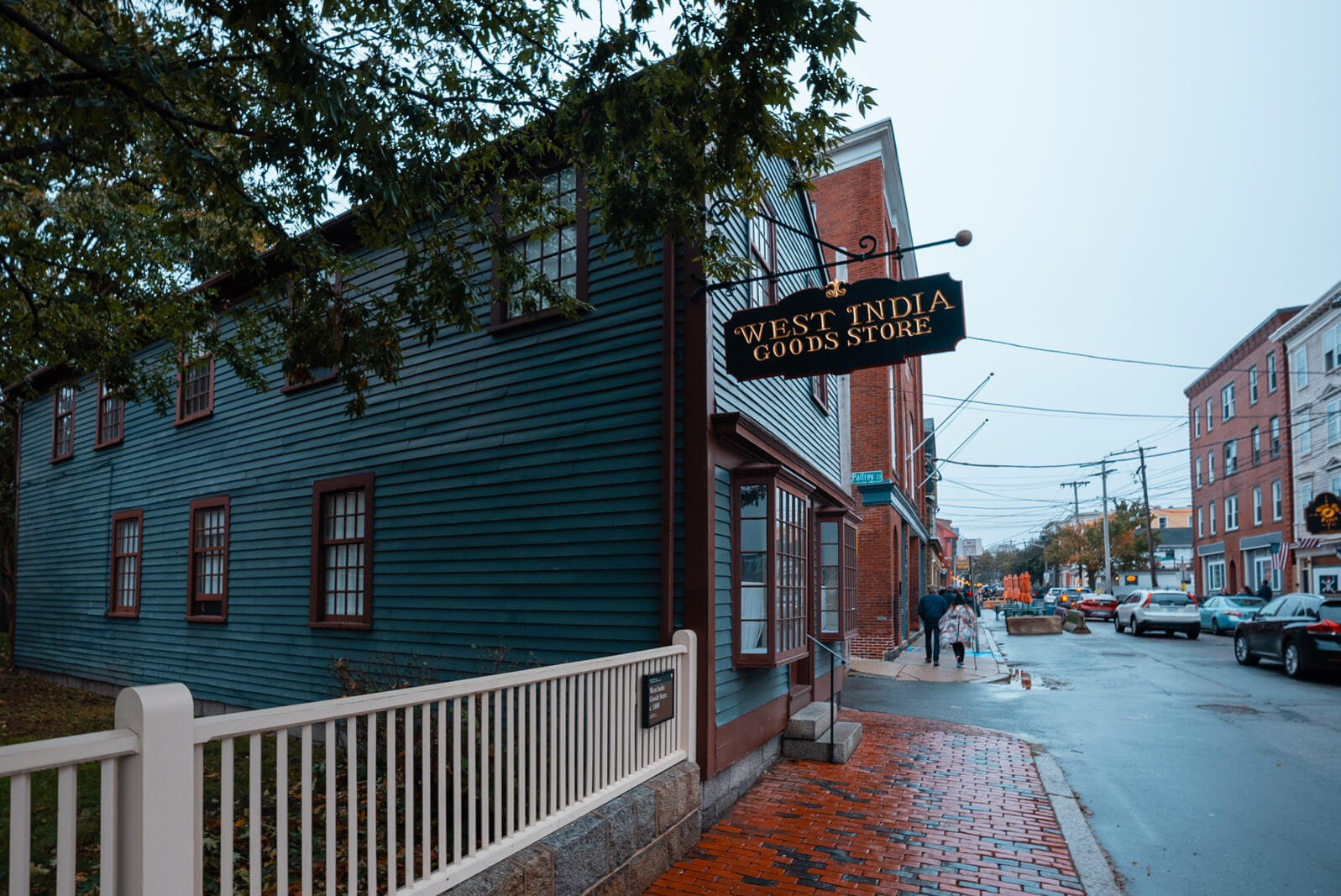 As we've already touched on, Salem is known for the Salem Witch Trials of 1692. However, it has a long, influential history as a New England port city. It's also one of the first colonized settlements in the United States.
Check out some of these historic Salem tourist attractions. Learn about more than 300 years of history that involves famous authors, the Revolutionary War, and more!
The House of the Seven Gables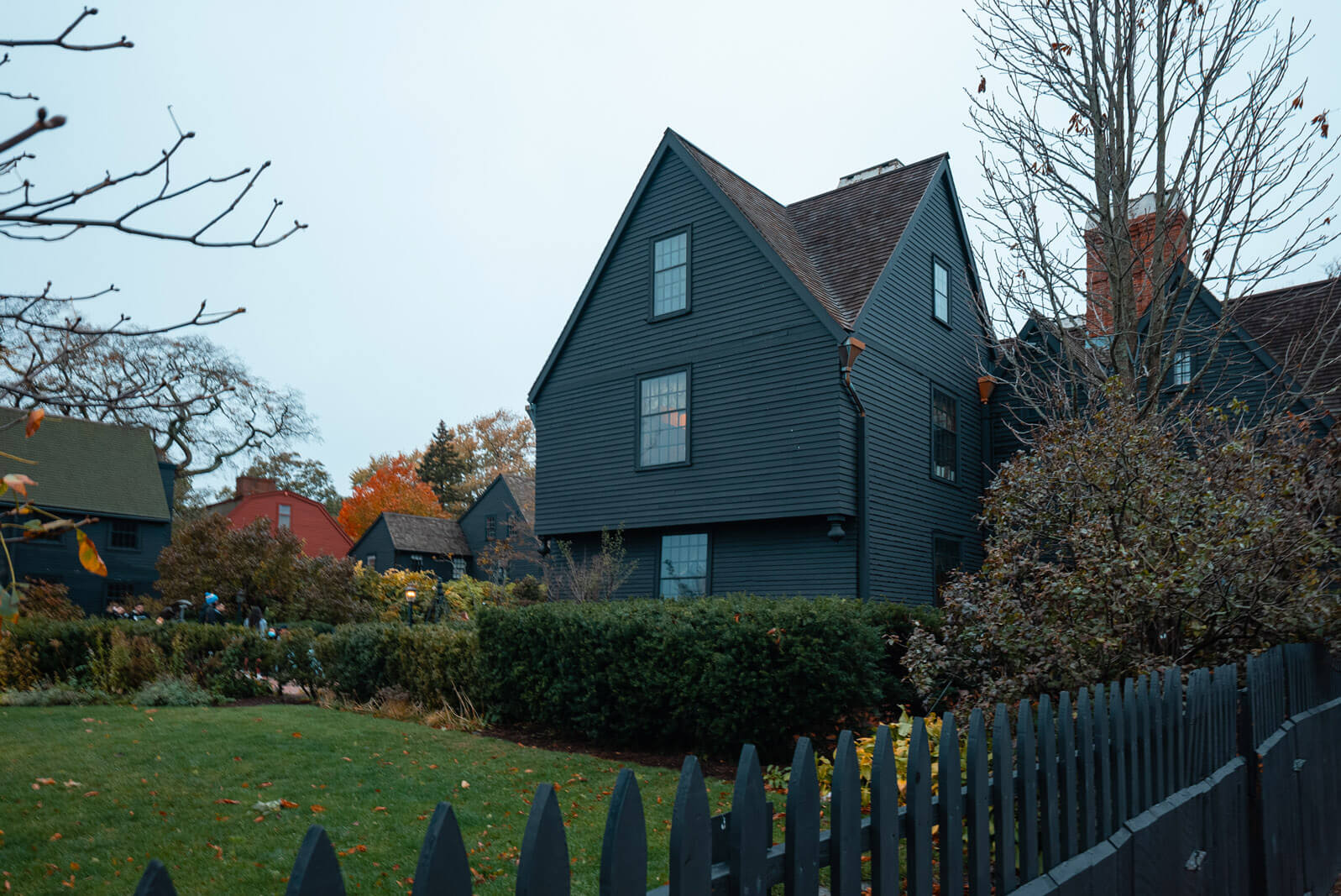 The House of the Seven Gables is a famous fictional novel by Nathaniel Hawthorne written in 1851. The book was partly derived from Salem's Witch Trial history and partly inspired by the Turner-Ingersoll Mansion where his cousin lived (he was not only related to the Ingersoll's but Nathanial Hawthorne's great-great-grandpa was one of the judges of the witch trials).
This 1668 colonial mansion is now a museum and you can visit this mansion and its grounds during your visit to Salem.
Among Salem tourist attractions, the mansion is beloved and admired for its beauty and prominence in the community. It's well preserved in the Georgian style and a lot of fun to walk through. There are exhibits that show daily life items used when the mansion was originally built in the 17th century. There's even a secret stairwell!
Take a guided tour inside or just pay for a grounds pass and check out the gardens. Located at the end of Turner Street, the grounds have excellent views of Salem Harbor. Learn about the philanthropic work of the mansion that goes towards settling incoming immigrants.
Whether you're a fan of the famous novel, architecture lover, or history buff, this is one of the best and most popular Salem attractions to check out!
Nathanial Hawthorne's Birthplace
Speaking of Nathanial Hawthorne, adjacent to the House of the Seven Gables is the birthplace of the author. This house was actually located about a mile away on Union Street. It was moved to its current location in the 1950s by the House of Seven Gables so it's easy to visit both attractions in one visit.
The home was built in 1740. Against his family's wishes, Hawthorne's parents were married in 1801. There was a scandal since his mother was already pregnant with his older sister. Hawthorne was born at their family home in 1804. He lived there until his father died in 1808.
Today you can visit the home and see artifacts that the Hawthorne's owned. When you're in well-preserved spaces like this house, there's an eerie feeling. It's like time is blending past and present together. You feel like you're in the past with historical figures like Hawthorne, and it's quite the experience.
Joshua Ward House
For more historical and witchy things to see in Salem, go to the Joshua Ward House on Washington Street. Originally, George Corwin lived in a house on this spot and the foundation stones are still there today. Corwin was the sheriff directly involved in the 1692 Witch Trials.
Called "The Strangler" for his heinous torture techniques, the legend is that he tortured prisoners in his basement. This popular legend is why the Ward House is thought to be one of the most haunted Salem attractions.
Joshua Ward, a rich Salem merchant, built his home on this location in 1784. George Washington stayed in Ward's home in 1789. The house has been beautifully preserved, an example of classic brick and timber Federal-style architecture.
Today, it's a popular hotel that you can stay in. Check out beautiful original wood paneling combined elegantly with modern décor. But be warned: multiple guests have reported feeling unseen hands strangling them. Others have found melted wax in rooms with no candles present.
The ghost of Giles Corey has apparently been caught on camera in the hotel. Corey was one of those executed in the Salem Witch Trials. He was cruelly crushed to death with stones by Corwin as a form of execution.
Pioneer Village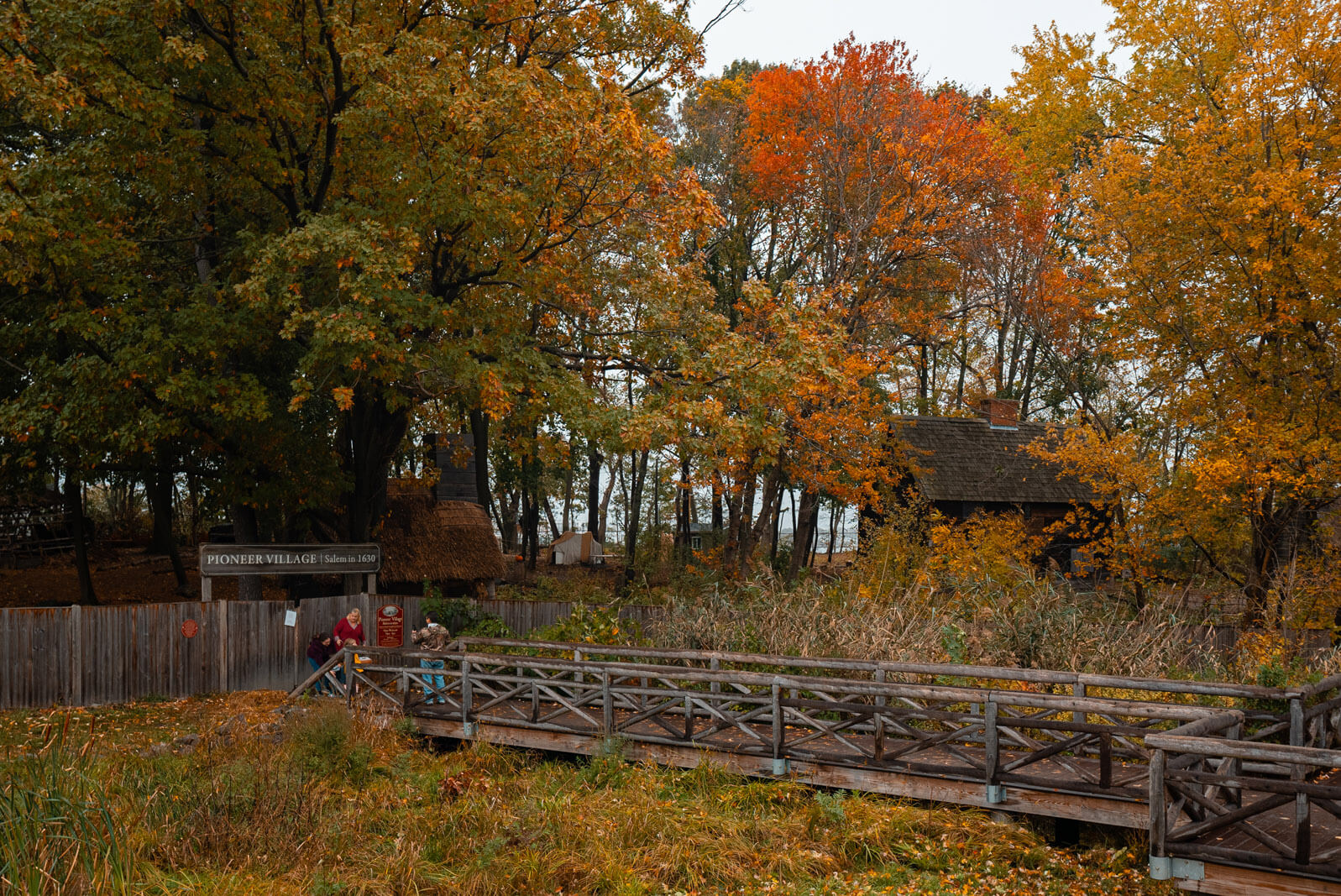 Make sure Pioneer Village is on your list of things to do in Salem, Massachusetts in October! Pioneer Village is in Forest River Park overlooking Palmer Cove. It's the oldest living history museum in the country.
During the Halloween season, special events are held in the village. We recommend going during the Lanterns in the Village event. It's a beautiful and spooky experience!
Pay a small fee and enjoy presentations of colonial life at the blacksmith shop. Check out thatch-roof cottages, Naumkeag wigwams, and herb gardens.
This is one of the most popular Salem tourist attractions among Hocus Pocus fans. The village was used in the opening scene as the location of Thackery Binx's house. Sometimes in the fall, you can take pictures with actors dressed as the Sanderson sisters!
Ropes Mansion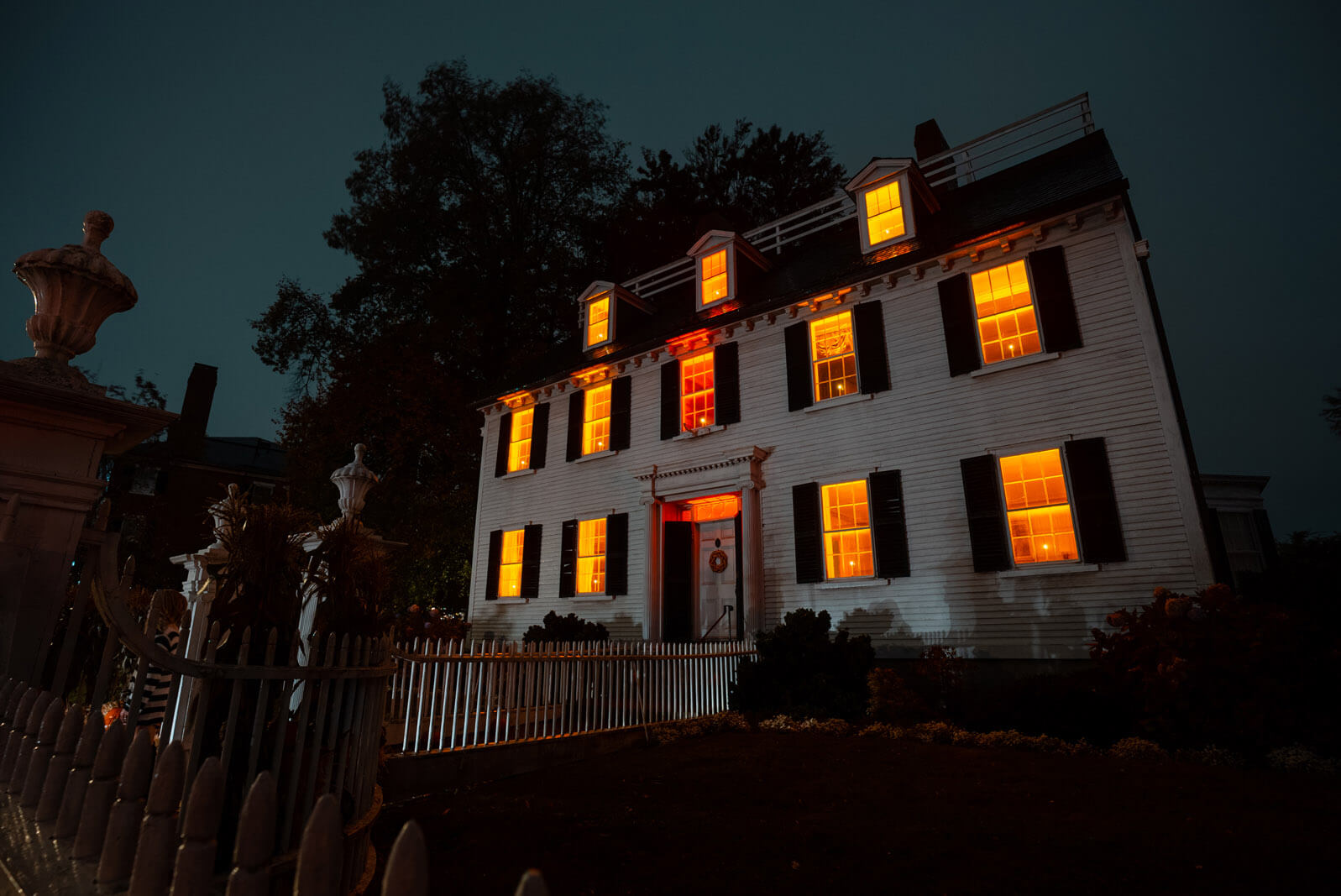 The Ropes Mansion and Garden can be found on Essex Street in the McIntire Historic District. For those looking for historical things to do in Salem, Massachusetts in October, come here. The house was used for exterior shots as Allison's house in Hocus Pocus. It's full of Salem history and legends.
The house was built by merchant Samuel Bernard in the early 18th century. The house is said to be connected to many unexplained deaths, including 3 of Bernard's 4 wives! But perhaps that's just a coincidence.
British Loyalist Judge Nathaniel Ropes purchased the house in 1758. In 1774, Ropes sided with the British government, and colonists attacked the house! Ropes died during the attack but was said to have smallpox during this time.
There are several more deaths connected to the house, as well as mysterious fires over the years. Guests say they have seen the ghosts of Bernard's wives and Ropes himself. Pay a small fee and take a tour of the restored home or walk the gardens, also said to be haunted.
Fort Sewall
For those looking for historical things to do in Salem, Massachusetts, look into Fort Sewall. This site was first established by the British army in 1634. The fort was taken over by the American government in 1794 as a coastal defense base.
Under the British, the fort saw action during the French and Indian War and the Revolutionary War. After America won the Revolution, the fort saw the War of 1812 and the Civil War before it was retired as a state park in 1892.
Less than a 5 miles' drive south of Salem tourist attractions you'll find Fort Sewall located at Gales Head. This rocky peninsula in Marblehead overlooks the Marblehead Harbor.
Walk around and find the underground bunkers that used to house prisoners and store weapons. Check out historical markers and take in a great view of the bay. There's also a Revolutionary War reenactment in the park every year in July.
Historic New England Phillips House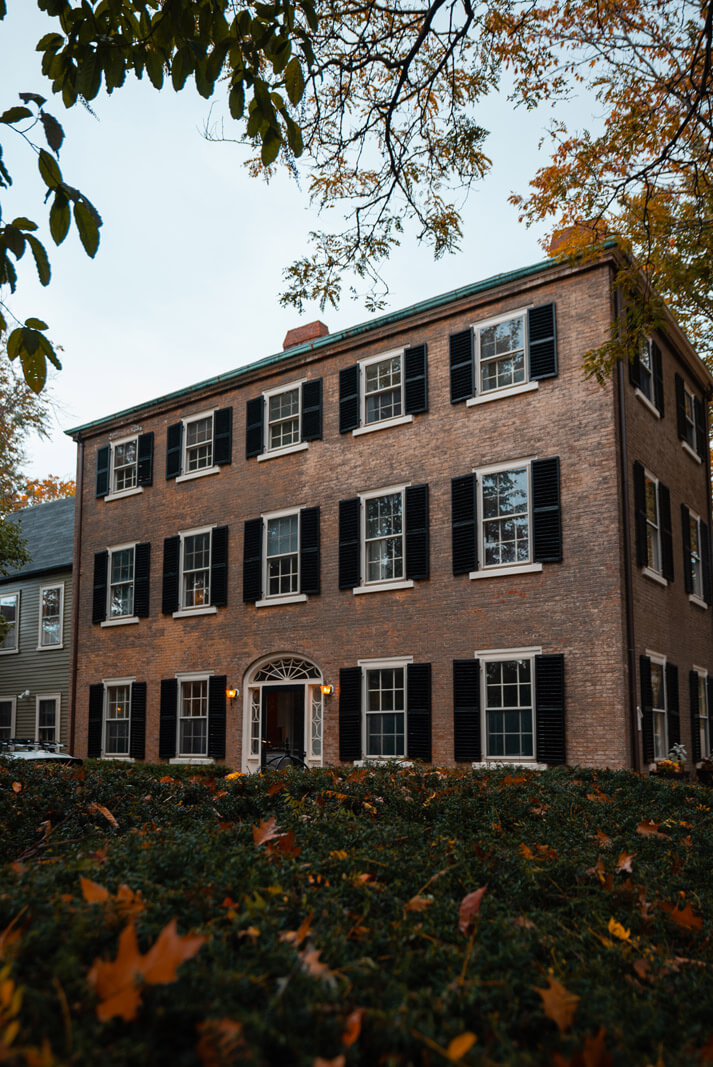 There are more non-witchy things to see in Salem, like the Phillips House in the McIntire Historic District. The house is a museum run by Historic New England. It depicts the lifestyle of Stephen Phillips and his family.
Take a tour of the beautifully restored Colonial Revival-style home. There are lots of well-maintained personal items that belonged to the family. Visit the garage with a Ford Model-T car and carriages. Learn about the influence the Phillips family had in Salem during the 19th and 20th centuries.
Salem Maritime National Historic Site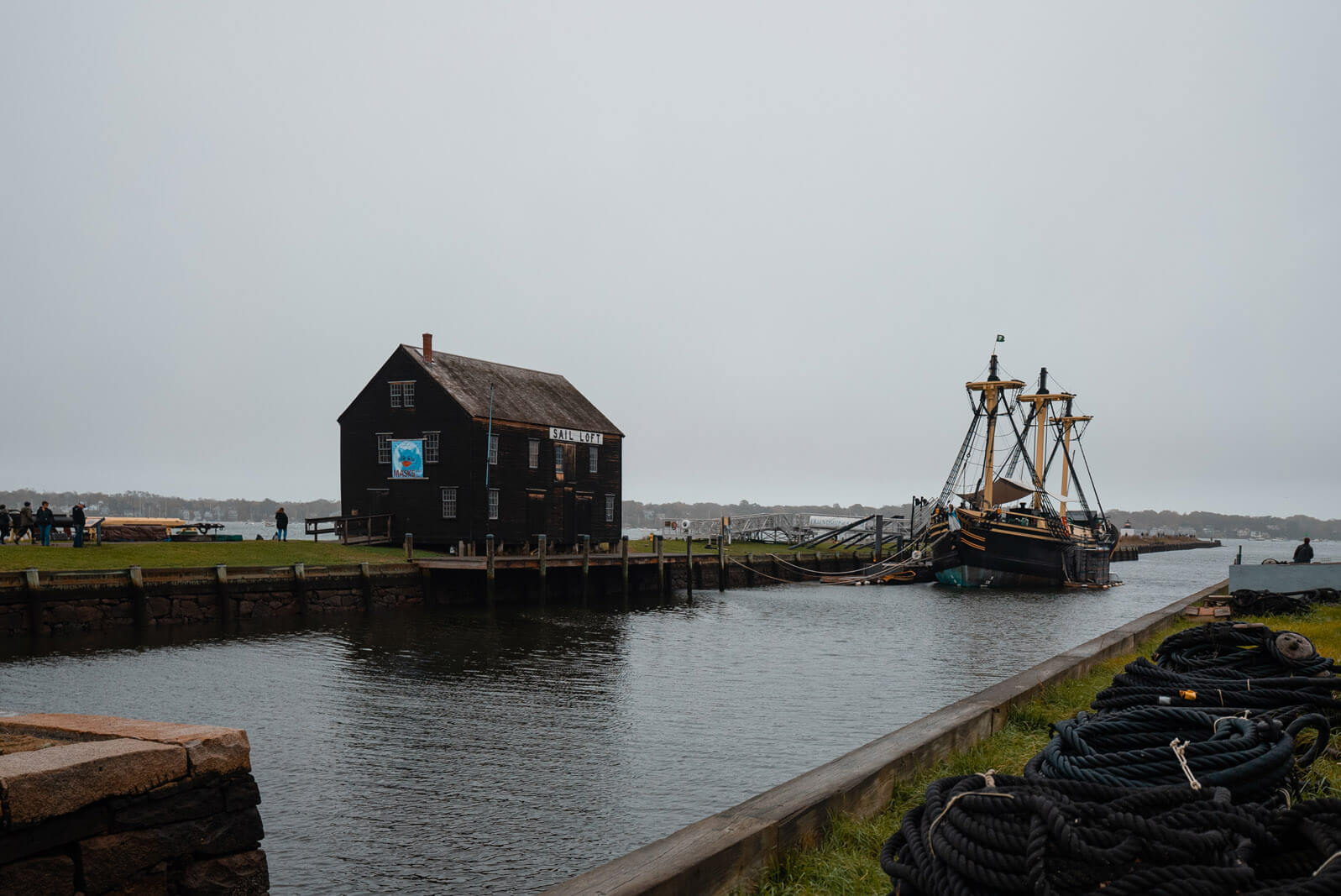 The Derby Waterfront District is home to the Salem Maritime National Historic Site. The park, run by the National Park Service, honors the history and influence of Salem as an international port. There, find 5 different buildings, 2 ships, and a lighthouse. They all highlight different parts of Salem's 300-year maritime history.
Take a day for these Salem attractions, as each building tells aspects of Salem's past as a port city. Stop by the Scale House where the incoming cargo was measured. Step into the West Indian Goods Store that sold products from all over the world.
The Friendship of Salem is a replica ship housing as a museum that teaches visitors about the life of international traders at sea. Take a walk down the long Derby Wharf with a view of the Salem Harbor.
Stop at the end of the wharf to see the Derby Light Station. Check the hours before you go if you want to go inside any of the buildings, as they change seasonally. This is one of those things to see in Salem that we were pleasantly surprised at how moving it was!
More Salem Attractions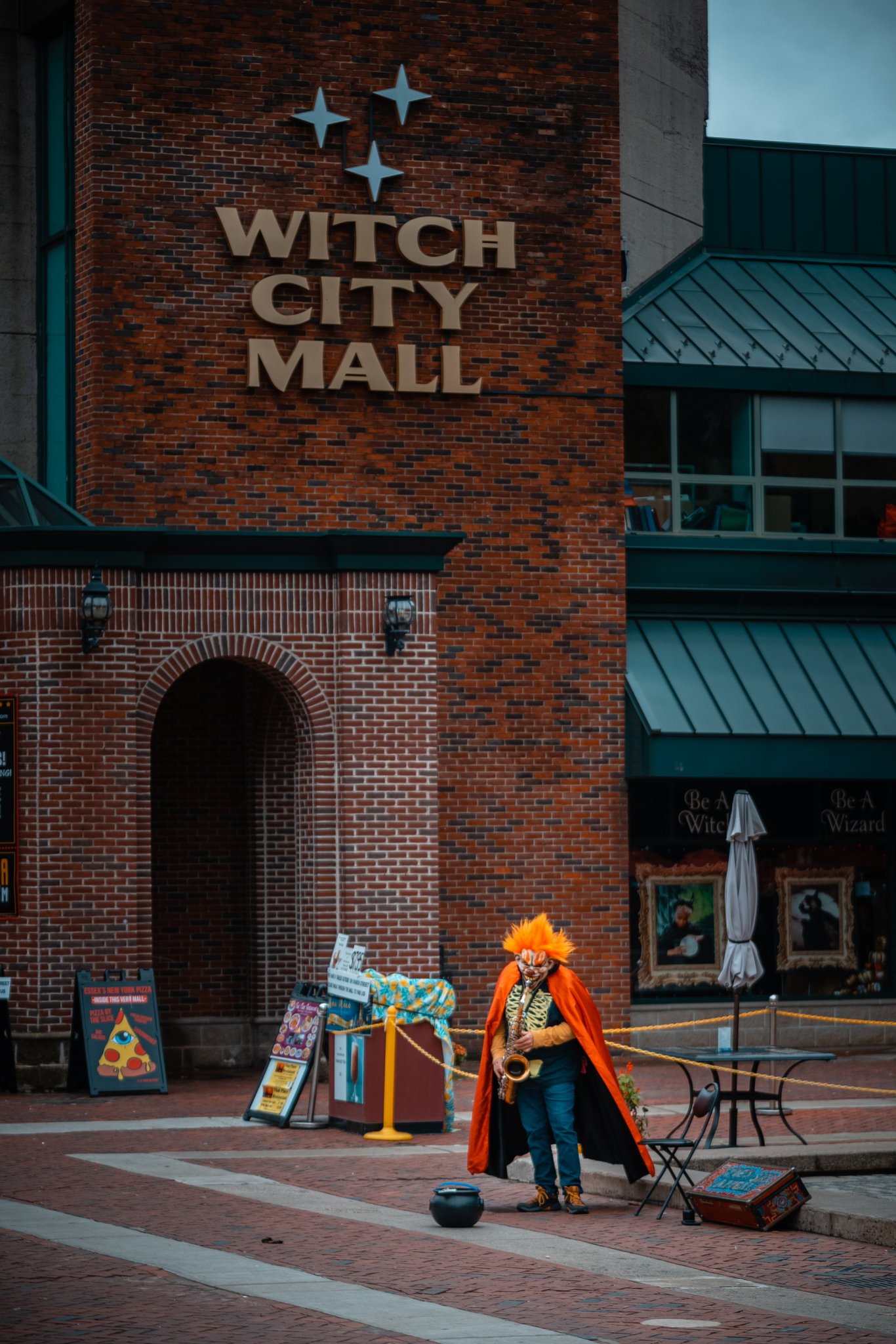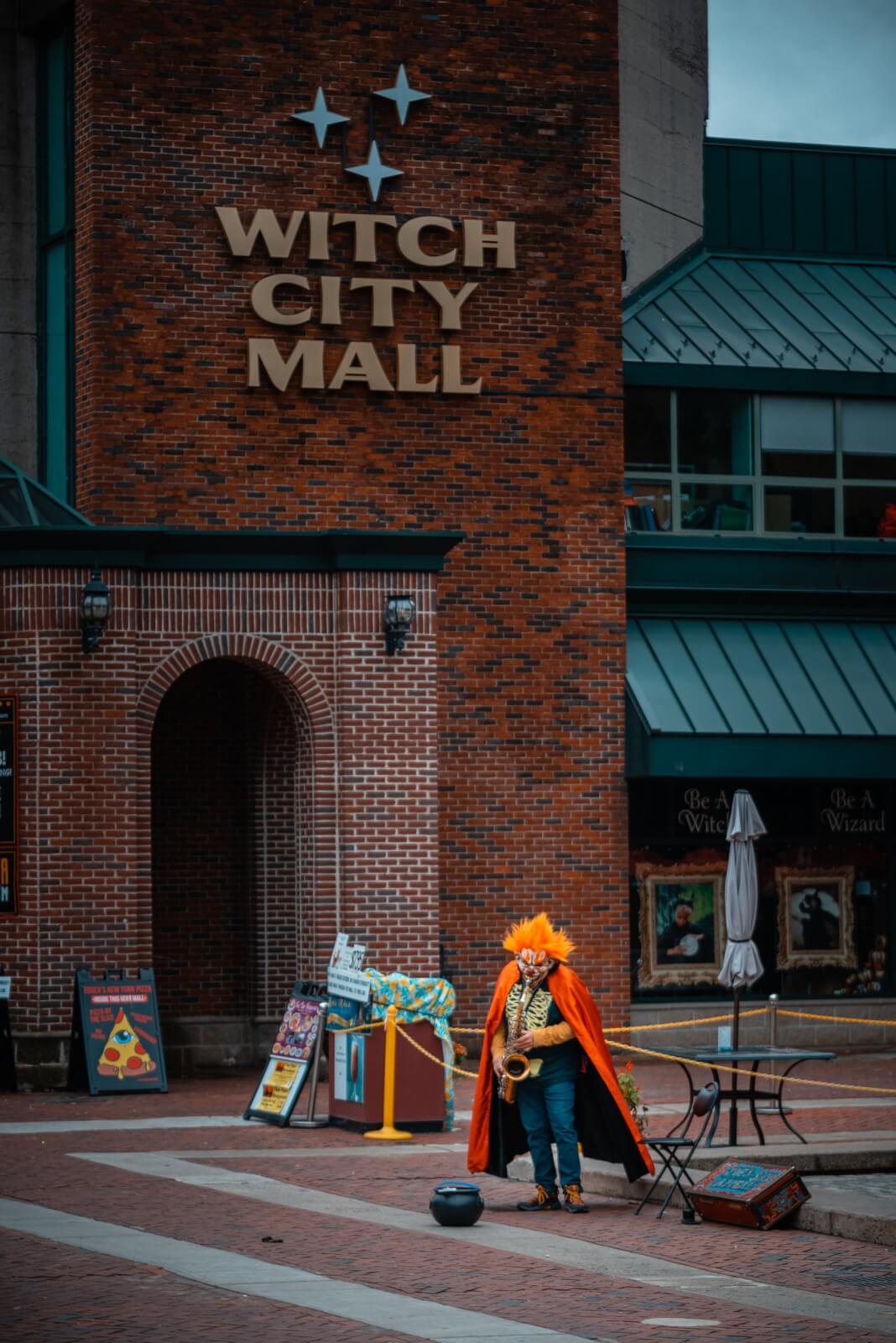 There are a few Salem tourist attractions that you won't want to miss. They don't really fit in a category, so we've included them here. Perhaps we've saved the best for last!
The Satanic Temple
This is NOT what you think it is. Check out The Satanic Temple and learn more about its mission, which is actually more about separation from church and state and practicing empathy among ALL people.
Founders Lucien Greaves and Malcolm Jerry chose their headquarters to be in Salem on purpose. They were making a statement while being fully self-aware.
Since its founding in 2012, The Satanic Temple as a nontheistic religious group has been publicly involved in human rights campaigns. The Temple works to bring attention to the hypocrisy of religious groups' involvement in political settings. In just a decade, chapters have been founded on 3 separate continents.
If you're looking for truly unique Salem attractions, visit the headquarters on Bridge Street. Pose for a picture with the now-infamous Baphomet statue.
Check out exhibits around witch hunts and The Satanic Panic of the 1980s. The Temple hosts regular events like ceremonies and educational talks.
Salem Breweries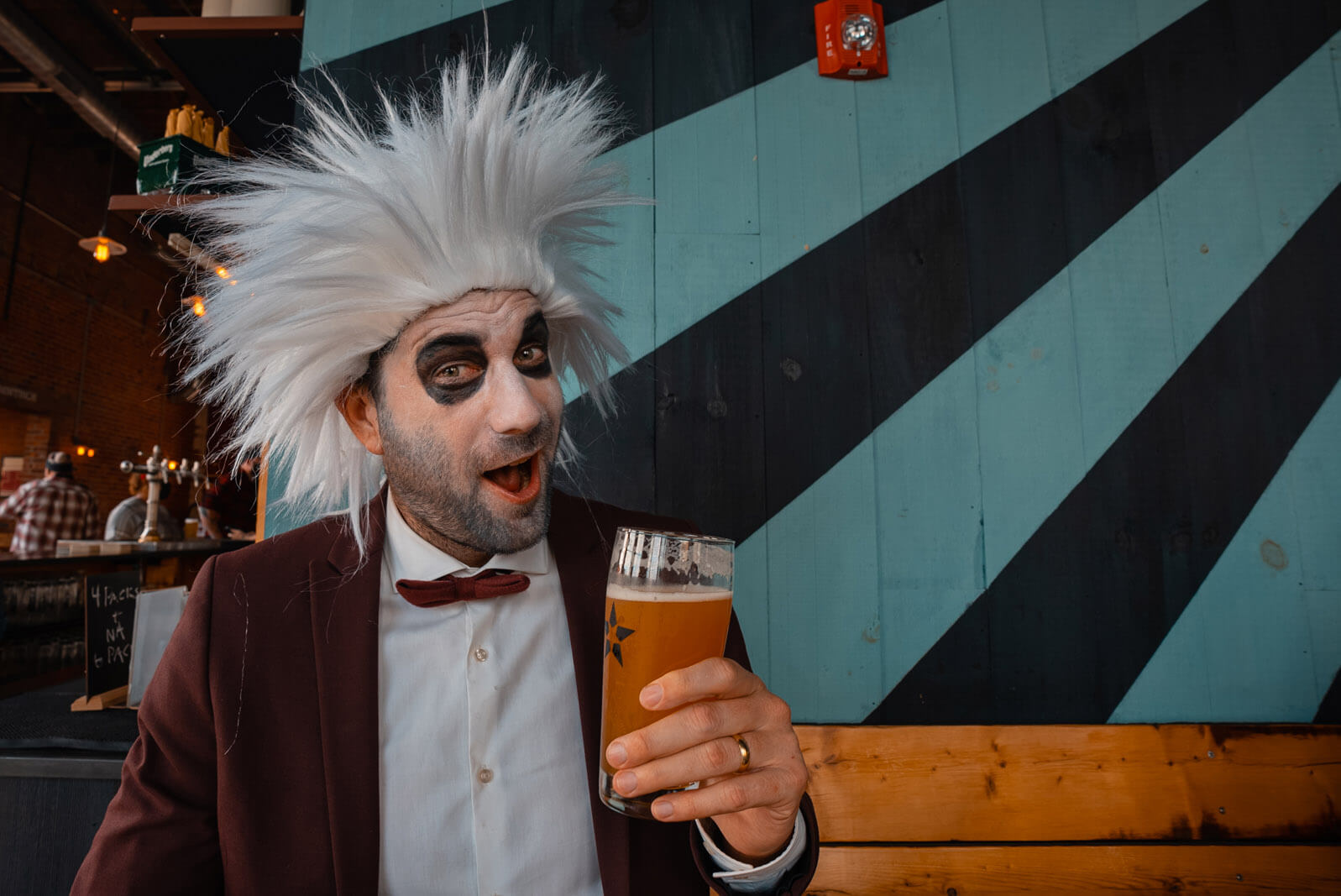 For more things to do in Salem, Massachusetts, check out the handful of local breweries. We have a few suggestions to get you started.
Find Notch Brewing across from The Burying Point on Derby Street. They have spacious indoor seating or enjoy their outdoor Biergarten that overlooks the Salem Harbor.
There are a few food items on the menu but come here for the beer. Notch started with a focus on tasty session beer but has a variety of beers that they keep in rotation.
Don't miss out on East Regiment Beer Company. Find them in the old firehouse on Church Street near all the biggest Salem attractions.
We recommend ordering a cheese pizza and trying their cream ale or ordering a flight. East Regiment has a great atmosphere. They have lots of outdoor seating and are dog-friendly!
Foodie Scene
When you're getting hungry, Opus (87 Washington St, Salem) is a top-notch restaurant and live music venue with, according to local insiders, the best cocktails in the city. Try the Upsidedown (vodka, hibiscus, lemon, angostura, ginger beer) or a Seasonal Canpression (tequila, ancho chili, cranberry, bitter bianco, lillet, peychaud's aperitivo, grapefruit bitters) for a tasty toast.
Or try Lobster Shanty (25 Front Street, Salem) for superior lobster rolls in a quaint and cheery bar setting (open seasonally from April-January) for both traditional New England-style rolls (aka cold lobster salad served with a mayonnaise base) and Connecticut-style rolls (warm lobster served in butter).
Ledger (125 Washington Street, Salem) offers an upscale dining experience located in the former location of the 1818 Salem Savings Bank.
Or if you're visiting around the morning consider breakfast or brunch at The Ugly Mug Diner (122 Washington Street, Salem). After all, how can you resist a place whose motto is, "Peace, Love, and Waffles"? You should, of course, try the Elvis Waffle (Topped with chunks of Peanut Butter Cups, Bacon, Banana & Whipped Cream) as well as the Scotch Eggs Breakfast (Two Scotch Eggs with Dijonnaise, Toast & Home Fries).
Red's Sandwich Shop (15 Central Street, Salem) is another fine breakfast and lunch option is Red's Sandwich Shop. In addition to their many breakfast offerings, check out the specialty sandwiches like the Homestyle Turkey (turkey, gravy, stuffing, and cranberry on Texas-style toasted bread) and Red's Pastrami Rueben (corned beef, Sauerkraut, Swiss, Russian dressing on Rye bread).
Peabody Essex Museum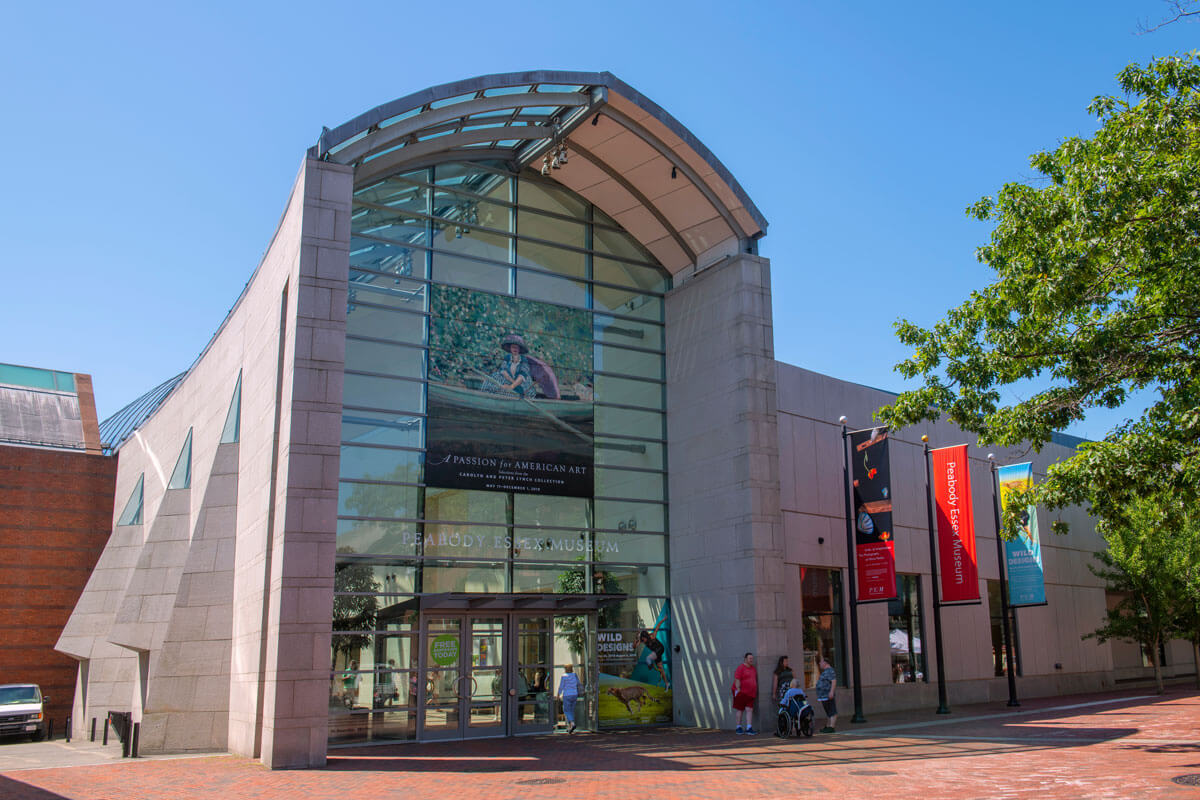 The Peabody Essex Museum can be found in the heart of the Essex Mall. It was established in 1799 to house cultural artifacts from far-off cultures. The Peabody is the longest-running museum in the United States.
Don't miss out on art and cultural exhibits. Check out interactive exhibits and a 200-year-old Chinese structure. There's a museum garden and art workshops for children.
Murals & Street Art at the Open-Air Museum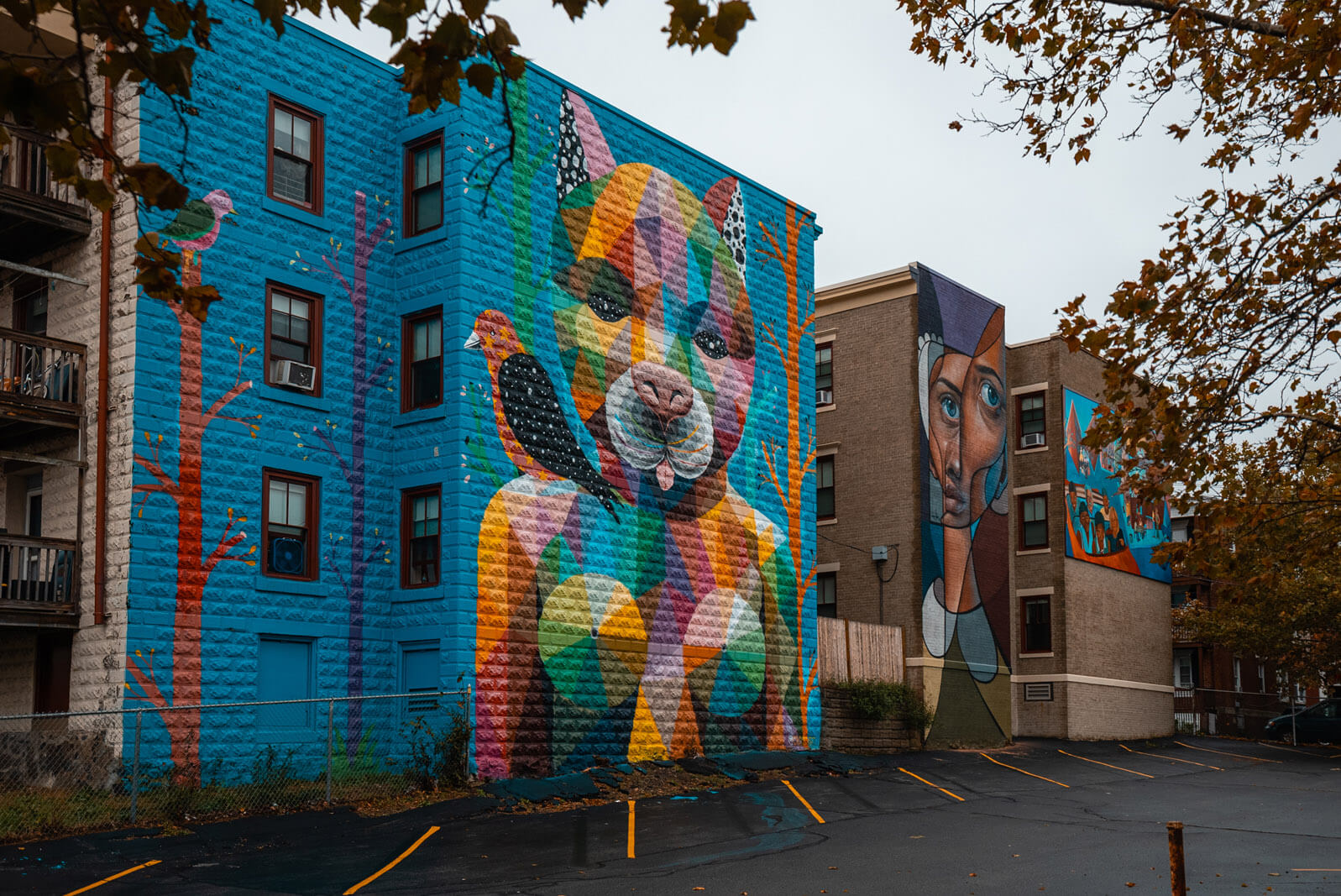 For more art-based things to see in Salem, check out the Punto Urban Art Museum. This open-air museum on Peabody Street was created to bring pride to the local community.
Find 75 large-scale murals over a 3-block radius meant to bring attention to social justice issues. The museum hosts workshops. Check their website to find out about attending an educational tour of the murals.
Salem Tours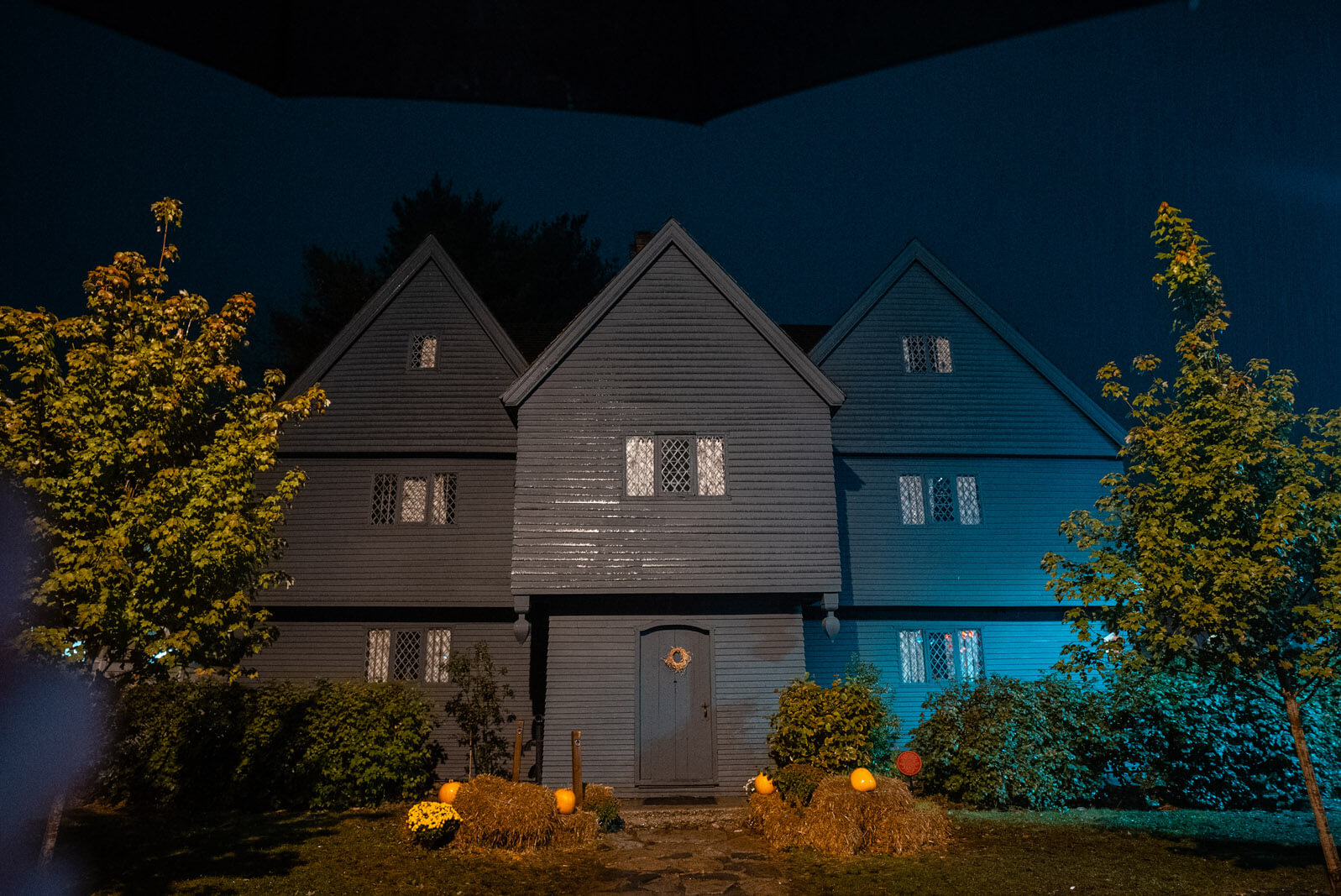 When you're looking for things to do in Salem, Massachusetts in October (or whenever you visit), consider taking a tour. From the dozens you'll find in Salem, we've included an overview of our favorites but be sure to check out our full guide to the best tours in Salem where you can compare all the best ghost tours, witch tours, history tours, and tours that are suitable for all ages!
Meet your guide on Essex Street for a tour of the most haunted locations in Salem. Learn the legends and the history of each location on this hour-long walking tour.
Take this fascinating mile-long walking tour over an hour and a half. Listen to the detailed story of how group fears led to the execution of 20 people. Visit important sites like the homes of the accused and the courthouse where they were condemned.
Learn about prominent people laid to rest at the Old Burying Point, including Mayflower Puritans. On this hour-long tour, look for familiar names on headstones. Hear how some of the first residences of Salem impacted the future of the United States.
Enjoy learning about each film location on this 5-stop, 2-hour and 15-minute-long tour that's perfect for Hocus Pocus fans. Hit all the major sites, snap a photo in front of Old Town Hall, and walk around Pioneer Village.
Where to Stay in Salem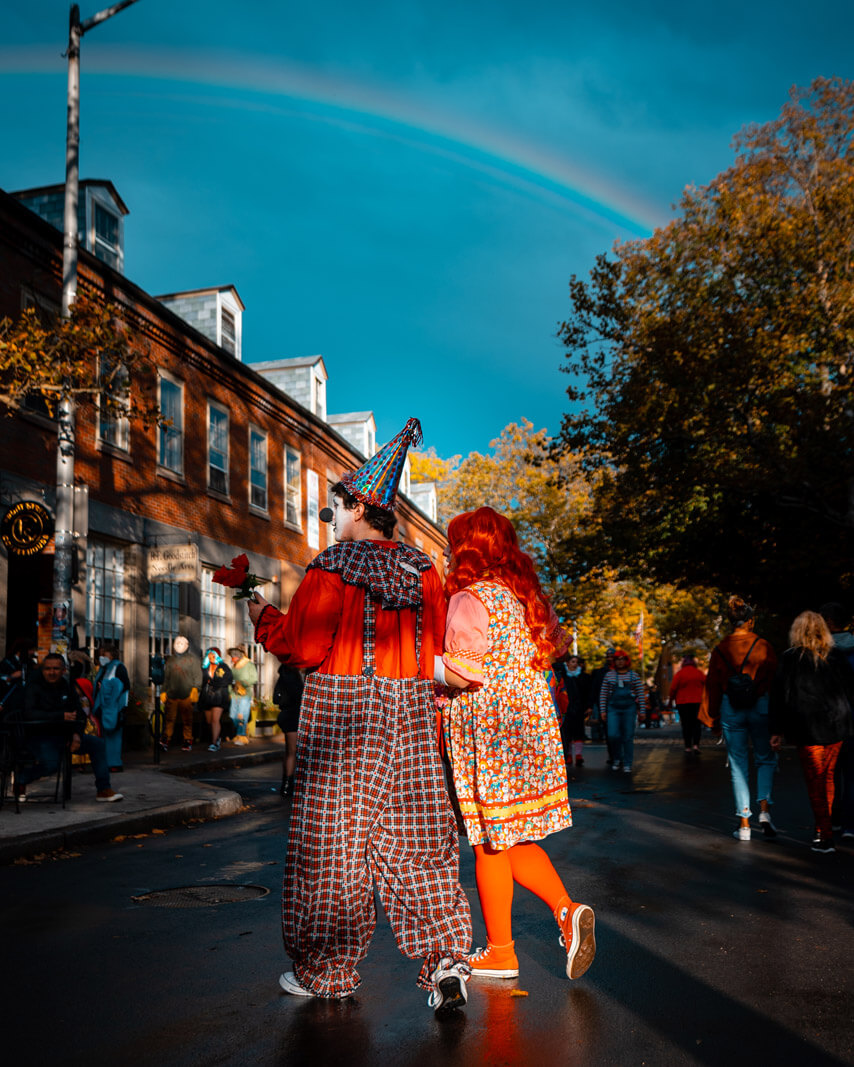 Something to keep in mind when planning your trip to Salem, especially in the month of October is that this time of year is peak season and many people book their Salem hotels a year in advance! (But don't worry, we have an option if you plan last minute) Salem is a smaller destination so booking options are a little more limited.
If you want to stay in Salem, book in advance and be sure to check out our full guide for where to stay in Salem plus a few convenient Boston recommendations. If you're like us and waited a little too late to book your stay – don't worry! Boston is close enough to stay and only a 35-minute drive or train ride away.
Some things to keep in mind if you do stay in Boston. If you are going to drive be aware that parking may be difficult in Salem. We used rideshare apps to drop us off and used the MTBA commuter train.
Salem Station is on the Newburyport/Rockport Line and is really easy to use. A one-way ticket is $8.00 departing from North Station. If you're using this option, you will want to stay in the Boston neighborhoods of West End or North End so that you're just a short walk to the North End Station.
(Something to keep in mind if you stay in Boston and commute to Salem – there are so many incredible restaurants in the North End as it's home to Boston's Little Italy as well as many amazing things to do in the North End that are worth checking out if you stay here!)
Here are a few suggestions of where to stay in Salem, if you can plan well enough in advance (you should check anyway just in case there are cancellations) as well as spots in Boston. And if you do stay in Boston, be sure to check out our 3 day itinerary for Boston and enjoy some of the best things to see and do in Boston while you're at it!
Salem Hotels:
The Merchant is an exceptional choice for where to stay in Salem set in a gorgeous 18th-century building just steps away from some of the best Salem attractions. The rooms are modern and chic and this property also has a nice lounge and terrace to relax in. Breakfast is included with your stay. Book here.
The Hotel Salem is another centrally located hotel located in a beautiful red brick building on a charming cobbled lane. The rooms are trendy with a modern aesthetic with the option of booking a loft-style suite with a living room. There are two restaurants on-site as well as a cocktail lounge and a rooftop with city views, which happens to be Salem's only rooftop bar! Book here.
The Salem Inn is a cozy stay set in three historic houses in Salem with less than a 5-minute walk to the most popular Salem attractions! The Inn features individually designed and decorated rooms with antiques and period furniture that have a cozy and intimate feel to them beyond an average hotel stay. Your stay also includes free parking and breakfast. Book here.
Boston Hotels:
Courtyard by Marriot Boston Downtown/North Station is a perfect place to stay if you're commuting to Salem from Boston as you're steps away from North Station which links you directly to Salem and a short walk from all the best things to do in Boston's North End neighborhood and other historic sites. The rooms are modern and comfortable and even offer great city views. Book here.
The Boxer is a gorgeous boutique hotel in Boston located in the West End just a 3-minute walk to the North Station which links you directly to Salem. Enjoy your stay in one of the sophisticated rooms with city views. Book here.
CitizenM North Station is another great stay conveniently located next to the North Station that directly links Boston to Salem via a 30-minute train ride. Stay in a contemporary room and enjoy the onsite facilities like their fitness center, restaurant and bar, TV lounge, and terrace with city views. Book here.
---
Best Things to do in Salem (Post Summary):
The Burying Point
Salem Witch Memorial
Proctor's Ledge
The Witch House
Witch Museum
Hocus Pocus Filming Locations
Witch Dungeon Museum
Check out all the Halloween Decorations
Do a Witch Photoshoot
Bewitched Statue
Old Town Hall
Shop at the Witchy Shops
The House of Seven Gables
Nathanial Hawthorne's Birthplace
Joshua Ward House
Pioneer Village
Ropes Mansion
Fort Sewall
Historic New England Phillips House
The Satanic Temple
Salem Breweries
Check out the Foodie Scene
Peabody Essex Museum
Murals & Street Art at Open-Air Museum
Join a Salem Tour
---
Is Salem worth a day trip?
Yes, Salem, Massachusetts is worth a day trip due to its rich history, notable landmarks like the Witch Trials Memorial and Peabody Essex Museum, and charming atmosphere with its witchcraft-related attractions and maritime heritage.
Is the Witch House in Salem worth visiting?
Yes, the Witch House in Salem is worth visiting as it is the only structure still standing with direct ties to the Salem witch trials, providing a fascinating glimpse into the period's history and one of the oldest buildings in Salem.
How many days in Salem is enough?
Two to three days is usually sufficient to explore the main attractions, museums, and historical sites in Salem, allowing time to immerse yourself in the witch trials history and enjoy the local culture. You can definitely also visit many highlights in a day in Salem.
Can you walk to everything in Salem?
Yes, Salem is a walkable city, and many of the main attractions, museums, and historical sites are within close proximity to each other, making it convenient to explore on foot.
How far is Salem from Boston?
Salem is approximately 16 miles away from Boston, making it a relatively short commute of about 30-45 minutes by car or around 30 minutes by train.
Is Salem fun during Halloween?
Yes, Salem is renowned for its Halloween festivities, drawing crowds with parades, haunted attractions, witchcraft-themed events, and historic tours that make it an exciting and festive destination during the Halloween season.
Is Salem a tourist trap?
While Salem does attract tourists, it offers genuine historical sites, museums, and a vibrant culture, making it more than just a tourist trap and worth visiting for its rich heritage.
---
Enjoyed this guide to all the best things to do in Salem, Massachusetts from all the witchy to historic Salem attractions? Bookmark for later or share the love below on Pinterest!