Looking for the best things to do in Callicoon, New York? We've got you covered in this getaway guide to this scenic small town tucked away in the foothills of the Catskill Mountains and along the banks of the scenic Delaware River in New York near the border of Pennsylvania in Sullivan County.
This countryside hot spot is popular among city-goers as an escape from the city since it's only a 2-hour drive from NYC. It's especially a popular summer in the Catskills getaway as the region surrounding Callicoon offers many options for outdoor activities as well as great dining, galleries, shopping, craft beverage spots to check out, and sightseeing along the Delaware River Valley.
Callicoon, New York has always been a hotbed for wildlife with its name translating to 'Wild Turkey Creek' from Dutch colonizers. Historically speaking, this area was well known for timber and lumber industries and the location of a strategic transportation hub with the Delaware River and Erie Railroad.
By the 1960s, a wave of tourism came to the area taking advantage of the great outdoor activities and campgrounds.
While you could easily spend an afternoon enjoying all the best things to do in Callicoon, we recommend staying the night here or in a nearby area and enjoy one of the most charming towns in New York.
Things to do in Callicoon
Find all kinds of shops and restaurants on Callicoon's main thoroughfare, split between Upper Main Street and Lower Main Street. Go for a hike nearby or do something flyfishing on the Delaware River.
This small, charming Catskills town is a popular destination for the day or for a weekend visit. There are all kinds of things to do in Callicoon, New York!
Callicoon Theater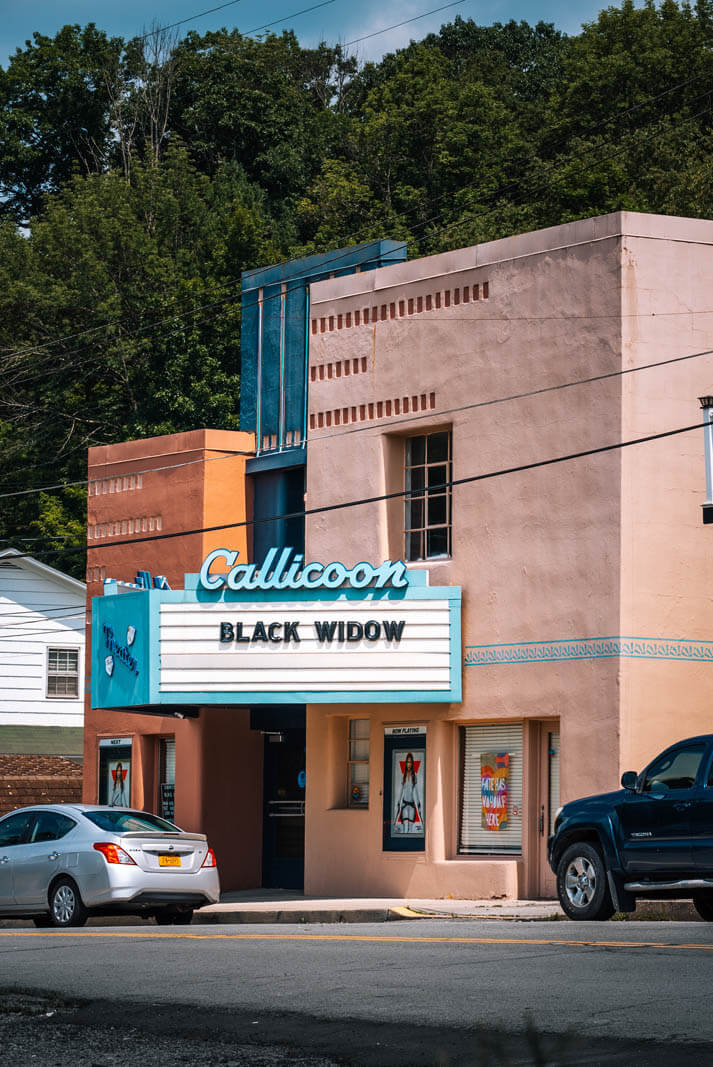 You must stop by the Callicoon Theater while you're in town. This historic Art Deco theater was built in 1948 and besides being in the National Historic Registry, it's the oldest active theater in Sullivan County.
The theater is a rare surviving Quonset Hut, a barrel-shaped structure that became a popular, budget-friendly solution for buildings in small towns during World War II. What a unique experience and there are only currently 17 operating Quonset Hut style movie theaters left in the United States!
The theater is decked out with a fully upgraded digital projection system and surround sound for a quality experience. Only the completely restored interior will have movie-goers feeling like they've taken a step back in time.
Check their website before you visit this one-screen art-deco theater in Callicoon, New York. They host local film festivals and live music events, besides also showing new releases and classic movies.
Stop by concessions for classic theater food, including their delicious, locally sourced popcorn with real butter topping. Make sure to also appreciate the marquee outside too!
Shopping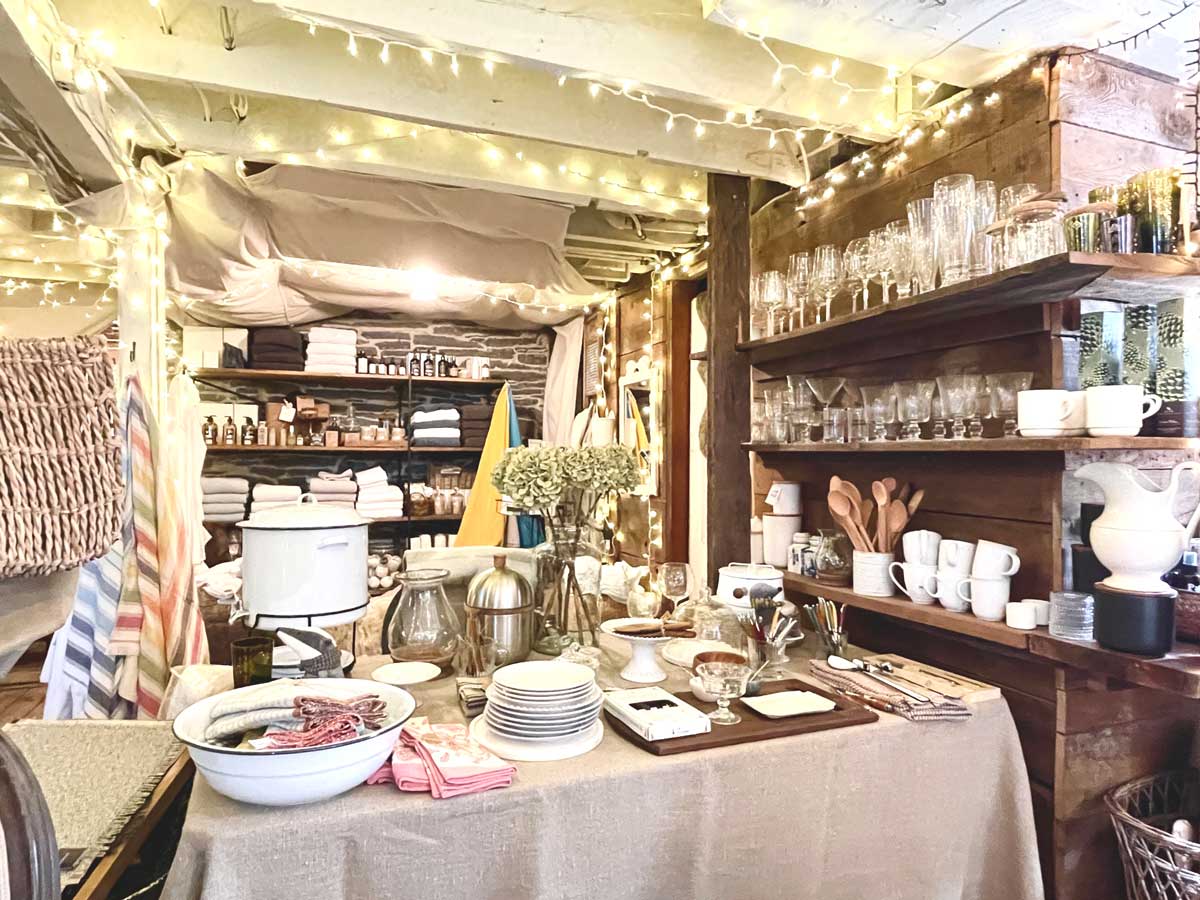 While in Callicoon, New York, step into the many great shops! One of our favorites was Spruce Home Goods, stop in and say hi to David and Lori. They handpick the most beautiful textiles, handcrafted cutting boards, candles, and more. There are treasures for every room in your home!
They work with local bakeries and farmers to supply flowers, fresh bread and pastries, and a rotating inventory of prepared foods and grocery items. They're one of the few stores in the area that is open 7 days a week. That means you can stop in anytime to peruse their beautiful store and see what's new on the menu!
Litt Home & Book is an essential visit when you're looking for things to do in Callicoon. Inside of the Callicoon Marketplace and open Friday through Sunday, Litt specializes in curating unique finds and quality reads.
Downstairs you'll find a mix of vintage and modern pieces, from antique dishes and cards to mid-century modern furniture and fun collectibles. Upstairs they house a small bookstore with a fun collection of books. Don't be shy and ask for a recommendation. They're happy to help you discover your next literary adventure!
Those passionate about thrifting will want to check out Ragtime Clothing Exchange. Lillyan, Ragtime's owner, previously ran a vintage store in New York City for 35 years. Over the years she has collected an impressive inventory of designers and trinkets ranging from the 1940s through the 1990s.
At Ragtime you'll find clothing and accessories for men, women, and children, as well as vintage pottery, furniture, and home décor. There are also impressive collections of records and jewelry. Stop by Friday through Sunday and see Lillyan. She also accepts donations if you have things you want to bring in.
Callicoon Brewing Company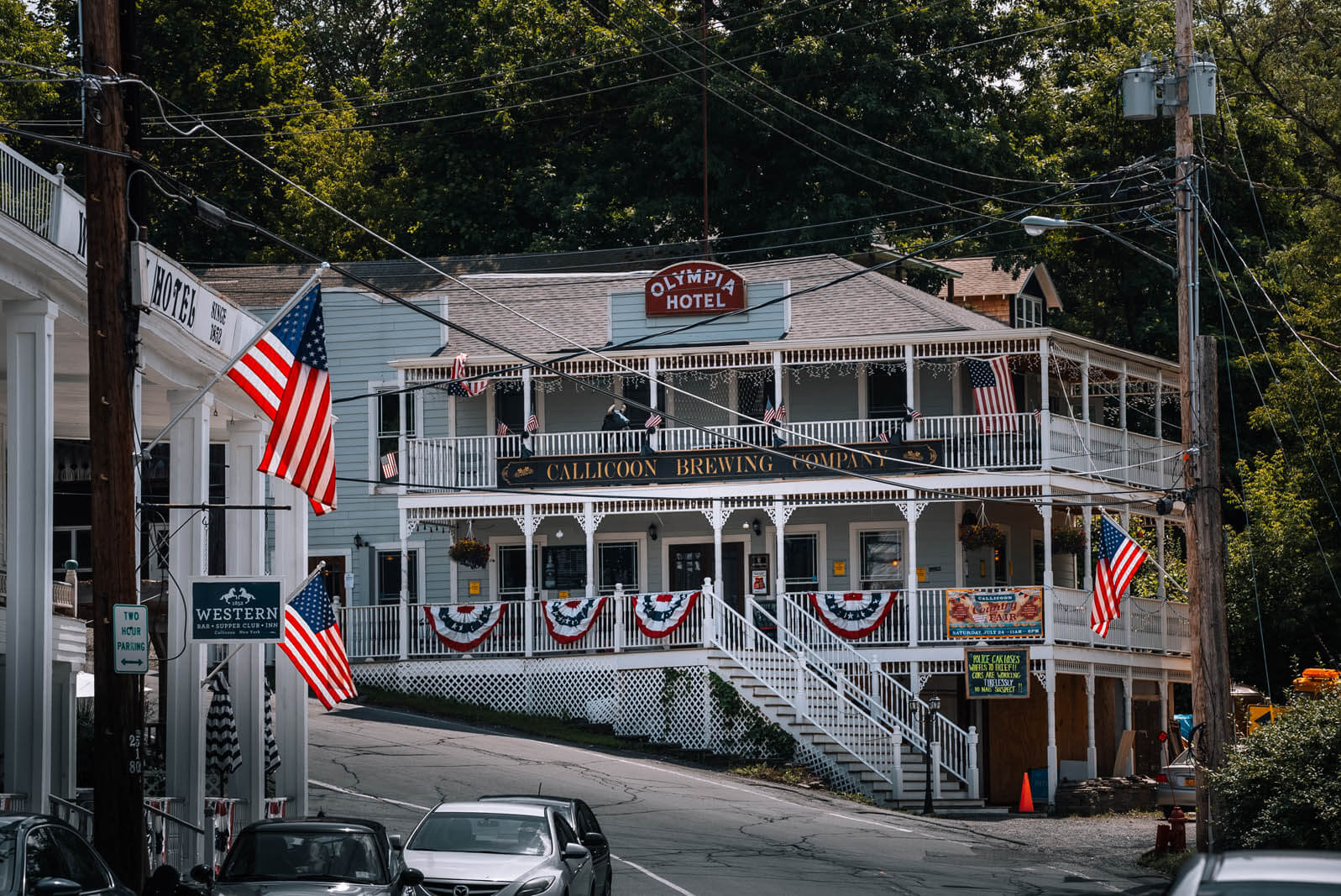 The Callicoon Brewing Company is a popular gathering spot offering brews on draft, a full bar, and casual dining fare. The restaurant and bar are located inside the newly restored historic Olympia Hotel. Check out the beautiful wooden bar that is original to the over-century-old building!
While the name makes it seem like its an actual brewery, it's a 'brewpub' and more like a local hang out spot with blasts from the past with their historic photos and decor hanging on the walls.
They have plenty of spacious indoor seating or you can enjoy a draft on the porch where they have outdoor seating overlooking all of Callicoon, New York.
Nearby Hiking Trails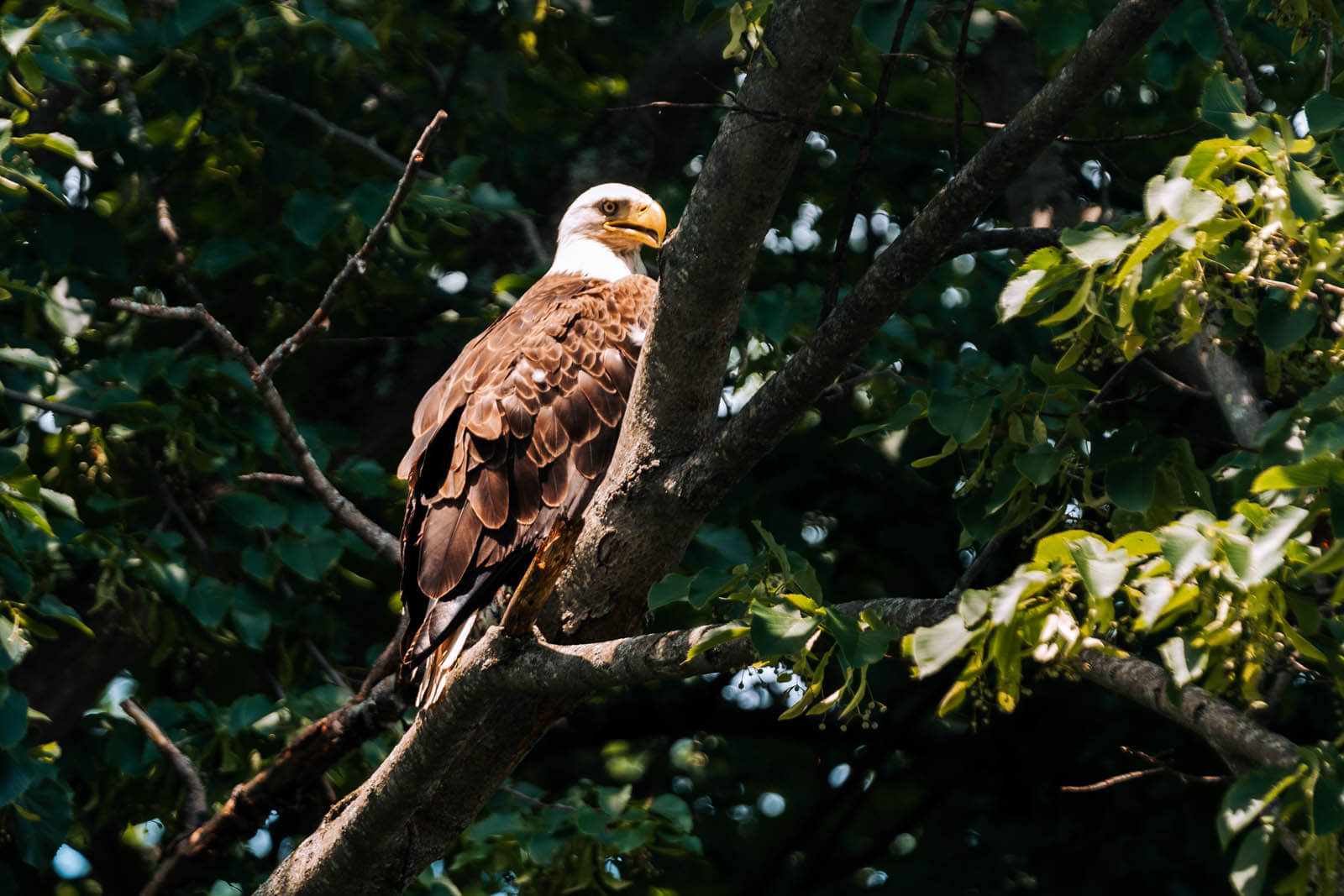 When you're looking for things to do in Callicoon, a tried-and-true activity in the area is hiking. Enjoy the beautiful countryside and plentiful wildlife while you trek your choice of easy or difficult trails.
For an easy trail, visit the Crystal Lake Wild Forest and walk the 1.8-mile loop around the lake. While some guides suggest that it's a moderate trail because it's not readily marked, hikers note that it's an easy trail with a level hike where children and dogs are often seen. T
ake in the peaceful scene of the trees around the lake, or you can go for a swim if you wish. Keep an eye out for eagles, which are often seen in the area!
If you're looking for more of a challenge, consider Jensen Ledges with its beautiful views of the Delaware River. It's a 2-mile hike with some steep areas that make it a moderate-level hike. Just make sure you wear the right shoes and bring a hiking stick along.
About halfway through you'll come across a little waterfall and at the top make sure to take pictures with the Delaware River and the Catskills in the background! There are also some fun stone structures leftover from a quarry. Just be aware that rattlesnakes are nest in the area.
Western Hotel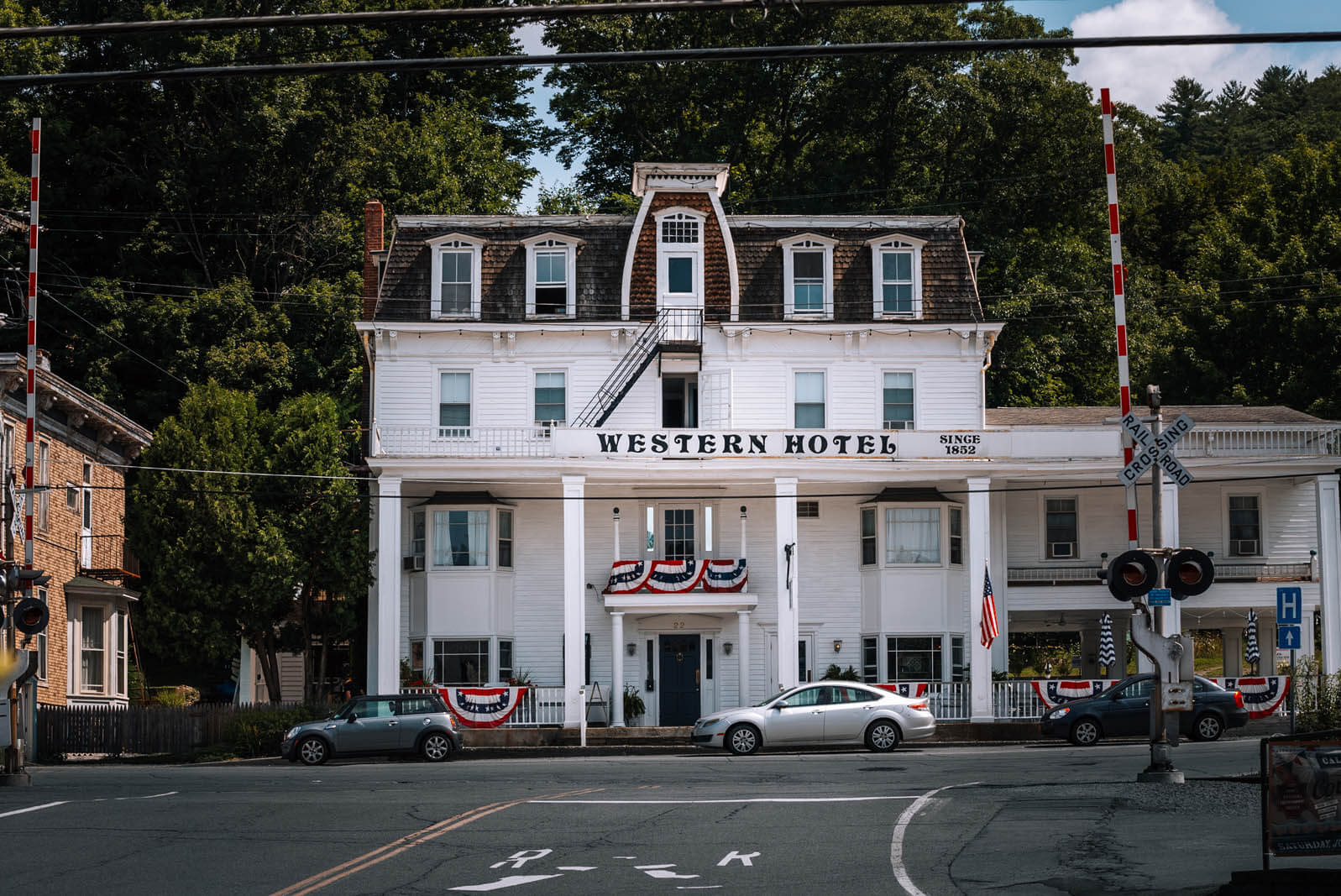 The town of Callicoon, New York resembles a western town and this is one of the buildings that really makes you feel that vibe here. Set in a beautiful 1852 Victorian Mansion, the Western Hotel is the crown jewel of architecture in Callicoon.
Visitors quickly notice the beautiful two story covered terrace overlooking the railroad tracks and Main Street with views of the mountains in the distant.
Officially on the National Register of Historic Places, this 7 room hotel has always been a place for visitors and guests of the region to stay since its opening in the late 19th century.
Enjoy a drink in the beautiful Mahogany Tap Room or take your drink to the billiard room. If you get a chance, take a peek at the grand ballroom. Enjoy dinner in the Tap Room or the outdoor BBQ and Beer Garden in the summer months.
Catskill Provisions Distillery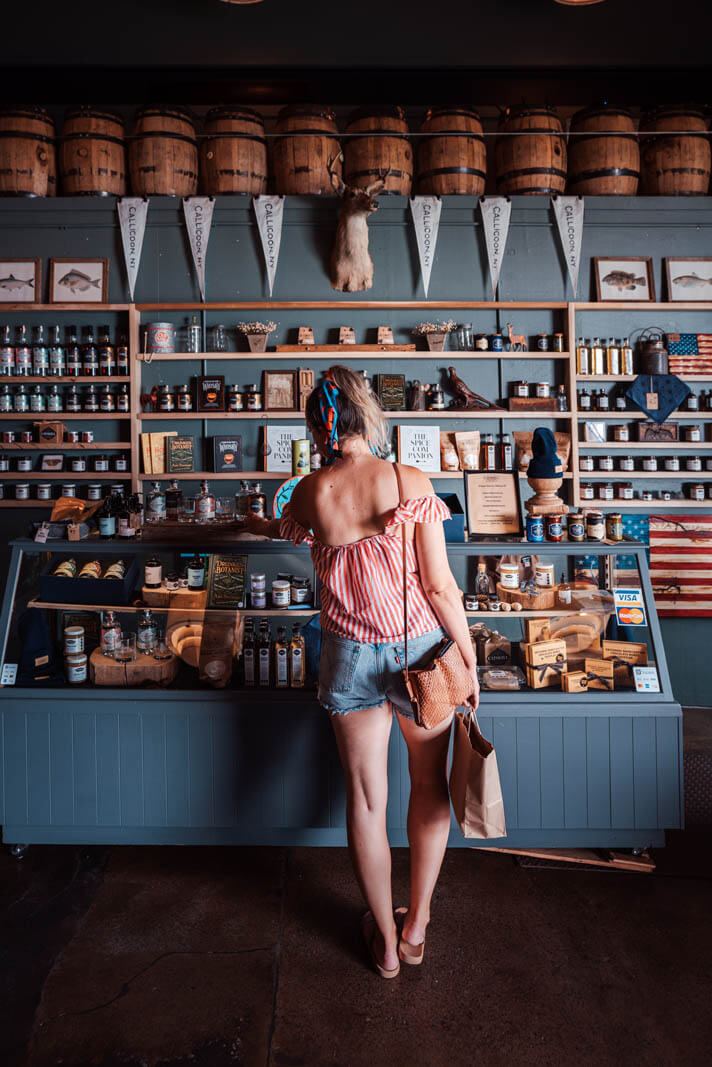 While we're noting things to do in Callicoon, Catskill Provisions Distillery should be a must on your list of stops. Not only do they offer a unique twist with their honey and maple-infused alcohol, but their tasting room and restaurant are absolutely gorgeous.
You can be sure of quality in every detail of Catskill Provisions. From the filigree labels on their bottles to the botanical prints contrasting beautifully with the sage green walls of the tasting room, it will all take your breath away. Enjoy outdoor seating on a nice day, when they open
Claire Marin started as a beekeeper and later co-founded Catskills Provisions. The vodka is distilled with honey from her hives. Their award-winning whiskey is infused with, of course, local honey. You'll find honey as a base for cocktails in the tasting room and sweet treats and condiments for sale in the gift shop. A portion of all proceeds when you purchase a few bottles of spirits goes back into bee preservation efforts.
Our favorite was the Pollinator Gin and Scott loved the NY Maple Bourbon, yum!
Nearby Callicoon, New York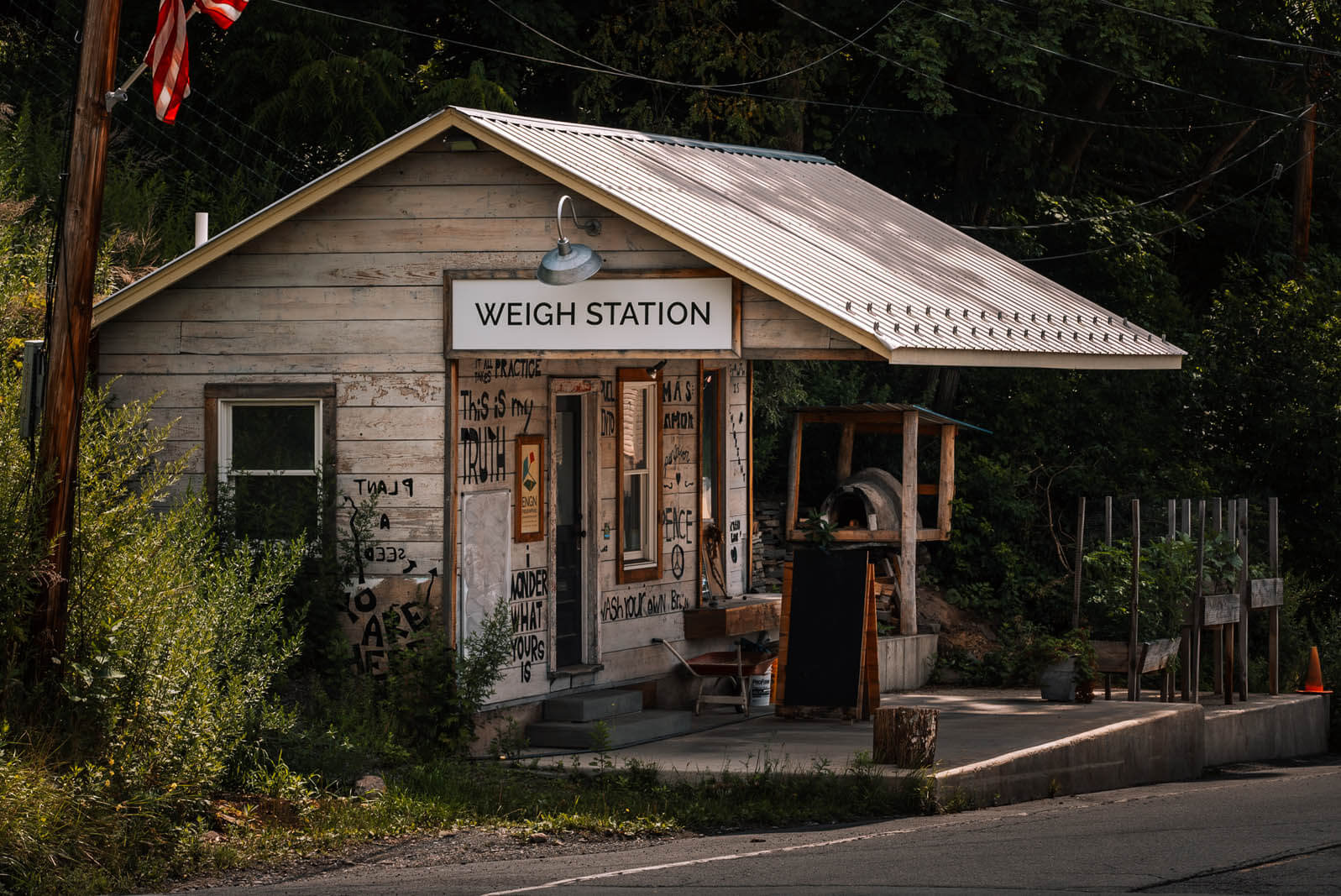 While you're in the area, go for a scenic drive through the Catskill foothills. If you're willing to drive about 20 miles outside of Callicoon, New York, there are a few places you should check out.
Roscoe & Livingston Manor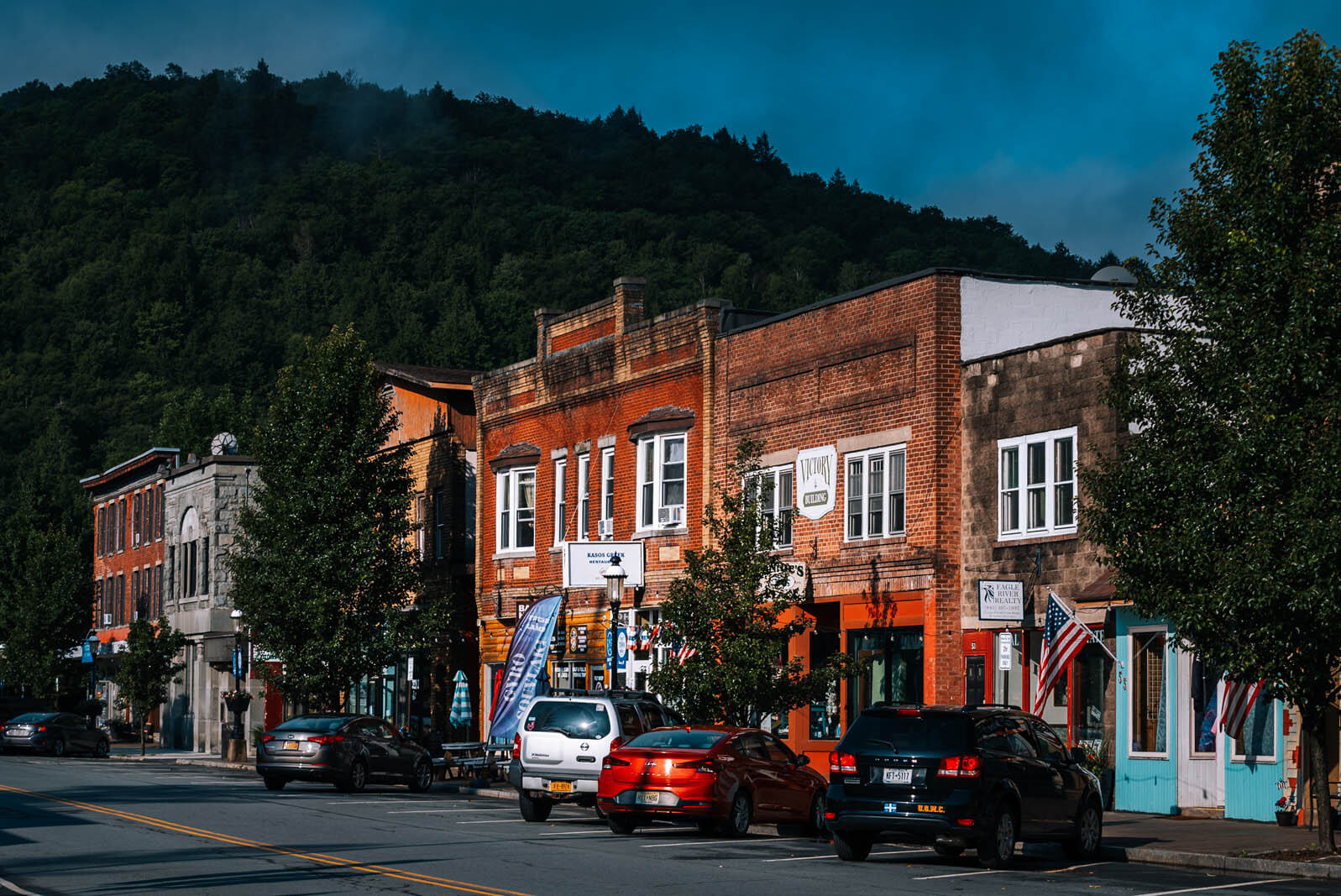 These little Catskill towns are full of things to do. You'll find some of the best flyfishing in the country around Roscoe and Livingston Manor. There are some beautiful old, covered bridges scattered throughout the area that make great photo opportunities.
If you're in Callicoon for the antiquing, stop into The Life Repurposed and Taylor + Ace in Livingston Manor. For the modern simplistic fashion, check out Concrete and Water. Don't let this sleepy little town fool you! There's some great shopping here.
While in Roscoe, stop by Do Good Distillery, enjoy some live music, and we recommend you pick up some of their house-made Bootlegger Gin. If you're looking for some fun with the family, visit the Roscoe O&W Railway Museum and take a tour of the trout car!
Also, check out our guide to all the best covered bridges in New York near this area!
Site of Woodstock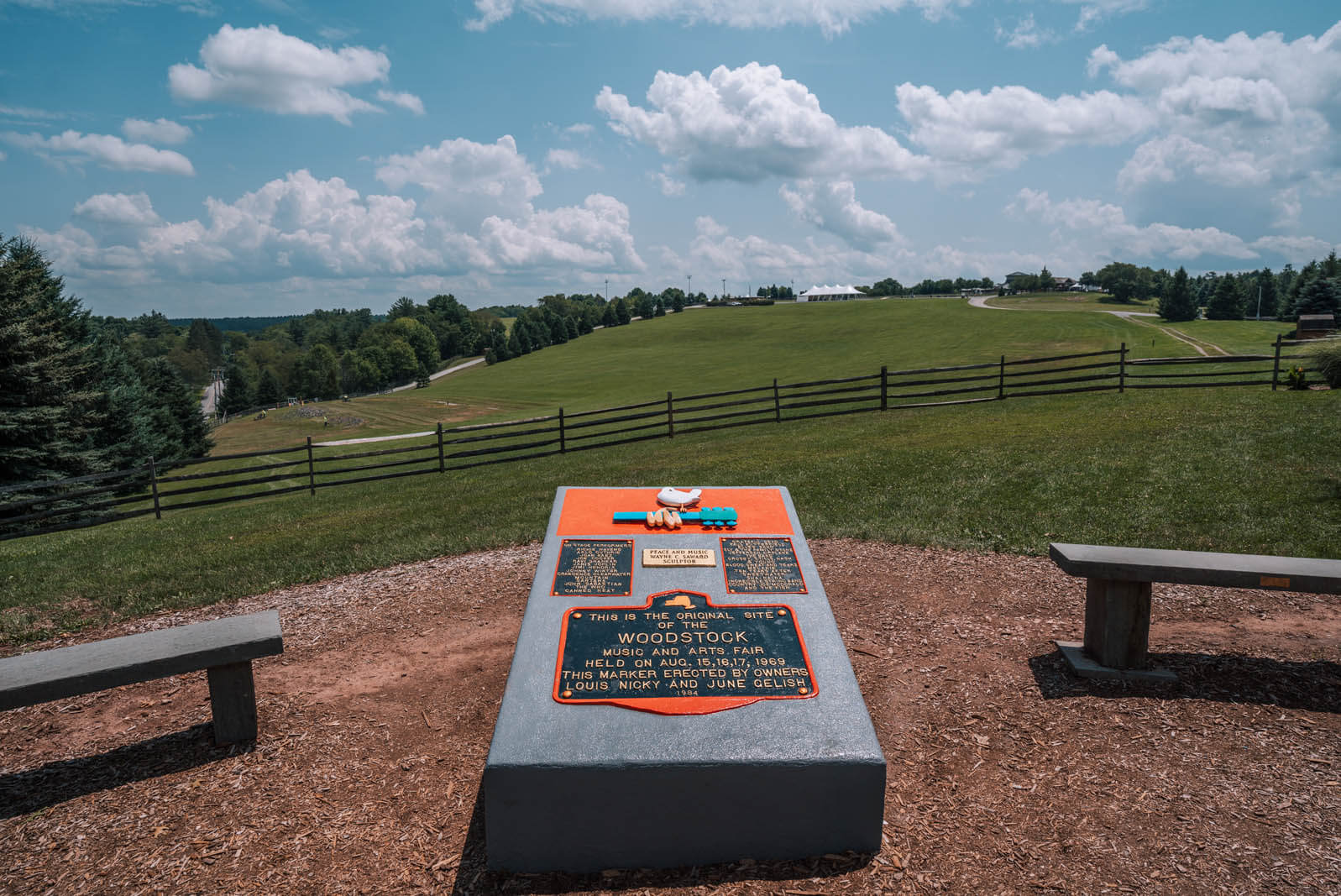 About 18 miles outside of Callicoon, New York is the Bethel Woods Center for the Arts, the site of the historic Woodstock Music Festival in August 1969. Not to be confused with the town of Woodstock, which is just over an hour away in the Catskills, this site in Bethel offers a museum dedicated to the historic event that took place here as well as walk around the plot of land at the former dairy farm that was the site of the gathering of roughly 400,000 people who came to listen and celebrate some of the most iconic names in music from Jimi Hendrix, Carlos Santana, Grateful Dead, Janis Joplin, Credence Clearwater Revival, and MANY more.
This is definitely one of the most unique things to do in the Catskills and shouldn't be missed on a getaway to Callicoon, New York!
Hawk's Nest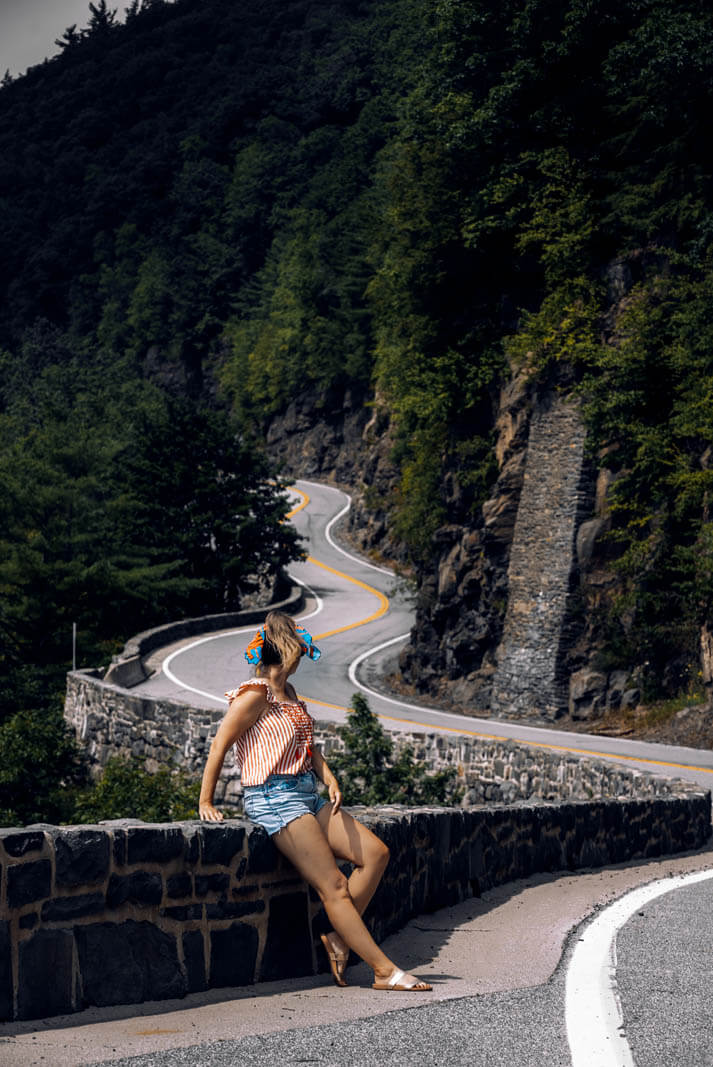 Take the long way around back to Callicoon, New York, and stop at the Hawks Nest. This is a beautiful stone overlook along State Route 97 on the way to Port Jervis. The road has some really tight curves that will take your breath away overlooking the Delaware River below.
Named after the birds of prey who nest here, whom we actually saw and heard returning to their nest, you are rewarded with incredible views from this spot in every direction you look.
Be sure to look for a pull-off area and stay off the road as this is a dangerous spot with hairpin turns and popular among motorists and motorcycles looking for a scenic drive.
In the fall, take pictures of the burst of fiery orange and red foliage that paints the mountainside. Throughout the late fall and winter, you will find serious birdwatchers trying to catch a glimpse of hawks and eagles that migrate to the area.
---
Enjoyed this guide for what to do in Callicoon, New York? Bookmark for later or share the love below on Pinterest! And consider using our guide for where to stay in the Catskills to help you plan your trip!