In the heart of the Pennsylvania Poconos is Jim Thorpe, about 30 miles north of Allentown. We road into this charming mountain town on the Lehigh Gorge Scenic Railway and fell in love! Visit and you'll see why it's called the "Switzerland of America," with mountain views, winding rivers, and beautiful Victorian architecture.
Fun fact: the 200-year-old town was originally called Mauch Chunk, after an old Lenape name for the area meaning "Bear Place." In fact, the mining and logging town wasn't called Jim Thorpe until 1953! In a strange turn of events, the Olympic medalist's widow paid to have the town renamed in his honor.
Who is Jim Thorpe? James Francis Thorpe was a famous American athlete and the first Native American to win a gold medal for the United States in the Olympic Games. He was considered one of the most versatile athletes as he played multiple sports. He won two gold medals during the 1912 Summer Olympics in the decathlon and pentathlon.
In addition to his gold medals at the Olympics, he also played professional football, baseball, and basketball.
He didn't actually live in the Poconos either, read the entire story on ESPN on how he ended up being memorialized in the Poconos and had a town renamed after his legacy.
Visit the "Gateway to the Poconos" for quaint shops, fascinating local history, breathtaking views, and lots of outdoor adventures. There are all kinds of things to do in Jim Thorpe, PA!
What to do in Jim Thorpe, PA
Lehigh Gorge Scenic Railway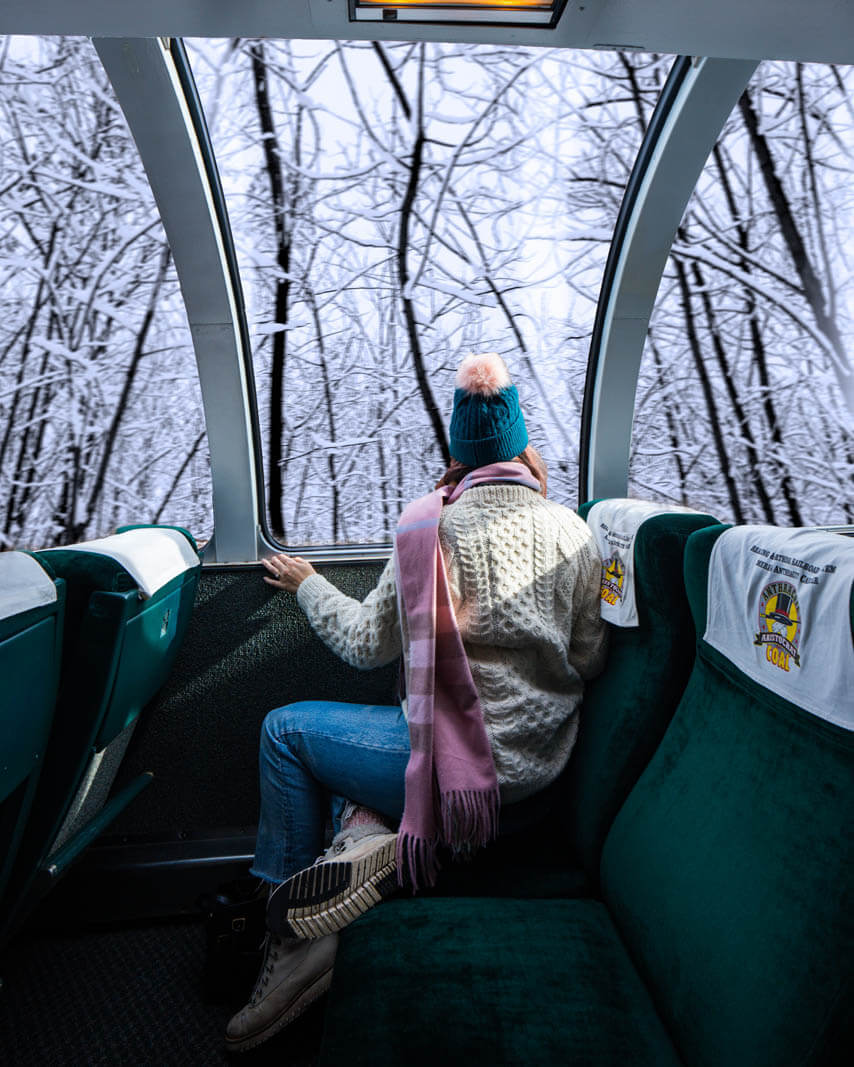 The Lehigh Gorge Scenic Railway was such a fun experience! When you're looking for things to do in Jim Thorpe, we recommend going for a scenic train ride through the Pocono Mountains.
You start at the beautiful 140-year-old train station located off W Broadway and Lehigh Avenue in the town of Jim Thorpe.
Take a 16-mile round trip along the Lehigh River, through the Lehigh Gorge State Park, and back into town. Enjoy views of the mountains, rivers, and forests. It takes a little over an hour, except in October when trips are shortened to 45-minutes to accommodate more frequent fall foliage trains.
May through September, there's a regular train that runs 7-days a week between 11 AM and 3 PM.
There are a few different prices for tickets, depending on which type of car you choose. You can ride open-air cars that run May through October. You can also upgrade to the first-class dome cars which are perfect for enjoying the scenic views!
Throughout the year, there are special trains you can ride, like the bike train or special Christmas trains where you can meet Santa and Mrs. Clause! The cars are dog-friendly and have restrooms. Also, each passenger gets a souvenir ticket to keep.
Asa Packer Mansion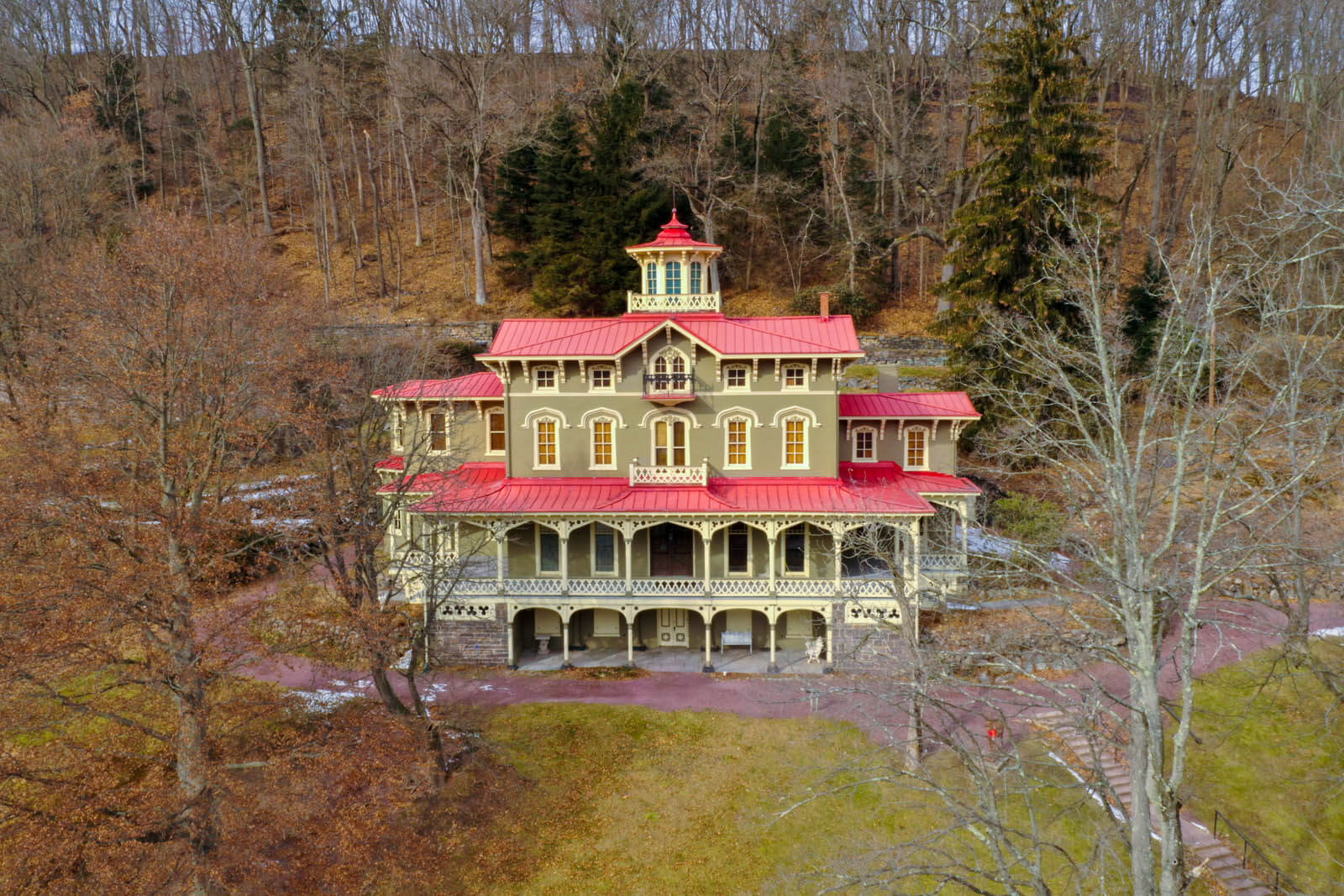 The most popular Jim Thorpe attractions are the stunning old buildings, originally established in the glory days of the railroad!
You must tour the Asa Packer Mansion. Asa Packer was a coal and railroad magnate who built the Lehigh Valley Railroad system. He came from humble beginnings and built his business and fortune in Jim Thorpe, then called Mauch Chunk. He was known as a philanthropist and founded Lehigh University.
His mansion was built in 1861 and was basically left untouched until it was opened to the public in 1956. It has the original Victorian-style furnishings and is considered one of the best-preserved Italianate Villa-style houses in the country. If you admire furnishings from this era, you'll love the original light fixtures, gas chandeliers, and stained glass. The tour includes a fascinating story about the Victorian-era industrialist.
Find the Asa Packer Mansion off Packer Hill Avenue near downtown Jim Thorpe. You can visit from 11 AM to 3:30 PM seven days a week from Memorial Day to Halloween. It's also open on the weekends in April, May, and November. Plan on taking about 45 minutes for tours and bring cash for admission.
Harry Packer Mansion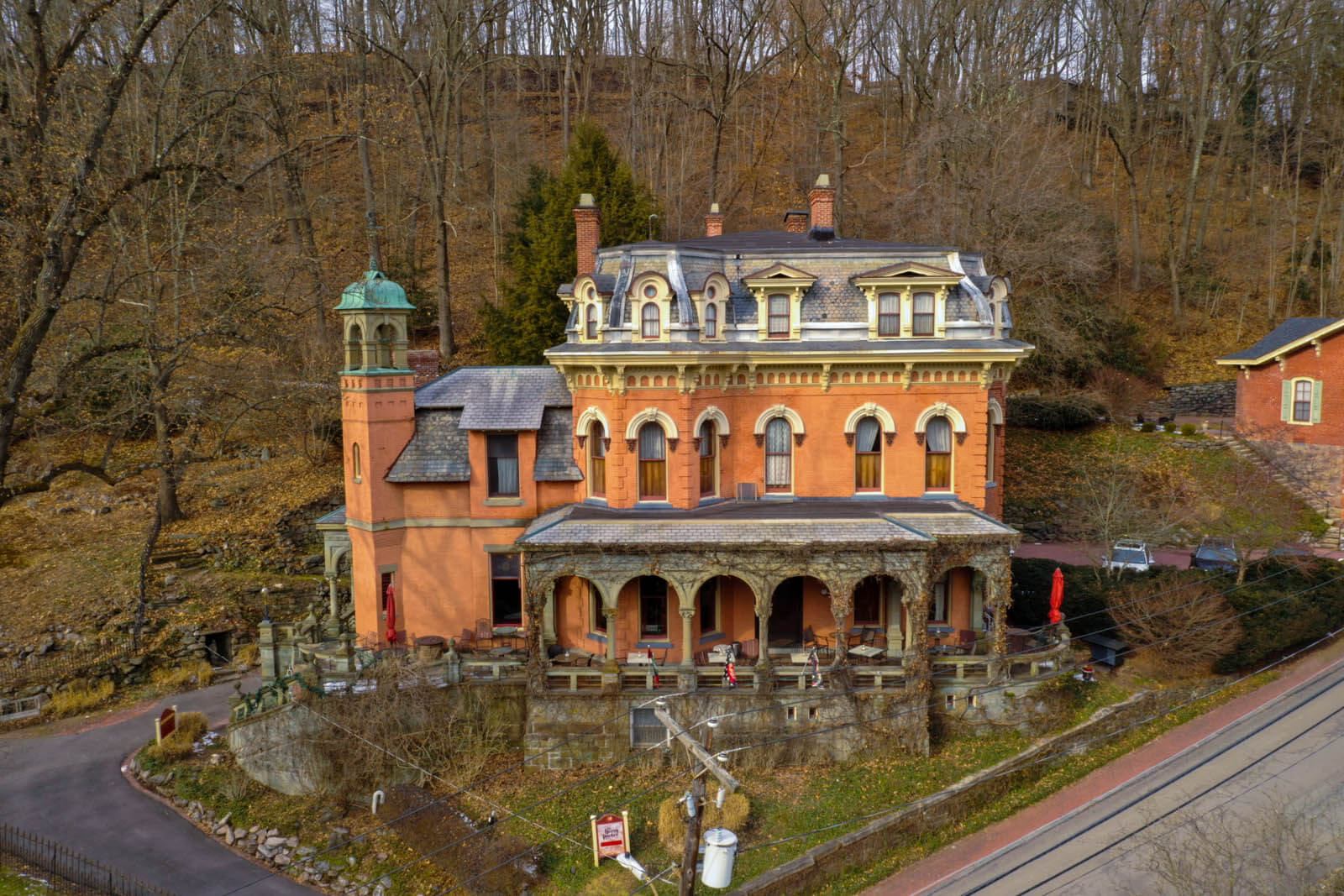 Next door to the Asa Packer Mansion is the home of his son, Harry Packer. Built in 1874, it's covered in winding, fibrous vines and thick layers of lush green foliage. Sitting on top of a hill, the house makes quite an impact!
The Harry Packer Mansion takes your breath away when you walk up to it. It's a towering structure with its Gothic design in cream and orange. If it seems familiar, you should know that it inspired the Haunted Mansion ride at Disney! Now a luxury inn, it's not haunted or scary at all on the inside, that we know of!
In fact, if you love Victorian-era furnishings, come here. Each of the 12 rooms and suites features period pieces and working fireplaces. You'll be comfortable with modern amenities like air conditioning, Egyptian cotton sheets, and whirlpool tubs.
Even if you don't stay at the inn, you can check out the Libation Lounge on Friday and Saturday evenings. Enjoy your choice of alcoholic drinks from their long menu of spirits. In the summer, guests can relax on the veranda and take in views of the Lehigh River.
Visit the Harry Potter Café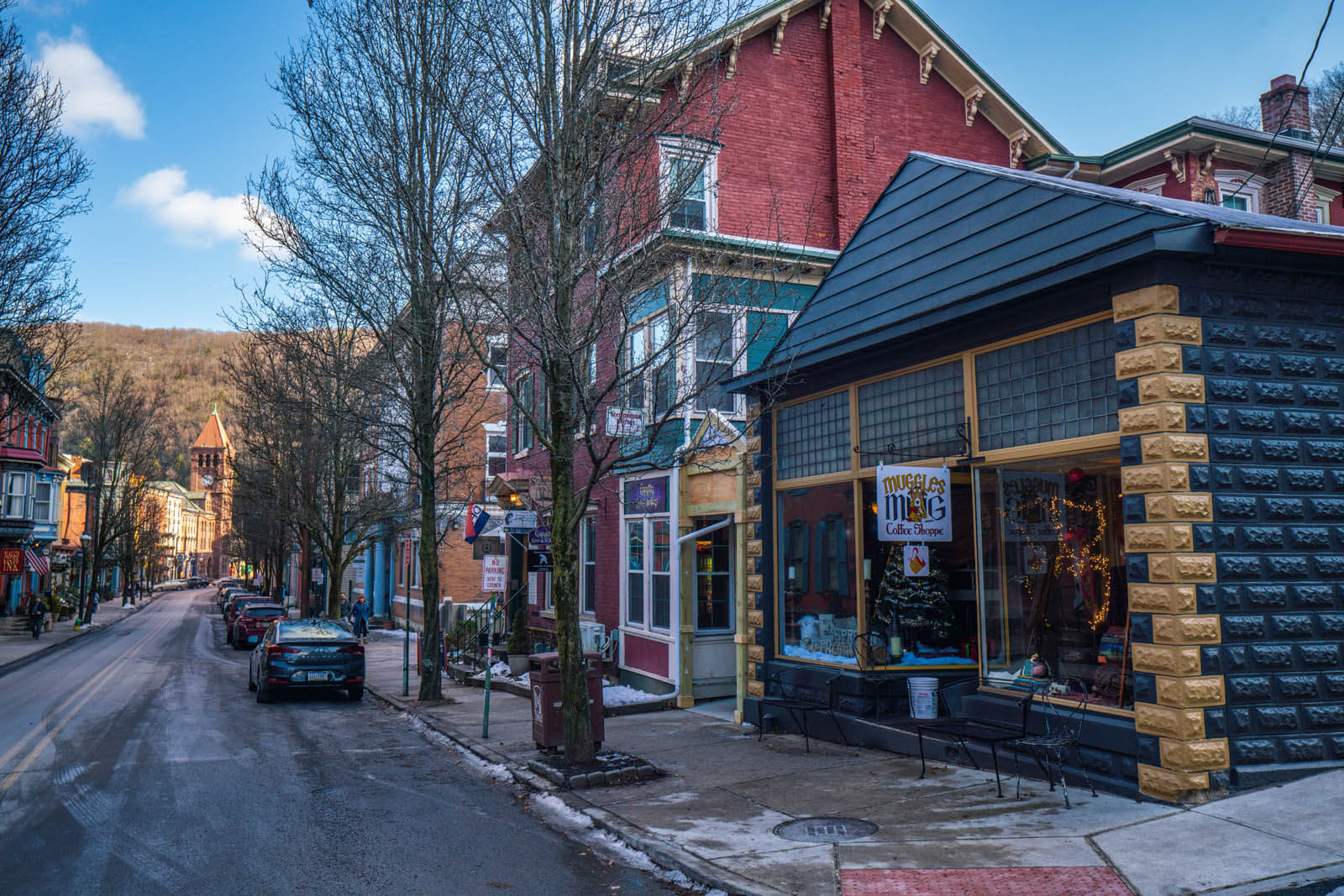 Calling all wizards, witches, and muggles! This is one of the best things to do in Jim Thorpe if you're a fan of the infamous wizarding world! Head to the Muggles Mug, an adorable Harry Potter-themed coffee shop in the heart of downtown. You'll find them at the corner of Broadway and Trap Ally.
Just walking down Broadway in Jim Thorpe feels magical with the winding, hilly streets dotted along on either side with colorful 19th-century buildings! The Muggles Mug is a must for Harry Potter-lovers. Peruse the eclectic décor or have fun with a themed drink.
They have plenty of all your coffee classics and "muggle food!" You'll even find gluten-free and vegan treats. Order something special like a Butterbeer Latte or a Mandrake Maple Draught, made with white chocolate and cinnamon.
Sometimes they have special events. There's a projector screen in the café where they often play movies, typically those in the HP universe.
If you stop by, just check their hours first. They're closed on Tuesdays and have shorter hours a few days a week.
Sample Wine & Cider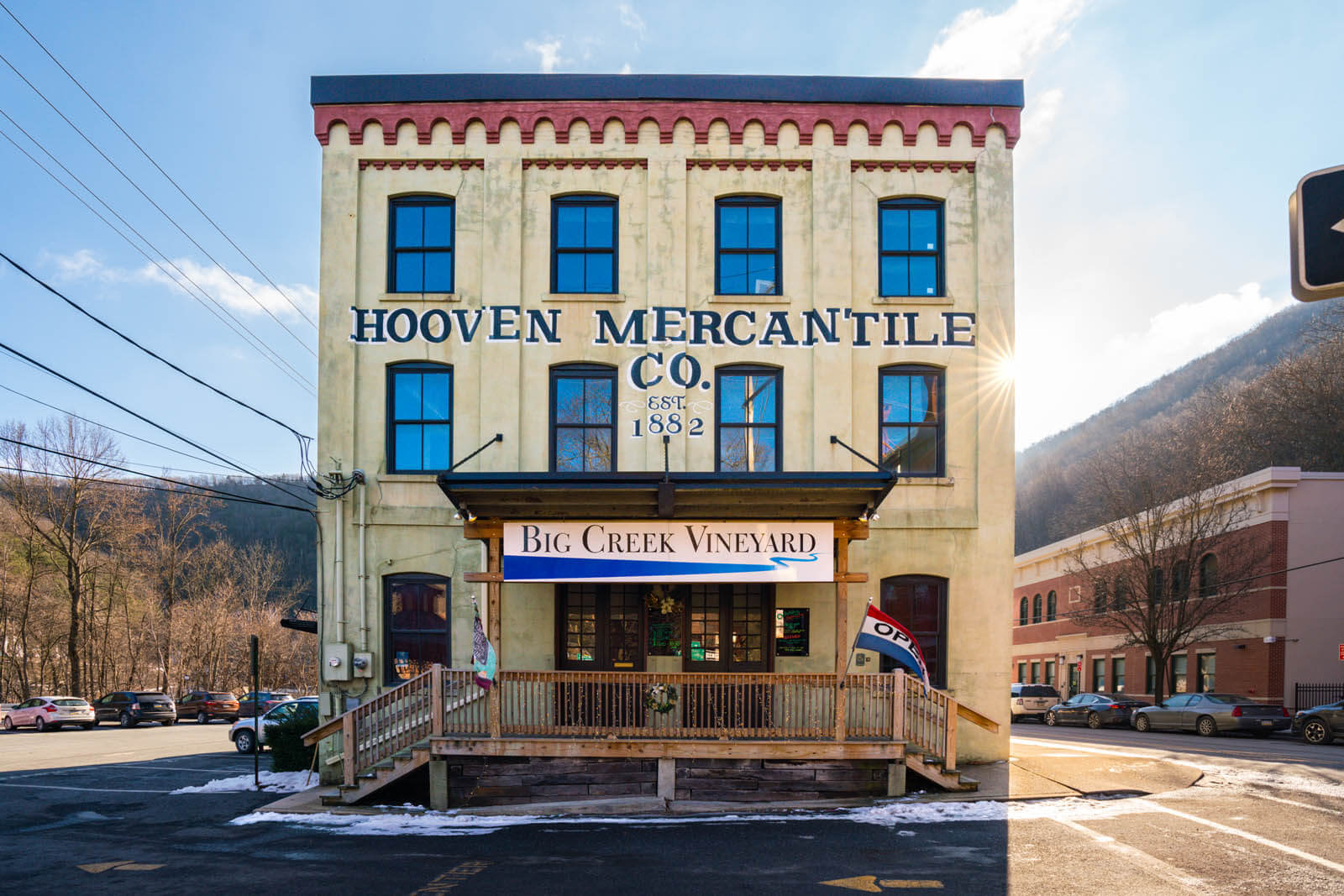 You'll find some of the top Pennsylvania wineries around here. While you're looking for things to do in Jim Thorpe, PA, consider a Poconos wine trail!
Wild Elder Wine & Cider Co.
You'll feel like you're visiting friends at Wild Elder. They're across the street from Muggle's Mug on Broadway and share a backyard patio with the donut shop next door. Owner and winemaker Josh Finsel has roots in Jim Thorpe going back to his grandparents who homesteaded along the Lehigh River, making their own wine.
Josh makes wines, ciders, brut, and non-alcoholic syrups with local berries and flowers. Wild Elder focuses on using elderberries, which makes delicious wine! The shop also sells charcuterie boards, cheeses, and sandwiches that you can enjoy with a flight or glass of what's decanting.
Sit out back under string lights and leafy trees during the summer or enjoy the tasting room with plenty of space. Make sure you take home a bottle of something special while you're shopping at Jim Thorpe attractions.
They're open 7 days a week from 11 AM to 5 PM or 6 PM on Saturdays.
Big Creek Vineyard and Winery
Steps away from the train station is the Hooven Mercantile Co. building on Susquehanna Street. This is the home to the Big Creek Vineyard and Winery store and tasting room. If you're looking for things to do in Jim Thorpe, they can help you plan a local wine tour, or just head to their vineyard.
Big Creek is almost a century old, establishing a family-owned vineyard 15-miles away in Kresgeville. At their Jim Thorpe store, you can check out their menu of wine, cocktails, and local craft beer.
Visit Big Creek's store Sunday through Thursday from 12 to 5 PM, or Friday and Saturday from 12 to 7 PM.
While you're at the store, check out the artwork inside. Big Creek hosts local and international artists and sells their work. Take your time and enjoy a charcuterie plate, chocolate, or baked goods. You'll see why regulars are such big fans of their sweet wines and fudge brownies!
Shop Until You Drop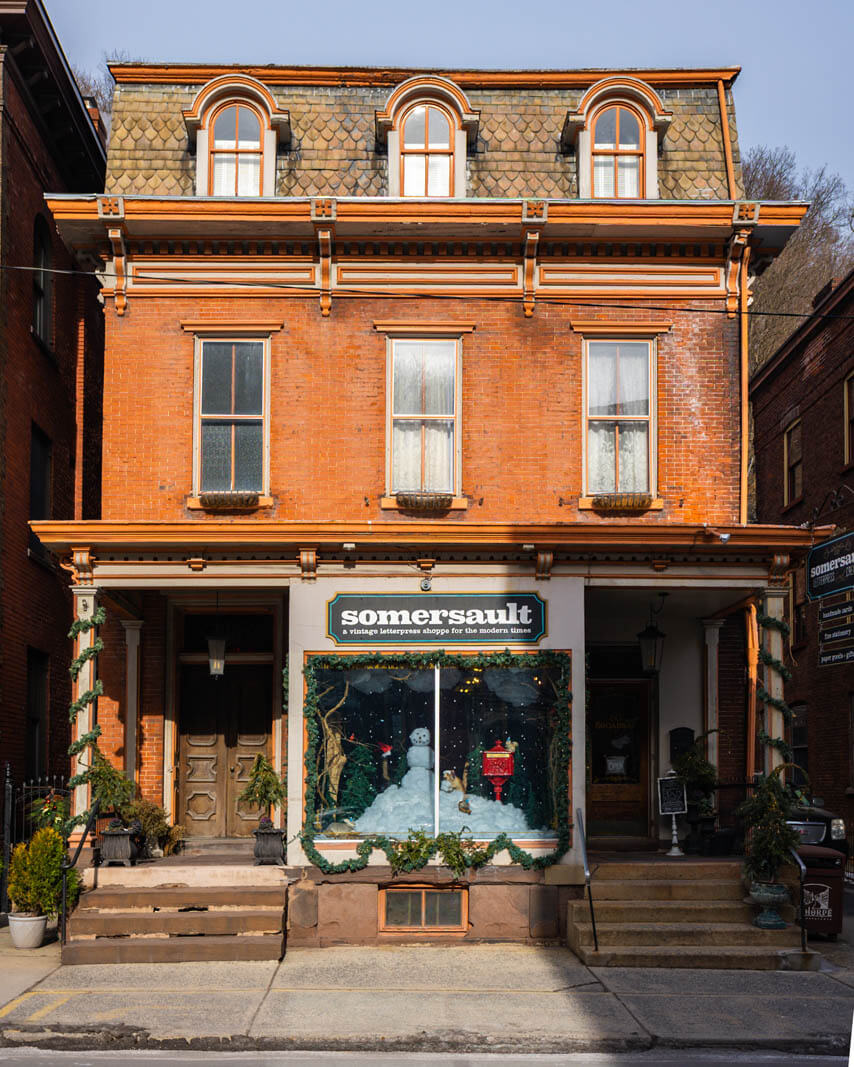 While you're checking out Jim Thorpe attractions, keep walking down Broadway. Among the old buildings preserved from the town's days as a coal and lumber center, you'll find charming and unique shops! Keep reading for a few of our favorites.
Sound Check Records
For all things music, head to Sound Check Records. This quaint storefront has an old-school feel down to the full stacks lining the walls. The owner is an audiophile who plays music in the store from his reel-to-reel machine!
You'll find a selection of used vinyl for sale, as well as CDs, DVDs, and even a few cassettes. There are music memorabilia of all kinds for sale around the entire store. New releases are kept upfront, and you can buy tickets at the register for shows at the Mauch Chunk Opera House.
If you're looking for new releases, they're regularly announced in the window and kept near the front of the store. The knowledgeable staff is passionate and friendly, ready to help you with all your music needs!
Somersault Letterpress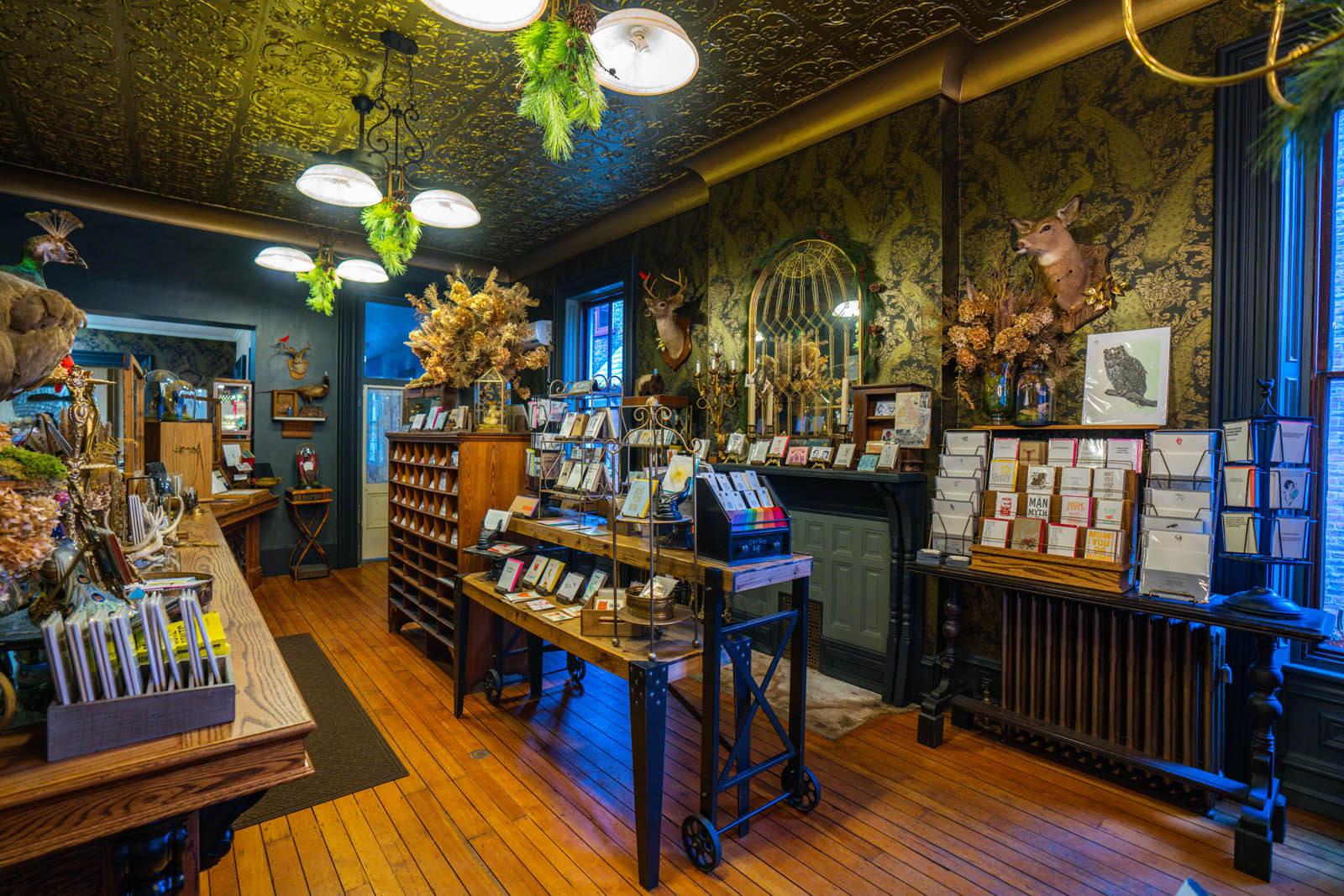 For more artsy things to do in Jim Thorpe, PA, stop in Somersault Letterpress. Here, husband and wife team Amy Pienta and Mitch Hanson create handprinted media of all kinds. They use handpicked paper and vintage printing presses for everything they make.
Step into their shop and peruse all kinds of word art. There are funny cards for all occasions, stunning art prints, postcards from Jim Thorpe, and more.
Just a heads up, Somersault Letterpress is closed Mondays and Tuesdays. The rest of the week you can come by to check out the shop or book an appointment for their services.
They specialize in custom business cards, wedding invitation packages, and stationery, among other things.
House of Jerky
The House of Jerky is one of those quirky Jim Thorpe attractions that you didn't know you were missing out on! Outside the shop are a mix of outdoor seating options below glass-paned windows and an old-fashioned swinging sign that says, "House of Jerky."
Inside, wood-paneled walls feature labeled wood bins full of a variety of treats. Scattered throughout the storeroom is a variety of taxidermy and other on-theme décor.
Check out all kinds of vacuum-sealed jerky flavors, from the traditional variety to an array of exotic meats, fish, and wild game! House of Jerky also offers a selection of homemade dessert popcorn, fried peanuts in different flavors, and other tasty products.
Rainbows End
This old-timey candy store is a treat to visit. It's hard to find places like Rainbows End these days. From the colorful shop sign to the classic candy, you'll be taken back to your childhood.
You can buy all your favorite nostalgia sweets, like honey sticks, lemon drops, and penny candy sticks. There's a glass counter full of chocolates with bags of popcorn and cotton candy on top.
Take in stunning Victorian-style wallpaper and an array of glass Tiffany-style pendant lamps while you peruse shelves for wax lips.
Order yourself a coffee, iced tea, or hand-mixed soda. There are also ice cream sundaes and milkshakes. If it has sugar in it, you'll probably find it at Rainbow's End!
Dreisbach House
For thrifters and vintage shoppers looking for things to do in Jim Thorpe, PA, stop by Dreisbach House. Lisa Gaugler turned her passion for antiques into this lovely consignment shop that fits perfectly into the likes of Jim Thorpe.
In a 19th-century row house turned shop, you'll find something to look at around every turn! Dreisbach House is the kind of place you keep coming back to because you just can't take it all in with one visit. Walk into what used to be a sitting room to find knickknacks covering every surface and shelf that lines the walls.
In an old dresser, you might find costume jewelry and old tintype family photos. There are also collections of thrifted goods like glazed planters and cotton dish towels. Peruse glass cases for things like satin ladies' gloves and vintage Christmas ornaments!
Visit The World's Largest General Store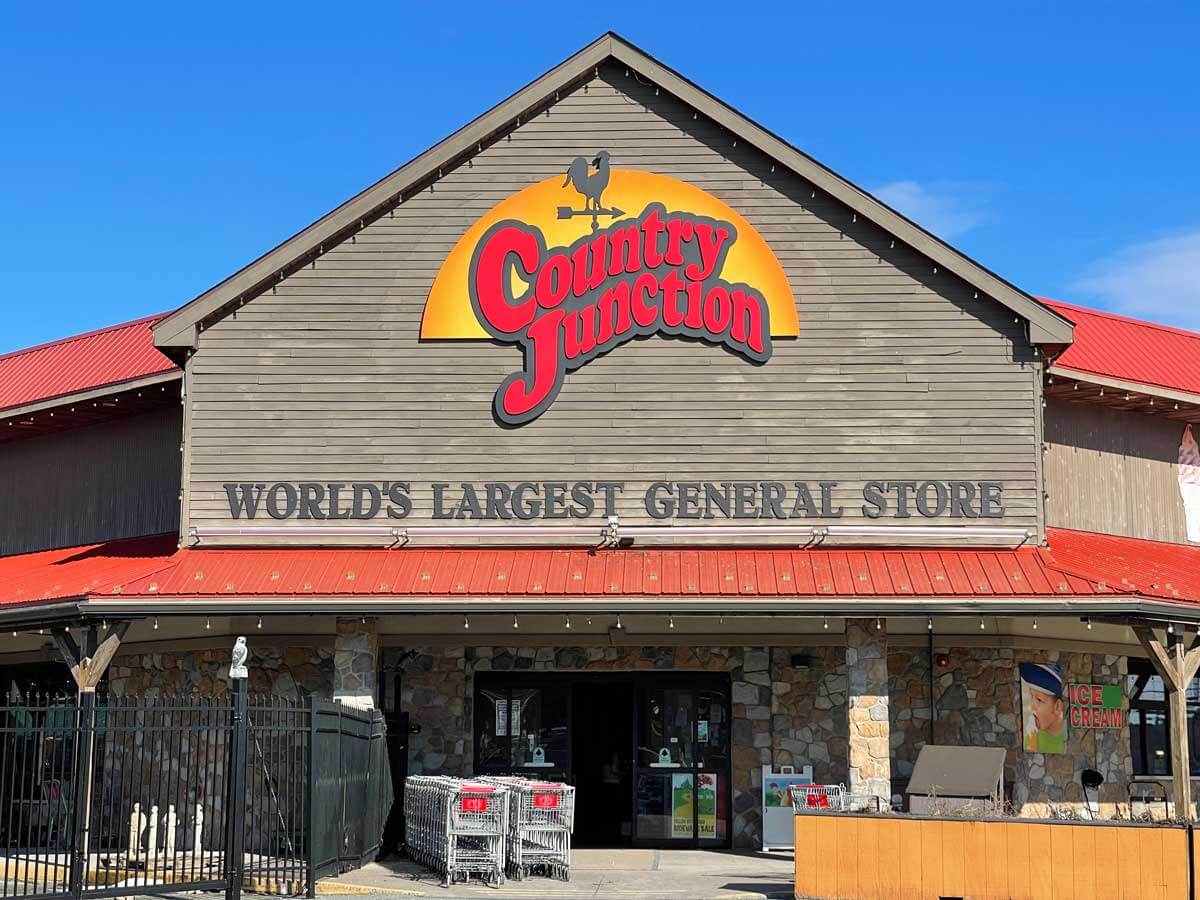 About 20 minutes east of Jim Thorpe on US-209 is Country Junction. While it's not exactly part of Jim Thorpe attractions, it's totally worth visiting while you're in the area as it's just a short drive away! This fun stop is famous for being "The World's Largest General Store." You can't miss it: it looks like a giant red barn.
There's really something for everyone at this giant tourist attraction. Check out aisles of home goods, pantry staples, candy, and toiletries. You can buy gardening supplies or rent construction tools! There's even a furniture store and a bowling alley.
The best part though has to be the arcade (think Chuck-E-Cheese) where you can win tickets for prizes. It's fun for kids and adults alike. Collect tickets to trade in for prizes!
Scattered around the enormous store you'll find these kitschy animated statues that are fun to snap a picture with. There's even a little card you can swipe which activates a little animation from the animal statues, some even talk.
But the best part, in our opinion, was the roomful of arcade games!
Old Jail Museum
The Old Jail Museum is a looming building located where W Broadway meets High Street. It was an active jail through the 19th and 20th centuries until Tom and Betty Lou McBride bought it in 1995. They converted it into a museum.
You can tour the jail with steel staircases, stone archways, gallows constructed in the cell block, and 27 cells across 3 floors. You'll even see solitary confinement cells in the basement and the warden's living quarters.
During your visit, you'll hear fascinating stories, including that of the 7 Molly Maguires and the mysterious handprint.
The jail is open for tours seasonally from June through October. With several hangings performed inside, the jail is said to be haunted. You can take a ghost tour on the last two Saturday evenings of October. No kids under 12-years are allowed on ghost tours.
Mauch Chunk Opera House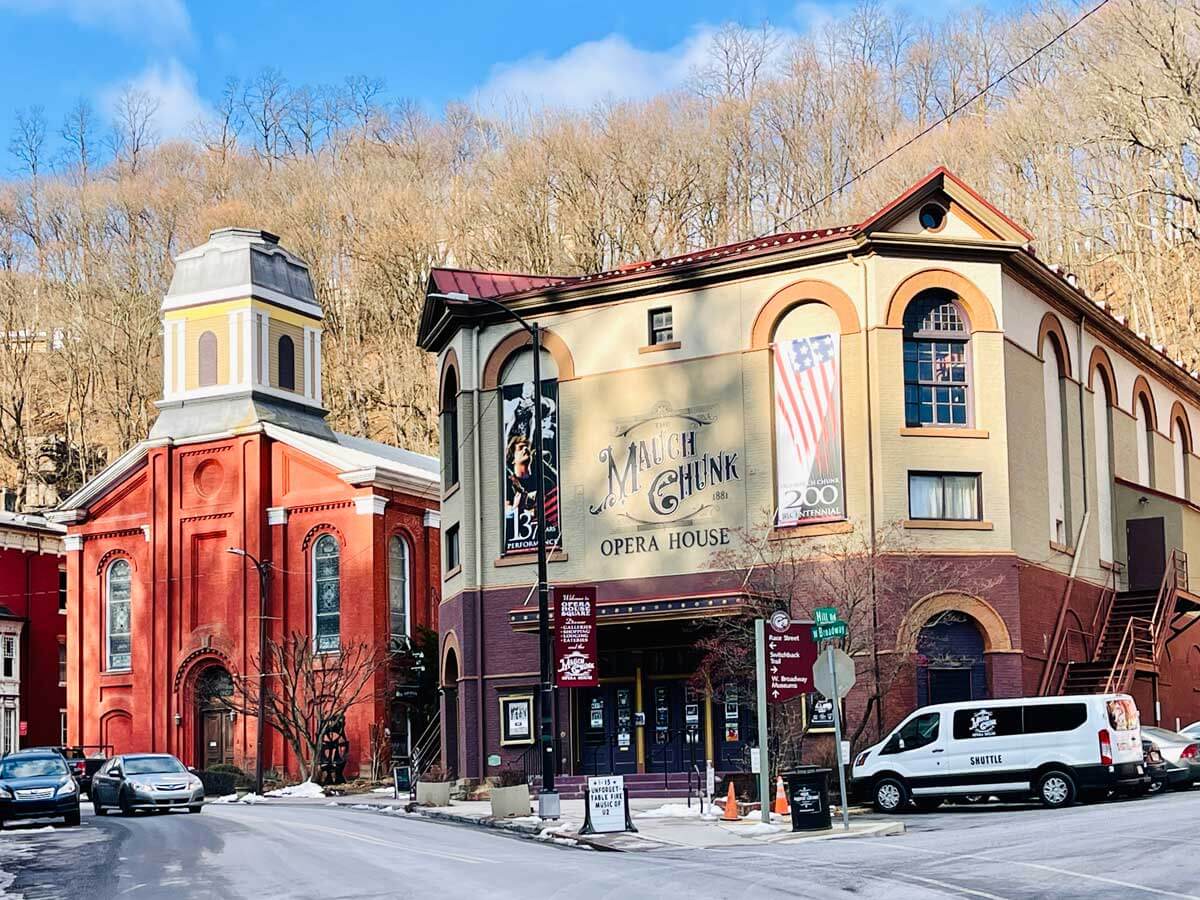 Where the Old Jail is spooky, the Mauch Chunk Opera House is elegant. You can't miss it at the intersection of W Broadway and Hill Road/Race Street. It's been open for almost 150 years, making it one of the oldest vaudeville theaters in the US. Today, the opera house is Jim Thorpe's primary live performance venue.
When you're looking for things to do in Jim Thorpe, PA, check out the opera house's events calendar. There are regular musical performances, from country and jazz to 80s tribute bands! The venue also hosts comedy shows and play productions.
Jim Thorpe Monument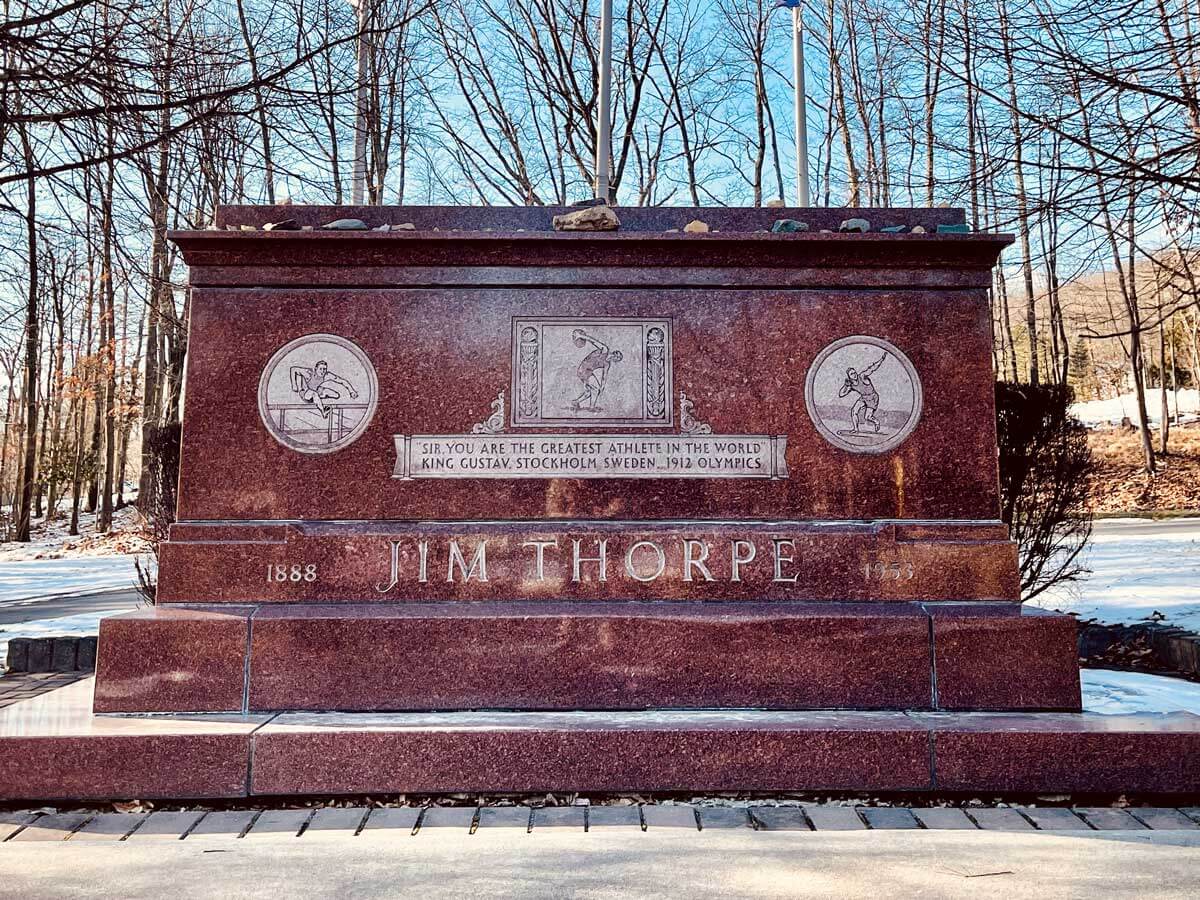 The story of Jim Thorpe and how the town came to be named after him is an odd one. The man Jim Thorpe was a talented multi-sport college athlete who went on to play professionally with the NFL and several baseball and basketball teams!
He's famous for playing several different sports in the 1912 summer Olympics and ultimately winning a gold medal. After Thorpe died in 1953, his wife sought a memorial worthy of his name. When she found out that Mauch Chunk was looking for ways to attract business, she worked out a deal with the city.
In a controversial move, Thorpe's widow moved his remains to Mauch Chunk, a town he'd never even visited! You can check out the memorial with his remains and see 2 statues of Jim as a young athlete. The memorial park is on the far east end of town on North Street.
Outdoor Activities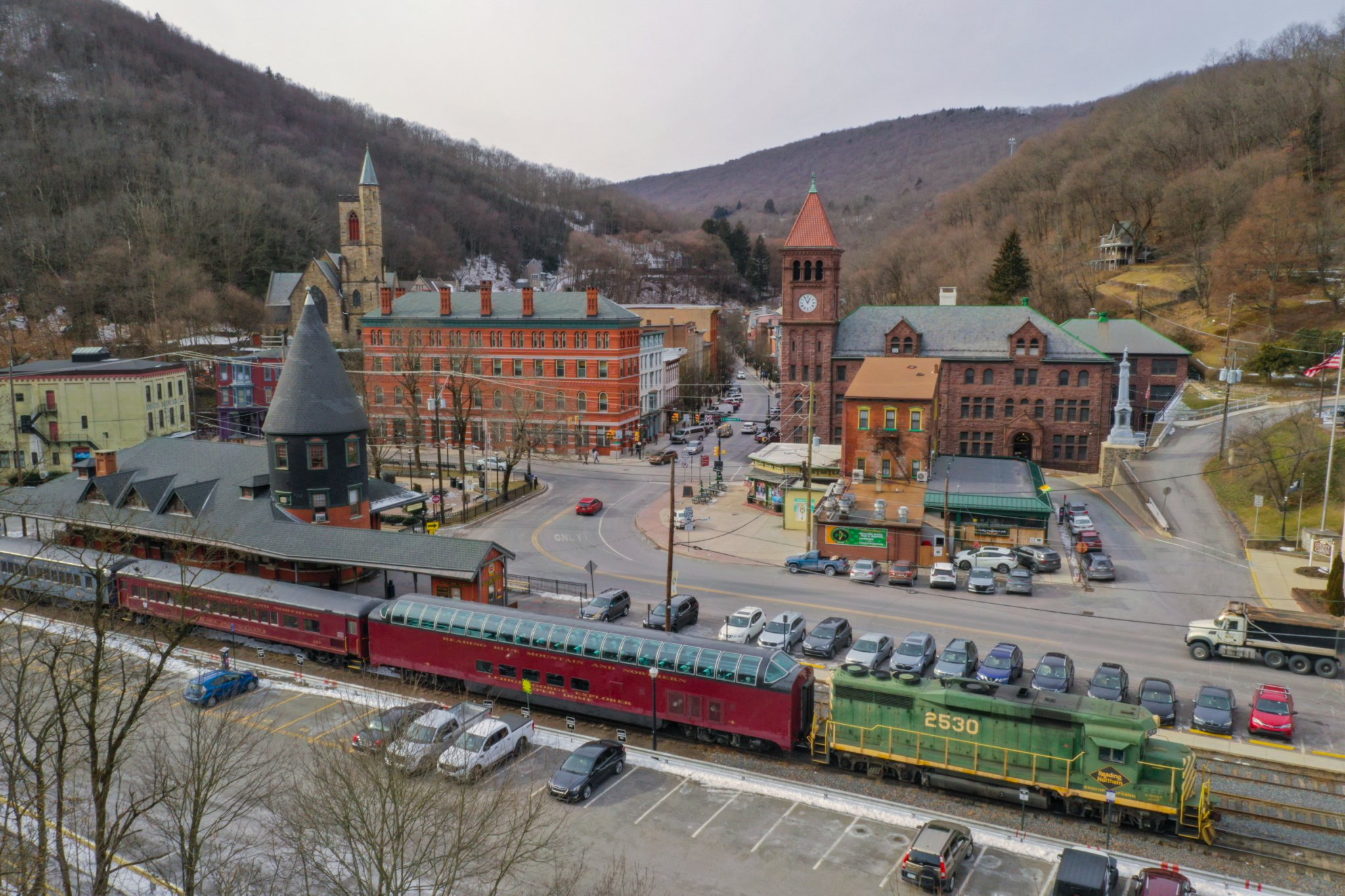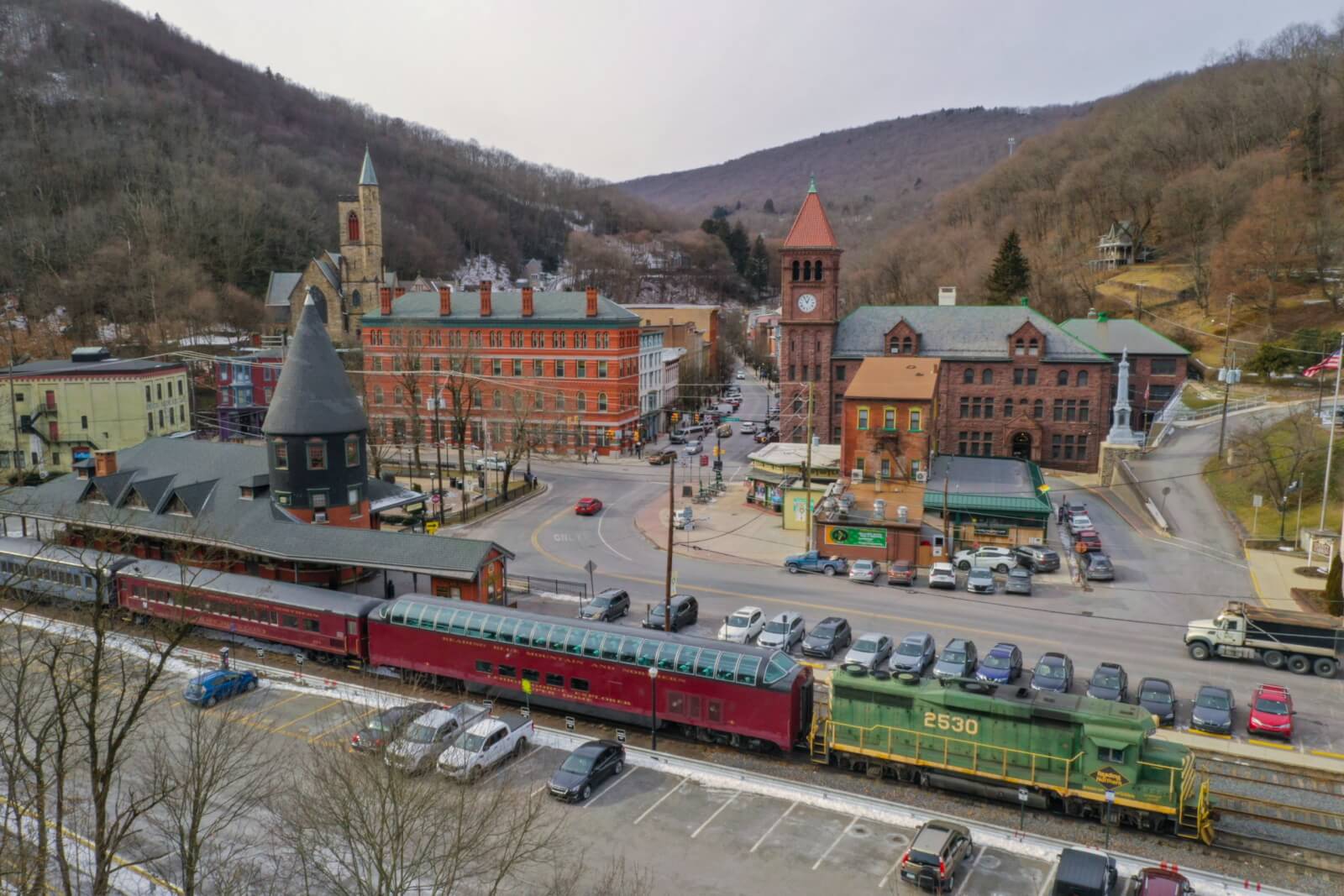 For more Jim Thorpe attractions, come in the summer. This is a popular area for white water rafting, biking, kayaking, hiking, and more!
Lehigh Gorge State Park
The Lehigh Gorge State Park is over 6,000 acres of parkland just north of Jim Thorpe. It makes up about 20-miles of the larger Delaware & Lehigh Trail. Besides stunning views of the naturally cut cliffs that define the river gorge, there are abandoned railway tunnels, and colorful foliage in the fall.
Buttermilk Falls and Luke's Falls are just two beautiful waterfalls in the park for your viewing pleasure. From the Lehigh Scenic Railway ride in the winter and spring you can even seen the impressive Glen Onoko Falls off in the distance which you are no longer able to access by foot due to dangerous conditions.
In the summer you can fish, raft, or kayak along the river. Hiking is popular all year long with a variety of easy to difficult trails. The old lumber railway that follows the Lehigh River is also popular year-round for cyclists and hikers alike. In the winter, you can go snowmobiling from Penn Haven to White Haven.
Lehigh Outdoor Center
At the Lehigh Outdoor Center, you can take book a guide for an inflatable whitewater kayaking excursion or rafting trip. They also have bikes for rent and sale. You can even pay a fee and they'll shuttle you and your bike to several trailheads along the Delaware & Lehigh Trail.
Bike Shuttles to the Lehigh Gorge Trail
One of the most awesome Jim Thorpe activities to enjoy are the bike trails. If you're an avid biker you might not need this, but regardless it's a cool way to not only enjoy the views but also bike in them. There are a few different ways you can bike in the area from starting and ending in Jim Thorpe to taking one of the shuttles including the train which will transport cyclists miles into Lehigh Gorge and all you have to do is bike back to town!
May through September the Lehigh Gorge Scenic Railway has a special one-way bike train that takes you 25 miles out to the Lehigh Gorge trailhead. It has a gondola car for your bike while you ride in a passenger car and enjoy the ride.
Pocono Biking also offers a variety of bike trip packages for big and small groups, including bicycle rentals. They include shuttles to the Lehigh Gorge trailhead and then you bike the trail back to Jim Thorpe.
Glen Onoko Falls
Glen Onoko is the southernmost trail in the Lehigh Gorge State Park, just a few miles north of Jim Thorpe. The Glen Onoko Falls Trail used to be one of the most popular since it leads to four separate waterfalls that hikers loved to get a peak of. The falls have been famous for over a century for their beauty.
All the Glen Onoko waterfalls are perfect for pictures with cascading steps that seem almost too perfect. Cave Falls even has a hidden cave behind the falls, which is where it got its name.
Unfortunately, the trail has been closed since 2019 because there are dangerous rocky cliffs. Over the years, enough people have been seriously injured or met their demise on the trail that the state closed it for liability reasons.
There are signs warning visitors of the dangers, but with the number of tragic incidents that have taken place showed that people weren't staying on the trail and veering off trail where the incidents occured.
While the trail is technically closed, you can still access it. Several signs along the way will tell you that you enter the trail at your own risk, we do not advise breaking rules and endangering yourself.
The climb is said to be rocky and steep and it's crucial to wear proper hiking apparel and footwear. There are signs near the top of Cave Falls and Terrace Falls that imply that trekkers perished because they attempted to climb the top of the falls. The rocks can be slippery when wet. Don't climb the falls.
As an alternative, a great way to see the falls is from the Lehigh Scenic Train. In late fall, winter and early spring when the trees are bare, you can see the falls out the train car windows. This might be a much safer, and cozier way, to see the stunning Glen Onoko Falls.
---
Enjoyed this guide to the amazing things to do in Jim Thorpe, PA? Bookmark for later and use this to plan your trip!