Planning a trip and looking for the best tricks and tips for Universal Studios Orlando? Now it's time to finish your plans and prepare for your unforgettable trip seeing fun characters from some of your favorite movies and televisions series! We have put together our best tricks and tips for Universal Studios Orlando to help make your trip a breeze!
Tricks & Tips for Universal Studios Orlando
Cut the lines with Universal Express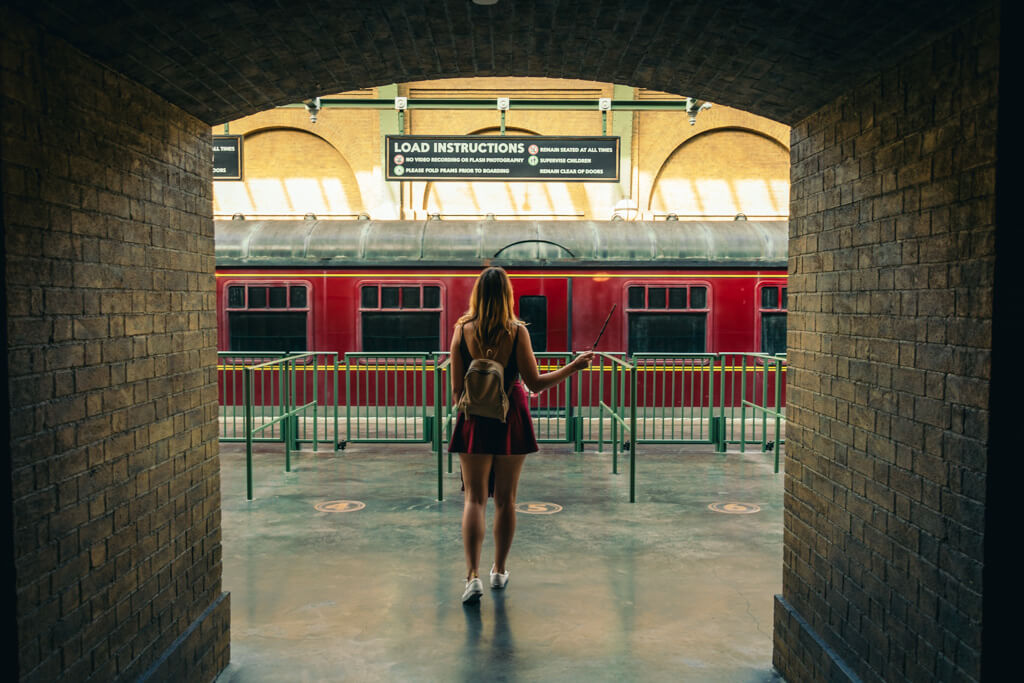 Hate waiting in lines? Then this tip for Universal Studios Orlando is a lifesaver. Unlike Disney where they offer free fastpasses, you have to pay a little extra for Universal Express, a pass that lets you hop in an expedited line ahead of the crowds for a much shorter waiting time and one of the best tips for Universal Studios Orlando!
We LOVED this because we really didn't have to wait for a single ride during our visit.
Didn't buy it ahead of time? No worries, there are many places inside the park that sell you Universal Express even after you enter the park.
These passes are an additional cost after your entrance Universal Orlando tickets. Universal Express passes range from $50-$85 depending on the park or parks you choose to visit.
This pass only works in Islands of Adventure and Universal Studios Florida. Volcano Bay Resort uses the Tapu Tapu wristband system.
Stay at a Universal Resort to get early access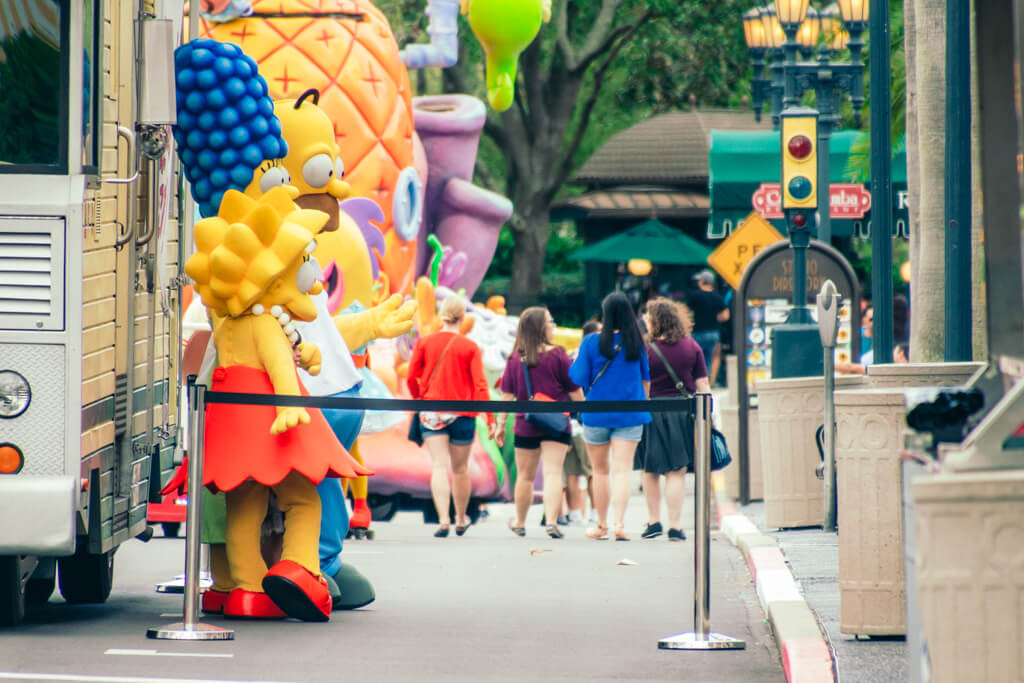 This is one of the most valuable tips for Universal Studios Orlando if you are really wanting to experience any of the three parks without crowds. Staying at any one of the six resorts gets you early access to the parks!
We were able to get into Islands of Adventure an hour before regular crowds because we stayed at Cabana Bay Beach Resort at Universal Studios Orlando.
All of the resorts are either walking distance, a short boat ride, or a short shuttle ride from Universal City Walk and all the park entrances. If you're lucky enough to already be a Florida resident, you get a special discount! We loved having the ability to take a break during the day and running back to the hotel for a quick rest before returning to the parks.
We stayed and loved Cabana Bay Beach Resort, the 50s and 60s retro-inspired hotel made you feel like you were living in an episode of the Flintstones. The cafeteria offered great food selection and even reasonably priced bottles of wine. We loved the arcade and being just steps away from Volcano Bay!
When we make it back we would love to stay at Loews Portofino Bay Hotel that makes you feel like you are in Italy or Loews Royal Pacific Resort set on a small blue lagoon with a cool seaplane! No matter which resort you stay at, all are unique in their own way and offer great perks for getting into the park easily and early!
What's even better is that you do not have to book directly through the Universal hotel websites to qualify for early park admission, you can use Booking.com or any third party booking platform with discounts and deals and still get early admission to the park! You just need to show your hotel key and ticket and viola! You're in the park early!
Book your hotels here:
Cabana Bay Resort Book Now | Compare Prices For Later
Loews Portofino Bay Hotel Book Now | Compare Prices For Later
Loews Royal Pacific Resort Book Now | Compare Prices For Later
Loews Sapphire Falls Resort Book Now | Compare Prices for Later
Wear comfortable shoes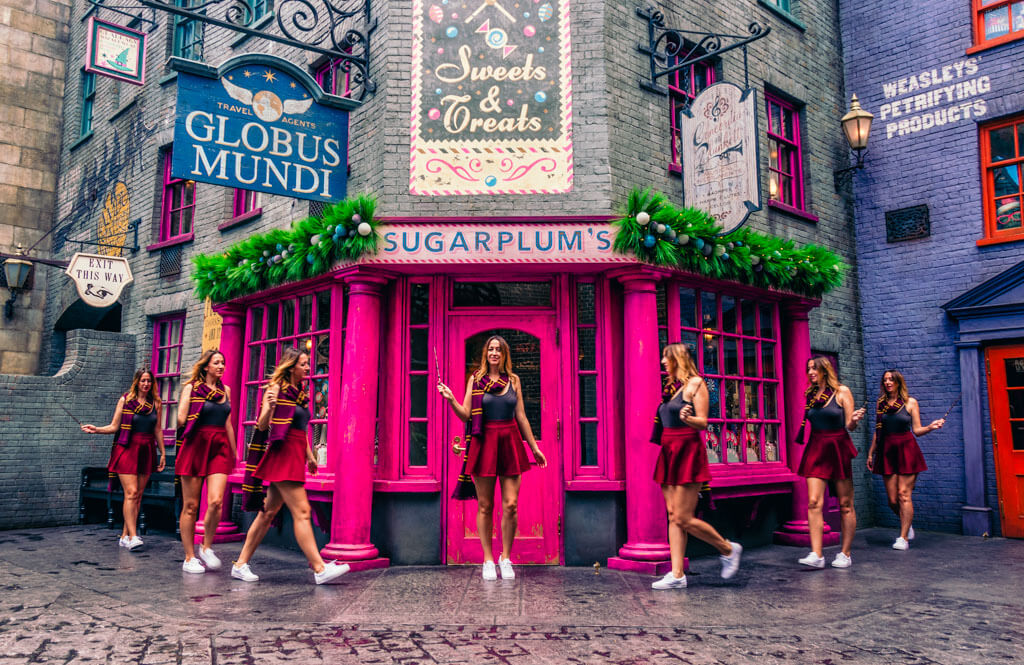 This tip for Universal Studios Orlando seems super obvious but I have to mention it after my feet were tore up by my sneakers. I am not sure if it was the humidity or what, but shoes that I normally wore on a daily basis gave me the absolute worst blisters I've had on my feet ever.
Luckily, I packed an extra pair of sandals, but those were not great shoes to be wearing and walking around all day.
And besides wearing comfortable shoes, no matter how comfortable your shoes bring some good band-aids or moleskin for your feet!
Check out our guide for comfortable walking shoes for women and our guide for stylish men's travel shoes for more ideas!
Secret tip for Universal Studios Orlando:
If you forget and need a bandage you can buy some at the Men in Black store at Universal Studios Florida or head on over to Islands of Adventure to the first aid station where they will kindly provide bandages.
Check out more great travel shoes for women here in this post by Practical Wanderlust.
Wear a small day backpack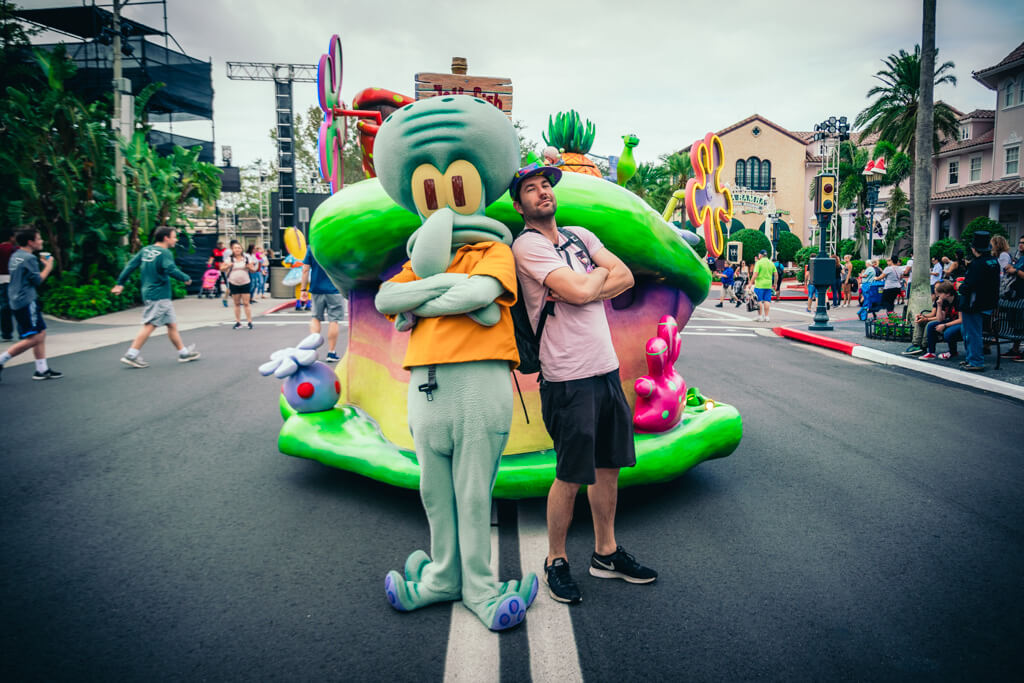 We like to bring in some of our own snacks and drinks to amusement parks plus our camera, extra shoes, and a sweater for those nights it gets a little chilly all on us when we are visiting any theme park.
The only problem is that some rides do not allow you to bring any personal belongings. Luckily, Universal Studios Orlando has lockers all over the park and outside each ride that requires you to leave everything behind.
The small lockers are free to use for one hour or under, after that you have to pay $3 every 30 minutes. They give enough time to wait in line, enjoy the ride, and get your belongings before you have to pay unless there's an absurdly long queue. (Another bonus for having our #1 tip for Universal Studios Orlando)
The lockers are small, so we recommend carrying a small backpack and not completely fill it so it can collapse in the locker.
Scott's camera backpack did fit if we took everything out – but it was a huge ordeal everytime we wanted to go on a ride. His camera backpack has extra padding for his camera gear which made it hard to squeeze in the lockers.
To save yourself the trouble just plan on using a small to medium size backpack and be sure not to fill it completely so you can squeeze it in the small locker!
If you have one backpack for the family I recommend taking a family member ticket and opening two lockers near eachother so you can put things from the backpack in one locker and the backpack in the other. It's a pain, but sometimes you need to bring a few things into the park!
There are larger lockers available but you have to pay for them. They charge $2 while you ride and $3 every 30 minutes after that with a maximum of $20.
Another tip for Universal Studios Orlando is saving carnival games for the end of the day so you don't have to carry them around or pay to store them.
How to use the lockers tips for Universal Studios Orlando:
The locker system is powered by your ticket. You will need to walk up to the lockers and read the small screens in the different sections to see if they have lockers available in that section, the screen will indicate how many lockers are available.
Once you find a screen that has lockers available you will scan your ticket barcode and a locker door in that section will pop open for you to put your belongings in.
After you fit and squeeze your things in you will need to close the door. Double-check that it is closed and you can hop in line.
Pay attention to what locker number you are and what section you were in because you will need to come back to that same monitor/screen in that section to scan your ticket to reopen the door.
You can only do this once to open and once to close, so double-check that you put everything in and that you take everything out before leaving.
If you accidentally leave something in the locker, just find the locker attendant for help.
Bring a Refillable Bottle
Being in a theme park can get pricey. After paying for transportation, lodging, admission, and food the last thing you want to spend extra money on is bottled water. We highly recommend bringing a refillable water bottle to keep yourself hydrated and save money during your trip to Universal Studios Orlando plus reduce plastic waste! Win, win!
There are drinking fountains located all over the park and next to almost every restroom.
Also, since Hydroflask bottles are the rage you can accessorize your favorite bottle with these fun Harry Potter stickers to be on theme with Universal Studios Orlando.
See our full guide for what to pack for Universal Studios.
Download the Universal Resort App on your Smartphone
One of the best time saving and organizational tips for Universal Studios is to download the Universal Orlando Resort App before your trip!
In the app you not only have a map of the park (which comes in handy if you're not familiar with the layout), show schedules, what's available for dining, and current wait times for rides!
You can also buy tickets from the app too!
Be prepared if you get motion sickness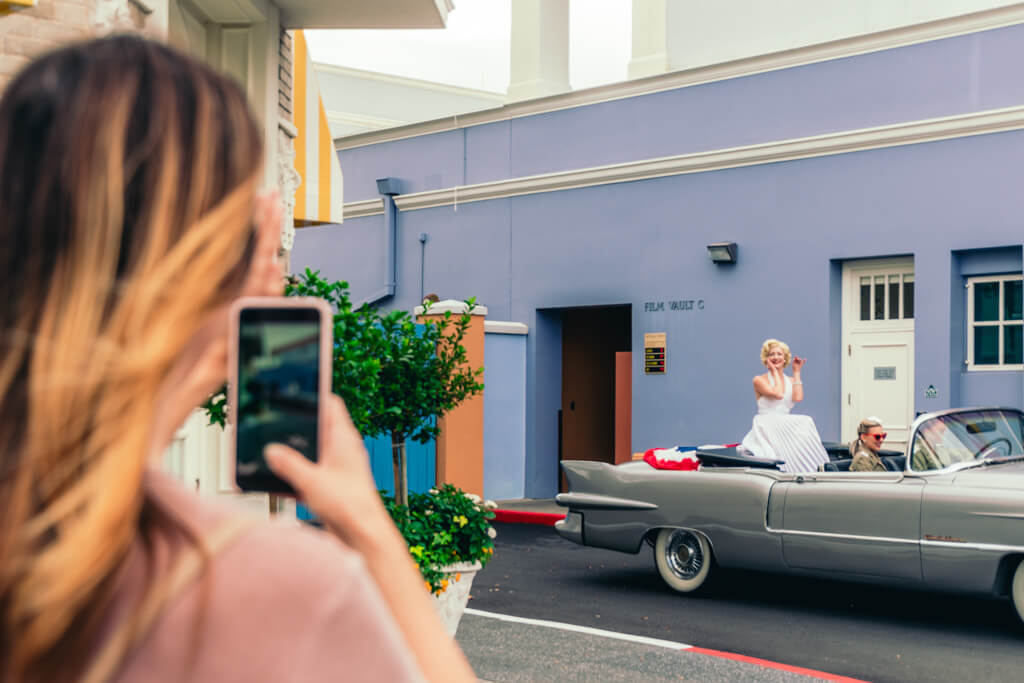 This is the most valuable trick or tip for Universal Studios Orlando if you're prone to motion sickness! I was surprised to learn that I cannot handle 3D simulator rides very well.
Growing up I would get motion sickness fairly easy in cars, but since then I have mostly grown out of this terrible trait I had. One of our first rides was the Simpson's ride in Springfield USA. I was so excited to go on this particular ride because I have been a hardcore Simpsons fan since I was just a kid.
About 30 seconds into the ride I felt like I was going to be VERY sick. I ended up having to close my eyes because most of the ride is visual. I survived the ride but felt weak and sick for about the next 20 minutes.
It turns out Universal Studios has alot of 3D simulator rides and they all made me sick. Had I known tip for Universal Studios Orlando beforehand I would have came prepared with ginger chews, peppermint, or Dramamine to help combat the sickness and enjoy the incredible special effects of all these rides!
If you get motion sickness fairly easy be sure to prepare yourself and bring along anything that can help you. Also, be sure to ask before getting in line if the ride is a simulator and how herky jerky it gets. The employees at each of the lines were super helpful.
If you don't like simulator rides don't worry there are still plenty of rides that won't make you sick. We found E.T., Men in Black, Escape to Gringotts, The Mummy, and Skull Island the Reign of Kong to be friendly for my weak stomach!
Avoid Lines by Entering the Lesser Known Entrance to Universal Studios Florida
If you already have your park ticket this is one of the best tips for Universal Studios Florida for you! I hate waiting in the long line to enter the park where you're waiting to get your finger scan with tons of people ahead of you.
You can save time and cut right into the park if you know about this sort of secret entrance near the Blue Man Group to Universal Studios Florida!
If you walk to the entrance of where the Blue Man Group performs and turn right there is one area where you can enter the park that not many people know about, every time we passed it the line was very short and there were no crowds!
Save time getting in the park by trying this entrance or exit!
Earn Some Extra Bucks in Universal Studios Florida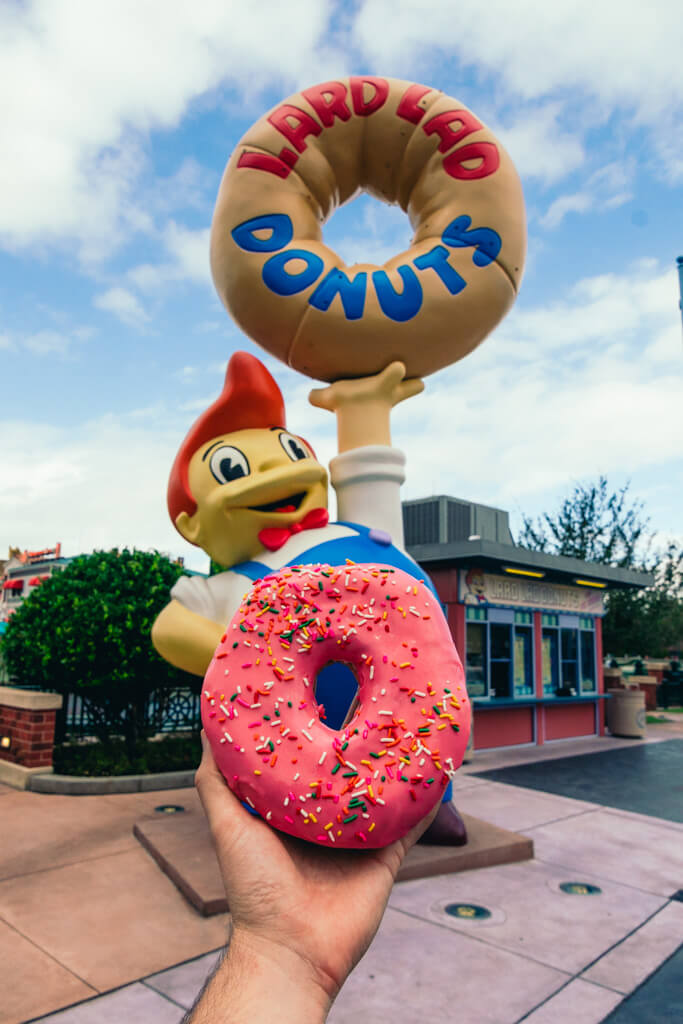 This next tip for Universal Studios Orlando is one not many people realize is available and can earn you extra spending money during your trip! The media center in Universal Studios Florida on the walk in between Transformers and Springfield USA often offers gift cards for your opinion!
The media center is run by the marketing department for Universal Studios and wants to get real people to watch previews of new television series to get viewer feedback. Depending on your age, gender, and availability of current surveys you could participate and get a Universal gift card to spend at any of the parks, resorts, or Universal City Walk.
Scott and I were passing by and decided to check it out and try it and give our feet a nice break. We were in an air-conditioned room with computers where we each were given a different media file to survey.
Scott was lucky and got an interesting new crime series whereas I ended up getting stuck with a series of 60-second promo commercials for a television series that seemed like it was for preteens with cheesy music and an even cheesier storyline. I actually wanted to walk out at one point but already committed and stuck with it for the gift card.
It turns out this series was being advertised all over New York City a few months later, it didn't even last a season before getting canceled, they should have listened to my survey, ha!
If the media center is looking for people you not only have to meet their demographics, which if they have many going on at once there's a good chance you could participate, but you also will most likely be agreeing to a 45 – 70 minute commitment. We each earned $20 gift cards and ended up spending it on cool Harry Potter merchandise and put it towards a delicious meal at Universal's City Walk.
If you're spending multiple days at Universal Studios Orlando and want to rest your feet or an air con break check while earning a little extra cash check out the media center!
Choose Wizarding World of Harry Potter First and Last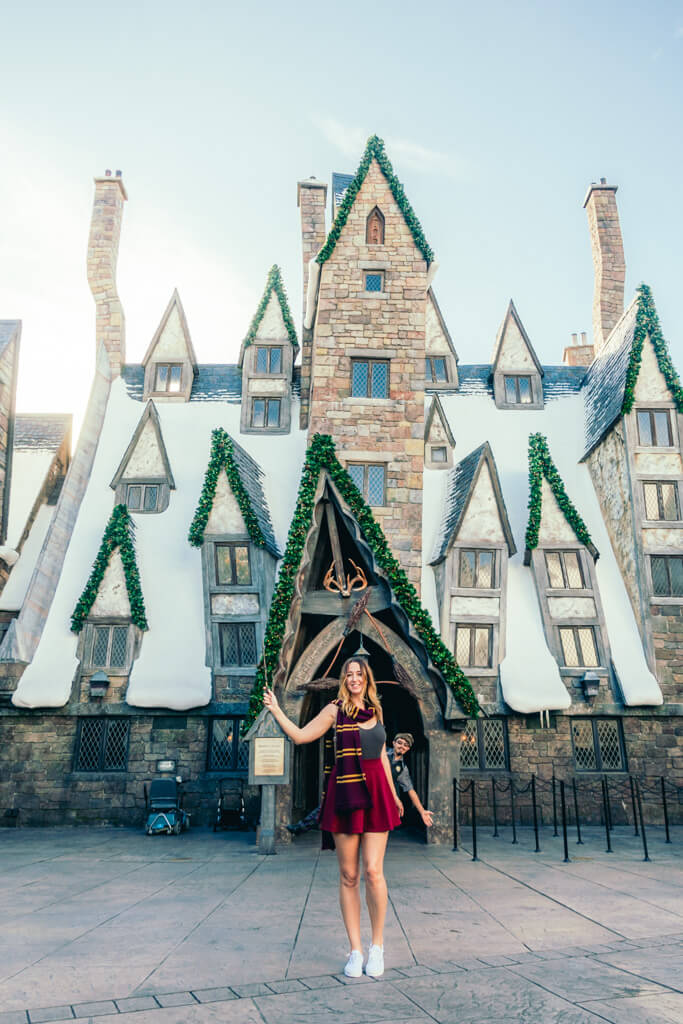 Another one of our great tips for Universal Studios Orlando is for the ever popular Wizarding World of Harry Potter. This was our favorite part of our trip and we felt swept away like we were straight up in a Harry Potter movie. However, both Hogsmeade and Diagon Alley gets very popular and very crowded.
If you want to skip the crowds we recommend getting through the gates of Universal Studios Florida and bolting to Diagon Alley right at opening. This will be your best chance to get photos and enjoy this part of the park before it gets too crazy. Immediately after take Hogwart's Express over to Hogsmeade.
Note that you will have to have a multi park ticket since you will be leaving Universal Studios Florida and entering Islands of Adventure.
Alternatively, this is where staying at one of Universal Studios Orlando's resorts comes in handy because you will get early access before the rest of the crowds roll in.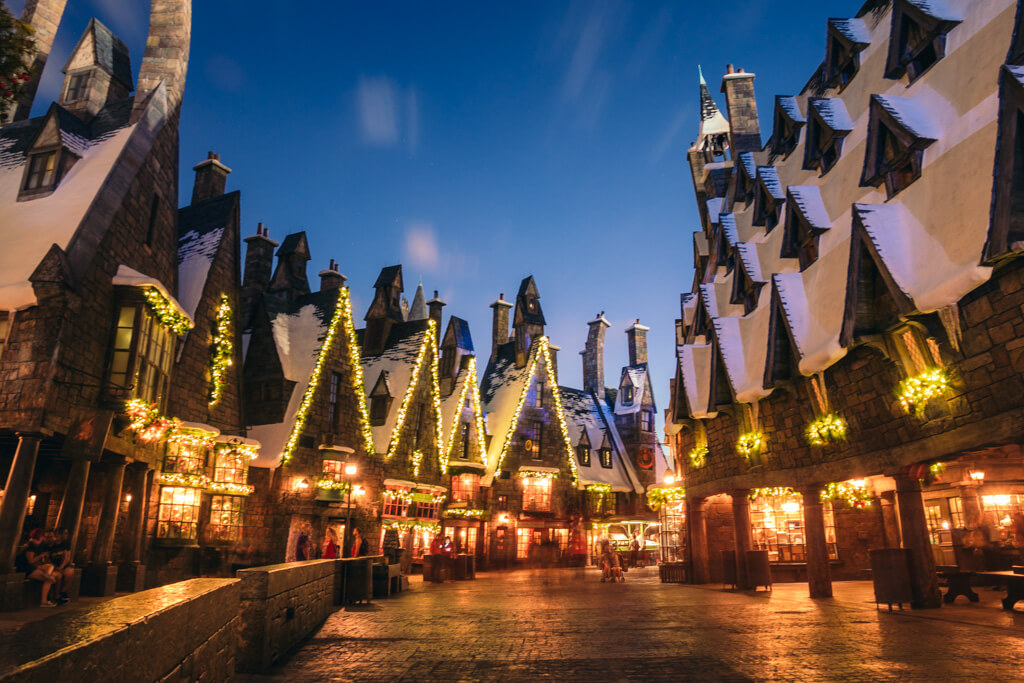 Check with your hotel which parks allow early access for the days of your stay. During our visit Universal Studios Florida did not allow early access, so we went early to Islands of Adventure and went straight to Hogsmeade.
After an hour of exploring Hogsmeade we took Hogwart's Express to Diagon Alley right when the park opened and had a brief time where we had the place to ourselves!
The next best time to visit the Wizarding World of Harry Potter would be the last hour before closing. We were able to hang out on the streets with much fewer people and hop on rides quickly without a wait.
Take advantage of the Single Rider Line
One of the best tricks and tips for Universal Studios Orlando is the single rider line! You may see some rides have a single rider option at the beginning of the line, like other theme parks, this line is great if you don't mind filling the gaps between odd numbers of groups and often will get you on the ride much quicker.
Sometimes parties of 3 will show up on a ride that sits 4, so you can fill in as a random person to fill the ride! That is if you don't mind sitting next to strangers!
I realize you can't do this with young children, but if you have older children or you're just exploring the park with a friend you can take advantage of this and get through lines alot quicker.
The only thing about the single rider line at Universal Studios parks is that they will actually close the line if it gets too long. This was the case for Hagrid's Motorbike Adventure our entire recent trip as it was just a few months old. The ride was in such demand that the single rider line was even too long so they close it.
Use the Child Swap option
Have a kiddo that's too short for one of the rides? This next tip for Universal Studios is for children/parents who have a group where families can have an enjoyable experience even if they have one guest too small.
Child Swap is available on all rides that have a height restriction so that if any member of your family isn't tall enough your family can use this feature.
Before Child Swap, parents with children that were too small or too scared would have to take turns waiting in line with their child while the others stood in line for the ride.
With child swap, one or more adults can stay behind with the smallest child who can't ride the attraction, when the other adult finishes the ride, the other adult can 'swap' out places with the small child and ride the ride without having to wait in a long line again.
On some of the rides, like the Harry Potter rides they even have Harry Potter movies playing in the child swap section to keep your little one distracted in a comfortable area while your party enjoys the ride!
Just ask the attendant at each ride where the child swap is and they can point you in that direction.
This is one of our favorite tips for Universal Studios for parties who have frightened little ones or ones that are just too small still to ride some of the thrill-seeking adventure rides!
Make a reservation at Mythos
This next tip for Universal Studios is for anyone looking to try the best-voted theme park food in the world!!
Mythos Restaurant located in Islands of Adventure in Orlando has been crowned as the best theme park restaurant and food in the world! With this title, you can imagine that lines get pretty long and the demand is high.
We showed up on our first day in the park to eat here and there was a 40-minute wait, not bad but I'd rather save that time waiting for a ride, not food.
It turns out you can make reservations here! You can either do it in person or call in advance to secure a reservation starting as early as 11:00 am until closing at 9:00 pm.
Every time we showed up there was a long wait, don't let that slow you down and be sure to make a reservation.
The food is great, we really love the Mediterranean/Asian fusion fare they served here in their themed restaurant that makes you feel like you're in Posideons underwater lair!
Buy your Harry Potter gear before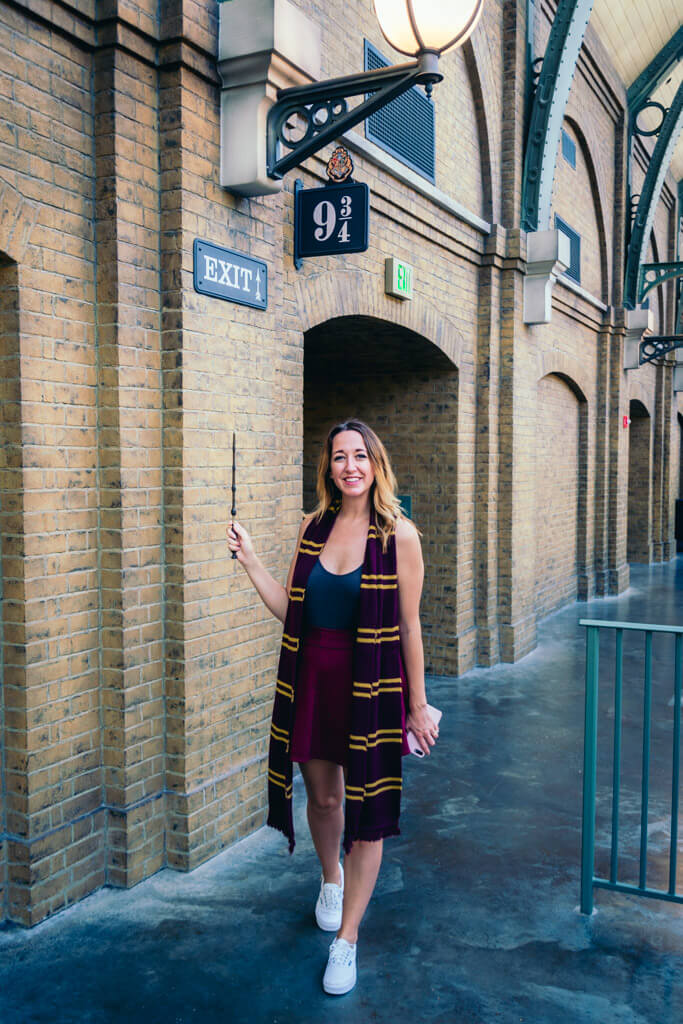 On our very last of our tips for Universal Orlando, I should have taken my own advice. I kept saying I won't buy anything in the Wizarding World of Harry Potter, then when I went in I fell head over heels in love with the whimsy of the place and wanted to be full Harry Potter mode 110%.
I would have bought it all, and I can imagine how hard it would be for parents taking children seeing all the amazing Harry Potter merchandise and all the other kids wearing it around the park and how difficult it would be to tell your child no.
I was that child and Scott was my parent, except I'm in my 30s. I wanted ALL the HP gear. I ended up with a wand and a scarf which ran almost $100. That's a lot.
And what's worse is there's a ton of other amazing items you can purchase from candy, capes, and of course butter beer. So to save yourself some money, get some of your Harry Potter gear in advance so you won't be as tempted to buy in the park and spending a small fortune on cosplay because honestly when you're in the park you want to be a part of the Wizarding World.
You may want to get the interactive wands in the park that let you cast spells at certain locations inside the park!
Be sure to click on the Amazon links to see the different options. Not all of the items are only for Gryffindor, the other houses are available to.
---
Found this post about the best tricks & tips for Universal Studios Orlando helpful? Bookmark for later or share the love below on Pinterest!