Los Angeles may have some of the best beaches of all the major U.S. cities. Each of the LA beaches in this guide offers something special, unique, or have a great location for exploring all the best things to do in Los Angeles.
Perhaps the best thing about Los Angeles beaches is that because of California state law, all LA beaches are public property meaning anyone can enjoy them. While some LA beaches are hard to access, the entire coastline is open to the public. From families to adventurers, this city has a beach for everyone.
If you find yourself frequenting any of the State Parks in California, which include many of the nice beaches in Los Angeles on this guide, you may want to invest in the annual State Park Pass to waive any parking fees. While this might not be a wise investment for a short vacation, if you're enjoying a California road trip or are a resident of the state, this can help you save a lot of money!
Oh, and if you need more help or guidance for planning your trip, be sure to check out our guide for how to spend 3 days in Los Angeles itinerary!
Top Beaches in Los Angeles
El Matador State Beach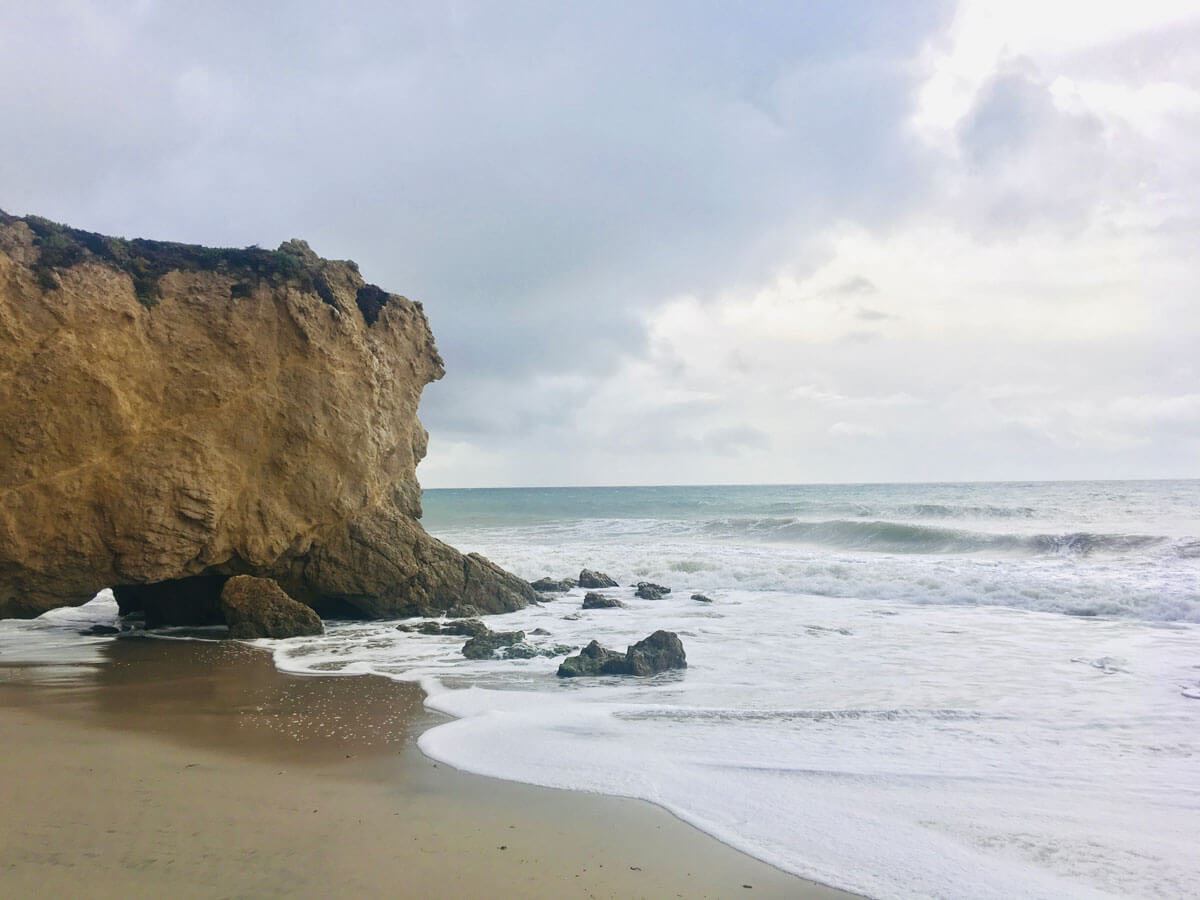 One of my personal favorite beaches in Los Angeles is El Matador, which is located not too far from the gorgeous coastline near Malibu and is one of three beaches within Robert H. Meyer Memorial State Beach.
El Matador is one of the best beaches in Los Angeles for photographers. It's a stunning sight to see and has rock formations and sea stacks that provide endless photo opportunities.
On the north end of the beach, you can explore caves and arches. For this reason, El Matador is a beach that's best to visit at low tide.
Connected to the base of the bluff lays a huge flat rock. At the bottom of that rock is a cave that looks out onto the ocean. You can also stop for a picnic on the bluff overlooking the Pacific Ocean. This beach is great for sunbathing, you can swim but be cautious of the rocks.
The visit this LA beach, you'll have to pay for parking in the small lot designated for El Matador Beach. Keep in mind on the weekends or on a gorgeous summer day this lot can fill up quickly. Alternatively, there is some street parking along the PCH for free – but these are also limited and you may have to walk a bit, just be careful of traffic if you do this.
Getting to the beach you'll need to go downstairs and unfortunately is not accessibility friendly.
Santa Monica Beach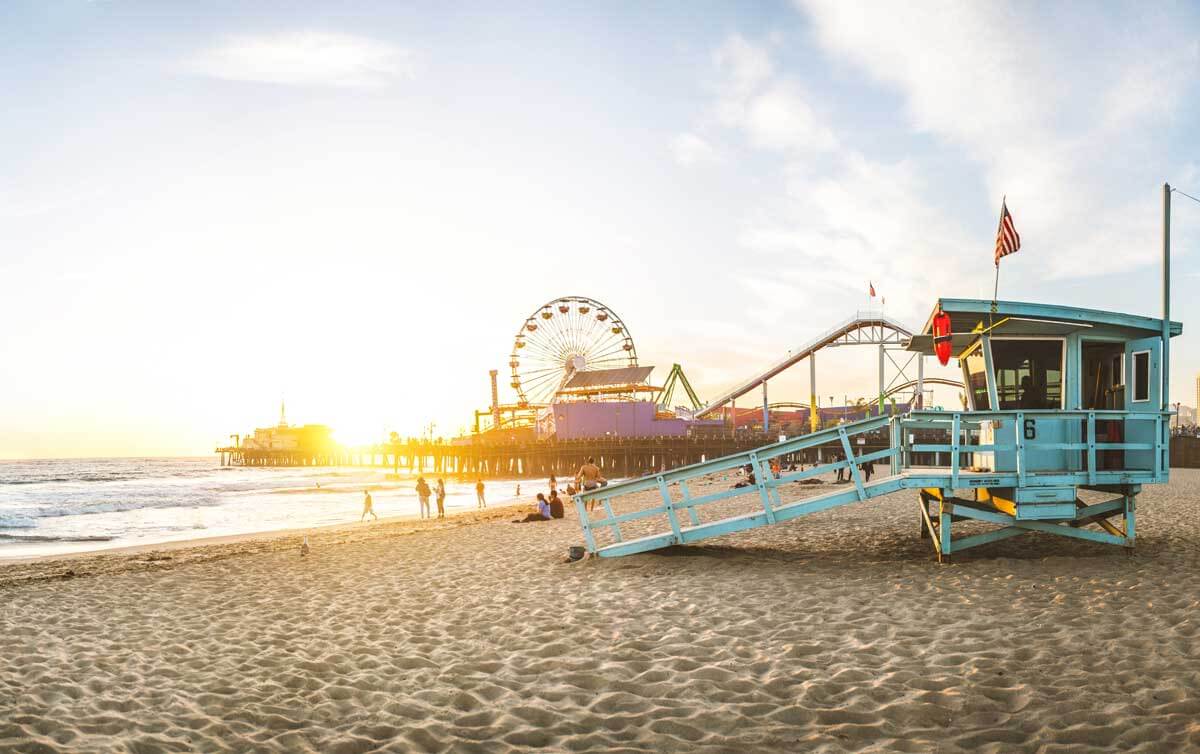 Just west of Downtown LA, Santa Monica has become one of the best beaches in Los Angeles. It's world-famous and an ideal example of what happens when you mix the beauty of the coastline with entertainment and attractions for the whole family.
You can lounge on the beach near the pier, bike or walk down a bit further on the beach, or even enjoy the view of the beach from the greenspaces on the bluffs overlooking the beach.
Santa Monica Beach also boasts bike trails, walking paths, and bike rentals. The beach is 3.5 miles long and is home to legendary hotels like Shutters on the Beach and Hotel Casa del Mar.
The area features other attractions like the Annenberg Community Beach House, which has a historic pool, dedicated play area for children, stunning views, and a beach cafe.
It's even the home of the original "Muscle Beach," not to be confused with the famous one nearby at Venice Beach.
What makes Santa Monica one of the top beaches in Los Angeles is its iconic pier. The pier has the Pacific Park Amusement Park with tons of thrill-seeking rides and games for the whole family. It also has many restaurants and street vendors. Not to mention there are tons of dining options and other fun things to do in Santa Monica just steps away from the beach!
Venice Beach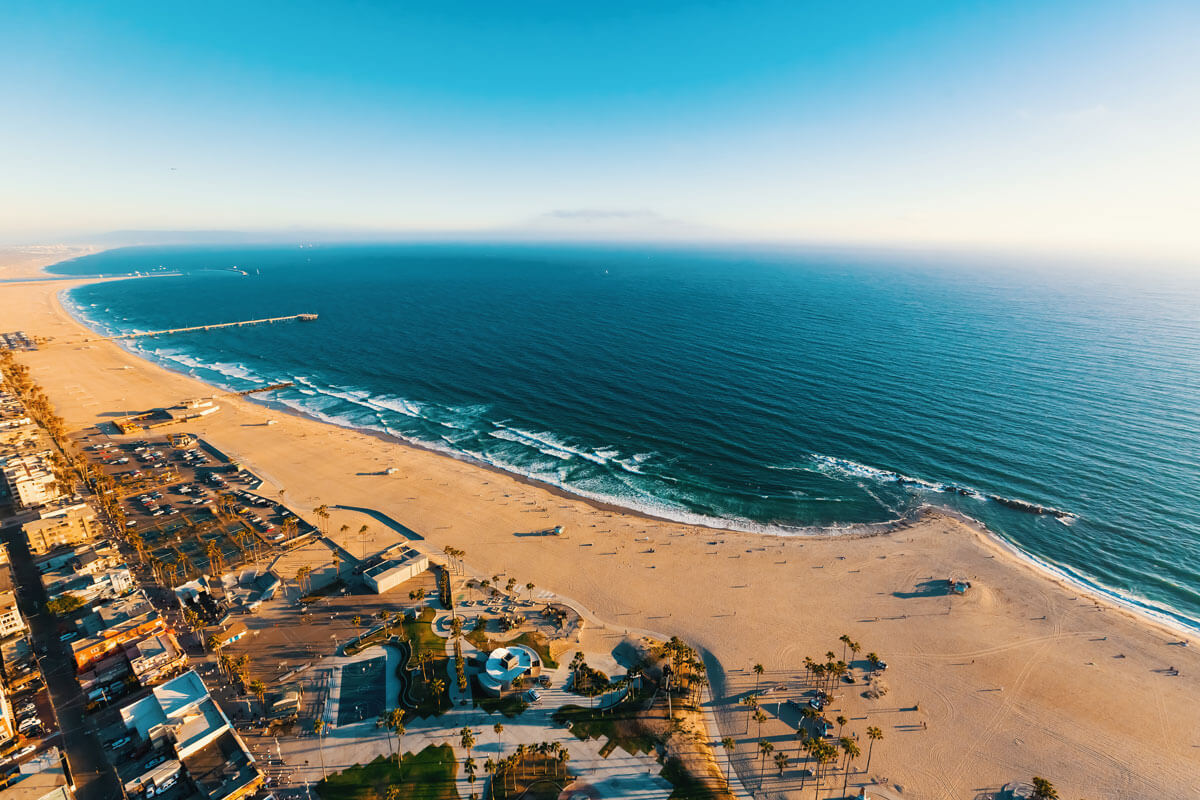 With an estimated 30,000+ daily visitors, Venice Beach is easily one of the most popular and top beaches in Los Angeles. It an icon and attracts visitors from all over the world.
Its boardwalk, also known as the Ocean Front walk, is the second-most visited destination in Southern California. It has an average of over 10 million visitors per year and with so many cool things to do in Venice Beach, we get it.
Stretching over two miles long, it's home to a skate park, sports courts, and other amenities including the famous Muscle Beach that the Terminator (Arnold) himself worked out at.
Venice Beach has hundreds of vendors along its two-mile coastline. There are street performers, food vendors, and gift shops down the boardwalk. Families can visit the two dedicated play areas for children or rent bicycles to ride down the boardwalk.
Another thing that makes Venice one of the best beaches in Los Angeles is its fantastic restaurants. Lastly, Venice is home to several canals, which is the reason for its name. The canals lead right into the ocean and have beautiful homes and store boats all along their sides.
Not to mention, this LA beach is great for learning how to surf! You can join a group surfing lesson or book a private 2-hour surfing lesson to learn the ropes at this popular west coast water sport!
Leo Carrillo State Beach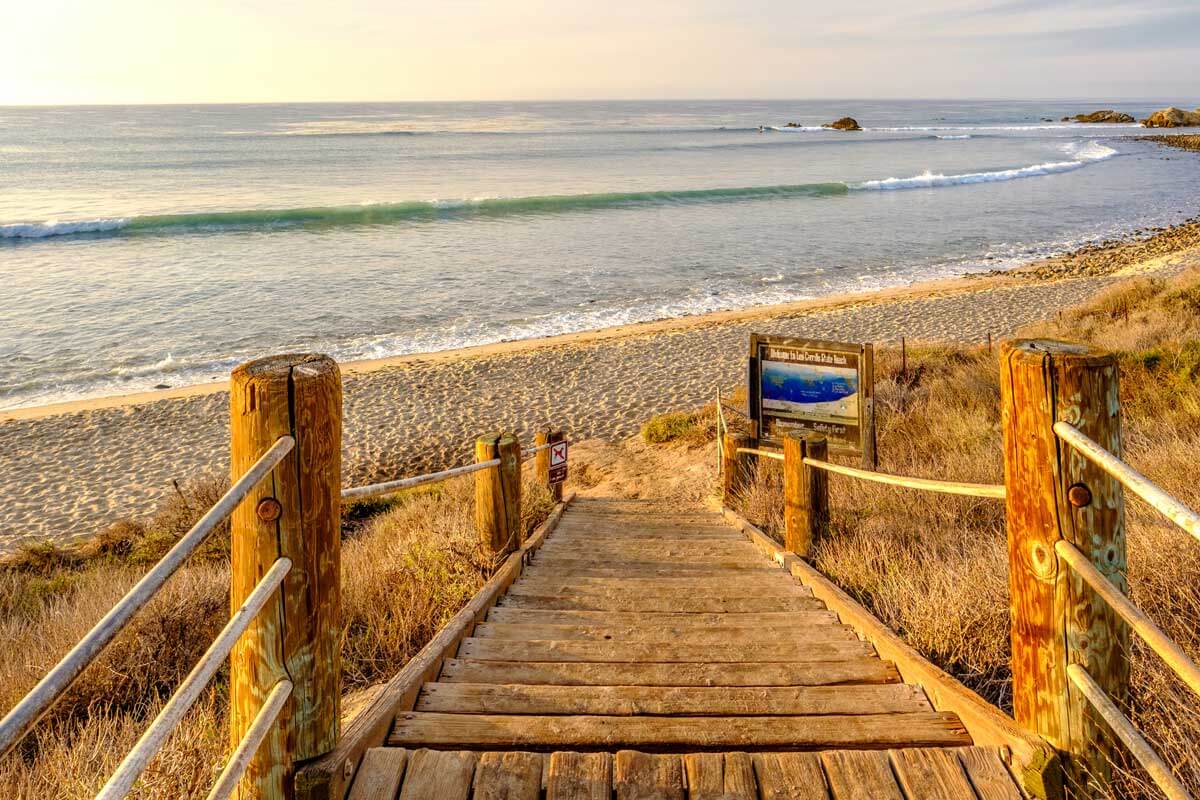 Leo Carrillo State Beach is one of the most beautiful beaches in Los Angeles. It's named after the revered actor, preservationist, and conservationist. For 18 years, Carrillo served on the California Beach and Parks Commission.
Stretching 1.5 miles long, this popular LA beach is home to tide pools, reefs, and picturesque coastal caves. These locations are best explored during low tide. There are also campgrounds on the property, and the park often hosts field trips, junior ranger programs, and campfire programs.
Located in Malibu, this beach is dog-friendly and family-friendly. Dogs are allowed on the beach on the leash, and there are several hiking trails you can bring your pup along for.
Visitors of Leo Carrillo State Beach can take their kayaks out onto the water, surf, and even go fishing––but make sure you have a California fishing license!
If you're looking to swim, keep in mind that there are rocks here along with many of the other beaches along the stretch of Malibu in Los Angeles. It's still a great place to swim, but just mind the rocks.
This beach is also accessible and they have beach wheelchairs available to check out.
There's a paid parking lot being a part of the state parks system, if you get an annual pass you can park at all the state parks and beaches for free! Otherwise, you can try your luck finding a free parking spot along the Pacific Coast Highway (PCH).
Zuma Beach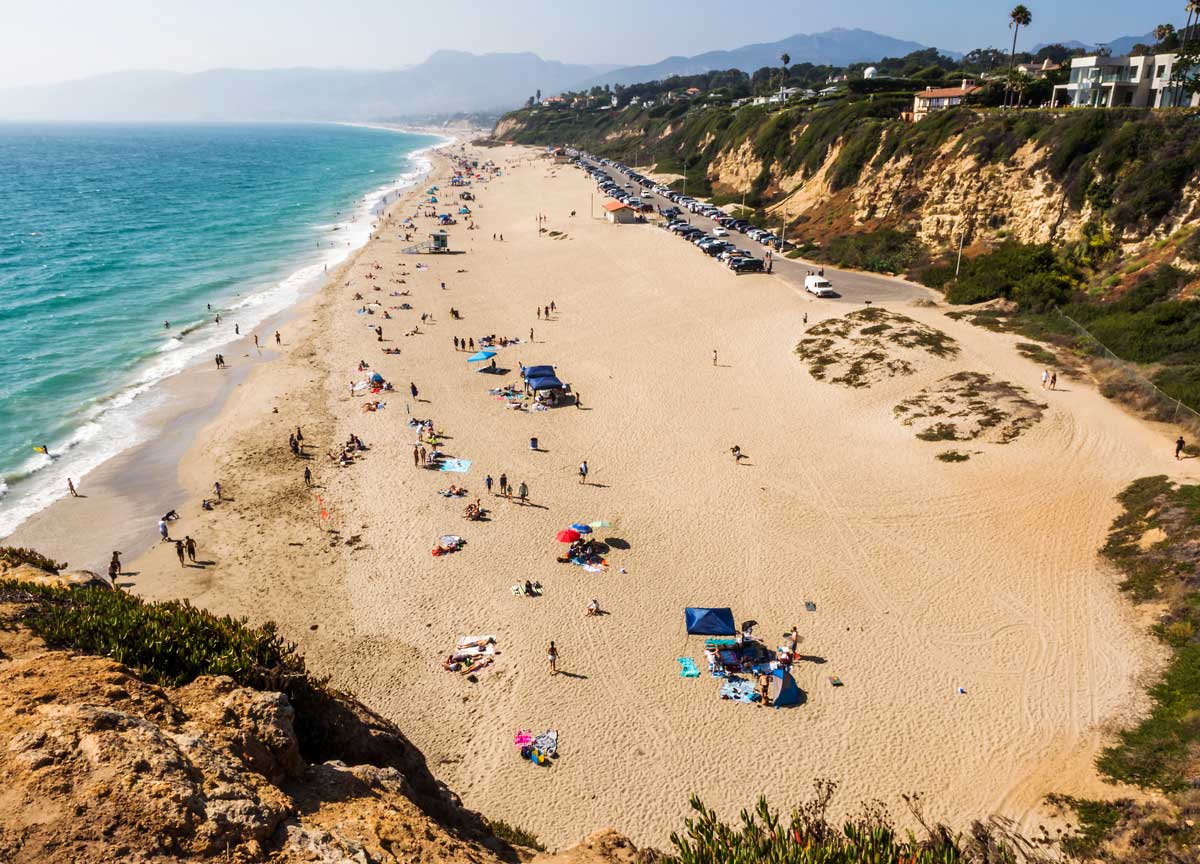 Zuma Beach is one of the most beautiful beaches in Los Angeles. It stretches for nearly three miles and is probably the most beloved beach in the area and one of the most famous things to do in Malibu.
Zuma Beach has snack bars, restroom facilities, and 14 lifeguard stands every quarter mile. It's a long, flat beach, perfect for your average beach day. It's large, very clean, and very comfortable for spending a day along the coast of sunny California.
There's plenty of street parking and a massive paid lot. Zuma Beach is also famous for its surfing and parasailing. Even during the colder months, you'll see surfers in wetsuits trying to ride one of those incomparable waves in.
Visitors can also play volleyball on one of the many courts on the beach. There are also biking and walking paths between the shore and the parking lot. Another thing that makes Zuma one of the top beaches in Los Angeles is that it's a great place to watch grey whales make their winter migration!
Malibu Surfrider Beach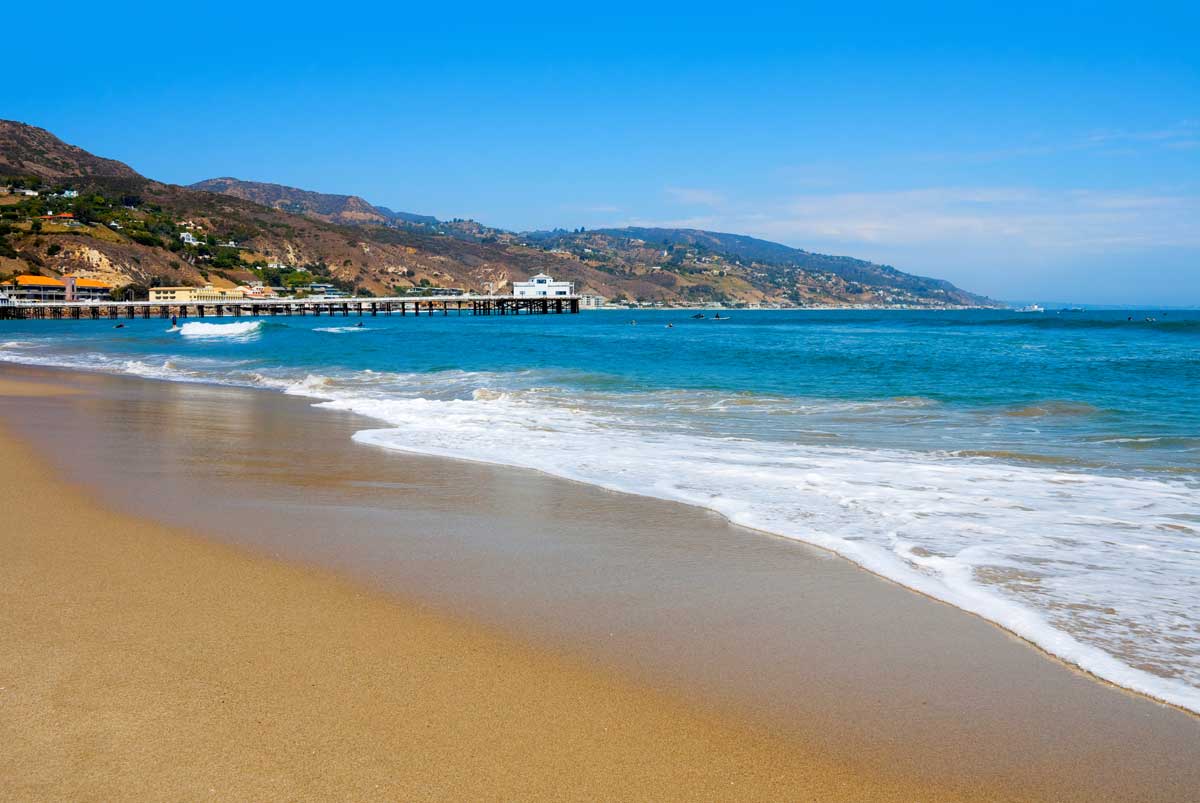 As you may have guessed by the name, Malibu Surfrider Beach is a premier surfing spot in Los Angeles. It's one of the most famous surf breaks in the entire country.
It was made famous by movies from the 1950s and 1960s and has remained a quintessential surfing destination for surfers worldwide. Because it's such a surfing-centric beach, swimming areas are limited.
It's a part of Malibu Lagoon State Beach and sits just between the Malibu Pier and Malibu Lagoon and is one of the lesser-known but incredible LA beaches. Malibu Beach stretches around a mile and you can check out the pier and the lagoon while you're here, Malibu Lagoon has wetlands you can explore and birdwatch at.
Keep in mind, while this is a famous surfing beach, the areas safe for swimmers is limited. This beach has paid parking, restrooms, and showers too.
Point Dume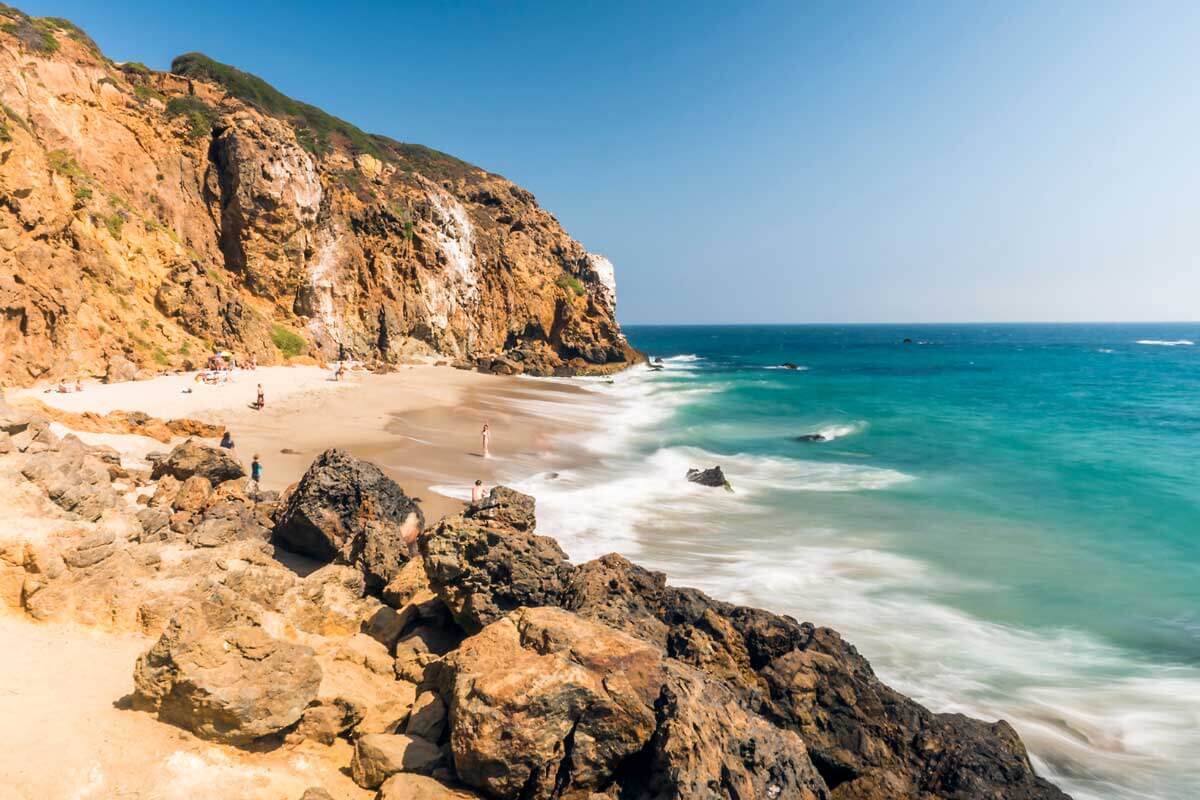 Point Dume is one of the most beautiful beaches in Los Angeles, located directly northwest of Zuma Beach in Malibu. It features rocky coves and cliffs and beautiful beaches you can spend all day at.
Its peak juts out into the Pacific Ocean. It's been the home of many famous movie shoots, including Iron Man, The Big Lebowski, and Planet of the Apes.
What makes Point Dume one of the best beaches in Los Angeles is Pirate's Cove. Pirates Cove is a hidden beach in a small cove on the west die of Point Dume.
At high tide, access can be tricky and even dangerous. It's best to visit during low tide when the beach is easier to access. A high rock separates the cove from the rest of the beach.
One thing to know about Point Dume is that dogs are strictly prohibited, unlike some other LA beaches.
Hermosa Beach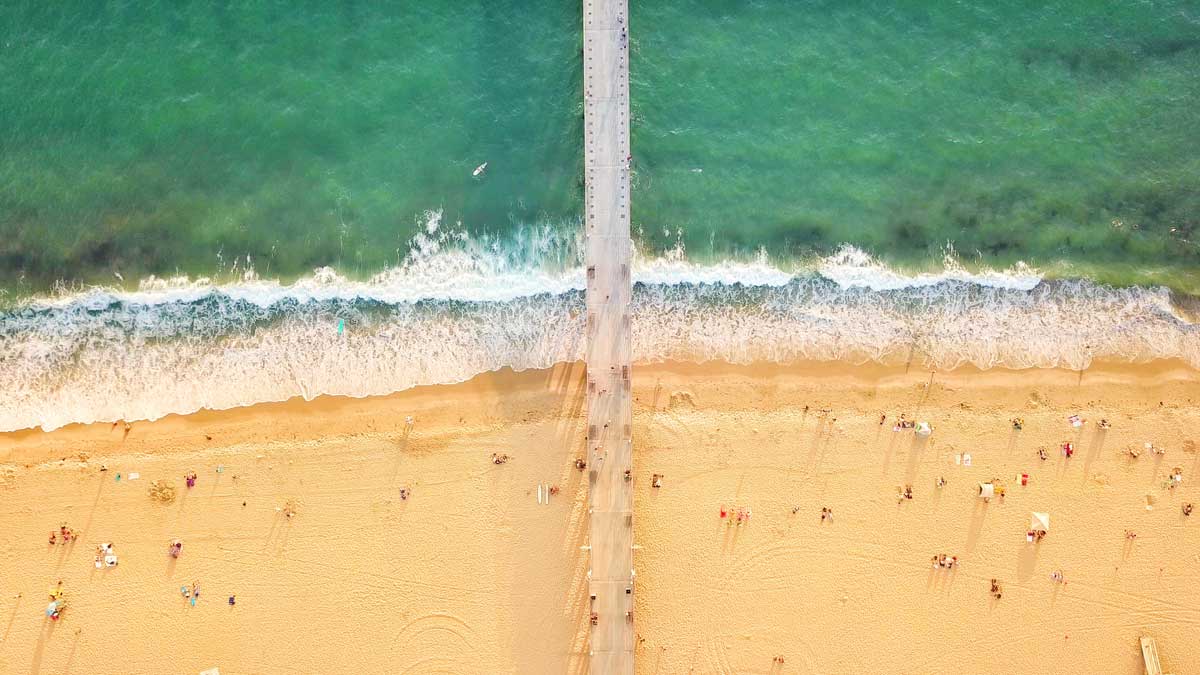 Hermosa Beach is one of the most popular beaches in Los Angeles and the entire county. Angelenos commonly refer to the area Hermosa Beach is in as the "South Bay."
Stretching nearly 2 miles, it's home to excellent surf, great swimming conditions, and several volleyball courts. There are both surfing, swimming, and volleyball competitions all year round.
It's far less formal than its neighbors, Manhattan Beach, and Redondo Beach. Like some of our other Los Angeles beaches, there's a walking trail and a bike path. Throughout Hermosa Beach, you'll also see residents and visitors riding beach cruiser bikes.
Not to mention, enjoying a day at Hermosa Beach is easy as you're just walking distance to all the great restaurants and shops along Pier Avenue.
Abalone Cove Beach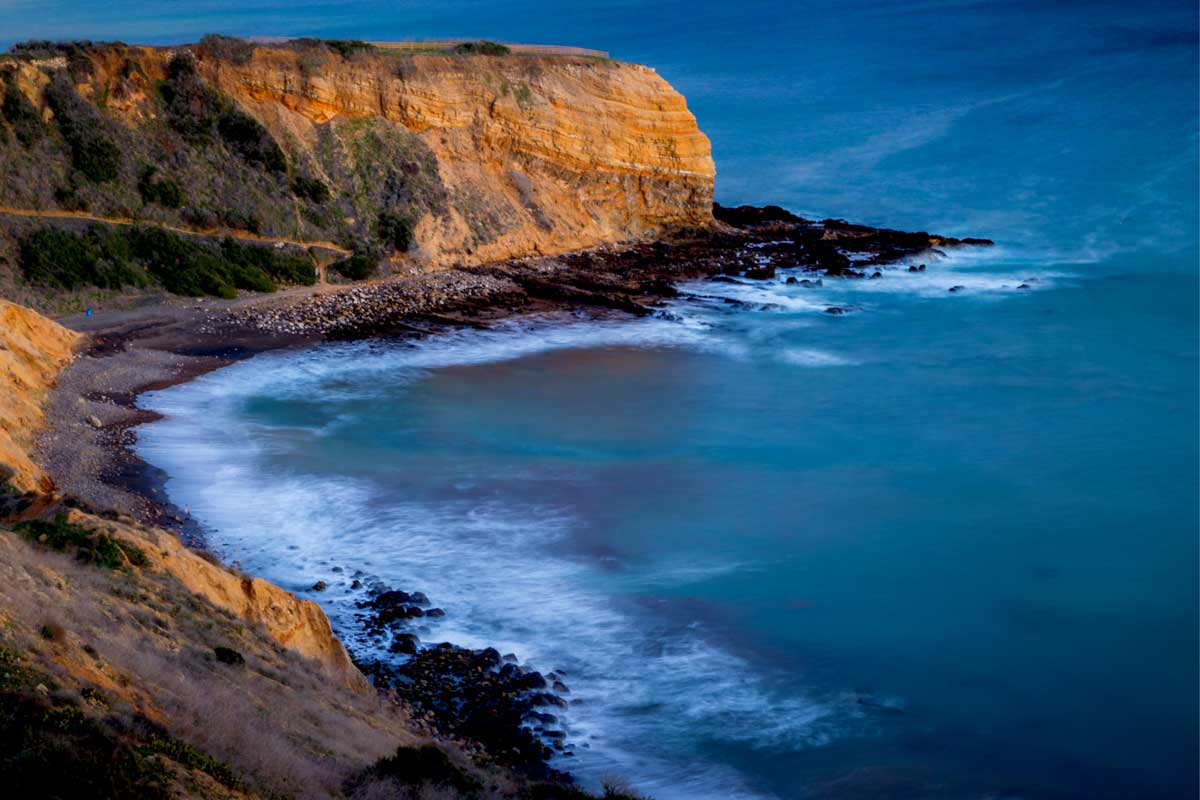 Though this is one of the more unique beaches on our list, it's still home to some of the most beautiful beaches in Los Angeles located in Rancho Palos Verdes. There are actually two beaches here, Abalone Cove and Sacred Cove. There are many nice beaches in Los Angeles for swimming and surfing, but Abalone Cove is unique in several ways.
One thing that visitors love about this beach is the tidepools. There are also several trails throughout the park. The park also contains a state ecological preserve that was put in place to protect endangered local marine life, including sea stars, sea anemones, and octopi.
Besides the tide pools and trails, there are picnic areas with benches and plenty of places to just sit back and enjoy the gorgeous coastal views.
If you're a fan of sea life and exploring, you're sure to find Abalone Cove Beach to be one of the most beautiful beaches in Los Angeles.
There is a paid parking lot here to access the beaches and trails, dogs are only allowed in the upper picnic area on leash and are prohibited everywhere else.
Point Fermin Park Beach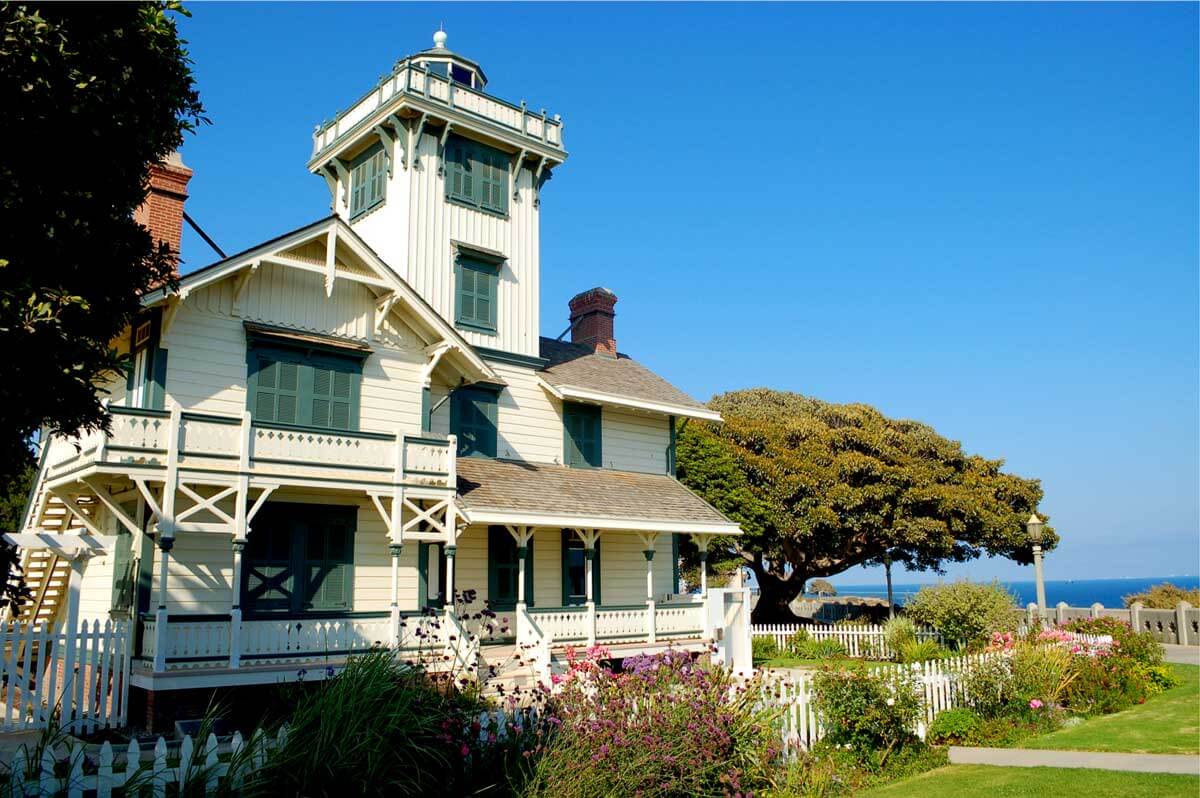 Near the entrance to LA Harbor and at the southern tip of San Pedro is one of the most dramatic of Los Angeles beaches. Point Fermin Park has many attractions and things that make it stand out compared to other LA beaches. It's a 37-acre park with a historic lighthouse at its center.
It's home to gorgeous trails, tidepools, and a fantastic view of Catalina Island. Visitors also notoriously love the smell of the fig trees found all over the park. While its not a sandy beach, this rocky beach is great for beachcombing and exploring the tide pools.
The Point Fermin Lighthouse was built in 1874 and served as a beacon for ships coming into San Pedro Bay. It's completely free, and guided tours are given by volunteers, though donations are encouraged. The architecture is reminiscent of the early-Victorian style and features gabled roofs, horizontal siding, and hard carved porch railings.
There are restrooms, picnic areas, and playgrounds for kids making it a great picnic spot or place to come and explore while getting views of the Southern California coast.
Manhattan Beach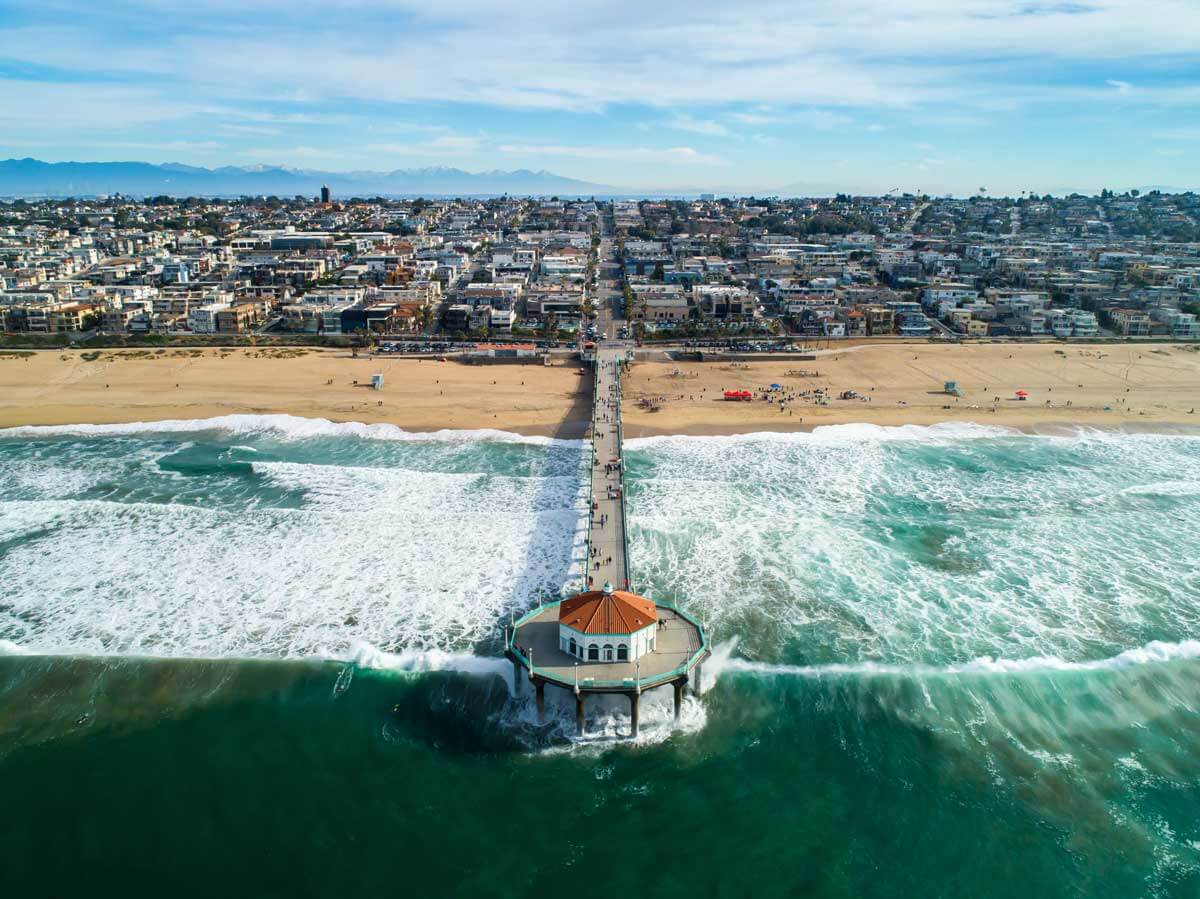 Manhattan Beach is another one of the nice beaches in Los Angeles that's especially popular on a beautiful day, especially the weekends and around the pier.
It's home to lots of shopping, fantastic restaurants, and a beautiful residential neighborhood. It has over 2 miles of ocean frontage and remains a popular destination for swimmers and surfers.
Near the northern end of Manhattan Beach is El Porto Beach ––a popular surf spot where you can even take lessons. Manhattan Beach also boasts a 900-foot long pier at the end of the main boulevard.
Fishing is permitted all year round on the dock. The beach has tons of volleyball nets and space for other beach games. It's one of the best places to view the sunset as well. Visitors love that Manhattan Beach is one of the cleanest Los Angeles beaches and enjoy the proximity of being able to eat at many locally-owned restaurants.
Will Rogers State Beach
This beach is notoriously not as busy as its nearby beach neighbors including Santa Monica, Venice, and Malibu. Still, it's one of the top beaches in Los Angeles.
It's perfect for swimming and sunbathing and a great place for families. There are tons of volleyball courts and picnic tables. You can also find some good surfing and windsurfing spots. There's a playground with gymnastic equipment and paths for biking and walking.
The soft sandy beaches and nearly 3 miles of coastline are additional reasons it made our list of the nice beaches in Los Angeles.
This beach also has beach wheelchairs, bike paths, playgrounds, restrooms, and showers. There are also several paid parking lots.
Redondo Beach
Near Manhattan Beach and Hermosa Beach is another one of the best beaches in Los Angeles. Redondo Beach is one of those gorgeous sandy beaches you can do it all including standup paddle-boarding, fishing, boat rides, volleyball courts, surfing, and more including sunbathing and swimming stretching 1.5 miles along the coast.
On the Redondo Pier, you can even catch concerts. There are dozens of shops, including a candy store, a florist, souvenir shops, bait-and-tackle spots, and vintage clothing stores. Known as the "endless pier," the Redondo Beach pier was built in 1888 to handle the growing lumber trade from the Pacific Northwest.
Though it's become somewhat of a tourist attraction over the years, there is still a strong, tight-knit community made up of families who have been there for generations. Redondo is one of the most beautiful beaches in Los Angeles.
You can find parking near the pier and along the street. You can also check out South Redondo Beach which has similar amenities and the man-made Seaside Lagoon is also right here and great for swimming, especially with young ones.
Dockweiler State Beach
Dockweiler State Beach is another one of the top beaches in Los Angeles. Perhaps the most notable attraction of Dockweiler is its "fire rings." These fire pits are set up all along the beach and are free to use for visitors. Just bring your wood and some blankets, and you can stay as long as you like.
The beach stretches over three miles and has great facilities for a day at the beach including restrooms, picnic areas, and volleyball courts in addition to the fire rings.
There's also a long beach bike path which many also use for rollerblading and jogging. Shore fishing and jetty fishing are both very popular at Dockweiler State Beach. The two jetties provide ideal fishing conditions.
If you're traveling via RV, you've just found what you're sure to think is one of the best beaches in Los Angeles. There's an entire RV park with 118 hook-up spaces. This is just another reason Dockweiler is one of the top beaches in Los Angeles.
One thing to note is that looking west at the ocean is very beautiful, but behind you you'll find a water reclaimation plant. So if you're looking for something a little more picturesque, it's good to note that this beach has that water treatment plant facility along the coastline too if that impacts your decision on which LA beach you pick.
And like all the state beaches, the parking here has a fee.
Lunada Bay Beach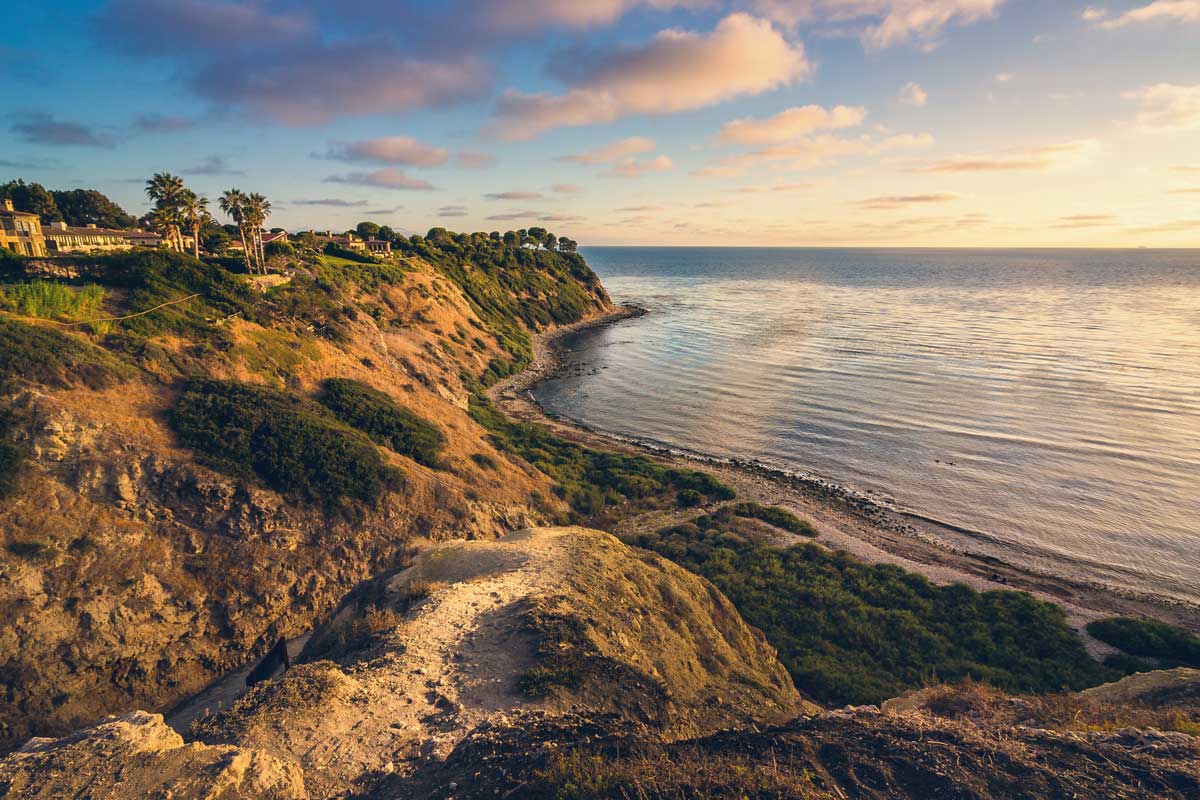 last on our list of nice beaches in Los Angeles is Lunada Bay Beach. This is truly one of the most beautiful beaches in Los Angeles. This is the hidden gem of Los Angeles beaches and offers magnificent views of Catalina Island on a clear day and the bay.
The beach is a bit rocky and is home to some of the most beautiful tidepools, best visited at low tide. Lunada Bay Beach is probably most famous for its surfing. It's one of the premier big wave spots of all the Los Angeles beaches and really not meant for beginner surfers, but fun for spectators.
Located in Palos Verdes Estates, you can find street parking to find the access trails that take you down the steep pathway down the bluffs to the beach. This pathway isn't the best for those who might have trouble on a rocky, exposed trail as its considered a little difficult. Just something to keep in mind before planning a visit, the best route down to the beach is either from Oakley Road or Avenida Mirola across from Paseo Del Mar.
This beach is best for beachcombing, watching surfers, and there's also the SS Dominator Shipwreck which was a freighter ship that crashed ashore in 1961, all that's left is the rusty shell remains that can be seen on the north end of Lunada Bay Beach.
---
There you have it, Los Angeles has some of the most beautiful beaches in the United States and some of the most unique beach landscapes as far as major cities go.
Be sure to also check out our other helpful guides for your visit to Los Angeles including the best day trips from Los Angeles and best viewpoints in Los Angeles.
If you found this guide helpful, consider bookmarking for later and sharing the image below on Pinterest.