Looking for the most romantic getaways in Upstate New York? We got you! Over the past few years we have been taking advantage of all the amazing towns in New York, natural wonders, and places to visit in this gorgeous state.
There's no shortage of places where you can have a romantic escape from the mountains of the Catskills and Adirondacks to the Finger Lakes for waterfalls, wine, and lakeside views. Not to mention beach getaways in the Hamptons.
In this guide, we will cover some of the most incredible romantic getaways in New York you won't soon forget. We will give a little background on the destination, what there is to do there and nearby, plus suggestions of where to stay.
Disclaimer: This post contains commissionable links.
Romantic Getaways in The Catskills & Hudson Valley
Phoenicia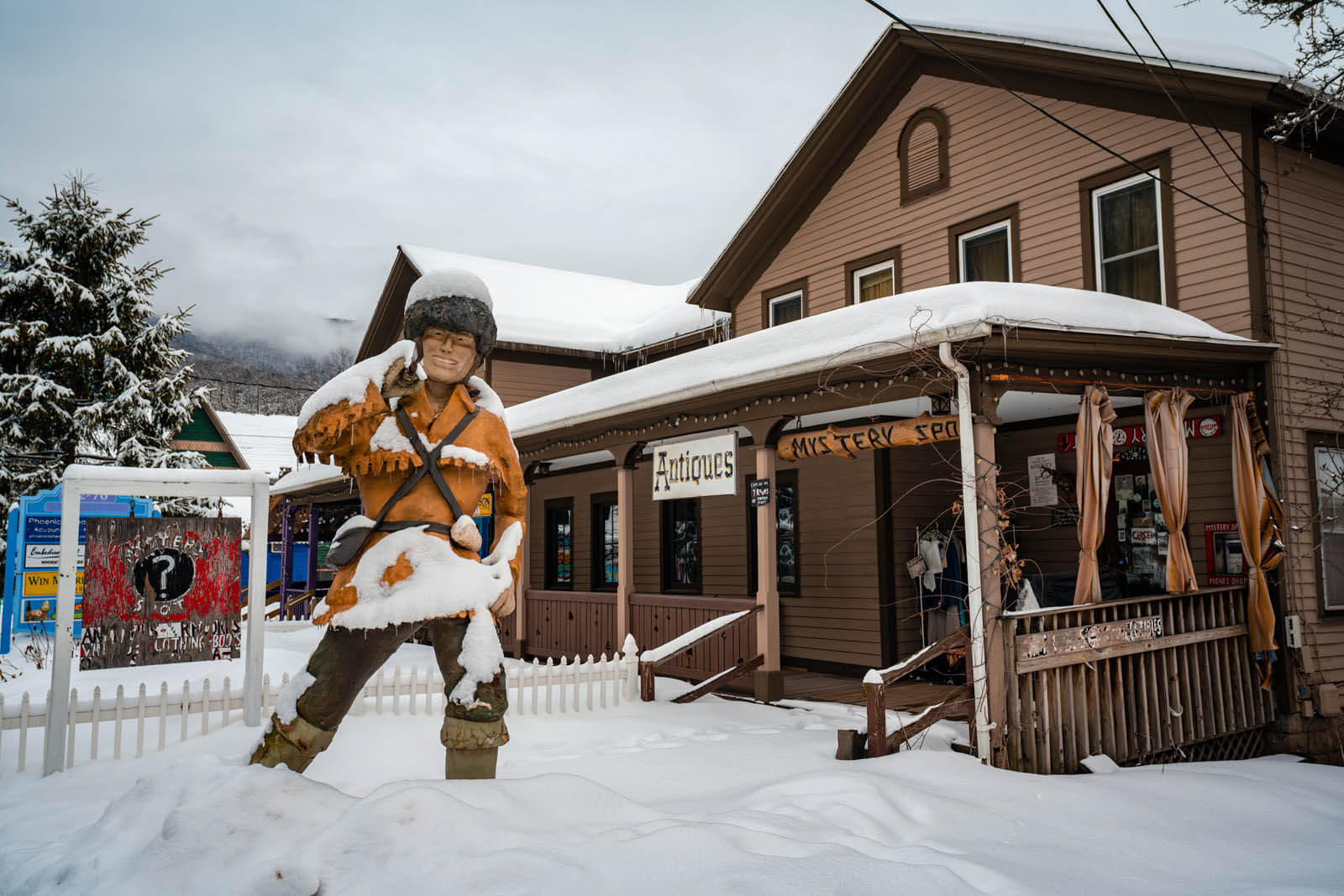 For the couple looking for romantic getaways in Upstate New York where you can get alone and just slow down, consider the hamlet of Phoenicia. It's a small, sleepy town nestled between three mountains in the heart of the Catskills in Upstate New York.
This is one of the coolest towns in the Catskills and has a long history going back to the late 18th century when it was settled by European farmers. The land was (and still is) huge for hunting and fishing. A railroad terminal was built in Phoenicia in the 19th century and the whole area became a vacation destination for city dwellers. While the station and railway were shut down by the 1980s, the town continues to be an epicenter for outdoor tourism in the Catskills.
Today, Phoenicia is known for having a wide variety of different kinds of accommodations from luxury resorts to private cabin rentals. There are amazing shops and year-round outdoor adventures that a party of 2 can enjoy.
Things to Do in Phoenicia on a Romantic Getaway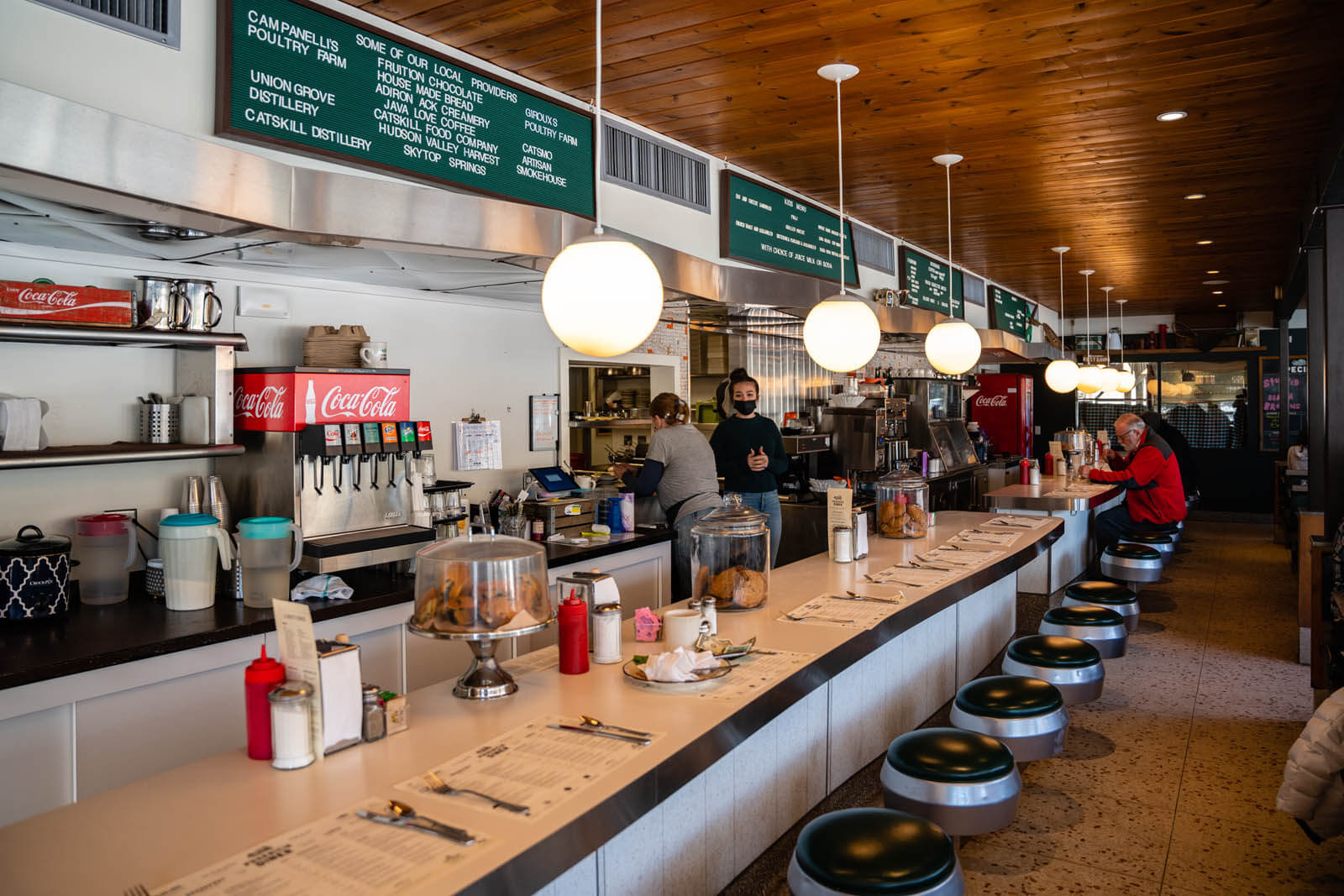 Especially in the depths of a snowy winter, there's something so cozy about exploring this old town with your love. Peruse old storefronts for antiques, home goods, and camping gear. Spend an afternoon watching the snow fall while you talk over a hot coffee at the classic Phoenicia Diner.
In the summer, there are so many things to do for an adventurous couple. There are wilderness areas on every side of the small town with trailheads. And Esopus Creek runs through the middle of everything. Ride a fun foot-powered car on the old railroad tracks 8 miles along the creek with Rail Explorers USA!
For one of the most unique things to do in the Catskills head to the World's Largest Kaleidoscope at Emerson Resort! There's a 15-minute Kaleidoshow where you can lean or lay down watching a mind-bending show with your boo.
Where to Stay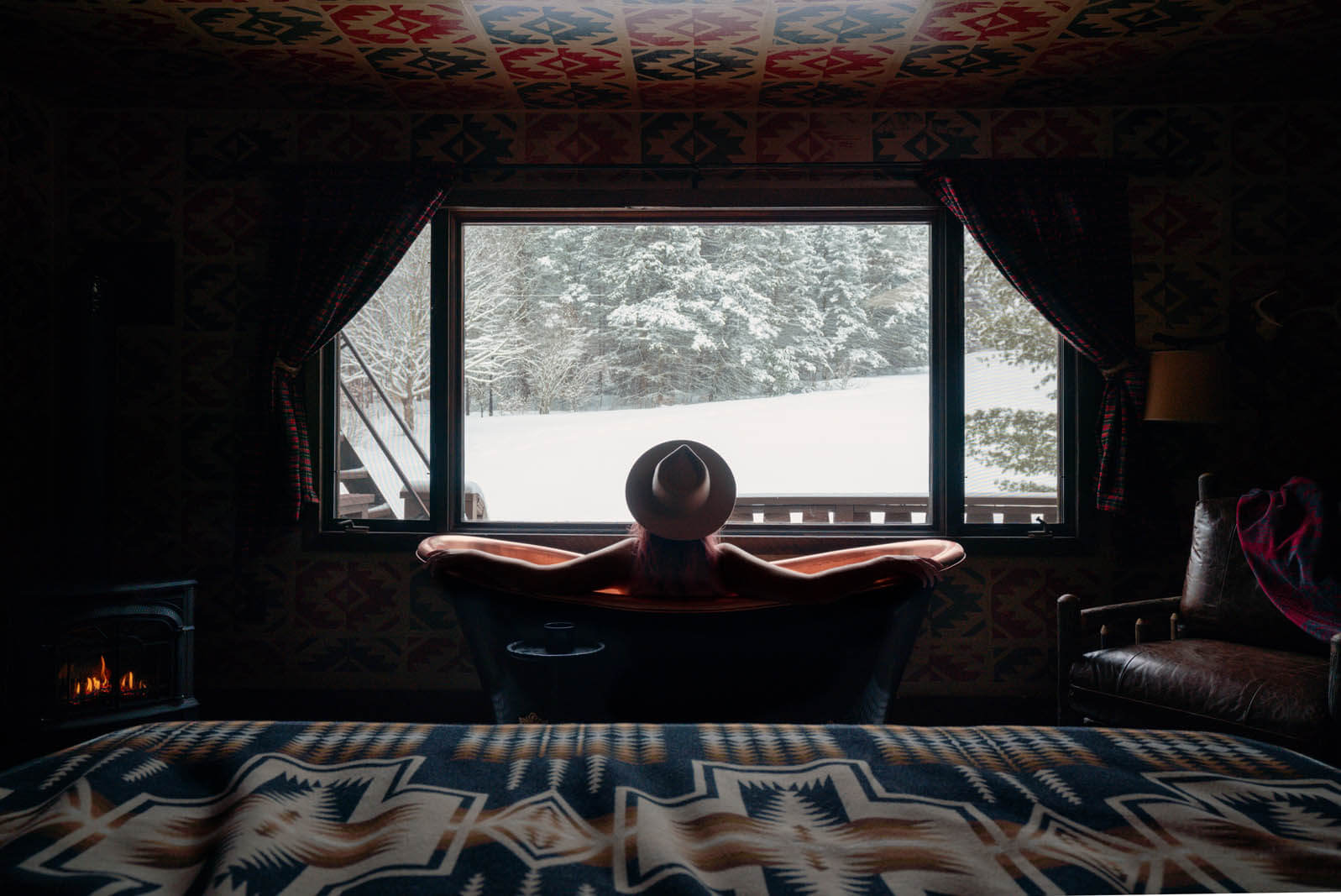 When we visited Phoenicia for a Catskills winter getaway, we stayed at Urban Cowboy Lodge in Big Indian, which is a short drive to Phoenicia. We absolutely loved it and hope to return soon. There are no TVs in the rooms, and it's the perfect setting for a couple to relax and unwind.
Urban Cowboy Lodge is actually an old Bavarian Lodge turned modern, luxury interpretation of a wilderness lodge. All the interiors are stunning and textured with sleek modern touches. Book the Alpine Bathing Suite like we did to enjoy the gorgeous old-fashioned clawfoot tub with a copper lining. Start the fireplace nearby and take a deep breath as you stare out the oversized window with views of the snowy forest outside.
Another option in Phoenicia is Emerson Resort & Spa, one of the most popular and well-known luxury properties in the area that's also a great choice for a romantic getaway in the Catskills!
Roxbury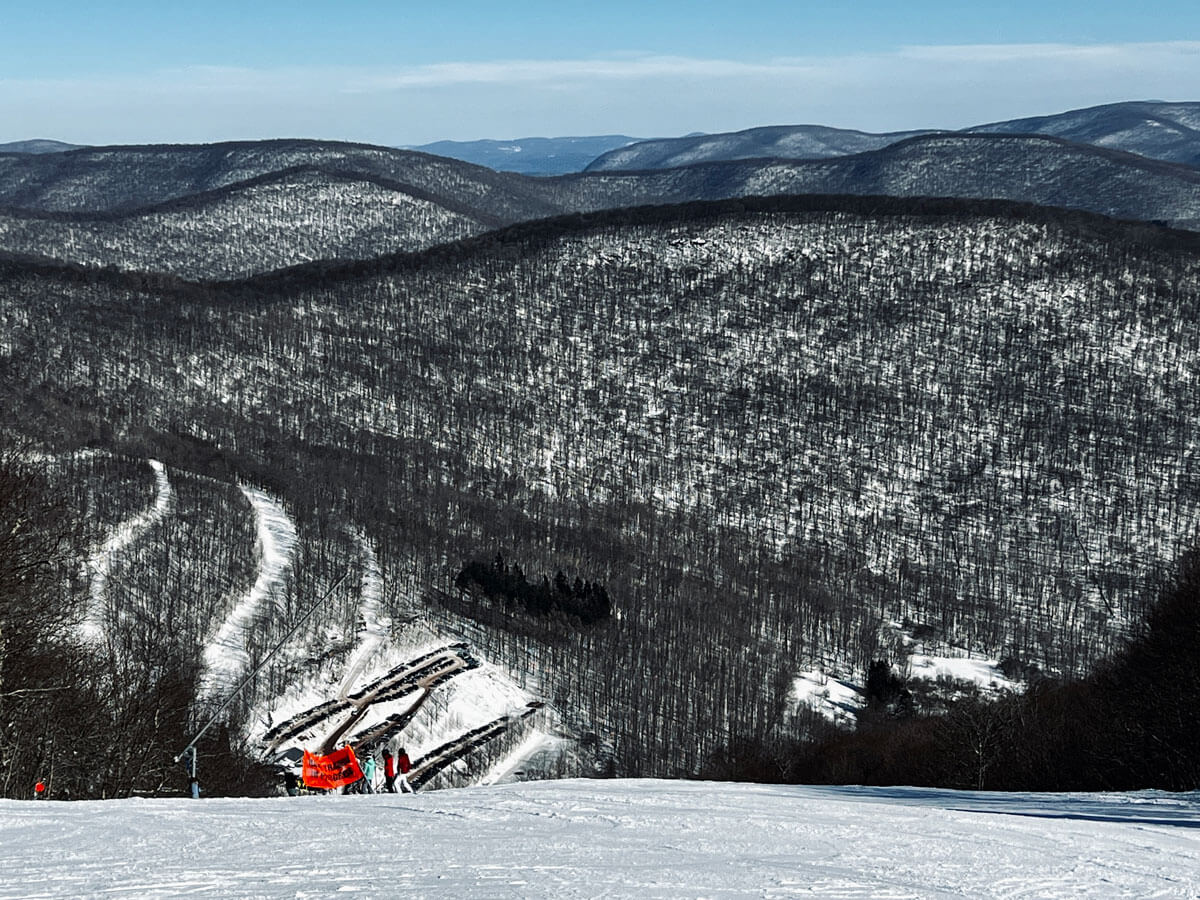 Roxbury, New York is the kind of place you think of when someone mentions a trip to the Catskills. The town is over 200 years old and has been wonderfully preserved. You can visit several historical sites along Roxbury's Main Street, including churches, schools, and private homes. It's the perfect getaway for lovers of nature and Americana.
In fact, Roxbury is famously home to nature essayist, John Burroughs. The mountains around the hamlet inspired dozens of collections of essays and when you visit, you'll understand! Roxbury is surrounded by lush forests and winding ponds and creeks that all fit around several different high mountains. It's the perfect place to get away from it all.
Things to Do in Roxbury on a Romantic Getaway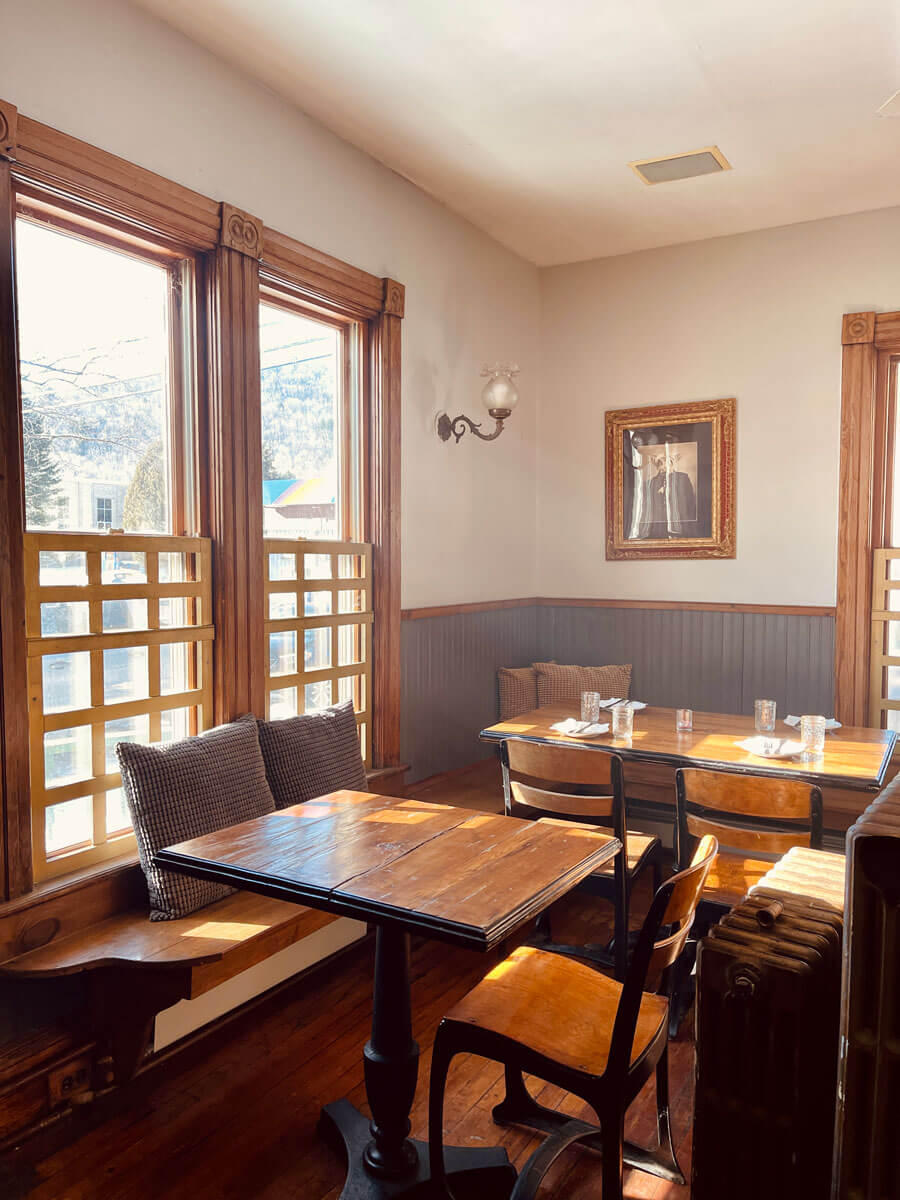 A few minutes outside Roxbury is Plattekill Mountain, a small ski resort that's perfect for a winter getaway in Upstate New York. This family-owned ski mountain has been serving the area for over 25 years. Today they boast 38 different trails for everyone from beginners to expert skiers, as well as 4 lifts, a terrain park, and a tubing park! (Something to keep in mind, this mountain has more narrow trails that go through the forest in case you're a newbie at snowboarding like me – it was a little more challenging than I anticipated!)
You can book a private lesson for 2 with one of their instructors for both skiing and snowboarding. And when you're done, make sure to visit the lodge. There's a cafeteria and a bistro, but the real gem is the ski bar! They keep microbrews on tap, and there's just a casual, friendly vibe that will make you want to stay and hang out not to mention it's one of the best options for skiing near NYC.
Something else that we love doing when we're in the area is going on scenic drives to covered bridges. Roxbury is within an hour of at least 6 of New York's historic covered bridges, including the Hamden, Fitches, and Downsville. You'll have a lot of fun hunting down these beautiful old bridges and taking pictures!
Also, head to Trattoria Locale, a quaint and incredible Italian restaurant in Margaretville near Roxbury for an intimate dinner experience to add to your romantic getaway in New York!
Where to Stay
If you've always wanted to stay at a themed hotel, this is the one. That's it. The Roxbury Experience is actually made up of 2 locations. The Roxbury Motel in Roxbury is a former motor lodge in town. It has fun, themed rooms like Rapunzel's Tower and The Wizard of Oz. It's what you'd expect, but elevated!
The Roxbury at Stratton Falls isn't too far south of town and includes a large estate with elegant, romantically designed rooms and interesting tower-themed cabins. Both locations have spas and hiking trails, and the Stratton Falls location includes a beautiful waterfall. For a more in-depth review of the Roxbury, read where to stay in the Catskills as this enchanting hotel is a perfect addition to any romantic getaway in Upstate New York in the Catskills!
Livingston Manor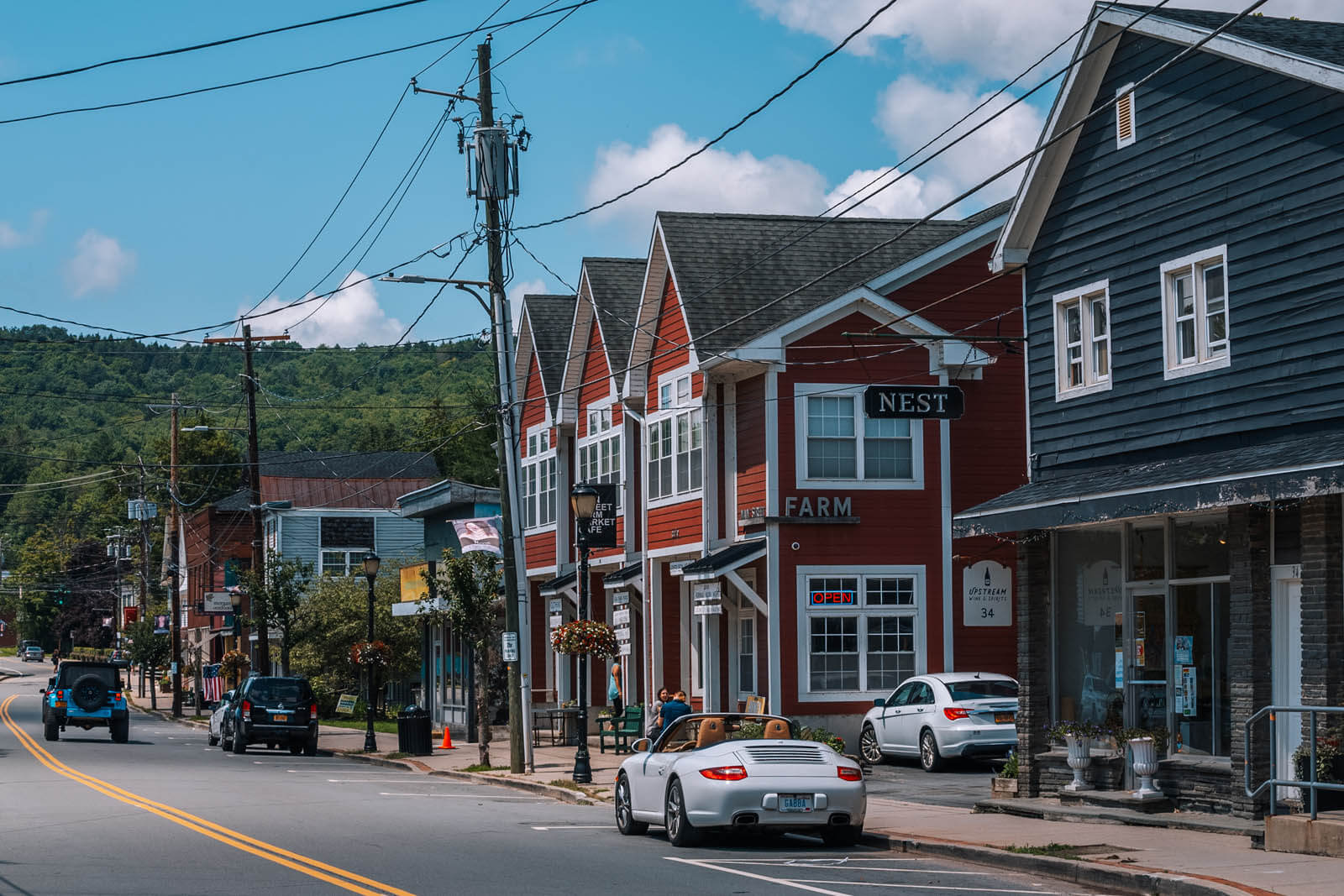 There's so much history in the Catskills' Sullivan County. Here, the hamlet of Livingston Manor made a name for itself as the backdrop for the upscale summer resorts that famously gathered New York's prominent Jewish community during the mid-20th century. But Livingston Manor is also a beautiful natural for outdoor activities and is known as the birthplace of flyfishing.
Today, many of the old resorts have been abandoned, while others hold on as romantic getaways in upstate New York. Enjoy an adventure for two in this historic, endearing town along with the neighboring town of Roscoe.
Things to Do on a Romantic Getaway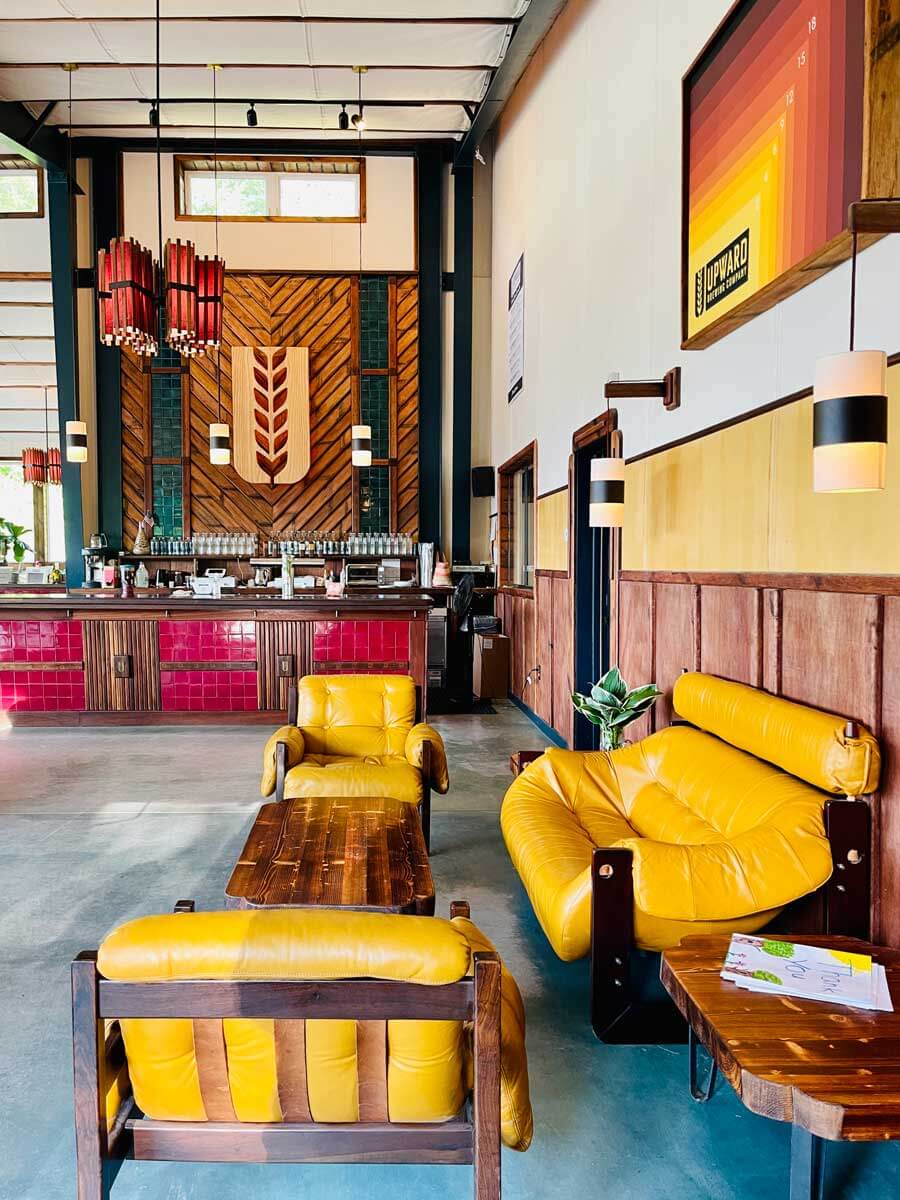 There are some cool things to do in Livingston Manor and the neighboring town of Roscoe. A must-do in Livingston Manor is a visit to Upward Brewery on Main Street. It's a super-chic brewery on the banks of a pond on a nature reserve. Hang out in the gorgeous taproom on MCM furniture or hang out on the patio with bonfires and live music. Or take a stroll further up Main Street where you'll find great shops and restaurants.
In Roscoe, stop by Do Good Spirits for a sampling of their in-house selection, Prohibition Distillery. You can also take a scenic drive to the Beaverkill Covered Bridge where you can picnic or relax next to the stream or just check out this cool bridge.
You could also take a short drive to Bethel. This is the site of a little music festival you may have heard of called Woodstock! If you come for a visit, don't leave without eating at Big Kev's BBQ nearby.
Where to Stay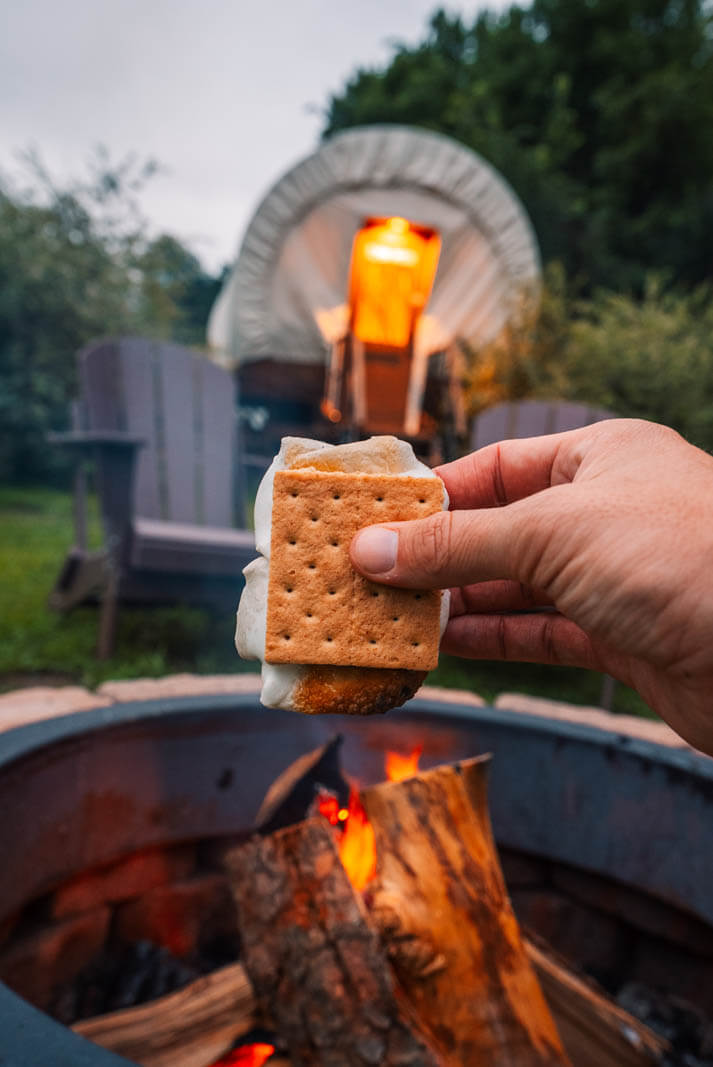 There are so many amazing places to stay that we love in Sullivan County. One of them is The Arnold House. It's the perfect setting for a romantic country vacation, set on 80 acres of undeveloped land on the side of Shandelee Mountain.
You can stay in rooms or suites in the main building or in cottages on the Arnold House estate. From the rooms to the public spaces, everything is so cozy and the perfect place to relax on your getaway. And there's always something going on here between events, activities, and tons of outdoor spaces for hiking and water sports. Also, there's a great restaurant called the Arnold House Tavern with a vintage feel and American classics.
If you're more into 'glamping' and unique experiences check out Roscoe Campsite for their covered wagon stays! We did a summer Catskills trip here and they were pretty luxe with air conditioning (they have heat in the winter) with wifi, TVs, fridges, and your own campfire spot! There are only a few covered wagons that share a really nice bathroom facility. So if you're looking for something a little different on your romantic getaway in the Catskills, this is a great choice!
Tarrytown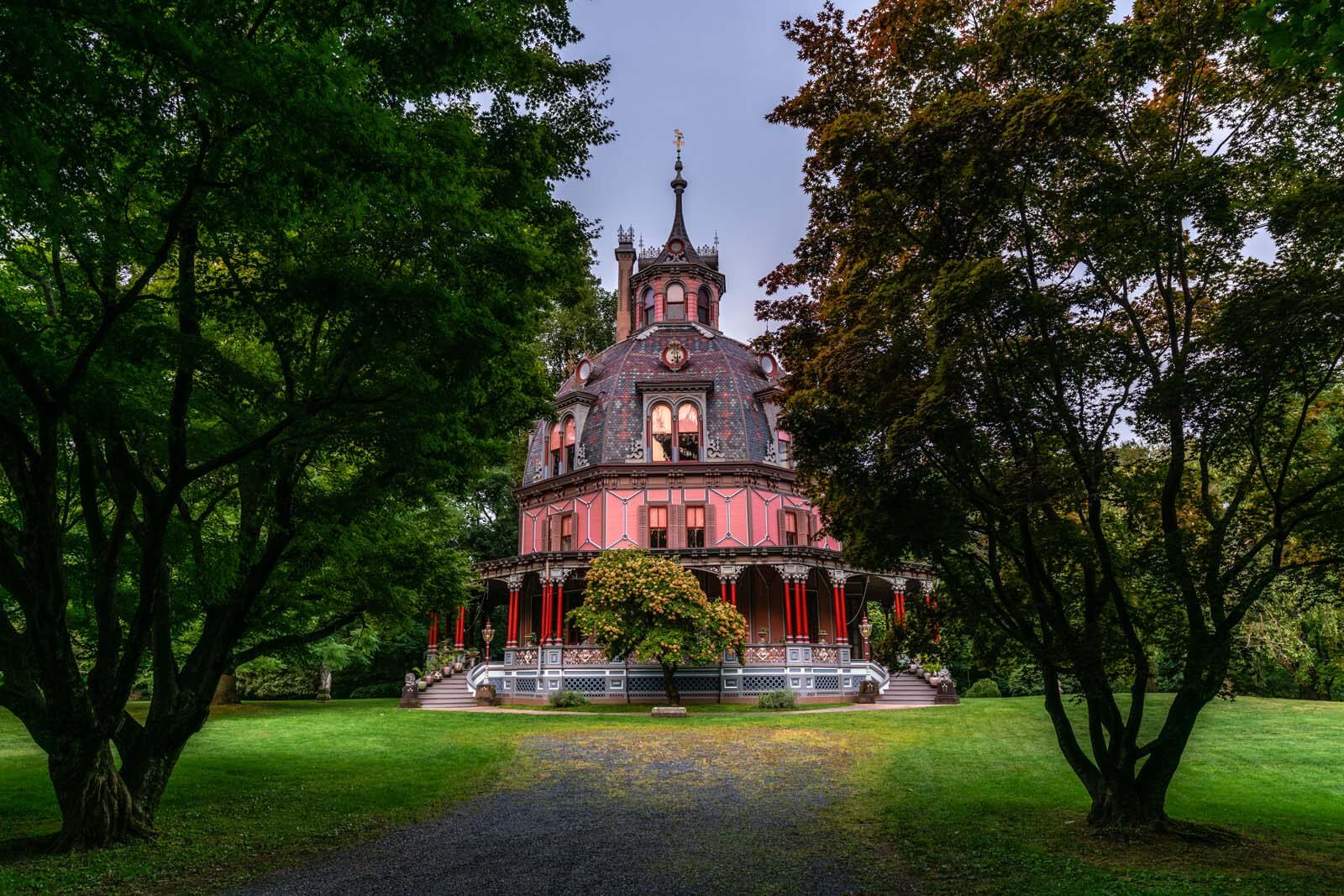 Tarrytown is set on the banks of the Hudson River, less than an hour from downtown Manhattan. Tarrytown and Sleepy Hollow are great for a visit year-round, but we love it in the fall, especially with the folklore around Washington Irving's Legend of Sleepy Hollow!
Long before the settlement of the Dutch settlement of New Netherland in the mid-17th century, Tarrytown was the site of the main camp of the Weckquaesgeek tribe. Then, it was an important outpost of fur traders and fishermen heading north. And the town played an important role in the Underground Railroad during the Civil War. And that's just the beginning of the historical significance of this village.
Over the years Tarrytown has been home to influential and wealthy New Yorkers, such as John D. Rockefeller, who had an estate nearby, in fact, many of the best manors and estates, not to mention coolest places to visit in the Hudson Valley, can be found around here.
Today, the town is thriving and especially popular in the fall. And it's absolutely gorgeous with wonderful restaurants and cool historic sites hugging hillside streets above the Hudson. There's no shortage of incredible things to do, see, and places to eat here which is why it's one of the most romantic getaways in Upstate New York. Plus there are many cool Hudson Valley towns to visit nearby too.
Things to Do on a Romantic Getaway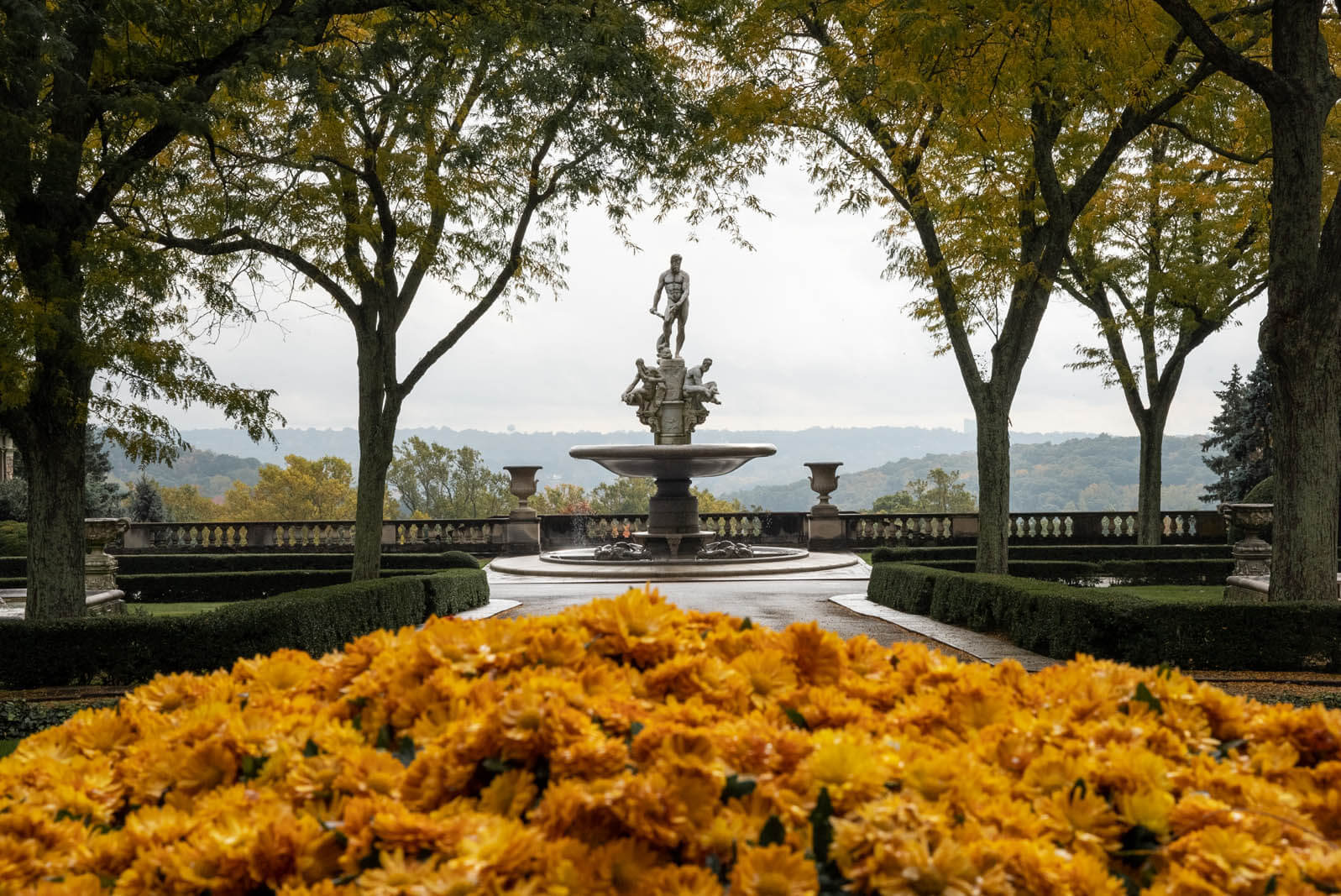 There are several historic estates that you can tour right in town, including the Lyndhurst Mansion, Kykuit a Rockefeller Estate, and Sunnyside where Washington Irving lived. There's also Villa Lewaro which belonged to the first Black woman millionaire. And in Sleepy Hollow you can hike the abandoned Rockwood Hall Estate and explore the ruins of the mansion.
If you're visiting around the fall, you'll want to get tickets to the Great Jack O'Lantern Blaze where there are over 7,000 illuminated, hand-carved jack o'lanterns on display, which makes for a really fun weekend getaway around the Halloween season in Sleepy Hollow.
For a nice stroll on your romantic getaway in New York you can visit the Scenic Hudson Riverwalk for great views of the Hudson River as well as the Sleepy Hollow Lighthouse.
For a romantic dinner, reserve a table at Goosefeather, the high-end restaurant at Tarrytown House Estate. The James Beard award-winning celebrity chef here serves up elevated takes on classic Cantonese fare. Try some Hong Kong-style dumplings and barbecue. The visit is worth it just to see the 4 stunning dining rooms with modern art painted onto the ceilings!
Where to Stay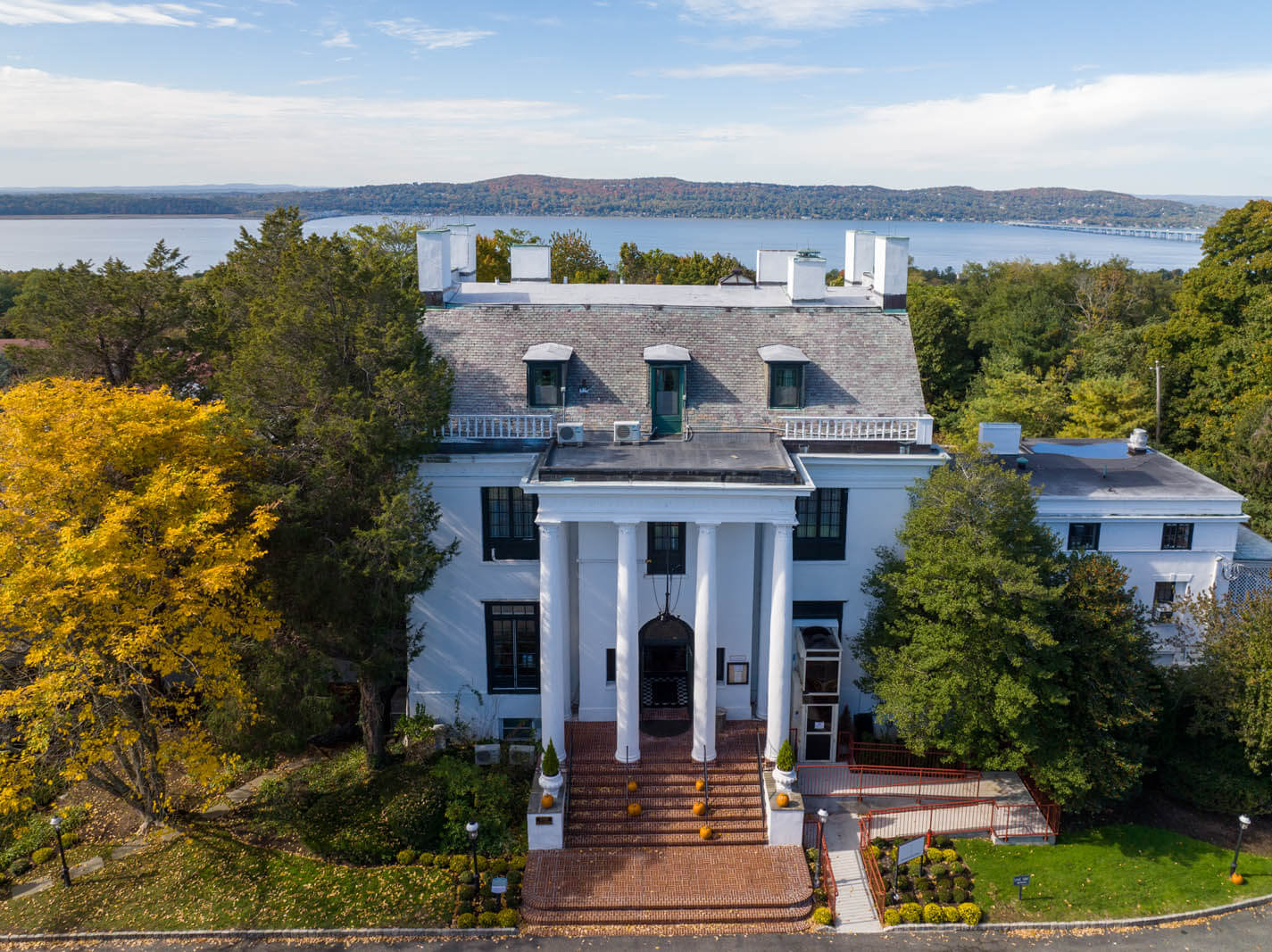 Built as a private summer estate in the early 1800s, Tarrytown House Estate has had many lives as it passed through the hands of some big movers and shakers in the United States! Today, the main building is called King Mansion because of its towering appearance.
The entire estate is absolutely gorgeous with a mix of traditional and contemporary design. Choose from over 200 top-notch rooms and suites, some with views of the Hudson River and the Manhattan skyline from your balcony.
Romantic Getaways in the Finger Lakes
Ithaca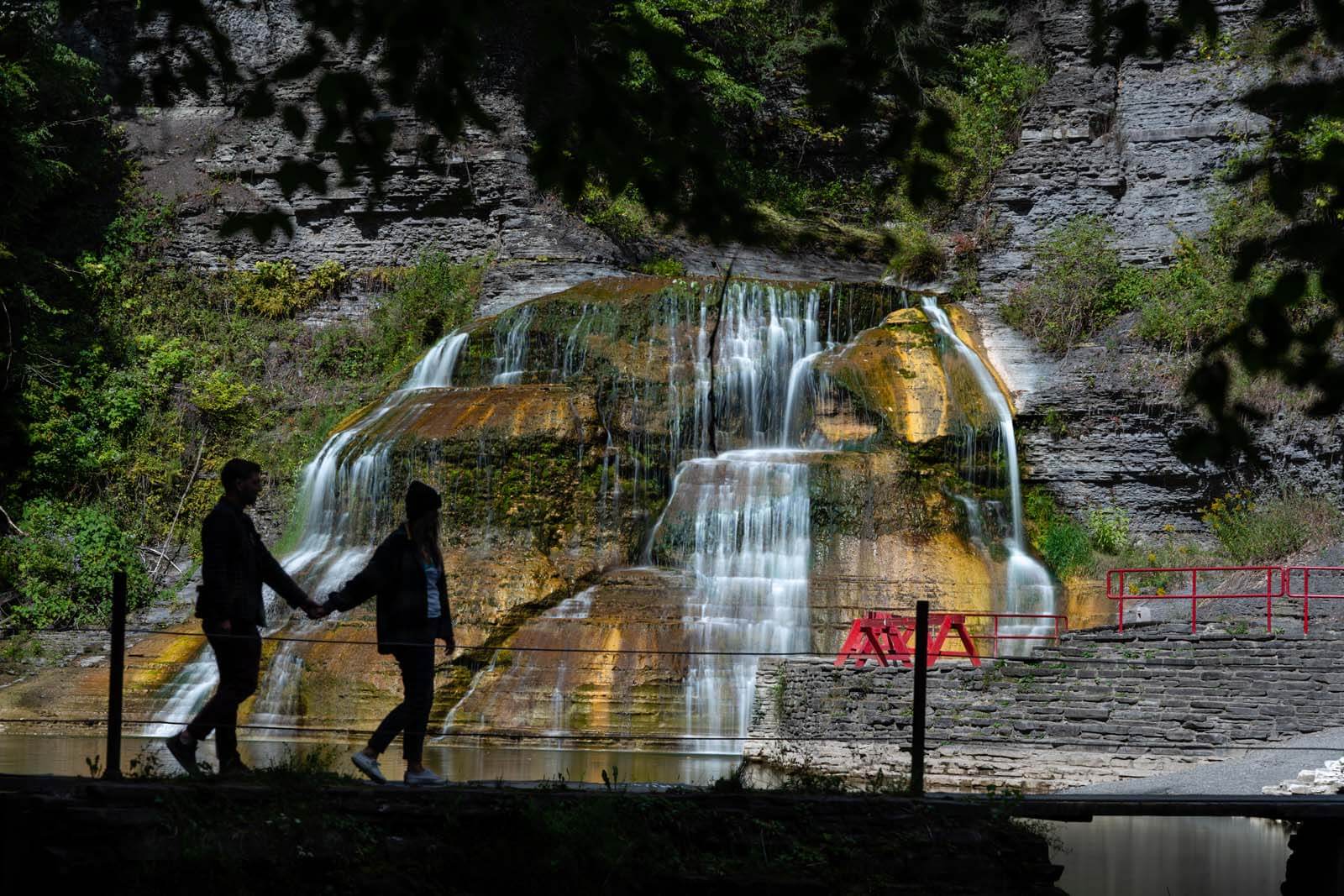 They say, "Ithaca is GORGES," and it's true! There are over 150 waterfalls in a 10-mile radius, and the city hugs Cayuga Lake in the Finger Lake region. If you're looking for romantic getaways in Upstate New York, put Ithaca at the top of your list.
This city has a long, dramatic history going back to when it was land controlled by the Iroquois nations. After the Revolutionary War, men who fought were given grants of land in the Finger Lakes for their service. You can still trace back most of the city's land deeds to that time. And the city has been influential in the past for its political activism, as well as having roots in the beginning of silent film!
Ithaca is an especially romantic getaway in Upstate New York in the summer and fall. There's something so magical about the heavy flow of the water in the summer right after spring at the waterfalls and the fall foliage in the fall really makes this place extra special.
Things to Do on a Romantic Getaway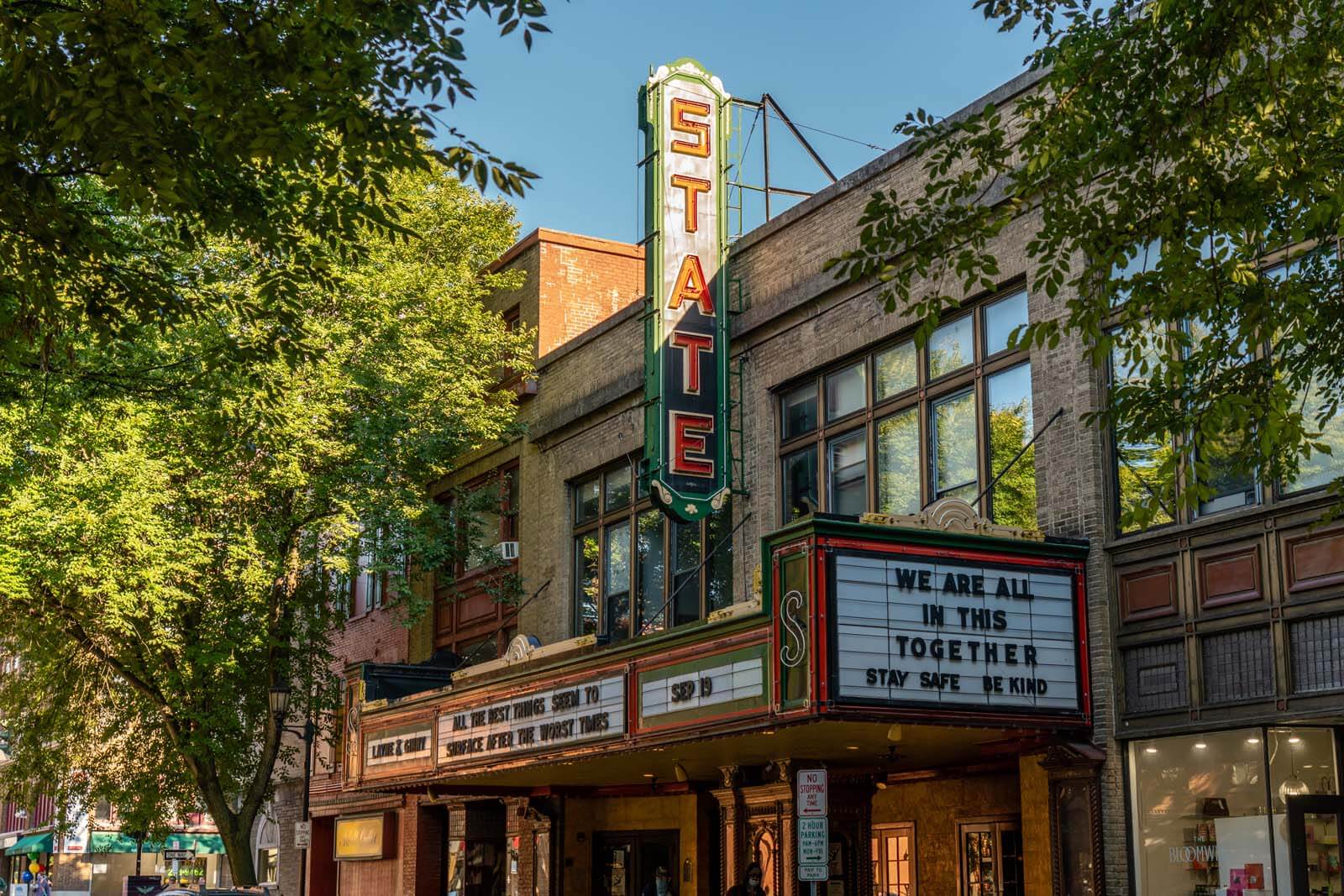 We visited Ithaca for a romantic getaway in Upstate New York during 2020 – when things were tough. This was the perfect escape as we fell in love with this GORGES city. There are so many things to do in Ithaca that if we were ever to leave the city we'd even consider moving here.
There's so much to do, especially when you have someone special to share it with. At the very least, take time to enjoy downtown and all of its pretty streets lined with vintage storefronts and colorful street art. You can walk The Commons, a pedestrians-only street with book shops, clothing stores, restaurants, bars, a cool old theater, and more.
And while you're downtown, don't think you can get away from the waterfalls in Ithaca! They're all over the city, in the parks, at the west end of The Commons, and all along Ford Creek at Cornell.
And for even more waterfalls, drive. a little south of Ithaca. Take a scenic hike through Robert H. Treman State Park for a dozen more (or Buttermilk Falls State Park)! There are miles of hikes to do out here, so you could even make a whole day of it. Lucifer Falls is especially satisfying with a really cool hike featuring stone walls along the trail.
Where to Stay
For romantic getaways in New York, for us, there's nothing more romantic than a stay that also doubles as an experience. The Firelight Camps glamping experience at the La Tourelle Resort is one of the best glamping options in the state of New York. The tents are breathtaking and offer views of the forest while also being cozy and comfortable, we seriously love glamping. Or if you prefer a traditional but upscale hotel, check out La Tourelle's beautiful rooms with sweeping views of the region.
The spa and restaurant on site are also available for both glamping and regular hotel guests too.
Watkins Glen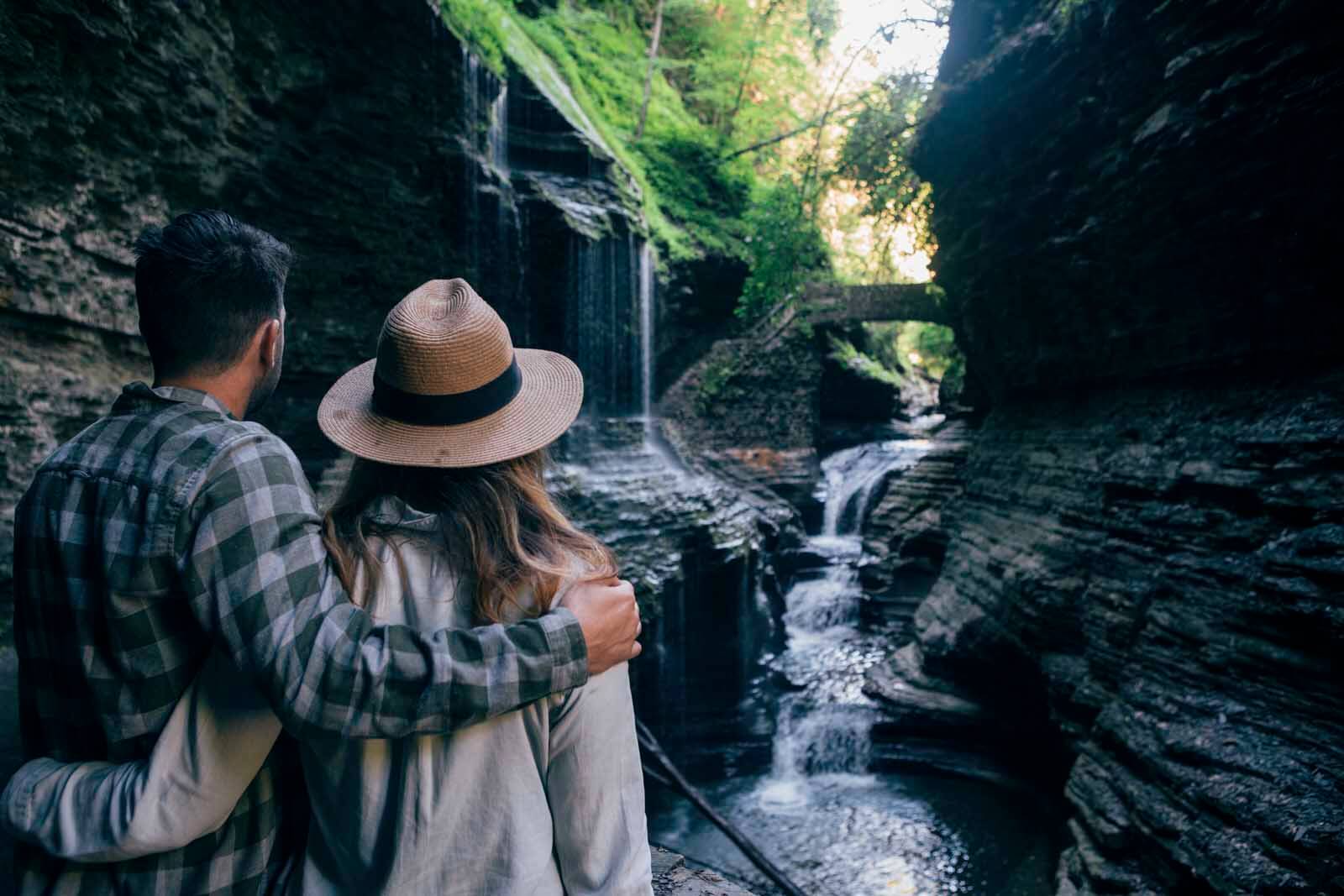 To the west, at the southernmost point of Seneca Lake, is Watkins Glen, another great romantic getaway in Upstate New York. This is one of the best small towns in the Finger Lakes is a popular destination for a variety of interests. Watkins Glen is also the place to come for a New York wine tour as Seneca Lake is the heart of Finger Lakes Wine Country!
And this is another place where waterfalls flow like champagne! Waterfall hopping is one of our favorite things to do in Watkins Glen followed by wine tasting, it doesn't get more romantic than that!
It's also known for its boat and auto racing. There's a track south of Watkins Glen and they've even been known to host NASCAR and IndyCar events.
Things to Do on a Romantic Getaway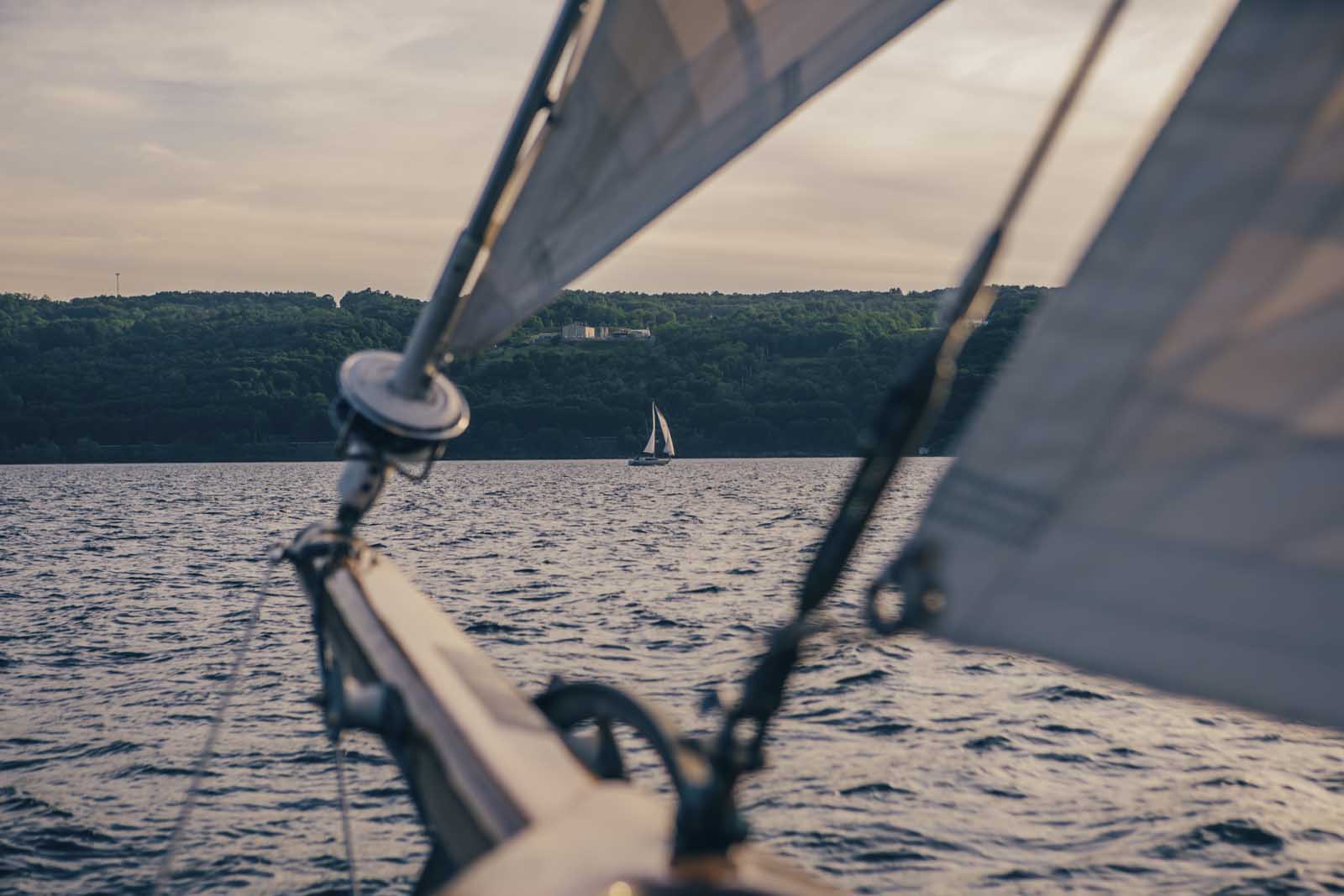 A must is the Gorge Trail in Watkins Glen State Park. Located in Watkins Glen, this state park is located along both sides of Glen Creek and full of one magical waterfall after another, it feels like something out of a fantasy and is one of the most romantic places to take a walk.
You just drive into the park and you can start the 7-miles of trails from either the west or east end of the park. You can choose from a few different trails, but the park is famous for the Gorge Trail (this is closed in the winter for safety).
Better yet, this isn't that long of a hike either. While taking one of the most breathtaking strolls through the mossy glen you'll pass one cascading waterfall after another while crossing the most adorable stone bridges. It follows the creek, which at one point reaches cavernous depths of up to 400 feet with cascading waterfalls. You just keep walking and see waterfall after waterfall, and it feels like another world, or like something out of a fairytale. But you have to at least make it to Rainbow Falls!
We also loved our experience on the famous "True Love" schooner on Seneca Lake. It's the perfect romantic getaway activity with a scenic view of the lake and a sunset while you sip on wine.
Or for something a little more low impact, take a scenic drive around Seneca Lake on 414. It's a great way to get a different view of the lake and the surrounding area. Plus, you can see Hector Falls, one of the best roadside waterfalls along NY-414.
And once again, Watkins Glen is the perfect place for a summer or fall getaway. A big reason why is the Seneca Lake wine trail! There are over 35 different wineries around the lake, and you can find most tours and events during the summer and fall. Also, in July, Watkins Glen is the host of the annual Finger Lakes Wine Festival with dozens of wineries and vineyards featured.
If you're hungry for more, there are more incredible Finger Lakes waterfalls near Watkins Glen including more roadside waterfalls like Aunt Sarah Falls and She-qua-ga Falls in the village of Montour Falls. This area really has some of the best things to do in the Finger Lakes and it's truly one of the best escapes and romantic getaways in New York.
Where to Stay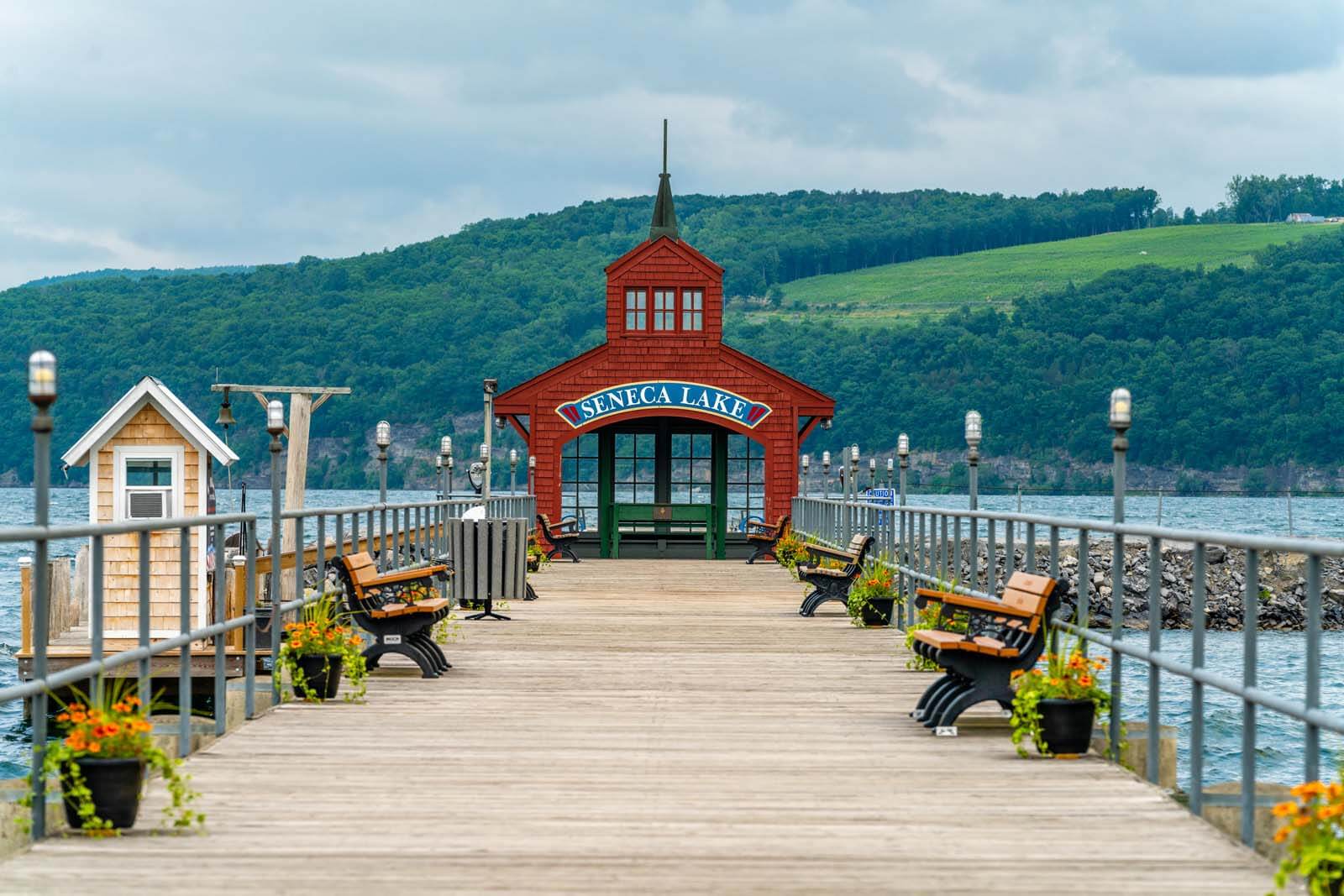 During our romantic getaway in the Finger Lakes, we stayed at the Watkins Glen Harbor Hotel, which is the perfect place to stay to not only explore wine country and around Seneca Lake, but it's also right on the water. The rooms are beautiful and upscale, plus you can request a room with a balcony overlooking Seneca Lake. There are firepits down by the lake and you can easily take a walk along the beautiful waterfront and pier.
Romantic Getaways in the Hamptons
Montauk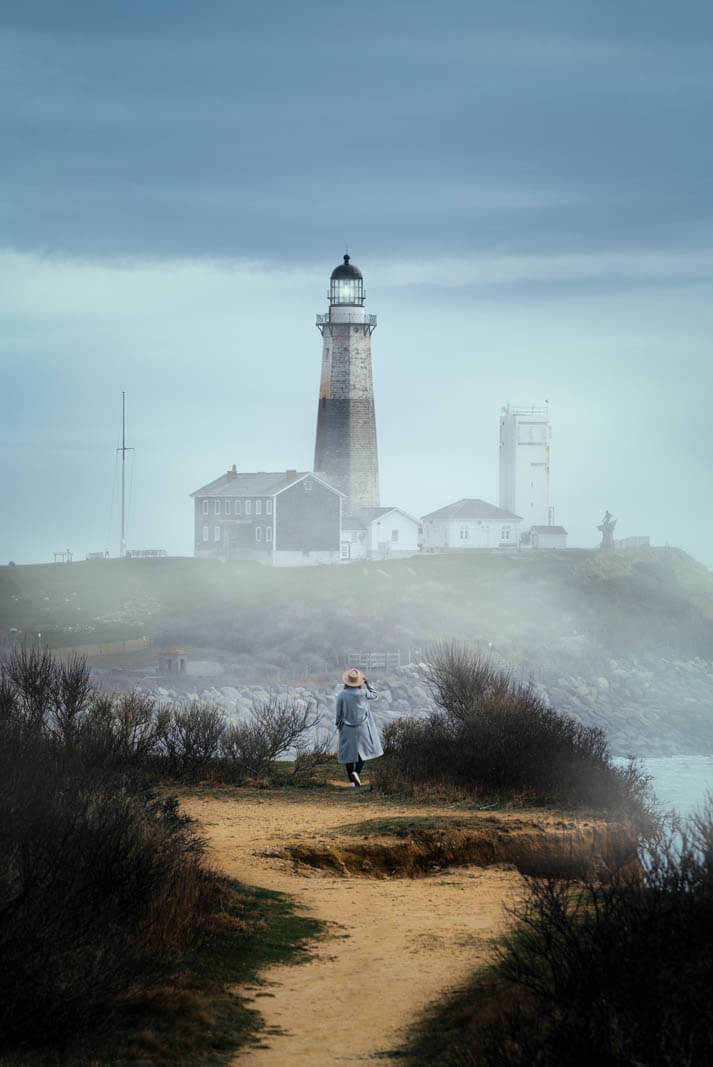 For oceanfront romantic getaways in New York, check out Montauk at the very eastern end of Long Island and the famous Hamptons. Considered the "end of the world," it's the ideal place for a quiet seaside getaway or lots of outdoor activities.
The entire Montauk area was named for the inhabiting Montaukett tribe. Even though the area was settled by colonists by the late 1700s, the tribe stayed in the area until the beginning of the 1900s! Montauk has also been important as a port during the American Revolution and was home to Camp Hero State Park, a World War II-era military base.
Things to Do on a Romantic Getaway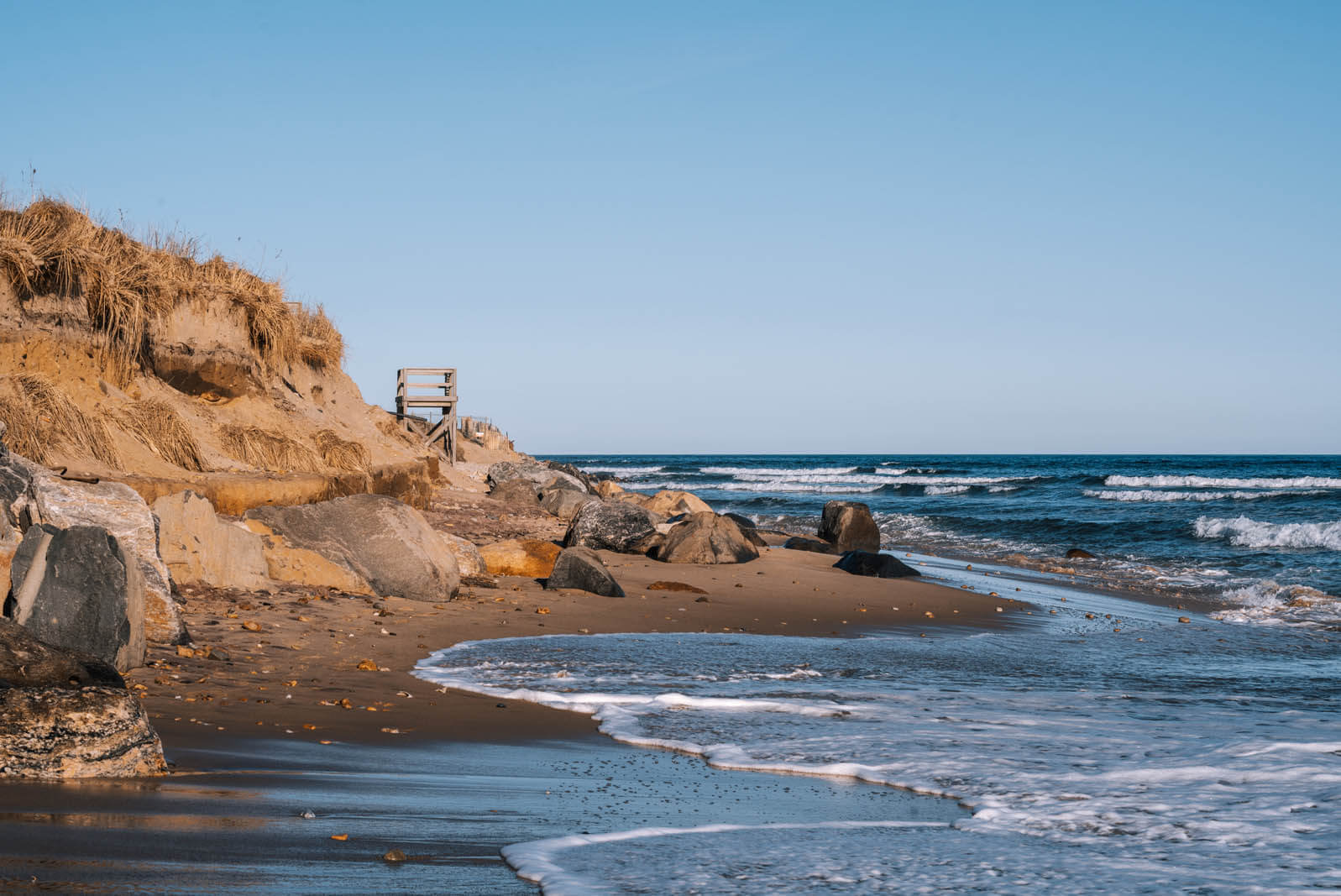 One of our favorite things to do in Montauk was when we visited the Montauk Point Lighthouse. Fun fact, it was commissioned by George Washington, and it's the oldest lighthouse in New York! You can visit, walk the grounds, and check out the museum. There's just something powerful about the waves crashing on the rocks around the lighthouse in the fog.
For some romance, enjoy cocktails with your love while you watch a sunset over the water. We went to the Montauket, a hotel and bar. Grab an outdoor seat and drink and get ready to watch the gorgeous natural show!
Take advantage of the gorgeous beaches here too and take a romantic walk along the beach. There are an ample amount of spas in the area for a couples massage or treatment, and Long Island has great wineries you can go wine tasting nearby. Our favorite is Wölffer Estate Vineyard in Sagaponack.
You can also use a stay in Montauk as a base to check out the rest of the Hamptons. Check out other beach towns like Amagansett and East Hampton. We loved the shopping here, and there are tons of great beaches for miles along the southern shore.
Something to keep in mind when planning a romantic getaway in New York in the Hamptons, the summer, specifically around the holidays and weekends is packed. If you're looking for something a little more slower-paced, consider shoulder season. We visited in April and it was perfect, we felt like we had the place to ourselves which was extra romantic.
Where to Stay
Even if you're coming from New York City, it's a trip out to Montauk! We suggest taking a few days out here instead of trying to make it a day trip. While you're here, book a couple of nights a Gurney's Resort and Spa which is one of the most romantic resorts in New York and they have a spa on site so you can book that couples treatment or massage I mentioned!
They fully embrace the idea of being a beachside luxury resort in the Hamptons! Try out beachside wellness classes, take advantage of beach amenities, or head to the Seawater Spa. There, you can try a variety of marine-based therapies, contrast baths, seawater treatments, and more.
Sag Harbor
For one of the most charming towns in the Hamptons, visit Sag Harbor. A former whaling community, it played an important role in the industry and was even mentioned in Herman Melville's Moby Dick (which he wrote in Pittsfield, Massachusetts a another great romantic getaway in the Berkshires not far from the Catskills in New York).
Also, many notable figures have lived or worked here, including Thomas Edison and Billy Joel! In fact, today, Sag Harbor is known as a getaway for the rich and famous.
Among all the towns we visited in the Hamptons, Sag Harbor was probably our favorite for romantic getaways in New York. Just take a walk down Main Street and you'll see why, with its beautiful, classic storefronts and fun shops. Plus, if you come during the fall shoulder season, the town is breathtaking with fall foliage!
Things to Do & Where to Stay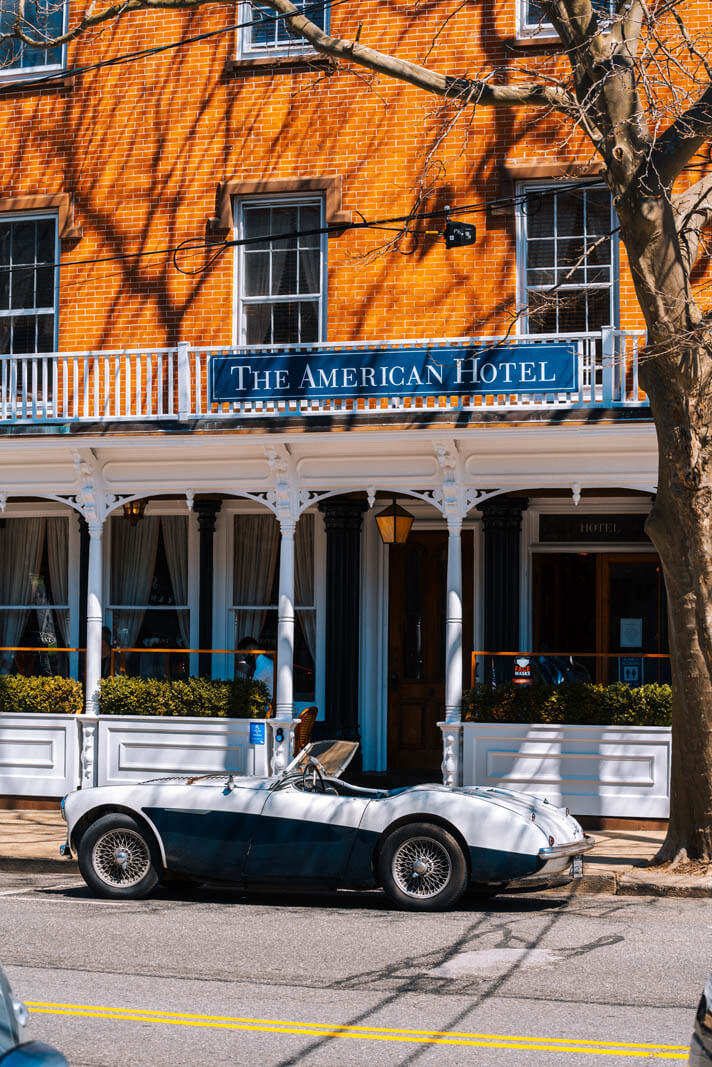 We suggest visiting a nearby winery, and there are 2 that stand out in East Hampton. Channing Daughters Winery specializes in over 2 dozen varieties of grapes for a wide range of wines and ciders. And Wölffer Estate Vineyard is an award-winning brand with its take on German-style wine, some with berries.
If you're looking for classic American experiences for romantic getaways in New York, consider a dinner at The American Hotel. Set in the heart of downtown Sag Harbor, you'll love this house-turned hotel and restaurant that dates back to the 1840s! Sit in their white linen dining room and feel like you've stepped back in time. And if you need a great place to stay, this is a quality choice close to all the attractions in town.
Or you can stay at Baron's Cove. This is a nautical-themed hotel off Sag Harbor Cove with a nod to the town's days as a port city. Stay in suites and rooms with harbor views. And even if you don't stay here, a meal here is a must! Enjoy fresh, local ingredients, including fish from the docks.
Romantic Getaways in the Adirondacks
Lake George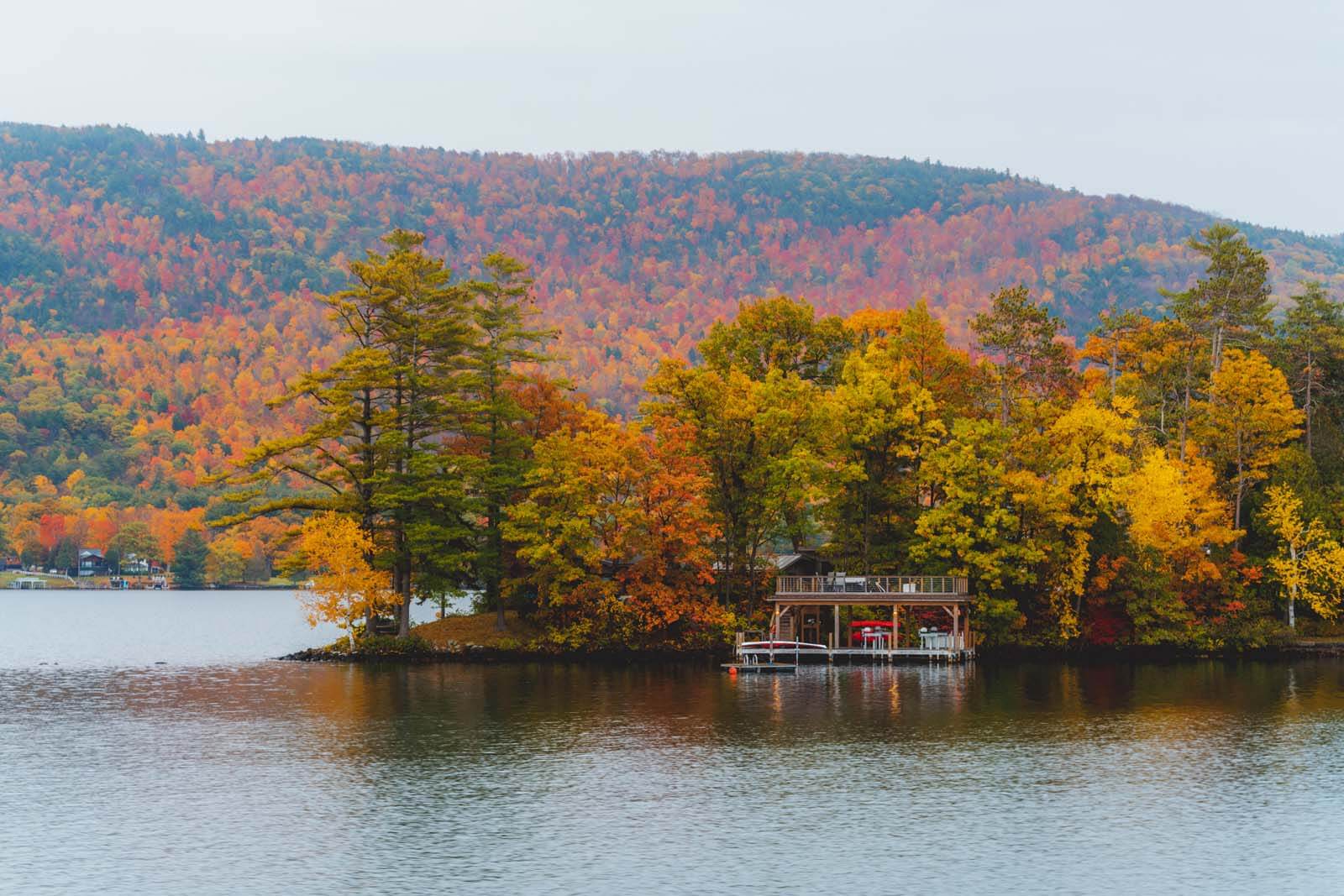 You'll find the town of Lake George on the very southern tip of the lake of Lake George in the Adirondacks of Upstate New York. Whether you're looking for a romantic getaway in Upstate New York in the summer, fall, or winter – this is a stunning destination throughout the year.
The entire region is full of old-growth forests, mountains, and hiking trails. In town, Lake George's main attractions are the waterfront with luxury resorts, tourist attractions, beaches, and boat rides.
Things to Do on a Romantic Getaway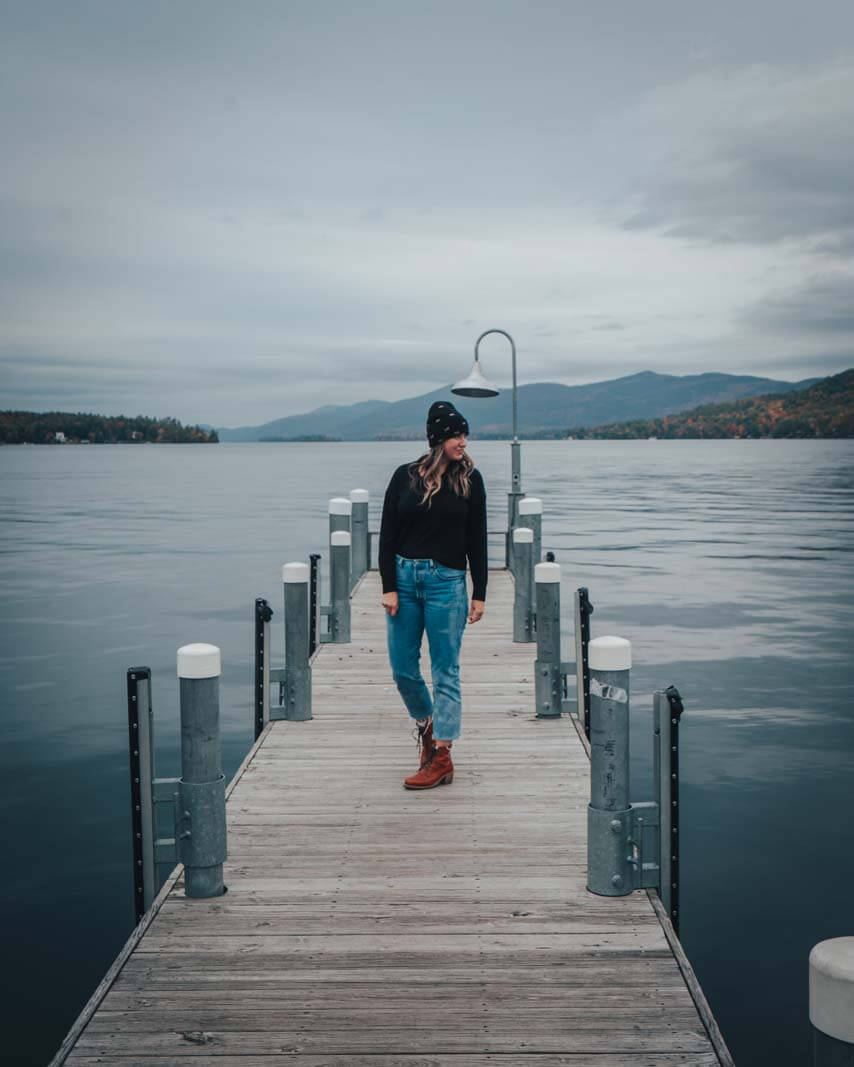 There are some great things to do in Lake George and something for everyone. Why not go on a casual date and have a friendly competition? There are five different mini golf courses that are all themed differently here!
One of the most romantic things we did during our visit was going on a scenic steamboat cruise. It's a great way to see the lake and learn about the entire area. They have everything from hour-long cruises to brunch or dinner cruises, to scenic multi-hour cruises. We snuck in right before they closed for the season in mid-October and went on a fall foliage cruise which was unbelievably gorgeous.
You can also enjoy one of the many craft breweries in Lake George all around the lake! Stick close to town and visit the Lake George Distilling Company on Canada Street or take the self-guided Adirondack Craft Beverage Trail!
And there's always a peaceful scenic drive to get away from it all. Drive an hour north to Lake Champlain to see the well-preserved Fort Ticonderoga. This French fort was involved in the French and Indian War, as well as the American Revolution. At the fort, you can go on tours, walk through exhibits, and see artifacts from famous historical figures.
Where to Stay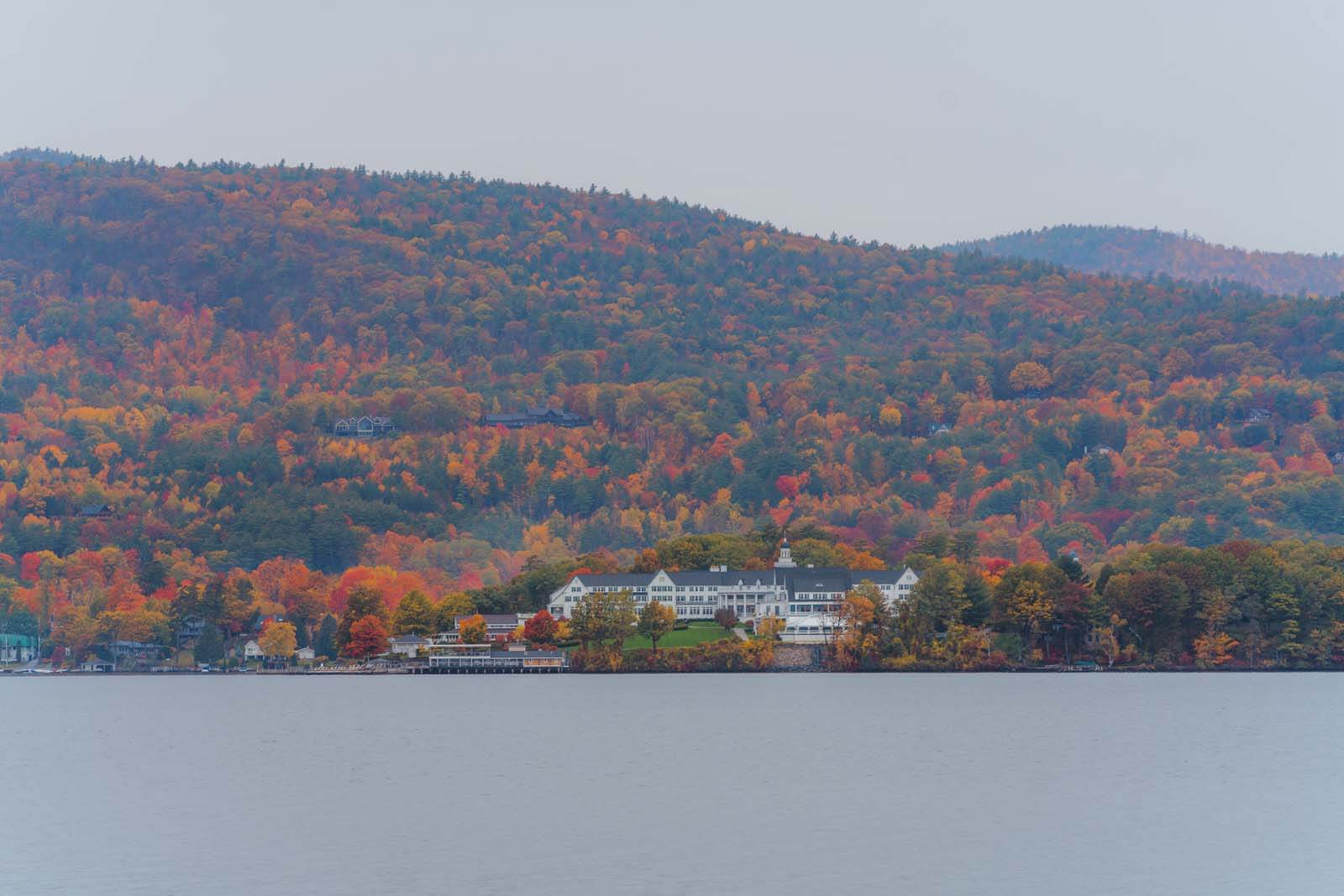 The Sagamore is hands down one of the most romantic getaways in Upstate New York. This luxury lakeside resort and spa is also iconic. It's a special experience because it's on Green Island off the western banks of Lake George! This makes it feel even more exclusive.
This premier destination and property was named by Architectural Digest as being one of the most beautiful hotels in the Adirondacks as well as being an official AAA Four Diamond recipient.
This hotel dates back to the 1880s and is designated as a National Register of Historic Places. Stay in one of their condos, standard rooms, luxury suites, or a private lodge overlooking the gorgeous Lake George.
Book a massage, visit the salon, or enjoy a game of golf with lakeside views at the Sagamore. There are also amazing dining options here with 5 different restaurants, a pub, and a bar!
Lake Placid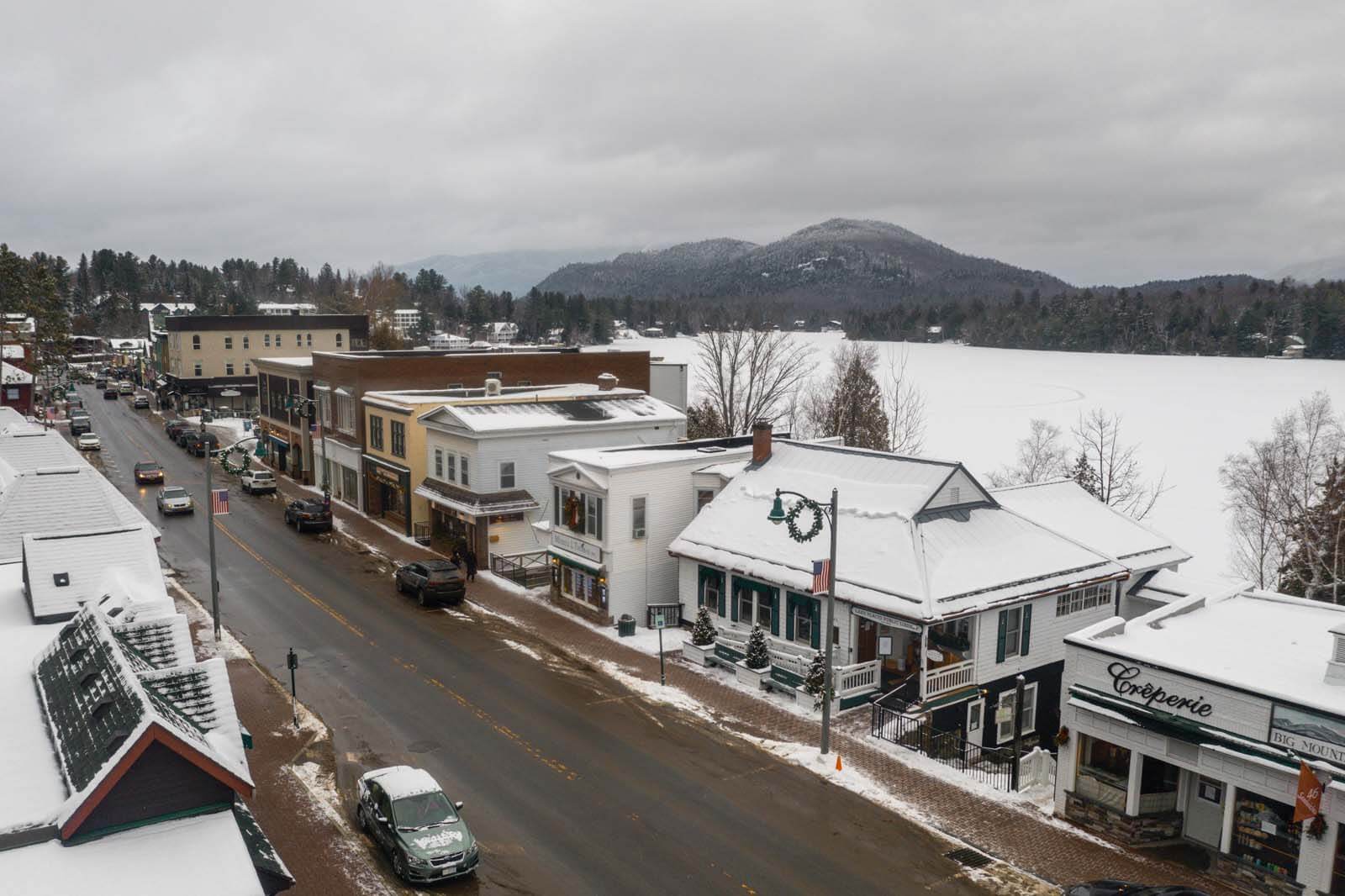 For romantic getaways in upstate New York in the winter, we recommend Lake Placid. It's a great option any time of the year, but in the winter you can hit the slopes where the Winter Olympics were hosted! The Adirondacks in winter overall is one of the best getaways this time of year!
Things to Do on a Romantic Getaway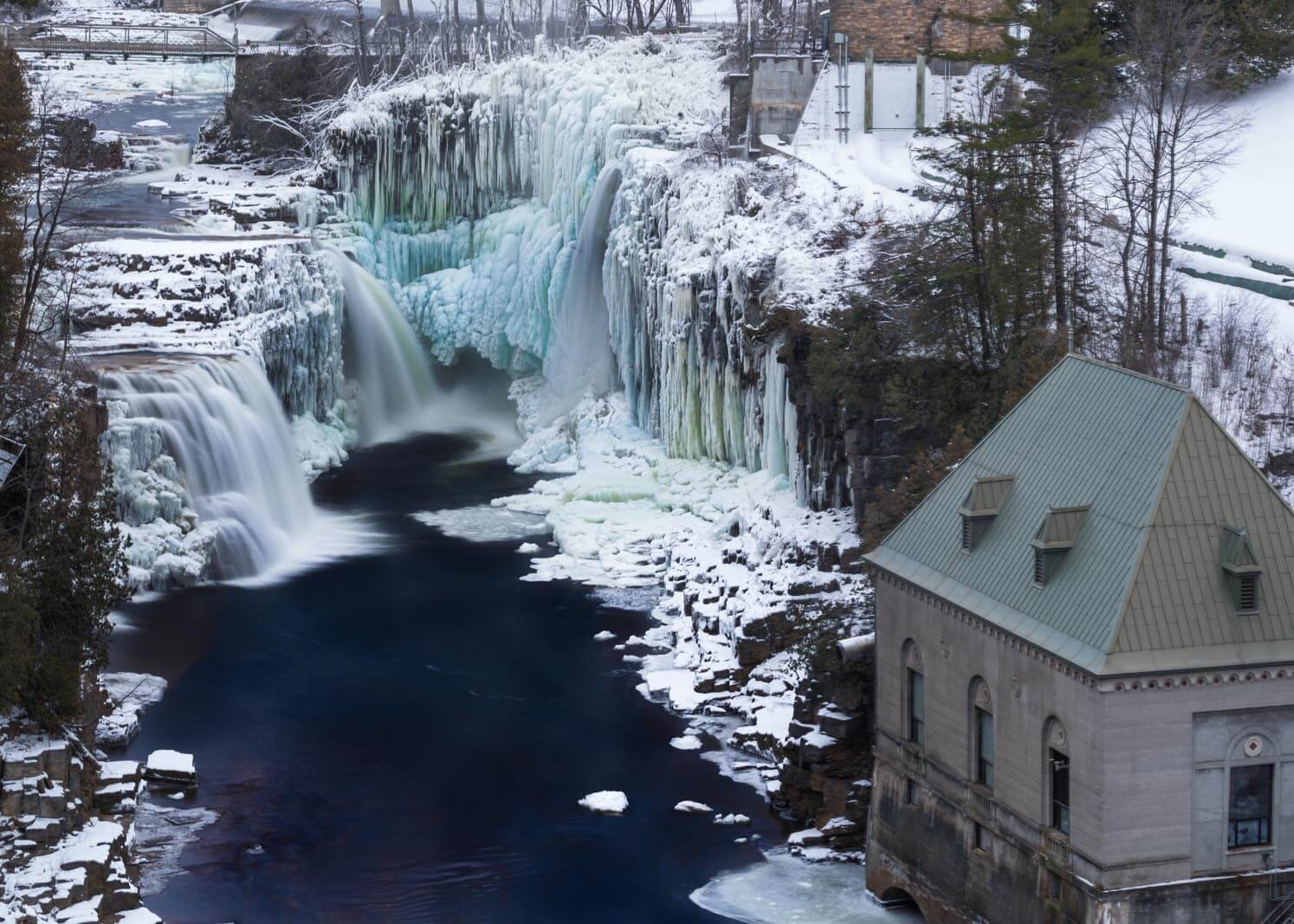 There are plenty of cool things to do in Lake Placid from the shops downtown, breweries, hitting up Olympic sites, outdoor activities, and visiting High Gorge Falls.
Nearby is Saranac Lake, which is one of the best towns in the Adirondacks to visit. It's a picturesque town on Lake Flower with beautiful old architecture and fascinating history! It's known for being a vacation spot for famous names like Albert Einstein, Mark Twain, Paul Newman, and more. It also became a well-known center for the study and treatment of tuberculosis during the 19th century at the Saranac Lake cure cabins. Thanks to Dr. Edward Livingston Trudeau, great strides were made here in advancements in the treatment of TB. Today, you can visit Saranac Lake and see many historic sites.
One of the best places to visit in the Adirondacks is without a doubt Ausable Chasm! You can visit any time of year, not just in the winter. But during the warm season, you can book tubing and rafting trips through this canyon with high rock walls in the middle of the Adirondacks. All year, there are hiking trails and thundering waterfalls to explore.
We came in the winter and they provided us with snow grips where we enjoyed a romantic, quiet snow trek through the waterfalls and gorge.
Where to Stay
Find the perfect cozy setting for a romantic winter getaway at Whiteface Lodge. This sprawling luxury lodge boasts a spa, a skating rink, indoor and outdoor pools, game rooms, fitness classes, and more. Or you can dine in three different restaurants with mountain views.
Or the Eastwind Hotel Lake Placid is another great place to stay. They turned an old motor lodge into a sleek modern hotel, and it's stunning. But we love the sweet new glamping-style Lushna Petite cabins! You get your own with a cozy, natural, minimalist feel with room for 2.
---
Most Romantic Trips in New York (Post Summary):
Phoenicia
Roxbury
Livingston Manor
Tarrytown
Ithaca
Watkins Glen
Montauk
Sag Harbor
Lake George
Lake Placid
---
Found this guide to the most romantic getaways in Upstate New York helpful? Bookmark for later or share the love below on Pinterest.