Looking for the best of the Hamptons? Check out all the best things to do in the Hamptons from charming towns and villages to visit, the best beaches, where to eat, museums, historic sites and more!
Whether you're planning a little weekend escape or a whole week vacation, we've got you covered in this guide to the Hamptons, Long Island which is conveniently located 2 hours (up to 3 hours in some spots) from NYC and speaking of NYC, if you're coming from the city you can actually get to the Hamptons by train and bus meaning you don't even need a car!
That being said, exploring the best of the Hamptons is best done by car because the area is spread out if you want to hit up many different Hamptons activities mentioned on this guide.
When's the best time to visit the Hamptons, New York?
The Hamptons, Long Island can be enjoyed any season really, but the peak season is the summer season which is from Memorial Day through Labor Day. This also is the most crowded time to visit and will require you to plan and book ahead.
We personally love the shoulder season because most things are still open and you have way less crowds. Off-season is another great time to visit, but you should set your expectations accordingly as certain things are not open and it may not be the best weather for beach basking, but it is still a very serene time to take in ocean views, cliffside walks, and rent a peaceful retreat.
If you do plan a trip in the summer, you will need to plan your drive/transportation accordingly.
If you're driving you will want to plan around the weekend rush hours if you want to avoid gridlock traffic the entire route and if you're taking the bus/train/seaplane/helicopter you will want to book your reservations in advance.
The summer is the most happening time to enjoy all the best things to do in the Hamptons as that's when everything is open, prime beach weather, and when all the partying and live musical performances usually happen.
Where are the Hamptons Located?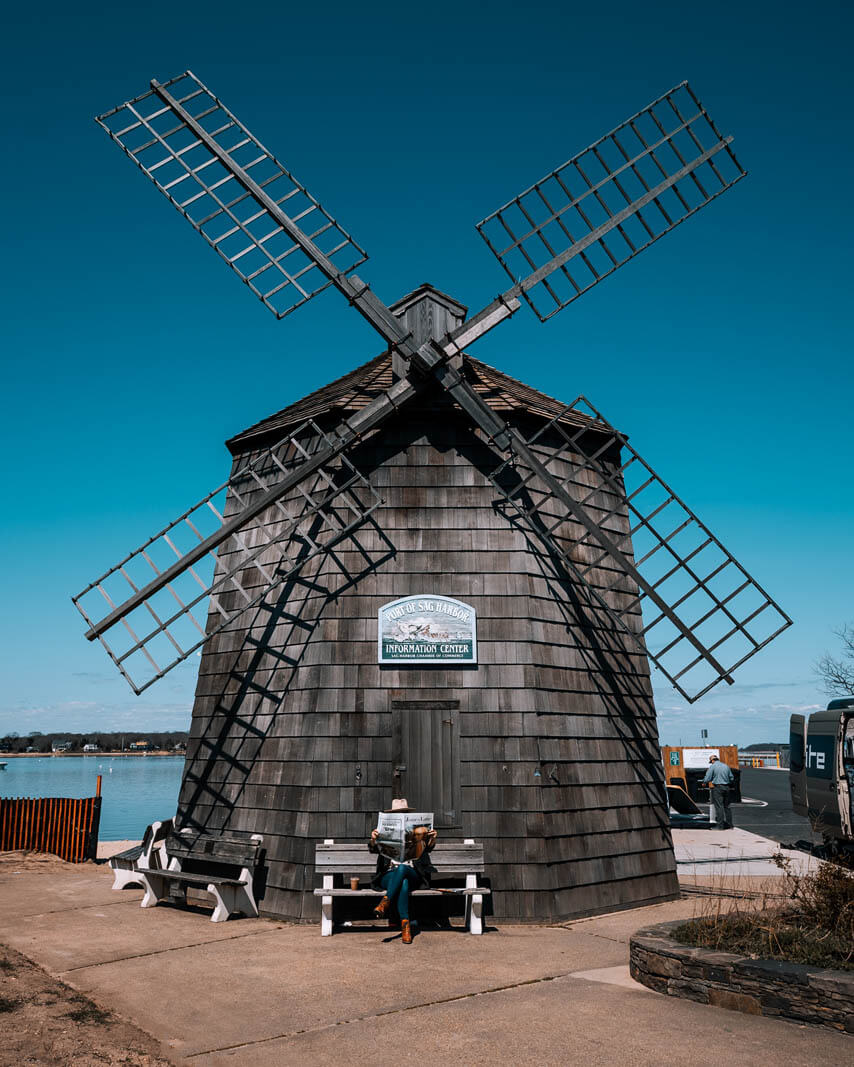 The Hamptons New York comprises a group of towns, villages, and hamlets, located in the eastern end of Long Island. While full of varying neighborhoods, the Hamptons are made up of two townships: The Town of Southampton and the Town of East Hampton.
The Hamptons Long Island region is globally recognized as an affluent hot spot, welcoming visitors from near and far with the traditional rural atmosphere that the South Fork has to offer.
They begin approximately 80 miles east of New York City, in Westhampton, and extend another 50 miles to the tip of the island's South Fork in Montauk.
Depending on your planned destination, your drive from the city could take anywhere from two-and-a-half, to three or four hours long.
Also, if you have a car check out the best towns in the Hamptons on your trip!
The Best of the Hamptons Activities
Day at Cooper's Beach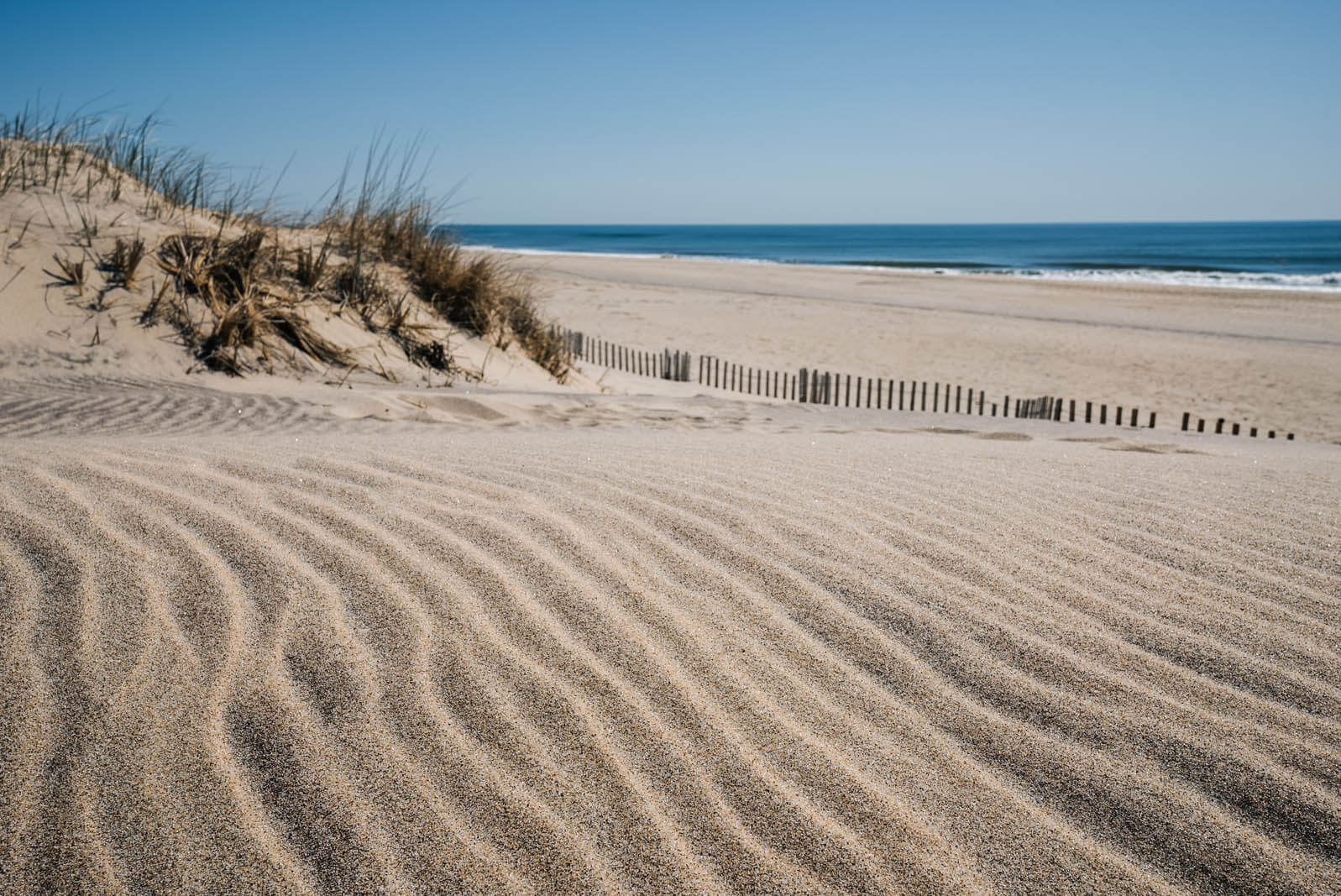 If you're looking for some leisurely fun in the sun at a pristine location, head to Cooper's Beach just outside the Southampton Village, New York and one of the most popular things to do in the Hamptons if you want a nice beach day.
This quiet beach offers sweeping views of the Atlantic Ocean, with 500 feet of stretching shoreline that is perfect for catching some Vitamin D on a rolled-out towel or atop a surfboard catching a wave.
There is beautiful white sand here and you're on the same beach where the elite of the elite live, Cooper's Beach is off of Meadow Lane which is known as Billionaires Row as mansions that belong to rich CEOs and celebrities are all here.
Visitors can enter byway of purchasing a $50 pass for parking – which lends this spot's reputation to being known as a high-end place to hold your vehicle. There are a few good spots where you can grab a quick bite, as well as restrooms and showers for a post-beach clean-up. This Hamptons New York beach is sure to give you your fair share of sunshine.
Drive Down Billionaire's Lane
The Hamptons are no stranger to billionaires, and if you'd like to take a peek at some of their residential quarters, you can do by taking a drive down Meadow Lane, dubbed "Billionaire's Lane."
Here you'll find multimillion-dollar mansions, owned by successful executives and celebrities, as they line the narrow beachfront strip.
A famous house that which many are familiar is located at 576 Meadow Lane, Southampton, New York 11968 – perhaps "As Good As It Gets" rings a bell.
Are you twiddling your thumbs over the soon-to-be-released season of Showtime's drama, Billions? While you wait for Season 5, Part 2 to come out, why not visit Bobby Axelrod's fabulous home in real life? Located a measly 4-minutes down the road at 1610 Meadow Lane, this magnificent home might just live up to its fictional hype, valued at $63 million.
Wine Tasting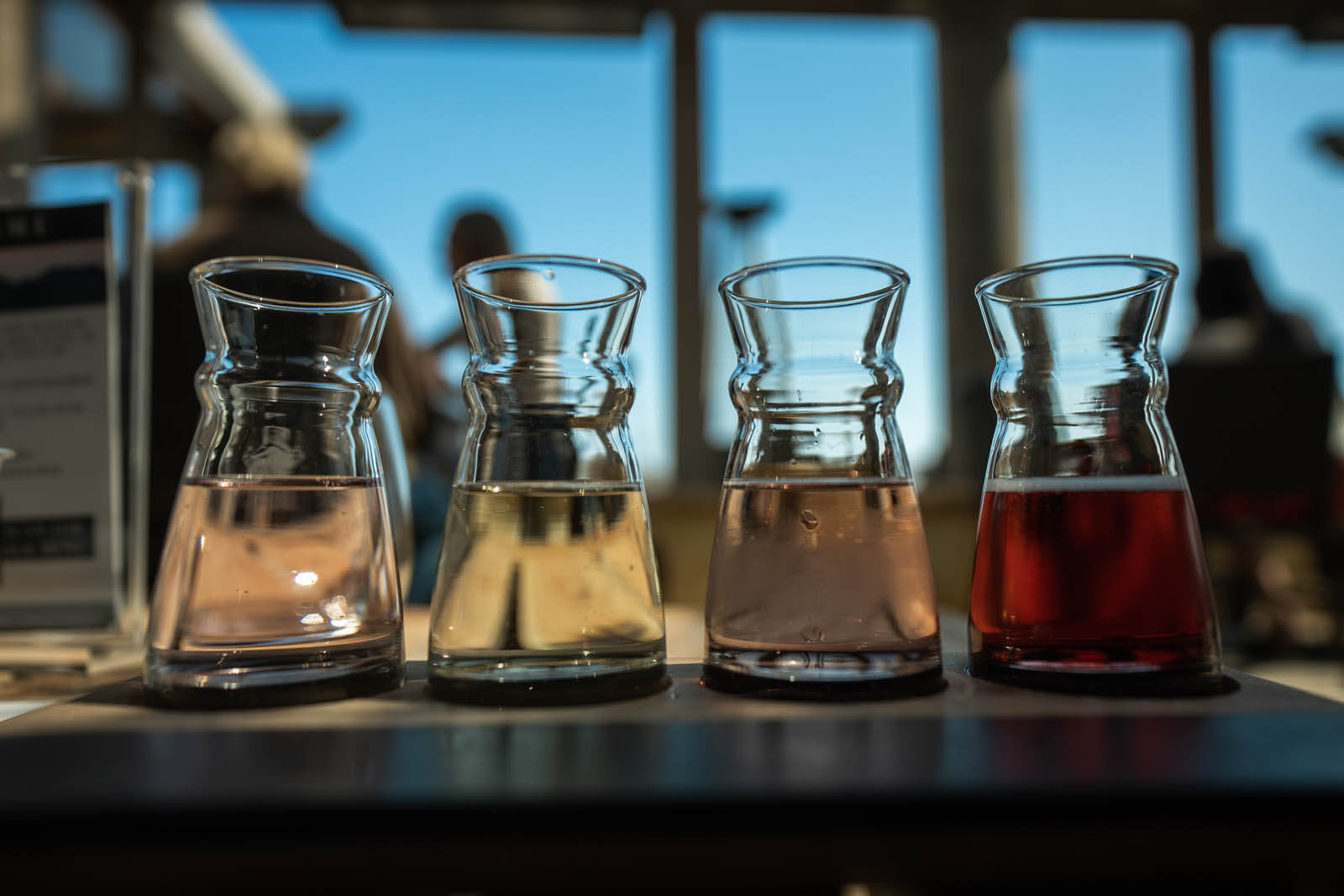 One of the best things to do in the Hamptons is take advantage of the thriving wine region and wine scene of Long Island!
Be sure to check out Wölffer Estate Vineyards, offering premium and distinctive wines, spirits, and ciders in the village of Sagaponack. We now can't get enough of their rosé cider and buy it all the time in the city.
If you'd like a more intimate experience, consider visiting Duckwalk Vineyards, located in Water Mill.
While most of the wineries can be found around Bridgehampton, beer lovers should head to the Town of East Hampton, in the hamlet of Montauk. Montauk Brewing Company is not to be missed – we recommend you try their Wave Chaser IPA!
Visit Sag Harbor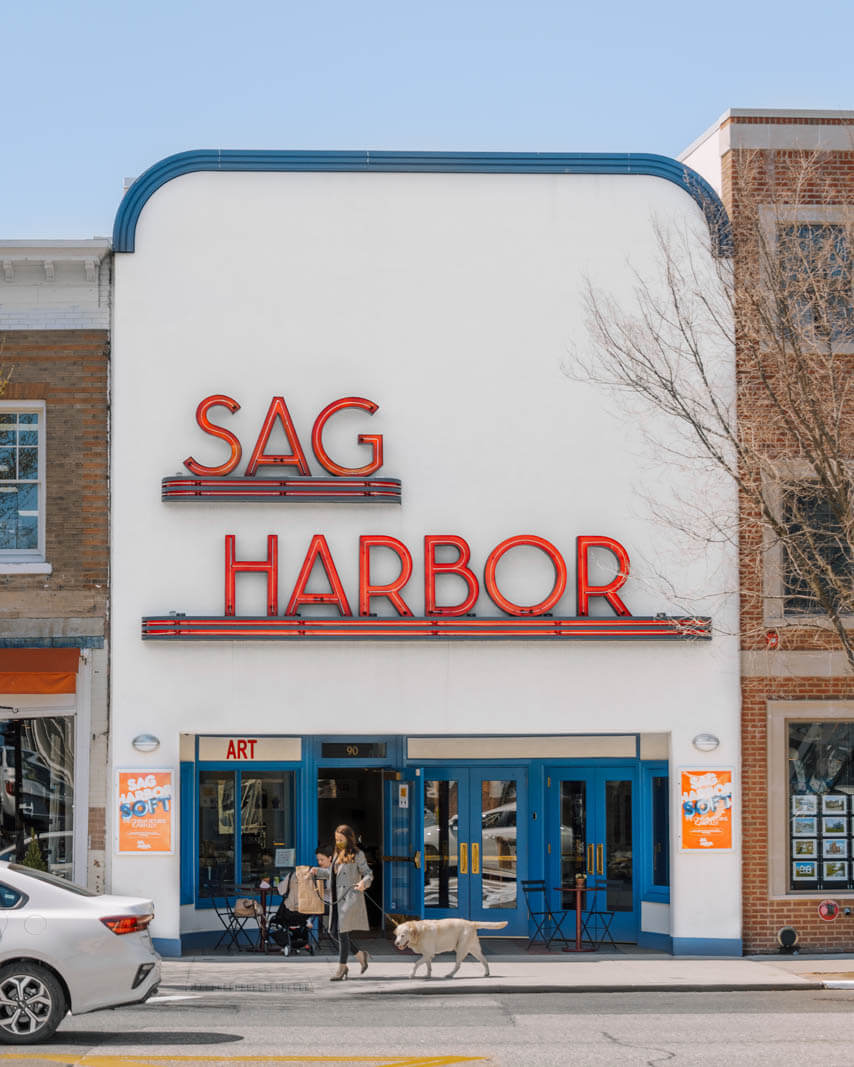 Sag Harbor is a quaint little village originally developed as a working port on Gardiner's Bay and one of our absolute favorite things to do in the Hamptons and one of the most charming towns in New York.
In the 18th & 19th centuries, Sag Harbor was a major whaling port and entry point to the United States and was even mentioned in Herman Melville's famous Moby Dick novel! By the 20th century, it became a haven for wealthy people to escape the city and an enclave for artists.
There are also some great dining options including the famous American Hotel which has been around since 1846 and is one of the most iconic places to eat in The Hamptons.
Other great spots to eat include Dockside Bar & Grill, which we ate lunch at, and little did we know, this is next to Billy Joel's house – no we didn't see him sadly!
But aside from the lingering evidence of whaling in its early days, which you can visit the museum to explore more if that interests you, the village offers plenty of Hampton's activities for everyone to enjoy including shopping!
One of the best things to do in the Hamptons is to explore downtown Sag Harbor and its various shops. As you treasure hunt through this authentic town, be sure to stop by Gucci X Melet Mercantile, Montauk's go-to vintage outpost with an Italian flair. If soft florals and dollhouse vibes tickle your fancy, LoveShackFancy is your cup of tea. No matter if a farmhouse-inspired shop or whimsical popup store draws you in, Sag Harbor's charm will keep you wanting more.
If you're hoping to visit the best of the Hamptons, you need to make a stop in Sag Harbor Village!
Montauk Point Lighthouse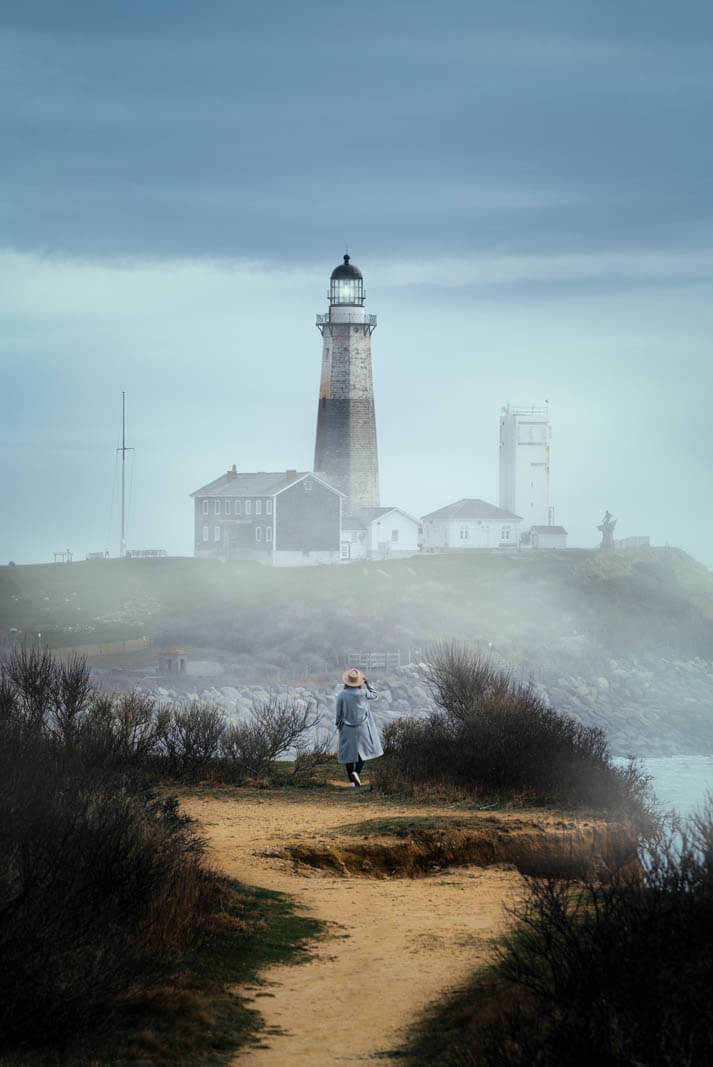 Exploring the best of the Hamptons wouldn't be complete without making it all the way to the easternmost point of Long Island and the Hamptons, New York at Montauk Point Lighthouse, aka the End of the World.
This National Historic Landmark, located in Montauk, New York, was commissioned by George Washington in 1797, and history buffs will be delighted to hear they are free to visit the collection of historical documents and photographs at the accompanying museum in the 1860 Keeper's House.
Another fun fact, this Hampton's activity is New York's oldest lighthouse and the 4th oldest active light station in the United States reaching 19 nautical miles with light flashes every 5 seconds!
The lighthouse itself is fascinating and a great lookout spot with views of the ceaseless Atlantic Ocean as it crashes against the sturdy seaside from the cliff. It's easily one of the most dramatic and beautiful East Coast lighthouses to visit.
Just note that during really bad weather, this is closed!
Camp Hero State Park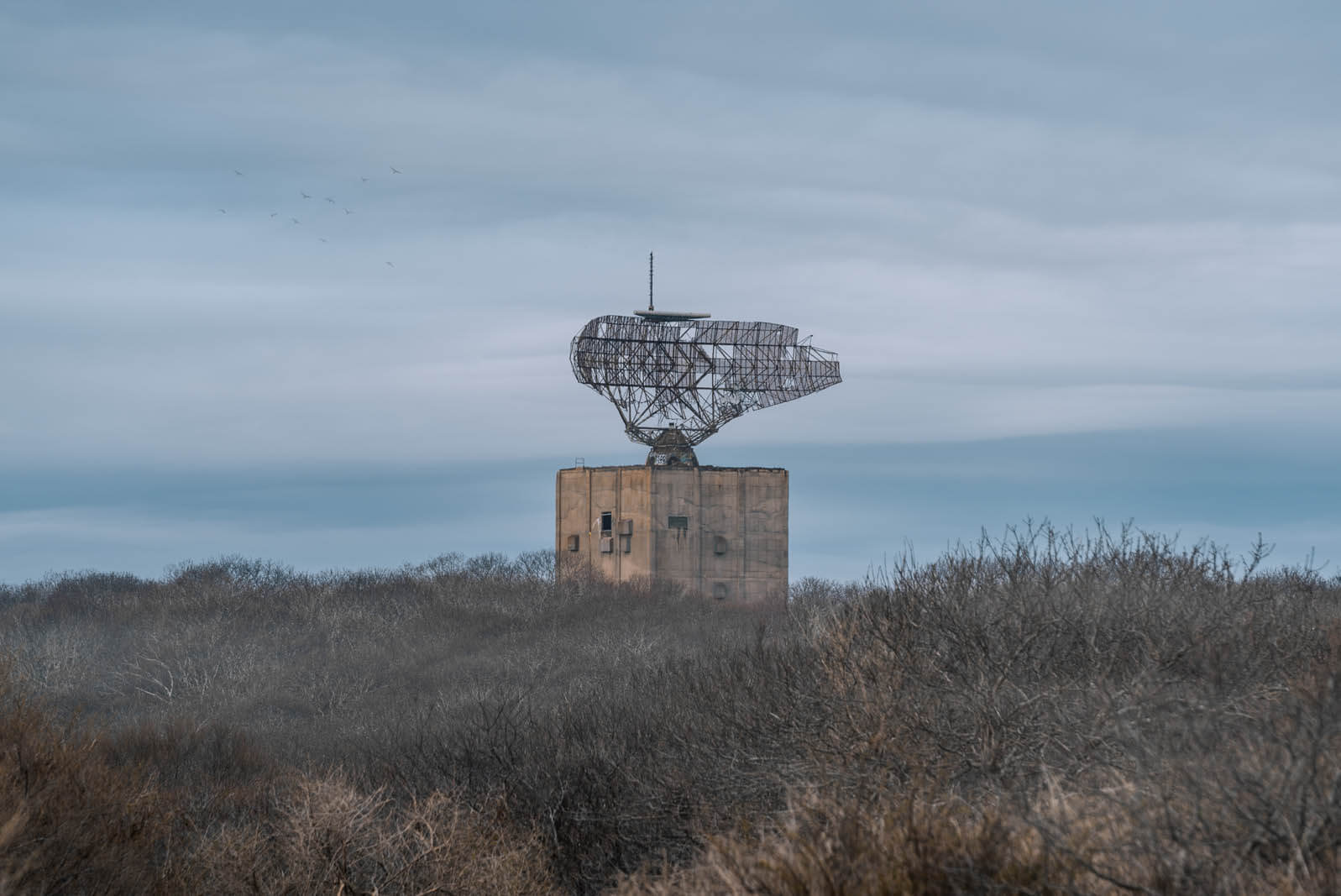 The best of the Hamptons doesn't end with Montauk Point Lighthouse, in fact – a mere 6-minute drive away is where you'll find another example of fun Hampton's activities in Montauk, New York – which for conspiracy buffs they may know about this place already!
Camp Hero State Park is a 754-acre State Park, occupying a portion of the former Montauk Air Force Station on Montauk Point, New York.
Upon visiting, you can expect unrivaled views of the previously mentioned lighthouse, but this time, a much more eerie sense may fill the air. The former Air Force Base, commissioned in WWII and disguised as a 1940's fishing village, was decommissioned nearly 40 years later.
Conspiracies theorists suspect human experimentation as well as a government cover-up involving kidnapping, mind control, and time travel took place.
For those who are fans of the beloved Stranger Things – the stories of such conspiracy, secrecy, as well as the ruins from the former base was the inspiration for the storyline of this sci-fi favorite.
Shinnecock Nation Cultural Center & Museum
Located in Southampton, New York is the Shinnecock Nation Cultural Center & Museum – the only Native American-owned and operated nongovernmental, non-profit, organization on Long Island with the mission to promote awareness, understanding, and appreciation for the Shinnecock history and culture.
This is truly one of the best cultural things to do in the Hamptons and a must-see for anyone interested in Native American heritage.
The museum features several different exhibits dedicated to hunting and fishing on Long Island through various historical time periods. Come visit this 5,000 square foot facility, made from Adirondack white pine, for a culturally enriching experience.
Shop in Amagansett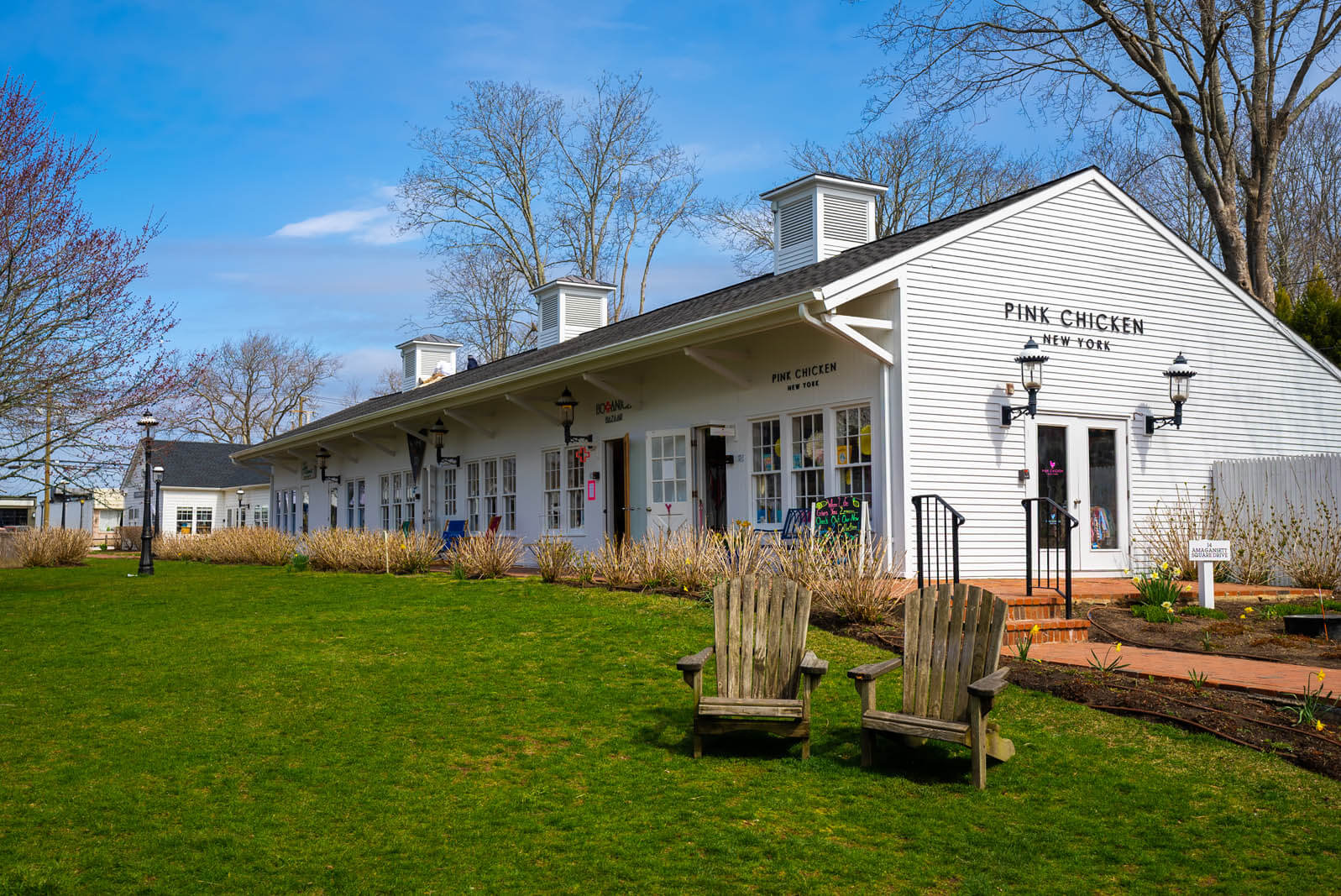 If you're looking for some superb shopping in the Hamptons, Long Island then you've got to visit Amagansett. Amagansett is a seaside community located in the Town of East Hampton, offering historic charm and a rustic, yet refined feel to all who visit.
Out of towners can explore boutique storefronts in Amagansett Square, a little shopping village hidden in the heart of Amagansett. Children frolic freely in this friendly neighborhood park, while adults explore the various shops and eateries.
Be sure to visit Innersleeve Records for some vinyl and nostalgia, we picked up a few new vinyl here ourselves!
If you need a little afternoon pick-me-up, we recommend stopping by Jack's Stir Brew Coffee for his patented "stir brew." If you're hungry you can stop by Wölffer Kitchen Amagansett, which is by the same winery we mentioned earlier as one of the best things to do in the Hamptons!
Shop & Dine in Southampton
Still haven't quite scratched that shopping spree itch? If you travel from the Town of East Hampton to Main Street in Southampton, you'll be in for a treat for some fabulous boutiques, art galleries, and tasty restaurants.
It is no surprise that shopping is one of favorite Hampton's activities with enough variability in these charming storefronts to satisfy any shopper.
Try out Briggs House Antiques for Japanese-inspired pieces or Rose Jewelers if you want a luxury hot spot.
Some of other great places for a bite in this part of Hamptons New York include The Village Cheese Shop, known for their artesian cheese and gourmet food pantry; The Fudge Company, featuring 13 flavors of fudge, 20 flavors of ice cream, and over 400 types of penny candy; and Barrister's Restaurant aka a "Southampton Favorite" famous for its American lunch and dinner specialties. Another sweet tooth spot is the charming Sip'n Soda for ice cream.
Check out the Big Duck
View this post on Instagram
One of the wackiest things to do in the Hamptons requires a trip to the busy Main Street in the town of Riverhead in Flanders. Upon arrival, visitors will be confronted with what is known as The Big Duck, a huge duck-shaped building with the following measurements: 18ft W x 30ft L x 20ft H.
The purpose of this Pekin duck-shaped building is to house a retail poultry store, offering ducks and duck eggs for sale. This building was originally constructed in the 1930s to helps its owner's duck farming business and was added to the National Register of Historic Places in 1997.
It remains a principal building on the Big Duck Ranch, which was listed on the National Register of Historic Places in 2008. So, this duck is historical! I personally love a whacky roadside attraction like this, so be sure to check it out during your visit to the Hamptons, Long Island.
Catch a Live Performance at The Surf Lodge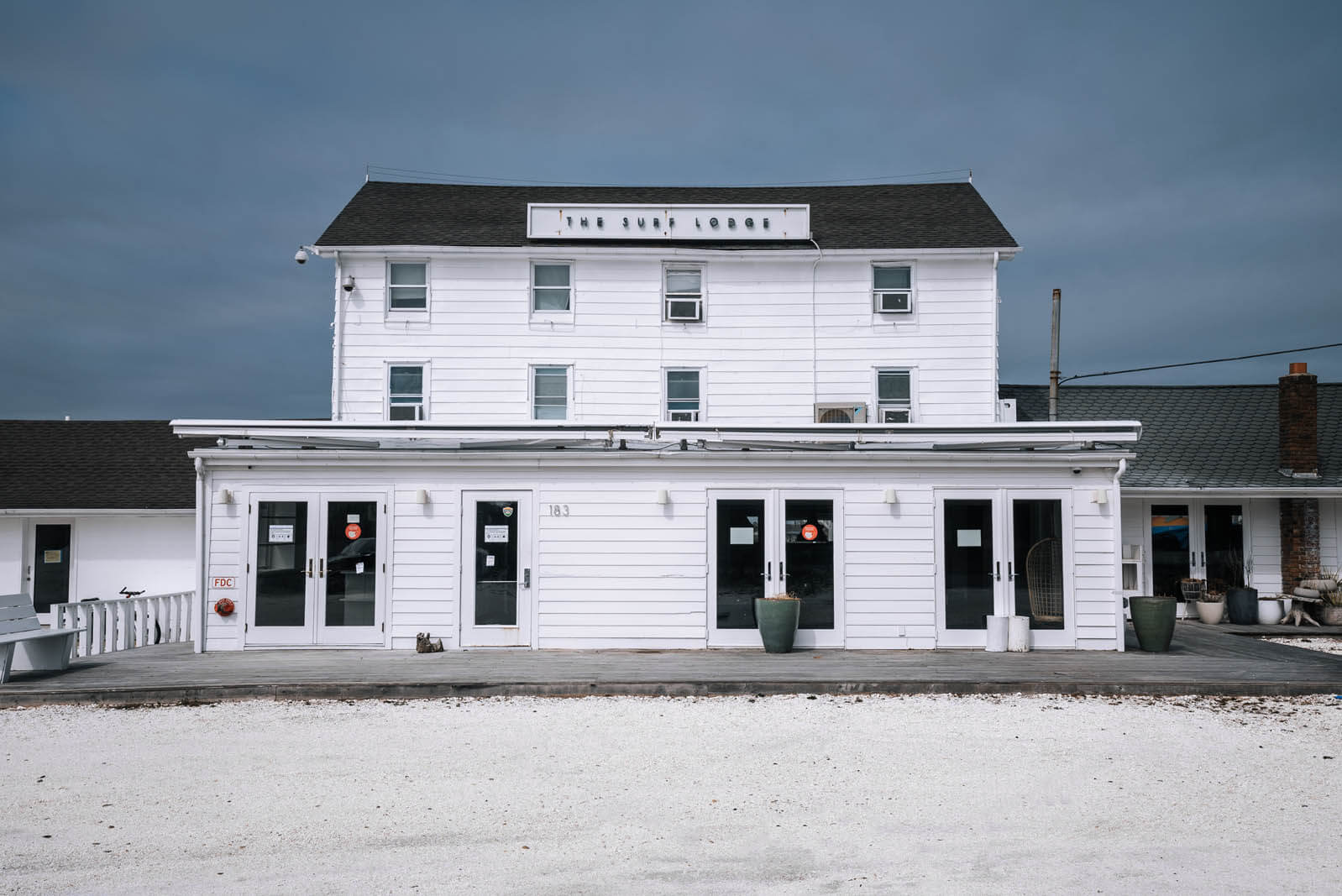 Looking for some Hamptons activities that are a bit livelier? The Surf Lodge, a Montauk Hotel and Restaurant in Montauk is one of the coolest things to do in the Hamptons where its not uncommon to bump into big celebrities at.
Formerly a simple Irish dive-bar in Montauk, this trendy destination is now known as one of hottest hip spots in the Hamptons, New York The transformation lends its thanks to what is now a legendary outdoor summer concert series that occurs on The Surf Lodge's deck, overlooking Fort Pond.
These events are not to be missed as the line-up is sure to please every time. Past performers include John Legend, Patti Smith, the Flaming Lips, and Jenny Lewis to name a few. Musicians are not the only celebrities to be spotted during these events, as frequent visitors include Ashley Benson, Malia Obama, and Neil Patrick Harris to name a few.
This is also a hotel, so you can book a room at The Surf Lodge or plan a meal in their restaurant (make a reservation) around their Sunday Sessions to try and catch a sneak peek if your wallet can't afford you onto the party deck or table service.
Another way you can possibly catch a show is kayak Fort Pond and just happen to 'paddle' to the Surf Lodge. You may not get to dance and party with everyone, but you can watch a free show from the water – the music and the partiers.
Pick up Sweets from Tate's Bake Shop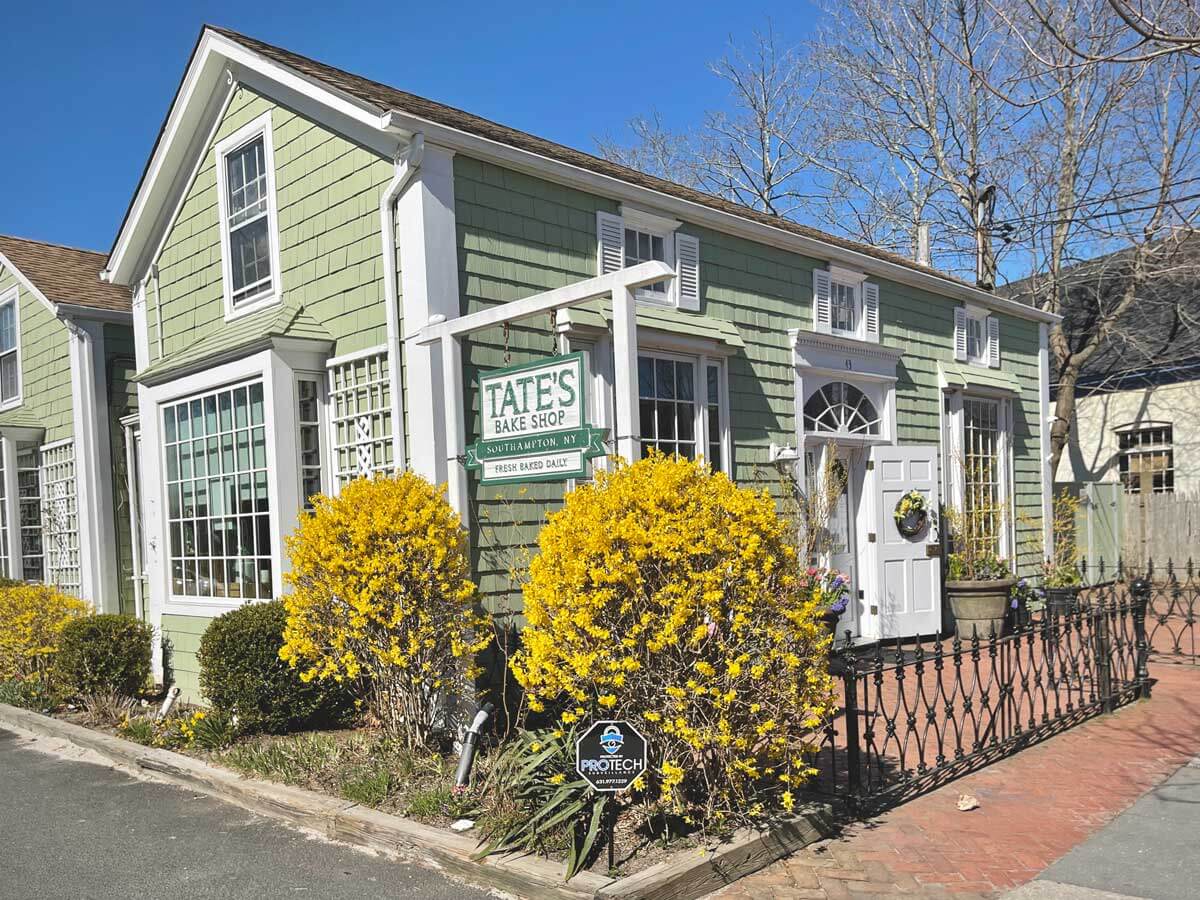 A Southampton sweet spot and one of the best of the Hamptons is Tate's Bake Shop, a quaint cottage-style bakery offering cakes, cookies, and other sweet-tooth vices.
I'm sure you'll recognize this brand by their crispy, but oh-so-flavorful cookies that crumble before melting in your mouth.
They've got all of your favorite flavors packaged away for easy purchase. If you're in need of something a bit denser, you can't go wrong with their Chocolate Mousse cake, made with Oreo cookie crust, chocolate mousse, and fresh whipped cream topping. Frequent visitors advise that you take a peek at their menu online and give them a call prior to placing your order.
Now that we've been here in person I keep seeing that you can buy a bag of their famous cookies all over grocery stores in NYC too!
Madoo Conservancy Botanical Gardens
Are you yearning to be reconnected with mother nature? Then look no further than the Madoo Conservancy Botanical Gardens, located in the village of Sagaponack.
This conservancy is open to the public and visitors are welcome on an appointment basis. Please visit their official website to fill out the appointment form prior to visiting. While reservations are required, admission is free so visitors can explore the exhibitions, gardens, and shops without paying a fee at the door.
Frequenters recommend checking out their website for upcoming exhibitions to ensure you get the most out of your trip.
Relax at Gurney's Spa
Looking for a little bit of rest and relaxation on your trip? Spend a day at the famous Gurney's Spa at Gurney's Montauk Resort & Seawater Spa.
This spot is one of the best of the Hamptons when you need to unwind. As one of the most rejuvenating things to do in the Hamptons, visitors can enjoy high-end pampering from the comfort of a luxury hotel located right on their own private beach.
Gurney's Resort and Spa is not only one of the best luxury stays in the Hamptons, Long Island but their beach offers great surfing, 6 on-site dining options, gorgeous rooms, suites, and cottages plus their free spa facilities for guests which include an indoor pool that can be enjoyed year-round and Roman baths.
Enjoy a post-spa recline on the sand and take in the panoramic ocean views from the comfort of a cabana from The Beach Club.
Besides the spa, other amenities include an Italian hotspot on Scarpetta Beach, as well as various classes to be had at the resort, including a floral arrangement class and a wellness class to name a few.
Check out the Walking Dunes
If a spa day just isn't in the itinerary, some physical activity might be more your style or something you can fit into your trip covering the best of the Hamptons.
Check out the Walking Dunes, a self-guided 0.75-mile trail in Montauk, New York. Of all Hampton's activities, this one is pretty unique. As you follow the path through the walking dunes ecosystem, you'll find forests that have been entirely buried beneath the sand, along with pepper bush and cranberry bogs.
Fun fact – the so called "Walking Dunes" got its name because of the powerful offshore winds that actually move the sand approximately 3.5ft annually.
To put this into perspective, this pushes the dunes to reach up to 80 feet in height! As you approach Napeague Harbor Rd, take a left off Route 27 and you'll begin to see trail signs about one mile to the end of the road. The hike begins and ends at Napeague Harbor and is of moderate difficulty.
Pollack-Kranser House and Study Center
If you still need a reason to convince yourself to visit Hamptons New York, then perhaps the residency of some well-known artists, like Warhol, might strike up a sense of F.O.M.O for you.
Some of the best of the Hamptons, in terms of talent, took deep roots in this charming area years ago. In fact – the famous abstract painter, Jackson Pollock, and his wife, Lee Krasner, moved to what is now known as the Pollock-Krasner House and Studio in Springs.
The house sits on roughly 1.5 acres, accompanied by a nearby barn on Accobonac Creek. The museum is open from May through October and closed on Mondays.
Advanced reservation is required, and admissions run $15 for adults, $12 for children under the age of 12, and free for infants.
Hank's Pumpkintown
If you're looking for a festive activity in the Hamptons, Long Island, consider stopping by Hank's Pumpkintown, a pumpkin patch in the hamlet of Water Mill.
This fall favorite destination features a market full of homemade treats including baked pies, donuts, and cookies. Not to be missed is the Corn Shed for some of the best roasted corn around!
Some of the recreational activities include pumpkin picking, apple picking, corn mazes, wagon rides, tractor rides, playgrounds, among other games and activities.
Visitors should note there is free off-road parking, located at the west end of the property on both sides of the road. It is imperative that you park here to avoid ticketing.
Although Hank's Pumpkintown is only open during the fall season, Hank's Farmstand is open during the summer and offers its own selection of Hampton's activities suited for the warmer months.
Beach Day at Fire Island
Located right off the southern shore of Long Island, New York is the thin Atlantic Ocean barrier island called Fire Island, which some would argue are not the Hamptons, New York but its close enough and famous enough we threw it in here!
Stretching 32 miles off the coast, Fire Island is home to a diverse range of landscapes, offering views of sand dunes that turn into forests, as well as bustling towns, hamlets, and protected beaches.
As you enjoy your day on the beach's pristine sands, make sure you allocate some time to stop by CJ's, a casual beachside café and bar that pairs fresh seafood with stunning ocean views.
We recommend trying the Fire Island's Famous Rocket Fuel cocktail and coupling it with a lobster roll and some homemade fishcakes. Perhaps one reason Fire Island made it to the list of the best of the Hamptons might have to do with the fact that such a visit requires a ferry service from Long Island to Watch Hill and Sailors Haven, thus, there are no vehicles permitted here.
Visitors ditch fossil fuels and instead, opt for a much less environmentally taxing bike ride or steady stroll.
LongHouse Reserve
Perhaps another environmentally invigorating Hamptons activities to enjoy includes a trip to the LongHouse Reserve, located in East Hampton.
This 16-acre reserve was founded by Jack Lenor Larsen and reflects world culture while fostering the teachings of a creative life by ways of its art collections and gardens.
The reserve and sculpture garden features pieces and installations from Buckminster Fuller, Yoko Ono, Dale Chihuly, and Willem de Kooning to name a few.
The attraction is open to the public for a small fee and visitors strongly urge to make reservations in advance. You're sure to feel an unequivocal connection between the arts, nature, and human beings after a trip to the LongHouse Reserve.
Get a Sweet Treat at Bridgehampton Candy Kitchen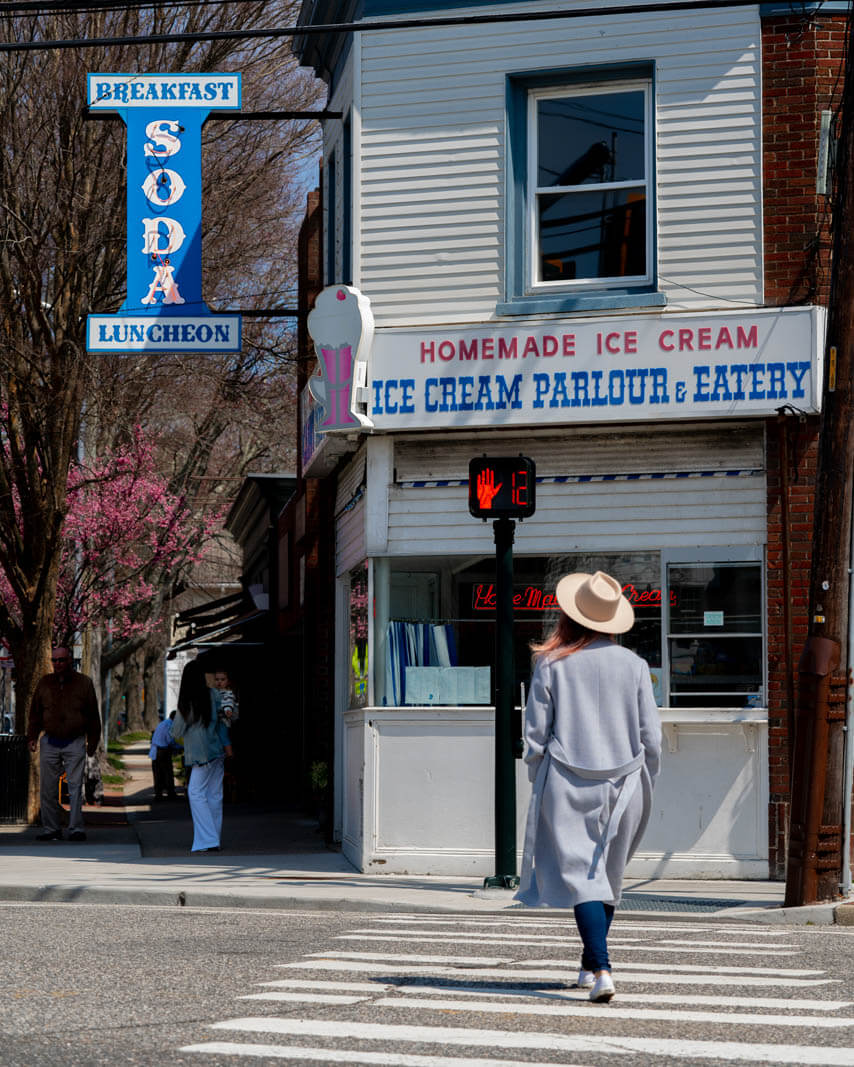 Of all the things to do in the Hamptons, this one takes the cake (literally). Head over to the hamlet of Bridgehampton to satisfy that sweet tooth at the Bridgehampton Candy Kitchen.
This cash-only, old-fashioned luncheonette is a step into the past, offering local breakfast, lunch, and of course…ice cream!
Frequent guests rave about indulging in the blueberry pancakes and speak highly of the service from the friendly staff. This staple of Bridgehampton has local visitors who pride themselves in having visited regularly for decades. Don't miss out on this delightfully sweet spot.
Enjoy a Show at Stephen's Talkhouse
If there's one thing you can't miss when visiting the Hamptons, New York it's a show at The Stephen's Talkhouse, located in Amagansett.
This live music venue is essentially an intimate club in an old house, featuring nationally known acts and local heroes. Visitors should take a peek at their official website to get a run-down of upcoming shows, which you can conveniently search through adjusting the filter function based on your selected dates and genre of interest.
Enjoy great music and fantastic drinks from their bar, split into three different spaces – the main room, barback, and patio. Before you make your exit, be sure to shop their trendy merchandise.
Enjoy Fresh Seafood!
The Hamptons, New York is home to some of the best seafood on the east coast. For starters, Clam Bar at Napeague is celebrating their 40th anniversary this year (2021) at their longtime fish shack, equipped with a bar and patio.
We highly recommend their chowder and lobster rolls, I like the Connecticut-style lobster roll personally, which is perfect because that's what they serve, it doesn't have the mayonnaise, which is a hot debate apparently.
Another spot across the highway is Lobster Roll aka Lunch, dishing out more fresh, meaty lobster rolls. The sweet and tangy taste pairs perfectly with a side of slaw.
If you prefer your seafood with a pristine view, try Harvest on Ford Pond or Duryea's Lobster Deck, both located in Montauk, each with their own spectacular waterfront.
Visitors should note that Duryea's Lobster Deck is a walk-in-only restaurant. A well-known seafood spot in Sag Harbor is Baron's Cove, which pairs its fresh fish with live music on the weekends. Keep your eyes peeled when visiting this seafood spot, as many historical guests and regulars are frequently spotted about.
Sunset Drinks at Montauket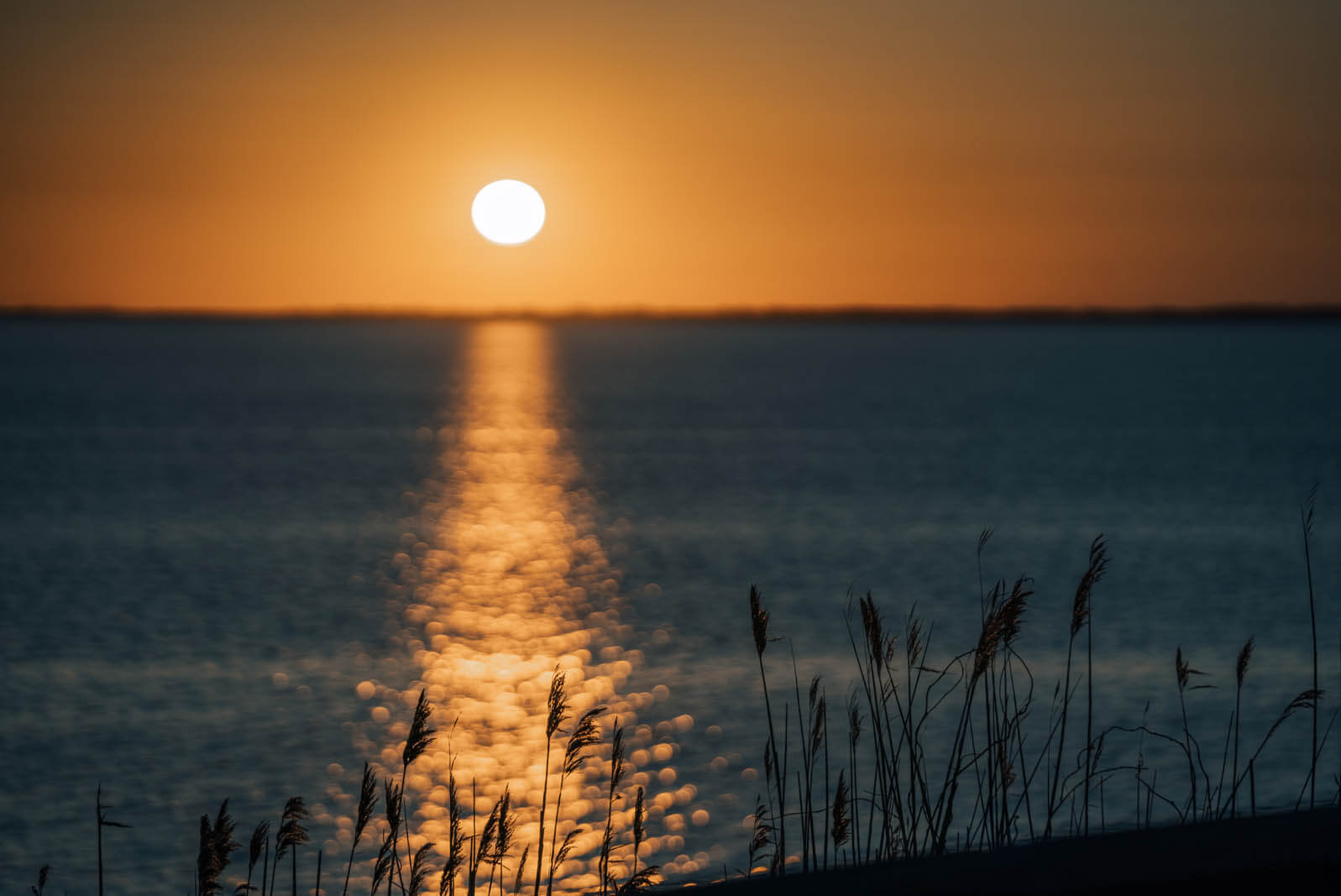 Another great addition to the best of the Hamptons is enjoying sunset drinks at Montauket. The Montauket, where Montauket is known as "the hill" by locals, is a special place and tradition where all are invited to gather as the sun sets over Gardiner's Island.
As the sky begins to glow warmer shades of color, guests may enjoy fresh locally caught seafood, specialty cocktails, and live music.
This romantic waterfront is open 7 days a week, with Sunset Cocktails offered Monday through Wednesday from 3-8pm.
Also, a little historic tidbit: The name Montauket refers to the Montaukett Native American tribe whom Montauk is named after pre-colonization.
The Montauk tribe is not recognized on a federal level yet. Many Montauk descendants currently live in the Shinnecock Reservation, mentioned earlier as one of the best things to do in the Hamptons. Legislation was passed by the state of New York in July 2020 to restore recognition of the Montaukett Tribe.
Parrish Art Museum
There are quite a few options for Hamptons activities that revolve around the art and culture scene in the area, this one included. One of the best things to do in the Hamptons includes popping in at the Parrish Art Museum, located in Water Mill.
Be sure to check out their website in advance for information regarding their exhibitions. If you'd like to attend an event or visit the galleries, the museum is closed on Tuesdays, so plan around that.
Online registration is required, and admission fees are as follows: $12 for adults, $9 for seniors, and free for museum members, students with ID, and children under the age of 18 years.
The actual museum grounds, however; are open every day from 11 am – 5 pm, and visitors can roam throughout the 14-acre Field of Dreams, the museum's outdoor sculpture exhibition, as they please.
Main Beach in East Hampton
Hamptons New York is a prime place for some sunshine-induced fun. A great public beach in the Hamptons Long Island is the East Hampton Main Beach, which is one of five beaches in the Village of East Hampton. This particular beach has a lifeguard on duty, restrooms, and a snack bar.
A favorite among locals, this gorgeous beach has a gorgeous shoreline with soft sand.
Visitors should be aware that while admission to the beach is free, permits are required for parking, and a limited amount are sold on a first-come, first-serve basis. It is advised that if you are planning a trip to Main Beach anytime soon, to check with the Village of East Hampton to see what kind of permit you need prior to attending.
Or if you're staying nearby you can always use a ride share app to drop you off and pick you up from the beach.
Dine at the American Hotel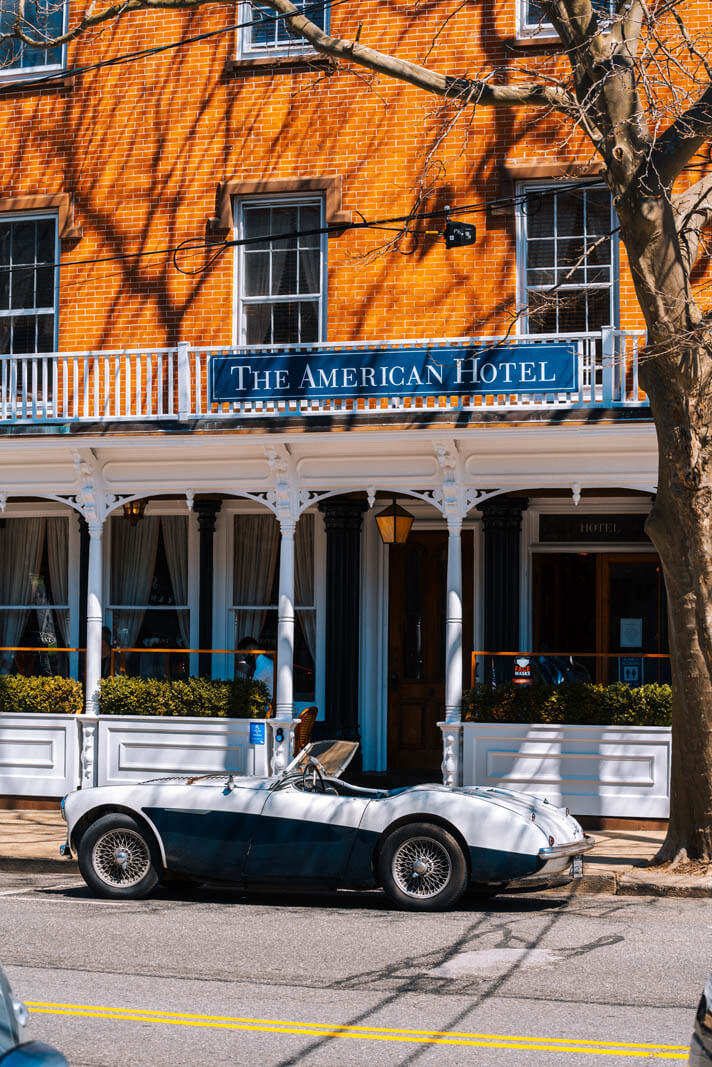 One of the best of the Hamptons will take you back to historic Sag Harbor's Main Street, to an upscale hotel dating back to 1846. The American Hotel was built during the height of the Whaling era and remains to be an elegant and professionally run establishment.
Furthermore, the hotel features 8 rooms, each individually and tastefully decorated with original artwork and furniture fitted to the time period. Although the décor may represent a much simpler time, all rooms are equipped with air conditioning, separated work areas, luxury toiletries, and not to mention…whirlpool tubs!
Reviewers of this fabulous hotel describe the décor to be "hipster-repellent," haha okay. Once you've settled into your room, you must not miss out on their renowned restaurant, open for breakfast, lunch, and dinner, with a scroll-worthy, 85-page wine list.
Surf at Ditch Plains
One of the best and most famous things to do in the Hamptons, Long Island actually is to take advantage of the incredible surf scene here. One of the most popular surf spots in the area and best things to do in Montauk is hit the waves at Ditch Plains.
Ditch Plains Beach is referred to by locals as their surf mecca. The warm sandy beach floor compliments the cliffside views, creating a very picturesque view of the rolling waves across Long Island.
Given that this is one of the farthest points east on Long Island has bigger waves the farther you go east, it is no wonder why surfing at Ditch Plains is one of the most fun things to do in the Hamptons.
This popular East Coast surfing spot is just two miles east of Montauk Village, and a short drive away from just about anywhere in town.
Visitors should note that a parking permit is required, and that some of the amenities involve public restrooms, outdoor showers, lifeguards, and concession trailers serving snacks and more. You either need to stay here, find someone who will let you park in their driveway, or get a ride over here to avoid a hefty ticket.
After a dip at Ditch Plains, consider stopping by Montauk Village's Sel Rrose Montauk restaurant for some amazing grub, cocktails, and service.
Quogue Wildlife Refuge
One of the more nature-going Hampton's activities includes a visit to the Quogue Wildlife Refuge, located in the village of Quogue on the South Shore of Long Island.
This 300-acre non-profit organization was founded in 1934 and has since served as a nature preserve and educational center. Open 365 days a year, visitors can enjoy the various habitats and native animals by way of exploring seven miles of trails that take you through ecosystems like forests and ponds to name a few.
This is even a great way to spot the ecologically rare Dwarf Pine in the Pine Barriers. Animal lovers and advocates will be happy to hear the Outdoor Wildlife Complex cares for injured wildlife that requires human intervention to survive. Some of the rehabilitated creatures include owls, falcons, and foxes.
If you're looking for an unparalleled view, head over to the Charles Banks Belt Nature Center to check out views of Old Ice Pond, wildlife exhibits, live animals, a nature library, and of course…a gift shop. It is prudent to mention that your furry and wheeled companions are not permitted on the trails.
Montauk Salt Cave
Everyone could use some me-time and what better place to do so than in the Hamptons, Long Island? Relax and breathe at the Montauk Salt Cave, renowned as a wonderful and magic place where guests can embark on deep mediation exercises to boost their mindfulness.
Some of the services offered here include salt therapy sessions, where you can sit back in their zero-gravity chairs and enjoy the sound of music whilst listening under their twinkling stars.
Another service provided is a healer-led session, where different modalities such as Reiki, Crystal Healing, or Sound Baths stimulate your therapy routine. Some personal favorite services that are not to be missed include beauty and wellness treatments like their massages, lashes, and cryofacials.
If you'd like to book or purchase a session in Montauk, guests are urged to call or email the Cave directly.
Shop at Farm Stores and Stands
Hamptons, New York is fond of their fresh ingredients, and as such, one of the best Hamptons activities include bringing home farm to table ingredients from one of their famous farm stands.
One way you can accomplish just this is by visiting the Spring Close Farm in East Hampton, a micro-farm offering freshly roasted coffee beans, local produce (over 50 varieties of leafy greens), juicy heirloom tomatoes, baked goods, fresh eggs, flowers, and of course…the Hamptons Grocer granola.
Another favorite in East Hampton is the Balsam Farm Stand, with its huge selection of high-quality seasonal vegetables, fruits, as well as specialty meats and cheeses.
If you have some time (and trust us, you will, given their extended hours of operation), try out Serene Green Inc. in Sag Harbor. Frequenters rave about the large selection of produce and local fresh seafood. Be sure to try their steamed lobsters, clams, and mussels for a seaside feast.
Check out the cutest roadside produce stand, Vicki's Veggies, which Vicki started at her family farm at the age of 11 and has been running it the past 4 decades!
Hunt Down the Historic Windmills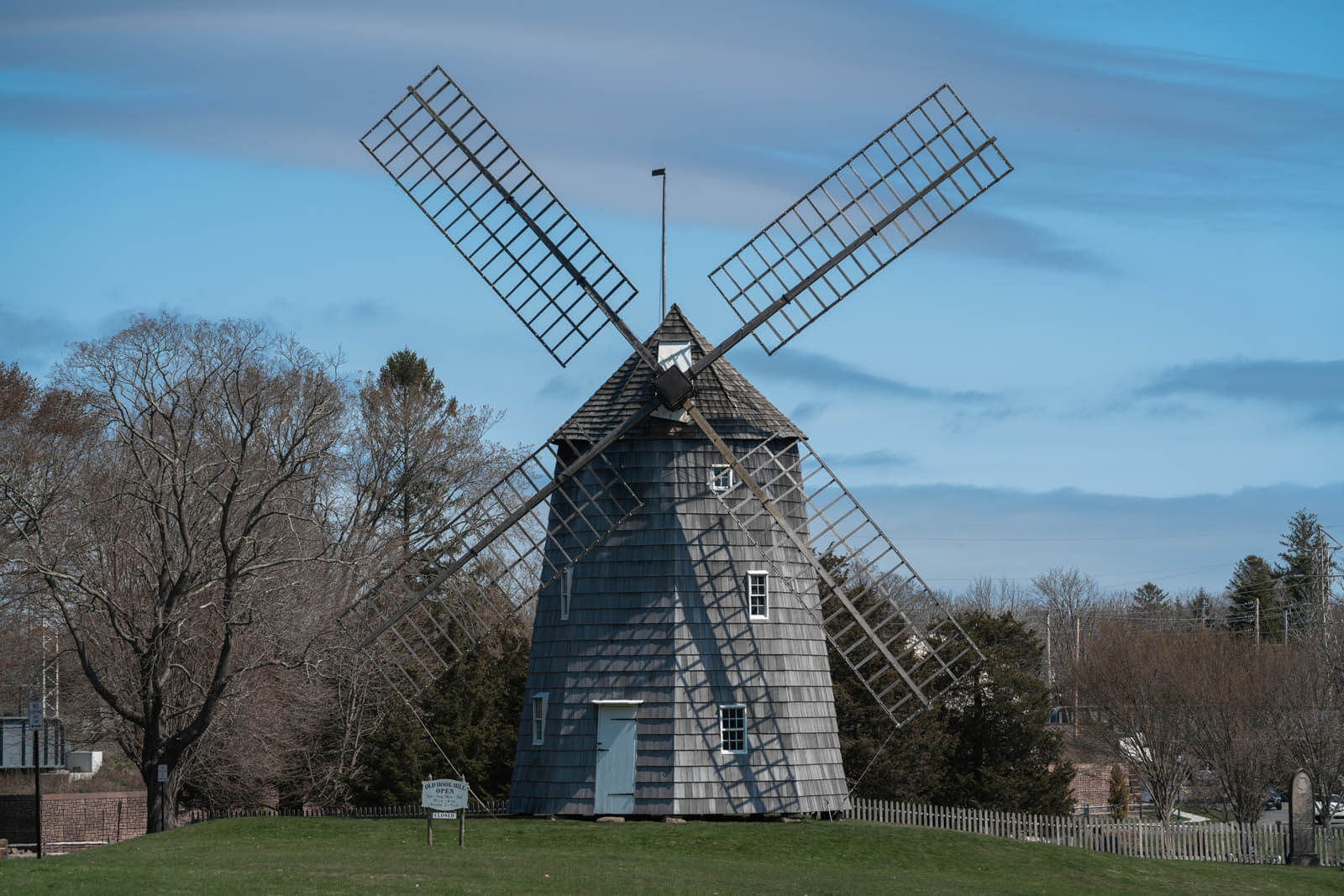 One of the best things to do in the Hamptons if you love a good ol' fashioned scavenger hunt is to search for all eleven historic windmills! This is the largest collection of historic windmills in the country by the way!
All of the windmills were built within a 15 year period between the years of 1795 through 1810 and traces back to the Dutch, obviously, who colonized the land here.
The windmills were used to process and grind grains that were farmed nearby. Most of the windmills are found on the East End of the Hamptons, Long Island with one even being located on Gardiners Island.
In addition to the official eleven historic windmills, there are more as they've become sort of a "Hamptons aesthetic." You can see windmills incorporated into Hamptons mansions and spot random ones as you're driving around.
You'll spot these as your driving around all of the things to do in the Hamptons you're enjoying on your trip, some of the easiest and most convenient to spot are the windmills in Sag Harbor, Amagansett, and Southampton.
---
Enjoyed this guide to the best things to do in the Hamptons, New York and the best of the Hamptons? Bookmark for later or share the love below on Pinterest!