Looking for all the fabulous things to do in Scottsdale? We got you. Spend an unforgettable weekend in Scottsdale getaway enjoying the best of this incredible destination that gets 330 days of sunshine a year! It's no wonder why this is one of the most sought after warm winter vacations in the United States!
Famous for its luxurious shopping, art galleries, premiere golfing, desert landscape, and saguaro – there's plenty of natural beauty and attractions in Old Town Scottsdale to make a perfect weekend trip (or even longer!). Located in the greater Pheonix area, you also have access to some of the best attractions nearby too including the parks, Camelback Mountain, and nearby cities if Tempe, Mesa, and Phoenix.
You can totally do this trip with or without a car, with a car you have access to driving to places like Frank Lloyd Wright's estate, Papago Park, and Camelback Mountain. Without a car, you can enjoy the best things to do in Old Town Scottsdale by foot as this area is incredibly walkable and anywhere you need to go that's just a hair too far for a walk can be solved using a rideshare app.
Just keep in mind when planning a weekend in Scottsdale that the most comfortable times of year are fall through spring, and the summer months can be brutally hot during the day. If you do visit in the summer, you'll want to do things early in the morning and later in the evening to get out of direct sunlight. Good thing there are great museums and galleries in the area if you do visit this time of year, which is doable, you just have to be mentally and physically prepared for the heat and make sure you stay well hydrated.
Without further ado, here are all the best Scottsdale activities in Old Town and nearby!
Disclaimer: This post contains commissionable links at no extra cost to you.
How to Spend a Weekend in Scottsdale
Scottsdale Museum of the West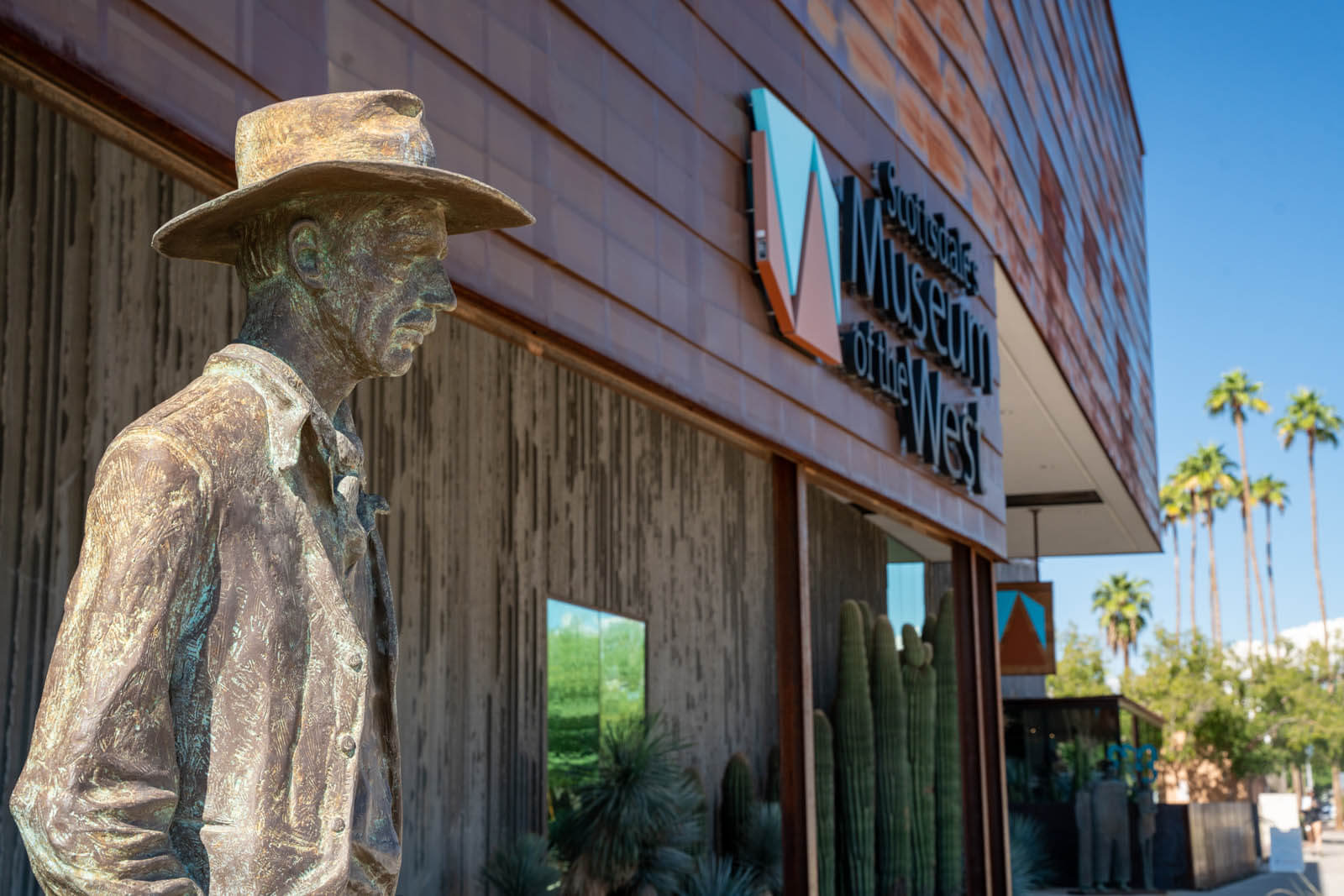 Address: 3830 N Marshall Way
During your weekend in Scottsdale, take at least a few hours and visit the Museum of the West, a Smithsonian affiliate. If you love Western art or are wanting to have an educational experience around Native Americans and even cowboys, then this Downtown Scottsdale museum will not disappoint.
Both levels of the Museum of the West are beautifully laid out with a variety of rotating exhibits. You can see galleries of photography and paintings inspired by Arizona and western landscapes.
There are also wonderful art exhibits and deep dives into the cultures of 19 states in the American West. They also have a great collection of genuine historic artifacts ranging from Native American pottery, saloon card games, and actual tomahawks.
You can take a docent-led tour for free or find out about audio tours when you visit. The Museum of the West is open from 9:30 AM to 5 PM Tuesday through Saturday and 11 AM to 5 PM on Sunday.
Sugar Bowl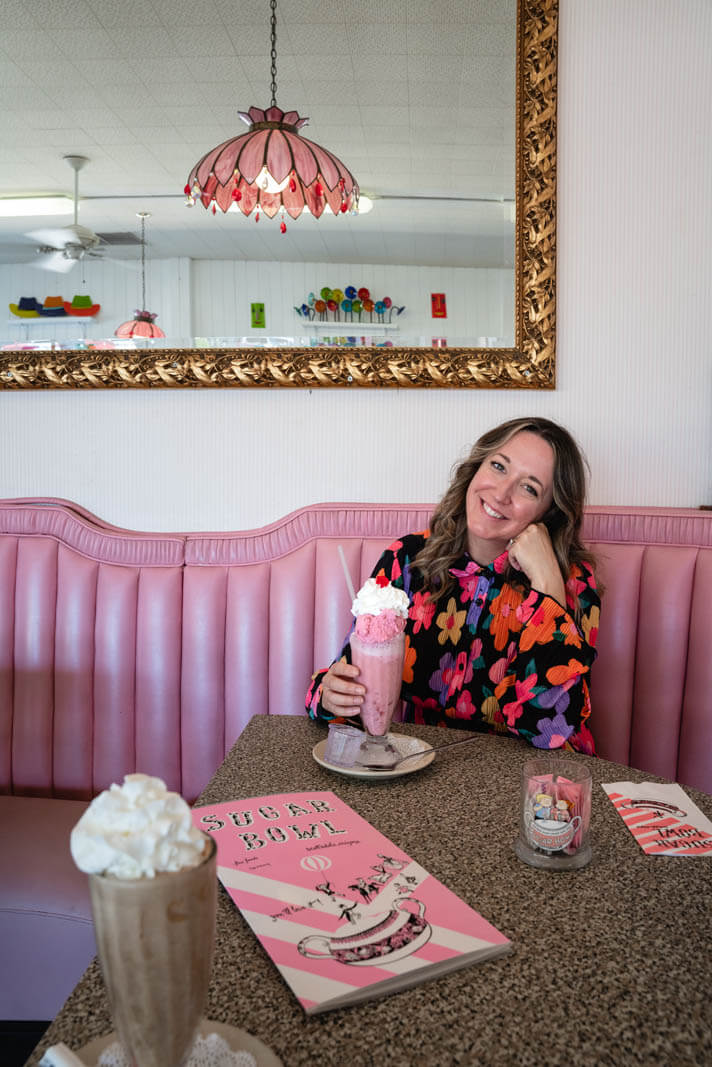 Address: 4005 N Scottsdale Rd
One of our favorite things to do in Scottdale was visiting the Sugar Bowl, an old fashion ice cream parlor that feels like it hasn't changed since it opened. You can't miss the bubblegum pink storefront with its multi-color signage in the heart of Downtown Scottsdale.
Opened in 1958, the Sugar Bowl has barely changed over the years. It's a nostalgia lover's dreamland, with vintage, hand-drawn illustrations on pink and white menus (that are mostly desserts but there's food here too if you need a meal before your sweet treat). You can sit at the classic counter with blush pink swivel chairs or at a blush pink half-moon booth! Knowing how we LOVE pink, we adored the interior here.
Ice cream sundaes and scoops of ice cream come in glass cups on doily-lined plates. Or you can order from a long list of floats, shakes, sandwiches, salads, and more. There's also a room full of classic arcade games in the back that all ages will love.
The Mission Old Town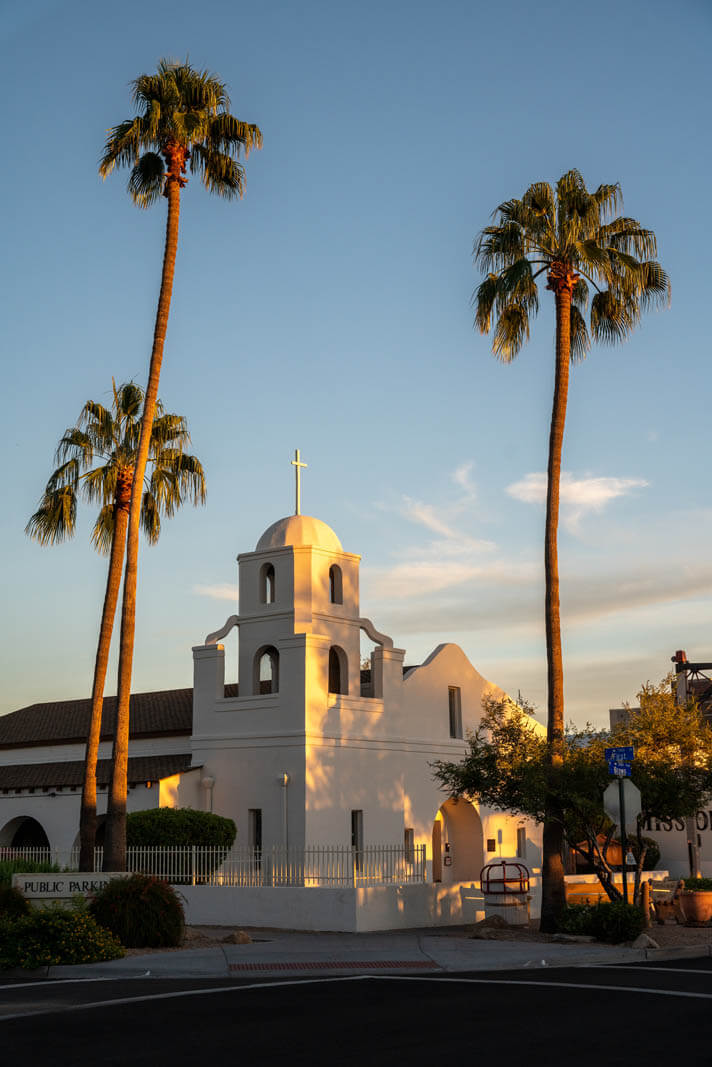 Address: 3815 N Brown Ave
The food scene in Scottsdale is impressive, with dozens of classic restaurants, superstar concepts, and vintage cafes. The Mission should be at the top of your list when you're looking for things to do in Old Town Scottsdale. It's a Latin fine-dining restaurant inside a beautiful former chapel that's almost 100 years old.
The Mission is nestled inside a historic block for an immersive taste of Scottsdale from the moment you walk up to the restaurant. Inside, you can sit under candlelight and chandeliers for a romantic atmosphere. Outback, the patio has a calm, relaxed vibe with string lights and white-washed surfaces.
Chef Matt Carter works with flavors, ingredients, and traditions of cooking from across Spain, Central America, and South America to create inspiring dishes at The Mission. You'll also be able to taste the Southwest influence in the mesquite and pecan woods used during cooking. And don't pass up one of the interesting cocktails, like the Spicy Hibiscus Margarita!
Scottsdale Museum of Contemporary Art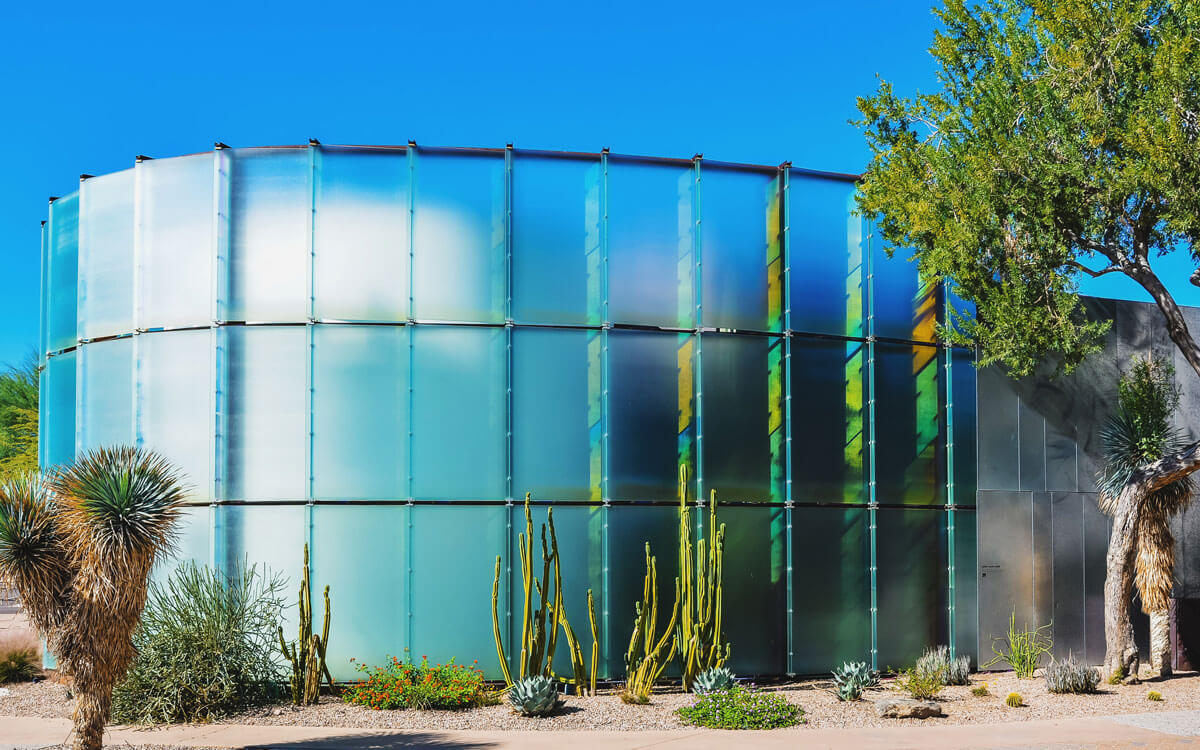 Address: 7374 E 2nd Street
Scottsdale has a thriving art scene, with galleries galore, there's a high density of places to enjoy fine art in a small walkable area. Scottsdale also has great museums including art museums, be sure to check out the Scottsdale Museum of Contemporary Art during your weekend in Scottsdale.
Even though it's a smaller museum, SMoCA offers an impressive collection of modern art across many different mediums. They're also known for their architectural exhibits that include murals and displays that celebrate the stark terrain around Scottsdale.
SMoCA is inside a minimalistic building that holds 5 different gallery rooms and an urban sculpture garden. An outdoor courtyard is also a permanent exhibit for the concepts of an artist that works with light and shadow.
There's a small admission fee for entry, and you receive access to all these spaces. First responders and those under 18 years of age are free. The museum is open Wednesday through Sunday from 11 AM to 5 PM with extended hours on Thursdays. For an additional fee, you can also attend special events that happen every week, like demonstrations in the outdoor courtyard by the light artist.
Old Town Scottsdale Art Galleries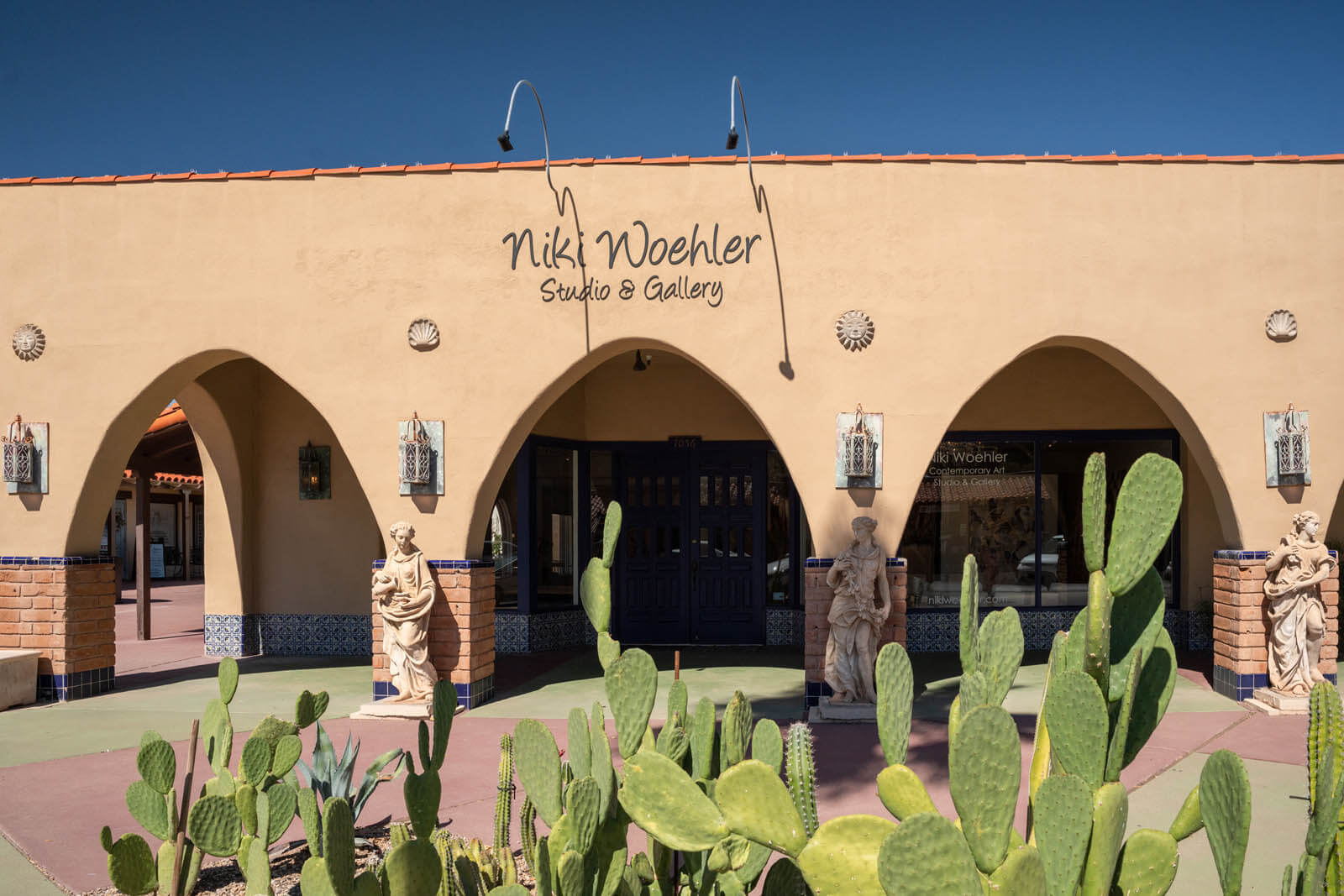 Speaking of art, one thing Scottsdale is known for is the ton of amazing art galleries you'll find in a walkable distance in Old Town Scottsdale, mostly along Main Street. We recommend walking around and peering into the windows to decide which galleries to checkout for yourself, unless you already know!
A few we liked included Niki Woehler Studio & Gallery. Niki works with a mixture of paint and resin and is known for her stunning large-scale abstract work.
Another great option is Bonner David Art Galleries features both a contemporary gallery and a traditional gallery at its location in Scottsdale, they also have a location in New York. There's something for every taste, and it's all beautifully displayed.
One of the top things to do in Old Town Scottdale if you're a fan of art is attend the weekly ArtWalks on Thursday nights at 7 PM. This is when more than 2 dozen art galleries along Main Street and Marshall Way open their doors with appetizers and live music. For a few hours, you can find locals and visitors mingling, enjoying live music, and checking out the local art scene.
McDowell Sonoran Preserve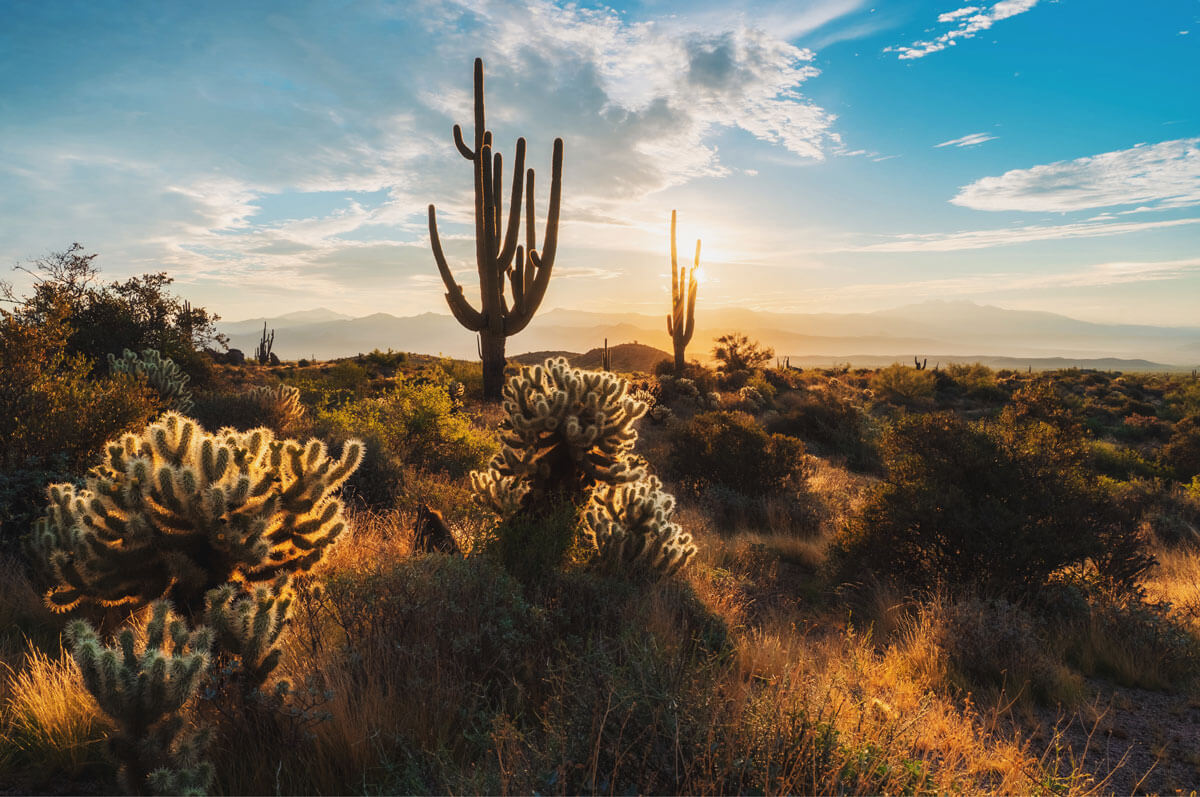 The McDowell Sonoran Preserve is a protected urban park on the northeastern side of Scottsdale. It's over 30,000 acres of beautifully preserved desert land with more than 180 miles of easy to difficult trails. If you're looking for outdoor things to do in Scottsdale, this is a good place to stay. It's a popular area to hike for those new to the area. And it's a great way to get familiar with the local terrain.
To protect the local fauna and flora, cars, ATVs, and even electric bikes aren't allowed inside the preserve grounds. You can hike, mountain bike, or go ride horses in the park. In fact, guided group hikes are regularly scheduled by the McDowell Sonoran Conservatory. On their website, you can find a list of free upcoming hikes along with a description of the skill level and length of each hike. To attend, you just need to arrive at the correct trailhead at the given time for each scheduled hike!
The park itself is free to access and it's open from sunrise to sunset throughout the year. You can also access all the trailheads yourself and hike the park without a group.
Just keep in mind that Arizona desert conditions can be brutal, so bring water and start early in the warmer months. Extreme heat and rattlesnakes are common starting in the spring, but if you plan accordingly, a nature walk at the preserve can be a beautiful and rewarding experience!
Grab a Drink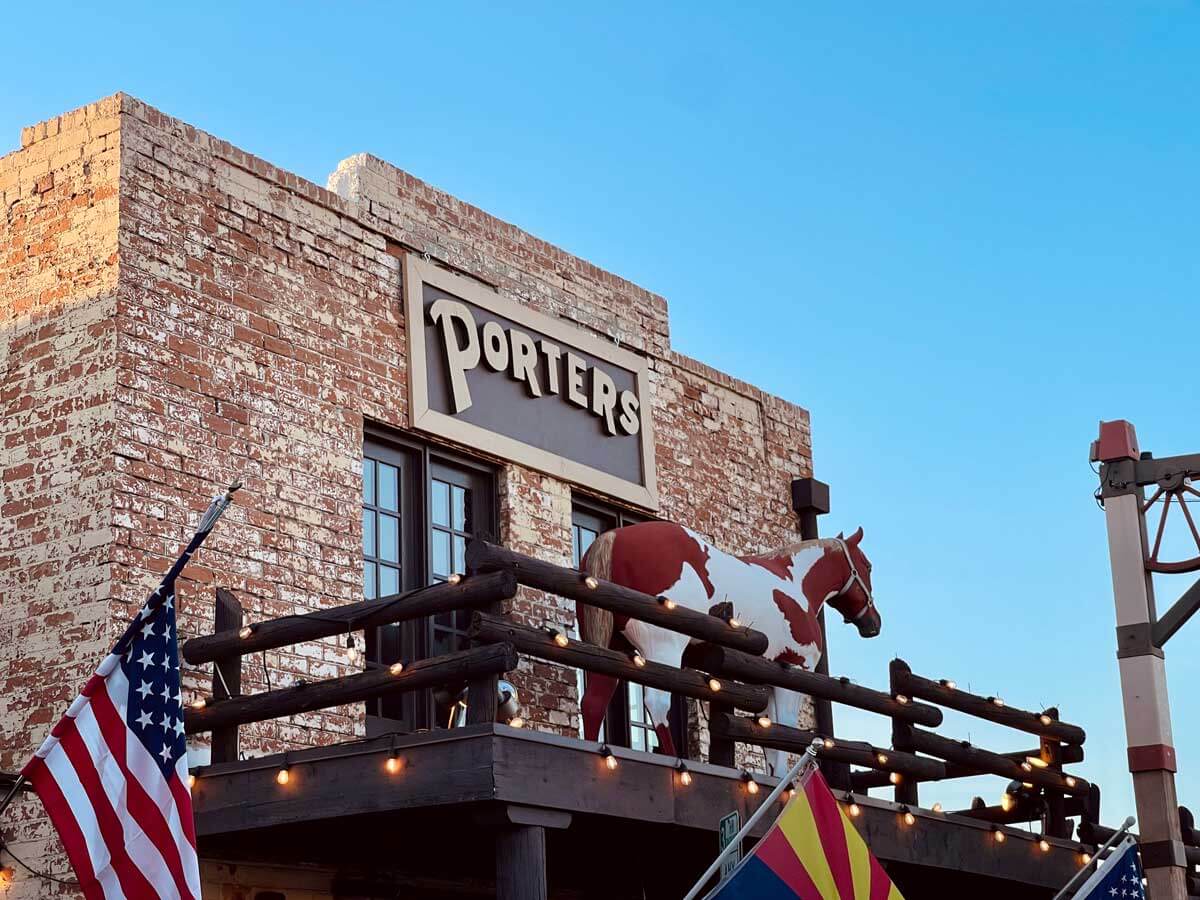 If you're looking for things to do in Scottsdale at night, you won't have to look far! Scottsdale has a healthy nightlife throughout Downtown as well as in the Entertainment District.
Porters Western Saloon was one of our favorites and you can't miss it with the giant horse above the front entrance. It's a classic western-style bar in a cool historic building with a great atmosphere, be sure to try the cactus margarita!
And plan to stop at The Rusty Spur during your weekend in Scottsdale, it's a classic dive saloon and iconic honkytonk bar with Tex-Mex and live country music every night. It's in a historic bank-turned-bar and has been around for 70 years! Be sure to pay attention to the seats at the bar too.
Then there's LDV Winery for those who love sipping on a glass of wine. The LDV Winery brand of wines is made from locally grown grapes. Come to the tasting room on the Arizona Canal where you can try wine by the flight, glass, or bottle. The winery is open daily and offers both indoor and outdoor seating.
Taliesin West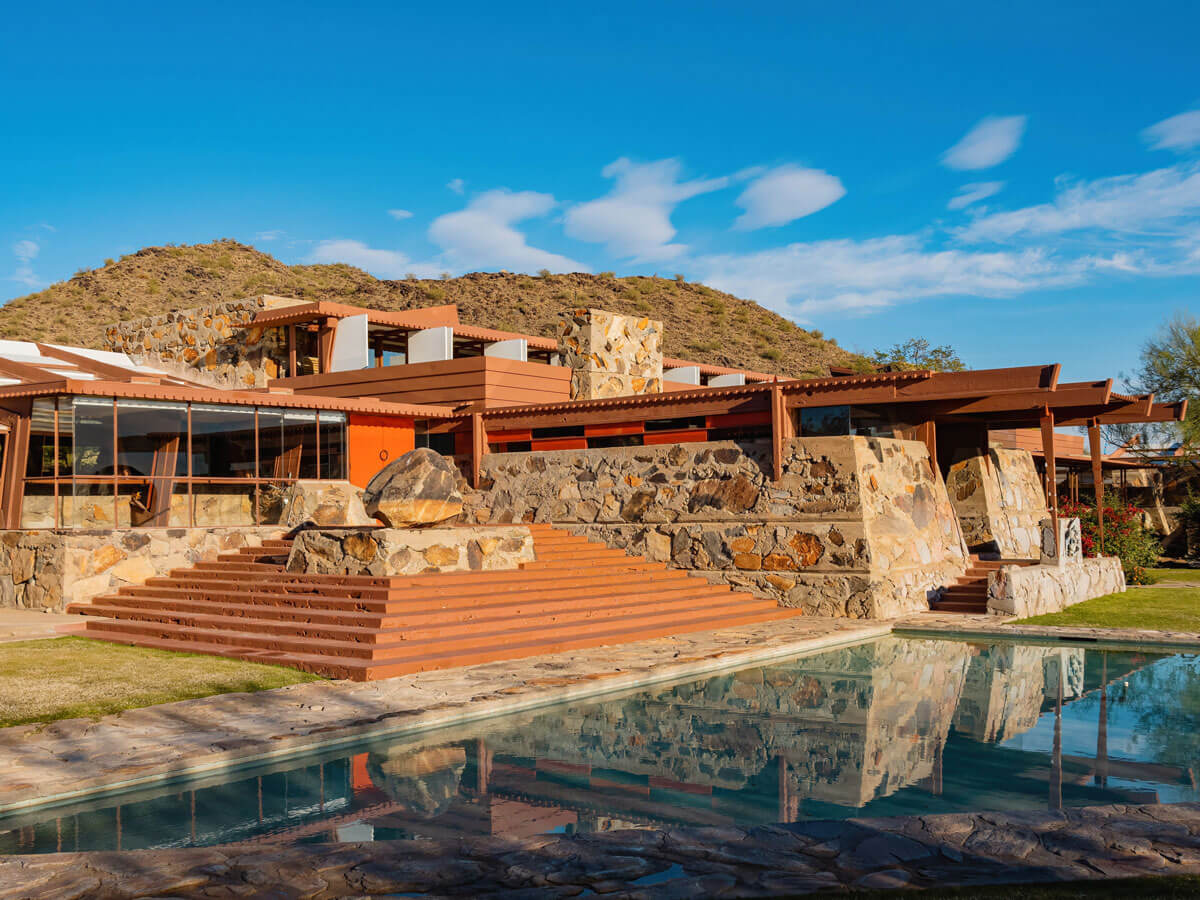 Address: 12621 N Frank Lloyd Wright Blvd
Calling all architecture fans, you'll love this spot! While much of Downtown Scottsdale is walkable, this next stop is a 20-minute drive north, so you'll need a car. But it's definitely worth the effort.
Taliesin West was the winter home of influential American architect Frank Lloyd Wright, his home in the summer is named Taliesin and is open to visitors just outside of Madison, Wisconsin. He built the house in the 1930s, and today it's a UNESCO World Heritage Site. Taliesin West also hosts Taliesin Institute, an architecture school that Wright himself established.
Seeing Taliesin West is one of the best things to do in Scottsdale because it's so beautiful, and it's open to the public for tours and Frank Lloyd Wright is arguably the most famous architect in American history. Wright loved working with local materials, which you see in the design. Local wood and rock are from Arizona, and even the cement is mixed with desert sand. Wright is known for the way he incorporated manmade structures into the natural landscape, and he did this with Taliesin West.
October through the end of May, you can take guided tours of the grounds, the home, and the studio spaces. Guided tours are 90 minutes and tickets need to be purchased in advance. Sixty-minute self-guided audio tours are also available during the same period for a smaller fee.
Scottsdale Waterfront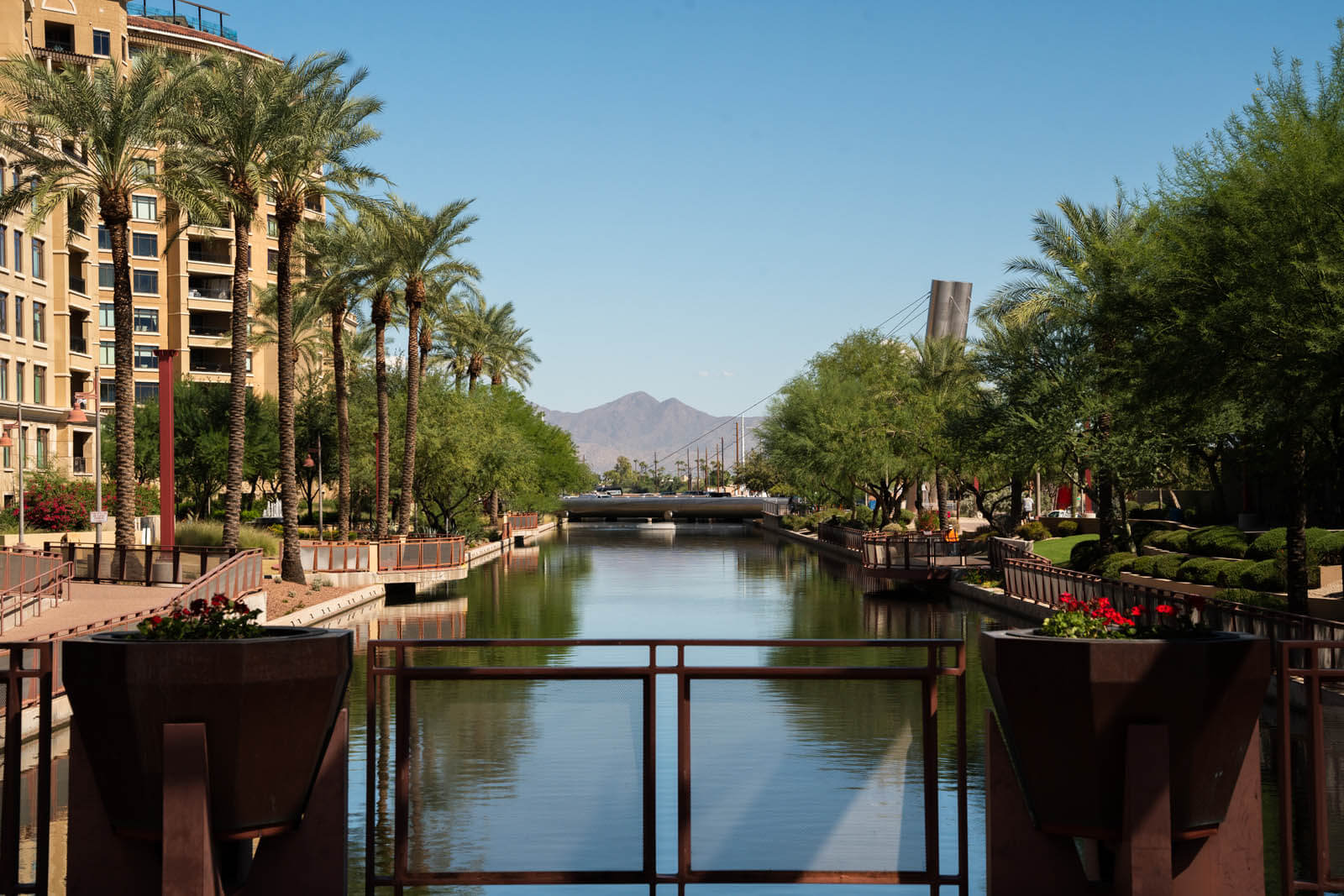 Off Camelback Road in the Downtown area is the Scottsdale Waterfront, a large upscale shopping mall winding along the canal. There are outdoor spaces, and multiple buildings with shops, restaurants, and more. The entire place is filled with natural lighting, including the indoor mall which features a beautiful multi-level atrium through the center.
All year round, Scottsdale Waterfront is a lovely place to enjoy a stroll along the canal. There isn't a ton of shade, but the architecture is beautiful in shades of sandstone and terra cotta everywhere. There are potted flowers, pretty water fountains all around, Western statues, and very often live music.
During your visit, you might see art installations along the canal or an art show at the mall. And in the winter the holiday lights and Christmas tree give a festive feel.
Papago Park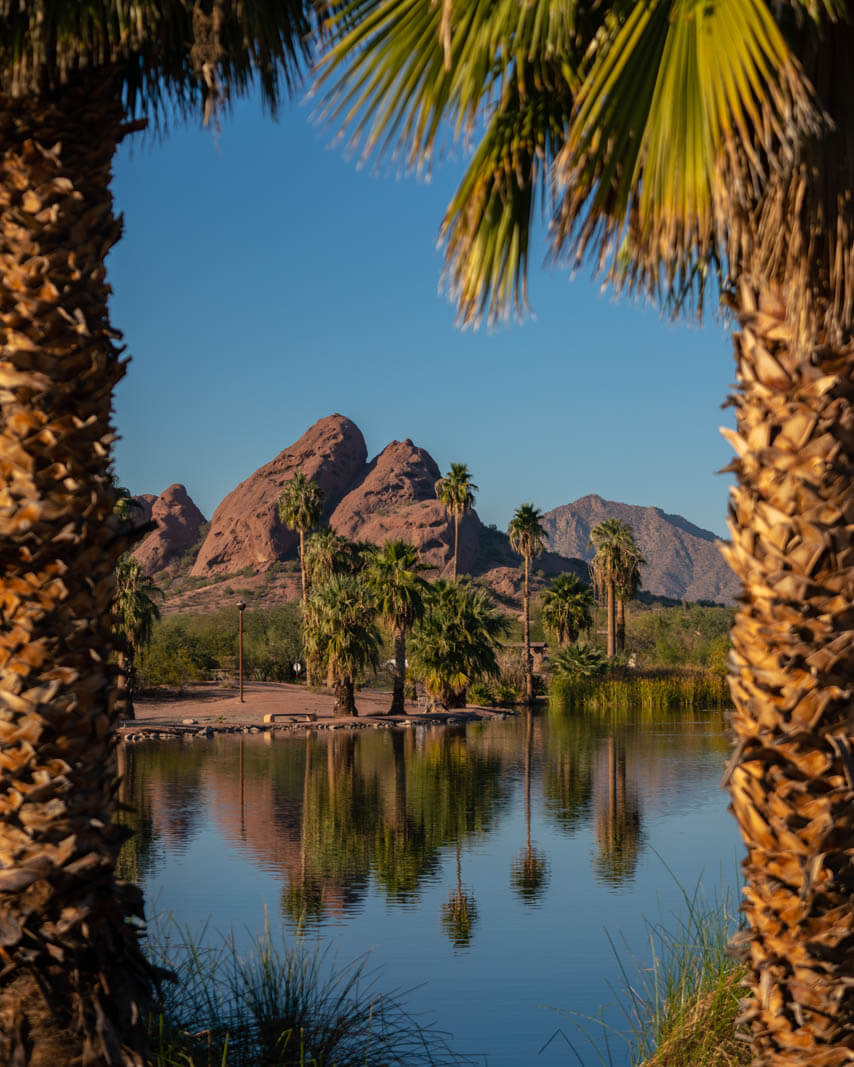 A weekend in Scottsdale wouldn't be complete without a trip to Papago Park, a place we got familiar with during our weekend in Tempe which is also nearby. It's less than 10 minutes driving south of Downtown Scottsdale to some of the best hiking and natural areas in the greater Phoenix area. The park is massive with almost 1,500 acres of desert, lagoons with palm trees, cacti, and gorgeous red sandstone rock formations.
The hilly Papago Park has hiking trails with great views of Scottsdale all over. One of our favorite things to do in Scottsdale was hiking the Hole in the Rock trail. This is an easy 5-minute hike up a hill to a huge, easy-to-find sandstone rock formation with a hole through the middle. This is Hole in the Rock and when you stand in it, you have amazing views of the park across the Salt River.
Some other cool places to hike to in the park are the Papago Amphitheater, a natural outdoor amphitheater where you'll often see people attending yoga classes. Or there's Hunt's Tomb, a large white pyramid built in memorial to Arizona's first governor. It's interesting to see the bright white tile pyramid behind cast iron in contrast to the natural red rocks of the desert around it!
Desert Botanical Garden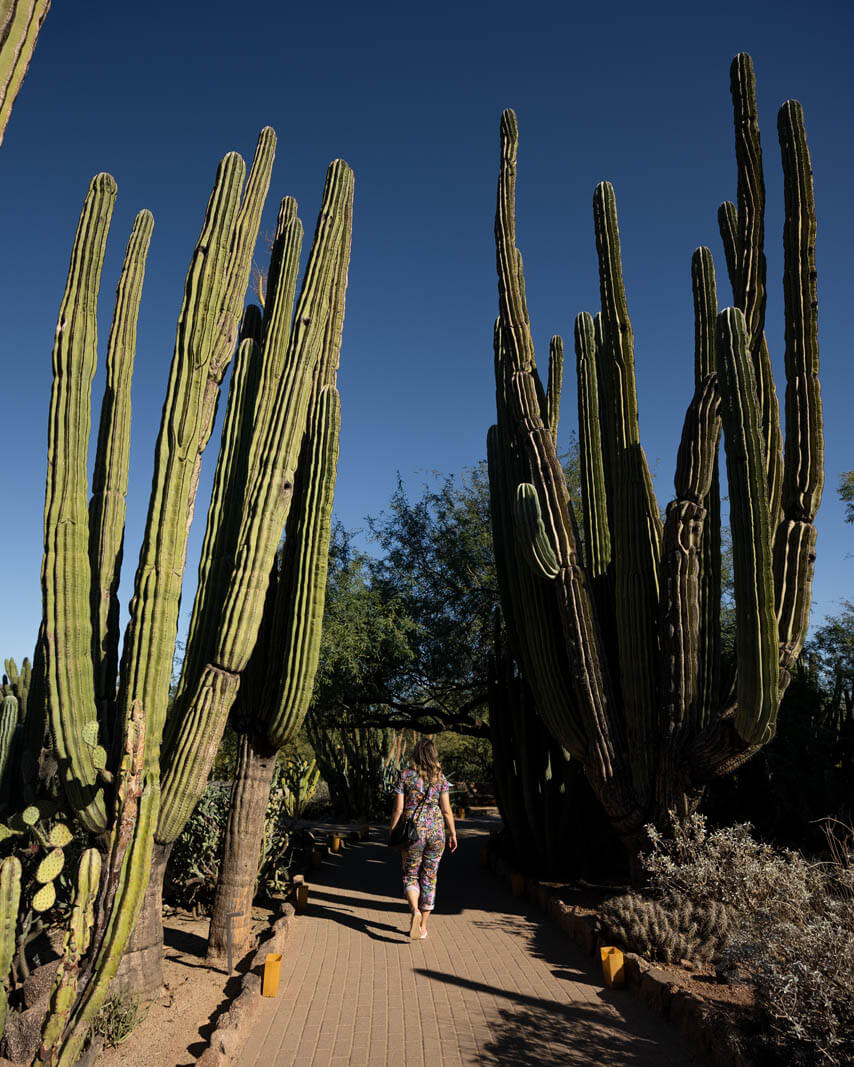 Address: 1201 N Galvin Pkwy
Inside Papago Park, the Desert Botanical Garden is a great way to see a lot of desert plants and flowers in one place and one of the best botanical gardens we've ever visited. The garden is stunning with over 50,000 different plants, among outdoor art installations that beautifully complement the natural environment.
The park offers everything from tiny succulents to towering saguaro cacti. However, the Desert Botanical Garden also has trails dedicated to different types of plant life you might not think of. Take a nature walk through a wildflower garden featuring dozens of fragrant desert flowers that attract bees, hummingbirds, and other pollinators. Or read educational markers along another trail to learn how indigenous peoples used plants for food, shelter, and more.
You can visit the garden every day but Sunday, and hours change seasonally. From October through mid-May, docent-led tours and family activities are offered throughout the park. The price of admission gives you access to these guided experiences.
Phoenix Zoo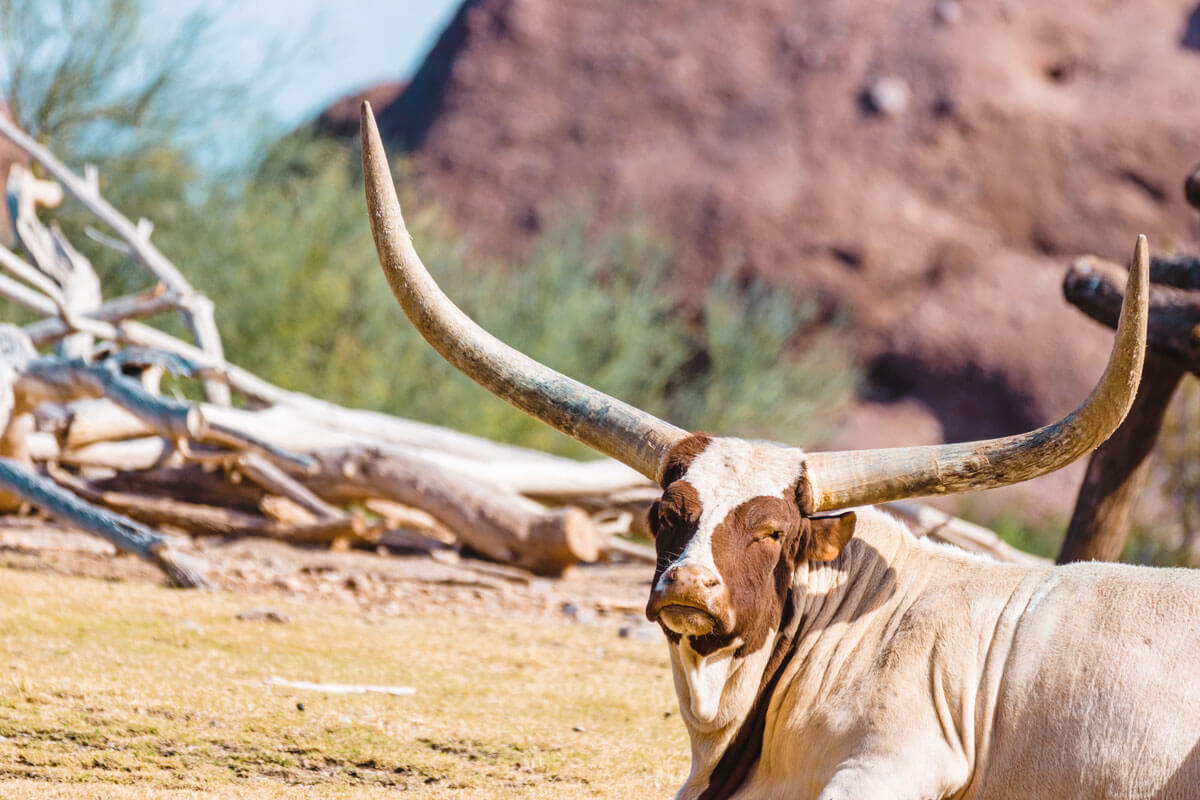 Address: 455 N Galvin Pkwy
Inside Papago Park is the Phoenix Zoo, one of the most satisfying places to go in Scottsdale. You can see alligators, monkeys, tropical birds, spiders, and more. There's also a carousel, fountains, a farm animal petting zoo, a children's area, and gift shops.
The zoo is open year-round, but if you're visiting between May and September, go during the earliest hours to avoid overheating under the warm sun! In the winter they do holiday lights in the zoo too, so don't miss that if you're coming in the winter.
Hours are seasonal, and there's a general admission fee for those older than 3 years. Purchase tickets online to avoid standing in a long line (there's also a small discount for buying tickets in advance).
Butterfly Wonderland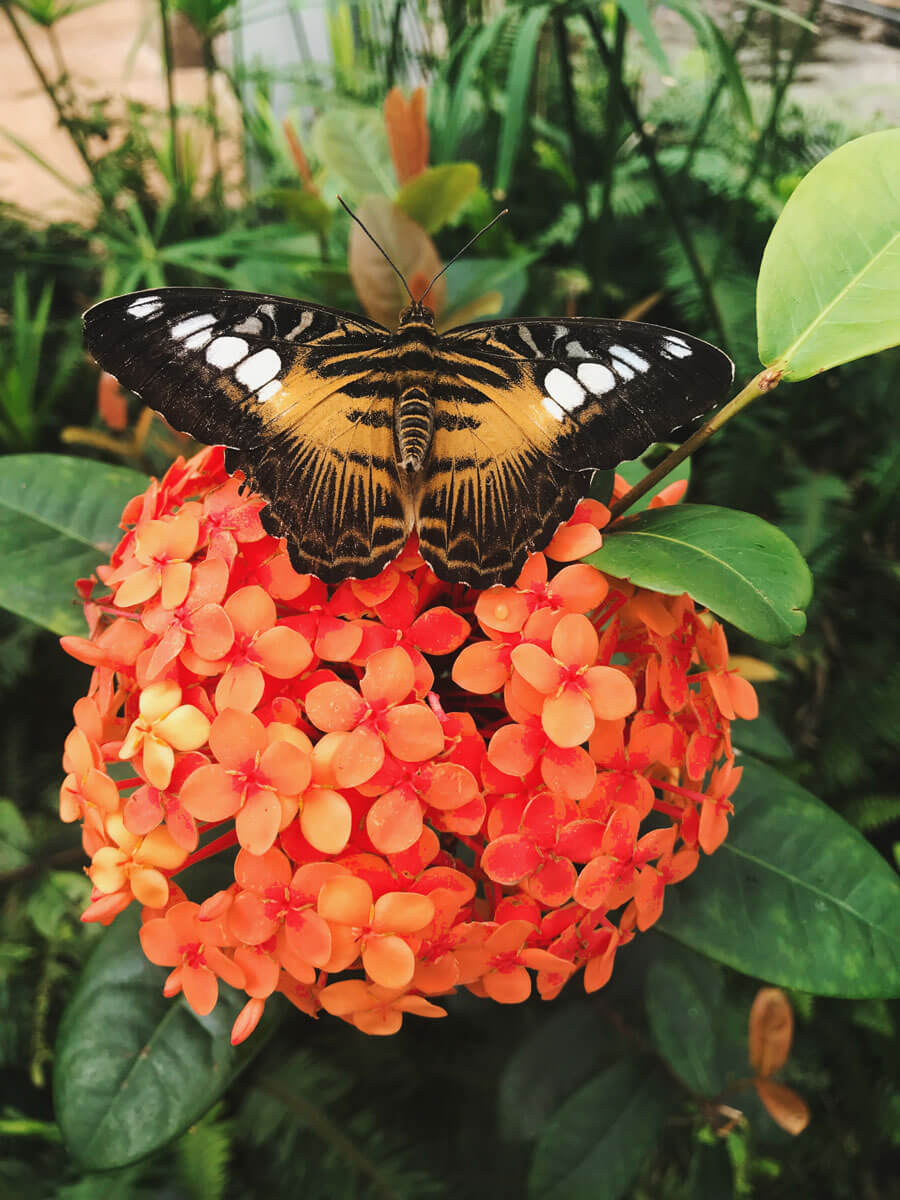 Address: 9500 East Vía de Ventura F100
For more Scottsdale activities that will appeal to all ages, head to Butterfly Wonderland. It's a dreamy experience to walk through the main habitat, which is basically a greenhouse with butterflies everywhere!
Walk through the habitat and check out different species of caterpillars, butterflies, and moths feeding on bowls of fruit, resting on plants, or even landing on you. There's a 3D theater with a short film on the migration of Monarch butterflies, as well as exhibits with birds, reptiles, insects, and more.
Butterfly Wonderland strives to be an accessible attraction for wheelchair users and those with autism and other developmental disabilities. The habitat is open every day from 9 AM to 5 PM and admission gives you access to all exhibits and special programs.
Rydables Tour
Old Town Scottsdale is a beautiful, walkable part of the city with historic landmarks, boutique shops, and more. It's a fun place to explore on your own, but if you have a chance and want to do something silly and quirky, you should definitely book an Old Town Rydables tour!
Rydables is one of the most unique things to do in Scottsdale, where you join fun group tours on electric carts that are decorated to look like all kinds of plush animals. Everyone gets their own Rydable, with designs like unicorns, jungle animals, and even custom-designed creatures!
These tours are perfect for all ages. In Scottsdale, Rydables offers a historic Old Town tour where you'll learn about the history of the district and visit several landmarks. It lasts around 90 minutes, and it's a great way to get a feel for Scottsdale while also giving your feet a break.
Rainbow Ryders Hot Air Balloon Ride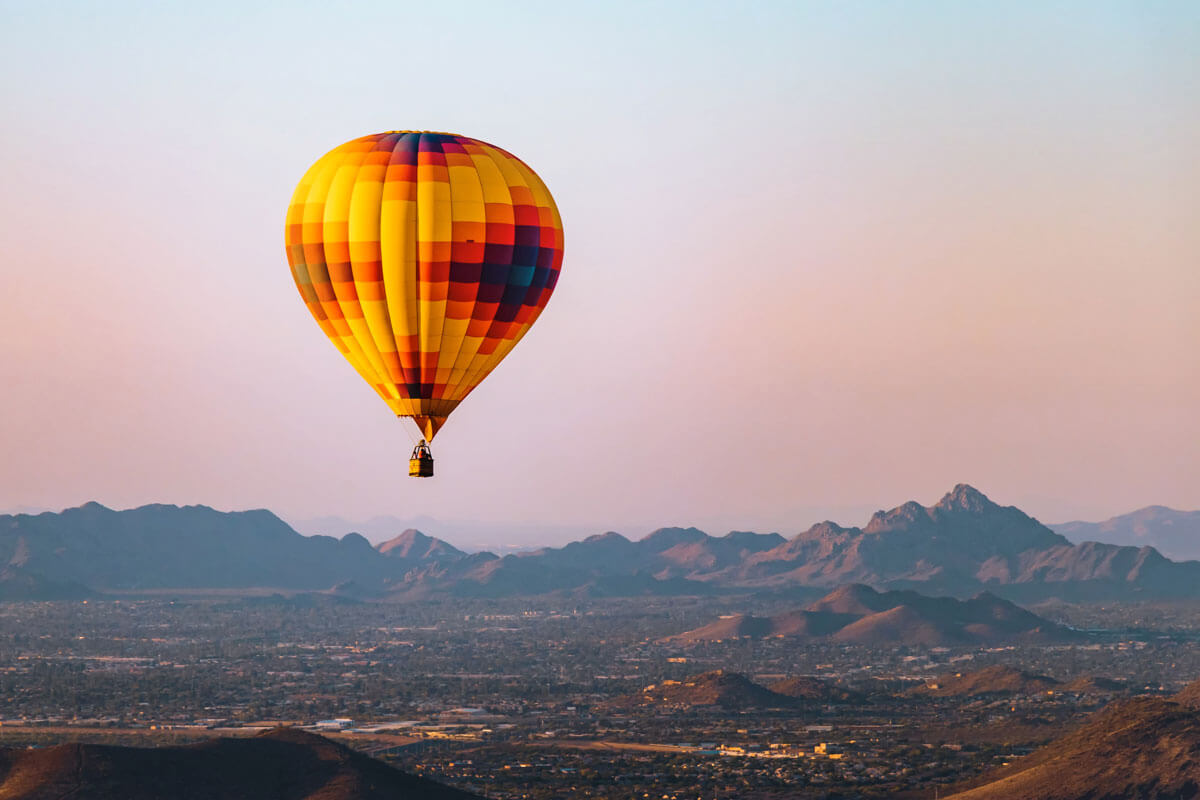 Arriving in Scottsdale, you realize how strikingly beautiful the arid desert landscape is. There are the Phoenix Mountains and low desert decorated with red rock formations, desert shrubs, and cacti of all shapes and sizes. One of the best ways to see Scottsdale is from the air in a hot air balloon with Rainbow Ryders.
Take a half-day hot air balloon tour of the greater Phoenix area for the experience of a lifetime. You'll meet your pilots in Phoenix and even help them blow up the balloon! During the 3-hour-long trip, you'll enjoy the warm winds and breathtaking views of the Arizona horizon from 3000 feet. The whole adventure ends with a celebratory glass of champagne. You can go by yourself or book for up to 6 people in your group.
Salt River Trip
During a weekend in Scottsdale, you won't regret taking time to ride the Salt River. It's a large river that runs through Phoenix's Maricopa County and 200 miles on both sides of the metro area. Such a large body of water in the deserts of Arizona makes the Salt River a popular place year-round for swimming, kayaking, and tubing. The river also attracts local wildlife and offers abundant local plant life.
Take a half-day kayaking tour through Scottsdale up and out east of the city for stunning views of the desert. It's also common to see wild horses that graze along the banks of the Salt River! For desert scenery and city views, enjoy the greater Phoenix skyline from the water with a half-day kayaking trip west from Scottsdale. If the water's warm enough, you can get out of your canoe and enjoy a swim in the beautiful river.
Tonto National Forest Off-Roading Tour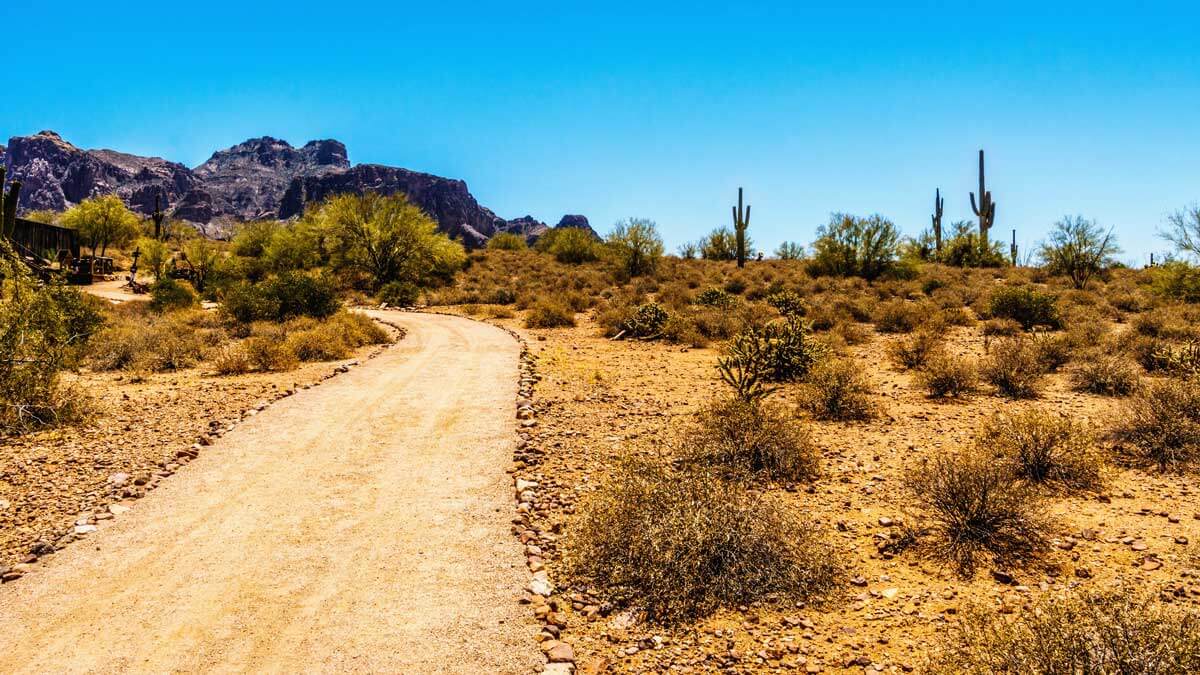 Exploring Tonto National Forest is one of the best things to do in Scottsdale. Picture a classic western desert, with clusters of massive saguaro cacti with rugged mountains every which way you look. The park is also home to oasis-like lakes and rivers, as well as forests of ponderosa pine and juniper trees.
It's a popular place for hiking, camping, fishing, and many other outdoor activities. If you're up for a thrill, there are 2 designated regions of the park just for off-roading. This is an exciting way to see the rough terrain of Tonto National Forest up close! Especially if you've never done it, an off-roading tour is a great way to ease into such a fun activity.
Your experienced and knowledgeable guide will meet you at your hotel in Scottsdale and take you to the park. Ride an H1 Hummer and enjoy hours in and out of the mountains, rivers, and desert of Tonto with some of the most beautiful views in Arizona.
E-Bike Tour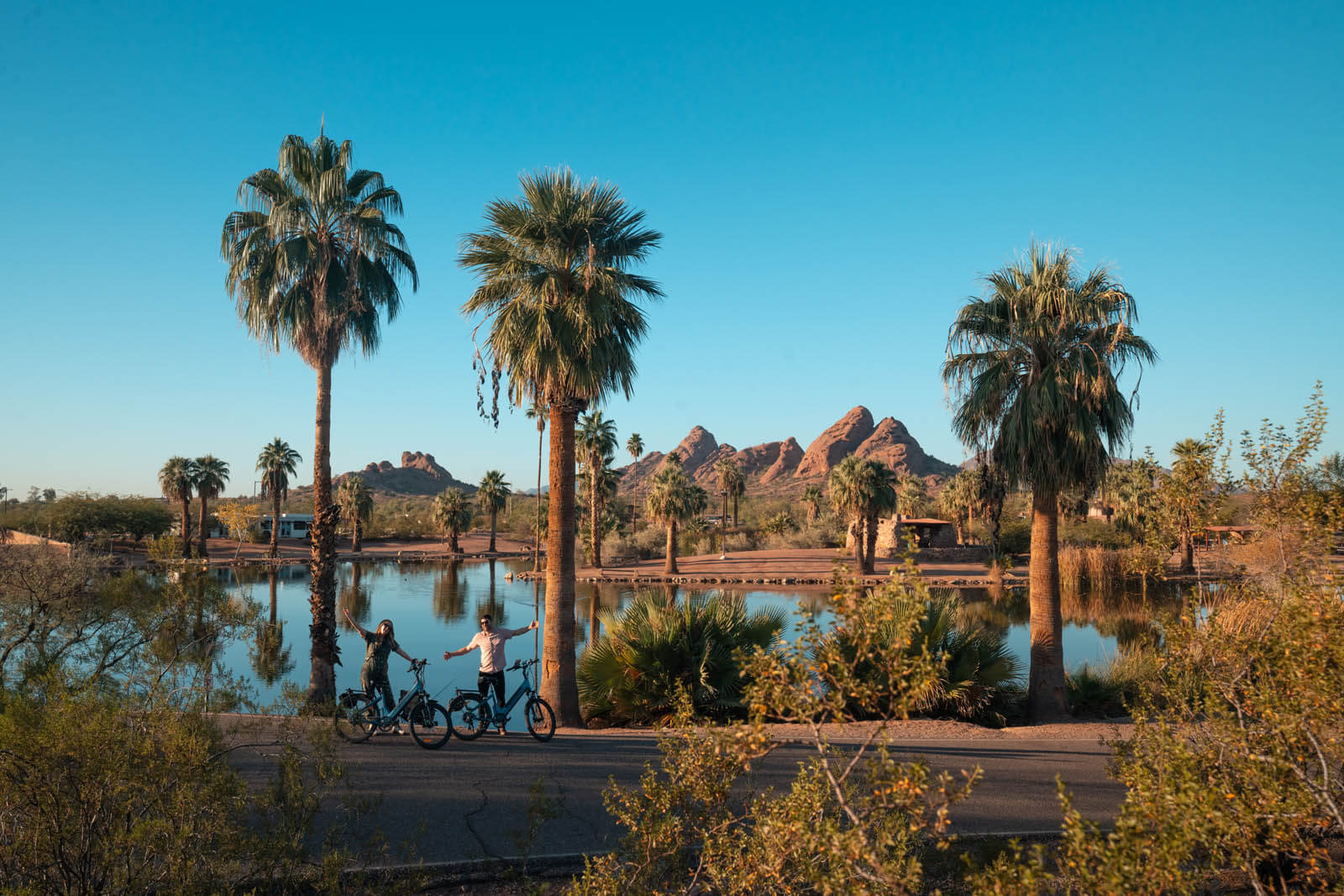 One of the best ways to see a new place is through the eyes of a friendly guide. Enjoy low-impact physical activity on a 3-hour e-bike tour through residential Scottsdale. You'll be outfitted with a quality e-bike rental, a helmet, and everything you need for a fun ride. Take in the beautiful scenery around you and listen to your guide point out historical landmarks and flora and fauna.
The small group tour allows for up to 10 individuals, so you may make some new friends. While your route is mostly on paved or clear dirt roads, it's considered easy to moderate because of the length of the ride.
Private Hiking Tour of Camelback Mountain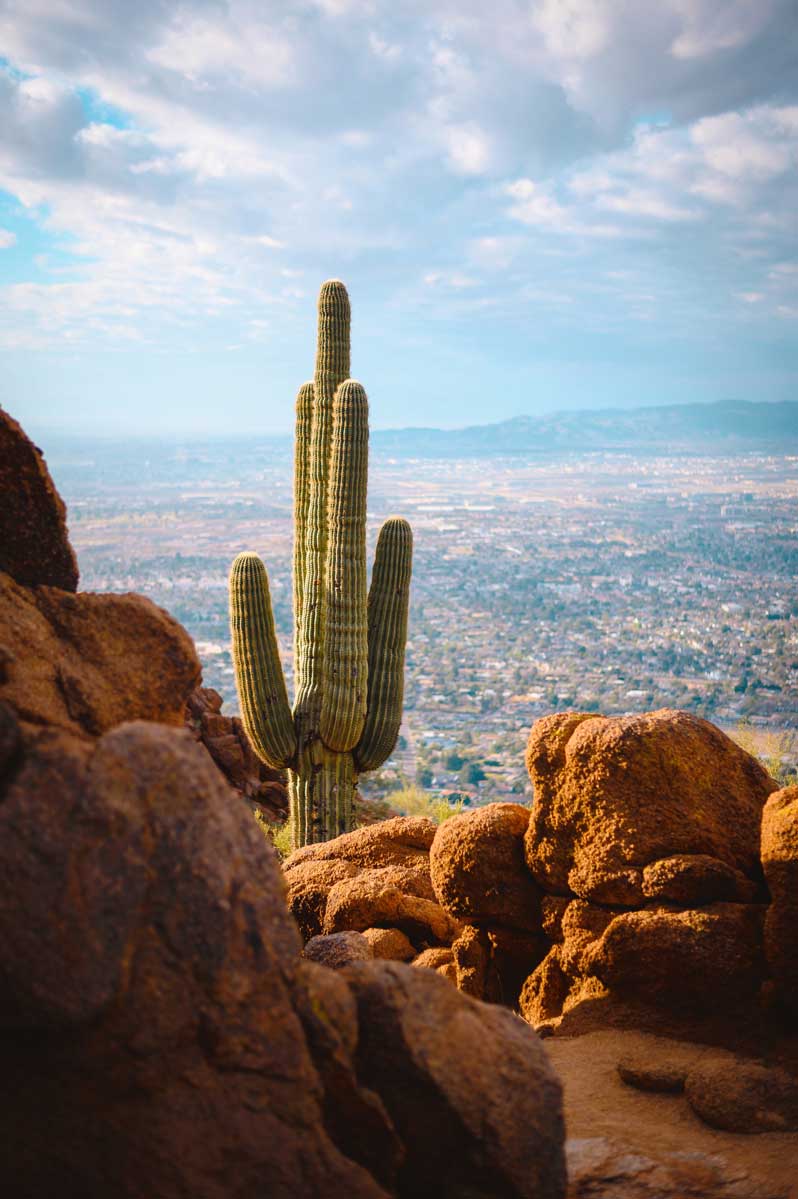 One of the best places to go in Scottsdale, and one of the most popular in all of Arizona, is Camelback Mountain. It's conveniently located in central Scottsdale and offers amazing views of the horizon from over 1,400 feet at the summit.
Both of the trails to the top of Camelback Mountain take about 2.5 to 3 hours out and back. They're both considered strenuous trails with loose rocks and challenging climbs. It might ease your mind to be led by an experienced local on a private hiking tour of Camelback Mountain.
At the top, you'll feel the satisfaction of meeting the challenge of the climb! Plus, the unobstructed 360-degree views of Phoenix and the surrounding desert mountains make it all worth it.
Half-Day Sonoran Desert Guided Hiking Tour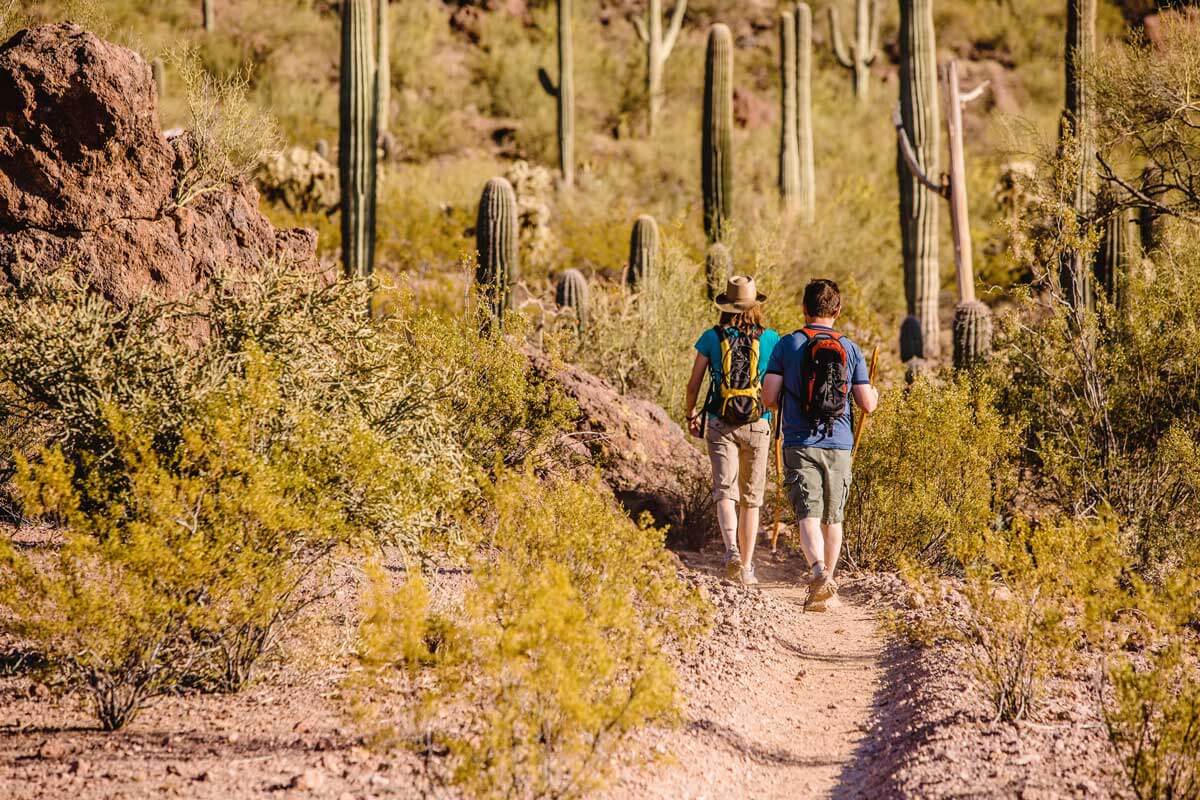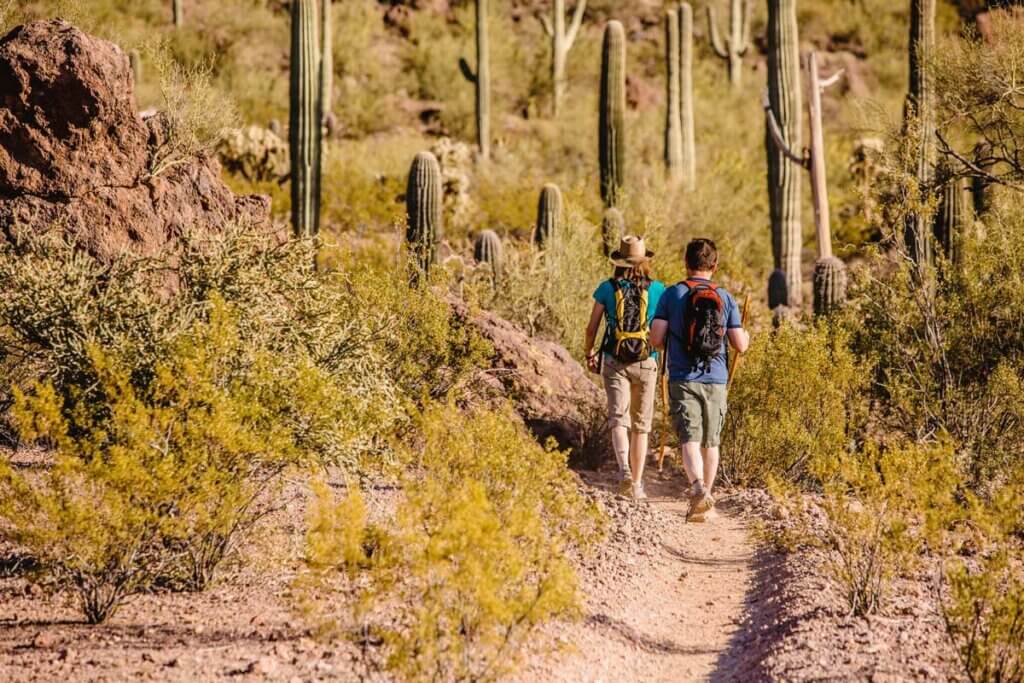 Much of Arizona is part of the massive Sonoran Desert and because of the way Scottsdale and Phoenix are laid out, there are natural areas and amazing trails everywhere! If you're looking for the best place to go hiking during a weekend in Scottsdale, we recommend taking a guided hiking tour at the Sonoran Preserve.
Especially if you're unfamiliar with the area, this is a great way to enjoy the great outdoors around Scottsdale. The amazing guide with this tour works with you to find out your skill level and experience. They'll choose the perfect trail for a quality hike that's exhilarating and pleasant. Get up close to local plants and wildlife and take in the great views.
Train Day Trip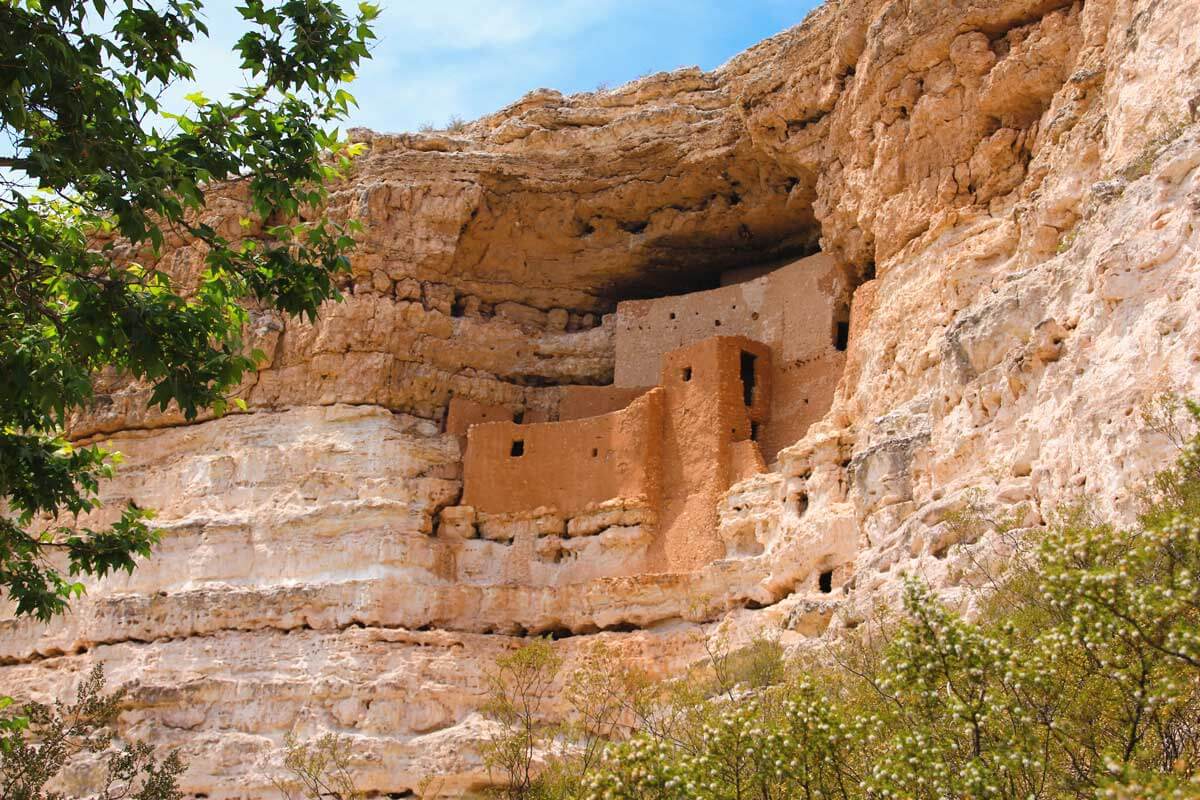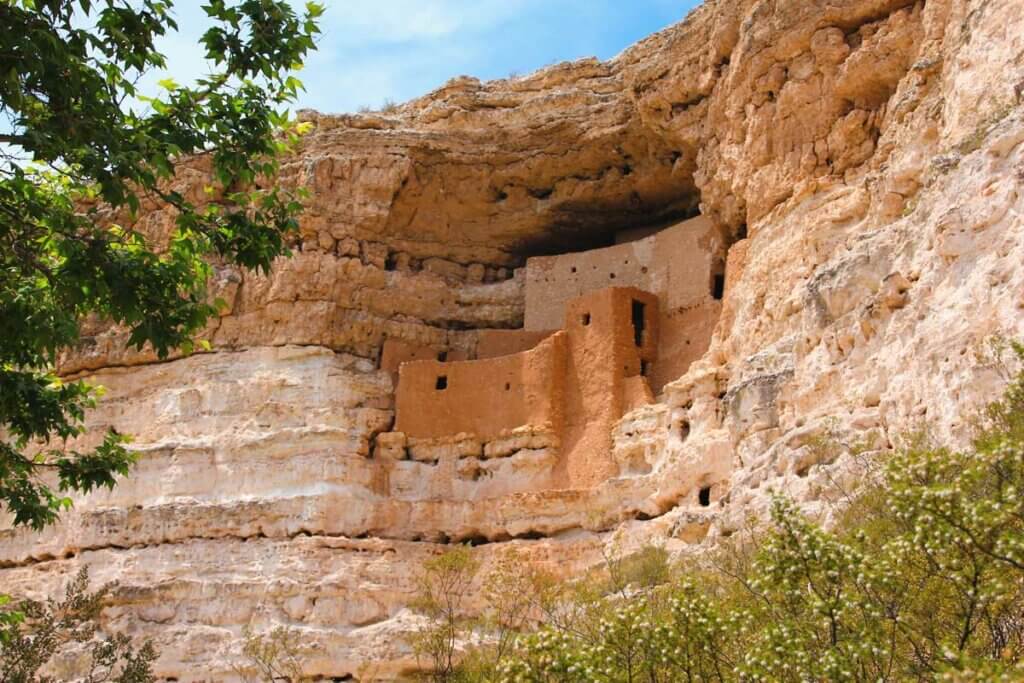 While you're looking for things to do in Scottsdale, consider venturing out a little ways to see some of the most amazing historic sites in the state. Book a Verde Canyon Rail Day tour and begin your day by being picked up for a scenic drive 90 minutes to Camp Verde.
You'll spend the morning exploring some of the most well-preserved Native American monuments in Arizona, including the amazing Montezuma Castle. Next, you'll visit a historic mining town to learn about another aspect of Arizona's layered history.
The train day tour culminates in a ride on the Verde Valley Railroad, where you'll enjoy a first-class car with champagne and a light meal. During the 4-hour ride, you'll sit back and keep an eye out for indigenous ruins and abandoned mines with everything you just learned about this part of Arizona!
Day Trip to the Grand Canyon
If you have time on your weekend in Scottsdale, you have to see the Grand Canyon. This infamous Arizona landmark is 4 hours north and with a day tour, you can take advantage of hotel pick up and drop off.
See the historic Route 66 in the desert town of Williams, Arizona before continuing for half a day of exploring the Grand Canyon. The sweeping views at this national park have to be seen to be understood! You'll have 3 hours to explore Grand Canyon Village with its museums, gift shops, eateries, and beautiful lodges.
There are several viewpoints where you can get close to the canyon below, as well as easy rim hikes if you're up for it. For an additional fee, you can add on a helicopter tour of the Grand Canyon. Your trip ends with a stop at the South Rim viewpoint before enjoying a cozy ride back to Scottsdale.
Day Trip to Horseshoe Bend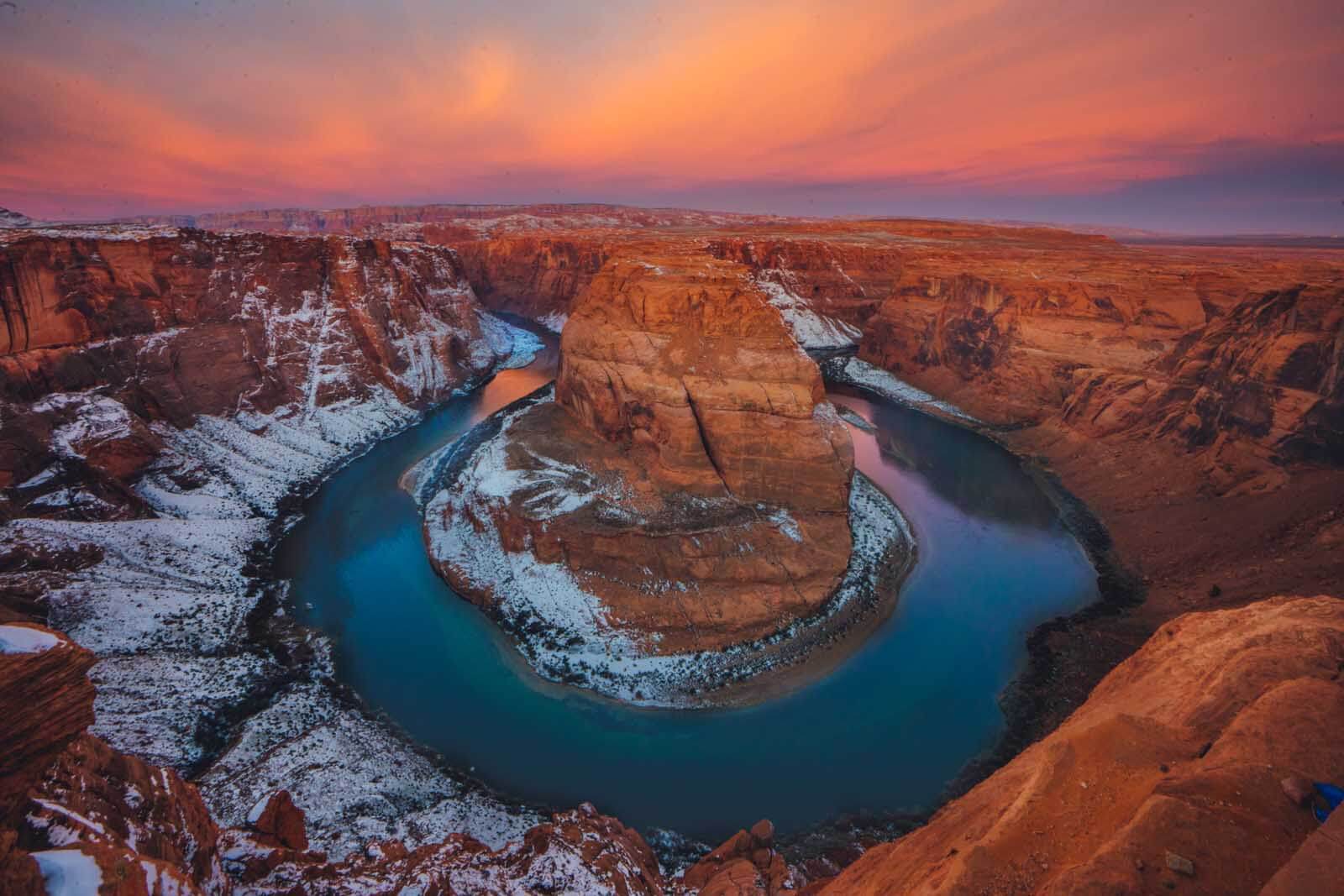 Another unforgettable natural area north of Scottsdale that's worth a day trip is Horseshoe Bend in Page, Arizona. Bring a camera for photo opportunities of a lifetime on this full-day tour of Antelope Canyon and Horseshoe Bend. We enjoyed this area of Arizona on a great southwest road trip in winter a few years back, but if you're limited on time and vacation and don't make it to Arizona often, it might be worth checking it out on the full-day tour of Antelope Canyon and Horseshoe Bend.
Get picked up at your hotel and enjoy a comfortable 4-hour ride to Antelope Canyon. You'll marvel at the light and colors playing off the stunning slot canyons of soft sandstone carved from water cutting through them.
Your Navajo guide will lead you on a hike through the canyon before taking a break for lunch nearby. Then go on another short hike to viewpoints at Horseshoe Bend. After an opportunity to see the natural formations of the bend, you'll rest in the van back to your hotel.
Where to Stay in Old Town Scottsdale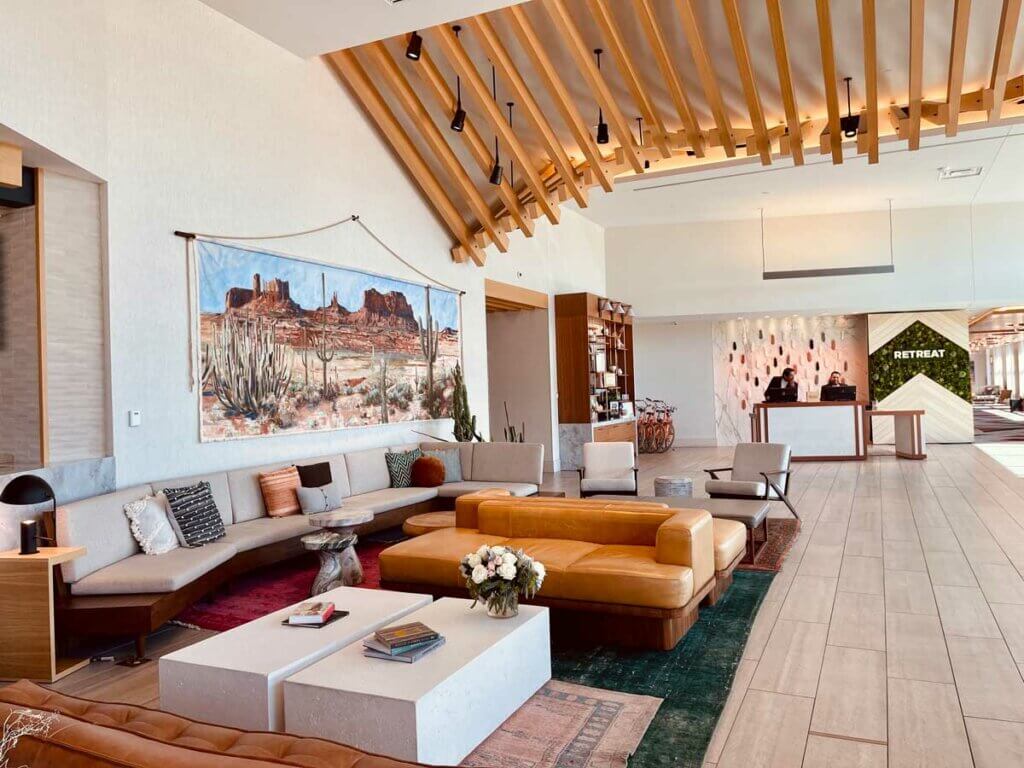 Stay within walking distance to all the best things to do in Scottsdale at Canopy by Hilton Old Town Scottsdale. Located immediately across from the Museum of the American West, this gorgeous property by Hilton incorporates the beauty of the Southwest and Arizona in all of its design and decor elements throughout the property.
The location alone is worth the stay here, but the property really is special. For starters, the first level is a bit of an open concept where you check in, there are lounges around the area with western artwork. The restaurant and bar on-site on the main level, Cobre Kitchen + Cocktails is worth eating dinner at, or at the very least breakfast with their Southwestern-inspired menu.
There's also a stellar rooftop pool and bar where you can enjoy a cocktail watching the sunset and jaw-dropping views of Camelback Mountain and the desert landscape.
The rooms are spacious and handsomely decorated with artwork by local artists. The hotel is pet friendly and has parking available for a fee, and honestly, this place is just the perfect base for your weekend in Scottsdale. Book here.
---
What is Scottsdale best known for?
Scottsdale is known for its near perfect weather sunshine throughout the year, being one of the world's finest golfing destinations, having over 90 restaurants, plenty of shopping, and being a part of the McDowell Sonoran Preserve – the largest urban wilderness area in the USA.
Is Scottsdale worth visiting?
Scottsdale and Old Town Scottsdale are definitely worth visiting. Whether you only have a few hours, the whole day, or are spending an entire weekend in Scottsdale, there are plenty of attractions in Old Town Scottsdale like museums, art galleries, dining, and nightlife options as well as outdoor activities like hiking, e-biking, and day trips you can take from Scottsdale.
How do I spend a day in Scottsdale?
If you only have one day in Scottsdale you can easily spend it walking around the art galleries up and down Main Street, plenty of restaurants and bars in Old Town Scottsdale, shopping, and great museums. If you're looking for an outdoor activity to include, Papago Park is an easy and beautiful activity to fit into one day in Scottsdale.
Enjoyed this guide to the best things to do in Scottsdale on a weekend getaway? Bookmark for later or share the love below on Pinterest.