Looking for the perfect weekend escape in Washington State? Consider spending a weekend in Yakima Valley, one of the hoppiest destinations in the world! So if you're a beer lover like us, you'll enjoy this fun-filled beer trip in the country's #1 hop-producing region (the second largest in the world) full of great craft breweries, beer-themed festivals, outdoor activities, a strong culinary scene featuring their fresh produce grown in the region, and even wine country!
In this guide, we will cover how to spend a weekend in Yakima Valley focused around hitting up a few of the best breweries in the region, a few of the great outdoor areas to explore including Mt. Rainier National Park, and checking out the scene in downtown Yakima.
To add more stops into your trip or customize your weekend getaway, be sure to check out our guide to all the best things to do in Yakima Valley where we cover more of the region's highlights from more outdoor adventures like rafting on the Yakima River Canyon, scenic drives on White Pass and Chinook Pass, and visiting the different fruit farms including lavender farms, and more in-depth coverage of their region's award-winning wineries.
But first, before we dive into our weekend in Yakima Valley itinerary, here are a few quick fun facts about this region!
Yakima Valley produces 75% of the hops in the United States, largely due to the fact they have an ideal climate for hop growing in its desert-like climate and an excellent irrigation system provided by the nearby flowing Yakima River.
If you can plan your weekend in Yakima Valley around the first weekend in October, as we did, you can attend one of the most highly anticipated beer festivals and events in the country (and dare I say world). The Fresh Hop Ale Festival celebrates the unique time of year around harvest when brewers can make fresh hop ale.
What is fresh hop ale? Fresh hop beers are brewed with freshly harvested hops during harvest season in September, where the hop flowers are taken off the bines and immediately brewed within 24-36 hours. The result is a more grassy, floral-tasting beer typically in the form of an IPA beer.
The Fresh Hop Ale Festival features 65+ of breweries that use Yakima Valley hops to brew their fresh hop ales, especially for this festival competing for awards. Visitors can sample and try as many of the fresh hop ales they can during the festival during this very unique season and seasonal specialty that you can't really find elsewhere.
Beyond being a beer-lovers bucket list item, the Fresh Hop Ale Festival also operates as a non-profit and each festival serves as a fundraiser for various social causes and groups. So you can drink for a purpose!
The festival is one night, so if you're able to plan your weekend in Yakima Valley around it, we highly encourage you to be a part of this truly unique beer experience!!
Disclaimer: This post was written in collaboration with Visit Yakima Valley, as always all opinions are our own!
How to Spend a Weekend in Yakima Valley
This is where we are going to cover all the amazing options to fill your hoppy weekend in Yakima Valley itinerary with! Times at these places will vary depending on how much of each you want to do, so we are suggesting places to fill your weekend with an emphasis on the craft brewery scene and a few outdoor experiences you can enjoy as well as food options to check out.
Over two separate visits, we've made it to all the places mentioned in this guide, we included a few extra dining options we enjoyed on our last visit as well so you can pick meals that suit your preferences.
Craft Beverage Scene in Yakima Valley
Here are a few of the best breweries in Yakima Valley to visit along with taphouses and places to grab a drink with a selection of locally brewed craft beverages to add to your weekend in Yakima Valley itinerary, plus a great distillery to check out!
Cowiche Creek Brewing Company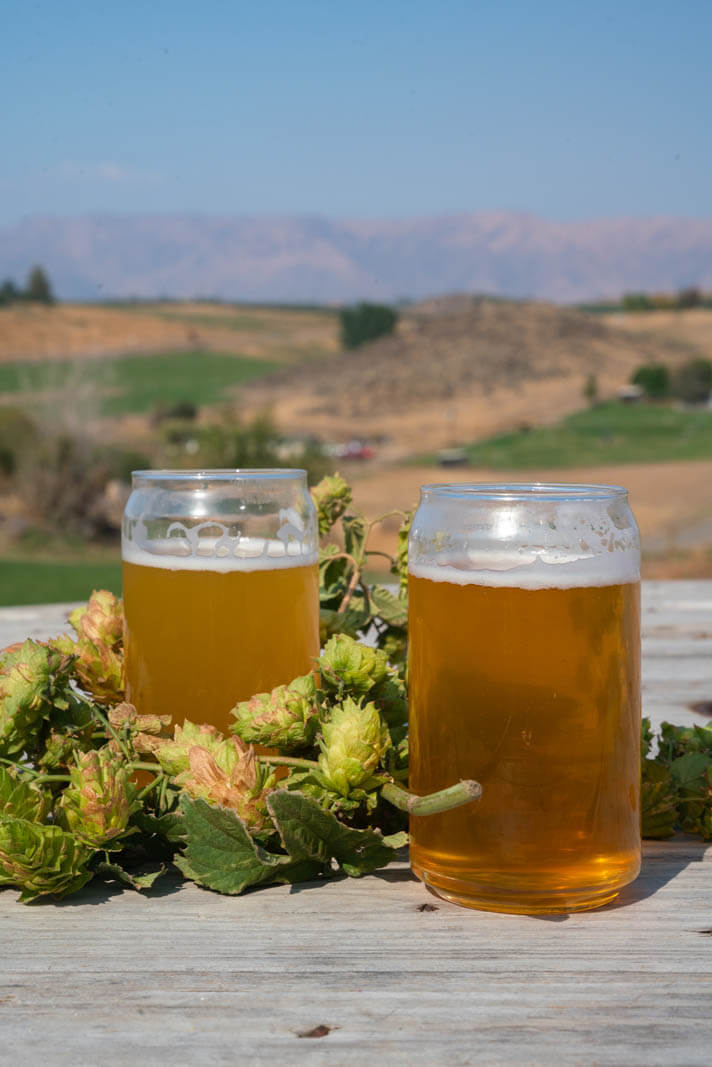 514 Thompson Road, Cowiche, WA
One of the best places to visit during your weekend in Yakima Valley for not only the beer but the food and views is Cowiche Creek Brewing Company. The property features an open, terraced lawn with plenty of seating options overlooking Yakima Valley and their hop bines growing on site.
Chances are you'll see the dog, their unofficial mascot who has a few beers named after her! This is a great stop for lunch on the weekends as they have a great food selection from freshly shucked oysters, wings, and very popular chuck and brisket burgers using the Pat LaFrieda method of making burgers (one of the best meat purveyors in the country based in the NYC area famous for their burgers).
And if things couldn't get any better about this stop, the people here are warm, welcoming, and incredibly friendly too! This is one of the places we stuck around for a second round we loved it so much.
Bale Breaker Brewing Company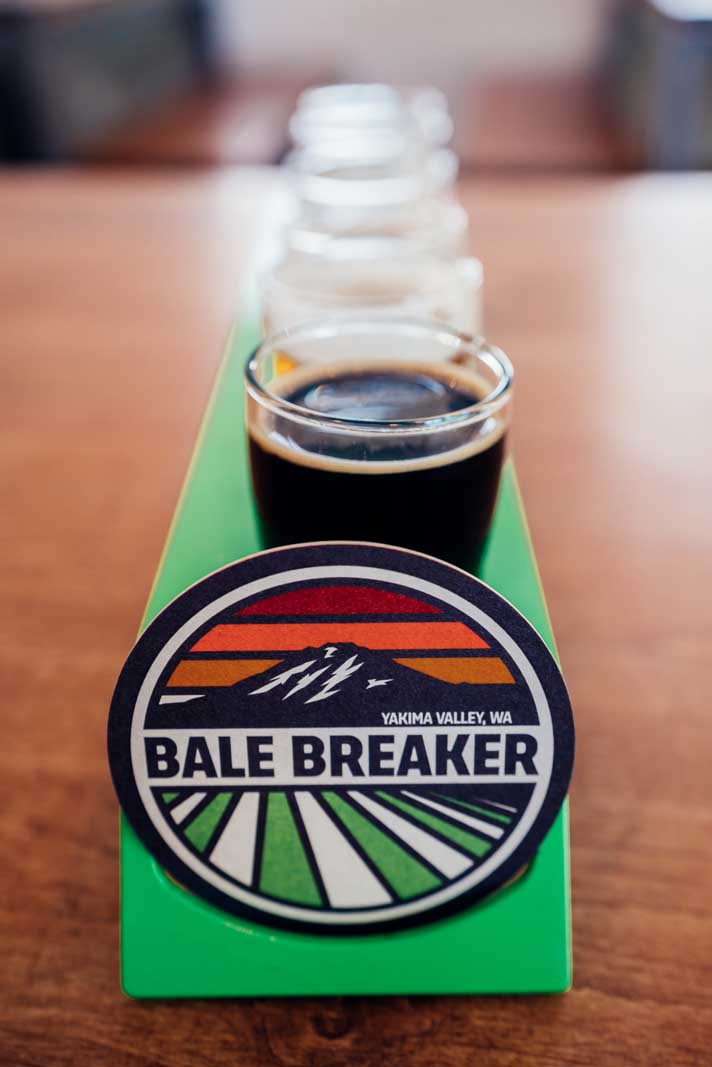 1801 Birchfield Rd, Yakima
The most influential brewery in Yakima Valley to add to your itinerary and a must-visit is Bale Breaker Brewery. Surrounded by its own towering bines of hop fields, this brewery puts a huge focus on their hoppiest beers!
Try one of their tasting flights and if its nice outside, sit alongside the hops. This brewery really encompasses the 'hop culture' of this region, growing their own hops and making the beer on-site on a family-owned operation.
If you're hungry, they have a line up of food trucks who come on-site and feed their hoppy customers.
Single Hill Brewing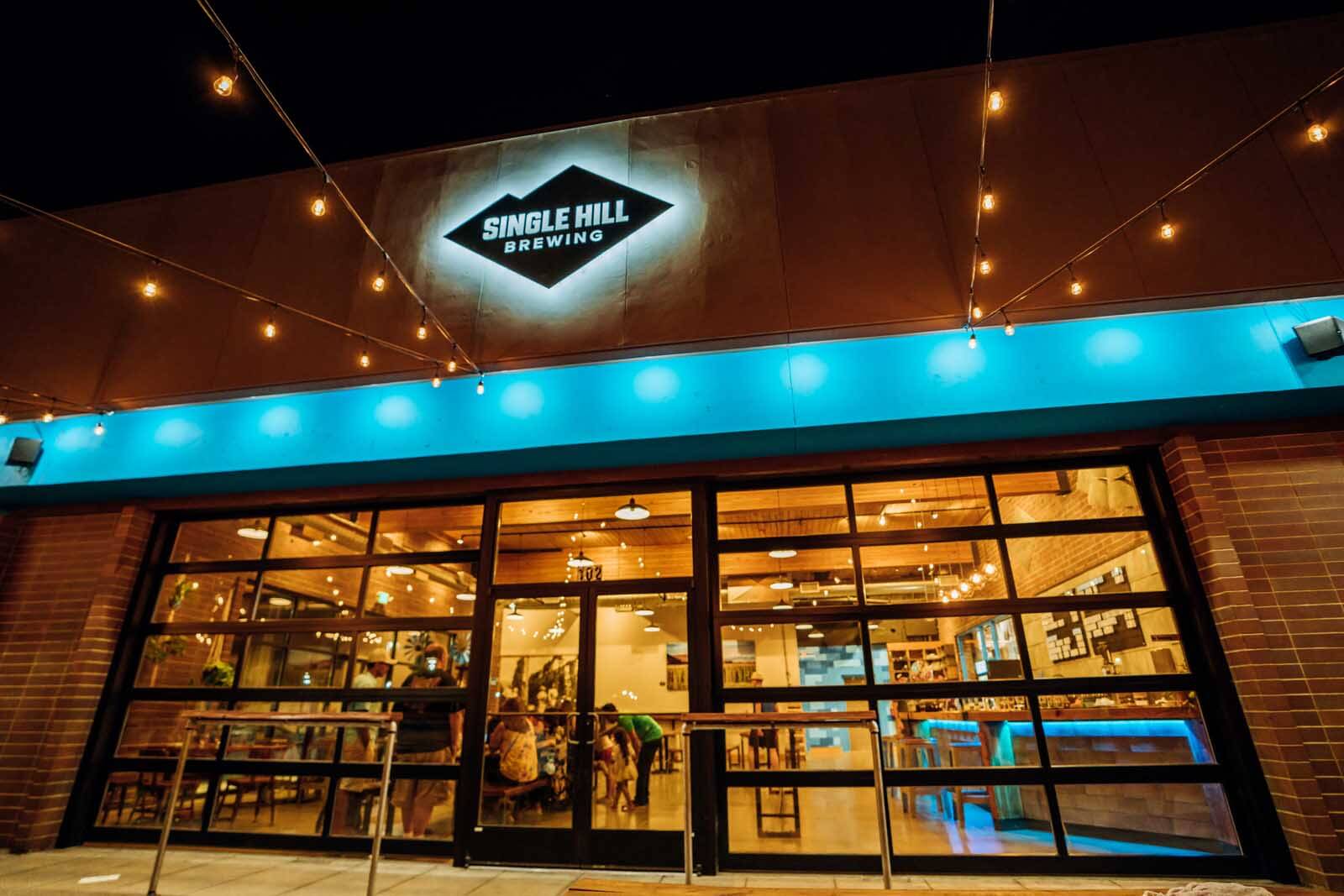 102 N Naches Ave, Yakima, WA
Located in the heart of downtown Yakima is another one of the most popular craft breweries of the area, Single Hill Brewing. This brewery is popular among families as it's a kid-friendly space and they also have a great outdoor seating area.
They have 16 taps serving up a variety of brews heavily focused on showcasing the region's hops including light beers, some hoppy AF IPAs, sours, and a few other classic styles in addition to experimental beers they brew on site.
If you're hungry, they also have food vendors that swing by that are always switching it up, so each visit may have different food options.
Public House of Yakima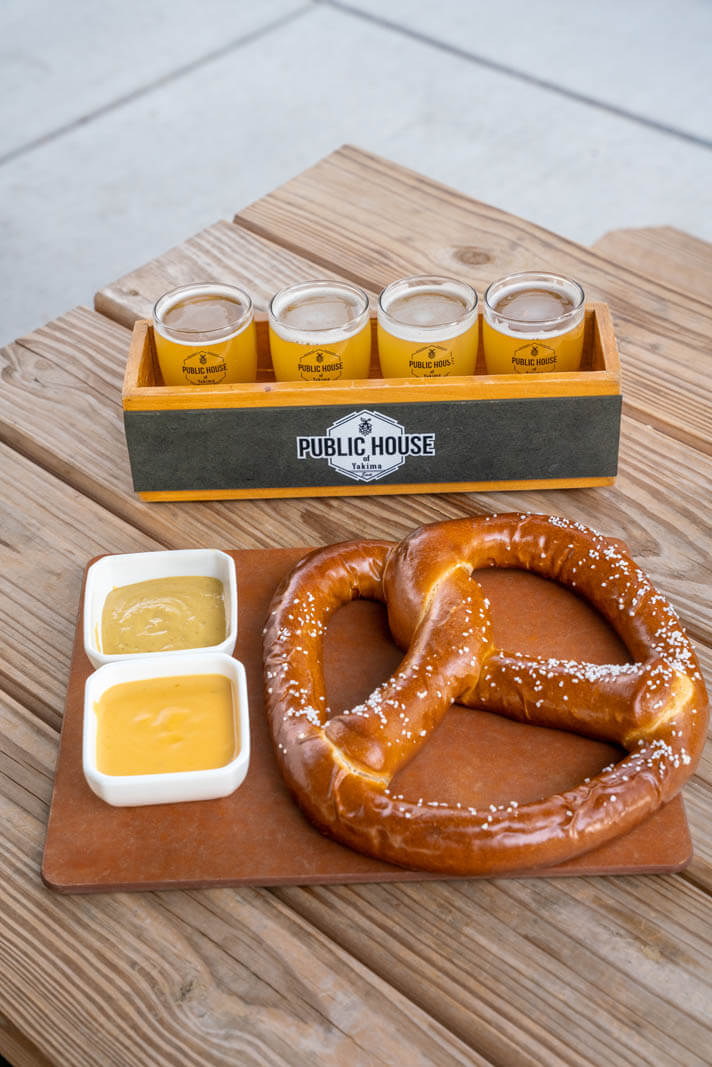 5703 Tieton Drive, Yakima & 171 Iron Horse Court, Yakima
With two locations, on the east side and west side of town, you can enjoy tasting a selection of some of the best craft beers of Yakima Valley all under one roof. If you want to see what they have on draft, use the Digital Pour app on your phone to see what they currently have, as the selection is always changing, plus the app shares details like how much of the keg is left and other tasting details that will help you determine which brews to try.
They also have a food menu if you're hungry and a selection of local Yakima Valley wines for those who want to try some of the region's incredible selection.
Bron Yr Aur Brewing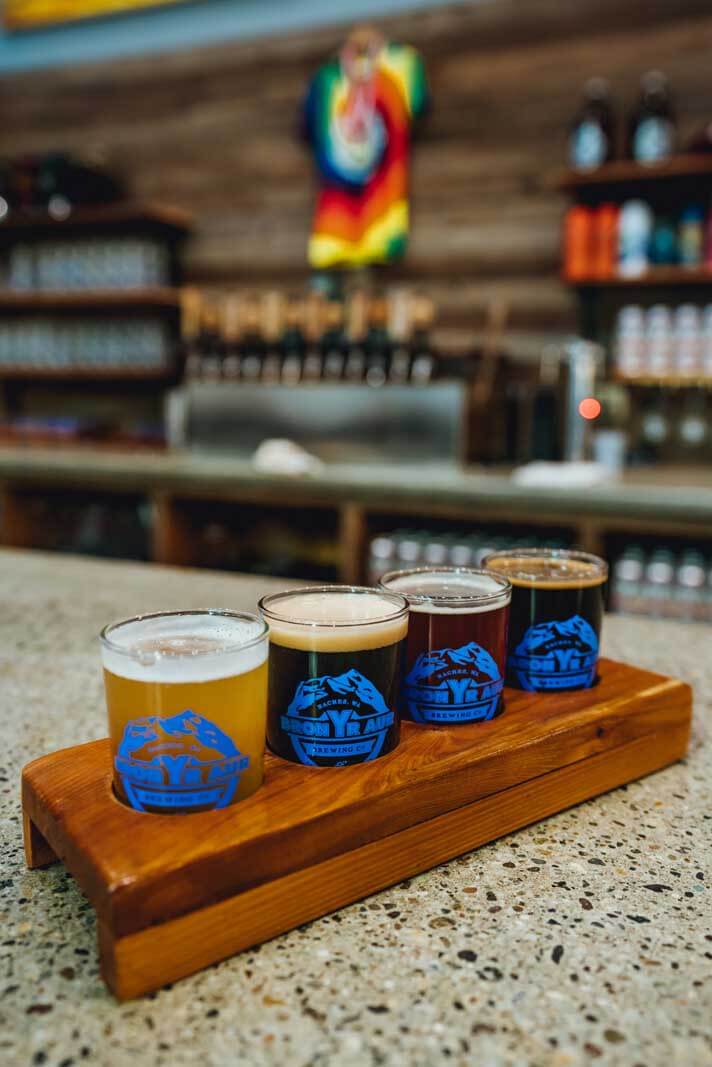 12160 US Hwy 12, Naches, WA
If you find yourself hiking around the Naches area during your weekend in Yakima Valley, this is a great late afternoon stop. This Yakima Valley brewery offers several brews on tap with a great outdoor dining area (with heated gazebos you can reserve on a chilly day) on the outskirts of the Cascade mountains.
You'll find a range of brews including cream ales, porters, stouts, pilsners, Scottish ale, IPAs, and more. Plus they also have a distillery too!
If you're hungry, they've got pizza and other munchies too you can choose from.
Valley Brewing Co.
3215 River Road, Yakima, WA
If there's a Mariners game on and you don't want to miss it, this is your go-to spot. This microbrewery has plenty of seating and hang out spaces near televisions for sports fans along with their brews on draft including experimental IPAs, sours, and more! They also have a nice outdoor space in the back too.
If you're hungry, they partner with a local restaurant on site, Garcia's Kitchen for tacos!
Schab's Bier Den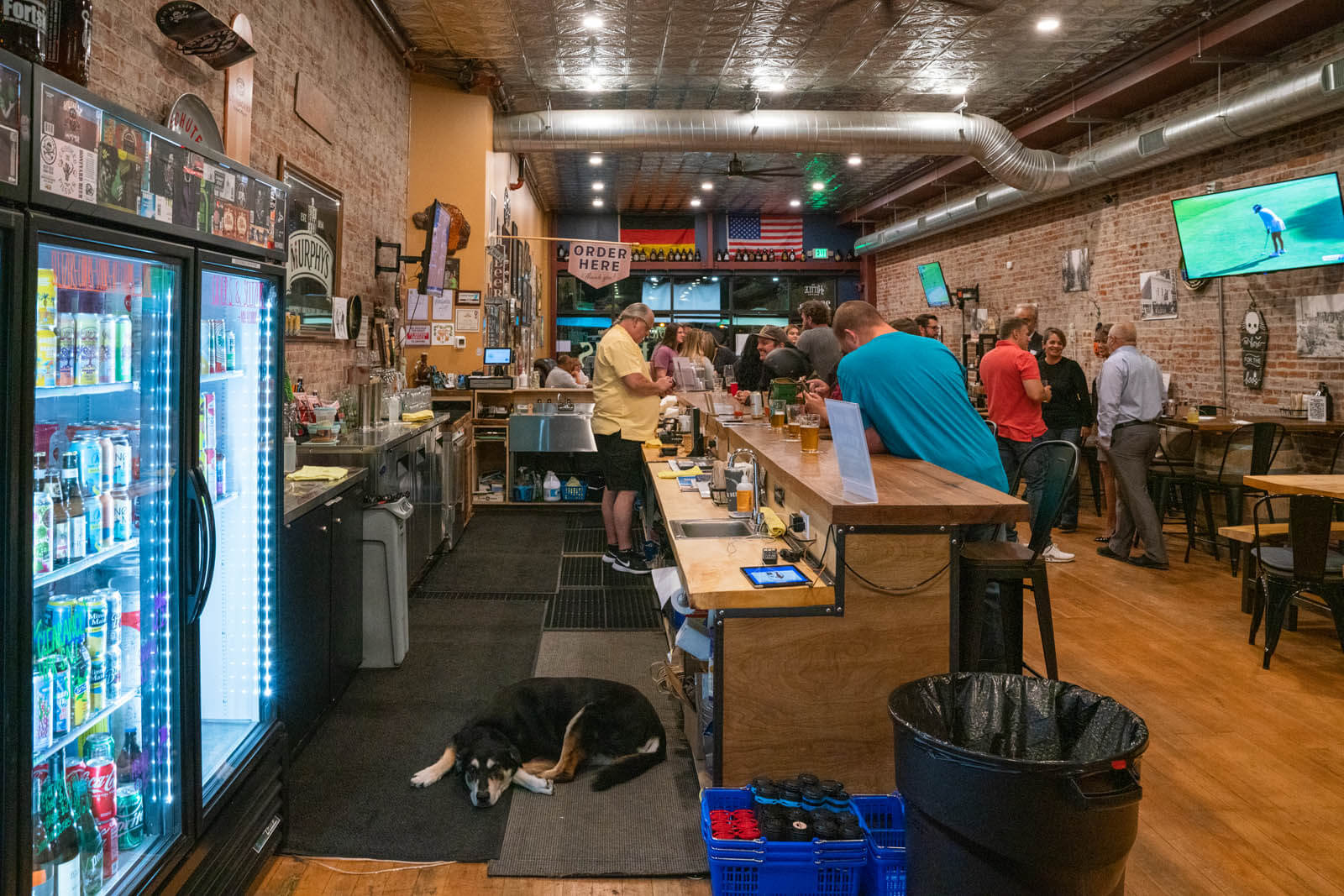 22 S 2nd Street, Yakima, WA
If you're looking for a great place to grab a craft beer in downtown Yakima, look no further than Schab's Bier Den, a local favorite taproom offering a curated selection of not only tap rotations but also bottles and cans of craft beers from the Pacific Northwest (including some great ciders too).
They have a few games and nice seating area which makes for a great pre or post-dinner spot to grab a drink and hang out.
The Distillarium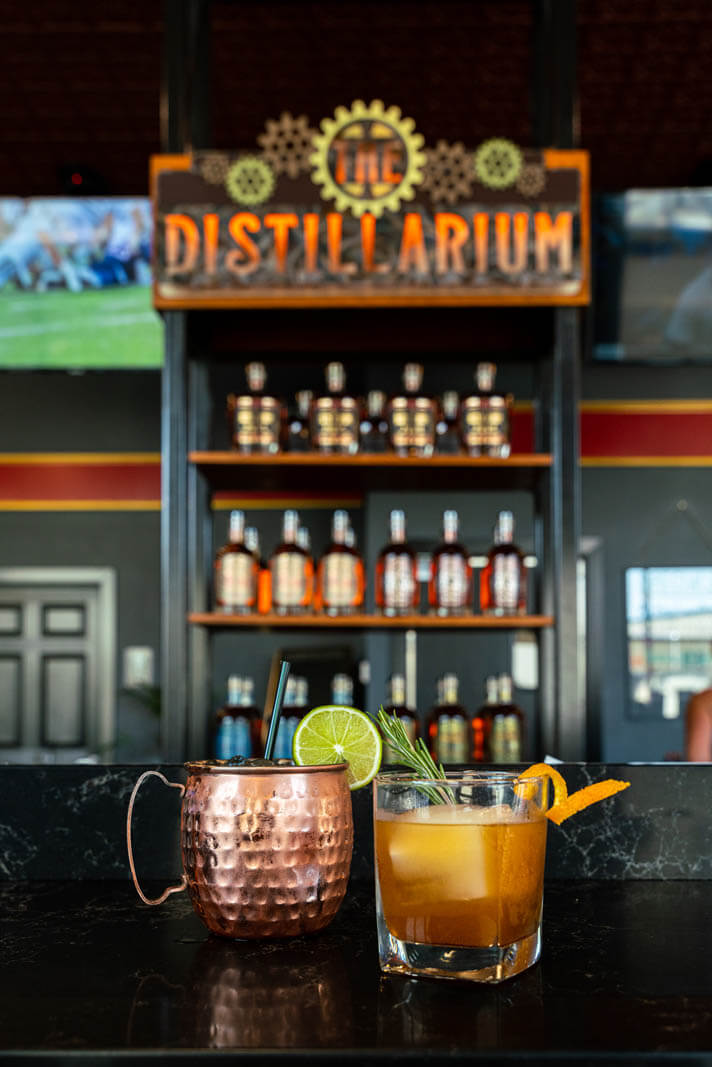 2035 Industry Lane, Yakima
When it comes to the craft beverage scene in the region, Yakima Valley has it all and one distillery not to be missed is The Distillarium for their specialty cocktails and shareable bites.
They use the local grape varietals of the region to create its brandy, moonshine, and vodka. They also make and are known for their whiskeys, which include a rye, triticale, and bourbon.
Enjoy sampling their spirits inside their steampunk-inspired tasting room and don't miss trying a few of their insanely delicious curated cocktail list that changes out seasonally. Since we were visiting in the fall, they had a few featuring pumpkin puree, which was way better than we could have ever imagined (and we love pumpkin!).
Also, come a bit hungry and share some of their shareable plates like their lobster puffs. They also had a huge soft pretzel served with a white cheddar queso and dijon mustard.
Dining and Culinary Scene in Yakima Valley
JJ's Birria & Antojitos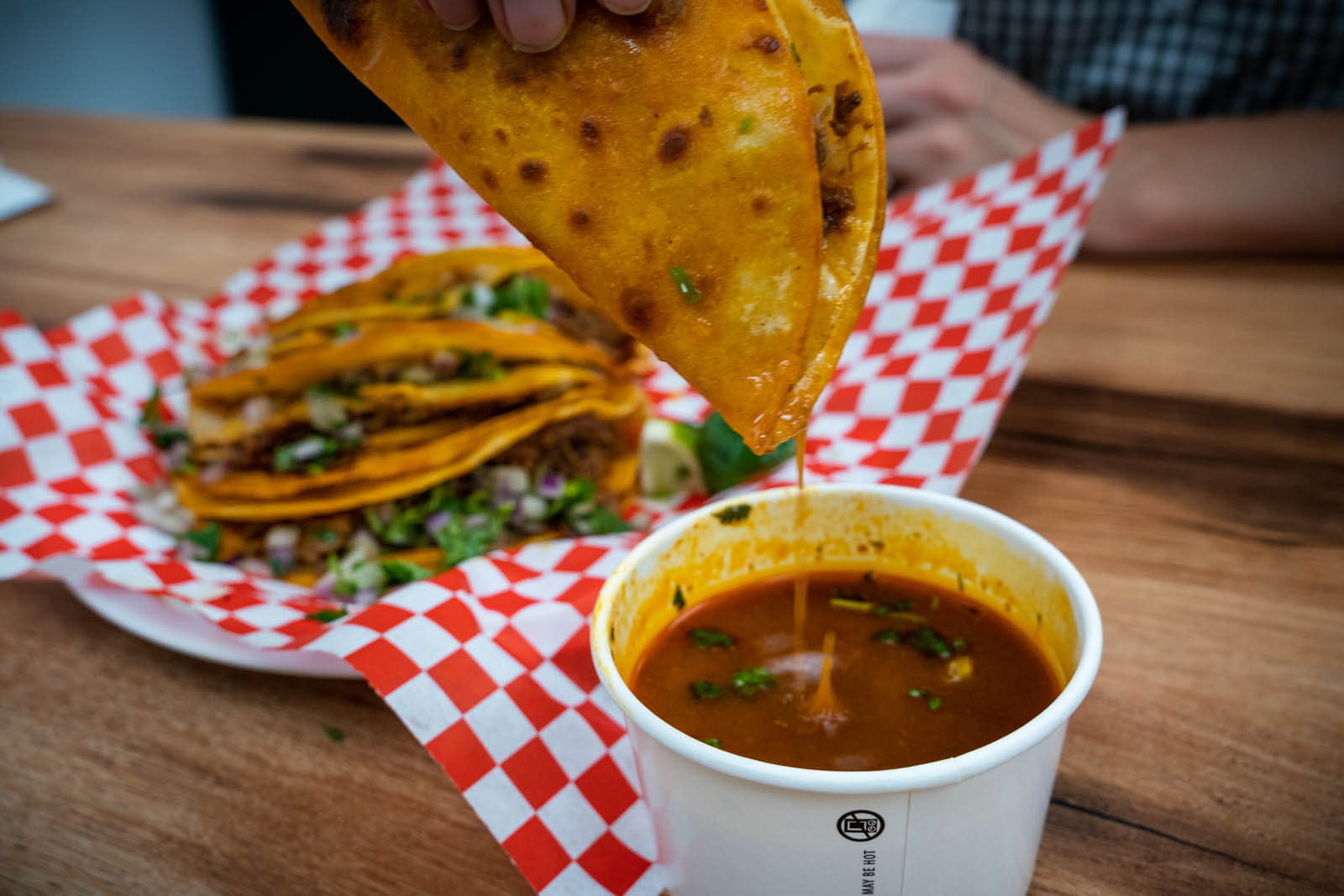 1412 S 3rd Ave, Yakima, WA
If you're looking for a quick bite to eat without sacrificing quality or having to stop by a fast food restaurant, you'll want to check out JJ's Birria & Antojitos during your weekend in Yakima Valley.
For those who don't know, birria tacos are some of our absolute favorite, which are braised beef tacos where the meat are slow cooked in a savory, chili sauce. The tender beef is stuffed into a freshly made corn tortilla that's been dipped in the broth and pan-fried. The tacos are then meant to be served alongside the birria consome, aka broth, and dipped in before taking a bite.
JJ's is a local favorite and actually has a few locations, they also claim to be the best birria in the PNW which we have to say they are definitely towards the top of our list and we've consumed quite a bit of birria tacos in our travels. Beyond the classic birria tacos, they offer other specialty items and even birria ramen which is the classic consome with ramen noodles.
Crafted of Yakima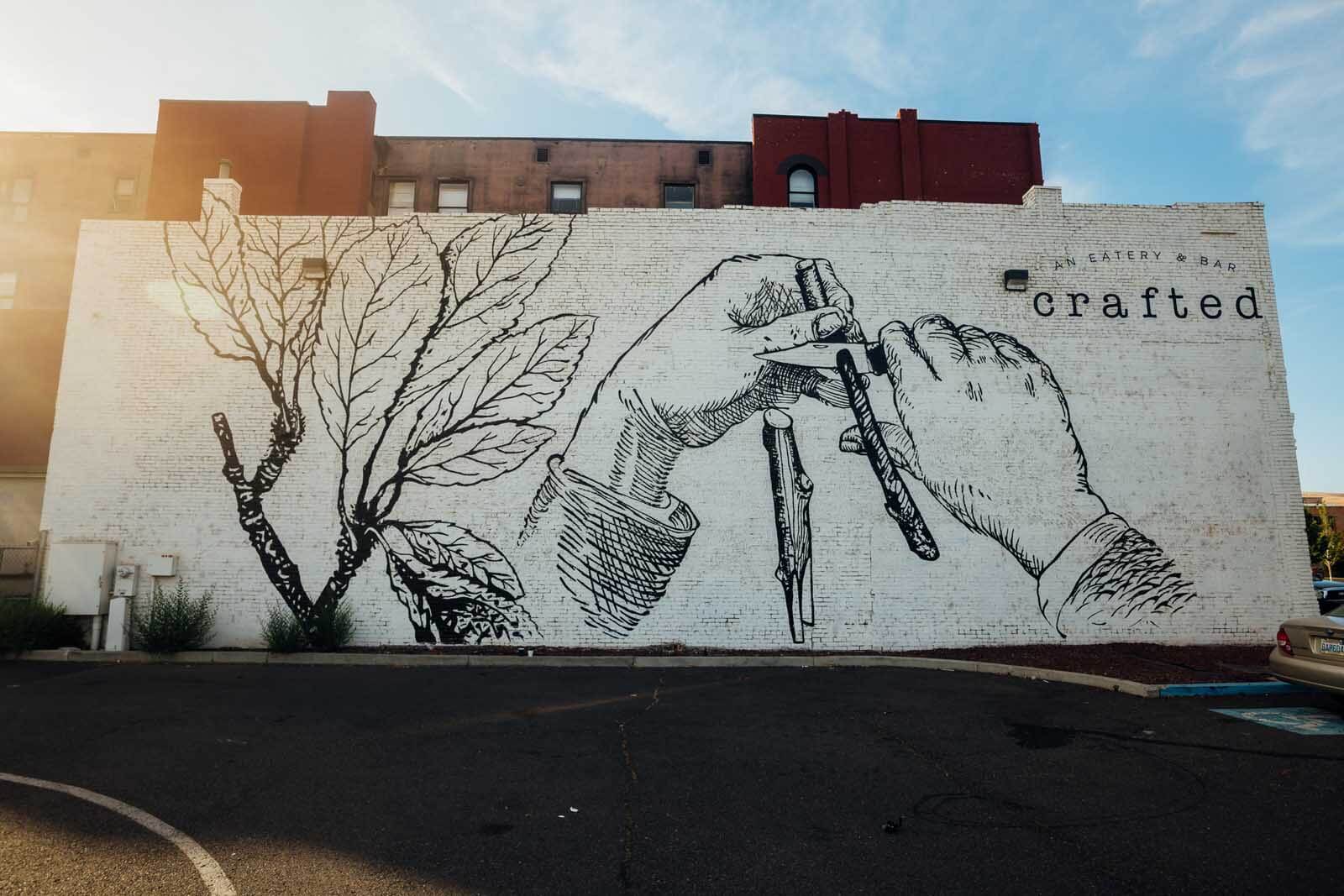 22 N 1st St, Yakima, WA
One of the best places for dinner located in the heart of downtown Yakima is enjoy a farm-to-table meal at Crafted. No menu is the same as they create a new menu daily using locally sourced products that are in season.
Try the chef's menu, which includes a seasonal 7 seasonal courses for $80 with the option of adding on local wine pairing with each course. This dining experience was one of our favorites from both trips we've had in the region and plan for around 2 hours for the entire dining experience.
Powerhouse Grill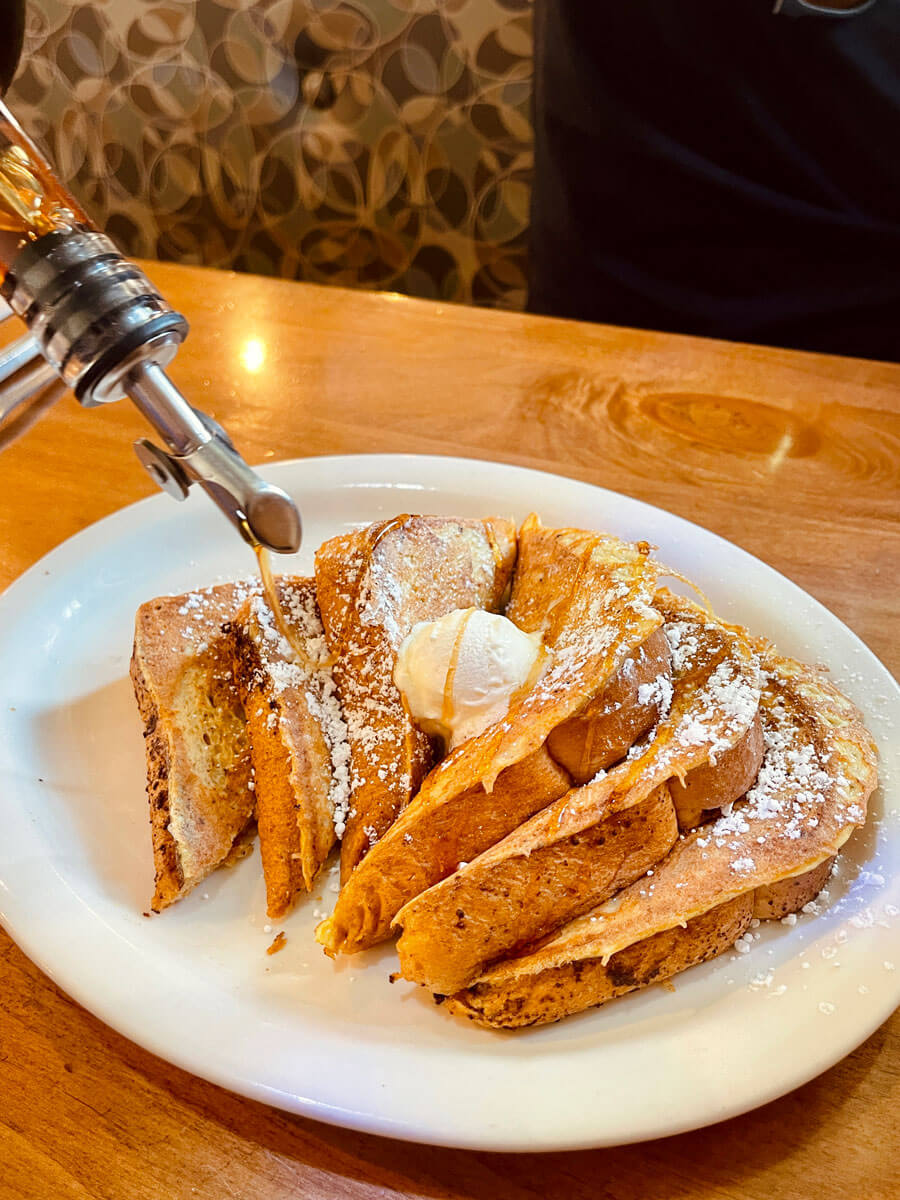 3807 River Road, Yakima , WA
For a hearty, classic breakfast head to Powerhouse Grill on your Yakima Valley itinerary. This classic diner serves up the classic breakfast items from your regular egg dishes like omelets, benedicts, and scrambles to waffles and their own specialty items like breakfast nachos, crepes, and skillets.
They also have lunch and dinner menus featuring everything from sandwiches to salads and in the evenings steaks and seafood.
Don't miss their dessert selection either!
Provisions Restaurant & Market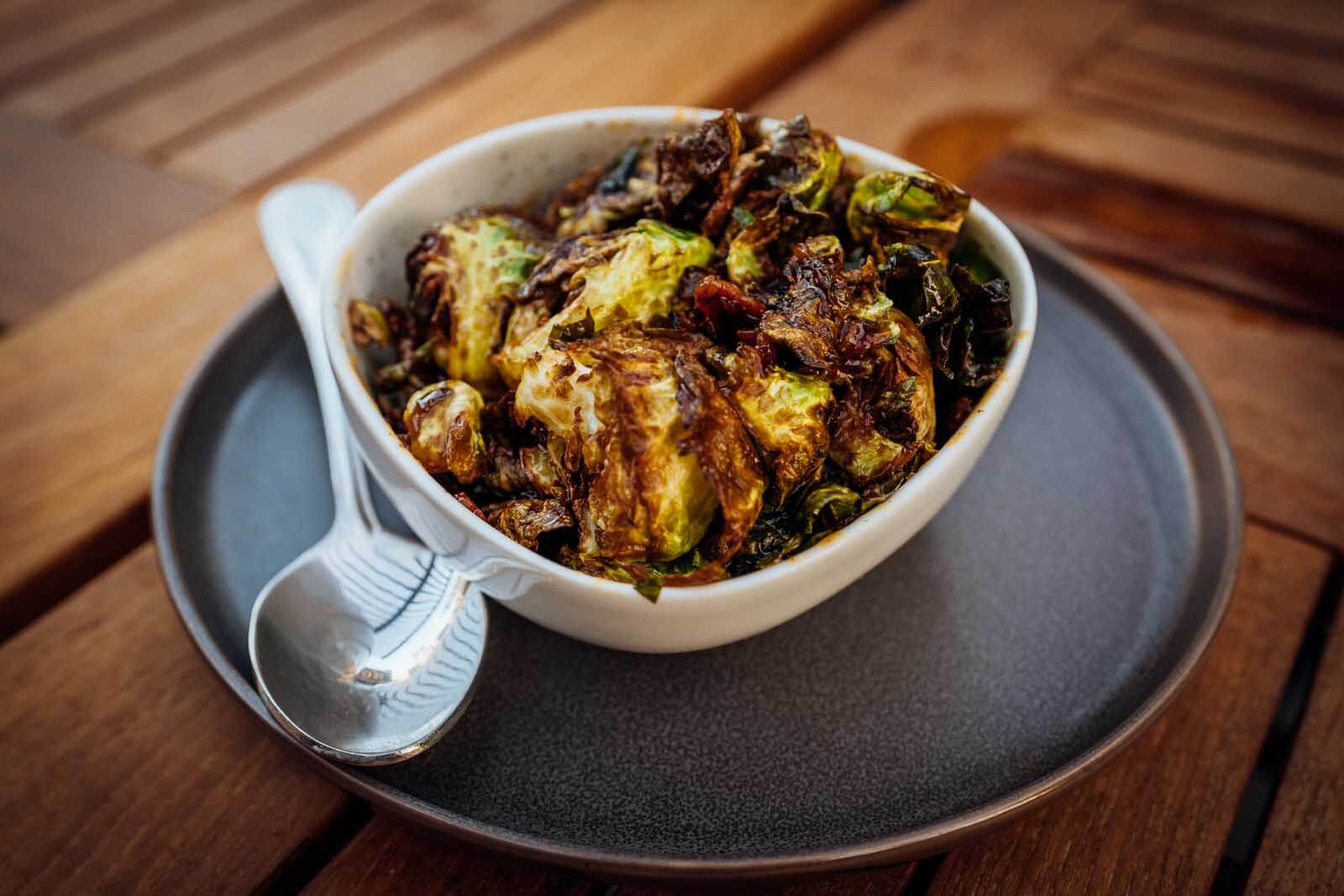 2710 Terrace Heights Dr, Yakima, WA
Another amazing place to eat for both lunch and dinner in Yakima is Provisions Restaurant & Market. Whether you're coming in for a sit-down meal or just popping in for lunch to make an incredible salad at their salad bar you can't go wrong. Their menu is focused on Pacific Northwest-inspired fare
Los Hernandez Tamales
3706 Main Street, Union Gap, WA
One thing Yakima Valley does not lack is great Mexican restaurants. For incredible tamales, you won't want to miss this James Beard Award Winning spot in Union Gap, just a short drive from Yakima. This family-owned and operated spot uses family recipes passed down from generation to generation and also combines traditional Mexican tamales with local ingredients and seasonal produce like their celebrated and popular asparagus and pepper jack cheese tamale.
We had the pleasure of trying a few of their tamales at the Fresh Hop Ale Festival and were blown away. 10/10 recommend!
MAK Daddy Coffee Roasters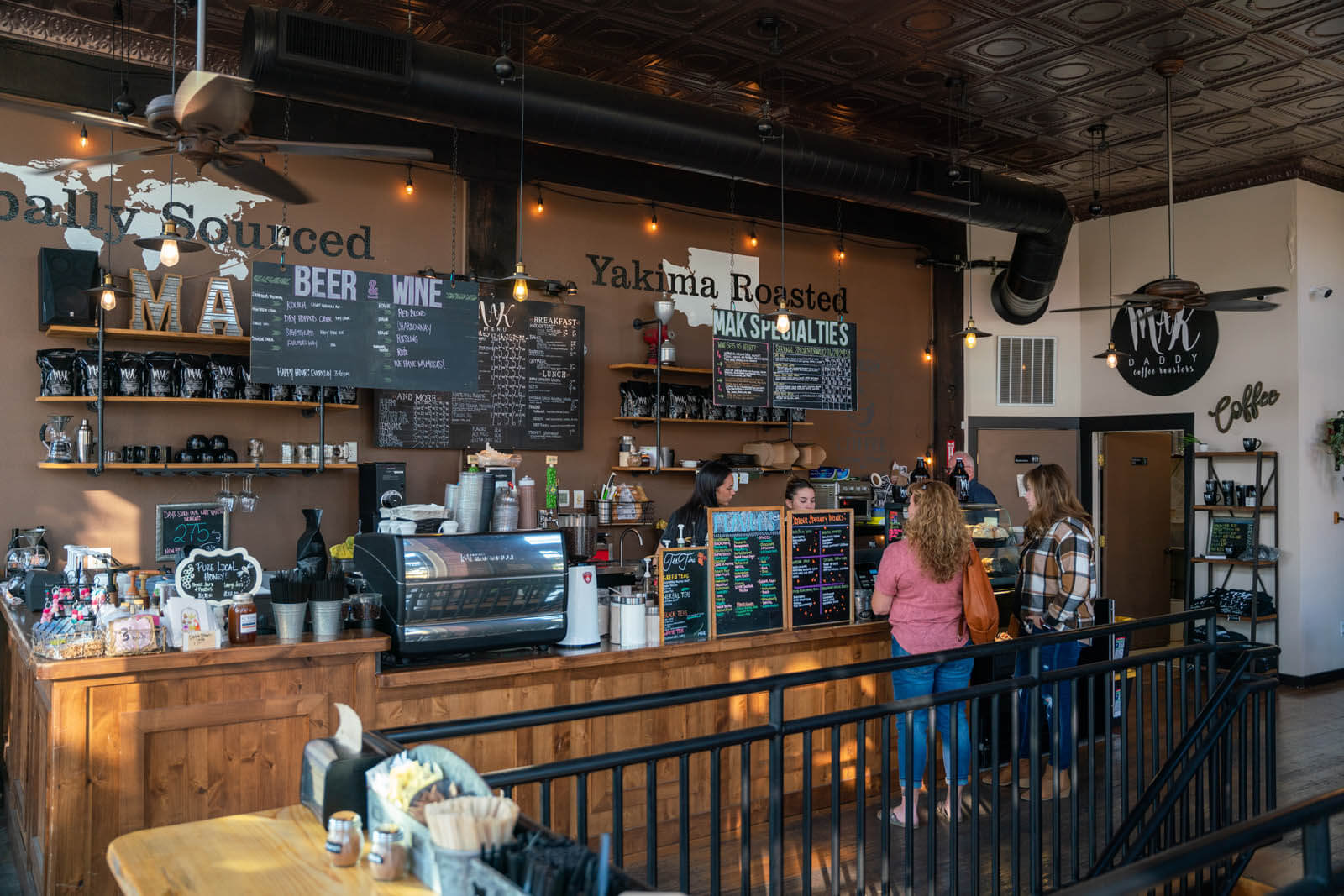 28 N 1st Street, Yakima
You're going to need some caffeine to fuel your mornings during your weekend in Yakima Valley, check out this local specialty cafe and coffee roaster in the heart of downtown Yakima for your morning cup of joe. They have a great space to sit and enjoy your morning coffee whether you choose one of the seats on the ground level naturally lit from the large windows or head down to the lower basement level for more tables and seating to sit back and enjoy your freshly roasted and brewed cup of coffee.
Whistlin' Jack's Outpost and Lodge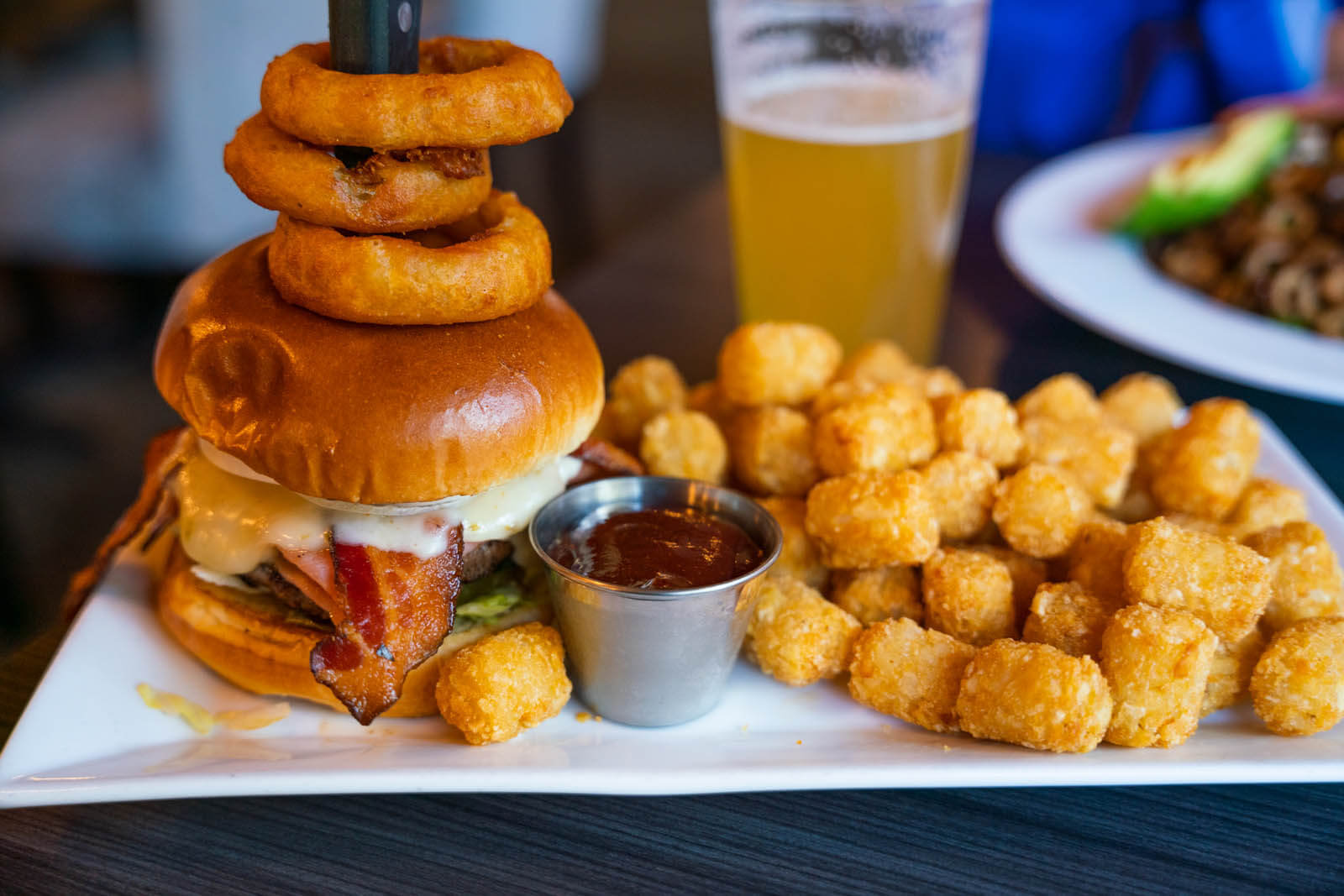 20800 WA-410, Naches, WA
Located in Naches en route to Mount Rainier National Park is a great stop for lunch! At Whistlin' Jack's Outpost and Lodge, you can stop for riverside dining at the Fireside Lounge and Restaurant in their dining room or outdoor dining area in the warmer months (coming summer 2023).
Located on the scenic Chinook Pass in the central Cascade Mountains, you can actually rent one of their riverside cabins or if you are visiting the region with RV in tow, you can park at one of their forest RV parking spots or reserve a riverside tent camping spot.
Whistlin' Jack's also happens to a historic property, while the ownership has changed hands over the years, this has always been a staple and favorite spot among travelers exploring the central Cascades.
Their menu features American fare, you can find a variety of burgers, sandwiches, and salads on their lunch menu. Their dinner offerings are more of a steakhouse menu featuring a selection of steaks and fresh caught fish items. They also serve breakfast and have a menu of bar bites.
Outdoor Adventures in Yakima Valley
Tieton Nature Trail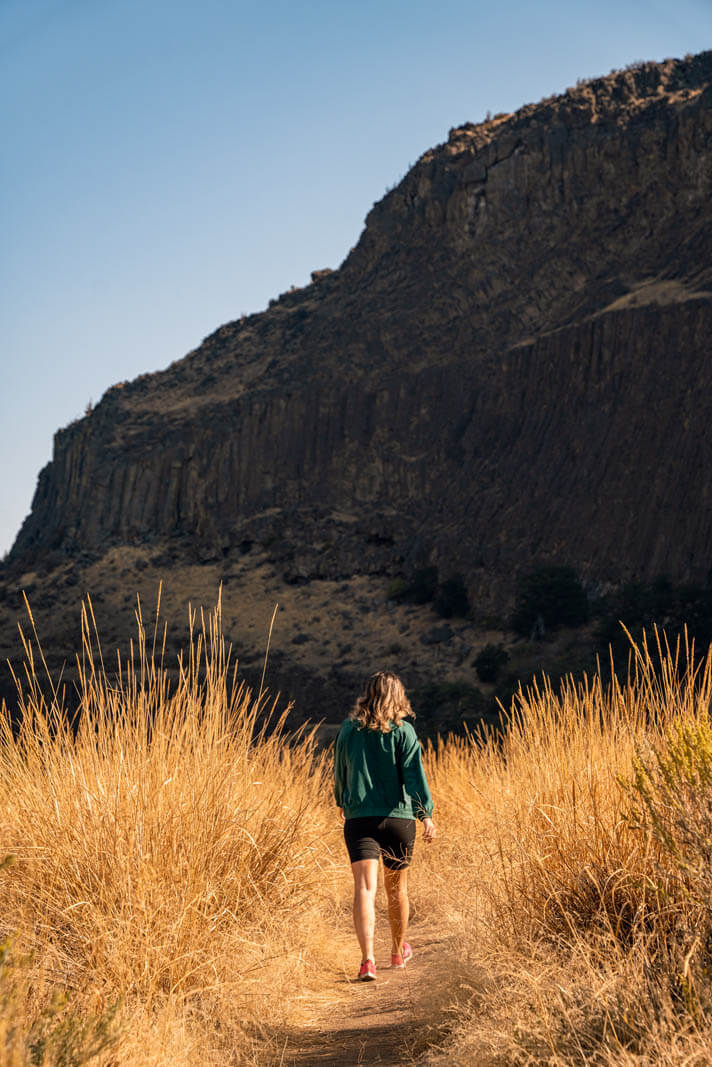 If you're looking for an easy hike through Yakima Valley to add to your itinerary, the Tieton River Nature Trail is an excellent choice following along the Tieton River in the Tieton River Canyon and passing a few bridges along the way.
You'll spot unique rock formations above along the basalt column cliffs where you may even see rock climbers ascending, the interesting flora and fauna in the high-desert landscape, and maybe even spot wildlife like golden eagles who nest nearby.
What's great about this trail is that you can easily pick your length you want to go, it will be an out-and-back trail starting near the Oak Creek Wildlife Area. Speaking of, if you want a chance to spot elk, this wildlife area is an elk feeding station and one of your best opportunities in the Pacific Northwest to spot them!
The hike is very peaceful, we walked to the first suspension bridge and turned back, but you have the opportunity to continue further if you wish.
To start this hike, park at the small unmarked gravel parking lot at milepost 183.5 on Highway 12 (directly across from Oak Creek Wildlife Area). You'll walk across the bridge to access the gate where the trail begins.
Be aware that this area does have rattlesnakes, we didn't see any but you'll want to brush up on general safety tips in case you encounter a rattlesnake and keep an ear out for their rattling sound. If you do encounter a snake or hear a warning sound, remain calm and do not do anything to disturb the snake and slowly move away.
Mount Rainier National Park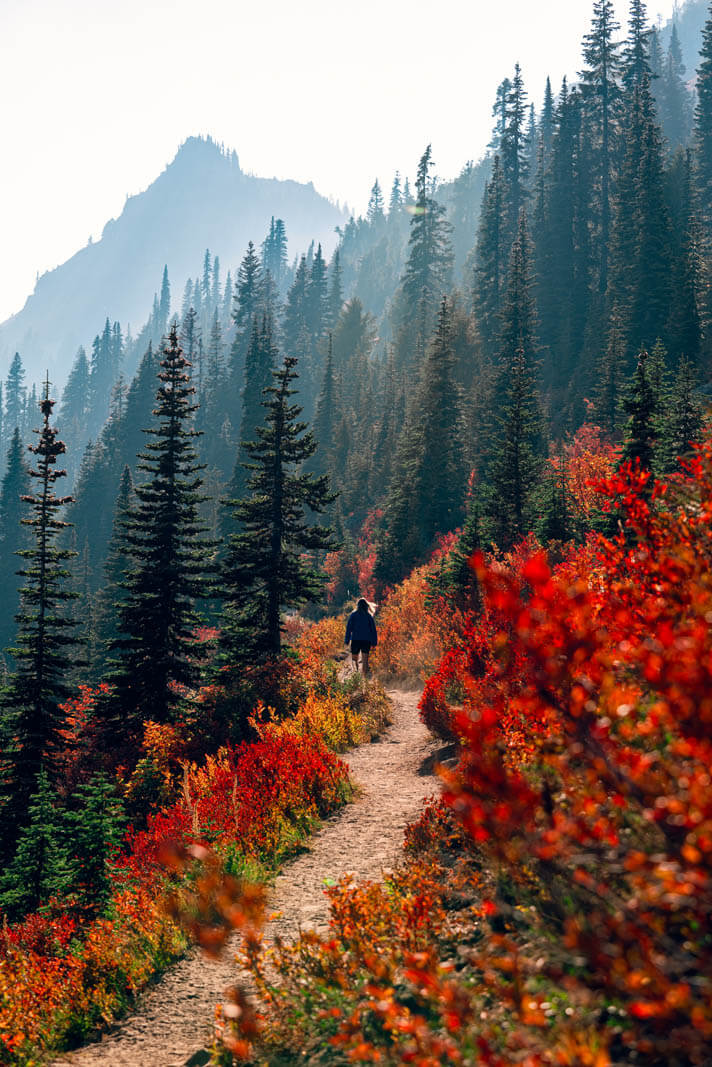 If you're taking advantage of the great outdoors during your Yakima Valley itinerary, you won't want to miss Mount Rainier National Park. On Chinook Pass, you can easily enjoy a few hikes from the Sheep Lake and Sourdough Gap Trailhead parking lot.
We recommend spending a few hours enjoying the stunning views from the Sheep Lake Trail (3.6 miles out-and-back or further if you decide to continue on to the lookout further past Sheep Lake once you arrive there. Sheep Lake is a beautiful alpine lake that has a great resting area to enjoy before turning back (or continuing up to the viewpoint approximately another 1.5 miles up).
The hike itself follows along the ridgeline overlooking the road you came in on and forest before turning into the mountain and ascending to the pristine alpine lake. This is a popular among families and those with dogs on leash too, we were lucky to be visiting during the season of beautiful fall foliage and the views were stunning.
There are camping options around the lake too or you can head back and visit Lake Tipsoo and Little Lake Tipsoo for a few more short hikes that offer stunning views of Mt. Rainier in the backdrop.
For accessing this part of the park head to the parking lot at the Sheep Lake and Sourdough Gap Trailhead. Near the restrooms, you can start the Sheep Lake Trail following it to the right along the ridgeline. There is a trail map at the parking lot too for reference.
Drive White Pass & Chinook Pass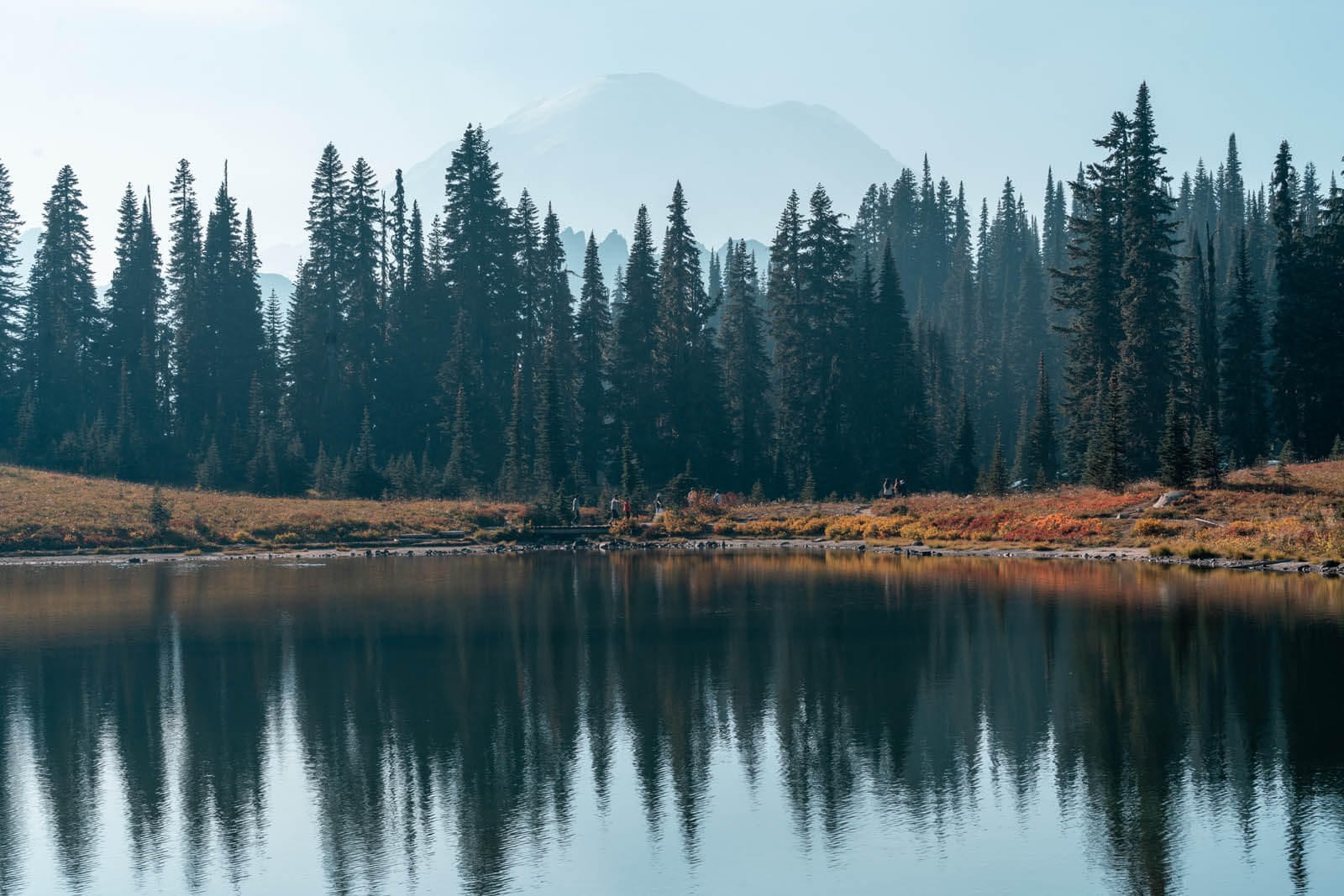 En route to Mount Rainier National Park during your weekend in Yakima Valley, you'll want to take advantage of the gorgeous and scenic drives around the Cascades. Drive both the Chinook Pass (which you'll take to get to the Mt. Rainier hikes we mention to the east entrance to the park) and the White Pass Scenic Byway.
Start from Naches on Route 410, you'll drive through the Cascades and you can get on the White Pass Scenic Byway, which will also return you to Yakima Valley via US 12.
Along the way you'll have a few pull of spots where you can enjoy majestic views of Mount Rainier in all its glory.
Where to Stay in Yakima Valley
Hotel Maison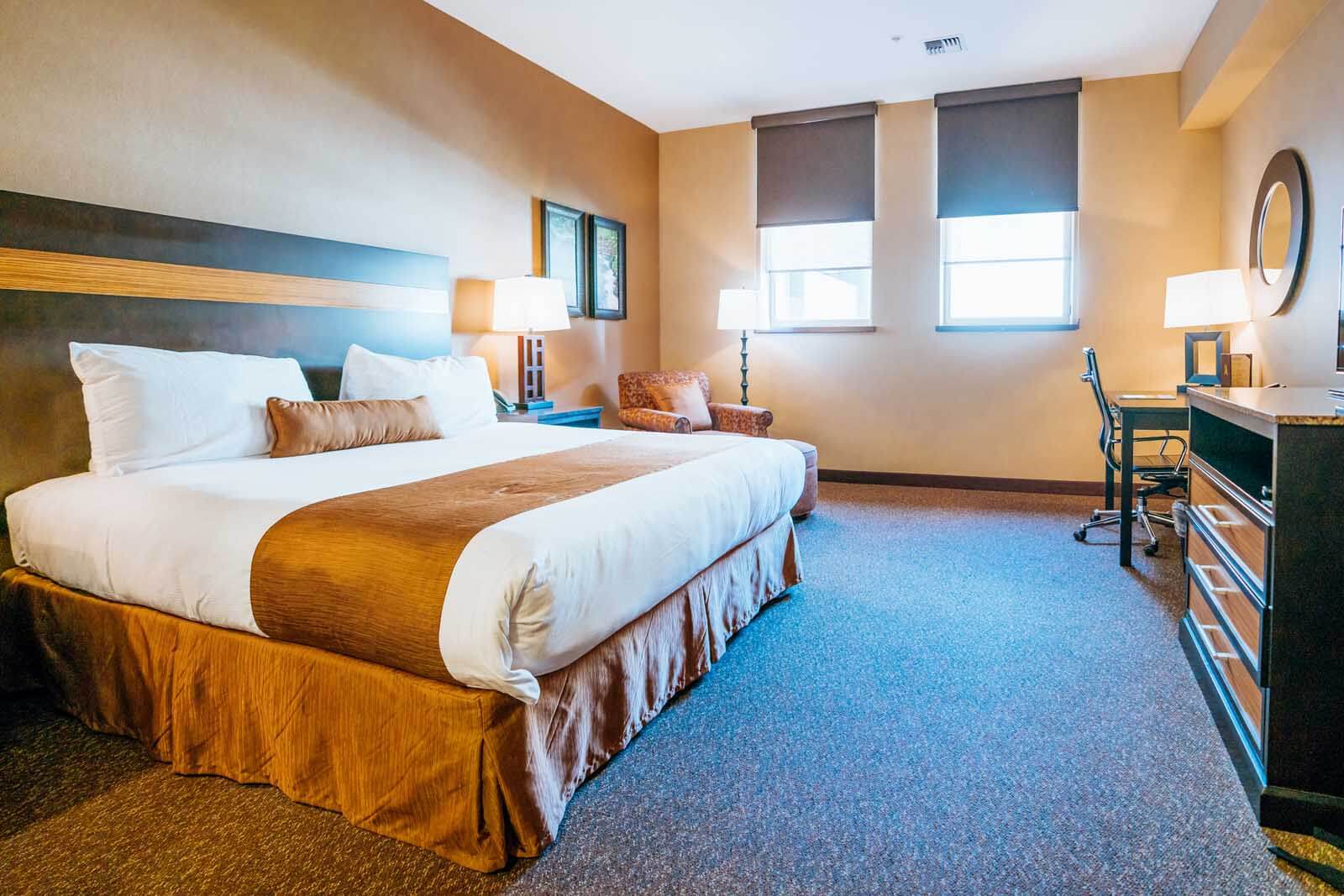 If you're looking for a great hotel option in the heart of downtown Yakima during your weekend in Yakima Valley, check out Hotel Maison. Located in a historic, landmark building offering spacious rooms with modern touches. Parking is available for an additional fee, but it's close and convenient to exploring everything there is to do and see on your Yakima Valley itinerary!
Book Now | Compare Prices for Later | Read Trip Advisor Reviews
Getting to Yakima Valley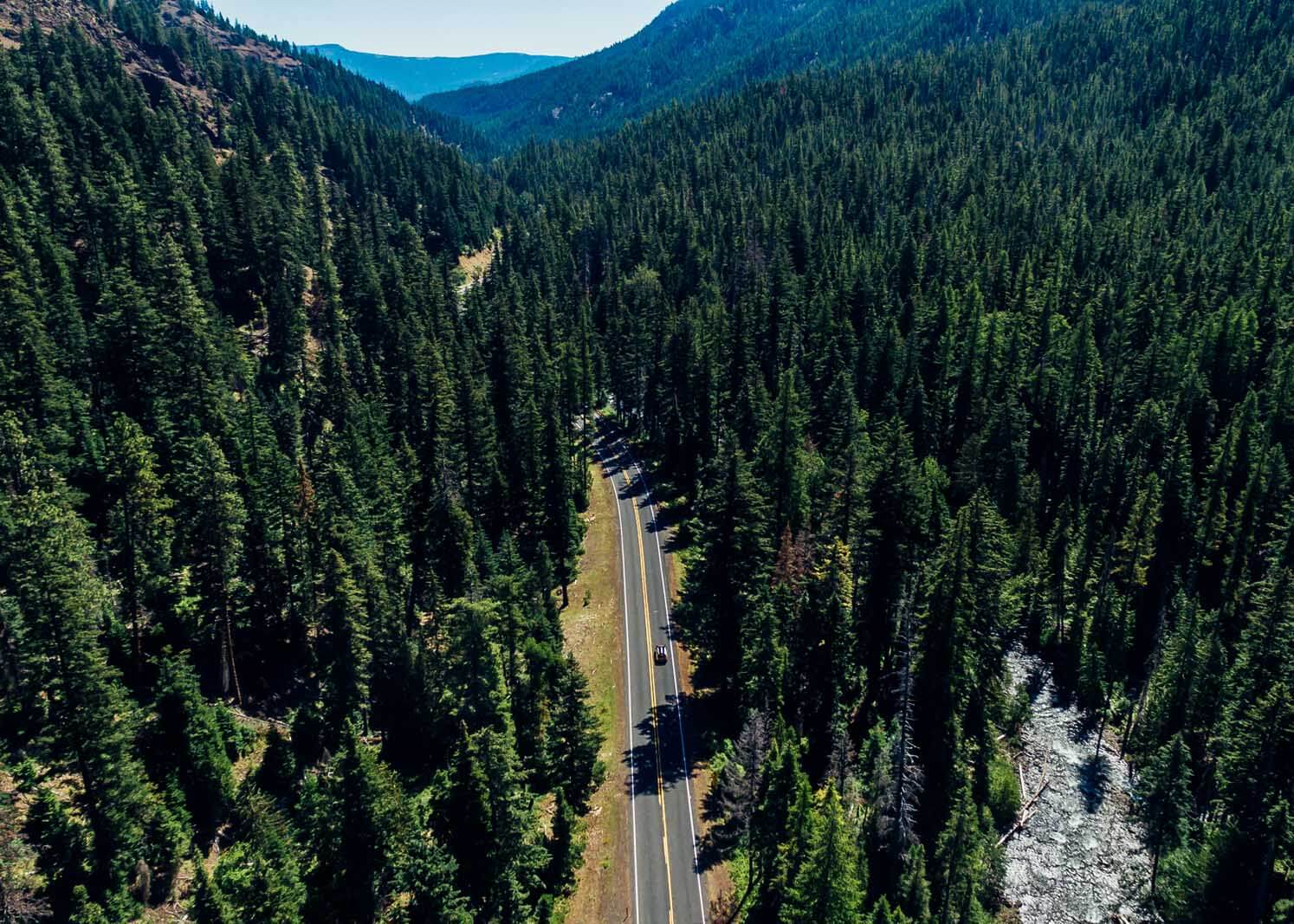 You're going to need a car to get around during your weekend in Yakima Valley, just about everything with the exception of a few activities in downtown Yakima are all driving distance away. Plus you'll want to have the freedom and mobility to explore the Cascades while you're in this beautiful Central Washington region.
Yakima is just over a 2-hour drive from Seattle, we rented our car from the Seattle-Tacoma International Airport (SEA) and drove on the 405 North to the 90 East and 82 East.
Yakima is also a 3-hour drive from Spokane, which you can take the 90 West to 82 East and rent a car from Spokane International Airport (GEG).
---
Enjoyed this guide for a hoppy weekend in Yakima Valley itinerary suggestions? Bookmark for later or share the love on Pinterest below!