Heading to the Finger Lakes? Be sure to check out all the best things to do in Hammondsport, New York one of the most charming villages and towns located on Keuka Lake, one of the 11 Finger Lakes that make up this gorgeous upstate New York destination ideal for a getaway any season.
See what keeps bringing us back to the region to keep exploring in our Finger Lakes photography post and all the best things to do in the Finger Lakes to help you plan your trip to exploring this amazing area that is truly one of the most underrated destinations in the US!
Also, see why Hammondsport is one of our favorites and picks for best towns in the Finger Lakes! There are parks and activities by the water, as well as museums and antique shopping. Additionally, this region has some incredible vineyards, and you can easily spend a day visiting several wineries. Keep reading for a list of things to do in Hammondsport, NY.
Things to do in Hammondsport
Depot Park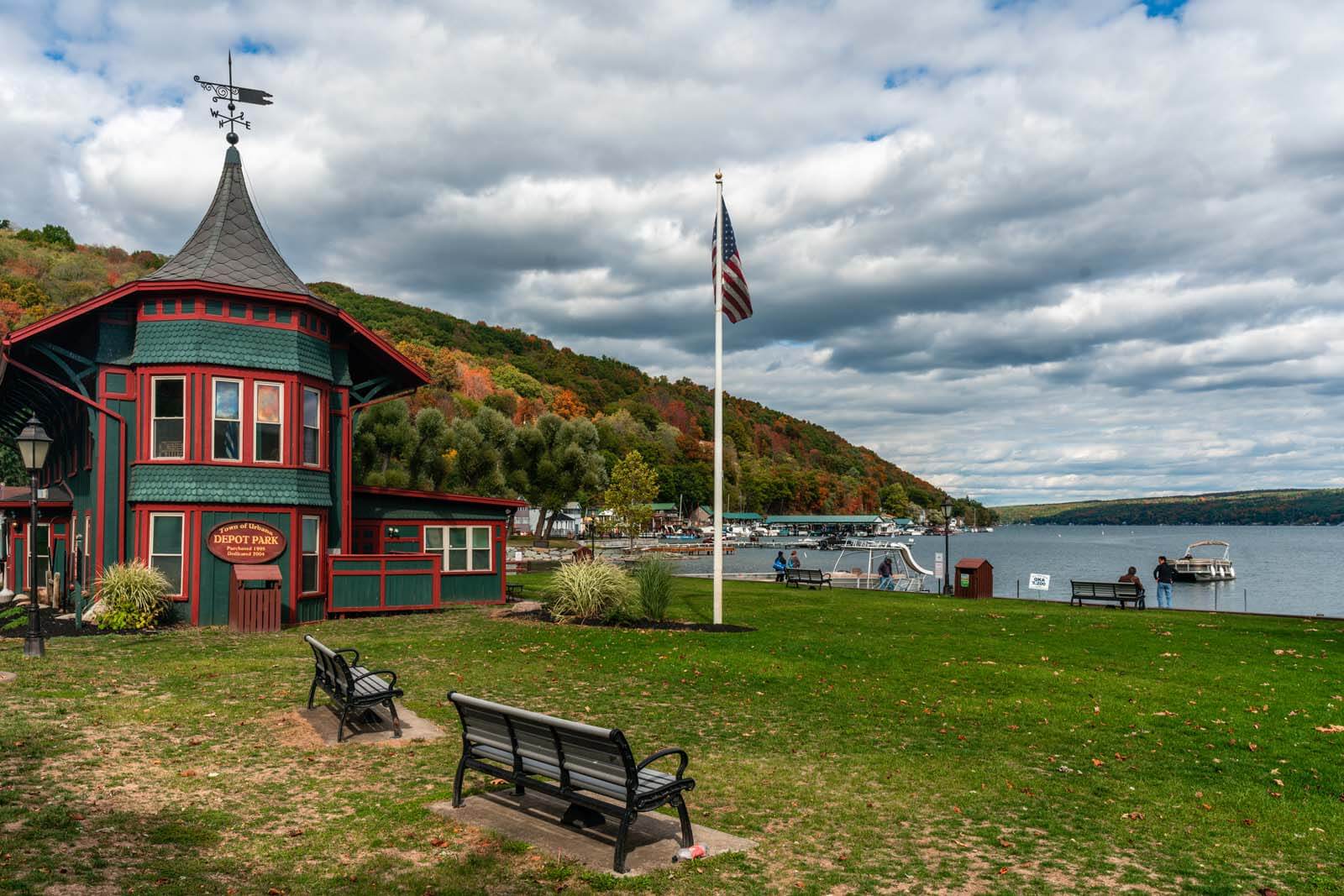 For a perfect time by the water, head over to Depot Park. Nestled on Keuka Lake's southern shore, Depot Park has amazing waterfront views. You can take a dip in the lake for a refreshing swim (on the eastern edge of the park), or bring your fishing pole to see what you can catch, or set up lawn chairs on the green space to relax and enjoy the surroundings. This is also a great spot for a picnic, as there are benches to set up your spread.
Another cool feature is the old Depot building, which not only adds to the park's charm, but is a perfect spot for a photo op. Make sure to visit this park when exploring the town, even if it's only for a quick photo. The houses surrounding Depot Park are also incredibly charming.
Get On Keuka Lake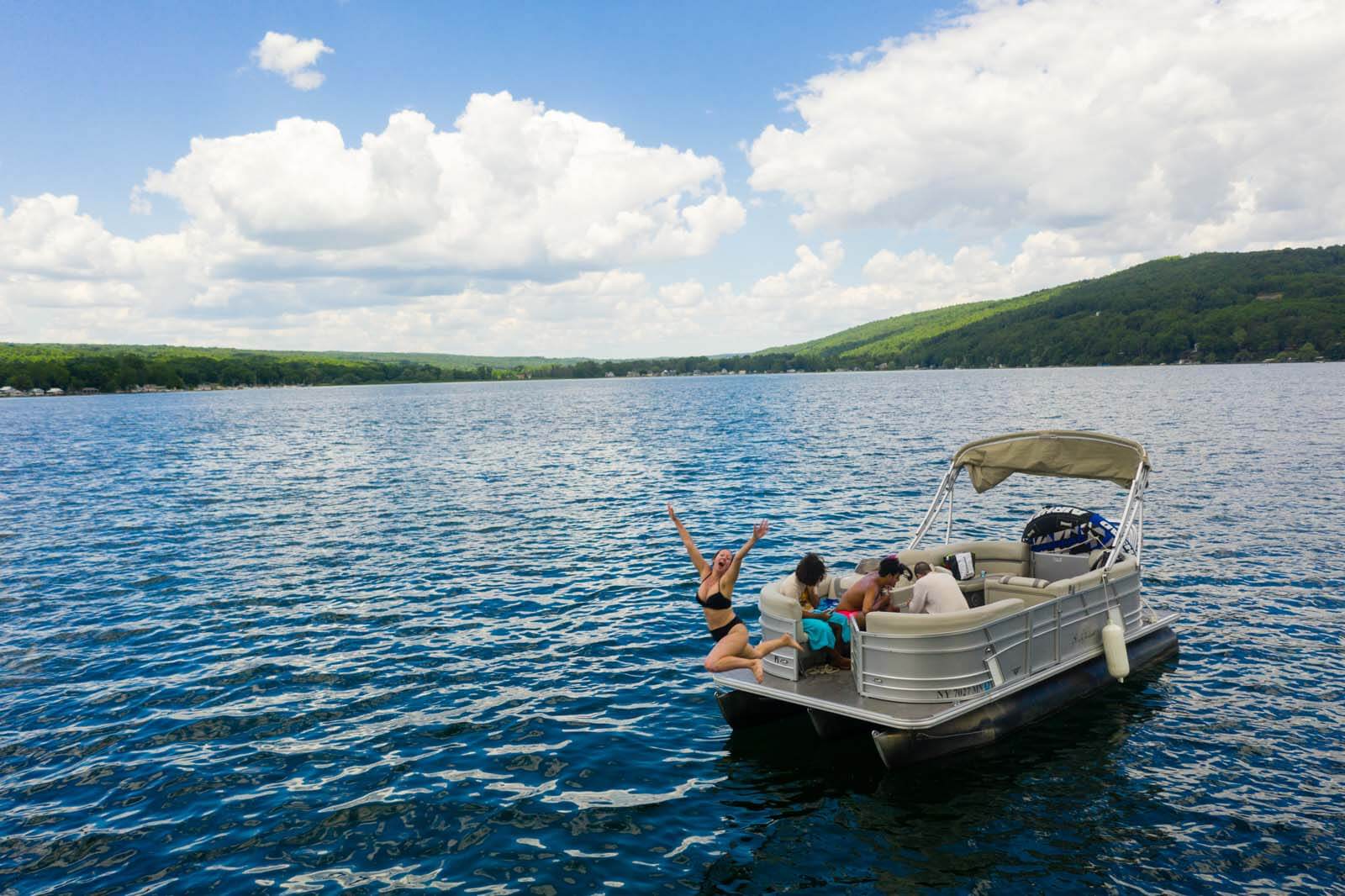 Hammondsport, New York is situated right by Keuka Lake, so obviously one of the best things to do here is get out on the water! Keuka Watersports is the place to rent boats, pontoons, kayaks, stand-up paddleboards, and jet skis.
Relax on the water as you take in the beautiful views of the landscape while kayaking or stand-up paddleboarding. And if you're more adventurous, you can cruise along on a jet ski or pontoon.
They also offer a one-and-a-half-hour pontoon cruise, led by a captain, that will take you around the shores of the lake. Be sure to get out on Keuka Lake when you visit the area!
Glenn H Curtiss Museum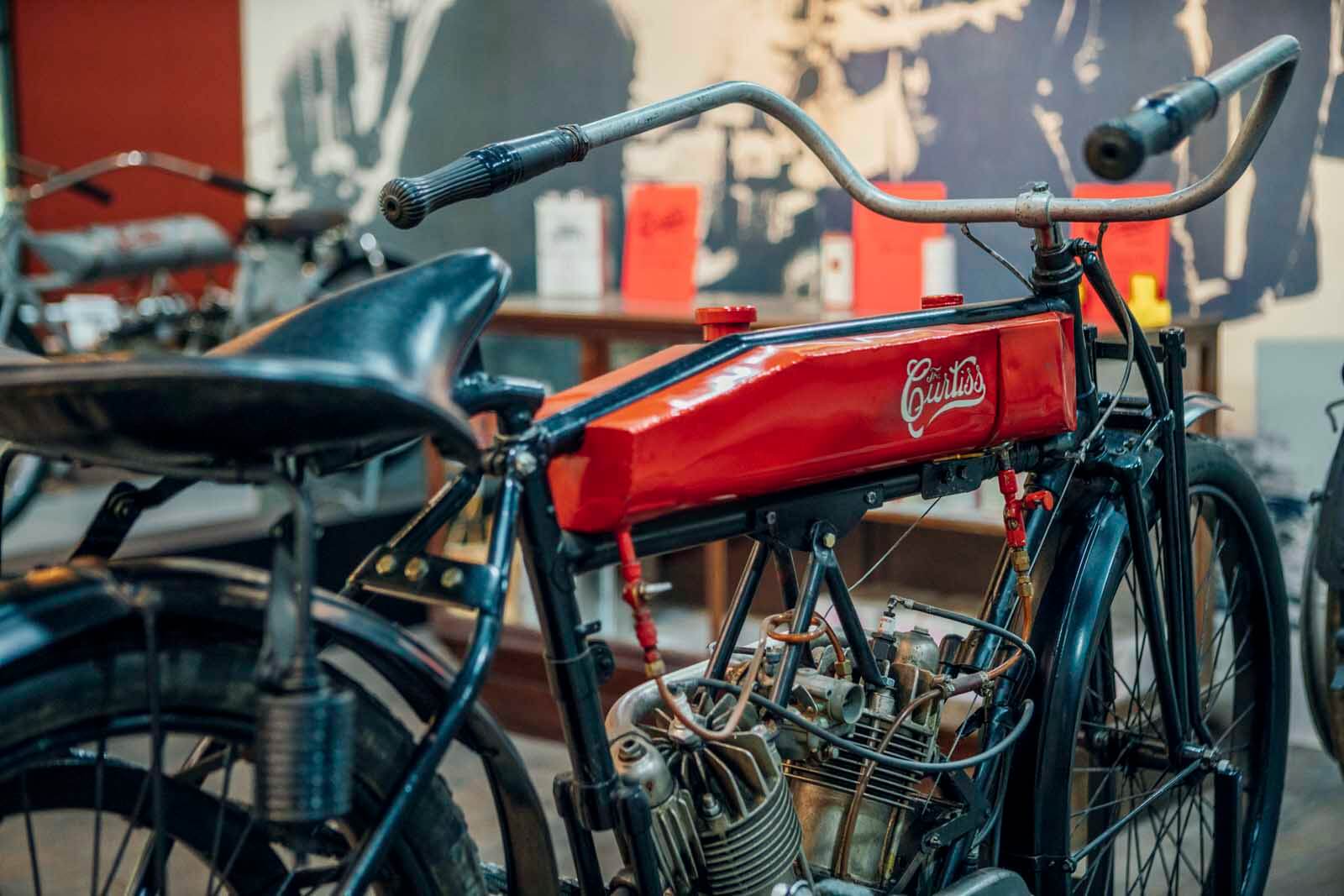 A fantastic museum to visit in the area is the Glenn H Curtiss Museum, and while it might not sound like the most thrilling museum to go to if you haven't heard of Mr. Curtiss, hear me out – I didn't know how interesting a random man I hadn't heard of in aviation/motorcycles and his history was until I came to this museum.
This museum focuses on the contributions of Glenn H. Curtiss, who had a large hand in shaping the transportation and aviation industry as well as motorcycles. His trailblazing path in transportation started with bicycles, then motorcycles, and finally aviation.
Glenn H. Curtiss was born in Hammondsport, he was active around the same time as the Wright Brothers and even became involved in a patent dispute with them. His motorcycle endeavors made him the 'fastest man on earth' of his time.
There are a variety of exhibits you can explore at the museum, including his vintage motorcycles, antique bicycles, historic automobiles, and classic aircraft.
Make sure to include the Glenn H Curtiss Museum in your list of things to do in Hammondsport, NY. You might be surprised, it's not just for grandpas into airplanes!
Mud Creek Bison Ranch
If you venture just outside of Hammondsport, New York you will find the Mud Creek Bison Ranch. This is especially enchanting in the fall, but beautiful all year long.
This unique experience gives you the opportunity to see bison roaming the scenic property while learning about the animals and the ranch.
You can embark a self-guided tour in your car during specific times, or book a specialty tour if one is being offered when you visit. The self-guided car tours will have you turn on a channel in your car to listen to the narrated story of the American Bison and their cultural significance to Native Americans, the narration is really well done and accompanies the scenic drive really well.
Be sure to check out their calendar of events before you go! The ranch also has a retail store, and some of the items you can grab here include various bison meat products and an array of souvenirs. This is one thing to do in Hammondsport, NY that you won't want to miss!
Antique Shopping
Hammondsport is home to some great antique shopping, I've even picked up a few cool treasures during our Finger Lakes visits including a really cool antique ring here in Hammondsport. Crooked Lake Antiques & More is the place to find antique furniture, art deco items, and even Victorian dolls.
Opera House Antiques is a multi-dealer store that is stocked with collectibles, and it's located in the old Frey Opera House.
Wild Goose Chase Antiques is the perfect place to browse for period items from the 1970s and earlier. Also, Wild Goose Chase Antiques is located in the wine region, so it's a great place for a quick stop between winery hopping.
And if you LOVE antique shopping as much as I do, don't miss checking out Owego where my favorite antique shop in the region is as well as tons of other cool things to check out, another one of our favorite towns in New York.
Finger Lakes Seaplane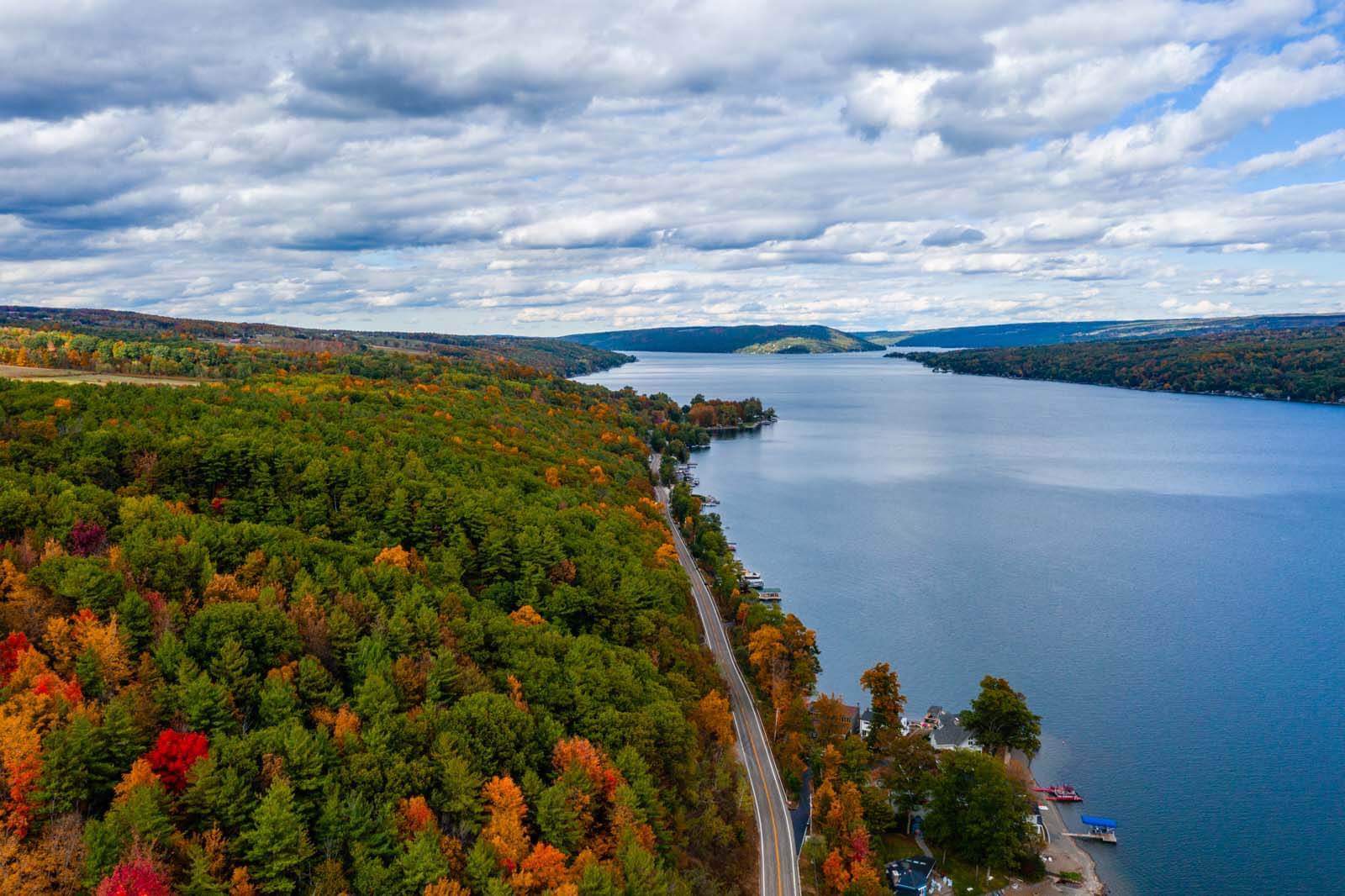 To get a view of Hammondsport from above, take a tour on the Finger Lakes Seaplane! You'll take off from the marina, and get picturesque views of Keuka Lake, some of Hammondsport's wineries, and other local spots.
This is a cool way to see the village from a different perspective, and there will be lots of great photo opportunities! So if you're not afraid of heights, look into taking a Finger Lakes Seaplane.
Crooked Lake Ice Cream Parlor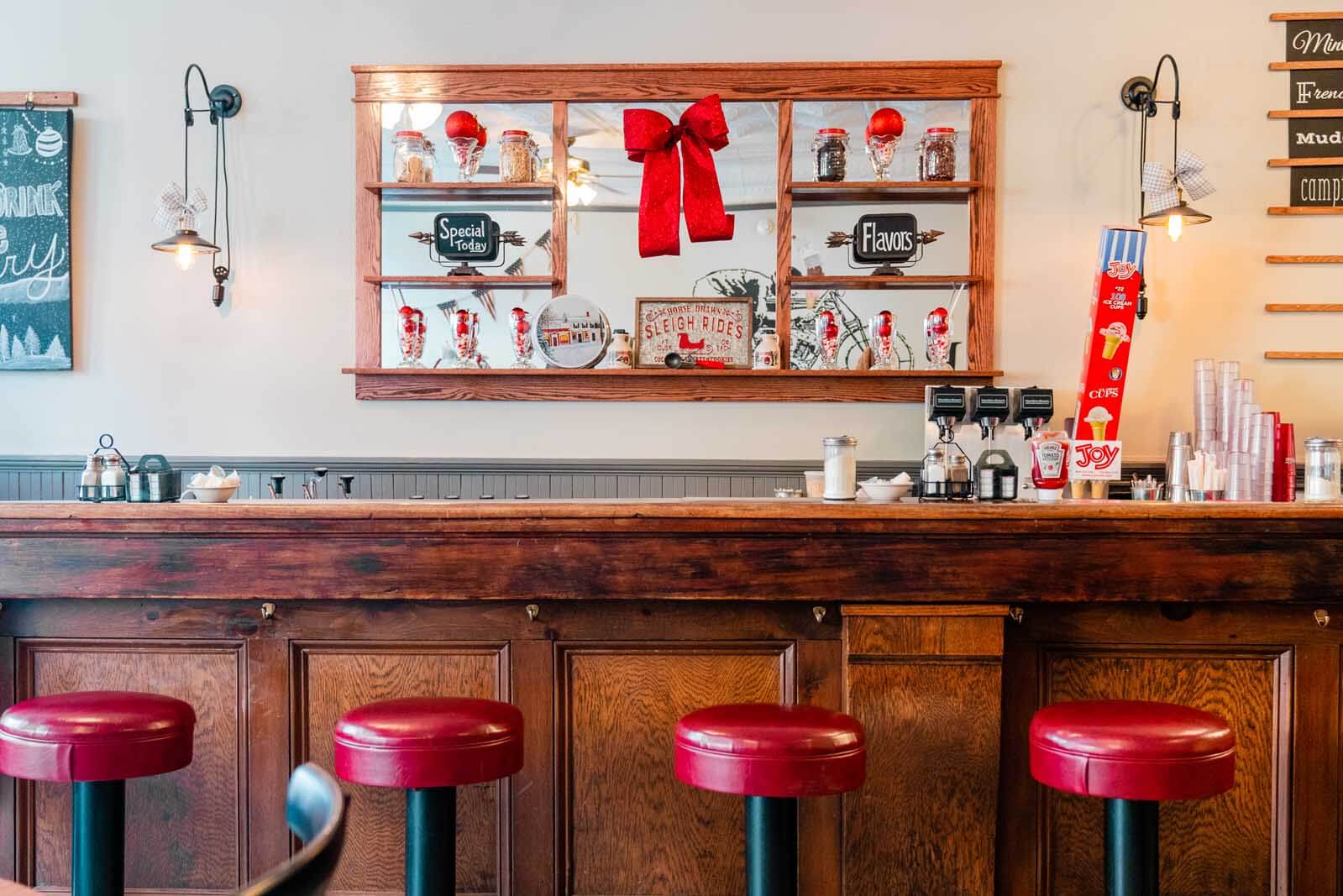 A local gem in Hammondsport is the Crooked Lake Ice Cream Parlor. The shop's design is evocative of a 1950s diner, which adds to the adorable charm of this place, and if you have the pleasure of visiting in the winter holiday season you'll be greeted with holiday decor!
The offerings here include ice cream, breakfast, and lunch. This is a fantastic place to start your day in Hammondsport, as you can have a delicious breakfast to get ready for your day of exploring!
Also, you can stroll over to Keuka Lake or Depot Park with your ice cream, since the lake is just a two-minute walk from here. Make sure to include this shop on your list of things to do in Hammondsport, NY.
Finger Lakes Boating Museum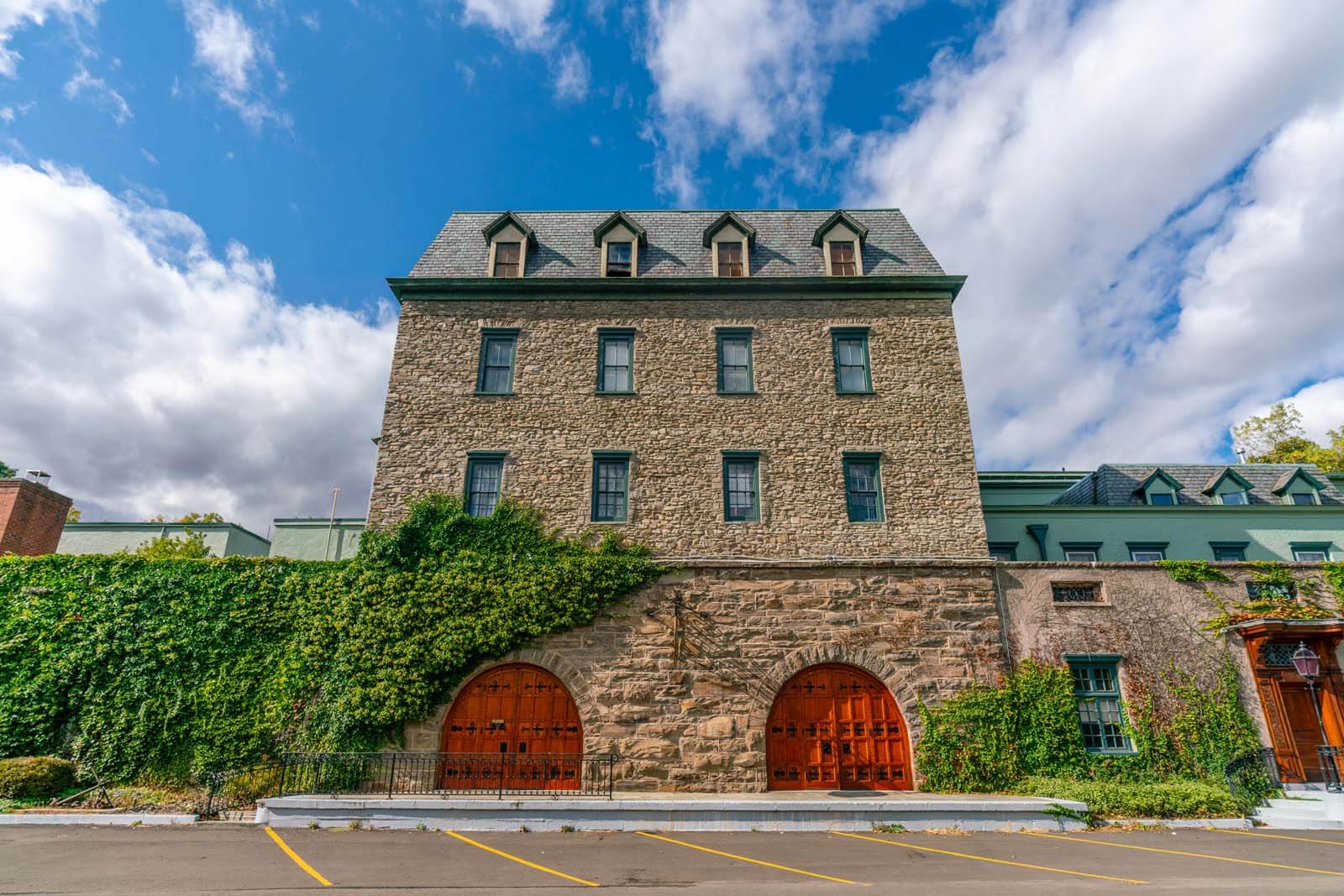 Are you a fan of fine craftsmanship? If so, this is another awesome thing to do in Hammondsport for you. If you have an interest in learning about the history of boating in this region, check out the Finger Lakes Boating Museum.
This museum was built with the intent to inform and preserve the boating history of the Finger Lakes. The Finger Lakes Boating Museum currently displays over 200 boats constructed by builders throughout the region.
There are three stories of sailboats, hydroplanes, and rowboats for you to view. This museum is across from the Pleasant Valley Wine Company, which is discussed further down on this list and another good stop in the area!
Champlin Beach
For a little beach time, head over to Champlin Beach! Nestled on Keuka Lake's south shore, Champlin Beach is a public beach and park.
There are picnic areas and green space, perfect for packing some snacks to enjoy at this scenic spot. You can also take a dip in the water, as swimming is permitted when the lifeguards are on duty.
And, you can get active by renting a kayak or jet ski from Keuka Watersports. Champlin Beach is an amazing spot to spend a few hours in the afternoon, having some fun by the water.
Wineries In Hammondsport
You can't come to Hammondsport, New York or the Finger Lakes for that matter, and not try some of the local wines! The Finger Lakes are an award-winning wine region and they have especially great Rieslings. Here are a few of the best wineries to check out during your stay in Hammondsport in and around town along Keuka Lake.
Point of the Bluff Vineyards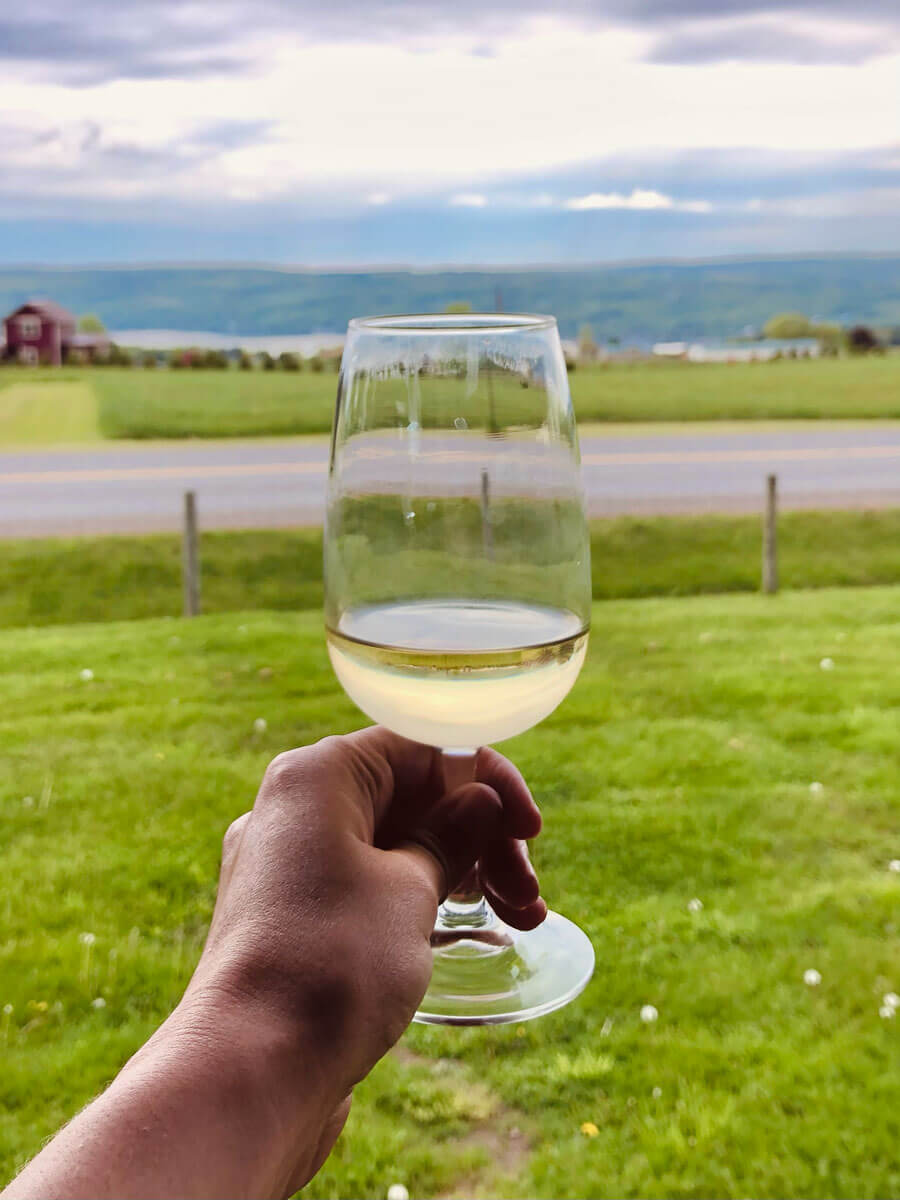 Point of the Bluff Vineyards is a gorgeous property that hosts a variety of fun events, in addition to producing incredible wines. Make a reservation for a wine tasting in their beautiful tasting room, situated on the western part of Keuka Lake.
This space used to be an 1800s schoolhouse, which has been converted into a cozy place to sample the vineyard's wines. When you visit, be sure to check out the events happening when you'll be there.
Some of the events that have been hosted here include yoga, painting with wine and a view, and food and wine pairings. The vineyard also puts on concerts in a pavilion right by Keuka Lake, making for a beautiful backdrop to enjoy music.
The Point of the Bluff Vineyards should definitely be included on your itinerary when visiting Hammondsport.
Pleasant Valley Wine Company
The oldest winery in this region is the Pleasant Valley Wine Company. This winery dates all the way back to 1860, and they have the distinction of being able to display Bonded Winery No. 1 on their bottles. This winery is unique in the fact that they stayed in operation, legally, during the prohibition because they made sparkling sacramental wines which kept them in business when booze was shut off to everyone else.
Additionally, several buildings on their property are included on the National Register of Historic Places. When you come here, you can visit their tasting room and sample their delicious wines.
Also, be sure to check out the Great Western Visitor Center, where you can really get a feel for this historic property. The setting here is what sets Pleasant Valley Wine Company apart from other wineries in the area, and is certainly worth a visit!
Dr. Konstantin Frank
The Dr. Konstantin Frank winery has quite an interesting backstory and is one of our favorite wineries in the region. Its founder, Dr. Frank is a Ukrainian immigrant who received his Ph.D. in Viticulture in 1930. He came to New York in the early 1950s, and planted the first European grape varieties in the eastern US.
He is the reason why the vinifera variety was able to thrive in New York, and led the way for other wineries in the region to also successfully grow the same variety and pretty much the reason why there are so many great wines in this region.
They offer a seated wine tasting, food & wine experience, and an outdoor walk-up bar. This winery is definitely a destination that should be included in your itinerary of things to do in Hammondsport, NY. Their property is also one of the most stunning in the region, and we've been to an impressive amount of wineries over here!
Bully Hill Vineyards
Another beautiful winery in the Finger Lakes region is Bully Hill Vineyards. Here, you can sample wines in their tasting room, and embark on a winery tour. Bully Hill also has a scenic restaurant that offers lunch, as well as Sunday brunch.
There is also a museum on the property, the Greyton H. Taylor Wine Museum. Part of the museum includes an art gallery, where you can view pieces from artists involved in the New York State wine industry. For amazing wine, food, and some art, check out this vineyard!
Heron Hill Winery
The final winery on this list (although we encourage you to explore more of the wineries in the region) is the Heron Hill Winery.
This huge winery is located on a hill overlooking Keuka Lake, making for some great scenery. They offer standard wine tastings and reserve wine tastings, as well as New York State Craft Beer & Spirit Flights. You'll be able to enjoy the wine on their outdoor terrace, or inside the vaulted Tasting Hall. The relaxed ambiance here makes for a calming afternoon of sampling wines.
Restaurants in Hammondsport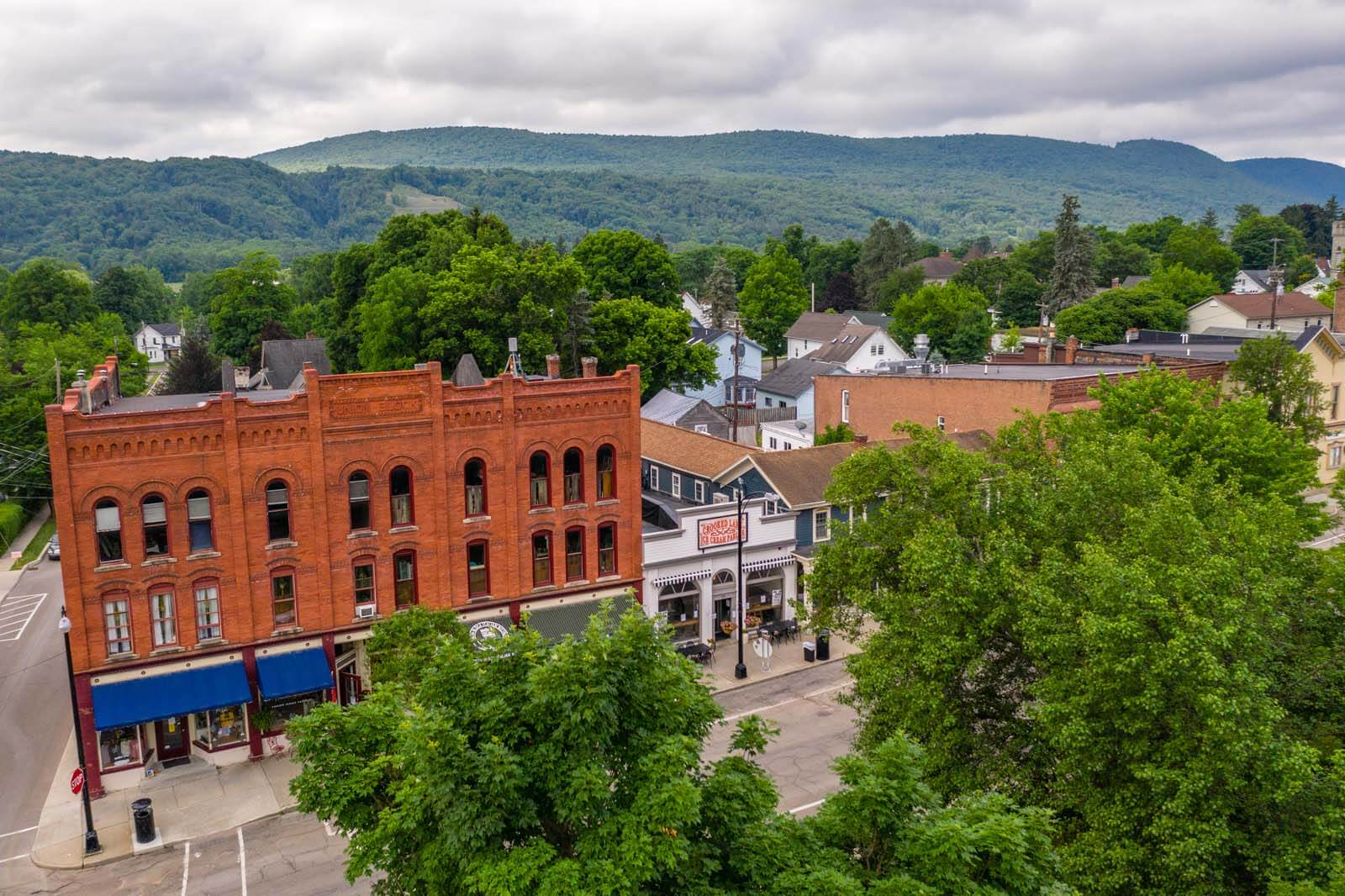 Timber Stone Grill
A popular eatery in Hammondsport, New York is the Timber Stone Grill. They offer seafood and burger options, as well as salads, grain bowls, and sandwiches. There is also a good selection of craft beer. This is a great place for lunch or dinner.
Their menu has a section for entrees served after 4 PM, where they offer more substantial dishes. For a fantastic place to grab some flavorful food, make sure to check out this restaurant.
Union Block
A great place to come for dinner is the Union Block Italian Bistro. They serve Italian and Mediterranean-inspired dishes, including several pizzas and pasta offerings.
And if you're in the mood for a drink, Union Block has a full service bar. After a full day of traversing around Hammondsport, this is the perfect restaurant to have a hearty dinner.
Burgers & Beer of Hammondsport
A great lunch spot in town is Burgers & Beer of Hammondsport. This fast casual eatery offers burgers, sandwiches, salads, hot dogs, and wings. They also boast a large selection of beer, including craft beer. This is the perfect eatery to grab a quick, delicious bite.
Park Inn
An upscale restaurant with an intimate setting in Hammondsport is the Park Inn. This nice restaurant serves seafood and pasta dishes, accompanied by an extensive wine list. The Park Inn is a fantastic place to bring a date for dinner.
---
For where to stay in Hammondsport, New York check out our guide for where to stay in the Finger Lakes!