Are you taking the epic Los Angeles to Yosemite drive? You're in for a real treat as the Los Angeles to Yosemite National Park road trip is one of the best in the country because not only are you starting (or ending depending on which way you complete this road trip) in one of the most exciting cities in the United States, but you're also heading to one of the most beautiful and famous national parks in the country too.
California is such a beautiful state with so much to see and do. In this guide we will cover the best stops you can make on the LA to Yosemite drive along two different routes, a direct route and a more scenic route.
Depending on how much time you have to enjoy the state of California, you can easily spend a few days taking this journey so you can go the more scenic route spending the night in cool coastal cities and towns enjoying Central California's wine region and dramatic coastline.
Or you can cut right to it and get from Los Angeles to Yosemite National Park as fast as possible only making stops for fuel, food, and restrooms. You can easily plan your road trip using this article!
This guide is organized into a few sections to help you plan your LA to Yosemite road trip. First, we cover the basics like when is the best time to visit Yosemite National Park, what you need to know about renting a car, and a few suggestions of what to do and see in both Los Angeles and Yosemite National Park on your road trip.
Finally, we will cover the overview of the two main routes from Los Angeles to Yosemite:
The Most Direct Route (this is the quickest route that traverses inland taking the CA-99 and CA-41) there are plenty of stops to rest, stretch your legs, see a few things, get gas or a meal, then keep going.
The More Scenic Route (this route takes longer but makes scenic stops along the California coast on the 101-N until Central California before heading CA-41 North via CA-46 East) this route offers better stops if you have the time to spend an extra day or two to get to Yosemite so you can stop in the really cool towns and destinations along the way.
Then we will dive into the best stops on a Los Angeles to Yosemite National Park road trip for each route along with what there is to do and see in each of the stops.
Disclaimer: This post contains affiliate links.
What's the Best Time of Year to Drive from Los Angeles to Yosemite National Park?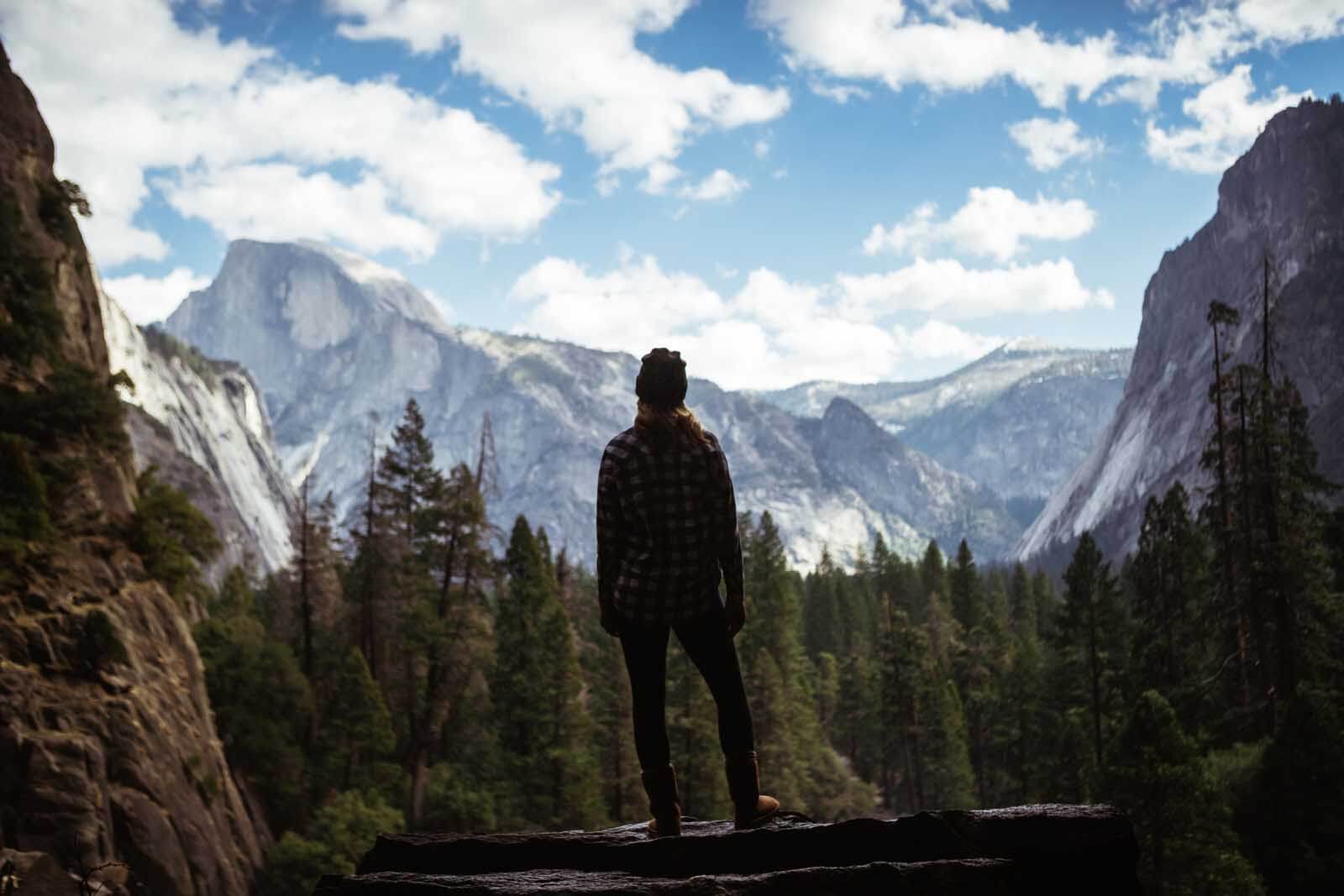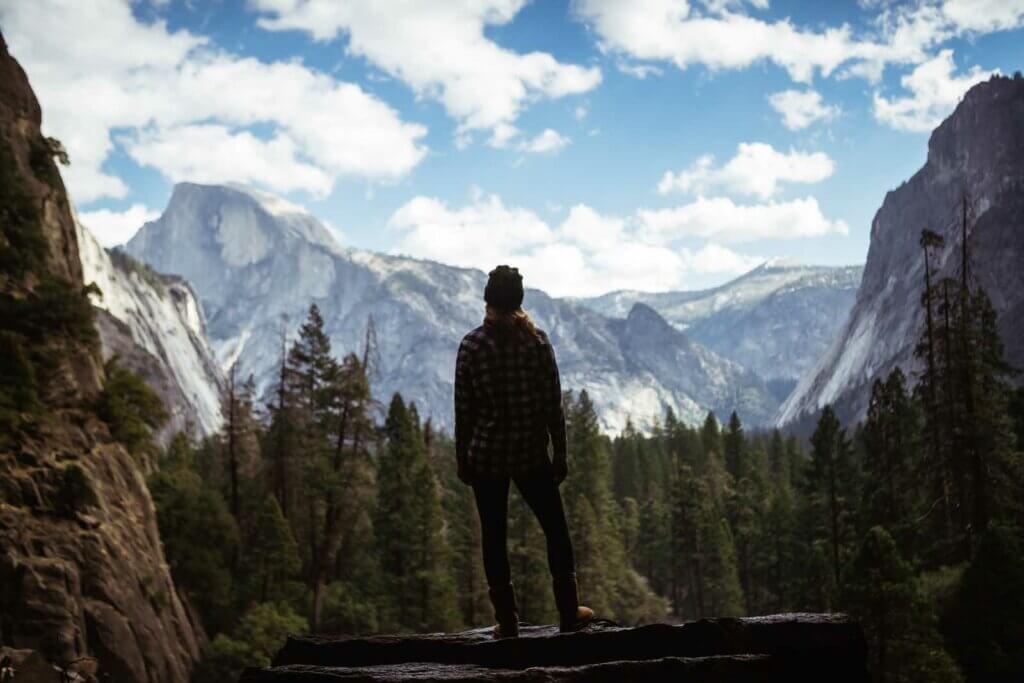 You can do a road trip to Yosemite from Los Angeles any time of the year! However, you'll want to factor in a few details to decide when the best time is for you.
Summer is the peak season to visit Yosemite, offering warm weather and the longest daylight hours. All roads and trails are typically open, allowing access to the park's biggest attractions.
But during the summer months, roads can get pretty hot and accommodations are often more expensive. And Yosemite can get crowded during the summer, especially in popular areas like Yosemite Valley. In fact, it can be very hard to find parking spots and the park reaches capacity. This has caused an outcry for the pandemic-era reservation system to return.
If you're not big on crowds or extreme heat, the best time to visit might be during the spring or fall. This is often when towns like Solvang and Paso Robles host food and wine festivals and holiday events!
Back in the park, the shoulder seasons offer pleasantly mild weather, fewer crowds, and access to most of the park's attractions.
Or if you enjoy snow activities and having the whole park to yourself, Yosemite is also magical in the winter! However, you'll have to check road conditions before you go, since many of the park roads close for inclement weather this time of year.
Typically, you can still enjoy the Yosemite Valley in winter and we have several times, it's actually a very pleasant time of year to enjoy the Yosemite Valley and snowshoe. We were supposed to visit late winter in 2023 and had to cancel our trip due to getting hammered with 15 feet of snow in a big storm.
Renting a Car for Your Los Angeles to Yosemite Drive
If you need to rent a car for this trip, we recommend going through Expedia. Also, do this well in advance, especially if you plan on going during the summer.
A lot of travel insurance plans also cover Collision Damage Waiver (CDW) coverage up to $35,000. And as experienced travelers, we urge you to consider getting travelers insurance for your Los Angeles to Yosemite road trip!
If you're planning on visiting in winter though, make sure you have chains for your tires. The National Park Service actually recommends you have chains available if you're visiting from November through March.
During these months you'll want to rent a sport utility vehicle or truck, something with AWD or 4WD.
Spending Time in Los Angeles and Yosemite National Park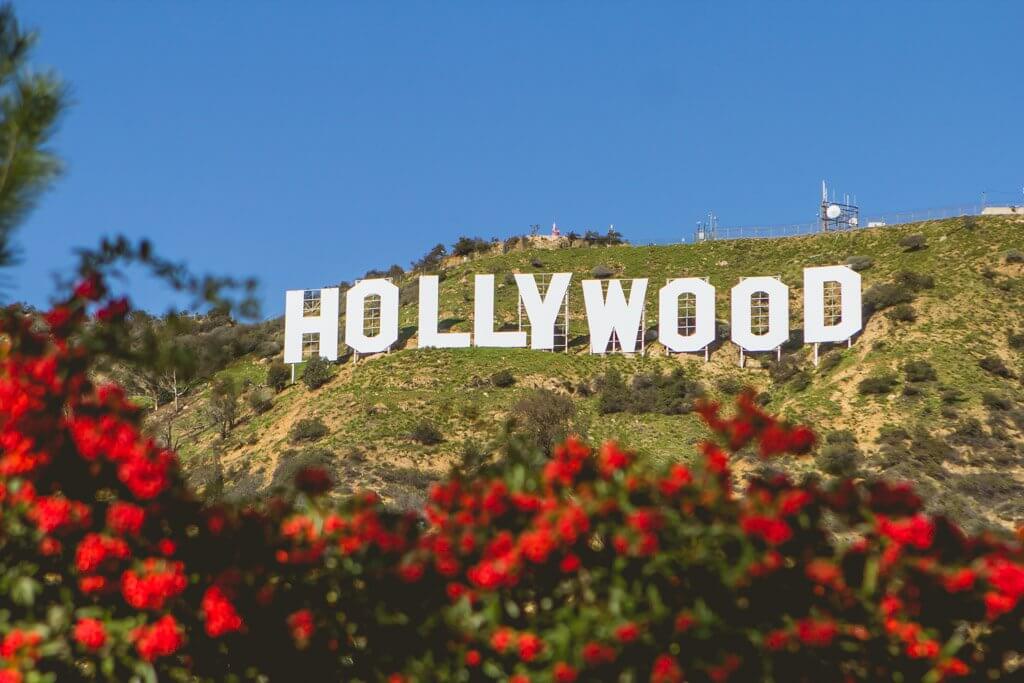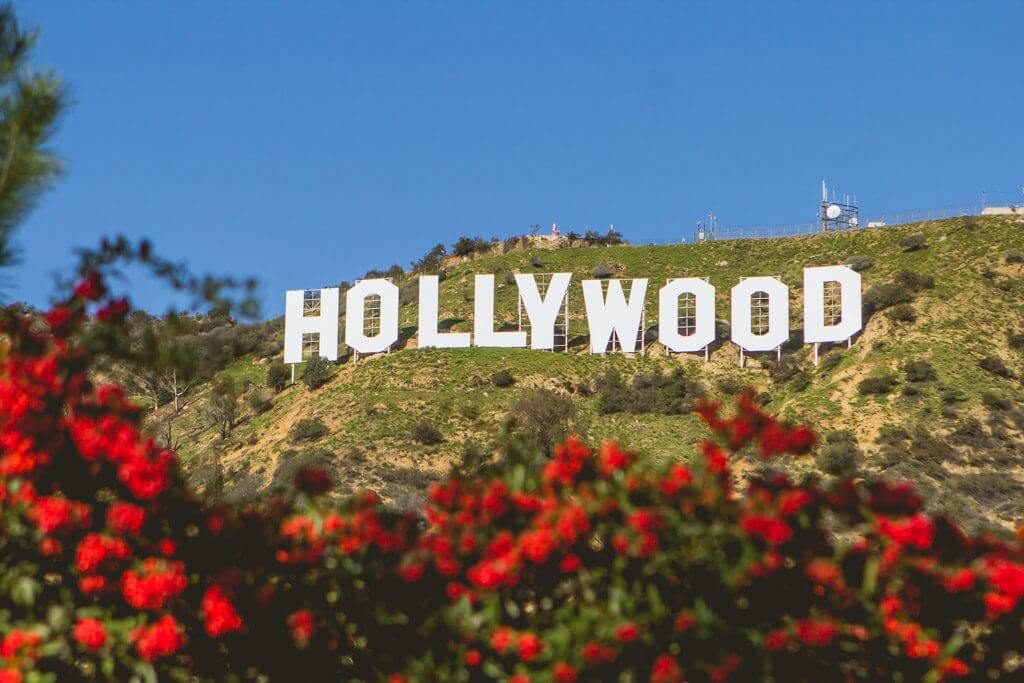 Perhaps you're taking a weekend to finally road trip up Los Angeles to Yosemite National Park. Or you might even be heading from Yosemite to Los Angeles!
The whole point is to experience the stops along the way, right? So, you'll also need to think about what you want to do at one or both destinations!
Los Angeles offers a wide variety of attractions for every interest! Check out iconic Los Angeles beaches like Santa Monica and Venice. Then head to Hollywood to explore classic attractions like the Walk of Fame and TCL Chinese Theatre.
For art lovers, the Getty Center and Los Angeles County Museum of Art are both unforgettable visits, along with some of the other best museums in Los Angeles. Or get outdoors at Griffith Observatory and Runyon Canyon Park where you can enjoy stunning city views and quality hikes.
Now for Yosemite. On your Los Angeles to Yosemite road trip, you'll enter the park at the southern end. This is perfect because you'll have full access to the majestic sequoias of Mariposa Grove, as well as the ever-popular Yosemite Valley!
Hike or drive to breathtaking viewpoints and take in the vistas of Tunnel View. Or go on unforgettable waterfall hikes to see Vernal Falls and Nevada Falls on the Mist Trail or Yosemite Falls. There's no shortage of cool hikes and things to do in Yosemite National Park for all types of adventurers.
You can climb Glacier Point for panoramic views of Half Dome and the valley below. And Yosemite Village is where you'll find a visitor center and campsites. There's also an art gallery, delis, and shops, as well as museum exhibits.
How to Take a Los Angeles to Yosemite National Park Road Trip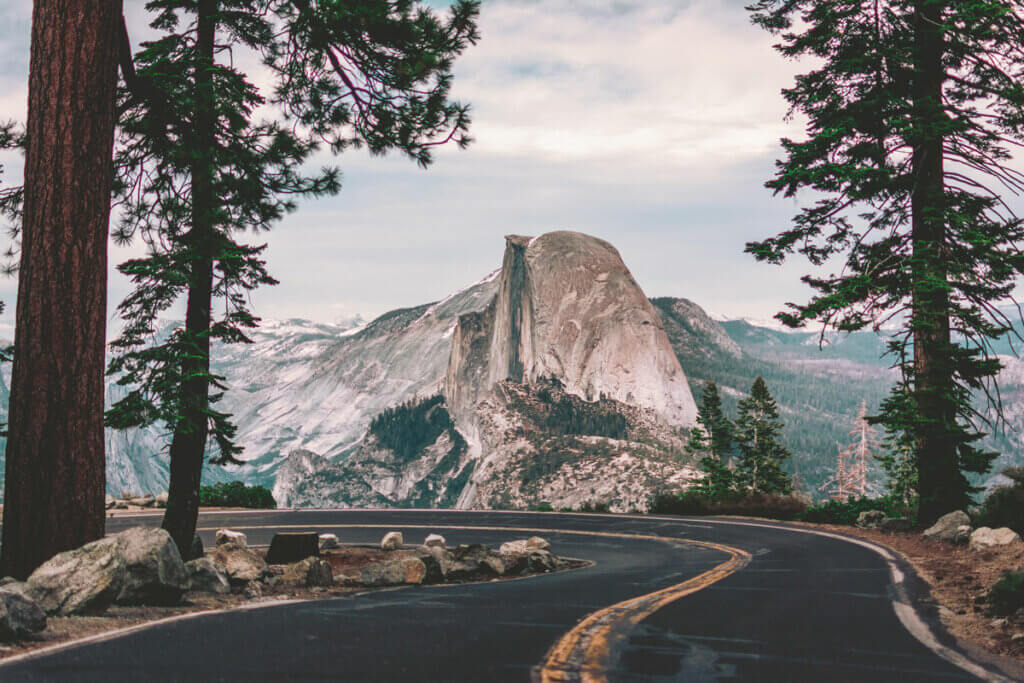 The drive from LA to Yosemite is roughly 280 to 380 miles, depending on which route you take. If you don't stop, you could easily get there in 5 to 6 hours.
But we recommend taking your time! Whether you're taking the direct route or the more scenic coastal route, there are amazing stops along the way that can't be missed. In fact, some of the best places to visit in Southern California and some of the best places to visit in Northern California can be found along the way.
And while you're planning your epic road trip, you'll also want to spend time exploring the best things to do in Los Angeles and the best things to see in Yosemite. Each place offers a variety of unforgettable experiences.
While there are several different route options from Los Angeles to Yosemite National Park, we've picked what we think are 2 of the best routes: the direct route and the scenic route.
Below, we'll lay out the most direct route and then the more scenic route, going over what's available to you at each stop along the way.
And as we mentioned before, if you're heading north from Yosemite to Los Angeles instead of the other way around, simply reverse the route!
Direct Route from LA to Yosemite:
From downtown LA, the quickest and most direct route we've chosen takes you along CA-99 to CA-41. It'll take you through Santa Clarita, past Pyramid Lake, through Bakersfield, and finally Fresno before continuing on to Yosemite National Park.
This way is much less scenic but is more direct with options to stop in cities. This also means you'll have more choices when it comes to food stops and road breaks.
The Scenic Route from LA to Yosemite:
For the scenic route, you'll instead drive along the coastal 101 North for fabulous ocean vistas and enjoy the most beautiful beach towns in California as well as passing by wineries of Central California.
You'll see the beach town of Ventura, experience the Mediterranean feel of Santa Barbara, and explore the whimsical town of Solvang. Next, you'll be charmed by Pismo Beach and explore the culture-rich city of San Luis Obispo before reaching Paso Robles.
In Paso Robles, you'll enjoy a wine tasting before continuing on to Yosemite National Park. From here, you'll leave 101 North and connect with CA-41 North via CA-46 East.
If you didn't stop, this route would take you 7 to 8 hours, but we highly recommend you take this route and plan to stay somewhere along the route overnight!
Both routes finish at the Mariposa Grove Welcome Plaza at the southern end of Yosemite National Park.
And when you're ready to head back, the route from Yosemite to Los Angeles is the same, but in reverse. (This would be a good time to take the direct route!)
Stops on the Direct Route from LA to Yosemite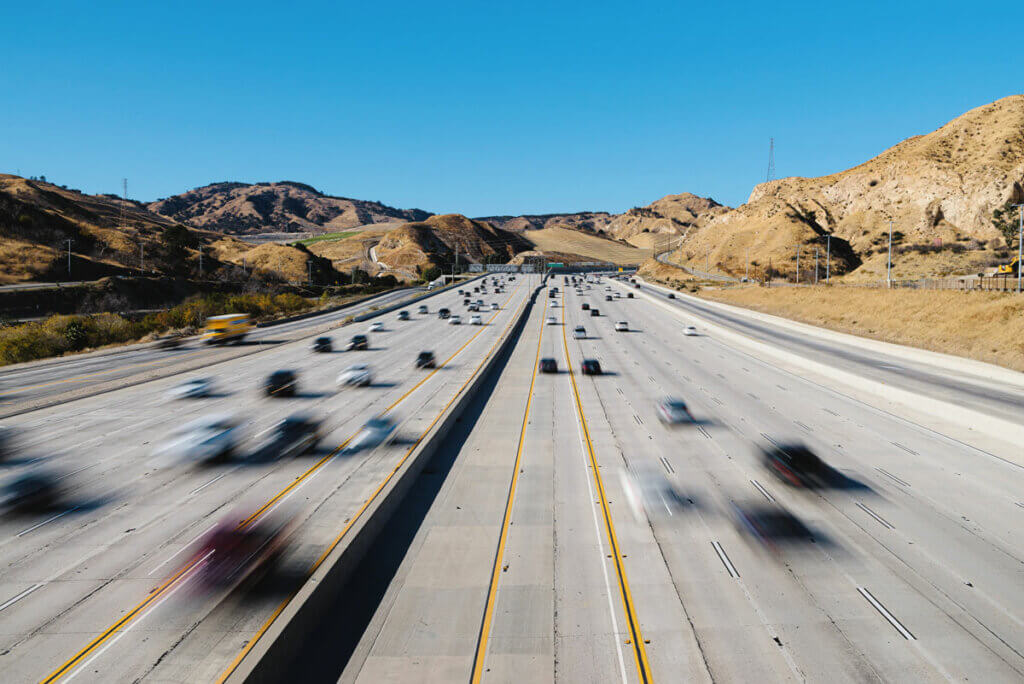 This is the most direct route you can take for your Los Angeles to Yosemite National Park drive. It follows CA-99 straight north to connect with CA-41 Route.
If you drive nonstop, it takes approximately 5 hours. It's not as scenic or exciting, but there are city stops along the way if you need to stretch your legs and grab a bite to eat.
Santa Clarita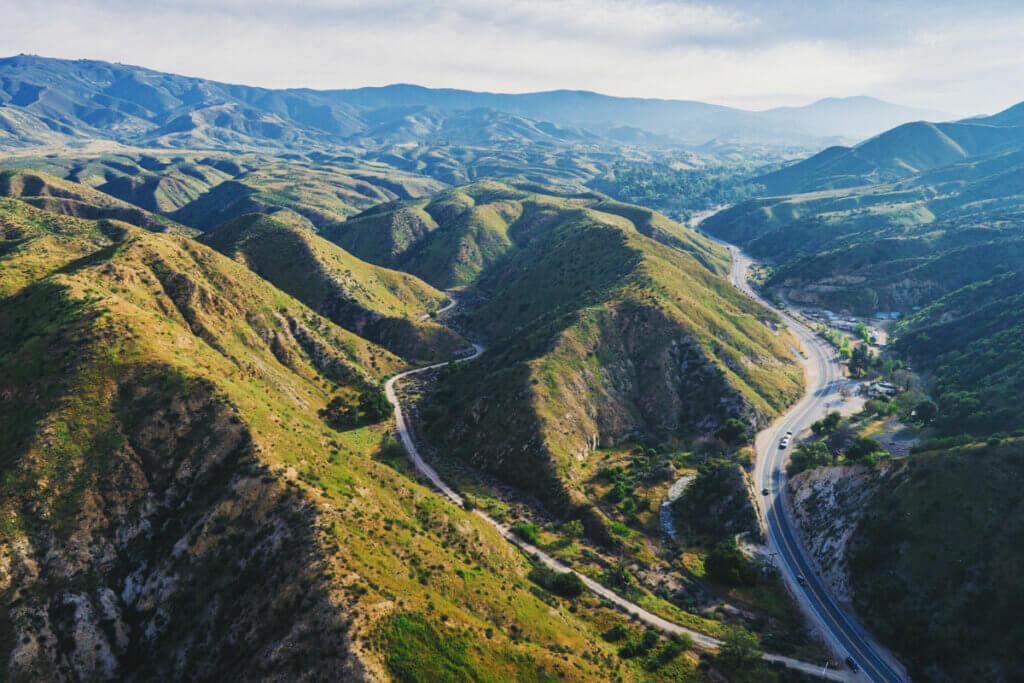 32 miles or roughly 45 minutes from downtown Los Angeles
As you start your drive along CA-99, about 45 minutes outside of Los Angeles, you'll see Santa Clarita to your right. This is a suburb known for its planned communities (think Santa Clarita Diet) and Six Flags Magic Mountain.
It's also a popular destination for film buffs, as it's home to the William S. Hart Museum. This historic mansion turned museum-honors the legacy of silent film actor William S. Hart.
Just off the highway, you'll also have access to a variety of restaurants, supermarkets, and box stores, so this might be a good time to stock up for your road trip!
Pyramid Lake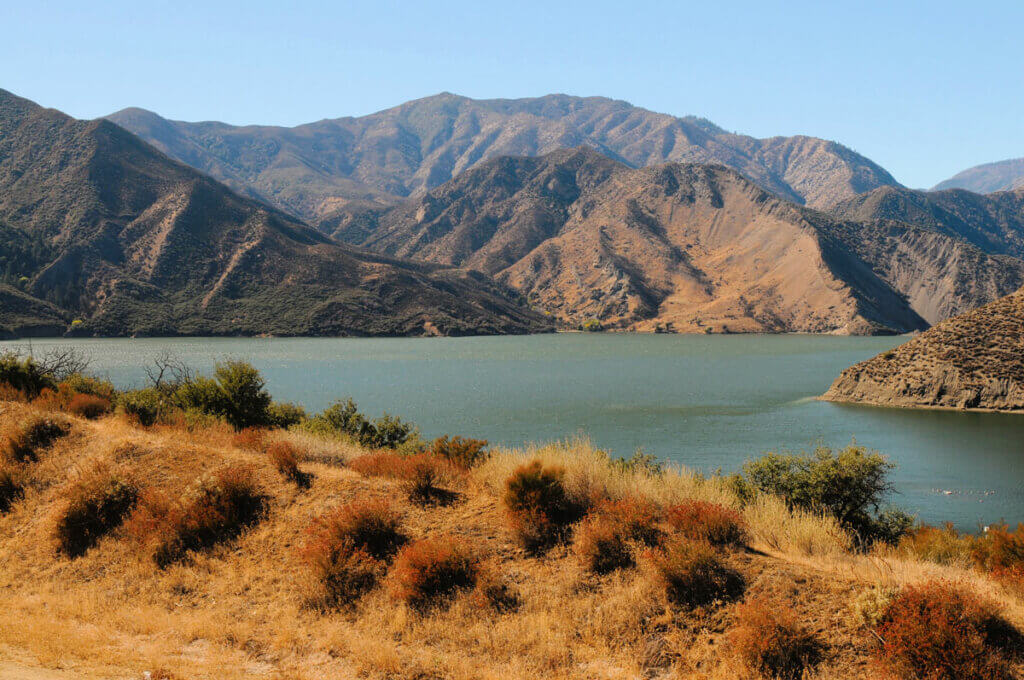 31 miles or about 35 minutes from Santa Clarita
Continuing along CA-99, you'll pass through the breathtaking Angeles National Forest and get a good view of Pyramid Lake. This is a picturesque reservoir that plays a crucial role in supplying water to Los Angeles.
As you zip by, take in the stunning green-blue waters of the lake ringed by jagged desert mountains. Pyramid Lake is a beloved destination for locals and tourists seeking outdoor adventures and a break from the city.
And a little over an hour from LA, this might be your chance to stretch your legs before continuing your Los Angeles to Yosemite drive! For a quick stop, the Vista Del Lago Visitors Center is right off the road.
It's basically a rest stop with the cutest café and gift shop. If you have time, there's also a museum where you can learn about the local ecosystem and the history of aqueducts and reservoir systems around the world.
Ready to get to Yosemite National Park? Just take a picture at one of the viewpoints overlooking the lake and get on your way!
Bakersfield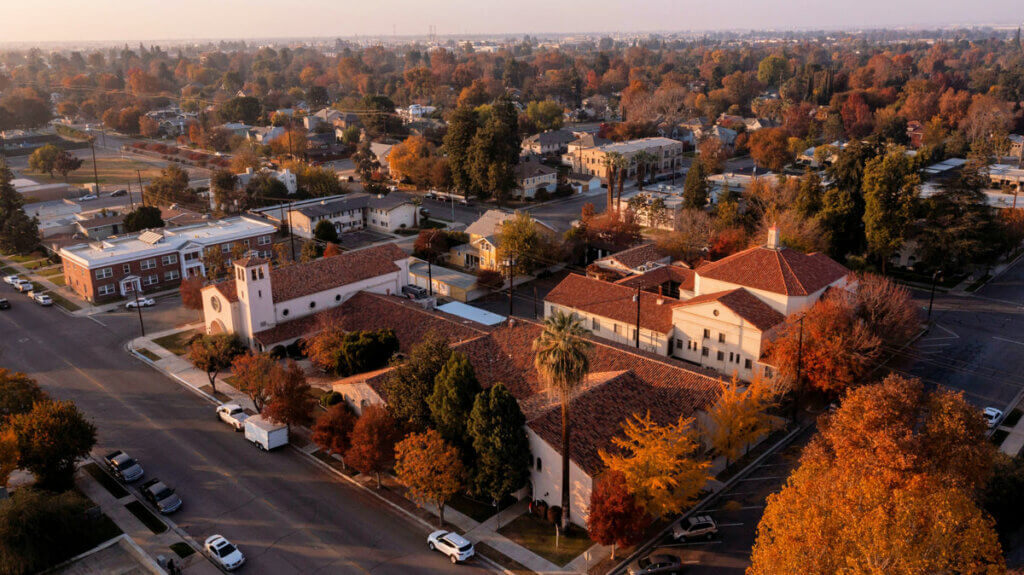 55 miles or ~1 hour from Pyramid Lake
You've been on the road for a few hours now and you could easily pass right by Bakersfield and not really notice. From CA-99, there's just not much to see!
However, now that you've entered Bakersfield, you're in the largest city along this route. This is an opportunity to enjoy a meal at a restaurant or check out a local attraction and stretch your legs.
Bakersfield, California is an agricultural hub in the heart of wine country and this city certainly has its own personality! And as a large urban center, you have plenty of popular eateries just an exit away.
And did you know that this city holds a prominent place in the history of country music? Bakersfield's country music scene flourished in the mid-20th century, producing legendary artists like Buck Owens and Merle Haggard!
If you have time, stop at Buck Owens' Crystal Palace! This iconic venue is not only a famous music hall but also a museum dedicated to Bakersfield's country music history.
Fresno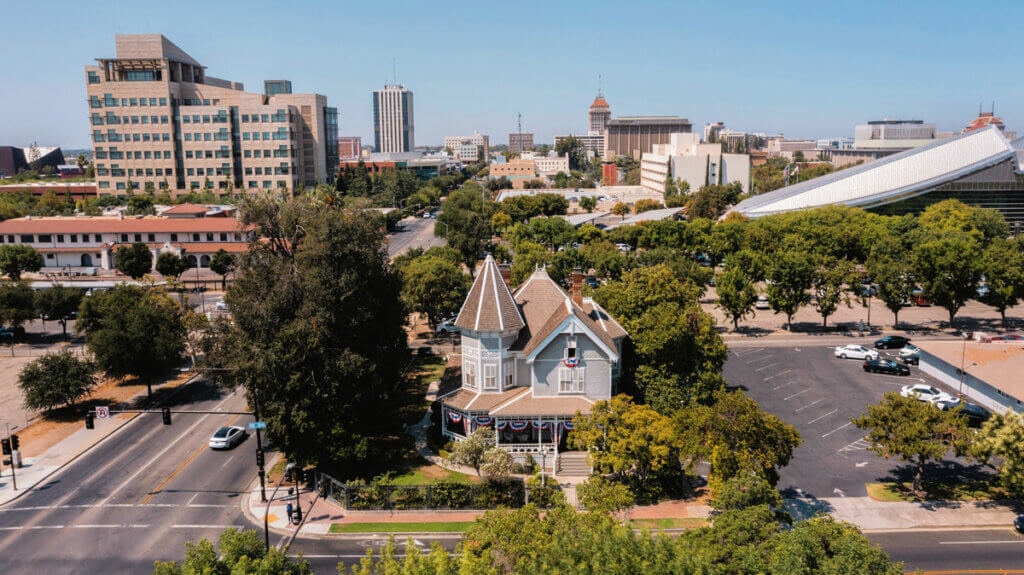 109 miles or roughly and 1 hour and 45 minutes outside of Bakersfield
Congratulations You've made it to Fresno, a launching point for your onward journey to Yosemite. At this point, CA-99 has been pretty uneventful besides the occasional vineyards, citrus orchards, and desert.
You might want to stock up on supplies and fuel before making the last stretch of your Los Angeles to Yosemite National Park drive.
If you're looking for something special to do in Fresno, you might want to plan a stop at the Sun-Maid Market just south of the city! Because fun fact: Fresno is home to the iconic Sun-Maid raisin company.
This is a fun stop (that won't take up too much time) where you can shop for Sun-Maid-themed souvenirs and snacks that go well with raisins. And don't forget to take a picture with the World's Largest Box of Raisins!
From here, there's just another 1 hour and 20 minutes or 62 miles along CA-41 North until you reach the southern entrance of Yosemite National Park. Get excited for what awaits with the mountains of Yosemite on the horizon!
Best Stops Along the Scenic Route from LA to Yosemite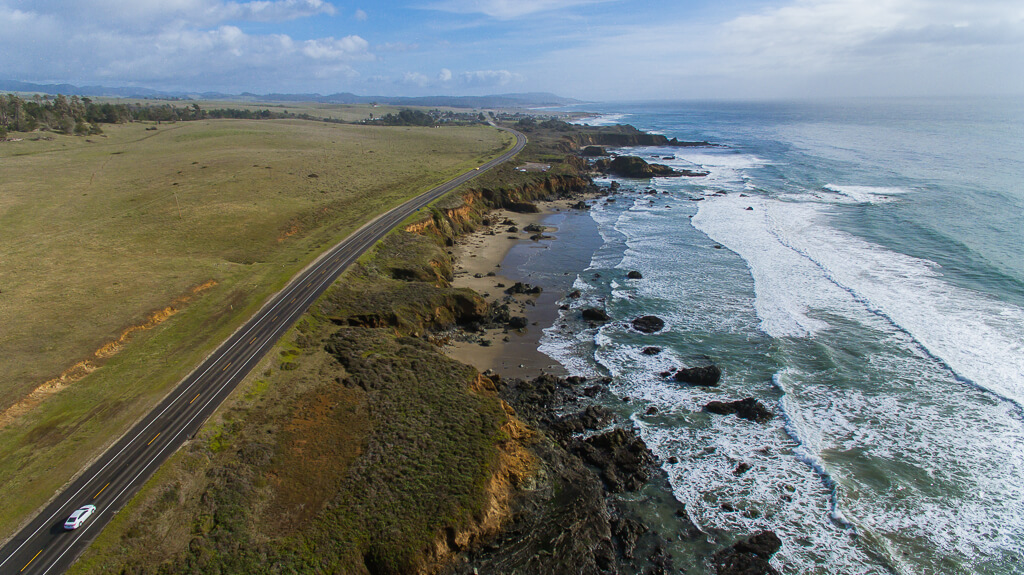 For a leisurely road trip with lots of stops along the way, take 101 North to CA-41 North. This route would take approximately 7 hours if you did it nonstop.
However, this is the Los Angeles to Yosemite drive that we definitely encourage you to save for when you can take your time! It's a VERY scenic drive through wine country and along the coast.
You'll turn more inland when you reach Santa Barbara and then cut east in Paso Robles to reach the park. This would make a great overnight trip, and we'll even share a hotel rec below!
Ventura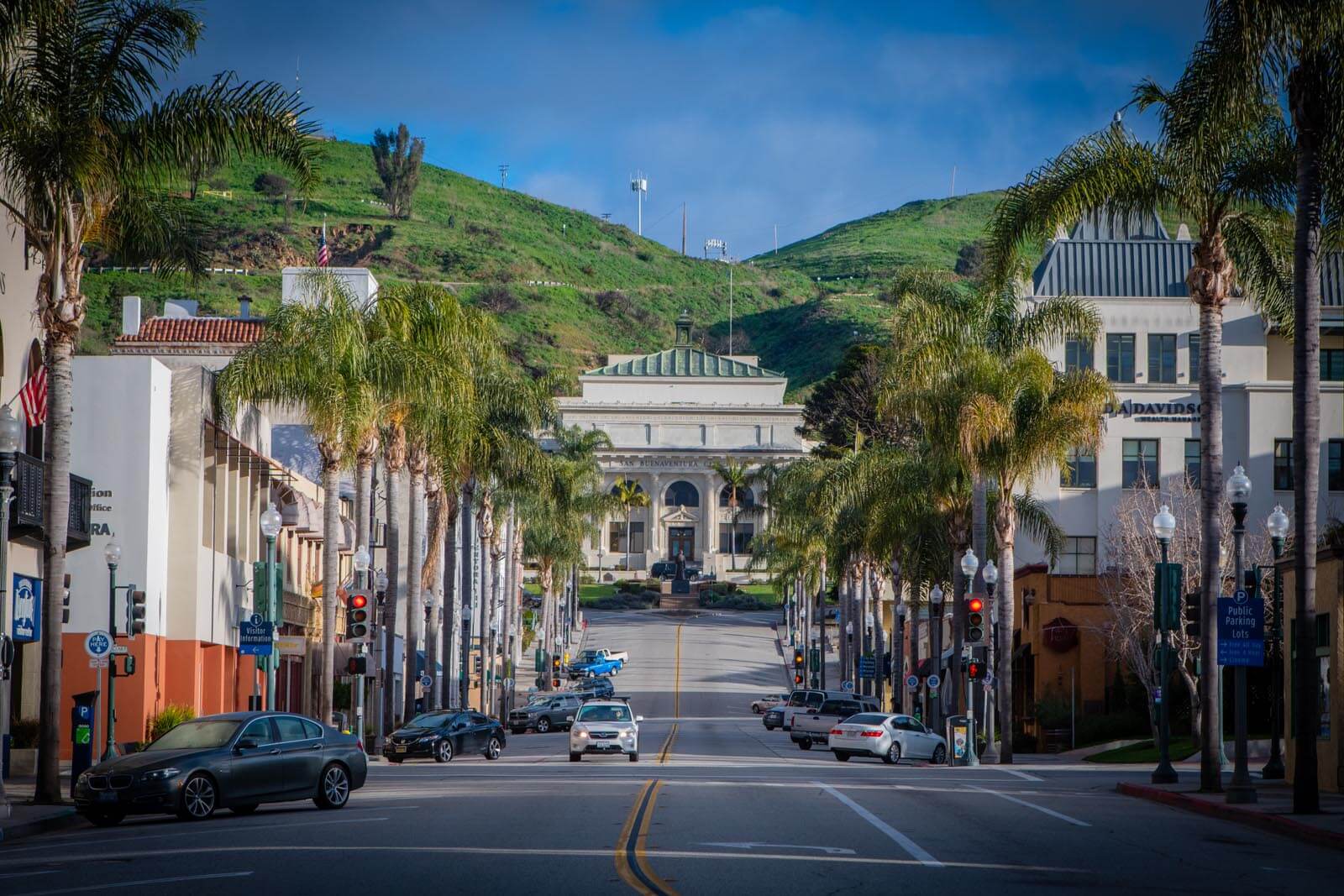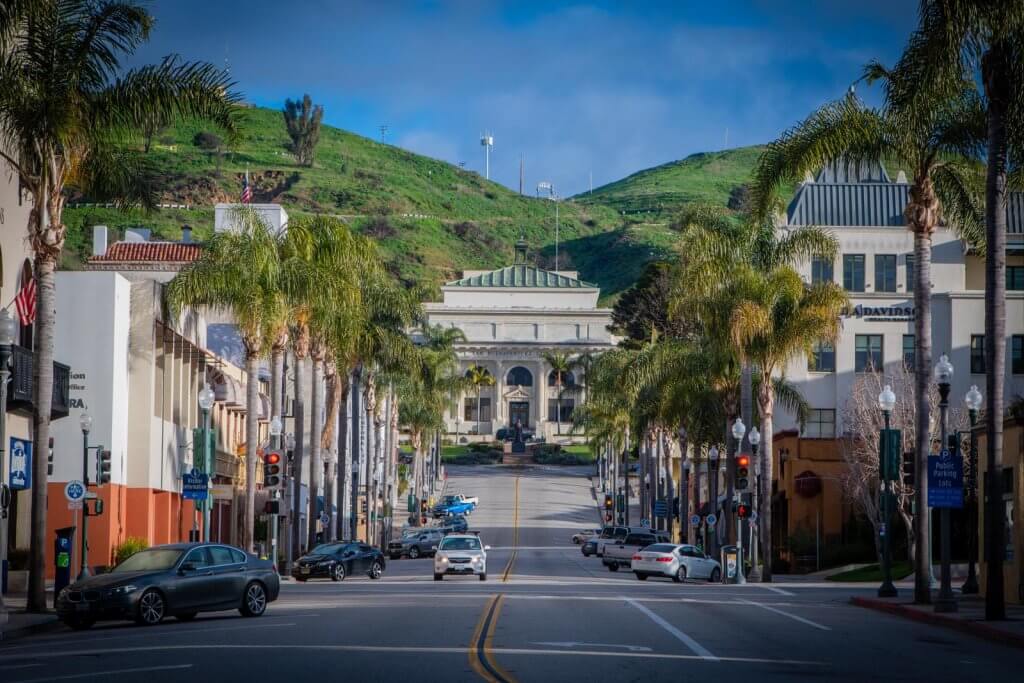 68 miles or about 90 minutes from downtown Los Angeles
Ventura is a coastal gem just north of Los Angeles boasting a unique mix of beachside bliss, cultural heritage, and outdoor adventures. The scenic beauty and diverse attractions make this a must-stop destination on your Los Angeles to Yosemite road trip.
One of our favorite things to do in Ventura was explore the charming historic downtown. Here, you can find antique stores, vintage shops, boutiques, and delicious dining options. Get a glimpse of California's history at the Mission San Buenaventura, an iconic historic landmark with beautiful gardens and architecture.
Or visit Ventura Harbor Village for family fun, including boat tours, waterfront dining, and boutiques. And Ventura Pier offers stunning views of the coastline, and a chance to spot dolphins and whales! Near the pier, there's a kiosk where you can rent fat-tire bikes in the summer.
Or if you want to get in the water, Ventura is famous for surfing. There are surf shops nearby where you can rent surfboards, wet suits, and more. Ventura also has many other beautiful sandy beaches, like Surfers Point and Emma Wood State Beach.
And if you want to spend the night here, you can also plan a day trip to the Channel Islands National Park from Ventura and check out more than one national park on this Los Angeles to Yosemite road trip!
Santa Barbara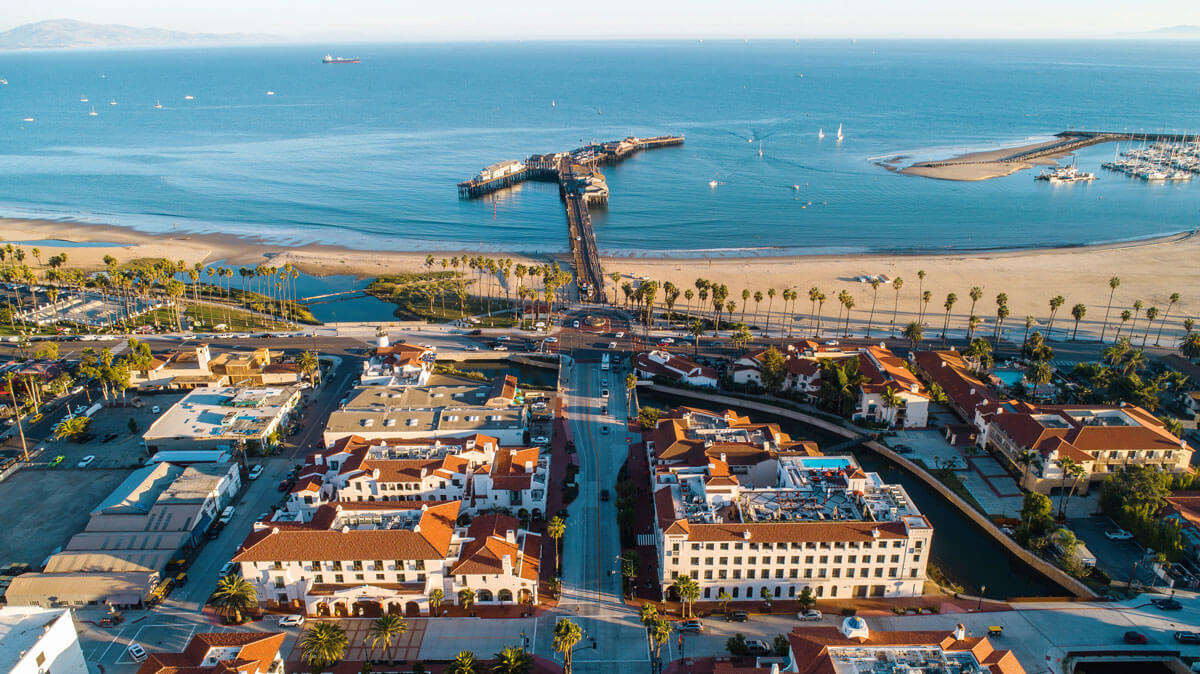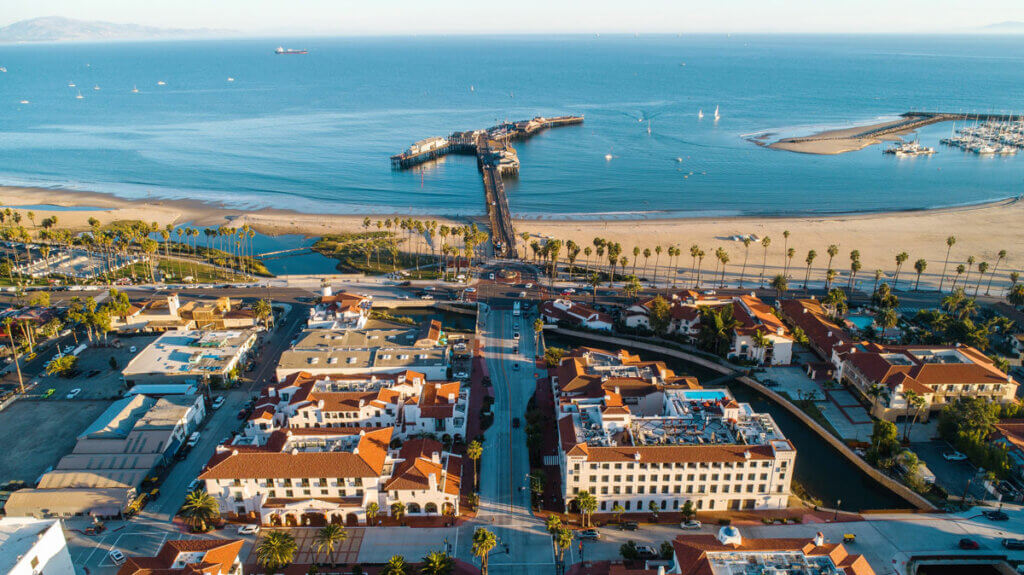 28 miles or 30 minutes from Ventura
Enjoy a lovely 30-minute coastal drive with sparkling blue water, beachfront mansions, and palm trees to your right and the Santa Ynez mountains to your left! Then you'll enter Santa Barbara!
With all of its beauty and charm, Santa Barbara is a fantastic stop on your adventure from Los Angeles to Yosemite National Park. Start at Stearns Wharf, the oldest working wharf in California. Enjoy views of the ocean, shop for souvenirs, and savor fresh seafood.
Then, wander along State Street, the heart of downtown Santa Barbara, filled with shops, boutiques, restaurants, and a vibrant atmosphere. And Santa Barbara is part of the renowned Central Coast wine region. Just off State Street, you'll find a variety of local wineries and tasting rooms to visit!
You can visit the stunning Santa Barbara Courthouse, an architectural gem with sunken gardens and panoramic views from the clock tower. There's also the 300-year-old Santa Barbara Mission, showcasing Spanish colonial architecture and lovely rose gardens.
If time allows, indulge in a hike at nearby Rattlesnake Canyon Trail. Or you can relax on Santa Barbara's beautiful beaches like 1,000 Step Beach or Butterfly Beach.
Continuing your unforgettable journey to Yosemite National Park, this is where you leave the coast. Taking a short break from 101, you'll take CA-154 East to Solvang, taking in the rolling hills of the VERY beautiful California wine country!
Solvang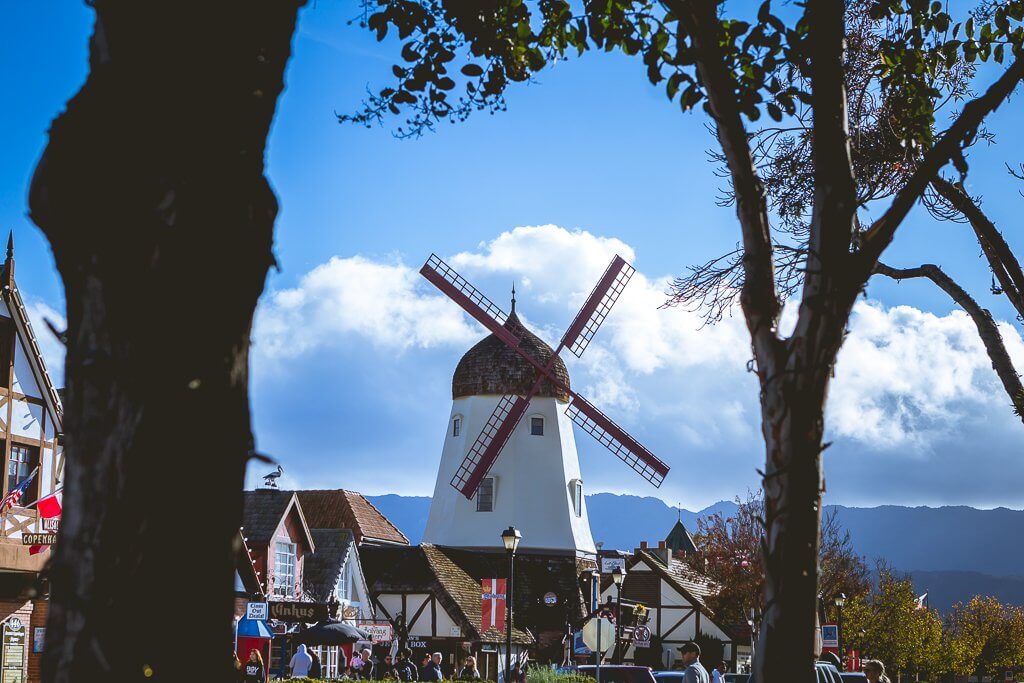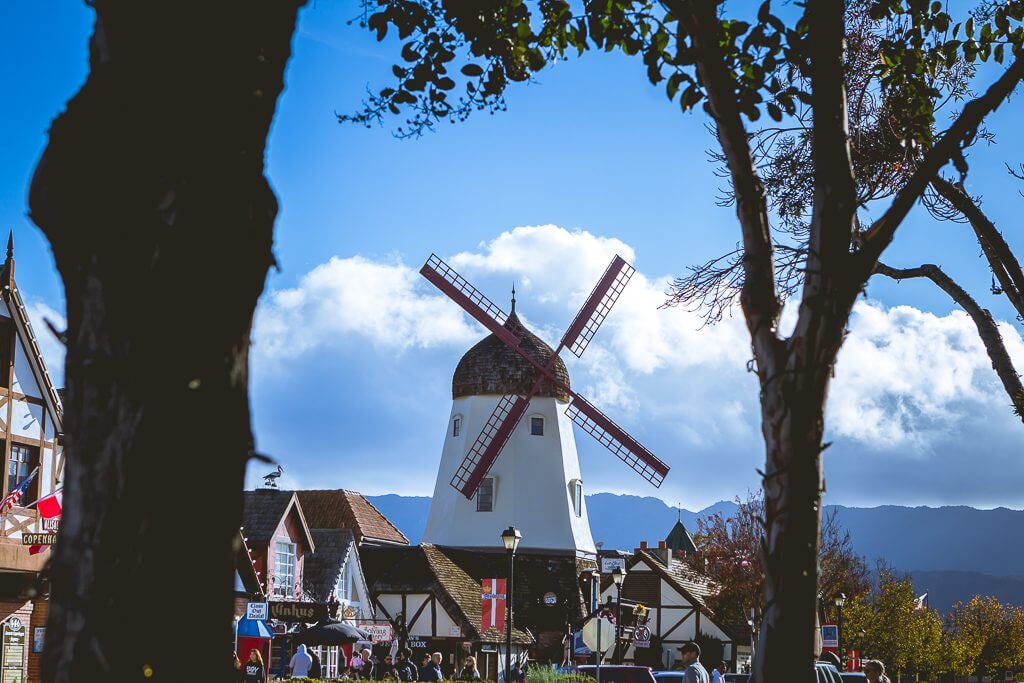 35 miles or 45 minutes from Santa Barbara
Taking Mission Drive into the heart of Solvang. This charming Danish-inspired town is an unforgettable stop on your Los Angeles to Yosemite road trip! Its unique European feel offers a fun change of pace and a chance to immerse yourself in Danish culture.
Wander through Solvang's streets, decorated with Danish-style buildings, windmills, and picturesque flower-lined alleyways. If you don't do anything else, take time to visit local Danish bakeries and sample scrumptious pastries and sweets!
You'll find several wine tasting rooms dotting Mission Drive where you can take a sip of locally produced wines. Or browse unique boutiques and gift shops for Danish souvenirs, handcrafted items, and antique treasures.
Or take some time to learn about the town's Danish heritage at the Elverhøj Museum. And for more historical sites, explore the nearby Old Mission Santa Inés, a historic Spanish mission with cultural exhibits.
Pismo Beach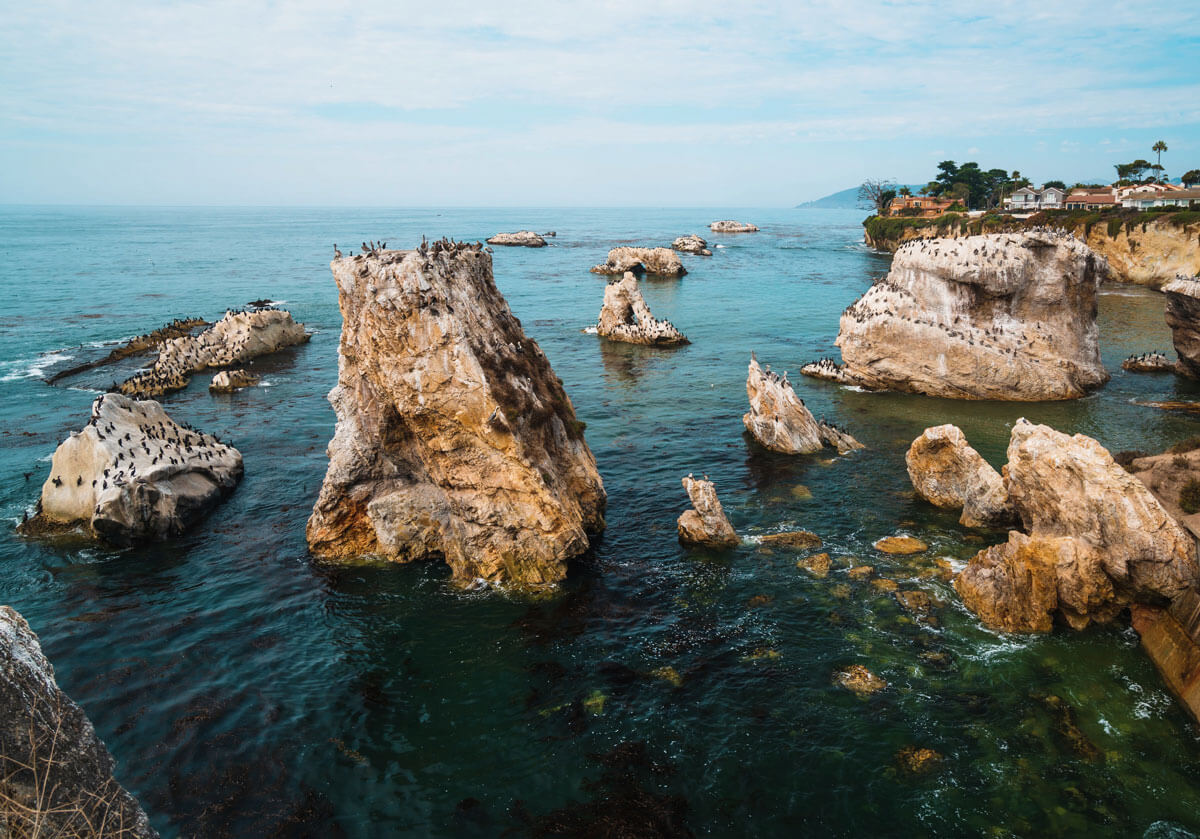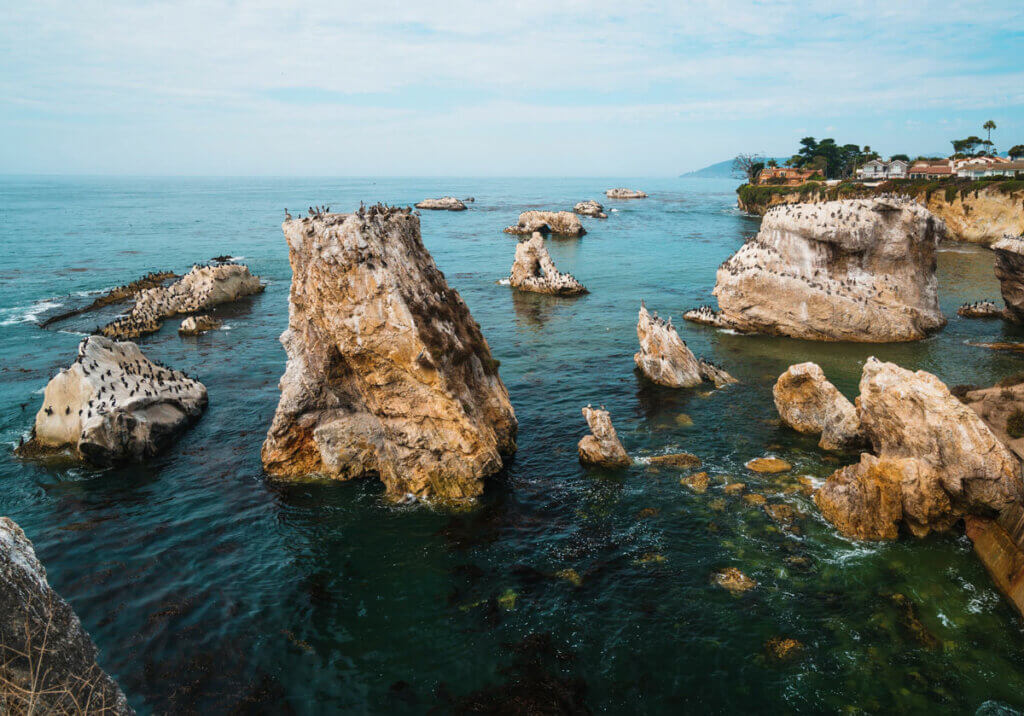 67 miles or a little over an hour from Solvang
Reconnecting with 101, you'll take a rather uneventful (but pretty!) journey to Pismo Beach. This laid-back coastal town is an ideal stop on your journey from LA to Yosemite. Its relaxed atmosphere and stunning beaches make it a perfect place to unwind and enjoy ocean views.
Pismo Beach boasts sandy shores and picturesque views, making it the perfect spot for a beach day as well as dramatic coastlines like the rugged bluff-top Dinosaur Caves Park.
And just off the beach in the heart of town is the Pismo Beach Pier Promenade, where you can explore the gift shops, storefronts, and eateries lining the boardwalk.
Depending on the season, a visit to the Monarch Butterfly Grove is a must! This is where thousands of butterflies gather, creating a mesmerizing experience. Or for an epic adventure, head to the nearby Oceano Dunes. Here, you can ride dune buggies or go sandboarding on the massive sand dunes!
Another stop along 101 North to consider is the Avila Hot Springs. This is a really cool natural hot spring where you can unwind and soak in different pools for a relaxing break from the road.
San Luis Obispo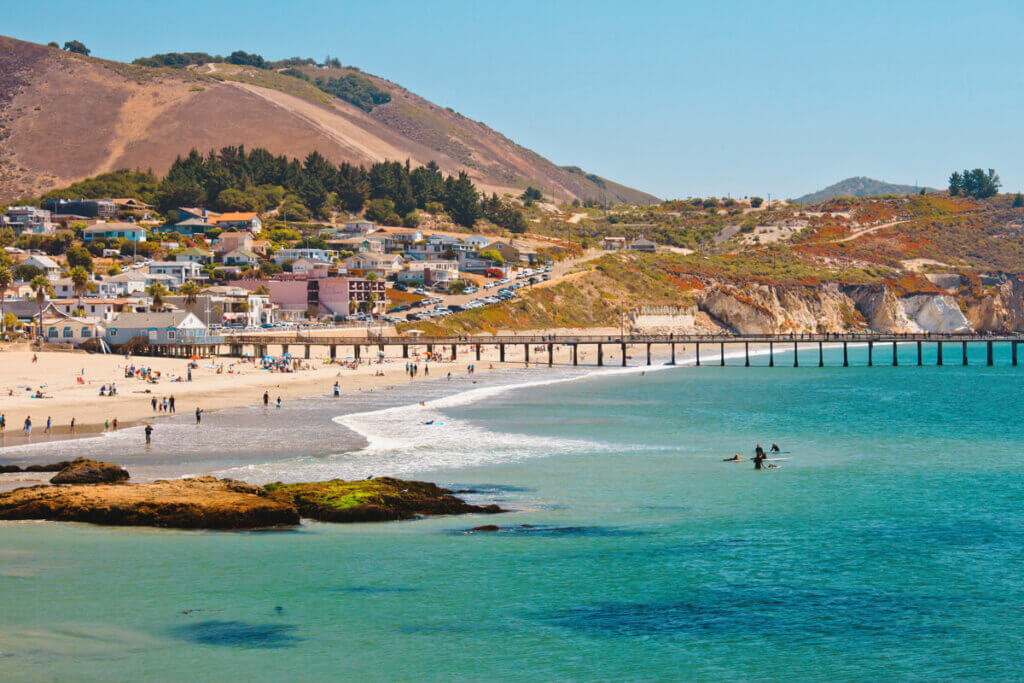 44 miles or roughly 45 minutes from San Luis Obispo
There are so many cool things to do in San Luis Obispo that make it a great stop on your drive. San Luis Obispo is a charming town nestled among striking mountains and rolling green hills, not far from the Pacific Ocean.
Begin your visit downtown at the historic Mission San Luis Obispo de Tolosa for more stunning Spanish colonial architecture.
A few blocks away, you can explore the quirky Bubblegum Alley! An unofficial town attraction, this is where visitors leave colorful gum creations on the walls, creating a fascinating sight.
Wander around downtown SLO, filled with great shops and restaurants. If you're here on a Thursday evening, make sure to check out the bustling SLO Farmer's Market. Located on a stretch of Higuera Street, it features local goods, live music, arts and crafts, and more!
If you have the time, a short detour to nearby San Simeon and visit the iconic Hearst Castle, a magnificent mansion with its own zoo, indoor and outdoor pools, and opulent rooms. It's very interesting to tour and learn about the estate's captivating history.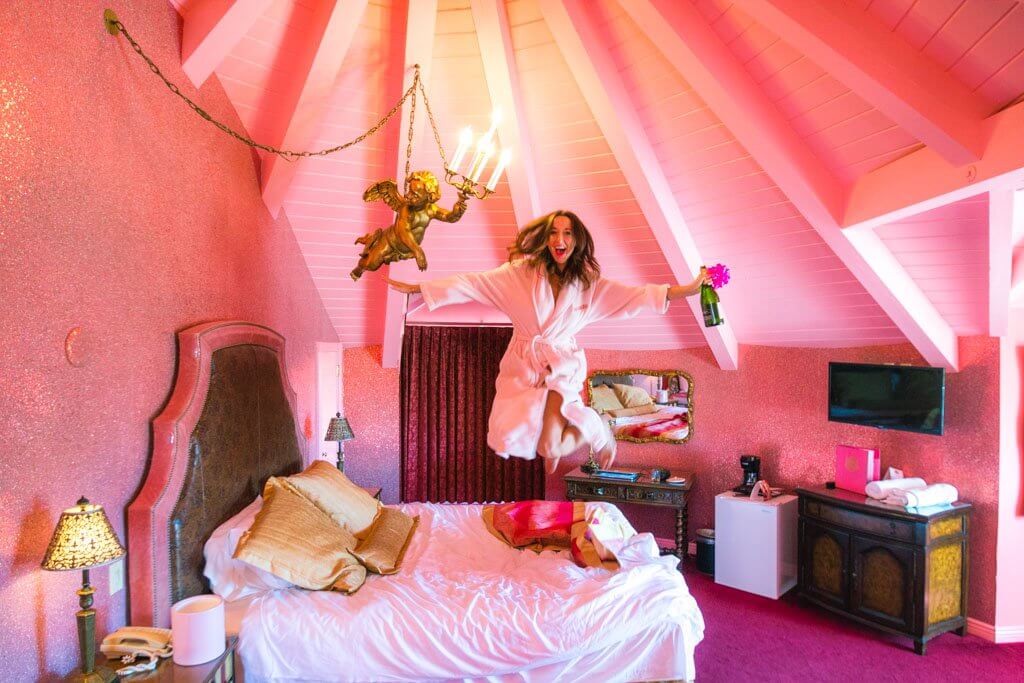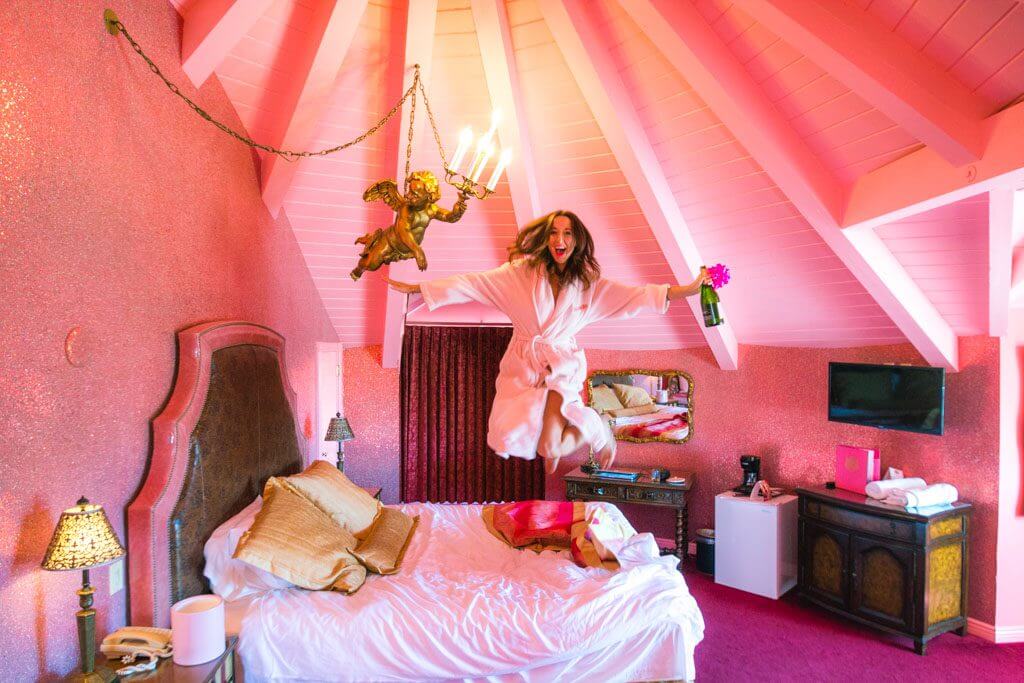 And if you need a place to stay, consider the (very PINK) Madonna Inn. This is a recurring stop for us! This famous roadside inn has a different theme in every room, and each one is more whimsical than the next. If you're making multiple stops along the scenic Los Angeles to Yosemite drive, we recommend booking a night here or just stop by for a slice of their famous cake!
Paso Robles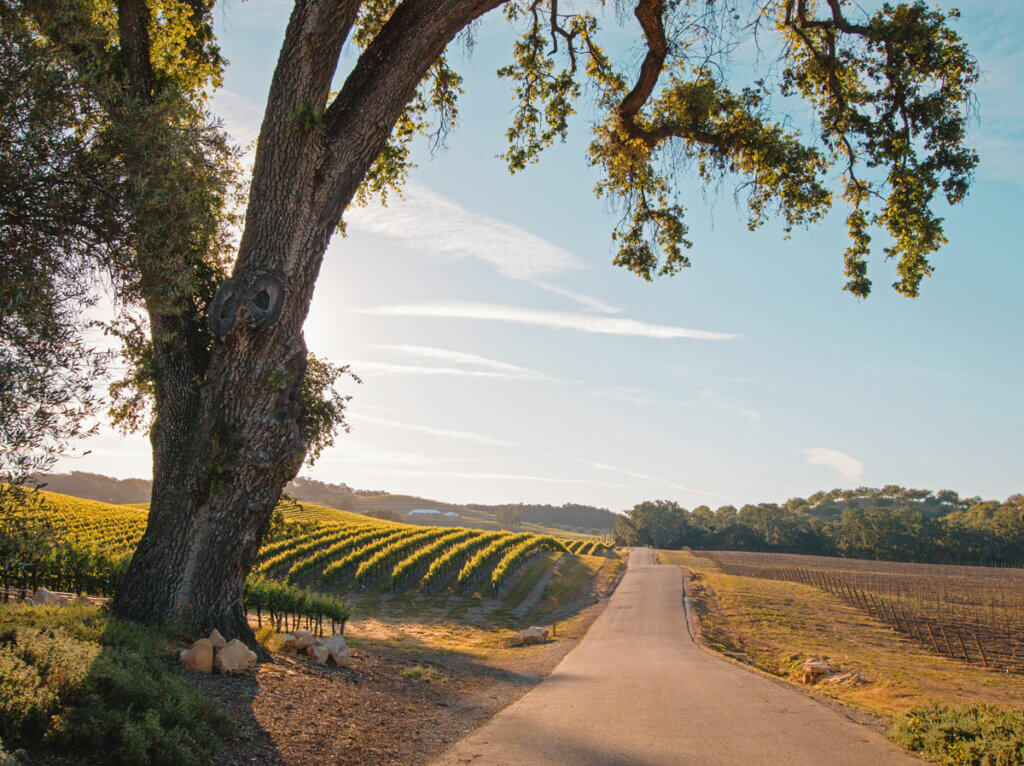 Another 13 miles or 15 minutes from Pismo Beach
The most popular reason to visit Paso Robles is the exceptional wineries and vineyards, making it a dream destination for wine enthusiasts. Renowned for its flourishing wine country, the region's Mediterranean climate is the perfect environment for producing a wide array of premium wines.
Plan at least half a day here during your Los Angeles to Yosemite National Park drive so you can join a wine-tasting tour. Explore picturesque vineyards and savor California's best Cabernet Sauvignon, Zinfandel, and Rhône blends!
Beyond wine, discover the charming downtown area with gift shops, tasting rooms, and restaurants offering delicious local cuisine. This is also your last chance to stock up on supplies.
Paso Robles is where you cut east and get onto CA-41 North. It's another 169 miles or roughly 3 hours to the Mariposa Grove Welcome Plaza at Yosemite National Park. Enjoy the last leg of your trip with the stunning mountains of Yosemite in the foreground!
If you go this route and need a rest stop between Paso Robles and Yosemite, you will pass through Fresno where you can refuel, rest, and eat.
---
Best Stops on the Los Angeles to Yosemite National Park Drive (Post Summary):
Direct Route: CA-99 to CA-41
Santa Clarita
Pyramid Lake
Bakersfield
Fresno
Scenic Route: 101-N to CA-41
Ventura
Santa Barbara
Solvang
Pismo Beach
San Luis Obispo
Paso Robles
---
How long is it from LA to Yosemite?
The driving distance from Los Angeles to Yosemite National Park varies depending on the route taken, but it's roughly 215 to 280 miles (346 to 450 kilometers), translating to a drive of about 4.5 to 6 hours.
Can you do a day trip to Yosemite from Los Angeles?
It is possible to do a day trip to Yosemite from Los Angeles, but it's a long and tiring journey and would require you to start driving in the middle of the night as it's around a 4.5-6 hour drive one way. The park's vastness is best experienced with at least an overnight stay.
Where should I stop between LA and Yosemite?
You can make stops at places like Bakersfield and Fresno on your way to Yosemite from Los Angeles on the most direct route for food, rest, and gas. If you take a longer, more scenic route you can make stops along the beautiful California coastline like Ventura, Santa Barbara, San Luis Obispo, and Paso Robles before heading East to Yosemite.
How long is the road trip from Los Angeles to Yosemite National Park?
The road trip from Los Angeles to Yosemite National Park can take anywhere from 5 to 8 hours, depending on the specific route and the time spent exploring stops along the way.
What is the fastest way to get from Los Angeles to Yosemite?
The fastest drive to Yosemite from Los Angeles is typically via CA-99 North and CA-41 North, taking approximately 4.5 to 6 hours, depending on traffic and the park's entrance chosen. The fastest way to reach Yosemite from Los Angeles is by taking a flight to Fresno Yosemite International Airport, followed by a 1.5 to 2-hour drive to the park.
---
Enjoyed this guide to the best routes and stops from LA to Yosemite? Bookmark for later or share the love below on Pinterest!