The Yucatan Peninsula is the most popular vacation spot in Mexico, with popular beach resort cities like Cancun, Tulum, Playa del Carmen, and Cozumel the Yucatan attracts millions of visitors each year. And it's no wonder why, besides having incredible beachside party cities filled with resorts, there are also many other incredible things to do in Yucatan from swimming in thousands of cenotes, colorful towns, amazing food, and ancient ruins there are endless possibilities that can make anyone's dream vacation.
We've put together the best places to go and things to do in the Yucatan Peninsula to inspire you to see more than just the most famous beachside resort towns.
Best things to do in the Yucatan Peninsula
The Yucatan Peninsula is made up of 3 states, Yucatan, Quintana Roo, and Campeche, as well as the northern part of Belize and a small section of northern Guatemala. The peninsula itself separates the Caribbean Sea from the Gulf of Mexico and also the site of the Chicxulub crater, which dates back to 66 million years ago by the asteroid that is said to have killed the dinosaurs and the reason why there are so many gorgeous cenotes (underwater sinkholes) that people often swim, snorkel, or dive in around the Yucatan Peninsula. There are also several ancient Mayan ruins throughout the Yucatan Peninsula the most notable being Chichen Itza.
Izamal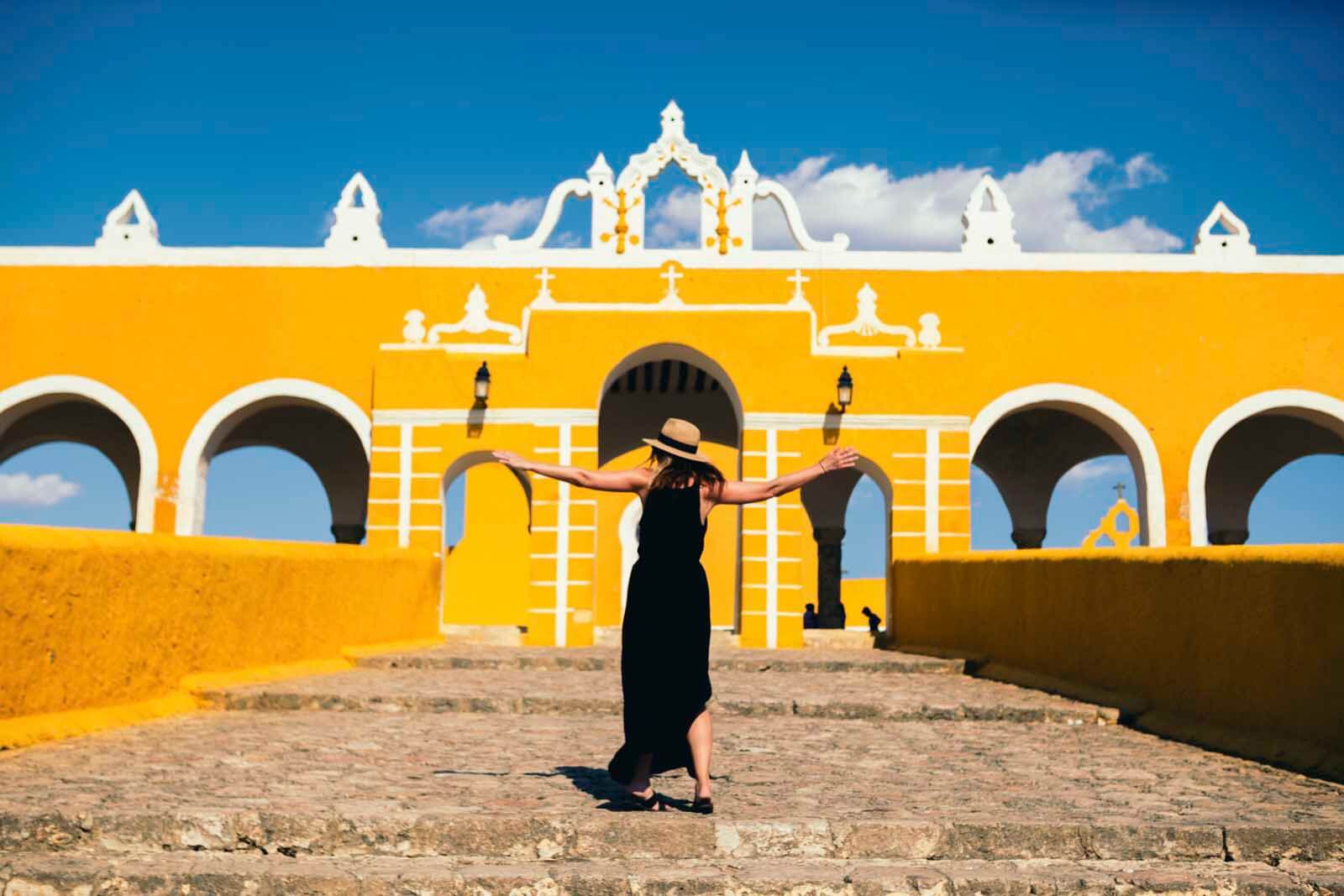 One of our favorite things to do in the Yucatan Peninsula is visit the yellow city of Izamal, known as Pueblo Magico or Izamal Magic Town by the locals which we easily saw why. The entire town is enchanting and covered in yellow! The small city is located in the Yucatan state about an hour away from Merida. It was love at first site for us here, no matter which street you take you can see a sea of yellow everywhere you look. Besides being absolutely gorgeous to look at there are also ancient Mesoamerican temple pyramid ruins overlooking the city that you can climb! Whatever you do, don't leave Izamal without walking through the Convento de San Antonio de Padua this is where some of the best photo opportunities are.
Valladolid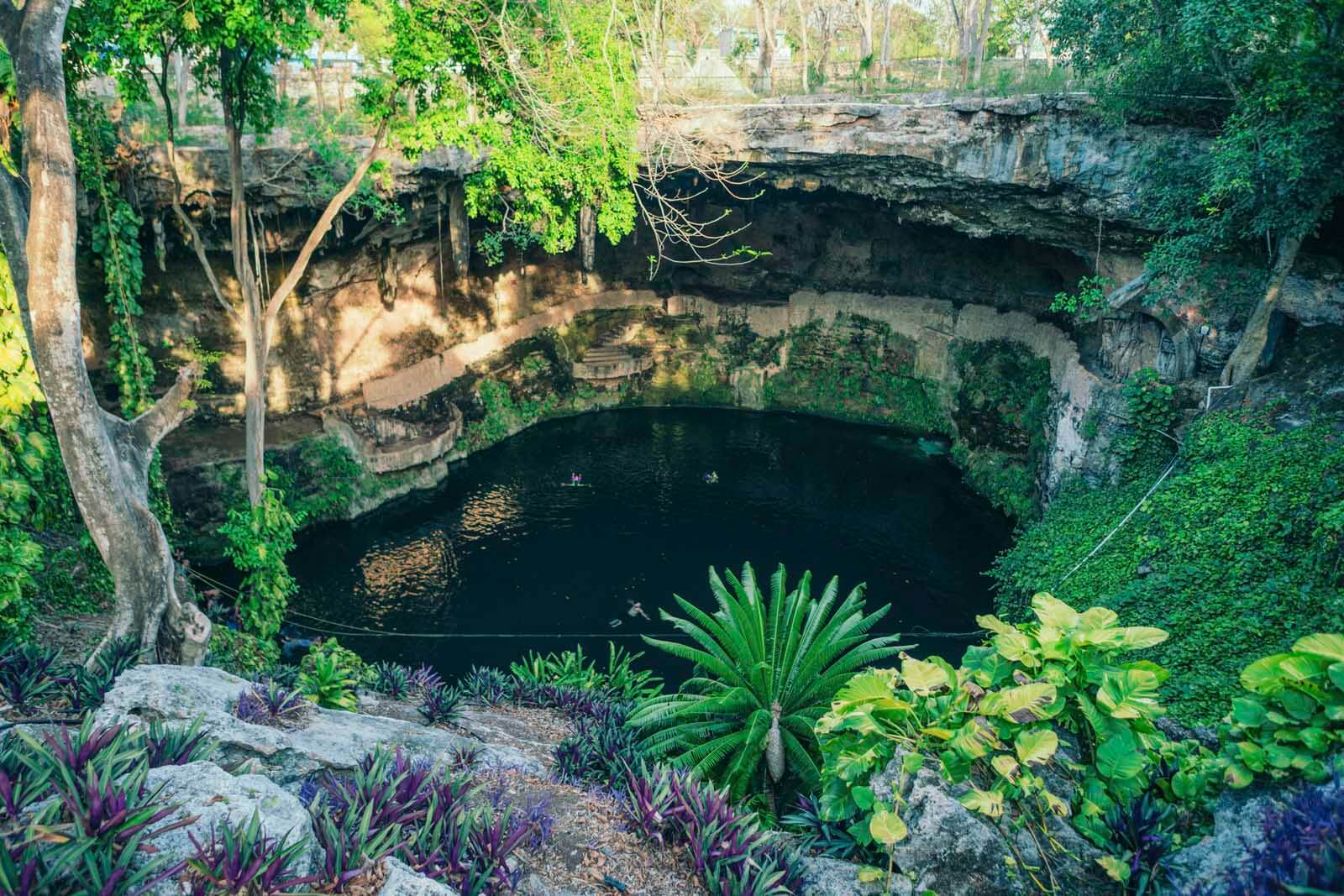 Another one of our favorite places to go and best things to do in Yucatan is the city of Valladolid. We ended up spending the night in this charming Mexican city with colonial architecture, killer food, and amazing cenotes. We thought if we ever moved back to Yucatan we would live in Valladolid since it's close proximity to Tulum, about an hour drive, and easy access to everywhere else. That's in fact what many expats who live in the Yucatan do. There happens to be a lot of Italian expats here which is why you'll find tons of Italian restaurants scattered throughout Valladolid, and they are legit! After spending over a month in Mexico, it was nice to have a nice real Italian dish as a break.
Besides having terrific Italian food we also snacked around La Mestiza Park, the churros here are divine. You can also find some great pibihua stands, a local Yucatecan treat. Another one of the best things to do in Yucatan and in Valladolid is visit the cenotes! Valladolid has several cenotes surrounding the city including the popular Suytun that has a beacon of light shining down through the ceiling on a platform that makes the perfect Instagram photo and in the heart of town you can even swim in the Zaci cenote which was as impressive as it was fun to swim in!
Homun & Cuzama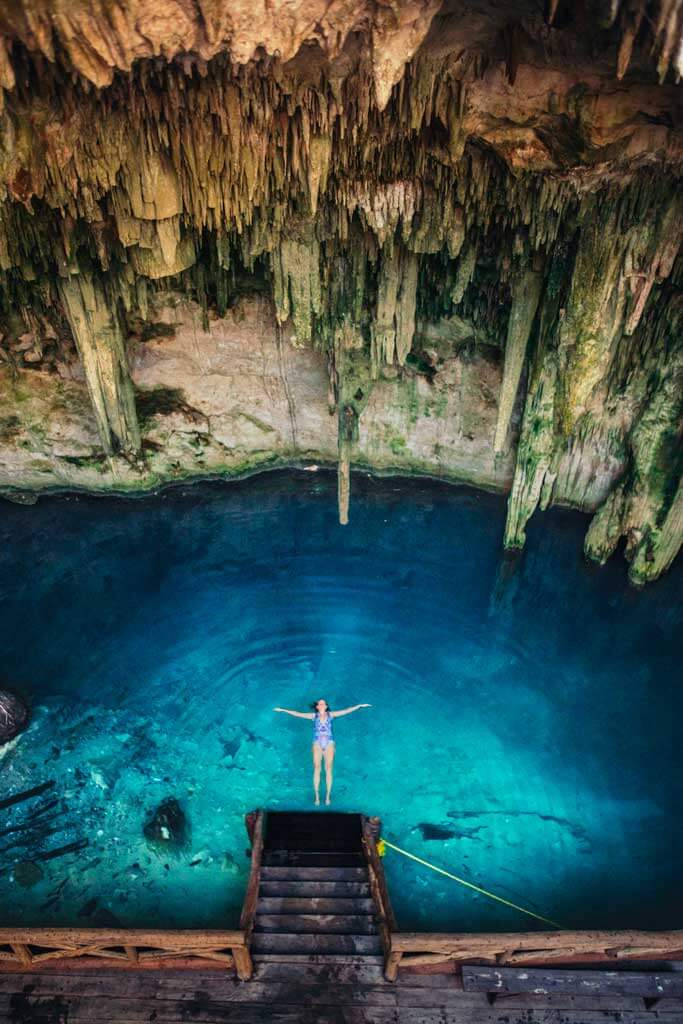 You can't come to this part of Mexico and not visit a cenote as it's one of the best things to do in the Yucatan Peninsula and unique to this part of the earth. There are cenotes all over the Yucatan but the closer you get to Cancun, Tulum, and Playa del Carmen the more popular those cenotes become as they are easier to access for visitors and tour buses. We decided that Homun and Cuzama were the best place to see cenotes in Mexico if you wanted to increase your odds of having a cenote all to yourself for swimming, snorkeling, and photographing.
This area is considered to be in the "cenote ring" which is the aftermath of the asteroid that hit earth 66 million years ago creating the Chicxulub crater and also when the dinosaurs were killed.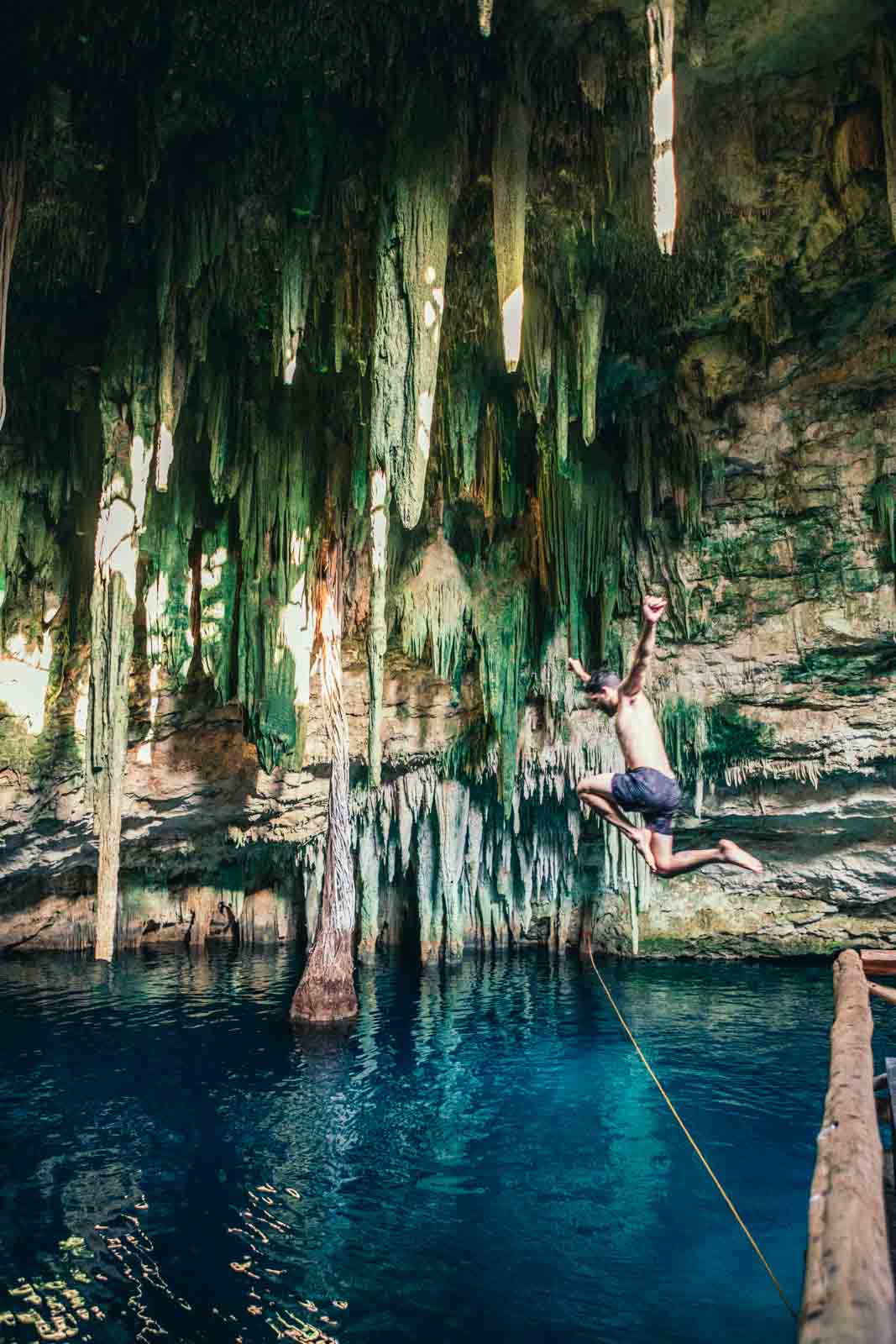 Don't bother trying to map out all your cenotes on Google Maps before taking your day trip to Homun and Cuzama, most are not even on Google Maps and are found by driving by looking for homemade signs or guys waving little signs at you inviting you to come to their cenotes. These cenotes are legit, but some tend to be a little more rugged and more adventurous. Don't expect all of these to have nice staircases down to the swimming section at the bottom of a cave, some are accessed by climbing down a steep AF ladder to the bottom.
This ended up being one of our favorite things to do in the Yucatan and we would love to go back and explore some more of the lesser known cenotes of Homun and Cuzama because one day just wasn't enough!
Tip: You will need to rent a car to see these cenotes and you can find them by driving along the 10 through Homun and Cuzama as well as off of Calle 14 in Cuzama.
Uxmal Ruins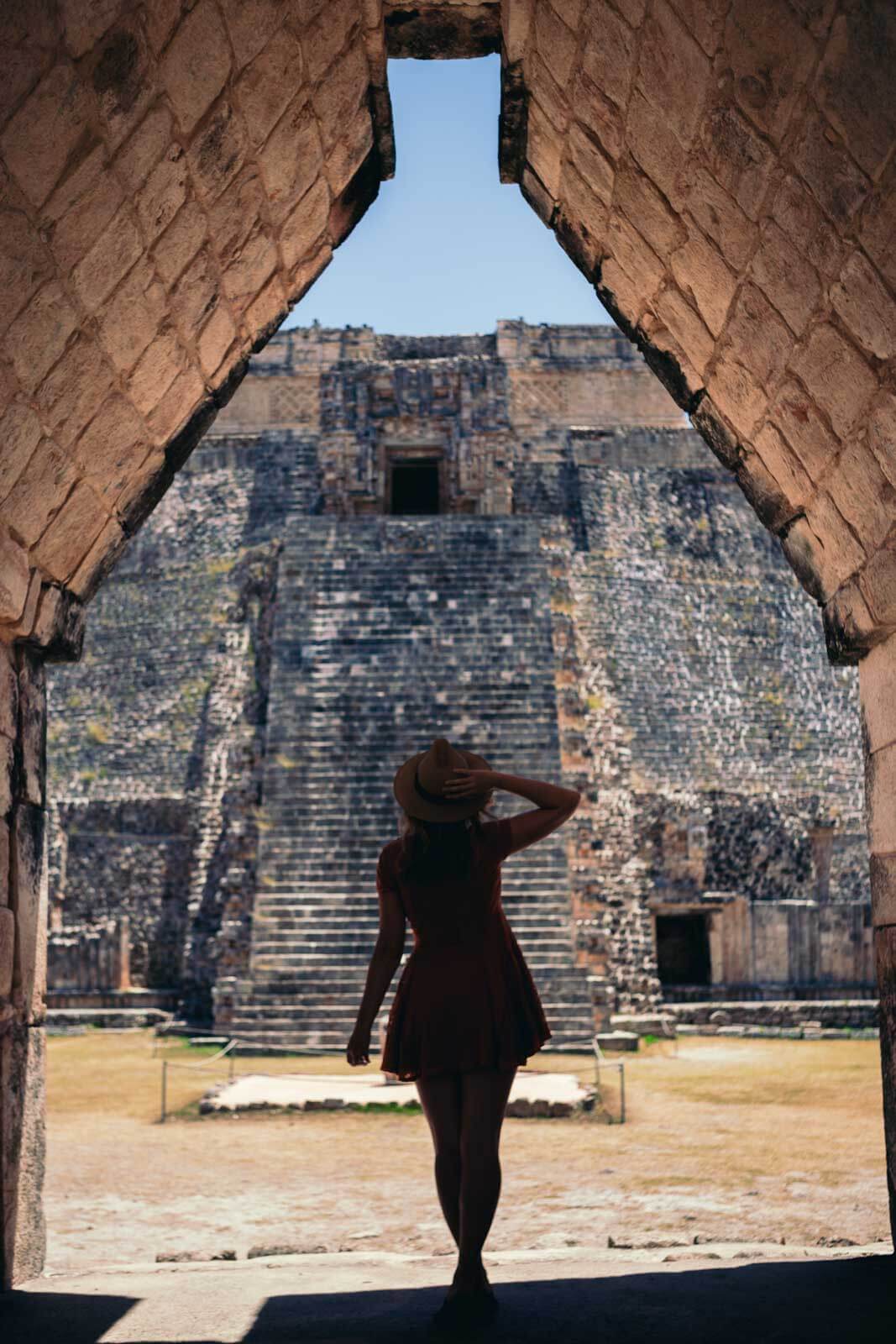 Just an hour away from Merida in the Yucatan state rests one of the most important archaeological sites of Maya culture and some of the best ruins we've ever seen which makes this one of our top picks for best things to do in Yucatan. Uxmal is unbelievable and actually impressed us far more than Chichen Itza, which is what everyone who's ever been also says. Walk through the crowd-less grounds and climb the ruins including one of the pyramids at this expansive ancient Mayan city. Considering this city dates back to as early as 500 AD you can't believe how great the condition of the ruins are here plus you can climb every single ruin here except for the Pyramid of the Magician. Besides being a gorgeous photographic spot it's also just breathtaking to be here and also a UNSECO World Heritage Site.
Chichen Itza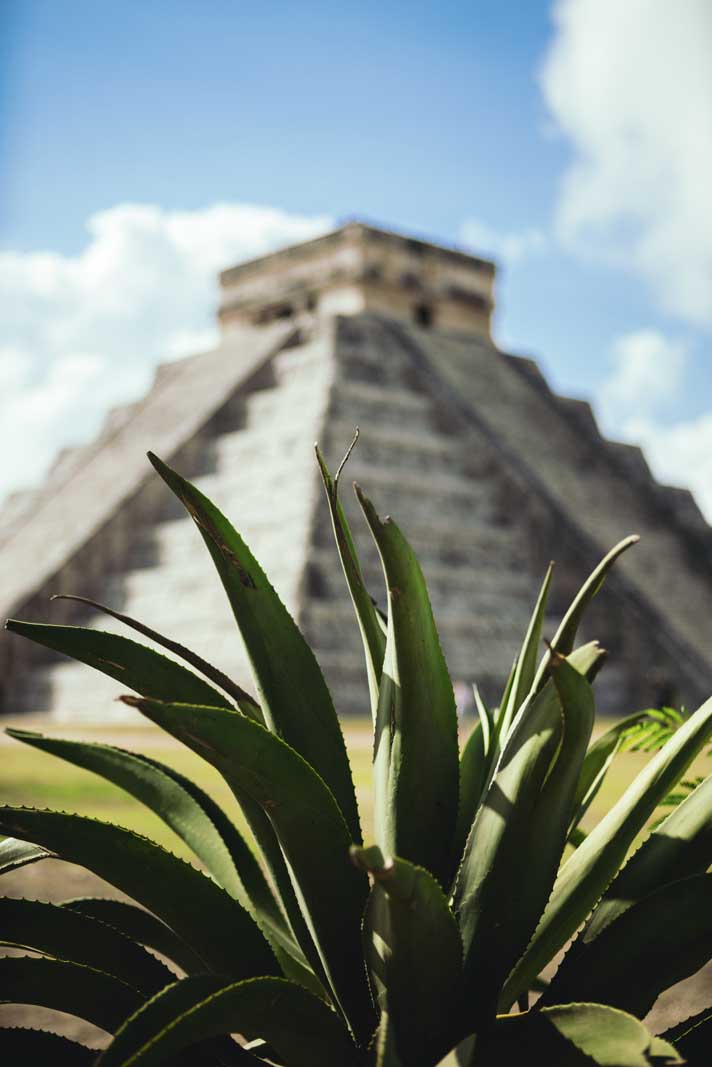 This list would not be complete without mentioning Chichen Itza as one of the best things to do in the Yucatan Peninsula seeing how its one of the new 7 wonders of the world! While we found the empty ruins of Uzmal to blow us away even more than Chichen Itza, we still were in awe when we saw El Castillo, the famous pyramid that is in incredible condition. This is considered the most important Mayan archeological zone in the world and are over 1500 years old!
The crowds do gather at Chichen Itza, so we recommend if you plan on going to get there right at the opening to get some photos and enjoy the place without dozens of tour buses worth of people!
Bacalar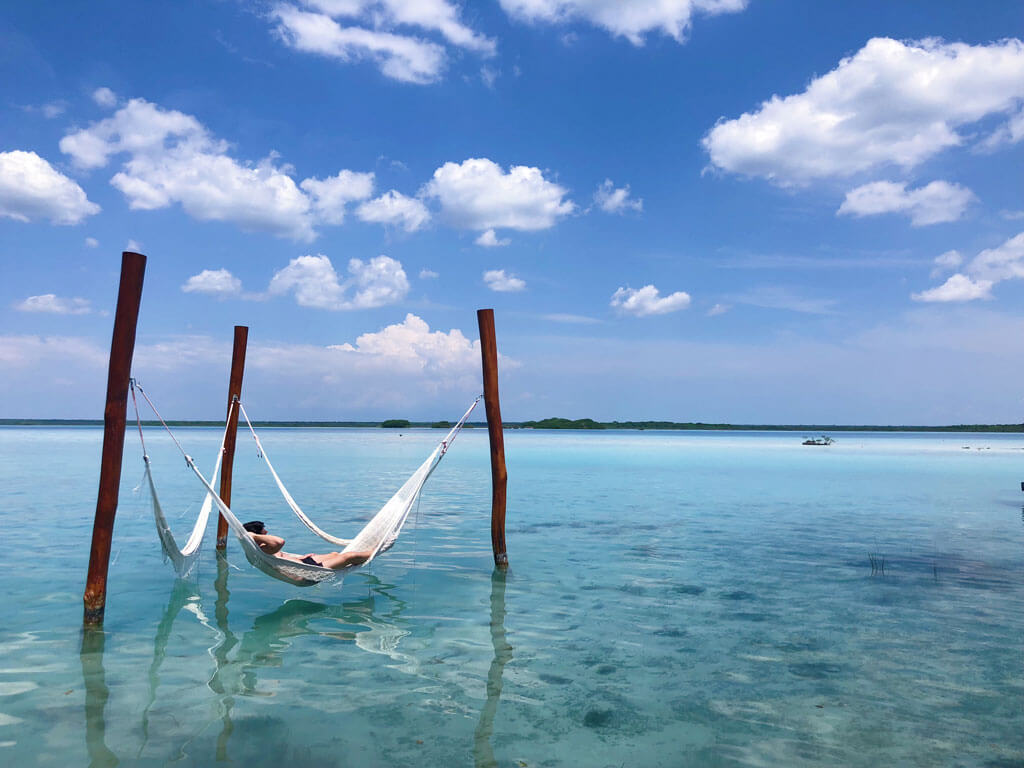 Located close to the Belize border in the state of Quintana Roo, Bacalar is our next pick for best things to do in the Yucatan. Bacalar is more of a quiet location and famous for its Lagoon of Seven Colors due to its blue and turquoise waters. Spend your days lazying around the lagoon in a hammock overlooking the water or enjoy some of the water activities or visit many of the nearby cenotes. Bacalar is also considered as one of the Magical Towns of Mexico.
It is also said that Bacalar is home to some of the world's oldest organisms that help scientists trace back the origins of life. Also, it is said that there are secret pirate treasures left behind from the 17th and 18th centuries in this area making this place feel straight out of Pirates of the Caribbean!
This ended up being on of our all time favorite things to do in the Yucatan and most memorable, get here before it turns into the next Tulum and is overcrowded!
Merida
Merida is where we spent most of our time in the Yucatan and one of the reasons why we consider it one of the best things to do in the Yucatan Peninsula. Merida is also the capital city of the Mexican State of Yucatan which has a rich colonial and Mayan history. You can see the colonial influence on all the architecture including the giant mansions along Paseo Montejo. Filled with gorgeous churches, neighborhoods, and homes this is one of the most picturesque little cities we've ever visited. Besides being beautiful there is also a killer food scene here and find just about any type of cuisine you fancy.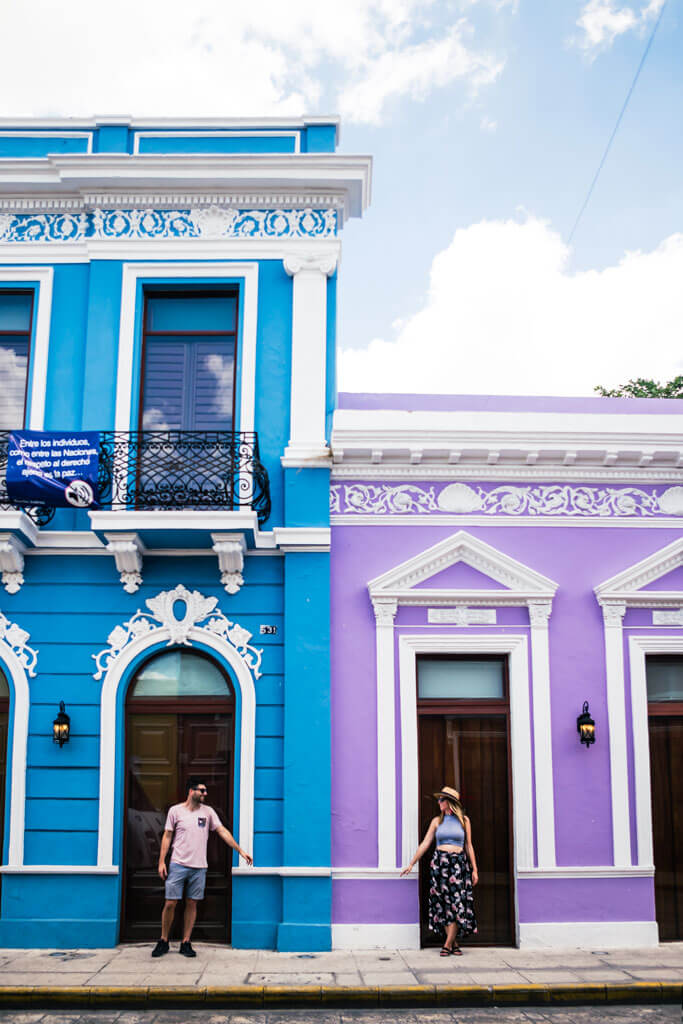 Merida is on the rise of becoming a hot spot for tourism, and it's no wonder why it's one of the best things to do in the Yucatan Peninsula. It's also becoming a popular spot for US retirees and digital nomads, it's no wonder why as the cost of living is reasonable and very comfortable. Check out our video breaking down the cost of living in Merida.
Sian Ka'an Biosphere
One of the best things to do in the Yucatan Peninsula is taking a day trip to the Sian Ka'an Biosphere Reserve, a UNESCO World Heritage Site and the largest protected area in the Mexican Caribbean in Tulum. Witness some of the most beautiful clear blue waters we have ever encountered on our travels, wild dolphins, giant sea turtles, wild birds, and snorkel through the second largest reef system in the world.
Start your 3 hour long boat tour after a long, treacherous ride to Punta Allen. You will get to see as much wildlife as possible while stopping for snorkeling in the Belize Barrier Reef, the second largest reef system in the world!
This is truly a once in a lifetime experience and one of our favorite things to do in the Yucatan Peninsula.
Coba Ruins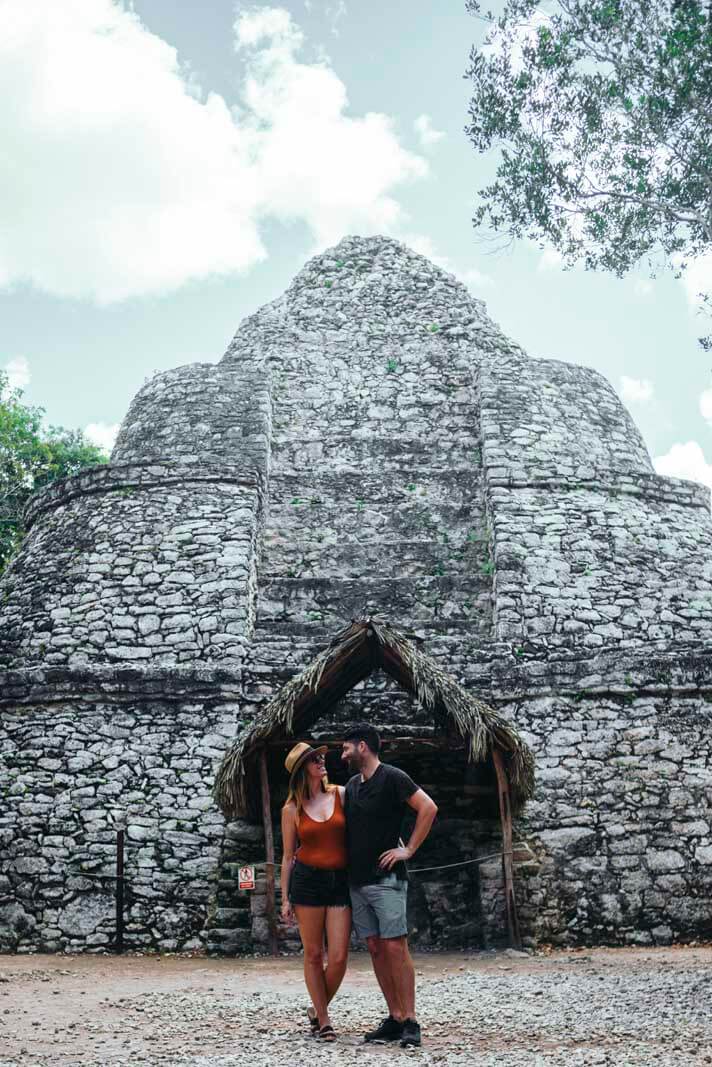 Another amazing thing to do in the Yucatan Peninsula is visit the Coba Ruins. Located just an hour inland from Tulum you can bike, walk, or ride in a chariot through the jungle to ruin after ruin in Coba. You also get to climb the tallest pyramid in Yucatan here which climbing these archeological sites are getting more and rarer as you can no longer climb Chichen Itza and many others. What made Coba one of our favorite things to do in the Yucatan Peninsula was actually riding our bicycles through the jungle, it's absolutely gorgeous and serene. And much like Uxmal, the crowds are far less than they are at Chichen Itza. You can even come back in the evening for a more unique experience as they reopen their doors from 4:30 to 7:00 pm for a special admission.
If you're wanting to get the most out of your trip to Coba you can do the ziplining and visit the nearby cenotes!
Campeche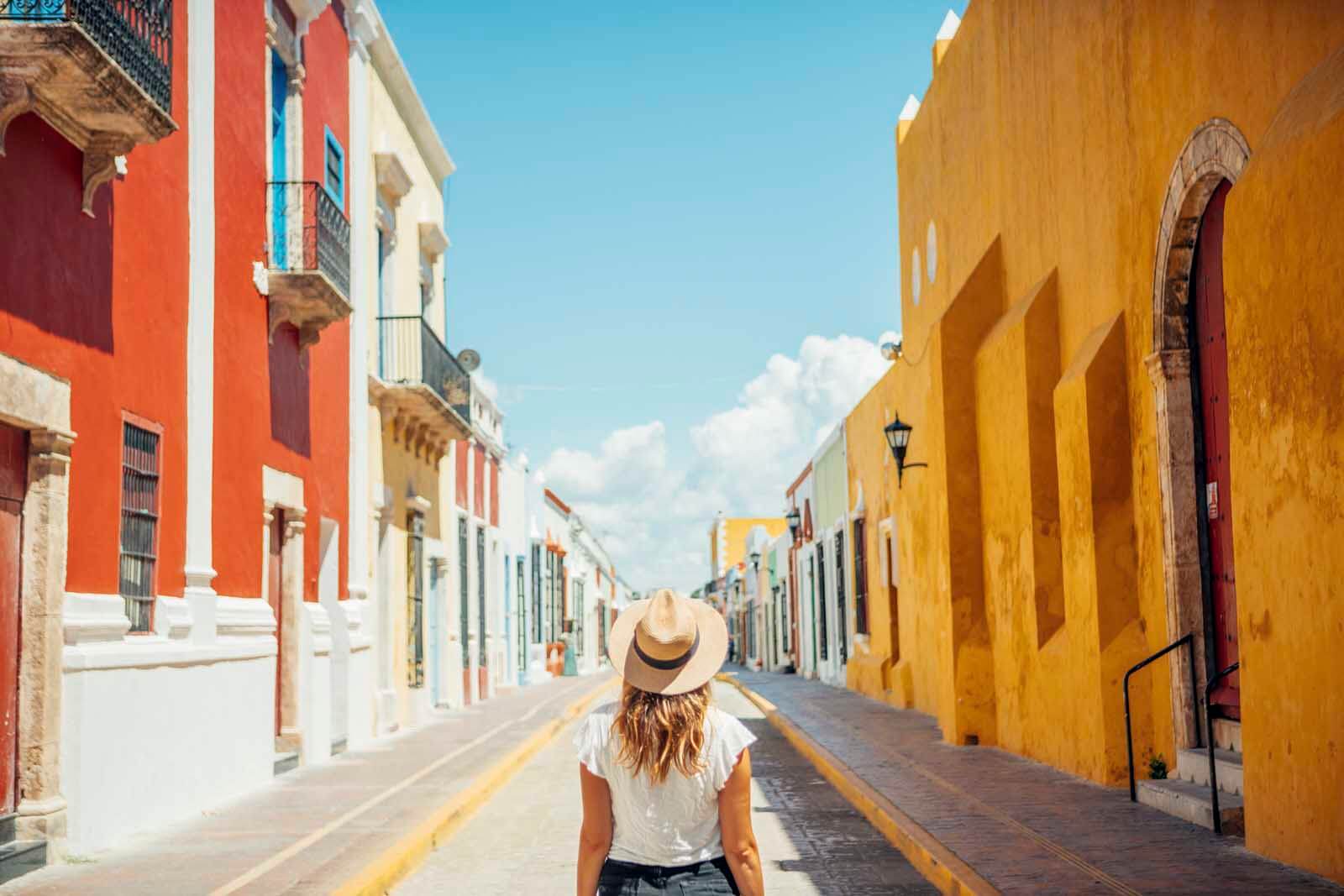 Campeche is another state in the Yucatan Peninsula but the city of Campeche is another place not to be missed and one of our top picks for best things to do in the Yucatan. The city is one of the most beautiful capitals in Mexico and a UNESCO World Heritage Site. Enjoy the beautiful colonial architecture, colorful buildings, and 17 nearby archaeological sites including the largest Mayan city that has ever been discovered, Calakmul in the state of Campeche.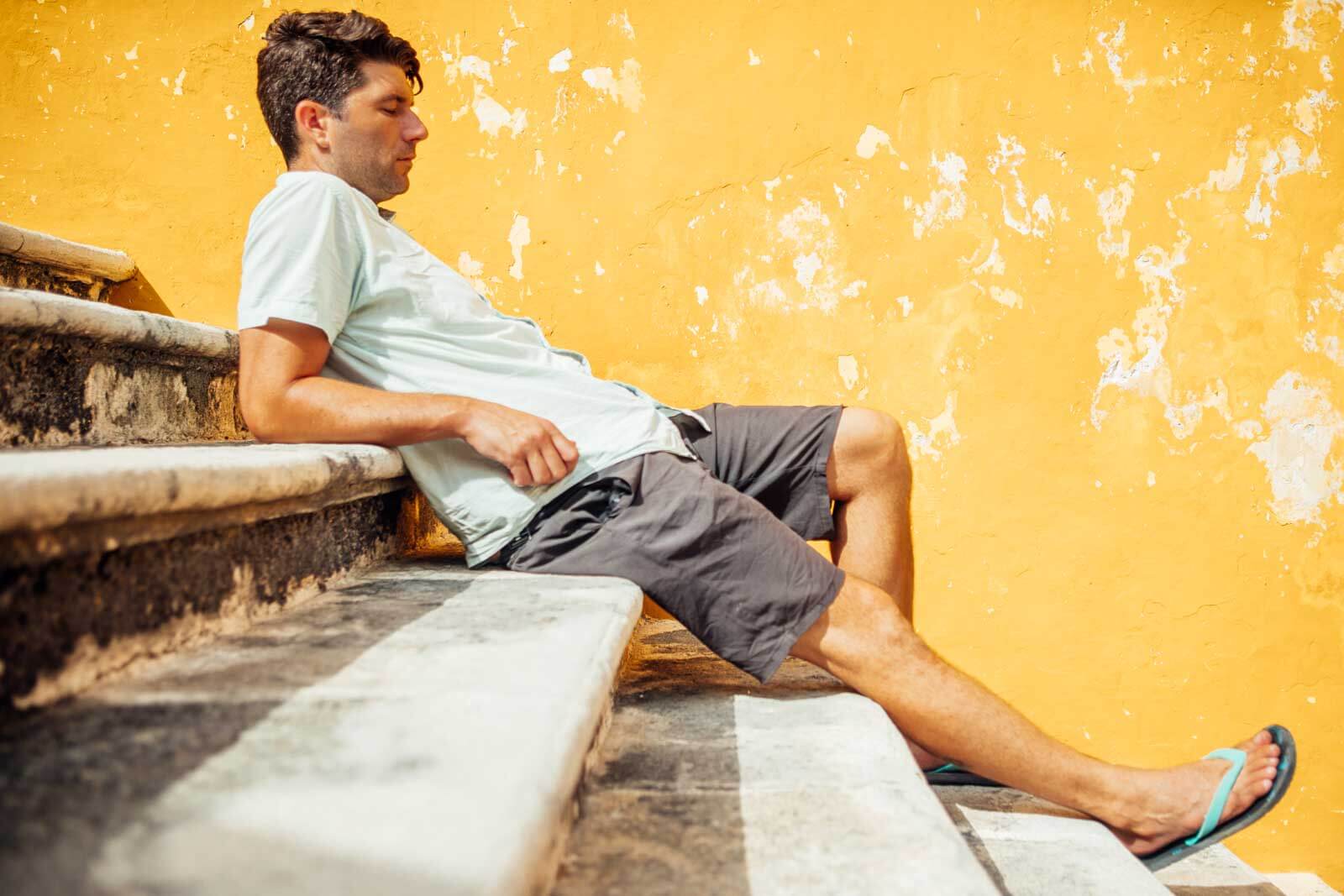 We found Campeche to be one of the most colorful places we have ever been to and fell in love. Campeche is not to be missed and is what we think is the most overlooked thing to do in the Yucatan Peninsula. Don't miss out on the pirate and buccaneer history here either. Visit one of the forts overlooking the city or check out the many museums along the fortress wall that surrounds the city center.
See Flamingos in Celestun
Another great thing to do in Yucatan for nature lovers is see wild pink flamingos in Celestun Biosphere Reserve along the Gulf of Mexico! This beach town is quiet and a great place to spend a night after doing a wild flamingo boat tour. Besides seeing wild flamingos you'll have a chance to see crocodiles and other wild birds including kingfishers, cormorants, hummingbirds, and pelicans to name a few on our boat tour through the biosphere.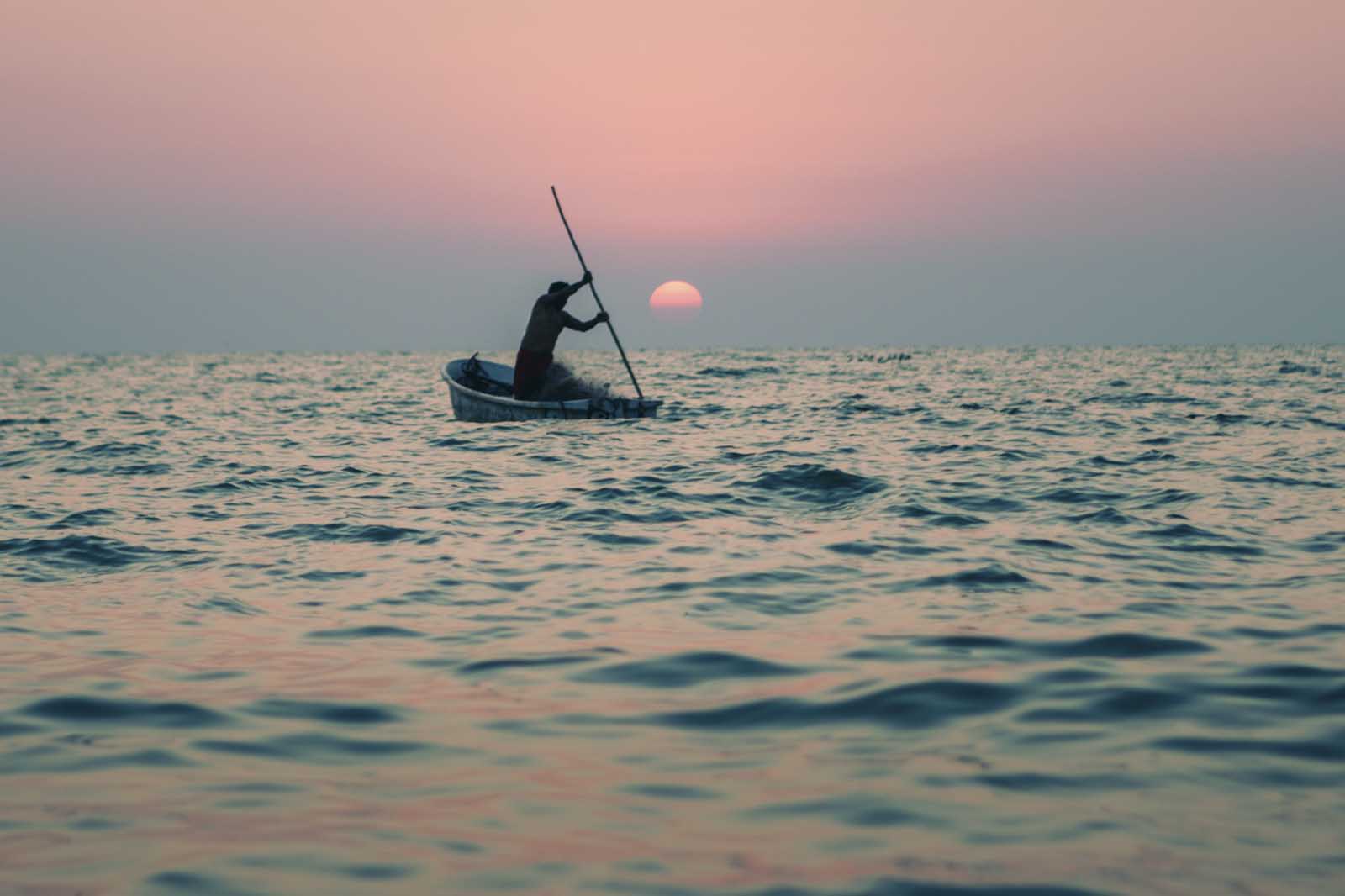 Afterward, head over to Celestun beach for a seafood dinner and perhaps a night at one of the local hotels right on the beach.
Note: The best time to see pink flamingos is November through March.
San Crisanto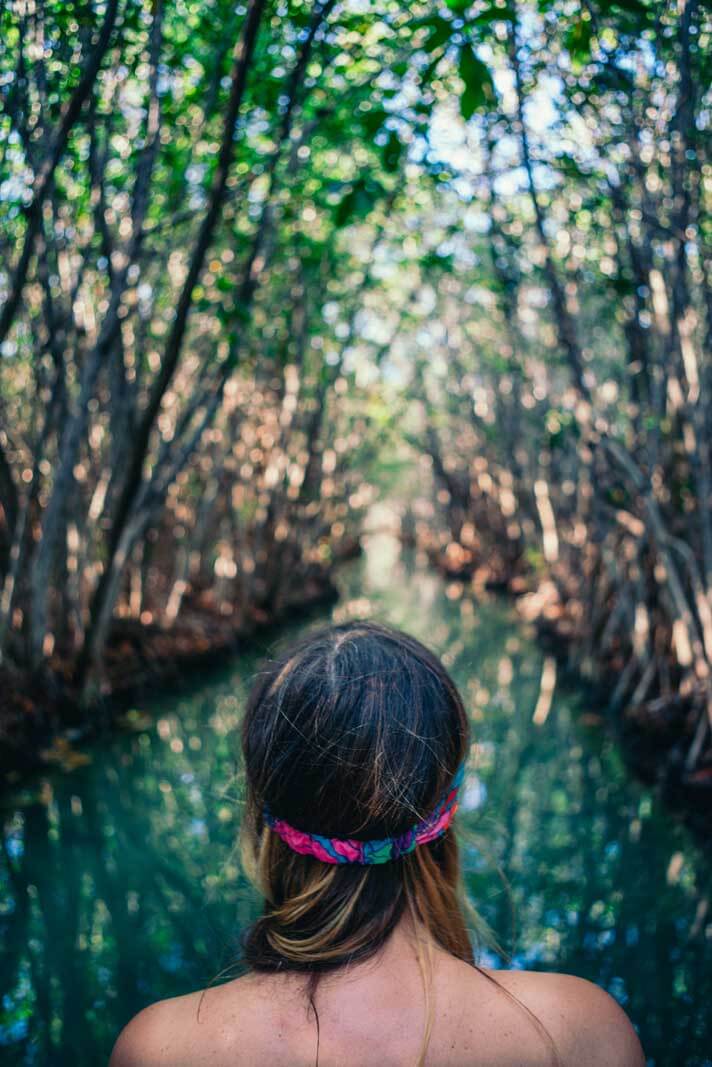 San Crisanto is one of the best lesser known things to do in the Yucatan Peninsula. This small fishing village on the Gulf of Mexico's coast has 850 hectares of mangroves with over 100 species of wild animals. Take a wooden boat tour with a guide who paddles you through the mangroves to try and spot some wildlife and enjoy this unique experience. The local fishermen are the ones who have carved the path through the mangroves leading to crystal clear cenotes.
Afterwards, treat yourself to some of the local seafood at one of the many little restaurants along the main road.
---
Liked this post about the best things to do in the Yucatan Peninsula? Bookmark for later or share the love below on Pinterest!