Check out these amazing day trips from Montreal to add on to your visit to this incredible trip to this Quebec city. From crossing the border to the United States to visiting Quebec City, the Laurentian Mountains, Ottawa, Charlevoix, and more.
There are endless options for an unforgettable time exploring all the amazing ways to spend your time in Montreal.
Montreal is home to some of the best cuisine and foodie scenes in Canada, amazing museums, incredible street art scene, history, the beer scene, and more, be sure to check out our suggested 3 days in Montreal itinerary for more inspiration and travel planning help!
Dog Sledding in Saint Hippolyte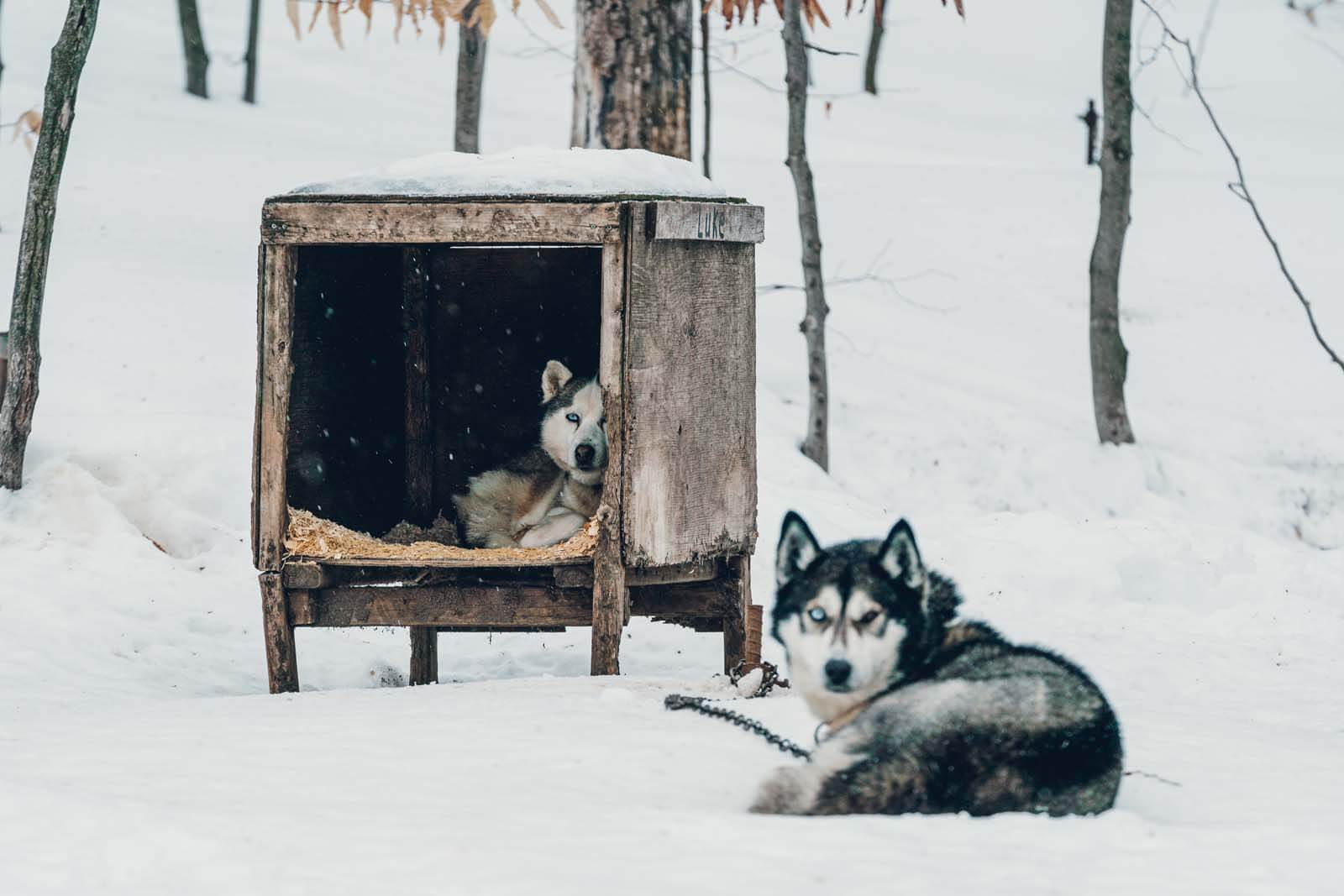 One of the best day trips from Montreal in the winter months is going on a dog sledding excursion in the Laurentian Mountains just an hour drive from Montreal! Experience this 9,000-year-old tradition first hand and witness the bonding relationship between a musher and their dogs on a day excursion.
The dogs were born to thrive in the cold and are enthusiastic to run in their element all in the gorgeous winter scenery of the Laurentians.
We recommend Aventures Plein Air in the beautiful town of Saint-Hippolyte who also offers other fun winter activities like snowmobiling and snowshoeing.
Montmorency Falls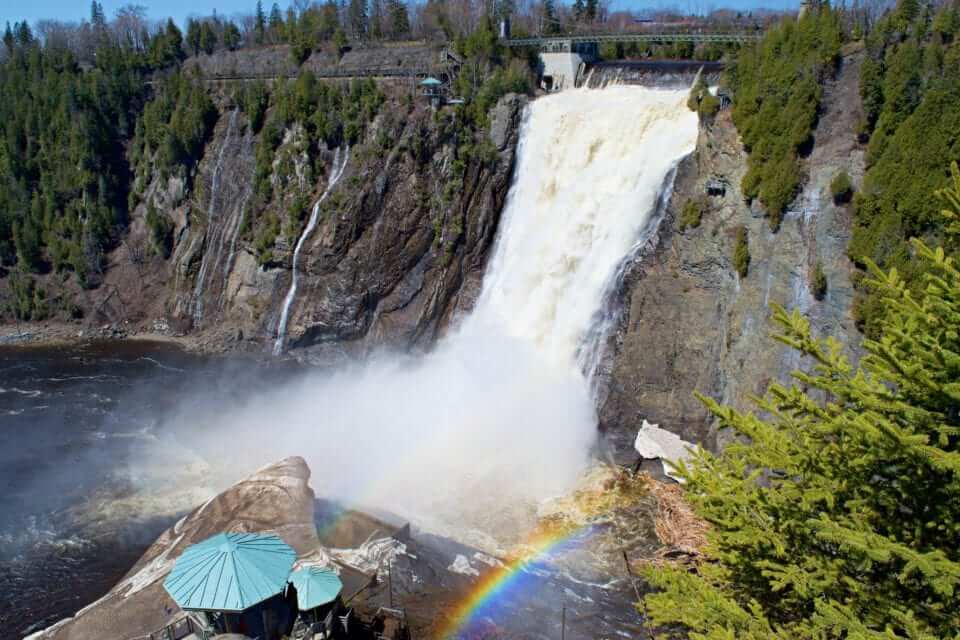 Montmorency Falls is a 275′ waterfall just outside Quebec City. It takes roughly 2.5 hours to reach and is a great day trip from Montreal that can easily be combined with a day trip to Quebec City.
There are even bike tours from the city along the St Lawrence River on bike trails all the way to the falls, which is a half-day activity.
The falls themselves are loaded with activities, along with spectacular views. Visitors can enjoy zip lines, via Ferrata climbing routes, or walking over the falls on a suspension bridge.

Be sure to bring a polarized lens to sharpen photographs of rainbows in the mist. Also, ask about Montmorency Falls' resident apparition- The Lady in White. The legend goes that she jumped to her death at the falls because her betrothed died in the Battle of Montmorency Falls.No matter how one chooses to enjoy Montmorency Falls, they make a perfect day trip from Montreal.
---
Contributed by Jenn & Ed of Coleman Concierge
Burlington, Vermont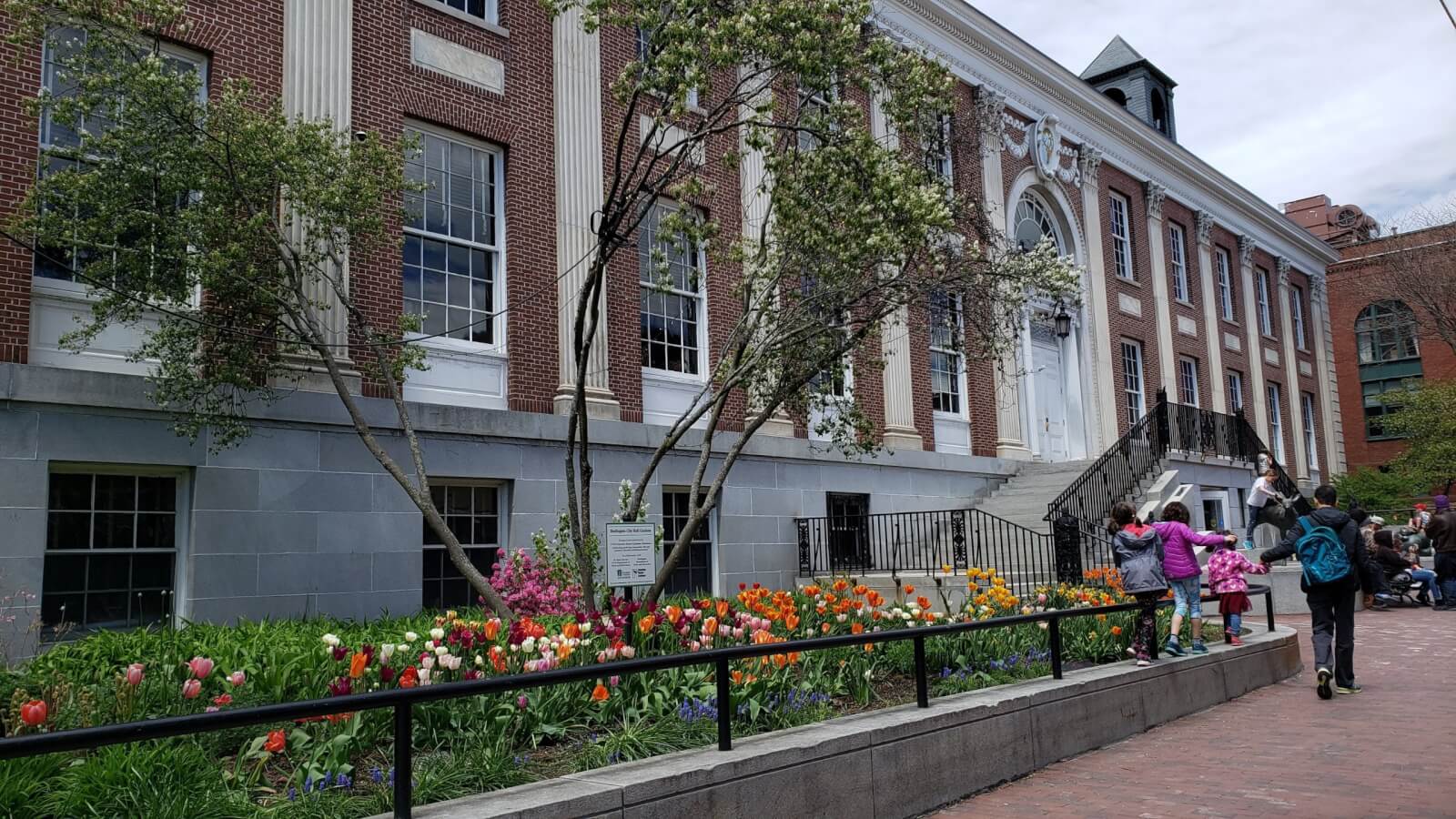 If you have time to hop over the border, Burlington, Vermont makes a great day trip from Montreal. Just under two hours by car, Burlington is Vermont's biggest city, and definitely its most hip and artsy city.
Burlington is a mecca for craft beer, farm-to-table food, and pretty scenery. The gem of this scenic splendor is Lake Champlain, the large body of water on which the city of Burlington is set.
A stop by the waterfront is a must on any trip to Burlington, and you'll see boats sailing on this beautiful lake with the Adirondacks of New York State in the background. Try to catch this spot during sunset for some truly serene moments.
In Burlington itself, you'll want to stop by Church Street. This pedestrian-only street is fantastic for people watching; filled with musicians, cute shops, cafes, and much more. It's definitely the place to be in downtown Burlington and a favorite destination for visitors and locals alike.
Burlington has a great community spirit–Vermont in general does—and you'll likely feel that as you walk around and explore. In the warmer months, everyone is out and about enjoying the outdoors, riding bikes, and hanging at the farmer's market.
Read more on our weekend guide to Burlington.
---
Contributed by Amy of From New England With Love
Mont-Tremblant National Park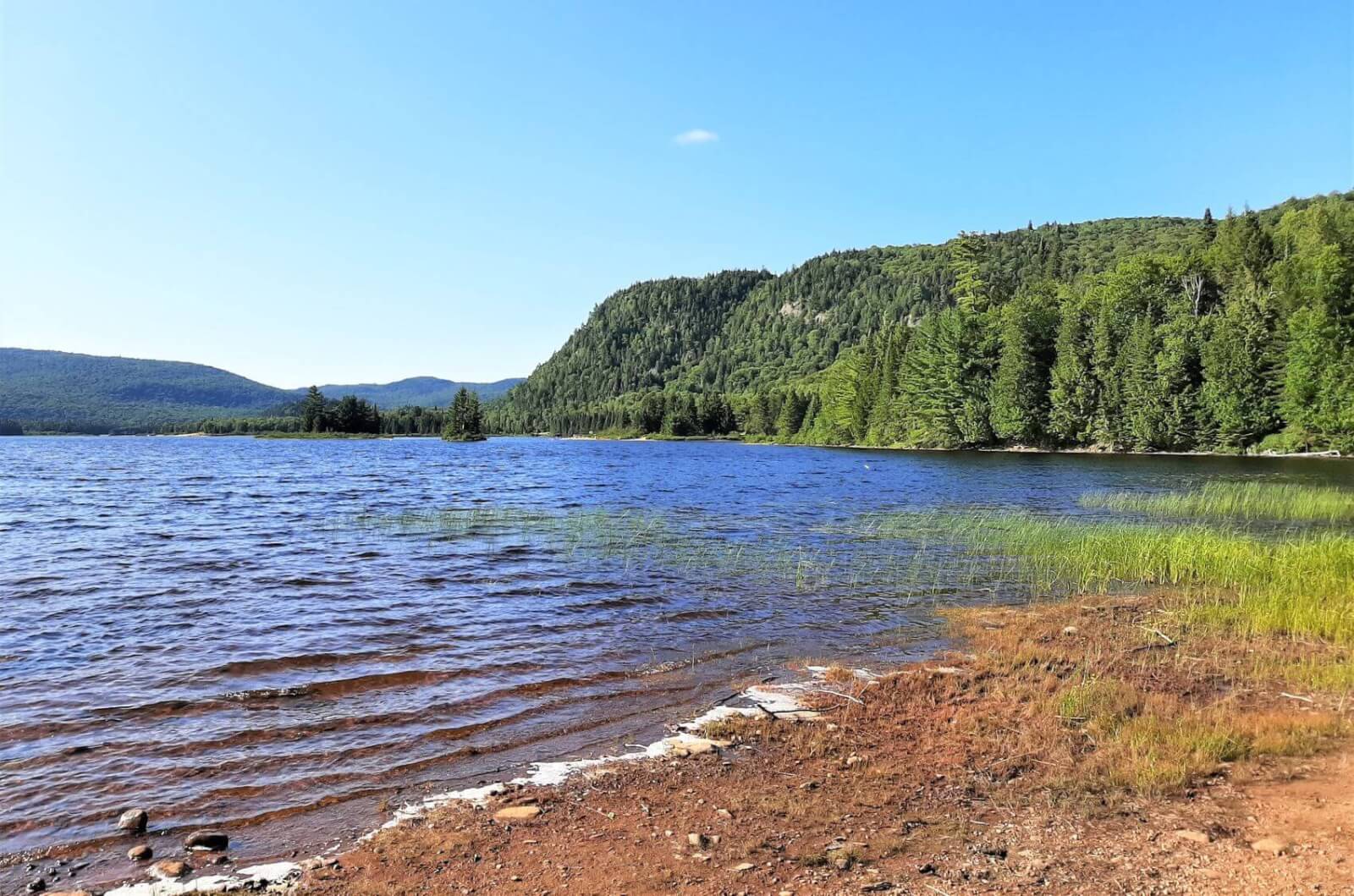 A short way away from Montreal (just 1.5 hours by car) there is a Canadian provincial park named Parc National du Mont-Tremblant. Located in the Southern Laurentians, it is the second-largest national park in Quebec as well as the oldest. The town Mont-Tremblant hosts several activities throughout the year for entertaining guests.
Although Mont Tremblant established in 1895, it was not until 2001 that it was officially recognized as a national park. As a result, a visit to the National Park makes for a great day trip from Montreal; particularly for those who want to reconnect with nature.
From cross-country skiing to long and short hiking trails, snowshoeing to canoe lake and river kayaking, backcountry swimming and camping to mountain biking. This park has everything to keep you busy for days. For hiking and other outdoor activities, there are 18 different trails that span over 50 miles and vary in length and level of difficulty.
Mont Tremblant is divided into three main areas and they include the Diable River, the Pimbina Creek, and the Assomption River.
The Diable sector named Rouge can be reached by route 323 from Ottawa, Ontario; or highway 15 and route 117 from Montreal.
The Pimbia sector can be reached through route 125 from the Saint-Donat. The remaining Assomption sector can be accomplished via Saint-Come. Alternatively, you can access the park by La Macaza, by Labelle, and by Saint-Michel-des-Saints.
The park is a combination of wildlife and flora, while forty different species of mammals call it home at Mont Tremblant. Seven species of different reptiles along with 14 different species of amphibians are present here.
So, if you crave a relaxing getaway along with outdoor fun, then Mont Tremblant has got you covered.
---
Contributed by Ivan of Mind The Travel
Snow Sports at Mont Tremblant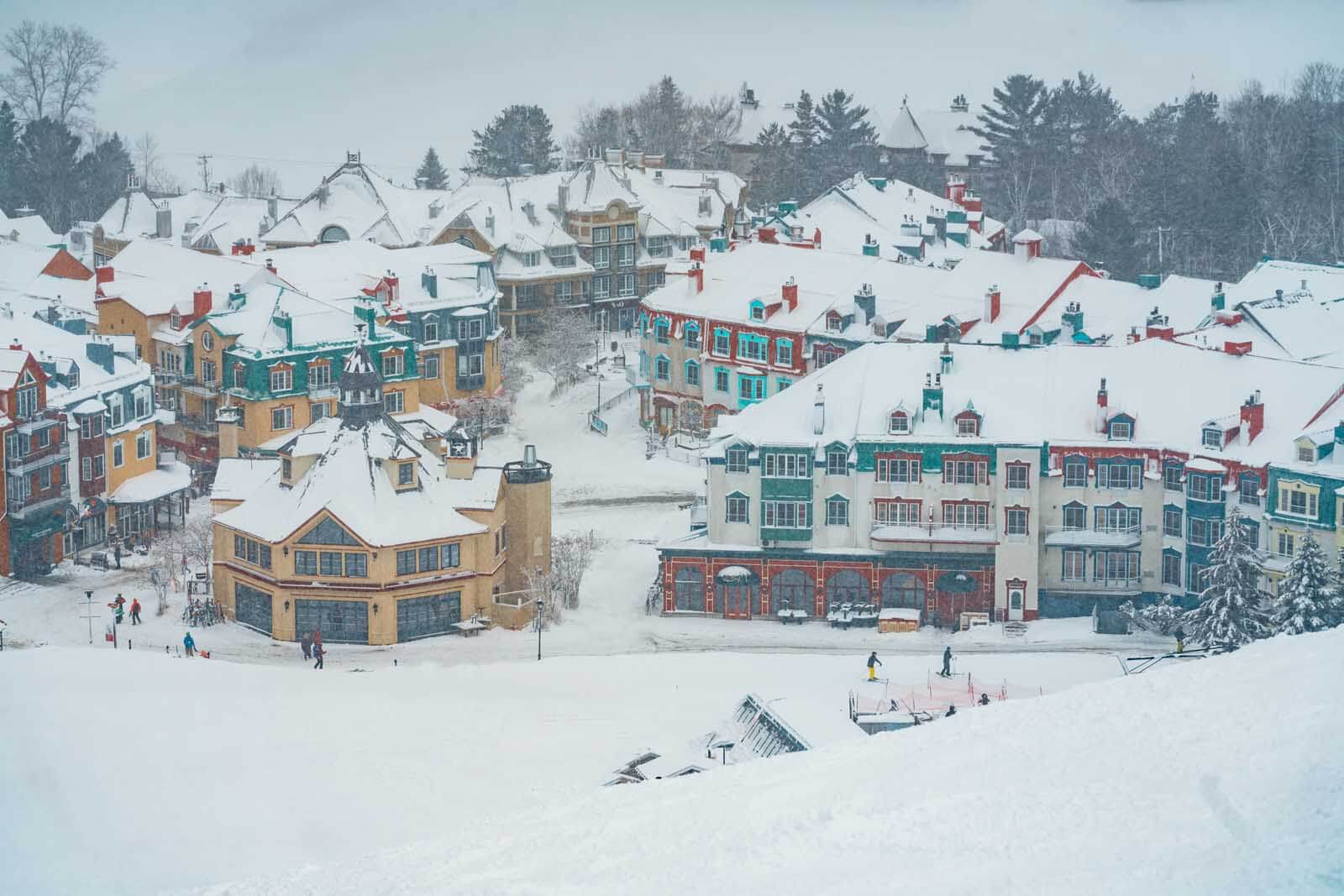 Another one of the best day trips from Montreal in the winter is enjoying all the winter snow activities like skiing and snowboarding at the world-famous Mont Tremblant ski resort.
There are over 102 trails, 3 different snow parks, a state of the art ski station and facility on the mountain, and some of the best snowmaking systems in the world that make this a great destination or trip from Montreal in winter.
There are trails here suitable for all levels of skiers and snowboarders and some of their trails are extremely long with their longest-running 6km in distance.
The mountain is well equipped with gondolas, chairlifts, and magic carpets making getting to your run/trail easy.
Besides skiing Mont Tremblant in winter is an incredibly magical place as the famous pedestrian village looks like a real snow globe village with the snow-covered mountains.
Thousand Islands & Gananoque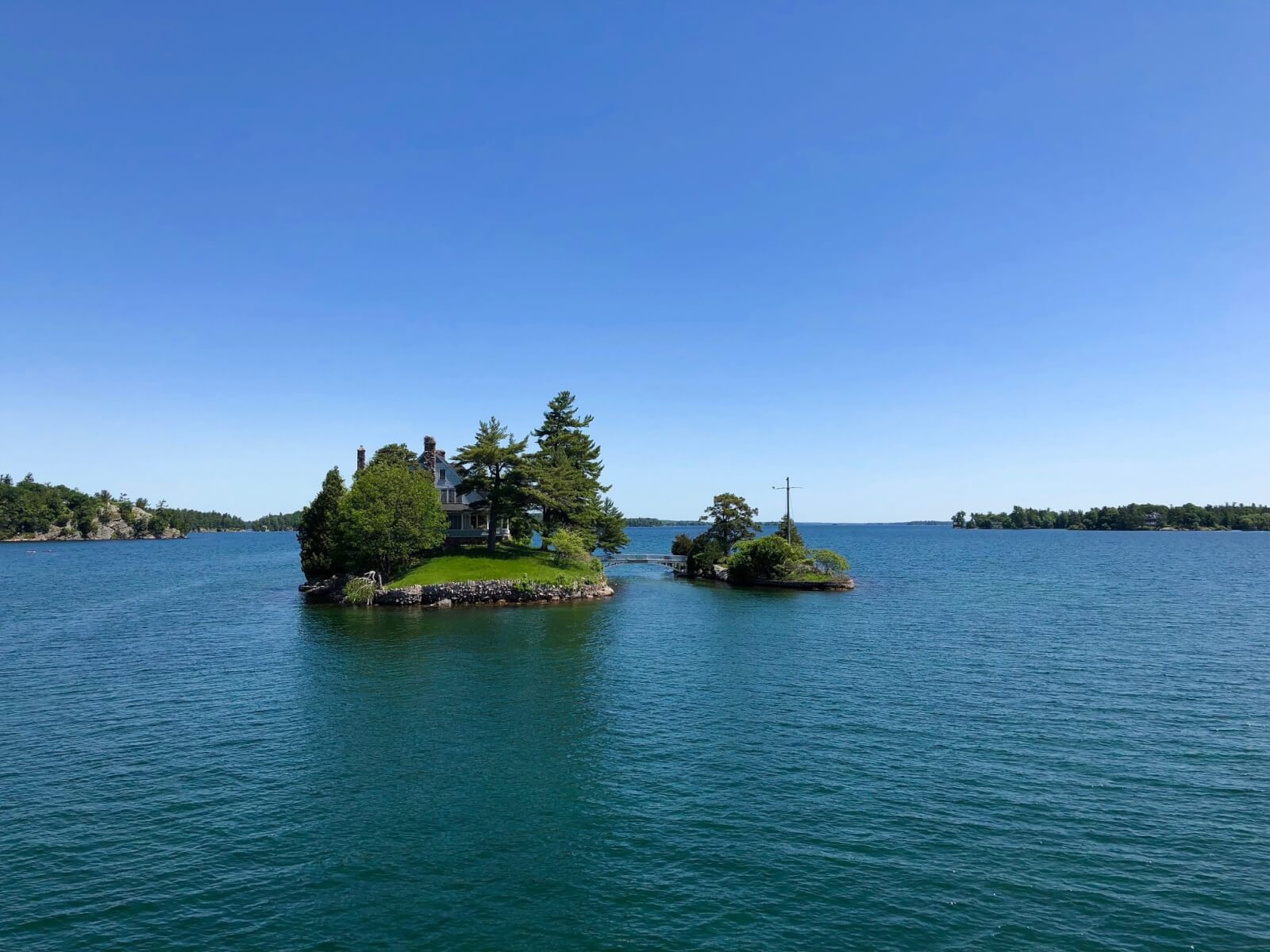 The Thousand Islands is an archipelago on the St Lawrence River and an amazing day trip from Montreal. Sitting along the Canada-US border, this extensive chain of islands reaches from the north-eastern corner of Lake Ontario for 50 miles down the St Lawrence River.
Gananoque is a great spot from which to enjoy the Thousand Islands and is only a 2.5-hour drive from Montreal.
There are actually 1864 islands in this archipelago, but perhaps it was named before all the islands were counted! If you take a river cruise from Gananoque, you can experience more of the islands, as well as visit Boldt Castle.
In an epic love story, this castle was built by George Boldt for his wife Louise in 1904. But tragically, she died before it was completed, and the site was abandoned. More than 70-years later, some of the original architectural plans were found and the project was finished.
Boldt Castle is in US waters, so if you are visiting from the Canadian side, you will need your passport.
The Thousand Islands are rich in fascinating histories, from rum-runners to underground-railway escape routes, from millionaire homes to shipwrecks. Enjoy some afternoon tea in Gananoque town center after your boat ride, and it is a very relaxing and fun day trip from Montreal.
---
Contributed by Hannah of Hannah Henderson Travel
Traditional Sugar Shack Meal at Au Petit Poucet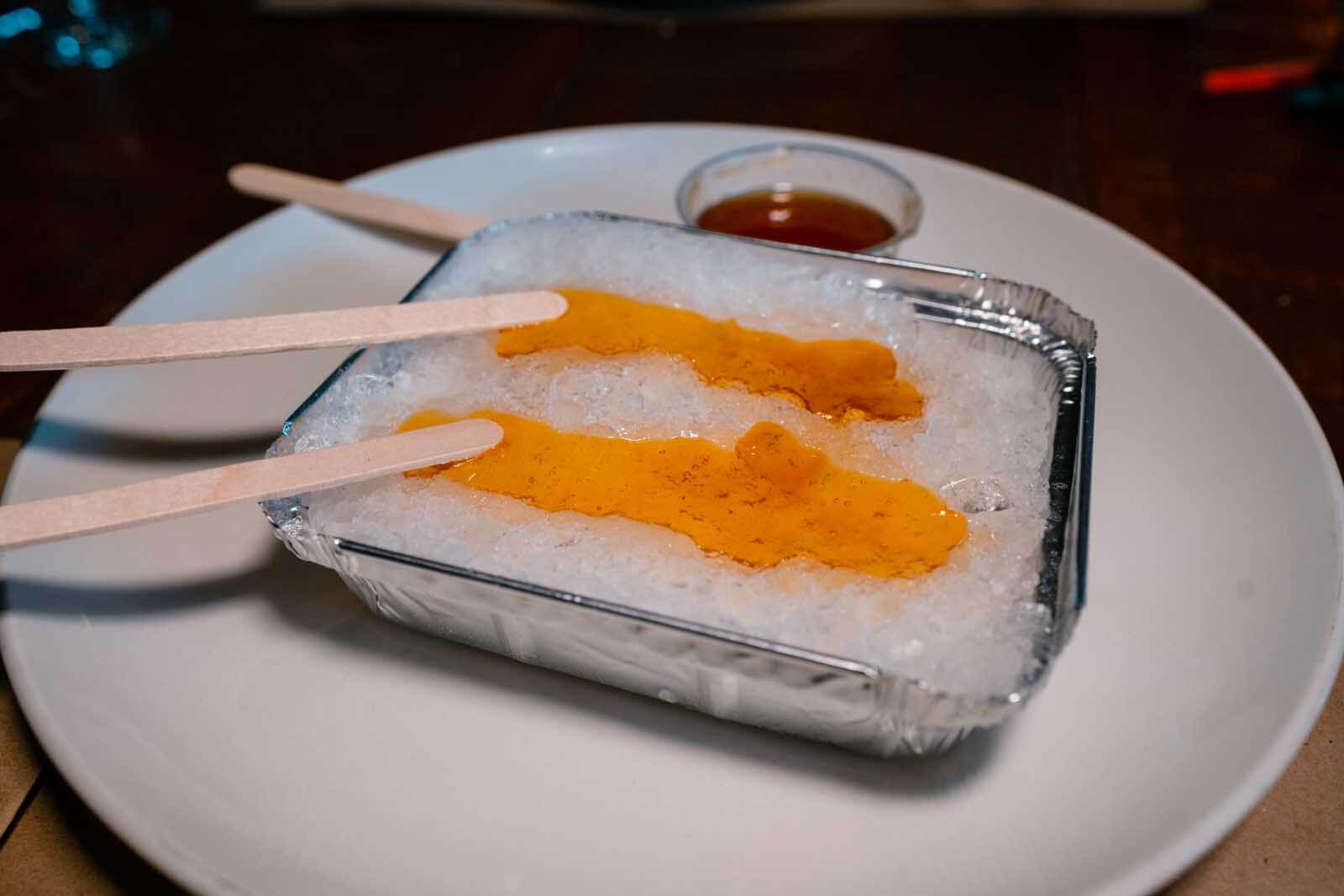 Another awesome experience and not too far of a drive and easy day trip from Montreal is Restaurant Au Petit Poucet who prepares authentic "Sugar Shack," meals Quebec style!
Sugar season has a pretty small window annually in the late winter/early spring, so by stopping at this restaurant, you get an authentic sugar shack meal any time of the year.
This is a great stop if you find yourself visiting Montreal in winter as well before/after Mont Tremblant and is a great stop about halfway between the two destinations.
A traditional sugar shack meal features eggs, baked beans, ham, and crispy deep-fried pork jowls served with a drizzle of fresh maple syrup.
Before you fill up you'll want to save room for the sugar on snow dessert or maple syrup inspired desserts including their mouthwatering and unique maple cream pie.
What makes this experience even better, even though the food is already phenomenal, is the setting. On a chilly day, you can warm up fireside by the giant fireplace in the center of the restaurant and rustic interior.
Ottawa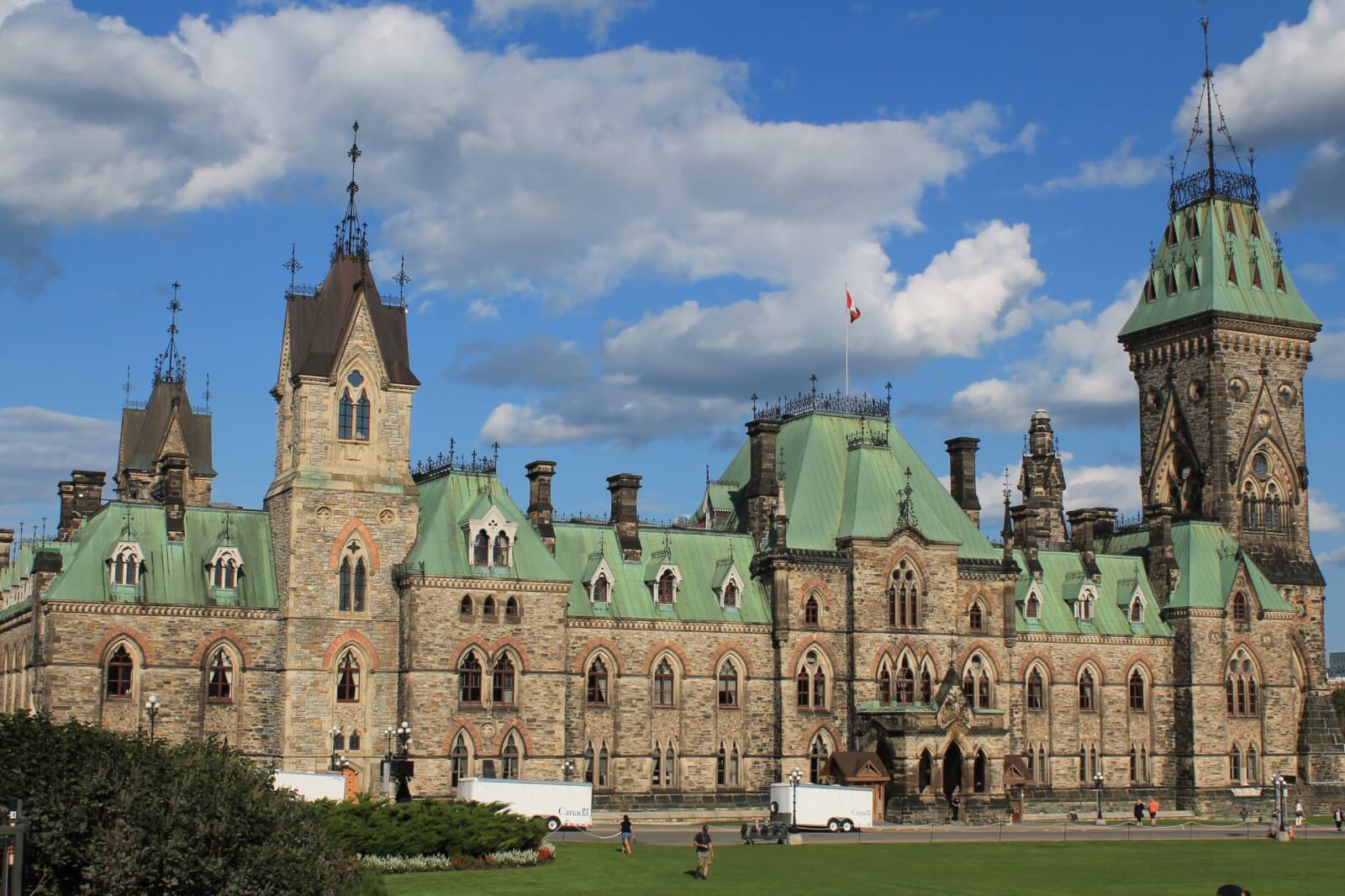 The charming capital city of Ottawa is 2 hours away and an amazing day trip from Montreal destination to get an extra dose of history and culture.
The highlight of the city is the Parliament Hill perched on top of a hill on the banks of river Ottawa. This political hub adorns three magnificent structures- the Center block, East and West Block around the sides of a huge lawn. Parliament Hill is an architectural marvel built around 150 years ago.
Currently, the Center Block is closed for 10 years as a part of a renovation project. But there are free guided tours available for the East Block and the West Block that currently houses the Senate and the House of Commons.
Plan to spend around 3-4 hours exploring the grandeur.
Note: The guided tours need to be booked on a first come first serve basis every morning from 9 a.m. while the slots get booked very fast.
During the summertime, the Change of Guard ceremony at the Parliament Hill in the morning and the Light and Sound show in the evening is must witness.
For art lovers, there is the National Gallery of Canada with impressive world-class exhibits. The guided tours at the Royal Canadian Mint are great to learn how the coins are manufactured.
To relax, walk by the green banks of Rideau Canal, a UNESCO World Heritage site and watch the Ottawa locks on the Rideau canal operated manually just the way they were operated 200 years back.
The best part of the city is that it can be easily explored on foot.
---
Contributed by Neha of Travel Melodies
Ottawa River Cruise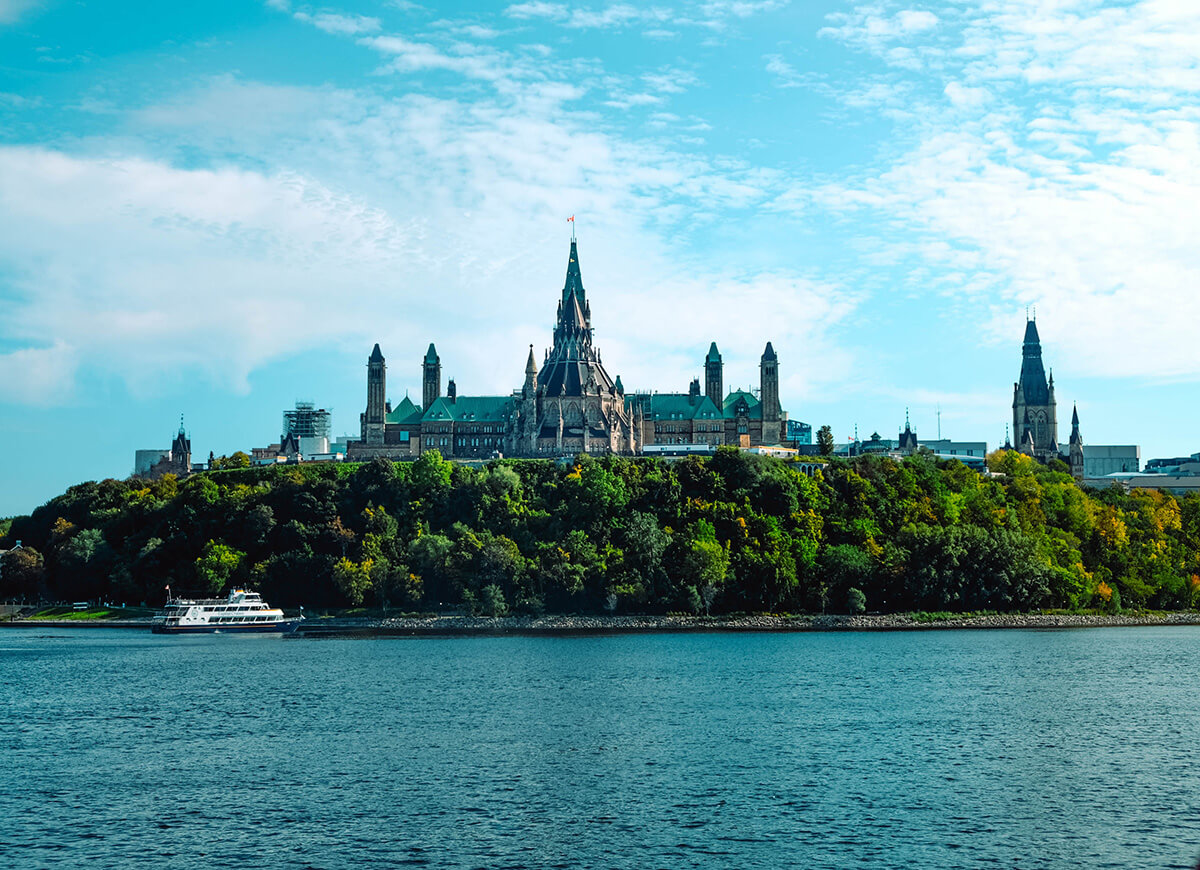 Just a two-hour drive and a great day trip from Montreal is Canada's picturesque capital city, Ottawa. Sitting at the Ottawa River in Southern Ontario, a more unique way to explore the place is to go on a cruise.
Primarily serving as a transportation and trade route in the olden days, the Ottawa River today has also become a sought-after attraction. It's not surprising because the iconic sights of the capital are nothing less than astonishing when seen from the water.
With a breath of fresh air, marvel on the city's natural landscape and sophisticated architecture. Not only will you be able to relax in the 90-minute cruise but you will also learn more of Ottawa's rich history with a live narrative.
Get a glimpse of noteworthy structures including the National Gallery of Canada, Supreme Court of Canada, Chateau Laurier Hotel, Royal Canadian Mint, and Macdonald-Cartier Bridge.
Of course, you should not miss the stunning Parliament Buildings that resemble a castle on an island from afar. Come aboard and view Ottawa from a different perspective.
---
Contributed by Arrianne of Travel Habeat
Diefenbunker Museum in Carp, Ontario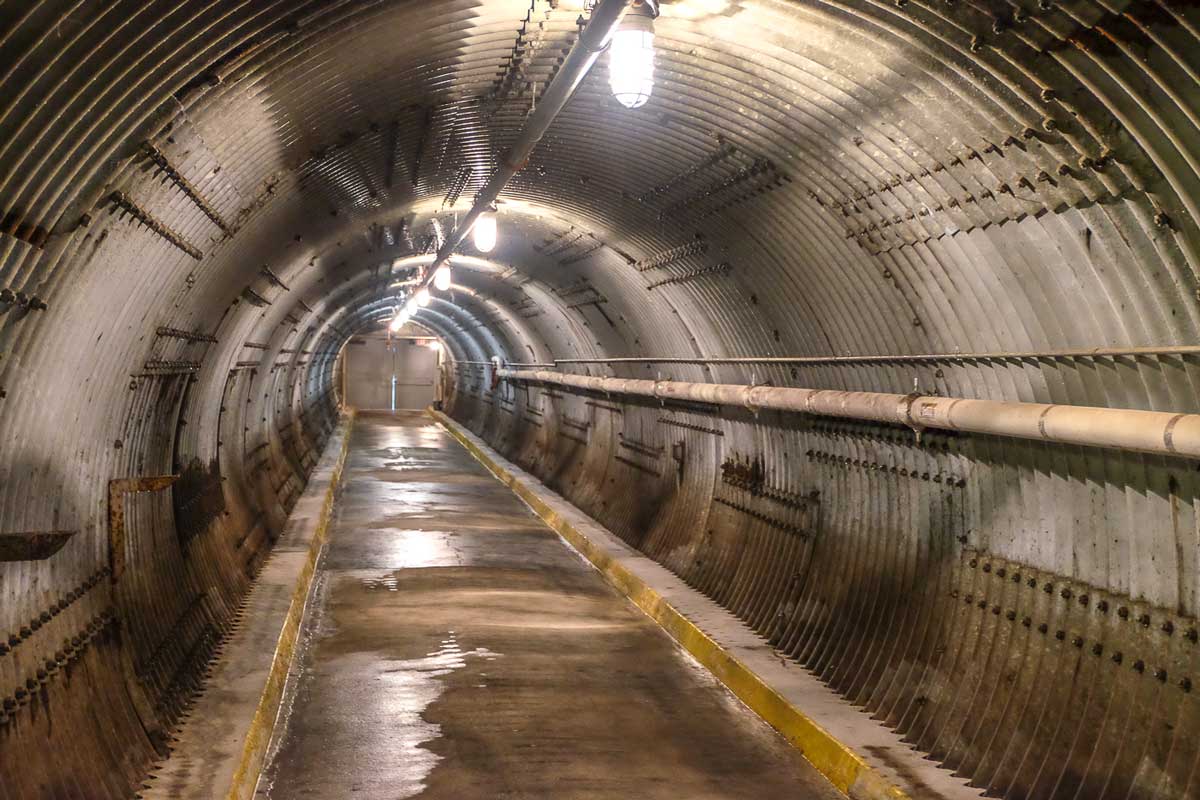 If you are looking to dive into Canadian history in a unique day trip from Montreal and head for Carp, Ontario. In this quaint little town, you will find one of Canada's best-kept secrets: an underground military bunker from the Cold War-era!
Nicknamed the "Diefenbunker" after the Prime Minister of the time, John Diefenbaker, the abandoned bunker has been turned into a fascinating museum.
Built between 1959 and 1961, the 100,000 square foot facility was meant for Canada's heads of government and very important people to evacuate to in case Ottawa was ever targeted in nuclear war.
Luckily, it was never needed. The bunker was maintained until the 1990s and was then decommissioned.
These days, you can make your way to the outskirts of Ottawa to visit the Diefenbunker. After a long walk down the blast tunnel, you can explore the various levels of the bunker on a guided or self-guided tour. You can visit areas like the medical quarter, communications rooms, cafeteria, bank vault, and even the Prime Minister's quarters!
The whole complex is like a giant time capsule – with many of the museum exhibits showing actual equipment utilized in this era. If the bunker museum alone isn't enough, there are a few other things in Carp to keep you busy. This little town is home to a restaurant, a creamery, and even a small local brewery!
---
Contributed by Eric from Ontario Away
Parc Omega in Montebello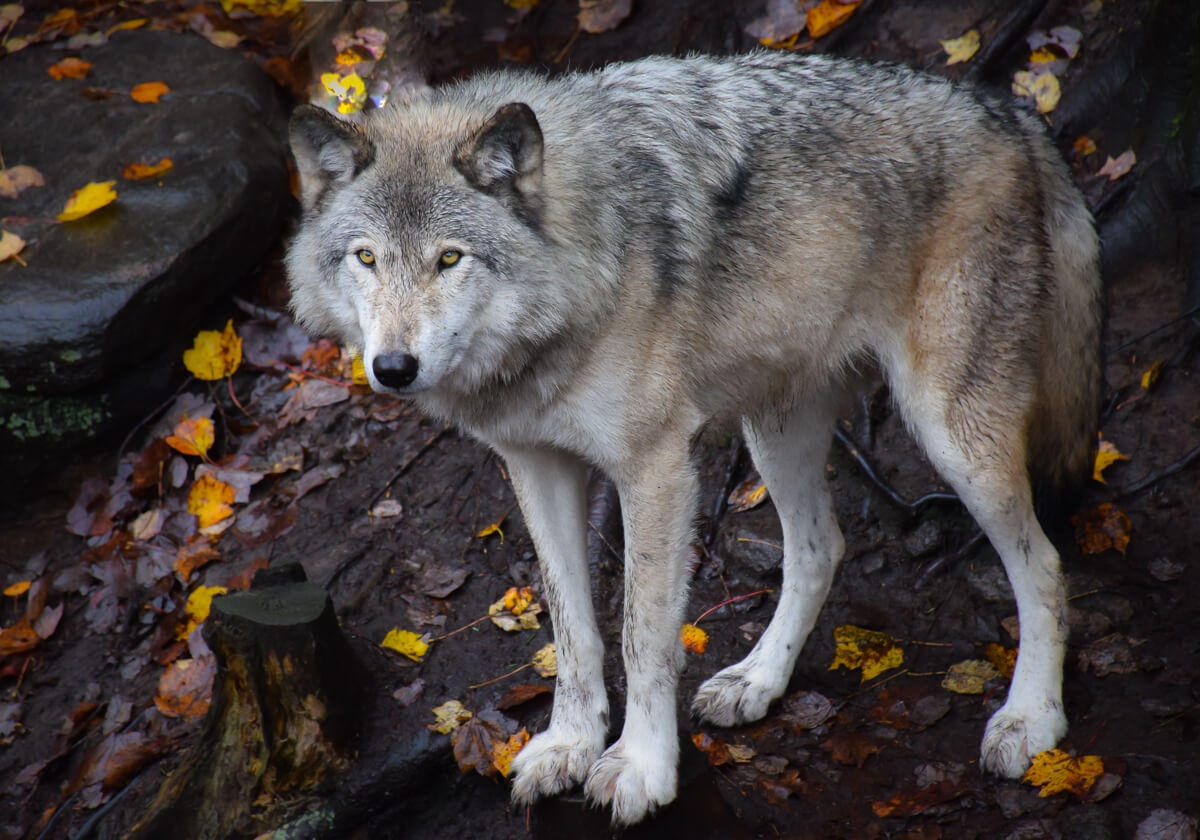 Enjoy an escape to nature on a day trip from Montreal to Parc Omega in Montebello, Quebec. This 2200-acre park, about a 1.5 hour's drive northwest from Montreal, is a unique showcase of Canada's wilderness and wildlife.
Visitors to the park can drive a 15-kilometer car path that takes you through Canada's environments from forests to the prairie, mountains and the north. You'll be greeted by several varieties of deer as you arrive.
After that, you're likely to spot bears, boars, bison, wolves and caribou, among the many animals that roam the large natural areas of the park. Don't miss the special viewing platform that provides an incredible glimpse into the fascinating lives of wolves in the wild.
If you want to stretch your legs, there are also hiking trails in the park, as well as demonstrations to learn about its conservation and rescue and release programs.
In the spring, drop by the sugar shack to see how maple syrup is made and taste a Canadian classic – maple taffy on snow. You're sure to return to Montreal with a camera card full of sweet wildlife photos from all of the regions of Canada.
---
Contributed by Cindy of Travel Bliss Now
Quebec City
Quebec City is one of the most charming cities in Canada and a great day trip from Montreal. Located about 2.5 hours from Montreal by car, it can be done as a day trip if you leave early in the morning.
Quebec City is worth visiting year-round but the city is especially beautiful during the holiday season when the Christmas decorations are in full swing, just see our full guide to the best things to do in Quebec City in winter and the holidays to see why!
Start your day by exploring the gates and the fortifications that are still surrounding the Old Town. Then, head to the base of the gorgeous Château Frontenac and take a stroll along the St Laurent River.
You can take the funicular down to the Quartier Petit Champlain or walk down a set of steep stairs. This pretty area is full of authentic French and Canadian restaurants, and adorable boutiques. It's the perfect spot to try some poutine with a hot chocolate or a cup of "vin chaud".
This area has some of the most Instagrammable spots in Quebec City so take your time exploring the tiny cobblestone streets and snap a few pretty shots!
If you have time on your way back to Montreal, stop by Montmorency Falls, another one of the best day trips from Montreal. One of the most beautiful natural wonders in Québec City, Montmorency Falls tower higher than Niagara Falls. A perfect way to end a day trip to Quebec City.
---
Contributed by Julie of Wandering Sunsets
Nordik Spa in Gatineau Park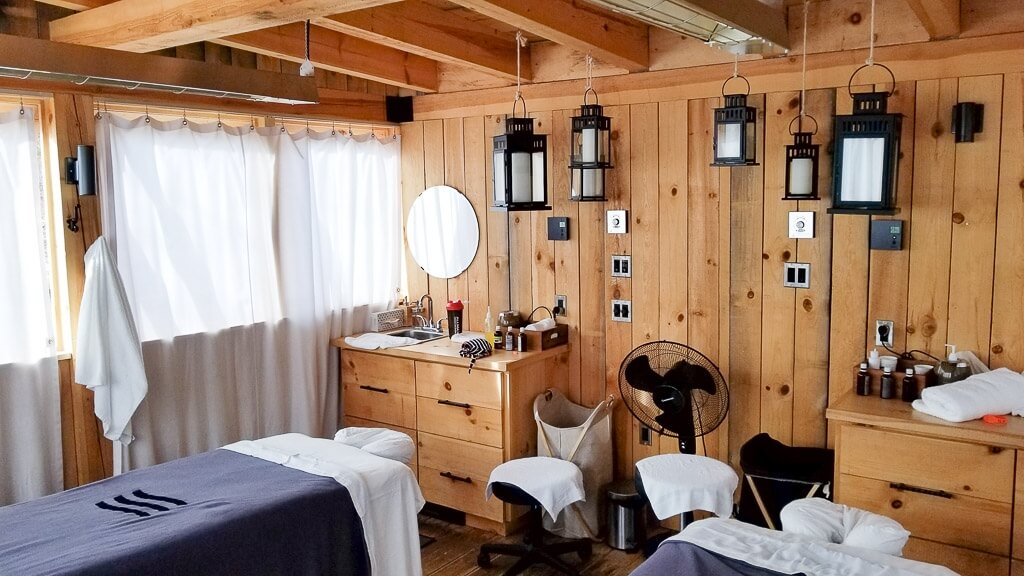 Located about 2 hours and 10 minutes is one of the most relaxing day trips from Montreal you'll find the stunning Gatineau Park. It's located about 15 minutes from downtown Ottawa as well but you wouldn't believe it because it's a stunning nature escape which you would think would be far removed from any city.
Gatineau Park is full of lakes, trails, waterfalls, abandoned ruins, viewpoints and so much more to explore and spending a few hours at the beginning of your day trip from Montreal hiking one of the trails or exploring one of the ruins is a great way to get some exercise and fresh air before you head on over to Nordik Spa.
Right at the entrance of Gatineau Park, you'll find the wonderfully relaxing Nordik Spa. It's a Scandinavian-style spa with multiple outdoor pools that range in water temperatures from cold to warm to hot to allow your body to get refreshed. There's also a number of saunas that you can spend some time enjoying. One of the highlights in the spa is the outdoor cabanas that you can get a massage in. It's an unreal experience and you definitely won't regret it.
You won't need to worry about food either because the facilities on-site include a restaurant that you can dine at in your robe!
Combining hiking Gatineau Park and relaxing at Nordik Spa is a great day trip from Montreal because you'll get a healthy dose of nature and fresh air with some relaxation – a nice break from the busy pace of exploring Montreal.
---
Contributed by Liliane of My Toronto My World
Baie Saint Paul
Located in the Charlevoix region, Baie Saint Paul is an amazing option for a day trip from Montreal, only a three-hour drive or even quicker by train.
This small quaint town of 5000 people has more than enough to keep you busy for a day or two.
Frankly, if you're a foodie then you can spend a day solely eating. The region is home to Quebec's best food producers and you can visit many of them for tastings of cheese, foie gras or charcuterie for a fraction of the price you'd pay in the city.
Do not miss Laiterie Charlevoix, a popular Quebec cheese producer that is committed to the environment, working with local farmers to provide its excess whey to feed pigs.
Down the road, you can visit an emu farm with a tasting room to try its products. And the region is famous for cider, Ciederie Pedneault has so many different styles of cider it will change how you feel about this drink.
And if you'd like to stay the night Le Germain Hotel Charlevoix is an incredible experience. It's located on farmland and keeps a modern but pastoral theme throughout its decor. It's also home to two upscale restaurants.
---
Contributed by Ayngelina of Bacon is Magic
---
If you're looking for more Quebec province travel check out our guide to the best things to do in Quebec City in winter (& the holiday season) and the gorgeous region of Saguenay-lac-Saint-Jean.
Found this guide to amazing day trips from Montreal helpful? Bookmark for later or share the love below on Pinterest!