Looking for the best things to do in Hamilton, Bermuda? We got you. Bermuda was one of our favorite destinations we vacationed to, this remote archipelago smack dab in the middle of the ocean is a dream holiday spot and one of the best places to visit in Bermuda is the capital city of Hamilton.
Hamilton is a great base for business travelers (bleisure travelers) and anyone who is looking to stay in a central location during your Bermuda trip as it's easy to get just about anywhere in this destination from Hamilton thanks to the bus and ferry services.
If it's your first trip, we recommend reading up on all the things to know before you visit Bermuda as there are a few essential tips that will ensure you have a great trip that you need to plan for.
We spent the first part of our trip in Hamilton and enjoyed our stay! Although, if you do base your entire vacation in Hamilton we highly encourage you to research how to get around Bermuda (don't worry that link leads you to our entire transportation guide and breakdown of public transportation, rentals, and everything you need to know) as there are no full on rental cars in Bermuda and if you're coming all the way here you won't want to miss checking out the best things to do in Bermuda from checking out the best beaches in Bermuda, including pink sand beaches, finding the hidden caves and grottos, to visiting the forts and all the other amazing places to visit like the Royal Naval Dockyard and St. George's Island to name a few!
Hamilton, Bermuda Highlights
1. Bermuda National Gallery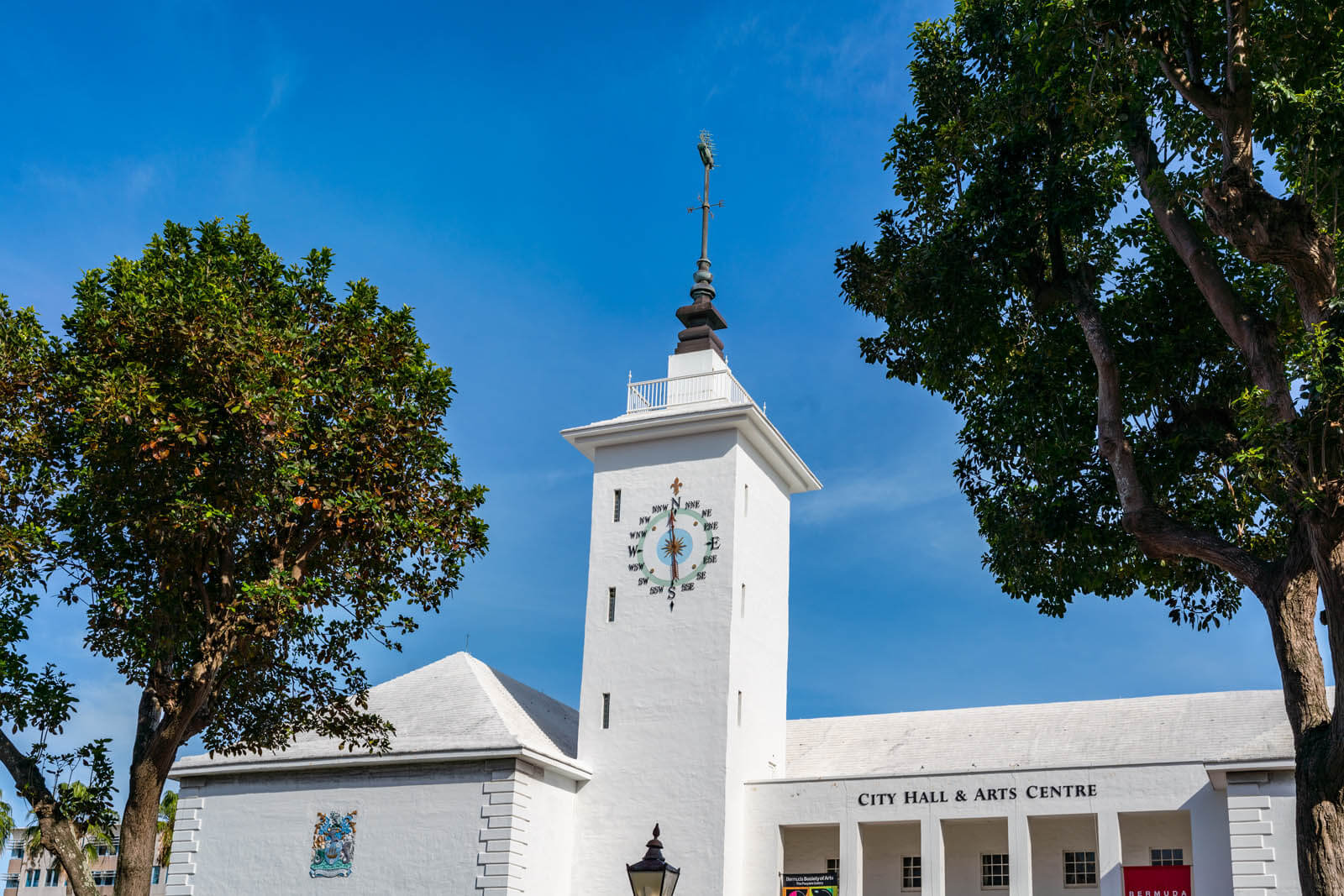 The Bermuda National Gallery is in the center of the city of Hamilton, Bermuda. When you walk up to the gallery, it's simply stunning with its tall, bleach-white columns and clock tower of City Hall.
Inside holds all kinds of cultural art by Bermudians, from the 1600s all the way to the current day. If you like modern art, you'll love this art center! There are other mediums represented, with sculptures, historical photographs, drawings, paintings, and more.
The gallery's located on the second floor of City Hall. There's a small admission fee, and it opens at 10 AM every day except Monday. And if you call ahead, you can book a personal tour.
2. Bermuda Botanical Gardens
A visit to the Bermuda Botanical Gardens is a popular thing to do in Hamilton, Bermuda for both locals and visitors. It's divided up into different sections with flower gardens, manicured walking paths, greenhouses, and more for you to explore.
There are picnic tables under shade trees where you can bring lunch and relax. Check out the Masterworks Art Museum or take a free tour of Camden House.
The Botanical Gardens are open every day and are free to visit. Also, if you come on Tuesday, Wednesday, and Friday mornings at 10:30 AM there's a free 90-minute tour you can attend!
3. Visit the Contemporary Art at Hamilton Princess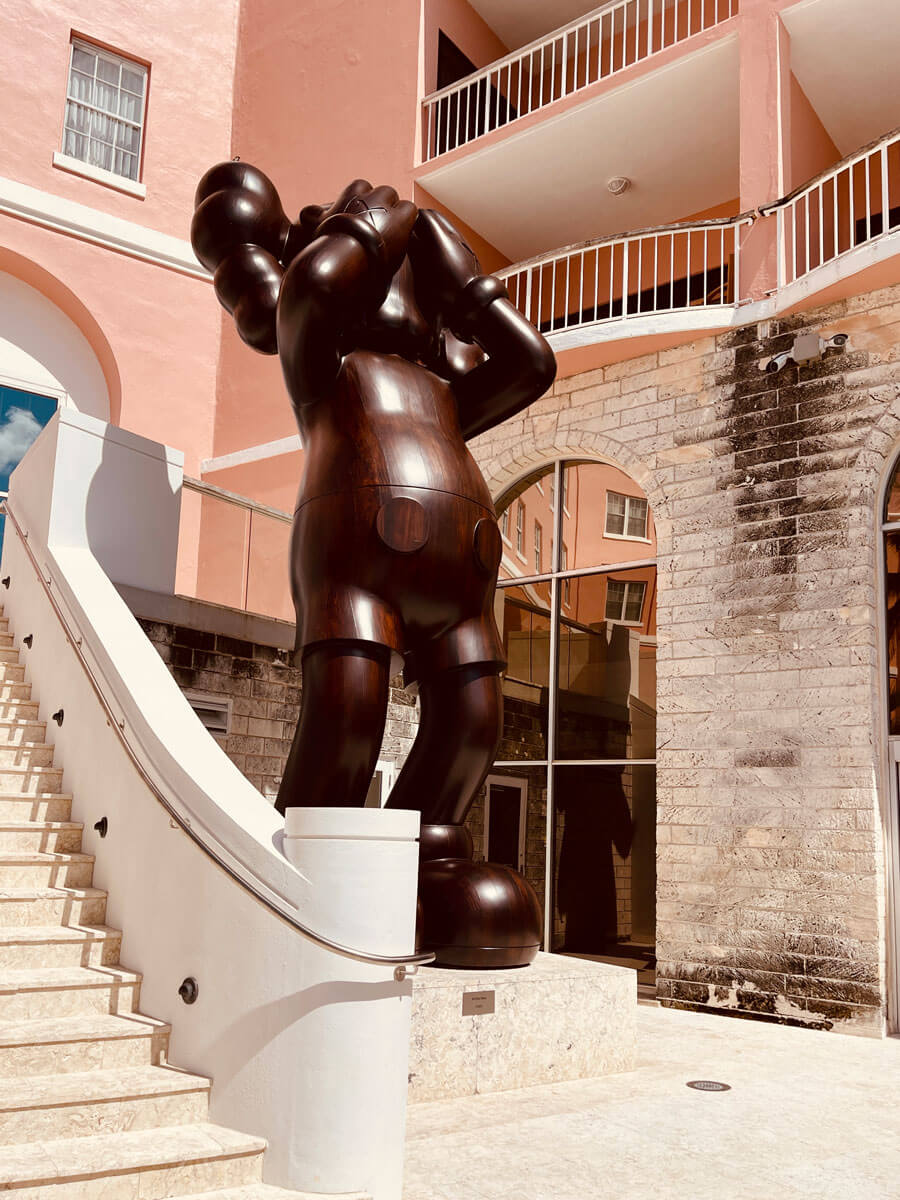 We had so much fun staying at the pink Hamilton Princess hotel on Hamilton Harbor! There's so much to see in the city, but the hotel is an experience alone because it's basically an art museum inside a hotel, even for non-guests.
All the public spaces in the hotel feature the biggest names in modern art, from Matisse and Andy Warhol to Keith Allen Haring and Banksy. You can find art pieces covering every passageway, lobby, and courtyard.
If you're looking for more artsy things to do in Hamilton, Bermuda, you're welcome to view the art around the hotel. Or if you're a guest, you have access to complimentary tours.
Not to mention this is one of the best places to stay in Bermuda if you want a 5-star stay in Hamilton that's easy to explore around with easy access to the ferry, buses, many taxis, and rentals!
4. Shop & Dine on Front Street
A visit to Hamilton, Bermuda isn't complete without a trip to Front Street! It's a great way to really get a feel for the city.
If you are a fan of the amazing Keith Allen Haring, we suggest starting at Point House in front of Point Pleasant Park. There you can see an original statue by him that was recently installed called Three Dancing Figures.
But that's just the beginning of what Front Street has to offer! There are quality boutiques and eateries all along the main road and upside streets. Below are just a few of our favorites!
Modblu
Head to Modblu for both timeless and trendy pieces for your wardrobe. They're a popular stop for their great prices and inclusive sizing! They also have great jewelry and a wide range of home and self-care products.
Meltdown Ice Cream
Meltdown Ice Cream is just one of a handful of stops along Old Cellar Lane, a tiny cobblestone lane tucked away inside 47 Front Street. Visit this woman-owned business and try unique ice cream flavors like Pink Vanilla or Dark n Stormy!
When looking for Old Cellar Lane, look for the orange metal gate that has a blue historic placard on it. You'd never guess that the orange building hid such a cool historical street! It used to be a stable for horses and carriages back in the day.
Coral Coast Clothing
If you're looking for men's clothing in the city of Hamilton, Bermuda, you need to check out Front Street's Coral Coast Clothing. They're a local brand that sells authentic Bermuda shorts, as well as dress and casual attire and accessories. You'll love the variety of prints and colors they offer!
Vineyard Vines Store
You can't miss Vineyard Vines on Front Street, because it's the perfect shade of pink! It's fitting for this coastal-style clothing store inspired by getaways to Martha's Vineyard. That was where the first store was opened over 20 years ago. Today you can find preppy clothing for the entire family in dozens of stores across the US, as well as in Bermuda.
Ruby Murry's
For more unique things to do in Hamilton, Bermuda, head down to Chancery Lane. Look for the elaborate cast-iron and gaslit streetlamps. The lamps make it especially pretty at dusk when they're lit!
Ruby Murry's is about halfway down the lane. They serve dinner every night except Sunday. You can also come for lunch on Mondays. They offer a great white linen experience with all the classic Indian dishes that everyone loves.
5. Enjoy the Foodie Scene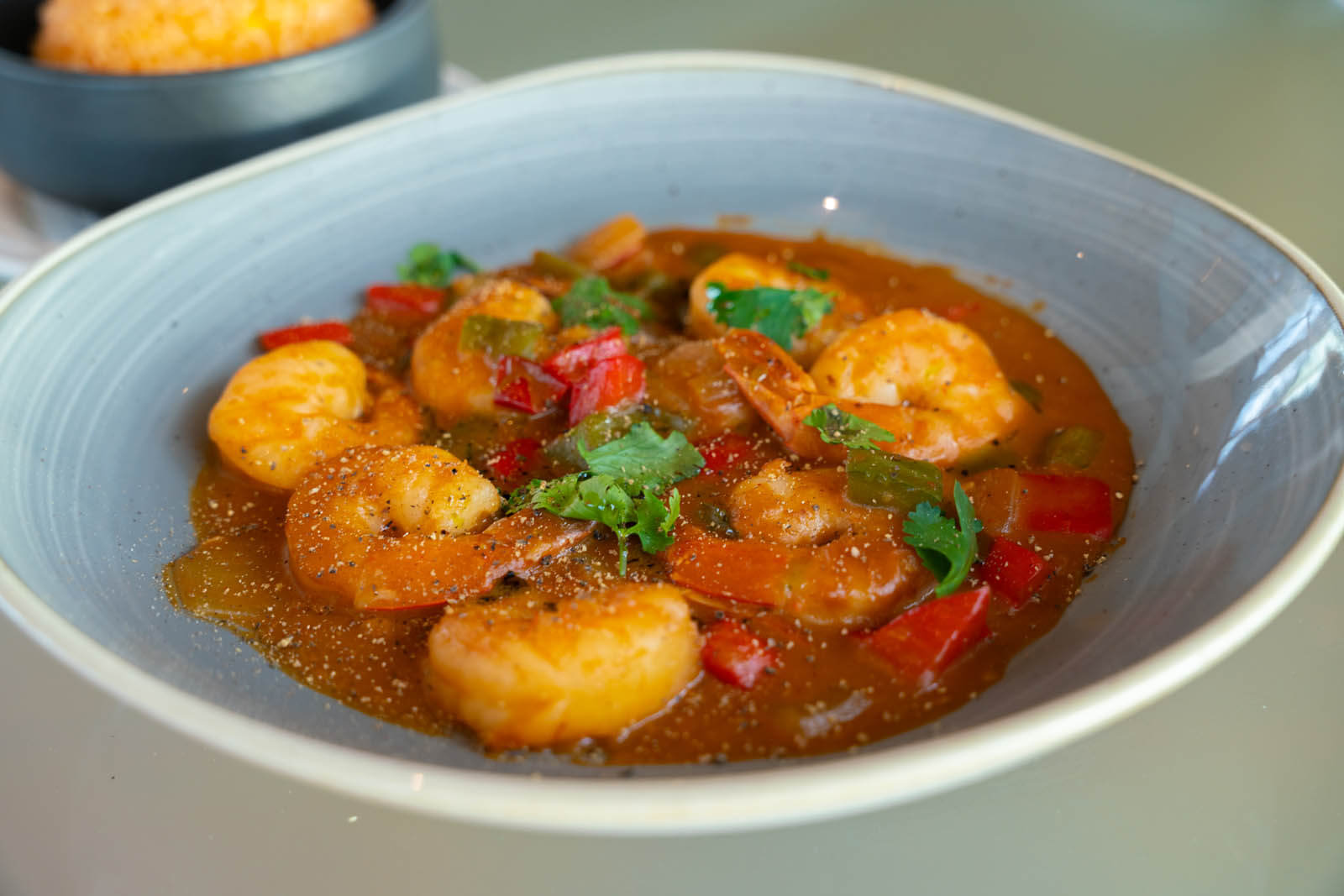 One of the best things to do in Hamilton, Bermuda is to check out all the culinary options. From casual cafes to high-end fine dining, you'll be satisfied with what you find here! While it was hard to pick, below are a few of the places we got to try and loved.
Devil's Isle
You'll love the cozy, casual vibe of this small cafe. Devil's Isle on Cedar Avenue has an extensive menu that covers breakfast, lunch, and dinner. They're committed to an eco-friendly, ethical business model and work with local farmers.
Pretty much all the condiments are made on the premises, and they roast their own coffee in-house! No matter what you're looking for you, you'll probably find it on their menu. From American classics to vegan, and gluten-free to game meats! And the presentation is gorgeous for a café. You can check them out 7 days a week.
Huckleberry
Located off Rosemont Avenue, Huckleberry is part of the Rosedon Hotel in Hamilton, Bermuda. Part of the island for over 100 years, the hotel buildings were once a private estate. Today, Huckleberry is inside the Main House of the hotel.
The restaurant is named as a tribute to Mark Twain, who often visited the island! The menu of this fine dining restaurant is inspired by both Bermuda and Mark Twain's southern background. Plus, all the food served is seasonal and organic, coming from the hotel's own gardens and beehives. They also offer an extensive consciously curated wine list.
1609 Restaurant
Head to the 1609 Restaurant for amazing views and fresh, local seafood. Part of the Hamilton Princess, the eatery is on the Hamilton Harbour with views from 3 sides of the water. Go for dinner if you can and watch the sunset over the harbor.
The open-air concept dining room has a great atmosphere with light interiors and a bar at the center of the square room. Try Latin-Island fusion seafood made with that day's catch. They also have a great drink menu and bespoke deserts.
Dangelini's Cafe & Bakery
Citizens of the city of Hamilton, Bermuda know how great this low-key, unassuming café is. Walk down from Front Street and it's next to the ferry terminal. Really, you can't miss Dangelini's Café & Bakery in their pretty blush pink building!
Inside, things are very simple, as are the sandwiches they offer! But the desserts are something else. Order a coffee or tea, which are excellent, but make sure to get dessert. They make flavorful cakes, cookies, scones, banana bread, and other baked goods.
6. Shop at Orange Bay Company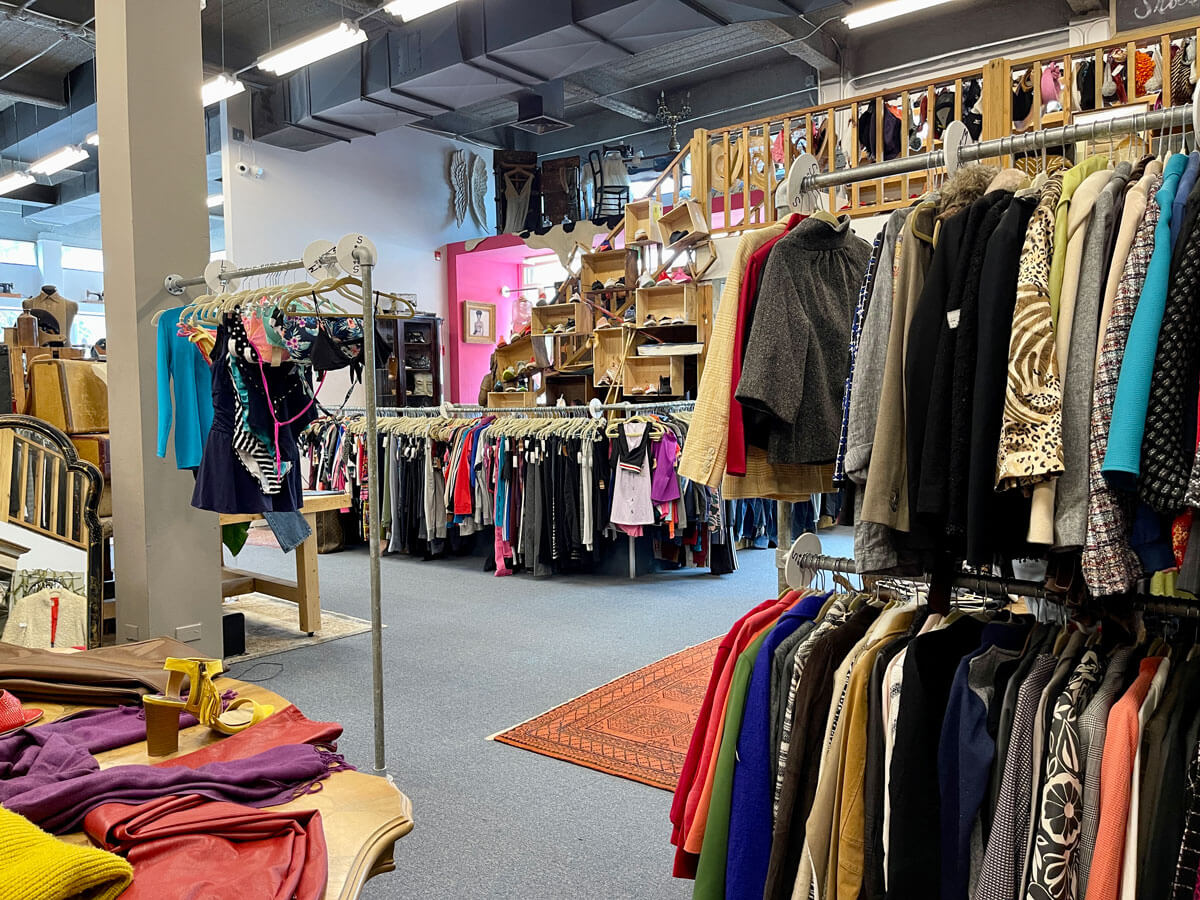 I think that the best antique and vintage shop in Bermuda is Orange Bay Company. You can find a little bit of everything here, and there's such a great vibe to the whole store. It's definitely more upscale and the staff is knowledgeable and professional.
Orange Bay Company isn't just about great clothes and shoes! You can find gently used designer collections, jewelry, artwork, furniture, and more. They're open every day but Sunday from 10 AM to 5 PM.
7. Rent a Boat
While you're on the island, take advantage of all the amazing opportunities to get on the water! One of the best things to do in Hamilton, Bermuda is to rent a boat from KS Watersports and explore the smaller islands and Hamilton Harbour.
KS Watersports is located at the Hamilton Princess and the Princess Marina. Besides all kinds of tours, including sunset tours, fishing charters, and snorkeling excursions, they also offer you a number of different water vehicles to rent.
In Bermuda, you simply need to be an adult with a driver's license to operate a pontoon boat or whaler boat! Take your crew out for a private swim on one of the sandbanks off the coast of Bermuda or explore the coastline. KS Watersports also rents 1- or 2-man kayaks or paddle boards.
8. Visit the Pink Church!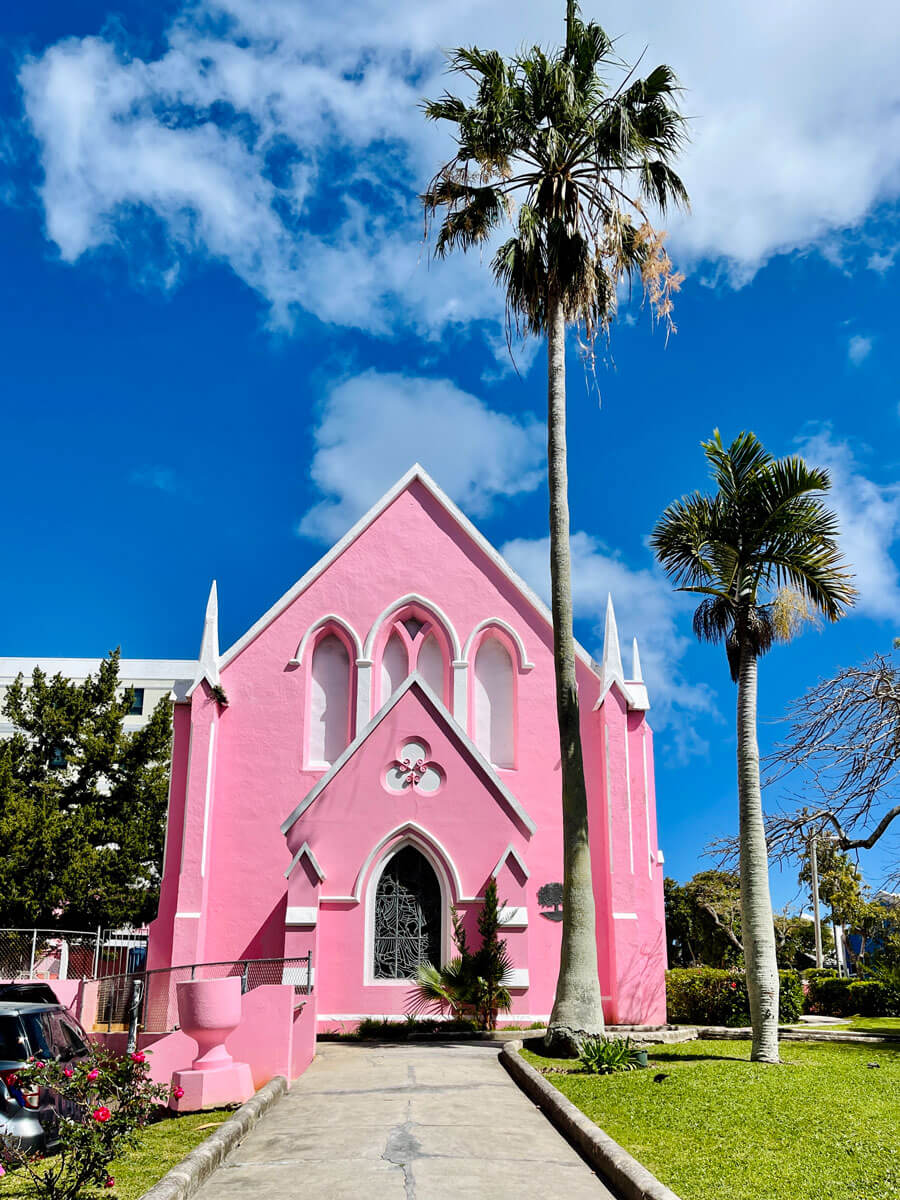 One of the coolest things about Bermuda are the distinct cultures and peoples that have influenced what the island is today. From Great Britain and Scotland to the US, the Caribbean, and African cultures, it all creates the flavor of Bermuda! That's also true with the colorful aesthetic of the island, but it goes further.
When settlers first came to the island in the 17th century, homes were plastered with white limestone. They then painted over the limestone with all kinds of cheery colors. Today, the tradition continues!
St. Andrews Presbyterian Church is no exception. It was established in 1843 and is a part of the Church of Scotland. Today St. Andrews features a bubble gum pink and white façade. You don't need to worry about going inside (though the choir is amazing!) but take a stroll on the grounds and take pictures of the gorgeous church buildings!
9. Ocean Discovery Centre
The Ocean Discovery Centre is at the eastern end of E Broadway in the city of Hamilton, Bermuda. It's a fun museum and science center geared towards families. It doesn't matter if you are a child or an adult, you'll find something at the Centre to fill an afternoon!
There are all kinds of creative, interactive exhibits for both adults and kids. Learn about ocean life, marine conservation around the island, and the local effects of global warming. Check out tons of cool shipwreck artifacts or take pictures with aliens at the exhibit on the history of the Bermuda triangle! You pay an admission fee to enter. Come by every day when they open at 10 AM.
10. Fort Hamilton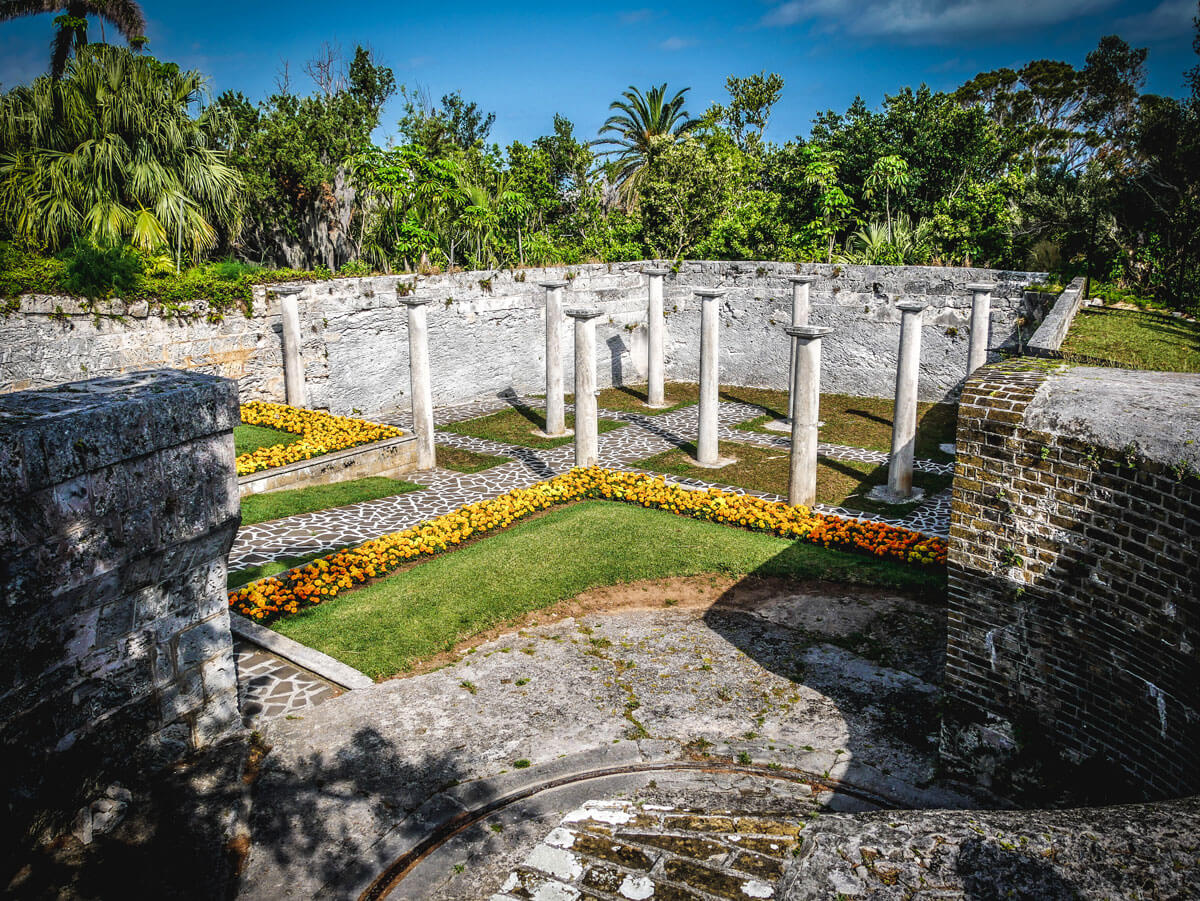 For historic things to do in Hamilton, Bermuda, visit Fort Hamilton. Built in the late 19th century, the fort never saw battle and eventually shut down. Today you can visit and explore!
It's been turned into a lush garden, and it's fascinating to see the stone structures and cannons among all the beautiful greenery! It's free to enter and walk around. There are all kinds of passageways and nooks to explore, and the views of Hamilton are excellent.
11. Bermuda Society of Arts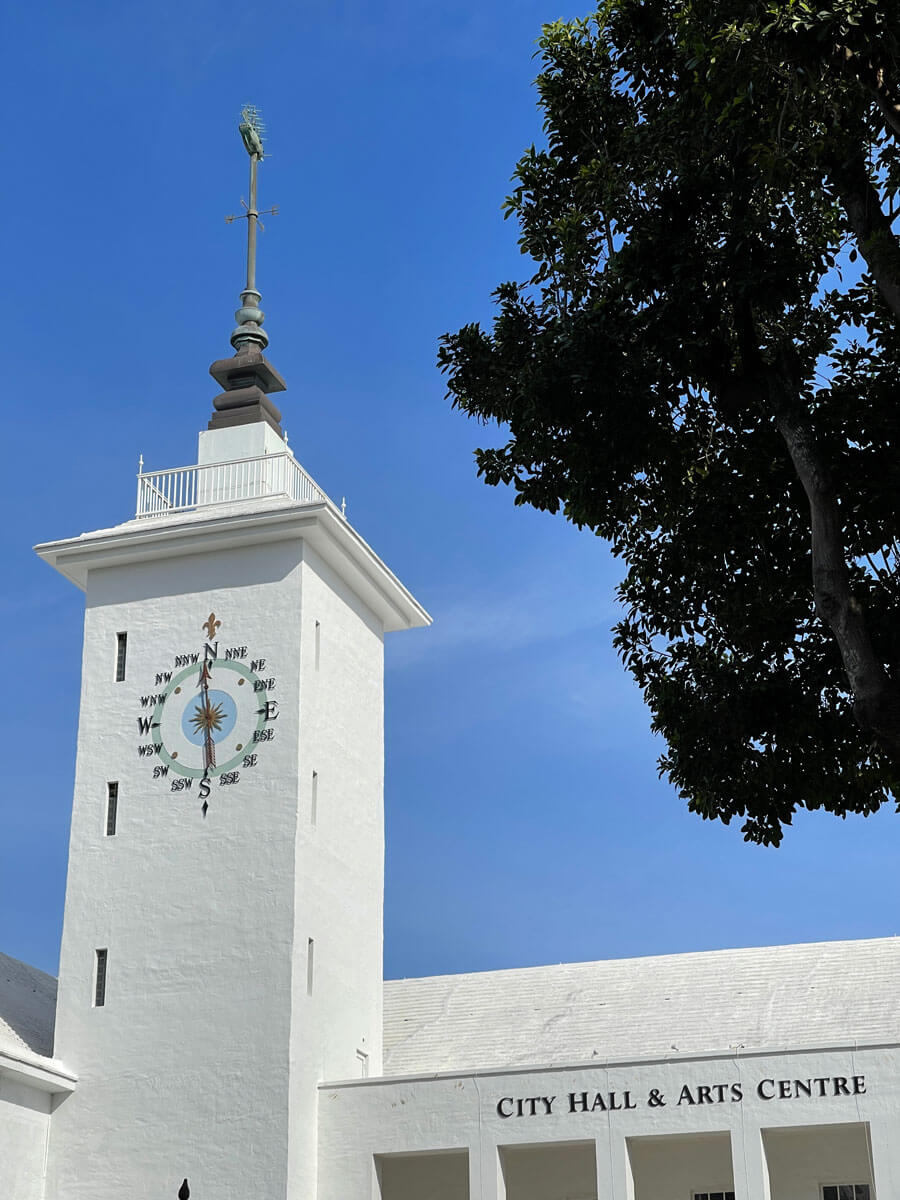 The Bermuda Society of Arts was originally an art enthusiast group in the 1950s until the Bermudian government formalized the organization! Since the beginning, it's been an important part of preserving Bermuda's cultural history as it is today.
Located inside City Hall, it's the largest event center and remains open with 3-week rotating collections. The society focuses on art by local creators, so a visit is a great way to really understand the heart of the people of Bermuda!
12. Greetings from Bermuda Mural!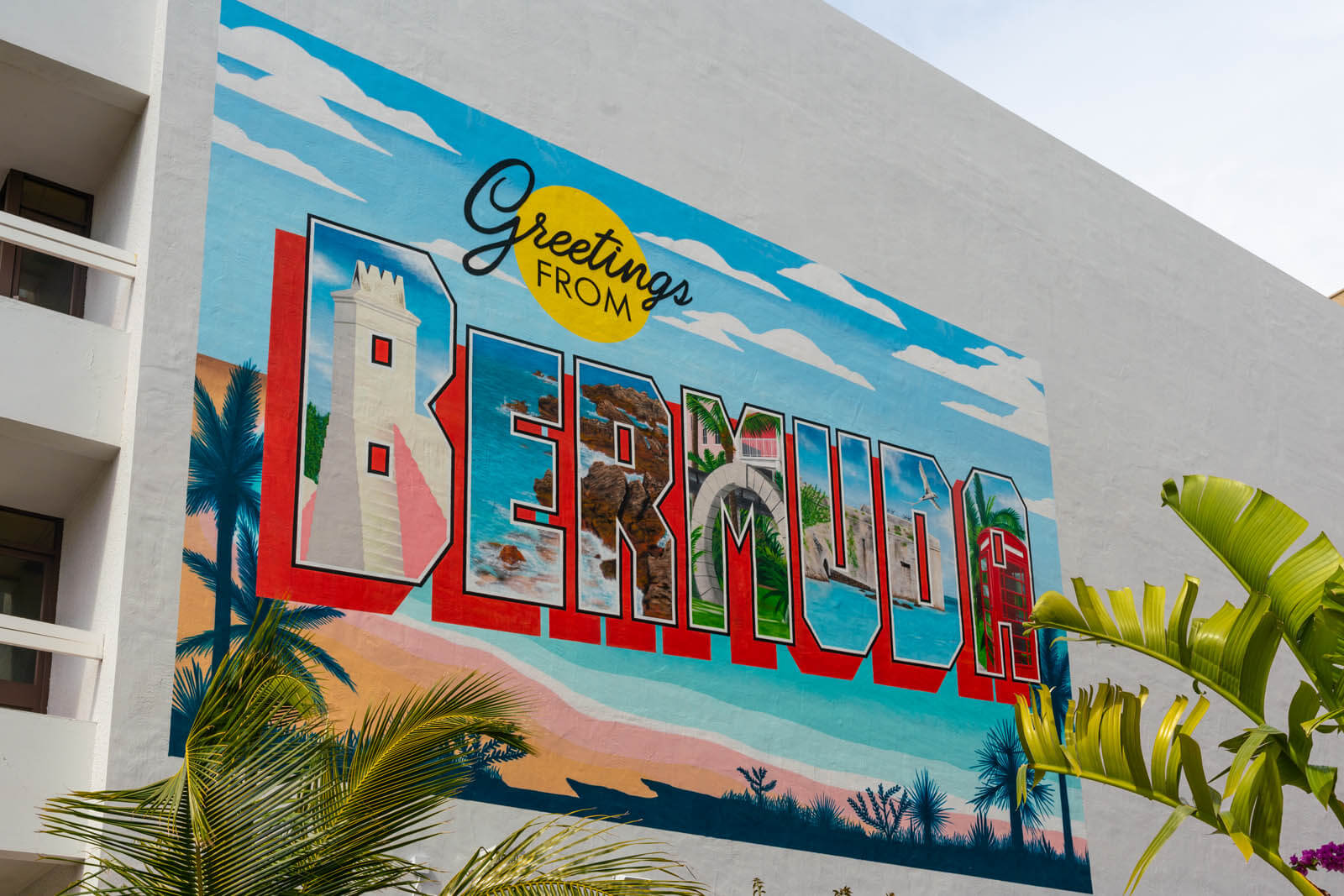 The Greetings Tour were excited when they were contacted to create a Greetings mural in Bermuda! It was their first chance to create a mural outside of the US, and their bright, colorful style was perfect for the island.
If you're looking for touristy things to do in Hamilton, Bermuda, this is a must! It's so cool to see the way Victor and Lisa have captured the heart of Bermuda in each picture. There's a cool story about a local suggesting that they include an image of a Bermuda Longtail.
You can read all about the Bermuda landmarks that were included in the beautiful mural. Or find the mural and take a picture with it! It's on the side of the Dorchester House on Church St. in downtown Hamilton.
13. Cathedral of the Most Holy Trinity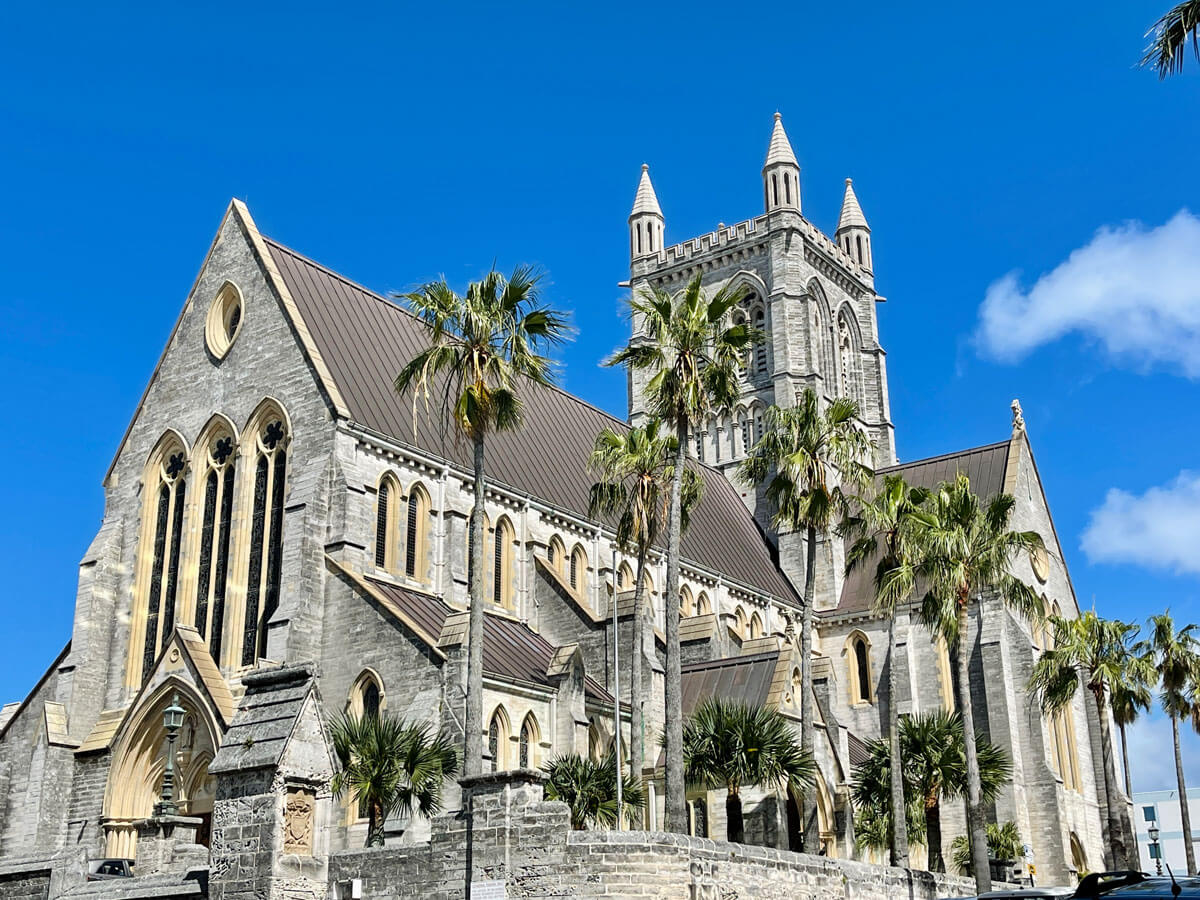 A little further down on Church Street is where you'll also find the Cathedral of the Most Holy Trinity. Part of the Anglican church, you can visit 7 days a week around daily services.
The building is in the Restoration Gothic style, and it's made of cool grey Bermuda limestone. The structure is breathtaking and intimidating next to the smaller pastel island buildings around it!
You can walk around outside, but feel free to check out the stained glass and elaborately carved stone inside. They even let you walk up into the tower if you want to brave a long spiral staircase! At the top, you can see from downtown Hamilton all the way past the Dockyards.
14. Chancery Lane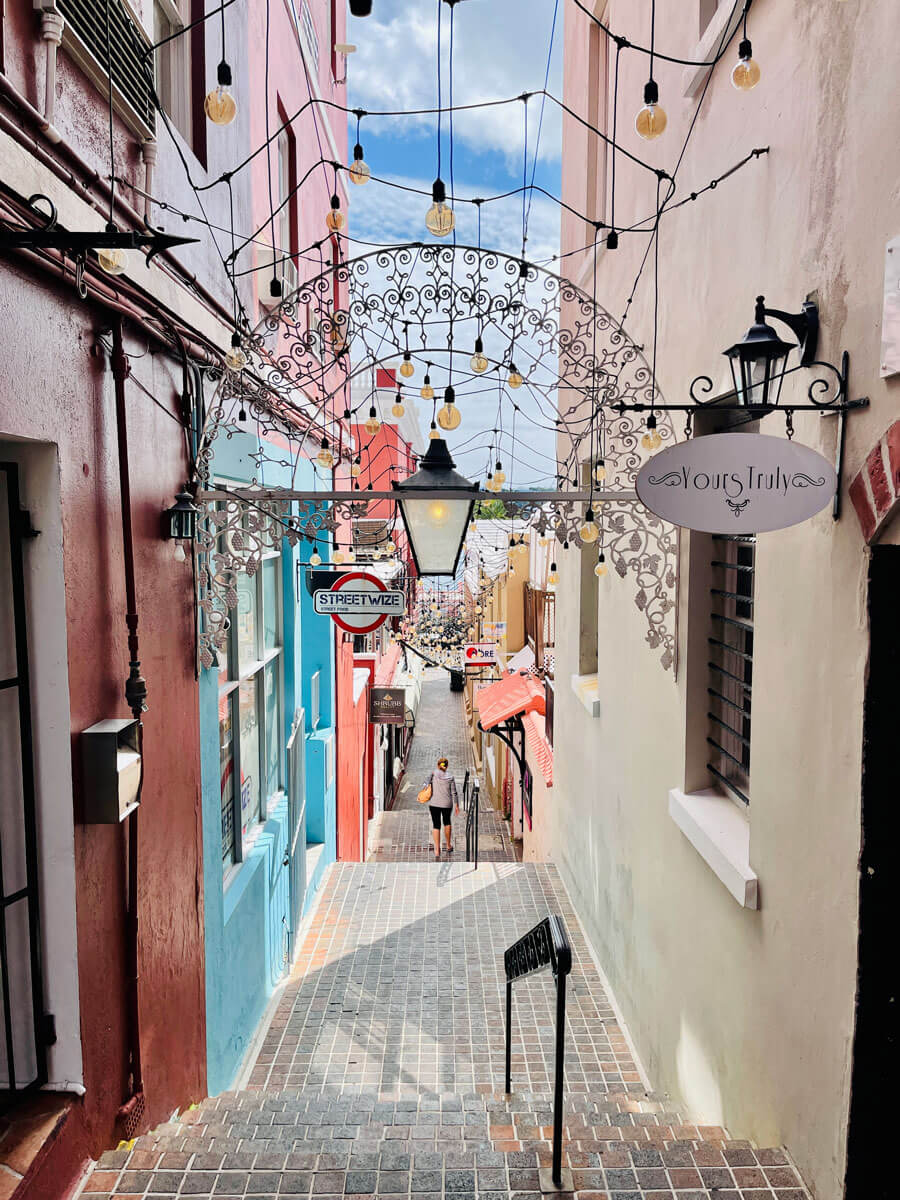 One of the most charming places to visit in Hamilton, Bermuda is this hidden cobbled lane off of Front Street. Chancery Lane is a cobbled pedestrian stairway and lane connecting Reid Street to Front Street. This spot is especially whimsical at dusk when the lights overheard are lit up.
You can find restaurants tucked away in here as well including the Indian restaurant, Ruby Murry's. There isn't much to do here, just take in the walk and take advantage of this picture-perfect spot in Hamilton, Bermuda.
Where to Stay in Hamilton, Bermuda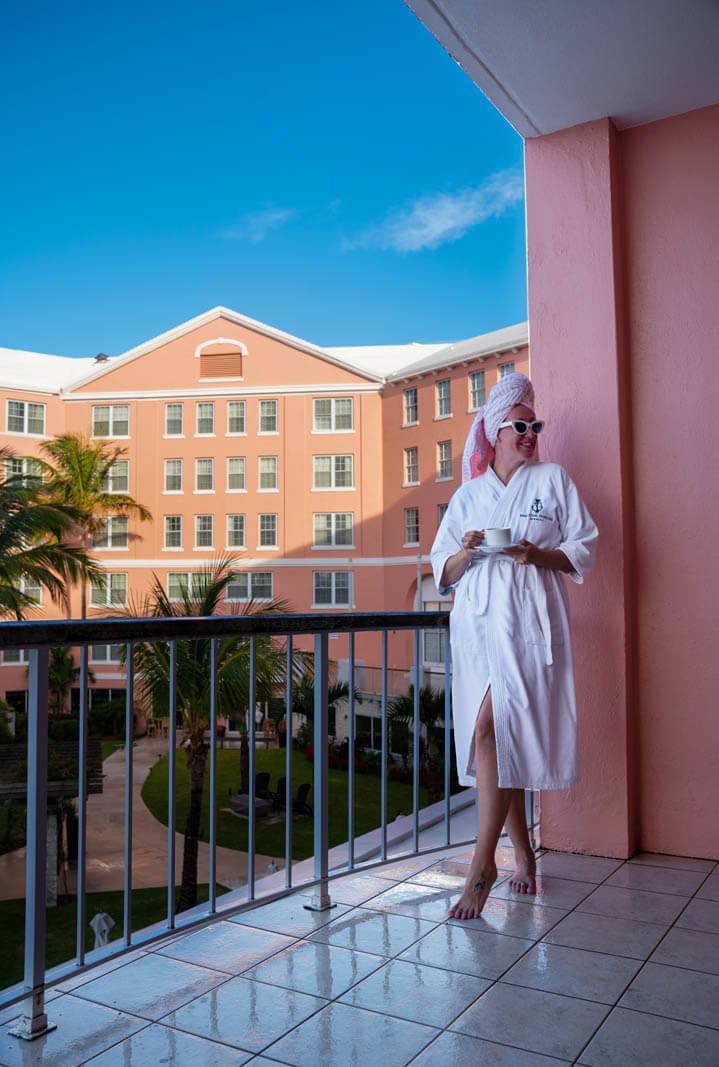 Located in the heart of Hamilton, the Hamilton Princess is a stunning 5-star resort managed by Fairmont, which if you're familiar is a very reputable brand for its luxury properties in some of the most beautiful destinations in the world.
This gorgeous pink hotel not only is a great base for checking out all the amazing things to do in Hamilton, but also a great spot if you want to stay centrally located as you're just steps away from the ferry terminal, bus terminal, and rental options.
This resort, as mentioned before, has a stunning collection of contemporary and modern art. Amenities include two fantastic pools overlooking the Hamilton Harbour, dining options (the Duchess Cafe is great for breakfast and 1609 Restaurant is great for dinner as mentioned earlier on this guide – skip the main restaurant the food wasn't great and overpriced), and you can actually get your rentals on site here whether you're looking for boats or electric cars.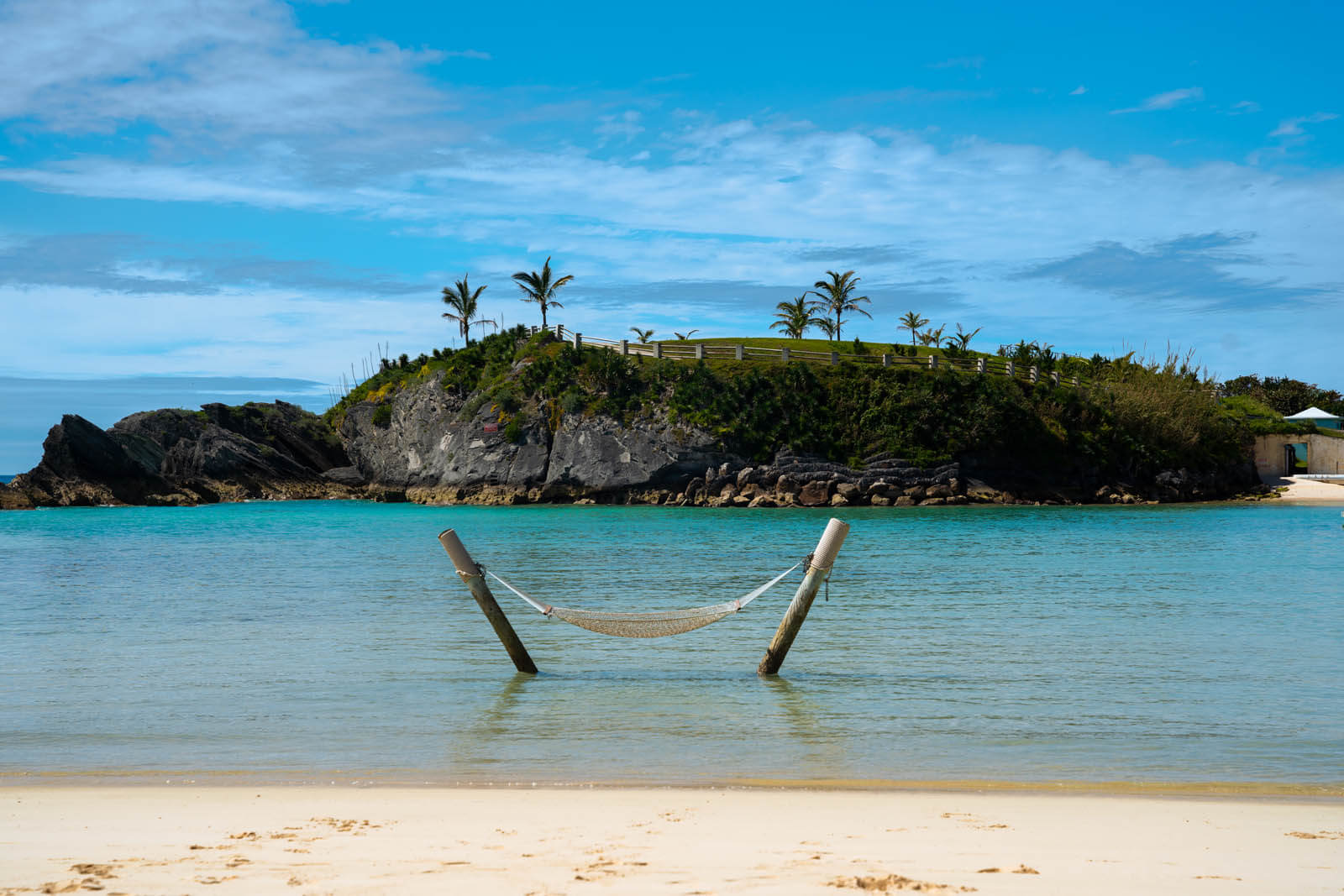 The best part has to be the private beach club only for Fairmont hotel guests over on the South Shore. They provide a shuttle directly from the hotel to the Princess Beach Club at Sinky Bay Beach multiple times a day in both directions. At Princess Beach Club you'll find two secluded beaches to enjoy and cliffside trails overlooking the ocean.
Sinky Bay Beach is the main beach here and there are bathrooms and a beach attendant onsite along with beach chairs, umbrellas, cabanas, towels, complimentary beach toys like kayaks and stand-up paddle boards, cold drinking water, changing rooms, lockers, a gorgeous tennis court, and even overwater hammocks. This beach also is in a quiet bay so it's a great beach for young kids or timid swimmer as there are no waves.
You can also go to Cross Bay Beach which is just steps away where you're more exposed to the ocean and there are waves.
The Princess Beach Club honestly made staying at the Hamilton Princess worth it to us, enjoying the private beach was awesome and we went a few days in a row. Book Hamilton Princess here.
---
What is Hamilton Bermuda known for?
Hamilton, Bermuda is known for being the capital of Bermuda since 1815. This small, colorful city is known for being the commercial hub of Bermuda with lots of shopping and dining options as well as being an international hub for global companies.
Can you walk around Hamilton Bermuda?
Hamilton, Bermuda is very walkable as it's only .28 square miles.
Is Hamilton a good place to stay in Bermuda?
Hamilton is a great place to stay in Bermuda if you're here for business or on a short trip. Hamilton Princess, a 5-star Fairmont property, is located here on the Hamilton Harbor and has its own private beach with transportation for guests, which is also great for those coming to Bermuda on a short-term trip. Hamilton also has great public transportation including the bus and ferry system to get around or you can rent your own car or motorized scooter to get around Bermuda on your own.
---
Best Things to do in Hamilton (Post Summary)
Bermuda National Gallery
Bermuda Botanical Gardens
Visit the Contemporary Art at Hamilton Princess
Shop & Dine on Front Street
Enjoy the Foodie Scene
Shop at Orange Bay Company
Rent a Boat
Visit the Pink Church
Ocean Discovery Centre
Fort Hamilton
Bermuda Society of Arts
Greetings from Bermuda Mural
Cathedral of the Most Holy Trinity
Chancery Lane
---
Enjoyed this guide to the best things to do in Hamilton, Bermuda? Bookmark for later or share the love below on Pinterest.