Looking to visit Sleepy Hollow at Halloween time? From September through the end of October, Sleepy Hollow and the villages that surround it in the Hudson Valley in Westchester County, New York attract Halloween and spooky season lovers (like us) to enjoy all the legendary spooky folklore and sites in the area, making this area one of the best places to celebrate fall and Halloween in the world!
Located just 30 minutes north of New York City, we are going to cover how to spend a spooktacular weekend in Sleepy Hollow, New York at Halloween time! Plus, we will include a few other incredible local gems around the Westchester County area on your exciting weekend getaway.
For this weekend getaway, we recommend having a car to explore the area as there are some really cool towns in the Hudson Valley to check out, so you'll have more flexibility in visiting Sleepy Hollow and attractions in the nearby villages of Tarrytown, Croton-on-Hudson, Dobbs Ferry, Irvington, and Yonkers mentioned in this guide. Plus, the fall foliage this time of year is stunning and taking a scenic drive is a part of the magic this time of year here.
Be sure to see our full guide to all the best things to do in Sleepy Hollow & Tarrytown too!
But, wait! There are so many cool things to do in the Hudson Valley you can read about to also add on to your trip or weekend getaway too!
Disclaimer: This trip was in collaboration with Visit Westchester County, as always all opinions and experiences are our own!
A Brief Background of Sleepy Hollow & Nearby Villages of Westchester County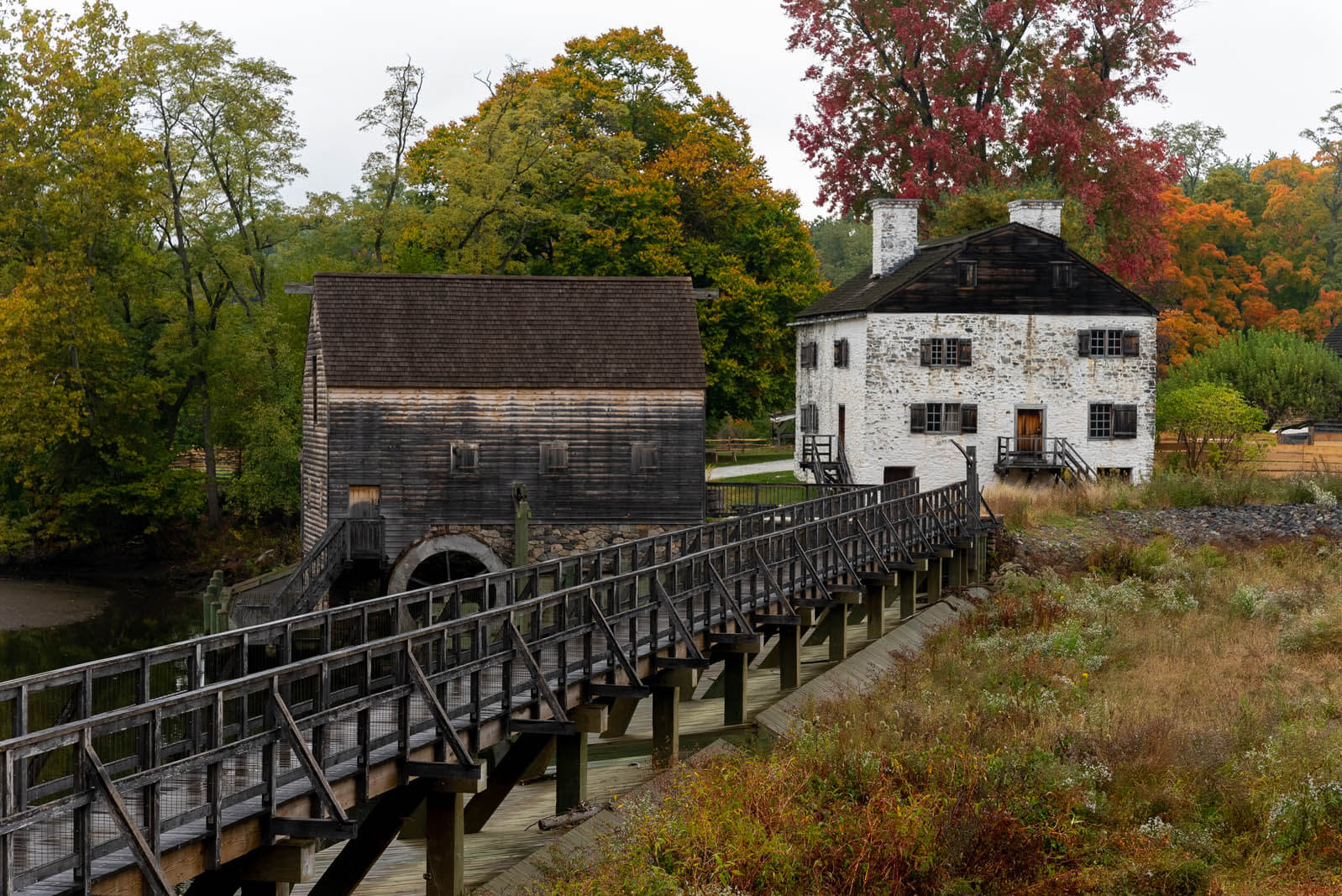 Before we dive into how to spend a fun and spooky time during Halloween in Sleepy Hollow, we want to give a brief background and highlights of the area.
Located along the Hudson River north of New York City and Manhattan, for centuries, this area has attracted the wealthiest entrepreneurs from the city offering a countryside escape from the chaos of everyday life in New York City. You'll find several historic estates and manors in the area with sweeping views of the Hudson River and Palisades including the estates of famed author Washington Irving, whose creative life work has made this a Halloween destination to this day as well as the estate to the Standard Oil tycoon, John D. Rockefeller.
In addition to the historic estates and luxurious mansions, Westchester is also known for its charming Hudson River villages, beautiful scenery, and historic sites.
Because we are focusing on the fall and Halloween season festivities, the focal point of this guide will be Sleepy Hollow because it's the most well-known and famous village in the area, although we will be showcasing nearby sites as well as everything is pretty close to one another and with a car, you won't be driving more than 20 minutes in between sites at the most.
Sleepy Hollow is famous for its haunting atmosphere, largely thanks to the imagination of Washington Irving, often referred to as the 'father of American Literature' who published a series of short stories including, The Legend of Sleepy Hollow and Rip Van Winkle, two of the most well-known short stories and his work would go on to inspire other famed authors like Nathaniel Hawthorne, Herman Melville, and Edgar Allan Poe to name a few.
Irving grew up in Manhattan but built his countryside estate here in Tarrytown, featured later on in this guide, and is buried in the Sleepy Hollow Cemetery where the legendary tale of Ichabod Crane and the Headless Horseman took place, what's considered the first ghost story in American literature.
The area and its locals embrace the spooky folklore and legacy here and go above and beyond for the Halloween season! From Halloween decor, haunted sites, a chance to walk through thousands of blazing pumpkins, ghost stories, and more – Sleepy Hollow and Tarrytown have maintained their legendary status around this time of year being truly one of the best places to celebrate Halloween in the world!
So without further ado, here are some of the incredible activities to fill your Halloween in Sleepy Hollow weekend getaway! Be sure to see our guide to the best things to do in Sleepy Hollow and Tarrytown for more ideas of things to include on your trip.
Weekend in Sleepy Hollow at Halloween (& Nearby Villages)
Visit Sleepy Hollow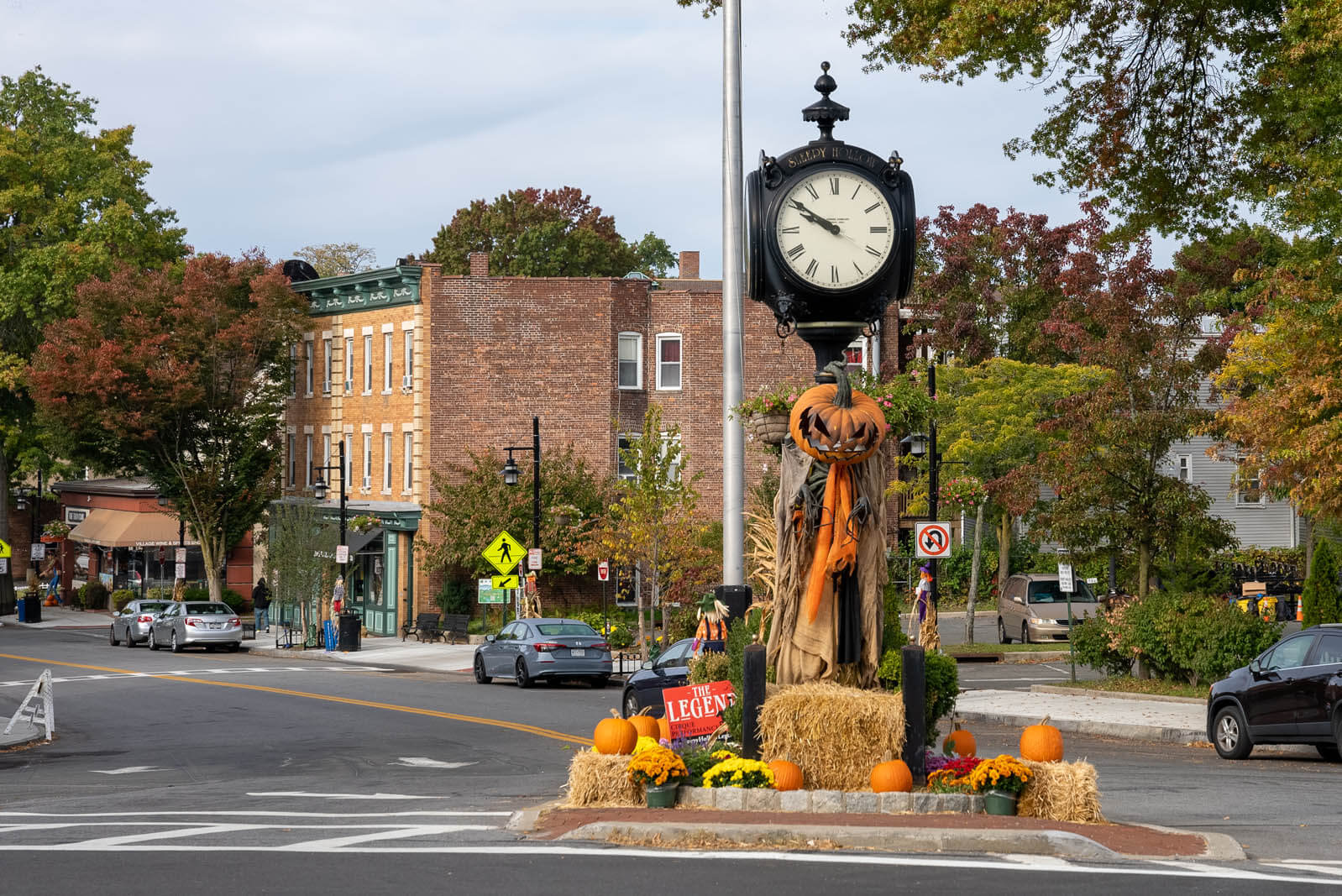 If you're visiting Sleepy Hollow at Halloween, you need to take a stroll downtown, a few of the things mentioned in this weekend guide to the area include a few landmarks in Sleepy Hollow as well. We suggest starting at Beekman Avenue by Broadway where you can enter the 'downtown area' of Sleepy Hollow. During Halloween time you'll spot spooky decor at the Sleepy Hollow clock.
Take a stroll down Beekman to browse the stores, shops, restaurants, and spooky decor downtown! If you're visiting in the morning, we had a great bagel at Headless Bagel (next to Carvel) or if you're visiting around lunch/dinner pay a visit to Beekman Ale House for a meal and drink, which was also decorated with spooky decor.
From here, you can walk to historic and popular sites like Sleepy Hollow Cemetery and Phillipsburg Manor as well in under 5 minutes.
You can walk down to the waterfront and enjoy the trail and views along the Hudson River as well as visit the Sleepy Hollow Lighthouse.
Sleepy Hollow Cemetery & Old Dutch Reformed Church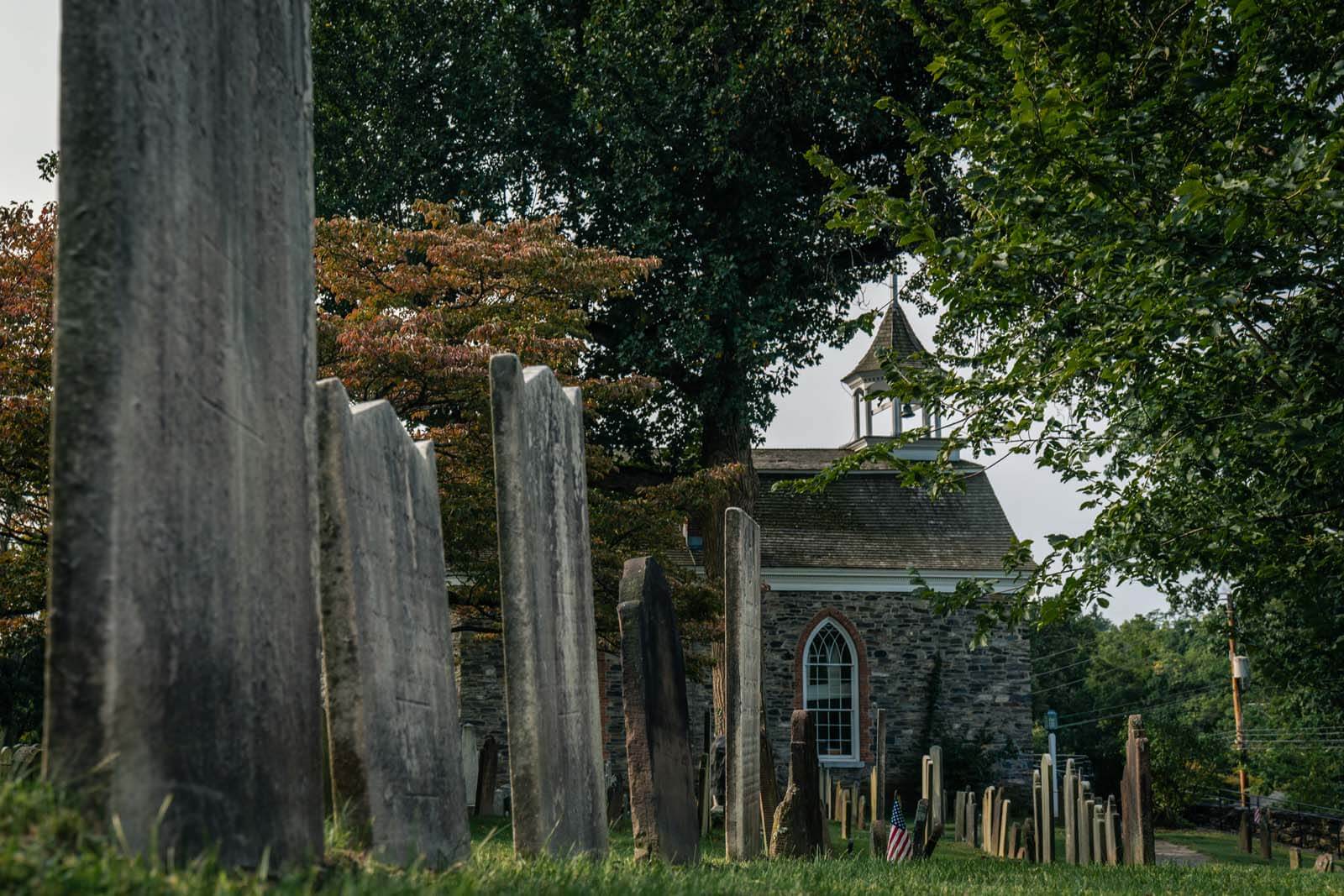 Address: 540 N Broadway, Sleepy Hollow
An iconic place to visit in Sleepy Hollow at Halloween is the Sleepy Hollow Cemetery and Old Dutch Reformed Church, which plays a pivotal role in the setting of Washington Irving's, The Legend of Sleepy Hollow.
While the Old Dutch Reformed Church has its own burying ground in the churchyard and the Sleepy Hollow Cemetery are technically two different sites, they are easy to combine together as you can easily access one from the other.
The Old Dutch Reformed Church, also known as The Old Dutch Chruch of Sleepy Hollow, is a 17th-century stone church and was in Irving's 1820 legendary tale which is also one of the oldest buildings in the state! Irving used the cemetery not only as the location where the Headless Horseman would start his nightly ride in his short story, but he also used the names from some of the gravesites here for his characters including Brom Bones and Katrina Van Tassel, whose gravestones you can visit.
After visiting the old churchyard, you can visit the gravesite of Washington Irving, which is technically a part of the Sleepy Hollow Cemetery. There are signs that will lead you to his family plot and gravesite which is helpful and makes it easy to find.
Other notable figures buried in Sleepy Hollow Cemetery include figures throughout American history like William Rockefeller, Andrew Carnegie, and Walter Chrysler to name a few. The cemetery itself is pretty large, so after visiting the sites around the Old Dutch Reformed Church, if your car is nearby you can explore the rest by driving through the cemetery (unless you're up for a walk).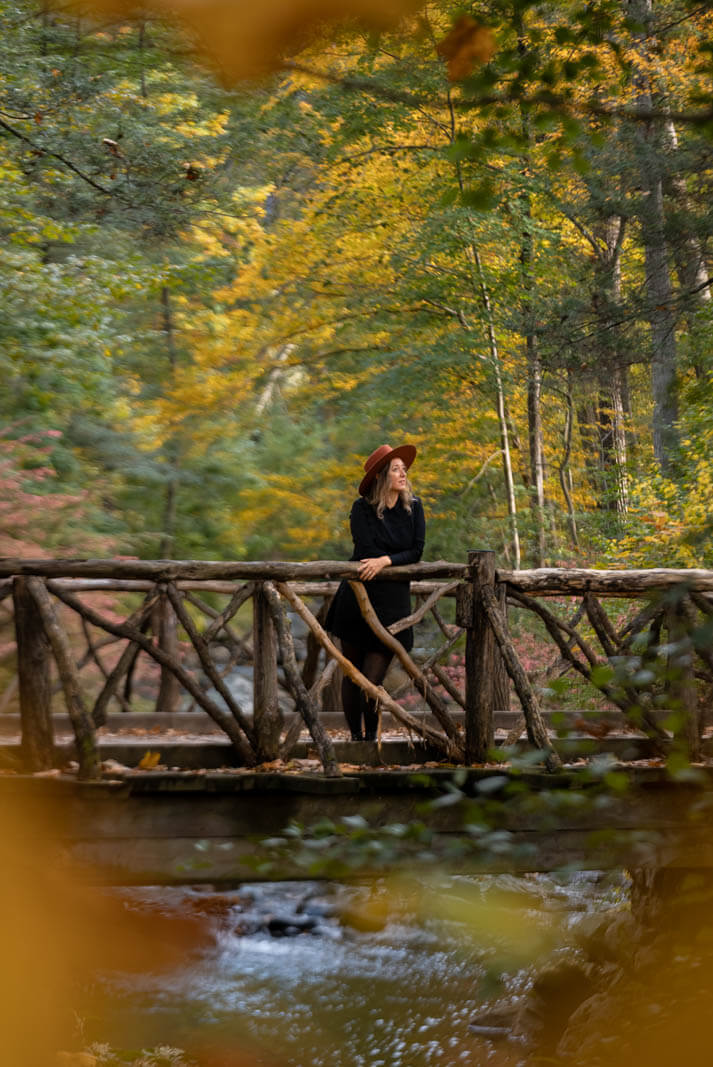 Be sure to check out the beautiful wooden bridges over the Pocantico River, which resemble what perhaps Irving imagined being the bridge in his short story, as the actual site of the Headless Horseman Bridge (marked with a sign) on Broadway is a more modern bridge that can handle automobile traffic and not reflective of what perhaps the area looked like when Iriving was inspired by in the 1800s.
The graveyard is open to the public from 8:00 AM to 4:30 PM so be sure to plan your visit around these hours.
Explore Tarrytown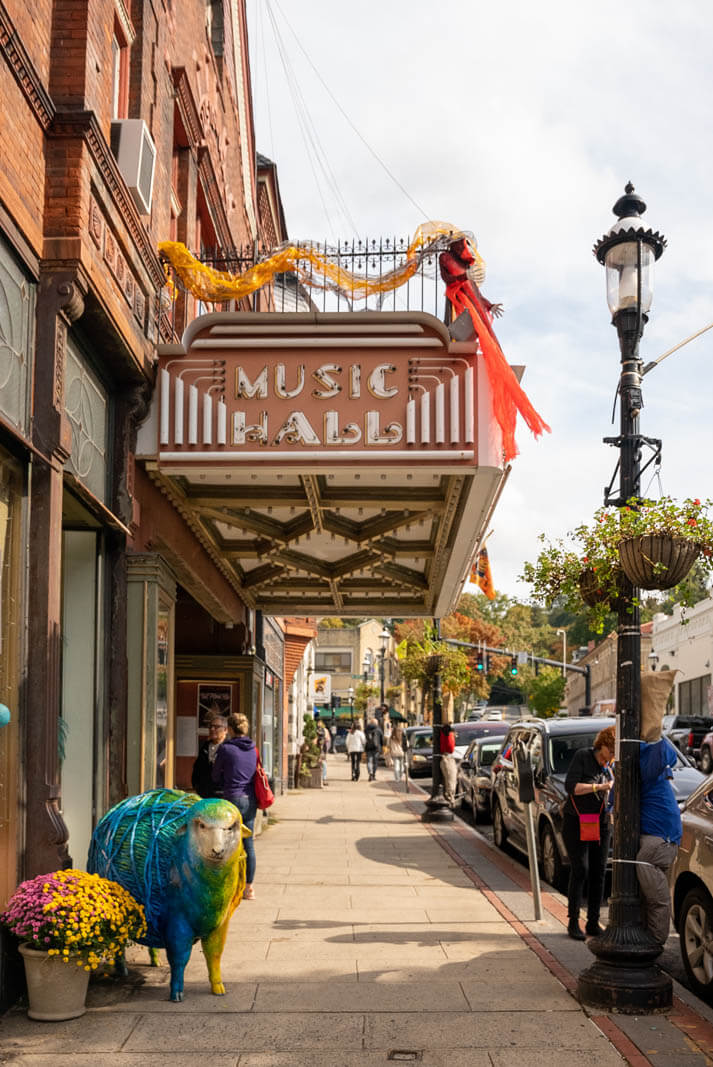 Neighboring Sleepy Hollow is Tarrytown, which are less than a mile a part from one another. The Village of Tarrytown is charming and much like Sleepy Hollow at Halloween, the area has all kinds of spooky decor and you'll spot several nods to the Headless Horseman and Irving's characters from his classic tale.
Be sure to take a lap down Main Street (off of Broadway) where you can find plenty of opportunities to shop and dine along with catch a show at Tarrytown Music Hall, a historic theater dating back to 1885. They offer shows, ghost tours of the Music Hall with a 'master storyteller' and all sorts of programming from plays, performances, and showings of classic films like Rocky Horror Picture Show.
Don't miss out on some of the cool shops here either like The Swan's House on Broadway featuring unique home goods combining a curated collection of vintage items and artisan pieces. Speaking of vintage goods, there is also a consignment store and antique store on Main Street worth taking a lap in as well.
If you want to enjoy a walk, make your way down to the Hudson Riverfront and enjoy the views at Pierson Park located right next to the Tarrytown train station.
The Great Jack O'Lantern Blaze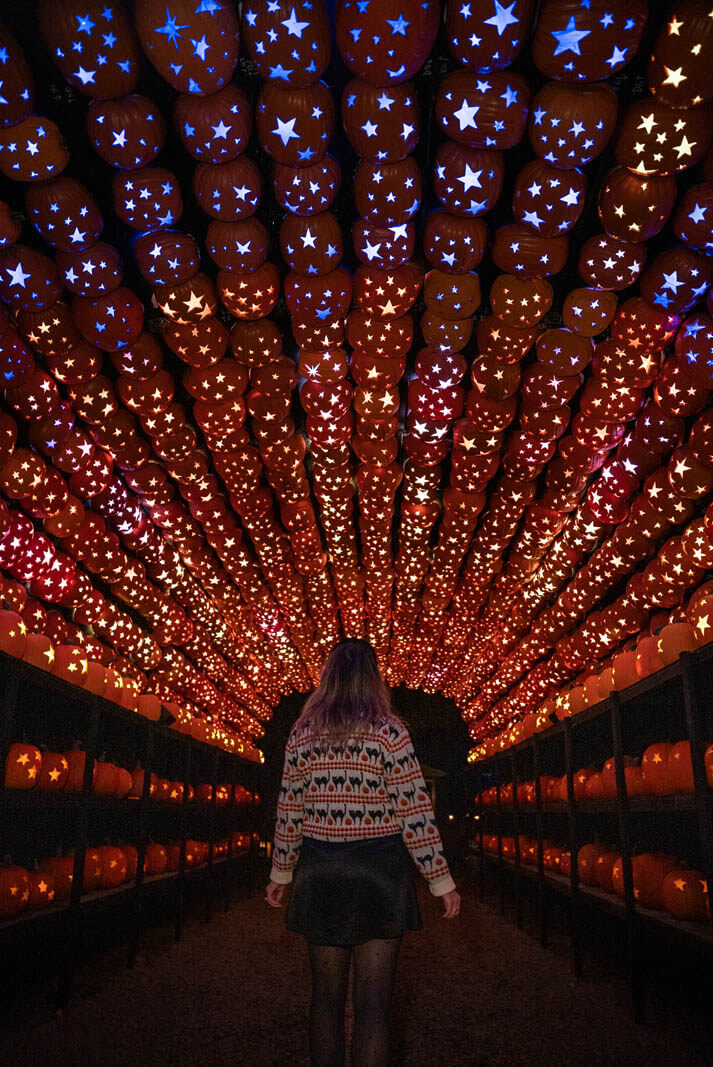 Address: 525 S Riverside Ave, Croton-On-Hudson
Halloween in Sleepy Hollow is famous, but in recent years The Great Jack O'Lantern Blaze event has become just as famous as the locations directly tied to the Legend of Sleepy Hollow in Irving's story. Located at the Van Cortlandt Manor in Croton-On-Hudson, around a 20-minute drive north up the Hudson Valley from Sleepy Hollow is a truly remarkable and unique experience (welcoming of all ages) that you won't want to miss during the Halloween season!
Blaze, as locals call it, is an immersive walk through over 7,000 hand-carved, illuminated jack o'lanterns! There are several different displays and art installations all made with these blazing pumpkins including a jack o'lantern constellation tunnel, the Headless Horseman and Ichabod, NYC landmarks recreated as pumpkins like the Statue of Liberty, and more all on the grounds of a historic 18th-century manor (that's also decked out in Halloween decorations with a light show synched to music).
This event is so popular they now have a location in Long Island too. The season to get tickets starts typically in mid-September and ends in November. You'll need to reserve your tickets in advance, this is a hot item so you won't want to miss out either, we advise booking your tickets as soon as you know the dates of your trip because they do sell out.
Visit Washington Irving's Sunnyside Estate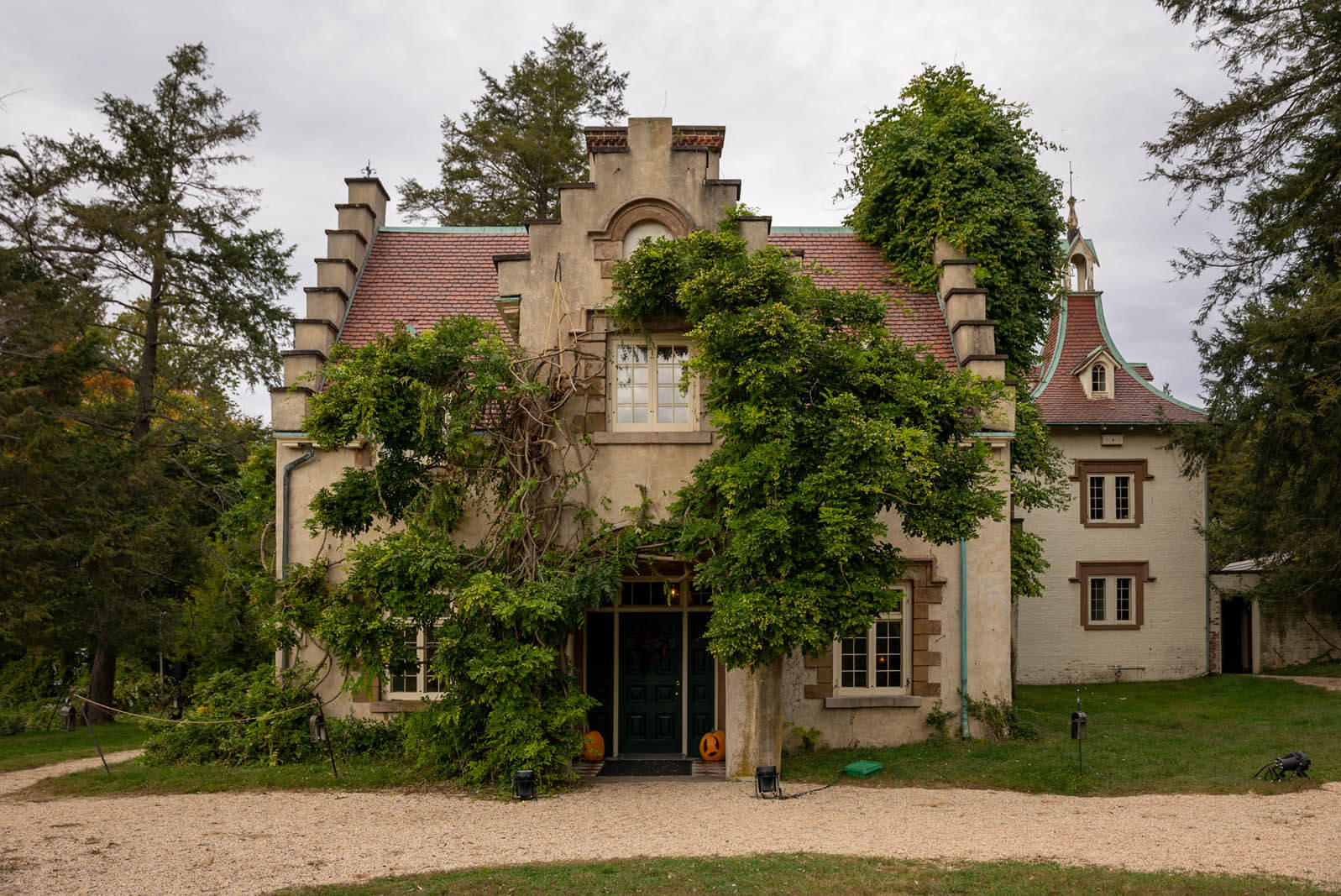 Address: 3 W Sunnyside Ln, Irvington
Located in Irvington, New York (around a 10-minute drive from Sleepy Hollow) is the home of the legend himself, Washington Irving. His estate, known as Sunnyside, was where he built his countryside home near where he spent his childhood escaping the Yellow Fever Outbreak in New York City. His youthful years in the area would go on to inspire the setting in his short story, The Legend of Sleepy Hollow which he wrote while in England.
When Iriving returned stateside after becoming the first internationally celebrated American author, he built his dream countryside home here right along the Hudson River where visitors can see the creeping wisteria vines on the house that Irving planted himself over 200 years ago and retrace the footsteps of the father of American Literature.
During the months of September through November, visitors are able to tour the 'Home of the Legend' including the grounds surrounding his home and a tour inside the rooms on the first floor of his home. On the weekends during the month of October, visitors can enjoy Irving's Legend performance in the evenings where a local master storyteller puts on a live-action performance of the story at the estate at dark for an audience.
For both of these events, you'll need to book your tickets in advance as they do not sell them on-site.
Tour the Armour-Stiner Octagon House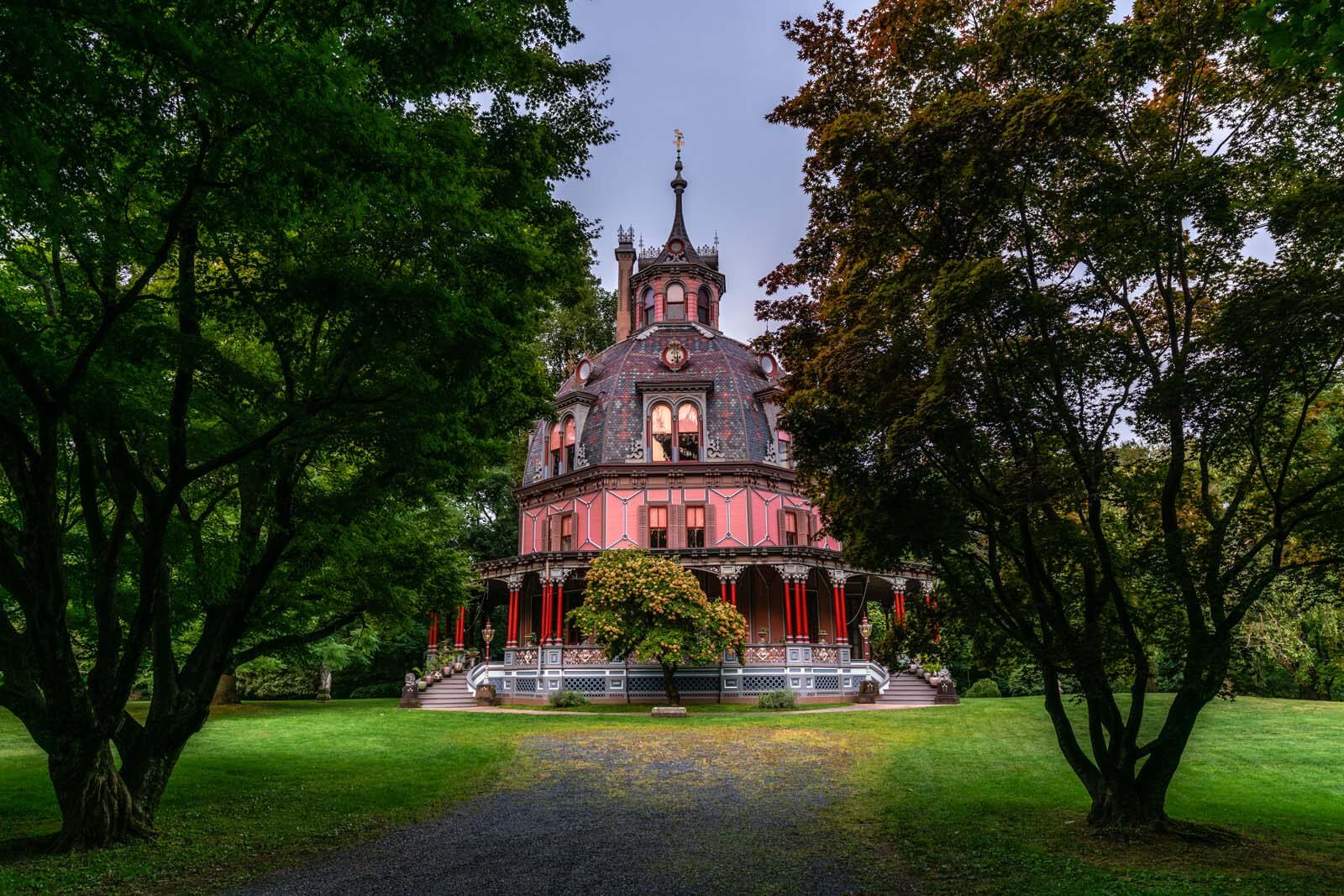 Address: 45 W Clinton Ave, Irvington
Another not to be missed attraction near Sleepy Hollow at Halloween time is touring the unique and pin Armour-Stiner Octagon House in Irvington.
This unique octagon-shaped home was built by Paul J. Armour in the 1860s and was inspired by the octagonal homes that were a popular style in the pre-Civil war era. The home changed ownership in 1872 to Joesph Stiner, hence the name Armour Stiner and added the gorgeous dome that is said to be inspired by Donato Bramante's 1502 Tempietto in Rome.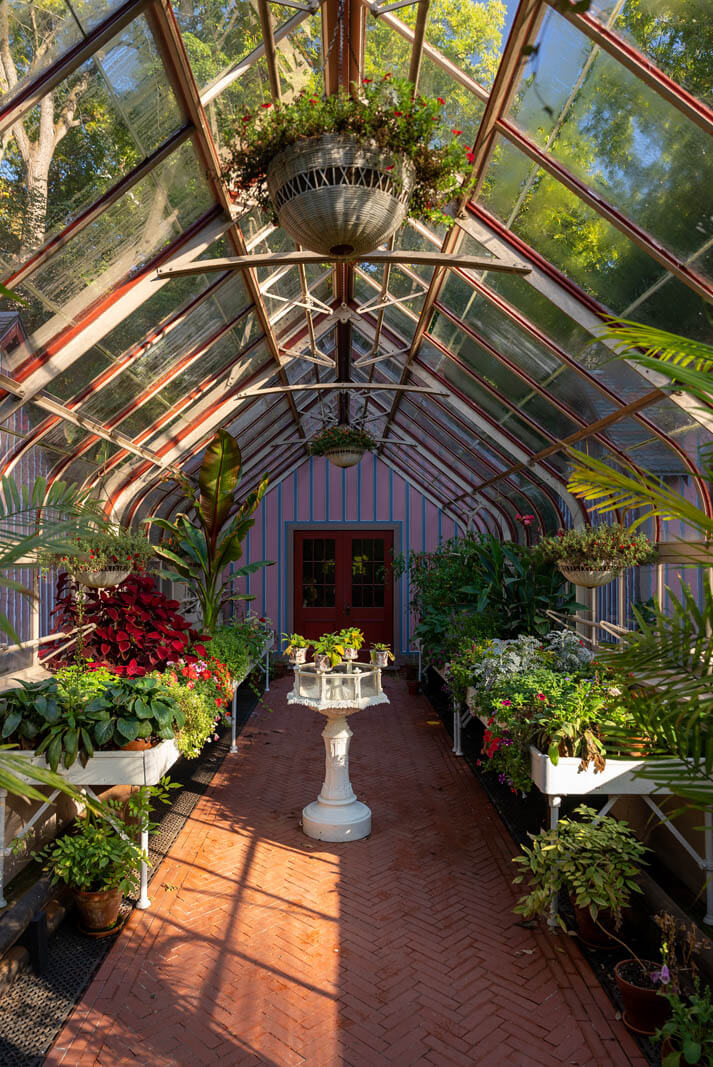 There are actually tours available throughout the year, but during the months of September through October concentrate on themes surrounding the mysteries and said paranormal activity in this home on their "Myths and Mysteries of The Octagon House" tour. Which is perfectly on theme for a spooktacular weekend getaway in Sleepy Hollow at Halloween time.
While the house does offer tours, it is a private residence and you are only able to visit by a guided tour booked in advance. The owner of the home, Joesph Pell Lombardi, is responsible for the restoration of the home to its 1872 appearance and furnishings. Lombardi is a world-renowned and famous real estate investor and preservationist who's won awards and accolades for his preservation work including a 12th-century chateau in France.
Before or after your tour you can take a walk around the veranda or property to check out the matching pink carriage house (where his son/preservation partner resides) and greenhouse.
Check Out Kykuit Rockefeller Estate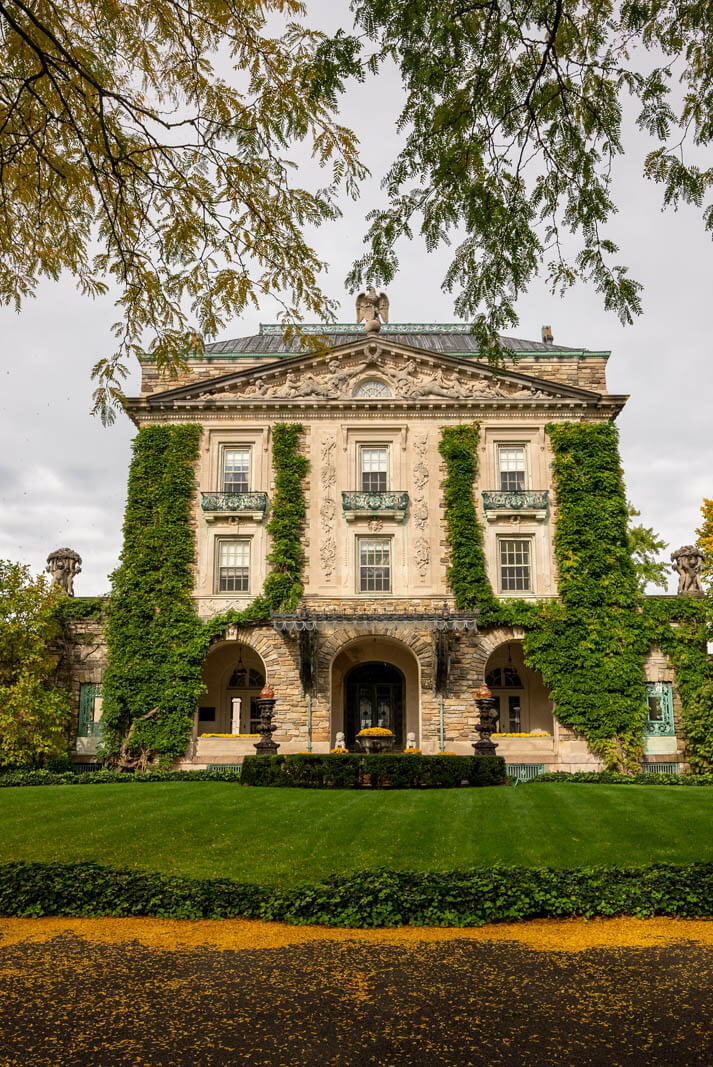 Address: 381 N Broadway, Sleepy Hollow (meeting location for tour)
Located in the Pocantico Hills above Tarrytown and Sleepy Hollow with sweeping views of the Hudson River and Valley is one of the most prestigious and historic estates in Westchester County. Kykuit, also known as the John D. Rockefeller Estate, was home to one of the wealthiest men in American history.
In 1913, John D. Rockefeller, the famous oil tycoon of Standard Oil, had the vision to build a grand countryside estate. Four generations of Rockefellers lived in this estate, which serves as a museum to the public with an impressive art collection on display for visitors on tours as well as beautiful gardens.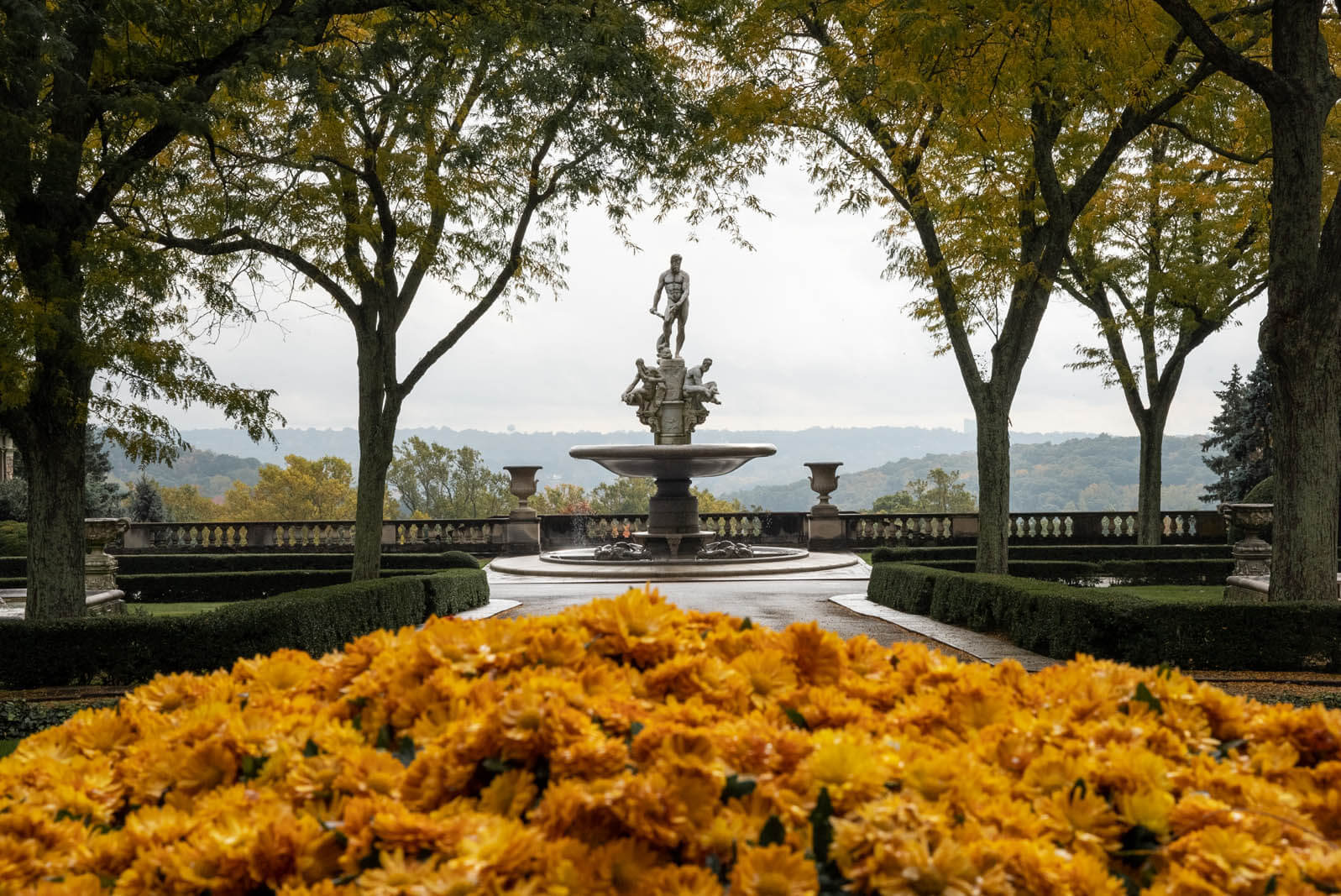 John D. Rockefeller's grandson, Nelson Rockefeller (former Governor of New York and Vice President of the United States) curated and collected one of the greatest private collections of modern art in the country on the property including works from artists like Warhol to Picasso and are located in a private underground, basement gallery in addition to outdoor sculptures around the gardens.
To visit Kykuit (available May – November) you will need to purchase tour tickets in advance. There are three tour options ranging from one hour to three hours. Once you have your tickets, you will meet at the Phillipsburg Manor in Sleepy Hollow at the visitors center to check-in. They will provide a private shuttle up to the estate and return you back down here after your tour.
Stop by the Union Church at Pocantico Hills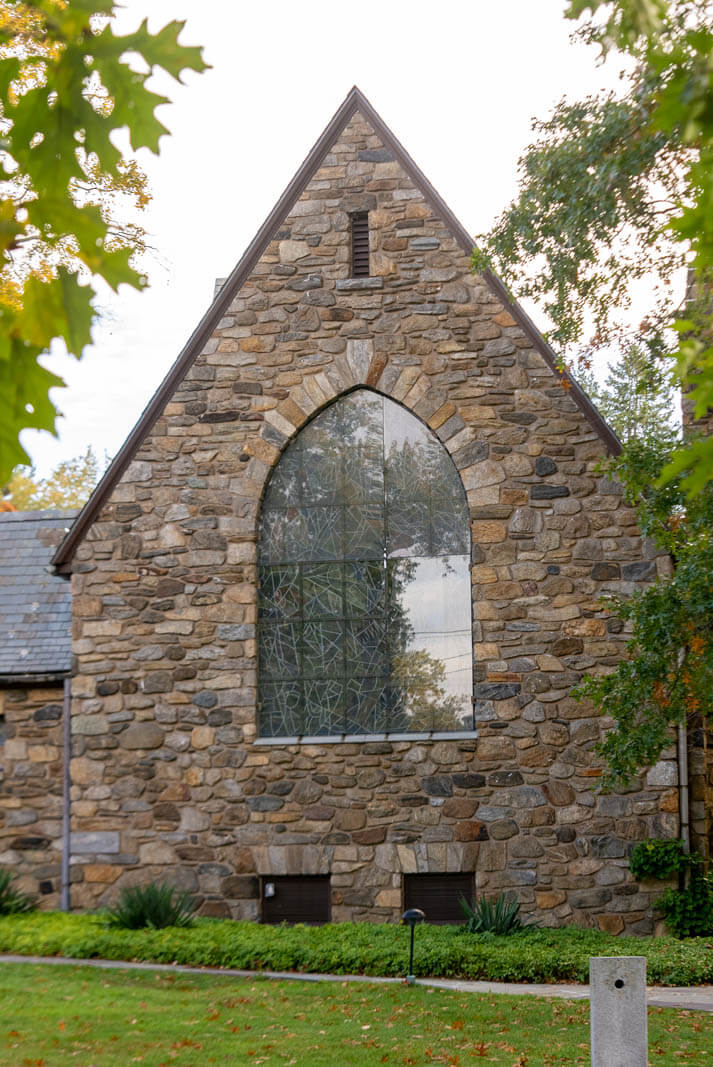 Address: 555 Bedford Rd, Tarrytown
Another Rockefeller artistic contribution to the area can be found at the Union Church of the Pocantico Hills, right near the entrance to Kykuit. If you're visiting Sleepy Hollow around Halloween, this area is especially beautiful to drive to as the fall foliage is a sight to see.
Commissioned under Nelson Rockefeller as a memorial for his mother, the church is home to one of Henri Matisse's last completed commissioned works in his lifetime, the Rose Window accompanied by nine stained glass windows by Marc Chagall.
Keep in mind this is an operating church, you'll need to join a tour to visit and no photography is permitted inside the church. Tours are available on select dates (typically weekends) from May through November and you'll want to purchase your tickets in advance.
If you can't get your hand on tickets, you can drive past the church and see the Rose Window from the exterior of the church.
Spend Time at Croton Gorge Park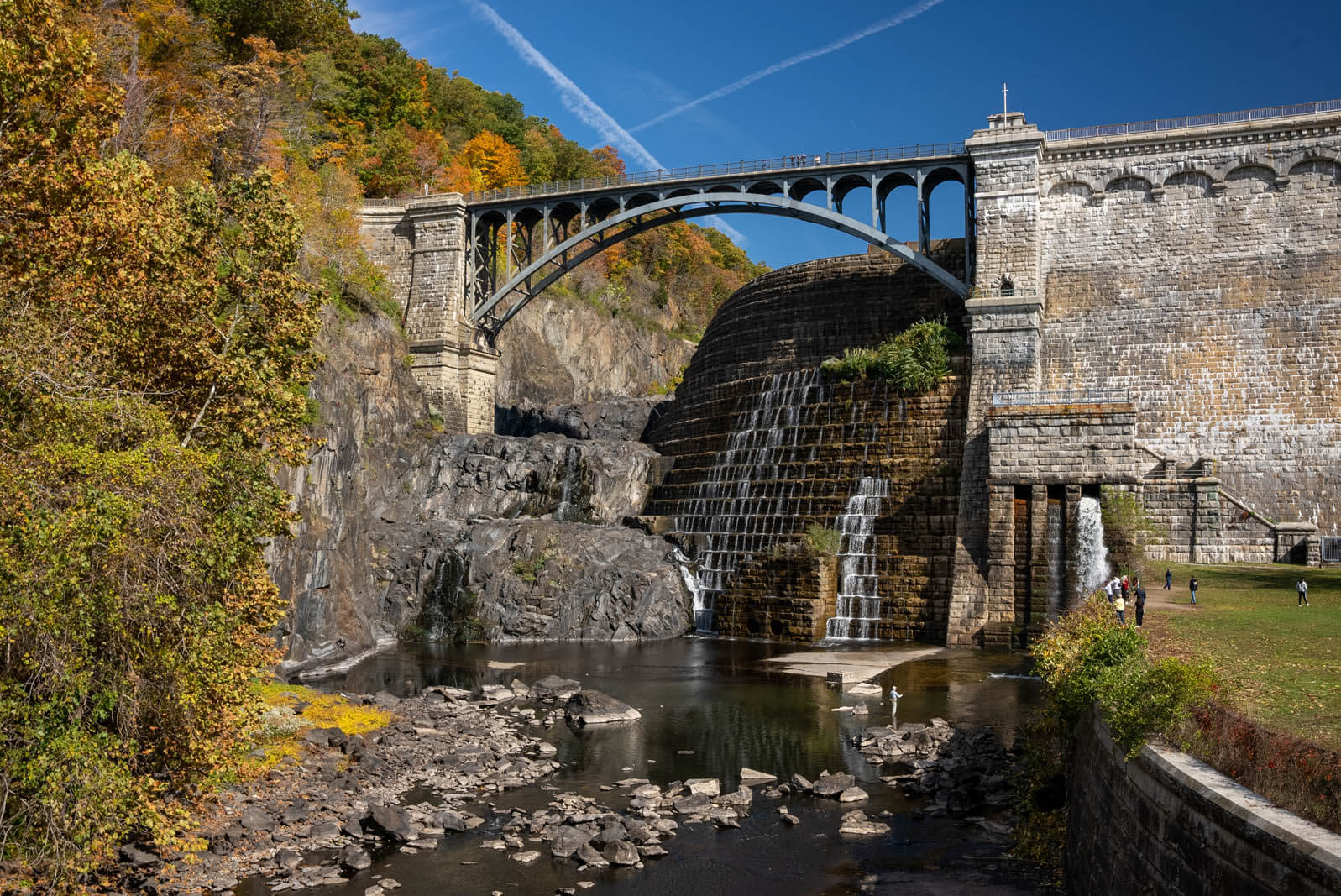 Address: 35 Yorktown Rd, Croton-On-Hudson
If you're visiting Sleepy Hollow by car, we highly encourage you to explore a little. Before visiting The Great Jack O'Lantern Blaze in Croton-On-Hudson, we recommend stopping by Croton Gorge Park where you can take a walk around the base of the New Croton Dam and the pretty man-made waterfall here.
There are trails and areas to picnic too, but we came mostly for the views. The New Croton Dam is impressive as when it was completed in 1906, it was considered the tallest dam in the world. The waterfall here is picturesque and a fun stop to check out in the area.
Visit Rockefeller State Park Preserve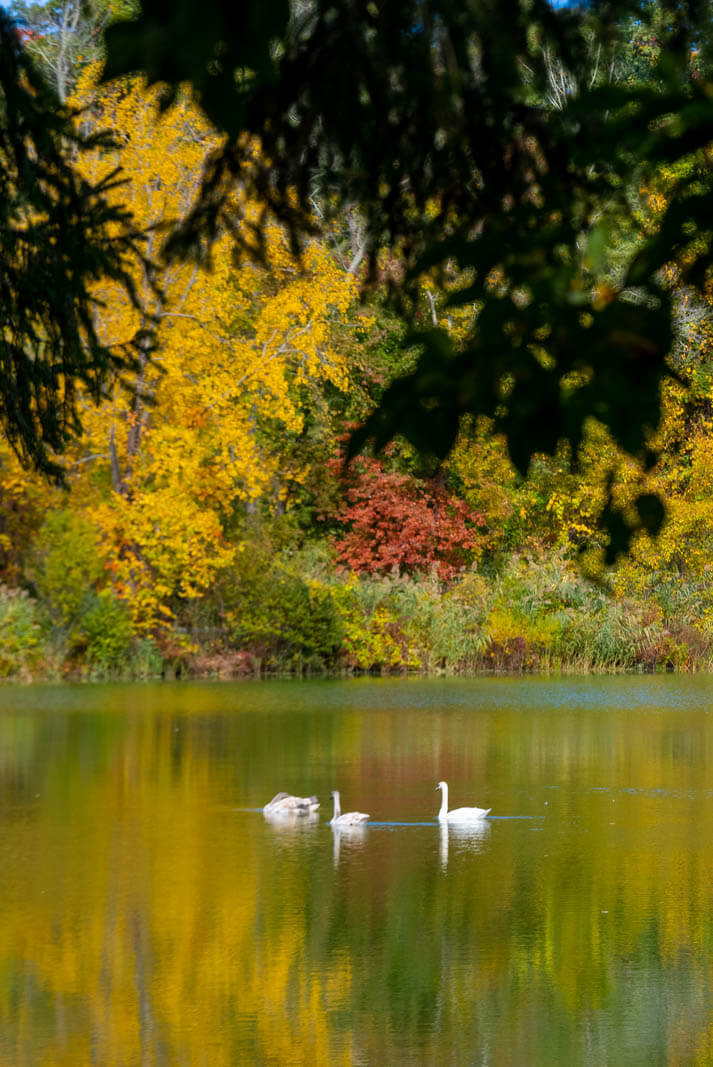 Address: 125 Phelps Way, Pleasantville
Visiting Sleepy Hollow at Halloween means you'll be visiting around all the beautiful fall foliage. If you're looking for outdoor activities to enjoy or a place to enjoy a nice leisurely hike, visit the Rockefeller State Park Preserve in Mount Pleasant, nearby Sleepy Hollow, and the Pocantico Hills.
The park was a part of the Rockefeller estate and was donated to the State of New York in 1983 for the public to enjoy, although the Rockefellers were welcoming of the public using the land as a park as early as the 1970s.
There are several trails spanning 45 miles to enjoy on the original crushed stone carriage roads that John D. Rockefeller and his son laid out themselves in the early 20th century, which are wide and easy to walk on not to mention there are wood and stone bridges crossing the Pocantico River and other streams as well as beautiful rock outcroppings, Swan Lake, and beautiful forest scenery to enjoy.
There are several easy trails to hike. You can park at the Rockefeller State Park Preserve parking lot ($6 per car at the pay machines).
Wander Around Untermyer Gardens Conservancy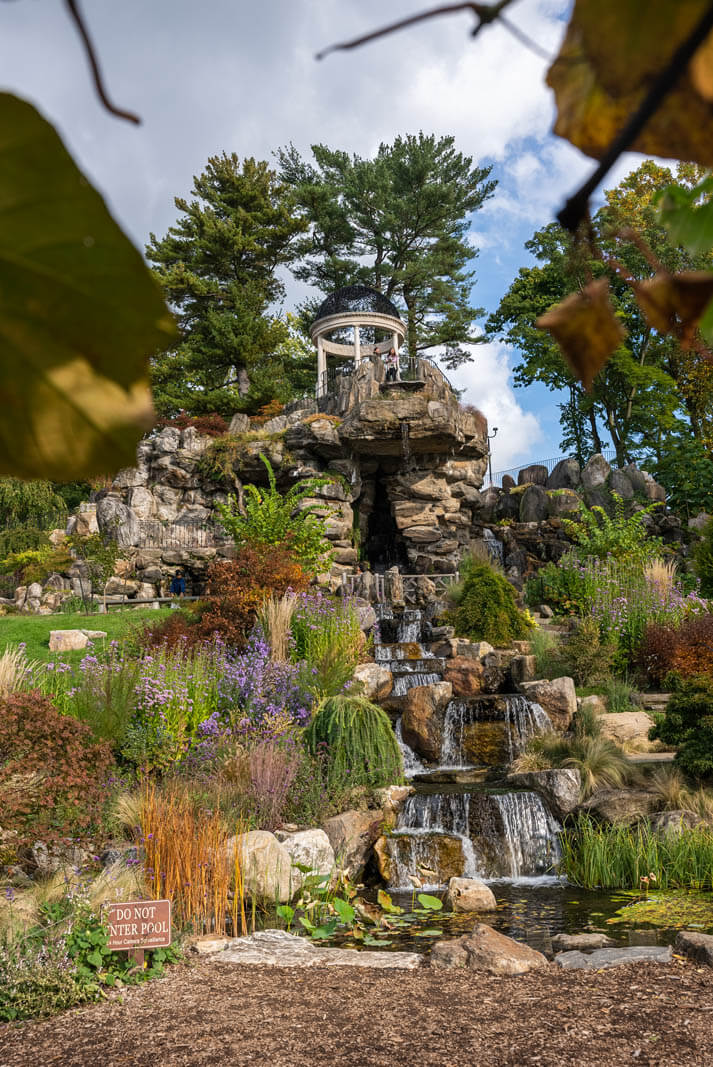 Address: 945 N Broadway, Yonkers
Located in Yonkers in Westchester County, this is a great stop if you're heading back to New York City after your weekend in Sleepy Hollow. Located along the Hudson River at the former site of the estate "Greystone," are the grand gardens added to the now-demolished estate by Samuel Untermyer.
Untermyer Gardens Conservancy is now a public park, donated by Samuel Untermyer, hence the name. The gardens were a part of his vision for his countryside estate that he purchased, located on a steep parcel of land overlooking the Hudson River and New Jersey Palisades.
Untermyer was a successful corporate lawyer in New York City turned civic leader, he wanted to build a grand garden that rivaled the gardens found at Kykuit, the Rockefeller estate nearby. At the time of their construction, the garden was considered one of the finest in the country.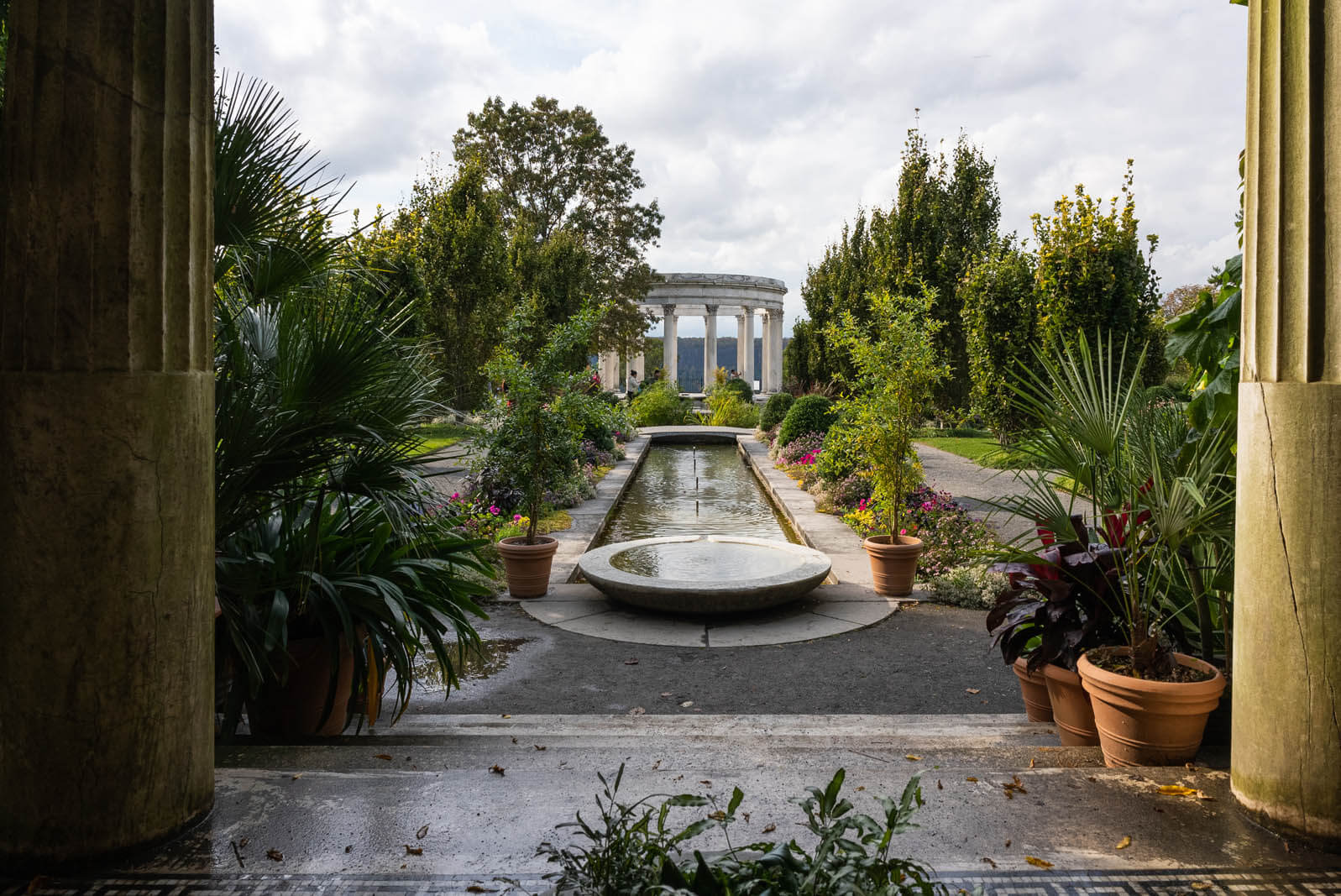 The park is completely free to visit and a must if you're in the area. Some of the features of the beautifully restored park include the Temple of Love, a rock and water garden with cascading waterfalls and a majestic view from the top, the Walled Garden which was designed and inspired by Indo-Persian gardens, and the long staircase from the Walled Garden to the Overlook with incredible views of the Hudson River.
Where to Eat in Sleepy Hollow at Halloween Time
Goosefeather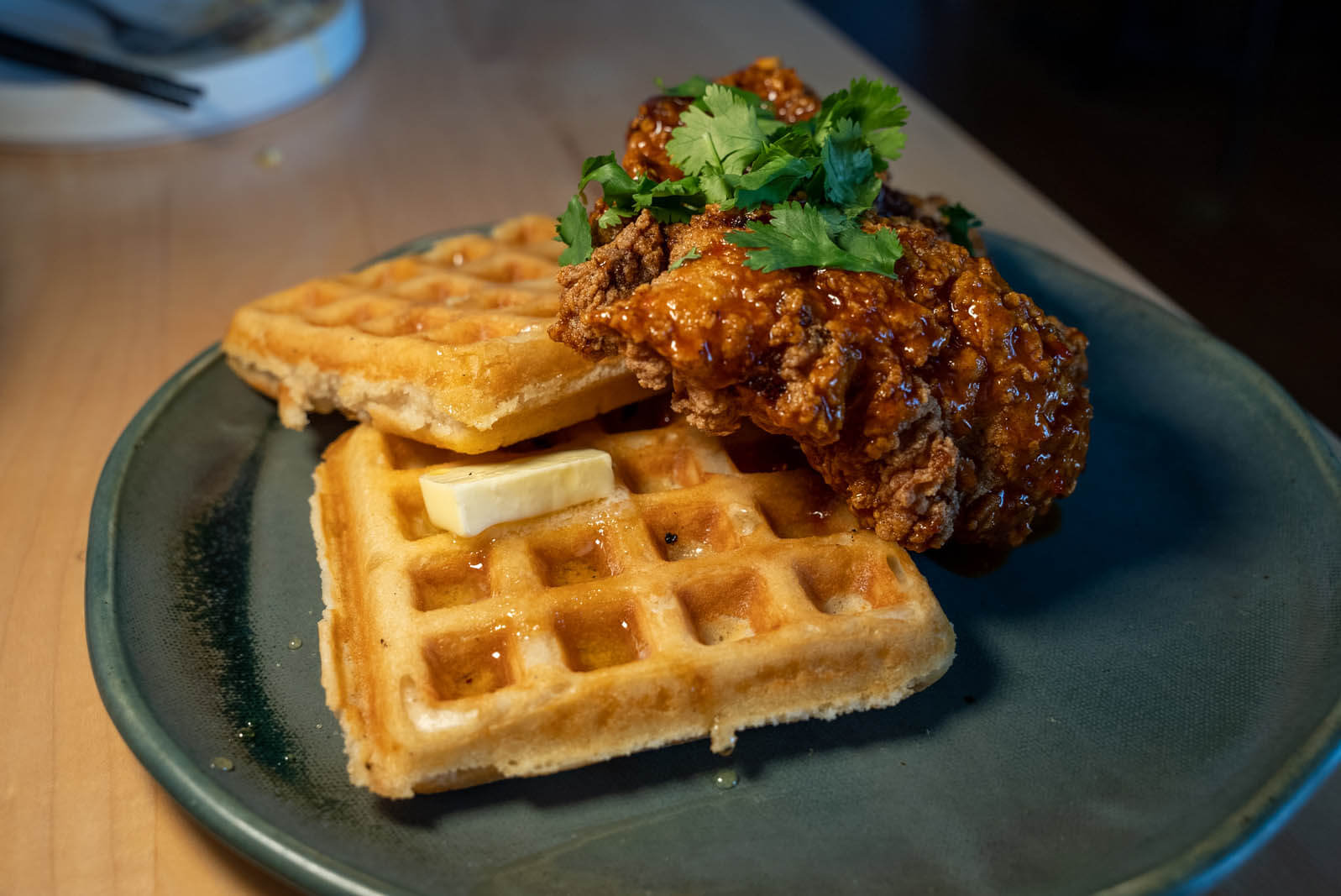 Address: 49 E Sunnyside Ln, Tarrytown
Not to be missed during your weekend in Sleepy Hollow is the weekend brunch available at Goosefeather, a Cantonese restaurant located in the 1840s historic property at Tarrytown House Estate on Hudson, also a hotel in the area.
James Beard nominated Chef Dale brings the flavors of Hong Kong here to the Hudson Valley with an innovative menu that even has nods from Michelin. Chef Dale also has made several television appearances including Top Chef, Chopped, Knife Fight, Beat Bobby Flay, and is the host of Tastemade's All Up in My Grill.
In addition to great Cantonese-inspired dishes, there are several incredible brunch items to try, we highly recommend trying the Kung Pao Chicken and Mochi Waffles along with dumplings from their smaller plate options. We were also impressed with the Roasted Mushroom and Coconut Grits, which was a perfect combination of savory and sweet combining the flavors of umami butter, pomegranate seeds, and a six-minute egg along with the mushrooms and coconut grits. It was definitely not something we try to do at home, but Chef Dale has really created a stand-out dish with these flavors complimenting each other beautifully.
In addition to an impressive brunch menu, Goosefeather is open for dinner. Also, the space is absolutely beautiful too.
Brunch is available on the weekends starting at 11 AM, you'll want to make a reservation.
Horsefeathers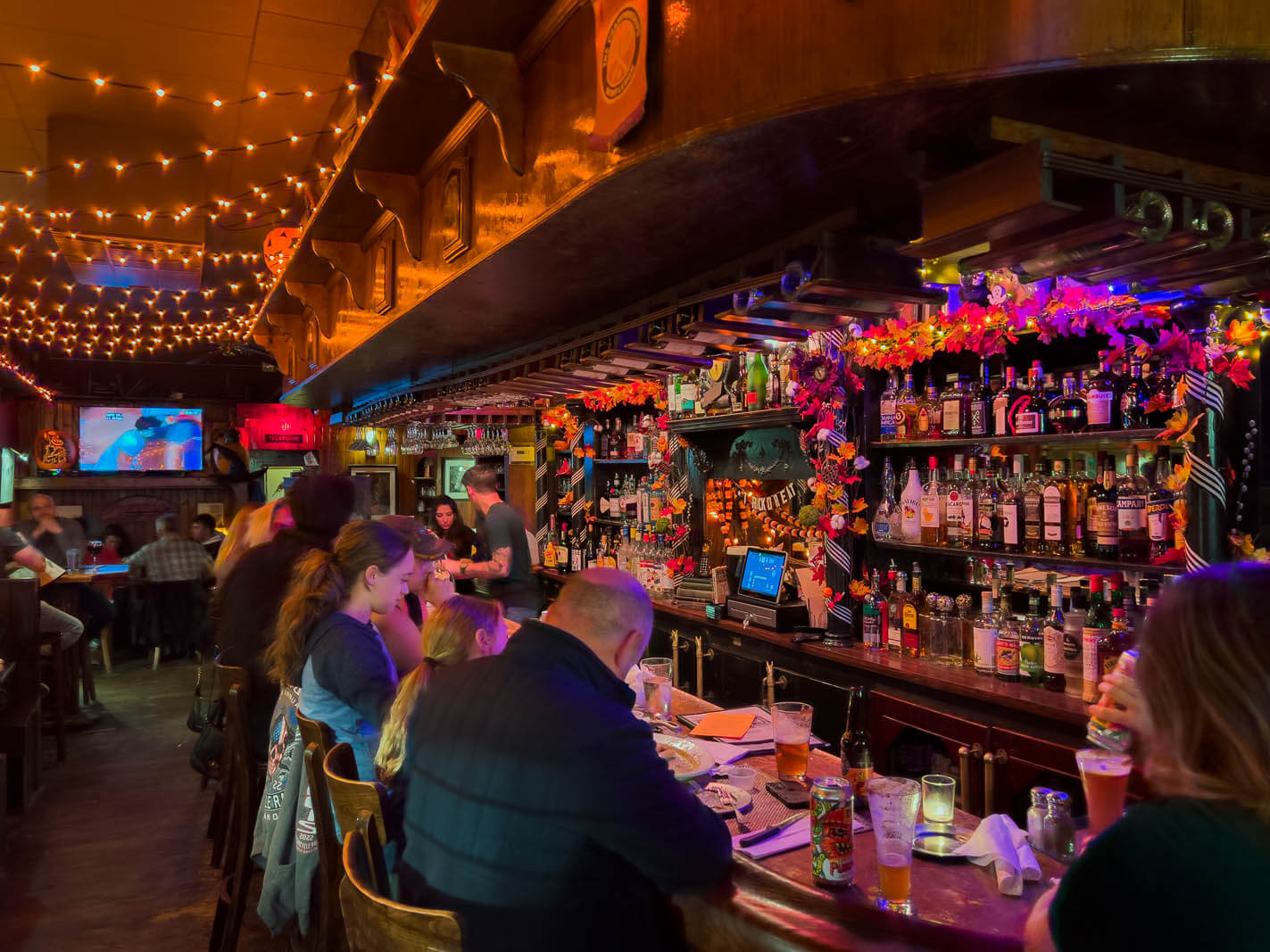 94 N Broadway, Tarrytown
Located in the heart of Tarrytown is one of the best stops for lunch or dinner during the season of Halloween in Sleepy Hollow. Horsefeathers has an old tavern ambiance and is decked out with Halloween decor including a nice list of pumpkin beers, ales, ciders, and other fun 'spooky' drinks to add to your spooktacular weekend in Sleepy Hollow.
They serve up classic American pub fare, we highly recommend the burgers here paired with a pumpkin-flavored beverage or cocktail of your choice.
This is a very popular spooky season stop because of all of the festive decor and they do not take reservations. We recommend getting here a little early to put your name in as for parties with more than two had a lengthier wait time. We were able to get a seat at the bar without too much of a wait.
Beekman Ale House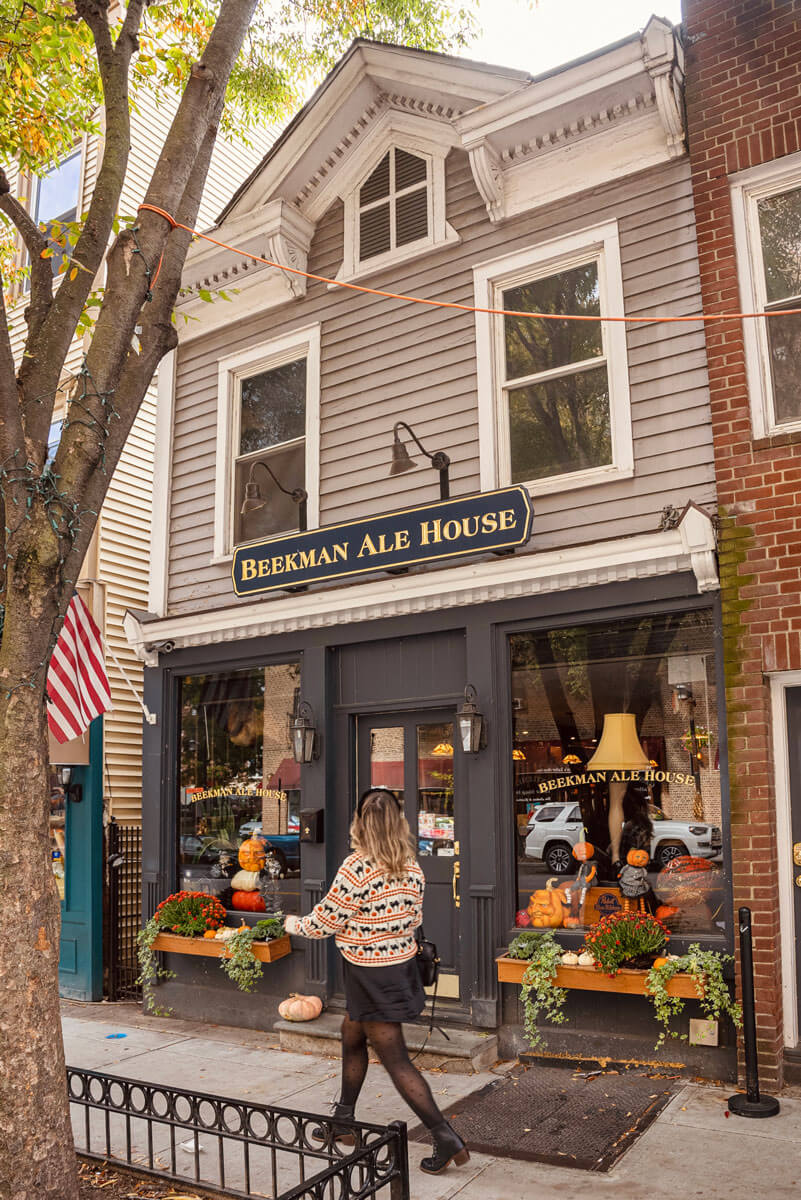 Address: 92 Beekman Ave, Sleepy Hollow
For a great lunch or dinner option in Sleepy Hollow, check out Beekman Ale House, a pub setting with great beer and drinks on draft plus pizza! What we liked about this spot is that it wasn't too crazy, even during Halloween in Sleepy Hollow and they even have festive decorations.
We stuck with ordering a pizza paired with beer on draft, which was a great choice. They serve up Neopolitan-style pizza with a crispy crust plus a bunch of great shareable options like meatballs and fried mozzarella triangles.
Horseman Bagels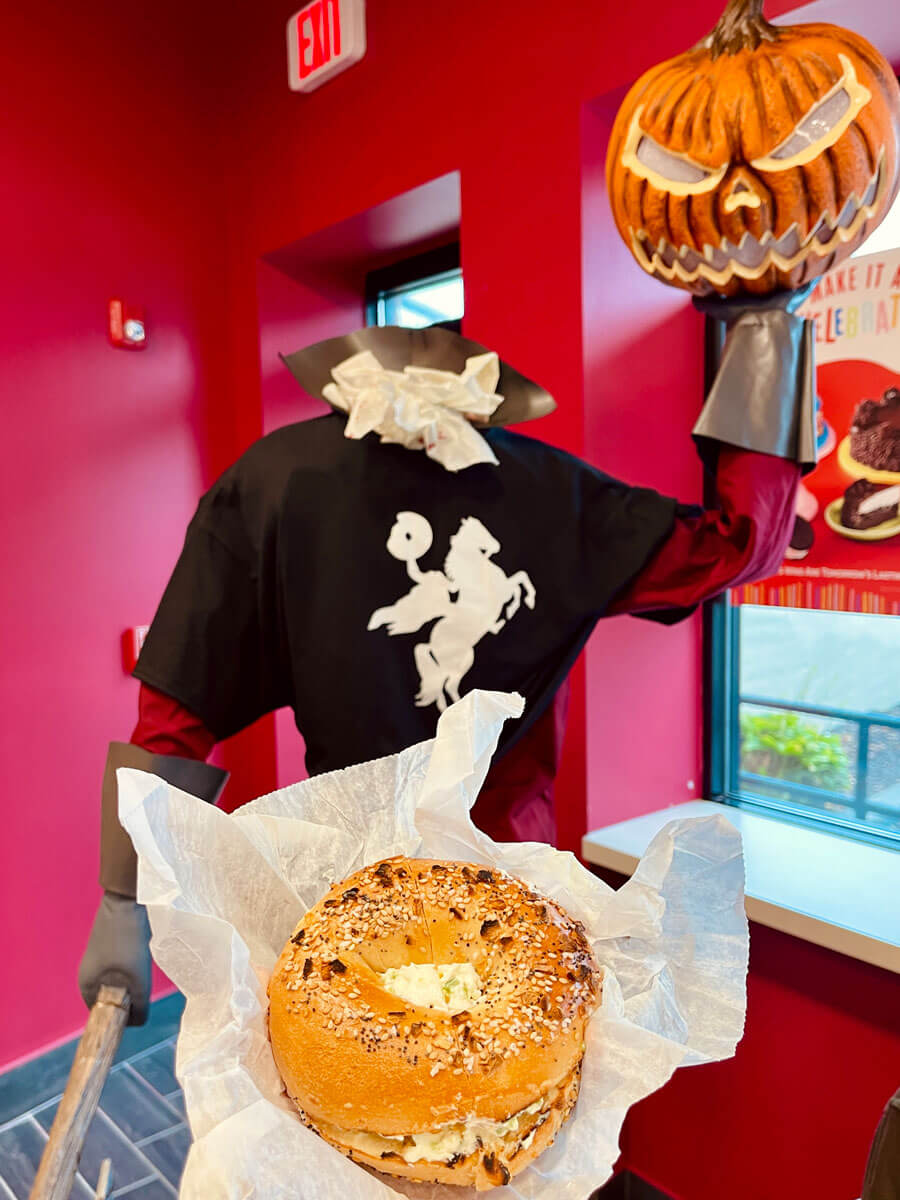 Address: 276 N Broadway, Sleepy Hollow
If you're looking for a quick bite to eat in the morning during your weekend in Sleepy Hollow be sure to visit Horseman Bagels, which shares a space with Carvel, the classic ice cream spot serving up sweet treats.
What's nice is that this location is directly across from the Sleepy Hollow clock and 'official welcome' to the town that's outfitted with a spooky pumpkin man for Halloween season! You can easily grab a bagel and walk downtown. right
EATalia on Hudson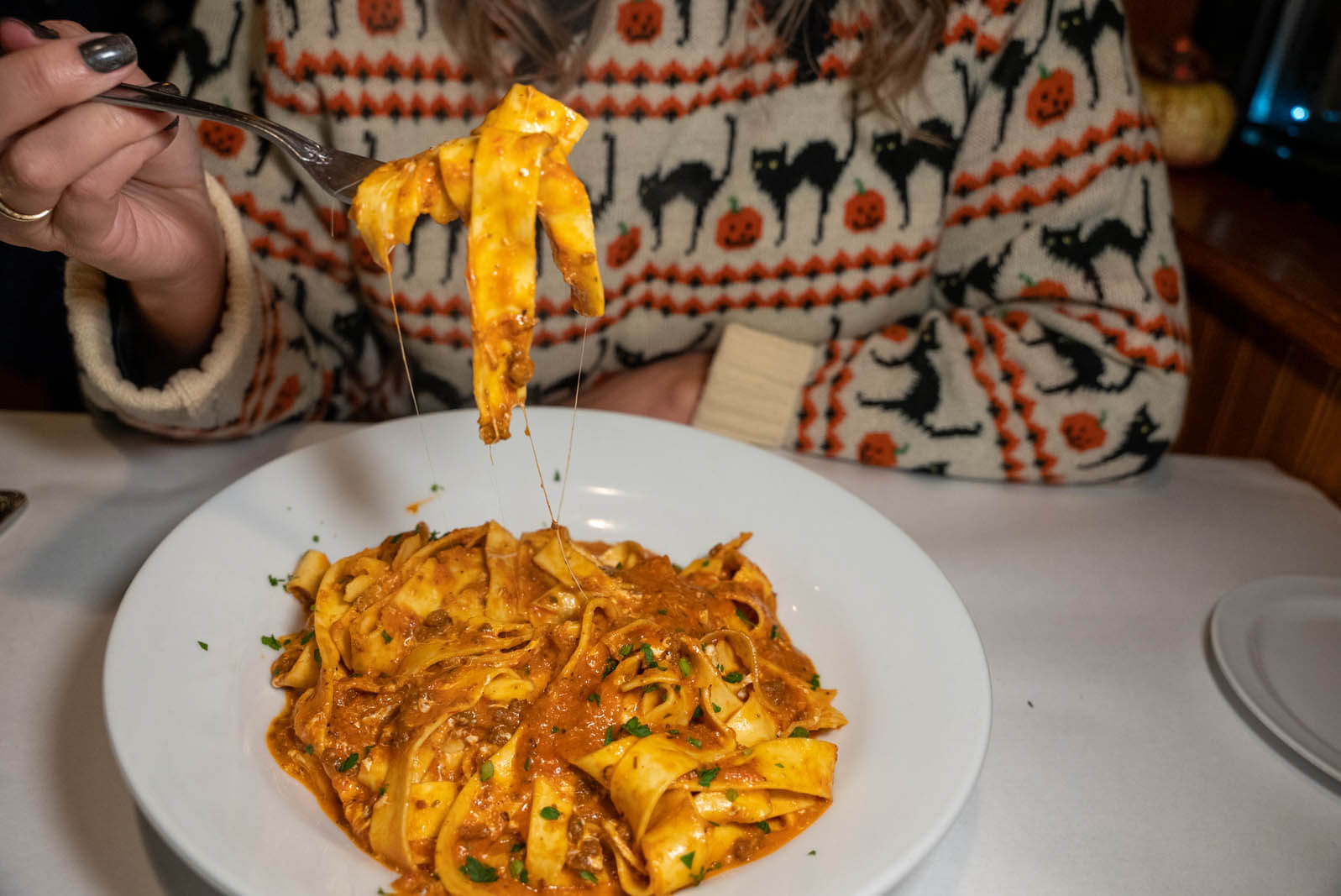 Address: 385 S Riverside Ave, Croton-On-Hudson (PERMANENTLY CLOSED AS OF 2023)
If you're looking for somewhere to grab dinner before heading to Van Cortlandt Manor for The Great Jack O'Lantern Blaze, this is a great stop. Give yourself extra time, this is not a fast-service type of place but their pasta dishes are excellent.
If you order from the specials menu, be sure to ask the price to avoid any confusion on the bill later. We recommend giving yourself at least 75-90 minutes here so you can plan accordingly. Blaze is just up the road and because this is one of the most popular Halloween season attractions, you'll also want to plan for a small window of time to sit and wait to park in a queue of cars – it wasn't too long but we gave ourselves ample time to arrive thankfully.
Bread and Brine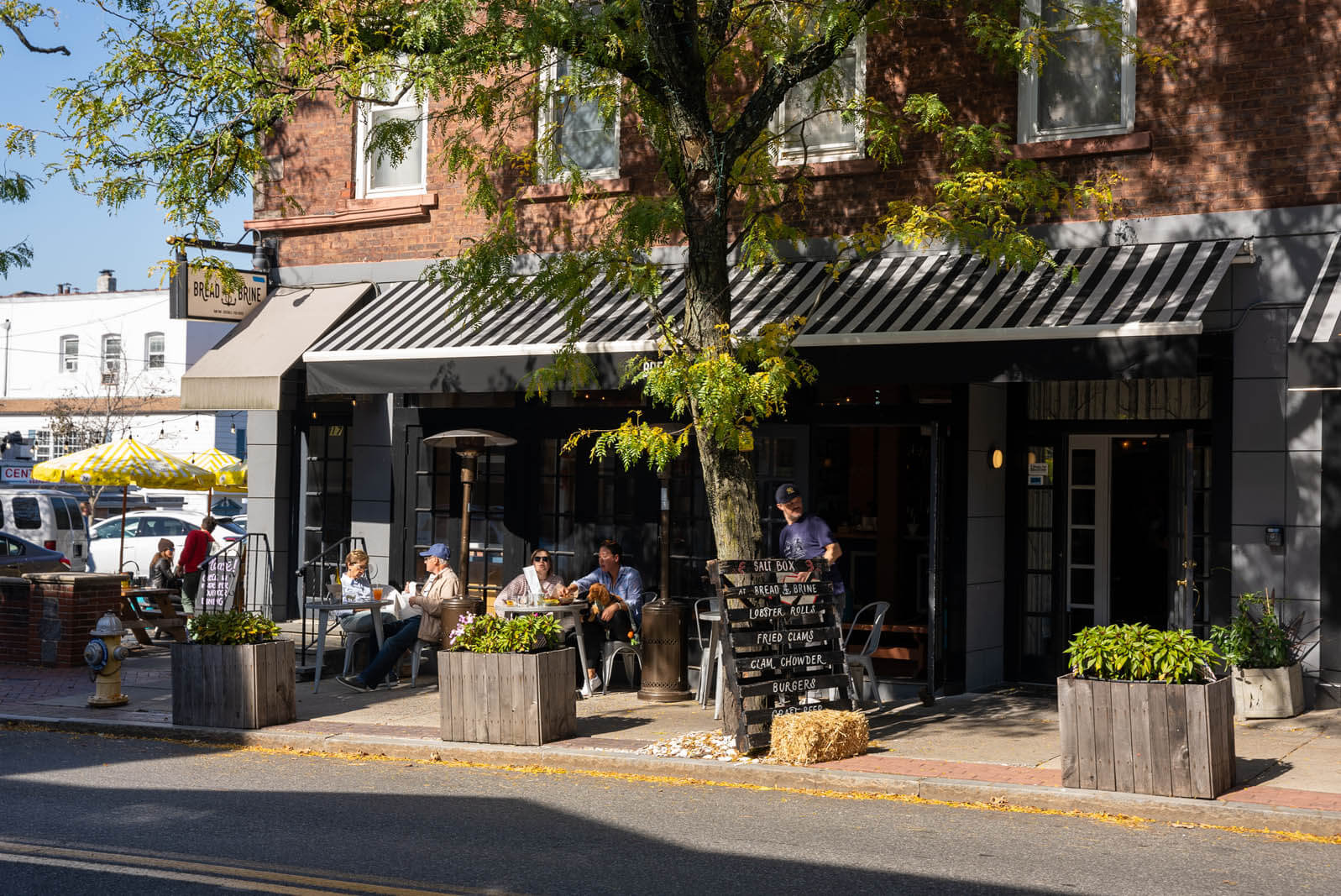 Address: 19 Main St, Hastings-On-Hudson
An excellent spot for lunch or dinner in Hastings-On-Hudson, this New England-focused restaurant serves up incredible dishes inspired by the North East Atlantic coast including lobster rolls, a raw bar, and other great dishes like a whole branzino.
Do yourself a favor and after lunch take a lap around Hastings-On-Hudson, there are a few cute shops including a great record store, Clockwork Records and a cute antique shop on the corner of Main and Warburton, Suburban Renewal.
Drive (or walk) down to MacEachron Waterfront Park for waterfront views and you can also see the skyline in the distance down the Hudson River.
Where to Stay During Your Sleepy Hollow Halloween Weekend: Tarrytown House Estate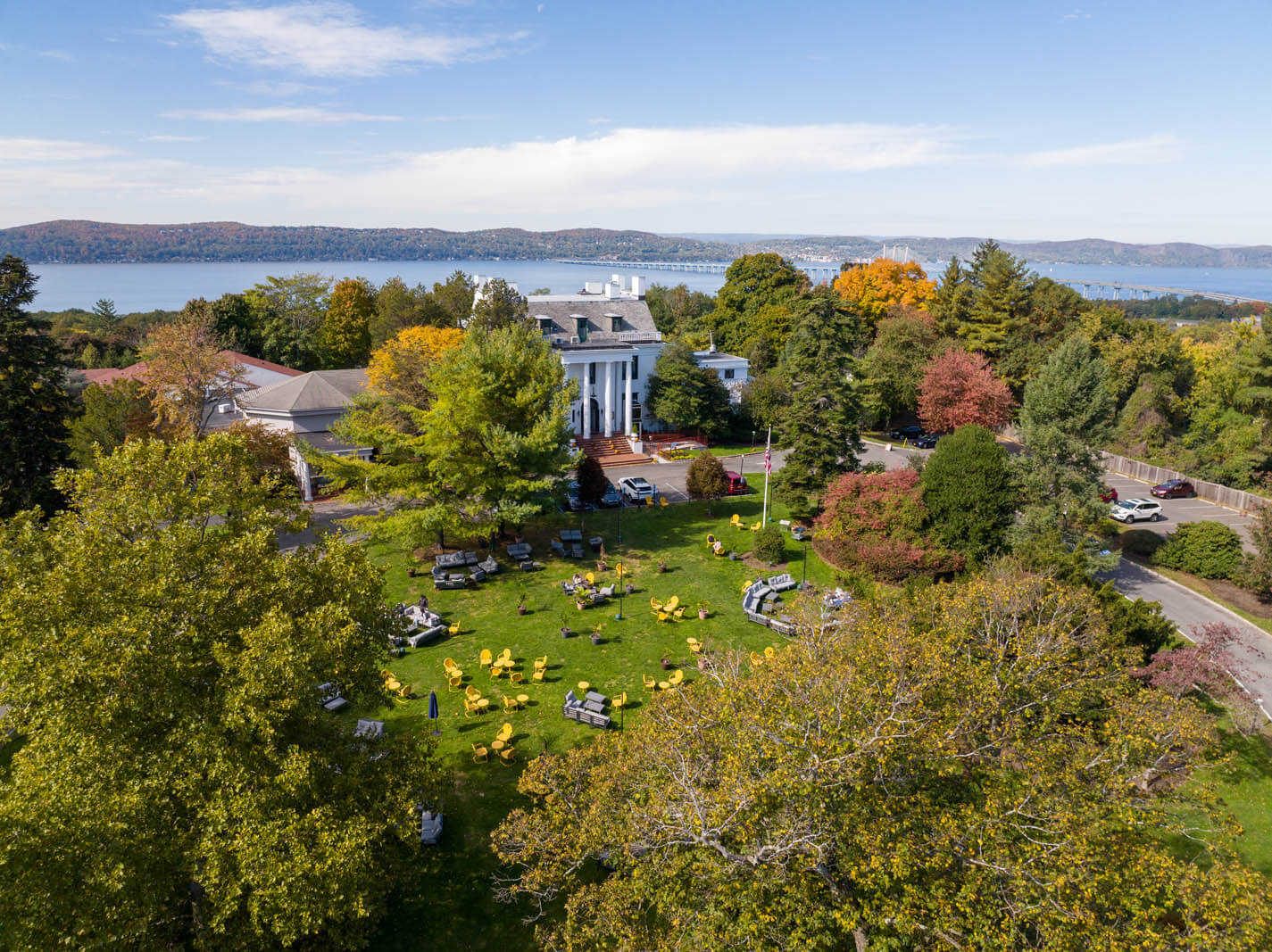 For your weekend in Sleepy Hollow at Halloween, one of the best options for lodging and where to stay are the historic grounds of the Tarrytown House Estate. A popular wedding venue too, this hotel is situated on 26-acres with gorgeous 19th-century mansions including the Carriage House and Cottage, Biddle Mansion, and King Mansion.
The King Mansion is also the location of Goosefeather restaurant, which is a must during your Sleepy Hollow weekend trip. In addition to being a gorgeous property, the location is also excellent as you're just a short drive to both Tarrytown and Sleepy Hollow making it a really great base for exploring all the stops in Westchester County featured in this guide.
The hotel rooms are inside a contemporary building between the historic properties. Enjoy your morning coffee walking around the property or cozy up by the firepits in the evening. There is an outdoor pool and indoor pool, sauna, racquetball, and tennis courts.
The property is really beautiful and reminded us of our stay in a historic property in Ireland. For the season of Halloween in Sleepy Hollow you'll want to secure your reservation in advance, especially on the weekends as many weddings use the property as a venue and the rooms can book up quickly. Book here.
Getting to Sleepy Hollow & Westchester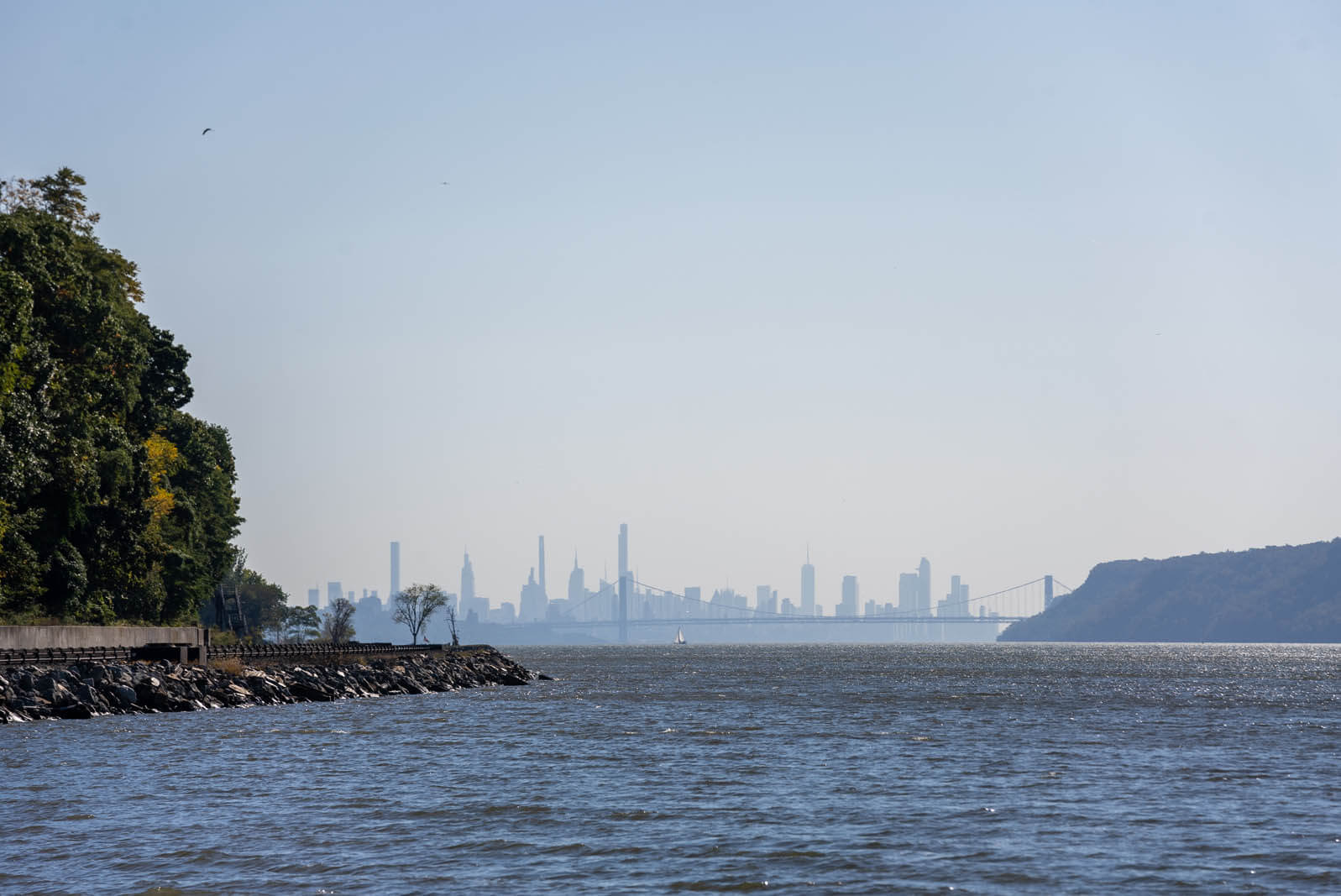 Getting to Sleepy Hollow (and the nearby villages) from New York City couldn't be easier as the Metro-North Railroad Hudson Line has several stops along the Hudson Valley including an express service between Grand Central Terminal in NYC and Tarrytown (which takes around 35-min).
You can easily take the train from many stops included on this weekend getaway to the Sleepy Hollow area including stops at Hastings-On-Hudson, Tarrytown, Sleepy Hollow, and Croton-On-Hudson, you will just need to plan your schedule to the train time tables.
From Penn Station, you can also use the Amtrak train to get to Metro-North's Croton-Harmon Station.
Also, some of the local hotels have a shuttle service they offer to and from the train station making it possible to do this trip without a car if you don't have one or don't want to rent a car.
We prefer renting a car or driving so you have more flexibility, not to mention the drives here around fall are stunning because of the fall foliage.
You also have the option for taking the train up to Tarrytown or flying into Westchester County Airport (HPN) in White Plains and then renting a car once you're here. There are even rental car options in Tarrytown and you can also use Zipcar in the area.
Tips for Visiting Sleepy Hollow at Halloween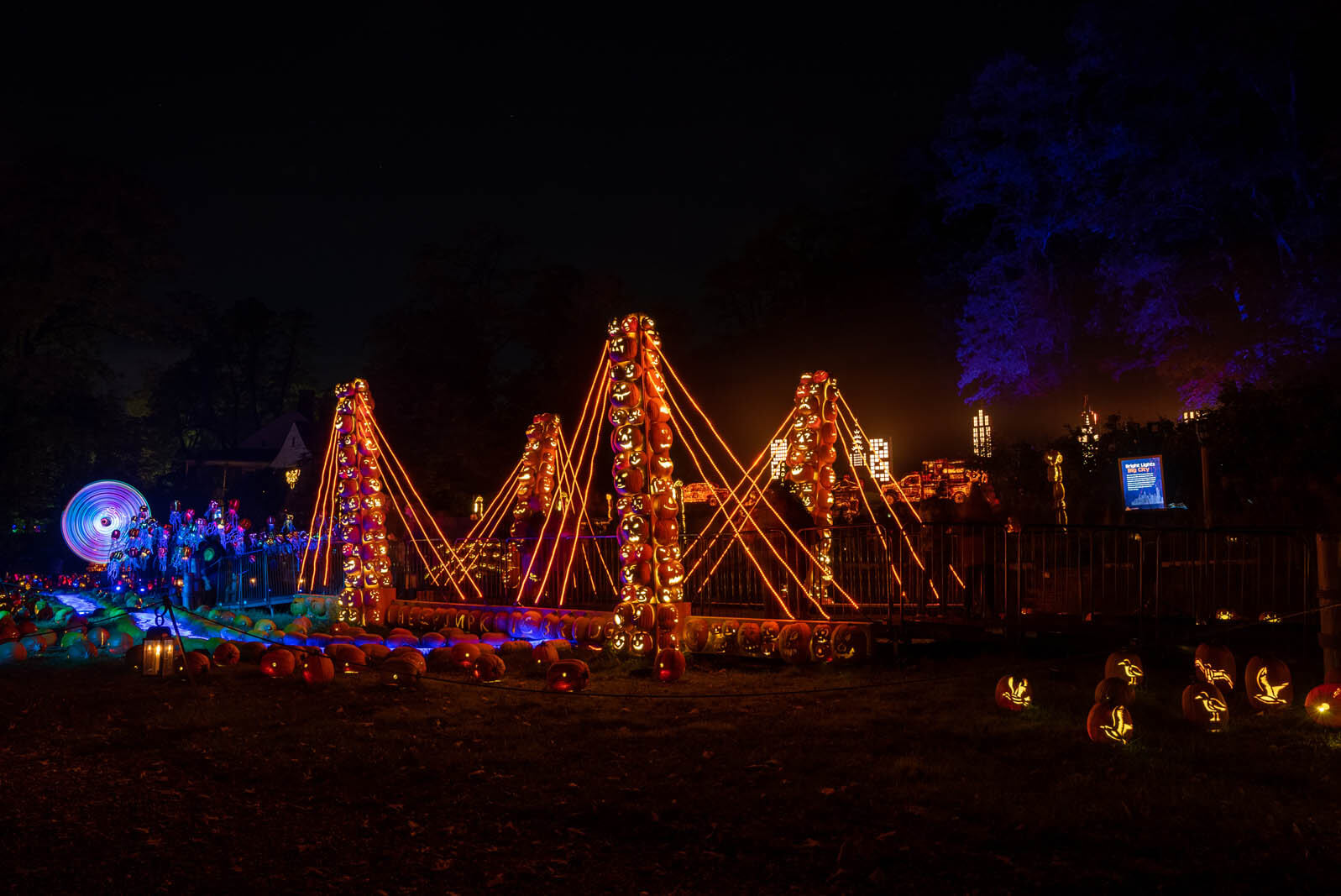 Halloween time at Sleepy Hollow and the surrounding areas is the most popular time to visit. There are so many Halloween-focused attractions plus the North East is popular this time of year for leaf peepers.
With that in mind here are a few tips to make sure you're prepared:
Parking can be competitive in the villages, have quarters on you for parking meters (they also have options to pay online) and be prepared that you may have to circle the downtown areas during peak times to find a spot. Or park a little further away and walk into where you're going.
Be sure to check any restaurants that you want to visit for reservations. Not all, like Horsefeathers, takes reservations in advance. If you're visiting on the weekend and you didn't get a reservation, schedule time in to wait for a table.
Most attractions in the area require advance tickets and reservations. Be sure to look up all attractions you want to visit to secure your tickets in advance, especially for popular spots like The Great Jack O'Lantern Blaze, Washington Irving's Sunnyside, and Kykuit. These places will not let you buy tickets on-site and often sell out.
---
Things to do in Sleepy Hollow at Halloween (Post Summary):
Visit Sleepy Hollow
Sleepy Hollow Cemetery & Old Dutch Reformed Church
Explore Tarrytown
The Great Jack O'Lantern Blaze
Visit Washington Irving's Sunnyside Estate
Tour the Armour-Stiner Octagon House
Check Out Kykuit Rockefeller Estate
Stop by the Union Church at Pocantico Hills
Spend Time at Croton Gorge Park
Visit Rockefeller State Park Preserve
Wander Around Untermyer Gardens Conservancy
Have Brunch at Goosefeather
Have a Meal at Horsefeathers
Stop at Beekman Ale House for a Meal
Have a Bagel from Horseman Bagels
Dinner at EATalia on Hudson
Enjoy Lunch at Bread and Brine
---
Do you need tickets for Sleepy Hollow?
No, you do not need tickets to visit Sleepy Hollow as it's a town, but if you are hoping to do specific attractions or tours those may require tickets.
Is Sleepy Hollow, NY worth visiting?
Yes, Sleepy Hollow, NY is worth visiting for its historical charm, ties to Washington Irving's "The Legend of Sleepy Hollow," scenic Hudson River views, and seasonal events like Halloween festivities.
What does Sleepy Hollow, NY do for Halloween?
Sleepy Hollow, NY celebrates Halloween with the Great Jack O'Lantern Blaze, an elaborate display of thousands of intricately carved pumpkins, creating a mesmerizing and magical experience for visitors.
Is Sleepy Hollow worth visiting during Halloween?
Yes, Sleepy Hollow is worth visiting during Halloween for its renowned Great Jack O'Lantern Blaze nearby and spooky ambiance, plus the town is decorated for Halloween!
Enjoyed this guide to how to spend a spooktacular weekend in Sleepy Hollow at Halloween? Bookmark for later or share the love below on Pinterest!
For more spooky season destinations check out our guide to all the best things to do in Salem, which is not too far of a journey away and also check out our favorite places to visit in New York in fall!