Check out all the amazing things to do in Lake Placid in winter making it the perfect winter getaway in Upstate New York and one of our favorite towns in the Adirondacks! Home of the 1932 and 1980 winter Olympic games, it's a no-brainer that there are plenty of options for Lake Placid winter activities from hitting the slopes to historic Olympic sites, and other great Lake Placid winter fun where you can plan an entire Adirondacks winter getaway around!
So next time you're looking for a place to beat the winter blues, pack your bags and head to one of the magical luxury resorts or a cozy intimate cabin and enjoy all the best things to do in the Adirondacks in winter!
Lake Placid Winter Activities
Ice Skating
Of course, the most iconic parts of Lake Placid in the winter are the Olympic sites. You don't have to be a world-class athlete to enjoy hitting the ice on the outdoor skating at the Olympic Oval, even if you aren't a speed skater!
Or hit up either of the two historic indoor rinks in the heart of the village of Lake Placid at the 1932 Jack Shea Arena and the 1980 Herb Brooks Arena. The indoor rinks are open year-round but public skating dates vary, so make sure to double-check the calendar for the dates you're planning to visit.
Regardless of which rink you choose (or glide through all three) at the Olympic Center, ice skating is a must-do Lake Placid winter activity!
A great option for immersing yourself in the natural wonders of Lake Placid while ice skating, is on Mirror Lake! The two-mile-long ice track on Mirror Lake is a beautiful and charming choice for your winter in Lake Placid! You'll see people walking on the lake, just check beforehand to make sure the ice is thick enough and safe.
Toboggan
Another one of the best things to do in Lake Placid in winter when Mirror Lake is frozen over for the season, you can hit the toboggan chute! You'll be filled with childlike wonder as you travel down the icy chute right onto the frozen lake.
This toboggan chute has been in operation since the 1960s and is thrilling for the whole family! Sled rentals are included in admission, which is only $15 for adults and $10 for students. Make sure to hit the ATM or have cash handy before heading to Mirror Lake, as the toboggan chute is cash only.
The opening date varies year to year depending on when the lake is safely frozen, so be sure to check here before planning your sledding adventure.
Snow Tubing
While visiting Lake Placid in winter, the perfect time to visit the Adirondacks, be sure to head over to Saranac Lake for some snow tubing on Mt. Pisgah! Race with friends, or enjoy the adrenaline solo with a truly unforgettable Lake Placid winter.
Check out snow tubing hours and additional information here!
Another popular sledding location that can be found in Lake Placid is Kiwanis Teddy Bear Park on Elm Street open during daylight hours and is only a walking distance from Main Street. This spot and Lake Placid wintery activity require you to bring your own sled, we recommend getting a fun inflatable winter tube for sledding as it is easier to travel with!
Snowshoe & Cross Country Skiing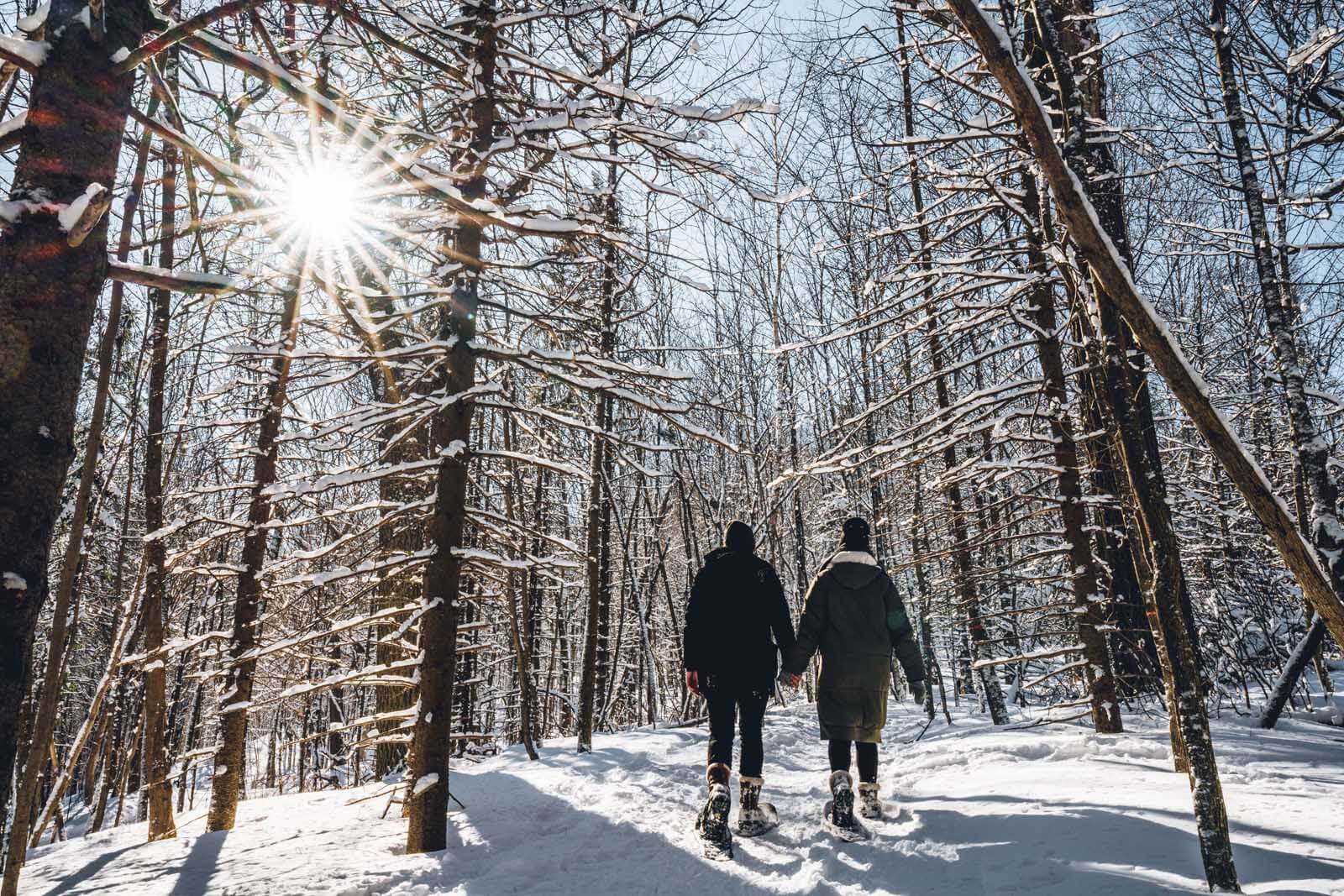 One of the most popular things to do in Lake Placid in the winter is snowshoeing and cross-country skiing! Cross country and backcountry skiing are a fantastic choice for those looking to get out on the snow and see all the beauty that the Adirondacks hold, without the hecticness of downhill skiing.
For an even slower trek through the snow, you can snowshoe through the wilderness! Snowshoeing is also a great option for those interested in birding!
Cascade Cross Country Ski offers over 200 acres of hiking and snowshoeing trails along with rentals, a restaurant, ski shop bar, and facilities for guests to use.
Olympic Gondola Ride
Whether you're looking for your own personal opening ceremony before a day of skiing, or wanting a way to take in mountain top views without having perfected your pizza and french fry form, a gondola ride is a fabulous Lake Placid winter activity!
The Cloudspitter Gondola takes you on a 15-minute trip through the air. As you summit Little Whiteface Mountain, you're greeted with breathtaking views of the Adirondack Mountains, Lake Placid, and Lake Champlain. There is an observation deck and picnic area at the top so that you can take full advantage of the amazing views.
Tickets to ride the Cloudspitter Gondola are only $24 for teenagers and adults, $18 for ages 7-12 and senior citizens, and free for all kiddos 6 and under.
Whiteface Mountain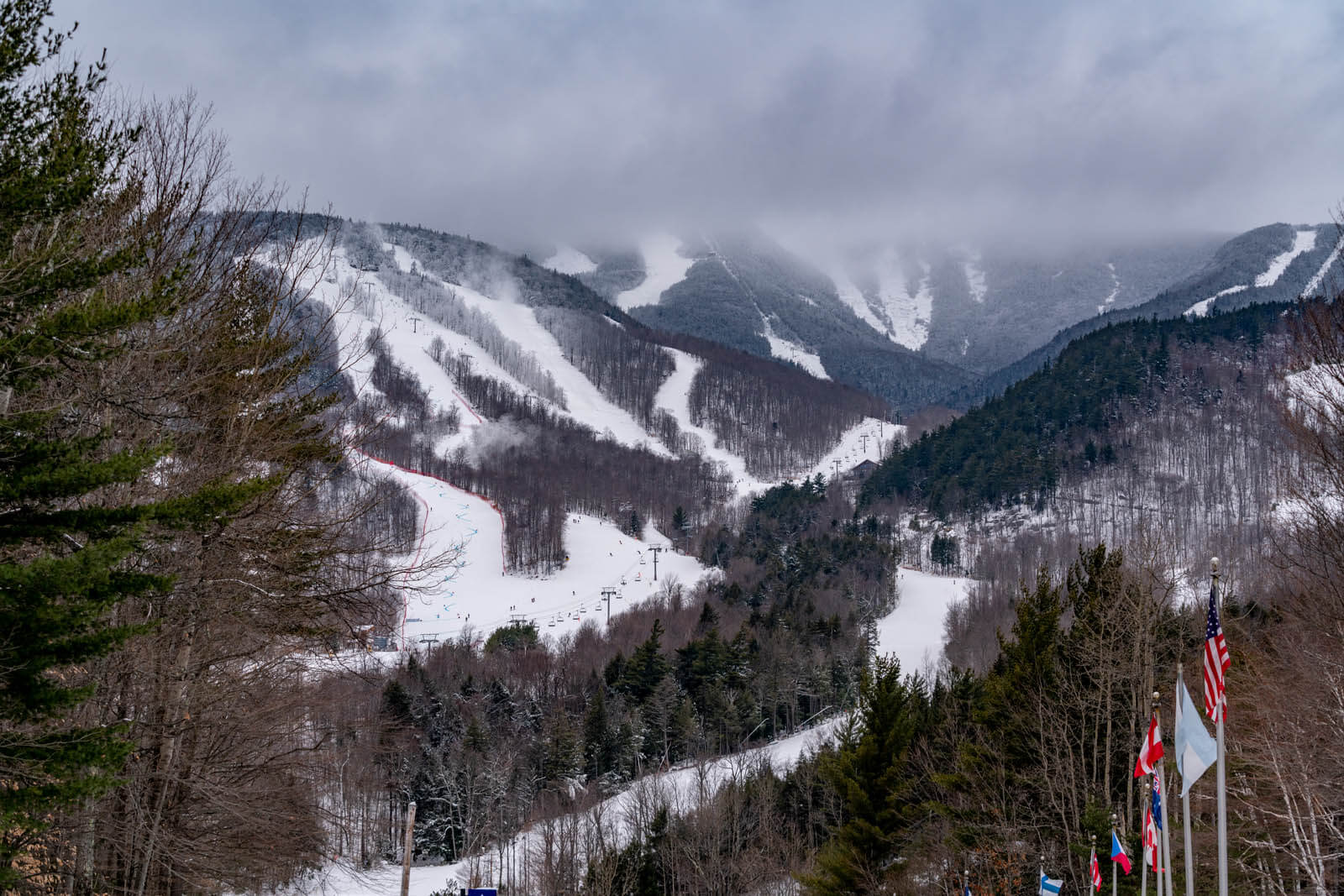 For some downhill action on the pristine powder, make sure you check out Whiteface Mountain, one of the best things to do in Lake Placid in winter! Known for being home to some of the best skiing and snowboarding in Upstate New York and in the East, Whiteface Mountain is the perfect spot for thrill-seekers! Here you can glide down the longest single intermediate run in the Northeast, with a 2.1 mile trail!
If you're a seasoned skier you can bring your own gear, or if you're traveling light you can rent skis, snowboards, and any gear you'll need to hit the slopes. Of course, always check snow conditions before heading to the mountain.
Whiteface Mountain is also the location where some of the different winter sports competitions were held in both the 1932 and 1980 winter Olympic games too, so you know this is one of the best Lake Placid winter activities if its good enough for the best winter athletes in the world not once but twice.
Olympic Center & Museum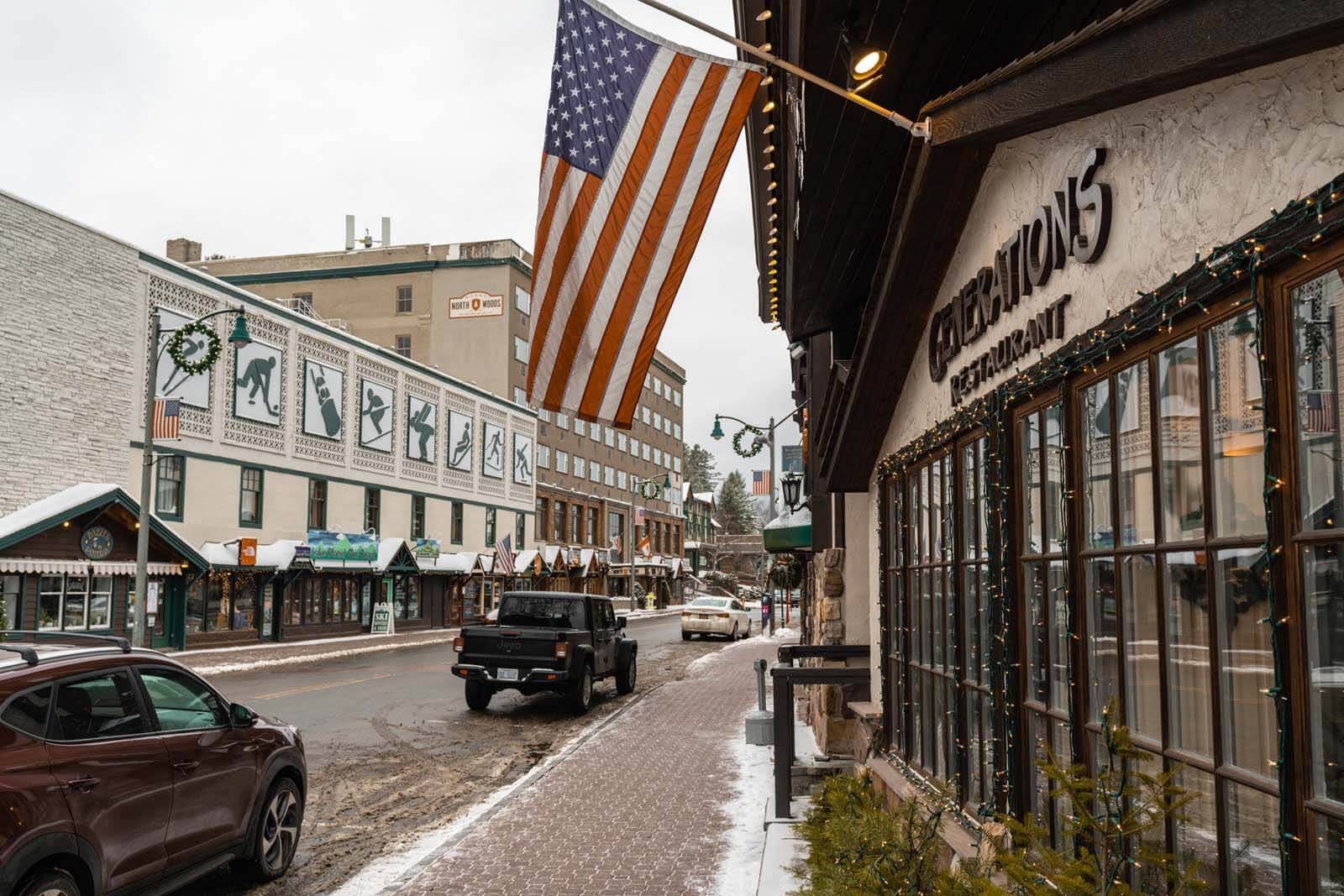 Another way to enjoy the Lake Placid winter Olympic sites without having to do any physical sports yourself is by visiting the Lake Placid Olympic Museum. The museum offers several exhibitions and offers displays of Olympic memorabilia that immerses visitors into the iconic history of the 1932 and 1980 Winter Olympics.
See the ice skating rinks from the 1932 and 1980 Olympics, book a guided tour of the center for only $10 a person, or saunter through the museum!
View memorabilia and multimedia exhibits recounting legendary Olympic events that took place right in Lake Placid. You can even check out the Olympic Center's Hall of Fame and see plaques commemorating the legendary 1980 men's hockey team!
Bobsled & Cliffside Coaster
Who hasn't had dreams of competing in an Olympic bobsled race? You can carry out your fantasy with one of the most exciting things to do in Lake Placid in winter – the bobsled experience at the Lake Placid Bobsled and Skeleton Experience at Mt Van Hovenberg.
This is the longest mountain coaster experience on the continent combining a skeleton track, luge, and bobsled. This is an official Olympic site and you can even come here to watch some of the best bobsled athletes in the world at their annual World Cup competition each winter.
Ride the Cliffside Coaster where you zig-zag down the mountain going top speeds down Mount Van Hovenberg which follows the 1932 and 1980 Winter Olympic bobsled track.
Another option and one of the most thrill-seeking things to do in Lake Placid in winter is ride down the Skeleton Experience at the Olympic Sports Complex. This heart-pounding solo ride gets up to 30 miles per hour while laying vertically on your stomach on a skeleton sled. You've never done sledding quite like this.
You can do just the skeleton experience or purchase tickets offering a combination of both the skeleton track and bobsledding, keep in mind though that this Lake Placid winter activity is for ages 13 and up.
Lake Placid Breweries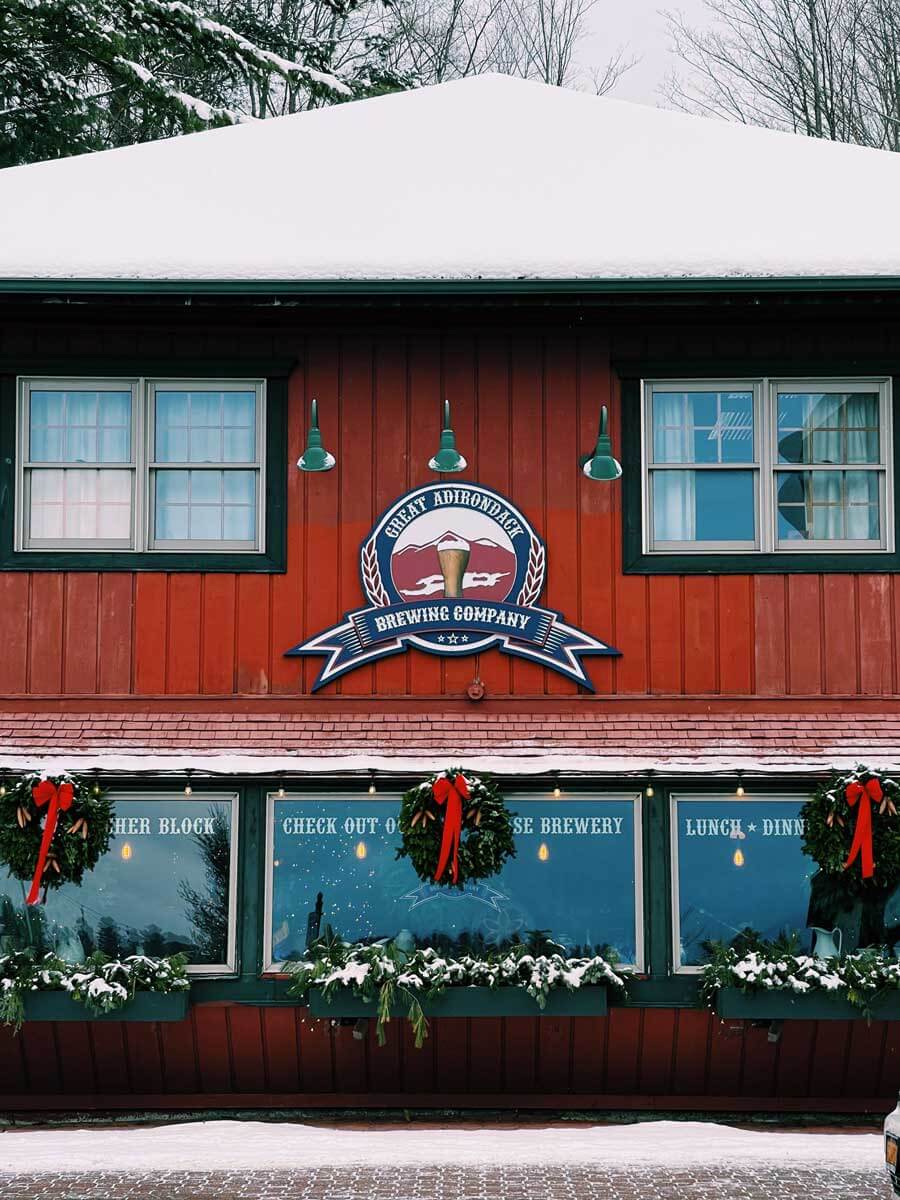 Warm-up after hitting the slopes or executing an Olympic-worthy bobsled ride with a local brew! One of the best parts of exploring a new area is getting to sample their locally made beers, and Lake Placid is no exception! Complete your Lake Placid winter with a trip to one of these great breweries!
The Great Adirondack Brewing Company is located in Downtown Lake Placid. Here you can sip while taking in beautiful views of Mirror Lake. Lake Placid Pub and Brewery is another great option for grabbing a beer in Downtown Lake Placid. Big Slide Brewery is located just south of downtown Lake Placid and features fresh takes on classic beer styles.
Relax at a day at the Spa
If a relaxing day of pampering is more your speed, there are some wonderful spas located here that make it the perfect thing to do in Lake Placid in winter. Book some treatments and take a load off at one of these spas and get the most out of your Lake Placid winter vacation!
Mirror Lake Inn is a charming mountain lodge bursting with the spirit of Upstate New York! Whether you book a room at the Inn, or just swing by for a spa day, the spa and salon at the Mirror Lake Inn is a great place to relax. From spa treatments and salt therapy to yoga classes at the fitness center, there is a rejuvenating option to suit everyone in your group.
The spa at the Whiteface Lodge is another spot perfect for warming up and relaxing during a Lake Placid winter. Book a massage, a special CBD treatment, a mani-pedi, or any other of the Whiteface Lodge's soothing treatments!
Visit the Shops in Downtown Lake Placid
Another pick for some of the best things to do in Lake Placid in winter is enjoy all the shopping in the heart of the village and downtown! You can find a wide variety of shops, so you can find amazing local and handmade goods, unique gifts, and one-of-a-kind souvenirs!
Plus if you forgot anything for all your Lake Placid winter activities, you can find outdoor gear and anything you'd need in their sports shops.
Find more shopping like antiques, hand-made soaps and bath products, natural hand-poured candles, clothing, and jewelry in the shops in downtown Lake Placid. Or pick up some locally-made goodies like chocolates, craft olive oils, and local maple syrup.
While visiting Lake Placid in the winter, make sure you check out the Lake Placid Christmas Company for all of your festive holiday needs. You'll be able to find the perfect gifts for everyone back home, and some incredible local goods for yourself at the shops in downtown Lake Placid!
Bowl Winkles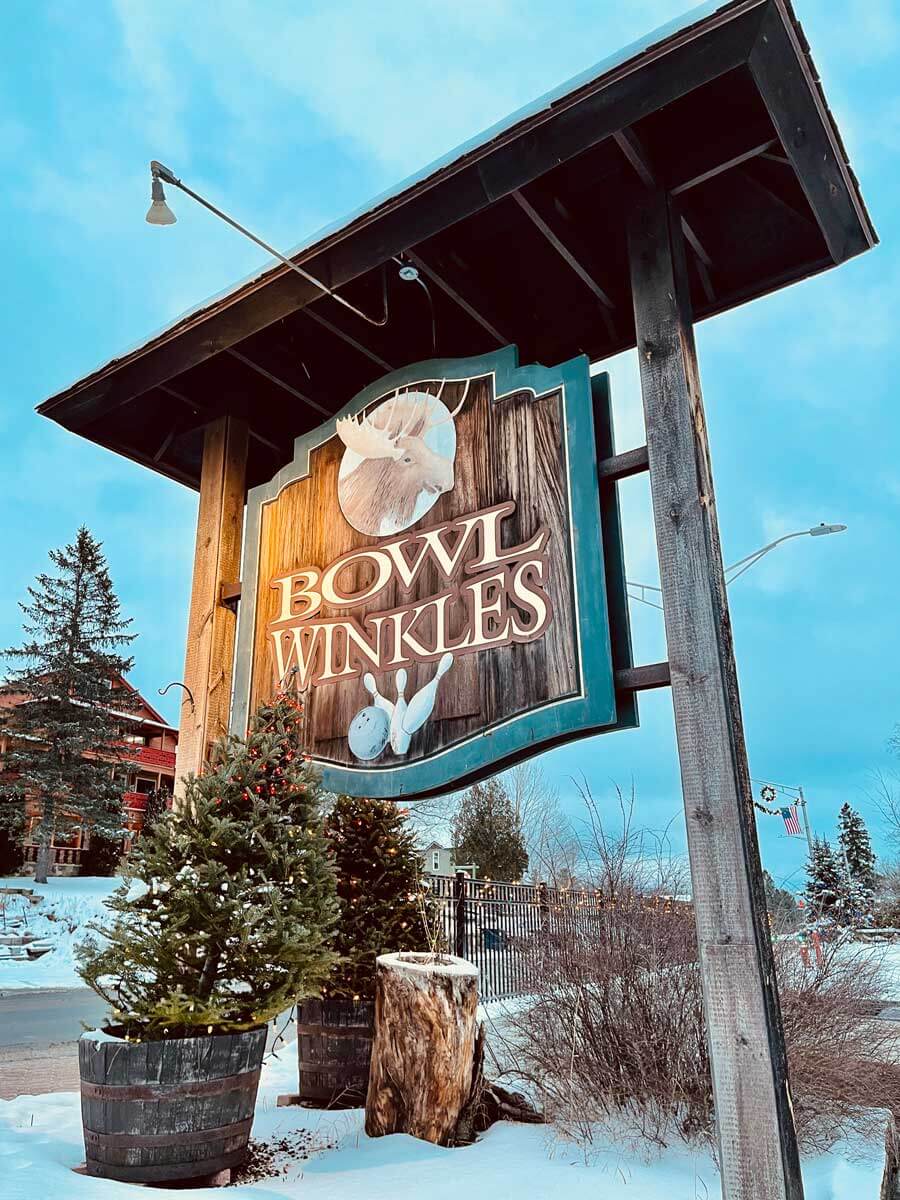 If you're exhausted from all of the Olympic fun in Lake Placid in winter, you can take the whole family to Bowl Winkles for some indoor fun, and let's just say I am a little obsessed with this name and play on words.
This is a great option for things to do in Lake Placid in winter, especially if you need a break from the cold during your Lake Placid winter trip. If you need to entertain little ones or are looking for a fun date idea, Bowl Winkles is a fun and relaxed place that everyone any age can enjoy.
You can pay per person, per game, or rent a lane for a few hours! Renting by the hour is $35 for up to five people, with shoe rentals included, so a day of bowling won't break the bank. You can also make a day of it and grab drinks and bar food at Winks Bar & Grill!
Olympic Jumping Complex
One of the most exciting things to do in Lake Placid in winter is to pay a visit to the Olympic Jumping Complex! Watch experts fly through the air and turn extraordinary flips and spins. Take a tour through the Olympic Jumping Complex for panoramic views and a thrilling show!
If you get inspired and want to soar yourself, you can take a ride on the Sky Flyer Zipline. The zipline launches you from 70 feet in the air, and you'll zip along through the sky at speeds up to 30MPH! Make sure you snag your tickets for the zipline in advance.
Your tickets also include the Skyride Experience which is a new gondola experience and elevator to the top of the Ski Jump Tower where you get panoramic views of the Adirondack mountain peaks and one of the best views in the region. The cool thing about this spot is it's actually open year-round too in case you are also planning an additional journey up here another season.
Walk on Frozen Mirror Lake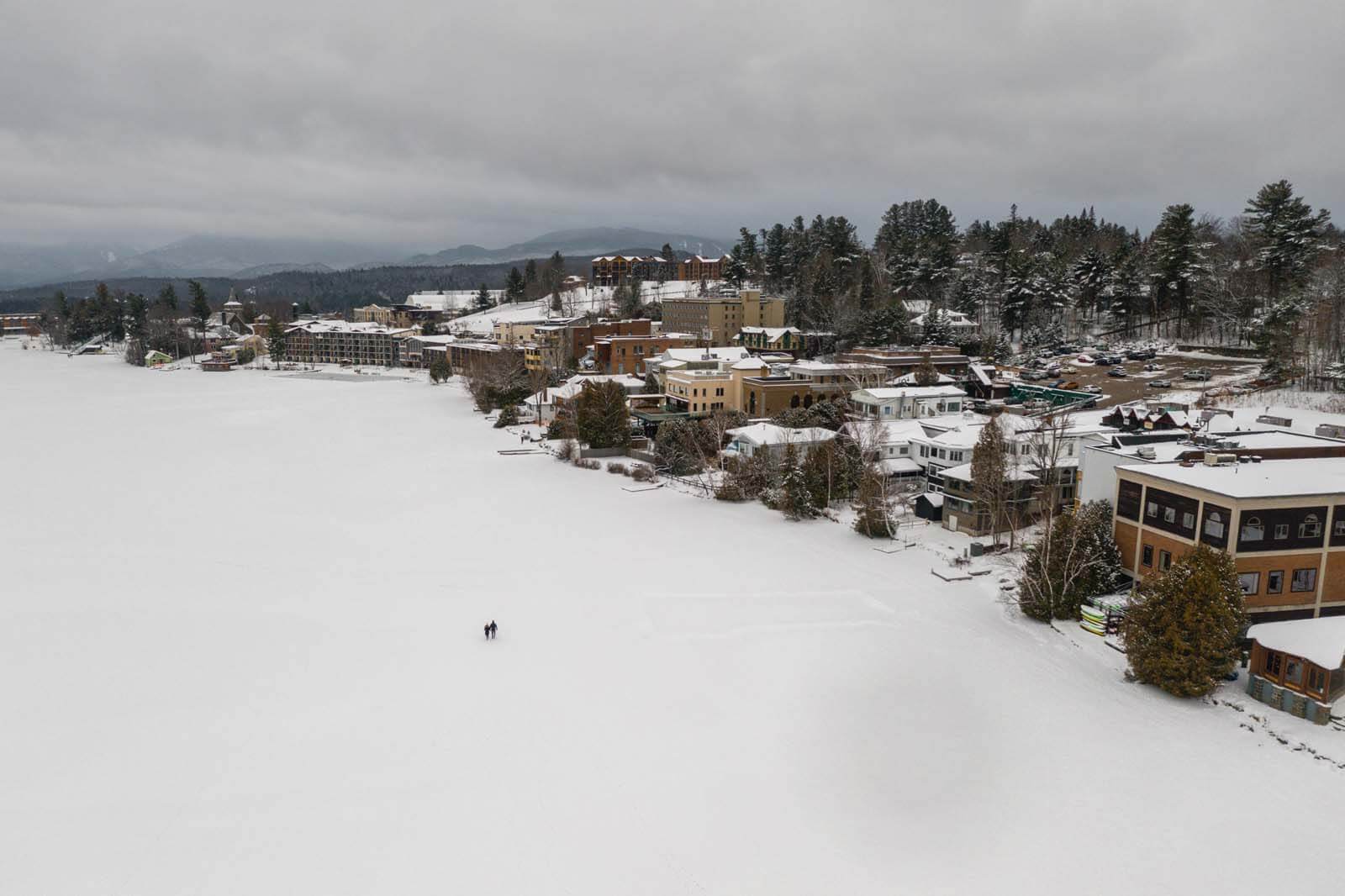 For a lovely Lake Placid winter experience, head to frozen over Mirror Lake! Besides all of the exciting winter sports that take place on the frozen lake (like cross country skiing, skating, dog sled rides, and toboggan rides) you can also keep your feet on the ground and walk around on frozen Mirror Lake, which is a popular way to get around by foot even by the locals during Lake Placid winters!
If you're visiting from an area with less extreme winters, make sure you take advantage of this unique and exciting experience!
Just make sure that it's safe to walk on the ice during your visit, there are trails that lead down here, if you see a ton of other people doing it already, it's probably safe, but better be safe than sorry by checking first.
High Falls Gorge
Take a 30-minute hike through the positively stunning Adirondacks at the High Falls Gorge nature park! High Falls Gorge is a short drive from Lake Placid and just a mile from Whiteface Mountain and offers some of the best New York waterfalls!
The safe, accessible trail will take you past four rushing waterfalls and endless natural wonders. You can even take a snowshoe tour when it's snowy making it one of the best things to do in Lake Placid in winter for those who love waterfalls like us!
Admission to the self-guided tour of the trail is $13 for adults and $10 for children ages 4-12. All little explorers ages 3 and under get free admission! Be sure to check the schedule before embarking on your High Falls Gorge trip to ensure they are open during your visit.
Adirondack Wildlife Refuge
If you're looking for things to do in Lake Placid in winter that aren't centered around snow and ice sports, you're in luck! The Adirondack Wildlife Refuge is a wild way to get out and about in the Lake Placid area without breaking a sweat.
The Adirondack Wildlife Refuge is located in Wilmington, NY, and is open to the public every day from 10-4, except for Tuesdays and Wednesdays. They have daily presentations on some of the different species you can see at the refuge.
This is a great place to take any kiddos you may be traveling with. They'll love seeing the wolves, moose, and even black bears!
Visit Saranac Lake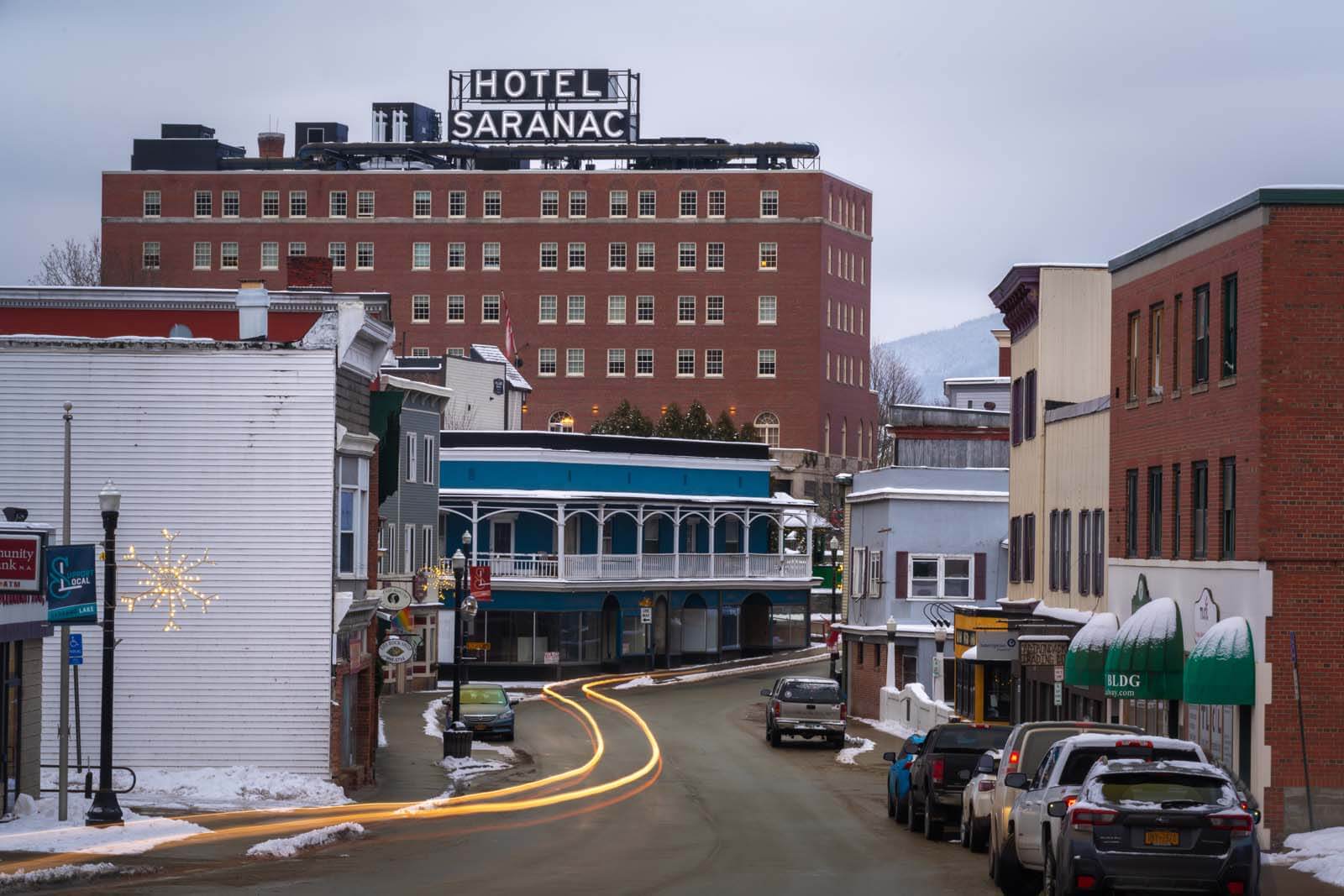 If you want to expand your exploration beyond Lake Placid, visit nearby Saranac Lake! Just nine miles west of Lake Placid, Saranac Lake is a beautiful village in the Adirondacks.
Visit Saranac Lake's artsy downtown area – bursting with galleries, live music, and events, unique shops, and restaurants, all surrounded by the gorgeous natural features of the area.
If you're a connoisseur of slopes, you can ski or snowshoe at Saranac Lake. You can even mix it up with some ice fishing!
Saranac Lake also has a really interesting history as well. In the 1870s, this town in the Adirondacks became a famous rest spot for wealthy New York City citizens looking to cure their Tuberculosis. With the crisp mountain air, beautiful scenery, and ample trails for outdoor hikes, Lake Saranac's "cure cottages" still remain as windows into the past.
A unique stop in this town in the Adirondacks is a visit to the Robert Louis Stevenson Cottage. This home is where the author spent a year with his mother while recovering from his bout with the illness. The cottage has been preserved, and all original furniture and décor remain. The original mantlepiece even has burns from where Stevenson left forgotten cigarettes.
Where to Stay in Lake Placid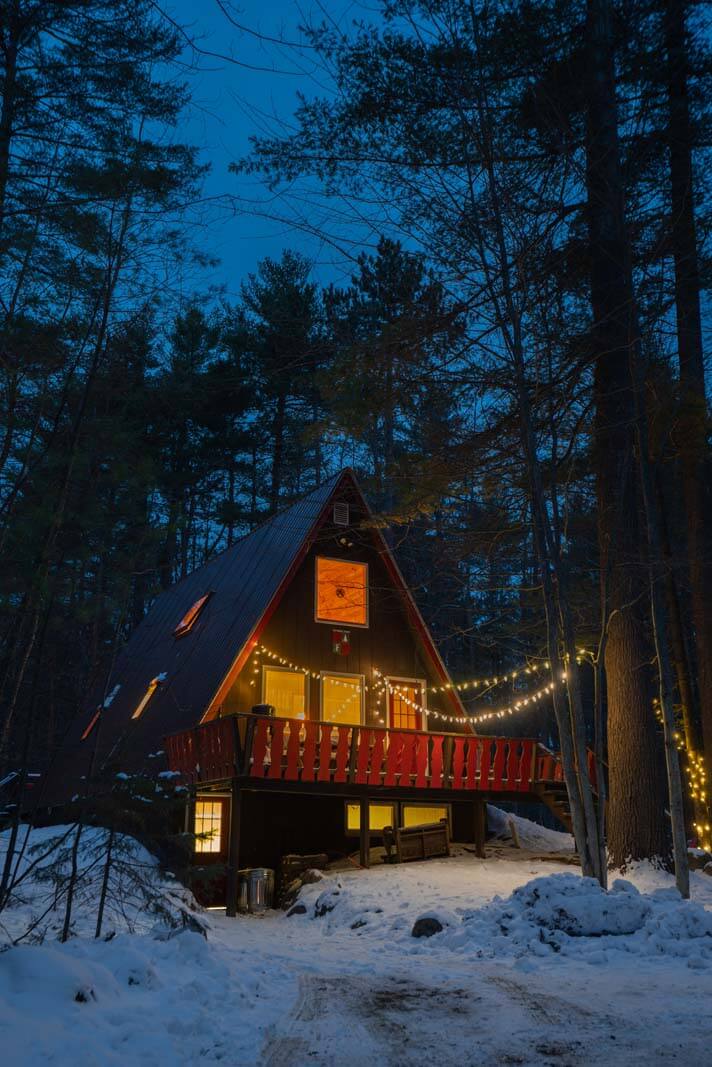 You have a few options for where to stay on your getaway exploring all the best things to do in Lake Placid in winter from the hotel lodges below that we recommend because of their central location as well as access to the fun Lake Placid winter activities.
Another option is to check out some of the best cabins in New York, many of which are in or near Lake Placid.
We stayed in this adorable A-Frame cabin in Jay, New York which is only around a 20-minute drive to Lake Placid and makes for the perfect base for exploring the area and all the winter activities! Jay is also an adorable spot that has one of the most beautiful New York covered bridges and is just a short drive from Whiteface Mountain, Ausable Chasm, multiple waterfalls, and even the North Pole winter amusement park and village.
This cabin getaway is located on 2 acres of secluded forest and is a perfect spot any season offering great activities year-round.
This 2 floor A-frame cabin has a fully equipped kitchen, living room, dining room, office, and 2 bedrooms. Book this cabin Airbnb in New York.
One of the best places to stay during a Lake Placid winter vacation if you plan on doing any skiing or snowboarding is at the world-famous Whiteface Lodge in Lake Placid. They have several styles of rooms to choose from, a spa, heated indoor/outdoor pool area, and other great amenities for guests at this 4.5-star resort not to mention a great location. Book here.
Another great, AAA Four-Diamond hotel and member of the Small Luxury Hotels of the World located in Lake Placid, and a great base for exploring the Adirondacks, is the Mirror Lake Inn. Get a gorgeous room with a balcony overlooking the mountains and Mirror Lake with a crackling fireplace to cozy up to at night.
There's a luxury spa on-site and you can walk to all the attractions and things to do in Lake Placid right from this resort which is just a short, 10-minute drive to Whiteface Mountain if you are also hoping to hit the slopes. Book here.
---
Enjoyed this guide to the best things to do in Lake Placid in winter and Lake Placid winter activities to enjoy during your getaway? Bookmark for later or share the love below on Pinterest!