Whether you're visiting for the first time or a born-and-raised Angeleno, these stunning scenic viewpoints in Los Angeles will take your breath away. This list will take you through best views in LA and some of the iconic overlooks that make this city such a popular destination.
Because of Los Angeles' uniquely hilly landscape, there are overlooks, viewpoints, and perches in every corner of the city. From the peaks of downtown skyscrapers to the Santa Monica mountains, LA is home to some of the best viewpoints you'll ever see of a city!
Also, be sure to check out more of the amazing things to do in Los Angeles during your visit!
Disclaimer: This post contains affiliate links.
Best Views in LA
Griffith Park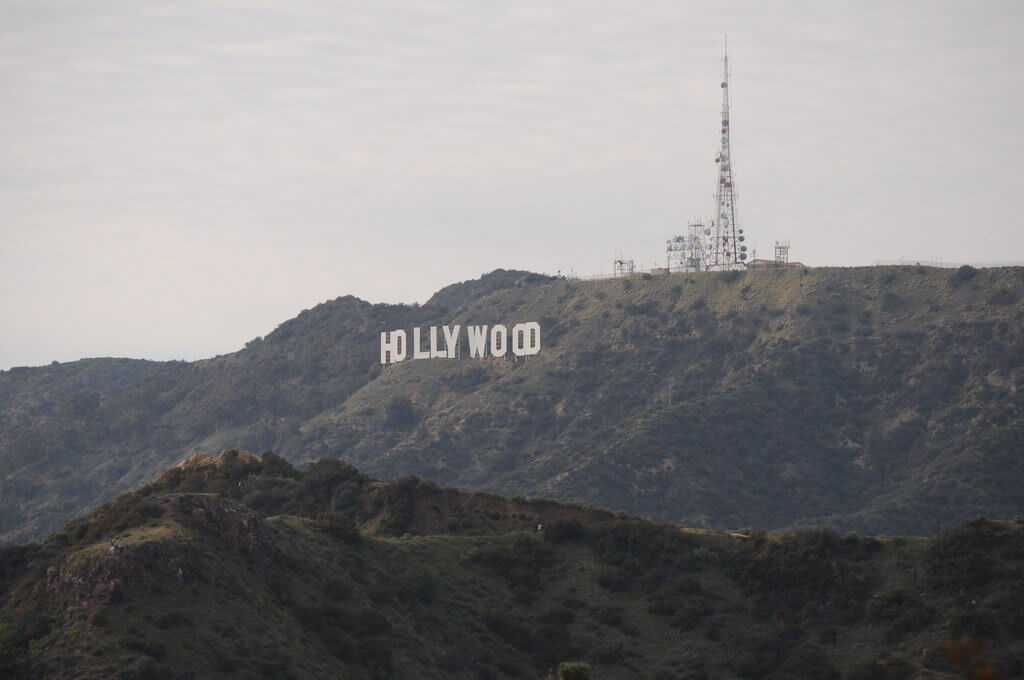 Griffith Park is maybe the most well-known of all the Los Angeles lookout spots. In addition to seeing the stars above from Griffith Observatory, you'll be able to see miles of the city on a clear day or night––most prominently the skyscrapers of the downtown LA skyline.
Facing the opposite direction you have one of the best Los Angeles lookout spots of the Hollywood sign! If you're hoping to get up close, check out the best Hollywood sign photo spots including how to visit from the Griffith Observatory.
Visiting the Griffith Observatory also has its perks in addition to providing some of the best views in Los Angeles you can enjoy live planetarium shows, making it a great spot to take the kids (or a fun educational date) and make a day of it.
It was also featured in Rebel Without A Cause and in homage to that, was also featured in La La Land. There's even a bust of James Dean to the right of the observatory that perfectly places the Hollywood sign just behind him.
Some of the best views can be seen from several of the incredible Griffith Park hiking trails including hikes to the Hollywood sign and around the park.
Things to know: There are paid parking lots close to Griffith Observatory and street parking along the drive up. Fees change depending on the time of year and day of the week. Alternatively, you can park elsewhere and take the Parkline Shuttle up to Griffith Observatory.
Dogs must be leashed. The park is open from 5 am to 10:30 pm making it one of the best places to enjoy the best views of LA at night.
Try a Tour!
Jerome C. Daniel Overlook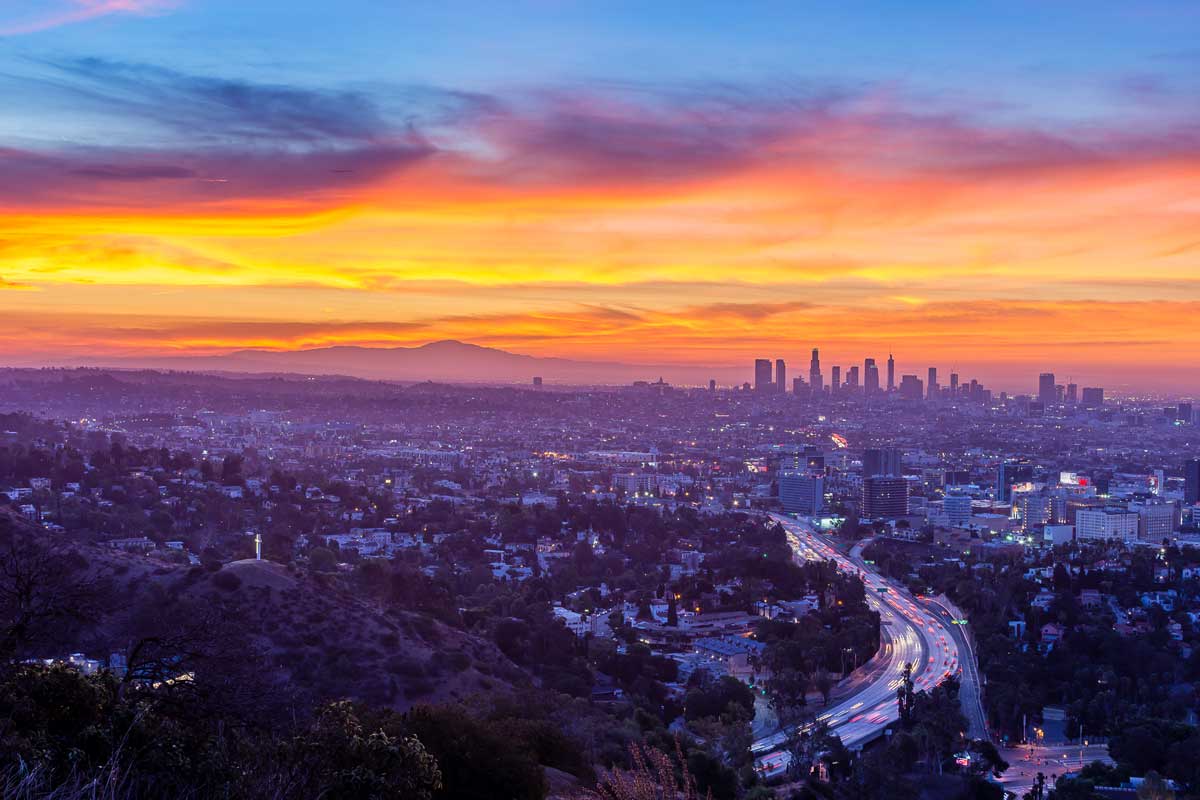 Built in 1984 to prepare for the tourism of the 1984 Olympics, the Jerome C. Daniel overlook offers an unparalleled view of the Hollywood sign and our first scenic overlook in Los Angeles on the list, Griffith Park.
On a clear day, you might even be able to see the ocean and Catalina Island, one of our absolute favorite places, in the distance.
It's located along the scenic and iconic Mulholland Drive along with some of the other best views in Los Angeles. It sits right above the legendary Hollywood Bowl. You may even be able to catch the sounds of a concert from the Los Angeles Philharmonic in the summertime if you're lucky!
Come at sunset for one of the best views in LA at night too as you'll see the city transform from day to night and watch Tinseltown light up and twinkle right before your eyes!
Things to know: The address is 7036 Mullholland Drive. The parking lot is small and fills quickly, alternatively look for street parking. Dogs allowed. This area is managed by MRCA.
Baldwin Hill Scenic Overlook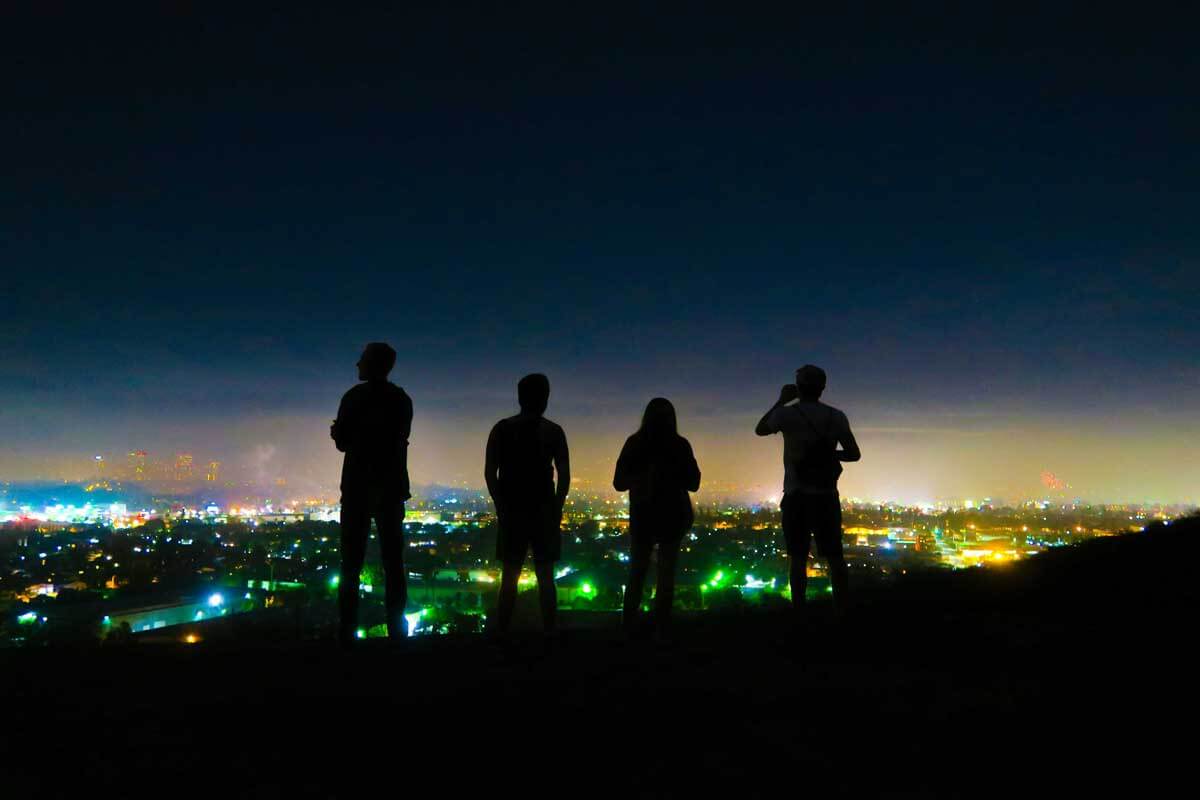 Just south of Culver City, Baldwin Hill Scenic Overlook captures one of the best views in LA. Take the steep stairs straight up or take in a variety of views over a 2.5-mile hike and get those steps in!
This overlook has a perspective all it's own––overlooking the Los Angeles Basin with views of the Santa Monica Bay, the San Gabriel Mountains, and the Hollywood hills. You can also see Sony Pictures Studios and the recognizable Culver City Hotel.
If you're looking for the best views in LA at night be sure to plan to come up here around sunset so you can watch the twinkling of the city from this Los Angeles lookout spot! Keep in mind the park does close at sunset, so be sure to head back down right after and make sure you have equipment like a flash light to get back down safely in the dark.
Things to know: Enter the park at 6300 Hetzler Rd off of Jefferson. There is paid parking here for $2/hour or $6/day. No dogs allowed. This park is managed by California State Parks.
Echo Park Lake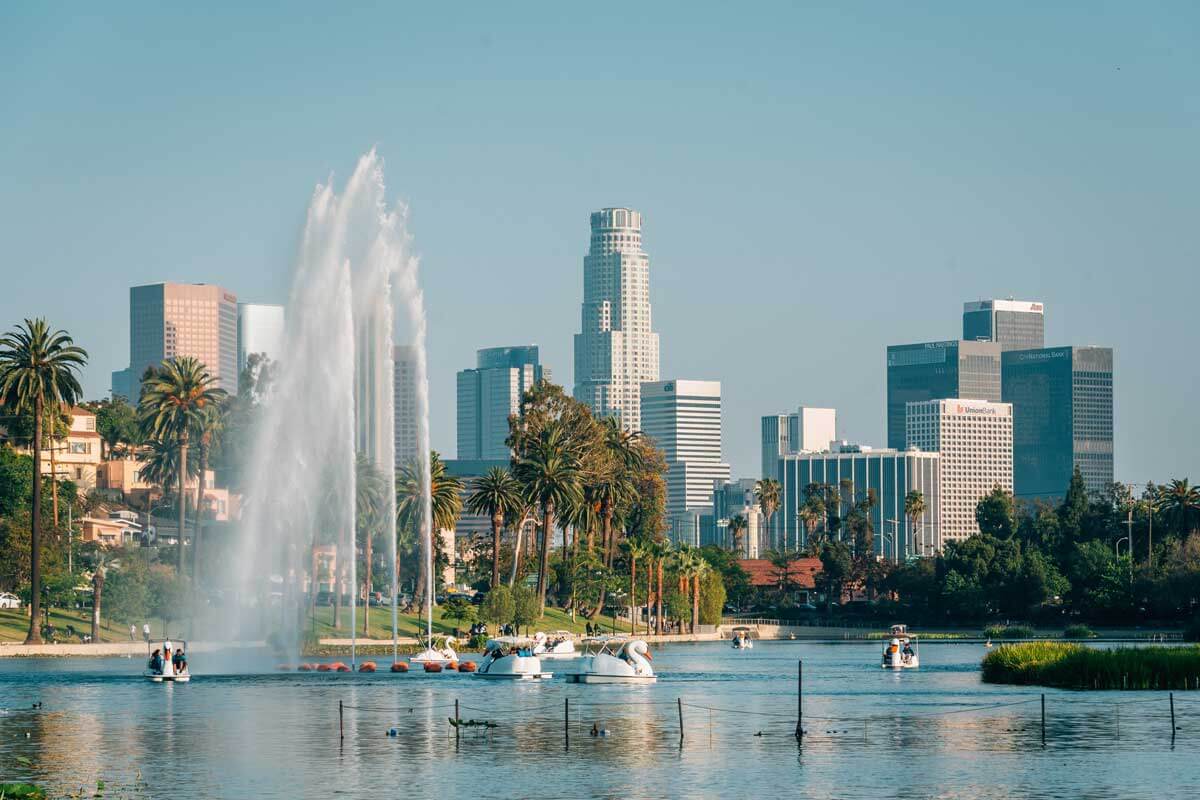 Once used as a reservoir, Echo Park Lake is now home to fishing, canoes, and the famous swan pedal boats. It's famous as one of Los Angeles' best spots for a day with the family or one of the most fun date ideas in LA. There's even a playground on the north end of the lake if you do bring kiddos.
Surrounded by tall palm trees and a lush landscape––including lotuses in July, Echo Park Lake has been one of the city's main attractions for over 100 years!
You can take a stroll on the path around the lake's perimeter, sit for a picnic, or even rent a swan boat! Make sure to stop by the boathouse––home to Beacon, a great breakfast spot!
If you're in the mood for food and shopping, it's just a quick walk over to a bustling stretch of Sunset Boulevard that boasts plenty of shops and restaurants.
Echo Park is also known as one of LA's hippest neighborhoods because of its music venues, vintage stores, chic pop-ups, and of course those nice views of Los Angeles.
Things to know: The address is 751 Echo Park Ave. Echo Park Lake is notoriously known for not having enough parking, try to use their parking lots first if all else fails you can check Spot Angels for nearby parking options including free street parking.
L.A. City Hall Observation Deck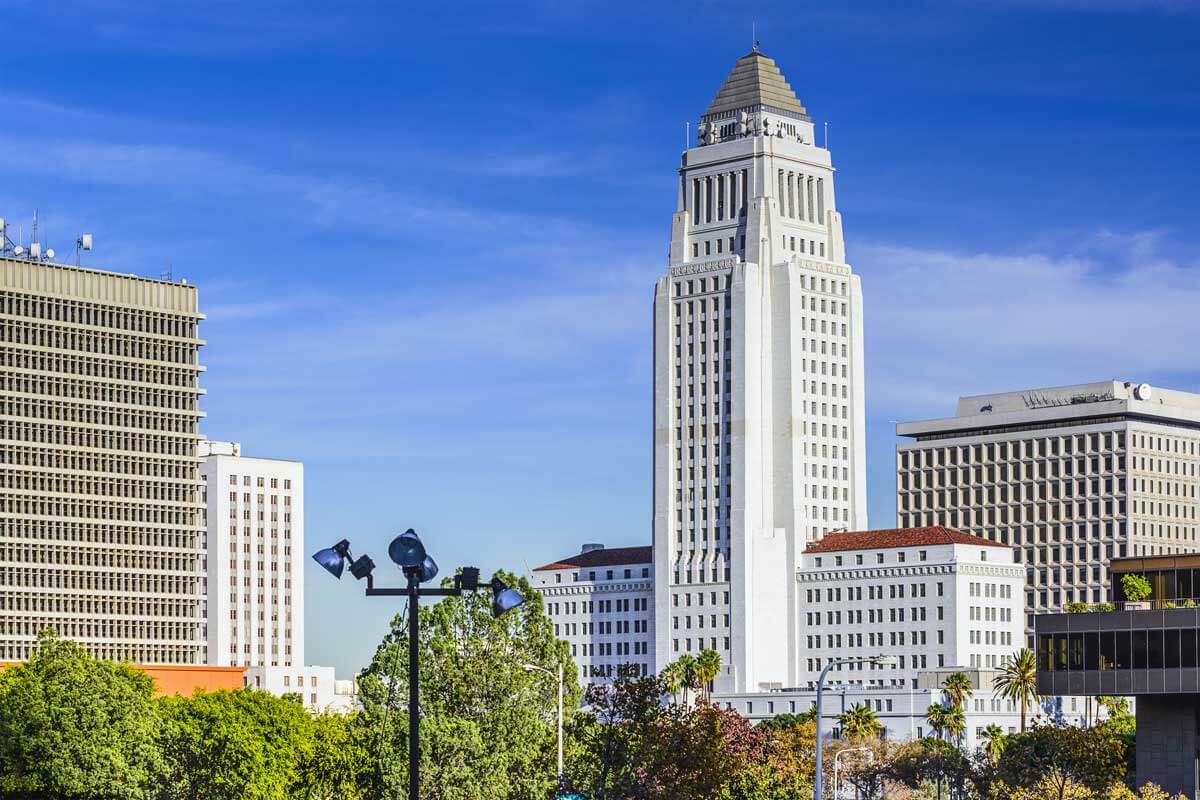 This amazing observation deck on the top of LA's city hall provides a 360-degree Los Angeles lookout spot. After taking two elevators and some stairs to the top, you'll end up on the 27th floor. It's one of the only places you'll be able to see Los Angeles from all angles.
From this Los Angeles lookout spot, you can check out the stunning Walt Disney Concert Hall, the Hollywood Sign, and Griffith Observatory. You can even see a few helipads on the roofs of neighboring buildings.
On the 26th floor, just before you take the stairs to the observation deck, you can take a look at all the portraits hanging of past mayors of Los Angeles.
Once you've wrapped up your 360 sightseeing, stop on the 3rd floor and take a look at some of the foreign art gifted to the city. And don't miss all the other cool things to do in downtown Los Angeles when you're done checking out this incredible viewpoint in LA.
Things to know: The visitors' address is 201 N. Main Street. The observation deck is free to visit but you must check-in and acquire a visitor's badge, bring a valid ID. Parking is under City Hall East at 200 N. Main Street and visitors have to pay. Only open from 8 am to 5 pm on weekdays.
Yamashiro Hollywood
Perched 250 ft high in the Hollywood Hills, Yamashiro Hollywood is a famous Japanese and Asian fusion restaurant beloved by visitors and locals alike. It's often cited as one of the most romantic dinner spots in all of Los Angeles.
In addition to their fantastic sushi, Yamashiro Hollywood is also known for its breathtaking viewpoints of Los Angeles throughout the restaurant.
Back in the "Golden Age" of Hollywood, Yamashiro was the go-to spot for some of the biggest names in show business.
It's a great spot to have dinner before seeing a performance at the Pantages Theater or the Hollywood Bowl. They even offer a dine-and-ride option where you can leave your car at the restaurant while you enjoy a concert.
The restaurant is modeled after a real palace in Kyoto and flaunts its beautiful Japanese architecture. You can also visit the small garden just in front of the restaurant. It was also featured in the movie Memoirs of a Geisha.
Things to know: Located at the Hollywood Hills Hotel at 1999 North Sycamore Ave, reservations are recommended for people wanting to enjoy dinner, otherwise head straight to the bar for a drink. Make sure to get your parking ticket validated if you're dining here otherwise you will have to pay around $20 for parking.
Vista Hermosa Natural Park
Extremely popular with local residents, Vista Hermosa Natural Park is a gorgeous urban park with some very nice views in Los Angeles. The park has beautiful walking trails where you can walk through meadows and streams before sitting down for lunch on their picnic grounds or just pop down in any of the benches with a scenic overlook of Los Angeles and the skyline.
You will quickly forget how close you are to downtown Los Angeles after you take in the natural, sustainable landscape of California-native trees and vegetation. For families with kids, there's a nature-themed playground and a soccer field.
If you want to learn more about environmental history, you can stop by their outdoor amphitheater.
Things to know: Located at 100 N Toluca St. Free parking is available at Toluca Street north of 1st and Glendale along with street parking.
Mulholland Scenic Overlook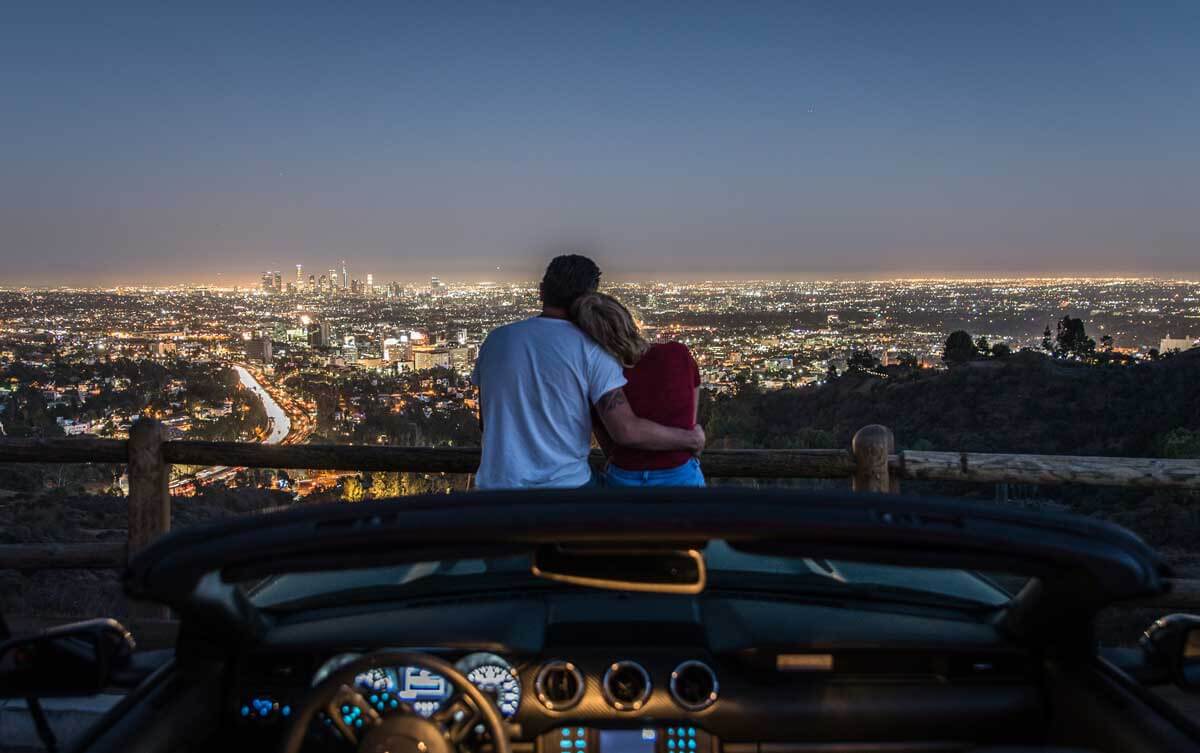 Named after the iconic road that lines the top of the Santa Monica Mountains, Mulholland Scenic Overlook is home to one of the best viewpoints in Los Angeles and one of the best places to visit in Los Angeles at night. It's also one of the most accessible Los Angeles lookout spots as you can enjoy the views directly from your car.
Mulholland Drive was constructed to transport residents of the city to explore the nearby beaches and mountains. It was named after the self-made Irish-American civil engineer, William Mulholland. He is often credited with helping grow Los Angeles into the biggest city in California because he built the infrastructure for the city's water supply.
Mulholland Drive has also been home to dozens of celebrities including Madonna, John Lennon, Jack Nicholson, and Marlon Brando. David Lynch, who directed the acclaimed film, Mulholland Drive, once said that you can feel the "history of Hollywood" on it.
From the perch of the overlook itself, you can see downtown, Hollywood, and the iconic 101 cutting through the city with that famous LA traffic which isn't so bad if you're viewing from up here!
Better yet, this offers nice views of Los Angeles all day and night. If you can, visit at dusk or in the evening for an unforgettable and one of the best views in LA at night. Not only can you do this entire experience from the car, but there are stops along the way including Jerome C. Daniel overlook mentioned earlier on this list!
Things to know: Driving from Hollywood, drive west on Hollywood Boulevard, all the way to the end at Laurel Canyon Boulevard and turn right up the hill to get to Mullholland Drive and to enjoy the views of LA while you're driving in the car, there are several overlook stops along the way, some of which have benches and spots to walk and enjoy the view.
Try a Tour!
Don't have a car? Don't worry! If you're visiting and want to enjoy the scenic views of Los Angeles like this consider booking a private 3-hour tour in an SUV with a guide to epic spots like Mullholland Drive! Better yet, since this tour is private they will customize it to hit up several spots you were hoping to see during your visit! Book here.
Universal City Overlook
In the hills across from Universal Studios sits one of the best views of the San Fernando Valley and Verdugo Hills. Like many of our best viewpoints in Los Angeles, it's also located off of Mulholland Drive, but this view is from the north side of Mulholland and faces the deceivingly colossal San Fernando Valley.
With a generous donation from Universal Studios, this overlook was built at the same time as the Jerome C. Daniel overlook to prepare for the tourism of the 1984 Olympics.
It's an absolutely picturesque area that you can easily access by simply pulling over on Mulholland Drive. The feeling that accompanies visiting the Universal City Overlook is one of being extremely high up.
It feels this way because the overlook towers above the nearby NBCUniversal building along with many of the neighboring hotels. You can even get an unobstructed view of Universal Studios' theme park!
Speaking of, don't miss spending a day at Universal Studios Hollywood including the Wizarding World of Harry Potter!!! Book your tickets in advance and spend the day here ending your epic day checking out this viewpoint!
Things to know: Located at 7701 Mulholland Drive. Parking is available on the street. Pets are allowed.
Spire 73
Spire 73 is one of the most unique Los Angeles viewpoints on our list. It's not above a mountain range, a hike, or a park, but perched on the 73rd floor of the InterContinental Los Angeles Downtown.
In addition to its spectacular views of the city, Spire 73 is home to the tallest open-air bar in the Western Hemisphere. It opened in 2017 and has been an attraction to both locals and visitors.
There are fire pits, a wide variety of cocktails, and an acclaimed restaurant. Visitors recommend scheduling your trip around sunset and be rewarded with some of the best views of LA at night cozied up by a fire pit with a cocktail or drink of your choice in hand. You'd be hard-pressed to find a more elegant and stunning date spot than Spire 73!
Things to know: Located in the InterContinental Los Angeles at 900 Wilshire Blvd on the 73rd floor. Reservations are recommended. Familiarize yourself with their dress code which is business casual. Valet Parking and the parking lot is available at 900 Wilshire Blvd, both are paid options.
Getty Center
The Getty Center is home to one of the most beautiful and unique of the best viewpoints in Los Angeles. In addition to being one of the most famous art museums in America, it has an equally famous, perfectly-manicured garden.
One way to get to the Getty Center from the parking lot is by cable car. It's a blast taking the tram up to the museum, as it climbs the side of the 405 with some scenic twists and turns.
From the top of the Getty, you get an incredible Los Angeles lookout spot of the west side. Perched above Bel-Air, one of LA's most iconic neighborhoods, this museum features art from some of the most renowned artists of our time including Van Gogh, Cezanne, and Monet.
It's also surprisingly massive inside and is home to many exhibits at any given time. It's also the primary legacy of J. Paul Getty, a successful businessman, and art collector. He started gifting some of his most significant pieces to the Los Angeles County Museum of art (or LACMA) in 1948. He subsequently established the J. Paul Getty Museum trust––the precursor to the world-famous Getty Center.
Things to know: The Getty is free to visit, but you will need to make a reservation online in advance. There is $20 paid parking available once you arrive. The location is 1200 Getty Center Dr. Closed on Mondays.
---
Enjoyed these incredible viewpoints in LA? Or did we miss one of your favorite spots for scenic views in Los Angeles? Let us know in the comments below. Bookmark or save this post for later on Pinterest below!
And if you're looking for more great resources for your upcoming trip check out our guide to the best things to do in West Hollywood, our favorite day trips from Los Angeles and our Southern California road trip itinerary for more ideas!