Looking for the best things to do in Los Angeles for a first-timer? We've got you covered. From those must see in LA attractions, Los Angeles bucket list worthy items, and a few picks from two former Southern California residents we've compiled a collection of what to do in Los Angeles whether you're new to the city or just looking to add things on your next visit you haven't seen yet!
We've got museums, outdoor attractions, hikes, views, fun neighborhoods, and cool tours here to help you plan an unforgettable trip whether you're going solo, on a romantic getaway, have some extra time on a work trip, or are visiting with your kids!
And if you have time consider checking out some of our favorite day trips from Los Angeles including awesome spots like a day trip to Catalina Island or a visit to Ventura, California for more incredible ideas! If you need help planning your trip even further, consider checking out our Los Angeles itinerary that's easy to use as is or customize!
Disclaimer: This post includes affiliate links.
Bundle Los Angeles Attractions & Save!
Want to see many of the best things to do in Los Angeles and save money? The Los Angeles Go City Pass, which is a pass you can purchase (choose between a 3, 5, or 7-day pass) that allows you into over 40 Los Angeles activities and attractions. These city attraction passes help you save money and see more! Learn more and purchase here.
Los Angeles Bucketlist: What to do in LA
1. Griffith Observatory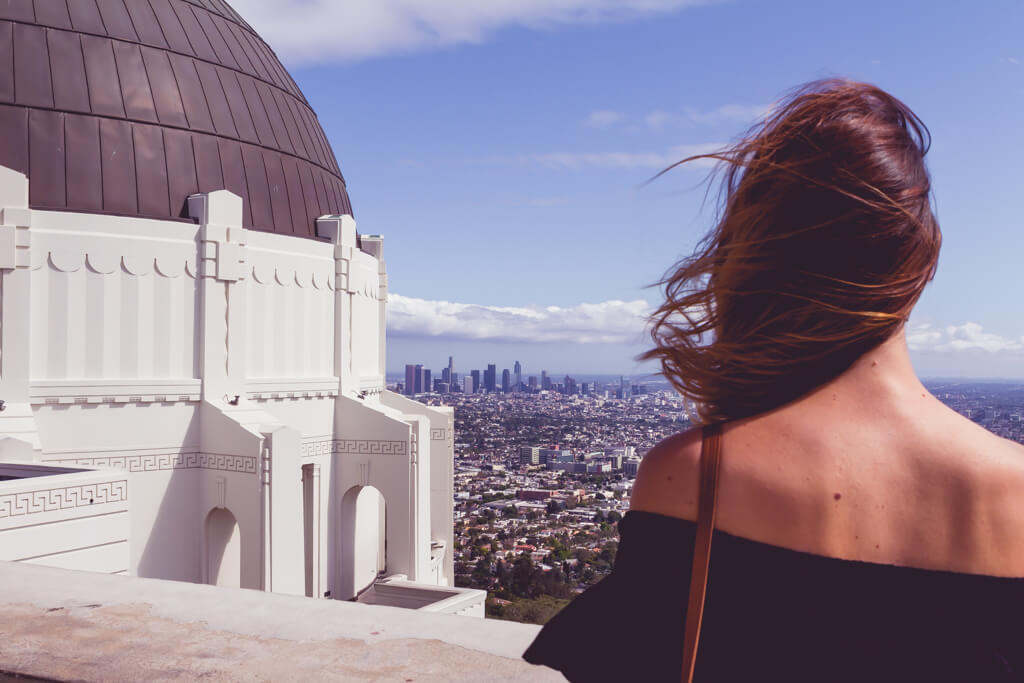 One of the best things to do in Los Angeles is to visit the world-famous Griffith Observatory. Built in 1935, the building is stunning with art deco details. Night or day, the views of Tinseltown are breathtaking!
You'll find Griffith Observatory off I-5 at the base of Mount Hollywood, overlooking and providing some of the best views of Los Angeles.
You can just walk the grounds and have a great time at this must-see in LA! There are educational plaques, dedicated monuments, and beautiful architecture. This is a popular place to get photos of the Hollywood sign. It's pretty far from the sign, but we loved the angle and the way you can see the sign nestled among the hills!
Inside the observatory, there are all kinds of free exhibits. Check out shows in the Samuel Oschin Planetarium that play every 60 to 90 minutes.
Enjoy stunning painted ceilings, the Foucault Pendulum, and 2 public telescopes pointed into space. If you check the website's event calendar, there are regular talks by staff, movie showings, special events, talks, and more.
Also, don't miss the 50,000 volt Tesla Coil on display here too which has a live demonstration just about every hour.
While you're looking for what to do in Los Angeles, check out Griffith Park which is where Griffith Observatory is located. This is a public recreational area with over 4,000 acres of things to do!
Behind the observatory, you'll have access to some of the best places for outdoor activities in the city as there are several amazing hikes in Griffith Park. They lead all over the mountainside and over to the Hollywood sign.
There are paid parking lots close to Griffith Observatory and street parking along the drive up. Fees change depending on the time of year and day of the week. Alternatively, you can park elsewhere and take the Parkline Shuttle up to Griffith Observatory.
Try a Tour!
2. Hollywood Sign Hike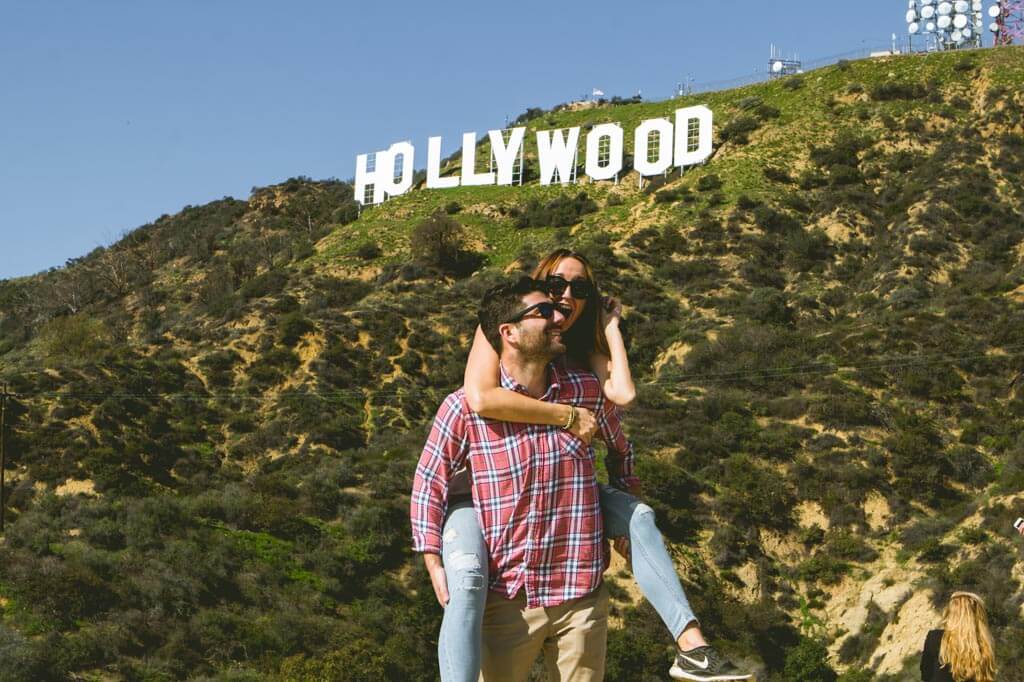 The Hollywood sign isn't actually on Mount Hollywood, but west of it on Mount Lee! It's in the western part of Griffith Park, north of Mulholland Highway. If you're looking for fun things to do in LA, you might enjoy a hike up to this century-old landmark.
Google directions to the sign and it will take you to Griffith Observatory. This is on purpose to keep neighborhood streets from getting overcrowded. Don't try to park on residential streets or you'll get a ticket. Use the free parking designated at the trailheads or metered parking at the Observatory.
There are a lot of trails on the mountainside. While you're looking for the best things to do in Los Angeles, we recommend the following hikes. All the ones we've chosen lead you to the observation deck at Mount Lee Drive:
Mt. Hollywood Trail is easy and takes about 90 minutes. You cross a ridge and pass some scenic rest stops along the way.
Brush Canyon Trail is a moderate trail that's over 6 miles long. Make sure to stop at Bronson Cave, used as the bat cave in the 1960s Batman TV show!
Cahuenga Peak Hike is a difficult trail that'll take you almost 2 hours to cross 3 miles. It actually starts on the Aileen Getty Ridge Trail, crosses the Cahuenga Peak for some great views, and ends at Mt. Lee Drive.
Hollywood Sign Hiking Tour – Take the guesswork out of trying to find the Hollywood sign from Griffith Park on this 2 hour educational and guided hike with a local. Book here.
The area below the sign is a residential neighborhood, so please be respectful. Stay on the public trails only. If you want to bring your dog, make sure they're leashed.
Also, the trails can be brutal in the summer, so dress appropriately and bring water and snacks and if you have the flexibility on a hot summer day – enjoy the hike early morning or closer to dusk.
3. Santa Monica Pier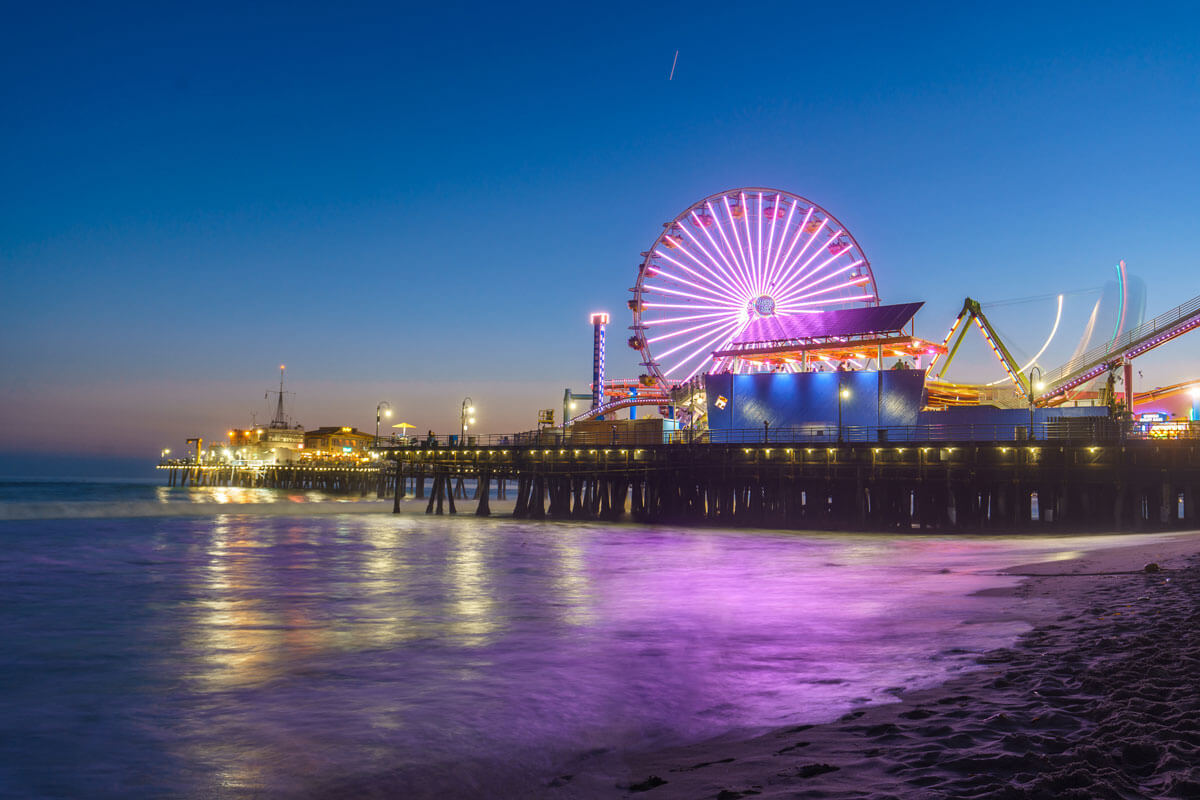 The city's balmy weather may have you wondering what to do in LA outdoors. Spend the day at the famous Santa Monica Pier. Opened in 1909, this historic pier has had many lifetimes over the years.
For one of the best things to do in Los Angeles, visit Pacific Park. This is an amusement park on the pier with carnival rides. Ride the iconic Pacific Ferris Wheel or jump on a roller coaster! Entrance to the park is free but each ride costs around $5 to $10. If you go to the website, you can buy unlimited ride wristbands that will save you some money.
Play some arcade games or eat at one of the many beachside food vendors. Enjoy street performers, live events that frequent the pier, or do some souvenir shopping! Don't forget about the historic old merry-go-round or book a session at the trapeze school for a unique experience.
You've got options. Walk by the pier, head to the amusement park on the pier for games and rides, sunbathe at the beach, dine, shop, and head to Santa Monica Promenade for more options after.
The pier is accessible by car directly from I-10 or the Pacific Coast Highway. Park at a series of metered beach lots or take the train to the Santa Monica Pier station.
You can also take the bus to the Colorado Avenue stop. There are also paid parking lots all around Santa Monica so you can walk to the beach and pier as well as the Santa Monica Promenade for shops, dining, and more fun must-see in LA stuff to do! Plus there's an abundance of fun things to do in Santa Monica, which is why it's one of the most popular places to visit and stay in LA.
4. Universal Studios Hollywood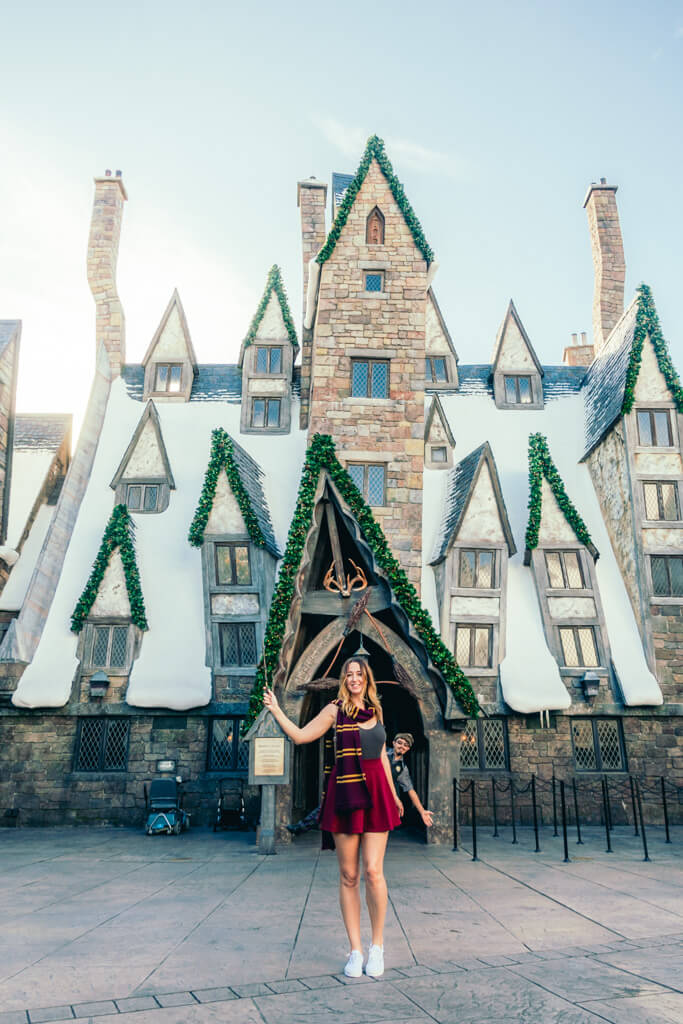 If you're looking for what to do in Los Angeles with the kids, this is the place. Or, if you're just a kid at heart like us, Universal Studios Hollywood has attractions for all ages!
The studio tours are fascinating and the rides are thrilling. Of course, there's the Wizarding World of Harry Potter and Springfield, U.S.A. for fans of the Simpsons!
Before you go, there are a few things to be aware of. While planning what to do in LA, book tickets in advance. You have the options of a one-day or a two-day admission ticket. You can also upgrade your ticket to a Universal Express ticket which lets you skip some of the lines. Admission also includes The World Famous Studio Tour, Wizarding World of Harry Potter, The Walking Dead, and Despicable Me Minion Mayhem.
If you want to book a place to stay, there are packages available with partnering hotels close by. Many are within miles of Universal Studios and offer perks like free shuttles. Hilton and Sheraton both have locations at the entrance of Universal Studios, with direct access to the lot.
When it comes to places to eat at the park, there are all kinds of fast-food restaurants you know and love. Have some ice cream at Ben & Jerry's or visit attraction-themed restaurants in different areas of the park. There's dining and brand-name shopping at the Universal CityWalk Shopping Mall or enjoy a cocktail at FIVE on the Hill.
We've prepared a guide for tricks and tips for Universal Studios from our Orlando visit, the same applies to this park!
You'll pay a daily parking fee per vehicle. There are bundles and discounts online. If you're taking public transit, it's just a walk across the pedestrian bridge from the station.
5. Echo Park Lake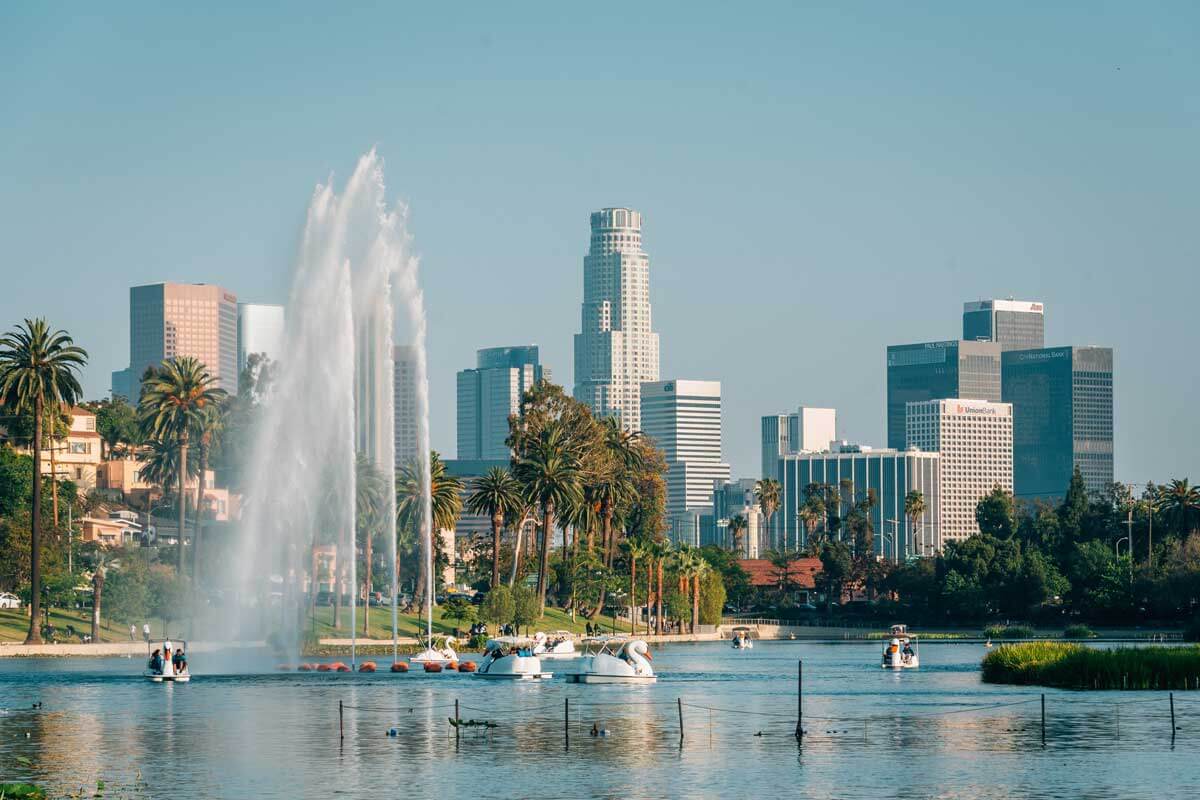 If you're wondering what to do around LA that's low-key, you should be aware of Echo Park Lake. Nestled between the 101 and Sunset Boulevard, come relax at this getaway in the middle of the city.
You'll love hanging out among the fountains, swans, lily pads, LA mansions, and views of downtown!
Over a century ago, Echo Park Lake was a reservoir that provided LA residents with essential water. Today, the lake is considered an important part of the city's ecosystem. There are grassy lawns and a skate park. You can even rent pedal boats shaped like swans to take on the water! Sometimes you can catch a movie at night on the lawns.
There are parking lots on the north and south sides of the park and several different bus stops along its boundaries. If you're hungry, there's the historic Beacon Café where you can get treats or coffee. Food trucks frequent the park, as well.
6. Rodeo Drive in Beverly Hills
While you're in the City of Angels, you must at least take a stroll down the iconic Rodeo Drive, even if you're just window shopping. One of the most iconic and fun things to do in LA, shopping inside the Golden Triangle is top-notch.
Wear some comfortable shoes and enjoy the mishmash of top-shelf labels. This is the place to catch the biggest names having work lunches and running errands.
Rodeo Drive is part of the white label shopping district that has been nicknamed The Gold Triangle. This area includes everything inside Santa Monica Boulevard, Canon Drive, and Wilshire Boulevard. Rodeo Drive is the epicenter, featuring names like Rolex, Cartier, and Ralph Lauren.
You may be surprised to know that there is free parking along most streets in the area if you can find a spot. Or use one of the dozens of lots in the area that offer 1- and 2-hour free parking! There are also bus stops at both ends of Rodeo Drive.
We suggest starting at the Willshire Boulevard end. Snap a picture in front of the Tiffany & Co sign. There's a famous stairway there leading to a charming cobblestone row of stores that include big designer names like Jimmy Choo and Versace.
Fashion lovers will want to look for the Walk of Style plaques further along Rodeo Drive. They feature info on icons of fashion.
The whole length of Rodeo Drive is only 2 miles. At the Santa Monica Boulevard end, there's a park called Beverly Gardens. Relax here on benches under the trees or take a picture in front of the icon Beverly Hills sign, plus spend some time exploring all the best things to do in Beverly Hills while you're here!
7. The Getty
Located in Brentwood off the 405, The Getty is a large campus run by the Getty Trust. If you're looking for what to do in LA that's free, come here.
The 24-acre campus is a public trust to further the visual arts. It's home to the Getty Center, a free public art museum, as well as gardens and outdoor exhibits.
You can access the museum by Getty Center Drive. Just off the highway, there's a parking garage for $15 for the day. The tram station will take you south to the campus. Inside the museum, grab a map at the front desk and walk through 4 wings of organized art exhibits. Enjoy everything from medieval art to contemporary art.
Check for special exhibits presenting rare art like light-sensitive manuscripts in specially lit rooms. There's a café and a coffee shop off the museum courtyard. You could spend a few hours walking through the stunning gardens and outdoor sculpture exhibits. Just bring water and walking shoes!
The museum is always free but you should check the website ahead of your visit. When you're looking for what to do around LA, some places require reserving time slots. Check out more of the best museums in Los Angeles too!
8. Venice Beach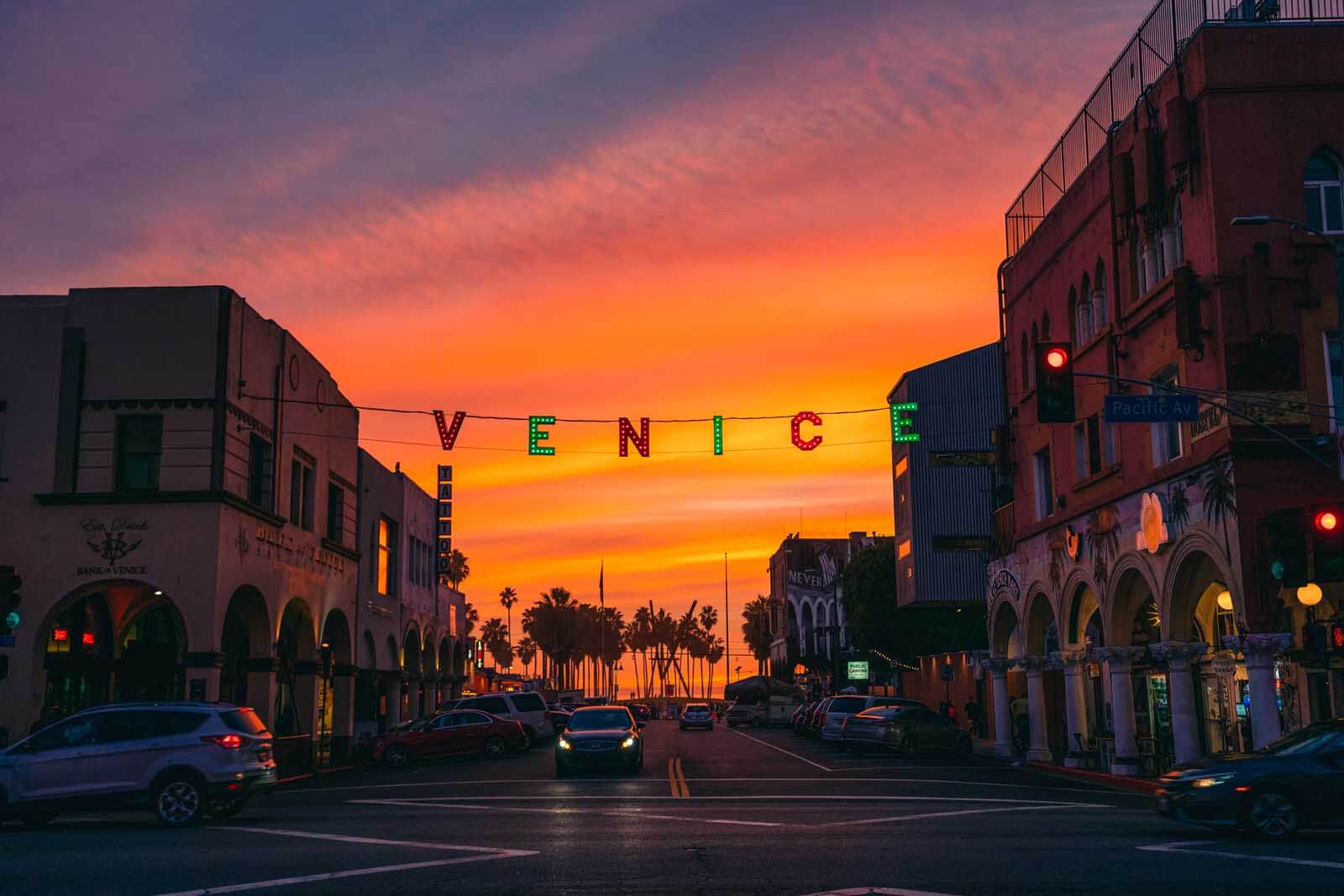 One of the best things to do in Los Angeles is to visit Venice Beach! You'll find this iconic beach just south of the Santa Monica Pier. There's a parking lot at the beach or if it's full you can use one of the parking garages off Venice Boulevard.
A few blocks away from the beach along Venice Boulevard S is the historic canal district. It was part of a vision of "the Venice of America" constructed back in 1905. It's pretty cool to check out the 4 square blocks left today! Take a stroll along peaceful walkways and across walking bridges in this old Venice neighborhood.
Back on the beach, you'll find tons of fun things to do in LA along the Ocean Front Walk. Check out Venice Beach Rentals, where you can rent all kinds of beach equipment, from chairs and mats to surfboards and beach butler services!
Walk or ride your bike along the boardwalk and peruse all the shops. You'll find everything here from knock-off purses and used books to souvenirs. There's also every kind of boardwalk food you can think of, like corn dogs, ice cream, and more. This is where you'll find the cool kids rollerblading next to the old hippie selling hemp jewelry.
The Venice Beach Recreation Center is next to the parking lot. Here you'll find tennis and basketball courts. Here, you'll want to check out the Outdoor Gym and Muscle Beach Hall of Fame! Bodybuilders have been working out here since the 60s. This is where guys like Arnold Schwarzenegger used to work out!
This is a must-see in LA for people watching!
9. MOCA
Find the Museum of Contemporary Art on Grand Avenue in downtown Los Angeles. This is what to do in Los Angeles if you're into iconic contemporary art.
Inside you'll find famous modern art pieces from 1940 (when the style started) and beyond. Walkthrough installations and check out photography, paintings, and other media.
There's also a gift shop and dining hall. Find metered parking lots and cheap garages off Grand Avenue, and bus stops outside the MOCA. There's a fee for admission with a discount for students. Kids under 12 enter for free.
Keep in mind that the museum is closed on Tuesdays.
10. The Broad
On the other side of Grand Avenue, you can't miss The Broad. This contemporary art museum presents stunning exterior honeycomb-shaped architecture. Inside, you'll find contemporary art from the 1950s through today.
The Broad presents a constant rotation of 2,000 works as part of a larger program. You can visit cool permanent installations like the Infinity Mirror Rooms.
Check the website for what to do around LA like public talks and art exhibitions. Admission is free, but tickets must be reserved online. The Broad is open Wednesday through Sunday.
While you're in the area, check out all the amazing things to do in downtown Los Angeles.
11. Visit the Arts District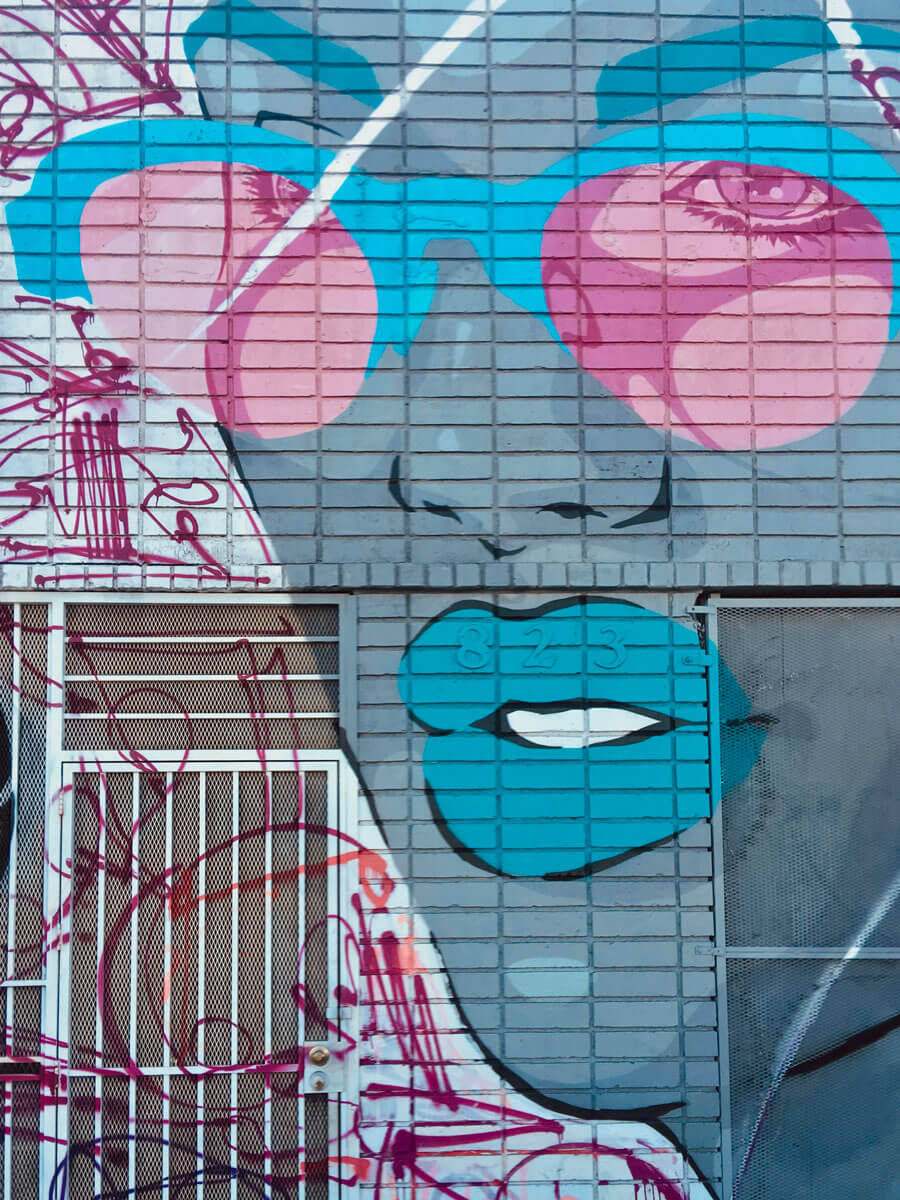 You'll find the Arts District on the east side of downtown Los Angeles. This is a tight-knit community set between Alameda Street and the Lost Angeles River.
The Arts District has a long history as a home to artists. Today, the community actively works to support small- and medium-sized creative businesses and promote public art experiences.
For what to do in LA that's arts-centered, come here. Check out the Mash Gallery, home to expressionist artist Haleh Mashian, who strives to make art accessible.
Walkthrough the Institute of Contemporary Art Los Angeles with its art education exhibits Or, just walk the streets and enjoy the stunning artist murals that cover entire blocks.
The Art District is also a great place to find cutting-edge shopping and unique food experiences! Check out Le Labo for handcrafted perfumes. The Art District Co-op is where you can buy art directly from local LA artists.
If you're hungry, check out Peking Tavern which serves up Beijing street food. And you must check out EightyTwo, an 80s-themed cocktail lounge with arcade and pinball machines lining the walls!
Try a Tour!
Arts District Bike Tour – enjoy the best of the Arts District by bike with a local on this 2.5 hours guided tour. Each tour provides a bike, helmet, and enthusiastic and experienced guide to show you the best spots! Book here.
12. Walt Disney Concert Hall
For music lovers wondering what to do around LA, head to the Walt Disney Concert Hall. Designed by architect Frank Gehry, the building was gifted to the LA Music Center by Walt Disney's wife in honor of his death.
The interiors are as stunning as the exteriors, and it's considered the most acoustically perfect hall in the world.
Today, the breathtaking steel-paneled hall is home to the LA Philharmonic. You can find the Walt Disney Concert Hall on Grand Avenue, across 1st Street from the LA Opera. There's a parking garage under the hall or you can take public transit to 1st Street.
Check the events calendar online for events almost every night of the week. You'll find solo nights with violinists and organists. Attend private concerts from famous musicians or come one evening when the Philharmonic performs chamber music. Tickets are available online two weeks before and event.
Take advantage of complimentary tours given between 10 AM and 3 PM every day. At the front desk, you can take a guided or self-guided tour of everything but the auditoriums. For self-guided tours, use your phone or complementary devices to listen to all kinds of details about the architecture and LA Philharmonic, a top Los Angeles bucket list item for sure!
13. Drive Along the PCH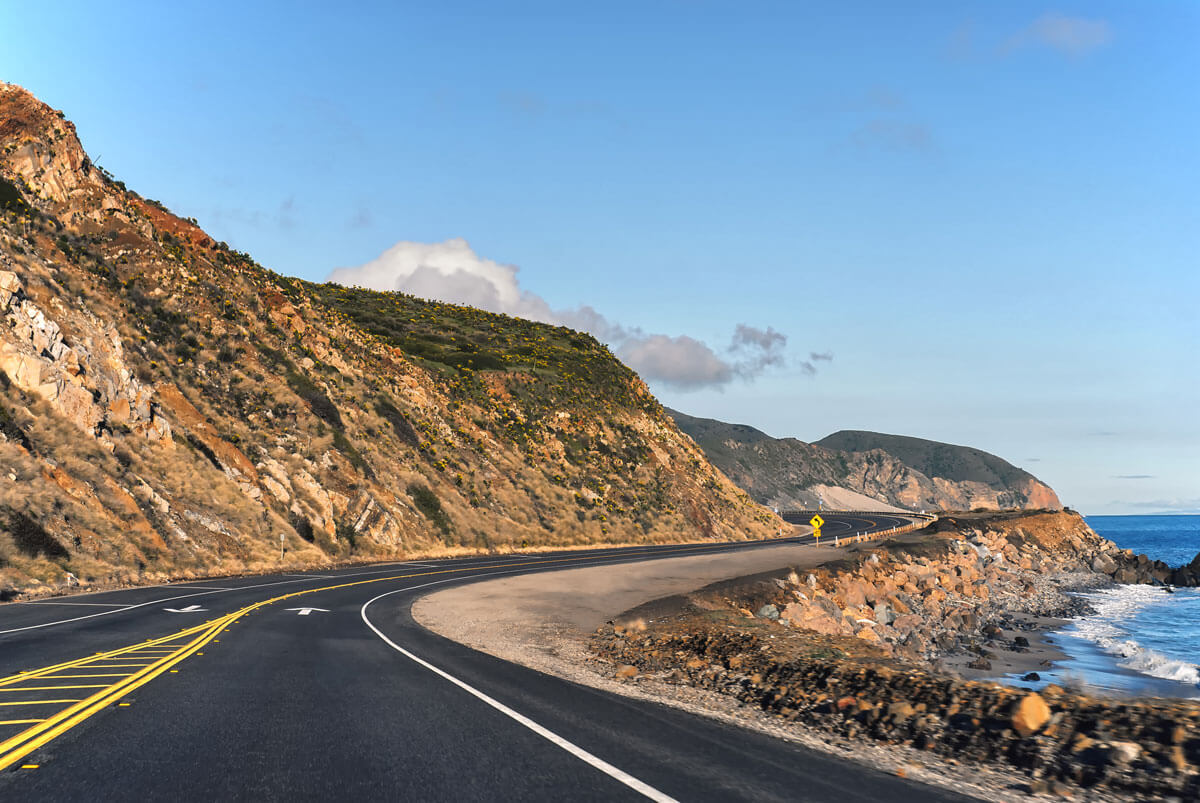 The Pacific Coast Highway is a stretch of Highway-1 that runs more than 600-miles along the coast of California and one of the most scenic drives in the United States not to mention the preferred route to drive from San Francisco to San Diego if you're up for a multi-day road trip.
This must-see in LA gives you 360-degree views that will leave you speechless. Plus, it's a relaxing way to spend the day! Don't think too hard: just jump on the PCH at the Santa Monica Pier and drive north through to Malibu, the Malibu section and just north of it is my personal favorite stretch.
It will take about 40 minutes to drive the 20-mile length to Malibu's Zuma Beach. This is a great way to get in some sightseeing if you're looking for what to do in LA that's free!
Starting in LA, you'll have peaceful views of miles of sandy beaches, especially at sunset. Here is where to look out for gorgeous cliffside mansions.
Catch glimpses of the Getty Vila just north of the city. At Big Rock, take in the beaches to your left. Stop at for a bite to eat near Malibu Lagoon Beach. You can make your way through Malibu and stretch your legs at Zuma Park. After that, just turn south and make your way back to Santa Monica!
Try a Tour!
14. El Matador Beach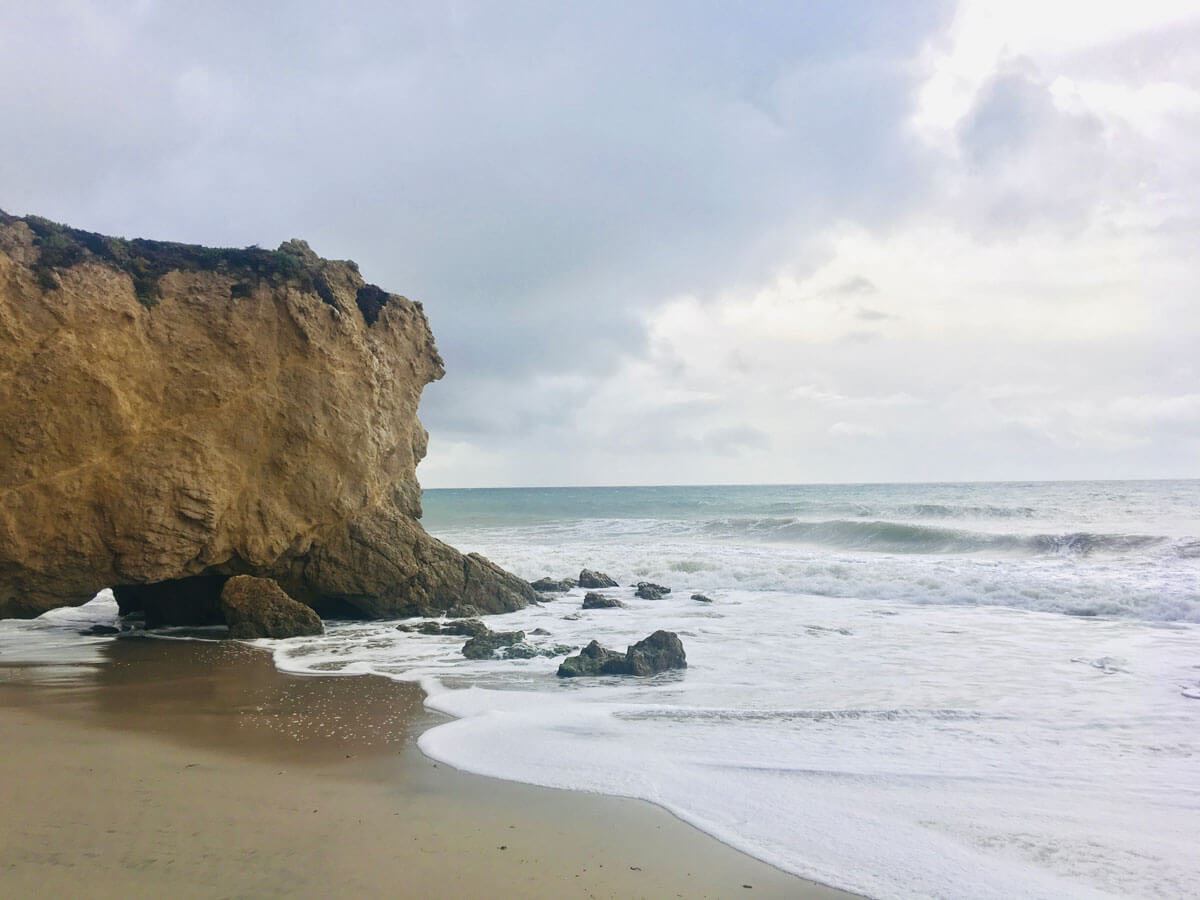 Next on our list of the best things to do in Los Angeles is another PCH stop! You must make time to visit El Matador Beach in Western Malibu, this is no doubt one of the most beautiful and top beaches in Los Angeles.
If you're looking for what to do in LA that's Instagram-worthy, check out this beach. It's a hidden gem to tourists down a cliffside flight of stairs, so make sure you can handle that.
Take a picture at the overlook and then head down the sandy metal staircase. At the bottom, you're in for a treat with the geological rock formations.
This cliff-foot beach is pretty narrow at high tide, and your feet will get wet. At low tide, there are stunning, large rock arches, some that you can walk and crawl through. They make for great photo opportunities. This Malibu beach is certainly one of a kind
The parking lot is just off the Pacific Coast Highway, but it's metered and only has 20 spots. There's parking along the access road, but make sure to read the signs so you don't get a ticket.
Also, don't miss exploring all the best things to do in Malibu while you're over here. It's so different from the rest of Los Angeles and one of the prettiest stretches of coastline in Southern California.
Try a Tour!
15. La Brea Tar Pits and Museum
For those looking for unique and fun things to do in LA, check out the La Brea Tar Pits and Museum. This historic site is in La Brea on Wilshire Boulevard next to the Los Angeles County Museum of Art, aka LACMA.
At this must-see in LA, you can tour the only active urban excavation site! The tar pits are actually liquid asphalt coming to the surface from underground petroleum reservoirs. These reservoirs are estimated to be 5-25 million years old!
You can see methane causing the pits to bubble. Tour the park where you can observe active Ice Age excavations or walk through the museum.
In the museum, you can learn about the fossils that are brought in and studied after being excavated. There are fossils from saber tooth tigers and prehistoric plants. Make sure to stop by the gift shop in the museum.
There's no dining at the La Brea Museum, but food trucks frequent Wilshire Boulevard nearby. Grab some food and take it to Hancock Park next to the Tar Pits!
You can park in the Tar Pits lot for a fee. You can park on the street, but there are "no parking" rules at odd times, so plan ahead. You'll also pay for general admission to the park.
We recommend arranging your tickets in advance by booking online. The tar pits and museum are open every day from 9:30 AM to 5 PM except for Tuesday.
16. Hollywood Walk of Fame
If you're looking for what to do in Los Angeles that's Hollywood-themed, take a walk down the Hollywood Walk of Fame. Head to Hollywood Boulevard at the corner of Gower Street. You'll see a marker on the western side of Gower that shows where all the stars are. It's a little over a mile walk, ending at La Brea Boulevard.
You can't miss the end of the walk at La Brea, with its Four Ladies of Hollywood Monument. The Hollywood Walk of Fame actually continues with a branch on Marshfield way next to the monument. There's another bit on 3 blocks of Vine Street, as well.
In total, there are 2,704 stars honoring individuals in 5 different categories of entertainment. Since 1960, the Hollywood Walk of Fame has attracted people from all over the world. You can pose with Marilyn Monroe's star or place flowers at Elvis Presley's star. Check the Walk of Fame website for a searchable map.
Just keep in mind that this is one of the most popular tourist attractions in Hollywood. The streets can get crowded with tourists, residents, and vendors. But it's all part of the fun! You can enjoy a show at the El Capitan or pick up some souvenirs.
17. The Grove
For the shopper wanting to know what to do around LA, we highly recommend stopping by The Grove. This upscale shopping center is a pretty place to walk through, have a meal, or burn a hole in your wallet! There's a wide range of shops from brands you're familiar with.
My favorite part though is the Original Farmers Market, a historic old market that's had many lives. Today, you can walk through and buy groceries or have lunch at a variety of dine-ins and walk-up windows. This is what to do in LA when you're hungry!
There's a huge parking lot off the Fairfax Avenue side, or the trains run nearby. You can also relax in the common outdoor spaces in and around The Grove.
18. LACMA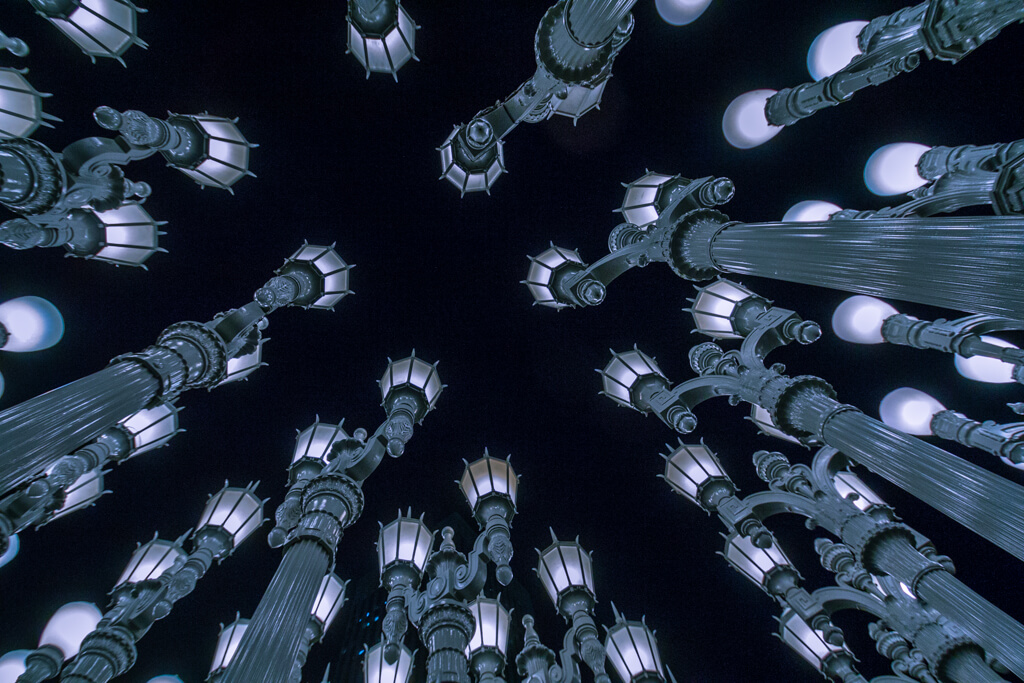 Next door to the La Brea Tar Pits is the Los Angeles County Museum of Art. You'll like this museum if you're looking for more artsy fun things to do in LA. Outside, the exciting and unique red and white architectural features of the building itself are hard to ignore.
Walk around the building and you'll find permanent public art installations that are tons of fun to experience. Have a photoshoot among the famous "Urban Light" piece, which is a grove of tall white streetlamps. Or walk through the "Levitated Art" installation and get your heart racing!
Inside, enjoy artwork covering over 6,000 years in every style and medium you can think of. Check out the Picasso exhibit or walk through 3D installations. You can RSVP for talks on themes like "Black American Portraits." Drop in for art workshops where you can learn new skills like how watercolor!
There's a parking garage under the building or you can park at meters on the street. The LACMA is open every day from 11 AM to 6 PM but Wednesday, with extended hours on the weekend. You must purchase tickets in advance.
19. Angeles National Forest
The Angeles National Forest is home to 650,000 acres of woodland, mountains, rivers, and canyons. Some of the best things to do in Los Angeles can be found here. Find the best hiking, fishing, camping, and more. The opportunities are endless!
While you're looking for what to do around LA, consider the dozens of campsites in the park. There are sites for RVs, tents, and cabins. You have to hike into some campsites. A lot of sites have parking, but you'll need a National Forest Adventure Pass for your car. You can purchase passes at the Forest Services offices in Los Angeles.
Go skiing on Mt. Baldy in the winter. You can explore over 500 miles of hiking, mountain biking, and horseback riding trails of all levels. You can go deer hunting in season, just make sure you get a hunting license first. If you want to go swimming or boating, check out Pyramid Lake. If you have a dog, they're welcome if they're leashed.
Before you go, double-check the USDA website for any paperwork or vehicle licensing. It's good to keep in mind that this is a beloved national park and an important part of California's ecosystem. There are regulations to make sure that the land is protected. Line all your ducks in a row and you'll have a great time in the Angeles National Forest!
20. The Japanese Garden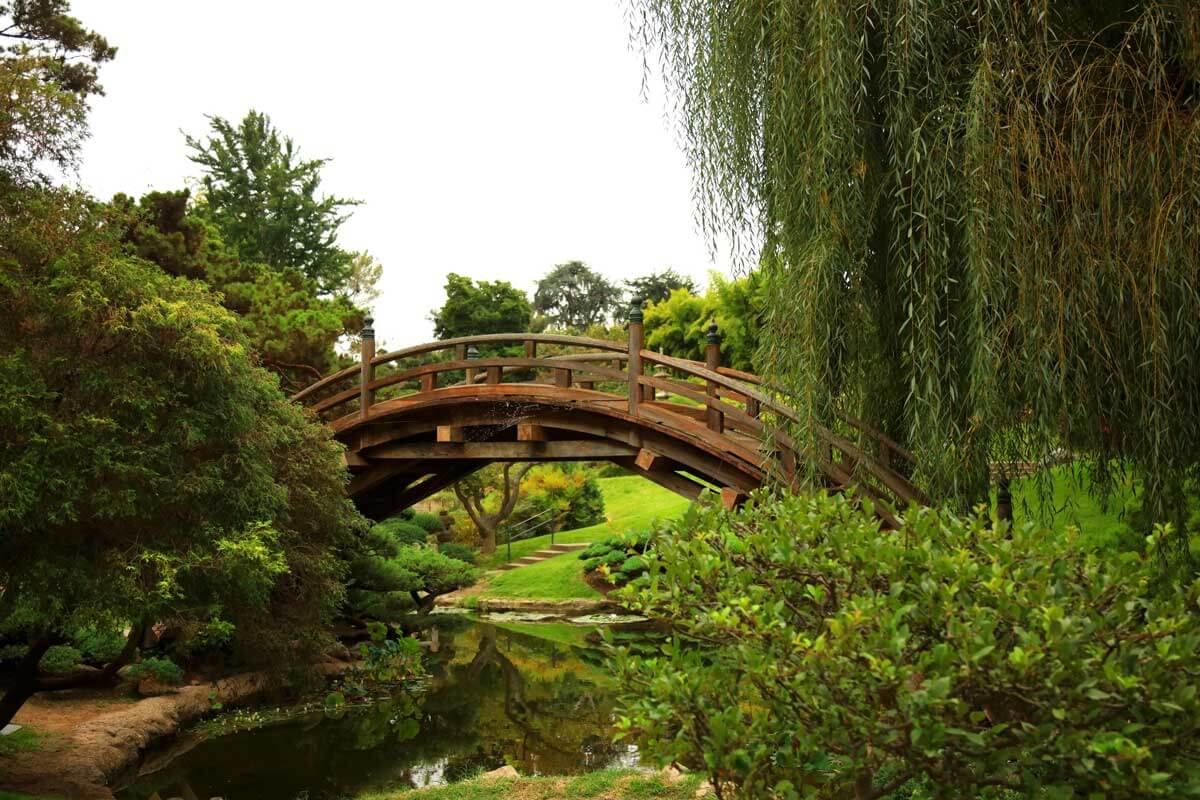 Located in Van Nuys off the 405, you'll find the Japanese Garden in the Sepulveda Basin Recreational Area. The garden was planned next to the Tillman Water Reclamation Plant on purpose, to show the positive impact the plant had.
When you're wondering what to do in LA that's free, you should know that the garden is open to the public. Reservations are required in advance and can be found online. You can park in the recreational area and visit the garden Monday through Thursday.
The Japanese Garden is a must-see in LA with 3 separately themed gardens. Visit the Zen Garden, Strolling Garden, and Tea Garden with tea service in the Shion Building! This is also one of the best day date spots in Los Angeles!
21. John Sowden House
View this post on Instagram
In Los Feliz, you'll find the famous home of John Sowden. Built in 1926, the home sits on Franklin Avenue near Normandie Avenue. If you're looking for what to do in Los Angeles around architecture, this might be your taste. The house was designed by Sowden's friend, Lloyd Wright, the son of famous architect Frank Lloyd Wright.
The house is called "the Jaws House" because it looks like a gaping shark's mouth. It was actually based on a design by Frank Lloyd Wright that was popular at the time. The house is in the neo-Mayan style, including cave-like spaces and narrow hallways. The house centers on 4 wings opening up onto a rectangular courtyard.
When you're looking for fun things to do in LA for film buffs, you might like to know that the Sowden house has been in many movies and tv shows! It was used as Ava Gardner's house in The Aviator and for 2 separate scenes in L.A. Confidential.
Interestingly, the home is connected to the famous Black Dahlia true-crime mystery. A suspect in the case, George Hodel, lived there during the time the tragic events took place. Years later, Hodel's son claimed his father was guilty and had taken multiple victims in the house. While evidence during the case points to his guilt, it's considered a cold case to this day.
22. Watts Towers Arts Center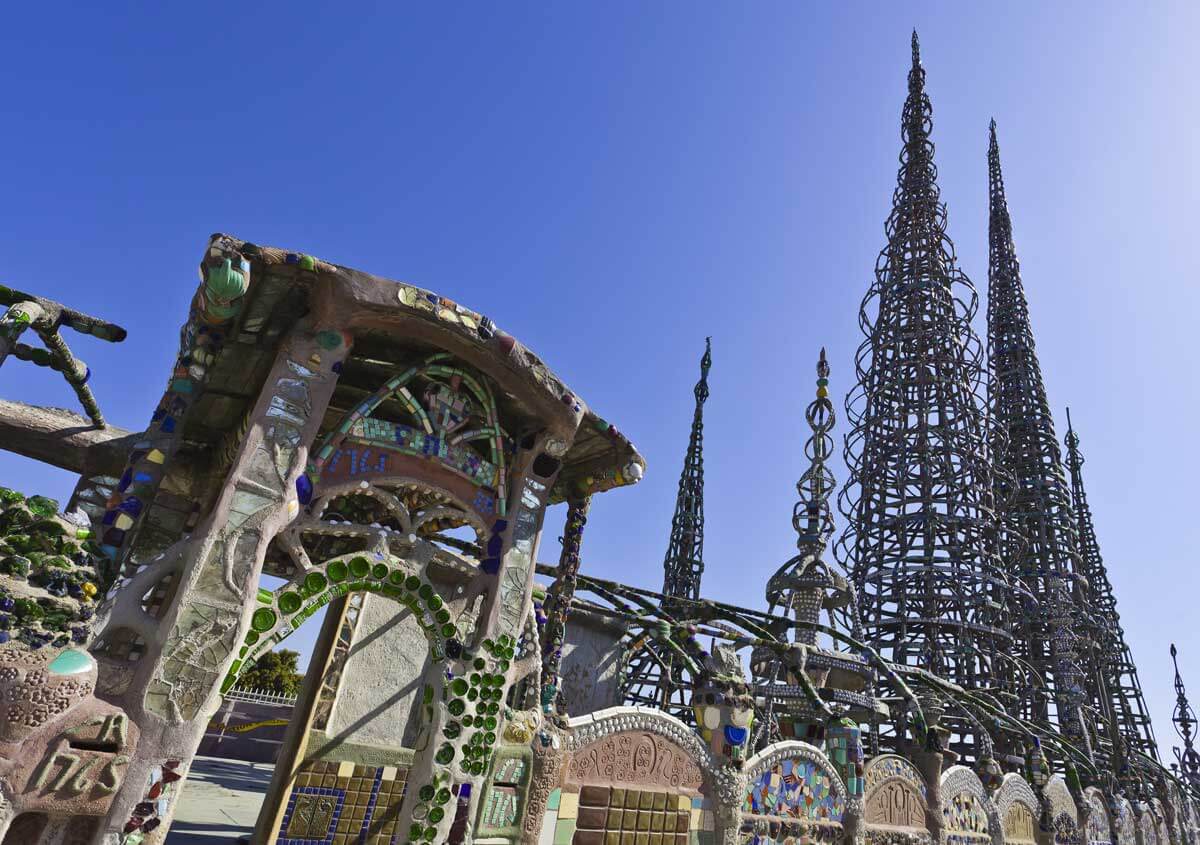 For what to do in LA that's unique to this city, you'll want to check out Watts Towers. The history of this place began over 100 years ago when Italian immigrant Simon Rodia moved to what was then a rural part of LA in Watts. The Center used to be the site of his home.
The Towers refer to fascinating structures that Rodia built over 30 years out of rebar steel, mesh, concrete, and found objects. After his death, the property was taken over by the city and the Arts Center was established. Originally, it offered art programs for children and special needs adults. This has been expanded and is still the case today.
You can tour The Towers and other permanent installations inspired by them on the grounds. Tours take place Thursday through Saturday between 10:30 AM and 3 PM, or Sundays between 12:30 PM and 3 PM. The Arts Center is off Santa Anna Boulevard and there's a parking lot on the grounds.
23. Hollywood Bowl
For what to do in Los Angeles that's iconic, head to the Hollywood Bowl. This world-famous outdoor amphitheater is located off the 101 in Hollywood Heights. The grounds include a museum, wine bar, restaurant, and open dining areas.
Since it opened in 1922, some of the biggest names in the world have played here, from Fred Astaire to the Jonas Brothers. The Hollywood Bowl is also the second home of the LA Philharmonic.
Purchase tickets online or check the calendar on the website for upcoming events. If you come by on weekdays during the summer, you can watch the LA Philharmonic in rehearsal!
24. California Science Center at Exposition Park
USC's Exposition Park in downtown LA is a day trip by itself. But you'll love the Science Center inside the park if you're looking for what to do around LA that's science-based.
Here you'll find exhibits and interactive experiences for all ages. Walk through a real spaceship or learn about fire safety. There's even a glass tunnel through an aquarium!
You can take the metro to the station outside of USC. There are parking lots at the park but visitors should use the visitor's parking garage. Purchase tickets online or in-person for a fee.
There are discounts and bundles when you purchase add-on exhibits and IMAX movie tickets. The Science Center is open 7 days a week from 10 AM to 5 PM.
25. Sunset Boulevard
Last on our list of the best things to do in Los Angeles is Sunset Boulevard. This infamous LA street is 22 miles long. It runs from Angelino Heights, through the heart of downtown, all the way to Rustic Canyon near the coast.
This must-see in LA shines along the Sunset Strip between Havenhurst Drive and Doheny Drive. This is where you'll find the classic music shops, neon signs glowing over clubs, and grungy souvenir shops.
Take pictures in front of the iconic rows of palm trees along The Strip. Check out a show over drinks at the Comedy Store. You could also walk by the Chateau Marmont, a cool old hotel that looks like a castle. Just don't expect to get inside: it's exclusive to the Hollywood elite!
In my opinion, the best part of Sunset Blvd is West Hollywood which is notoriously known for its nightlife! Be sure to read our full guide to all the best things to do in West Hollywood to make the. most of your time here!
---
Enjoyed this post about the best things to do in Los Angeles? Bookmark for later or share the love below on Pinterest.