Looking for things to do in Los Angeles at night? You've come to the right place. Tinseltown, aka the entertainment capital of the world, is notorious for its nightlife and nighttime activities. You could even say Los Angeles is a true "24 Hour Town."
Yes, there are clubs and music venues (some of which we feature on this guide) there are also more evening and night spots to check out in Los Angeles. From staring at the stars (the ones in the sky and the ones in the movies) to laughing the night away at some of the best comedy clubs in the world, to late-night eats. 
We curated some of our favorite night activities in LA to help you plan your time in Tinseltown! So if you're bored in LA at night on your visit, that's on you!
Disclaimer: This article contains affiliate links.
Fun Things to do in LA at Night
Check out Griffith Observatory at Night
One of the most famous landmarks and things to do in Los Angeles is also one of the best spots in the city to visit at night that doesn't involve partying or 'nightlife'. Oh, and you can also get some of the best views in Los Angeles from here too!
As the sun is starting to set, head to Griffith Observatory. The observatory stays open until 10 PM at night making it one of the best things to do in LA at night! Give yourself a chance to walk around the grounds and observatory taking in all the exhibits.
Once it gets dark, go back outside and check out the city twinkling at night below, and be sure to use the telescopes to get a better look at the sky. Oh, and the Hollywood Sign illuminated at night too!
The observatory, telescopes, and grounds are open to the public for free all the time. However, we highly recommend grabbing tickets for the planetarium for one of their live shows including a state of the art Zeiss star projector where you can take a visual journey to outer space.
The telescopes at night are definitely a highlight too and gives visitors a front-row seat to the stars and nearby sights. And yes, with all the light pollution in Los Angeles at night, you can still see stars!
This is a cool place to expand your own understanding and make you think about the universe. Or just a healthy reminder of how small we are in the universe.
Griffith Observatory is open Tuesdays through Sundays, until 10:00 pm, and there is no admission fee except for the planetarium shows and parking.
Spend an Evening at the Santa Monica Pier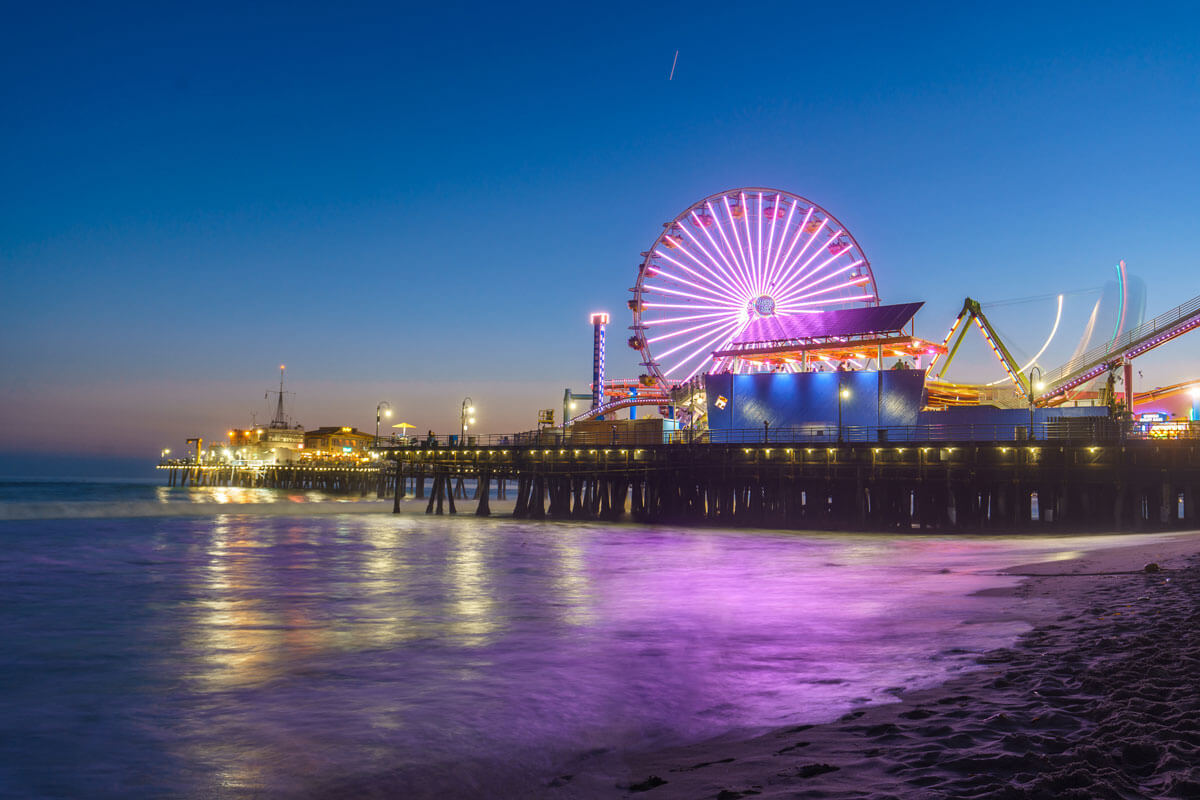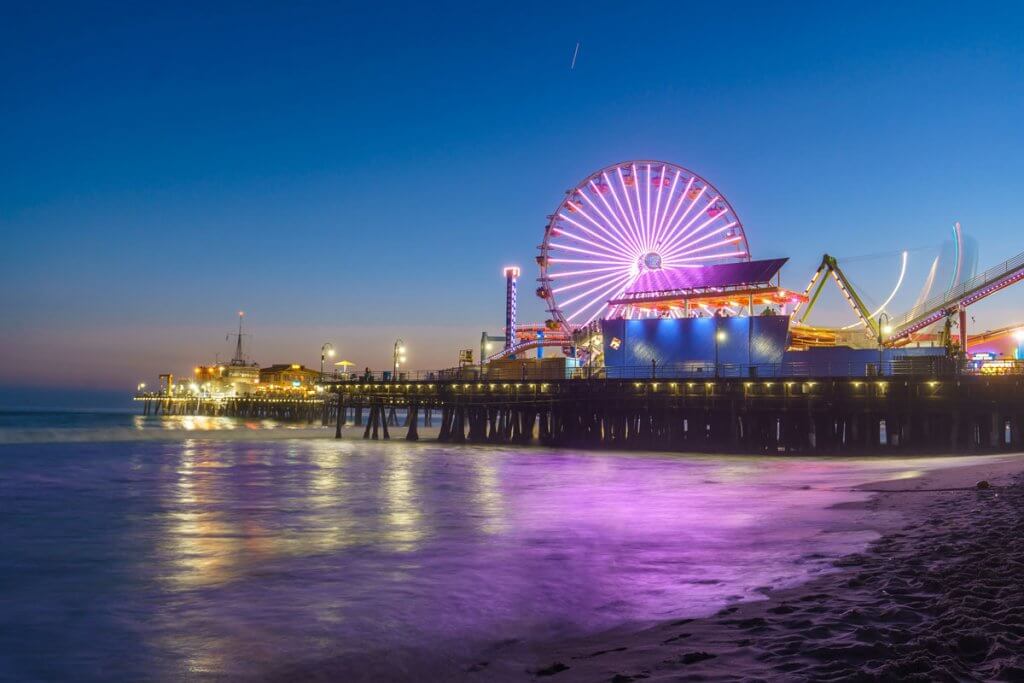 For more fun things to do in LA at night head to Santa Monica. Bright lights, big energy, and lots to see and do! The Santa Monica Pier is so much more than just a pier, there's an entire amusement park here.
And at night, the pier feels like it comes to life. Pacific Park is the amusement park and it offers rides for those who want a bit of a thrill, games, and great views of the beach.
The crown jewel of Pacific Park and perhaps the coolest one to ride at night is the Ferris wheel, which is called the Pacific Wheel. It's the only solar-powered ferris wheel in the world, which is a pretty neat fact. The Pacific Wheel is fantastic to see at night, as it has almost 175,000 LED lights that create visual entertainment.
Better yet, Pacific Park is free to visit but you'll have to pay to ride the rides and play the games. Pacific Park's hours vary, but typically it is open until 10:00 pm on Fridays and Saturdays, and 7:00 pm every other night. It's best to check ahead before your visit.
And while you're in the area, be sure to check out all the other amazing things to do in Santa Monica around the pier.
See A Comedy Show
Undoubtedly one of the best things to do in Los Angeles at night (for the 21+ and over crowd) is to take in laughs at one of the most famous comedy scenes in the world. Head to one of the many famous comedy clubs of the city and see some of the best talent in the industry on stage.
Many famous comedians, past and present, have graced the stage at several comedy venues in Los Angeles. And the comedy scene is alive when the sun goes down, making it a perfect night activity in Los Angeles.
The Comedy Store is one of the most famous spots, and it has its legendary status thanks to Mitzi Shore, aka Pauly Shore's mother, who selected comedians to perform in the line up each night and was known for helping some of the biggest names in comedy get their big break. You can still come here today and watch established and up-and-coming comedians work their sets.
The other famous spot worth mentioning is the Laugh Factory, which has been around since 1979 and prides itself on being the first comedy club that paid the comedians who performed there. And just about every night, you can buy tickets to see a range of famous and amateur comics perform on the stage.
Another great comedy venue is the Hollywood Improv, which began 60 years ago in New York and now has a chain of improv clubs around the U.S. The Hollywood Improv boasts an impressive list of alumni, and you can check out shows with comedians that you will recognize, and perhaps some new faces too!
Hit Up A Rooftop Bar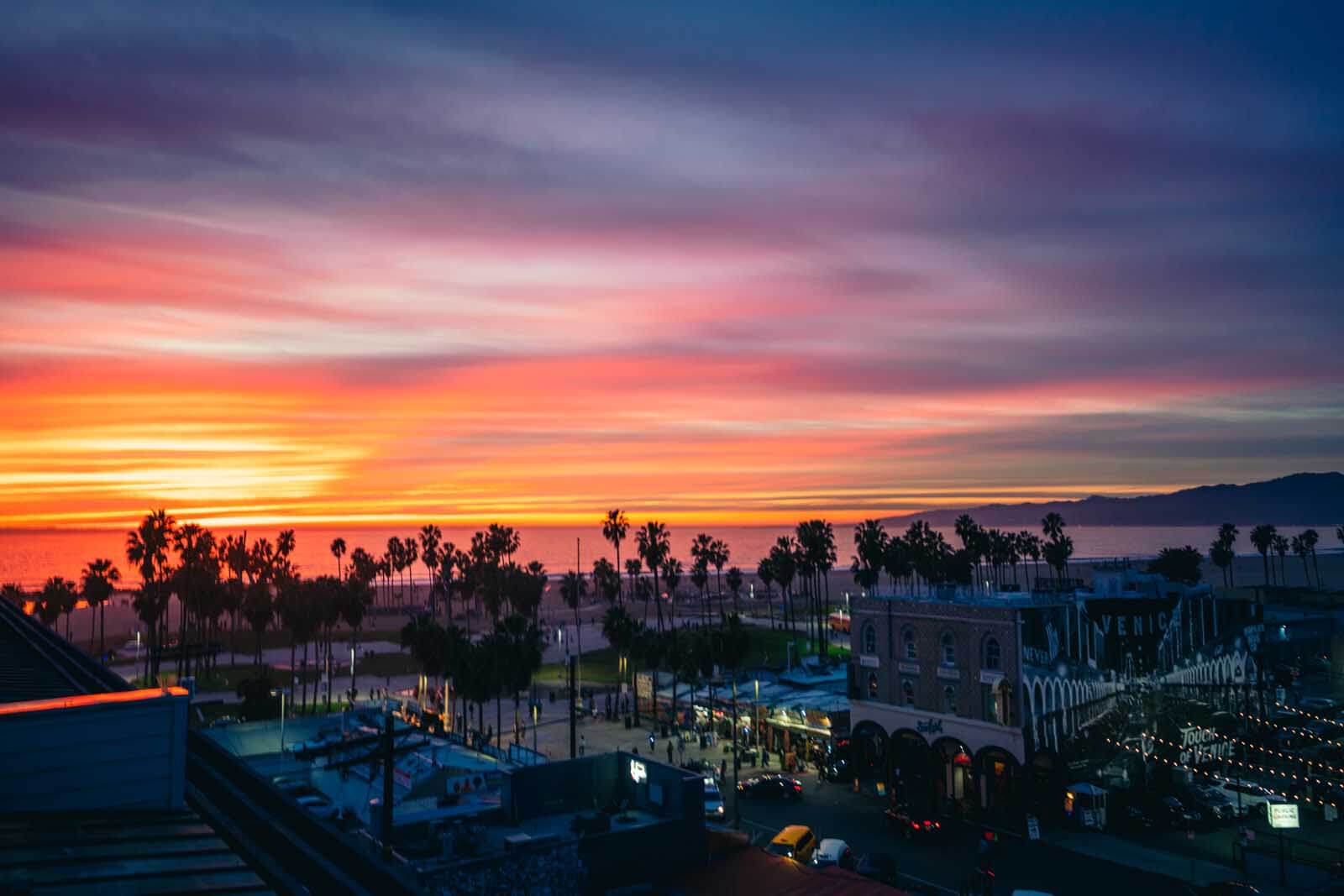 The rooftop dining and bar scene in Los Angeles is awesome, so hitting up a rooftop bar should definitely be on your list of things to do in LA at night!
Perch is located on the 15th floor of the Pershing Square Building in downtown LA, and they offer French cuisine with a lounge and bar area. At night, there are fire pits, fireplaces, and incredible views of the city skyline.
Spire 73 is located on the 73rd floor of the InterContinental Hotel, and it's the tallest open-air bar in the Western Hemisphere. The look is sleek and modern, and it's one of the best date ideas in Los Angeles, or go with a group of friends for an upscale night out.
At the Upstairs Bar at the Ace Hotel, you can enjoy cocktails, wine, and non-alcoholic drinks in a cool and laid-back atmosphere. It's a great place to stop for drinks and views, and you can get a table on a first-come, first-served basis.
At the High Rooftop Bar at Venice Beach, you can indulge in cocktails and delicious dishes while watching the sunset over the ocean. It's located in Hotel Erwin, and it's the ideal setting for views of the water, palm trees, and seeing the activity happening on the boardwalk.
Check Out A Famous Nightclub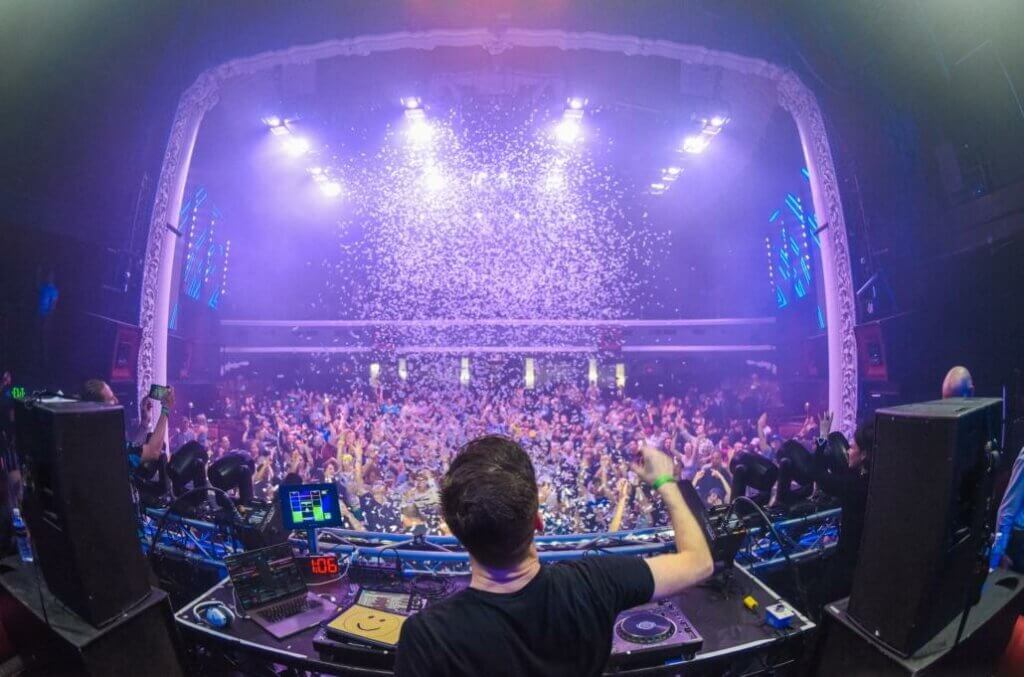 One of the more famous things to do in Los Angeles at night is hit up the nightlife scene. With trendy clubs that celebrities are often spotted at and plenty of events happening all the time, if you're into partying and nightlife, you're going to want to explore the nightclub scene of LA.
Avalon Hollywood is across from the Capitol Records building, near the famous intersection of Hollywood and Vine. The club dates back to 1927, and has held many names over the years, like the Hollywood Playhouse and the Jerry Lewis Theatre. And to this day, their event schedule is full of performers and events where you can dance the night away in this historic and legendary setting.
At Sound Nightclub, you can dance to what the DJ is cooking up and look at cool visuals in this 8,000-square-foot space. There is a consistent calendar of events, so be sure to check out what's happening when you're in town.
The Abbey is a famous gay bar in West Hollywood with an amazing dance floor and outdoor areas. It opened in 1991, and since then it's been the place for dancing, food, and good times!
I'll be completely honest, it's been a while since we've been into the nightclub scene so I feel like offering another source for the best nightclubs and nightlife is the only right thing to do. I think the last nightclub in LA we've been to has been over a decade ago (okay, I am feeling a little old now). So if hitting up one of the cities hottest nightclubs is on your radar for fun things to do in Los Angeles at night, check out this newer and updated guide on the night club scene.
See A Movie At An Iconic Theater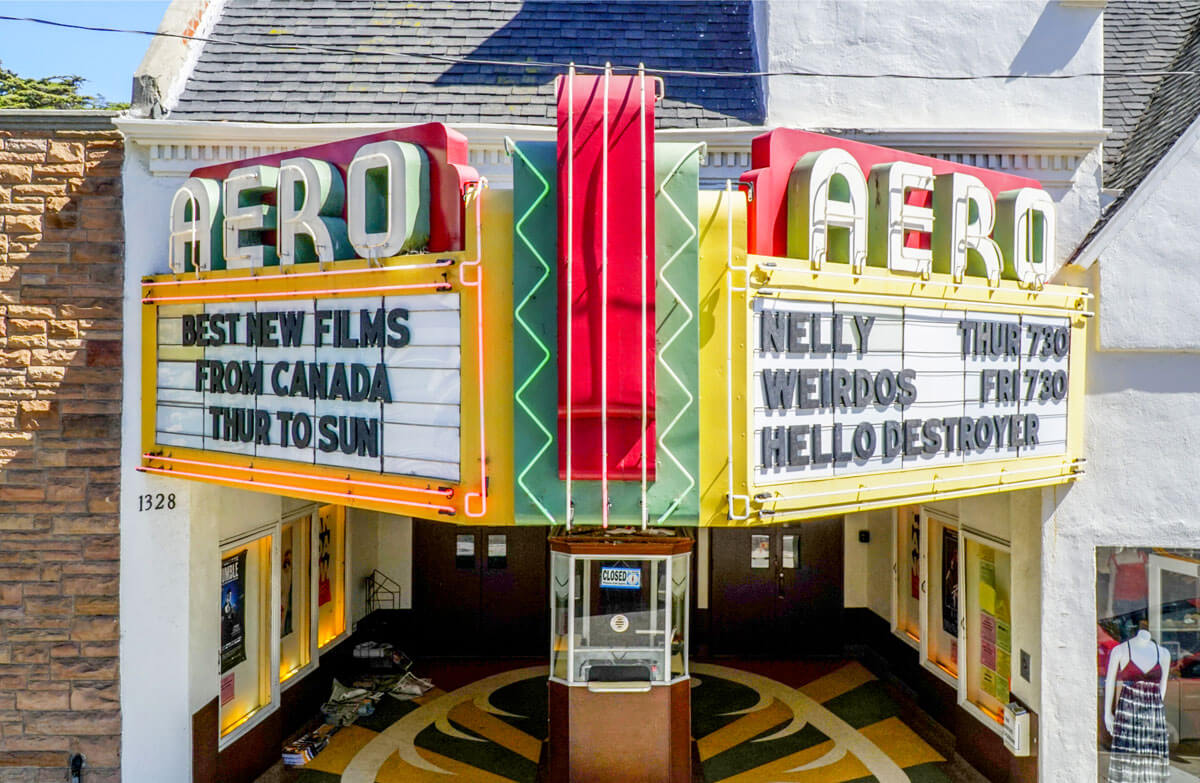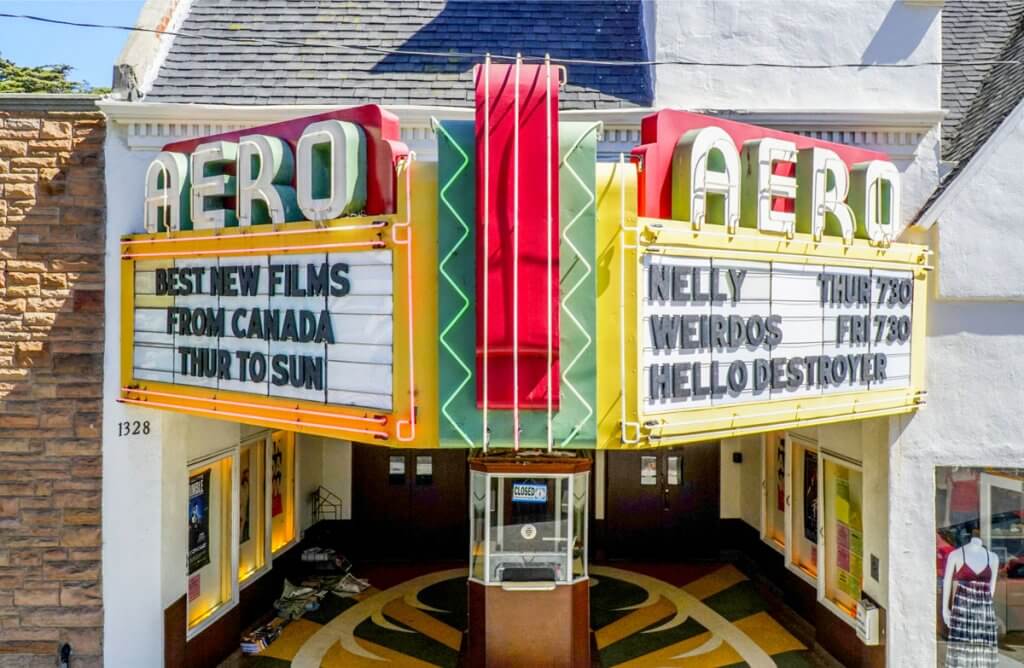 When you're in the entertainment capital of the world you can imagine that one of the most glamorous places to see a movie is in or around where the sausage is made, near Hollywood itself! There are a bunch of cool theaters to catch a movie, one of the most classic night activities in LA to enjoy.
One of my favorite things to do when showing people around Los Angeles when they'd come visit was to roll up to Hollywood and park near the TCL Chinese Theatre, you never knew when you were going to stumble upon a movie premiere and red carpet with all the stars!
It's not uncommon for this famous theater to host movie premieres, film festivals, and other celebrity-filled festivals, plus you can see movies here! It's an especially great spot to see newly released films.
El Capitan Theatre has an old-fashioned feel, and it's almost 100 years old. The theatre was built in the 1920s with an exterior in the Spanish Colonial style and the interior inspired by East Indian architecture and decor. This is the place to enjoy classic films.
The Cinerama Dome was formerly an ArcLight theater, and it has the white textured dome from the original Cinerama theater that opened in the 1960s. This is a cool, vintage theater that was known to have pieces of film memorabilia on display.
The Cinerama Dome is undergoing some work, and it's expected to reopen in 2024.
The Aero Theatre, located in Santa Monica, is a great spot to watch favorite movies from the past few decades. This theatre has an interesting origin story, as it was built by the Douglas Aircraft Company. The Aero Theatre has undergone two renovations in the past five years, so you're in for a fantastic moviegoing experience.
Hitting up one of LA's famous theaters should absolutely be a stop on your list of things to do in Los Angeles at night.
Watch A Movie At The Hollywood Forever Cemetery
Would you be interested in catching a flick at a famous cemetery? If so, this next activity is a fantastic thing to do in LA at night. Cinespia is an organization operating out of Los Angeles, and they screen iconic old-school films in unusual venues like the Hollywood Forever Cemetery.
Think of classic movies like The Goonies, Pretty Woman, The Devil Wears Prada, and Fight Club, to name a few.
Grab a blanket and some lawn chairs, swing by a grocery store and pick up some light food and drinks, and head over to the famous Hollywood Forever Cemetery to Enjoy a movie on sprawling Fairbanks Lawn under the night sky.
Adding to the atmosphere, there's a DJ during sunset and once the film ends. There are a few things to keep in mind when attending one of these screenings, like there's no hard liquor or open flames allowed, and only low chairs are permitted. Additionally, there is on-site parking available if you purchase an On-Site Parking Pass, as well as parking nearby.
See A Show At The Hollywood Bowl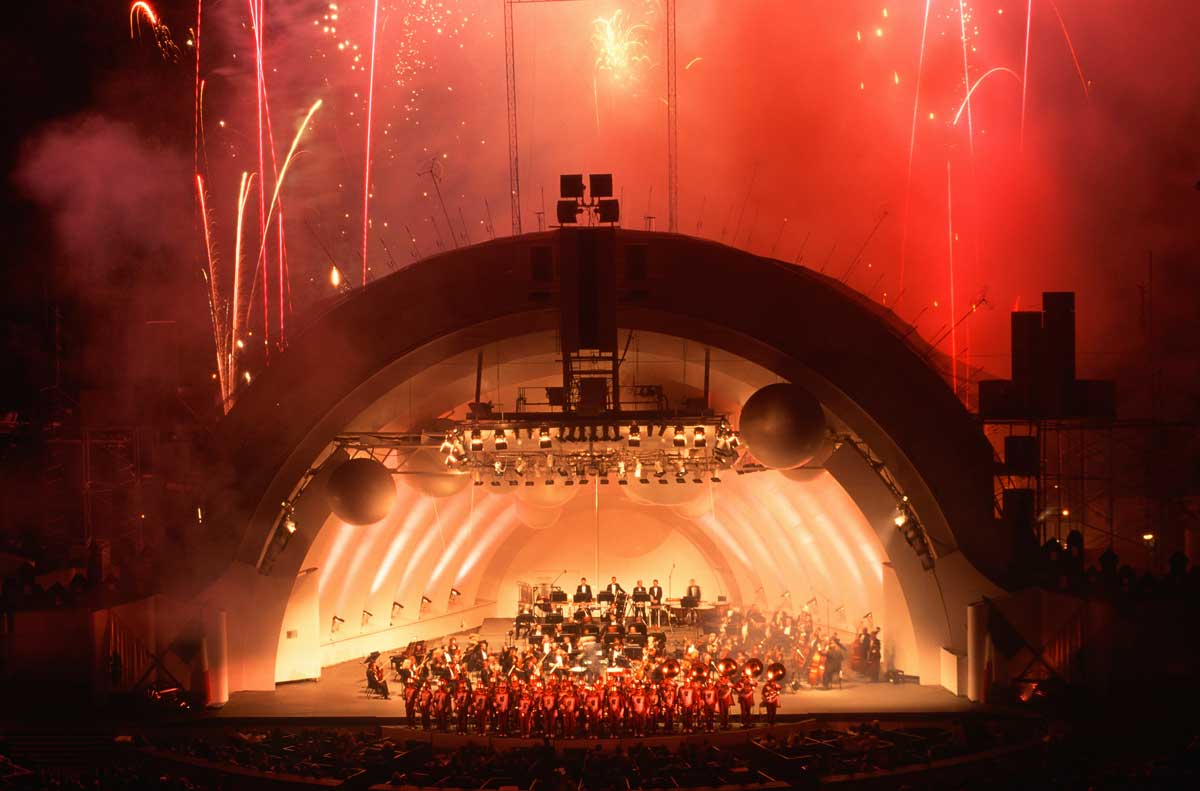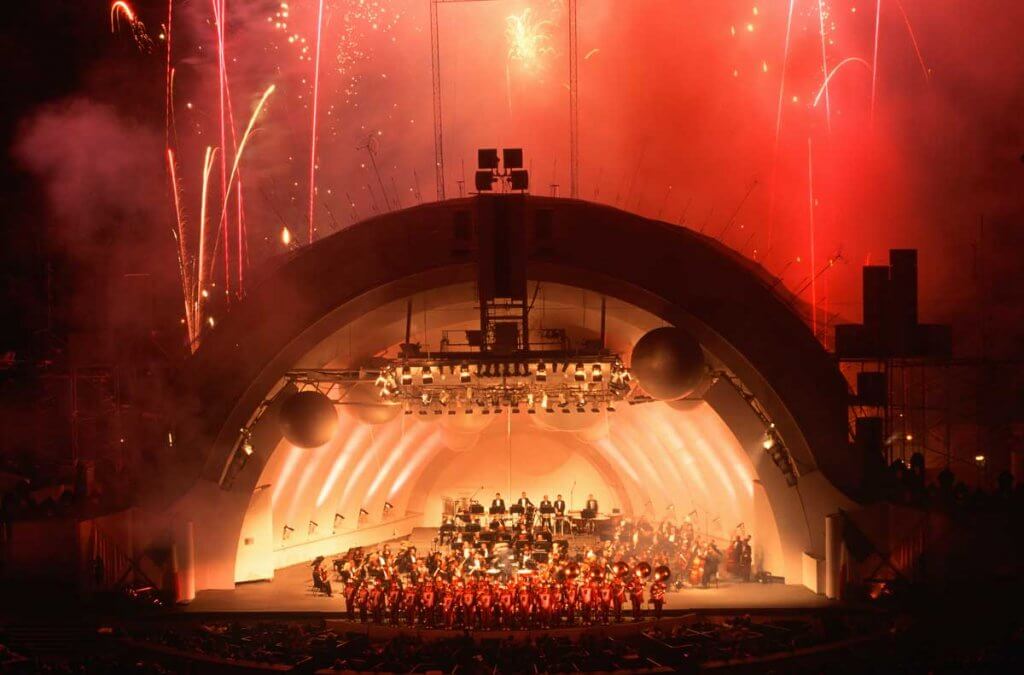 One thing I miss constantly about living in Southern California is the comfortable climate year-round and being able to take advantage of outdoor venues throughout every season! One of the best outdoor venues and night activities in Los Angeles to check out is seeing a performance at the famous Hollywood Bowl.
The Hollywood Bowl is a fantastic outdoor venue, anchored by a gleamy band shell and seats that look towards it. It debuted in 1922, and musical acts like Billie Holiday, Yo-Yo Ma, and The Beatles have played here to name a few.
You can watch a performance by the Hollywood Bowl Orchestra, as well as current touring and musical acts. The venue has a great sound system, and a screen that's easy to see if you don't have a seat close to the band shell.
At night, it's illuminated in different colors like blue, pink, orange, green, red, you get the idea. Food and wine is offered onsite, so you can enjoy light offerings and a glass of wine while taking in the music.
The Hollywood Bowl is nestled in the neighborhood of Hollywood Hills, and seeing a show at this iconic venue is a must-do night activity in Los Angeles.
Check Out The Troubadour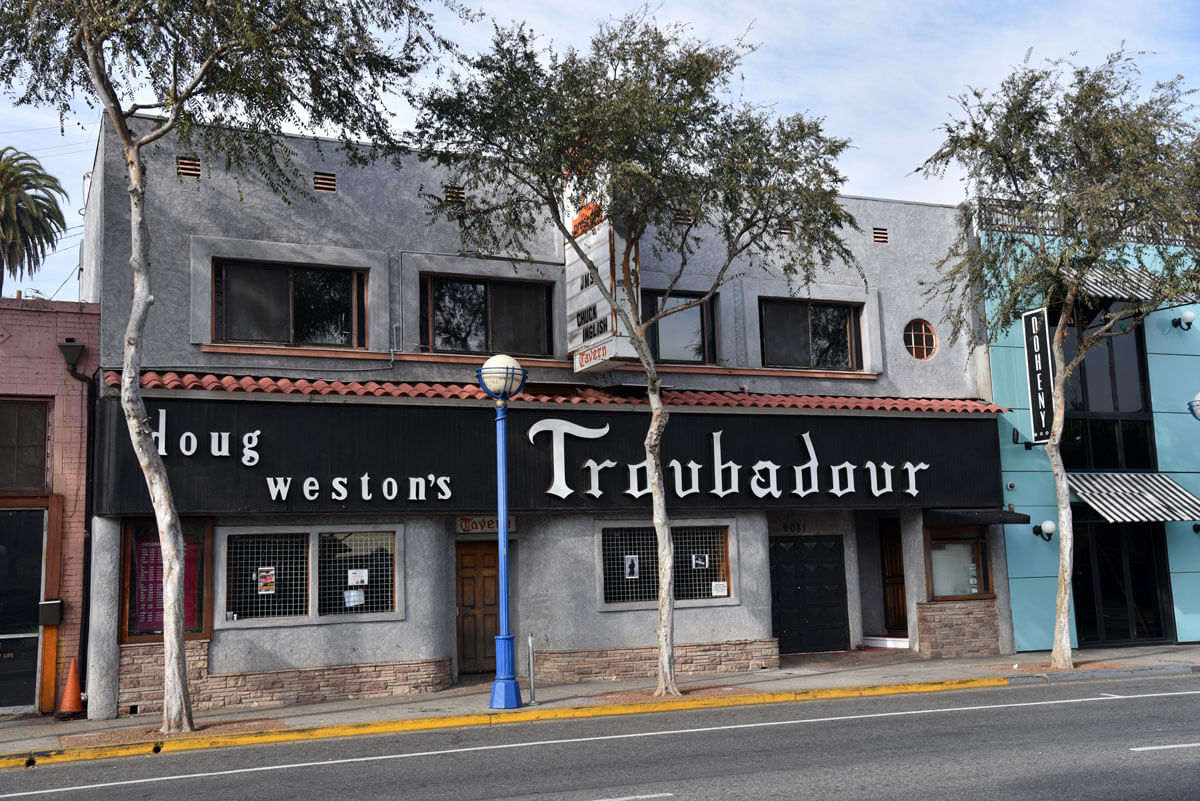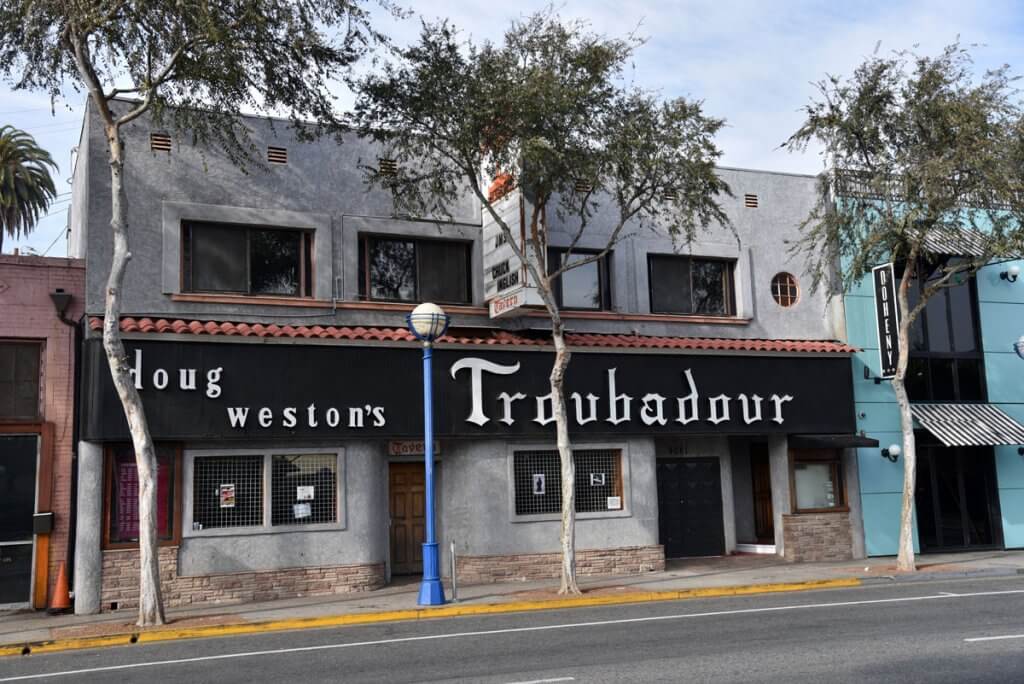 This legendary music venue has had some amazing events happen on its stage. Elton John made his U.S. debut here in 1970, and the person who introduced him on stage was Neil Diamond! John Lennon, along with Harry Nilsson, were escorted out of The Troubadour for heckling the Smothers Brothers! Richard Pryor recorded his live debut album here in 1968!
The Troubadour opened in 1957, and originally featured folk music performers, as well as comedians, in the 1960s and 1970s. Then, it moved to more rock and metal acts in the 1980s.
For a cool thing to do in LA at night, head over to The Troubadour in West Hollywood and listen to some awesome live music! It has a capacity of 500, with mostly standing room, so scope out the musical acts performing during your stay in the city, and check out a show.
See Urban Light at LACMA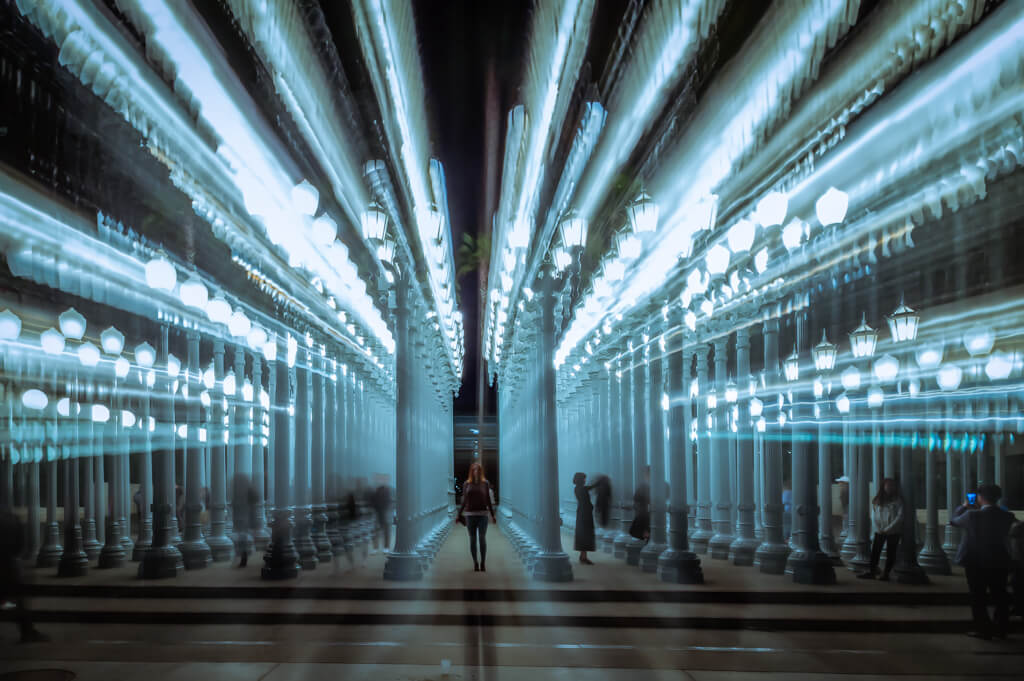 Out of all the awesome museums in Los Angeles, LACMA is one of the biggest and most well-known. The Los Angeles County Museum of Art has a massive collection of almost 150,000 artworks to explore, which gives you an excuse to settle in and wander around the galleries for hours looking at art.
So the interior of the museum closes at 6 PM, pretty early considering this is a guide for what to do in Los Angeles at night. But, be sure to check their event schedule as they sometimes host special evening events.
The real show stopper though, that you can visit and is a fun thing to do in LA at night, is visit the fun lamp post art installation outside of the museum! Known as the Urban Light outdoor sculpture, it is made up of 202 cast iron city street lamps that are solar-powered.
The lights start coming on at dusk and blink back off at dawn. Walk around the installation, to see all the angles and shapes created by the placement of the lamps. And of course, take lots of great pics!
The Urban Light sculpture is open 24 hours a day, and if you'd like to visit the museum beforehand, you can purchase an advance timed-entry ticket or purchase a walk-up ticket.
Enjoy a Night of Fun at Whisky A Go Go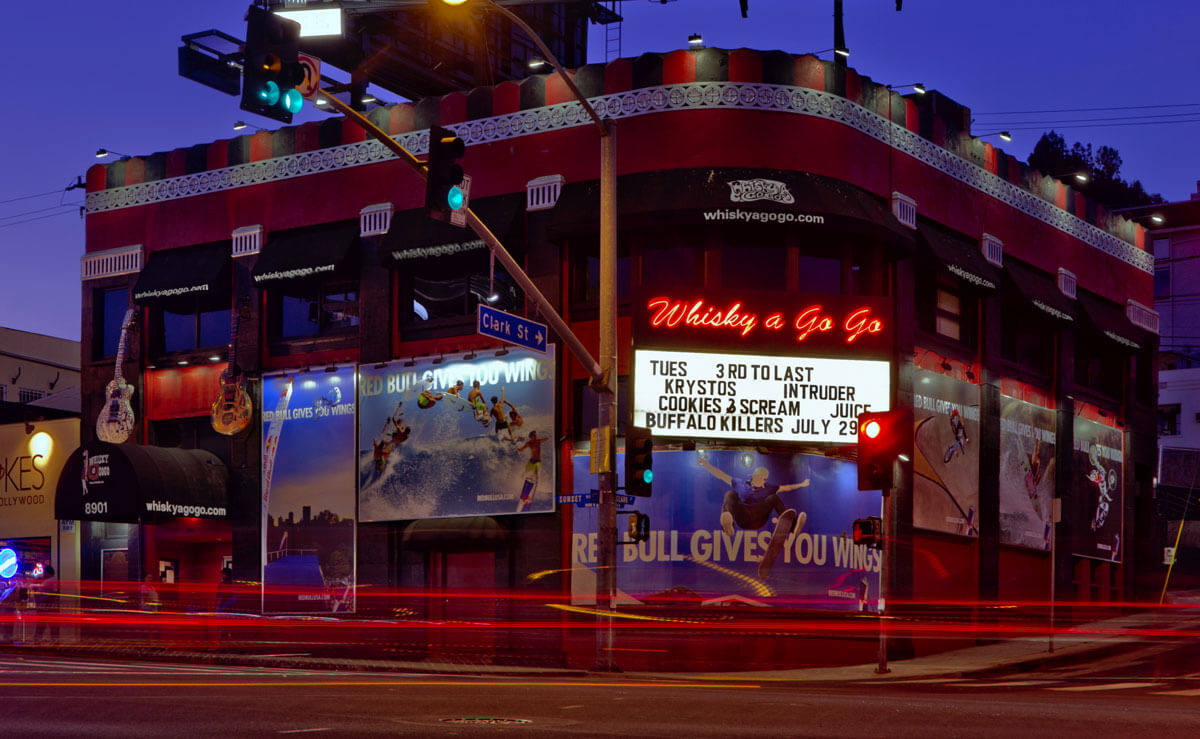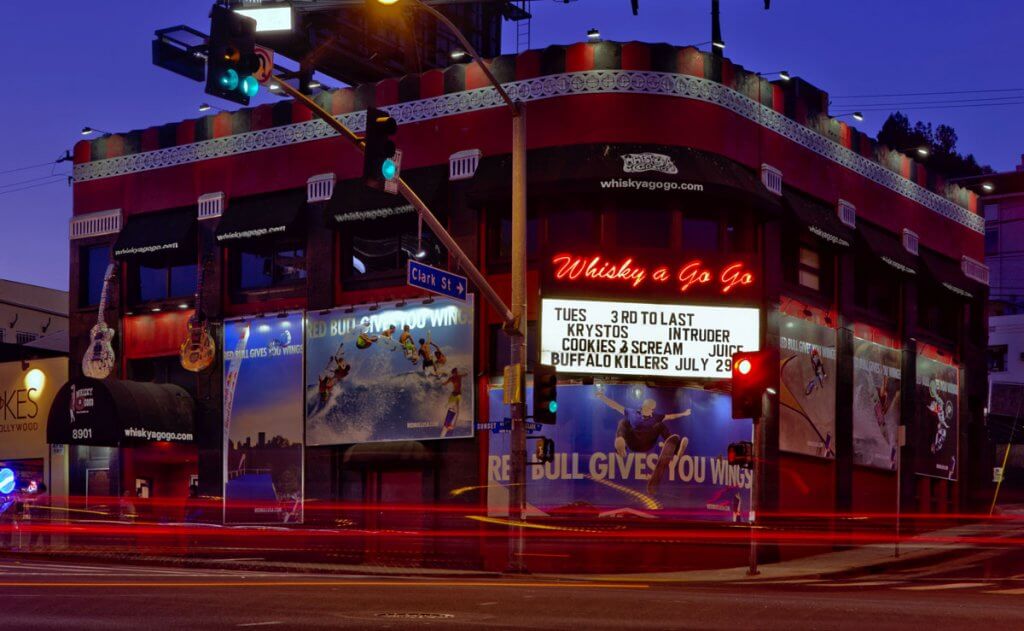 Not only is this next spot a famous name on the Hollywood music scene, but it is arguably THE place to listen to rock music in the city and therefore one of the best things to do in LA at night!
Whisky A Go Go, located on the Sunset Strip in West Hollywood, is a legendary spot for rock music. It opened in 1964, and the famous acts that have passed through this venue include Janis Joplin, Led Zeppelin, and The Doors.
Just about every night, they have an event going on, so there's almost always something to check out at this hotspot! Its corner location has a smattering of posters and an old-school marquee announcing the acts for the night.
See a Performance at Walt Disney Concert Hall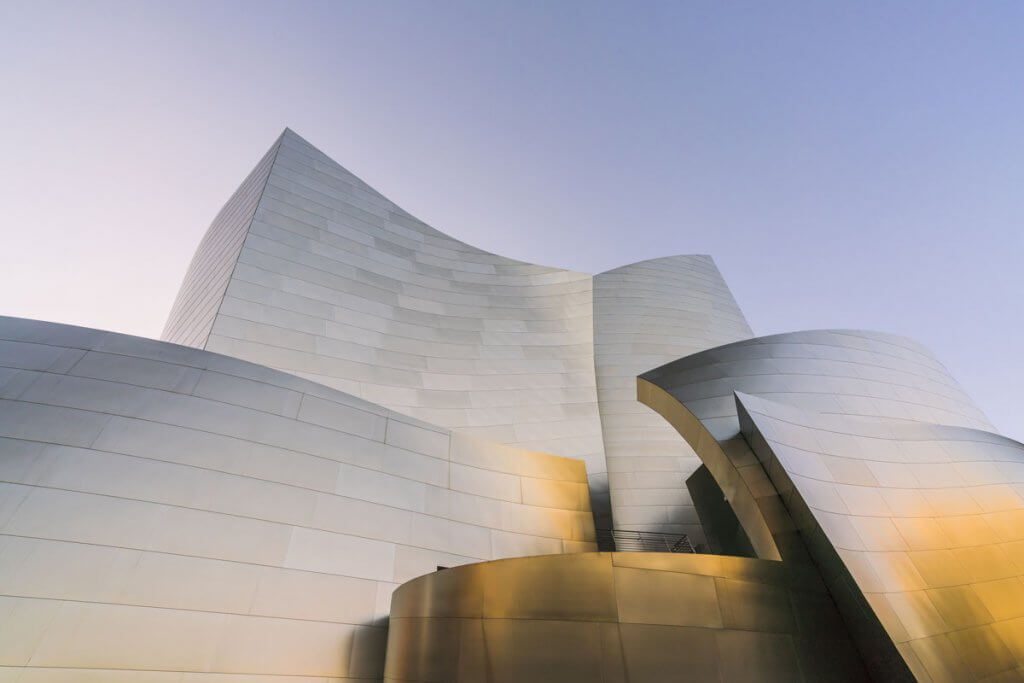 The city has some incredible venues for listening to live music, and the Walt Disney Concert Hall is among the most aesthetically unique spots. The Walt Disney Concert Hall is an architectural masterpiece of Frank Gehry, and as the name implies, it has a connection to Walt Disney.
His widow, Lillian, donated $50 million in 1987 to make the concert hall a reality. It looks like the exterior is composed of multiple smaller structures made of shiny metal, but instead of the structure being rigid it has movement and shape.
The interior has warm, wooden tones, illuminated in soft yellow lighting, with incredible acoustics. You can listen to orchestra and well-known artists, and the LA Philharmonic performs here quite a good bit, especially in winter.
The Walt Disney Concert Hall is located directly across from the Broad Museum, in downtown Los Angeles. Check out their calendar for events for fun things to do in LA at night.
Go See Live Theater
In a city with so much talent, it would be a shame not to take advantage of live performances including seeing a show at one of the many amazing live theater venues. One of the best things to do in Los Angeles at night is catch a performance!
The Pantages Theatre has been around since the 1930s, and originally had film screenings and vaudeville performances. Then, the theater transitioned into showing Broadway performances. Today, you can catch musical acts, comedians, and Broadway productions.
The building that the La Mirada Theatre occupies was originally a movie house, then it was turned into a performing arts venue. Now, instead of films, the La Mirada Theatre hosts Broadway series, concerts, and special events.
The Fox Performing Arts Center, located in Riverside, is known for being the first theater to show "Gone With the Wind". To this day you can see musicals, comedic acts, dance performances, and other types of acts.
Have Fun at Universal Studios Hollywood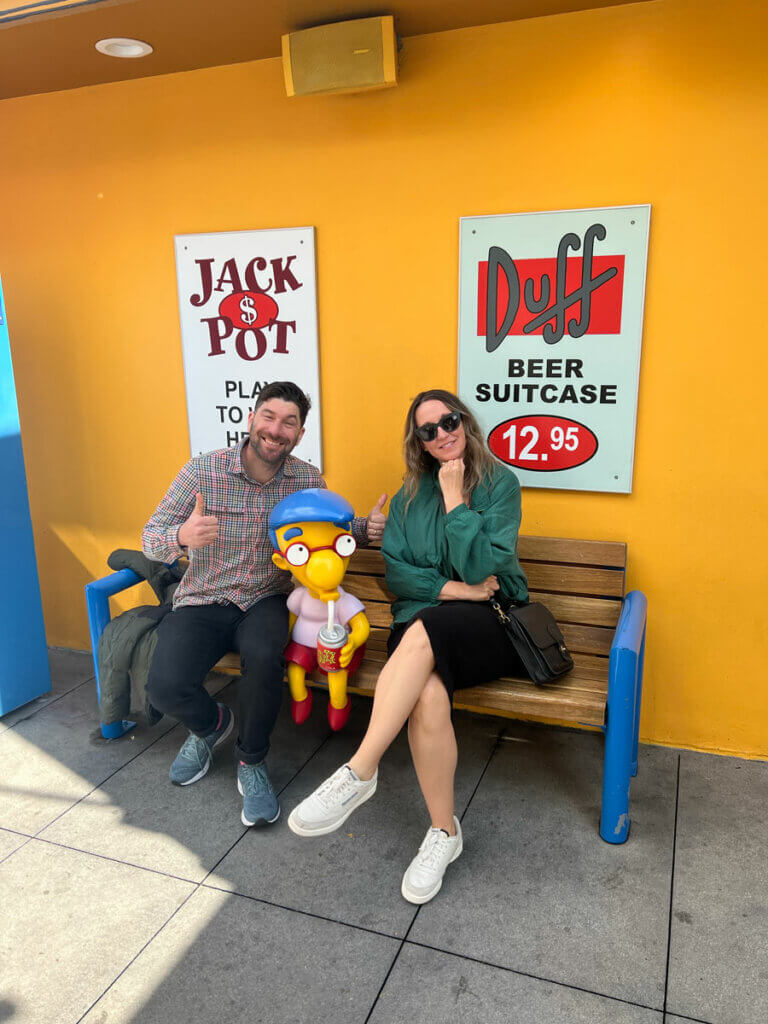 Lights, camera, action! Los Angeles is home to Hollywood, where movie magic is made. And at Universal Studios Hollywood, you can take their World-Famous Studio Tour as well as explore their other amazing attractions.
This film studio and theme park is home to The Wizarding World of Harry Potter, SUPER NINTENDO WORLD, the aforementioned World-Famous Studio Tour where you can get a behind-the-scenes look at a working studio, and many other "lands".
This is easily one of those things to start early in the day and continue on at night. This is the type of place to escape from reality, and slip into the supernatural world of wizards and magic, or jump into the world of Mario and Princess Peach, or one of the many other attractions around the park.
I personally love the Springfield section as someone who has watched the Simpsons since the early 90s! You don't want to miss having a beer at Moe's Tavern or eating a giant donut at Lard Lad Donuts!
Something to keep in mind when you visit Universal Studios though is that they use alot of 3D simulation in their rides and if you're prone to motion sickness like I am, it can be brutal if you don't have any medication or anything to help prevent motion sickness. I find that if I take Dramamine and pack some ginger chews I can handle it.
Another highlight at Universal Studios Hollywood is CityWalk, where you can check out shops, restaurants, and a movie theater. CityWalk has lots of bright lit-up signs, making it a buzzy and twinkly place to explore when it's dark.
The park's hours fluctuate throughout the year, but the park stays open later on the weekends, and CityWalk tends to be open a few hours longer than the park. Hitting up Universal Studios Hollywood is a super fun thing to do in LA at night.
Check Out A Late Night Museum
The city has an abundance of terrific museums, several of which are open later in the evening making this one of the best things to do in Los Angeles at night.
This one is a bit kitschy, but people love it. At Ripley's Believe It or Not, check out hundreds of items to see and interact with, from optical illusions and games to memorabilia from pop culture and all kinds of other things.
The depths of your imagination will be challenged at this quirky spot. Ripley's Believe It or Not is open until 11:00 pm Sundays through Thursdays, and until midnight on Fridays and Saturdays.
The Hollywood Wax Museum is a family-friendly adventure where you can explore wax figures of famous figures from all corners of pop culture. Come prepared for lots of great photo ops, maybe you can fool a few friends that you met a celebrity while exploring night activities in LA!
The Hollywood Wax Museum is open until midnight every day. Next, the World of Illusions has all kinds of visually interesting setups, like larger-than-life objects and upside-down settings. It's comprised of four separate attractions: Our Giant's House, Smash It, Upside Down House, and Museum of Illusions.
You will be able to get lots of great pics to show off to friends and family. The World of Illusions is open until 10:00 pm daily.
Take a Night Helicopter Tour Over LA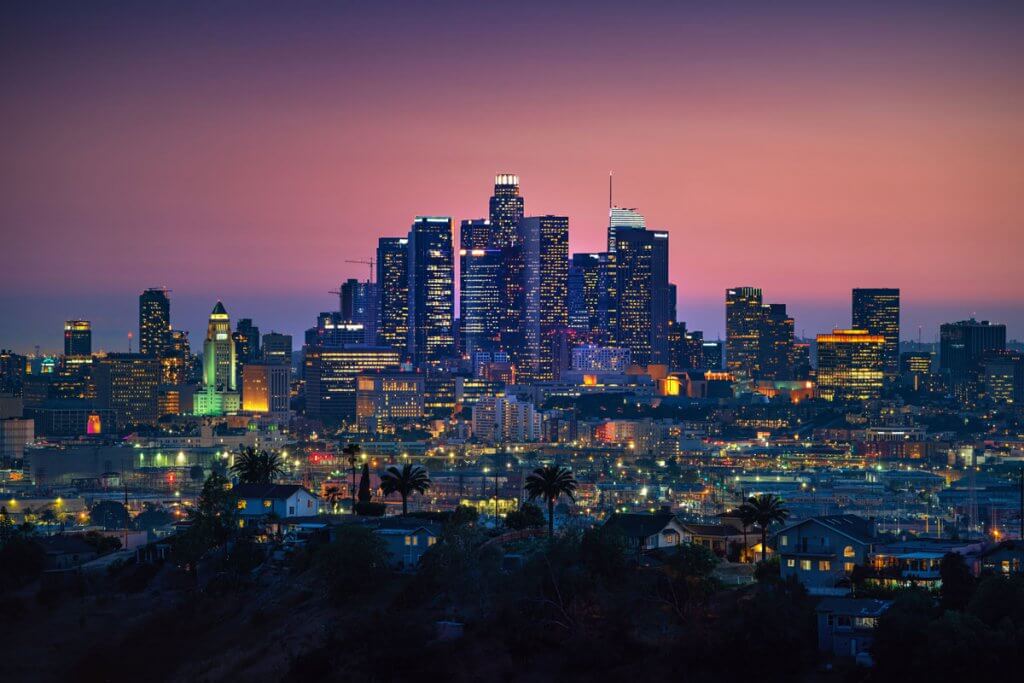 If you tend to fall on the more adventurous side and aren't afraid of heights, consider taking a night helicopter tour over LA.
This night helicopter tour offers a 30-minute ride to see downtown LA's skyline, and views of Dodger Stadium, the Staples Center, Kodak Theatre, and Universal Studios. Gaze down as you fly over the Hollywood Sign and Griffith Observatory, and enjoy the views of the city's illuminated lights from high above.
Go with your significant other for a romantic evening, or with a group of friends for a fun night out. This tour departs from the airport in Burbank. Doing a helicopter tour over LA is one of the more thrilling things to do in Los Angeles at night.
Go on a Ghost Tour!
It should come as no surprise that Hollywood has many haunting events that have taken place over the years, so a fun thing to do in LA at night is to go on a ghost tour and learn about the paranormal activity that happens in Hollywood and Tinseltown!
The Haunted Hollywood Walking Tour: True Crime & Creepy Tales tour is a two-hour group tour that takes you to haunted hotels, theaters, and other haunted spots. The haunted spots that you will stop by include the TCL Chinese Theatre, the Hollywood Walk of Fame, the Hollywood Sign, Capitol Records Building, Pantages Theatre, and the Dolby Theatre.
The tour guide will provide the haunted stories, and you get to walk along and listen to the haunted tales of the city's past. The tour starts at 6:00 pm meets at the Pantages Theatre, and ends at the Dolby Theatre.
The LA Ghosts: Terrors of Tinseltown Tour by US Ghost Adventures is a one hour tour that focuses on crimes and accidents that have happened in LA, and you may even be able to try and contact spirits.
The stops on this tour include the TCL Chinese Theatre, the Magic Castle, the First National Bank of Hollywood, and the El Capitan Theatre. The tour starts at 8:00 pm, and it meets at the El Capitan Theatre.
Go On A Sunset Swan Boat At Echo Park
For a calm, easygoing thing to do in Los Angeles at night, hop aboard a swan boat at Echo Park Lake and paddle around the water at sunset. This Swan Boat Night Ride at Echo Park Lake night rental lets you enjoy views of the LA skyline, which are great during the day but even more magical when the sun starts to set.
The swan boats have LED lights, which twinkle against the water's surface. The setting is rather romantic, making it a great activity for couples. Or, take a group of your friends for a fun evening outing!
Go on a Night Drive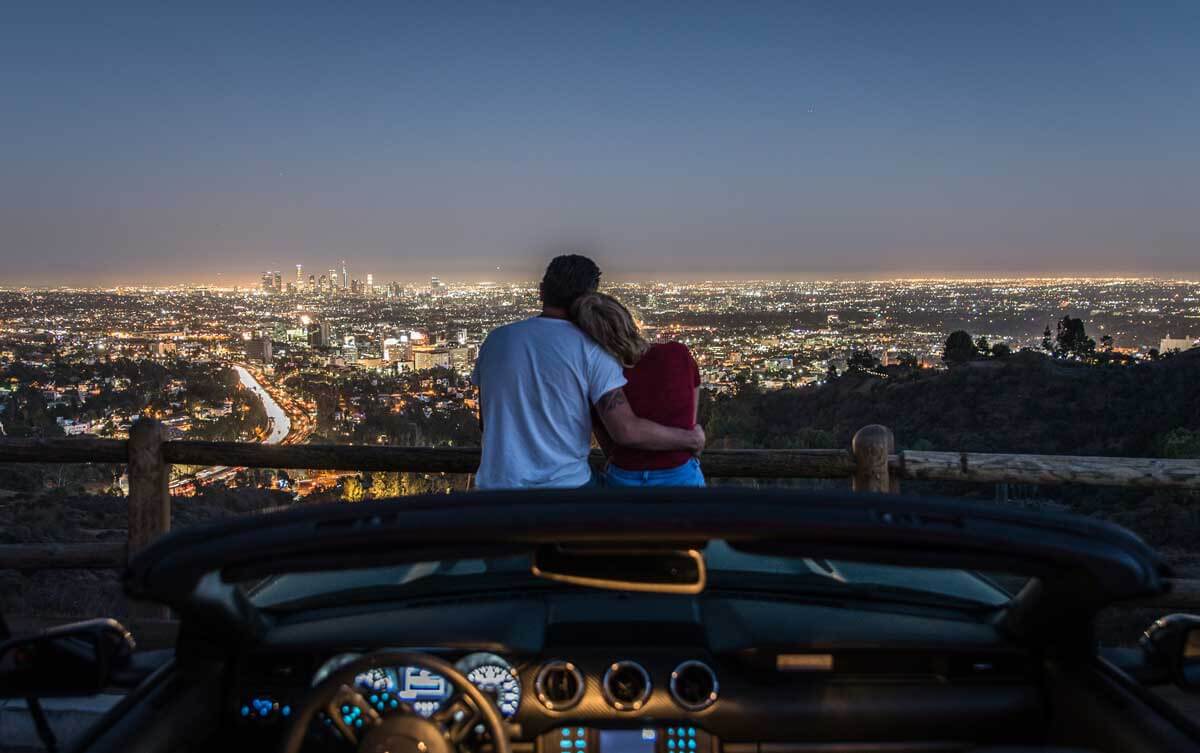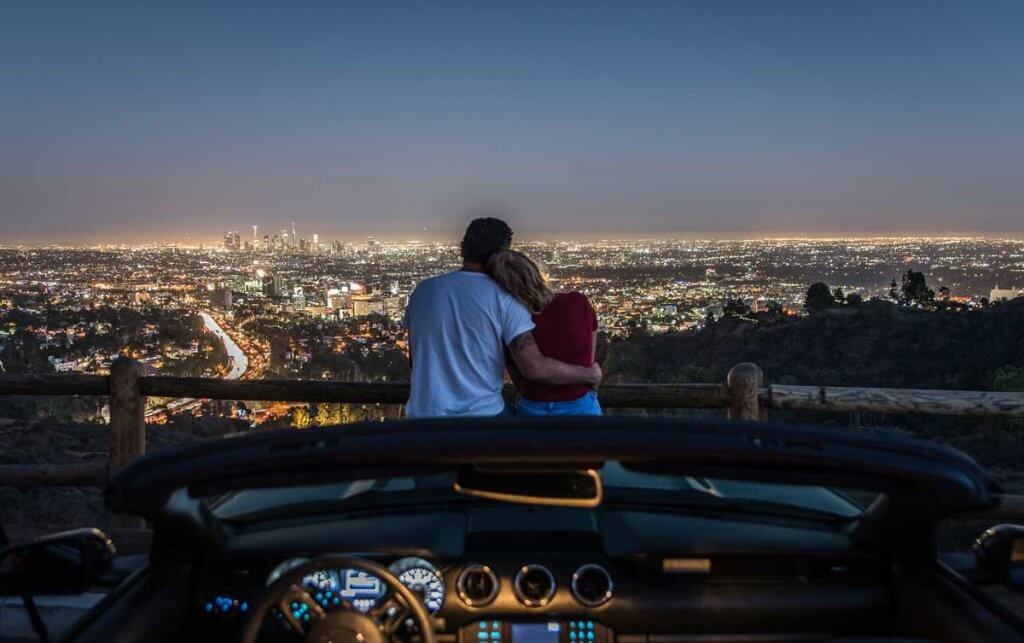 Sometimes, there's nothing quite like getting in a car and driving around a city. Windows down, fresh air floating in the car, and the perfect playlist coming through the speakers as you wind through the city streets.
Given the right circumstances, Los Angeles can be a great place to explore by driving, especially if you get up in the hills and away from the clog of traffic on the interstates and in the popular areas of the city.
A fun thing to do in LA at night is to head up to Mulholland Drive, the famous 21-mile stretch of road that has views of downtown LA, the Hollywood Sign, the San Fernando Valley, and the Los Angeles basin.
Carefully climb along the road as the city twinkles beneath you and you drive by enchanting homes inhabited by celebrities. A great place to stop on Mulholland Drive is the Jerome C. Daniel Overlook, which is perched directly over the Hollywood Bowl.
Have a Dinner Picnic at the Beach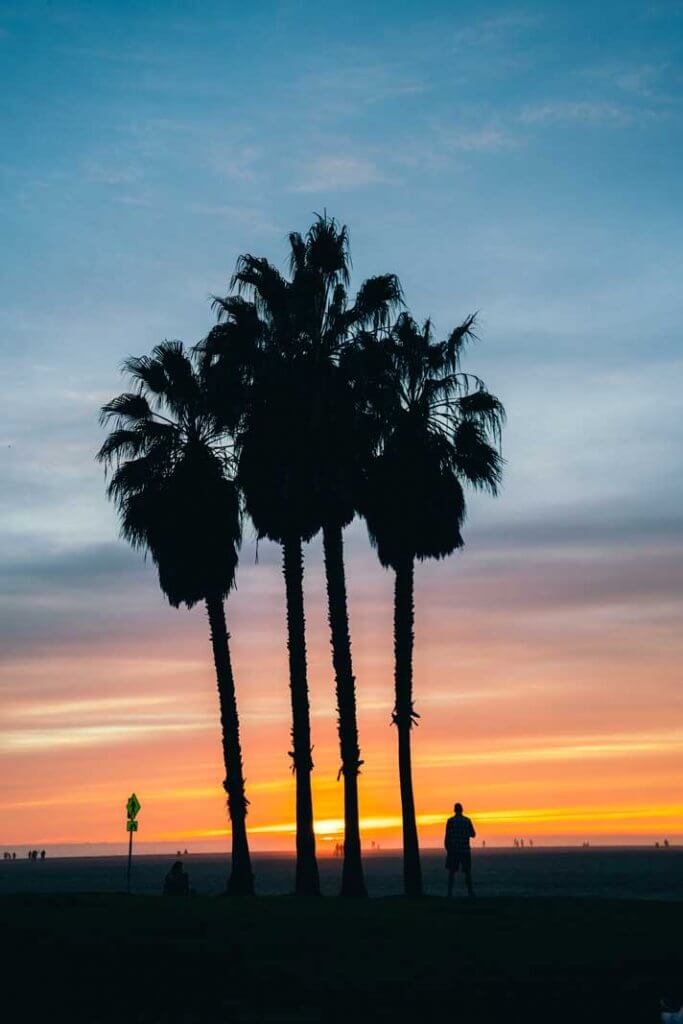 With so many incredible beaches in the city, a great thing to do in LA at night is have a picnic at the beach. Zuma Beach is a popular spot in Malibu with concession stands, picnic tables, and even a restaurant.
Pick up some snacks and drinks, plop down at a picnic table, and watch people surf, swim, windsurf, and play volleyball as the sun goes down.
Will Rogers State Beach, over in Pacific Palisades, is a more secluded option. Not as many people tend to hit up this sandy beach, so you can have a quieter time nibbling on some delicious food at a picnic table as people fish and surf nearby.
Topanga Beach is a pristine beach in Malibu that happens to be a popular surf spot. Stop at a local grocery store, grab some light food and drinks, and have a serene picnic on the beach at dusk.
Also, if you want to stick around more of the city, check out Venice Beach or Santa Monica Beach at night. You can easily grab some things to bring down to the beach and when you're done, you're steps away from bars and other fun things to do in Los Angeles at night!
Grab Late Night Bites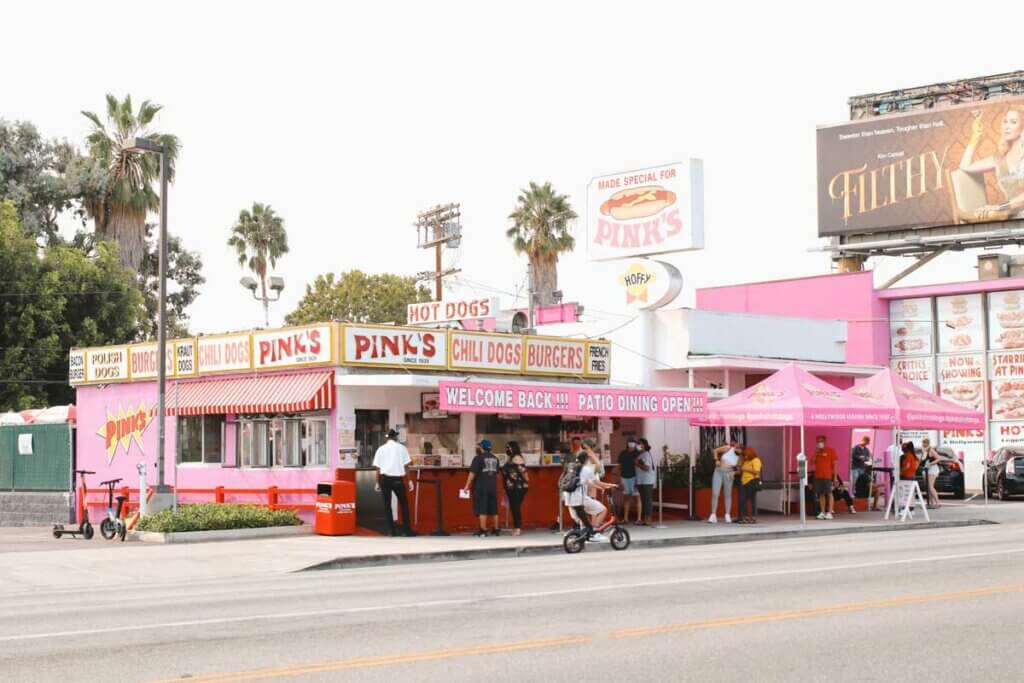 Do you get the munchies late at night? Or maybe you just like to eat later in the evening or want something tasty after a fun night out in Los Angeles!
Pink's Hot Dogs is a famous eatery, known for their loaded hot dogs, emphasis on loaded! Giada de Laurentis and Martha Stewart each have namesake menu items at Pink's, giving it a celeb seal of approval. Pink's Hot Dogs dates back to 1939, so it's an institution at this point. They are open until 2:00 am on Fridays and Saturdays, and until midnight every other weeknight.
Jones Hollywood serves up Italian and American food in an eatery with a cool retro vibe. They have a "Beggars Banquet" on Sundays through Thursdays, from 10:30 pm until 2:00 am, which is when they offer a menu of discounted food items from their menu. Jones is open every night from 7:00 pm until 2:00 am.
Canter's Deli serves classic deli fare all day for breakfast, lunch, and dinner. And, they are open 24 hours! Dine in hours are until 11:30 pm throughout the week, and on Friday and Saturday nights you can dine in at any hour.
Explore Los Angeles at Night by a Bus or Hiking Tour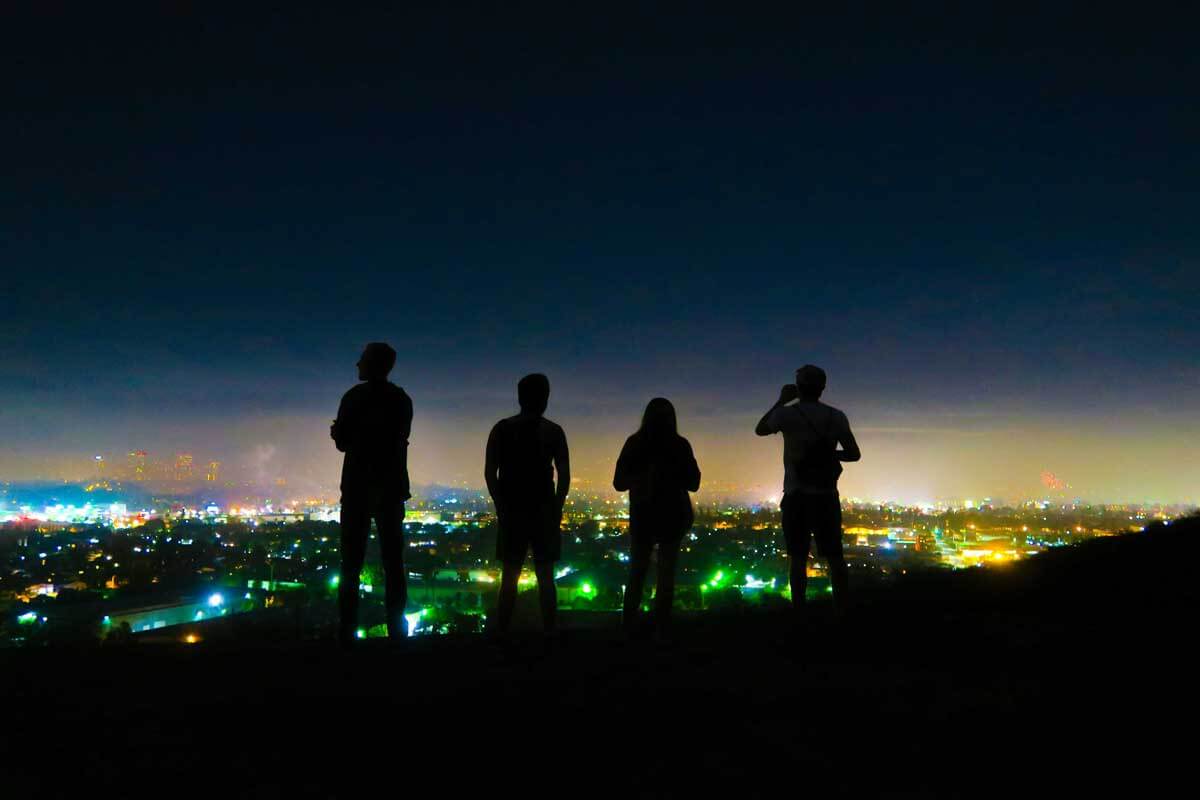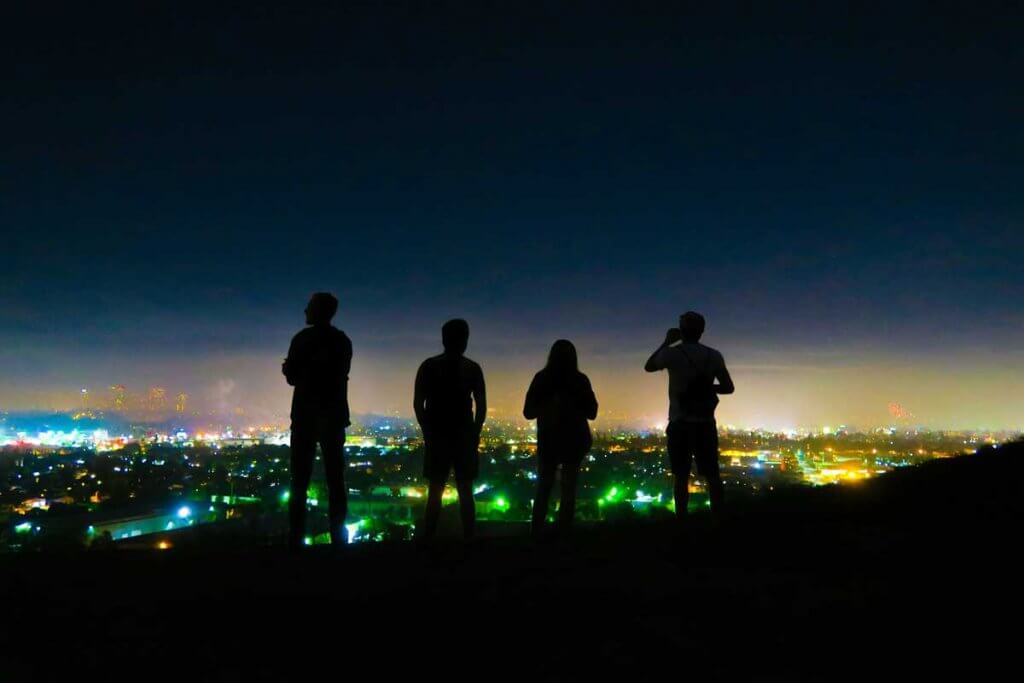 Seeing Los Angeles during the day is one thing, but once the sun goes down, the city takes on a different personality.
The Los Angeles: Hollywood Night Tour lets you relax on a bus while it drives you through Hollywood Boulevard and the Walk of Fame, the Sunset Strip, West Hollywood, and the Griffith Observatory. As dusk starts to settle in, you will see these sights when the nightlife starts to pick up.
The tour lasts 90 minutes, and is narrated by a tour guide.
This Hollywood Night Hike Tour with Epic LA Skyline Views tour takes you through numerous spots in Los Angeles, from Hollywood Boulevard to the Hollywood Hills. The places you will pass by include the Jimmy Kimmel Live! Studio, Madame Tussauds Hollywood, Outpost Estates, Runyon Canyon Park, the Hollywood Hills, and more.
The tour lasts two and a half hours, and there is a lot of walking involved. 
Hang Out at Abbot Kinney Boulevard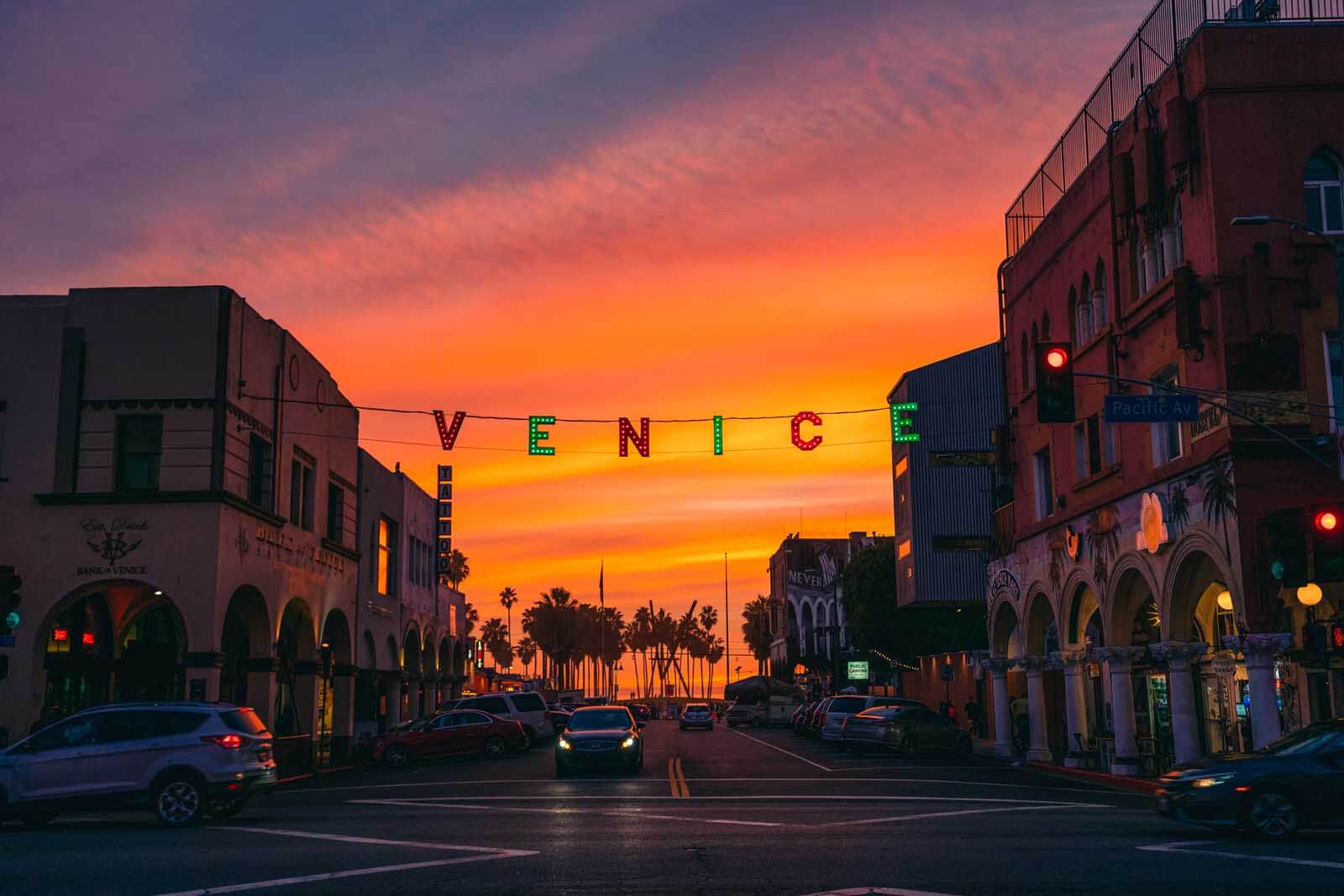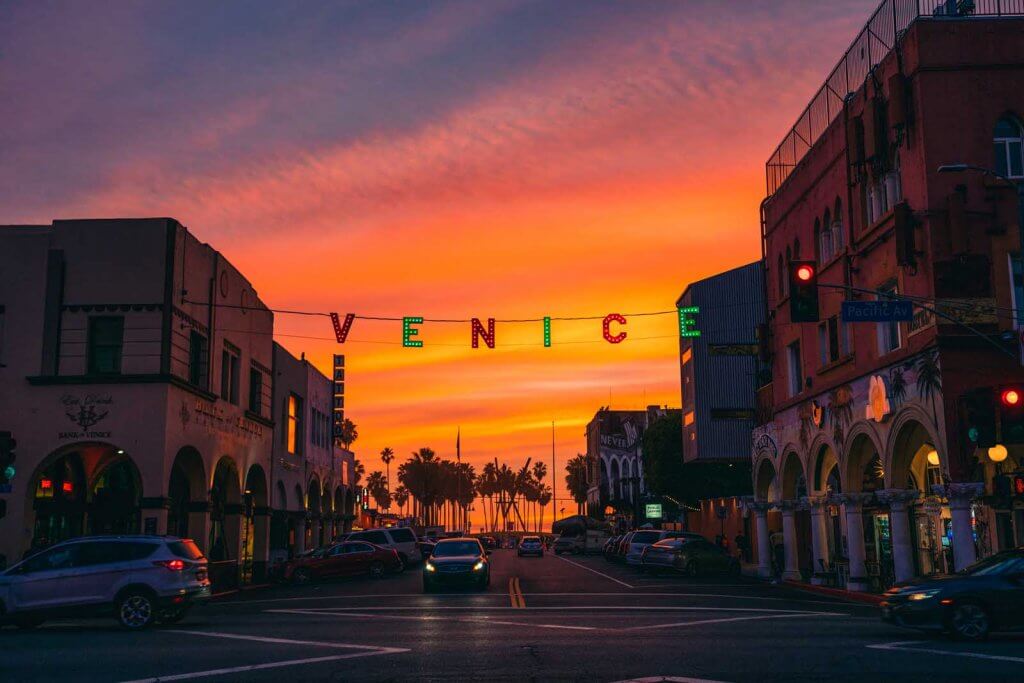 Down in funky Venice Beach, there's a street that has awesome shops, hip galleries, and yummy eateries. This area is known as Abbot Kinney Boulevard and slender palm trees line each side of the mile-long road.
You can easily spend a few hours on Abbot Kinney, just checking out all the interesting shops and galleries, and getting a taste of the local culture.
A cool night activity in Los Angeles is to hit up First Friday, when swarms of food trucks descend on Abbot Kinney Boulevard and shops stay open late. Bop around from food truck to food truck to fill up on delicious food, then weave in and out of stores for a change of pace, then go back to the food trucks for more! First Friday begins at 5:00 pm, and typically lasts for about 4 hours.
Check out more of the fun things to do in Venice Beach too to add on during your evening around here.
See a Game at the Crypto.com Arena
If you're a sports fan, or are just looking for an enthusiastic outing, take in a game at the Crypto.com arena. Located downtown, this is where the Kings, Lakers, Clippers, and Sparks call home.
You will really get to mingle with the locals as you cheer alongside them for the home team. Get some tickets to a game, grab some popcorn and soda, and get swept up in the energy of rooting for Los Angeles' very own teams!
The massive arena also hosts musicians, so you can catch an awesome performance as well. Be sure to check out their calendar to see what games and musical acts are happening during your visit.
Explore Chinatown and Little Tokyo
There are so many cool areas of city to check out during your Los Angeles itinerary or trip. Two of the coolest areas to check out in Downtown Los Angeles are Chinatown and Little Tokyo, which are also great options at night!
In Chinatown you can head to Central Plaza, arguably the "hub" of this area, has an array of shops, restaurants, and galleries. At night, the lanterns strung above the walking areas glow warmly and neon signs illuminate the streets.
Chinatown also has the Far East Plaza, where you can browse lots of different food places for dinner or a late meal.
Another great area is Little Tokyo, also in downtown LA. Hit up Max Karaoke, where you can sing to your heart's desire until 2:00 am. And with a variety of cool shops and eateries, like Suehiro Cafe which has been around for 50 years, there are many great things to walk around and explore when the sun goes down and the night starts to settle in.
---
Where is the best view of Los Angeles at night?
Griffith Observatory offers the best view of Los Angeles at night, showcasing the city's twinkling lights and the iconic skyline, providing a breathtaking panoramic vista of the sprawling urban landscape.
How can I spend my night in Los Angeles?
Spend the night in Los Angeles by exploring its vibrant nightlife on the Sunset Strip, catching live music or comedy shows, dining at trendy eateries, or taking a nighttime stroll along Santa Monica's illuminated pier.
What are the most famous clubs in Los Angeles?
Los Angeles hosts renowned clubs like The Roxy, Bootsy Bellows, and 1 OAK. Other popular spots include The Viper Room, Exchange LA, and Avalon, offering diverse entertainment and vibrant nightlife experiences.
What are the most famous things to do in Los Angeles at night?
Explore the vibrant Sunset Strip, catch live shows at iconic venues like The Hollywood Bowl, and embrace the city's nighttime allure at Griffith Observatory or Santa Monica Pier for stunning views and lively entertainment.
What to do in Los Angeles at Night (Post Summary):
Check out Griffith Observatory at Night
Spend an evening on Santa Monica Pier
See a Comedy Show
Hit up a Rooftop Bar
Check out a Famous Nightclub
See a movie at an iconic theater
Watch a movie at the Hollywood Forever Cemetery
See a Show at the Hollywood Bowl
Check out the Troubadour
See Urban Light at LACMA
Enjoy a Night of Fun at Whisky A Go Go
See a Performance at Walt Disney Concert Hall
Go See Live Theater
Have fun at Universal Studios Hollywood
Check out a Late Night Museum
Take a Night Helicopter tour over Los Angeles
Go on a Ghost Tour!
Go on a Sunset Swan Boat at Echo Park
Go on a night drive
Have a dinner picnic at the Beach
Grab Late Night Bites
Explore Los Angeles at Night by a Bus or Hiking Tour
Hang Out at Abbot Kinney Boulevard
See a Game at Crypto.com Arena
Explore Chinatown and Little Tokyo
---
Enjoyed this guide to all the fun things to do in Los Angeles at night? Bookmark for later or share the love below on Pinterest!