Looking for a dreamy beach getaway? You'll be overwhelmed by all the enticing things to do in Carlsbad, California. From incredible shopping, restaurants, and drink options to a healthy balance of relaxation and entertainment, we've got you covered.
Carlsbad, California is a gorgeous beach town near San Diego littered with amazing attractions for your upcoming vacation that you won't want to miss whether you're on a Southern California road trip or looking for things to add to your San Diego itinerary.
Where is Carlsbad?
Carlsbad is a lovely beach city on the coast of Southern California. The town/city is sandwiched in-between some other popular beach cities; Oceanside and Encinitas.
It's also located in the North County region of San Diego, making it super close to all San Diego attractions and only 35 miles away from San Diego International Airport.
Exploring all the Carlsbad attractions is done best by car, but there is also a train option. The Coaster commuter train runs north and south through San Diego County, taking passengers anywhere from Oceanside to downtown San Diego, one of those stops being Carlsbad Village!
When's the best time to visit Carlsbad?
San Diego County is known for being sunny and has mild, comfortable temperatures pretty much year-round, making a perfect place to visit just about any time of year whether you're planning a whole vacation here and around Orange County or making stops on a California coast road trip.
The summers are warm and arid and winters are cool, but comfortable. The temperatures rarely drop below 44 degrees or above 84 degrees and typically are closer to a mild, comfortable 50 – 77 degree weather depending on time of year.
While any time of the year is a great time to visit, July through November are the best months for those comfortable beach days! Keep in mind, if you're not from the West Coast that the Pacific Ocean has cooler temperatures than the Atlantic, so the water is much colder! That's why surfers have different season wet suits, winter suits, and summer suits.
No matter what time of year you visit, Carlsbad is the perfect Southern California destination! Now let's surf into our complete guide to all the amazing things to do in Carlsbad, California.
Fun Things to do in Carlsbad
Explore Carlsbad Village
If checking out Carlsbad Village ends up being the only thing you do on your visit, you will have done enough. Everything you need and more is located in this adorable downtown Carlsbad area.
Many of the must-see Carlsbad attractions in the village will be touched on throughout the guide, but some top recs while in the area would be to snap a photo of the iconic Carlsbad sign, check out any of the boutiques, grab a coffee from one of the many local shops, and of course dine-in at any of the restaurants for a delicious meal.
Just a block away from the beach, Carlsbad Village is an excellent starting point for your trip.
And if you're looking for something unique and fun to do in Carlsbad Village, check out this self-guided scavenger hunt you can do on your smartphone! Solve riddles and learn all about the hot spots in Carlsbad Village along the way! Purchase the Scavenger Hunt here.
Carlsbad Mineral Water Spa
What's a vacation without some self-care and relaxation? Located in the beautiful downtown of Carlsbad Village, Carlsbad Mineral Water Spa will have you feeling refreshed, rejuvenated, and ready to take on your list of things to do in Carlsbad.
This spa has a wide variety of services such as facials, waxing, massages, and other body treatments, but be sure to check out their spa packages! No matter what service you choose, you can't go wrong. Don't forget to try the mineral water either, the mineral-rich waters have healing properties and is actually how Carlsbad got its name.
Carlsbad was named after the famous spa town of Karlsbad, Bohemia aka Karlovy Vary in the Czech Republic! It is said that Carlsbad, California has similar mineral content to this famous spa town in the Czech Republic – which we have been and LOVED.
Open every day of the week, there's no excuse to not get some self-care in at the Carlsbad Mineral Water Spa during your beach vacay!
Carlsbad State Beach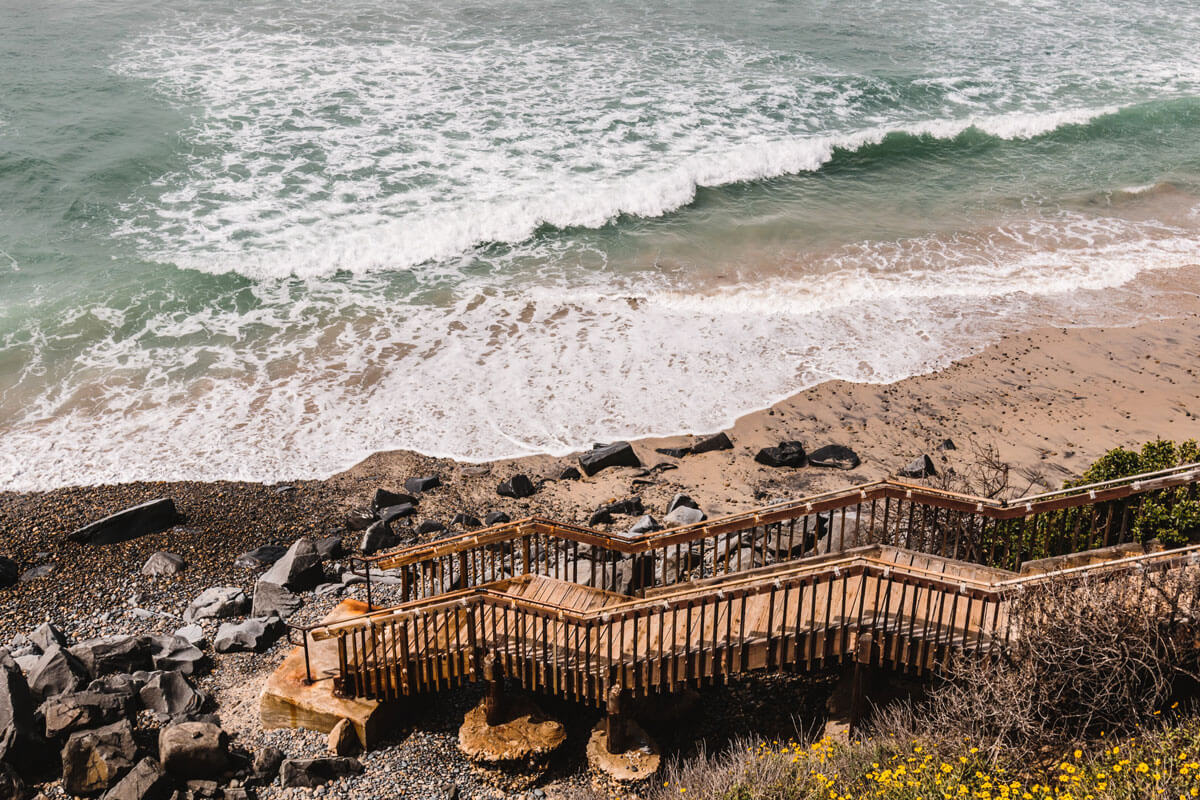 Comprised of many smaller beaches, Carlsbad State Beach is a three-mile-long beach along the California coast. Known for a variety of activities, visitors can swim, surf, scuba, fish, and more at this beach. This spot is perfect for a picnic or just catching a sunset if you already have a day full of things to do in Carlsbad on your list.
Don't forget to take a couple of pictures on the gorgeous staircase leading down to the sand.
Carlsbad State Beach is also known for its campgrounds, which are open year-round! Guests can book an ocean-overlooking campsite with options for a tent set up, or RVs/trailers.
So if you want to wake up to the sound of crashing waves, we highly recommend checking out the campgrounds if you're able to reserve a spot. Most reservations should be made up to six months in advance.
Robert Frazee State Beach
Part of the Carlsbad State Beach, Frazee is one of the beautiful beaches along the California coast you should see during your trip to Carlsbad. It is one of the less crowded beaches and offers so much for its visitors that it's easily one of the best Carlsbad attractions.
Equipped with free parking, showers, bike paths, fishing, surfing, and swimming areas, you're bound to have the perfect beach day at Frazee State Beach.
Tamarack State Beach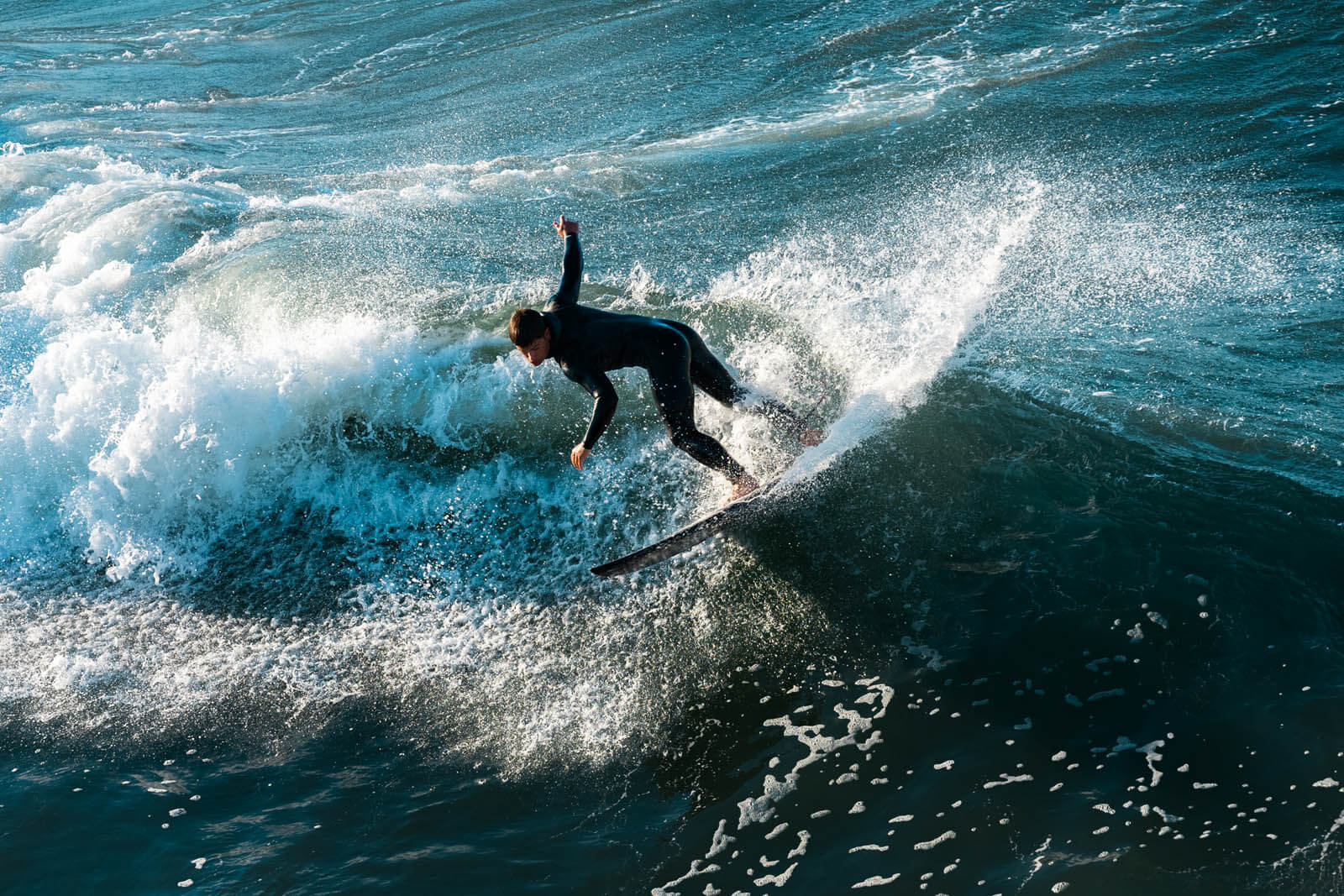 Tamarack, one of the many beaches apart of Carlsbad State Beach, stretches about a mile long and is incredibly popular among locals. Equipped with a boardwalk, this beach is perfect for taking a brisk walk, a bike ride, rollerblading, and surfing if you're into catching waves as this is a great beach for surf.
]With picnic tables, showers, restrooms, and free (but difficult to score) parking, there's not much more you need!
Tamarack State Beach absolutely belongs on your list of fun things to do in Carlsbad.
Terramar Beach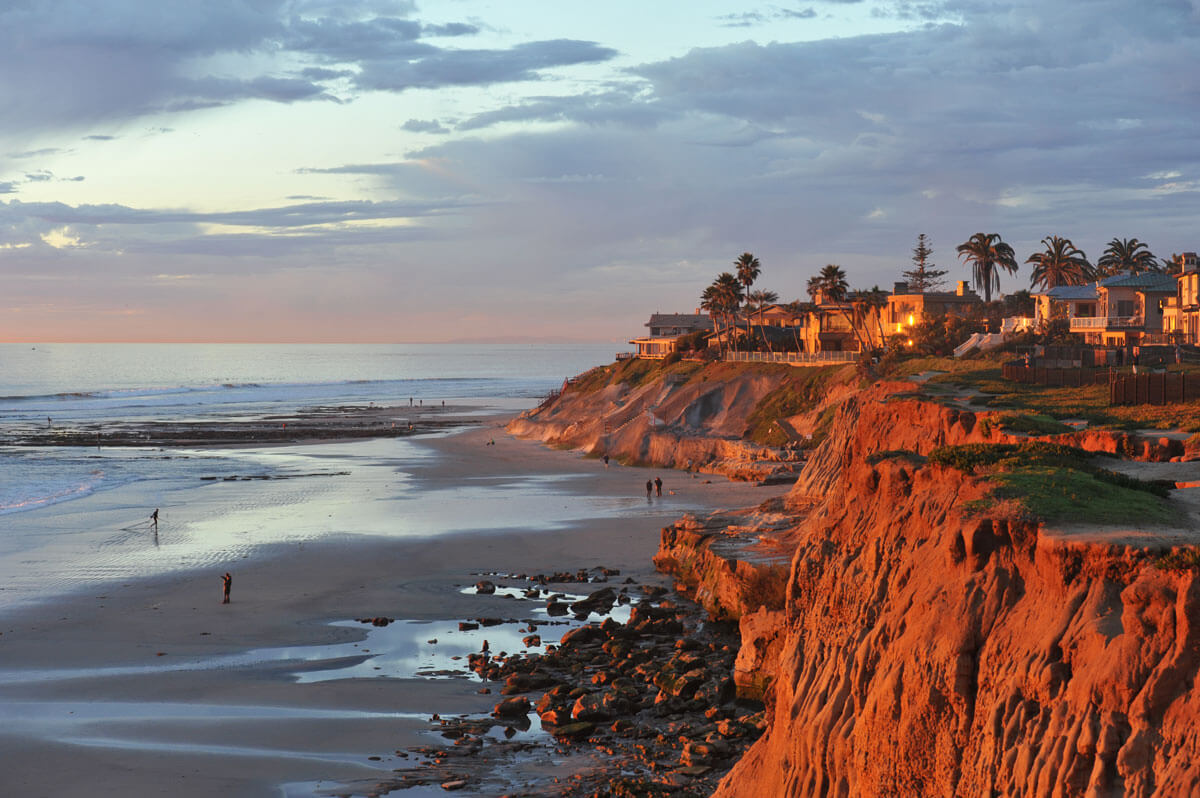 Surrounded by gorgeous golden bluffs, next on the list of Carlsbad attractions is Terramar Beach. Technically a part of Carlsbad State Beach, Terramar is a popular beach among locals (particularly surfers) and is considered somewhat of a hidden gem in Carlsbad.
Something to keep in mind when visiting this beach is that it is usually covered in waves, not leaving much room for lounging on the sand. One of the main attractions of Terramar is the tide pools that occur when there is a low tide at the beach.
Because the beach is a little more remote than others in Carlsbad, there are no public restrooms or many other amenities at this beach but you can find free parking along the street.
Legoland California Resort
Legoland California opened up in Carlsbad, CA back in March of 1999 and has been providing endless family fun ever since. Legoland California was the first Lego-themed park in the U.S., the original being in Billund, Denmark, which opened in 1968.
The Legoland California Resort is full of different attractions that will be sure to keep you busy. Some of the attractions include the Legoland theme park itself, Sea Life Aquarium, Legoland Water Park, Legoland Hotel, and Legoland Castle Hotel.
The Legoland theme park has over 60 rides, plenty of interactive shows and activities, as well as dining and shopping options. In addition to checking out the theme parks or aquarium, you can stay overnight in an incredible themed room.
Be sure to book your Legoland California theme park tickets in advance! Keep in mind that Legoland is open year round, but hours may vary depending on the season. It's always a good idea to check their calendar before planning your visit!
Needless to say, Legoland might be something to add to your list of Carlsbad attractions, especially if you're traveling with kiddos.
Carlsbad Flower Fields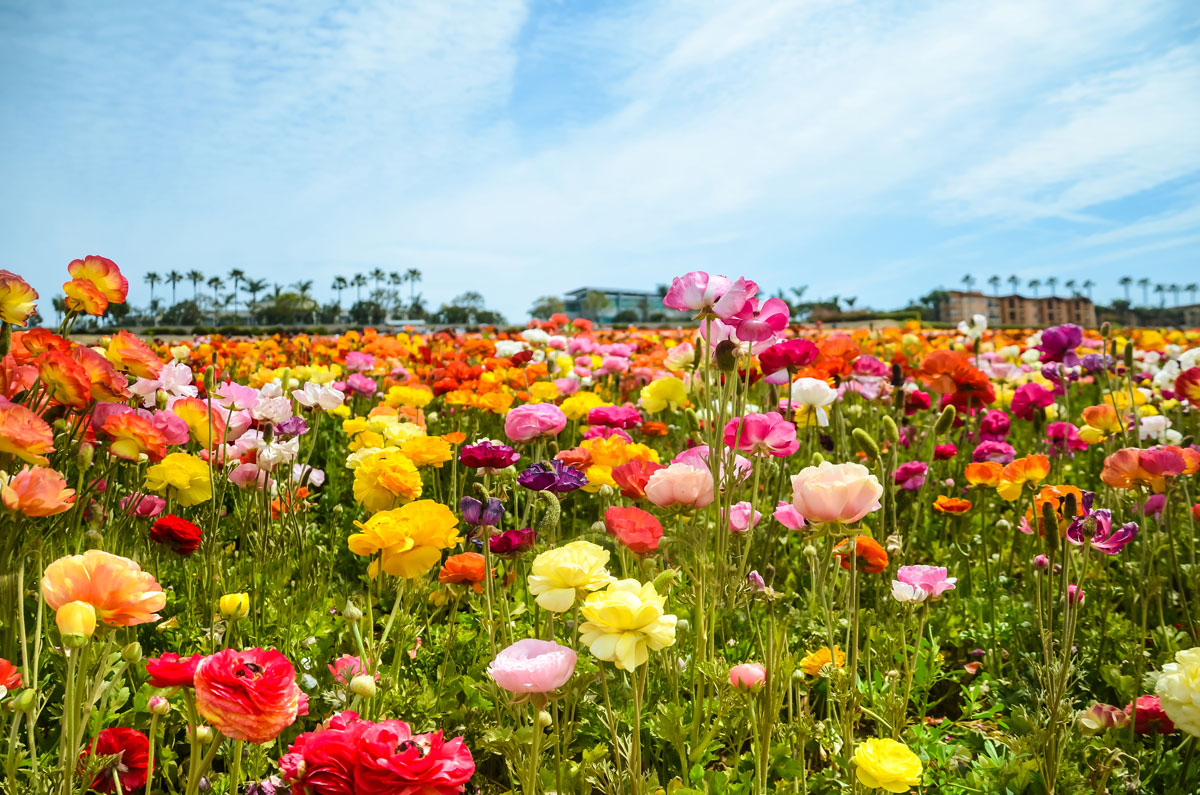 Visiting the Flower Field at Carlsbad Ranch has to be one of the best and most beautiful things to do in Carlsbad. These gorgeous flowers are the result of flower cultivation that began back in the 1920s by Luther Gage, who was an early settler in the area.
This eventually would turn into a full-blown flower operation, The Flower Fields entered into a retail agreement in 1999 with Armstrong Garden Centers and has since turned into one of the most incredible Carlsbad attractions. 50 acres of land are dedicated to the ranunculus bulb crop and about 5 acres are for other flowers.
Obviously, the best reason to visit The Flower Fields is to take a ton of post-worthy photos— in order to get the best photos, make sure to visit during peak season!
The best time to check out the flowers is from late March to early May. Some other important things to note about The Flower Field are that you may be able to participate in blueberry picking for $5 during the spring (weather permitting), there are places to get food and refreshments, they allow cameras and tripods, and they can also host weddings/events for up to 200 people! Make sure to purchase your tickets online prior to arriving.
Get on the Water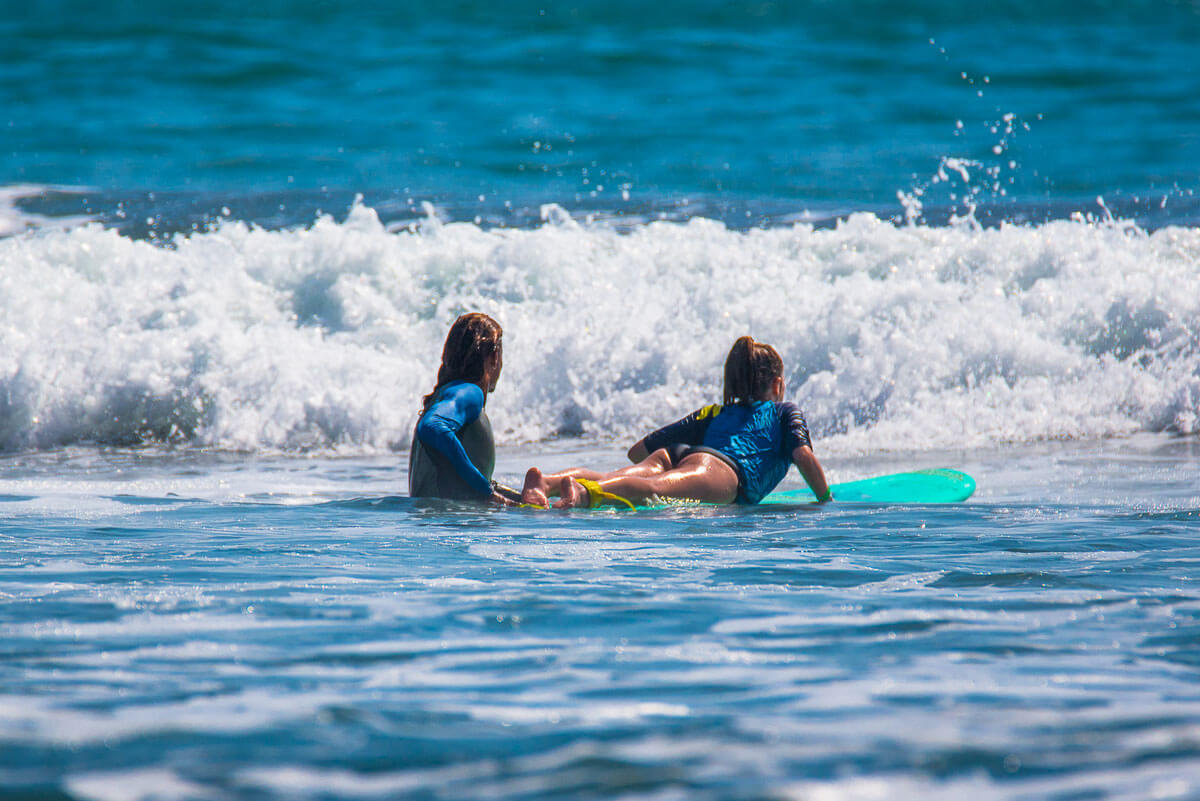 What better way to fully experience Carlsbad than getting in on the surf action yourself? Luckily for visitors, there are a variety of companies that offer surfing or stand-up paddle boarding lessons.
Check out some of the most fun things to do in Carlsbad with these options for rentals and lessons:
Two Stand Up Guys Paddle Board Lessons— A great option for learning how to get out on the water is Two Stand Up Guys Paddle Board Lessons. 2 Stand Up Guys has been giving lessons since 2009 and is committed to giving their customers the ultimate paddle boarding experience. The best part— complementary photos of your lesson emailed to you following the conclusion of your lesson! If you're already a stand-up paddle boarding expert, 2 Stand Up Guys had quality equipment that can be rented as well.
Private Surf Lessons — Private surf lessons are also an option for those wanting to learn this beloved Southern California sport while in Carlsbad. Providing op-of-the-line equipment, and free use of the wetsuit and board for your 2 hour lesson.
California Watersports— California Watersports offers all kinds of rentals if you're looking for more than a surfboard. From a variety of motorized rentals like a Pontoon Boat or Bayliner to plenty of non-motorized rentals like kayaks and aqua-cycles that you can enjoy on calm, uncrowded water, there is something for everyone at California Watersports.
Batiquitos Lagoon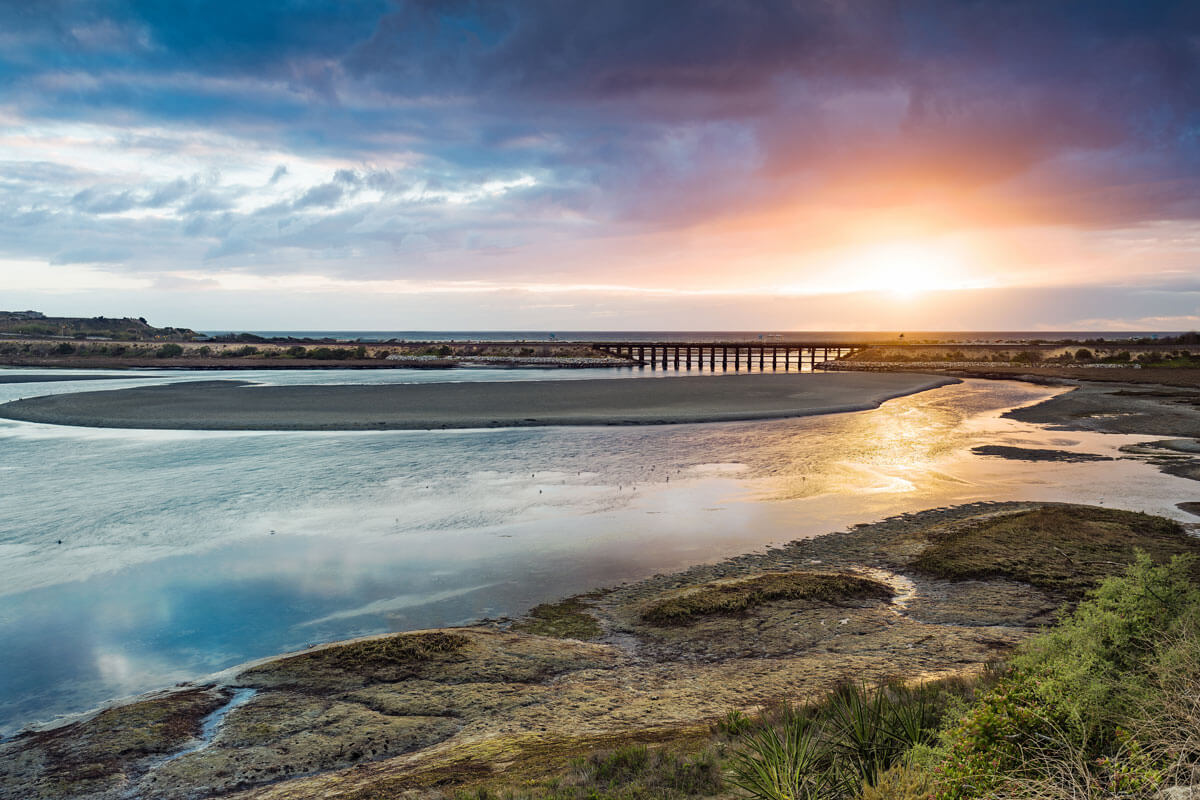 Located between the cities of Carlsbad and Encinitas, Batiquitos Lagoon is one of many incredible outdoor Carlsbad attractions to visit during your beach trip.
Follow the 1.6-mile trail along the basin and keep your eye out for some majestic birds along the way. The lagoon itself is over 600 acres and offers visitors a chance to get some fresh air and get active in a beautiful environment.
The Batiquitos Lagoon offers a Speaker Series that occurs about once a month that gives visitors an opportunity to learn about nature while checking out the largest basin on the north shore. If that interests you, make sure to check their website before planning your trip!
Hit up the Breweries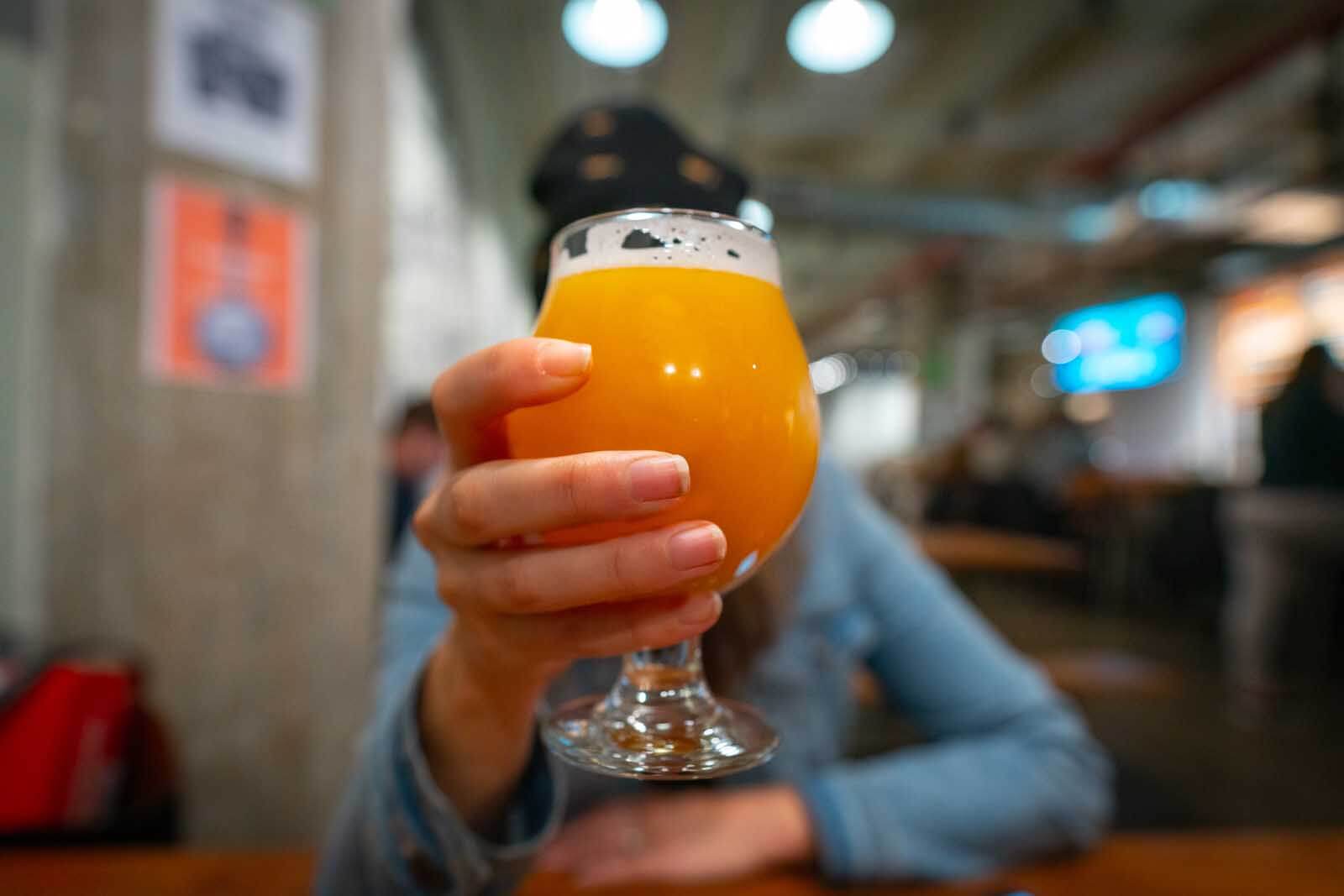 San Diego, better known as the "Craft Beer Capital of America," has hundreds of breweries to choose from during your stay. North County San Diego is home to several incredible breweries in and around Carlsbad, pick a brewery and add it to your list of things to do in Carlsbad.
Carlsbad Brewing Company — Opened in 2019, Carlsbad Brewing Company has made a statement in Carlsbad with its variety of ciders, sours, lagers, and more. You won't want to miss this extraordinary craft beer list combined with the mouth-watering food menu.
Pure Project Carlsbad — Known for its use of local and organic ingredients when seasonally available, Pure Project is an incredible stop on your craft beer tour. With 22 options on tap and 26 bottled/canned beers, Pure Project will not disappoint.
Pizza Port — Beer and pizza, name a better duo. We'll wait. Pizza Port was founded in 1987 and now has five total locations, two of those locations are right here in Carlsbad. With nearly 25 beers on tap and their own Pizza Port canned beer, this joint has everything you need.
Park 101 — Known for its smokin' BBQ, Park 101 is a must on your Carlsbad beer tour. With a wide variety of craft beers from lagers, pales, IPAs, some fruity stuff, and much more, Park 101 will have you speechless. Pair your refreshing brew with some Loaded BBQ Mac, Surf n Turf Fries, or any of their other savory plates. Don't forget to try their Beers of the Week!
Barrel Republic — One of three locations, Barrel Republic is a self-serve craft beer bar that offers 52 beer taps as well as six wine taps. This bar is a huge supporter of its local beer community so expect to get the true taste of SoCal when visiting. The concept behind the self-serve is having the ability to share and compare your pours with "like-minded" craft beer enthusiasts.
Draft Republic — Also known as the ultimate hangout spot in Carlsbad, Draft Republic offers 101 beers on tap as well as 50 flatscreen TVs and retro arcade games. With incredible appetizers, pizzas, burgers, and more, visiting Draft Republic is a no-brainer.
Of course, there are many more breweries in Carlsbad, this is just the beginning! Cheers!
Scavengers Beer & Adventure Tours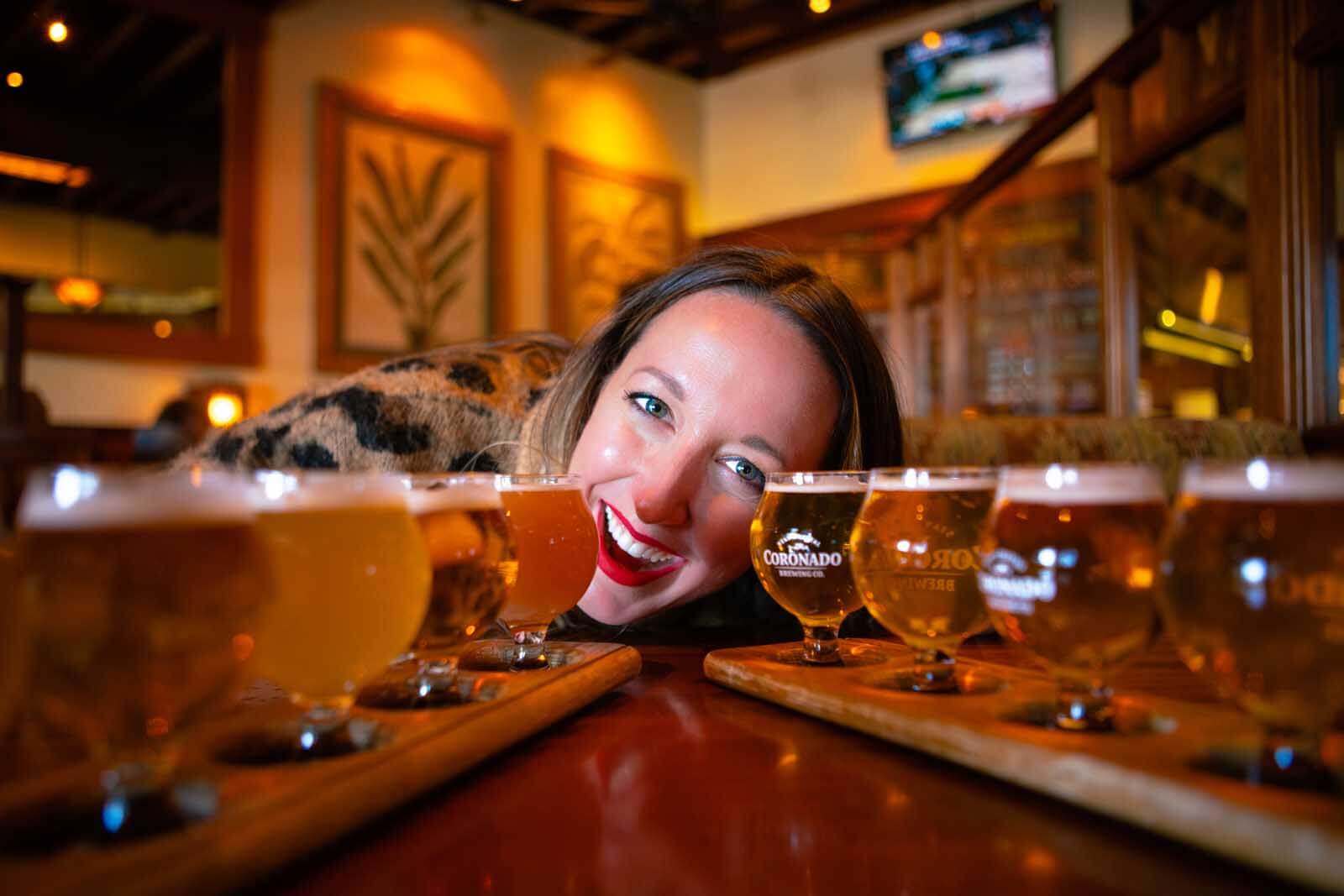 If you're unsure of which breweries to check out during your visit to Carlsbad, Scavengers Beer & Adventure Tours has got your group covered.
Pile into a Vintage Swiss Safari Vehicle equipped with 12 seats and tons of ice-cold beer to drink in between breweries. Named one of America's most unique beer tours by Forbes Travel, this beer tour will show you what the Craft Beer Capital of America is all about.
This all-inclusive tour provides guests with plenty to drink! In addition to the 1-2 road beers, each guest will have access to 3-4 tastings per stop, which are about a 6.5 oz pour.
During the booking process, guests are able to suggest which breweries they would prefer to stop at, make sure to take a look at their options on their website! As if this can't get any better, a BBQ meal will be provided from either Phil's BBQ or That Boy Good BBQ.
To say the least, this is one of the most entertaining Carlsbad attractions. For any additional information or questions, make sure to check out their FAQ page!
Leo Carrillo Ranch Historic Park
What used to be an old rancho built by Leo Carrillo, a famous actor, preservationist, and conversationist, was discovered as a hidden piece of land back in 1985. Members of the Carlsbad City Council saw an opportunity and a vision for what is now called Leo Carrillo Ranch Historic Park.
This 27-acre park includes gorgeous walking tours and historic buildings— it is easily one of the best outdoor things to do in Carlsbad. The park is flooded with glowing greenery and beautiful architecture you just can't miss.
Some of the buildings may be closed during your visit to help preserve the artifacts, but if you schedule a group tour in advance or take part in a scheduled weekend tour, you may gain access to some of these buildings! It is important to dress comfortably with a sturdy pair of shoes to take on the sometimes uneven terrain.
Make sure to grab a free Ranch guide, pack sunscreen, and bring plenty of water. The park is open from 9 AM-5 PM daily.
U-Pick Carlsbad Strawberry Company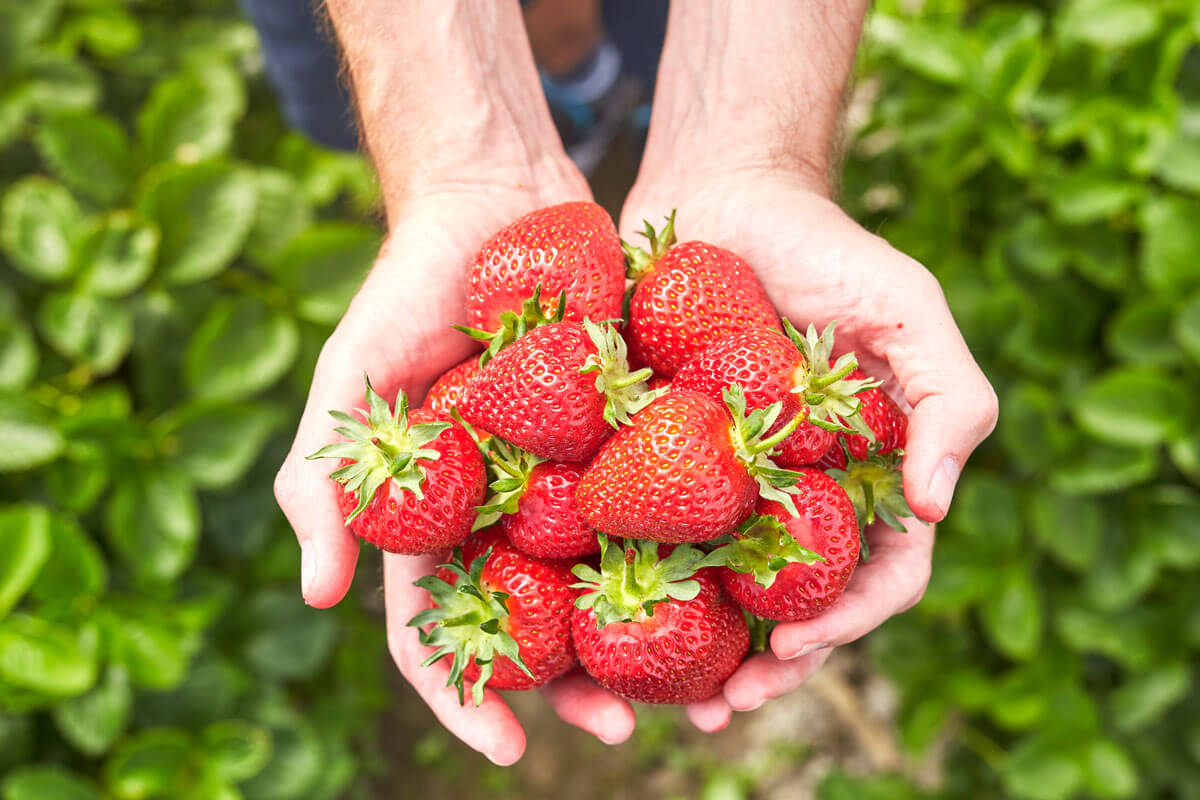 Operating since the 1950s, Carlsbad Strawberry Company has been providing guests with one of the tastiest and most fun things to do in Carlsbad. Guests can pick and gather about 2 pints worth of delicious strawberries, which are always fresh and never old.
Strawberry picking is walk-in only and tickets stop selling at 5:45 PM every day. Aside from strawberry picking, a $5 general admission ticket can get visitors the sunflower maze, photo opportunities, free games, shaded areas to take a break, and hay pyramids!
Prime strawberry time is from around late January to mid-July. If your visit happens to be in the latter half of the year, you may be in time for pumpkin season!
Pumpkin Patch season at the Carlsbad Strawberry Company is usually from the end of September to the first week of November. Chances are, there is something for you to do here whenever you find yourself in Carlsbad!
Golfing in Carlsbad
Not much compares to a golf course along the coast— luckily Carlsbad has five beautiful golf courses to choose from during your visit to Southern California. Tee off at some of the most highly rated courses, including the Omni La Costa Resort & Spa Legends & Champions courses as well as the Rancho Carlsbad Golf Club.
Omni Courses — The Omni La Costa courses are known to be a great challenge for even some of the most experienced golfers. This resort is home to an exhilarating 36 holes, providing some of the most gorgeous views the San Diego area has to offer. If you are an avid golfer or enthusiast, visiting these courses is an absolute must on your list of things to do in Carlsbad. Feel free to explore this resort's golf vacations and packages or book a tee time here.
Rancho Carlsbad — This 18-hole course with a par of 54 takes about two and a half hours to complete. The course has a number of amenities including a driving range, putting green for practice, private or group lessons as well as deli services. Don't forget to book a tee time online!
Spin Records
Add a little groove to your beachy vacation when you visit Spin Records in Carlsbad. Known to have a great mix of tastes with rows and rows of new and used vinyl, CDs, and tapes, this shop is absolutely one of the most unique and local things to do in Carlsbad.
Open 7 days a week, there's no reason you shouldn't be able to make a pit stop at this rockin' independent record store.
Electric Bike Rentals
While there are a few different forms of transportation in Carlsbad, renting electric bikes could be the most fun way to get around the city. In order to cover more ground during your trip, riding e-bikes is an effective way to see and visit more of the local beaches, boutiques, cafes, and more. While there are tons of different companies in the Carlsbad area offering these rentals, make sure to do some research to see which one works best for you and your group!
Purchase a 3-hour long rental in advance that includes training and directions for your self-guided tour prior to departure.
Carlsbad Premium Outlets
It's just not a vacation without a shopping spree— look no further than the Carlsbad Premium Outlets. This incredible outdoor outlet is the perfect way for visitors to get some sunshine and retail therapy simultaneously. With over 85 designer and name-brand stores, these outlets will keep you occupied for hours on end while saving anywhere from 25 to 65% off most items.
Aside from the deals, grab a snack or choose from a number of restaurants to refuel at while visiting the outlets. Find plenty of popular stores such as Coach, Kate Spade, Polo Ralph Lauren, Nike, Adidas, Macy's, Bloomingdales, and so many more.
A visit to the Carlsbad Premium Outlets is one of the more relaxing and casual things to do in Carlsbad.
Drive along PCH
The Pacific Coast Highway, also known as U.S. Route 101, is one of the most famous highways in the country. This highway runs 790 miles all the way from San Diego to the border of Oregon, providing gorgeous views all along the bluffs of California.
One of the most fun things to do in Carlsbad is rolling your windows down, blasting music, and driving down the coast at sunset. If you don't have access to a car, a bike is an option. Make sure to take frequent breaks to snap photos and videos because beaches like these are something you won't want to forget.
Green Dragon Tavern & Museum Carlsbad
This Carlsbad tavern opened up in 2014 and was inspired by the 18th-century Green Dragon Tavern in Boston, MA. Although this restaurant isn't where any meetings leading up to the Revolutionary War occurred, it is a place people can visit to experience incredible hospitality and a true appreciation for America.
Green Dragon's menu gives guests a real taste of the east coast— offering plenty of clam chowder, New England baked cod, Connecticut & Maine lobster rolls, and so much more. In addition to the tavern, their museum has free admission!
The museum is perfect for guests who have not had an opportunity to explore the east coast and want to learn more about our country's heritage and founders— including authentic documents from the Revolutionary War Era. The Green Dragon Tavern & Museum is absolutely one of the most unique Carlsbad attractions.
Dine at Dini's
Enjoy dinner with a view at Dini's Bistro. This elegant restaurant offers delicious American cuisine in an exquisite setting.
Located along Highway 101 and right across from the beaches of Carlsbad, Dini's has one of the best oceanfront restaurants in the city. Serving breakfast, lunch, dinner, and plenty of alcohol, there's no better place to unwind from an adventurous day in Carlsbad.
Their menu is jam-packed with something for everyone— tons of seafood options, savory starters, burgers, pizzas, mouthwatering entrees, and more. Make sure to try the Iguana, their own unique tropical cocktail.
While there is a bar and seating inside, to get the best view we recommend getting a table on one of the outdoor patios!
Cafe Topes
This California cafe is the ultimate breakfast and lunch spot and is easily one of the top Carlsbad attractions. Most people visit Cafe Topes for the incredible beach ambiance— the picture-perfect menu is just the cherry on top. Both breakfast and lunch menus have a wide variety of yummy options, you just can't go wrong.
If you're only stopping in for some caffeine, Cafe Topes has a long list of specialty lattes. Don't forget to add their Mom's Famous Cinnamon Rolls while you're at it.
Keep in mind this spot is closed on Mondays and operates from 8 AM-2 PM.
The Camp Store
Just when we thought the restaurant scene in Carlsbad could not get any better— The Camp Store is San Diego's only bluff-top restaurant offering breakfast, lunch, and dinner with live entertainment! Guests can sit on their patio deck or at one of many picnic tables overlooking South Carlsbad State Beach.
Their menu is full of the perfect beach foods— from their famous wood-stone pizzas, specialty fries, cheesy nachos, to their churro donuts, there is truly something for everyone at The Camp Store. Pair the gorgeous oceanfront views with a variety of ice-cold beers, hard seltzers, or wine.
The Camp Store is one of the most fun things to do in Carlsbad, especially when looking for a perfect date night spot or a night out with friends.
Crackheads
Known for its lovely patio seating, an array of cocktails, and a robust food menu Crackheads is one of the must-see Carlsbad attractions. This beach cafe has a number of reasons to visit— whether it's Taco Tuesday, bottomless mimosas on the weekends, curbing your avocado toast craving, or joining for happy hour with rooftop seating.
The casual outdoor dining will have you and your group hanging out for hours; this is a wonderful spot to enjoy company and all the good stuff Crackheads has to offer.
When visiting for breakfast, the Crackheads Breakfast Sandwich is apparently their fan favorite.
Carlsbad Food Tours
Last but not least on our list of amazing things to do in Carlsbad, is the Carlsbad Food Tour! This experience claims it can turn you into a local in just 3 hours by giving you a complete taste of Carlsbad through its food, wine, and walking tour.
The Taste of Carlsbad Food Tour gives visitors an opportunity to sample locally sourced foods while learning all about the history and culture of Carlsbad. The best part is that the tour is easily walkable and gives guests a chance to explore the downtown area full of Victorian architecture and lovely storefronts. Book in advance here.
Where to Stay in Carlsbad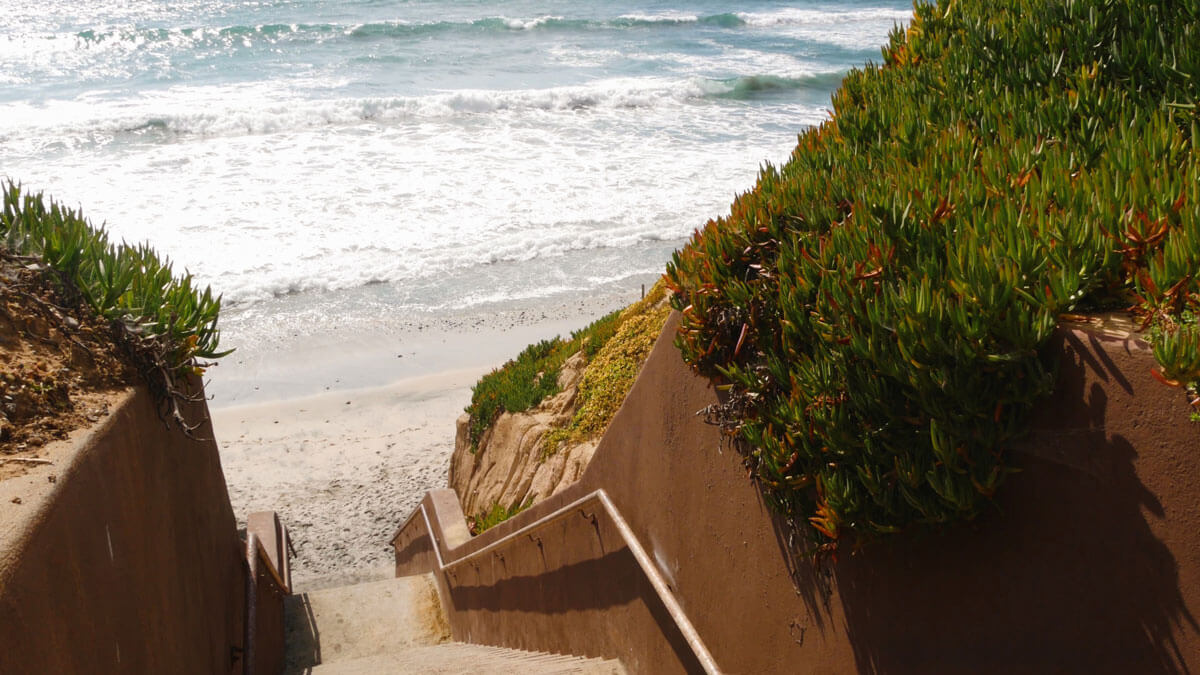 $ Hilton Garden Inn Carlsbad Beach – Located off Highway 101 aka the PCH across from Carlsbad Beach, this modest hotel offers guests a prime location near all the best things to do in Carlsbad plus onsite amenities for your vacation including an outdoor pool and complimentary shuttle to their exclusive lounge at South Ponto Beach. Parking is available for a fee and this hotel is pet-friendly. Book here.
$$ Carlsbad Inn Beach Resort – Located in Carlsbad Village this is a prime location for anyone wanting to be centrally located from all the great shops and dining options in Carlsbad. This boutique hotel is located just steps from the beach too. Choose between their rooms, suites, or condos for your vacation and enjoy onsite amenities including an outdoor heated pool, free parking, a courtyard with ocean views, loaner bikes, and beach toys to take to the beach including everything from boogie boards to towels and beach umbrellas. Book here.
$$ Cape Rey Carlsbad Beach – This gorgeous 4-star resort is located right by the beach so you can enjoy the best of the west coast from ocean views to downtown Carlsbad. Choose a room with a balcony overlooking the ocean or pick a room that overlooks the gorgeous resort pool. There's a spa here too perfect for pampering yourself on vacation. There's a paid parking option as well as amenities like a free shuttle service to South Ponto Beach, loaner bicycles, and beach accessories like chairs, umbrellas, and towels. Book here.
---
About our Guest Author
My name is Katie and I am a college student in New York City, but I grew up right here in Southern California and I'm so excited to share my home state with you.
---
Enjoyed this guide to the best things to do in Carlsbad, California for a perfect getaway? Bookmark for later or share the love below on Pinterest!