If you are at all like us when you first hear Finger Lakes Wine Country, your ears only hear wine country. While it's true, that the Finger Lakes is WINE COUNTRY, it's not giving the region it's full credit.
In this feature, we're going to highlight some of our favorite photos from our trips sips through the region as well as show the raw beauty we experienced in one of the best regions in New York for lake vacations. From waterfalls, charming Finger Lakes towns, hikes, and of course, wine.
Our goal is to hopefully show all of you (especially those of us that don't live near the area) that there is much more to do than just drink wine and why it is, in fact, one of the US's most underrated destinations.
After several visits in just this past year alone we really fell in love with the area and we hope you do too.
The Nature & Waterfalls
The Finger Lakes is full of beautiful scenes from its waterfalls, hiking trails, to lake scenes. This area is known for its waterfalls and gorges. There's something about the different cascading waterfalls of the region that leave you thirsty to explore more.
One of our favorites to visit is Taughannock Falls State Park. It's an awesome place to photograph because it is both easy to get to, and offers many different vantage points from which to photograph from. The image above is taken from practically the parking lot ;).
The image above is a forced perspective of our good friend Chris who runs the blog, Traveling Mitch. It's taken from the viewpoint right next to the parking lot, there is a little overhang.
There are 150 waterfalls in 10 miles in Ithaca, so there is no shortage of gorgeous views! See our full guide on the best Ithaca waterfalls and how to find them, you'd be surprised to learn that many are right in downtown and throughout the Cornell campus!
Also, plan your visit by following our guide to the best things to do in Ithaca.
More incredible waterfalls can be found at Watkins Glen State Park which feels straight out of a fairy tale book with its scenic walk of one cascading waterfall after another. This is probably one of the most popular places to photograph in the Finger Lakes region and its no wonder why.
But seriously, the Finger Lakes are home to some incredible waterfalls, in our opinion, they are home to some of the best waterfalls in New York.
See also – Our Recommendations for things to do in Watkins Glen
This entire trail is absolutely breathtaking making your way through the gorge past 19 cascading waterfalls. Our favorite spot was wat Rainbow Falls where we stopped to pose for some photos. This is one of the most photogenic and popular places for photos in the Finger Lakes region.
Another pretty waterfall and a beautiful place to take a walk is at Waverly Glen near Owego. This is a more under the radar spot that can be tricky to find but well worth the hunt. Once you park you only have about a 5 minute walk to this beautiful cascading waterfall. You can continue on to walk around the water reservoir and the trails nearby for a peaceful time surrounded by the local flora and fauna.
Another gorgeous waterfall that happens to be in someone's actual backyard is Glenora Falls. While this isn't really open to the public you can rent out the home here for a vacation rental, The Estate at Glenora Falls. Imagine waking up to the sound of the most amazing New York waterfalls outside your window.
We are lucky enough to be close friends with and work with Carol & Travis who own a beautiful home in the Finger Lakes region right on Keuka Lake. We are often guests in their home where there are some incredible photography opportunities including these drone images and scenes all from their doorstep.
We love these images because it just shows how beautiful the lakes are from the color of the water to the full beauty surrounding the area both manmade and natural.
These last Finger Lakes photos show how stunning of a winter destination this region can be as well, it's not just for summer visitors! We actually visited in the fall and were lucky to be greeted with a rare fall snowfall that covered the fall foliage which was absolutely breathtaking.
Seeing the brightly colored fall leaves with a blanket of snow was something you rarely see. It made us realize how lovely of a destination this area is all seasons.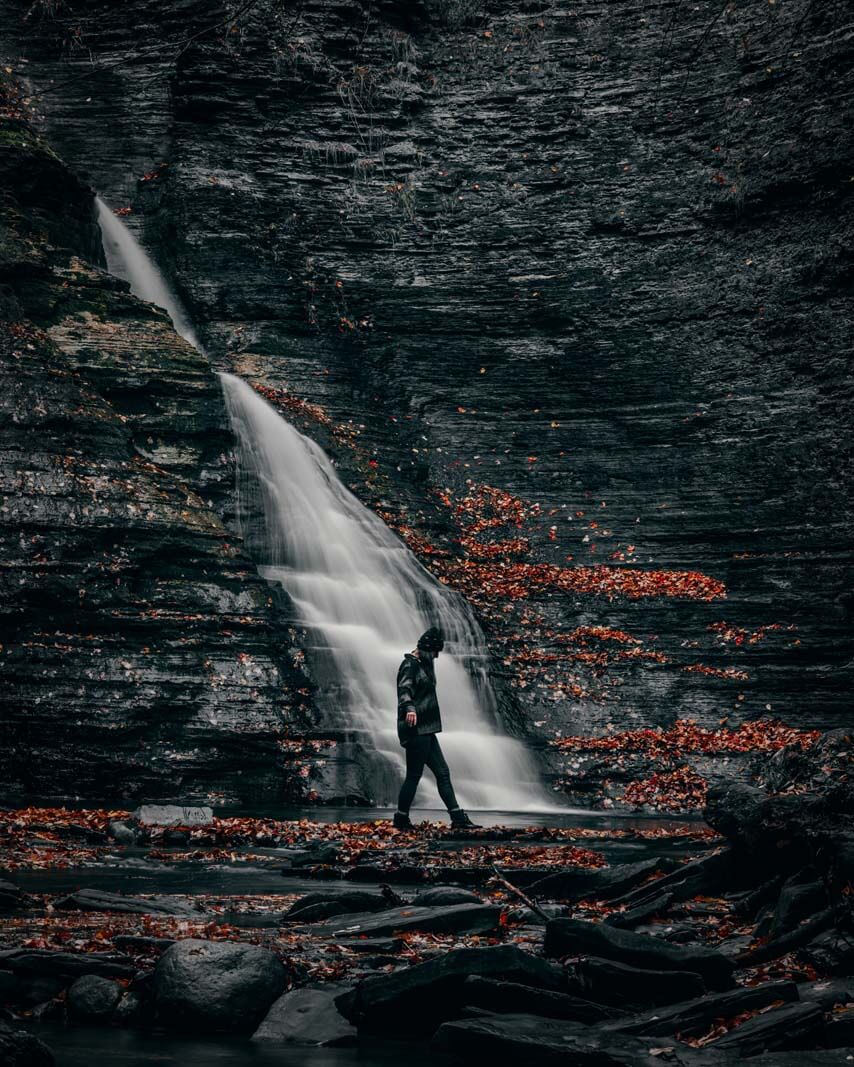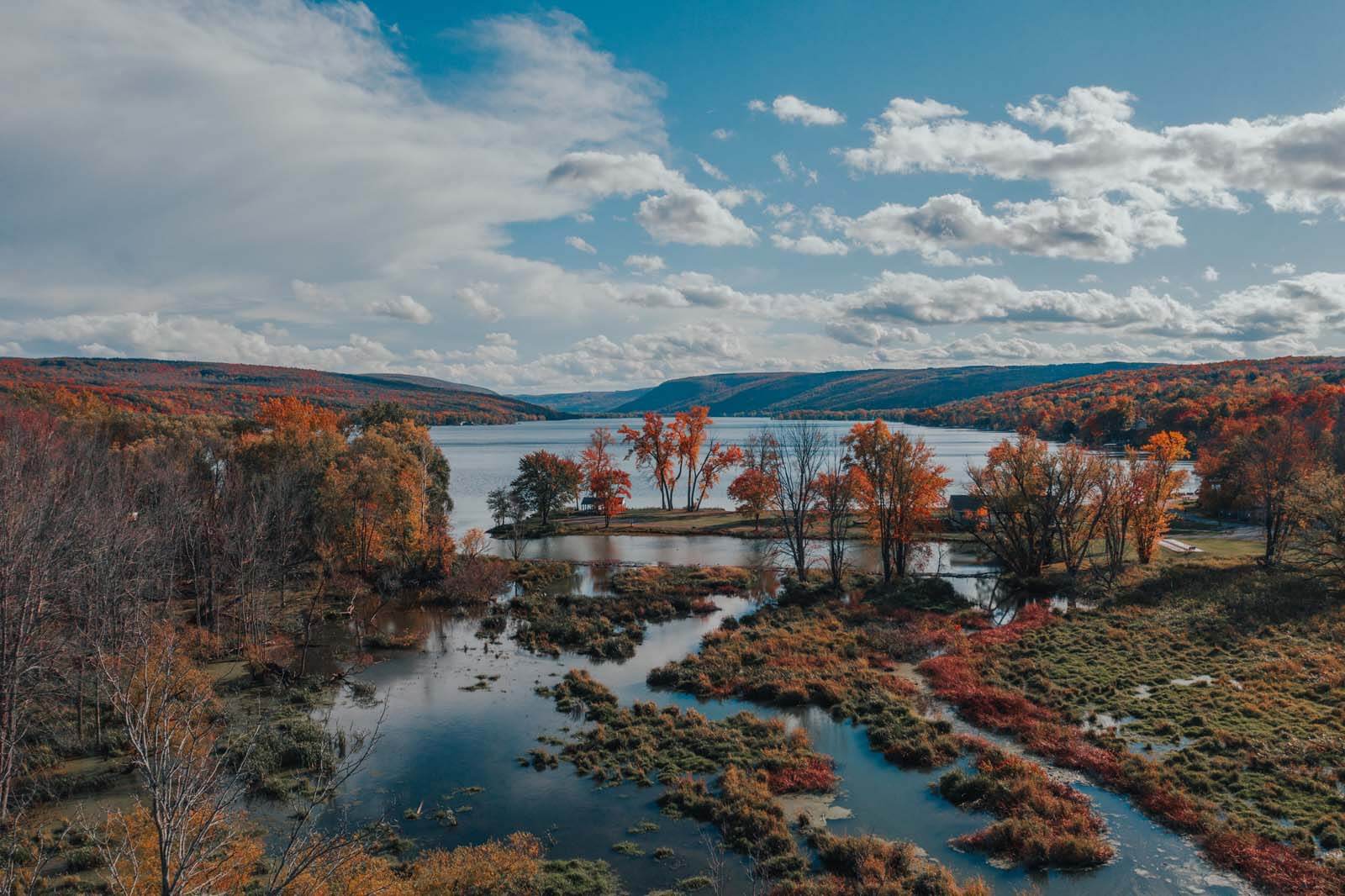 These last three photos show just how gorgeous the fall foliage can be along with the colorful and festive pumpkins. The first image is taken at Grimes Glen Park, where you can hike to a few of the most underrated waterfalls in the region through a creek bed for some really rewarding and breathtaking views!
Next you have an aerial shot from Honeoye at Honeoye Lake where we were searching for 'turtle rocks' that our accommodation owner told us about. We think she might have been pulling our leg and sent us on a wild goose chase though, regardless, this was a gorgeous Finger Lakes photo spot!
And last, I love myself some of those colorful Cinderalla and other varietal pumpkins are that you can find at just about every farmer market stand in the region.
Wineries
Before coming, we were expecting all the wine in this region to be incredibly sweet. And while the area does have 'sweet' wine, that only made up a fraction of what the region actually has to offer. We were in love with the varietals this area grew and educated about our incorrect assumptions about the wines from this region.
If, like us, you were fearful about the area only having sweet wines. Fear not, this region is packing some damn fine wines. Without the sticker shock. Also, if you like sweets, you're in luck as the region has them!
Please note – The following images are taken at various wineries we visited/wine related activities we did. In no way do the images reflect which wineries we preferred.
It's probably just me, but at this angle, it looks like this winery is so happy!
Grab three friends, four bottles of wine, and just sit back, enjoy and listen.
A bit of backstory for the image above. It was raining when we went to Hunt Country Vineyards, which if you look closely you can see the rainy weather out through the window. Because of the rain, we didn't get to explore the vineyards as much as other wineries.
But either the vineyard owners married into a photography family, or a photography family married into the vineyard (this is me being cute in case you can't tell). The photographs they have on display inside the tasting/dining room are incredible, and although we were short on time this vineyard, along with Vineyard View Winery and Wagner Vineyards, seem to have some an endless possibility of things to photograph.
What we really loved about Hunt Country Vineyards, was the history which we saw on display throughout the entire tasting room and shop. Carefully curated to complement the wine tasting experience, and honestly, we just loved this scene.
Towns & Scenes
That's enough of the wine break. Now it's time to just enjoy some scenes from the area.
Starting with this beautiful, old brick building in Watkins Glen.
We also lucked out with some of the most gorgeous sunsets of the summer. We had just finished a boat ride and sat on a bench here to enjoy some wine when one of the most beautiful sunsets happened. Sometimes that's just how it goes.
Another interesting area to explore would be Elmira. A bit under the radar compared to all the lake towns, Elmira has its Mark Twain history that keep American literature fans and history buffs coming back to the area. Elmira is where Twain would come and spend his summers and where he wrote some of his most famous pieces of work in his study. His remains are also found here in the Woodlawn Cemetery.
You can take the Mark Twain Trolley to the different historical stops as well as learn about some of the beautiful historic homes and buildings in Elmira.
Another one of the most charming towns in the Finger Lakes region that's under the radar is Owego. This town is located a bit further from the lakes so it doesn't see as many visitors as it should.
The historic town center is located just of the Susquehanna River and is chocked full of delicious restaurants and independently owned shops including an adorable used book store (with over 85,000 books on display) and plenty of antique shops.
Our favorite stop would have to be the Belva Lockwood Inn though. The couple who runs this place bought it and was featured on an episode of House Hunters in complete shambles. Over two years of putting their heart and soul into the place they've created one of the most charming, once in a lifetime experience Inns you could ever dream of staying in. They pay attention to all the details that make this place so special from the uniquely designed rooms with antiques, welcoming space with common areas and a bar made from an old piano to the individual picnic basket breakfasts delivered to your room each morning.
This place is more than just a bed to stay in for the night, it's a memory and an experience. Not to mention the fascinating history of Belva Lockwood herself. Be sure to ask the owners about this remarkable woman forgotten in history who lived in Owego. She started her fight for equality at the age of 14 in the 1800s and was the first woman to run for president not once but twice in 1884 and 1888. After leaving, you'll be wondering why we never learned of her in school and you'll want to spread the word about Belva just like us.
Check out our guide on all the best things to do in Owego.
Next up is Corning, one of our favorite places to visit in the Finger Lakes region. If you were to look to Google image search Corning, a ton of images eerily similar to this would show up. It's easy to see why it's one of the most iconic spots in town. You can find the clock tower and this vantage point by walking down Market Street. We hopped on the other side of the street to get this vantage point.
Market Street is the downtown street, or "Main Street" for Corning, one of our favorite charming little streets ever in a US town. We just love the tree-lined roads and old brick buildings as shown above. If this doesn't scream Americana I don't know what does. There are also many other pretty picturesque spots in town.
There are some fun murals in the city, just a block behind the Rockwell Museum.
We describe Corning as the picture image of Main Street, USA. It looks like the quintessential charming small-town American town that you in movies.
But it's not all just looks, the culinary and beer scene in Corning could hold it's own anywhere in the U.S. Plus, it also boasts Corning Museum of Glass. Which is amazingly impressive.
One of our favorite places to eat in Corning is Hand + Foot, be sure to check out their rotating seasonal menu during your visit.
If you wish to make a trip to Corning, consider reading up on – Best things to do in Corning.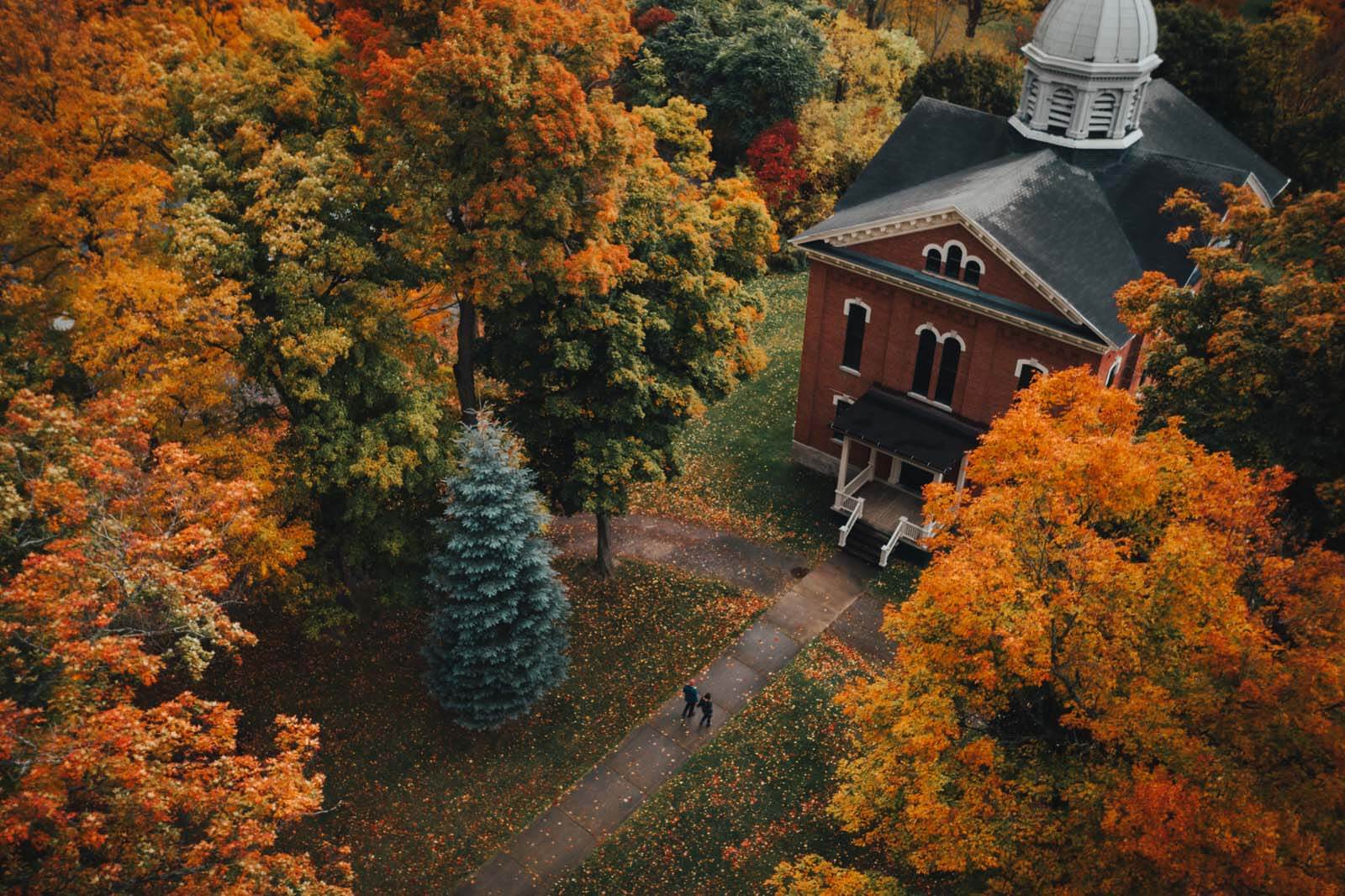 Another amazing town to visit between Honeoye Lake and Canandaigua Lake in Ontario County known for their world-famous grape pies and by being the grape pie capital of the world is Naples, New York where you can find more historic sites, farmers markets, and gorgeous scenery! Check out all the best things to do in Naples, New York for more ideas!
---
Needless to say we absolutely loved our time in Finger Lakes Wine Country, and cannot wait to go back again and again. As a photographer/videographer there are so many things to see and photograph. It would be a dream to visit again during the Fall to see the colors change and then also again during the winter to see it covered in snow.
Here is a video we made covering the highlights of our trip:

Check out our full guide to all the best things to do in Penn Yan, New York for more trip inspiration.
---
Liked this post about photos of the Finger Lakes? Bookmark for later or share the love below on Pinterest.