Looking for the best things to at Keuka Lake? We got you covered! Nestled in the heart of New York's Finger Lakes region and the only 'crooked lake' of the 11 'fingers', Keuka Lake is a true beauty and perhaps our favorite of the Finger Lakes!
Surrounded by charming towns, countryside landscapes, waterfalls, and vineyards, it's no wonder that this is one of the best lake getaways in New York State!
But what exactly is Keuka Lake known for? From world-class wine tasting, home to the most famous and historic wineries in the region, to outdoor adventures to historic landmarks, there's something for everyone on this New York gem!
So get ready to embark on your next New York road trip and discover why Keuka Lake should be on your radar and use this helpful travel planning guide to plan your own trip. In fact, some of the best things to do in the Finger Lakes can be found at Keuka Lake.
What to do around Keuka Lake in New York
Visit Penn Yan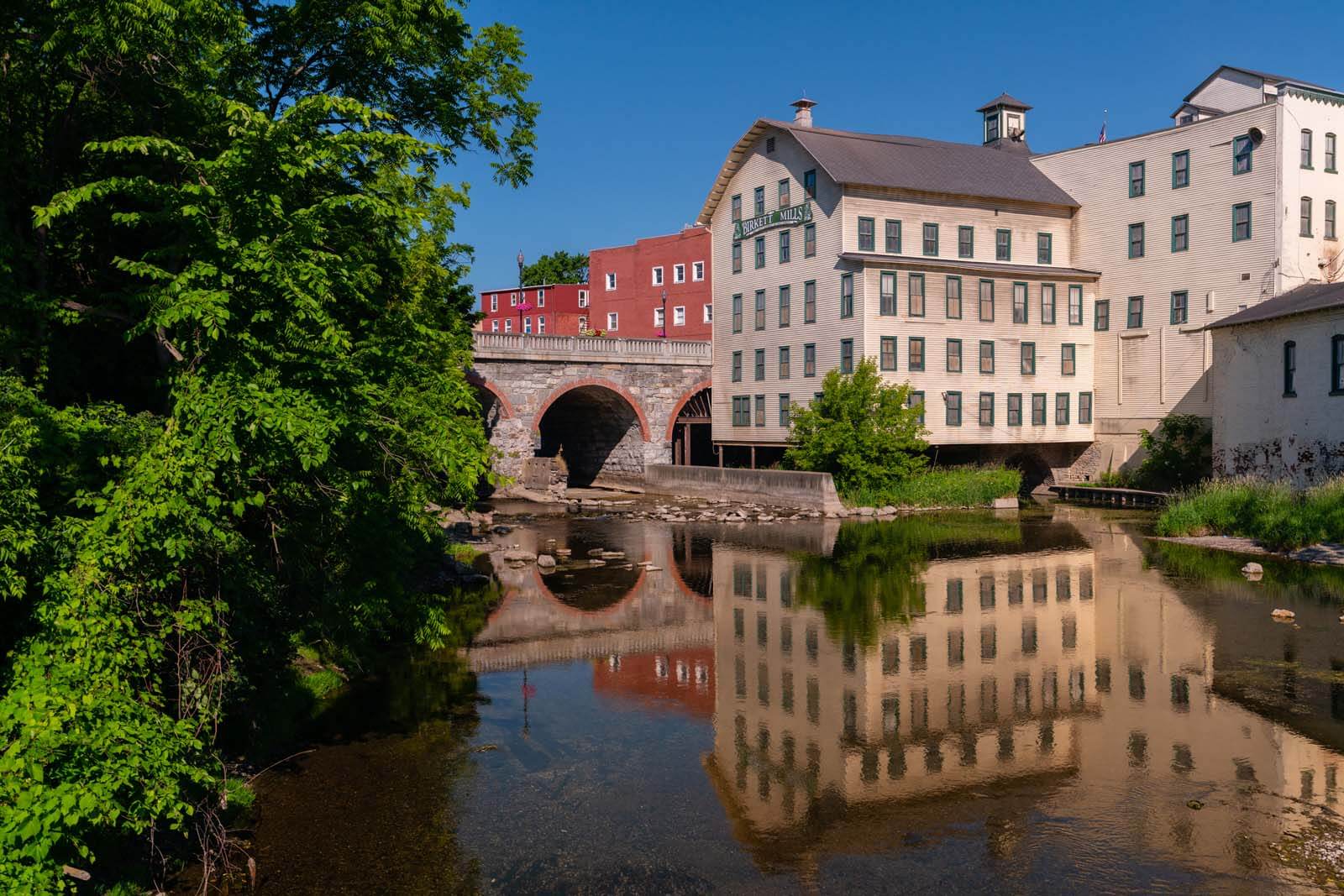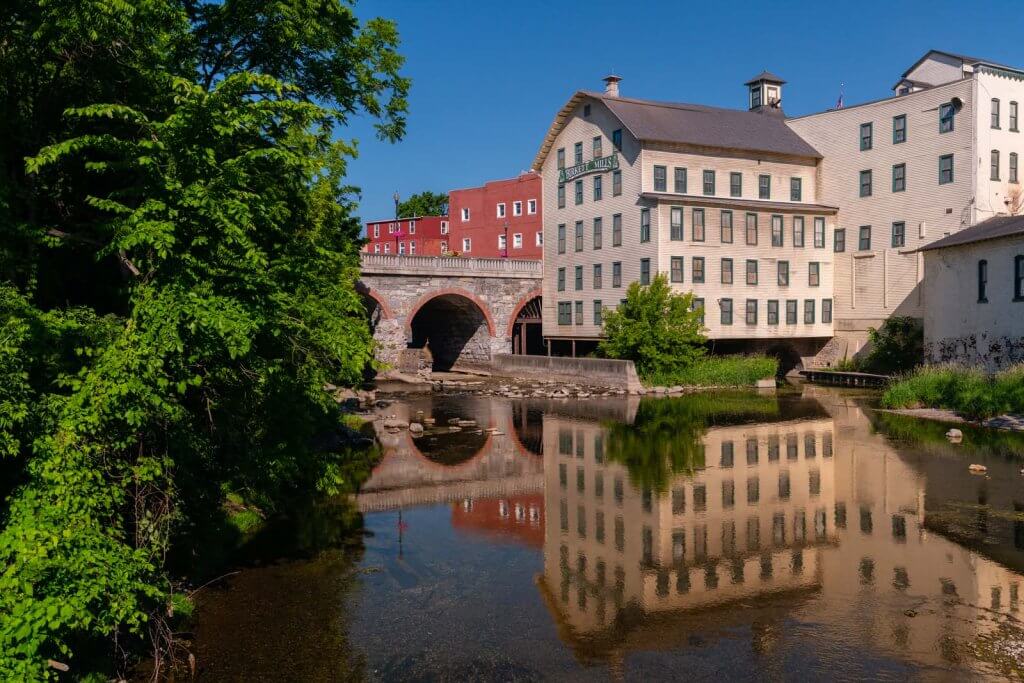 The village of Penn Yan sits on the northern end of the eastern branch of Keuka Lake. It's one of those beautiful, American pie towns with classic diners, antique shops, and tons of history! When you're looking for things to do near Keuka Lake, you'll want to start here as it's one of the most charming towns in the Finger Lakes.
As simple as it seems, the name "Penn Yan" was pulled from the first syllables of the words "Pennsylvania" and "Yankee!" The name describes the mishmash of settlers to the area since most of them were from Pennsylvania and Rhode Island.
The village was established by 1799. Sitting along a bend in the Keuka Lake Outlet, which feeds into Seneca Lake, Penn Yan quickly became a lumber and grain milling town.
Today, it's the largest municipality on Keuka Lake and offers some of our favorite things to do in the Finger Lakes! A must-do is heading to the historic downtown region, where you'll want to take a stroll up and down Main Street. Pop in colorful 19th-century storefronts and check out the home goods stores, diners, and coffee shops.
Make sure to stop at the old Birkett Mills, located just south of Seneca Street on Main Street where you can pick up some of their famous pancake mix.
Not only is this the oldest grains mill in the US, but it's also home to the world's largest pancake griddle! It was used to create the world's largest pancake in 1987. It's a quirky claim to fame, but it's pretty cool to see the griddle hanging on the outside of the mill!
One of our favorite stops in Penn Yan is Amity Coffee Co., where you can find one of the best cups of coffee not only around Keuka Lake, but in the region!
The Windmill Farm & Craft Market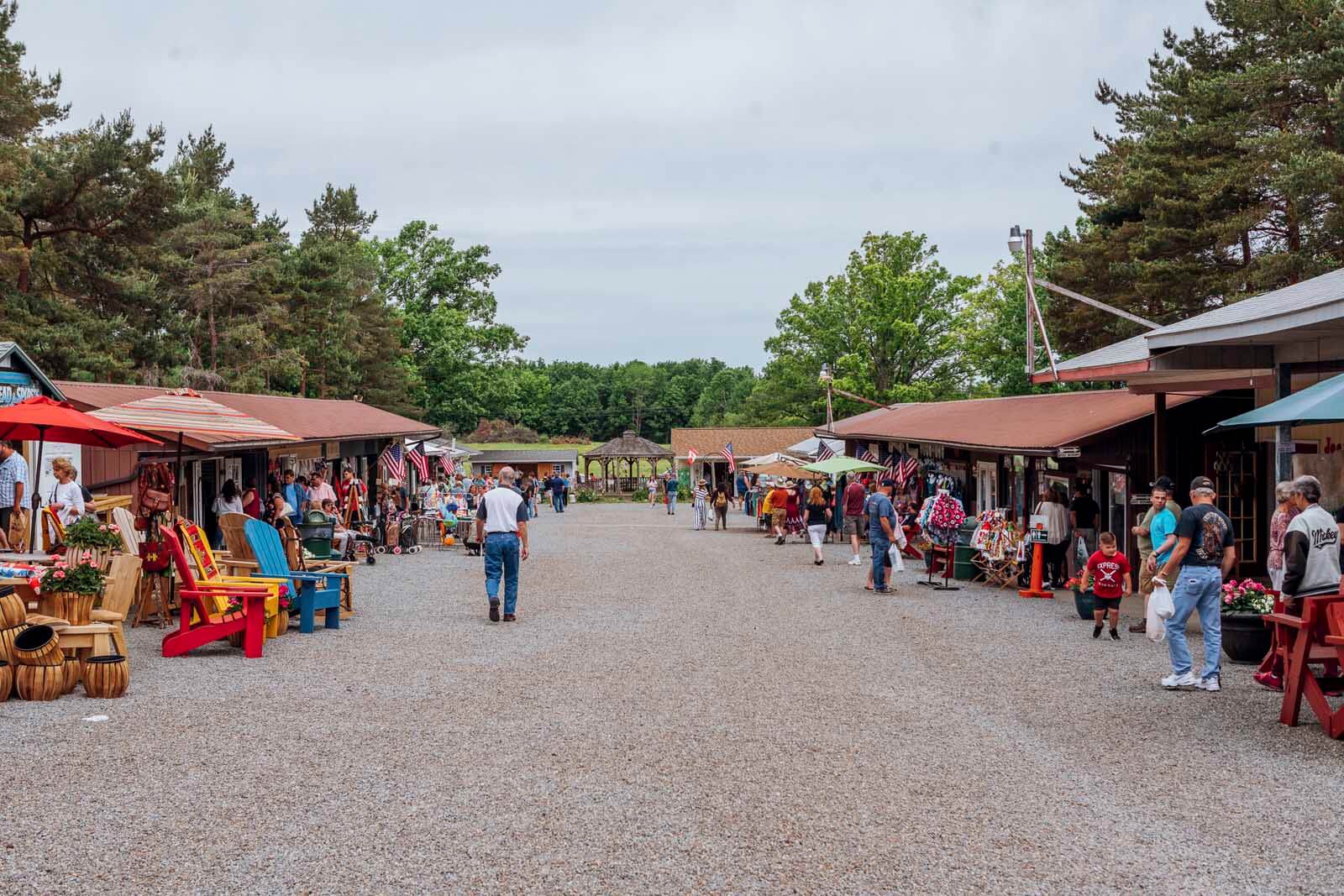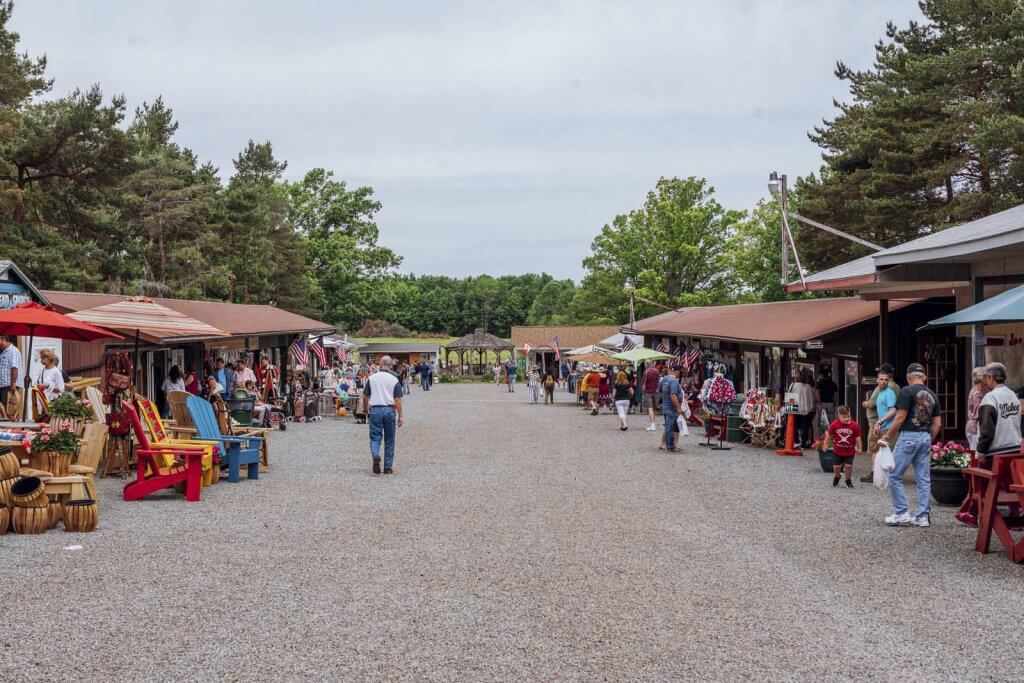 During a weekend trip to Keuka Lake, don't forget to stop by the Windmill Farm Craft & Market. To call The Windmill a "flea market," even though that's technically what it is, is such an understatement!
For nearly four decades, this seasonal market has been a mainstay of Penn Yan. They're open every Saturday from the end of May through the beginning of November and are located off NY-14A. Stop by between 8 AM and 4:30 PM.
It's hard to miss The Windmill Farm & Craft Market, in their massive red complex. Every weekend, there are almost 200 vendors both indoors and out, selling everything from penny candy and pickled eggs to wool socks and antique furniture. The sheer amount of variety is exciting, and you'll want to come back more than once!
Make sure you come hungry, too. Not only will you find all kinds of hot plates and street food, but there are Mennonite baked goods, fresh Finger Lakes produce, and even wine from local wineries. Inside and outside on the grounds, there are places to sit and enjoy your food.
You might get to enjoy some live music, craft demonstrations, a car show, or some other kind of unique entertainment.
Keuka Lake Outlet Trail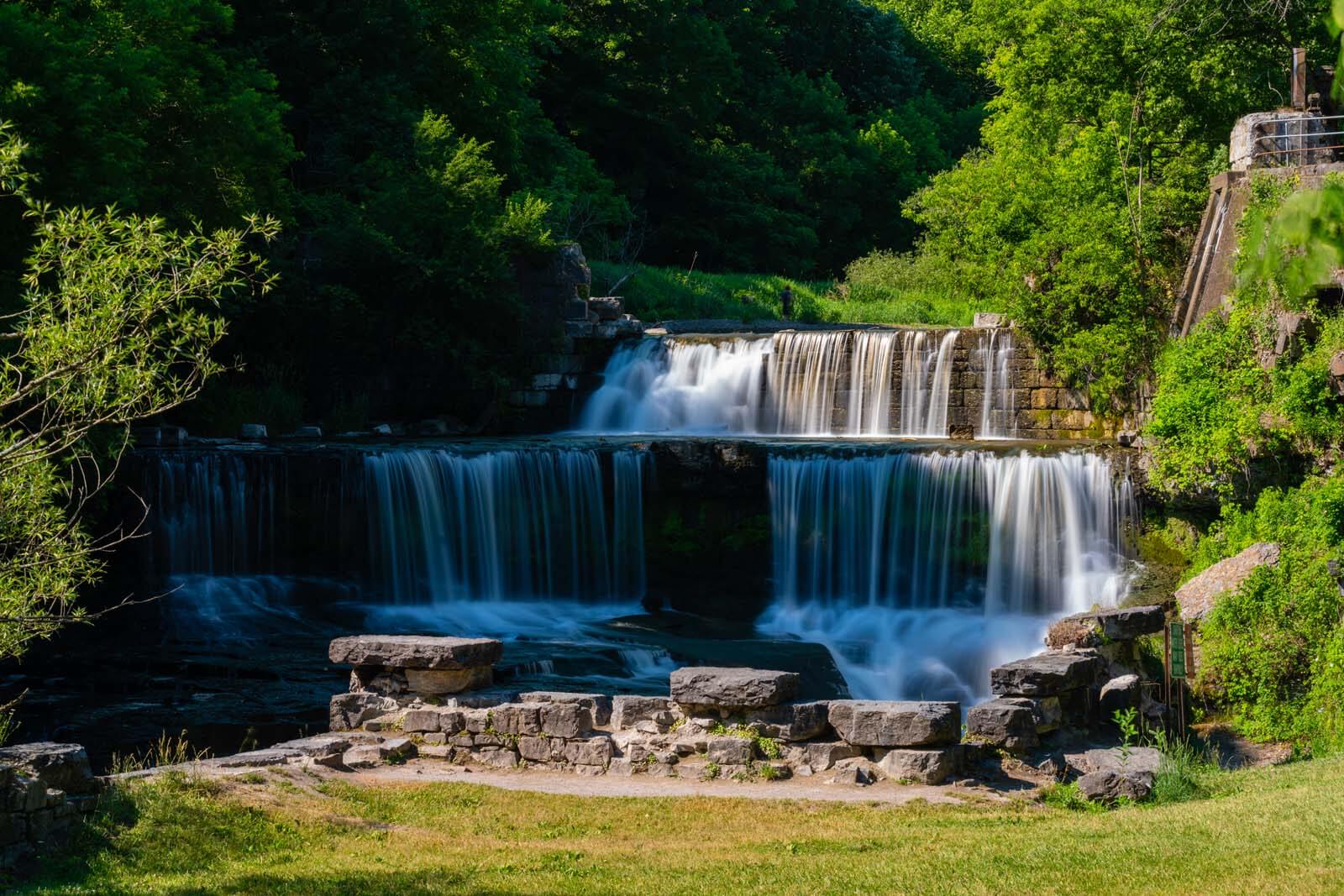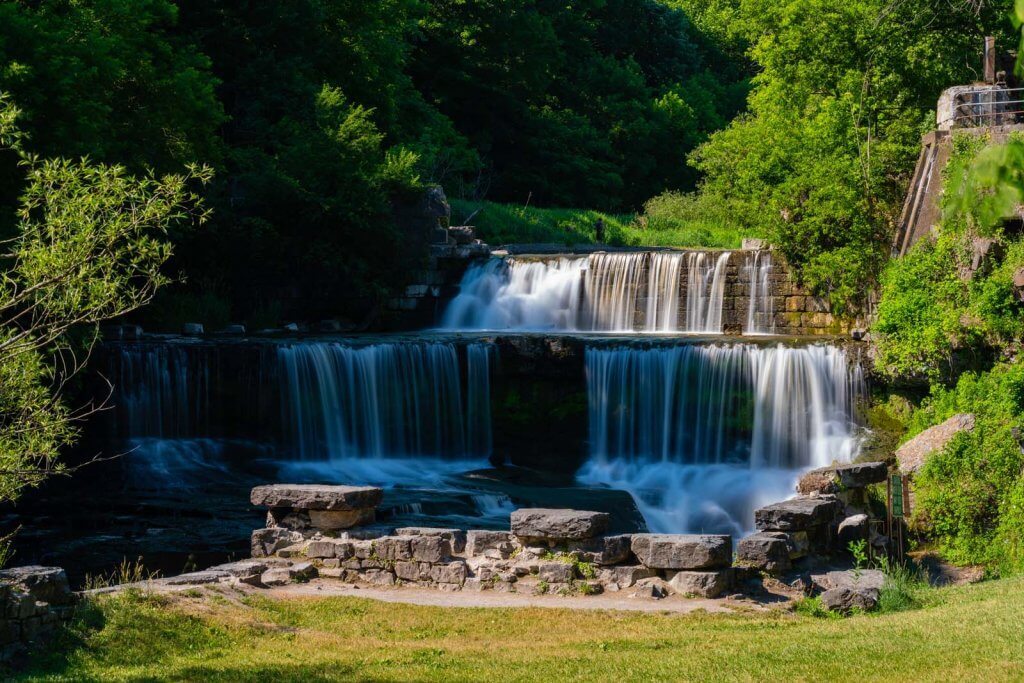 Outdoor lovers will want to check out the Keuka Lake Outlet Trail. This awesome rail trail currently runs 7 miles between Keuka Lake and Seneca Lake and follows the creek that connects the two.
What makes this one of the best things to do at Keuka Lake is the ease of use! It's a well-maintained trail above the creek bed and is popular all year round. There are places to park for free at both ends of the trail, and along the way.
Come here in the summer for an easy hike with great views. You'll also share the trail with cyclists, dog walkers, and runners.
The fall foliage is stunning from end to end. And in the winter, it's popular for snowshoeing and snowmobiling. There are also places along the creek where you can stop to fish.
The part that runs through Penn Yan (a 1.3-mile stretch) is paved, and after that, it's a clear dirt or gravel road. If you come after it rains, you might find that it's muddy. However, it's still pretty easy to take on. There's also a bit of an incline going from Keuka Lake to Seneca Lake, but it's so gradual that you don't notice it. Just wear good shoes, and maybe skip the unpaved section if you're using a stroller or wheelchair.
The main attractions along the Keuka Lake Outlet Trail are the Seneca Mills Falls and Cascade Mills Falls, two of our favorite waterfalls in the Finger Lakes.
Seneca Mills Falls is 3.4 miles or about an hour's hike from Penn Yan. But if you're not wanting to do alot of walking and see the falls, don't worry! You can park near Seneca Mills Falls along Outlet Road, then it's about a 5-minute walk along the trail.
Cascade Mills Falls is a real showstopper! It's another 1.3 miles along the trail from the first falls. In fact, along the route, there are several more old mills and other ruins that tell of the area's industrial past.
The Keuka Outlet Trail website has a detailed map of all the historic landmarks along the trail that you can check out.
Visit Hammondsport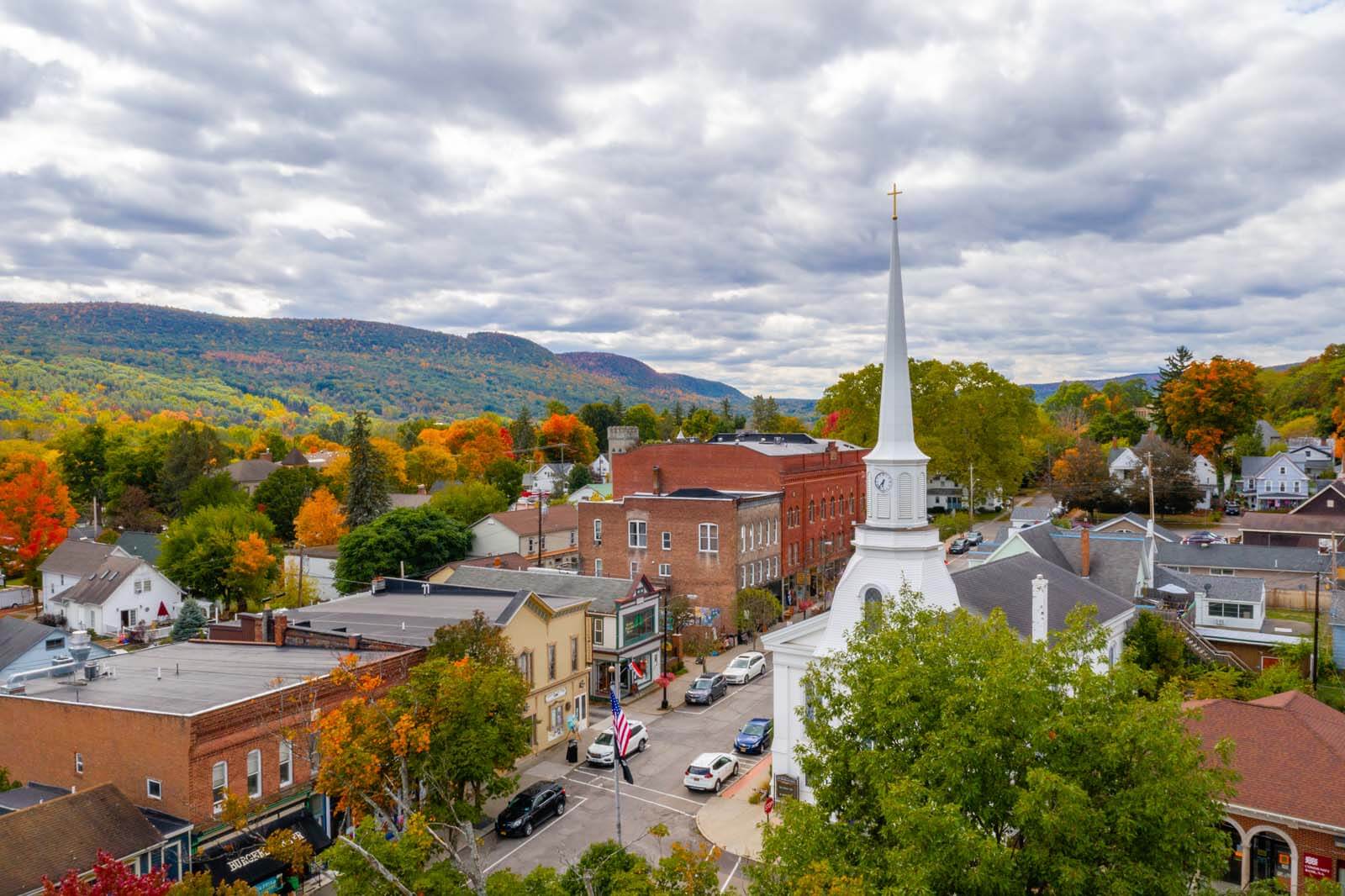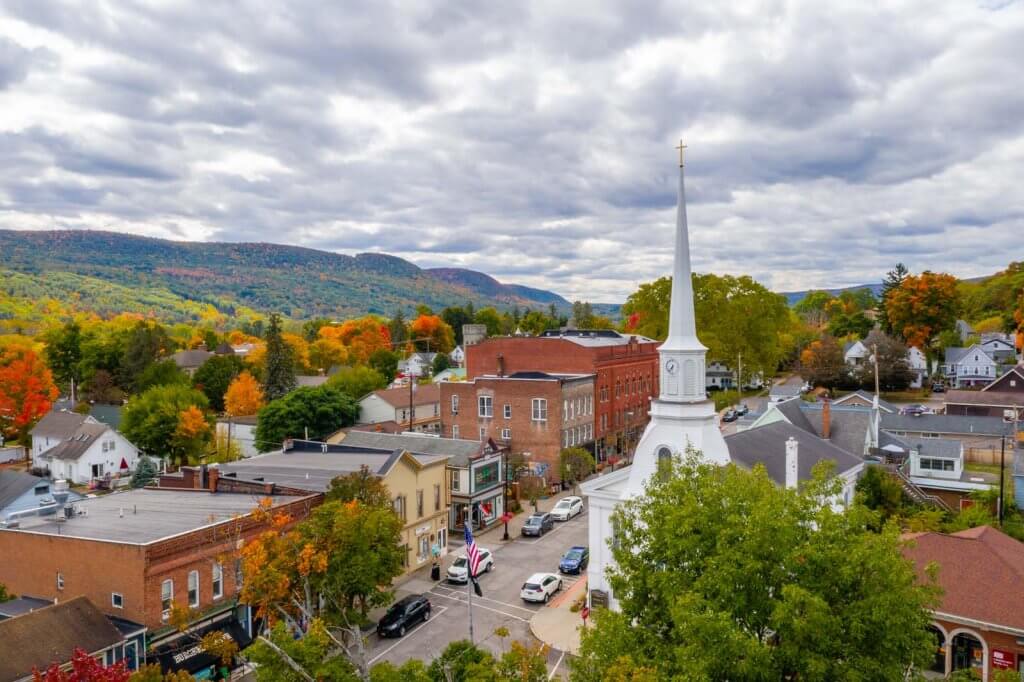 On the southern tip of Keuka Lake is another charming village you'll want to set aside some time for, not to mention this is one of our favorite small towns in New York. Hammondsport has a handful of things that make it an interesting place to visit. Most notably, after a man named Lazarus Hammond settled the area in 1827, the village quickly became the center of Finger Lake wine production.
In fact, Hammondsport is known these days as Vine City because of all the amazing vineyards and wineries in and around the village. If you get a chance to stop by, check out one of our all-time favorite Finger Lake wineries, Dr. Konstantin Frank Winery.
And Keuka Lake Vineyards sits on the slopes of the lake with amazing views over the rolling vineyards!
Enjoy a walk through this picturesque town and head to Pulteney Square, located at the heart of Hammondsport. It's what you picture in a small American village, with a pretty wooden bandstand at the center of the green square, shaded by trees with benches underneath. There's a white chapel steeple at one end and eateries all around.
We recommend having lunch at Burgers & Beer of Hammondsport. Then, grab an ice cream cone from Crooked Lake Ice Cream Company and take it to the square!
Depot Park is a short walk from Hammondsport's historic district and we loved taking in the lake from the park. There's a cool old depot building and picnic tables on a grassy lawn. You can fish here and in the summer you can jump in the lake for a swim!
To the southeast, there's also Champlin Beach, a park with ball fields and a sandy beach that's popular for swimming.
Of course, one of the top things to do at Keuka Lake is getting on the water, and Hammondsport is a main hub for the region's recreational activities and fishing. In the summer you can rent kayaks and canoes at Depot Park or Champlin Beach, both of which have great beaches to use for boat launches.
Glenn H. Curtiss Museum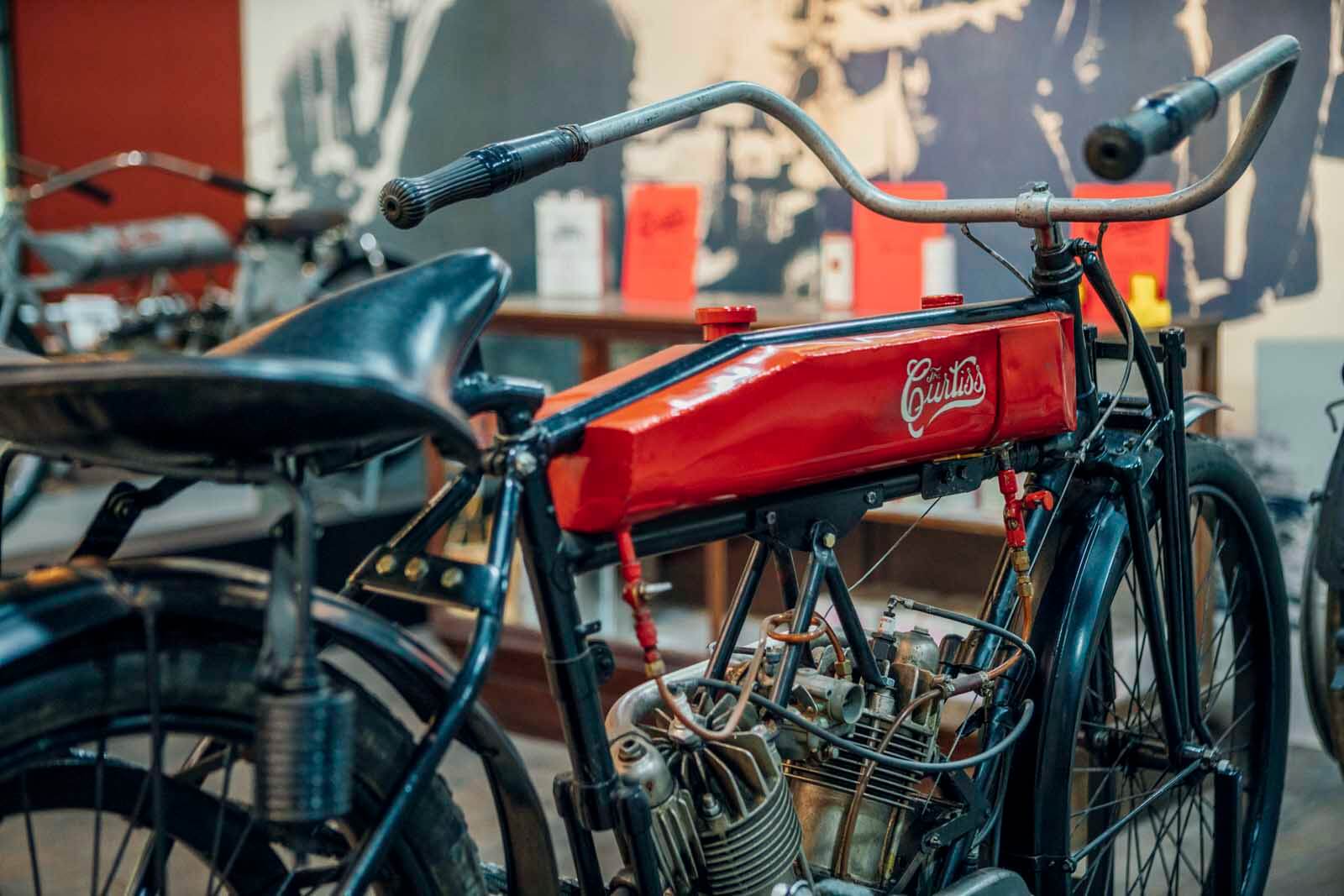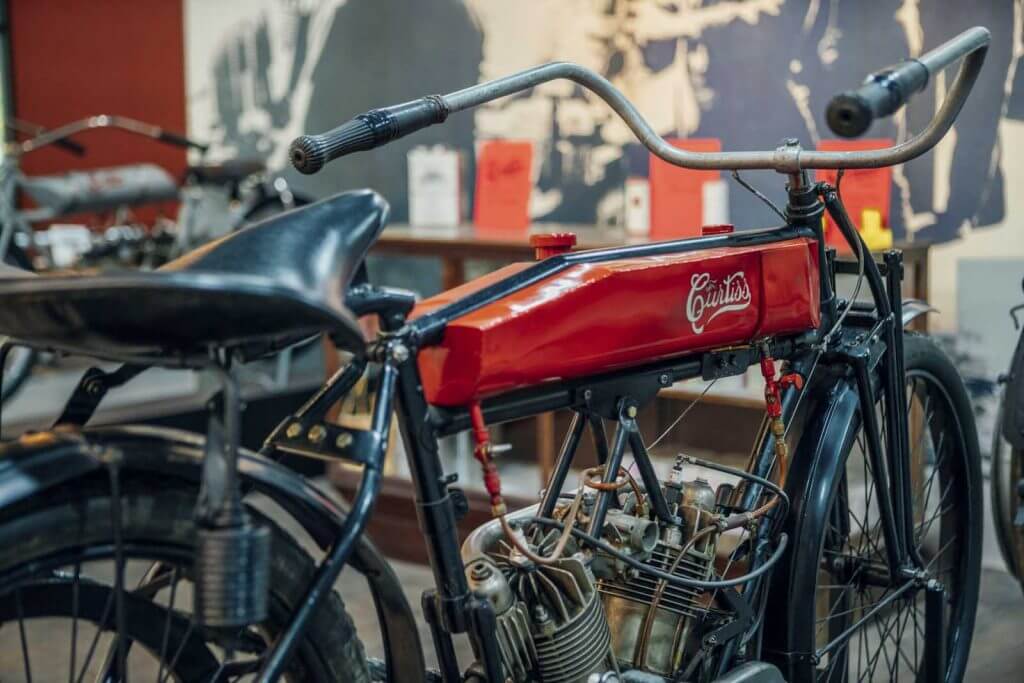 Calling all history buffs, this is one of the most interesting things to do around Keuka Lake for you. Curtiss is also famous for being home to Glenn H. Curtiss (1878-1930), who invented and revolutionized the motorcycle and aviation industries and was even nicknamed 'the fastest man on earth'.
Those interested in the history of transportation, flight, the Wright brothers, or early model cars will love stopping by the Glenn H. Curtiss Museum. But even if you've never heard of this man, you'll really enjoy the trip!
In his earlier career, Curtiss was a Western Union bike messenger and owned a bike repair shop. He was always inventing things and loved racing bicycles. In 1907, he even developed a V-8 engine motorcycle that helped him earn the title of "fastest man in the world," at that time! Through the years, his work with experimental engine building had him cross paths with big names like Tom Baldwin, Alexander Graham Bell, and Wilbur Wright.
Over his lifetime, Curtiss influenced the world of aviation, invented planes for the US Army and Royal Navy during World War 1, won awards, and broke records. Across the United States today you'll find his name honored in halls of fame and in museums. But perhaps the best place to learn about the inventor is in the museum dedicated to his life and work in his hometown of Hammondsport.
We loved our visit. It's fun to walk through all the different exhibits, see and Curtiss' private collection of vintage bicycles and motorcycles. You can get up close with the planes he helped develop, see vintage cars, and learn more about the man. Take a few hours to walk through this small but interesting museum! It's open every day from 10 AM to 4 PM, and there's a small admission fee.
Finger Lakes Boating Museum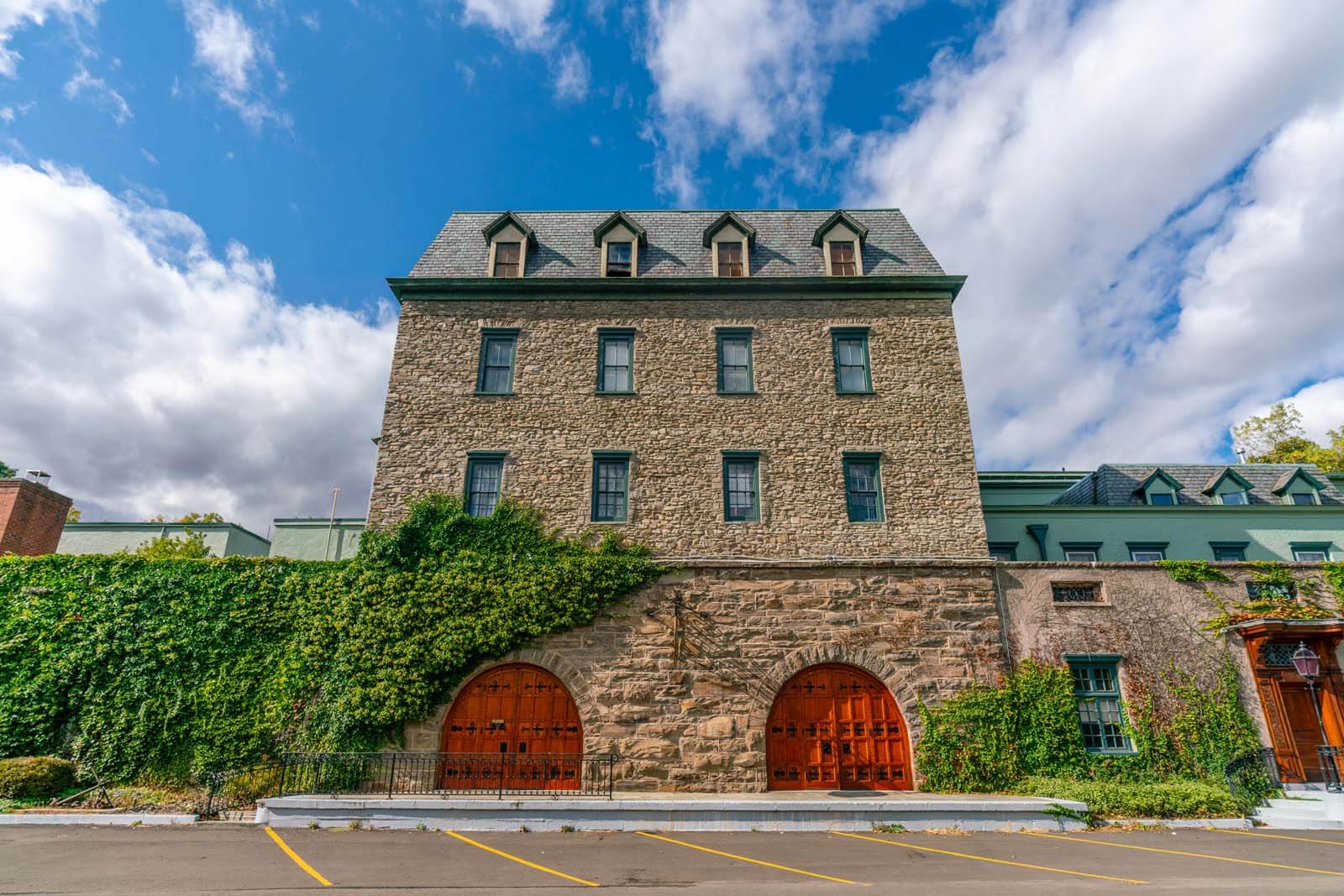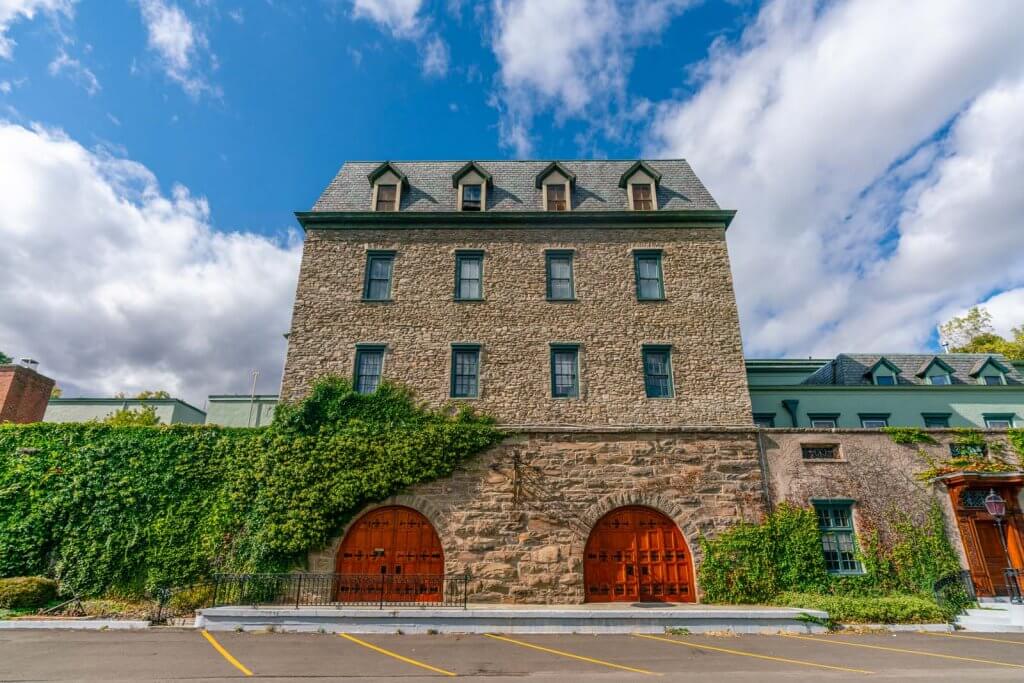 Head south from Hammondsport on Pleasant Valley Road is the Finger Lakes Boating Museum. This is another must-see for anyone interested in the development of boating in the Finger Lake region. It's one of the best things to do at Keuka Lake because it's such an interesting experience!
First, you walk up to the gorgeous old winery that houses the museum. It was built in 1886 and you can even tour the old wine cellars. Once you're in the museum, it's fun to see the beautifully crafted wooden boats that once took on Keuka Lake. The exhibits can be really fun and creative, and it's fun to go through them all.
You might see a vintage boat being restored at the museum, or you can learn about the fascinating tradition of launching steamboats on the Finger Lakes. And keep an eye on the calendar. The museum hosts a variety of events, from boat-making workshops to lectures on the glacial history of the Finger Lakes.
Make sure to visit the gift shop or you can even find out about boats for sale through the museum. The Finger Lakes Boating Museum is open daily from 10 AM to 4 PM. There's an admission fee for adults but kids are free.
Keuka Lake Wineries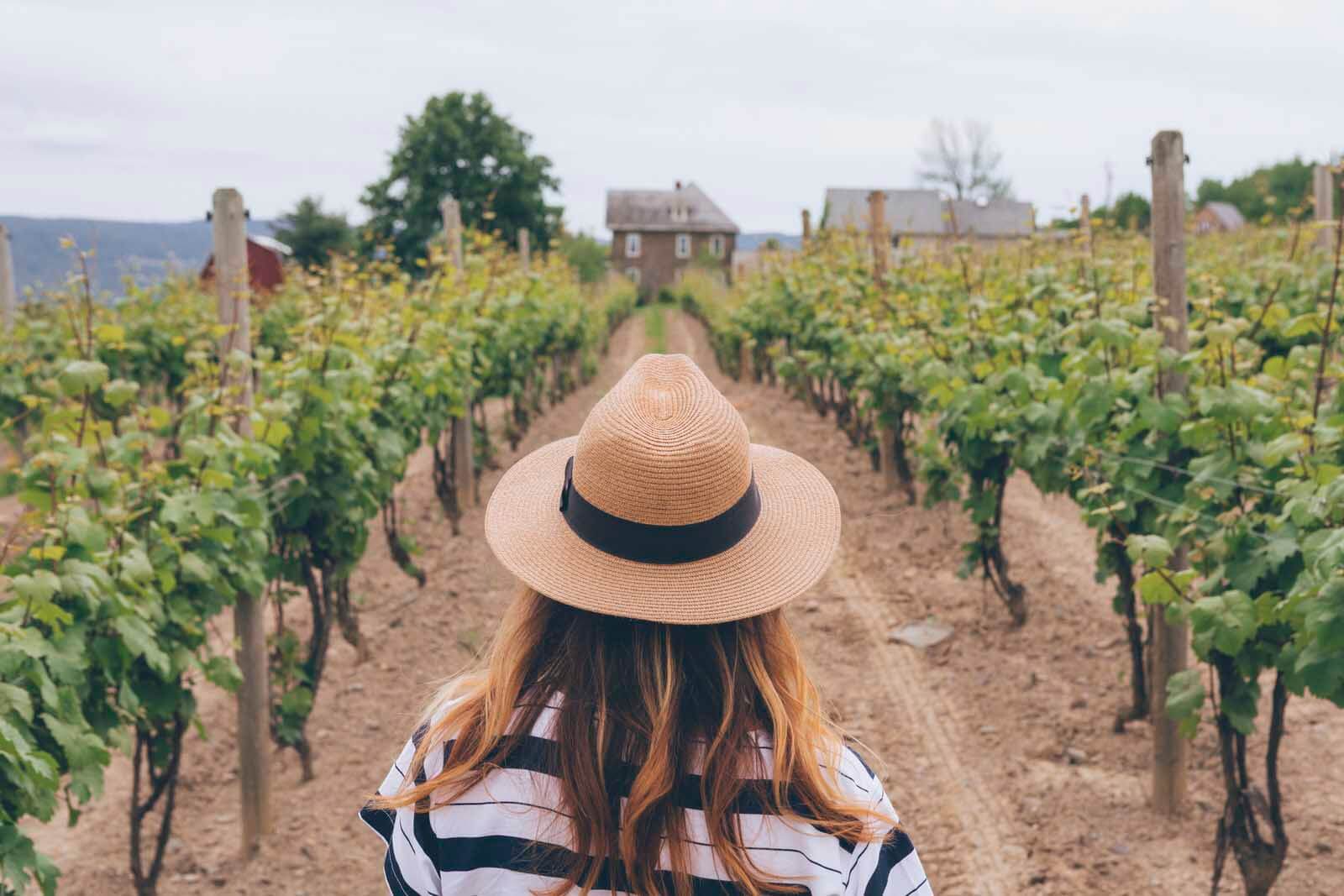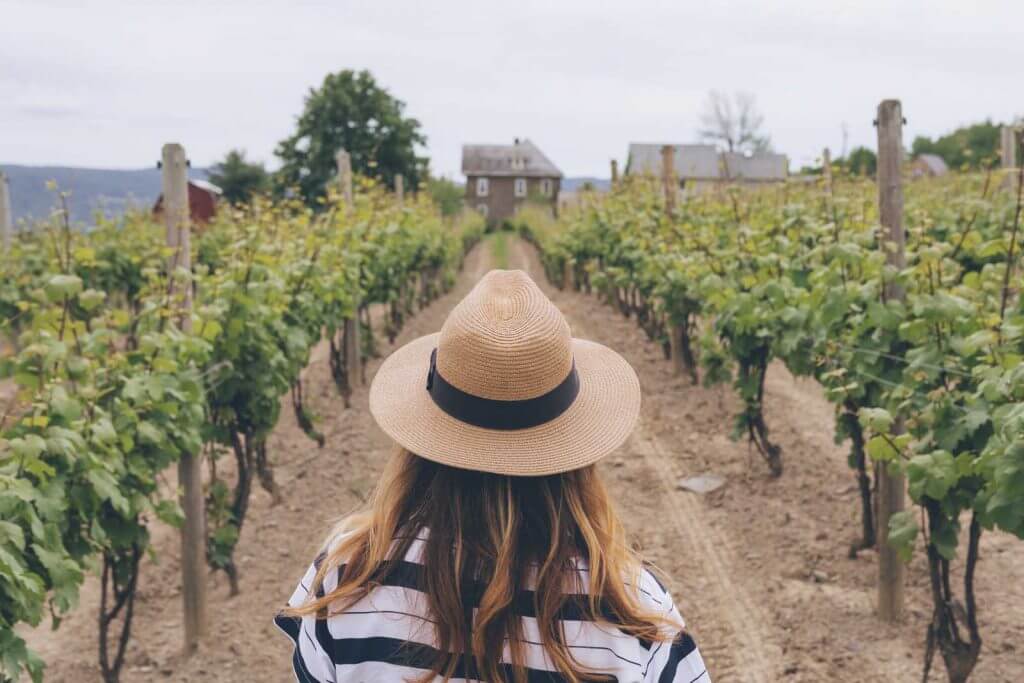 We've already briefly mentioned a few of the amazing wineries at Keuka Lake, but it's important to give them the attention they deserve! You see, while the entire Finger Lake Region is known for its high-quality wine, Keuka Lake is a big reason for that.
Specifically, you want to check out Pleasant Valley Wine in Hammondsport for the history. This was the very first winery in the Finger Lakes, which opened in 1797! Pleasant Valley made a name for itself over the years in both sparkling and fortified wine, and survived Prohibition by making sacramental wine! Today you can tour their historic cellars that date back to the beginning. There's also a cool museum, as well as a tasting room with an adjacent wine shop.
Another key winery at Keuka Lake is Dr. Konstantin Frank Wine Cellars north of Hammondsport along Middle Road. Frank changed the respectability of Finger Lake wines in the 1950s when he set up his vineyards overlooking Keuka Lake. He had the idea to introduce vinifera grapes to the region, being the first to plant old European grape varieties in the northeastern US. It elevated the industry in the region and produces some of the top wines in the United States today.
Not to mention, this is one of the most beautiful wineries in the region too!
It's easy to see why a wine trail is one of the most popular things to do at Keuka Lake! There are clusters of wineries around the lake, as well as dozens in the area between Keuka and Seneca Lakes, also contributing to the popular Seneca Lake wine trail. A few of our favorites include Heron Hill Winery, with its absolutely beautiful building, both inside and out.
There's also Point of the Bluff Vineyards. During the summer visitors come for the music and stay for the wine tastings.
Hunt Country Vineyards is a 7th-generation family-owned vineyard with a focus on sustainability that is also one of our favorites!
And McGregor Vineyards has great red wines in a place where white wines thrive, try their Black Russian Red wine if you're looking to see what we are talking about.
One of our favorites for Gewürztraminer wines is Keuka Spring Vineyard, plus they have a breathtaking view of Keuka Lake and the rolling vineyards from their hilltop tasting room location.
And Weis Vineyards has a tasting room with the most inviting and laid-back atmosphere, so you feel right at home!
Keuka Lake Breweries
While wineries are some of the top Keuka Lake attractions, you'll be pleased with the great breweries, distilleries, and cideries! We're big fans of the small-batch breweries around the Finger Lakes and the sustainable practices they hold to.
Any given afternoon, if you want a fun time in a casual setting, check out one of our favorite Keuka Lake breweries!
Located on Judson Road north of Hammondsport, Steuben Brewery is a family-owned farm brewery with a nice indoor tasting room and deck with great views. On any given evening you can enjoy live music and different food vendors. They keep a solid range of beers on tap that includes their own and other local brands. Come by after 12 PM Wednesday through Sunday.
You'll find Keg & Barrel Brewing on NY-54 at the beginning of the east fork of Keuka Lake. Stop in their tasting room where you not only have 20 beers on tap to choose from but also a fine selection of Finger Lakes wine, as well as a full cocktail bar. They also offer small plates, like meat and cheese boards, pretzels, and chili. Come on a Friday night for live music or check their calendar for trivia nights, comedy shows, and more. Or complete your visit with a stay at the onsite Keuka Lake Motel.
Rent a Boat or Kayak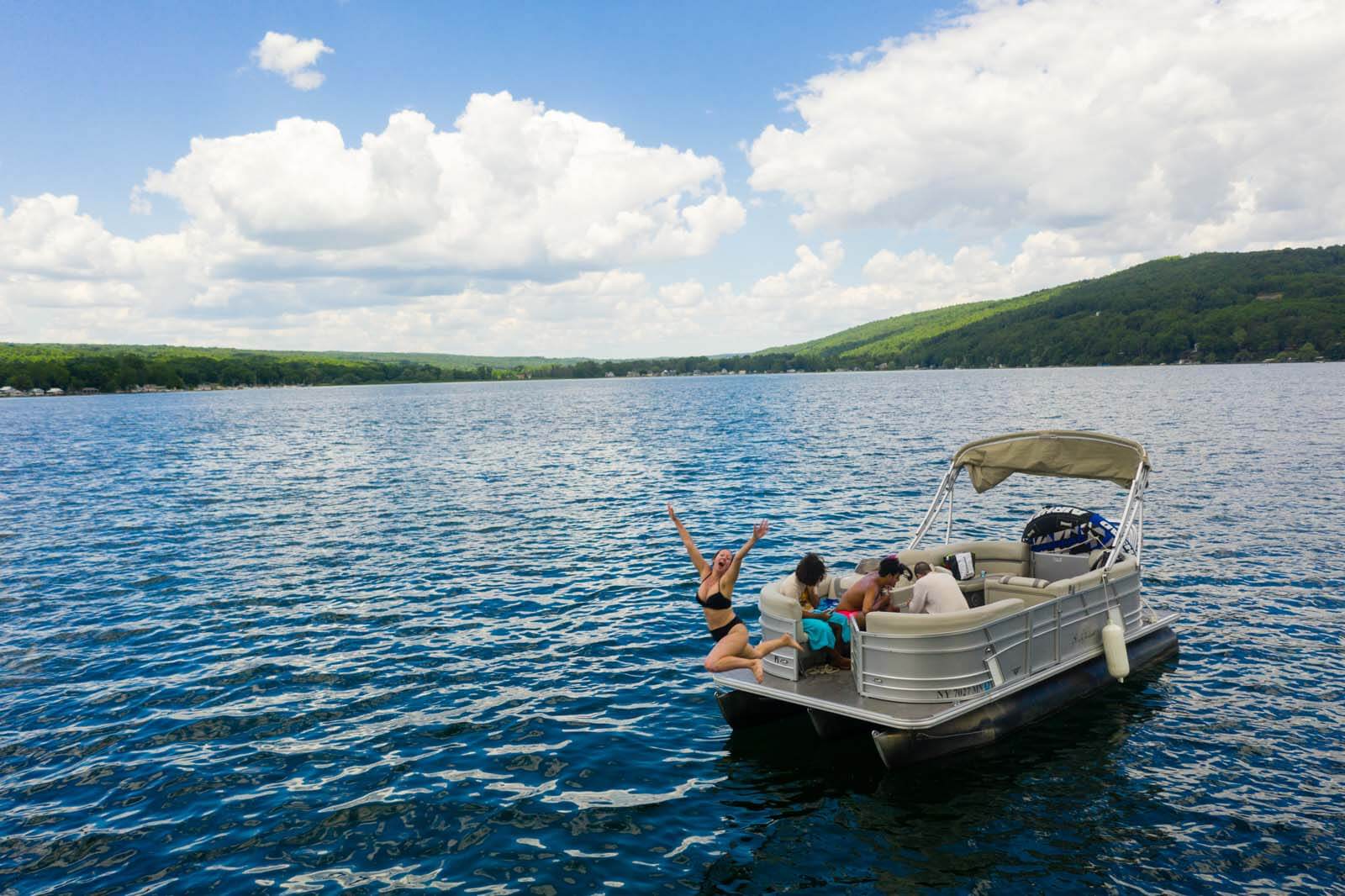 The unique "y" shape of this small Finger Lake and the quality of the water are what make getting on the water one of the best things to do at Keuka Lake. There are several marinas, landings, and public beaches along the length of the shore with plenty of opportunities for you to explore. But we suggest launching from Hammondsport.
From June through early September, you can rent kayaks, SUP boards, and canoes at Depot Park. There's a sandy beach at the northern end of the park where a Keuka Watersport offers rentals. You can also visit their storefront in Hammondsport.
And at Champlin Beach, the same company rents out a variety of motorized and non-motorized water vehicles. Grab a canoe, kayak, or SUPs. They also rent pontoons, boats, and jet skis. Or you can book one of their 90-minute pontoon cruises at 5 PM.
Keuka Lake State Park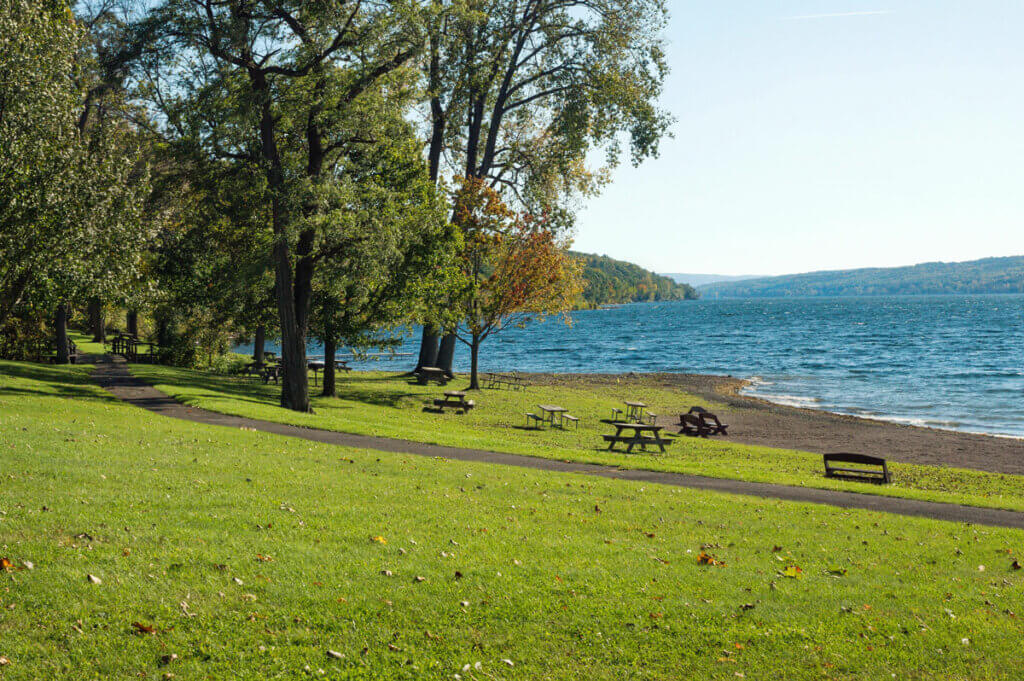 Just southeast of Branchport on the northern end of the lake is the Keuka Lake State Park. This is a wonderful place to spend the day or to go camping. It's a dog-friendly park that's perfect for a stroll with paved paths running through the 621 acres. You'll enjoy flat, grassy lawns, manicured trees, and beautiful views of the peaceful water at the tip of the western branch of Keuka Lake.
At the shore, there's a swimming beach that's popular with families. It's a micro gravel beach, so bring water shoes for the most comfort! There's a lifeguard at the swimming area, as well as nearby picnic pavilions and a playground for the kids. You can fish from a few different extended piers, and there's a boat launch at the southern end of the park!
If you're interested in camping here, there are spacious, private lots that allow either tents or RV trailers. Some have electricity and/or water spigots, while others don't. There are 3 different camping areas, each with its own dumping stations and central public washrooms. And walking paths allow for quick access to the beach.
There's a general admission fee for entrance into the park. And while same-day reservations for camping are allowed, you're encouraged to book in advance. The campgrounds are seasonal, opening between the middle of May through the beginning of October.
Best Dining Around Keuka Lake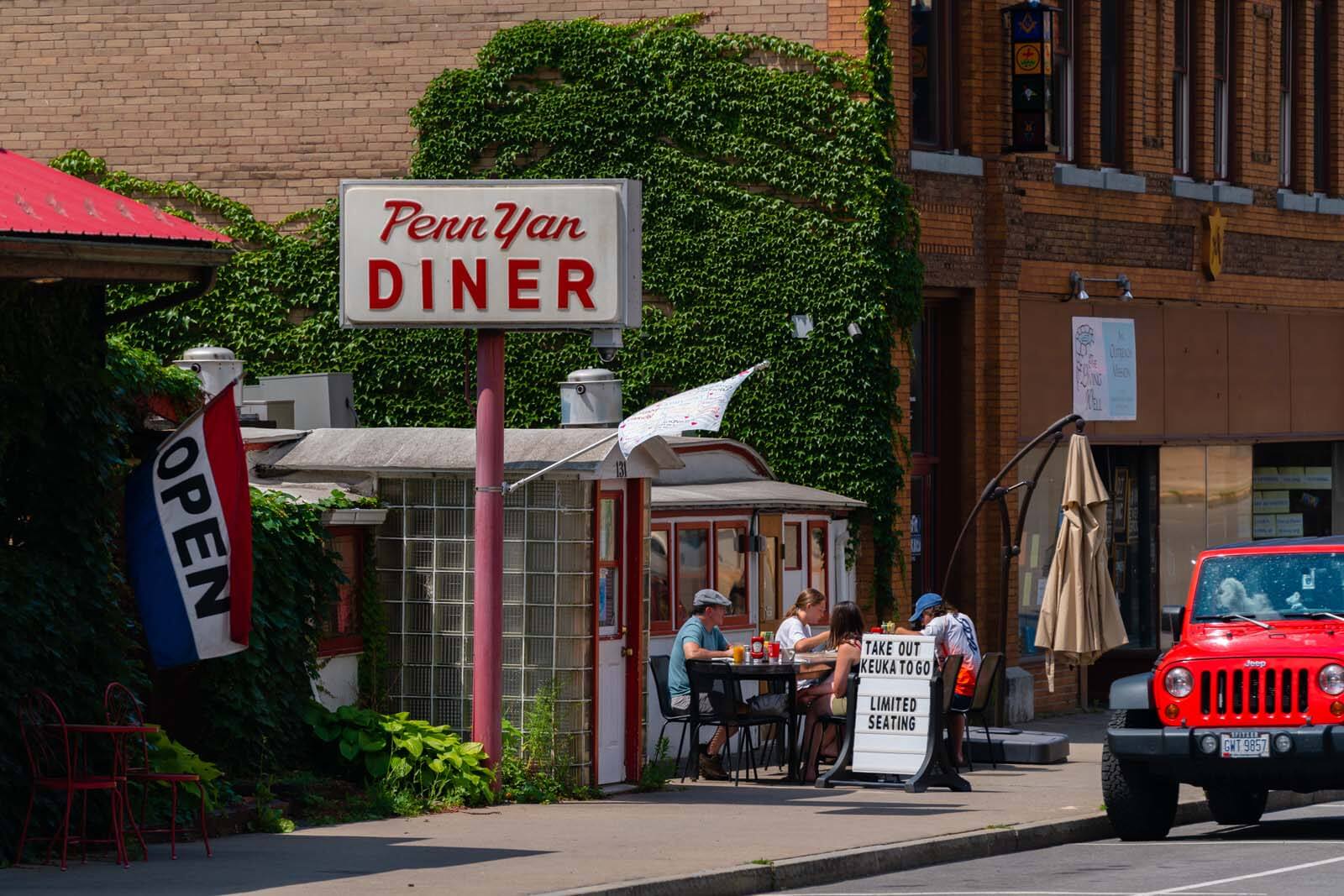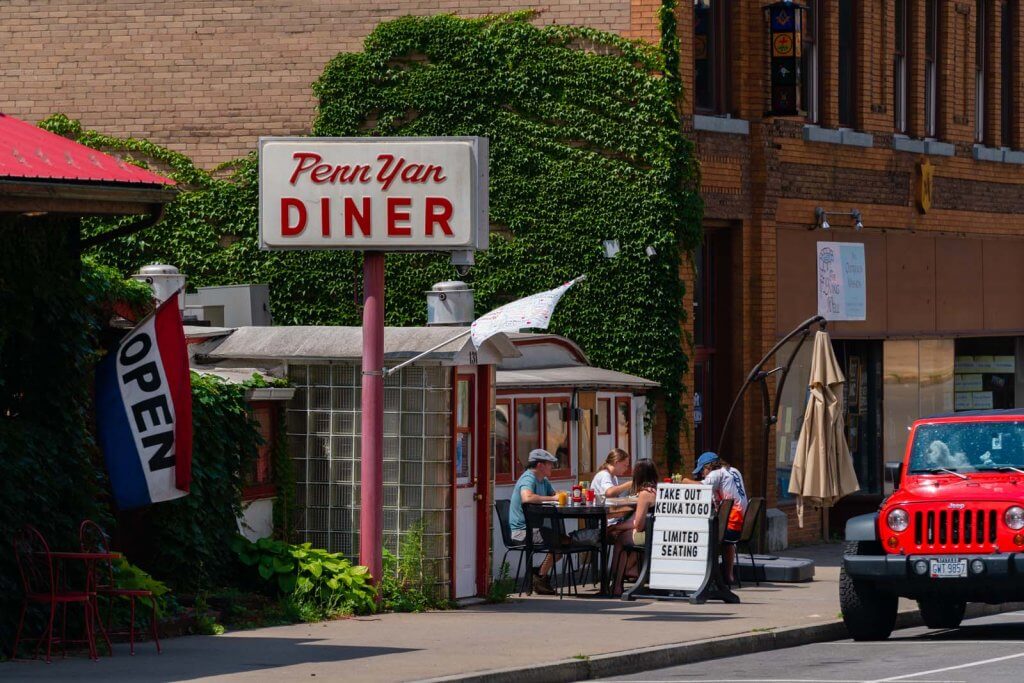 All around Keuka Lake, you have so many top-notch eateries of every variety! There are fine-dining restaurants and traditional roadside diners. Or maybe coffee shops and charming ice cream parlors are more your preference. While you're exploring every side of Keuka Lake, know that you're supporting local families and sustainable practices with some of our favorite dining options.
To enjoy breathtaking views on the waterfront, start with Lakeside Restaurant and Tavern. They're adjacent to the Harbor Lights Marina, so it's the perfect spot to pull up for a dinner of all your favorite American classics.
Snug Harbor is another seasonal waterfront favorite on Keuka Lake, serving up elevated takes on American comfort food. There's also a pub open after 3 PM. And if you time things just right, you can enjoy a dinner at The Switzerland Inn with sunset views! April through September, this casual restaurant is popular with boaters for its extensive menu, but especially its seafood and great drink list.
In the heart of Hammondsport, facing Pulteney Square is The Park Inn Restaurant. You'll enjoy a refined experience with a seasonal menu in a casual setting.
Or for a grab-and-go treat with a touch of nostalgia, head to Seneca Farms in Penn Yan. March through October, stop by for homemade ice cream, milkshakes, crispy fried chicken, and more.
Just off Main Street in Penn Yan is Union Block, where you can enjoy quality Italian cuisine and cocktails.
And Penn Yan Diner is the epitome of iconic old-school diners. They've been serving all the diner classics since 1925!
And near Penn Yan at Kemmeter Wines is a take-out dumpling stand. I never imagined we'd find legit dumplings here. San San Dumplings has incredible fried dumplings and Bao made fresh to order. This is a true hidden gem and one of our favorites finds thanks to our pals who live in the region.
Farm Visits & Farm Stands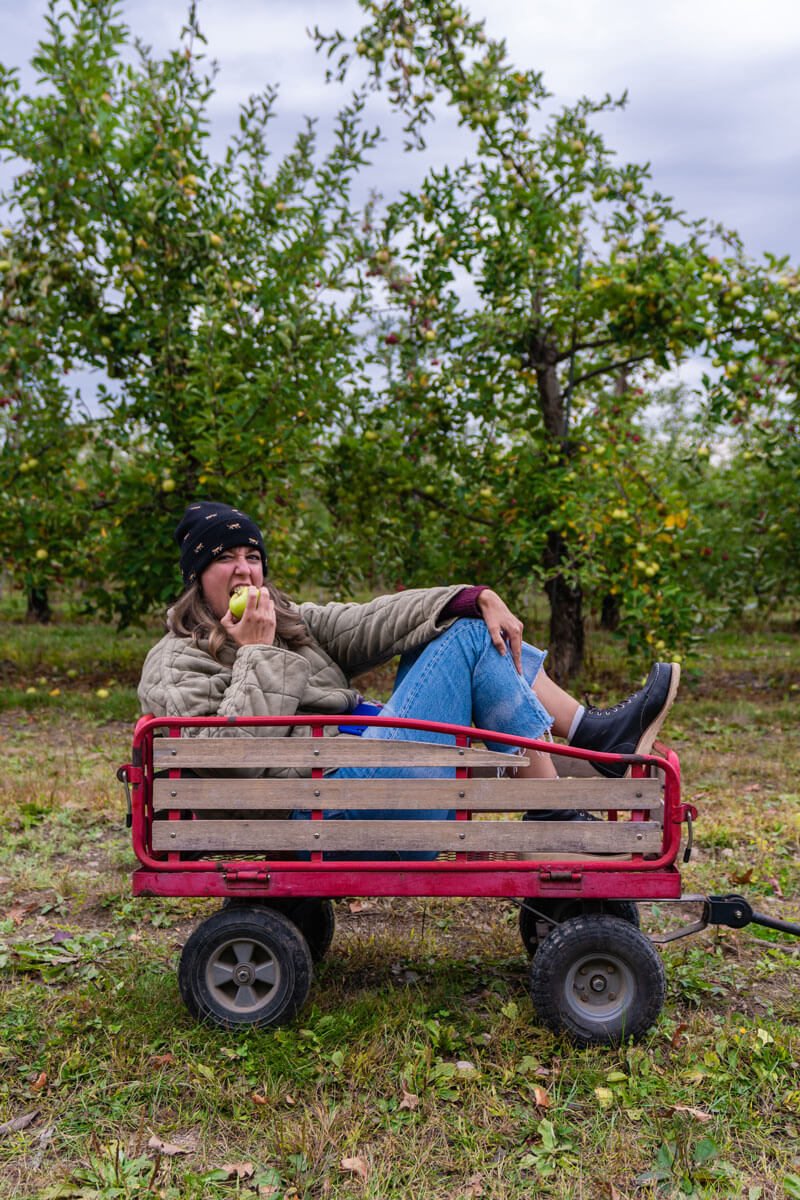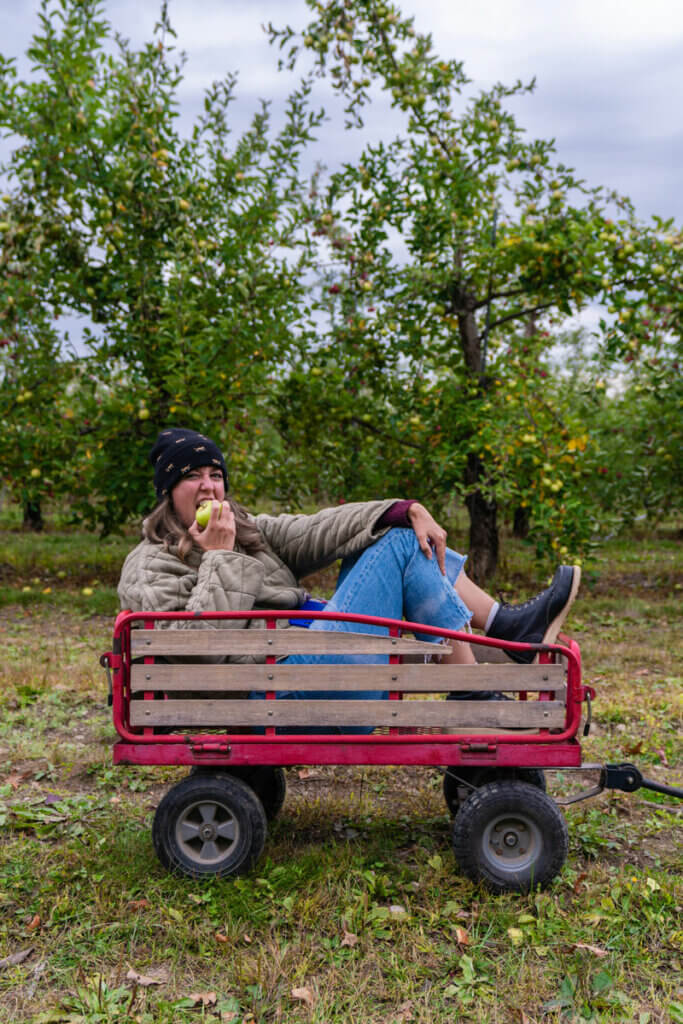 One of our favorite things to do at Keuka Lake is visit as many of the farm stands and markets as we can! They're a great way to support local agriculture and find out what's going on at the farm. Plus, you can't beat fresh strawberries and tomatoes straight from the field! And a lot of these places sell products from other local businesses, including wineries and artisans. These are just a few of the very best ones.
Apple Barrel Orchards
You can visit the farm store at Apple Barrel Orchards outside of Penn Yan from September through February. A 4th generation farm, they're all about apples, and it's especially fun in the fall when you can do U-Pick!
They also grow cherries and 2 types of grapes and offer them for sale in the store alongside other staples like cheese, Birkett Mills pancake mix, local honey, and more. In the last few years, the farm has started to experiment with cider and plans to add a tasting room to their store!
Oak Hill Foods
For all the farm favorites in one place, Penn Yan's Oak Hill Foods is a wonderful place to support. They're huge on community and opened their bulk store in the 1980s, focusing on local farm-made products. For everything Finger Lakes, especially around Keuka Lake, this is the place to come.
They sell seasonal produce offerings, maple syrup, fresh roast coffee, cured meats, and more. You can find home goods including handwoven blankets, wicker baskets, and bath products. And they recently started working with the local Mennonite community to sell fresh baked goods and hot plates.
Indian Pines Farm Market
Located near the water on Elm Street in Penn Yan, Indian Pines Farm Market is beloved by residents and visitors alike. It's a small, humble produce stand that's perfect for grabbing fresh fruits and vegetables, flowers, and baked goods.
You might find some cute Finger Lakes souvenirs, local wine or cider, and cold cuts as well. It's the perfect place to pick up some essentials from local vendors on your way to the lake for the day!
Where to Stay Around Keuka Lake in the Finger Lakes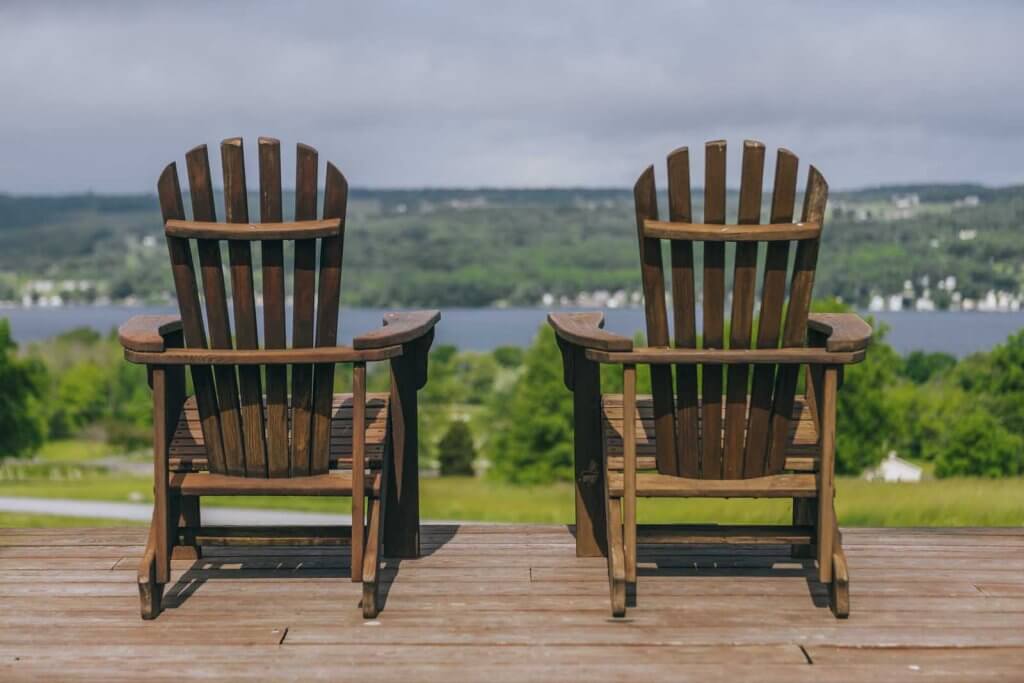 There are so many great places to stay in the Finger Lakes including around Keuka Lake. Here are a few fantastic options.
A great option for where to stay in Penn Yan right on the shores of Keuka Lake is the Hampton Inn Penn Yan located right along the shores of Keuka Lake. This hotel property has won several accolades and awards and during our stay, we were really impressed with the hospitality and friendliness of the staff not to mention the location is fantastic.
The Willows Bed and Breakfast is an upscale B&B located on its own private beach. Besides enjoying your cozy room you can relax next to the garden, kayak, go on a boat tour, or fish on the lake. There are 6 different rooms to choose from for a relaxing and amazing vacation on Keuka Lake.
The Park Inn is located in the heart of downtown Hammondsport and is one of the best boutique hotels in the region located steps away from Keuka Lake. Not only is this an excellent accommodation option in their beautiful five rooms, but they also have one of the best restaurants in the region too and a historic farmhouse manor you can stay at too about a 10-minute drive away.
---
What is Keuka Lake known for?
Keuka Lake in New York is known for its stunning beauty, clear waters, and picturesque vineyards. It is a popular destination for boating, fishing, and wine enthusiasts, offering breathtaking views, charming lakeside towns, and award-winning wineries along its shores.
Is it safe to swim in Keuka Lake?
Keuka Lake in New York is generally considered safe for swimming, with clean waters and designated swimming areas. However, it is always advisable to check local conditions and follow any posted advisories or guidelines for the most up-to-date information.
What is the best time of year to visit Keuka Lake?
The best time of year to visit Keuka Lake is the summer when everything is in full swing in the Finger Lakes from outdoor activities, lake fun, seasonal events, farm visits, and gorgeous waterfalls! The fall is also a beautiful time to visit Keuka Lake with fall foliage and wine tasting and the winter offers a unique time to visit and is off-peak season so you may find more deals.
Does Keuka Lake have a beach?
There are several public beaches on Keuka Lake in New York, including the Keuka Lake State Park Beach in Bluff Point and the Indian Pines Park Beach in Penn Yan. These beaches offer sandy shores, swimming areas, and facilities for visitors to enjoy a day by the lake.
How long does it take to drive around Keuka Lake?
Driving around Keuka Lake can typically take around 1.5 to 2 hours, depending on traffic conditions and the speed of travel. The lake has a shoreline of approximately 60 miles, and the driving distance will vary depending on the route chosen and any stops made along the way.
---
Best Things to do Around Keuka Lake Post Summary:
Visit Penn Yan
The Windmill Farm & Craft Market
Keuka Outlet Trail
Visit Hammondsport
Glenn H. Curtiss Museum
Finger Lakes Boating Museum
Keuka Lake Wineries
Keuka Lake Breweries
Rent a Boat or Kayak
Keuka Lake State Park
Dining Around Keuka Lake
Farm Visits & Farm Stands
---
Enjoyed this guide for what to do at Keuka Lake in the Finger Lakes, New York? Bookmark for later or share the love below on Pinterest!