Looking for the most unique things to do in the Catskills? This popular Upstate New York getaway is full of all kinds of one-of-a-kind experiences and unique Catskills attractions worth checking out on a getaway!
This scenic mountain region in New York has attracted and inspired artists and creatives and is an all-season mountain getaway for adventures, explorers, and anyone needing a dose of nature and the great outdoors from the city. While there are many popular and interesting things to do in the Catskills – these are some of the best hidden gems in the Catskills to check out on your next visit!
Check out our favorite picks for unique things to do in the Catskills, NY and the best hidden gems!
Hidden Gems in the Catskills
Gnome Chomsky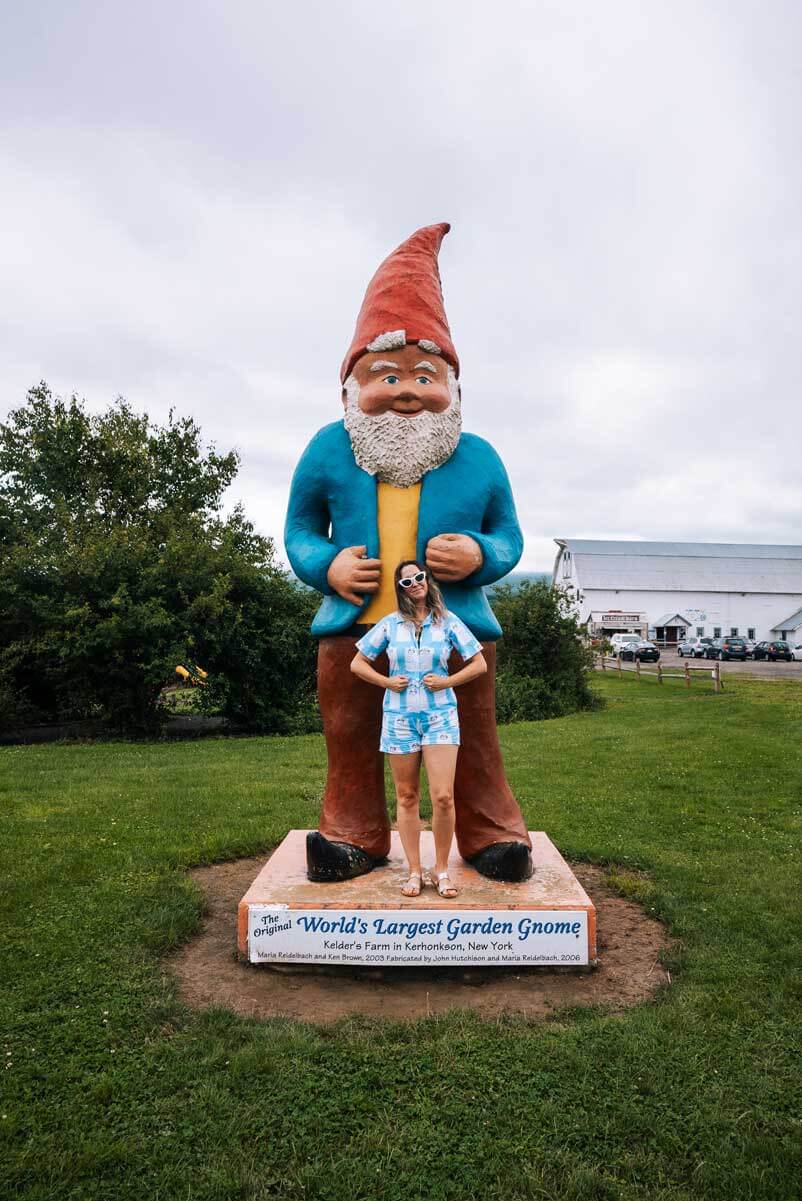 Looking for an exciting roadside and unique attraction in the Catskills? Head to Kerhonkson by driving on Route 209 and you'll find the World's Largest Gnome!
Well, the "Original" World's Largest Gnome and today's 3rd largest gnome! Gnome Chomsky greets those driving on Route 209 and surely puts a smile on their faces. Located at Kelder's Farm, this giant gnome and hidden gem in the Catskills has been towering over the road at 13.5 feet since 2006!
I actually was surprised to find out that Gnome Chomsky was so young considering since 2006 two other gnomes have beaten his record! This sculpture/statue of the giant gnome was created by New York City-based artist Maria Reidelbach.
Which after doing a bit more research, they only held the title because they were likely the only ones to enter this big guy as an official entry to the Guinness Book of World Records because the current titleholder towers at 25 feet and was built in 1998 located in Nanoose, British Columbia.
Kelder's Farm is pretty smart, they get you pulling in their driveway to grab a picture of the gnome, and then the kids want to stay to play on their farm playground, 10 hole mini-golf course, and play with the animals in the petting zoo. Genius! There are no kids in our car, but we both were enthusiastic to stop because who could pass up this unique thing to do in the Catskills?
Historic Huguenot Street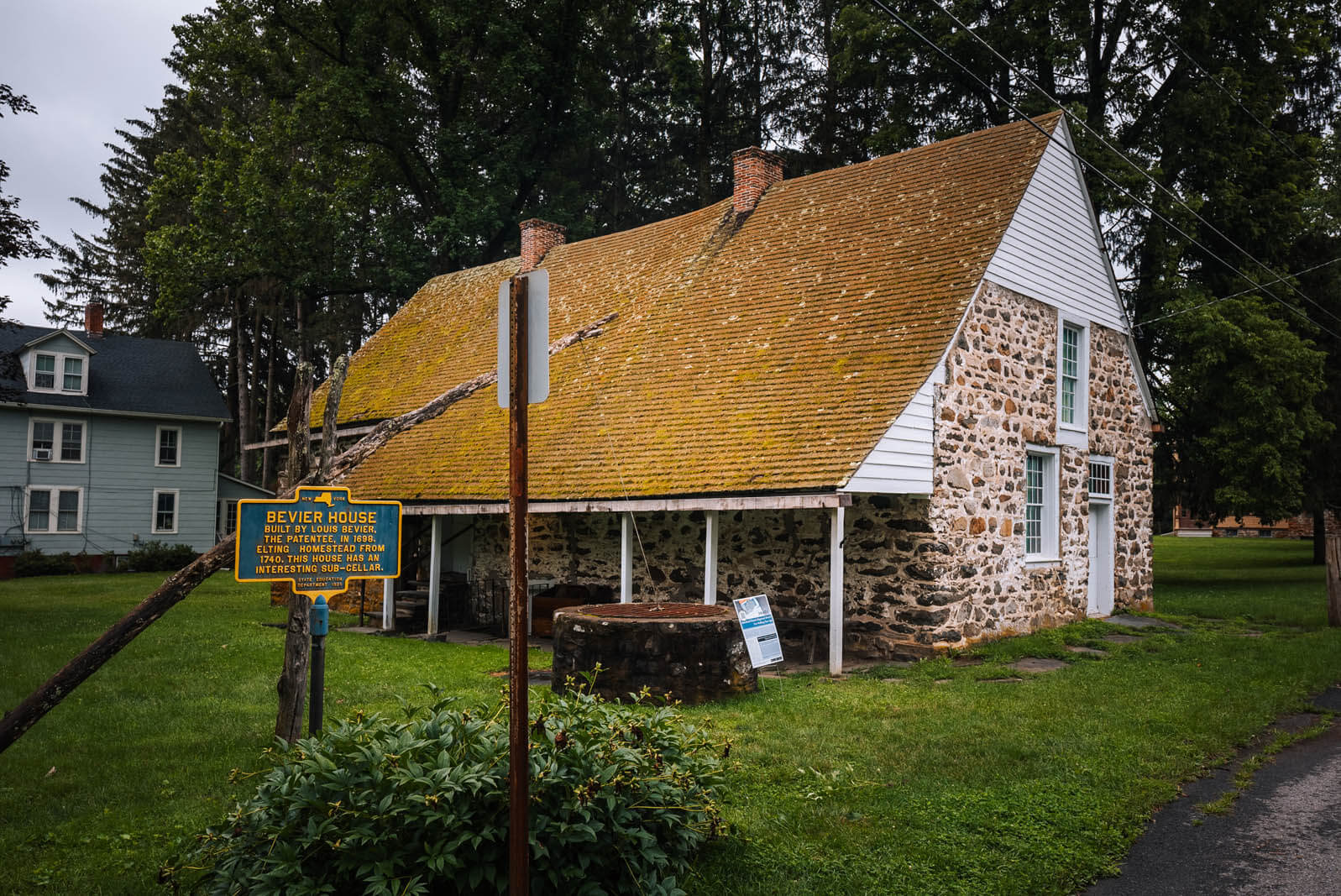 A historic hidden gem in the Catskills and unique attraction located in the town of New Paltz is the Historic Huguenot Street. This historic district is made up of 7 houses and a church and a graveyard dating back to the 18th century when Huguenot refugees fled religious persecution in France and Southern Belgium.
For those unfamiliar, Huguenots were French Protestants who worshiped at the Reformed Church of France and were largely Calvinist (following practice set down by John Calvin, who broke away from the Catholic church in the 16th century).
France being a Catholic majority expressed hostility and violence towards the Huegenots which caused them to flee and emigrate from France and find new settlements abroad.
Once these Huguenot settlers arrived to America they negotiated with the Esopus Indigenous communities who lived here and settled making it one of the oldest continuously inhabited settlements in the United States.
The buildings within this historic district are house museums and remain in their original village location and setting. In addition to the homes, the church, and the graveyard there's a visitor center with educational programming, archives, and a library to learn more about the Huguenot settlement and settlers. There's also a replica Esopus Munsee wigwam on the historic street too.
Inside the museum homes, you can find exhibits and period rooms that share the stories of the French Huguenot settlement and how it changed over time. They also acknowledge and are forward with the history of enslavement that took place here and have educational programming around it.
All of the homes and landmarks have a different story to tell and it's worth taking a guided tour if you have the time. If that's not possible, you're able to freely walk around the historic village.
Neversink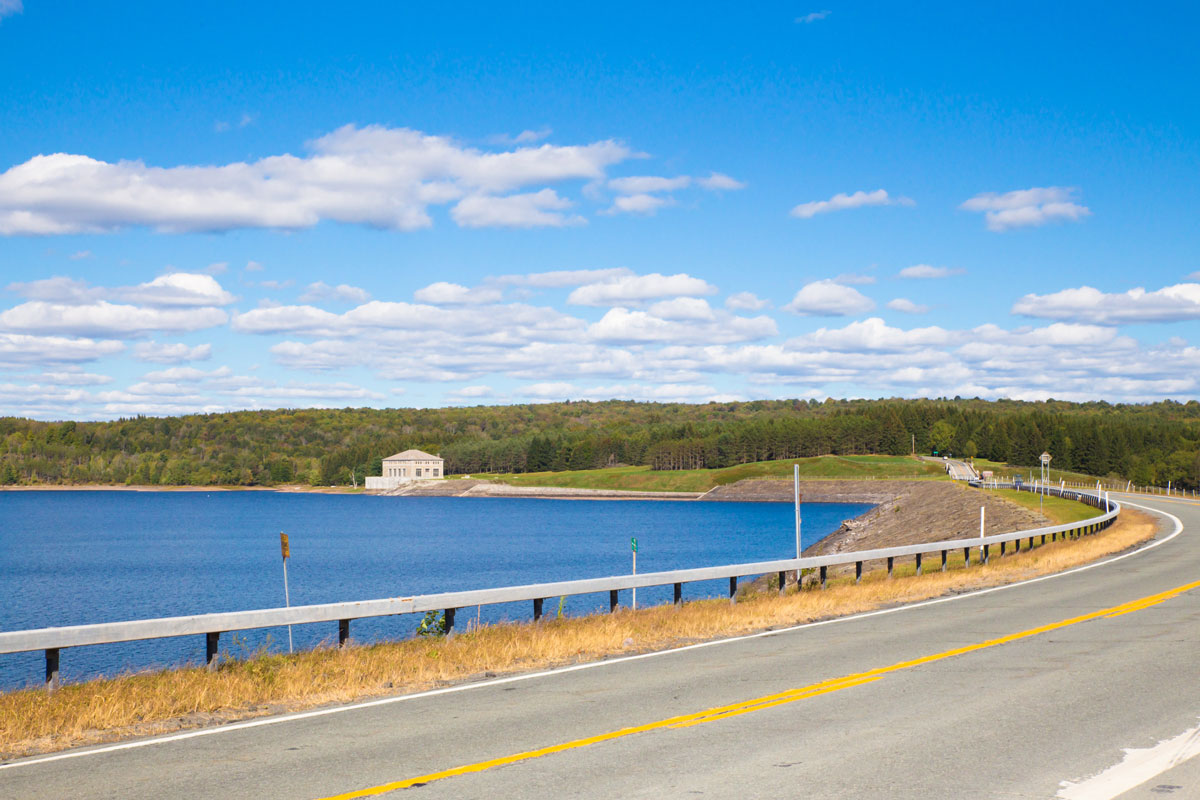 Another fun hidden gem in the Catskills and unique Catskills attraction is finding the location of Neversink in Sullivan County. The site of Neversink, now a reservoir was made to send its water supply to New York City since 1953- who you know consumes a ton of water with being one of the most populated cities in the world.
At the bottom of the reservoir, 175 feet beneath to be exact was the location of the long-lost town of Neversink which is a very ironic name.
The town of Neversink dated back to 1798 and had a pretty decent population of around 2,000 people by the time of its demise. That's pretty impressive considering nearby towns like Roscoe only have about 500 residents and Livingston Manor, which is larger has around 1,000 residents. The town was said to have a bustling main street, chapel, school, and even a covered bridge!
In 1941, everything changed when NYC needed more water supply and you probably guessed it, Neversink and one other town were chosen. They built a dam to flood the Neversink River to create the reservoir and in 1953 the river flooded the valley and made Neversink sink underwater.
What's confusing about this story is that there is a new town of Neversink located nearby, but that wasn't the original. The original is a sunken town.
This article by Only In Your State has great imagery of the town of Neversink before it became a sunken town as well as the approximate location of where the original town is.
Visit a Papertown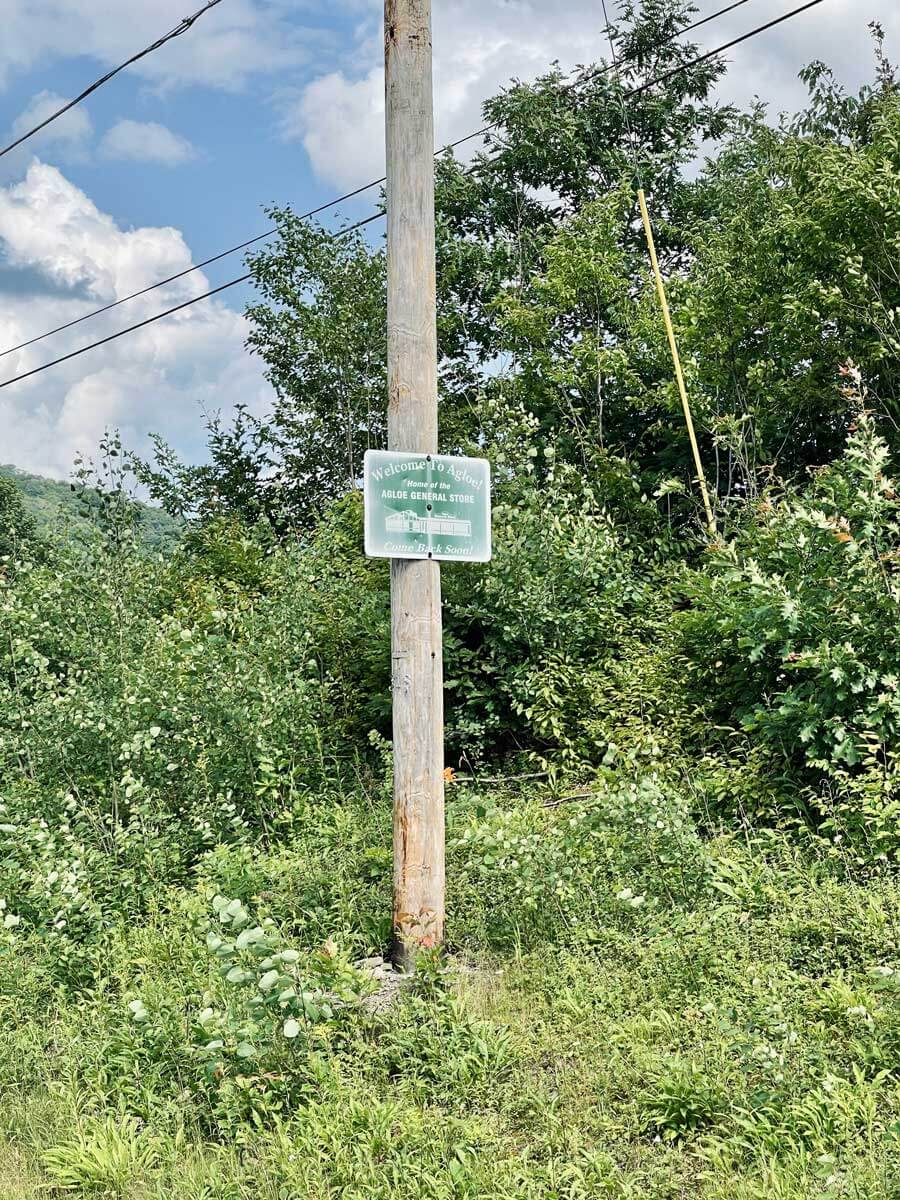 This one is a bit obscure and we are all here for it. This unique Catskills attraction is a little roadside hidden gem in the Catskills. Near the town of Roscoe, NY in the Catskills, which only has a population of around 500 people driving along CR-7 right by Beaverkill Road you can find a sign that marks the paper town of Agloe.
For those unfamiliar with paper towns, there were fictitious or false entries on maps (and other published works like dictionaries and encyclopedias) back in the day to trace and track copyright infringement, essentially a trap.
Basically, for cartographers who had to do very cumbersome work to create maps, they would put fake towns on maps so that way if it showed up on another map not made by them, they'd know they were copied. Sometimes this was in the form of a street instead of a town known as trap towns.
This is what happened with Agloe. This article on Atlas Obscura explains it best, but in 1937 the General Drafting Company added the fictitious town of Agloe near the remote town of Roscoe. A couple of decades later Agloe showed up again on another map from Rand McNally which obviously made General Drafting Company feel like they GOT 'EM.
However, Rand McNally was able to show proof that the county clerk had provided this information to them and were let off the hook and there was a gas station, a little general store, and two houses. This fictitious town ended up being a real place.
You won't find Agloe on a map today though, it just had a brief existence. Now all that's left is this little sign acknowledging its existence that is extremely easy to miss and a REAL hidden gem of the Catskills.
To find this hidden gem in the Catskills head on CR 7 towards Rockland. Almost immediately after you pass Beaverkill Road on your left there will be a tiny sign on the left hand side of the road. There's a big shoulder on the road so it's easy to pull over and snap a quick pic. Whatever you do, don't blink or you'll miss it!
If the idea of paper towns fascinates you, be sure to read Paper Towns by John Green, a novel that has a storyline tied to paper towns.
Stay in a Covered Wagon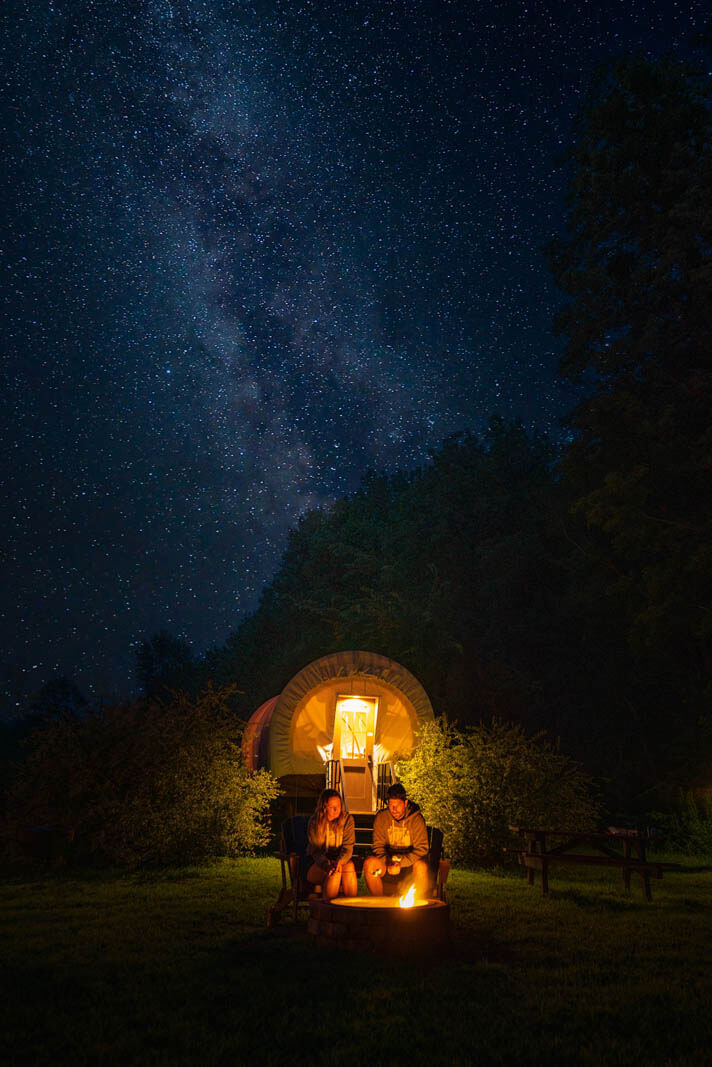 One of the most fun and unique things to do in the Catskills is actually a stay! Stay overnight in a Conestoga Covered Wagon just like the Oregon Trail, well sort of. This experience leaves out the not-so-glamorous parts like dysentery and you really don't have to worry about measles, typhoid, and cholera thanks to modern medicine.
Ok, so these covered wagons are definitely an upgrade from the actual Oregon Trail experience and we are thankful for that! This is one of the most fun things to do in the Catskills if you're looking for a unique place to stay.
Roscoe Campsite Park has two areas, their main campsite which has creekside cabins, RV, and camping spots and then a few miles away they have their Conestoga Covered Wagon Outpost in Cooks Falls, New York.
There are 5 covered wagons, so if you're traveling with a group you can rent the whole caravan!
Each covered wagon has temperature control, aircon during the summer in the Catskills is a lifesaver! The wagons are so spacious on the inside too, which is surprising. You can find a king bed, bunk beds (so sleeping up to 4 guests), table and chairs, tv, and fridge.
Each wagon has its own cozy outdoor set up too equipped with a private fire pit, kettle to grill on, and Adirondack chairs.
The bathrooms are shared and located outside the wagons. Don't be fooled though, these bathrooms are kept cool in the summer and are incredibly clean and modern. There is also a small pavilion with grills and picnic tables for guests to use.
If you're lucky, the goats and llamas will be at this site too during your visit! Sometimes they rotate between this spot and the main campsite!
Be sure read our full getaway guide to Livingston Manor and Roscoe, New York too for more ideas of what to do in and nearby both of these towns which are just a short drive from these covered wagon stays.
Karma Triyana Dharmachakra Monastery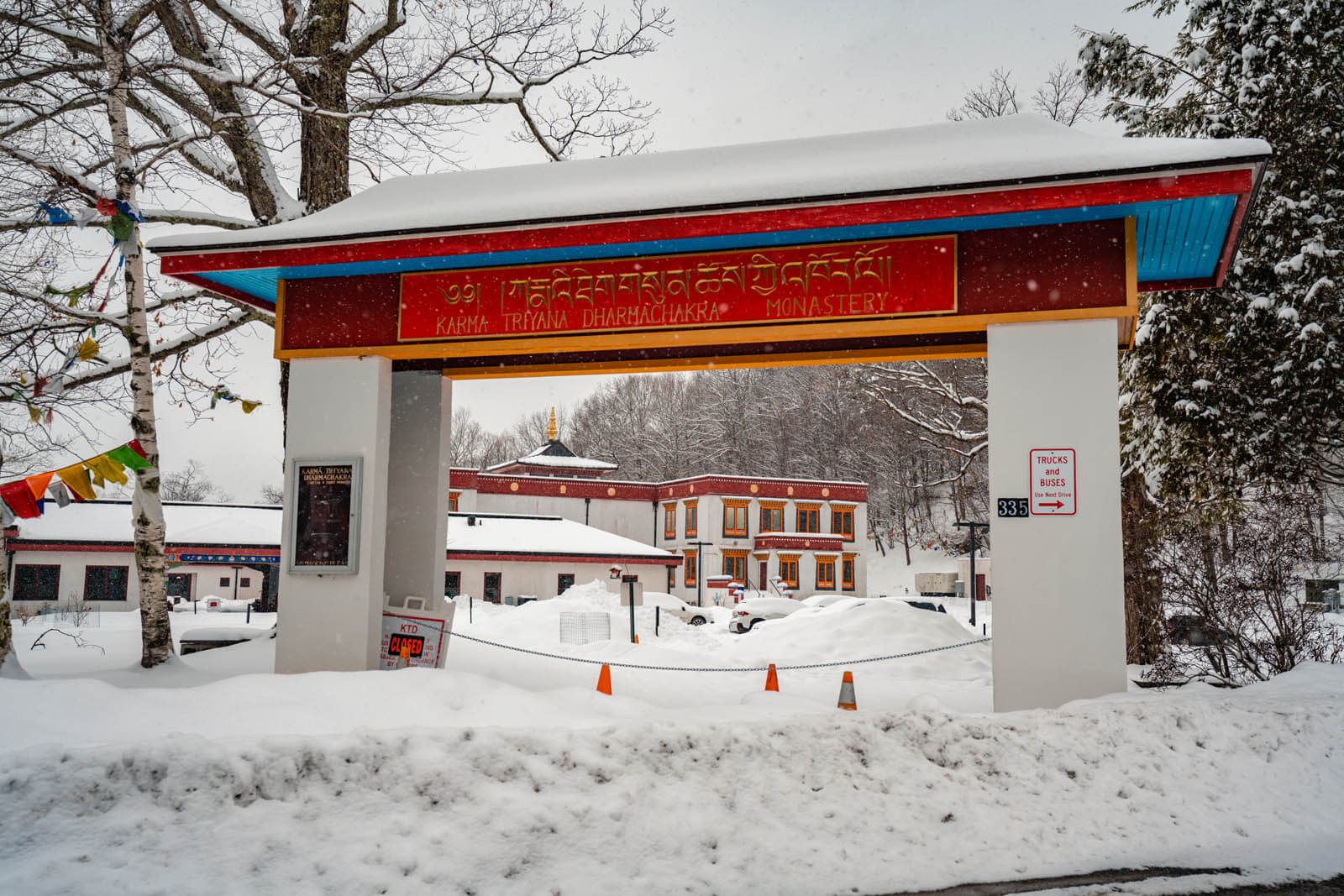 Located in Woodstock in the Catskill Mountains, the Karma Triyama Dharmachakra Monastery is a popular site for those connecting to their spirituality.
One of the unique things to do in the Catskills, NY is to pay a visit to this Tibetan Buddhist monastery. This location is the monastic seat of His Holiness the 17th Gyalwang Karmapa, Ogyen Trinley Dorje in North America.
This location features a Shrine Building and a Monastery Building. The Monastery Building provides accommodation for guests and staff of the monastery.
This monastery also houses a huge library filled with books about the Tibetan religion, travel, art, philosophy, and practice. There is a facility where Tibetan music can be recorded along with a large gallery featuring Tibetan paintings and statues.
If you would love to visit this unique Catskill location, feel free to join any of the two tours held each week. There are several programs held here around the year and they are always open to visitors who might be interested in learning about the Tibetan religion and Buddha's teachings on compassion and wisdom.
Be sure to explore all the best things to do in Woodstock while you're here too! We highly recommend planning a meal at one of their many great places to eat while you're in the area.
Opus 40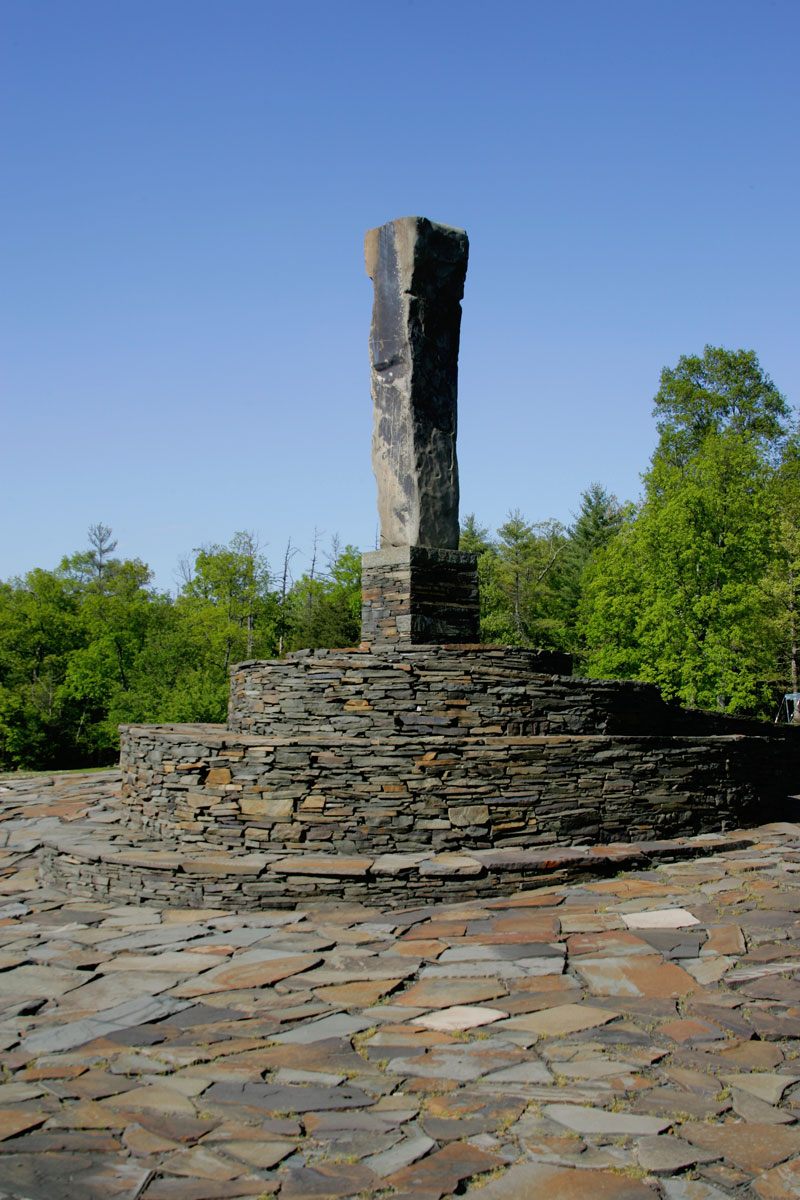 Built by Harvey Fite, this grand site is a masterpiece crafted on an abandoned bluestone quarry. Fite intended to use this location as a showcase for his sculptures and estimated that the site would be completed within 40 years.
Built by hand alone without cement or mortar, Opus 40 features hundreds of thousands of stones artistically put together to form a series of terraces, steps, and ramps that cover over 6.5 acres of land.
Opus 40 also features a 9-ton monolith and has several pools and fountains which are fed by springs in the quarry. When looking for unique things to do in the Catskills, take a trip to Opus 40 and walk through the cool subterranean passageways and get lost in this one-of-a-kind sculpture garden and park.
Located in Saugerties, Opus 40 also features a Quarryman's Museum. Here, you can find authentic 19th-century quarryman's tools and furnishings. This location has become a hotspot for tourists, weddings, picnics, and other outdoor events.
Wallkill Valley Rail Trail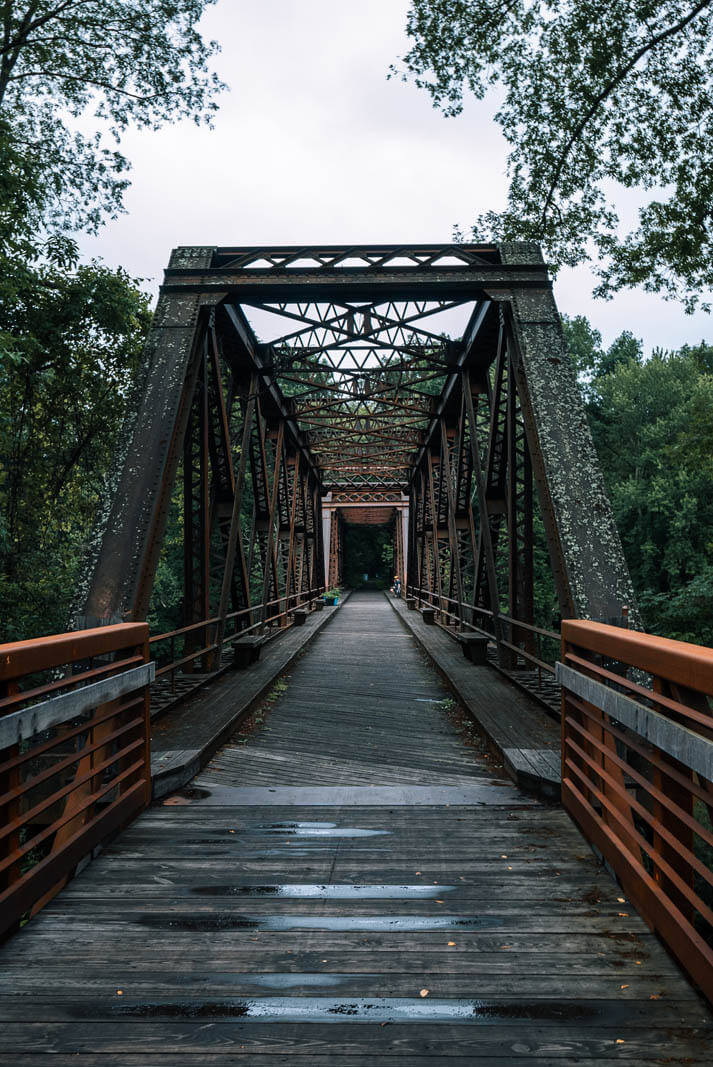 Top on the unique Catskills attractions is this 22+ mile trail on a former railway. It runs through the former Wallkill Valley Railroad rail corridor in Ulster County all the way to Gardiner, New Paltz, Rosendale, and the Kingston city line. This location is great for jogging, walking, horseback riding, bike riding, cross-country skiing, and hiking.
This trail features an unpaved stone surface. Hikers get to pass through Rondout Creek, Wallkill River, Rosendale Trestle, and Shawangunk Ridge. The trail is open all year round from dawn to dusk. Be ready to enjoy beautiful sightings of unique birds and other animals along this trail.
One fun fact about this location is that the Wallkill Rail Trail Bridge was one of the filming locations for the Oscar nominated sci-fi horror film 'A Quiet Place" starring John Krasinski and Emily Blunt.
Fabulous Furniture
One of the most unique Catskills attractions is this wacky roadside furniture store. Located in Boiceville, Fabulous Furniture features special furniture made from trees.
The wood used to make this furniture is left undyed and they retain the tree's natural beauty. This unique Catskills roadside attraction also has huge sculptures that look like UFOs and robots. These are made from metal and car parts.
Created by Steve Heller, this authentic furniture store has the best-handcrafted tables and mirrors in the Catskills. Heller has been creating unusual wood and metal sculptures like robots, dinosaurs, cars, and many other things borne from his love for sci-fi craft.
You really can't miss this when you drive past it, the wacky sculptures are what made us stop and take a peek at this fun hidden gem in the Catskills!
Be sure to add this unique furniture shop in the Catskills to one of the things to do in the Catskills and enjoy the skill and craftsmanship that goes into creating these interesting pieces.
Overlook Mountain Ruins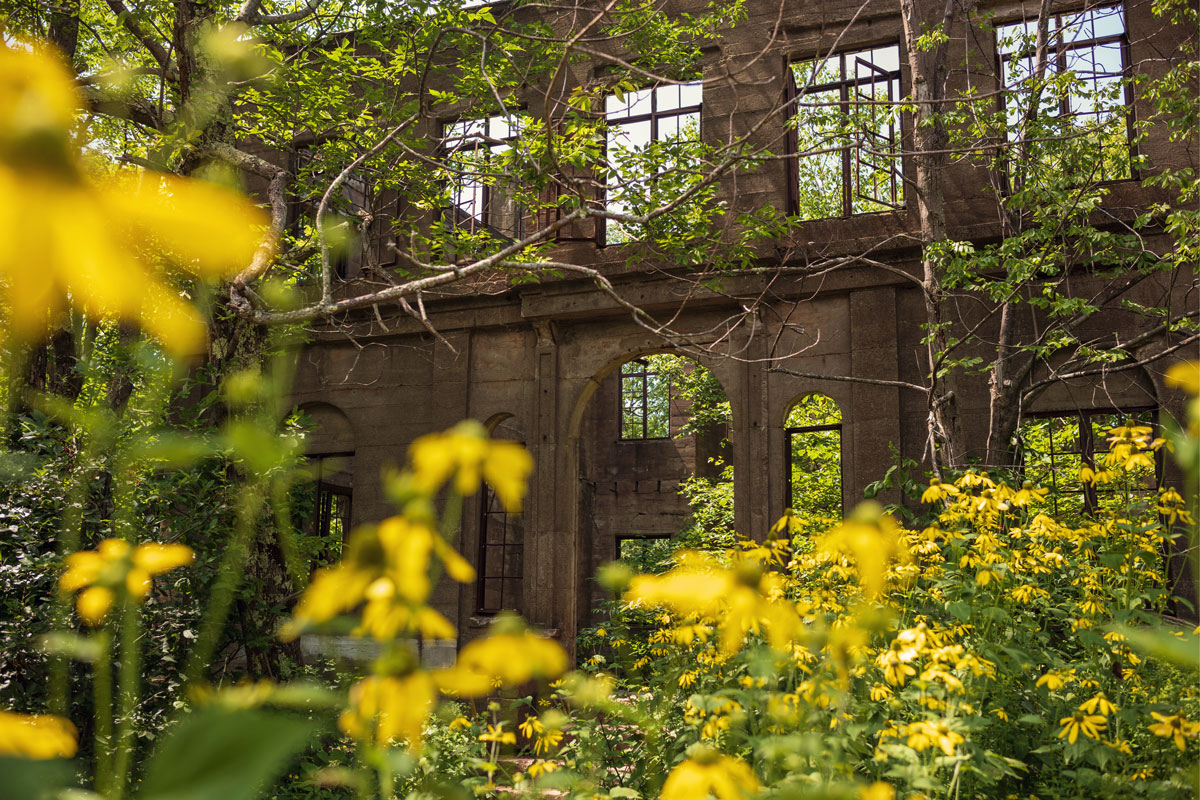 Located near Woodstock, Overlook Mountain House Ruins is one of the first and oldest luxury hotels in New York State. It was built by James Booth as a vacation resort in 1833.
During the Civil War, the Overlook Mountain House was the top first-class resort hotel in the US. This grand architectural masterpiece was destroyed by fire in 1875 and was rebuilt in 1878.
In its heydey, it could accommodate up to 300 guests. It was razed by fire a second time in 1923 and was partially rebuilt in concrete.
Since its reconstruction was never completed, this location has become one of the most visited unique Catskills attractions as it sits in ruins and nature is reclaiming the land around it. Hikers pass through the Overlook Mountain Ruins as several trails run through its location on Overlook Mountain just outside of Woodstock.
Be sure to make sure you are carefully looking on your hike, this is a true hidden gem in the Catskills!
Dundas Castle Ruins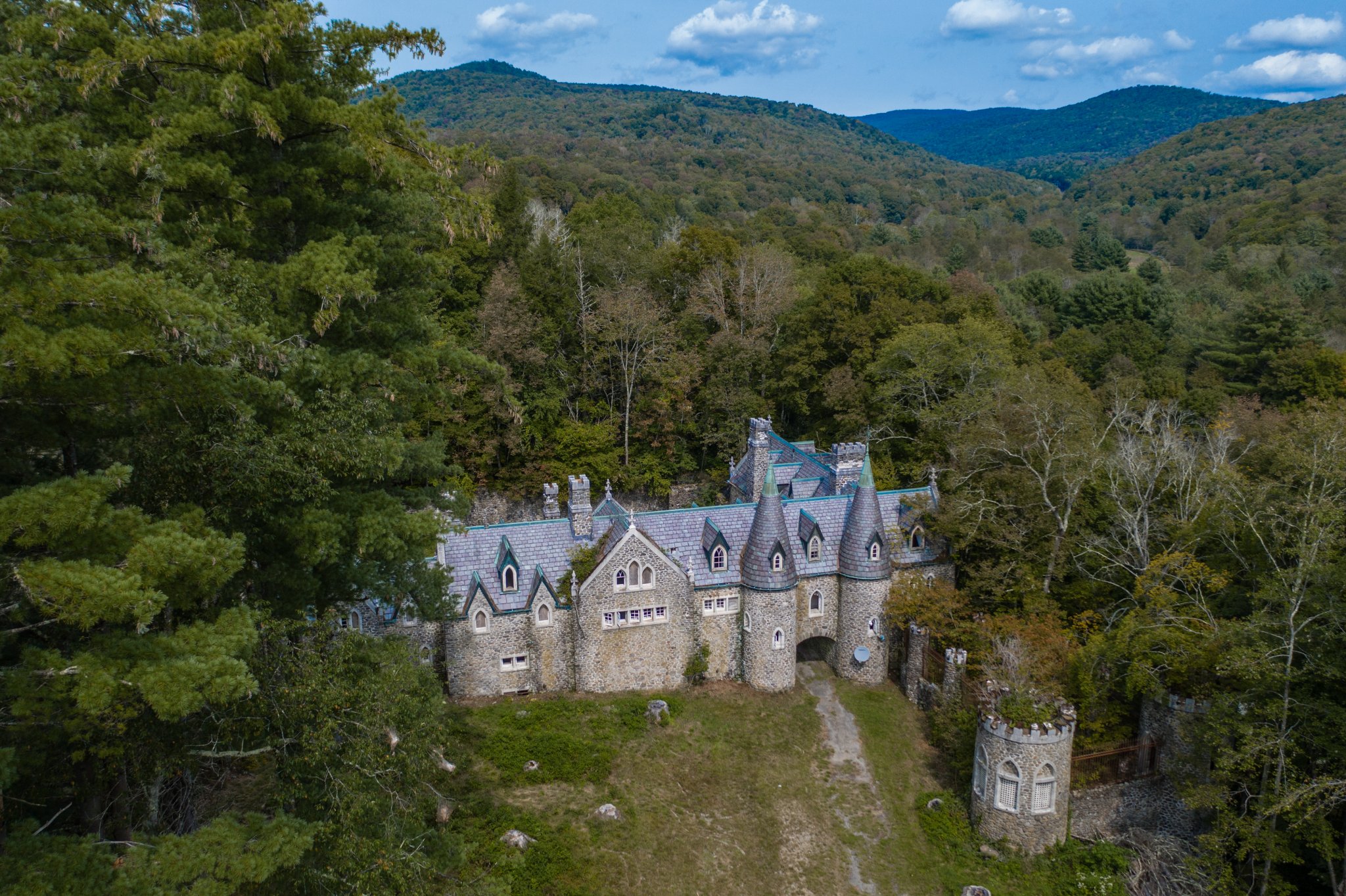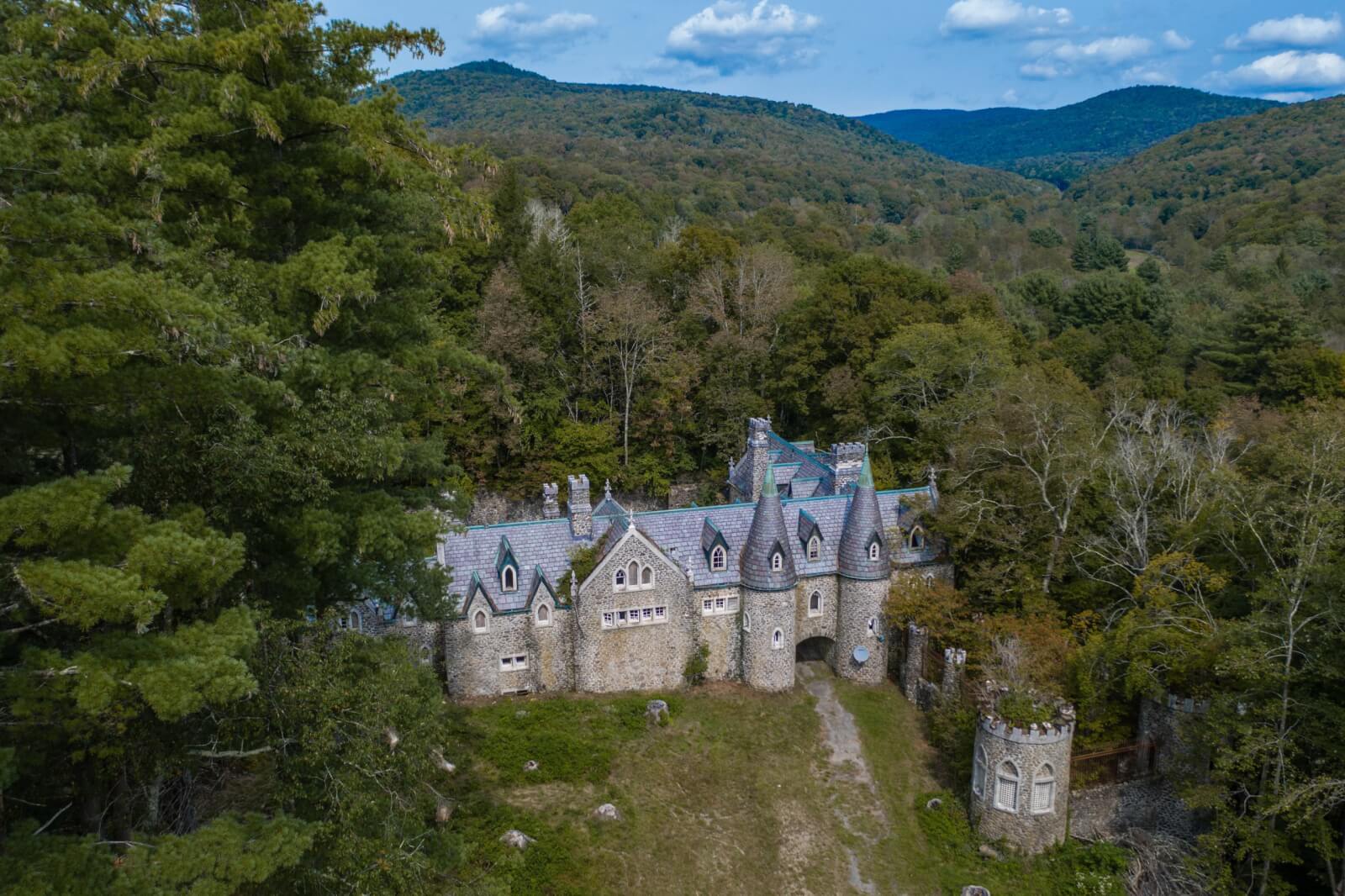 Dundas Castle Ruins is a unique Catskills attraction and one of the coolest castles in New York, yep New York has castles! Also known as Craig-E-Clair castle, this was originally built by Ralph Wurts-Dundas, this cool architectural gem in the Catskills is modeled after a medieval Scottish Castle and surrounded by a magical atmosphere.
Dundas Castle is enigmatic and no one really knows the entire history of this site other than the land was purchased and construction started by Wurts-Dundas in 1915. He passed away in 1921 as the castle approached completion.
Dundas's wife was committed to a sanatorium soon after his death, and the castle's possession and management changed several times with an abundance of drama and mystery. No member of the Dundas family ever resided in the castle itself!
The castle is on private property, so you need to arrange a visit beforehand to witness this abandoned, decaying castle hidden in the hills in Roscoe near the Pennsylvania border and has been added to the National Register of Historic Places.
A fun rumor about this hidden gem in the Catskills, apparently the owners are working on restoring this beauty to turn it into lodging! We can't wait to see what they do with it!
Hunt Covered Bridges
If you are looking to spend some time in the region or driving around Upstate, one of the fun things to do in the Catskills is taking a tour of the historic covered bridges in the area.
There are about 20 historic covered bridges in New York located in several charming villages and Upstate towns. Many of these bridges date back to the early 1800s and some of them still accommodate motor traffic to date or you can just park and walk across by foot.
Some of the beautiful historic covered bridges in the area making it one of the most unique things to do in the Catskills include: Halls Mills Covered Bridge, Livingston Manor Covered Bridge, Beaverkill Covered Bridge, Bendo Covered Bridge, Chestnut Creek Covered Bridge, Perrine's Covered Bridge, and Ashokan Covered Bridge.
Some of these are located in town and some are true hidden gems in the Catskills tucked away on secluded roads like the Beaverkill Covered Bridge (which you can also swim at in the summer months!). Hunting down as many covered bridges as you can is a fun idea for a road trip style treasure hunt!
Check out the best towns in the Catskills to visit, many of which have covered bridges nearby!
Rip Van Winkle Trail & Monument
Have you ever heard of the story of Rip Van Winkle? This short story by author Washington Irving published in 1819 about a man who takes a long nap in the Catskill Mountains. My favorite and most memorable rendition of this story was by the beloved dog Wishbone, an old PBS show from my childhood, haha.
Anyway, Washington Irving actually had his home, Sunnyside in Tarrytown, near Sleepy Hollow where he also wrote the Legend of Sleepy Hollow, the classic tale about the Headless Horseman and Ichabod Crane, so writing about these place in Upstate New York was no stranger to Irving using them as the setup for many of his most celebrated work.
One of the most unique things in the Catskills you can do is trace the Rip Van Winkle trail and monuments dedicated to this famed story!
The Rip Van Winkle Monument is located on Hunter Mountain. It is a larger-than-life depiction of Rip Van Winkle who was a famous literary character in Washington Irving's book. Made out of bluestone, this monument is a unique location in the Catskills for picnics and hikes.
Take a sky ride from Hunter Mountain to get to this unique Catskills monument. You can also enjoy sweeping views of the Catskills Mountains from the location of the monument.
Tourists who are looking for things to do in the Catskills can take a hike on the Rip Van Winkle Trail. There are guided tours available for this trail if you want a guide to provide all the info for you!
Hikers will enjoy exploring the legendary cloves where Rip took his long nap. You will also enjoy seeing colorful statues set around the mountain top region. A gurgling stream, refreshing spring, and a raised garden site are all part of the attractions found on this trail.
And while you're here, you'll probably notice a lot of other Rip Van Winkle-themed things, I personally loved the Rip Van Winkle mural on the side of the big antique shop called Tannersville Antiques in Tannersville – another pick for one of the most unique things to do in the Catskills!
Go Back in Time in Tannersville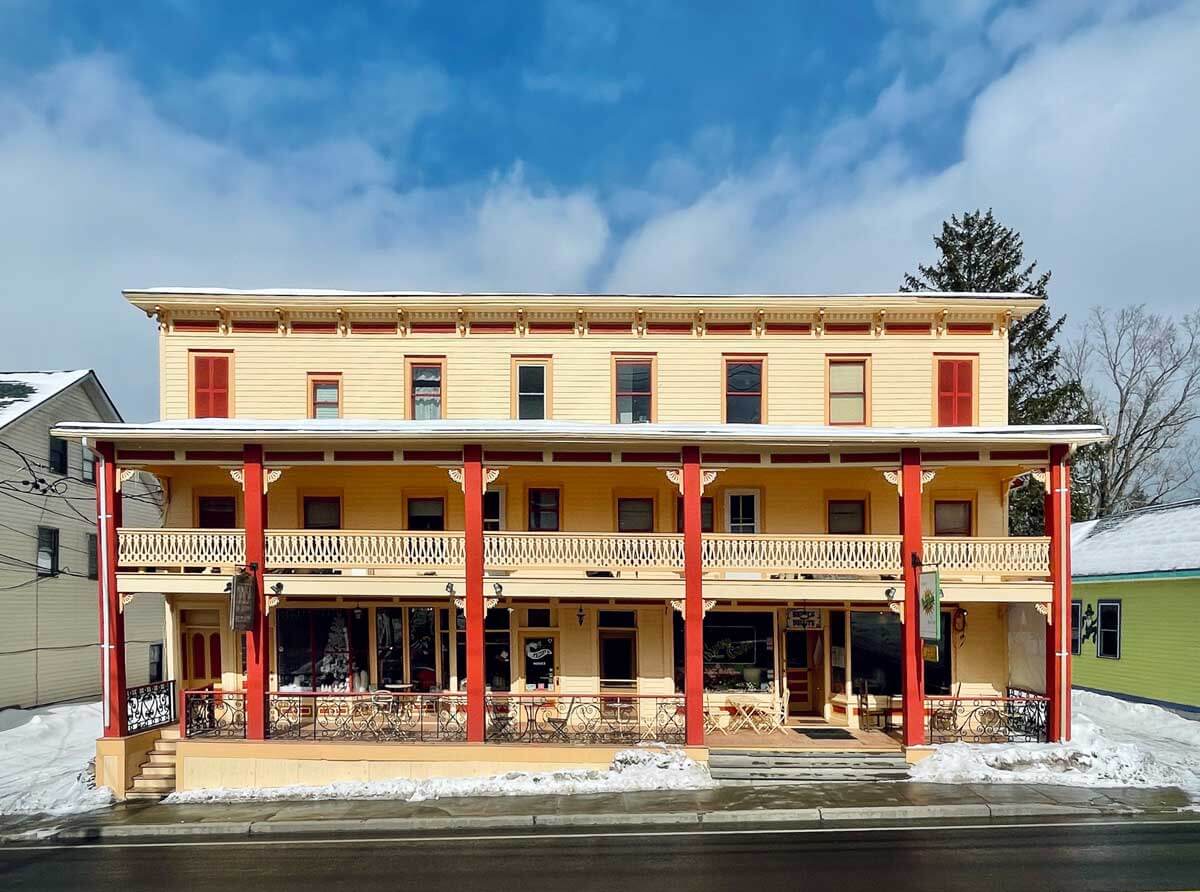 Known as the painted village in the sky, Tannersville is located in the heart of the mountains around Hunter. Filled with adventure and fun activities all year round, this is one of the unique places to visit in the Catskills.
Visit Tannersville during winter and enjoy skiing, tubing, riding, and other great outdoor winter activities at nearby Hunter Mountain, one of the best Catskills in winter attractions and some of the best skiing near NYC.
Tannersville is also especially known for its colorful 19th-century storefronts and charming antique shops. It honestly feels like a really colorful western town!
This is a great option for stopping for lunch, especially if you're enjoying other nearby attractions including Kaaterskill Falls. Or stop by just for the amazing antique shopping, there are several antique stores in this small, colorful western town, or visit the old-fashioned shop and eatery at The Catskill Mountain Country Store & Restaurant.
Kaaterskill Falls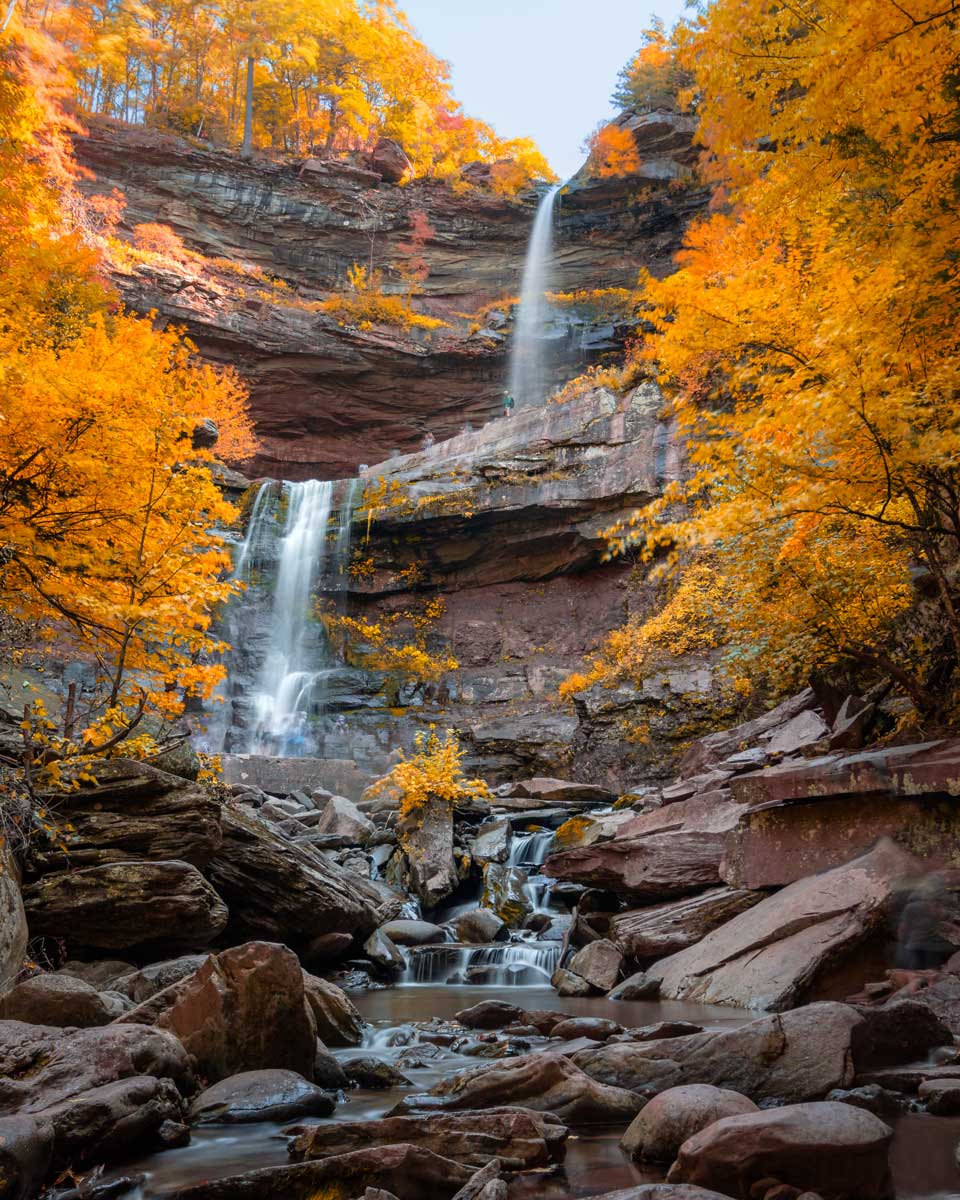 Love waterfalls? How about visiting one of the most beautiful waterfalls in New York? One of the most unique things to d in the Catskills is visit Kaaterskill Falls whether you plan on doing the full hike to the base or just want to head to the upper viewing platform for a quick glance at this natural stunner!
The stunning Catskills landscape has made it quite popular with tourists and inspired artists, photographers, and other creatives for ages.
Kaaterskill Falls is the highest cascading waterfall in New York State. It has two tiers and drops over 260 feet.
For a quick visit, head to Laurel House Trail Road and park up here to walk to the overlook and viewing platform from the top of the falls. This is great any time of year as we visited in the winter and with snow boots the trail was easy to traverse.
You can also do the longer 1.4-mile hike from the base of the falls which also passes Bastion Falls, an additional waterfall. The trail through Kaaterskill Falls is the most popular trail and unique Catskills attractions especially when it comes to natural beauty.
When hiking through this trail, you need to be very careful as the trail can be muddy and filled with slick stones which is fine as long as you wear proper hiking footwear. If you plan to get to Kaaterskill Falls, ensure that you park only at the designated areas to avoid getting a ticket and if you're in the summer – check for ticks afterwards!
Scott's Family Resort
View this post on Instagram
UPDATE: Scott's Family Resort has been sold to a new owner and its currently under renovations – stay tuned to see what this spot turns into!
Planning a vacation in the Catskills? You should check out this family-owned lakeside resort. This resort was the filming location of "The Marvelous Mrs. Maisel," the popular tv show that you've most likely heard about, if not get on Amazon Prime and watch it!
It's no secret we are fans and we even visited other filming locations in NYC including in Nolita!
Scott's Family Resort is featured in season 2 when Midge's family goes on their annual summer retreat in the Catskills. The relaxed, quiet location is loved by guests and visitors looking to enjoy the quiet beauty of the Catskills.
Scott's Family Resort has been open to guests for the past 150 years and it features a series of rooms, cabins, and a cozy, comfortable inn located on Oquagua Lake. The property was recently for sale and repurchased, so hopefully, things don't change too much!
The resort itself has a bowling arena, volleyball and basketball courts, a 9-hole pitch and putt course, 3 ping pong tables, a couple of pool tables, chess sets, and an ice cream bar. So if you get a chance to visit or stay here, do it – especially if you're a Maisel fan, this is one of the best unique Catskills attractions for you!
Zip Line
Adrenaline lovers, you're going to love this unique Catskills attraction! A Catskills getaway cannot be complete without a zip line tour through the scenic landscape if you're looking for an exhilarating rush!
Head on to Hunter Mountain and join the New York Zip Line Adventure Tour. This is the fastest, highest and longest zip line canopy tour in all of North America. If that's not impressive enough, it's also the 2nnd largest zip line in the world!
This zipline course offers 6 separate zip lines, four rope bridges, one rappel, and nine aerial tree platforms. Try the SkyRider Tour which is the one that holds the title for the 2nd longest zipline in the world at 600 feet above ground, speeds up to 50mph, and lasts 3 hours!
Visit the Site of Woodstock Music Festival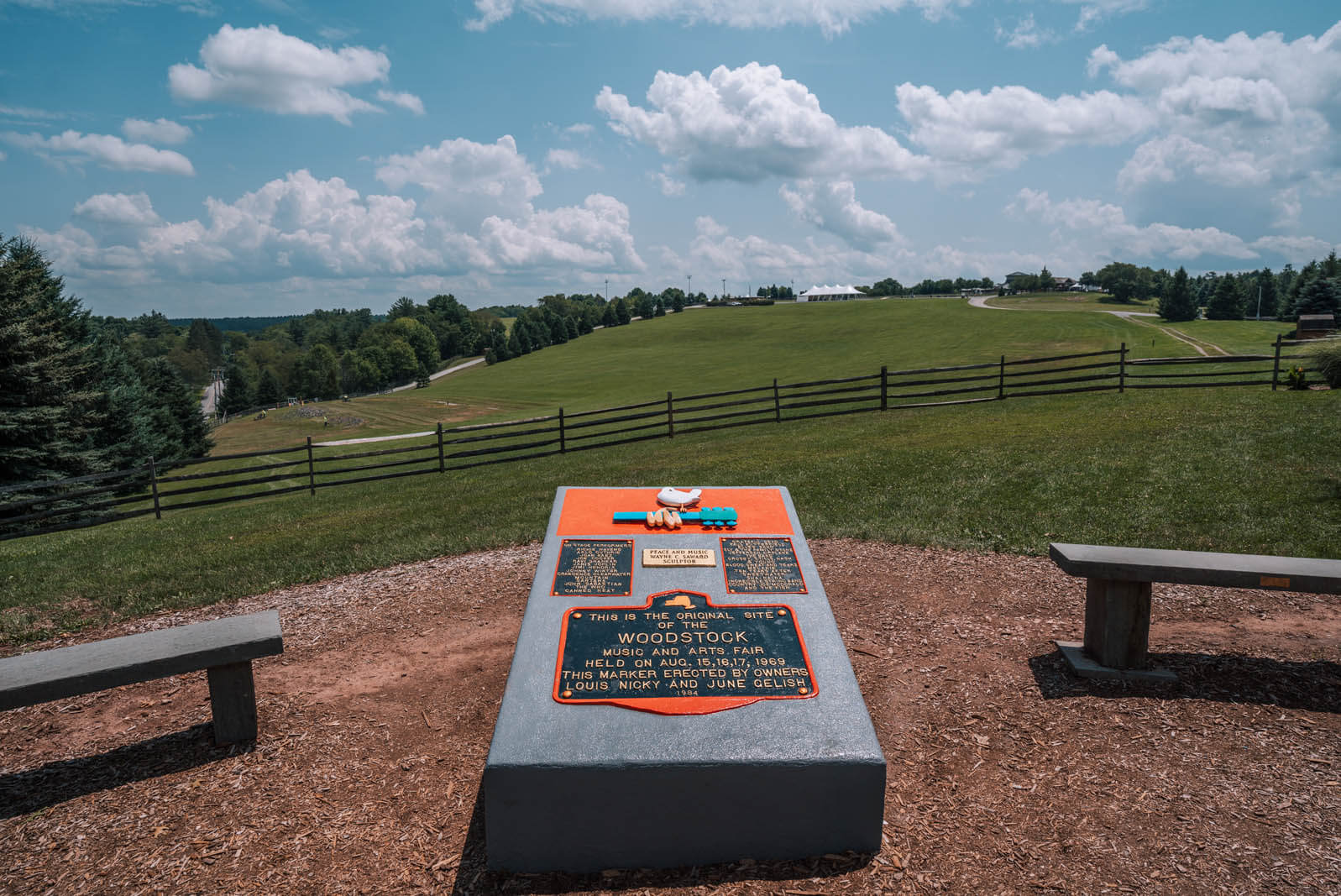 One of the most unique things to do in the Catskills is visit the site of the most famous music festival in history, the site of the 1969 Woodstock Music Festival. What most people don't realize is that Woodstock wasn't actually located in Woodstock, another popular Catskills town that is still alive with the hippy and 60s culture of peace and love.
This historic site is actually located in the town of Bethel; about 40 miles southwest of Woodstock.
It commemorates the 3-day music festival which occurred from August 15 to 18, 1969. The 300 acres of farmland can be found in Sullivan County, New York. About 450,000 people gathered on this site to experience and expression of cultural, musical, and political realism that transformed the American culture and became a symbol of faith and the fellowship of a generation.
The 3-day festival featured several thrilling and eye-opening performances from 32 folk singers, rock and roll bands, and blues performers.
One of the most influential performers was Richie Havens. He opened the concert and did an impromptu improvisation of the song 'Freedom'. This became of the top highlights of the festival. Other performers include the Grateful Dead, Crosby, Country Joe McDonald, Nash, Joan Baez, and the amazing Jimi Hendrix to name a few.
Today, the site of the Woodstock Music Festival holds a museum and historic tour of the site. Visitors can buy tie-dye gifts, vinyl, and the peace, love festival gift items.
A Night at the Roxbury
View this post on Instagram
Another one of the most unique things to do in the Catskills, NY is enjoy an immersive experience out of this world at this crazy-themed hotel.
The Roxbury Hotel is every movie lover's dream or anyone looking for a unique Catskills experience. Nestled in the heart of the picturesque Catskill Mountains, each of its rooms is themed and feels like living in a movie or TV show from the 60s, 7os, and 80s.
There are two properties that makeup the Roxbury Experience, the Roxbury Motel and The Roxbury at Stratton Falls. The two properties are located one town apart from each other, about 2 miles or a 3 minute drive.
The most famous property are the unique rooms at the Roxbury Motel. If you love Gilligan's Island, you will love the room named "Maryann's Coconut Cream Pie". This room features a ceiling designed to look like whipped cream. It also has some pie crust crown molding and a pretty pie circular bed.
Love the Wizard of Oz? There's a room at the Roxbury for you complete with a yellow brick roadbed and a wall size painting of the Emerald City.
Sci-fi geeks will love the 'Final Frontier" room which takes you into a realm of a new civilization. This room is decorated like a spaceship and features a moving 20-foot ceiling which has a fiber optic shooting starlight show. If you are a Star Trek fan, this is the room for you!
At the Roxbury at Stratton Falls, you can choose between the quirky Tower Cottages and gorgeously themed Mansion Rooms plus enjoy the glistening cascades at Stratton Falls.
This hotel offers easy access to Catskills Park along with the forest preserve, exhilarating hiking trails, a spa at both locations, and a pool at the Stratton Falls location.
Cell service in this location is not so great so this is a perfect location for you to unplug and enjoy the wonders of the Roxbury Hotel and the wonders of the beautiful Catskills Park.
Visit the World's Largest Kaleidoscope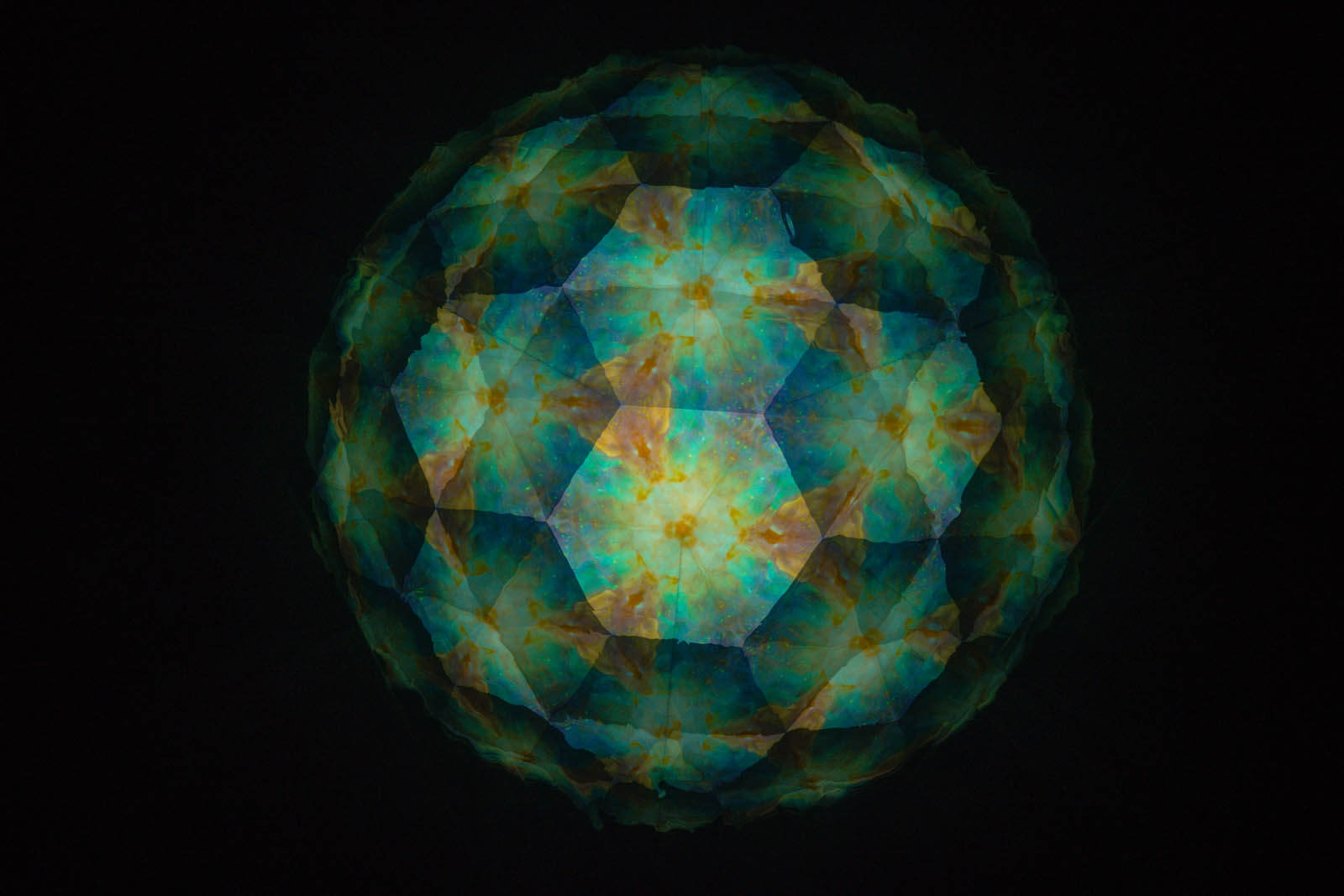 One of the most obvious choices for unique things to do in the Catskills is visit the World's Largest Kaleidoscope at Emerson Lodge in Phoenicia, New York.
This kaleidoscope is housed in a silo and towers at 60 feet tall and 37.5 feet wide. Recorded in 1997 by Guinness Book of World Records, this huge kaleidoscope was designed by Charles Karadimos.
Kaleidoshows are held here on a regular basis and a must! This was actually one of our favorite things to do in the Catskills while exploring Phoenecia and the surrounding area. The original shows were designed by Isaac Abrams and his son, Raphael.
In 2016, a new show was created. It features an immersive visual and audio experience and was created by Shea Johnson, Alicia Ramirez, and Austin Johnson.
This show is suitable for people of all ages and can be viewed from the bottom up. It is best to lie on the floor or lean on the wall while viewing the show. The shows last for about 15 minutes and costs only $5 for non-guests of the Emerson Resort. If you're staying at Emerson, the kaliedioshow is free!
Apart from enjoying the kaleidoshow, visitors also get to learn about the history of kaleidoscopes and the story of the brilliant artists that created them. Step into the Emerson stores where you will find several scopes made of brass, veneer wood, turned wood, glass, chrome, and marble. Most of the scopes you will find in the store are one of a kind and are signed by their artists, making it one of the most unique Catskills attractions money can buy!
Where to Stay: Catskills, NY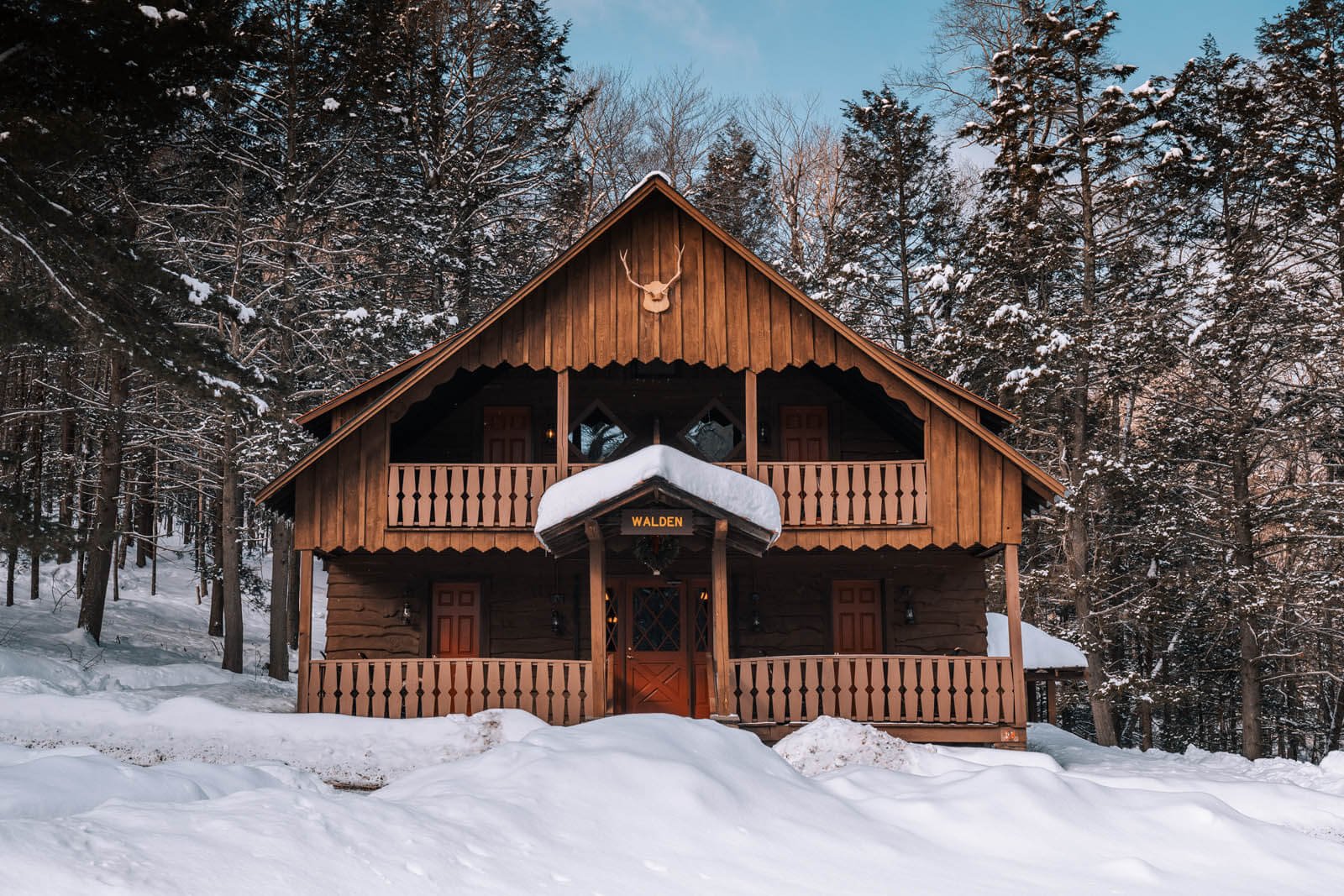 Exploring all the unique things to do in the Catskills can take days, which is why we recommend spending at least a weekend if not a few extra nights to explore all the fun and unique Catskills attractions.
With several amazing options available for you to pick from, it can be daunting to pick, that's why we have an entire guide for where to stay in the Catskills for more options.
Here are a few of our top picks!
The Roxbury Hotel: As already mentioned earlier in this guide to unique Catskills attractions, The Roxbury Hotel is an obvious choice and one of the most one-of-a-kind things to do in the Catskills on its own with their themed properties in amazing locations that make exploring the area easy.
Urban Cowboy: The Urban Cowboy Lodge is where we stayed and makes for the perfect base to spend during your Catskills getaway. This former Bavarian lodge was owned by the same family for nearly 70 years before retirement, they sold the lodge and its five standalone buildings to the creatives who brought a luxury, curated, wilderness lodge experience.
Each room has something special to offer and is individually designed and is what aesthetic dreams are made of not to mention the clawfoot bathtubs next to a fireplace next to the giant windows overlooking the mountains, which is just stunning any season. Urban Cowboy Lodge is a place to unplug and unwind, rooms have no televisions, instead, bring a little speaker, turn on some tunes and soak in the tub with the view or play one of the board games they lend out.
Mohonk Mountain Resort: Located in Hudson Valley, this grand resort is surrounded by 40,000 acres of pristine forest and features a luxurious spa, continental farm-to-table dishes, and tastefully decorated historic rooms, suites, and lodges all set in a Victorian castle and one of the most famous mountain resorts in the region. Mohonk Mountain Resort is also a National Historic Landmark.
Emerson Resort & Spa: Featuring spacious accommodations with huge windows and tasteful Victorian decorations, this resort is one of the best places to stay while exploring the best things to do in the Catskills. Emerson Resort & Spa is one of the most popular and well-known luxury properties located in Phoenicia plus this is where you can see the world's largest kaleidoscope.
The Graham & Co.: Another one of the most popular places to stay in Phoenicia is this beautiful, chic boutique motel located in the heart of the village and perfect for exploring the best things to do in the Catskills. The location is already amazing but this experience is an elevated one while still somehow remaining unpretentious.
The Graham & Co.sits on 3 acres of property which offers 2o rooms, a swimming pool, hammocks to lazy in during the warmer months, a badminton court, fire pits, picnic spots, and bikes you can borrow if you're a guest.
---
Enjoyed this guide to the most unique things to do in the Catskills and unique Catskills attractions to check out? Bookmark for later or share the love below on Pinterest!