Check out the most charming and best towns in the Catskills to visit on your next trip to New York or a weekend trip from NYC. The Catskills are a dreamy, mountain escape for folks in the city who need a dose of nature and respite from city life, however, this area also attracts just about everyone.
This four-season destination has something special to offer each season and each of the Catskills towns makes excellent stops whether you are looking for a place to stay, eat, shop, or are just a lover of cool, historic towns like we are!
While you're road tripping check out the most unique things to do in the Catskills in between your town visits and if you're planning a little winter escape, check out our Catskills winter getaway guide too! Plus many of these make for some of the best romantic getaways in Upstate New York!
Another fun fact, this scenic mountain region in New York has attracted and inspired artists and creatives is the setting of Rip Van Winkle, a classic literary work by Washington Irving (whose home you can visit in Tarrytown in the Hudson Valley), and is an all-season mountain getaway for adventures, explorers, and anyone needing a dose of nature and the great outdoors from the city.
For more cool places to check out in the state read our guide on the most charming towns in New York to add to your trip!
Charming Catskills to Check Out
Woodstock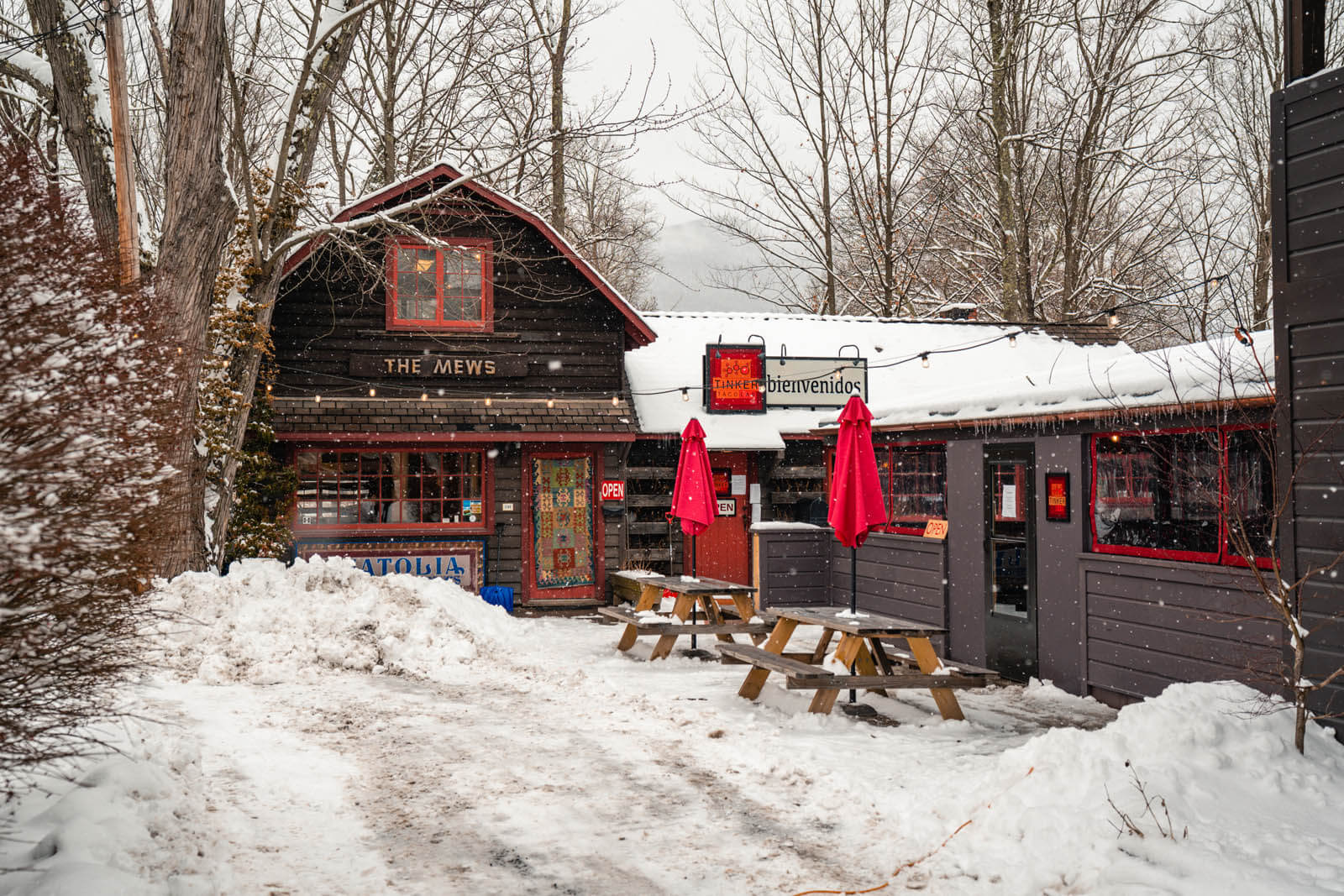 While it's often rightfully assumed the historic Woodstock Music Festival happened in the Catskills town of Woodstock, it actually took place in Bethel, NY about 1.5 hours away (mentioned later on this list).
The 1969 summer music festival got its name from the town, and since then, has continued to draw visitors for its bohemian art scene, nature-filled landscapes, and fun boutiques.
Head to Tinker Street, the main street in Woodstock, and roam down to explore all the independent boutiques, shops, and restaurants. The shops here sell a variety of artistic goods on brand with the bohemian vibe that Woodstock is known for!
While you're downtown, you'll find many galleries and art houses dotted around to pop into. A must-visit is their local art museum, which aims to promote visual arts and education through community engagement.
Woodstock has no shortage of restaurants, with a wide variety of options–a majority of which have seasonal and fresh local ingredients, one of the many perks of living close to nature!
If you find yourself in Woodstock over a weekend, be sure to check out Mowers Saturday Flea Market, a historic tradition that has been an integral part of Woodstock for over four decades.
Another cultural and artistic institution here is the Woodstock Playhouse, home to endless options for plays and musicals. The playhouse has a rich history to explore as well, as it was built in 1938 and most notably was closed during WWII when gas had to be rationed at the time. More of the playhouse's history can be found through their website.
A trip here in Autumn lets you not only see the gorgeous fall colors, but the town also is home to the Woodstock Film Festival this time of year, but every season offers something different and unique to enjoy, check out our guide to the best things to do in Woodstock, NY to help you plan your trip from outdoor adventures, what to do in town, and other fun things to explore in the area!
Woodstock may seem quiet compared to the city, but the town's charisma is bold and speaks for itself, and visitors are sure to have a memorable experience in one of the most fun and charming towns in the Catskills.
Phoenicia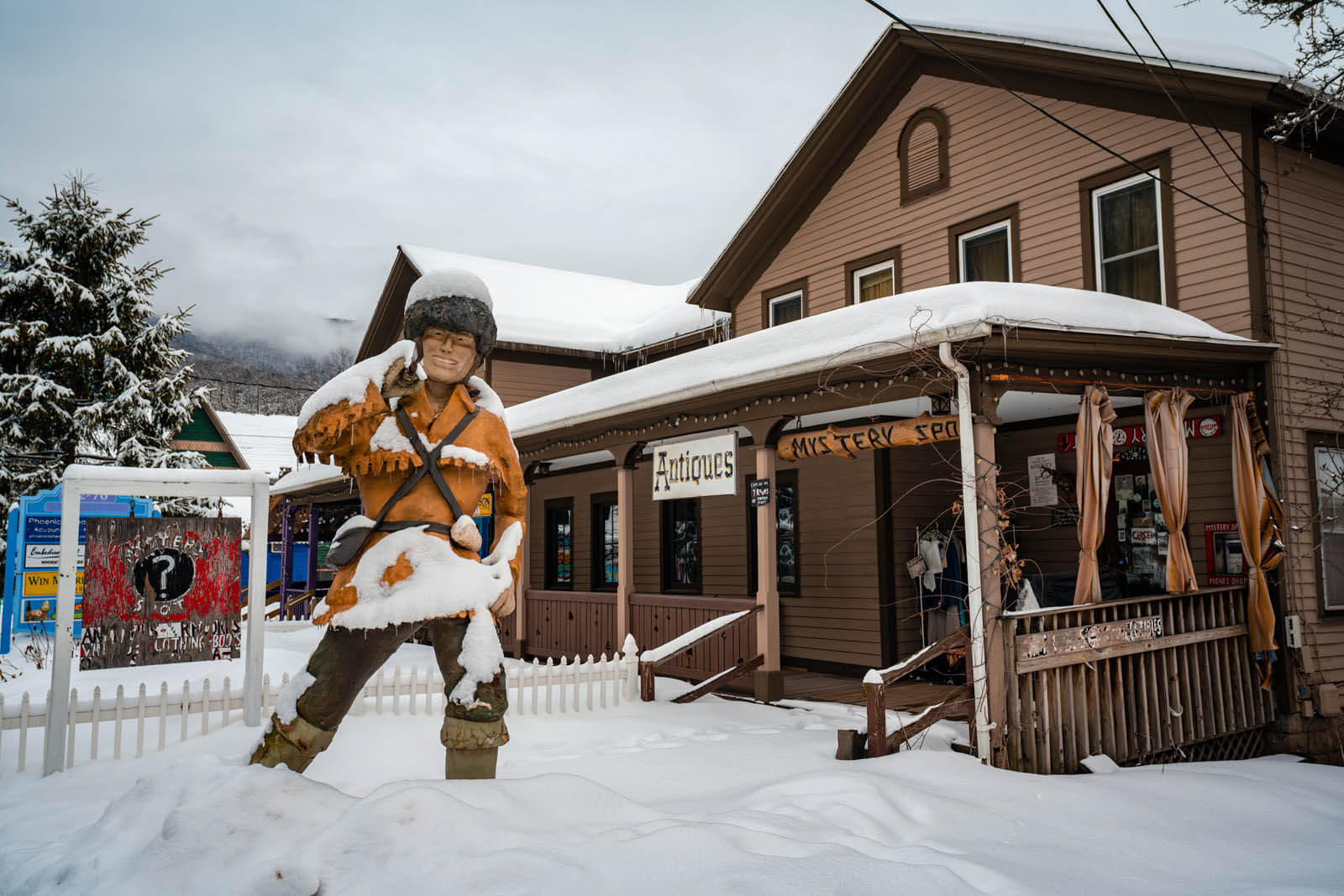 While you're in the area of Woodstock, Phoenicia is just 20 minutes away by car–this quaint village is easily one of the best towns in the Catskills to visit. Phoenicia is situated in between the neighboring valleys, with picturesque views wherever you look.
The main town of Phoenicia has a few shops with unique collectibles, including antique shops like Phoenicia Arts & Antiques and Mystery Spt Antiques not to mention a few other adorable spots worth checking out!
This Catskills town also has a local playhouse to catch theatre performances throughout the year in their gorgeous cabin setting.
Several hiking trails are available in the surrounding areas, with a variety of options for all skill levels. No trip to Phoenicia is complete without paying a visit to the famous Phoenicia Diner, an elevated take on the classic diner experience. The diner itself is picturesque both inside and out, and is a hot spot for locals in the region.
Just down the road from Phoenicia Diner, you can visit the world's largest kaleidoscope, located in a 60-foot tall silo on the Emerson Resort and Spa.
Built in 1996 by Charles Karadimos, the kaleidoscope is a colorful, sensory stimulating psychedelic experience, and even offers surround sound and musical pairings in their "kaleidoshow".
Just a 5-minute drive away from the kaleidoscope is the Brunel Sculpture Garden, a peaceful art viewing experience focused on indigenous art created in 1921 by French photographer Emile Brunel. On your way back, grab a drink at local taproom Woodstock Brewing to end your day with their wide selection of craft beers.
Like Woodstock, a wide variety of restaurants and lodging options are available depending on the type of weekend you're looking for! You'll find options for a luxury getaway retreat, as well as cozy log cabins, making it a great option for those searching for Catskills towns to visit.
For more ideas of how to spend your time here, check out our guide on the best things to do in Phoenicia.
Hunter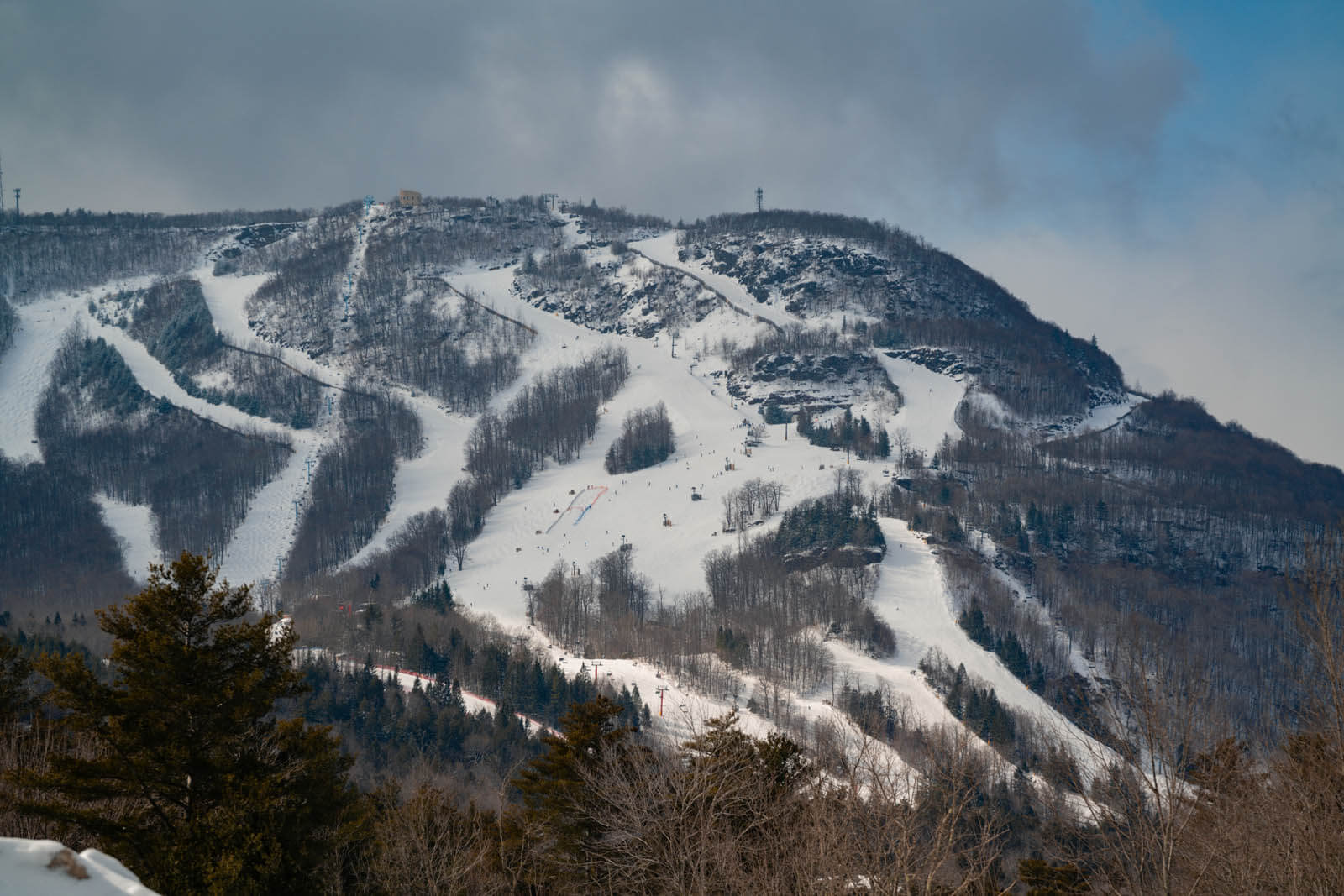 Hunter is one of the most popular Catskills towns for New Yorkers living in the city, because of its accessibility for a weekend in nature every season.
Hunter Mountain is the perfect spot for adventure goers, as its massive ski resort draws crowds from the city, taking advantage of their shuttle bus program for an easy getaway to hit the slopes.
Their ski resort has tons of trails for skiers and snowboarders of all levels, and has something for all ages (lessons are available too!) and it's one of the best ski resorts near NYC too.
In the Summer months, other possible adventurous activities in Hunter include a tram ride up to the summit of Hunter Mountain, followed by a hike down the gorgeous trail that draws visitors around the region all year round.
The tram ride itself can seat up to six passengers and lasts about 10 minutes, bringing you 3200 feet above sea level, with panoramic views of the Catskill Mountains, with glimpses of Vermont and Massachusetts.
The vast hiking trails found on Hunter Mountain include the Kaaterskill Falls trail, great for all skill levels and one of the most stunning New York waterfalls, sturdy walkways, and allows you to see the two-tiered, 260-foot waterfall that has been featured in works of art including the legend of Rip Van Winkle.
For a truly unique experience at Hunter, check out the New York Zipline Adventure tours for an adrenaline-filled way to view the beautiful surrounding greenery at Hunter. Their Summit Skyrider tour is the fastest and longest zipline in North America, letting you glide from one mountain peak to another and back–a 4.6 mile journey altogether that makes for an exhilarating and beautiful ride.
The beauty of the Catskills has inspired several American artists, including Thomas Cole, founder of the Hudson River School of Art, whose art is known as one of the first distinctive American styles of painting.
Just a 30-minute car ride from Hunter is the Thomas Cole National Historic Site, where visitors can tour his former home and studio and view rotating exhibitions from the Hudson River School.
Within the Catskill region, there are 16 sites on the Hudson River Art Trail featuring locations seen infamous American landscape paintings, with markers indicating the artist and work inspired by the site along the trail.
Tannersville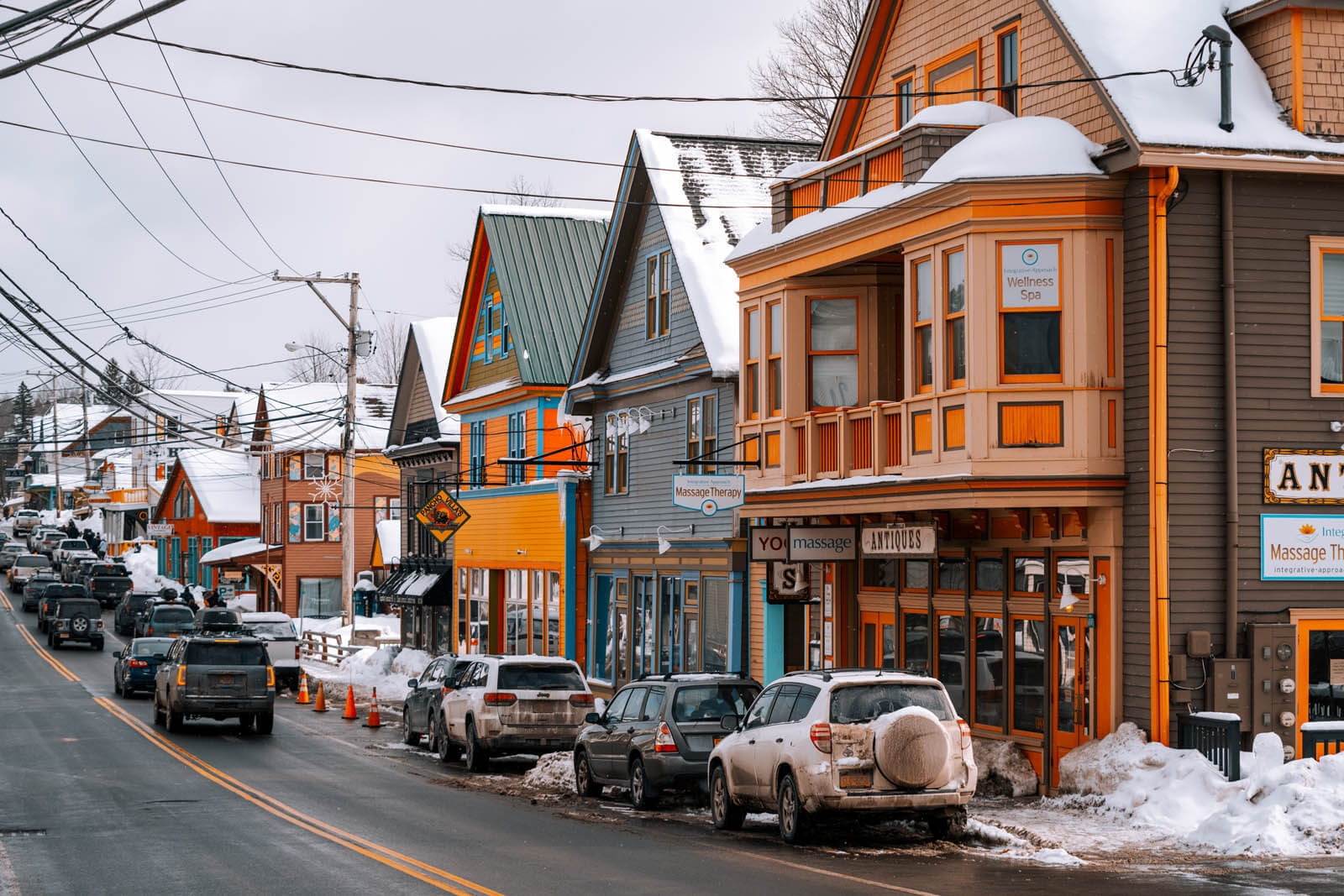 Tannersville is known to be one of the best towns in the Catskills, a lot of times Tannersville is lumped together with Hunter, another town in Catskills just mentioned due to their close proximity to one another. This is a popular place to visit from the ski resort as this colorful village has plenty of shopping, dining, and drinking options!
Tannersville is known to be eccentric and colorful, with eye-popping colors surrounding the town. Taking a walk down the Main Street Historic District is a picture-perfect way to spend the afternoon, enjoying the result of Tannersville's "Paint Project".
Shopping in Tannersville offers a wide variety of stores all conveniently located around the town center. For one of a kind browsing experience, spend a day antiquing at one of Tannersville's several antique stores, such as Tannersville Antique and Artisan Center, with endless vintage and handcrafted unique pieces. Some of the other various boutiques and notable antique stores in the region.
Along with all the activities mentioned in Hunter, just a 10-minute drive from Tannersville, the region hosts all sorts of outdoor adventures and sites.
The Mountain Top Arboretum is a public botanical garden, spanning over 150 acres with walkable land with an emphasis on the preservation of the region's natural landscapes. A visit to this space is both peaceful and educational, with something for everyone, especially great for families.
Close to Tannersville is the Huckleberry Multi-Use Trail, a 2.3 mile long road that brings hikers to woodlands, a golf course, and the lakeside.
Finally, for those looking to do some camping near Catskills towns, Tannersville hosts multiple areas appropriate for pitching a tent and sleeping in the woods! Private and Public campgrounds are easily accessible, one of the closest being the North-South Lake Campground, but more options can also be found here.
Bethel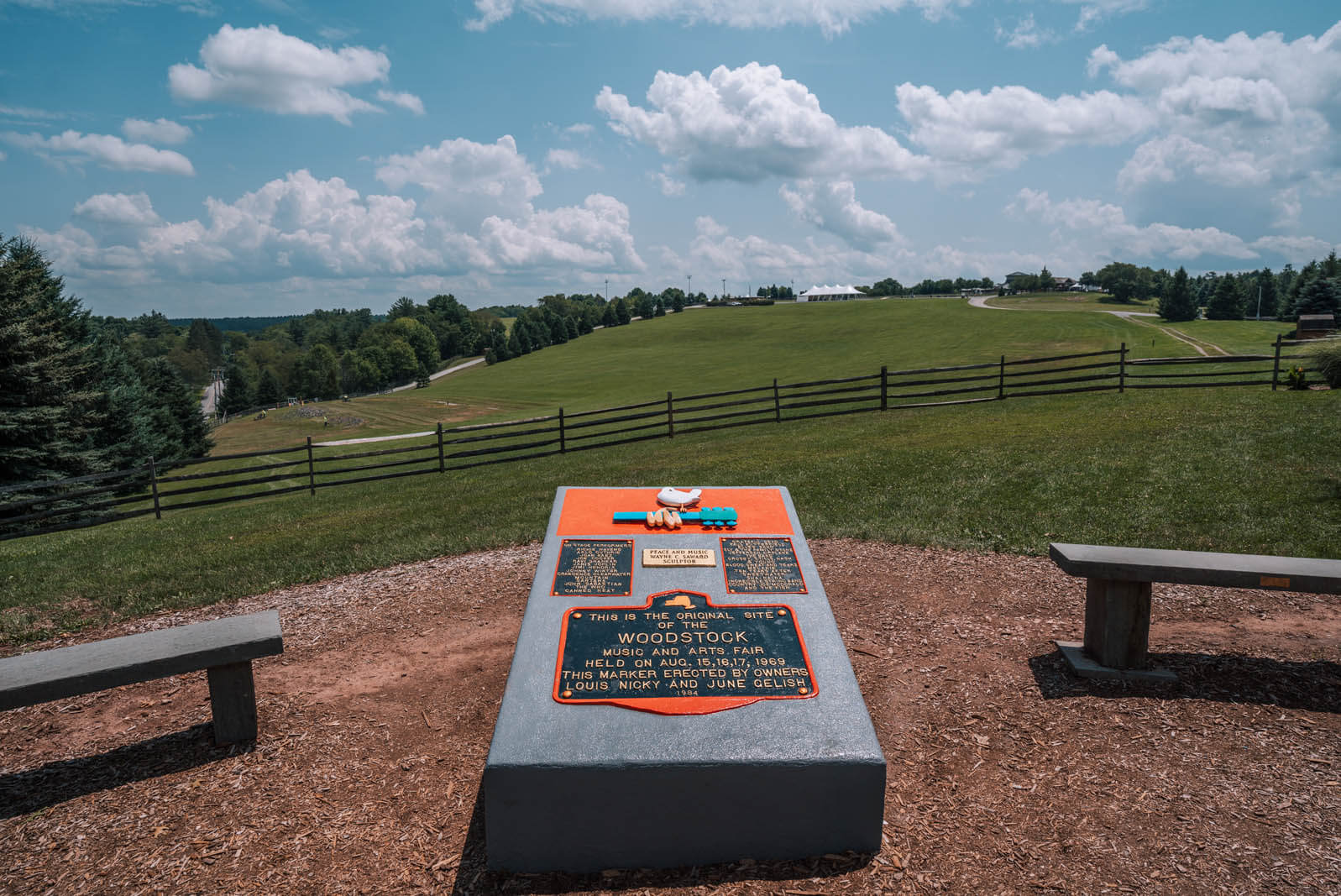 This humble community garnered worldwide attention and quickly became one of the most famous towns in the Catskills after it became the location of the 3 day 1969 Woodstock Festival.
The town sits on long stretches of rolling hills and green plains and is quiet yet vibrant with its history. Head to Bethel Woods Center for the Arts, one of the main attractions in town, and the site for the Woodstock Music and Arts Fair.
The award-winning museum takes you back to this historic time, revisiting this generation of love and creativity in the midst of political and societal turmoil during the Vietnam War.
Not only does the museum host permanent exhibits that document the historic Woodstock Festival, but also contemporary exhibitions featuring various mediums of psychedelic art. Also found on the property, visitors are encouraged to take a hike down the historic Bindy Bazaar trail.
This path acted as an open-air marketplace and trail system between two of the biggest areas in the festival. Festival attendees embraced the community spirit by selling their craftwork, and bartering for various goods.
The path is preserved, and even features an installation by Carol Hummel, who crocheted colorful pieces wrapping around trees along the pathway.
If the museum and the property aren't enough reason, the art center also hosts live concerts and tons of various events, on brand with the Woodstock spirit.
While Bethel is located 2 hours away from NYC, it's also accessible via bus if you don't have a car (or you can hitch a ride as most folks did during Woodstock!)
Roscoe & Livingston Manor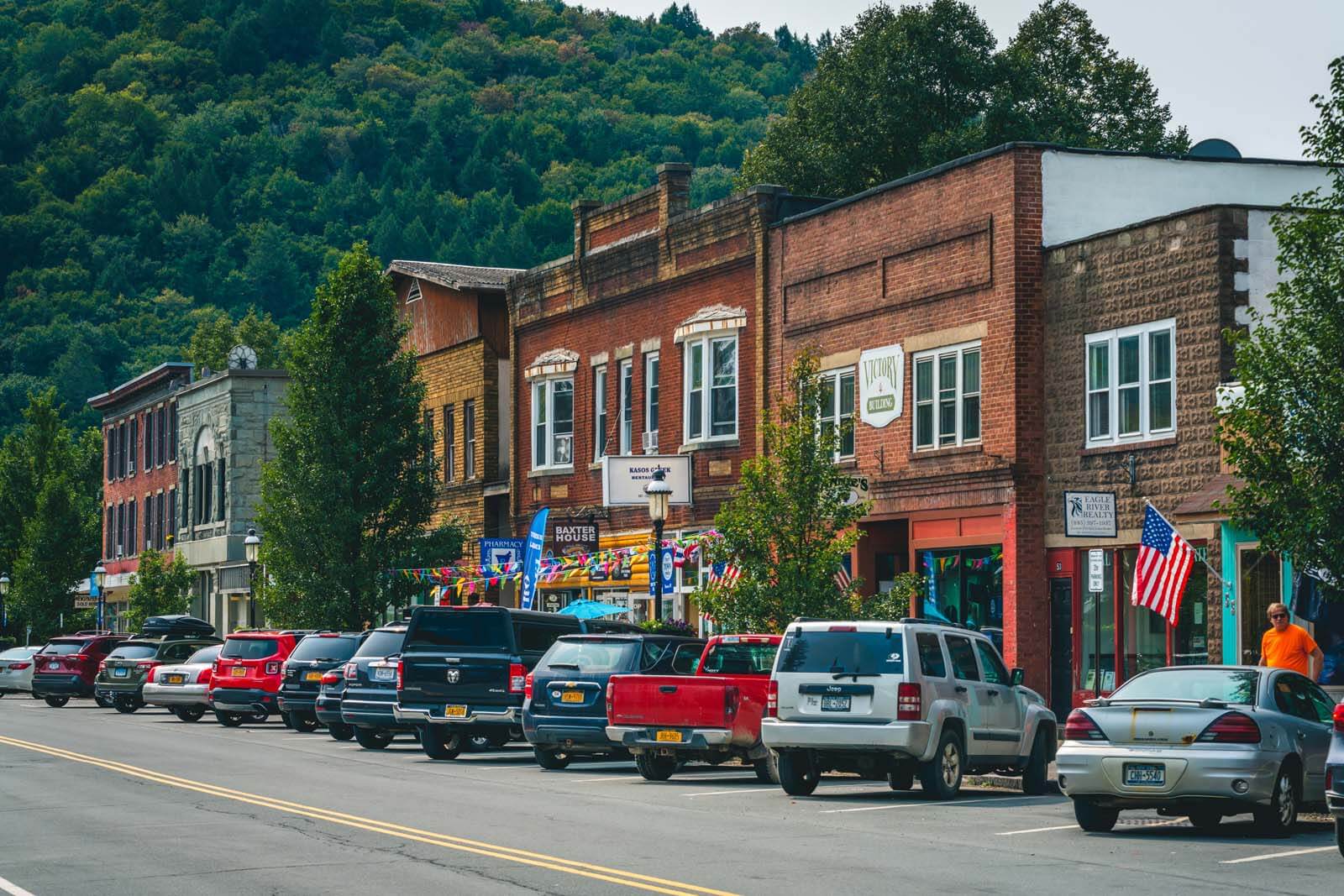 Roscoe and Livingston Manor are two adjacent Catskills towns connected by a 10-minute drive, located just over two hours from the city.
Within the two towns you'll find shops sell the essentials and knick-knacks in a quaint atmosphere, along with tons of cute eateries and coffee shops.
A number of breweries and distilleries can be found in the two towns, with artisanally crafted beverages and oftentimes using local ingredients.
The Do Good Spirits company in Roscoe produces craft vodka, bourbon, and gin–and offers tastings and tours. The Catskill Brewery found in Livingston Manor is housed inside a rustic red barn, with craft beers made from natural ingredients, with indoor and outdoor seating. Several other pubs and breweries, like Roscoe Beer Company, dot the surrounding area, so there is a heavily varied selection of drinks all found nearby.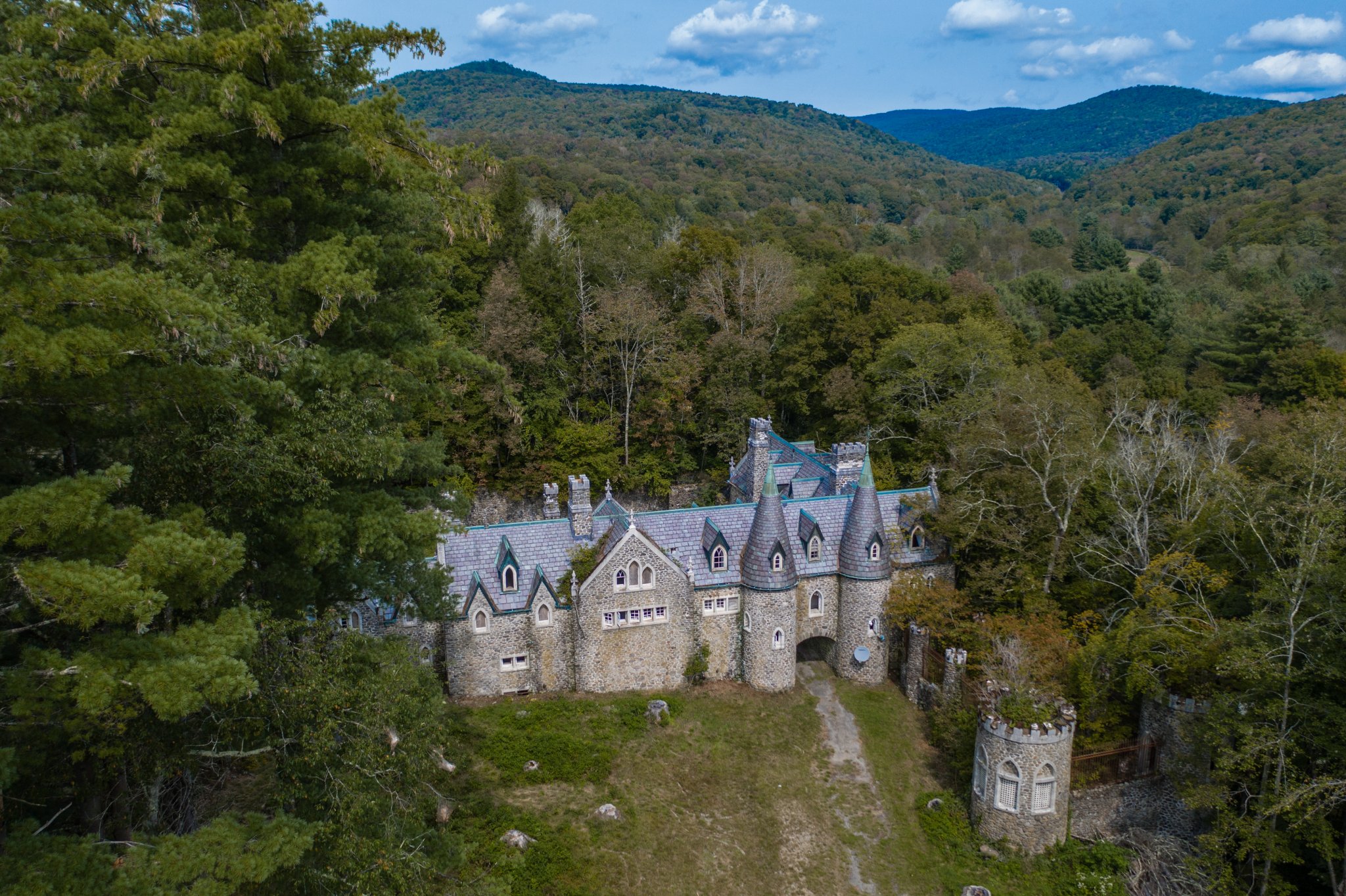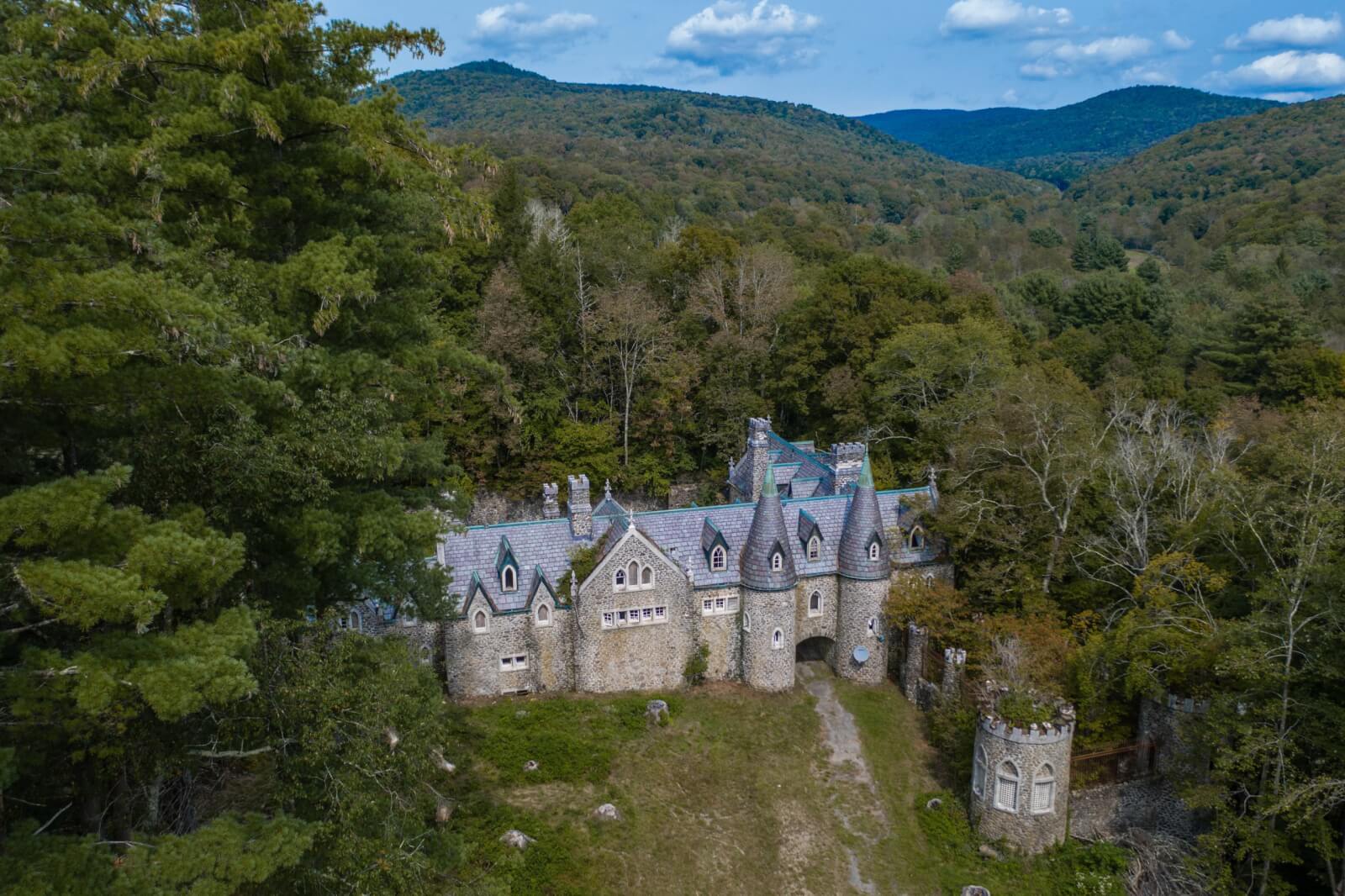 The Dundas Castle (or alternatively known as the Craig-e-Clair Castle) is nestled in the woodlands just north of both towns. The time in which the castle was built is up for debate, with some speculation that it was constructed in the 1880s, while other sources say it dates back to around 1915-1924.
Regardless of its historical origin, this mystical abandoned castle leaves visitors open for imagination. The castle's architecture remains sturdy and in great condition for its time.
The greenery has been naturally grown out, making for a unique and fantastic photo. The insides may have some graffiti, but the rooms and interior structures still retain their historic style.
Note, however, that while this property is abandoned, visiting the castle's 1000 acre grounds is on private grounds and needs to be arranged beforehand.
Lots of trails and campgrounds can be found in the area, with ranging landscapes from waterside to forest greenery. A little north of Dundas Castle is the Beaverkill Campground with a gorgeous secluded view.
Along with long stretches of roads and places to fish or picnic, this region also has a number of covered bridges that are worth exploring! The Beaverkill Covered Bridge, also known as Conklin Bridge, was constructed in 1865, and 98 foot long hemlock lattice beams have an unbeatable rustic charm.
Another noteworthy New York covered bridge in the area is the Livingston Manor Covered Bridge (or the Vantran Bridge). Built in 1860, the 103-foot long bridge sits atop the running Willowemoc creek.
If planning a trip up to Roscoe and Livingston Manor, it's recommended to plan an extended trip to these two towns in the Catskills. The towns are close to prime camping opportunities, and it's clever to have ample time to try a few of their many nearby breweries!
New Paltz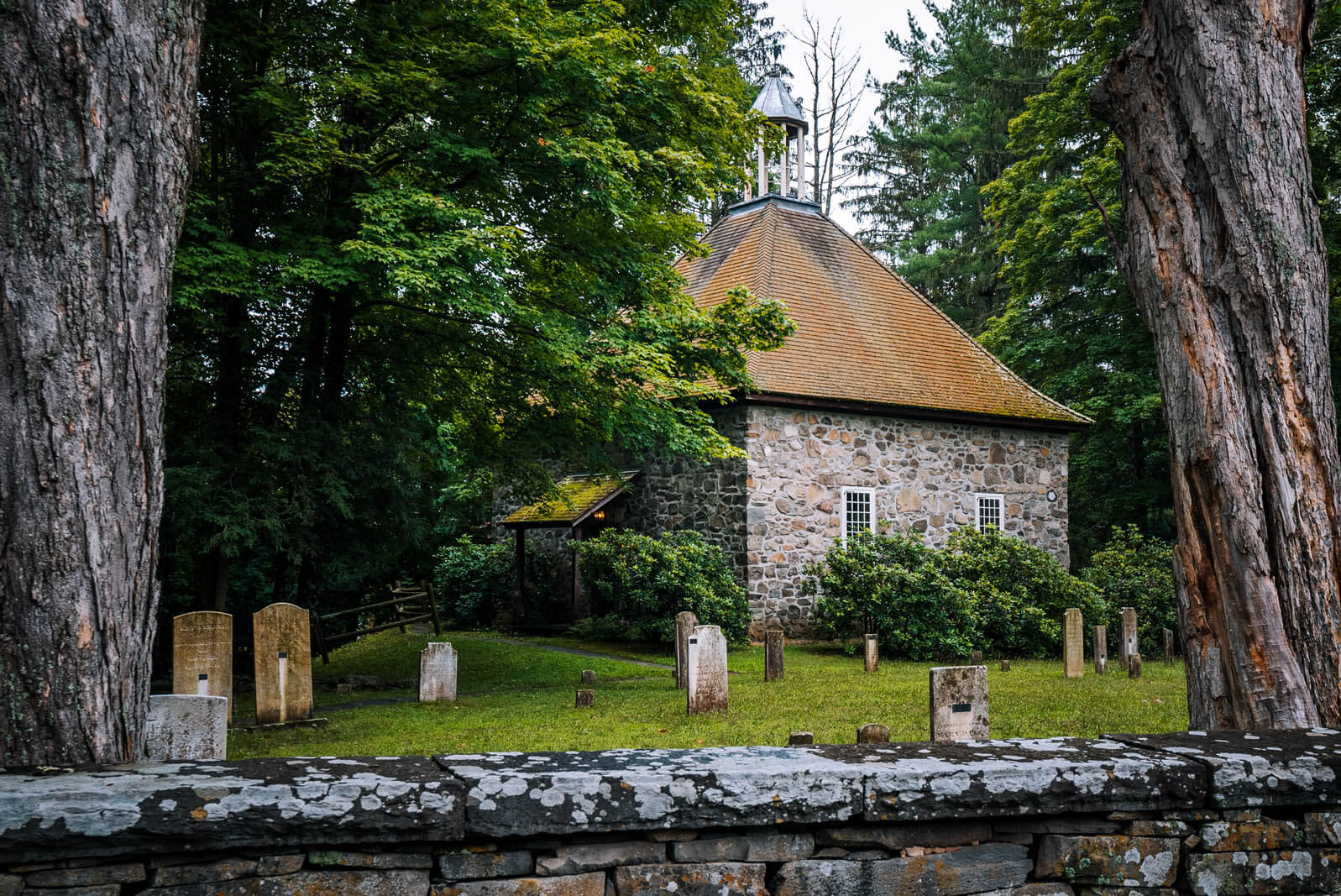 Located in Ulster County and situated in the Shawangunk Mountains, New Paltz is one of the best towns in the Catskills to be surrounded by nature, with a ton of memorable things to do nearby.
Start your trip exploring the best things to do in New Paltz by heading to Main Street, the vibrant and bohemian town center. Since New Paltz has been the local college town for SUNY New Paltz for over 150 years, it has no shortage of nightlife options with a wide variety of bars and restaurants.
The town center boasts lively culture and is packed with cozy eateries, as well as all your shopping needs. Water Street Market is an open air market, with tons of shops in a rustic setting. The market is complete with tons of antique stores, cute cafes, and bars, perfect for shopping or just strolling through.
New Paltz is memorable for its culturally rich art scene, where you'll find dozens of art galleries and various museums. The Samuel Dorsky Museum of Art is home to a variety of fine and modern art of all mediums, such as photography, painting, and sculpture-based works.
Their current exhibitions can be found here, and the museum itself is located on the SUNY New Paltz campus. For live performances, the Denizen Theatre is a non-profit organization hosting intimate viewings of contemporary plays in their gorgeously designed 70 seat black box theatre.
The Unison Arts Center is a collective aimed at promoting art of all practices and mediums, with a beautiful sculpture garden as well as hosting an array of workshops, concerts, and other sorts of events. Some of the galleries that can be found in the New Paltz area also offer exclusive viewing experiences of a wide range of artists, including the DM Weil Gallery, Unframed Artists Gallery, the Mark Gruber Gallery, among many more.
Huguenot Street close to town is a well-preserved historic district that was occupied by the Huguenot settlers from France and the Netherlands.
Its rich history and beautiful setting span over 10 acres, featuring 30 historic buildings. Historic infrastructure, like its reconstructed French church from 1717 and the preserved homes serve as a charming open-air educational museum.
The institute also aims to emphasize the historical significance of the Native American land it was built on, as well as the enslaved African people that helped shape America as it is today.
The land surrounding New Paltz is home to several incredible and historic grounds. The Minnewaska State Park is filled with hikeable trails for all skill levels with rewarding views, one of their most well-traversed areas being Sam's Point, a 8.3-mile long hike taking you through ice caves and ending up with a panoramic view of the Shawangunk Mountains and woodlands.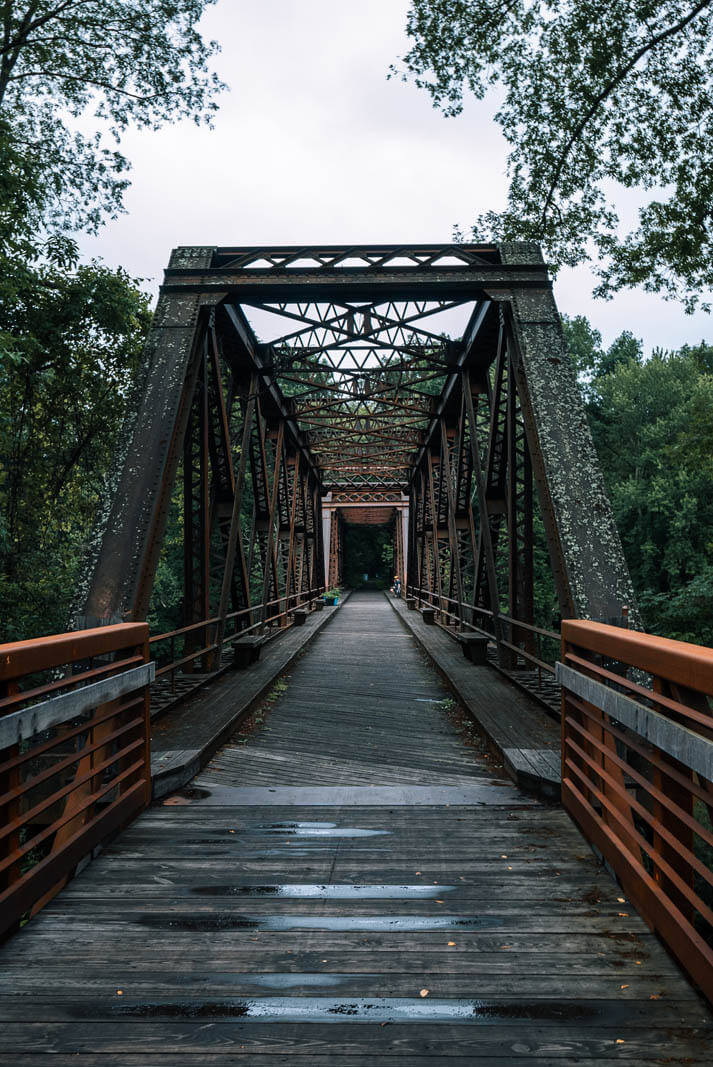 Another popular hike amongst visitors to New Paltz is the Wallkill Valley Rail Trail, a secluded 23-mile long hike through the Shawangunk Ridge and across the Wallkill River. Along the trail, you'll find yourself at the Springtown Truss Bridge, an enchanting industrial bridge hanging over the water–also where the bridge scene was filmed from the movie, "A Quiet Place".
In the New Paltz area is the famous Mohonk Mountain House resort, which is formally registered as a National Historic Landmark. This gorgeous property has all the amenities for a luxurious getaway stay, including lodging, food, and even a spa on their 40,000 acre land.
The luxury hotel has been frequented by a list of historic figures and celebrities, and can be seen in the 1994 film, "The Road to Wellville". Mohonk Mountain House was originally built in 1869 by the Smiley brothers but has been expanded upon a few times in the past due to its overwhelming popularity.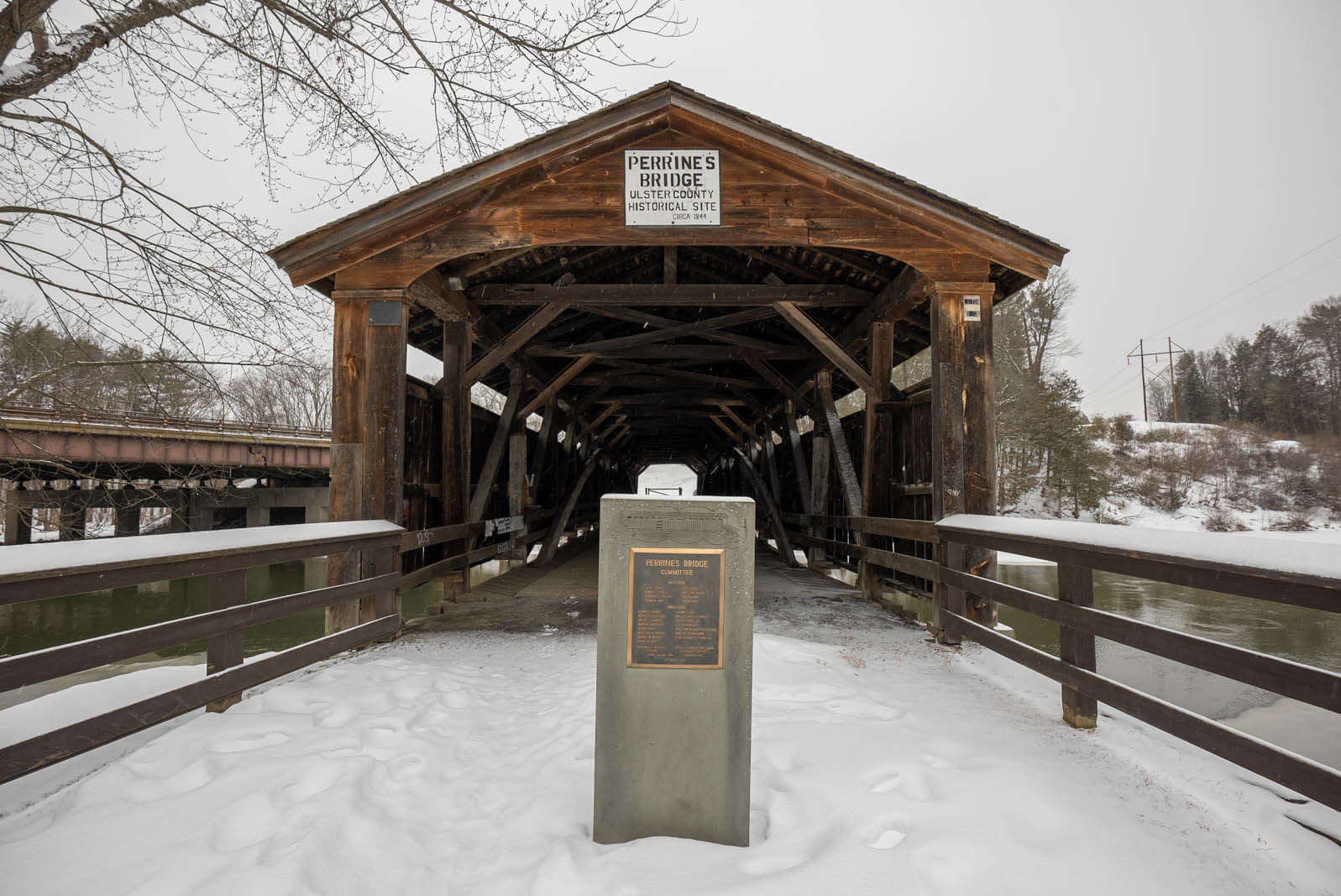 Also, don't miss the beautiful Perrine's covered bridge here either!
With an abundance of activities of varying interests and the scenic surroundings, New Paltz is a close yet highly recommended location to head to for all age groups.
Getting there is incredibly convenient as well, as buses from Port Authority and Amtrak trains run daily from Manhattan at low prices, and driving from NYC takes just over an hour and a half, making it one of the best towns in the Catskills for just about everyone!
Saugerties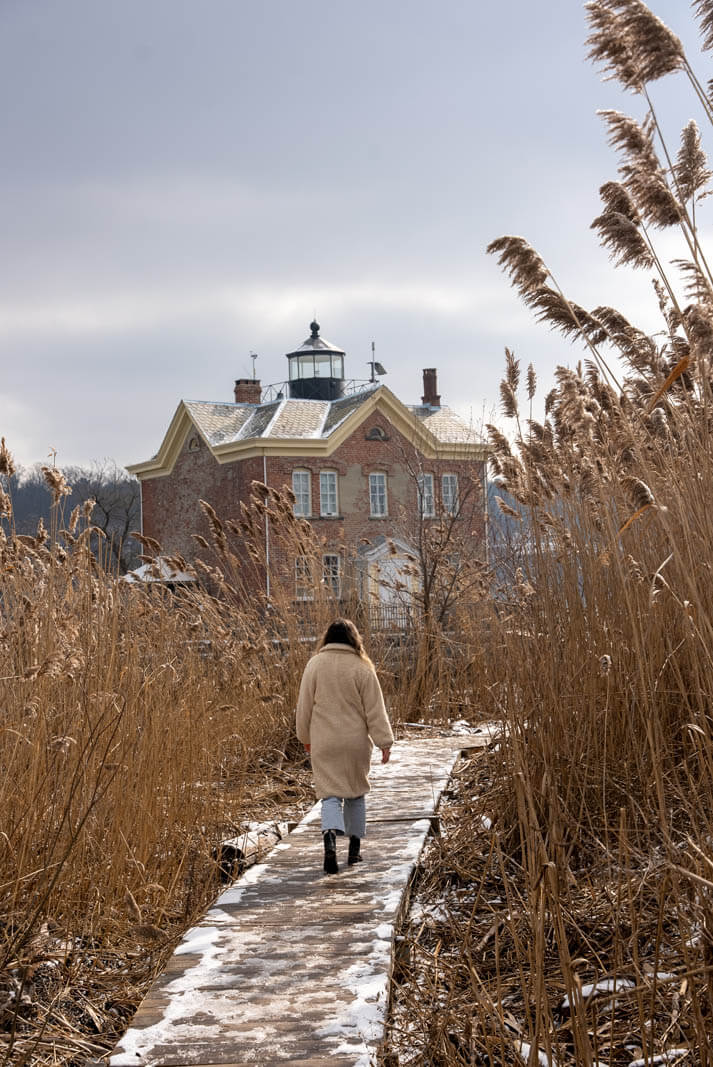 Like New Paltz, Saugerties is also found in Ulster County, and its distance from NYC (by car) makes it a wonderful option for Catskills towns to visit for a weekend or even day trip from the city.
Start your trip to this pleasant town by heading to Partition Street, the long stretch of road that is the heart of Saugerties. Window shop along the street to find fresh homemade snacks, or plenty of shops selling handmade goods.
The surrounding land around Hudson Valley produces a plethora of fresh ingredients, and several times throughout the year, the town hosts food festivals from local farms, including the annual Garlic Festival each fall!
A 5-minute drive gets you to Saugerties Lighthouse, perched off the coast of the Hudson River at the mouth of the Esopus Creek.
Not only is the lighthouse a picture-perfect setting, but it has also been restored as a small museum inside, offering a history of the lighthouse and its restoration, and displaying maritime artifacts from its past.
For visitors planning a longer stay in Saugerties, the lighthouse even offers a romantic bed and breakfast–note that reservations are required up to months in advance!
A number of trails and outdoor activities are in the vicinity, so planning a hiking itinerary for all levels is easy with some quick research. Some of the local favorites include the Falling Waters Preserve and the Esopus Nature Bend Preserve, which both offer pleasant views at easy hiking levels.
For animal lovers, the Catskills Animal Sanctuary is located 10 minutes south of the town center. The sanctuary offers refuge to rescued animals and promotes animal coexistence through plant-based diets and proper treatment of animals.
Heading west and inland, the Opus 40 Sculpture Park and Museum has over 6.5 acres of space displaying a vast and wondrous plaza made from the natural materials of the land. The sculpture park blends man and nature seamlessly, as you walk through the stone steps and ramps underneath the tree-lined hills.
The facility hosts a number of art and cultural events throughout the year, such as live concerts, nature walks, gallery shows, and various workshops and classes.
Further northwest from Opus is the Woodstock Museum. The funky and colorful museum is home to a rich collection of memorabilia and visitors are able to relive the 1969 cultural landmark. It also has a great gift shop, perfect for souvenirs to take back home!
Andes
The town of Andes is marked by its rustic and classic Americana charm, surrounded by rolling hills and farm pastures. Just about a 3-hour drive from NYC, Andes offers a quiet getaway and a haven for nature lovers.
The town generally has a quiet and laid-back vibe during weekdays, but comes alive on weekends with visitors and locals gathering in Main Street. The town center is packed with boutiques, art galleries, and memorable restaurants and cafes.
Old Victorian style buildings and houses with classic wraparound porches create this inviting and warm environment all along the roads. Fresh baked goods can be found easily, as well as restaurants serving fresh farm-to-table meals.
For a refreshing drink while strolling down Main Street, stop by Wayside Cider for handmade ciders made from local wild apples. Wayside has its own taproom, and also offers specialty beers, local wines, and food options in its large and romantic farmhouse setting.
Also found in the town is the Andes Society for History and Culture, just past the Andes local library. While this museum is small, it's home to a 19th century preserved tavern and provides information on the historical significance of Andes during the "Anti-Rent Wars" that took place in the 1840s.
Outdoor enthusiasts flock to Andes from all over New York State for its wide range of activities in the area. Scenic hiking trails can be found easily in the nearby forests and the Catskills parks.
Other outdoor recreational activities that draw crowds all year round include fishing, kayaking, hunting, camping, and cross country skiing.
Some of the nearby facilities also host a range of activities to make your trip to Andes memorable as well, including golf, skiing, and snowboarding.
Whether you're looking to pack your weekend with outdoor recreational activities, or you're just looking for a quiet getaway from the city, Andes is a hubbub for cultural and natural things to do!
Roxbury
Located just 3 hours away from the city, Roxbury is a great option for towns in the Catskills for a weekend getaway. Walk down Roxbury's historic main street and stroll past perfectly manicured lawns and tree-lined roads towards the town center's Jay Gould Memorial Church.
Go past and behind the church for the town's beautiful Kirkside Park, which boasts 14 acres of idyllic greenery. The park has winding paths, rustic bridges, and runs alongside the eastern part of the Delaware River.
Just a 10-minute walk south is the Roxbury Arts Group, an institution that aims to enrich the Roxbury community with various forms of artistic expression with art galleries, music, and drama, along with hosting events and educational workshops.
The RAG always has an interesting lineup of events, and featured works, which can be found on their website.
Just a 10-minute drive from the town center is Plattekill Mountain, open all year round. A hike up to the summit provides rewarding views of greenery, running streams, and open fields, and is appropriate for hikers of all skill levels.
Along with gorgeous hiking possibilities, Plattekill Mountain also has ski slopes and snow tubing in the wintertime. Take their lift up into the mountains for an exciting ride surrounded by nice views.
During your stay in Roxbury, check out the boutique hotel known as the Roxbury motel, with eclectic-themed rooms all based on different decades and themes. Their luxurious rooms are set to transport you to fantastic places and atmospheres, some examples of their themed rooms being the "Flintstones", the "Final Frontier", "The Wizard of Oz", amongst many more.
While Roxbury is one of the more quiet towns in the Catskills, it's still a charming place to visit and provides the opportunity to enjoy a unique weekend away.
Narrowsburg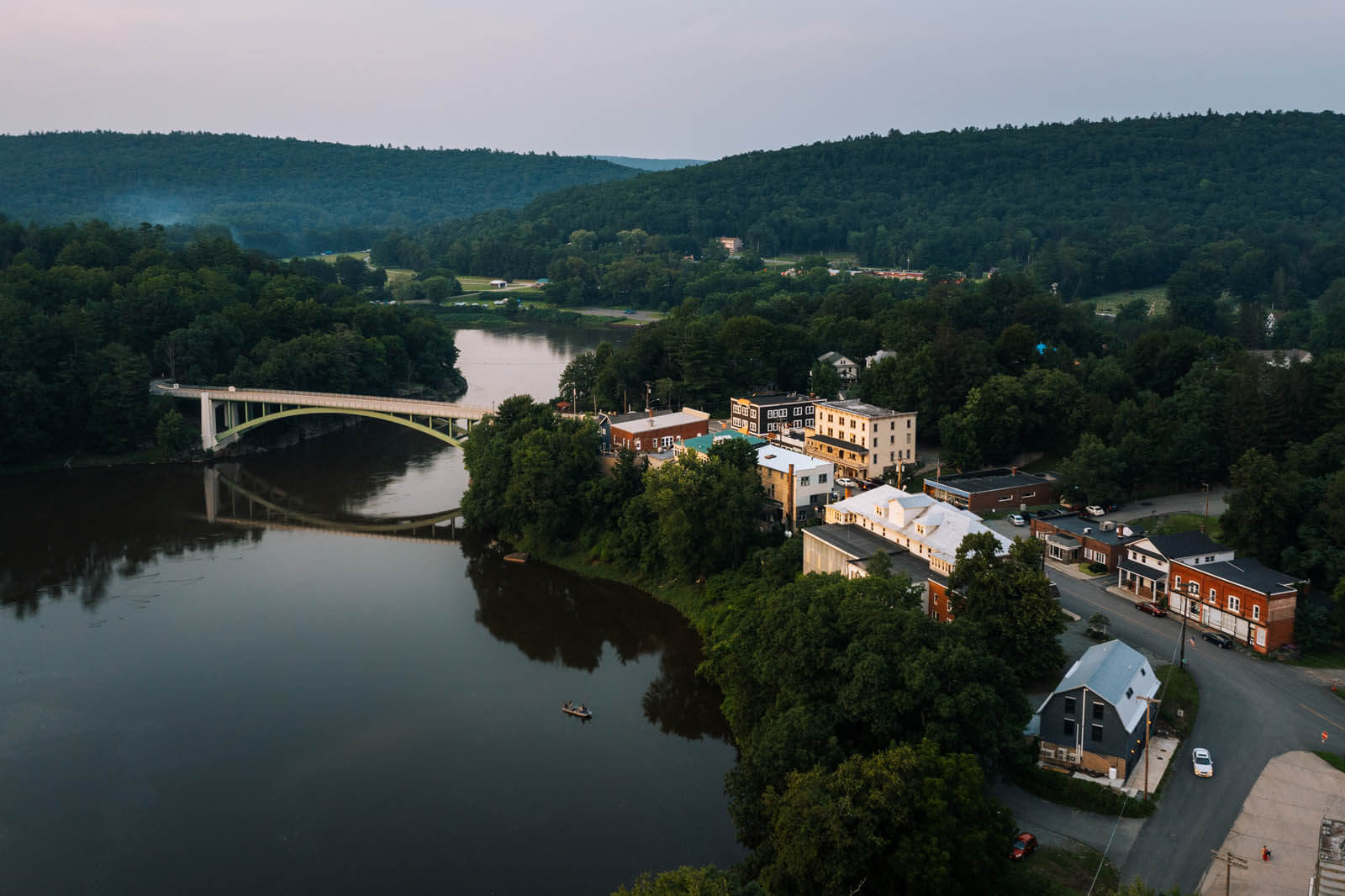 Another one of the most charming towns in the Catskills to visit located at the foothills of the mountains along the scenic Delaware River hugging both the states of New York and Pennsylvania borders is the charming town of Narrowsburg, NY.
This town has a very creative community with pop up shops and art studios that come and go including Sunny's Pop on Main Street owned by Sunshine Ruffalo, the wife of actor and the Incredible Hulk himself, Mark Ruffalo who live nearby. Walk down Main Street and you'll find more shops like MayerWasner and Narrowsburg Proper and a few other gems too! Don't miss the plethora of antique shops this charming Catskills town has to offer too!
There are two great cafes in town as well including Tusten Cup on Main Street and 2 Queens Coffee which is probably one of the most adorable and beautiful cafes we have yet to see!
Enjoy dinner with a view at The Laundrette, the local pizza joint serving sourdough woodfired pizzas with gorgeous outdoor seating overlooking the Delaware River in the warmer months or The Heron restaurant on Main Street is another popular choice.
If you're visiting in the summer months you won't want to miss Lander's River Trips who offer rentals and gear for journeys along the scenic Delaware River from lazy river tubing to rafts, kayaks, canoes, and more! You can choose between 5 miles or 10 miles. We rafted and it was so relaxing we extended our journey with snacks and floated the extra miles to complete the 10-mile day!
Keep an eye out along the way as you may spot wildlife like deer and bald eagles, both of which we saw up close from floating along the river which is the perfect activity during a Catskills summer vacation!
Callicoon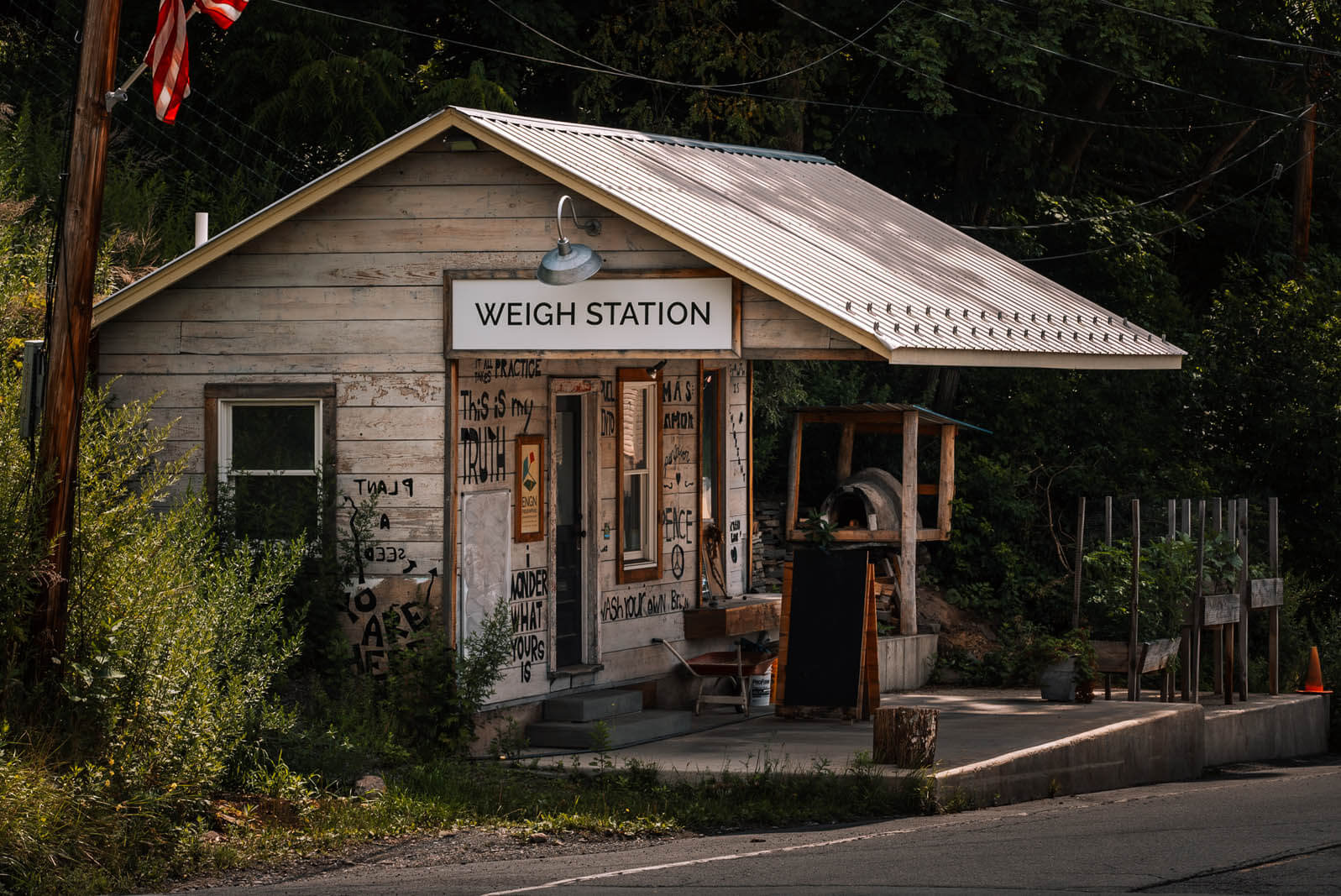 Another charming town in the Catskills situated on the border of both New York and Pennsylvania following along the Delaware River is Callicoon.
This small town is worthy of a visit even if only for lunch, craft spirit tasting and shopping during the afternoon or on your way to or from Bethel, another one of the best Catskill towns to visit if you're going to be wandering along the trail of the Woodstock Music Festival.
When visiting this Catskills town I couldn't help but feel like I was in a mini-Western town, perhaps due to The Western Hotel which is housed in an 1852 Victorian Mansion that looks straight out of a Western movie and the Callicoon Brewery, don't be fooled by the name this is no brewery but a local dive bar and restaurant housed in a cool building, next door also fits this aesthetic.
While in town, do yourself a favor and enjoy a tasting at the craft and small-batch distiller, Catskills Provisions Distillery who also has a full menu and one of the most gorgeous spaces we've ever seen a distillery housed in.
Take a moment to walk through town and walking up and down any alley you see where you can find the renovated Weigh Station and silos which is a mixed-use facility that doesn't really offer much to do other than take a peek and get some extra glimpses of the town.
You'll also find a cool old movie theater here with a cute marquee and plenty of shops! Don't miss Spruce Home Goods, which is tucked away down an alley and semi-hidden but worth scoping out. This shop sells home decor products and has an artisanal pantry including a cheese and meats counter where you can grab the perfect items for hosting your next gathering as well.
Other cool shops include Litt Home & Books and Wool Worth.
If you're looking to enjoy some river activities in the warmer months, that's available too!
Where to Stay in the Catskills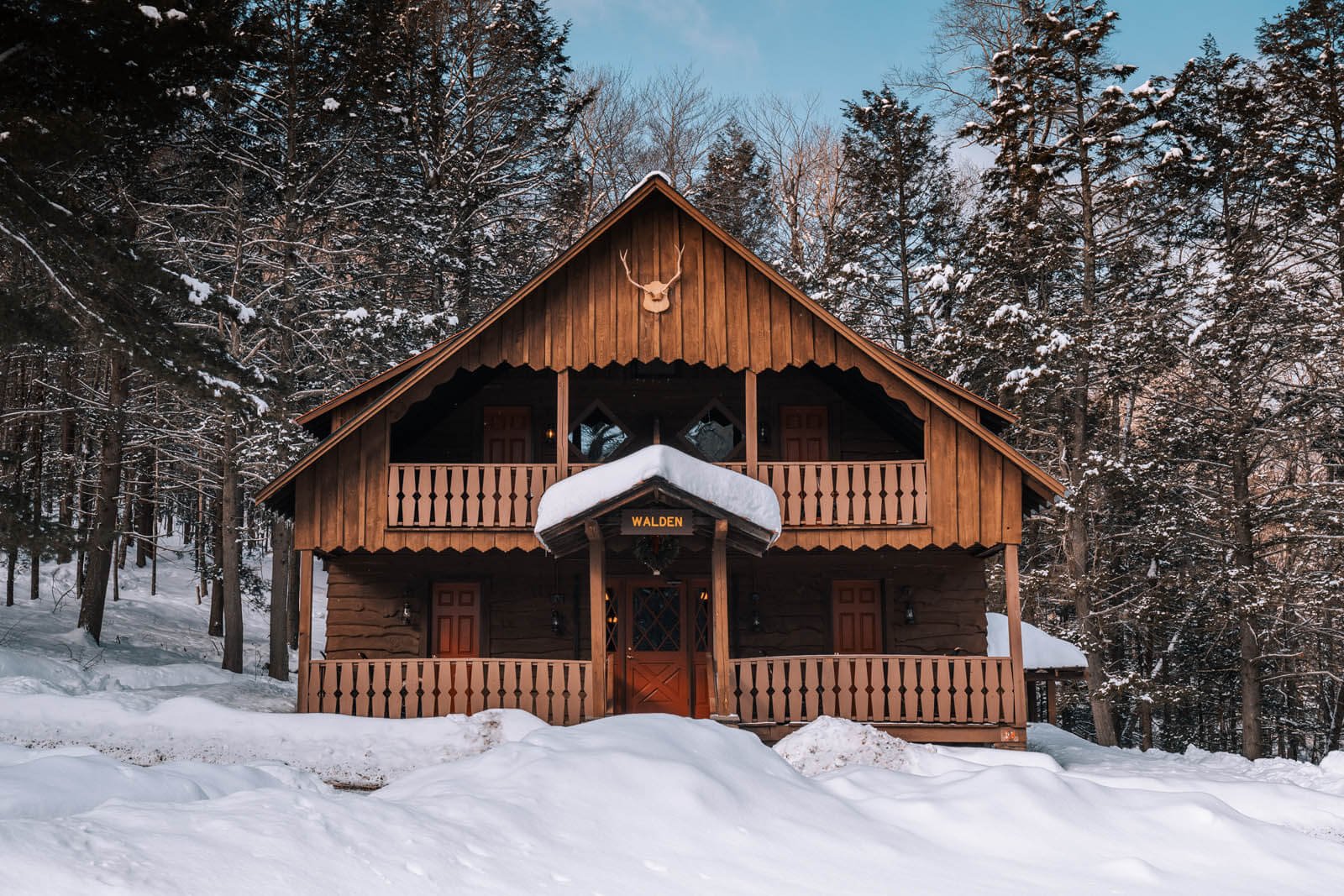 Exploring all the charming Catskills towns can take days, which is why we recommend spending at least a weekend if not a few extra nights to explore as many of these spots as you can!
With several amazing options available for you to pick from, it can be daunting to pick, that's why we have an entire guide for where to stay in the Catskills for more options.
Here are a few of our top picks that also happen to be in some of our favorite small towns in the Catskills mentioned above!
The Roxbury Hotel: As already mentioned earlier in this guide to unique Catskills attractions, The Roxbury Hotel is an obvious choice and one of the most one-of-a-kind things to do in the Catskills on its own with their themed properties in amazing locations that make exploring the area easy.
Urban Cowboy: The Urban Cowboy Lodge is where we stayed and makes for the perfect base to spend during your Catskills getaway. This former Bavarian lodge was owned by the same family for nearly 70 years before retirement, they sold the lodge and its five standalone buildings to the creatives who brought a luxury, curated, wilderness lodge experience.
Each room has something special to offer and is individually designed and is what aesthetic dreams are made of not to mention the clawfoot bathtubs next to a fireplace next to the giant windows overlooking the mountains, which is just stunning any season. Urban Cowboy Lodge is a place to unplug and unwind, rooms have no televisions, instead, bring a little speaker, turn on some tunes and soak in the tub with the view or play one of the board games they lend out.
Mohonk Mountain Resort: Located in Hudson Valley, this grand resort is surrounded by 40,000 acres of pristine forest and features a luxurious spa, continental farm-to-table dishes, and tastefully decorated historic rooms, suites, and lodges all set in a Victorian castle and one of the most famous mountain resorts in the region. Mohonk Mountain Resort is also a National Historic Landmark.
Emerson Resort & Spa: Featuring spacious accommodations with huge windows and tasteful Victorian decorations, this resort is one of the best places to stay while exploring the best things to do in the Catskills. Emerson Resort & Spa is one of the most popular and well-known luxury properties located in Phoenicia plus this is where you can see the world's largest kaleidoscope.
The Graham & Co.: Another one of the most popular places to stay in Phoenicia is this beautiful, chic boutique motel located in the heart of the village and perfect for exploring the best things to do in the Catskills. The location is already amazing but this experience is an elevated one while still somehow remaining unpretentious.
The Graham & Co.sits on 3 acres of property which offers 2o rooms, a swimming pool, hammocks to lazy in during the warmer months, a badminton court, fire pits, picnic spots, and bikes you can borrow if you're a guest.
---
Enjoyed this guide to the best Catskills towns to check out? Or did we miss any of your favorite Catskills towns? Let us know in the comments below or bookmark this guide for later!