Welcome to all the best things to do in Lake George, the "Queen of American Lakes" and a popular Adirondack Mountain getaway in Upstate New York for both American and Canadian travelers as one of the best lake and resort getaways in the mountains.
A Lake George vacation is not only great for all the different Lake George attractions there are here from outdoor leisure activities, to luxury resorts and charming stays, to shopping, dining, and drinking from any of the craft beverage tasting rooms in the area to family-friendly attractions like amusement parks and more mini golf anyone could ever imagine!
There are also a ton of amazing things to do near Lake George which makes it a great base for also exploring the Adirondack region and popular other nearby Adirondack destinations like Lake Placid and historic sites and landmarks.
This guide will help you plan your Lake George visit including all the best Lake George activities, where to stay, where it's located, and when to visit.
Also, be sure to check out all the other best things to do in the Adirondacks to help you plan your vacation to this amazing region!
Where is Lake George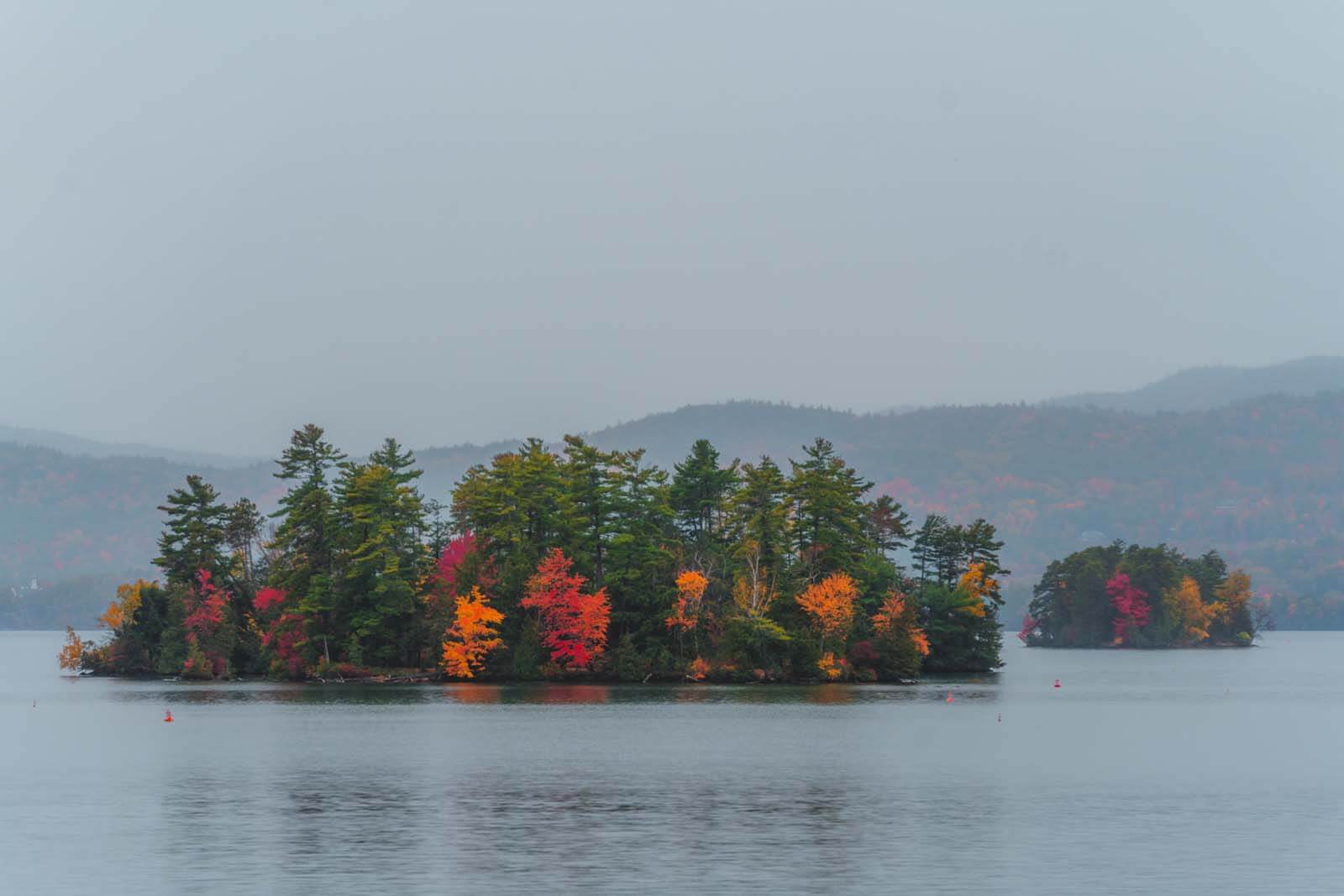 Lake George is just one of many amazing towns in the Adirondacks. Lake George is located in Upstate New York on the southeast base of the Adirondack Mountain range. Lake George is also within the northern region of the Great Appalachian Valley between the Hudson and St. Lawrence Rivers.
The lake itself is 32.2 miles long and the village of Lake George is found at the southern end of the lake.
Lake George is around 200 miles from NYC and around a 3.5 hour drive or 160 miles and around a 2.5 hour drive from Montreal, Quebec.
The closest airport is Albany International Airport (ALB) which is around 60 miles away from Lake George, New York or a 1 hour drive.
Another option for getting to Lake George is by an Amtrak train, which travelers do from cities like Montreal, NYC, and other east coast cities connected by Amtrak routes. The closest Amtrak station to Lake George is the Fort Edward Station which is around a 25-30 minute drive.
Once you're in the Adirondacks and about to enjoy your Lake George vacation, you'll want to have a car though so you can really explore the region and around the lake. You can rent a car at Fort Edwards with Expedia in advance.
Best time for a Lake George visit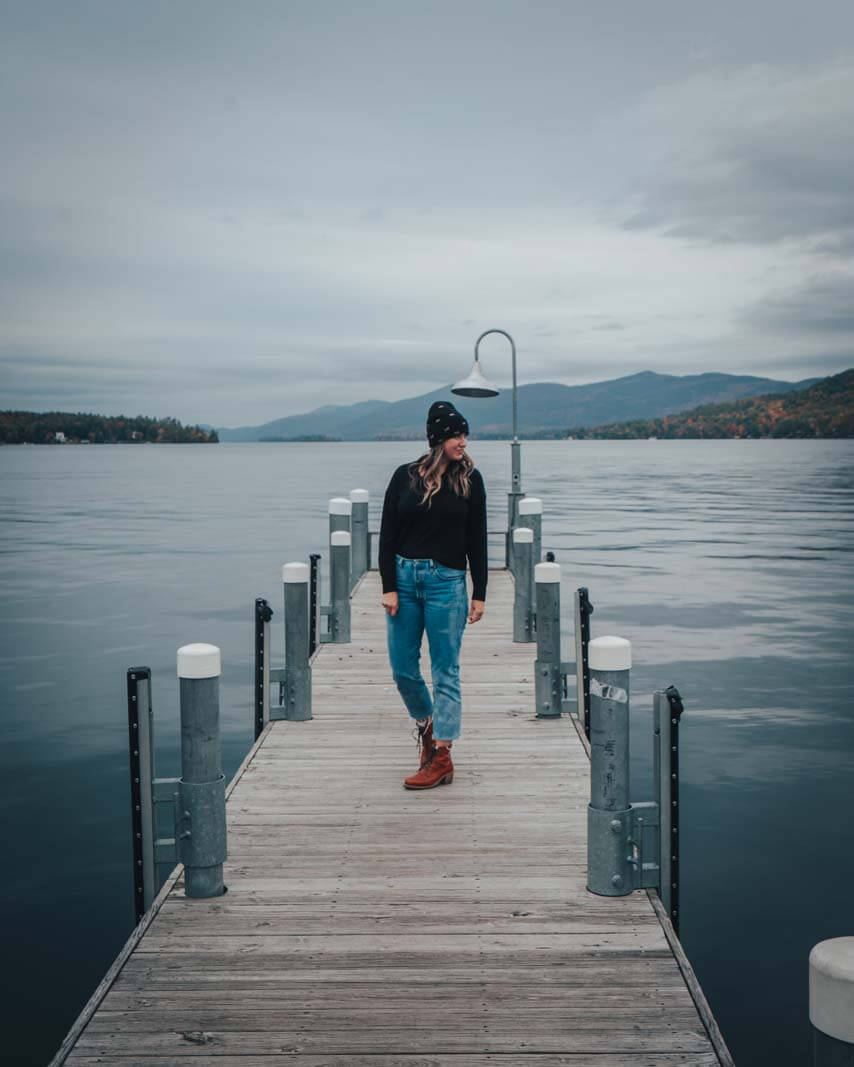 There is no best answer for the best time for a Lake George visit, each season provides different opportunities and experiences as we personally have been in both fall and winter.
The peak tourist season is always going to be the warmer months from May through September when the temperatures are warmer. This is when everything is open typically.
We went in the first week of October and only some of the restaurants and shops were open, some close as this season isn't as popular. In our opinion though, this is ideal because it's less crowded and you get fall foliage! Some tourist attractions like the boat roads run through the fall so you still have some of the main star Lake George attractions to enjoy, beautiful scenery, and it's more quiet and without a doubt one of the most beautiful places in Upstate New York in fall.
Winter is similar to fall, many things will be closed but there are still restaurants and then you get to enjoy all the winter attractions in the area and nearby. This is a great opportunity to go skiing, tubing, winter hiking and snowshoeing, as well as visit numerous craft beverage tasting rooms from wineries to distilleries and breweries.
All of the seasons have something different to offer from the scenery to what Lake George activities and Lake George attractions are available. The best time for a Lake George visit depends on what you want out of the destination!
If you want to visit during the colder months, be sure to check out our guide to visiting the Adirondacks in winter as this destination transforms into a winter wonderland with an abundance of outdoor winter activities to enjoy!
Lake George Vacation Guide
Steamboat Tours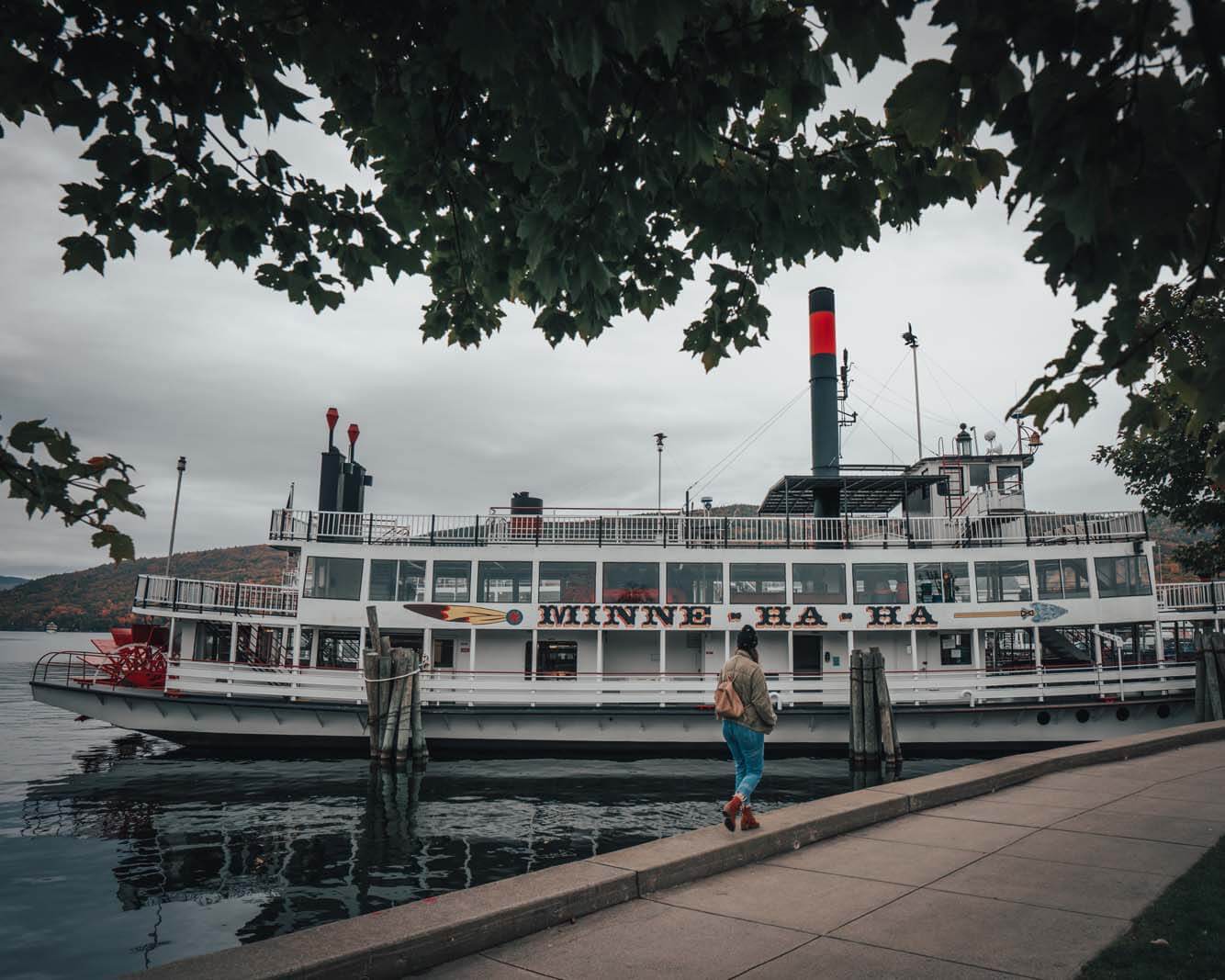 This is my favorite thing to do in Lake George from our visit! If your Lake George visit takes place in the summer or fall, don't miss out on taking a charming and historic steamboat tour with the best views of the area, from the water!
There are many different cruising options around Lake George, all of which offer snacks and cocktails onboard, as well as informative captain narration. Steamboat tours are a great way to explore the Queen of American Lakes!
The tour options vary in duration, theme, and parts of the lake visited. You can take a short one-hour cruise, or opt for a six-hour excursion and see the entire lake!
From fall foliage tours, sunset dinner cruises for the entire family, to boozy brunches on the water, there's a Lake George steamboat tour for everyone.
One of the most popular tours, and the one we enjoyed in the fall, is the Mohican Islands of the Narrows Tour, a 2.5-hour, 14-mile trip through the islands of Lake George. Along the way we were rewarded with views of rustic cabins on tiny islands, witnessing bald eagles roosting in their nests, and witnessing unforgettable views that make you understand why people fall in love with this area.
This voyage takes you through The Narrows, with no visible roads nearby for serene sailing (er, steaming). The captain of the steamboat narrates the trip, so you'll learn all about the history, geography, and ecology of Lake George.
Mini Golf
Add some friendly competition to your Lake George vacation with mini-golf! And surprisingly, there are quite a few mini-golf courses in the area and even downtown that make this one of the most popular Lake George activities!
The Fun Spot in Queensbury, NY is perfect for entertaining the whole family. In addition to mini-golf, you can also get in a few rounds of laser tag, or hit the go kart track!
Lumberjack Pass Mini Golf in Lake George, NY is Lake George's newest and largest mini-golf establishment. Plus, you get free soft serve with admission, making Lumberjack Pass the sweetest spot in Lake George!
Pirate's Cove Adventure Golf in Lake George, NY takes mini golfers through mountain caves, across footbridges, and under cascading waterfalls! This pirate-themed course is a fun way to see some of the natural wonders of the Lake George area!
Around the World Golf in Lake George, NY was built in 1963 and has been excellently well-preserved! They offer two different 18-hole courses for double the vintage fun!
Goony Golf in Lake George takes you on an adventure through a whacky and whimsical storybook land while golfing through 18 holes and is open year-round with limited off-season hours, so this is a great option and thing to do in Lake George any time of year!
Fort William Henry
If you're looking for a historical and educational Lake George attraction, check out Fort William Henry. This British fort is located at the southern end of Lake George and operated as a fort between 1755 and 1757 during the French and Indian War.
Learn about the history of the war and see the historical fort on one of the tours offered. You can choose an informative guided tour, or opt for a spooky ghost tour!
Fort William Henry also hosts special events throughout the year. After checking out a tour or special event, make your way through the Fort William Henry Museum for more information on the French and Indian War. You can also lay your head at the Fort William Henry Hotel and Conference Center.
And for those really into this type of history, you can drive about an hour and reach Fort Ticonderoga, an 18th-century fort built by the French on Lake Champlain that played a strategic role during colonial conflicts between the British and French as well as during the Revolutionary War.
This is a popular attraction for visitors to the area and a great thing to do in Lake George during your stay if you want to explore the area's history and experience other sites in the Adirondack region. You can also find rare artifacts on display here like Alexander Hamilton's sword.
This site is open for tours and visitation from May – End of October, but if you're visiting in the winter you can still see the exterior of the fort.
Million Dollar Beach
The largest and most popular beach on Lake George is none other than Million Dollar Beach! Kick back on your Lake George vacation with a day on the beach.
Million Dollar Beach features picnic areas complete with grills, volleyball nets, a boat launch, and swimming areas staffed with lifeguards. The beach also offers showers and parking to make your beach day even more comfortable and convenient.
Beach admission is free and parking costs only $10, making Million Dollar Beach a great option for traveling on a budget! Keep in mind that no glass, alcohol, smoking, or pets are permitted on the beach.
Craft Breweries, Wineries, Distilleries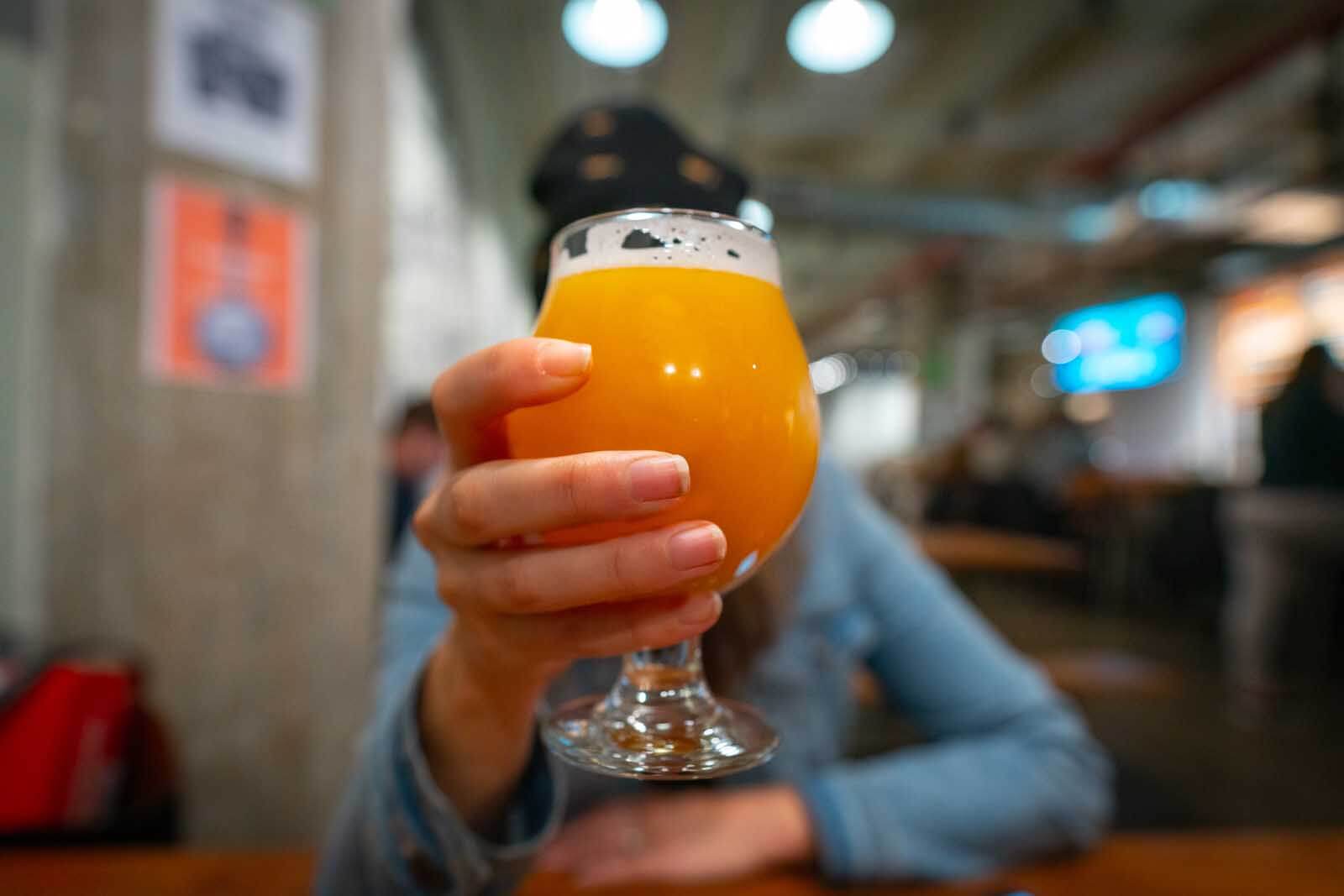 During your Lake George vacation, check out the booming craft beer scene at one of the Lake George area's craft breweries!
Visit the Davidson Brothers Restaurant Brewery, you'll be supporting a family-owned business and sipping some delicious locally-brewed beers.
If you can't decide on a local brewery, consider paying a visit to the Adirondack Craft Beverage Trail. This self-guided tour of 27 local drink makers is a fun way to sample the very best of the Lake George area's brews and bubbles.
Mean Max Brew Works is a local farm brewery, for the slow-foodies and farm-to-table aficionados!
Another family-owned option is the Bolton Landing Brewing Company. Here you can get the most out of your Lake George visit with their fun and festive Lake George-themed beers!
If you've got the kiddos with you, but are still looking for a spot to grab a local brew, check out Adirondack Pub & Brewery. This family-friendly spot brews beer and soda, so there's something for everyone to sip!
For travelers interested in learning how the beer is brewed, visit Northway Brewing Co. and embark on a self-guided tour of the brewery production, and end your journey in their tasting room to sample the brews.
If beer isn't your drink of choice, there are plenty of distilleries around Lake George where you can grab a drink and support local business!
The Lake George Distilling Company in Lake George Village produces moonshine, rye, corn whiskey, and bourbon. Stop in and try their spirits, like the Lake George Lemonade – a corn whiskey lemonade!
Venture to Queensbury, NY and check out Springbrook Hollow Farm Distillery! This distillery features spirits made with New York-grown grains and fruits. Take a free tour of the distillery, complete with a and tasting of their vodka, gin, moonshine, limoncello, orangecello, bourbon, and even coffee liqueur! This distillery is pet-friendly, so you can bring along your four-legged friends!
For the sommeliers and wine connoisseurs, visit the Adirondack Winery in Lake George, NY! This small, family-owned winery offers tasting sessions in their tasting room – and each session comes with a souvenir wine glass to commemorate your trip!
Shop & Dine in Lake George Village
One of the most popular Lake George attractions is the Lake George Village on the southernmost banks of the lake. This walkable village boasts beachy vibes, beautiful lake views, and plenty to see and do! Take the trolley to tour the village, and check the event calendar for concerts and other happenings!
View the marvelous firework shows over the lake, visit the beaches, or find the hotel or motel perfect for you and your group!
Peruse the village's gift shops, stores filled with whimsical keepsakes and knick-knacks, satisfy your sweet tooth at a candy store, and shop beautifully unique handmade jewelry.
Grab a bite to eat at one of Lake George Village's many restaurants. Whether you're in the mood for seafood, greasy pub food, a quick bite for lunch, a breakfast spread, Mexican dishes, pizza, and Italian fare, or farm-to-table creations, there's a spot in the village for you!
Many of the restaurants come with an amazing scenic view of the lake and its surrounding areas, so you can sip a craft cocktail on a rooftop overlooking the Queen of the American Lakes!
The fun in Lake George Village doesn't end when the sunsets. Step out for the night with drinks and dancing at King Neptune's, Christie's, or DJ's Niteclub!
West Mountain
During a wintertime, Lake George visit hit the slopes of West Mountain for some skiing and snow tubing! However, it doesn't have to be a winter wonderland to visit the mountain! West Mountain boasts four seasons of fun, with plenty of adventurous activities year-round.
If you're visiting during the offseason, check out their Treetop Adventure Park, enjoy a mountaintop picnic, go off the beaten path with some mountain biking, or take a ski lift chair ride up the mountain and do some hiking.
For more information and to check trail conditions click here!
Rent Your Own Boat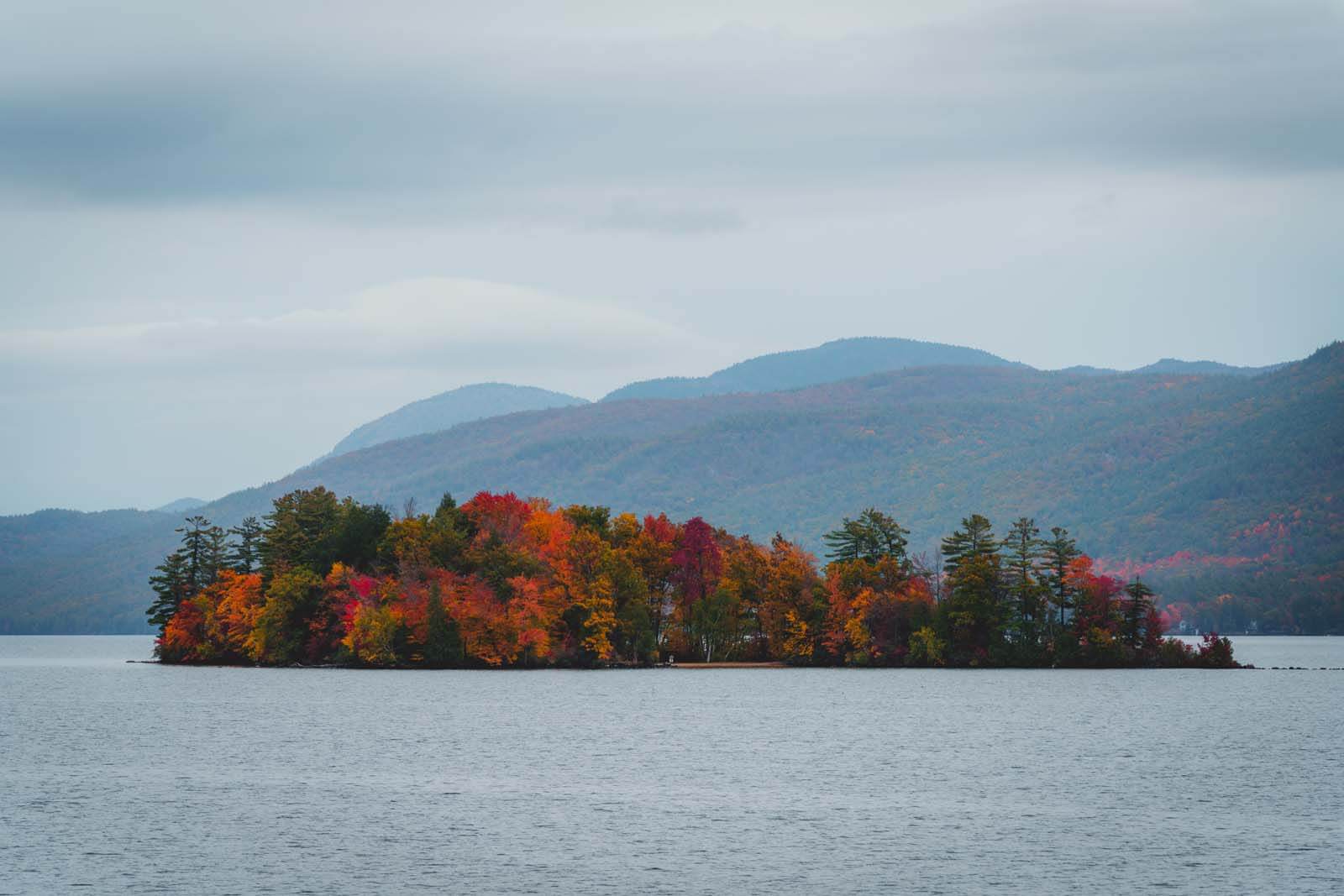 Of course, one of the best things to do at Lake George is to explore the lake! Rent a boat and embark on a voyage during your Lake George vacation.
You can stop by Brodie's Lakeside and rent a pontoon, deck boat, or center console boat. You can also stay at Brodie's to eliminate travel time between waking up and hitting the water. If you aren't an expert captain, don't worry – Brodie's does not require renters to have a boating license! However, you must be at least 21 years old with a valid driver's license.
For a slower float, visit Lake George Kayak Company to rent kayaks and canoes to take out on the lake!
No matter which type of boat you rent, you'll be able to travel to restaurants along the lake, and can visit all of the glorious sights around Lake George!
Hike Prospect Mountain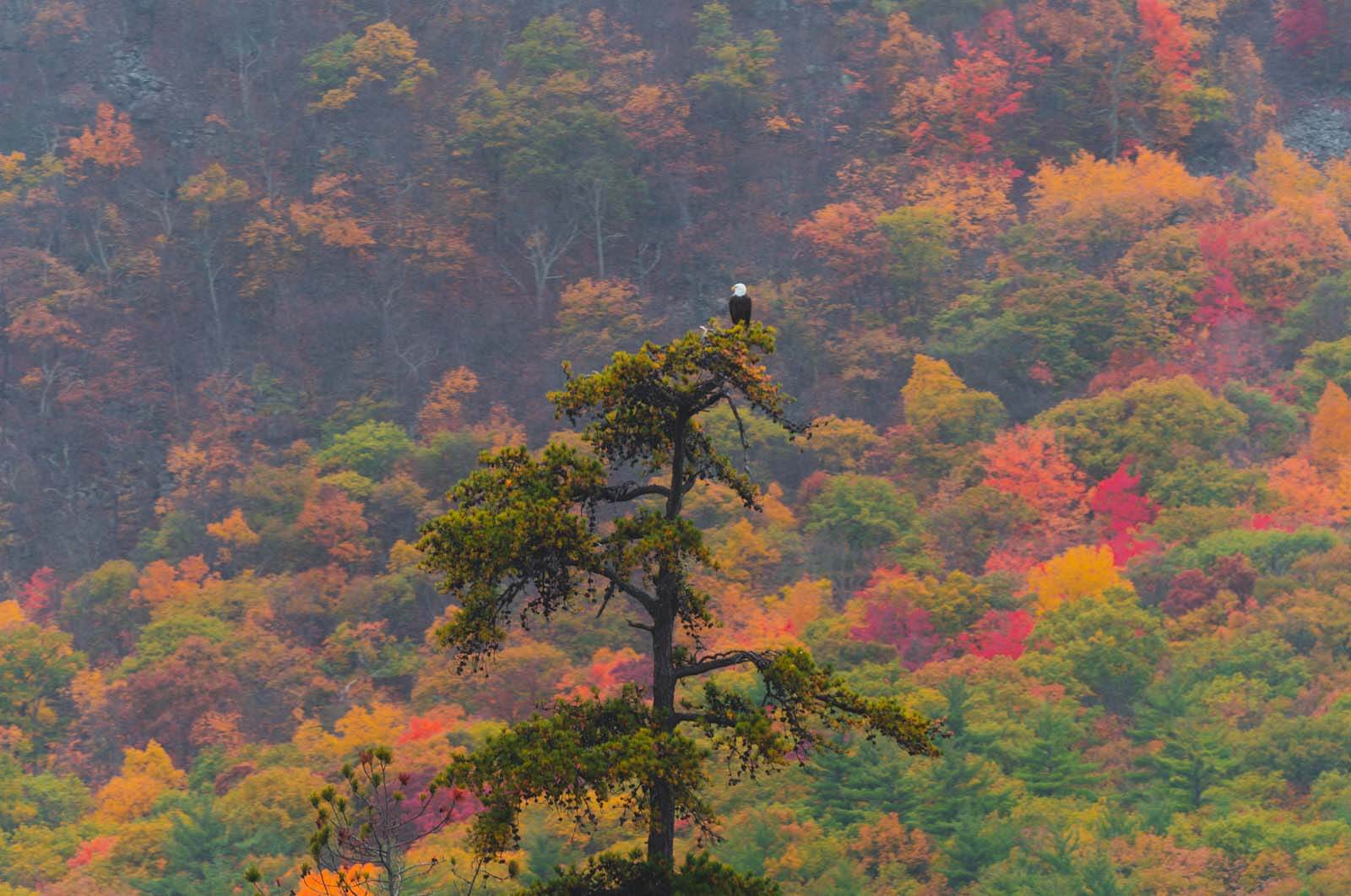 To get off the water while still immersing yourself in nature, you can visit Prospect Mountain Trail for a hike! You can access the trailhead at Lake George Village and then embark on a 3-mile round trip hike with an absolutely breathtaking view of the lake. You can also catch a glimpse of the ruins of the historical Prospect Mountain Cable Incline Railway!
The Sagamore Resort
If you're looking for a luxurious stay during your Lake George vacation, visit The Sagamore Resort! This waterfront resort offers many different lodging options, so there's a perfect option for every group.
The Sagamore Resort offers a spa and salon where visitors can get a soothing massage and pampering treatments. If you're looking to get a few holes in during your visit, they also have a golf course!
The Sagamore has many culinary options, ranging from casual lunches to high-end dinners. Visit La Bella Vita for Italian fare, the Club Grill Steakhouse for a delicious dinner, Caldwell's for your morning coffee and pastry, The Pavillion for lakeside seafood, the Veranda Terraces for a light lunch after a day on the lake, Mr. Brown's Pub for a beer and some bar food, The Lakehouse for an open-air lunch, or swim up to the Splash Pool Bar for a drink while you dip!
For more information on visiting the Sagamore Resort, click here!
Camp on one of the Islands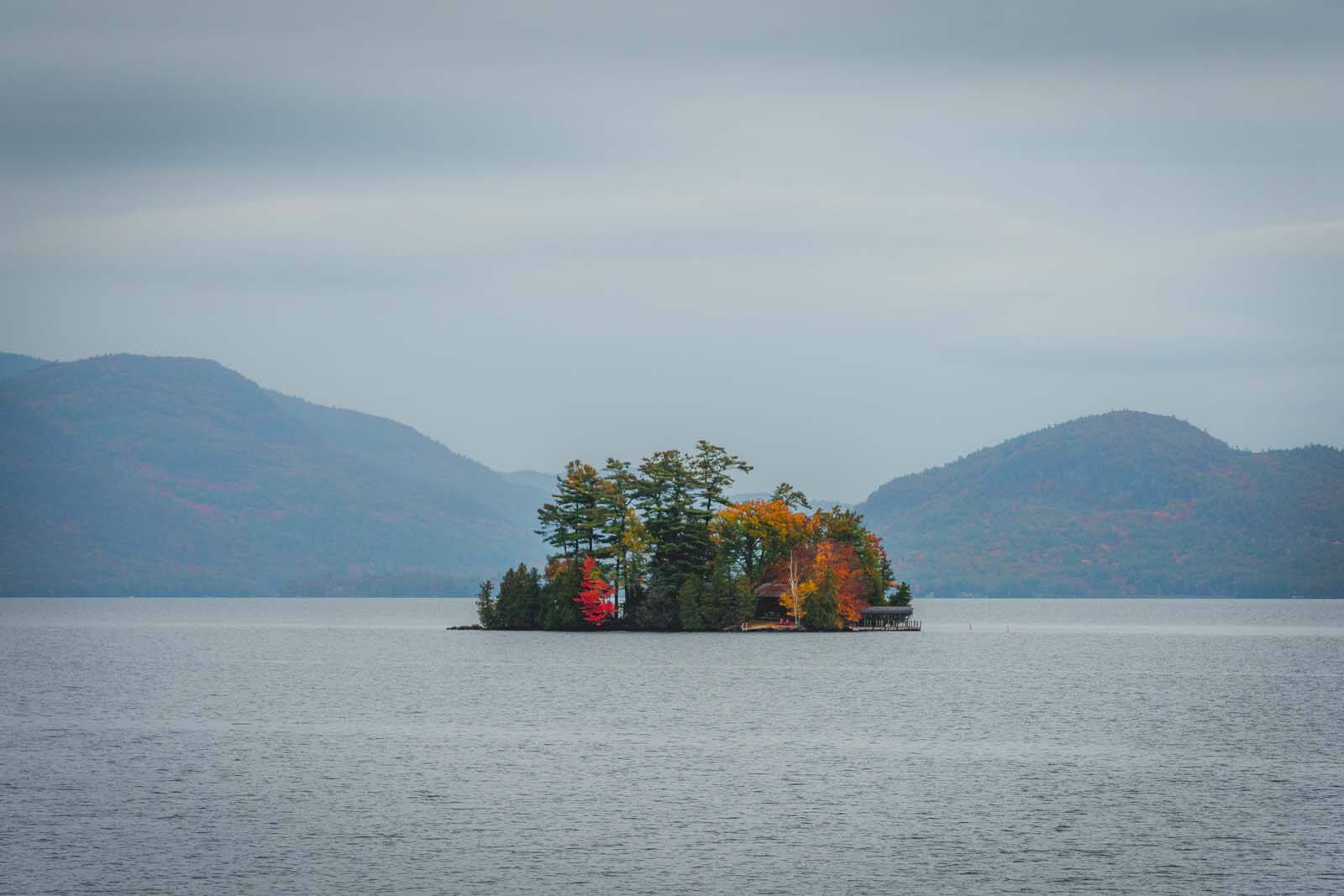 If you want a more rugged stay on the lake, consider camping on one of the many islands of Lake George! There are three groups of islands on the lake, Long Island Group, Glen Island Group, and Narrow Island Group, all of which offer campsite rentals.
Each of the lake's islands varies in size, from very small with only a few campsites, to large islands with up to 90 available campsites. All islands are equipped with at least one toilet facility, fireplaces, and picnic tables, so no matter which island you pitch your tent on, you're sure to have a comfortable camping experience!
You can reserve island campsites for day use or camping. For more information and to reserve your campsite, click here! Lake George island campsites fill up quickly, so be sure to plan ahead!
Amusement Parks
There are plenty of Lake George attractions that are perfect for the family, including a few amusement parks nearby!
Visit the Six Flags Great Escape in Queensbury, NY, and experience over 100 rides, shows, and attractions, including an indoor waterpark!
The Lake George Expedition Park is great for groups with younger kids. You can visit their Magic Forest full of whimsical rides and attractions, the Dino Roar Valley with prehistoric attractions, life-sized dinosaurs, educational and exciting expeditions, or visit during the park's special events!
For a more exhilarating time, travel a short 20 minutes to the Adirondack Extreme Treetop Adventure on West Mountain! This treetop obstacle course is sure to excite!
Rail Bike Tour
Head to North Creek, NY between spring and fall for the one-of-a-kind experience of a railbike tour! Depart from the North Creek Railroad Station and pedal your way along the railroad tracks, and explore parts of the Adirondack Railroad that was not previously accessible to passengers.
Although you use your own power for these tours, the rail bikes are accessible for most ages and abilities, and there is no minimum age requirement to ride.
There are two different route options, with each trip taking between 2 and 2.5 hours. The rail bike tours run rain or shine, so make your reservation in advance to ensure your spot!
Natural Stone Bridge and Caves Park
If you're looking for things to do near Lake George, consider heading to Natural Stone Bridge and Caves Park!
Here you'll explore the largest marble cave entrance in the Eastern US, which is still being naturally carved! Embark on self-guided aboveground tours to see some surface caves, or descend into the lighted caves and grottos. If your Lake George visit falls in the summer months and you're looking for a little extra exhilaration, take the guided adventure tour – a 3 to 4-hour spelunking tour and cave float!
In the winter see the glistening ice beneath Stone Bridge and along the river, and snowshoe through the woods! For more information for your visit to Lake George head to Natural Stone Bridge and Caves site.
Fort Ticonderoga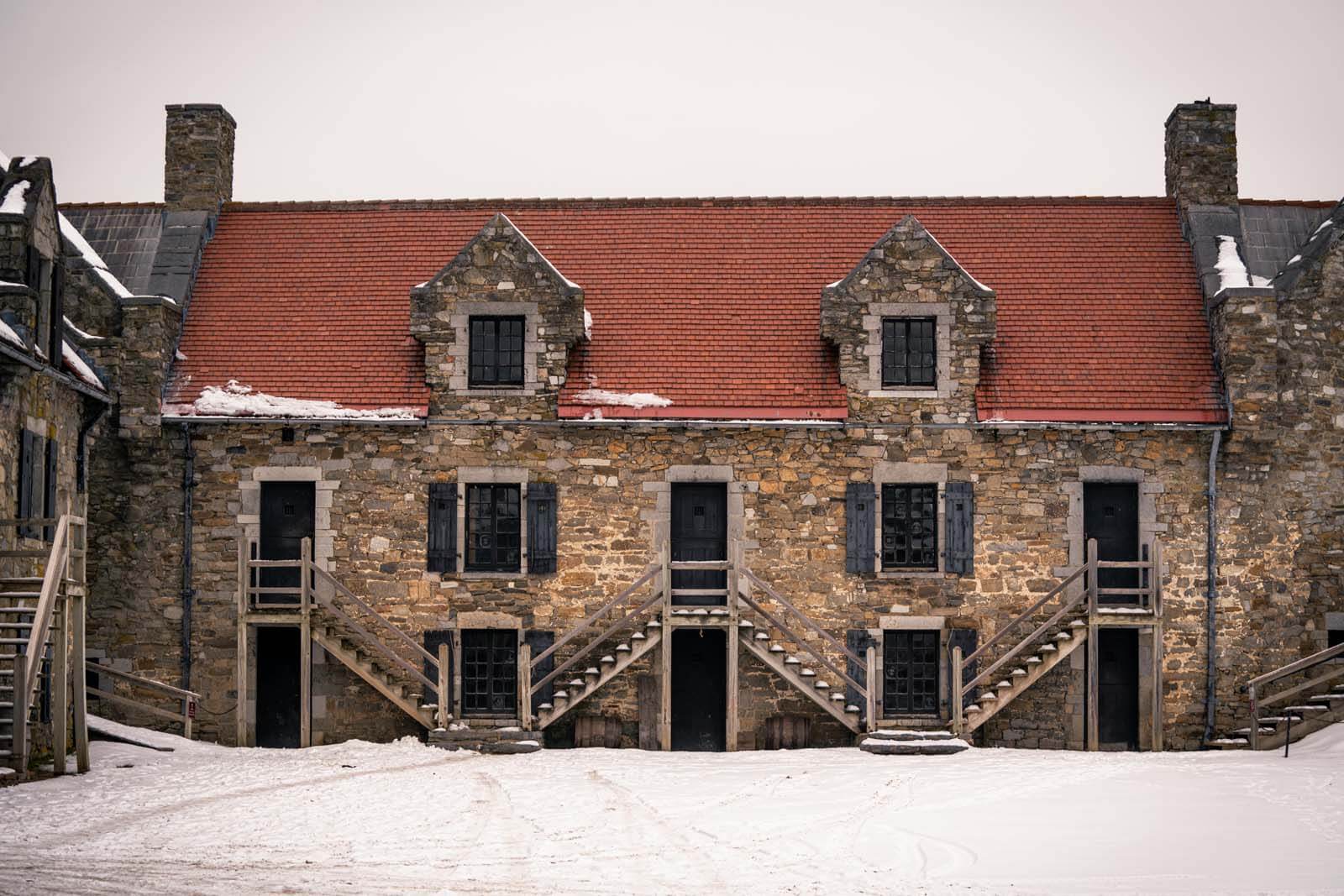 As briefly mentioned earlier, for history buffs looking for things to do near Lake George, head to nearby Ticonderoga, NY, and visit Fort Ticonderoga!
Called "America's Fort," this structure and surrounding grounds were established in the late 1700s. Visit the museum, take a boat cruise, wander the King's Garden, or check out one of the many family activities and special tours.
During your visit, you'll be immersed in living history demonstrations, giving you an educational glimpse into life in the 18th century!
For more information on special events and planning your visit to Fort Ticonderoga, click here!
Where to Stay During Your Lake George Visit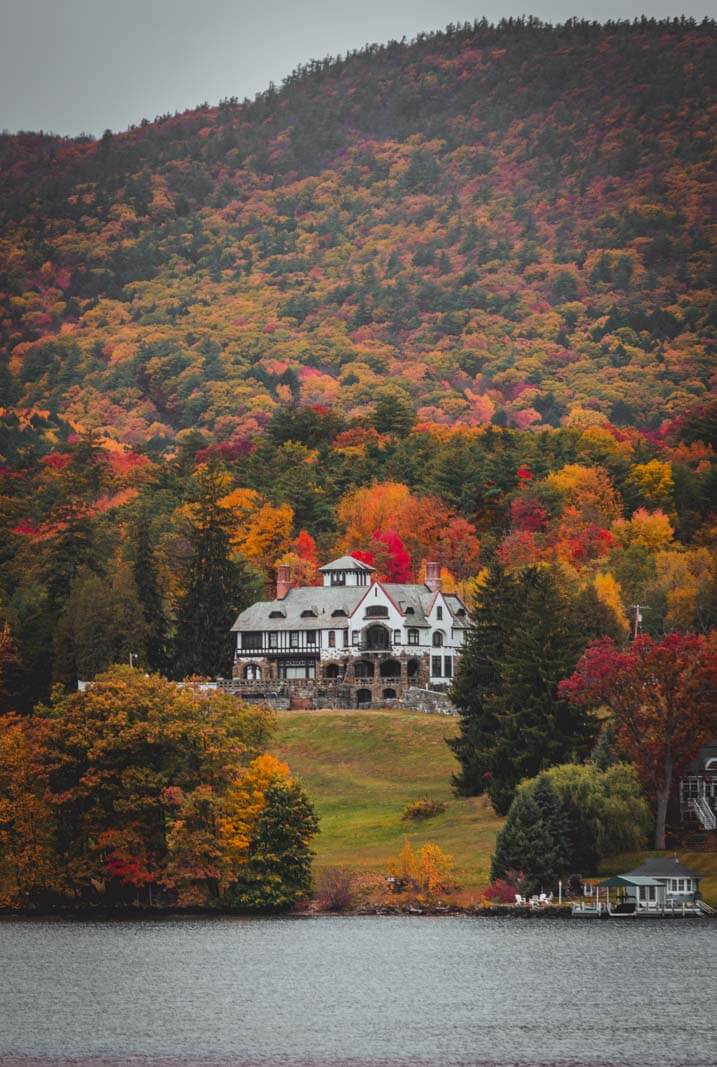 As mentioned earlier, one of the best and iconic stays you can have on your Lake George visit is at the luxurious and famous Sagamore Hotel. This premier destination and property was named by Architectural Digest as being one of the most beautiful hotels in the Adirondacks as well as being an official AAA Four Diamond recipient.
This hotel dates back to the 1880s and is designated as a National Register of Historic Places. Stay in one of their condos, standard rooms, luxury suites, or a private lodge overlooking the gorgeous Lake George.
The property is massive and has 8 restaurants, a huge outdoor pool, an entertainment center, an 18-hole golf course, tennis courts, and a world-class spa and salon. Book here.
A gorgeous and unique stay during your Lake George visit is at the gorgeous Queen Anne Revival waterfront castle, The Inn at Erlowest.
Complete with views, an outdoor pool, game room, lounge, water sports, restaurant on-site, and rooms individually decorated with character and charm with antiques along with luxury toiletries. Some rooms even have a gorgeous lake view!
This is easily one of the most charming and unique stays in the area. Book here.
Stay in an Airbnb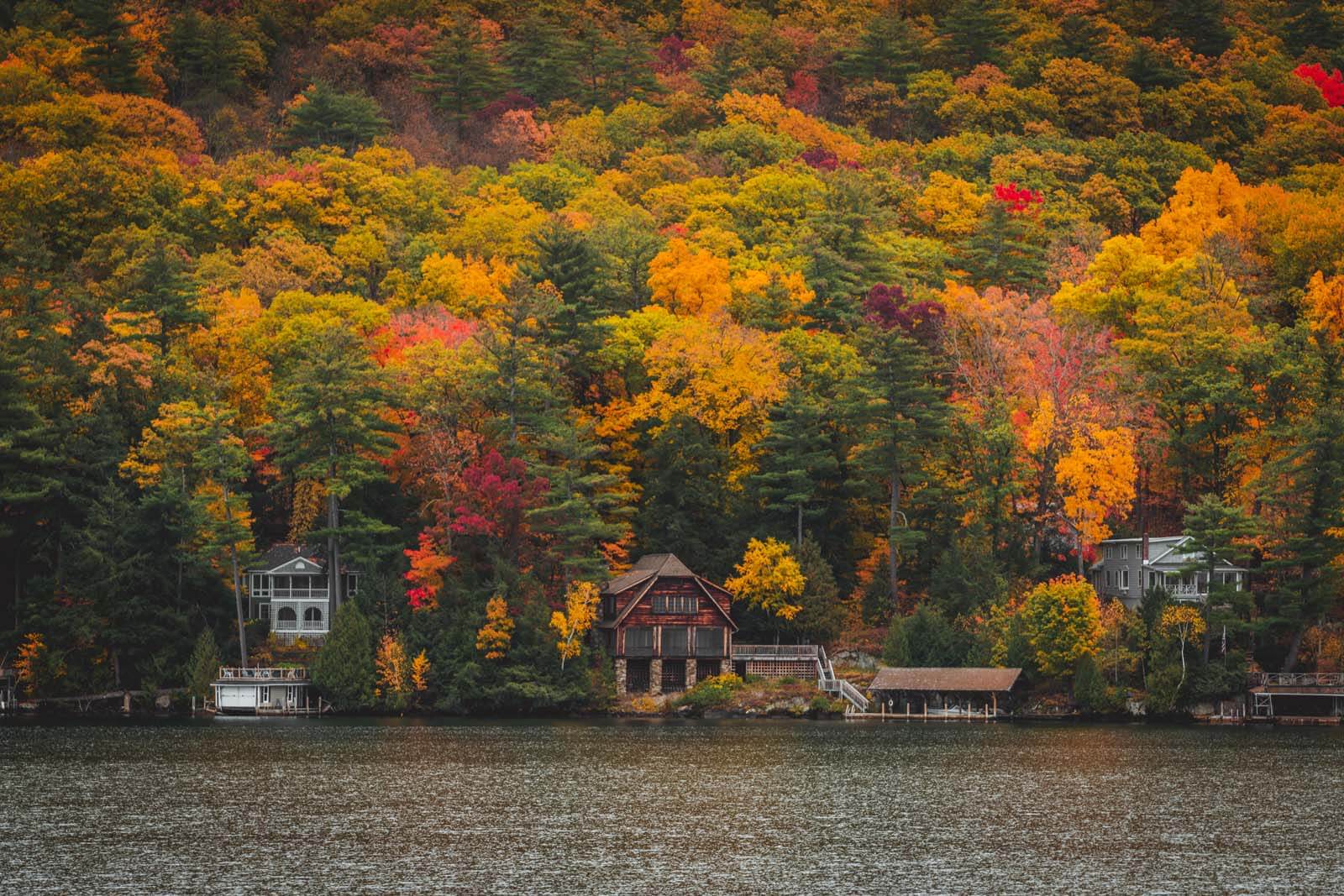 Be sure to visit this Lake George Airbnb page or check out our other guides to help you find a cabin or Airbnb near Lake George!
---
Liked this post and guide to all the best things to in Lake George, New York and your Lake George vacation planning guide? Bookmark for later or share the love below on Pinterest!