Looking for all the best things to do in Catskill, New York? We got you. The Town of Catskill, nestled in the heart of the Hudson Valley and Catskills region, is renowned for its captivating blend of rich history, scenic beauty, and artistic allure.
In fact, Catskill, NY and the surrounding region have inspired all types of creatives from poets, writers, to artists for centuries. Considered the birthplace of American art, Catskill boasts the Hudson River School Art Trail, where painters like Thomas Cole drew inspiration from the stunning landscapes.
The town's Main Street is a treasure trove of charming boutiques, galleries, and eateries, offering a blend of contemporary creativity and historical charm.
The region's natural beauty shines through with the Catskill Mountains, hiking trails, and nearby Kaaterskill Falls, drawing outdoor enthusiasts to picturesque adventures. Not to mention, basing a trip upstate in Catskill is a great place to stay for exploring the best things to do in the Hudson Valley and the best things to do in the Catskills for an unforgettable getaway!
Disclaimer: This post contains affiliate links.
Check Out the Best Things to do in Catskill
Thomas Cole National Historic Site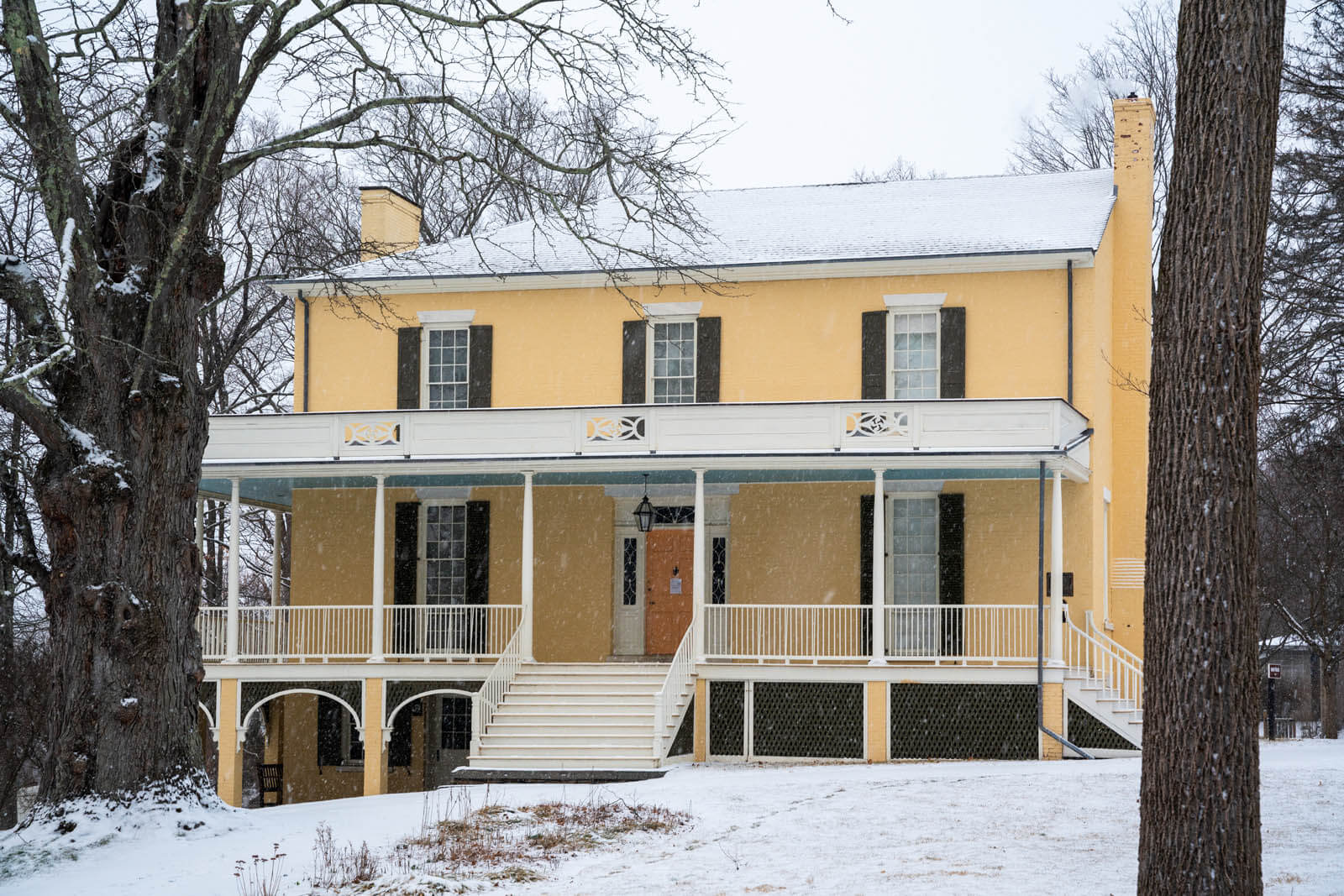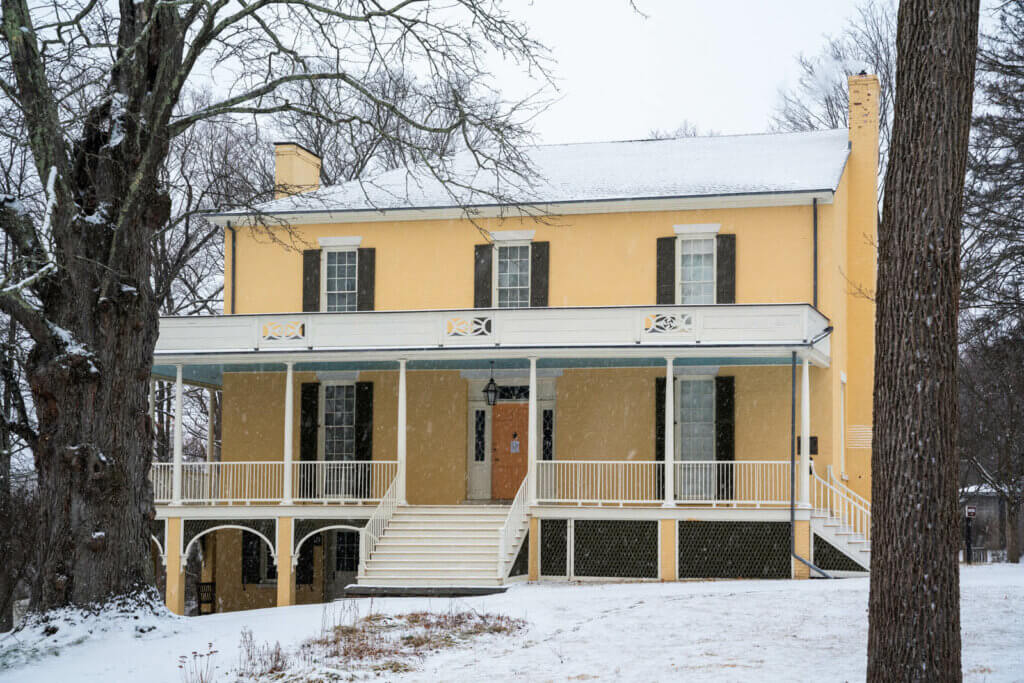 Address: 218 Spring St, Catskill, NY
Not far from where Spring Street intersects with NY-23 in the town of Catskill, New York is the Thomas Cole National Historic Site. It's dedicated to the life and work of Thomas Cole, an influential American artist from the 19th century. It's a must-visit if you're an art enthusiast or a history buff, but any visitor to Catskill will find something here to love!
Thomas Cole was an established landscape painter who found inspiration in the Catskill Mountains. He was the founder of the Hudson River School, an art movement that celebrated the beauty of the Catskill Mountains region. At the site, you can explore Cole's former home, which has been transformed into a museum. There's also a visitors center, and 2 studios – the Old Studio and the New Studio.
For a fee, you can take guided tours of the museum to learn about Cole and see his original artworks, including breathtaking landscapes that capture the Catskills. The Thomas Cole National Historic Site also includes the Old Studio, which has been preserved with his personal belongings. The New Studio has been turned into an exhibition space that features rotating exhibits by regional contemporary artists.
If you prefer, you can simply explore the picturesque grounds surrounding the historic site for free. There's something magical about walking through the gardens and soaking in the scenic views that once inspired Cole's masterpieces! And if you are up for a scenic hike, take the Hudson River Skywalk across the Rip Van Winkle Bridge to Olana! One way, the walk is about 3 miles and takes about an hour to cross.
While the museum holds regular hours, the grounds of the Thomas Cole National Historic Site are open year-round from sunset to sunrise. Keep in mind that the site operates on a seasonal schedule, so check their website for updated information on hours and admission fees. Guided tours are separate from general admission.
Olana State Historic Site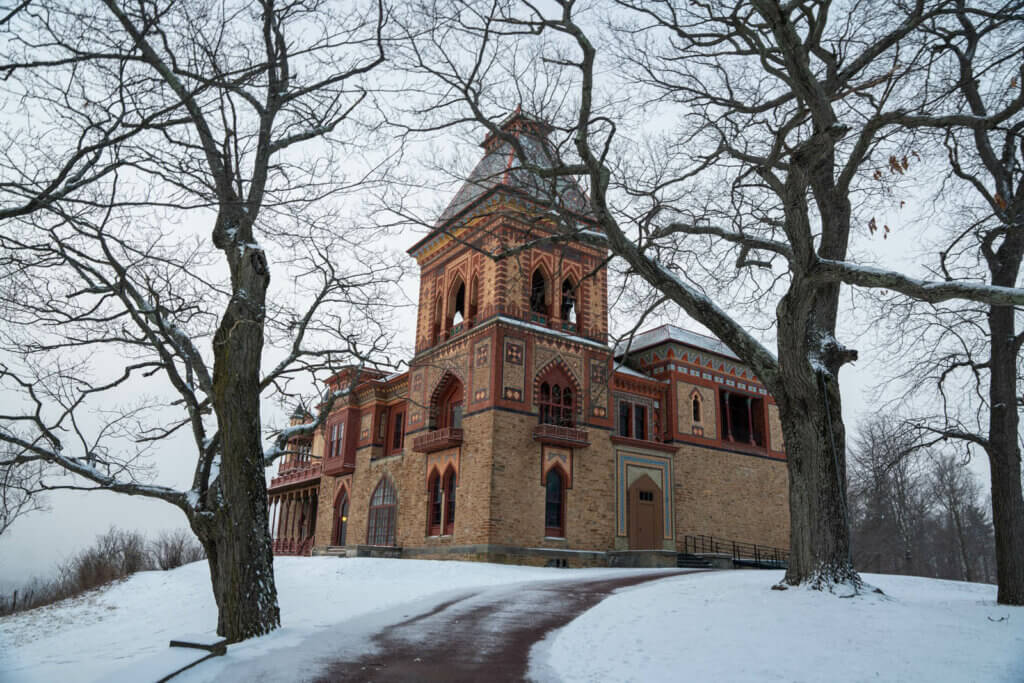 Address: 5720 NY-9G, Hudson, NY
On the other side of the Hudson River, across the Rip Van Winkle Bridge is the Olana State Historic Site. Visiting this captivating estate is one of the most popular things to do in Catskill, and you'll soon see why! Frederic Edwin Church, another prominent American landscape painter, built the home in the 1840s.
He fell in love with Hudson Valley and the town of Catskill, NY after working with Thomas Cole, so he moved there!
Church was a world traveler and designed the estate with a blend of different architectural styles from around the world, creating a unique masterpiece. Today, Olana stands as a testament to his artistic vision and love for the Hudson Valley.
When you visit the Olana State Historic Site, you see the house by booking guided tours. You'll explore the gorgeous main house filled, with Church's original artworks and furnishings, many of which he collected during his travels.
Enjoy stunning views of the Hudson River from handcrafted windows and intricately designed rooms. Every corner of Olana showcases Church's unusual and brilliant work!
Even if you don't go inside the house, the estate grounds are worth their own visit. Why not take a nature walk along one of the many carriage roads winding throughout the estate or stroll through the beautifully manicured gardens and pathways that are even beautiful to stroll in the winter months.
The Olana estate sits on a hill high above the Hudson River and offers stunning views of the river, the town of Catskill, and the mountains beyond.
Though the grounds are open all year, tours of the house and grounds are offered Tuesday through Sunday from 10 AM to 3:45 PM. And Olana's website stays up to date on current events, which include art programs, movie nights, talks, and more.
Subversive Malting + Brewing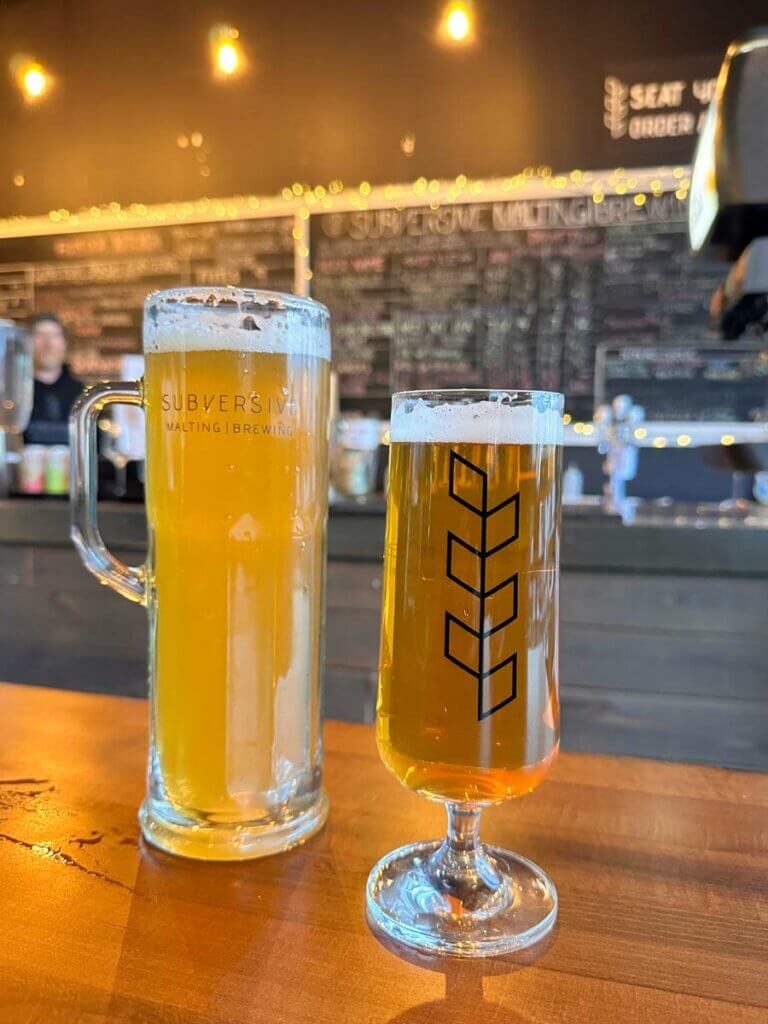 Address: 96 W Bridge St, Catskill, NY
If you cross Catskill Creek, Subversive Malting + Brewing is just past Division Street on W Bridge Street. It's a small establishment that's brought the art of malting and brewing to Catskill, New York.
In fact, the brewery is one of few in the country that creates its own malt on-site! And while they create a diverse line of innovative and delicious craft beers, the star of the show is their house-made malted barley.
Visitors to Subversive Brewing can enjoy the warm and welcoming atmosphere of the tap room and kitchen. While the actual building is small, there's year-round outdoor seating in the garden and patio. In the summer you can enjoy wildflowers and in the winter, the tents and warmers set the vibe. Come Friday evenings for live music or check their calendar for special events.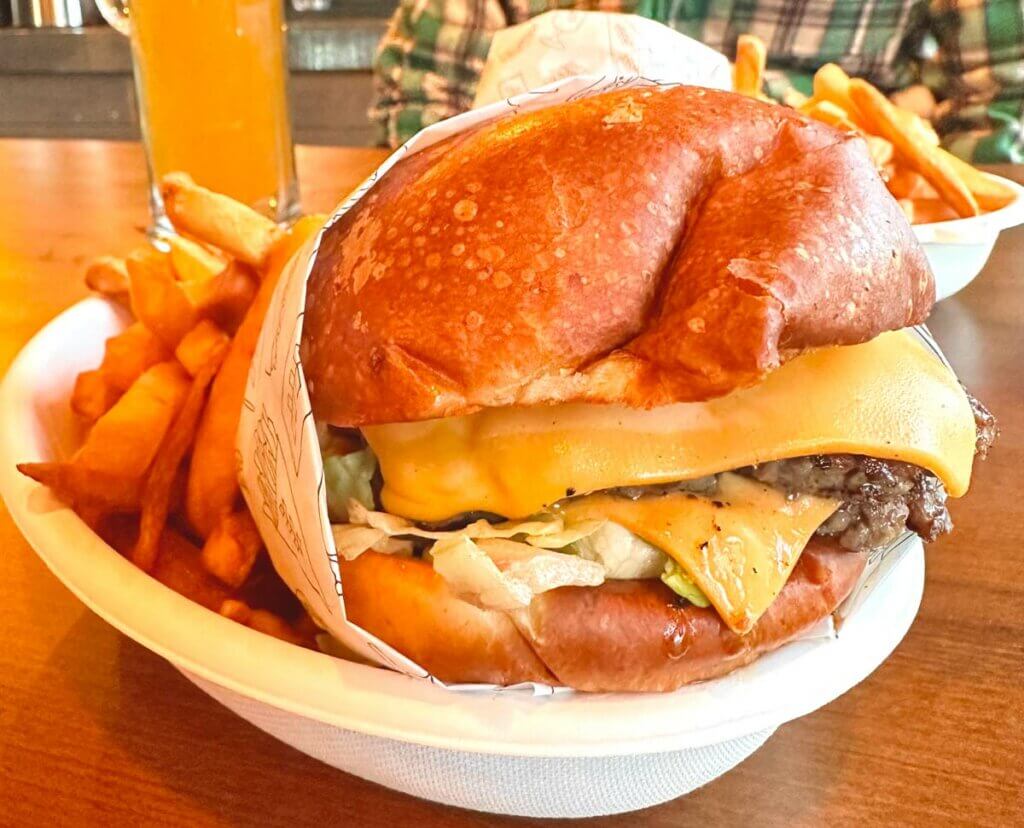 A new addition to the brewhouse is the kitchen which features a seasonal menu built around local ingredients. We highly recommend the Smash burger, but there's also pizza, smoked brisket, fresh salads, and more!
Come by on Thursdays and Fridays from 4 PM to 9 PM, 12 PM to 9 PM on Saturdays, and until 8 PM on Sundays. The kitchen closes an hour before the bar.
Left Bank Ciders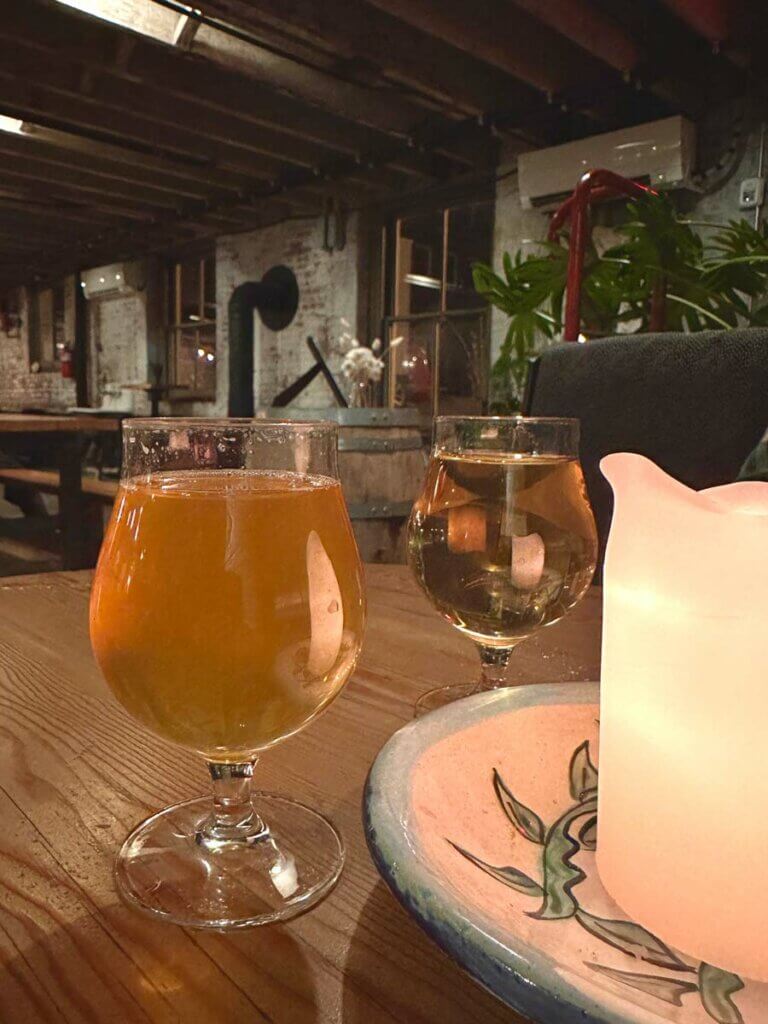 Address: 150 Water St, Catskill, NY
If you're looking for the best cideries in Hudson Valley, the town of Catskill, NY boasts Left Bank Ciders. This unique location can be found in the basement of 150 Water Street, in an old building overlooking Catskill Creek.
During the warmer months, they have a busy patio full of music and outdoor seating! Inside, Left Bank Ciders has a roomy and welcoming taproom and cidery which is perfect during a winter getaway, like when we visited with a fire going to cozy up to.
The owners have always had a passion for the environment and their local community. It all started when they ran a compost program at their local farmers market. When they saw the massive number of apples being dumped by local apple orchards, they decided to try their hand at small-batch cider! Over time, they built relationships with local farms and developed a very creative method of cider-making.
Left Bank Cider is committed to sustainable and simple practices. To reduce waste and use local sources, they create unique blends of apples and other fruits as well! They've even gained access to heritage apples and wild apples from the Catskill Foothills.
For such a small production, they truly have a surprising variety of ciders available on the menu. They also offer local wine and beer. While you're looking for things to do in Catskill, they're a great stop after enjoying shopping and a local restaurant. You can check them out on Thursdays and Fridays from 4 to 10 PM, Saturdays from 1 to 10 PM, and Sundays from 1 to 8 PM.
Shop at Spike's Record Rack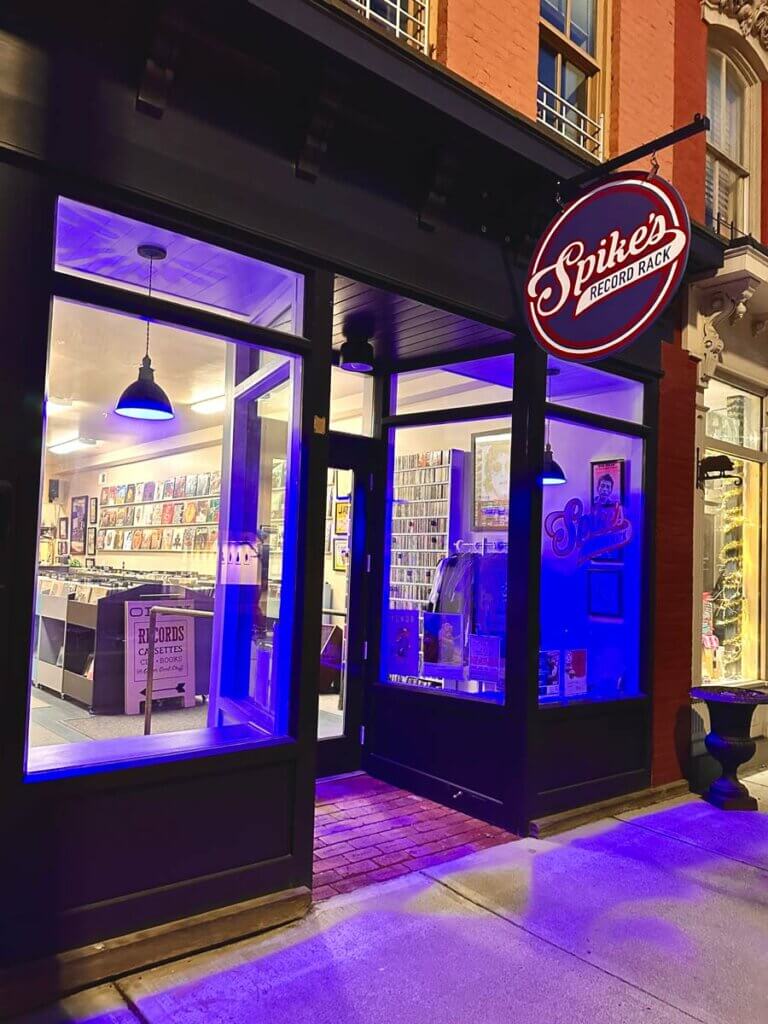 Address: 395 Main St, Catskill, NY
We love hitting up record stores when we are visiting upstate! You'll find Spike's Record Rack on Main Street in Catskill. This classic record store offers a treasure trove of vinyl records, CDs, and music memorabilia. Whether you're a seasoned collector or simply have a love for music, Spike's Record Rack is a must-visit destination.
The owner Spike Priggen is a walking encyclopedia of music and has his own local radio show! In his shop, he's curated an extensive collection of vinyl records spanning various genres and eras. From classic rock to jazz, hip-hop to folk, there's something for every musical taste. You can discover rare finds, limited editions, and just the obscure album you've been hunting down.
Browse through the shelves and flip through bins of records. Besides vinyl, Spike's Record Rack also offers a variety of CDs and cassettes. And if you have records, CDs, cassettes, 8-tracks, and more that you're looking to sell, bring them by! Spike will assess them and give you an offer on the spot. But only for the highest quality collections.
Add Spike's Record Rack to your list of places to stop while you're in Catskill. They're open every day of the week from 11 AM to 5 PM and until 6 PM on Saturdays.
More Shops Along Main Street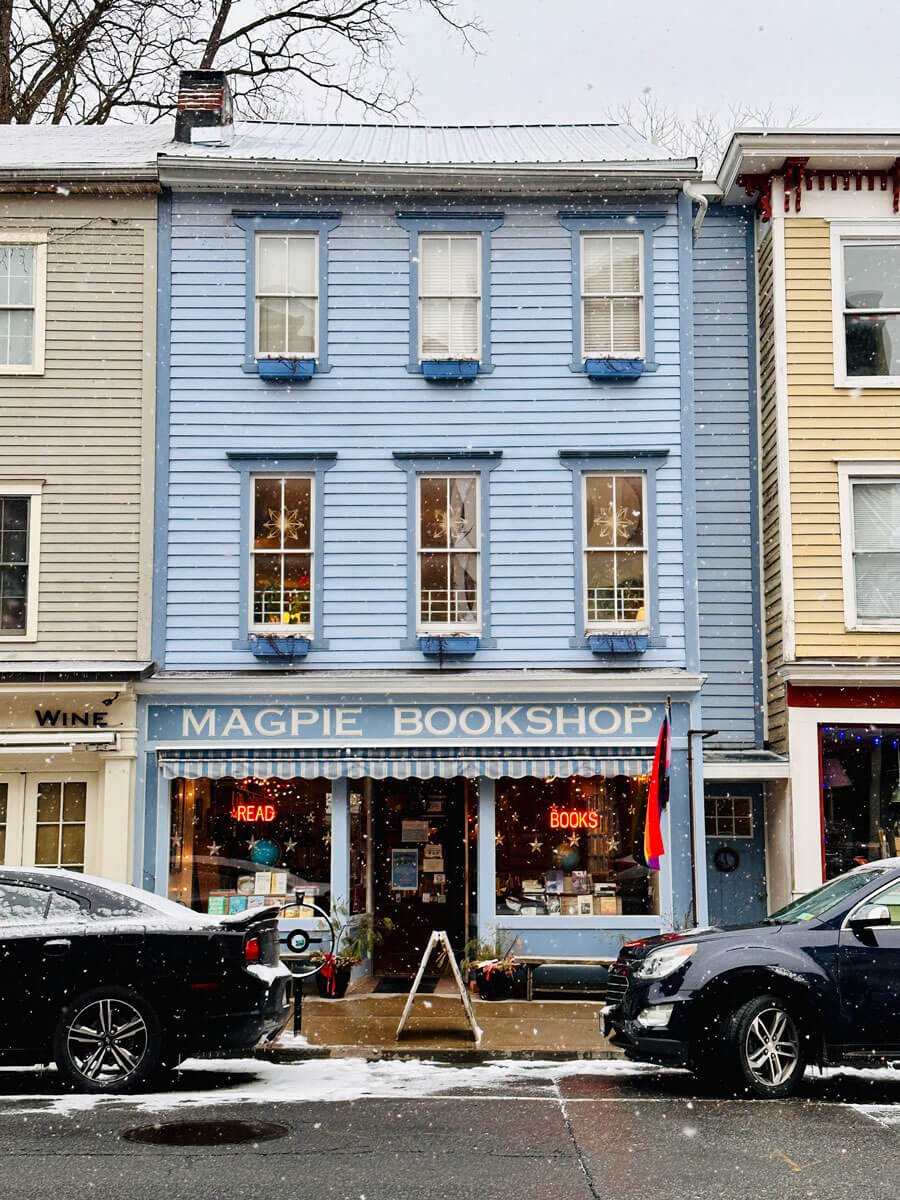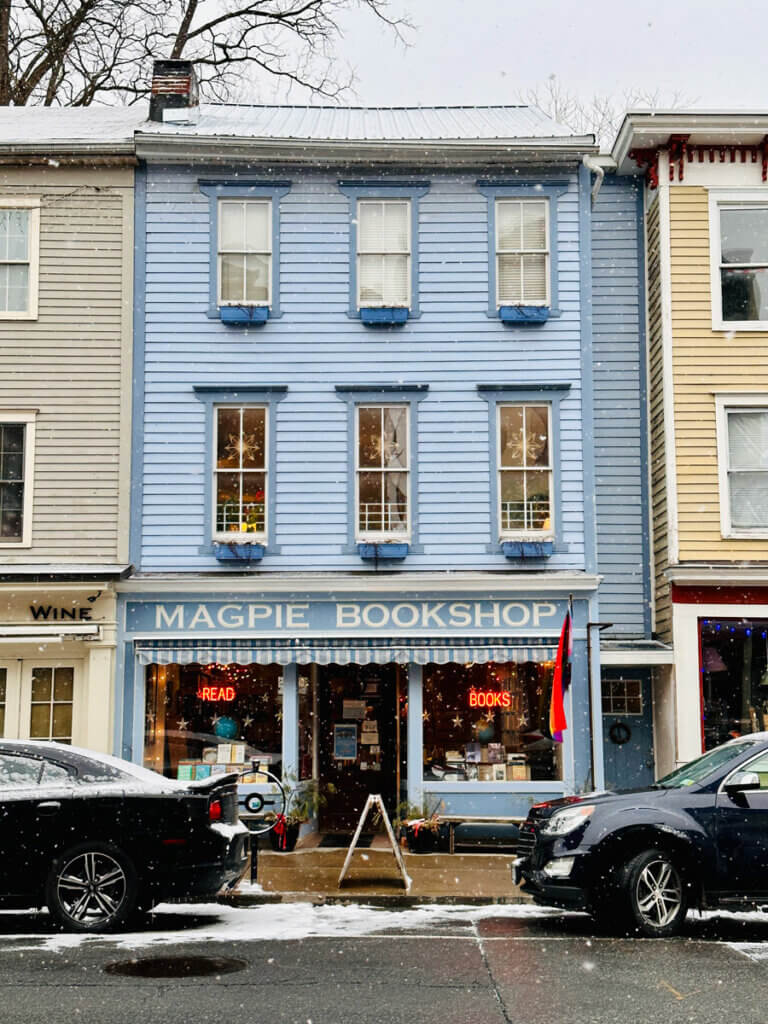 While you're visiting the town of Catskill, New York, plan some time to take a stroll down Main Street! Inside beautiful 19th-century storefronts are a wide range of eateries, stores, and small businesses. One of our favorite things to do in Catskill was explore the charming shops! You'll find most of them north of Bridge Street.
Don't miss a chance to stop at Cat on the Corner! This adorable cat-themed store has a mind-blowing amount of cat-themed paraphernalia, and it's the perfect place for cat lovers (or to find a gift for the cat-lover you know!). It's amazing just how many different items for humans and cats the owner has curated. There are clothing, food items, stickers, mugs, cat toys, and much more!
For unique vintage items specific to the Catskills region, check out Catskill Collectibles. It's a great place to look if you're interested in local souvenirs. The owner has a love for Catskill, New York that translates into a fascinating collection that includes vintage books, artifacts, postcards, commercial posters, and Rip Van Winkle-themed items.
And if you love charming bookshops, Magpie Bookshop will not disappoint! This lovely storefront is just the right size with books across 2 levels. You can find a good mix of vintage, second-hand, and some newly printed books.
Winter Glamping at Gather Greene
Address: 176 Levett Rd, Coxsackie, NY
For one of the most unique things to do in Catskill, experience the enchantment of winter glamping at Gather Greene. During the warmer season, the site is exclusively a wedding venue (and it's stunning!). But in the winter, they turn their design-forward mini-cabins into a glamping retreat that's also a great digital detox.
Gather Greene offers a unique blend of rustic charm and modern comforts, so you can take in the beauty of nature while enjoying cozy accommodations. Whether you're seeking a romantic getaway or a memorable outdoor adventure, winter glamping at Gather Greene is an extraordinary experience!
The stylish and well-appointed cabins are designed to keep you warm and comfortable during the winter months. Each cabin features a cozy bed, a private bathroom, and stunning views of the surrounding woods. Snuggle up by the fireplace, unwind on the deck, or stargaze from your own private oasis.
Winter glamping at Gather Greene offers a range of activities so you can make the most of the season. Explore trails that are perfect for a serene winter hike or rent snowshoes and go on a refreshing snowshoeing adventure. There are also peaceful spots for meditation or simply enjoying the tranquility of nature.
After a day of outdoor exploration, gather around the communal fire pit with other glampers and roast s'mores under the starry winter sky. You can utilize the microwave and toaster oven in the Guest Lounge, or venture into nearby Catskill for a variety of dining options.
Keep in mind, there is no wifi in the cabins (only in the communal lodge area) and there are no tvs. This is considered a retreat where you go and just enjoy a digital detox! They had a few games in the communal area which was fun to take back to the cabins, we recommend bringing a few for yourself! We found this to be one of the most romantic winter getaways in Upstate New York!
Things to do Nearby Catskill, New York
Explore the Town of Hudson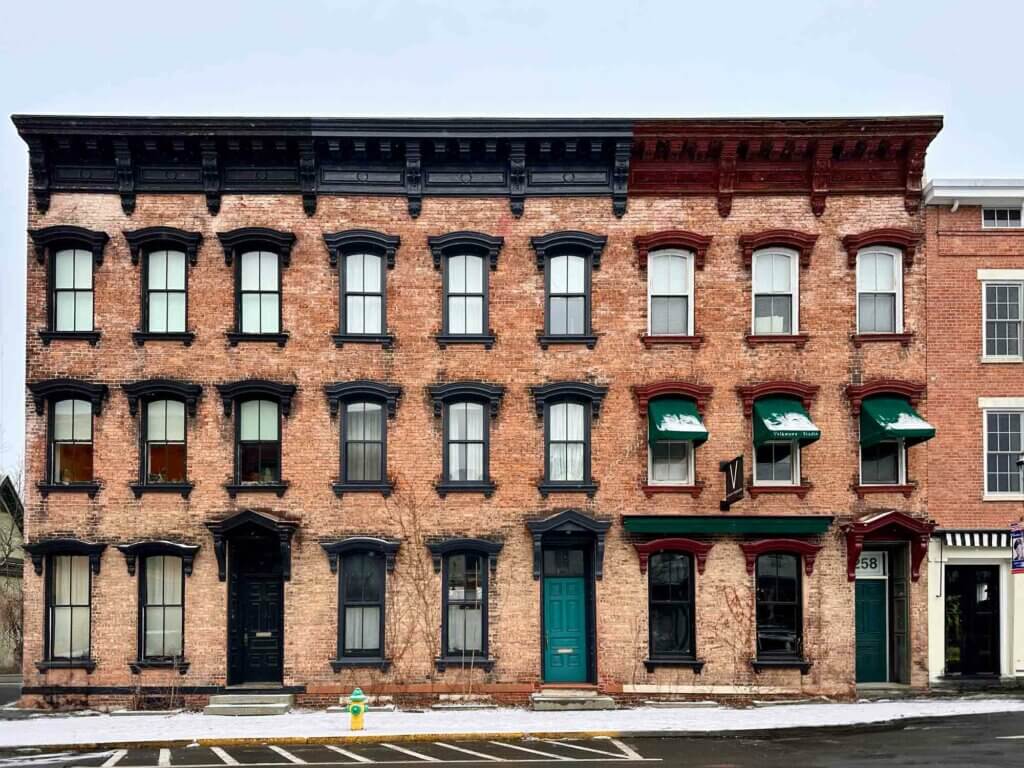 You can find more fun things to do near Catskills in the town of Hudson, one of our favorite towns in the Hudson Valley! With its charming streets lined with antique shops, art galleries, and trendy boutiques, Hudson is perfect for vintage lovers and art enthusiasts is just a short drive from the town of Catskill, New York.
When you're hungry, the town's renowned culinary scene features farm-to-table restaurants and local eateries. Hudson also boasts a rich history, with well-preserved historic buildings and museums to explore.
Check out our full guide to all the best things to do in Hudson, New York to help plan your visit!
Hike to Kaaterskill Falls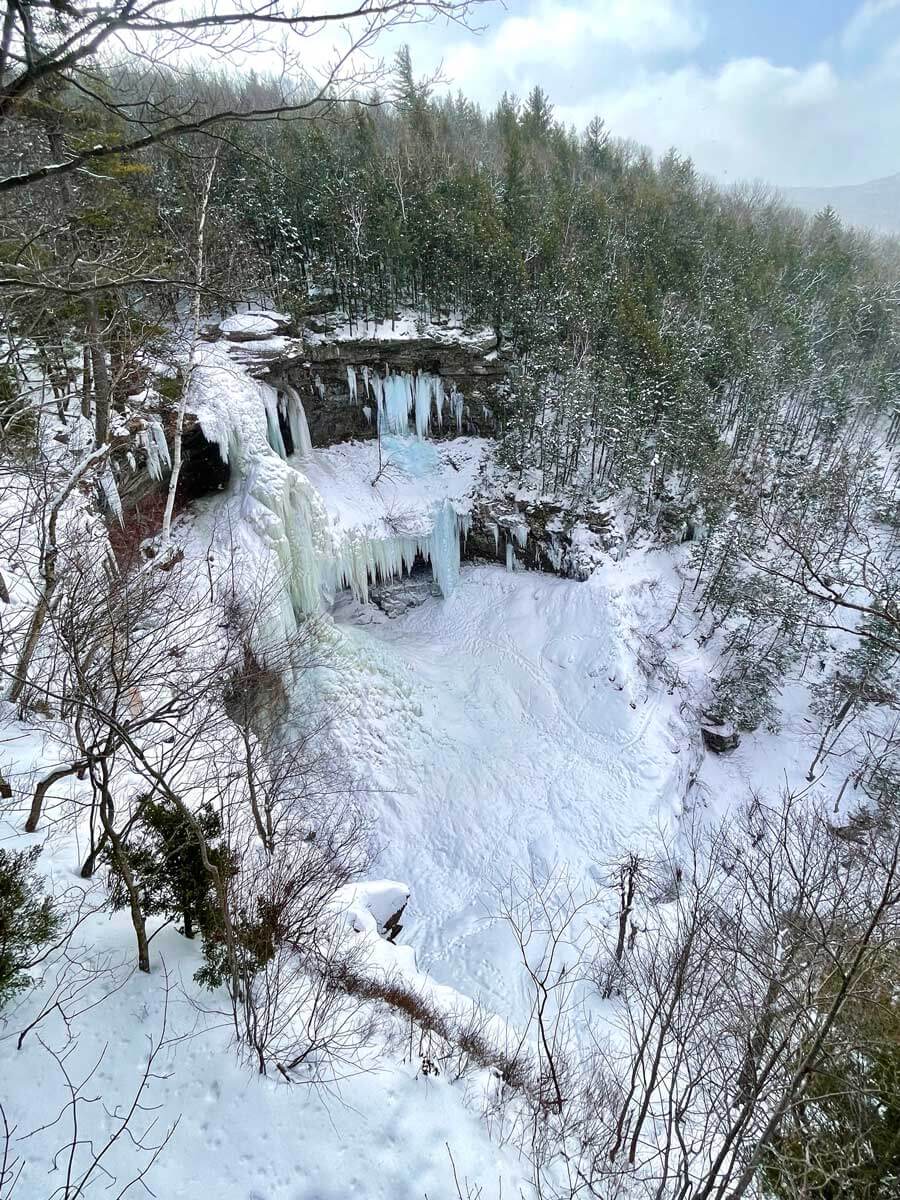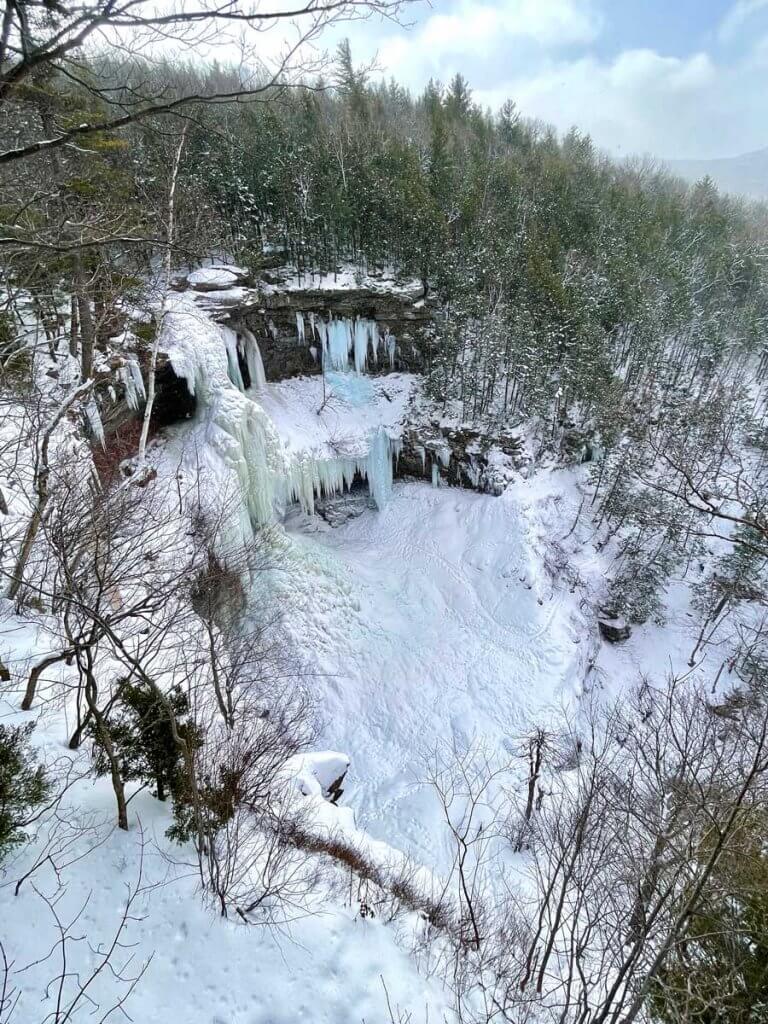 You'll find many top-notch outdoor things to do near Catskill, and at the top of the list should be hiking to Kaaterskill Falls. This iconic tiered waterfall is an absolute must-visit. The trail leading to the falls offers a picture-perfect hike through lush forests with a rewarding ending at the falls!
Better yet, it's beautiful every season and one of the coolest places to visit in the Catskills in winter!
See the Colorful Town of Tannersville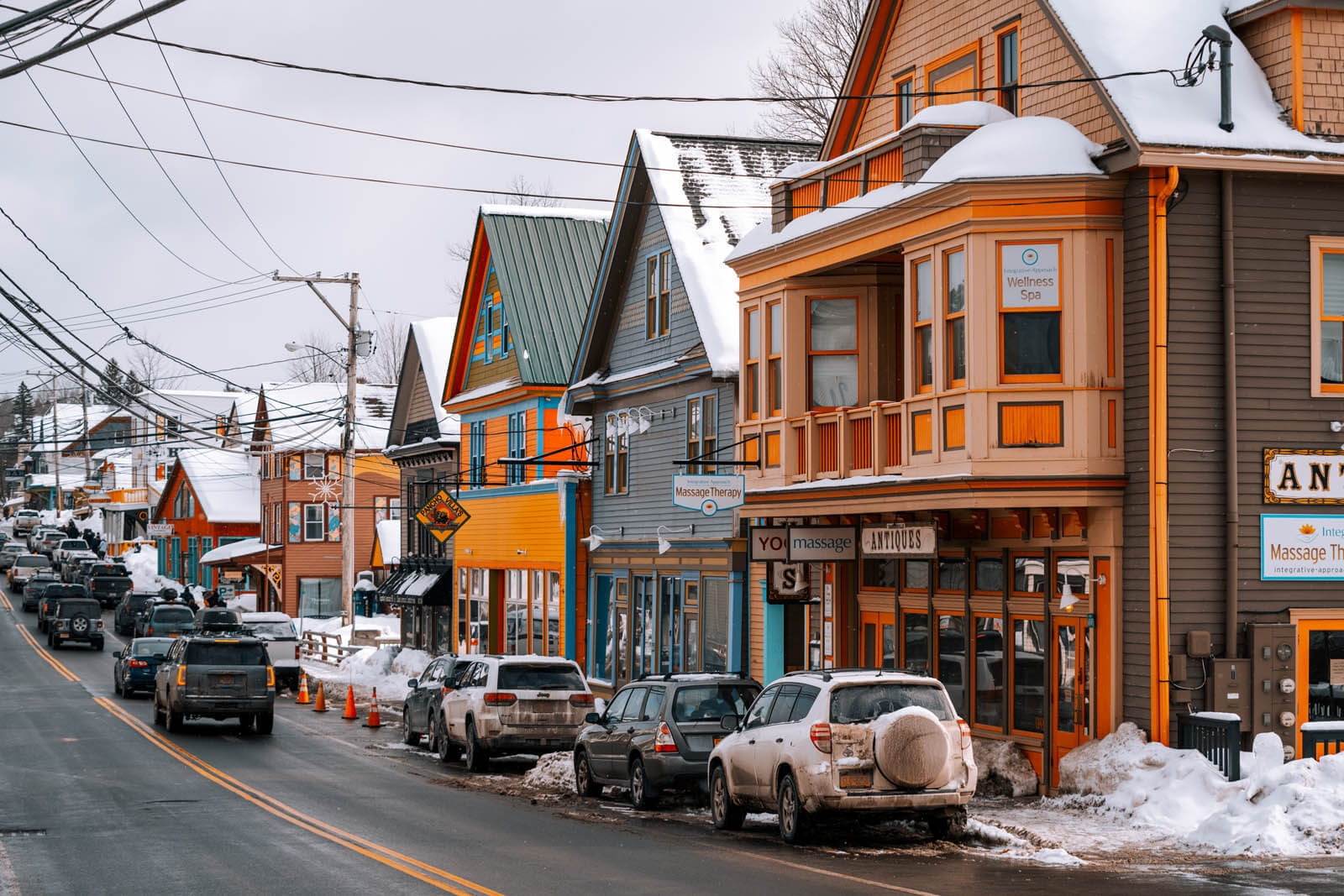 Visiting Tannersville is a top thing to do near Catskill and one of the coolest Catskills towns. You'll love its charming small-town ambiance and the plethora of recreational activities available to you! Nestled in the heart of the Catskill Mountains, Tannersville is a gateway to adventure with nearby hiking trails, skiing resorts, and scenic overlooks. And the town itself is home to a bright and cheerful Main Street lined with cute shops including some great antique shops and delicious eateries.
Visit Saugerties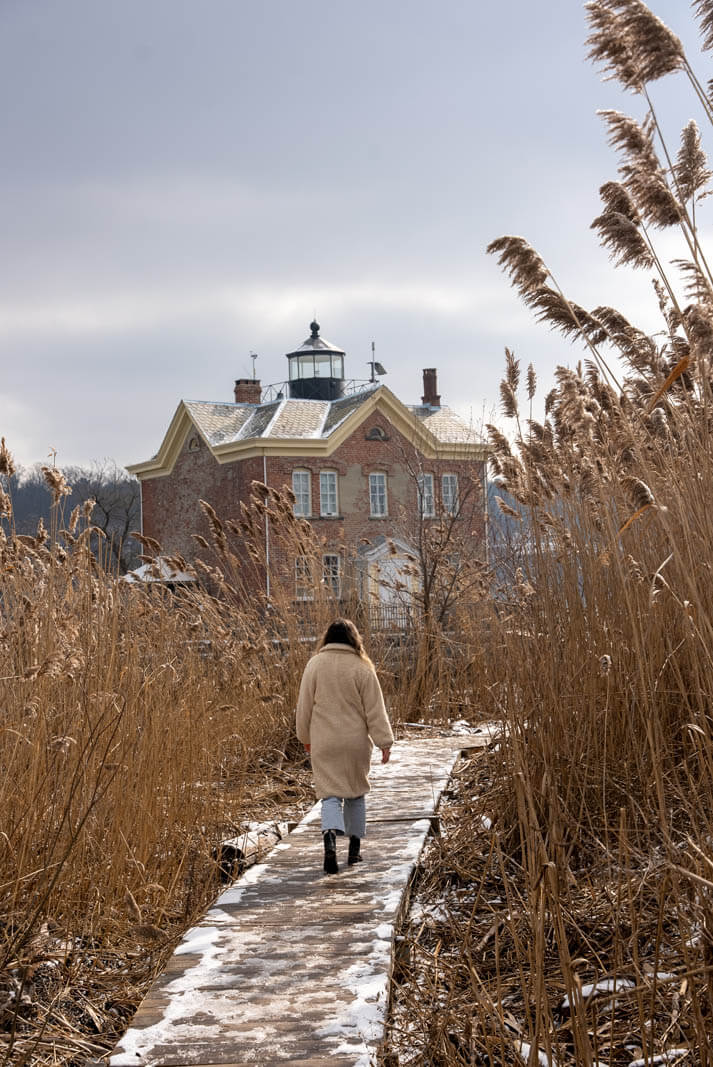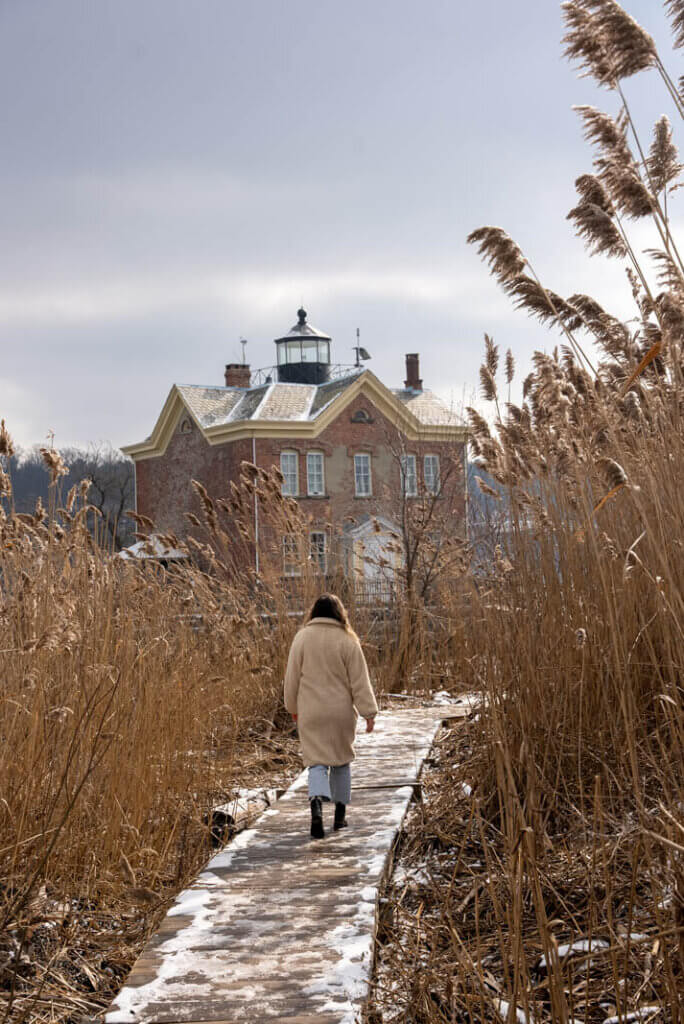 Nearby the town of Catskill, NY, Saugerties is a beautiful town that boasts an idyllic Main Street lined with antique shops, art galleries, and cozy cafes. Explore the historic district with its well-preserved architecture and immerse yourself in the town's rich history.
You can also venture outdoors with nearby attractions like the scenic Esopus Creek or visit the historic Saugerties Lighthouse, one of the coolest lighthouses on the East Coast that you can actually spend the night in!
---
What to do in Catskill, NY & Nearby (Post Summary):
Thomas Cole National Historic Site
Olana State Historic Site
Subversive Malting + Brewing
Left Bank Ciders
Shop at Spike's Record Rack
More Shops Along Main Street
Glamping at Gather Greene
Explore the Town of Hudson
Hike to Kaaterskill Falls
See the Colorful Town of Tannersville
Visit Saugerties
---
What is the town of Catskill, New York famous for?
Catskill, NY is famous for its role as the birthplace of the Hudson River School art movement, its charming Main Street, and its scenic landscapes that inspired renowned artists like Thomas Cole.
Is Catskill, NY worth visiting?
Yes, Catskill, NY is worth visiting for its artistic heritage, Hudson River landscapes, Thomas Cole National Historic Site, and charming Main Street filled with galleries and boutiques as well as being a great base for exploring the Hudson Valley and Catskills regions.
When is the best time to visit Catskill, NY?
The best time to visit Catskill, NY is during the fall (September to November) when the foliage is vibrant and the weather is pleasant. This is also when the area's artistic and cultural events are in full swing. However, each season offers something unique and special.
---
Enjoyed this getaway guide to Catskill, New York? Bookmark for later or share the love below on Pinterest.