Making the scenic Los Angeles to Joshua Tree drive and looking for some fun stops along the way? You're in for a treat as there are so many cool stops on your way from LA to Joshua Tree National Park! In fact, some of the best places to visit in Southern California can be found on the drive to Joshua Tree from Los Angeles!
From quirky roadside attractions, cool desert towns, desert oases, unique attractions, and even the mountains! This guide explores all the best stops on your Los Angeles to Joshua Tree National Park road trip!
And once you get there, be sure to check out all the cool things to do in Joshua Tree too!
How far is Joshua Tree from Los Angeles?
Joshua Tree National Park is located approximately 130 to 150 miles (209 to 241 kilometers) east of downtown Los Angeles, depending on which entrance you use and your starting point within the city. The drive typically takes around 2.5 to 3 hours, depending on traffic and road conditions.
The most common route from Los Angeles to Joshua Tree National Park is to take Interstate 10 (I-10) East. Here's a basic overview of the route:
Start on I-10 East from downtown Los Angeles.
Continue on I-10 East for approximately 120-140 miles (193-225 kilometers).
Take Exit 117 for Joshua Tree (California Route 62 – Twentynine Palms Highway).
Follow California Route 62 East for about 25 miles (40 kilometers) until you reach the Joshua Tree Visitor Center, which is the western entrance to the park.
This route is straightforward and well-marked, and it's the most commonly used route from Los Angeles to Joshua Tree National Park.
However, it's always good to check for any road closures or updates before your trip, especially if there are any ongoing construction or maintenance projects on the highways.
Must-See Stops from Los Angeles to Joshua Tree National Park
The Original In-N-Out Burger Museum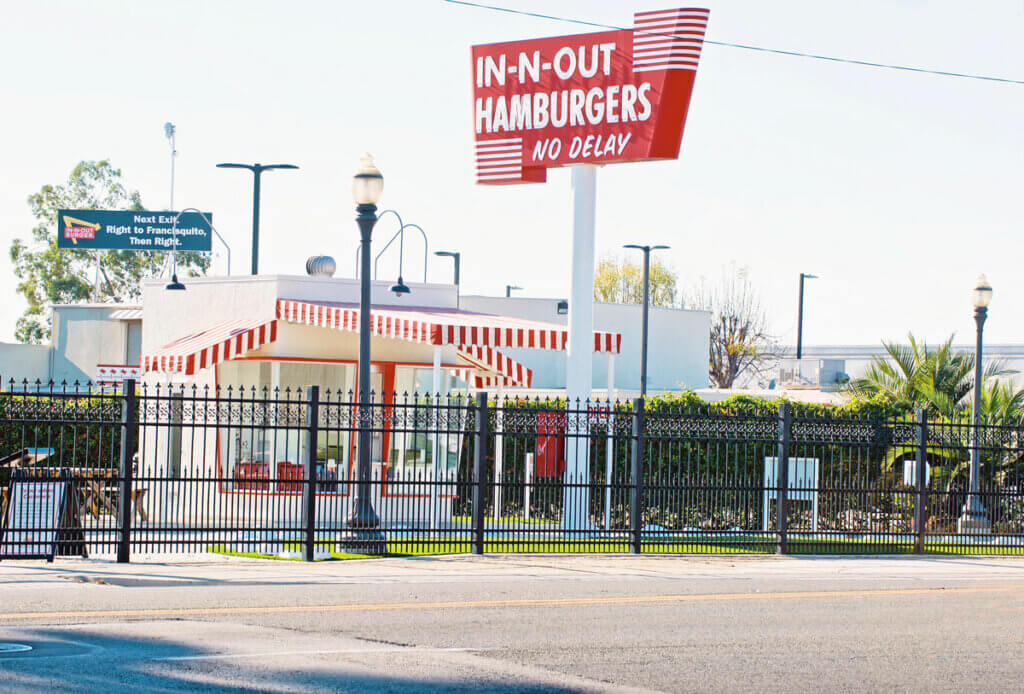 We are HUGE In-N-Out fans. And if you talk to anyone from California they are going to say the same. No road trip in California is complete without making a pitstop at In-N-Out, and this is a special one to stop at! On your way to Joshua Tree from Los Angeles, take a quick exit off the 10 to visit the In-N-Out Museum in Baldwin Park.
For fans of the burger chain, it's tons of fun to visit the first In-N-Out from all the way back in 1948! But you should know that this is just a replica of the first restaurant, and it functions as a museum. Sadly, the original was torn down for the construction of the I-10 freeway.
Today, the museum sits near the location of the original, at 13752 Francisquito Avenue in Baldwin Park. It offers a glimpse into the brand's early years and it's a must at the beginning of your LA to Joshua Tree adventure! You can visit Thursday through Sunday between 11 AM to 2 PM.
The In-N-Out Museum offers a lovely dive into the history of this beloved burger joint. Founded by Harry and Esther Snyder, the chain's commitment to quality and service has made it a SoCal legend.
In fact, did you know that this In-N-Out location was the first ever to have a drive-thru? They changed fast-food dining forever!
Vintage memorabilia, including the original red and white tiles from the first restaurant, take you back to its humble beginnings. Museum associates dressed in retro uniforms will share interesting facts. And make sure to check out the old-fashioned washing machine that was used to wash potatoes!
Visiting the In-N-Out Museum adds a special touch to your Los Angeles to Joshua Tree road trip. And before you get back on the road, stop across the highway at the actual In-N-Out restaurant to pick up your favorite order!
Big Bear Mountain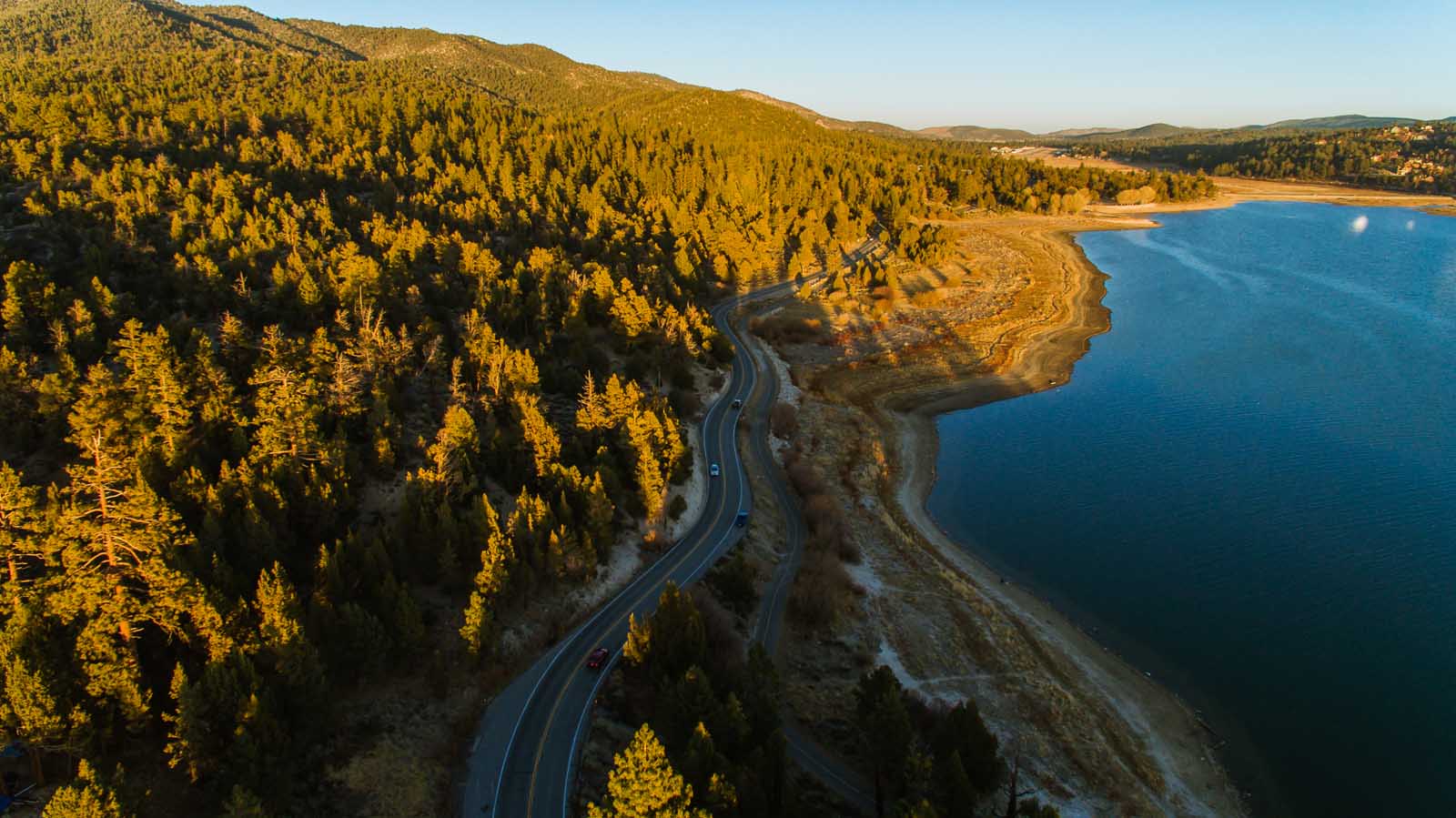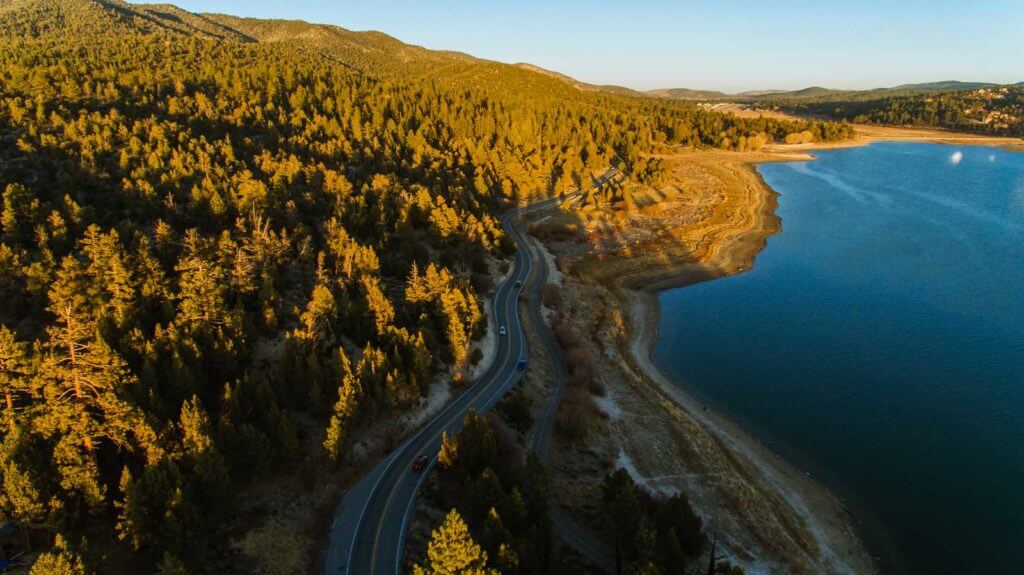 If you're up for a slight detour on your journey from Joshua Tree to Los Angeles or vice versa, consider making a stop at Big Bear Mountain. It's a bit out of the way but would be an excellent overnight stop if you want to really experience the diverse California landscape. It's worth the extra miles!
Big Bear Mountain is best known for its ski resorts and snow-covered slopes. In the winter, the entire area becomes a hub for snow sports enthusiasts. This is the ideal spot for skiing and snowboarding on your journey from Los Angeles to Joshua Tree National Park.
During the summer, Big Bear Village transforms into a lakeside retreat and Big Bear Mountain becomes an outdoor lover's paradise!
When we pass through, we love exploring this charming village with its cute shops and eateries. And if you get a chance, plan a visit to the Big Bear Alpine Zoo! You can read about this and more things to do at Big Bear Mountain here.
Summer means boating, fishing, and relaxing on the water's edge at Big Bear Lake. Up and down the mountain and around the entire lake, you'll find trails for hiking and biking. There's something for every skill level, so everyone can explore the forests and enjoy panoramic views.
Make sure to include Big Bear Mountain in your Los Angeles to Joshua Tree itinerary. It's a wonderful way to break up your drive and experience California's stunning landscapes.
Redlands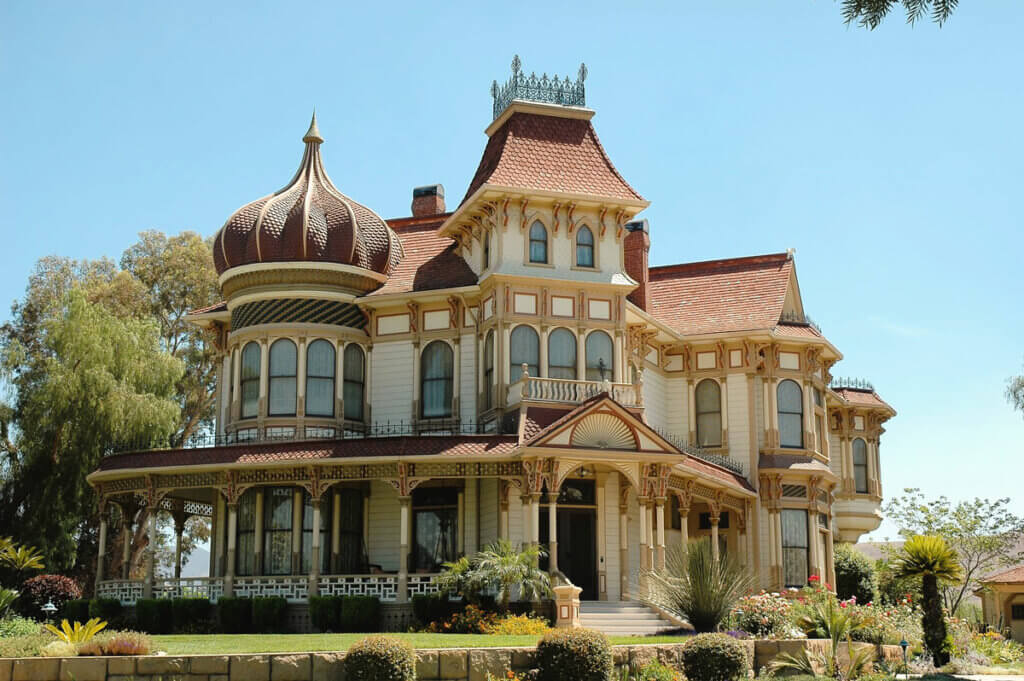 Back on the I-10 as you journey from LA to Joshua Tree National Park, make sure to include a stop in the beautiful city of Redlands, California. Situated conveniently on your route, Redlands offers a variety of attractions that can add a unique touch to your road trip.
Start your visit in the historic district that is Downtown Redlands. The district is a treasure trove, showcasing beautifully restored buildings that date back to the late 1800s and early 1900s. It all reminds you of the city's history as a bustling citrus hub!
For a refreshing drink and a meal, we recommend a stop at Hangar 24 Craft Brewery across from the airport. Here, you can try a variety of handcrafted brews in a relaxed atmosphere inside an old hangar! It's a great stop for both travelers and locals, with local food trucks and live music on the patio. We used to always stop here on our way to/from Joshua Tree!
While in Redland, the Kimberly Crest House & Gardens is another great stop. This stunning Victorian mansion feels like something out of a storybook! You can take guided tours to see the mansion's beautifully preserved rooms and stunning landscaped gardens. You'll also learn about the house's rich history connected to the women's education movement of the early 20th century.
Speaking of cool Victorian mansions, be sure to drive past the Morey Mansion. This privately-owned mansion is not open to visitors but you can admire the beauty from the road. This is one of the most beautiful Victorian homes ever and has been featured in many movies and tv shows and is rumoured to be haunted due to its tragic past with it's original owners.
Interested in more California history on your trip from Los Angeles to Joshua Tree National Park? Then a visit to The Asistencia is in order. Part of the Mission San Gabriel's Rancho San Bernardino, this historical landmark acts as an exhibit of California's Spanish colonial past.
You can wander through reconstructed adobe buildings and grounds that were used to support the mission. The Asistencia is open for visitors on Mondays or Wednesdays from 10 AM to noon.
Cabazon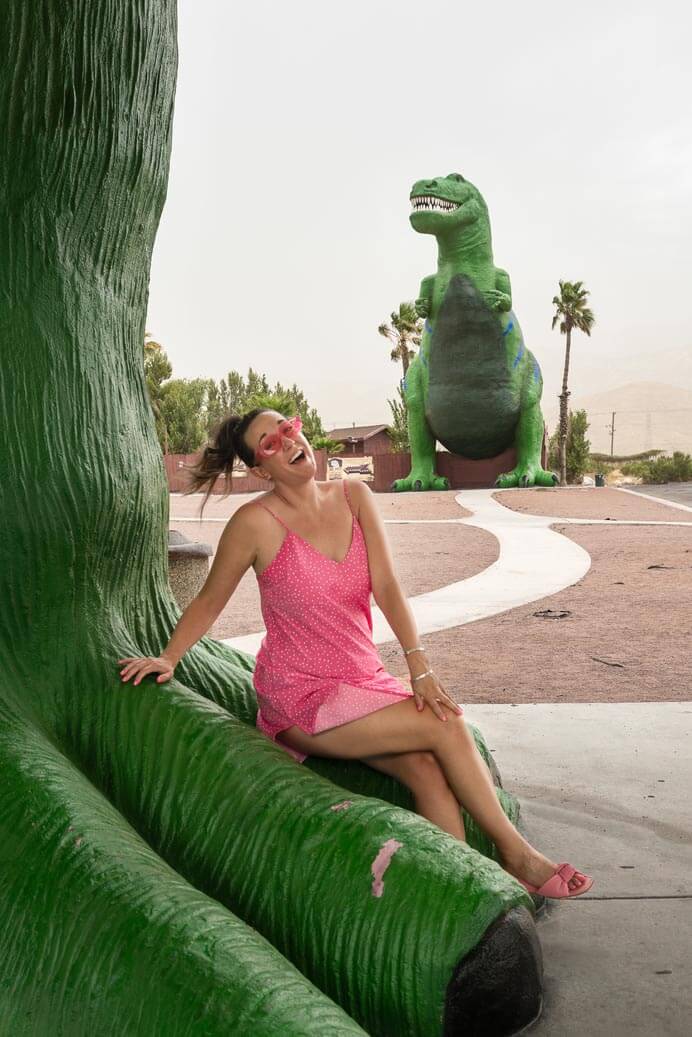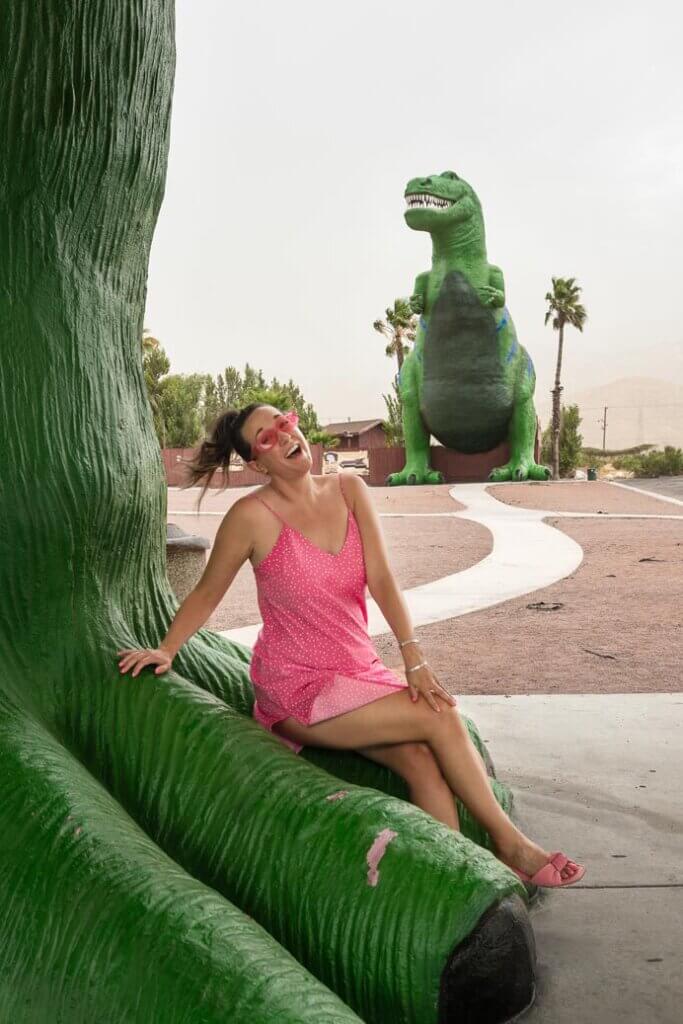 One of our personal favorite roadside attractions in the United States can be found in Cabazon! Cabazon is a compelling pause during your Los Angeles to Joshua Tree drive. Positioned along a scenic but quiet stretch of the 10 freeway right before you reach Palm Springs, Cabazon offers an unexpected spattering of attractions that you won't want to miss!
One of the highlights of Cabazon is the Desert Hills Premium Outlets. While an outlet mall isn't something I'd normally recommend, this one's really good! You'll find all your favorite midrange and high-end brands here. It's an excellent place to take a break, stretch your legs, and perhaps snag some great deals.
But the biggest reason to stop in Cabazon on your Joshua Tree to Los Angeles route is the World's Biggest Dinosaurs! The quirky dinosaur sculptures here are a unique roadside attraction that has been a popular road trip stop for ages. You might recognize them from Pee-Wee's Big Adventure.
Speaking of Pee-Wee, we learned of Paul Reuben's passing the day we were visiting the dinosaurs. We were visiting Palm Springs on this visit and 3 days later they had already painted the giant T-Rex in a Pee-Wee Herman suit! The owners of the Cabazon Dinosaurs often paint them for holidays and other fun reasons! So every visit is a bit different!
The two main dinosaurs are free to visit along with the gift shop inside the giant Brontosaurus, but there's a small admission to enter the dinosaur park for everyone over 3 years old, with a discount for everyone 56 and older. There's a fun dinosaur garden with robotic dinosaurs, a fun dino dig activity where you can win prizes, and you can climb inside the giant T-Rex mouth and roar down at everyone.
The Cabazon Dinosaur Park is open every day (except Christmas Day) from 9 AM to 7 PM.
Palm Springs Aerial Tramway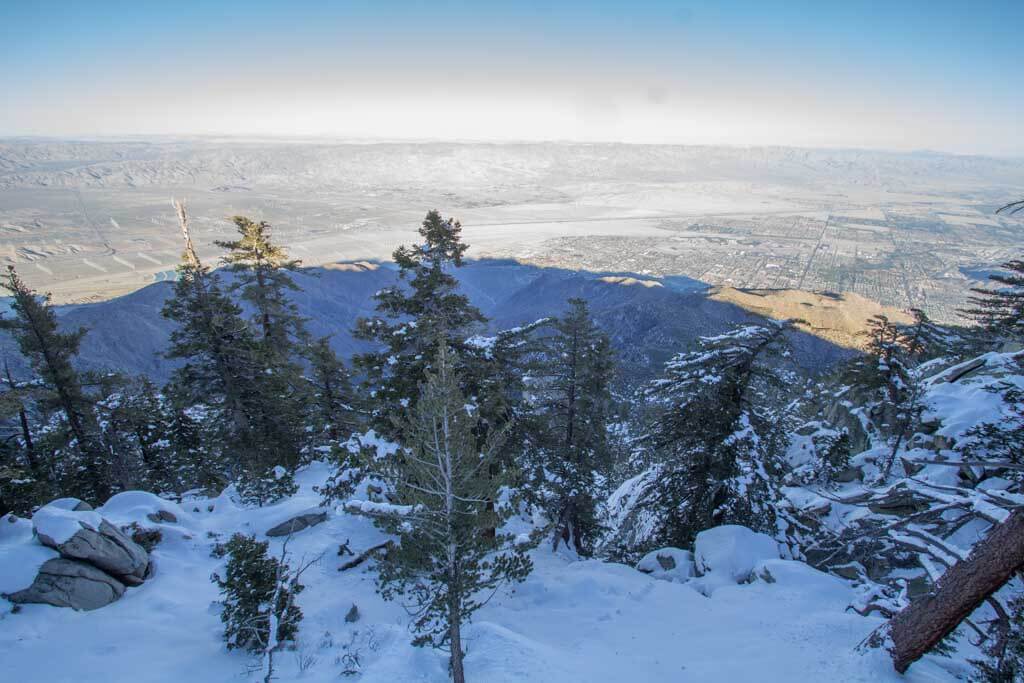 While making your way from Los Angeles to Joshua Tree National Park, consider adding in a thrilling visit to the Palm Springs Aerial Tramway. This stop promises to be a highlight of your trip, being a memorable way to experience the diverse beauty of Southern California!
Opening in 1963, the Palm Springs Aerial Tramway boasts a long history and major improvements over the years. Both the Valley Station and the Mountain Station were designed in distinctive mid-century modern styles that fit in with the rest of Palm Springs!
From the Valley Station, you'll ascend, riding in the world's largest rotating tramcar, which replaced the original tramcars in 2000. They're perfect for enjoying panoramic views that transform from desert landscapes below to snow-capped peaks of the San Jacinto Mountains!
Upon reaching the Mountain Station at an elevation of over 8,000 feet, you'll find a variety of things to do. You can also enjoy dining on regional cuisine with a view at both the Pines Café and Peaks Restaurant. Or grab a drink at the Lookout Lounge Cocktail Bar.
The airy observation decks provide breathtaking views of the surrounding Coachella Valley. And for hikers and nature enthusiasts, there are different trails to explore. During the winter, you can also visit the Adventure Center for snowshoeing and cross-country skiing excursions.
When planning your visit during a drive from LA to Joshua Tree, there are a few things you'll need to plan for!
First, temperatures at the summit are significantly cooler than at the base, so you should dress in layers. Also, the tramway is a popular Palm Springs attraction. It's recommended to book in advance, especially during peak seasons.
Palm Springs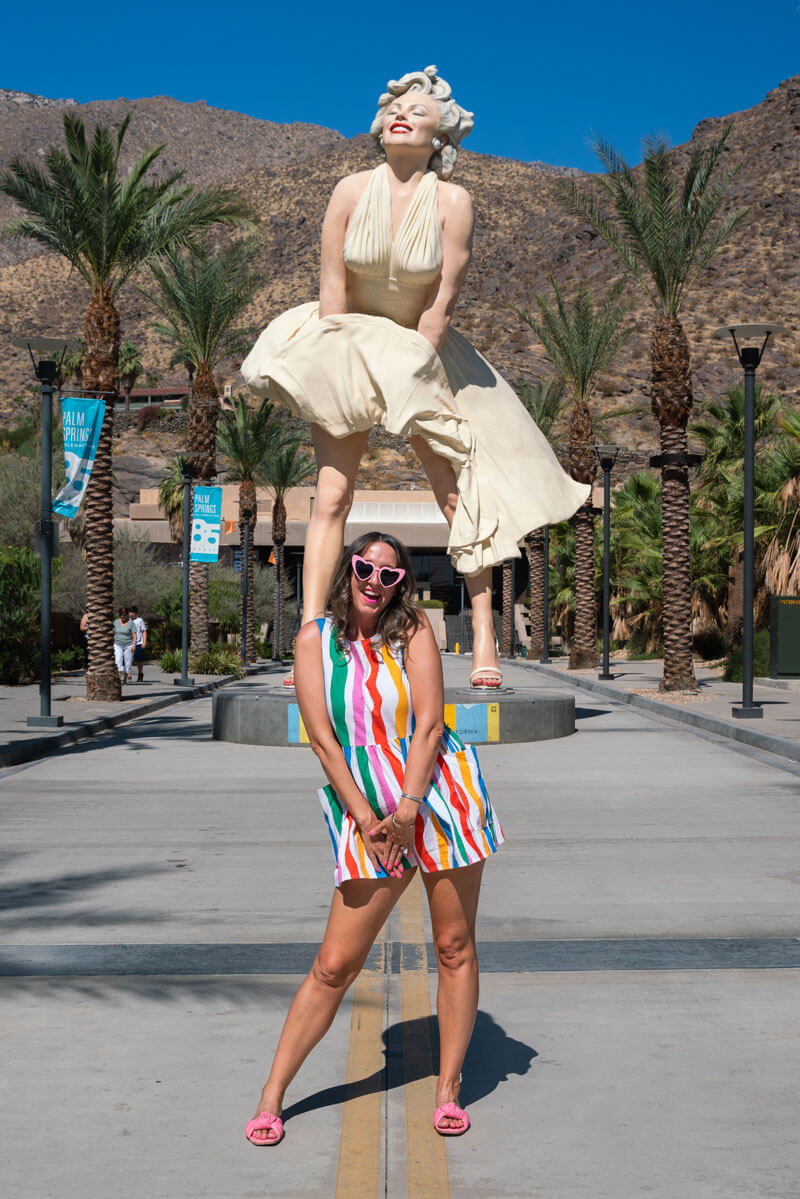 As part of your Los Angeles to Joshua Tree road trip, Palm Springs offers a serene transition from the bustling city to the serene desert landscape of Joshua Tree. Whether you're an art lover or someone seeking a picturesque retreat, Palm Springs encapsulates Southern California's beauty!
This stunning desert city first became popular as a glamorous getaway for Hollywood stars in the mid-20th century. And it feels a bit frozen in time! Palm Springs' allure lies in its blend of iconic mid-century modern architecture and stunning natural surroundings.
Palm Springs is an iconic, must-see destination on a Joshua Tree to Los Angeles road trip. A major attraction that draws visitors is its collection of mid-century modern homes. Take in the clean lines, geometric shapes, and large windows of these homes that perfectly frame the desert and mountains beyond. You can even join a variety of guided architectural tours throughout the city!
Exploring Palm Canyon Drive is another essential part of the Palm Springs experience on your way to Joshua Tree from Los Angeles. This gorgeous downtown street features a mix of boutiques, art galleries, restaurants, and cafes. You'll love the atmosphere here, lined with palm trees and adorned with colorful street art.
Make sure to stroll along the Walk of Stars on Palm Canyon Drive! Here, plaques honor Hollywood legends who once frequented the city, solidifying Palm Springs' historical significance!
Another one of the best things to do in Palm Springs is visit the Palm Springs Art Museum with its diverse collection of art, from contemporary works to Native American art. You can't miss the giant Marilyn Monroe statue outside either!
Coachella Valley Preserve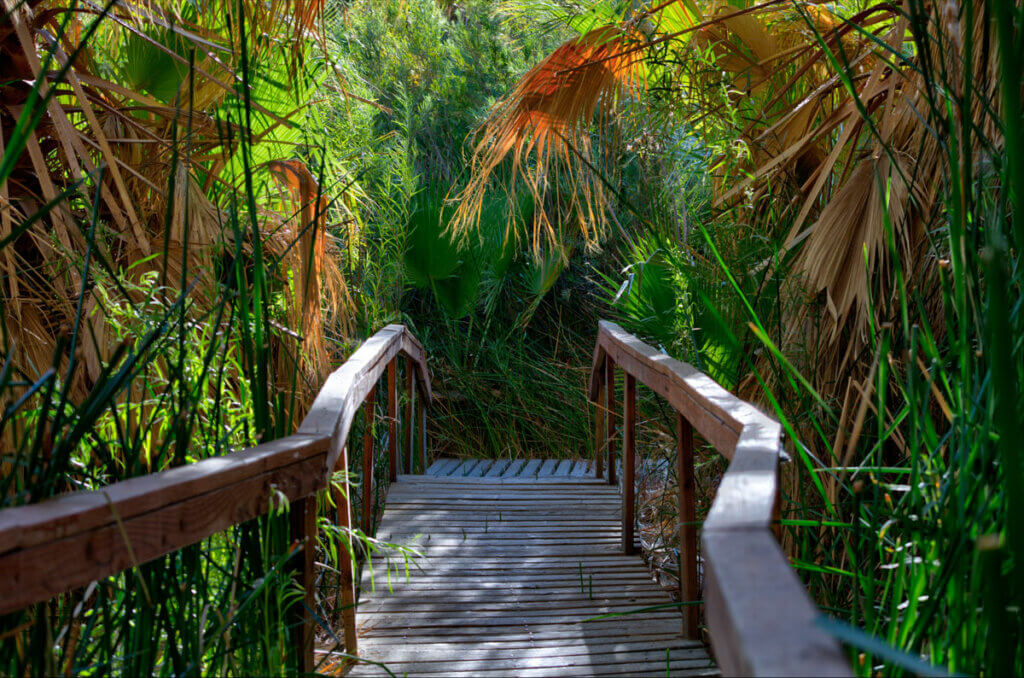 Almost to Joshua Tree now, don't pass up a chance to visit the Coachella Valley Preserve. This protected oasis offers yet another unique stop that will only enrich your Los Angeles to Joshua Tree road trip. The Preserve is actually a collection of preserves, each made up of a collection of protected ecosystems.
At the heart of the Coachella Valley Preserve lies the breathtaking Thousand Palms Oasis Preserve. You have to see this lush grove of massive California fan palms! The boarded McCallum Trail offers an easy hike through this breathtaking oasis, where you'll take in the striking size of the towering palms among the rugged desert terrain!
For birdwatchers, the preserve is a favorite, especially during migration seasons. The diverse ecosystems, from palm groves to desert scrub, attract quite a variety of bird species. This makes it an ideal spot for bird spotting and photography. As you walk the trails, keep an eye out for native wildlife like desert tortoises and lizards.
The Coachella Valley Preserve also offers an educational experience through its visitor center. You can learn about the unique desert ecosystem and the conservation efforts taking place to protect it. Guided hikes and tours are also available.
Whether you're seeking a tranquil pause in your LA to Joshua Tree journey or an educational excursion, you'll find it at the Coachella Valley Preserve. May 1 through October 31, you can visit from 7 AM to 7 PM on Saturdays and Sundays. From November 1 through April 30, you can visit from 7 AM to 5 PM, Wednesdays through Sundays. Admission is free.
Palm Desert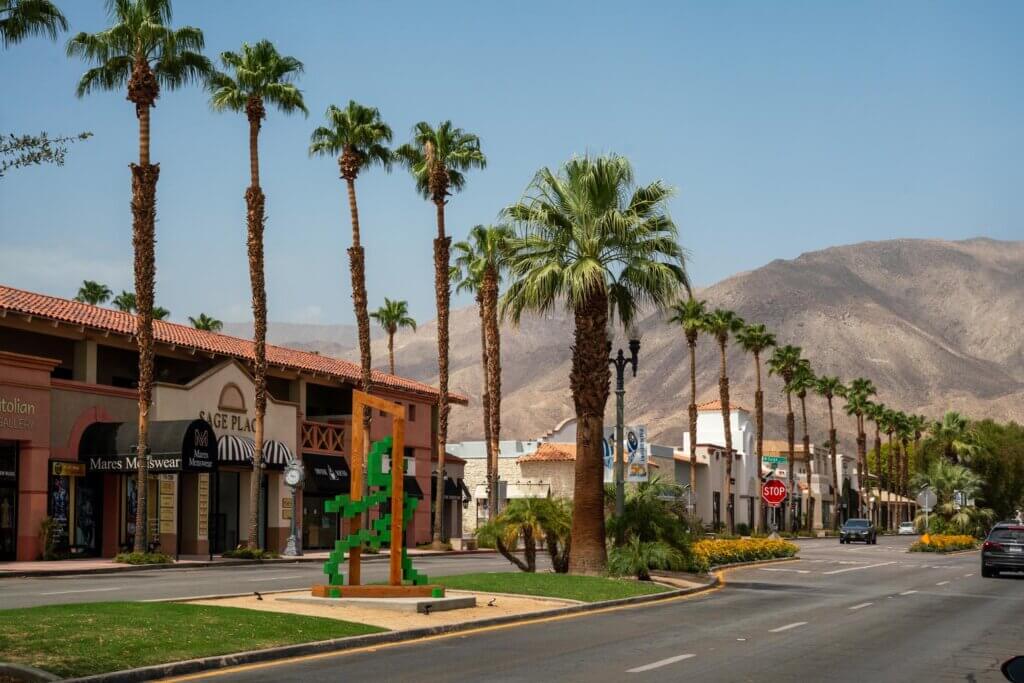 Palm Desert is a glamorous oasis on the Los Angeles to Joshua Tree drive through Coachella Valley. Nestled in the greater Palm Springs area, this city is characterized by the same iconic desert fan palms, manicured lawns, extravagant houses, and majestic mountain vistas located in the Greater Palm Springs area.
Palm Desert is a great place to find top-notch shopping and relaxing attractions, making it a satisfying stop on your way to Joshua Tree from Los Angeles.
A highlight of Palm Desert is the street of El Paseo, also known as the "Rodeo Drive of the Desert." This upscale shopping district boasts all kinds of boutiques, clothing stores, galleries, dining establishments, and more. It's the perfect place to find discounted luxury brands, electronics, jewelry, and a diverse array of food options.
For nature lovers looking for things to do on a Los Angeles to Joshua Tree road trip, check out the Living Desert Botanical Zoo & Gardens. This stunning zoological park in Palm Desert showcases a collection of animals that thrive in desert ecosystems. You'll see giraffes and ostriches, but also animals like big horn sheep and wallabies! The zoo also offers unforgettable experiences, like animal encounters, safari tours, and more.
Pioneertown
You might be a fan of Western films or simply looking to enjoy live music and good food. Either way, you won't regret visiting Pioneertown! It was originally built as an Old Western movie set in the 1940s. But today, this charming town has transformed into a quirky tourist attraction that offers a taste of the Wild West.
Pioneertown is actually an unincorporated community in San Bernadino County's High Desert region with private residents and business owners. It's open to visitors year-round and is free to visit.
However, while planning your trip from Los Angeles to Joshua Tree National Park, you might want to plan on stopping by on the weekend or afternoon. This is when all the businesses open their doors, there are live theatrical performances and more!
The highlight for tourists is the pedestrian-only Mane Street. Strolling along this main drag, you'll feel transported back in time! Explore the vintage facades and rustic charm straight from any old Western film. Some of the structures just make great photo opportunities, while others house boutiques and souvenir shops.
One of the town's focal points is the famous Pappy & Harriet's, a beloved BBQ restaurant known for its live music. Their live music put this place on the map and they offer delicious food with a fun atmosphere!
Even if you just have enough time to stop for a meal at Pappy & Harriet's, it's worth a stop on your drive from Joshua Tree to Los Angeles!
Salton Sea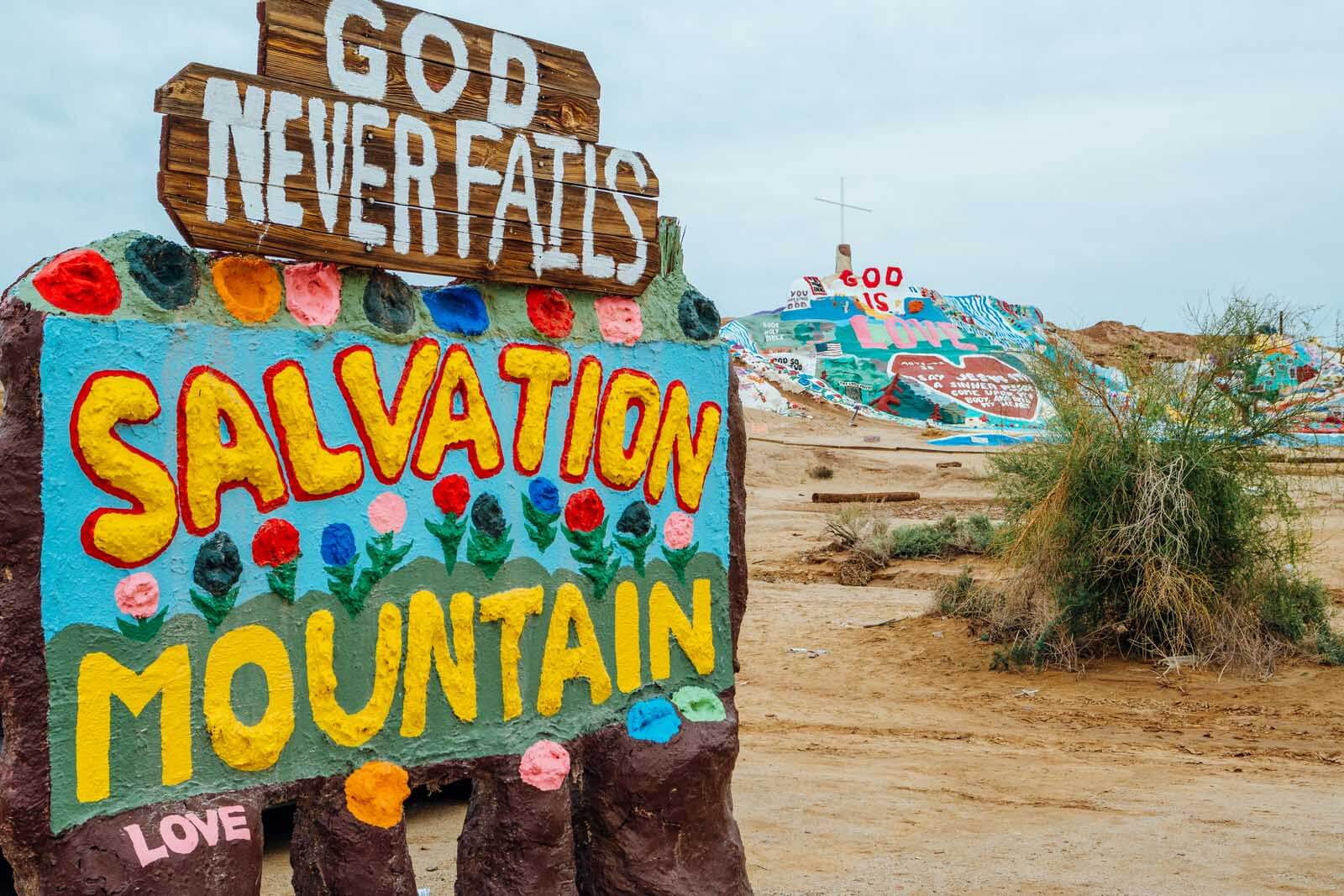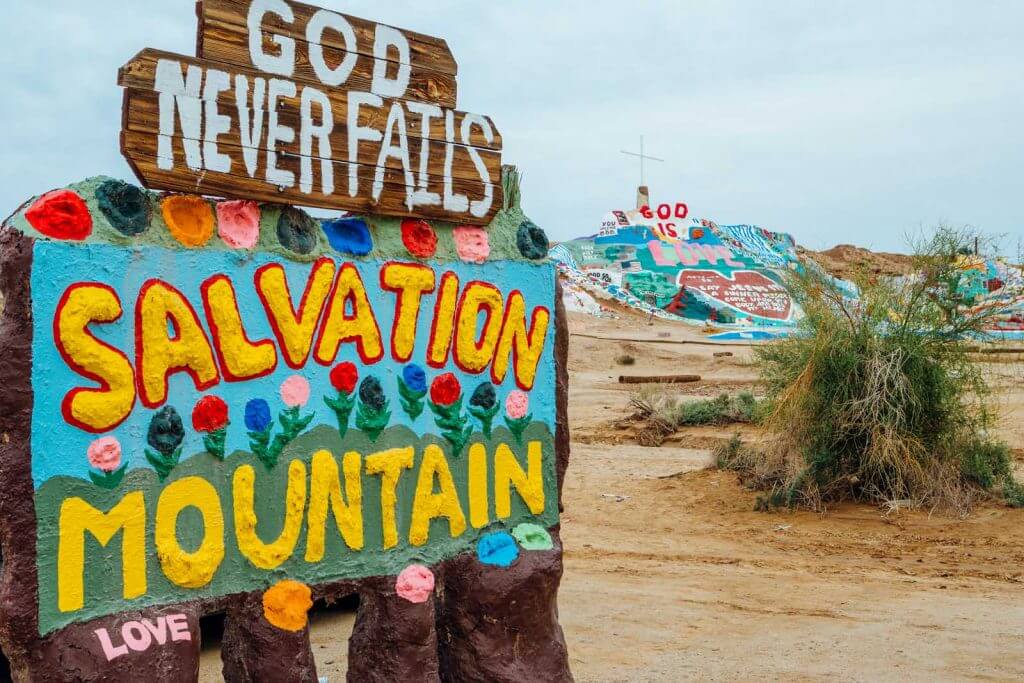 While it's a little out of the way, one of the best stops on a drive to Joshua Tree National Park is the Salton Sea. This once-freshwater lake transformed in the early 1900s. You can read about it plus all the cool things to do at the Salton Sea.
In the 1950s, it was even a resort destination, offering fishing, boating, and swimming! Unfortunately, after a few decades, the lake became so salinized and toxic that most of the fish died. Ultimately, Salton Lake was named an environmental disaster. Today, the lake still attracts visitors, but for very different reasons!
One of the most interesting parts of the Salton Sea these days is the array of quirky attractions that have sprung up around it. Bombay Beach, Salvation Mountain, and the International Banana Museum are all surprising and unforgettable art installations.
When we visited on our adventure from Los Angeles to Joshua Tree National Park, one of our favorites in particular was East Jesus. It's an outdoor art museum with installations that are all about off-the-grid living, anarchy, and no rules!
While you're here, check out the Salton Sea State Recreation Area. It's a good place to walk the beach, explore the visitor center, or take pictures. It's also worth it to drive nearby to see the mysterious mud pots of the Salton Sea. This is where geothermal activity creates bubbling mud formations that certainly add to the region's strange factor!
---
How far is Joshua Tree National Park from Los Angeles?
Joshua Tree National Park is located roughly 130 to 150 miles east of downtown Los Angeles, with the drive typically taking around 2.5 to 3 hours via Interstate 10 (I-10) East, depending on traffic and the park's entrance chosen.
Where do you stop on the drive from LA to Joshua Tree?
On the drive from Los Angeles to Joshua Tree, popular stops include Cabazon and Palm Springs, quirky desert towns like Joshua Tree and Pioneertown, scenic viewpoints along the route, and local eateries. These stops offer unique desert experiences and photo opportunities.
Can you do a day trip to Joshua Tree from LA?
Yes, a day trip to Joshua Tree National Park from Los Angeles is feasible, but it's a long day with limited time for hiking and exploration. Consider an early start to make the most of your visit.
What airport do you fly into for Joshua Tree?
Joshua Tree does not have a direct airport, so travelers typically use nearby airports for access. Palm Springs International Airport (PSP), about an hour away, and Ontario International Airport (ONT), roughly 2 hours away, are the closest options. Los Angeles International Airport (LAX) is also a choice for those seeking more extensive flight options, although it's a bit farther from Joshua Tree, requiring a drive of approximately 130 to 150 miles, taking about 2.5 to 3 hours by car.
Is Palm Springs near Joshua Tree?
Yes, Palm Springs is near Joshua Tree, with Palm Springs International Airport located approximately an hour's drive away from the western entrance of Joshua Tree National Park.
Fun Stops on the Los Angeles to Joshua Tree Road Trip (Post Summary):
The Original In-N-Out Burger Museum
Big Bear Mountain
Redlands
Cabazon
Palm Springs Aerial Tramway
Palm Springs
Coachella Valley Preserve
Palm Desert
Pioneertown
Salton Sea
---
Enjoyed this guide to the best stops on the Los Angeles to Joshua Tree drive? Bookmark for later or share the love below on Pinterest.