Did you know that there are several beautiful and historic covered bridges in New York state? A few years ago I would have not been that interested but after a visit back home to Ohio where my mother took us to a scenic covered bridge, we started noticing them more and appreciating their photogenic qualities.
There's something fun about having little landmarks like covered bridges to hunt down on road trips and drives Upstate, not to mention some have interesting histories and many of which were built in a time where horses and buggies were the main modes of transportation before the automobile and motor cars.
From the Catskills and Adirondacks to the Capital region of the state, we have picked out a few gorgeous NY covered bridges to highlight along with the photos we've taken so far, and some we plan on hitting up on our next adventure, as well as the oldest covered bridge in the United States!
Most of the covered bridges in the United States were built between 1825 through the 1870s, but you'll notice there are a few more modern covered bridges featured here as well and often times they are located near some of the most charming towns in New York!
This style of bridge was built with a roof to protect the structure of the bridge from harsh natural elements like snow and rain to help prevent decay and rot. Wooden bridges built at this time that didn't have a roof or covered sides had an average lifespan of around 20 years whereas covered bridges had an estimated average lifespan of 100 years.
These were much more common in the past, and it is said that around 1 in 20 of every covered bridge built in the mid 19th century have survived. So on your next New York road trip, be sure to check and see if any of these vanishing reminders of the past will be along your route.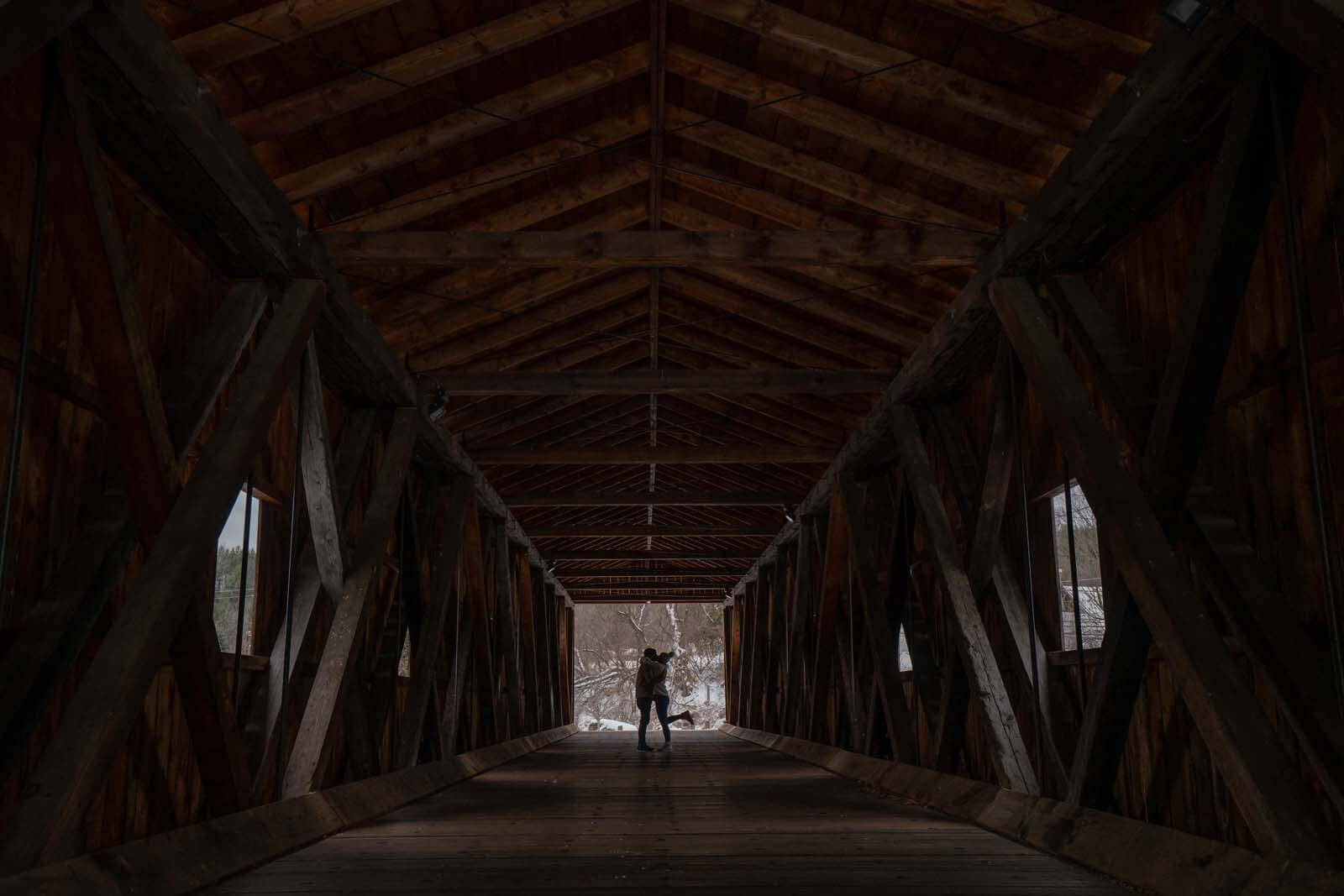 Covered Bridge Terms:
Before continuing, there are a few terms that are used frequently throughout this post about covered bridges in New York that you might find helpful as you read along about the design of these bridges.
Queen Truss – or queen post is where there are two supporting posts or beams in the design of the structure.
King Truss – or king post uses one central supporting post/beam that's placed vertically on the bridge design from above.
Lattice Truss – This design features small, spaced diagonal patterns forming a 'lattice' and was meant to be easier to construct than using large timber/wood as well as it took less skill to be able to build a bridge using this style.
Howe Truss – this style consists of vertical construction which serves as tension and diagonal construction as compression that was a popular design and style used on bridge construction throughout the entirety of the 19th century.
Burr Truss – This style was patented in 1817 and is a combination of an arch and a multi-king post truss design and found commonly in covered bridges in North America.
Historic NY Covered Bridges
Jay Covered Bridge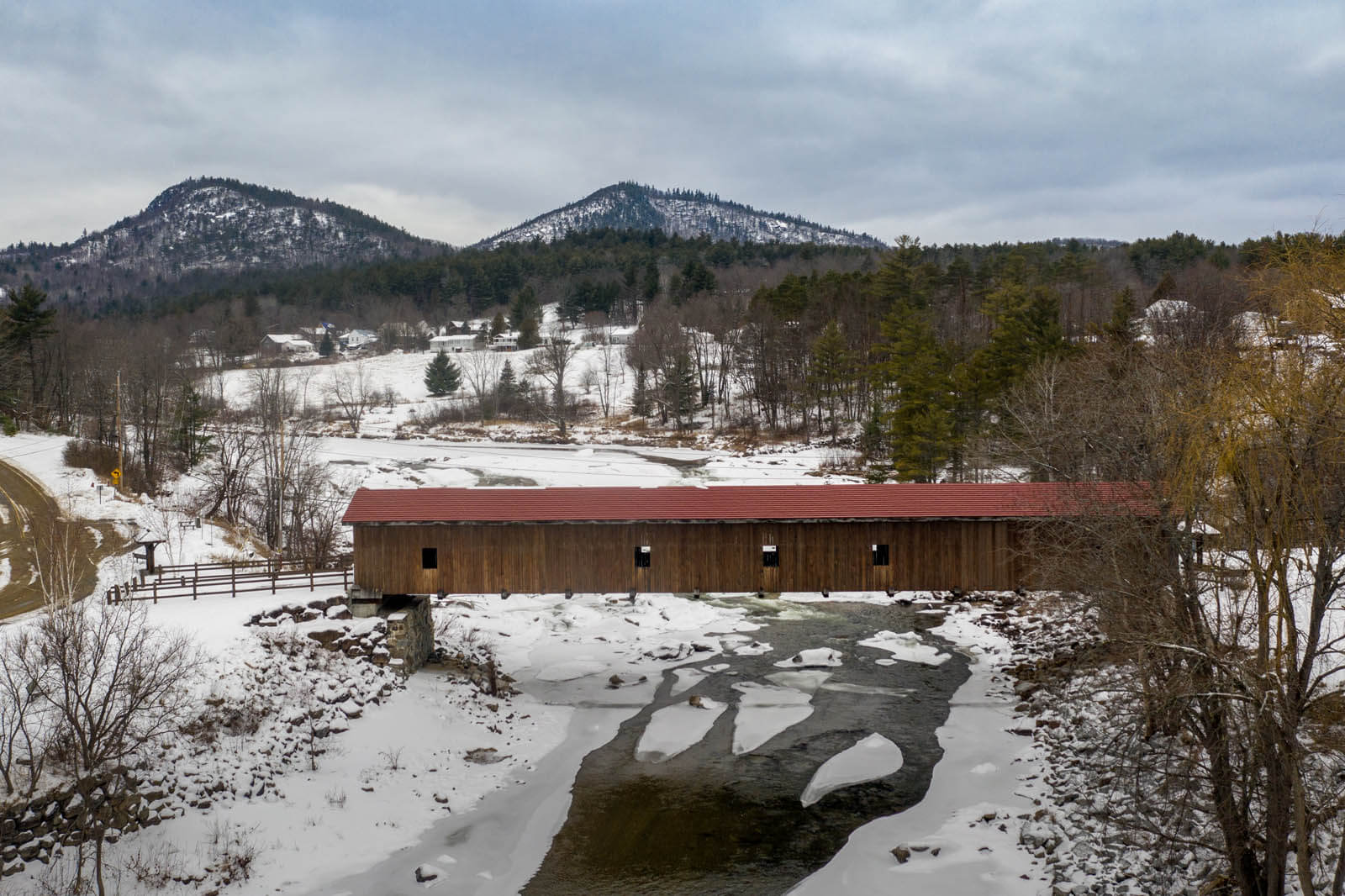 This NY covered bridge in the Adirondacks was constructed in 1857 using the Howe truss design over the eastern branch of the Ausable River in the quiet mountain town of Jay, Essex County. It is one of the longest covered bridges in New York with a total length of 175 feet.
Today, the Jay Covered Bridge is used by pedestrians and cyclists only, has been added as a part of the Douglas Memorial Park, and filled with seats to enjoy the scenic view of the river that the bridge provides and a spot to take memorable photographs.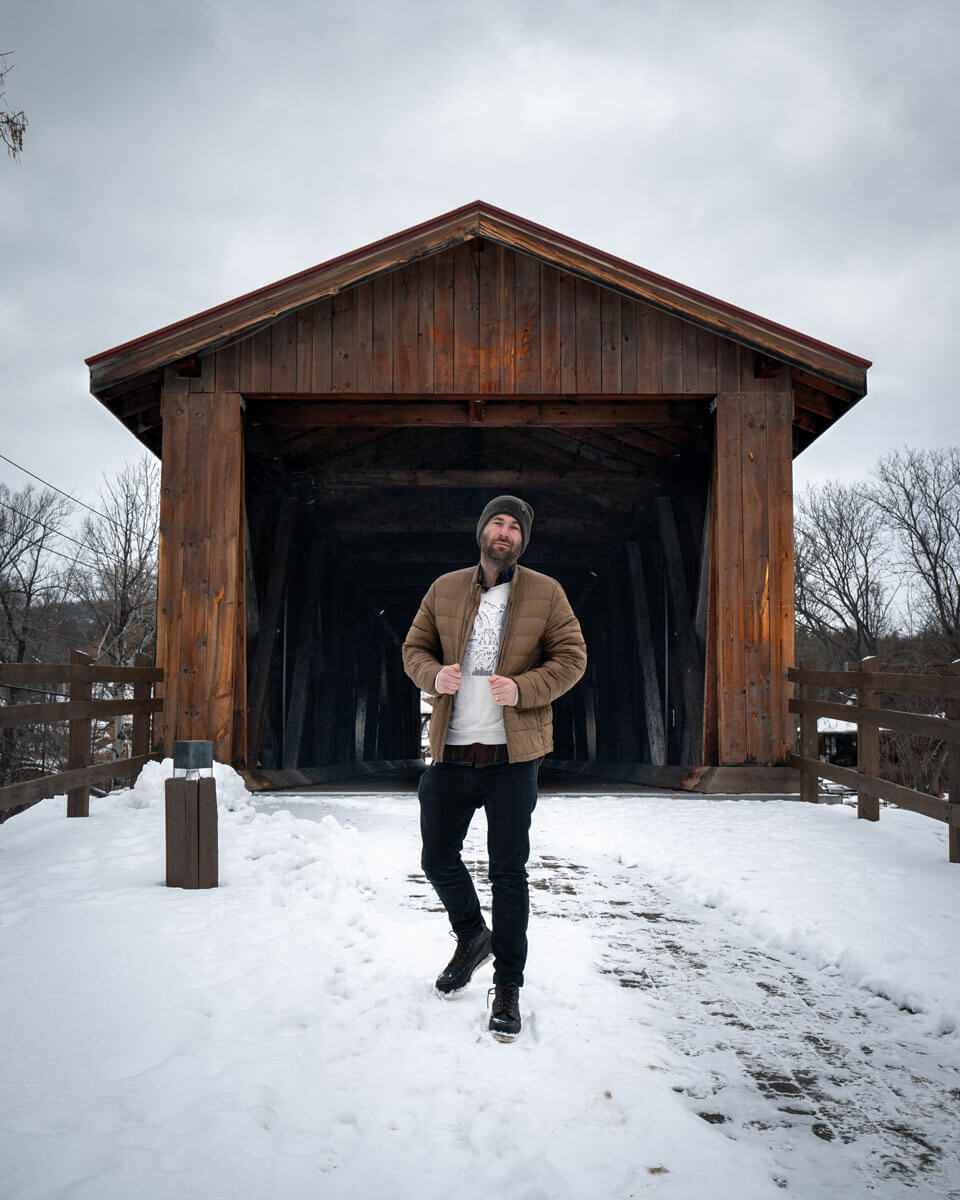 The bridge has been rehabilitated over the years after falling into disrepair. It is now the last northern NY-covered bridge and one of the two covered bridges in Adirondacks.
We visited during our Adirondack winter getaway and it just seemed so magical with the layer of snow and winter backdrop!
Kissing Bridge in Ticonderoga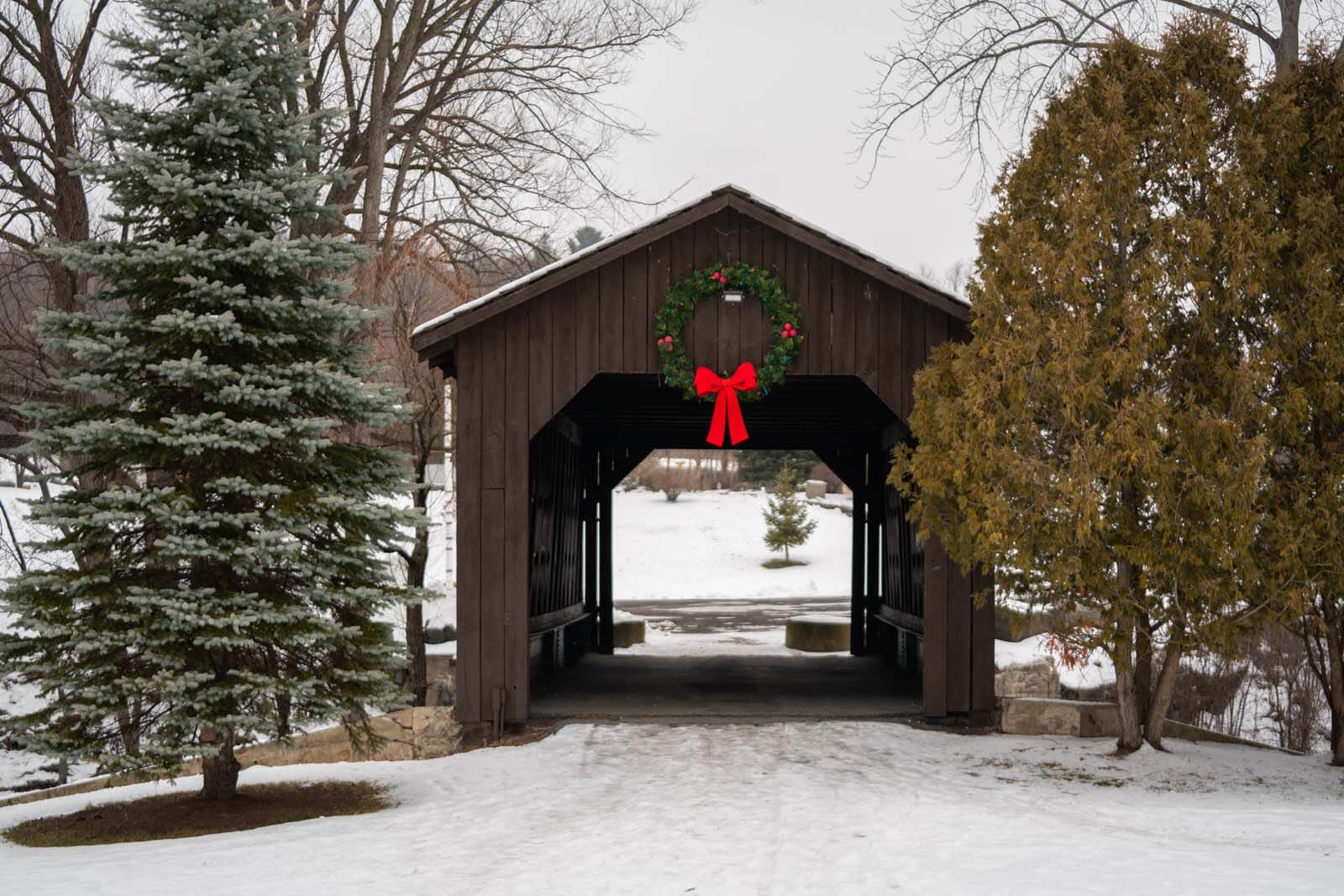 If you're looking for romantic, covered bridges in New York, the Kissing Bridge in Ticonderoga should be among your top choices located in the Lake Champlain area of the Adirondacks near the famous historic Fort Ticonderoga just 2.5 miles away.
The Kissing Bridge sits over the La Chute River which connects Lake George to Lake Champlain and is a scenic location complete with views of the flowing Carillon Falls waterfall. The bridge was formerly a 'pony plate girder' another style of bridge and was covered in 1944.
The only way to traverse this picturesque covered bridge in New York that looks like it's out of a fairy tale is by foot which makes it a great place to take a scenic stroll for views of the La Chute River and Bicentennial Park.
This is one of the most beautiful towns in the Adirondacks to visit with a quaint downtown, historic sites, and a waterfall!
Copeland Covered Bridge
This is the second NY-covered bridge in the Adirondacks region. Located in Edinburg in Saratoga County, New York, this bridge was built by Arad Copeland in 1879.
The Copeland Covered Bridge runs over Beecher Creek with a gorgeous cascading waterfall and was built to replace a small bridge that linked Copeland's house to a small pasture he owned. When the small bridge collapsed, he funded the Copeland Bridge building, which was then named after him.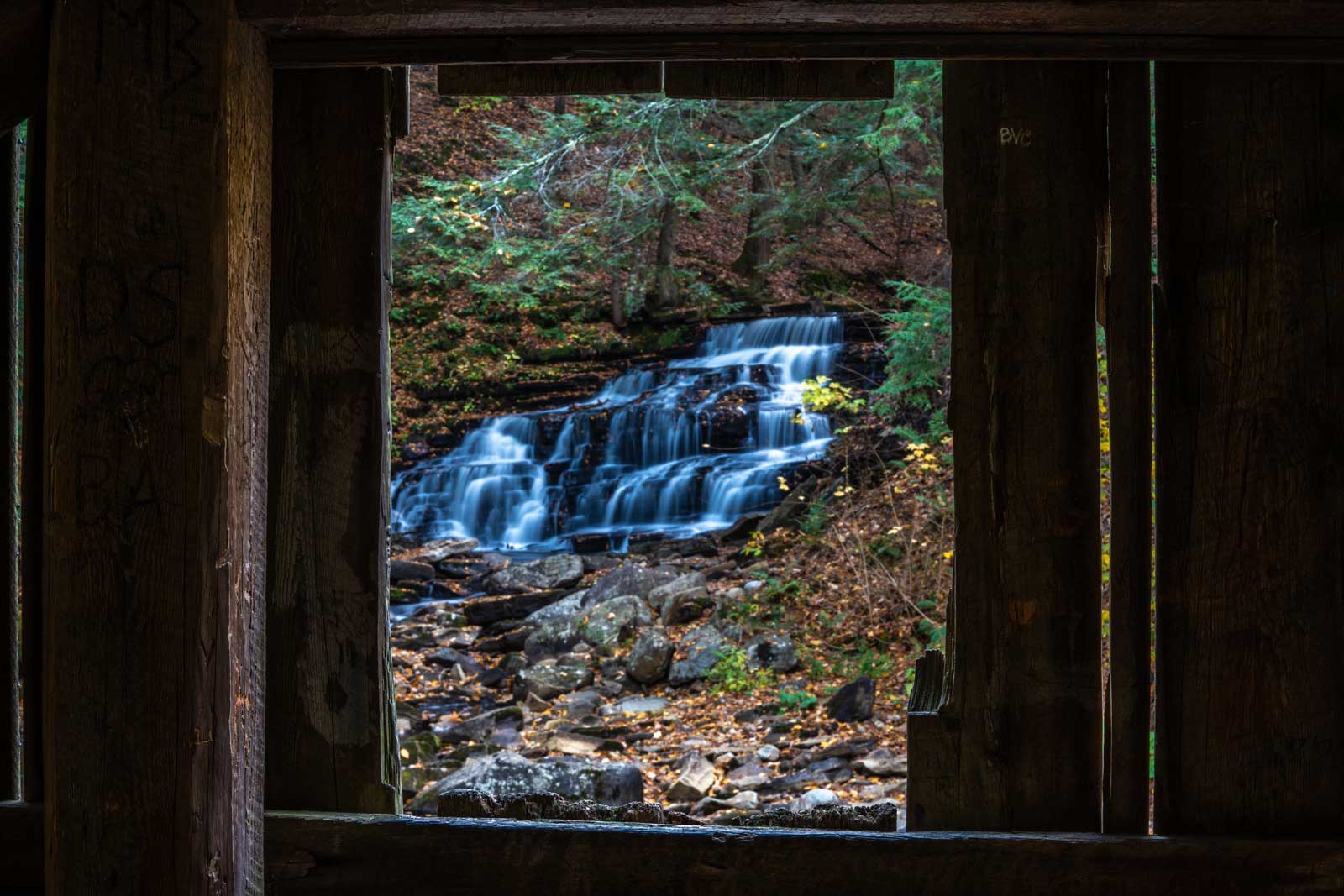 This rustic covered bridge features a queen post truss design and uses two central supporting posts and is 35 feet long and has become a popular spot for visitors passing through this quiet town.
Also, be sure to check out all the other best things to do in the Adirondacks to help you plan your vacation to this amazing region!
Downsville Covered Bridge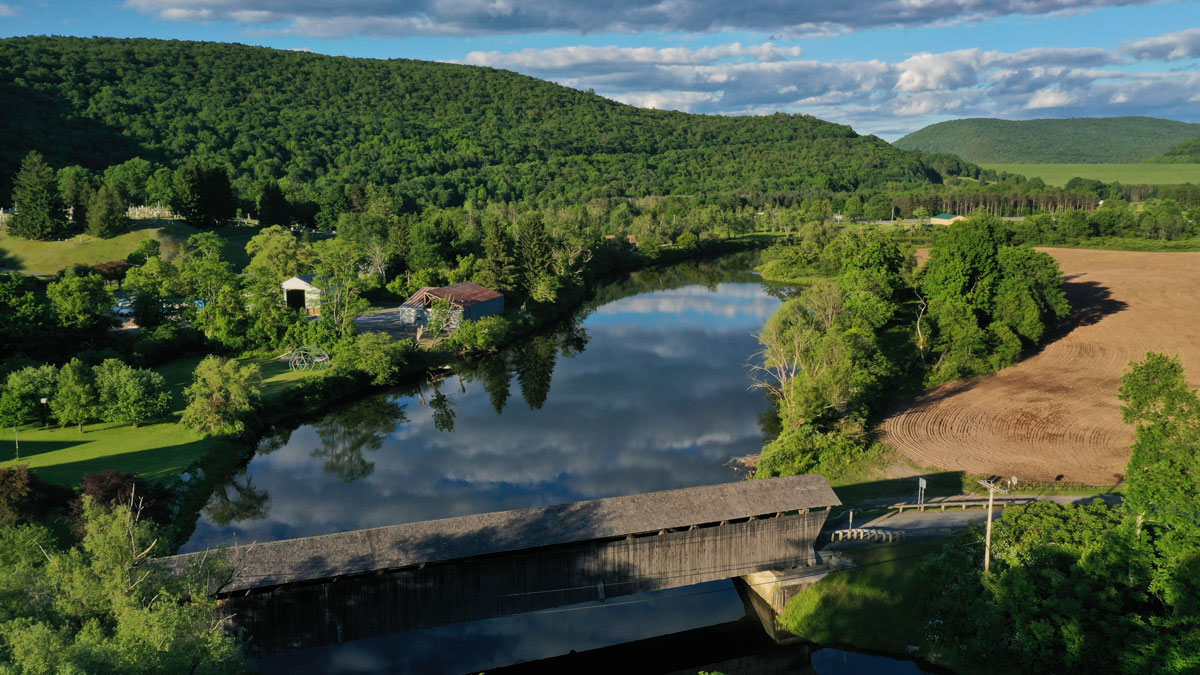 Located in Delaware County, the Downsville Covered Bridge is one of the six covered bridges in Delaware County, so for anyone who loves photographing or visiting covered bridges, this area is a hotbed of them.
Downsville Covered Bridge was built in 1854 and later refurbished in 1998 and is listed on the National Register of Historic Places.
This historic NY-covered bridge is 174 feet long and 18 feet wide and features a queen post truss set over the Delaware River. It is the longest covered bridge in New York that is currently being used.
There is a small park right next to the bridge where guests can enjoy picnicking with their families. With enough parking space, free picnic tables, kayak rentals, and fishing access, this location is a great spot for a stop on a scenic drive through the Catskills as well as being very close to Fitches Covered Bridge and Hamden Covered Bridge.
Be sure to see all the unique things to do in the Catskills while you're at it!
Buskirk Covered Bridge
Also referred to as NY-42-02, the Buskirk Covered Bridge was built in 1857 and listed on the National Register of Historic Places by 1978. It is located in Hoosic-White Creek and runs over the Hoosic River in the town of Buskirk near the state border of Vermont.
This beautiful covered bridge is a single span of 165 feet and is made with Howe Truss, one of the only three bridges of its kind in New York.
The Buskirk Covered Bridge joins Rensselaer and Washington Counties and is currently the only inter-county covered bridge in New York. Enjoy the beautiful gurgle of the Hoosic River beneath this bridge while basking in the glorious views of the sun setting over the river. Be sure to take pictures.
Hyde Hall Covered Bridge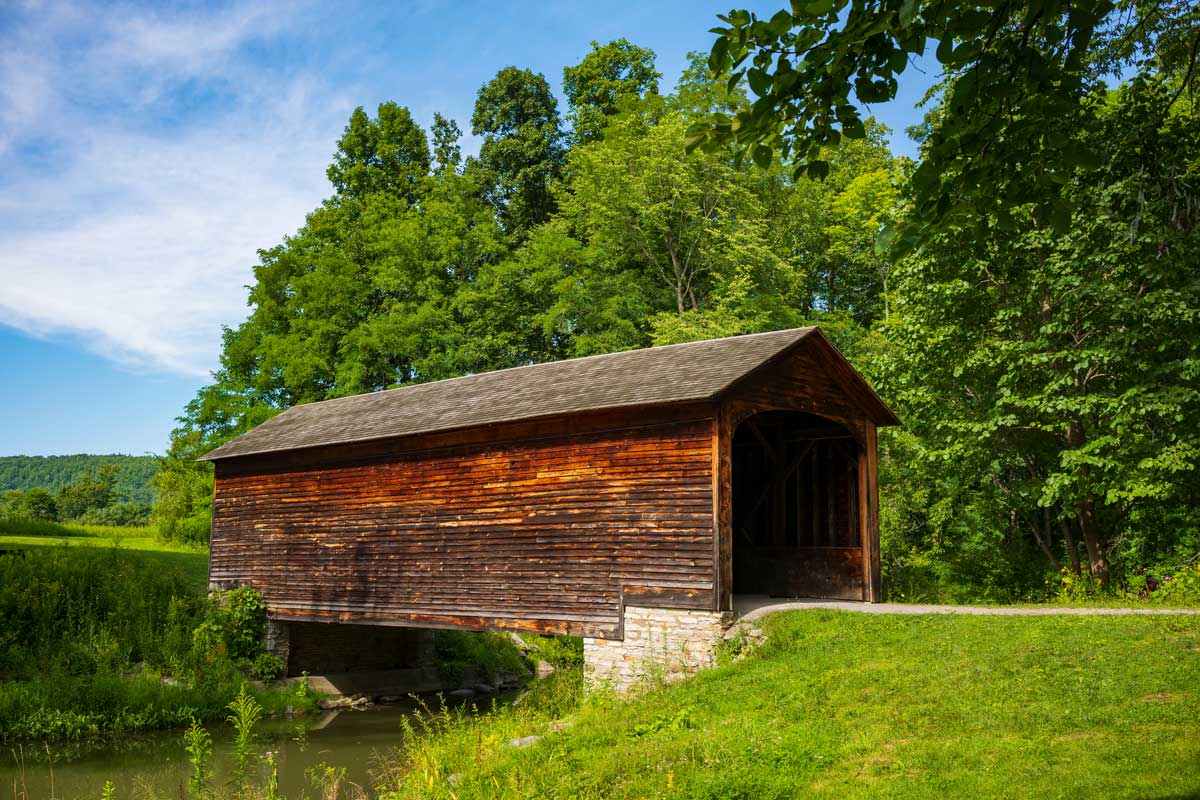 Located near Cooperstown and off Otsego Lake is the Hyde Hall Covered Bridge built in 1825 and is the oldest existing covered bridge in the United States.
It is also one of the three covered bridges in New York that feature a horizontal siding. This historic bridge is located in the northern part of Otsego Lake in Glimmerglass State Park and has two major hiking trails near it; the Covered Bridge Trail and the Blue Bird Trail.
Feel free to hike through these trails on your visit and enjoy this rustic bridge's scenic views from all angles, along with the cool ambiance of the serene woods.
Halls Mills Covered Bridge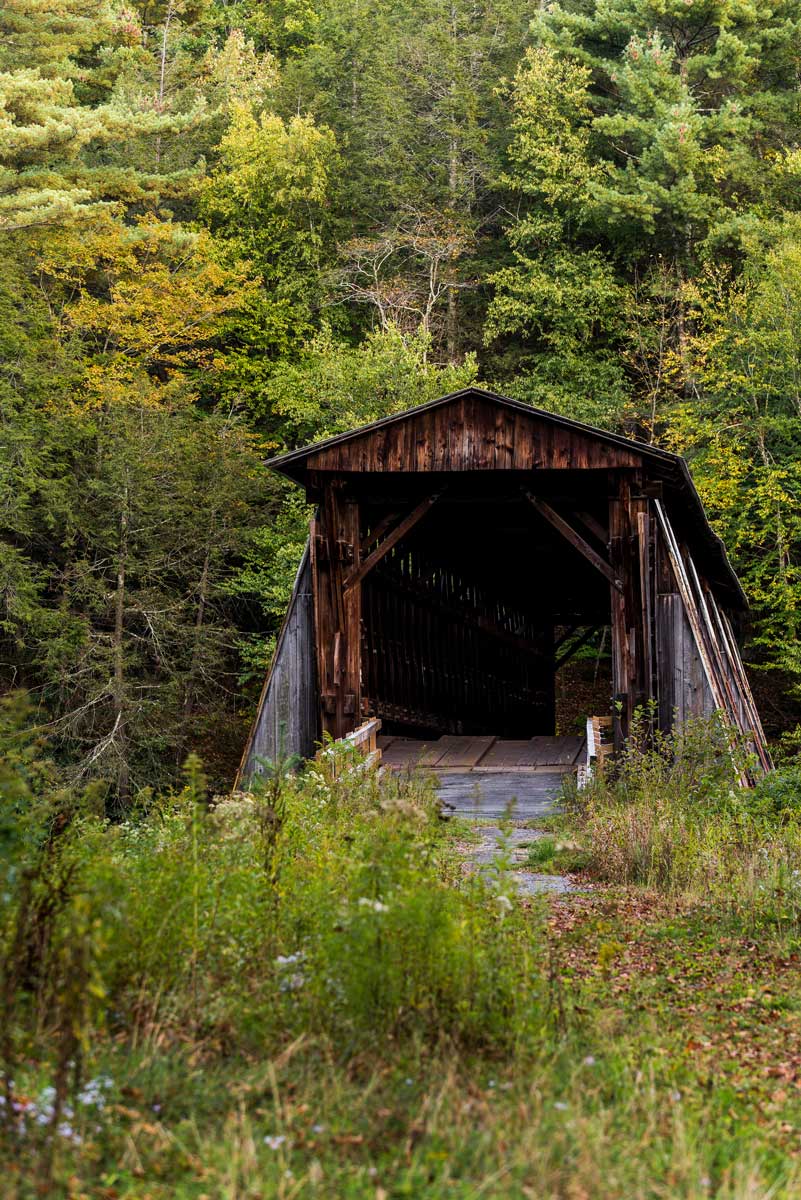 Another historic covered bridge in New York is the Halls Mills Covered Bridge, not to be confused with Hyde Hall Covered Bridge. This New York covered bridge was built in 1912 by the early settlers of Upper Neversink Valley in the Catskills Mountains region and is one of four covered bridges in Sullivan County.
Built by David Benton, and inspired by Quaker Leader by John Hall, this bridge was built as a symbol of community, and even though it has been bypassed by a newer bridge built just upstream from it, it still stands to date.
Halls Mill Covered Bridge runs over Neversink River and has six buttresses and a short timber approach. It is 130 feet of town lattice truss and still carries pedestrian traffic across the river.
Perrine's Covered Bridge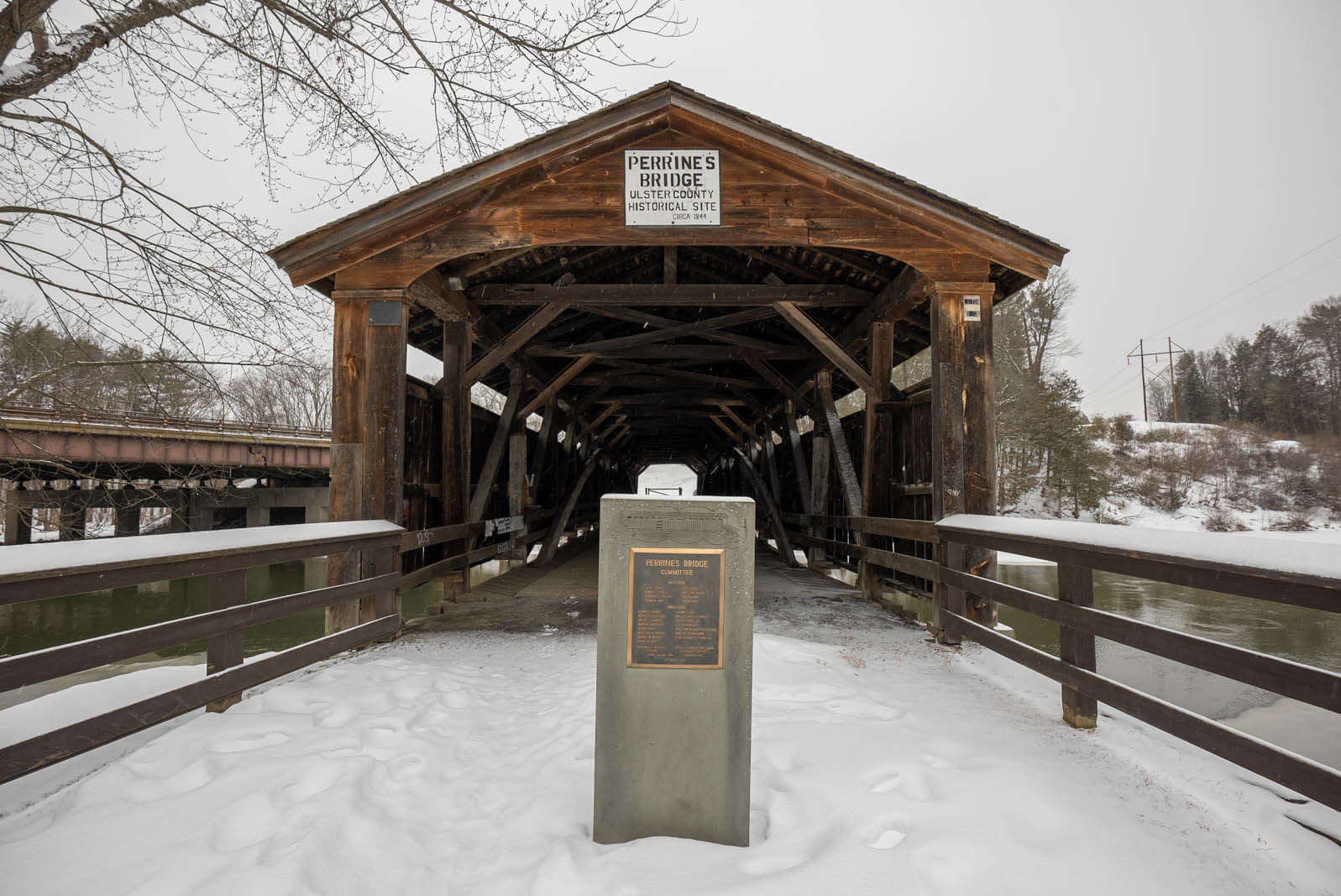 Named after James Perrine, Perrine's Bridge is the second oldest covered bridge in New York and is just a small detour off of Interstate 87 in New Paltz over the Wallkill River.
Located in Ulster County, this bridge was initially built to ease trade between Rosendale and Rifton, the name of the towns at the time of its building in the late 1840s. It is 154 feet long and was built with the patented Burr arch in 1844.
This beautiful historic bridge was closed to traffic in 1930 and went on to be declared a historic landmark. Driving through this area will reward you with dramatic valley views, bridges, and picturesque small towns and historic buildings. Nearby you can hike or bike on the Wallkill Valley Rail Trail, notable a filming location for the movie "A Quiet Place."
This spot is so dreamy in the winter, be sure to check out our guide to things to do in Catskills in the winter for more ideas in the area.
Eagleville Covered Bridge
View this post on Instagram
One of the four covered bridges left in Washington County close to the Vermont border is the Eagleville Covered Bridge which was originally built to create easy access across the river through Vermont and Cambridge.
It was built in 1858 and carried traffic across the Batten Kill River. This picturesque red-covered bridge incorporates a unique town Lattice Truss design. This covered bridge was almost lost in 1977 due to flooding, but with quick action and the diversion of water flow, the bridge was saved.
Over the years, this has become a popular fishing and swimming spot among locals. If you are looking to enjoy swimming in the hot summer months, head on to this historical NY-covered bridge.
Rexleigh Covered Bridge
View this post on Instagram
Located in Salem, New York next to the historic Old Marble Mill is where you can find another beautiful covered bridge in New York near the Vermont border that you can drive through.
A unique part of a picturesque town, the Rexleigh Covered Bridge is one of the 3 Howe Truss bridges left in New York and was built in 1874 by Reuben Comins and George Wadsworth as demand for a crossing the Batten Kill River.
This bridge is a rare example of its kind which was made in Troy, New York then dismantled and constructed here at the current site of the Rexleigh Covered Bridge.
The Rexleigh Covered Bridge has unique cast iron shoes that were used to fit timbers for the bridge into rods. No other bridge in the United States has this feature. Another thing that sets this bridge from the rest is that it was built with a slate roof, but was changed to wood shingles in 1984.
Historically, this bridge was a popular swimming spot among locals who would kick out a hole in the former siding and jump into the river below. While this was destructive to the bridge, it was somewhat of a local tradition and when the bridge was worked on for preservation 'inspection doors and ventilation ports' were added to reduce destruction to the bridge so people could still do this without messing up the restoration.
You can still drive through this scenic red and white covered bridge in New York on Rexleigh Road.
Salisbury Center Covered Bridge
Another beautiful covered bridge in New York State located in the Adirondacks in Herkimer County. The Salisbury Center Covered Bridge is the last remaining covered bridge in the county and was built by Alvah Hopson in 1875 and is one of the three covered bridges in New York that uses a Burr Arch truss.
This historic gem in the Adirondacks runs 42 feet over Spruce Creek and features several little waterfalls. The scene around this covered bridge is so beautiful that it has become a hot spot for photographers and artists. The bridge and its surrounding waterfalls can be seen from several vantage points.
You can easily plan a picnic as there are several picnic tables in the area available for use while you look at this scene pretty enough for a painting next to the rushing rapids.
Lower Shavertown Covered Bridge
Also known as Old Roscoe Covered Bridge or Campbell Covered Bridge, the Lower Shavertown Covered Bridge was originally built in 1877 by Angus Jenkins and Augustus Neidig in the Catskill Mountains.
In 1954, it was moved to its current location. This private covered bridge is located on Methol Road and spans 32 feet over Trout Brook. It is made with a Stringer truss with a town lattice appearance and traffics vehicles.
Shrouded in a beautiful woodland area in the Catskills, this historic NY covered bridge sits on private property and its beauty can only be viewed from the roadside, just please be courteous and mindful to the private property.
Hamden Covered Bridge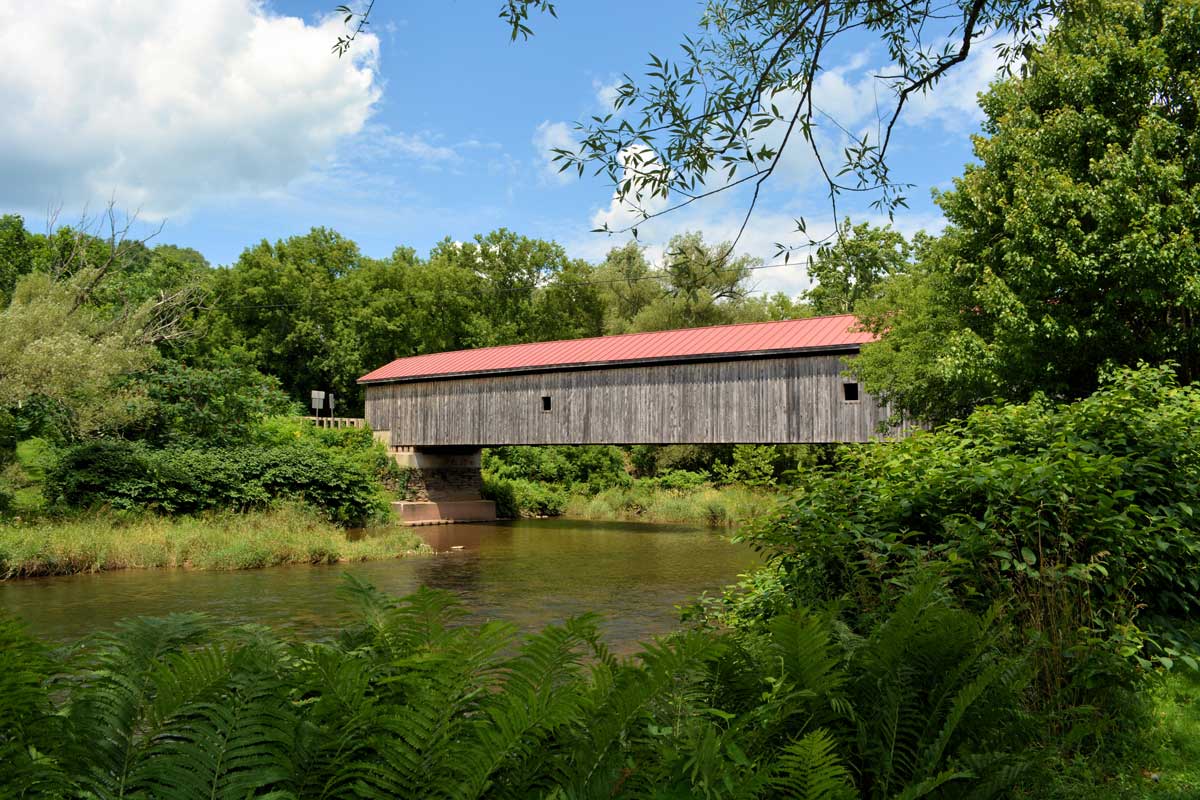 Located on Basin Clove Road, in the Catskills, the Hamden Covered Bridge is one wide lane, single span of 128 feet that you can drive down. It runs over the Delaware River's west branch and was used as a public crossing point by pedestrians, wagons, horses, and automobiles. You can drive over this covered bridge to this day, unlike others which are now only open for pedestrian and bicycle use.
Built by Robert Murray in 1859, the Hamden Covered Bridge was renovated completely last in 2000. For those exploring the covered bridges in NY around the area, you can find Hamden Covered Bridge to be in between two others, Fitches Covered Bridge and Downsville Covered Bridge which are both just a short drive away.
Fox Creek Covered Bridge
View this post on Instagram
Located in Schoharie, the Fox Creek Covered Bridge, aka Schoharie Covered Bridge, is quite different from other covered bridges in New York. A modern bridge built in 1982, features a decorative lattice-style structure with a concrete arch and covered feature on top which gives it a whimsical appearance in our opinion. Although the lattice has nothing to do with its superstructure, it gives it a beautiful, rustic look that is common with all covered bridges.
Running over Fox Creek, this 115-foot long bridge is closed to traffic, but you can walk across it. While this covered bridge in New York might not be the most historic, it still is a fun visit in Central New York just outside of Albany.
Livingston Manor Covered Bridge
Also known as Vantran Covered Bridge, the Livingston Manor Covered Bridge was built in 1860 by John Davidson in Sullivan County in the Catskills Mountains and is another one of our scenic and historic NY covered bridges you can drive through, not to mention checking out Livingston Manor, one of the cutest towns in the Catskills.
In 1984, the Division of Public Works renovated this bridge and restored its original beauty. The renovations featured added lamination arches which helped to increase the capacity of the bridge's structure.
Spanning over the famous Willowemoc Creek, this 103-foot long bridge has a beautiful picnic area and for guests and visitors to use. A group picnic pavilion is also available for a fee, and guests are welcome to fish on the creek. You can pick up beer from the nearby Catskills Brewery while you're here, or head to the cute town of Roscoe nearby where there are another brewery and even castle ruins at Dundas Castle!
Fitches Covered Bridge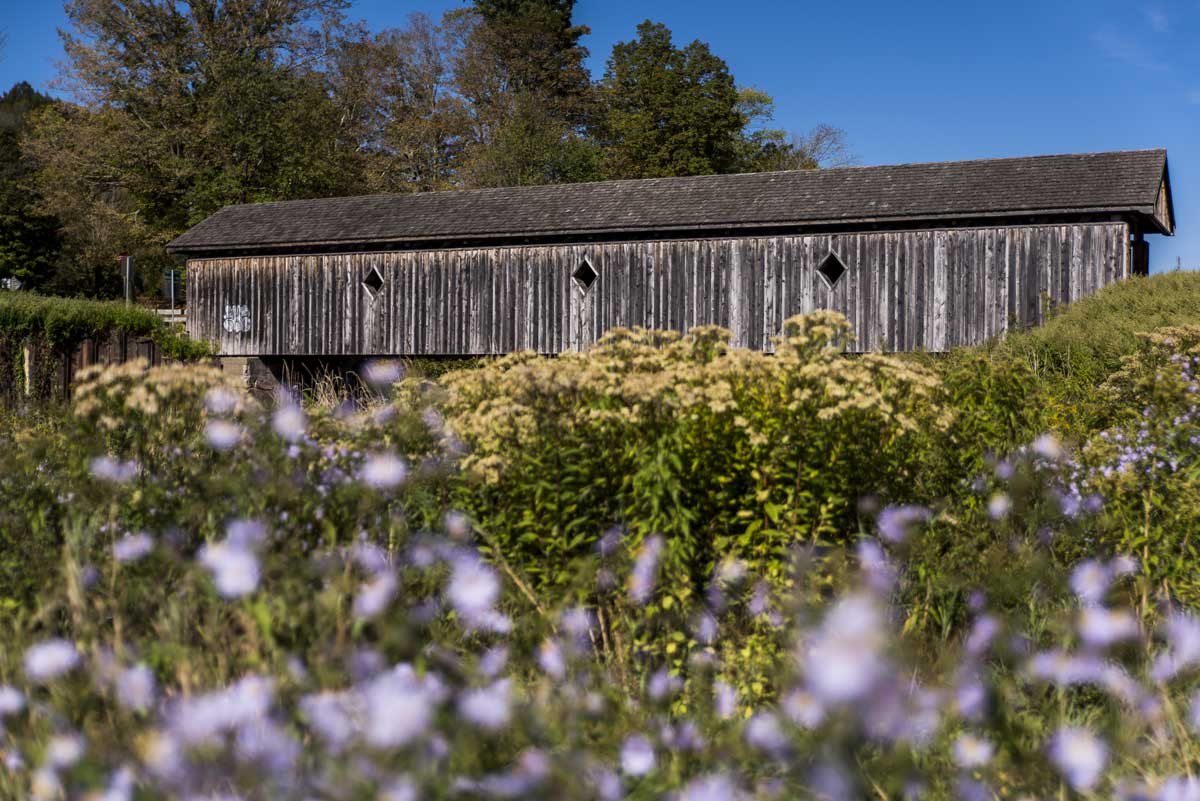 Another popular covered bridge in New York in the Catskills region is Fitches Covered Bridge located in Delaware County. Also known as the Delhi Covered Bridge, this bridge was built in 1870 and can still be traversed by cars today.
The structure is 106 feet long, single-span, a one-lane bridge built with native materials and running over the Delaware River's west branch.
This bridge was initially located in Delhi but was moved to Delaware in 1885 and was replaced with a more durable iron bridge. It was renovated in 2001 to feature several diamond-shaped windows, which helped add some light to the bridge.
Visit the town of Dehli before or after your covered bridge visit and if you want to hit up a few more NY covered bridges while you're here you can visit Hamden Covered Bridge and Downsville Covered Bridge which are just a short drive away.
Beaverkill Covered Bridge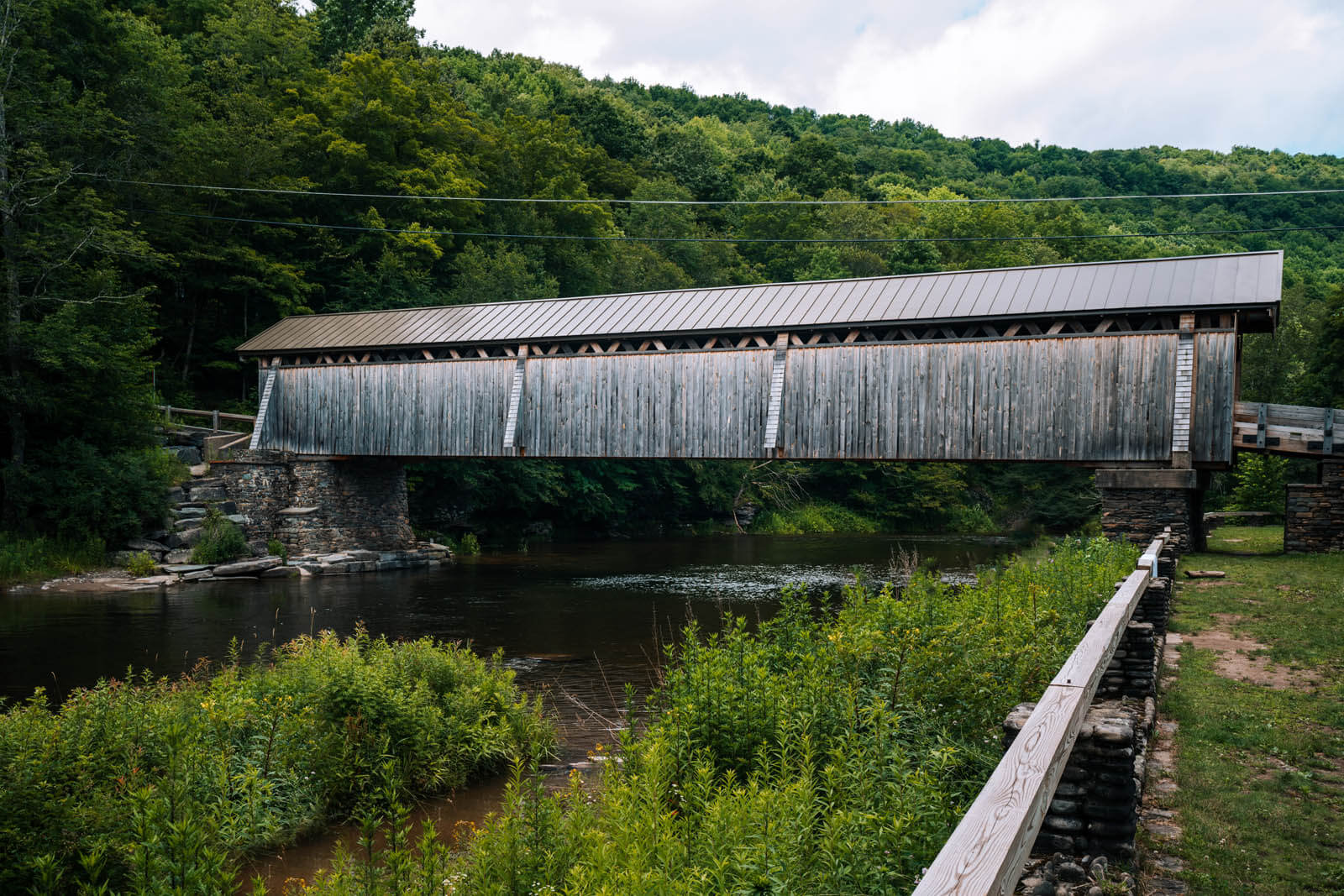 Also known as Conklin Covered Bridge, Beaverkill Covered Bridge is another gorgeous NY covered bridge worthy of checking out when you're exploring the Catskills region located near Livingston Manor Covered Bridge.
Perched above the Beaverkill River, during the Catskills in summer this is where visitors love swimming and playing. This New York-covered bridge is one you can drive across through the scenic, remote Beaverkill Campground and Day Use Area. This area is also a famous fly fishing spot so if you're into the sport of fly fishing, this spot is for you or you can watch others catch their local, famous trout!
This bridge is 98 feet in length with hemlock lattice truss design that has been renovated and maintained over the years and dates back to 1865 and first started showing on maps around 1875.
When constructed, this area was still (and to this day is) very remote. The around the mid-century, this covered bridge was almost taken down but was saved due to outcry from locals who wanted it to remain.
There is a parking lot next to the bridge and if you're visiting in the summer, be sure to bring swim gear or water shoes to play in the water. Hit up nearby New York castle, Dundas Castle aka Craig-E-Clair, hunt down the paper town marker of Agloe,or park and walk along Waneta Lake just a few miles down the road for a quiet, hidden gem and popular fishing spot for a peaceful break.
---
Enjoyed this guide to gorgeous NY covered bridges? Bookmark for later or share the love below on Pinterest!