Looking for the perfect romantic cabin getaways in New York? We've got you covered in this Upstate New York Cabin Rental guide that includes the best cabin rentals near NYC and Airbnb Cabins in New York great for any season.
From rustic cabins, lakeside cabins, A frame cabins, to modern luxury cabin rentals, we've got you covered! There's nothing more romantic than a cozy cabin getaway.
Be sure to also see our complete guide to romantic cabin getaways in the US for more inspiration too! Or if you prefer staying in NY, check out our complete glamping in Upstate New York, charming New York cottage rentals, and dreamy treehouse rentals in New York guide for more ideas!
Disclaimer: We receive a small commission at no extra cost to you if you book through our links. Happy travels!
The Best New York Cabin Rentals
Sustainable Catskills A-Frame Cabin
One of the most dreamy cabin getaways in New York is this gorgeous black A-Frame cabin in the Catskills. This beautiful black A-frame cabin can sleep up to 4 guests and is located in the town of Kerhonkson.
The cabin is from 1961 and offers breathtaking views of the surrounding Catskills wilderness all and has a nice outdoor deck area with Adirondack chairs, a charcoal grill, and a fire pit. Inside you'll find a gorgeous open floor plan.
This off-the-grid cabin is also completely solar-powered making it a sustainable stay! Book this Cabin Airbnb in New York.
This cabin in New York is obviously dreamy every season, but check out our guide to the best things to do in Catskills in winter to inspire you to see why this is one of the best seasons to plan a trip to the region!
A-Frame Cabin in the Adirondacks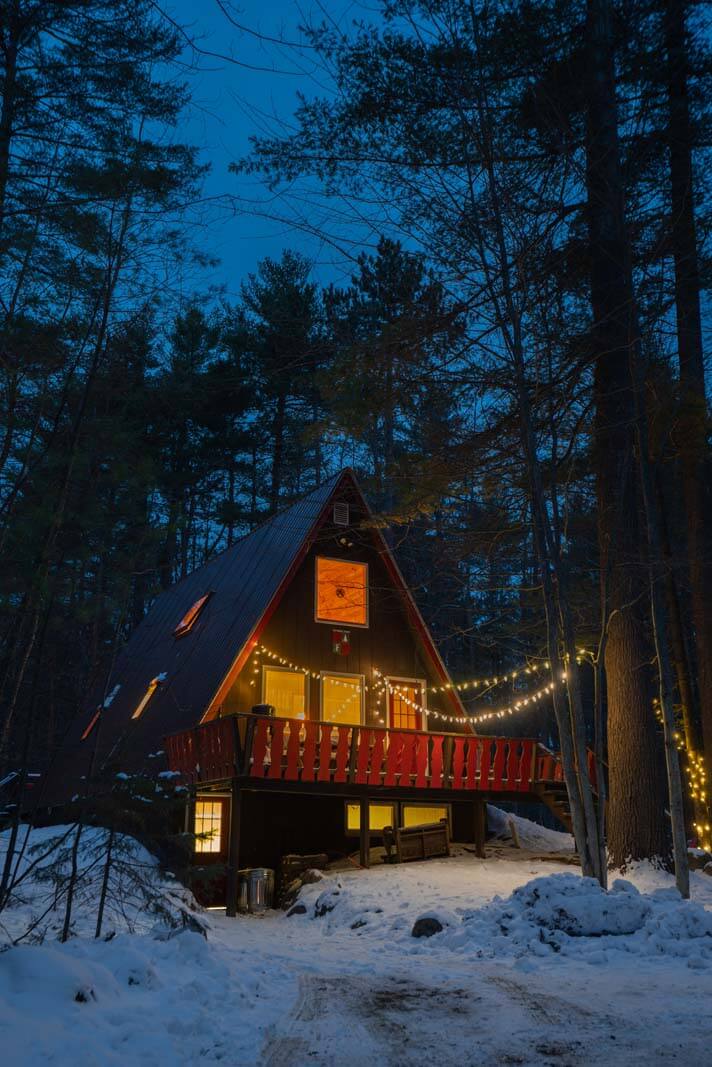 One of our favorite cabin getaways in New York we stayed at located in the northern Adirondack's town of Jay is this A-Frame beauty. This cabin is just a short drive from Whiteface Mountain, Ausable Chasm, multiple waterfalls in NY including High Falls, Lake Placid, and even the North Pole winter amusement park and village making it a great excuse to plan a visit to the Adirondacks in winter and stay in this cozy, adorable cabin.
This cabin getaway is located on 2 acres of secluded forest and is a perfect spot any season offering great activities year-round.
This 2 floor A-frame cabin has a fully equipped kitchen, living room, dining room, office, and 2 bedrooms. Book this cabin Airbnb in New York.
Ruby Hill Cabin in the Adirondacks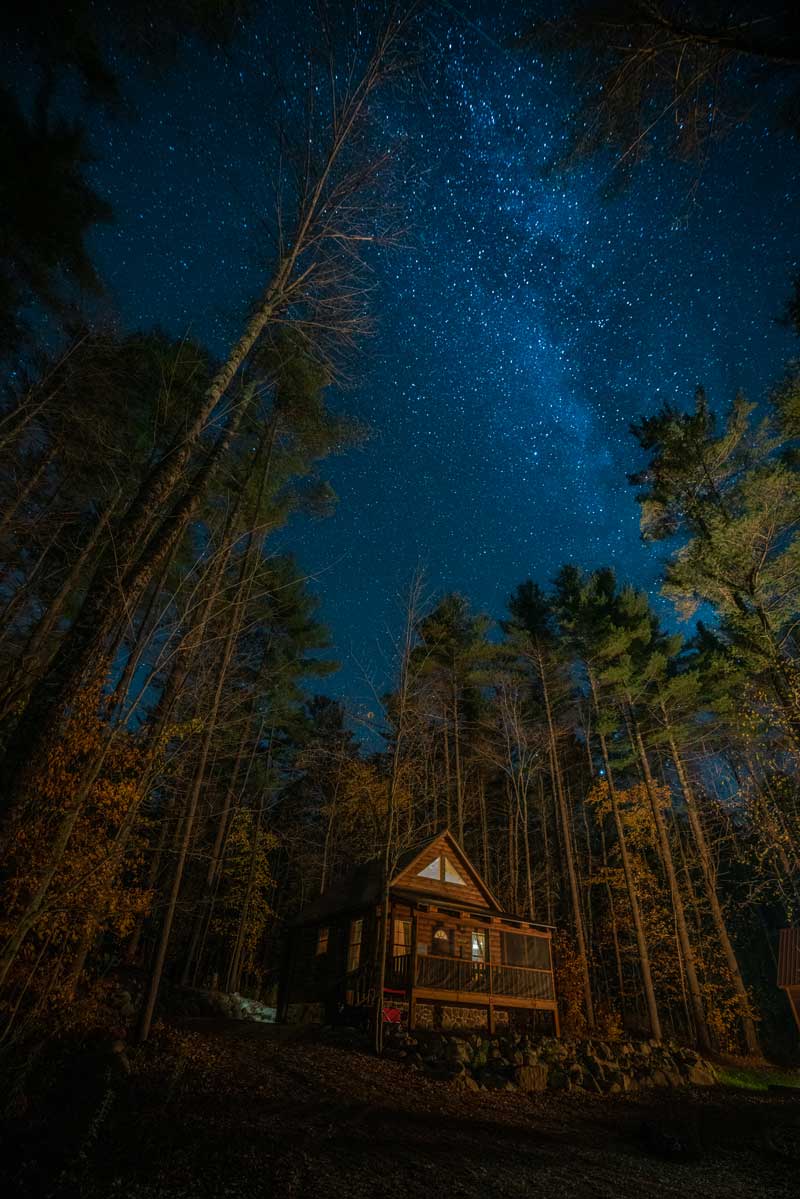 Located in the quaint town of Wells, one of the most charming small towns in the Adirondacks is this cozy cabin getaway in New York. We visited in the fall, but this cabin can be enjoyed any season as there are all kinds of incredible activities to do in the area from summer through winter and not too far of a drive to all the best things to do in Lake George, a popular Adirondack destination.
This cabin can sleep up to 4 guests and has one bedroom with a queen bed and a loft that has two twin beds making it ideal for families! The living room is cozy and there is a fully-equipped kitchen for all your cooking needs.
Enjoy the screened patio or sit outside in the Adirondack chairs dotted around the firepit. This amazing cabin rental in New York is located on the scenic Lake Algonquin and if you're lucky you might even spot a moose!
The nearby town of Speculator is just a short drive and offers dining options as well as grocery stores. Book this cabin getaway in New York on Vrbo.
The Fox Den on Honeoye Lake
This adorable cabin getaway in New York is located just under 1 mile away from the shores of Honeoye Lake in the Finger Lakes region. This adorable cabin has a queen bed and a lofted sleeping area for small children.
This is more of a glamping cabin as the bathroom is a shared facility between the other yurts and cabins at Turtle Rock Hollow. Don't let that dissuade you, we stayed here in the fall and it was such a cozy stay with our own charcoal grill and fire pit.
Just a short drive away are some of the region's most beautiful waterfalls to explore, the town of Naples, New York which has an incredible dining scene, and all the wine trails of the Finger Lakes region.
This simple, yet adorable stay is perfect for a weekend getaway! In the shared lounge space, there are also board games and books about the area to help you pick where to explore!
In the colder months, the owner provides heated mattresses and heaters to keep this rustic charm nice and cozy! Enjoy your digital detox in this adorable stay and don't miss exploring Naples, one of the mosts charming towns in New York.
Find this listing at Hipcamp. First time trying Hipcamp? Get $10 off your booking using my code: MEGANI4FA199 or booking through this link.
Catskill's Le Petite Cabine
Upstate New York cabin rentals in the mountains don't get much more authentic than this rustic beauty! Le Petite Cabine invites you for an old fashioned experience in the Catskills with modern comforts in this awesome Airbnb cabin in New York!
The 1955 timber frame, two-bedroom cabin can be found at the Smokey Belles Catskills homestead and has an undeniably rustic charm. The cozy living room has a record player, handbuilt Bluestone fireplace, and wood fire, perfect for chilly nights on a romantic getaway or with friends.
The kitchen is fully equipped with cookware, fridge, and a vintage Chambers stove for mealtimes.
Two bedrooms each have a double bed to sleep four people in total and a sleeping loft is available for larger groups of 6-8 people with advance notice.
Lodgers can feel comfortable with 1.5 bathrooms in the cabin and a private hot outdoor shower overlooking the river. Seasonally, guests can also stay at the nostalgic 'Writer's Guest Shack'.
Le Cabine fronts onto the Ten Mile River for private views and trout fishing, pets are welcome and will also enjoy the water!
On-site there are several campfire pits and opportunities for maple tree tapping or foraging workshops and private yoga sessions.
Access to the Delaware River is just two miles away, where you can partake in more fishing and other outdoor activities such as hiking, swimming holes, canoeing, kayaks, rafting and tubing.
Find this listing at Hipcamp and on Airbnb. First time trying Hipcamp? Get $10 off your booking using my code: MEGANI4FA199 or booking through this link.
Charming Log Cabin in Ellicottville, NY
Those looking for romantic cabin getaways in NY will love this charming log cabin nestled in the woods on Golden Hill State Forest Upstate.
The gorgeous cabin is backed by trees and looks onto a pond with bass fish that can be caught and cooked on the gas grill.
One loft bedroom with a Queen bed sleeps two and can be reached by a spiral metal staircase, then there's a double pull out couch downstairs for a further two people.
Chairs on the porch coax sitters over for stunning natural views of the pond, fields and valley beyond. Inside, the wooden foundations, lamps, and fairy lights set a cozy atmosphere for the evening with a TV and dartboard for entertainment.
To cook, there is a pretty and fully equipped kitchen with a stove, cookware, and refrigerator.
A private toilet and shower bath are also included in the cabin layout. When you're ready to venture out, the driveway of the site is right on the entrance of the Golden Hill State Forest, which boasts 2.4k acres of NY state land and hiking trails – pets are welcome and will jump at the chance to explore!
Ellicottville, a cute little ski and resort town is also just a 12-minute drive away, with gourmet restaurants, winter skiing, and golf in the summers making this the perfect Upstate New York cabin rental any season! Book Now at: Vrbo
Cabin Chalet at Chautauqua Lake
This stunning custom-built accommodation in Chautauqua Lake is a dream come true for romantic cabin getaways in NY with friends or family.
The wooden chalet has a two-story wall of windows at the front overlooking a huge front deck and giant garden within 250 acres of countryside grounds.
The deck features stairways at each side leading down to the grass, a large table with chairs, and a built-in gas grill station for outdoor cooking.
Moving inside there's a sleek fitted kitchen with fridge-freezer, microwave, and dishwasher, adjoining to the living room area with a hybrid gas-wood fireplace for cozy evenings.
You'll also find a convenient washer-dryer and dining room downstairs. The chalet sleeps a total of eight people with one Queen and one Twin bedroom downstairs, with the same arrangement repeated upstairs.
To cater for the bedrooms there is a full-sized bathroom on each floor, and the top floor bathtub even has jets for a bubbly experience.
Outside the cabin chalet, there are a few sites to visit in the area. The Chautauqua Institution is one mile away and the boat launch at Prendergast is at around 1.5 miles.
Chautauqua Lake is also nearby with snowmobile trails and the chalet is located in between ski resorts Peek n Peek and Holiday Valley making this cabin getaway in NY perfect to visit any season! Book Now at: Vrbo
Adirondack Riverfront Log Cabin
The 'Independence River Cabin' is nestled away in 5.7 acres of private wood in Adirondack Park, named after the eponymous river just 65 feet away.
This wooden, elevated cabin rental in New York boasts a deck where you can watch the pools and rapids flow in the river below.
Inside, the wooden foundations set a warm atmosphere for hanging out in the open dining and living room area, watching some TV or relaxing by the woodstove.
Cooking is easy with a complete kitchen including a cooker, fridge, coffee maker, microwave and an impressive 4-inch tree slab turned island.
The rustic yet modern cabin typically sleeps six people with one Queen bedroom and another with two full beds. The loft space is also available with Twin beds to sleep a further two for larger groups.
By the river, there is an outdoor sitting area complete with a brick fire pit, picnic bench, log benches and Adirondack chairs – perfect for some s'mores in the evening!
For a romantic moment on your romantic cabin getaway in New York, there is also a cedar log swing overlooking the water below.
Fishing enthusiasts can make the most of the trout in the river, and other activities within the Adirondack Park boundary include hiking trails, horseback riding, and snowshoeing in the snowy months, meaning this New York cabin getaway is perfect any season!
Pets are more than welcome at this property with an additional fee. Book Now at: Vrbo
Secluded Cabin with Hot Tub near Woodstock
This peaceful property and cabin rental in Upstate New York in Woodstock is perfect for a larger group cabin rental near NYC. It's situated at the end of a dead-end road on three private acres of lawns, wood and a pond – all bordered by old stonewalls.
The spacious two-story cabin of 1,700 square feet was recently renovated by an artist, who created a comfortable and luxurious art-filled space, perfect for a couple's getaway with friends.
On the ground floor, you'll find an outdoor patio with furniture for lounging, a hot tub, and BBQ.
Inside you can enjoy the open living room with comfortable seating and a rocking chair. The kitchen comes complete with a cooker, electric grill machine, fridge, and coffee maker.
On the first floor, there's a large balcony with views onto the gorgeous surroundings, you may even see deer, wild turkey, or bears! Oh my!
This cabin rental can sleep up to 8-10 people with one King bedroom, two Queen bedrooms, and another room with a double bunk bed.
Aside from enjoying the hot tub and views, there are hikes on hundreds of acres of public land just over the road, as well as rafting, skiing, and swimming holes nearby.
The town of Woodstock is less than five miles away too, known for its cultural offering of galleries, theaters, festivals, restaurants, and boutiques. Book Now at: Vrbo
Rustic Riverfront Cabin for Two in Old Forge in the Adirondacks
This rustic number in the town of Old Forge is a lovely place for romantic cabin getaways in NY. The cabin is set right on the middle branch of the Moose River with its own private dock and kayaks for rent available around the corner.
Inside this rustic Upstate New York cabin rental sleeps two guests in Twin extra long beds, with a private bathroom including a separate cedar shower and toilet. So you and your lover can either get real close and snuggly with one another.
There's a snug kitchen complete with a four-burner stove, oven and fridge-freezer and a dining and living room area with a table, comfy sofa, and swivel rocker recliner chair. The TV and gas fireplace make for a cozy and relaxed evening in.
Just outside the cute cabin, there is a gas grill just for guests, with Adirondack chairs, perfect for the Adirondack mountain region.
A food store, shops, and a movie theatre are all within walking distance in downtown Old Forge. This is a great place for those looking to relax in nature and enjoy good company. Book Now at: Vrbo
Beautiful Cabin in the Adirondacks
Upstate New York cabin rentals can be beautiful and affordable like these charming accommodations at Camp Garoda, in the foothills of the Adirondack Mountains.
Two 600 square feet log cabins are connected back-to-back condo-style, each with their own driveway and screened porch. Each cabin sleeps four people with a Queen bedroom at ground level and another Queen bed in the loft, accessed by a metal spiral staircase.
There is also a single pull out bed available to sleep a fifth person if needed.
The cabin features modern amenities in the open kitchen and living room area, complemented by lots of decorative details and warm lighting, giving a homely feel to space.
The kitchen is fully equipped to prepare meals and has a small breakfast bar. It's easy to picture yourself cuddling up in the living room on a cold night in front of the wood fire, perhaps reading a book, watching TV, or playing board games with a loved one.
The private bathroom includes a shower, toilet, and sink with a large mirror.
For a luxurious touch, each porch has a Jacuzzi hot tub for relaxing in (additional fee) while surrounded by nature, as well as a gas grill and firepit below.
Right behind the cabin, there are 400 acres of stunning forest with trails to be explored all year round, using snowshoes in winter.
Camp Garoda is located in Fulton County, which is home to 44 lakes, five of which can be reached within 15 minutes – boat rentals are available at Canada Lake and Peck's Lake.
The Nick Stoner and Albin Hills Golf Courses are also within 15 minutes and Dolgeville Mill, NY's largest indoor gallery for antiques, also just 15 minutes away. A little further afield (30 minutes) is Northville, where you explore the village and its tourist shops.
This is another Upstate New York cabin rental that's perfect any season as there are outdoor activities to accommodate to any weather or the perfect romantic place to stay cozy and warm in the winter under a blanket of snow. Book Now at: Vrbo
Charming Log Cabin Rental in Upstate New York on Lake Ontario
This upstate New York cabin rental is right on the northern edge of the state, looking out onto one of the Great Lakes, Lake Ontario.
A porch and outdoor sitting area provide perfect spots to relax and take in the lake views and stunning sunsets on the horizon, and are just steps away from the shore.
Facilities include a huge picnic table, chaise chairs for sunning in summer, Adirondack chairs, and a fire pit with wood provided – floaties are also available for chilling on the lake!
For a little romance, there is also a bench swing overlooking the water. The 1,200 square feet wooden cabin sleeps six people in total with one Queen bedroom, a pull-out futon, and four Single beds in the open loft bedroom – there's also a secret balcony here with a hammock looking out on the lake.
The living room area is dreamy for rainy days with board games or watching TV on cozy sofas and a rocking chair.
Mealtimes are fun with a picnic bench inspired log table in the kitchen, complete with a cooker, oven, coffee maker, microwave, and fridge.
There's also a laundry room that comes in handy for longer stays and 1.5 bathrooms. A really relaxing feature in the full bathroom is the newly installed walk-in shower that has a rainfall showerhead with LED lights and six body sprayers built into the log walls.
Apart from taking in the surroundings, local activities include salmon fishing, releasing sky lanterns, and snowmobile trails in the winter.
Pets are allowed too with an additional charge per furry friend. Book Now at: Vrbo
The Dacha at Moonrise Forest Camp in Upstate New York
One of my personal favorite romantic cabin getaways in Upstate New York off the grid is this unique little spot. The Dacha is situated at Moonrise Forest Camp near Cherry Plain State Park, great for upstate New York cabin rentals in the northeast.
This unique cabin is a beautiful juxtaposition of wooden walls and floors, solar panels, french doors, and square windows.
Deco-wise think rustic bohemian; wood slats, musical instruments dotted around, jazzy rugs and colorful striped blanket throws.
The accommodation sleeps up to four people; the first bedroom has a Single bed and doubles as a living area with a rocking chair and woodstove for heat. The second bedroom also has a Single bed, mountain views and French doors that open out to the garden. There is also a private double room for parents, couples, or kiddos.
The structure backs onto forest with a garden and play area in front including a slide and tire rope swing – great for a couples getaway with kids as well as pets.
Inside there's a station with drinking water, a sink, teas, and soaps. The outdoor main kitchen area is minimal yet charming with basic cookware and a one-burner portable stove. There's also a fire pit with grill for a tasty s'mores session.
A circle table with an umbrella and a second square table with cushioned seating provides plenty of space for outdoor dining.
The outhouse has a composting toilet, running water and a sink to wash up – note there are no shower facilities but there is a natural bathtub if you don't mind a cooler dip, so plan accordingly.
Outdoor activities are plentiful; take a stroll through the field and forest to a nearby stream (there's a hammock waiting for you), go birdwatching, check out the views of the Taconic mountain range from the garden decking or watch the magical moonrises and bright stars at night.
Beer and pizza lovers can't miss a trip to The Beer Diviner just next door with live music on Saturdays.
Cherry Plain State Park is 3.5 miles away from the cabin where you can partake in like swimming, boating, hiking, and mountain biking on trails.
*Note this Upstate New York cabin rental is only open seasonally from May 31 to November 1.
Find this listing at Hipcamp. First time trying Hipcamp? Get $10 off your booking using my code: MEGANI4FA199 or booking through this link.
The Homestead Cabin in the Adirondacks
For Upstate New York cabin rentals and the full wilderness experience, try The Homestead cabin, located on a 10-acre ranch in Brantingham within Adirondack Park.
This is a perfect cabin rental near NYC, sleeps up to ten people, and was refurbished for modern comfort while maintaining its rustic charm.
There's a Queen bed downstairs with upstairs providing a further two full beds and four Singles.
Pets are permitted and will love exploring the creek that runs behind the cabin.
A watering hole is also found here – perfect for an invigorating dip, sitting and watching the birds or a stroll at the water's edge.
Back inside, guests can relax in the living room area that has a large sofa, TV and woodburning stove for cozy evenings. A fully equipped kitchen adjoins the living room for all your cooking needs including an old-style Chamber stove.
Out on the screened porch, there is a charcoal grill (lodgers must provide charcoal) and a gorgeous view of Otter Creek, as well as sunset colors on clear evenings.
For more outdoor activities, the site is surrounded by the Independence River Wild Forest Preserve that is linked to 65 miles of horse trails, 600 miles of ATV trails, and hundreds of miles of snowmobile trails in the winter season.
There's also a trail that begins near the cabin and takes you to Big Otter Lake, home to a further 76,000 acres of protected wildland.
This is truly a wonderful romantic cabin getaway in NY any season!
Find this listing at Hipcamp. First time trying Hipcamp? Get $10 off your booking using my code: MEGANI4FA199 or booking through this link.
Cozy Lakeside Cabins in Upstate New York on Seneca Lake
There are some wonderful Airbnb cabins in New York State like this set at The Spur, situated on the east side of Seneca Lake of the Finger Lakes region. And if you've been following us for a while, you'll know there are plenty of amazing things to do in the Finger Lakes to make an entire fun vacation exploring the gorgeous region's lakes, waterfalls, vineyards, and drinking and culinary scene.
There are three small cabins on the property perfect for couples, each with their own private deck and lake view – Cabin 3 also accepts well-behaved pets for an extra fee.
One cabin unit sleeps two guests in a Queen bed and includes a kitchenette with frig, microwave, wine glasses and bottle opener, coffee pot and coffee. There is also a TV in the room and a private bathroom with shower stall, towels and toiletries included.
Outside, shared facilities include an open firepit and romantic wooden swing bench, situated at the top of a pretty garden pathway leading to the lakefront.
The wooden lakeside gazebo holds a sofa with a gas grill and cooking utensils just outside. There is a steep wooden staircase leading down to the lake and small beach area, where you can walk the deck that stretches out on the water and swim or relax in camping chairs.
Five kayaks and two Stand Up Paddleboards are included for guests along with compulsory life jackets for safety.
You can witness stunning sunsets here and the occasional Bald Eagle at dusk and dawn. Firepits and shared lounge areas make this a beautiful spot to relax and take in the surroundings. The Spur is near to many scenic roads for running and hiking, wineries, breweries and waterfalls to explore such as Watkins Glen State Park and Taughannock Falls.
Truly a romantic Upstate New York cabin rental to enjoy a gorgeous region, read more about why we think the Finger Lakes is one of the most underrated destinations in the US! Book Now at: Airbnb
Modern & Chic Watson Woods Cabin in the Catskills
Airbnb cabins in New York State don't get more chic and modern than Watson Woods Cabin in the Catskills. This home is spacious, luxurious, and feels like a work of beautiful minimalist art.
This Upstate New York cabin rental is just four miles from the town of Woodstock yet surrounded by peaceful wilderness on five acres of private land.
This is a perfect romantic cabin getaway in NY for creative couples that will be charmed by the nooks with views, perfect for reading and writing.
The large open floor plan lets in tons of natural light and has an extensive sofa area, an additional sitting area with sheepskins, and a lovely hammock with a reading lamp.
A Scandinavian woodfire stove keeps the space toasty in the winter months. The gallery kitchen is fully equipped for preparing meals and features a statement marble countertop, while the dining room area has a large table looking out the natural surroundings.
There are two beautifully decorated Queen bedrooms upstairs as well as a shared full bathroom.
If you manage to leave this incredible cabin for a few hours, be sure to explore the nearby Cooper Lake and Mink Hollow hiking trail. Book Now at: Airbnb and see more amazing places and Catskill Airbnbs.
Romantic A-Frame at Evergreen Cabins on the Western Border of the Adirondacks
This unique "A" Frame is a sleek choice of an Airbnb cabin in New York, in the small town of Remsen on the western border of the Adirondack Mountains.
The whole front of the structure is a wall of windows that looks out onto a private deck with Adirondack chairs and a custom-built firepit a little further in front.
The cabin sleeps up to four adults and two children under 12 years in one King bedroom accessed by a metal spiral staircase, an air mattress in the loft space and a sofa bed in the living area.
At the back, there is even an elevated deck where the motorized King bed rolls out for you to sleep under the stars! The open plan downstairs area is gorgeous with a complete fitted kitchen and all the modern appliances, a living room with comfortable furniture, musical instruments, animal skin rugs, copious firewood, and an elegant dining room table.
Apart from hanging out and cooking s'mores over the firepit, across the street, there is access to a lake with a State Park beach on the other side.
Remsen is also situated at the edge of Adirondack Park where Snowmobiling, boating, fishing, and hiking are popular activities making it the perfect Upstate New York cabin rental any season or a great cabin rental near NYC. Book Now at: Airbnb
Chic Tiny Catskill Cabin
Romantic Cabin Getaways in NY are well suited to the farmhouse chic of the Tiny Catskill Cabin rental in Upstate New York. The modern Alpine inspired cabin is pitched on a quiet wooded acre and has white walls, wood floors, and cozy bohemian details like rugs and wall hangings.
This accommodation sleeps up to six people with a Queen bed and sofa bed in the open-plan upstairs bedroom and another memory foam fold out sofa bed downstairs.
A modern fully fitted kitchen makes mealtimes easy, with hot beverages provided for restful moments. Wait until you see the photos, it seriously feels straight out of a home decor magazine.
There is also a stylish square dining room table and a cute desk area with a swivel chair and sheepskin – great for drawing and writing.
To the side of the cabin is a rustic screened porch with a wood burner to admire the nature views, chat and relax with a crackling fire to keep your warm on chilly days or evenings.
Just outside this little haven and romantic cabin getaway in NY, guests can use their private fire pit and charcoal BBQ for a cookout, dining outdoors on the four-seat picnic table.
The Tiny Catskill Cabin is a beautiful space to deeply relax, share with friends or in a couple and take a stroll in the surrounding woods. Pets will also love to go walking with you!
This Airbnb Cabin in New York is one of the premier Airbnb Plus listings meaning that this is an elevated experience with design and details in mind for an extraordinary stay. Book Now at: Airbnb
---
Be sure to also read and check out all the best tiny houses in New York for rent too!
Enjoyed this guide to the best romantic cabin getaways in NY, Upstate New York Cabin rentals, and the best cabin rentals near NYC for the perfect escape? Bookmark for later or share the love on Pinterest below!