Looking for the perfect city escape, a country recharge, a night under the stars or next to a serene body of water? Check out these 15 best spots for glamping near NYC and Upstate New York glamping options that are the perfect retreat!
Whether you're looking for the best luxury camping in New York, a break from NYC, or just a fun, romantic way to be connected to nature, these properties have your cure.
Or if you're looking for more amazing ideas for getaways in New York, we have a complete guide to the most romantic cabin getaways in New York, charming New York cottage rentals, best tiny houses in New York, and dreamy treehouse rentals in New York to help you plan your next escape!
Disclaimer: We receive a small commission at no extra cost to you if you book through our links. Happy glamping!
15 Best Upstate New York Glamping Spots
Collective Governors Island in NYC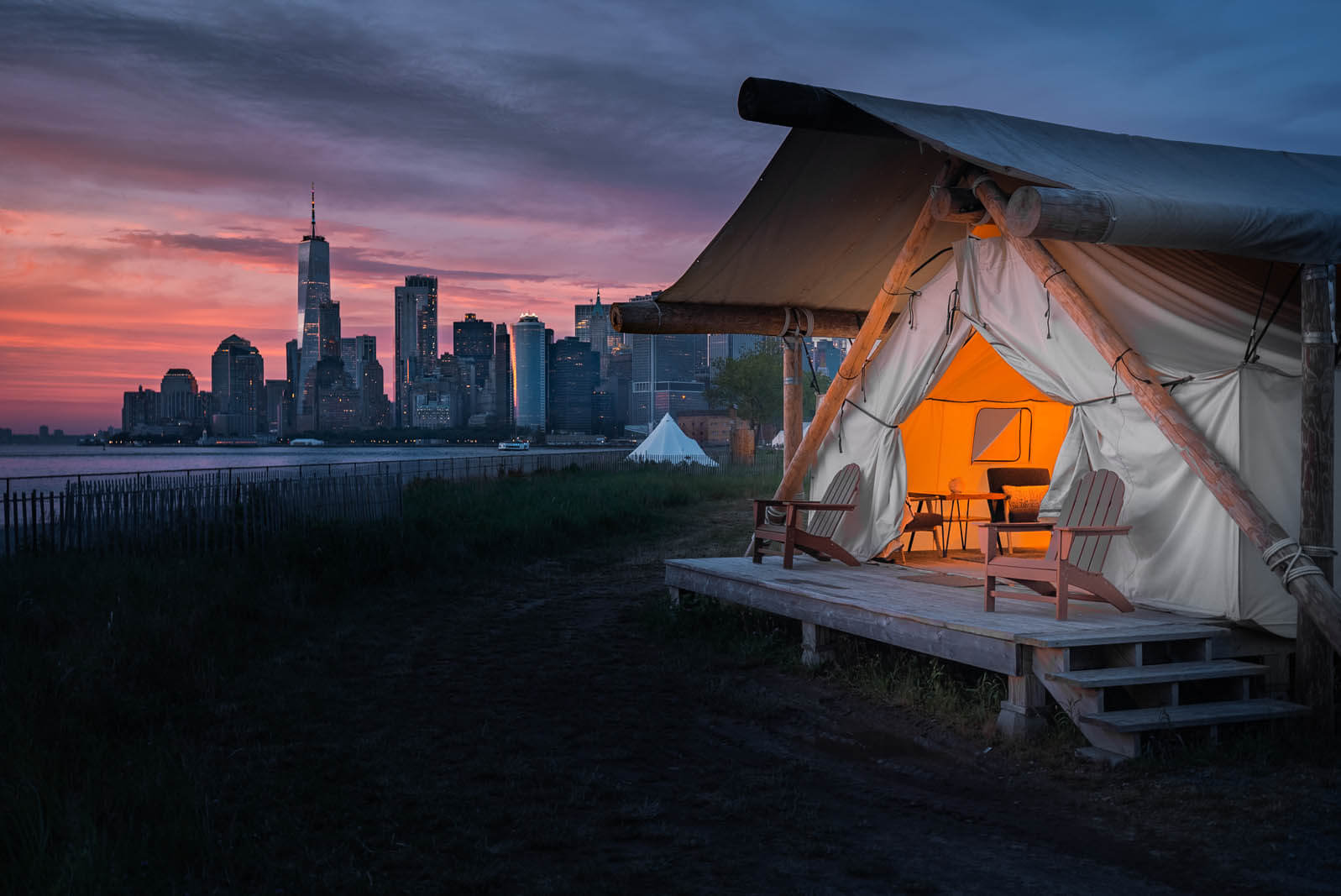 This island retreat crossed with luxury camping in New York City is a wonderfully unique escape without having to go Upstate. This luxury camping property offers comfortable outdoor accommodations and gourmet dining options, huddled along the waterfront of Governors Island, with striking views back onto the Statue of Liberty, Lower Manhattan, and New York Harbor.
It's also accessible and can be reached from downtown Manhattan or Brooklyn with an 8-minute complimentary water taxi, making it the perfect place to enjoy all the best places to visit in NYC.
There are three types of accommodation, which all include an in-tent continental breakfast, air conditioning, designer furnishings and full electricity.
The Outlook Shelter is top of the range, an elegant wooden structure with a private terrace, private en-suite windowed bathroom with a soaking tub opening onto another private terrace with views onto the Statue of Liberty. The King bed sleeps two people and an additional Double can be requested for a surcharge to sleep four in total.
The luxurious Summit Tents boast private waterfront decks with island views and come complete with a personal in-suite bathroom. The rustic tents sleep two with an option of a King or Double Twin beds, a rollaway bed is available for a surcharge.
Journey Tents invite you into a chic communal setting with modern luxuries. The attended shared bathroom is cleaned after each use and within the tents there are Queen or Double Twin beds.
After a restful sleep, you can start the day with mindfulness sessions including yoga and meditation. There's plenty to enjoy throughout the day too with nearby sightseeing, parks, harbor boat trips, and bicycle rentals on the island itself to explore this former military base.
Being a guest here means you have access to a water taxi that can bring you back and forth to the city, both Manhattan and Brooklyn if you wish to do some sightseeing. However, you might be tempted to just stay on the island during your stay since there's so much to explore and you get the best views of the city without dealing with the crowds and hustle and bustle of the actual city.
In the evening, you can hang out and make s'mores by the fire, enjoy the unbelievable city views, and we highly recommend doing dinner at least once at the restaurant on site!
Book Now at: Booking.com | Hotels.com | Expedia.com
Charming Retro Farm Glamping Ithaca, NY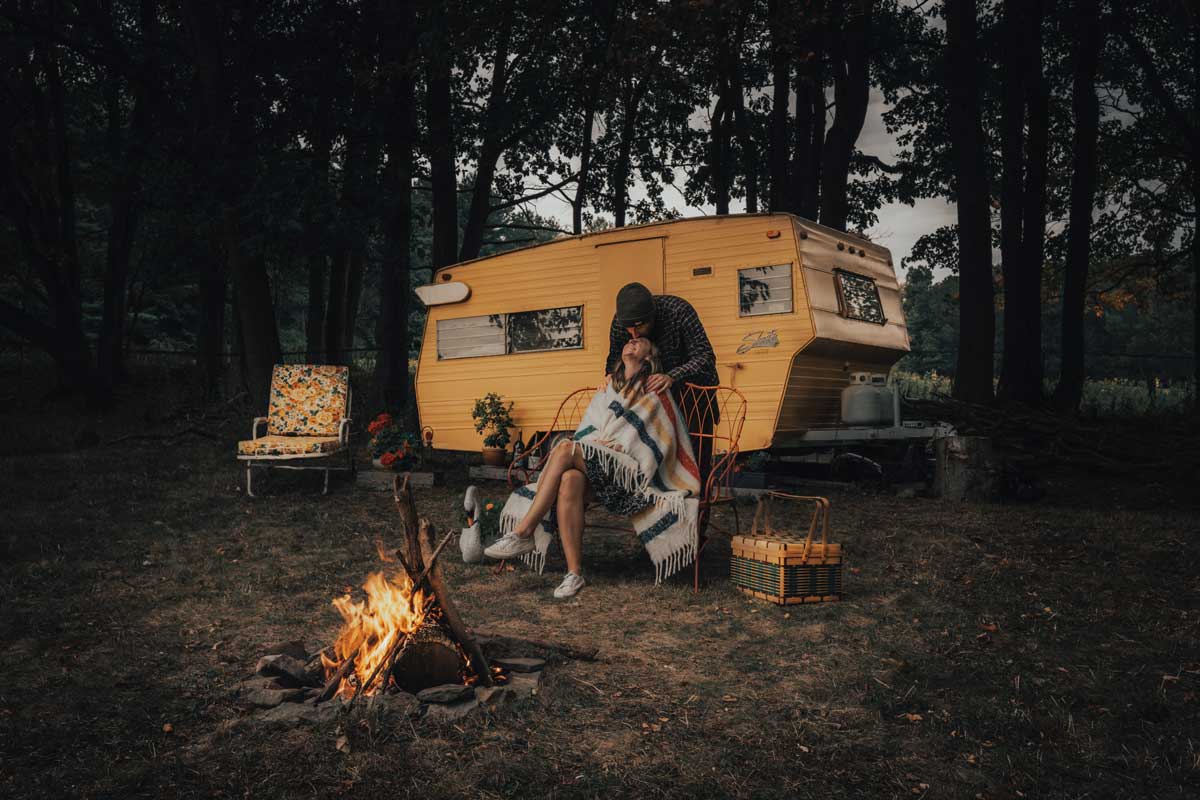 Enjoy a retro glamping in New York experience at the Happy Camper in Ithaca. Enjoy your stay in this vintage 1965 Shasta camper with all your camping and glamping cooking utensils over a campfire at night!
The interior of the camper includes a cozy queen size bed, be sure to bring your own bedding and warmer blankets and layers for chillier weather! There are storage spaces as well as coolers, utensils, and kitchenware so its easy to cook on campsite.
Wake up to the tranquil beauty of the hills surrounding Ithaca, NY and the horses in the pasture just outside your glamping site.
The host owns a 10-acre farm and a Bed and Breakfast at the main house, if you request you can get a farm to table seasonal breakfast served to you for an additional fee.
This is your chance to sit under the stars and unplug for a weekend without wifi and electricity. There's a port a potty nearby for this glamp site tucked away in the woods.
This was one of our most memorable stays and highly recommend for anyone looking for a unique glamping experience near all the amazing things to do in Ithaca including waterfalls, wineries, breweries, cideries, and the gorgeous campus of Cornell University.
Find this listing at Hipcamp. First time trying Hipcamp? Get $10 off your booking using my code: MEGANI4FA199 or booking through this link.
The Fox Den at Honeoye Lake
This adorable option for glamping in Upstate New York is located just under 1 mile away from the shores of Honeoye Lake, one of the 11 Finger Lakes. This adorable cabin stay has a queen bed and a lofted sleeping area for small children.
This rustic cabin stay has all the basics you need for a comfortable stay and there is a shared bathroom facility with a composting toilet as well as a shared common space building with a kitchen and common area with board games and books about the area at Turtle Rock Hollow.
Outside of your cozy glamping cabin is your own private charcoal bbq grill and firepit to enjoy a cozy fire under the stars.
Just a short drive away are some of the region's most beautiful and some of the best waterfalls in New York to explore, the town of Naples, New York which has an incredible dining scene, and all the wine trails of the Finger Lakes region.
In the colder months, the owner provides heated mattresses and heaters to keep this rustic charm nice and cozy! Enjoy your digital detox in this adorable glamping option!
Find this listing at Hipcamp. First time trying Hipcamp? Get $10 off your booking using my code: MEGANI4FA199 or booking through this link.
Glamping with a Gorgeous View Near Ithaca, NY
This beautiful glamping and camping option near NYC is the perfect place to unplug, relax, and enjoy nature. The private and fully furnished canvas tent (15 x 18") with double bed is situated on a working farm 15 minutes southeast of Ithaca in Upstate.
The tent is elevated on a platform that overlooks a pond, pastures, and the valley – amazing for watching the sunrise and sunset.
In this arrangement, you'll be the sole guest with private use of the nearby bathhouse, replete with hot water, towels, and soap.
You'll also have private access to the rustic outdoor kitchen, which has all the cooking basics, a refrigerator, and a drip coffee maker.
You'll be invited to disconnect from the bustle of daily life with no wifi or electricity, although path lights, fairy lights, and a solar lantern will be provided.
Apart from taking in the stunning views, guests can enjoy visits to local trails, wineries, and waterfalls. A firepit and charcoal grill with firewood, kindling, and charcoal are provided, great for hanging and having a cookout with the fresh farm products available to purchase on-site such as eggs, meat and honey.
Note that complimentary parking is available onsite however pets are not permitted. Book Now at: Airbnb
Bellfire Tipi Getaway in the Catskills
For some off the grid glamping near NYC, a getaway in the Catskills is exactly what's needed. The site is situated in the Meeker Hollow – known as one of the best areas for stargazing in the whole state – and hosts one gorgeous luxury tipi, discreetly set 500ft from the Farmhouse and parking lot.
The tipi itself is nuzzled between a creek, sprawling wildflower fields, and maple trees. This is camping near NYC with peace, comfort, and tranquility in mind.
The tipi tent is decked out with 2 single beds, cedar floors, wool blankets, custom made furniture, and the main feature, an inside wood stove with cast iron chiminea.
Just outside you'll find a stone fire pit, charcoal grill, Adirondack chairs, and a double-width hammock. There really is nothing quite like relaxing by a fire, listening to a babbling brook, and looking up at the stars.
In the absence of wifi and electricity, you can truly escape the fast-paced world and relax in this gorgeous setting with candles, camping lamps, and nature.
There are some modern comforts too thanks to a kitchenette in the tipi stocked with a kettle, coffee dripper, gas stove, kitchen utensils, and crockery. The nearby outhouse features a wash station and composting toilet, with a solar shower and changing cabin alongside.
If you can make it out of the camp, you are free to hike and roam the miles of forest surrounding the tipi. Pets are not permitted on the campsite. Book Now at: Airbnb
River's Edge Sunrise in Pond Eddy
If you're dreaming of camping near NYC with waterfront views, you'll love River's Edge Sunrise campsite right on the magnificent Delaware River. The site can host up to 14 campers with a choice of canvas or dome tents and access to the sun shower and shared campsite loos.
The dome tents have a Queen bed and the canvas alternative features a Queen bunk that can sleep up to four people. Additional pop-up tents are also available upon request.
There are lots of outdoor activities for your group to enjoy with canoeing, hiking, kayaking and tubing right on your doorstep.
The town of Barryville is 10 minutes away with nice spots for breakfast and other meals.
The campsite is also kitted out with a fire pit, campfire grill, tongs, brush, camp tables, and Adirondack chairs if you prefer to organize a cookout in nature.
Pets are welcomed to this site so they can enjoy the surroundings too! River's Edge Sunrise is a great opportunity for a digital detox as there's no electricity or wifi, and cell service (Verizon only) is patchy.
Book Now at: Booking.com | Tentrr
Abandoned Zoo: Overlook Site in the Catskills
Perhaps the most unique and obscure location for glamping in New York State is at the Abandoned Zoo: Overlook Site. Once upon a time a zoo with a plethora of animals, the site was reborn as The Old Catskill Game Farm and is now a brilliant campsite and upstate destination.
With tent accommodation for up to 14 people tucked away in hundreds of acres of uninhabited land, you'll feel like the site is just for you.
There is direct access from the campsite to over 25 miles of private hiking and biking trails, with swimming holes and waterfalls to discover.
You can also enter the grounds of the fascinating Abandoned Zoo and wander the 3.5 miles of wooded trails and paved walkways.
There's a choice of dome or canvas tents that each sleep two people in a Queen bed. All beds have hotel quality memory-foam mattresses, sheets, and pillowcases upon request with campers supplying pillows and any other bedding.
The Overlook Site is pet friendly so furry friends can enjoy lying by the fire at night too, with firepit and grill materials provided.
The Long Neck Inn (previously inhabited by giraffes!) is a few minutes walk from the campsite and houses a half bath, outdoor shower, hot tub, kitchen, and coffee station that can be used by guests.
Book Now at: Expedia | Tentrr Looking for more glamping? Check out where to stay in the Catskills for more options!
Waterfall Paradise on the Mongaup River in the Poconos
This wooded site offers a secluded glamping experience near NYC and is just a few minutes walk from the Mongaup River where there is a hiking trail and excellent fishing in the Pocono Mountain region.
The campsite can host up to six campers with each canvas tent sleeping two people in a Queen sized bed. Pets are very welcome too. Getting immersed in nature is easy here with a beautiful brook and waterfalls to explore right next to the campsite.
The small town of Port Jervis is also nearby with local eateries, in case you don't feel like campsite cooking.
If a cookout is more your style, there are facilities provided including camp tables and benches, Adirondack chairs, a fire-pit, campfire grill, and wood stove to prepare dinner deep in nature.
Plus there are cute twinkling lights to lead you the way to your tent with a small wooden bridge over a creek that also makes the perfect ambient sounds while you sleep under the stars.
Book Now at: Expedia | Tentrr | Vrbo
Highwoods in Saugerties
Highwoods is a secluded and quiet campsite in the woods that acts as a great base camp to hang out and relax or explore the surrounding area. It's also near to the towns of Kingston, Woodstock, and Saugerties in Upstate New York with restaurants and bars if you like a lively atmosphere and a break from your camping near NYC break.
The campsite is fit for a maximum of six people and has options for dome tents with one Queen bed or canvas tents with a Queen bunk bed that sleeps up to four campers.
There's a lot going on in terms of outdoor and activities with hiking trails and parks nearby. The Big Deep swimming hole is less than a 10-minute drive away and Opus Sculpture Park is a 40-minute drive from Highwoods.
A firepit and grilling facilities on-site complete the camping experience and pets are permitted too, so they can enjoy the atmosphere while you relax in a hammock.
A shared sun shower and toilets can be found nearby for the use of campers. Glamping in NY at Highwoods is a great way to take a technology diet (its electricity and WiFi-free!) and reconnect with the tranquility of nature.
Book Now at: Booking.com | Expedia | Tentrr | Vrbo
Firelight Camps in Ithaca, NY
For the complete Upstate New York glamping experience, Firelight Camps in Ithaca has got you covered. The luxury glamping in NY is set in the grounds of La Tourelle Hotel & Spa with an onsite spa, shared lounge and wellness and fitness center for that extra touch of luxury.
The stylish and fully furnished, platformed tents are atmospherically lit with battery-powered lanterns, which can also be conveniently used to charge your cellphone.
They also have hardwood floors, comfortable furniture, and mesh screening to keep any bugs at bay. A King tent is available to sleep up to two adults and one child or there's also a Double Queen option for a maximum of two adults and two children – all tents include a beautiful private balcony.
A locally sourced continental breakfast is included and served in the lobby each morning. The surrounding area is filled with outdoor activities to enjoy including the hiking trails of Buttermilk Falls State Park and the wonderful vineyards, waterfalls, and gorges of Finger Lakes.
For those of you who don't know, there are so many amazing things to do in the Finger Lakes from wine tasting, waterfall chasing, lake activities, museums, and enough to fill an entire vacation.
After a fulfilling day you can enjoy a sundown campfire with complimentary homemade s'mores.
A shared bathroom is kept stocked up with toiletries, WiFi is available in public areas and pets are permitted.
Book Now at: Booking.com | Expedia | Hotels.com
Secret Chalet in the Catskills
Glamping near NYC can be romantic with a stay at the Secret Chalet, near to downtown Roscoe. The campground features cute wooden cabins straight out of a fairytale each with a loft, sitting area, sink with cold water, and fridge.
Pets are permitted and each chalet cabin is perfect for two with a maximum of four people. On-site you can enjoy fishing in the brook, building a campfire, and relaxing inside or outside.
There are also some cultural places to visit in the area such as Dundas Castle, Roscoe O&W Railway and Beaverkill Covered Bridge, one of the many gorgeous and historic covered bridges in New York.
Guests are required to provide their own sheets, blankets, and towels, and mosquito spray is recommended for this rustic experience. A shared kitchen, showers and toilets are also available.
Find this listing at Hipcamp. First time trying Hipcamp? Get $10 off your booking using my code: MEGANI4FA199 or booking through this link.
Catskills Glamping Cabin
Returning just below the Catskills for more luxury camping in NY State and the perfect glamping trip near NYC, you'll love this gorgeous micro-cabin nestled amongst 2.5 acres of woods.
The cabin and luxury camping in New York option pitched by a man-made creek have a small platform for sitting out and comes furnished with a full-size bed, small refrigerator-freezer, and coffee maker.
You'll still have the modern comforts of electricity, wifi and TV too. The surrounding region invites guests to explore beautiful forest hiking trails, swimming holes, waterfalls, farms, and orchards.
Minnewaska State Park is 15 minutes away, the Shawangunk Mountains at 25 and a little further afield at 40 minutes you have Peekamoose Mountain and the Blue Hole.
To cook outdoors and soak up the atmosphere, a grill and picnic table are provided and there's also a private firepit to crackle into the evening. A camping toilet is located behind the cabin and campers also have access to an outdoor shower.
Pets are not permitted at this property.
Find this listing at Hipcamp. First time trying Hipcamp? Get $10 off your booking using my code: MEGANI4FA199 or booking through this link.
Hemlock Camp in the Adirondacks
Glamping in NY at Hemlock Camp is a peaceful experience with your luxury canvas tent in a grassy clearing, encased by hundreds of acres of private and wild forest.
A stream winds in front of the tent with a rocky footbridge to cross to your camping area, ready with Adirondack chairs, a hammock, fire-pit, and tiki torches for outdoor lighting. The tent itself is quite large and can host up to six campers – pets are also welcome.
Within the grounds of Hemlock Camp, hiking and wildlife watching on the many trails are lovely activities, as well as swimming in the pond. A kitchen is available or you might prefer some outdoor cooking – materials, and utensils provided – chilling by the campfire in your little oasis.
Guests also have access to a private outhouse toilet however there are no showering facilities available.
Find this listing at Hipcamp. First time trying Hipcamp? Get $10 off your booking using my code: MEGANI4FA199 or booking through this link.
Stargazer Upstate Glamping at Gatherwild Ranch in Germantown, NY
Upstate New York Glamping is always better with stargazing! At Gatherwild Ranch you can stay in a beautiful yurt style tent with a cedar deck and look up at the night sky as you relax by your private firepit.
The yurts have a Queen size bed with fresh linens provided and sheepskins to keep you warm and cozy watching the sunrise. The tents are electricity-free, instead of using solar lights inside in the evenings.
The site has a charming (like REALLY charming) shared kitchen area in a little cabin with a little neon sign equipped with everything you'll need for cooking, grilling, and eating.
There are also two shared charging outlets for cellphones here.
A separate composting toilet and solar shower unit has recently been installed for each yurt. When you're not relaxing in your tent or the communal areas, there are 15 acres of land to roam with several barns, a wood workshop and a large garden with a greenhouse.
Pets are welcomed for an additional cost. Book Now at: Airbnb
Terra Glamping in East Hampton
Taking it back for some glamping near NYC, try out the waterfront safari-style tents at Gardiner's Bay with Terra Glamping. These luxury tents are set on platforms complete with a 6-foot deck and 2 chairs for looking out over the water.
The Queen bed with a memory foam mattress sleeps two and you'll find the thoughtful amenities useful – a lantern, flashlight, robes and towels, and a cell phone charger.
After a good night's rest you can wake up to a complimentary continental breakfast in the morning, another nice touch is the campfire and s'mores bar at night, which all guests are invited to.
The communal lounge tent is a cool spot to hang out on the couches and play board games or read a book, dipping into the cooler full of complimentary drinks.
Guests can use the 9-burner grill that's available in the dining and grilling area, with all the basic cooking materials and recyclable cookware provided.
All yurt-campers have access to use the kayaks and Stand Up Paddleboards in the Bay with no charge.
Hot showers and toilet facilities are located in the restroom trailer and the private units all count with Ursa Major bath products. Pets are not permitted on this property. Book Now at: Airbnb
Also, be sure to check out all the best things to do in Montauk which is right by East Hampton for some fun ideas on how to spend your getaway!
Stony Creek Farmstead in the Catskills
And finally, we head back over to the Catskills area for more upstate New York glamping at Stony Creek Farmstead, also home to lots of farm animals including cows, sheep, pigs, and chickens.
The tents are fully equipped with everything you'll need including beds for six people, a wood cookstove, kitchen sink, and toilet.
There are also private campsite options into the hills and along the valley if preferred over the farm stay.
On-site, guests can use the shared outdoor shower house and purchase fresh produce from the farm store like meats, eggs, organic veggies, local cheeses, and yogurts.
Beyond relaxing and enjoying good food, campers can walk barefoot up the creek in its cool water, take a hike through the pine forest, join a farm tour or even make pizza in the Farm's wood-fired brick oven every Saturday.
Find this listing at Hipcamp and on TripAdvisor. First time trying Hipcamp? Get $10 off your booking using my code: MEGANI4FA199 or booking through this link.
Roscoe Campsite Park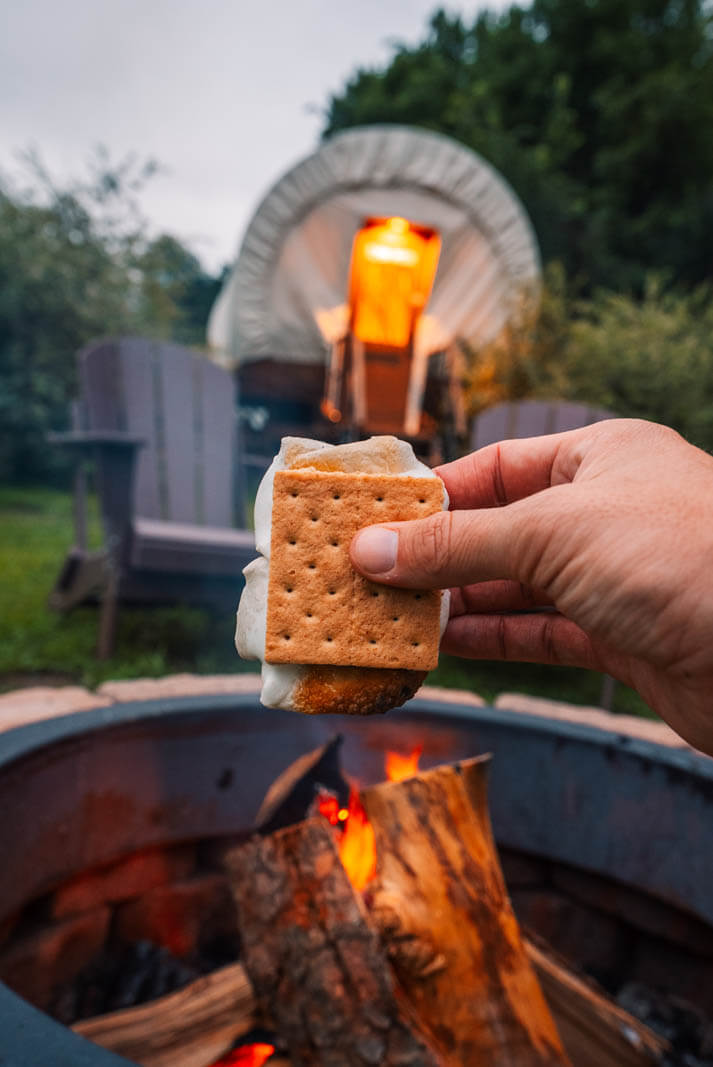 One of the best New York glamping spots can be found in the Catskills mountains. This is the perfect stay for a Catskills summer vacation. Roscoe Campsite offers great lodging options from full-on campsites for your RV or tent to creekside cabins and our favorite, the Conestoga Covered Wagon glamping experience.
There are 5 covered wagons at the outpost which also runs along the Beaverkill River which is perfect to rent out the entire campsite if you're traveling with a group of friends or several family members. Each wagon comes with its own Adirondack chairs, fire pit, and kettle to cook over.
Each wagon comes with air conditioning, TVs, fridges, wifi, and are incredibly spacious fitting a twin bunk bed and a king size bed inside the wagons!
The bathrooms are shared and located outside the wagons. Don't be fooled though, these bathrooms are kept cool in the summer and are incredibly clean and modern. There is also a small pavilion with grills and picnic tables for guests to use.
At their main campsite location in Roscoe, you can also choose between several different cabin rentals including riverfront cabins along the trickling Beaverkill River as well as campsites, RV sites, and fun activities like mining for kids (or adults we thought this was fun) and seeing all the fun animals like alpacas, goats, and chickens!
Another perk about picking this spot for where to stay in the Catskills in the summer months is that you have access to fly fishing right at the campsite along the river as well as hiking and water activities like rafting, tubing, canoeing, and kayaking all of which they can provide to guests!
---
Liked this post on the best glamping new NYC and Upstate New York Glamping options? Bookmark for later or share the love below on Pinterest, and happy glamping in NY!