The quaint city of Plattsburgh, New York sits on the northwestern shore of Lake Champlain, near the Adirondack Mountains. It is most well-known for the Battle of Plattsburgh fought during the War of 1812.
However, Plattsburgh also has a growing art scene, fun local shops, and attractions where you can enjoy the outdoors. As an added bonus, there are fantastic things to do near Plattsburgh, New York which adds even more to your experience during your visit.
Keep on reading to discover all the spots and attractions to check out in this charming city in the state of New York.
Things to do in Plattsburgh, New York
Corner Stone Bookshop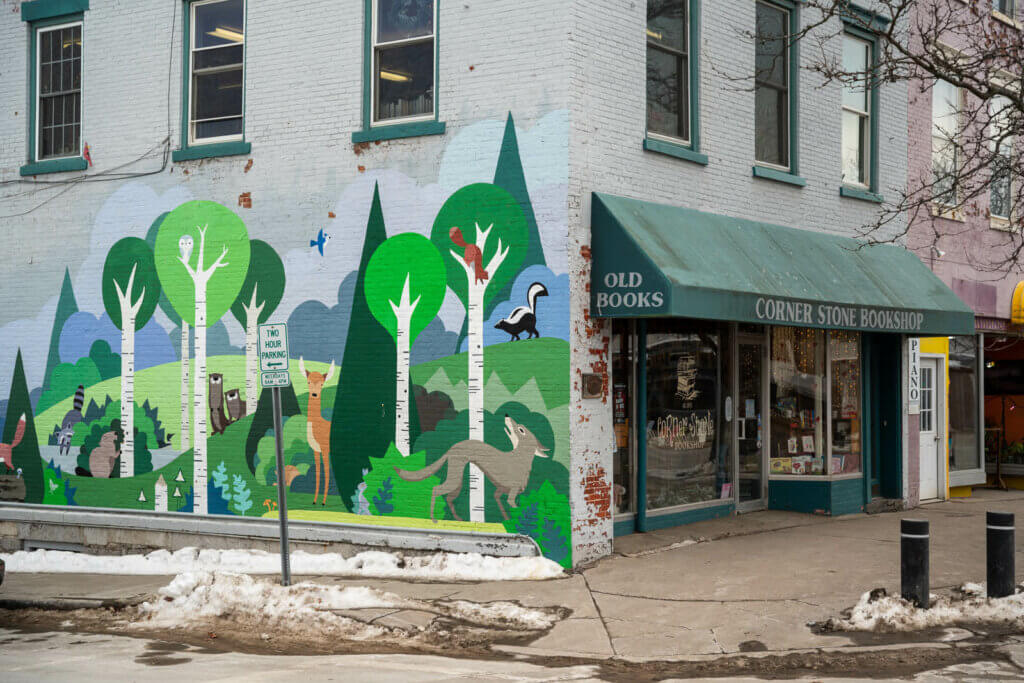 Among the best gems in Plattsburgh, New York is the Corner Stone Bookshop. This secondhand bookstore has been around since 1975 and has three floors of more than 80,000 titles spanning a variety of genres.
Whether you want to leisurely browse, or are looking for a specific book or genre, this is the place to come. The collections of books here include art, horror fiction, memoirs, Shakespeare, children's science, Adirondack life and lore, African American studies, plus many more.
Corner Stone has a well-worn, comfy bookstore feeling, and almost feels like you've been transported back to simpler times. Imagine shelf after shelf of books, lovely old wooden staircases, and little nooks and crannies to plop down and read.
Located downtown on Margaret Street, look for the green awning with the name of the shop in bold, capitalized letters. Downtown has little restaurants and cafes, as well as local shops, and a great activity is grabbing a cup of coffee and maybe a pastry either before or after visiting Corner Stone.
The shop is closed on Mondays, and is otherwise open from 12:00 – 7:00 Tuesdays through Saturdays, and 12:00 – 5:00 on Sundays. If you have nostalgia for browsing books in a bookstore, visiting Corner Stone Bookshop is one of the best things to do in Plattsburgh.
Antique Shopping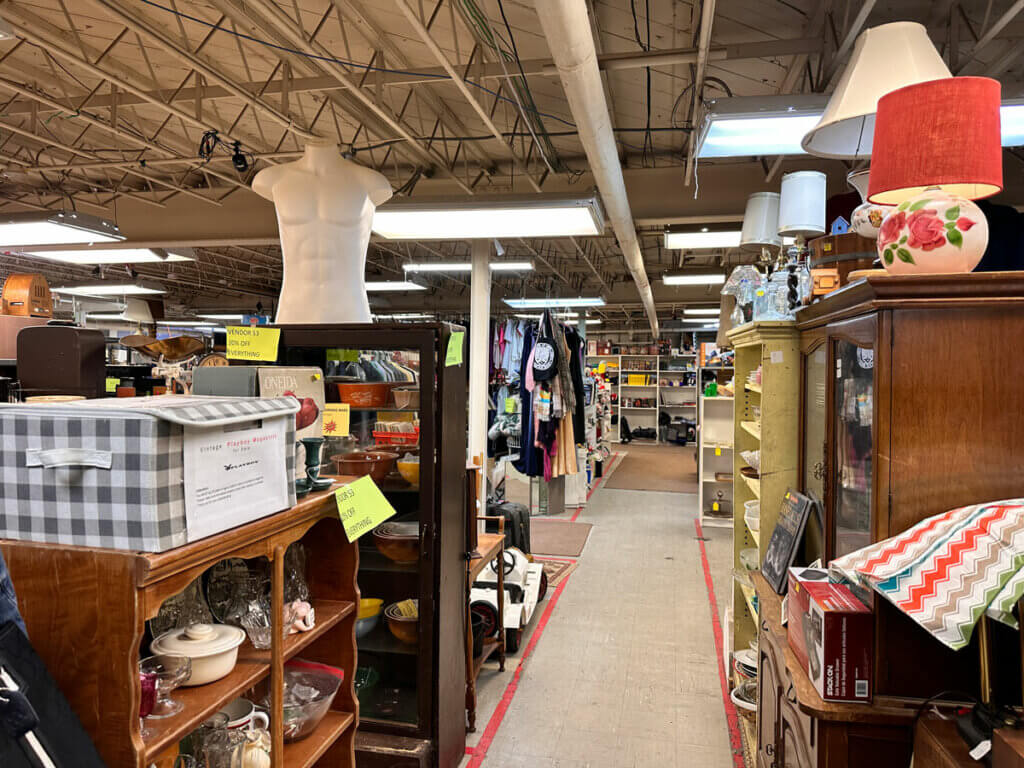 Thrift and antique shoppers, rejoice, because Plattsburgh, New York has some excellent antique shopping and was one of our favorite things to do while in town!
The Antique & Variety Mall has a couple of locations on Margaret Street and Cornelia Street. Housed in a large building, you can expect to find just about anything and everything here. This is the kind of place where you can just stroll the aisles for hours, just browsing all the offerings.
Jam Vintage carries an excellent selection of clothing items like sweatshirts, jackets, and shirts. If you are someone who likes thrifted clothing, you must stop in at Jam Vintage to see what's in stock. They are open Thursdays through Sundays.
The Town & Country Antique Shop has been open for nearly 5 decades. Located a few miles north of Plattsburgh, take State Route 22 and you will come across this spot. They have American antiques, and lots of furniture. Town & Country Antique Shop is typically open Wednesdays through Saturdays.
War of 1812 Museum
Plattsburgh has a decent amount of military history, having been the site where the Battle at Plattsburgh was fought during the War of 1812.
In fact, the Battles at Plattsburgh brought the War of 1812 to an end. To learn more about this event, be sure to make your way over to the War of 1812 Museum, which goes in depth about the War of 1812, as well as the Battle of Plattsburgh.
There is a modest theater, interpretive center, art gallery, space for exhibits, and a museum shop. The exhibits include the Allan S. Everest Interpretive Center, which details the timeline of the battles and events leading up to them, as well as an interactive diorama of the battlefield.
It is recommended to give yourself an hour to explore the museum's exhibits and digest the information. It is owned and operated by the Battle of Plattsburgh Association, and volunteers keep this place running. There is no fee to visit, days to visit are Wednesday through Saturday, and it's generally open in the summer and fall.
Elfs Farm Winery & Cider House
After a busy morning exploring the city, a great thing to do in Plattsburgh is enjoy an adult beverage as you take in the beautiful scenery. Elfs Farm Winery & Cider House is a family-owned New York State Farm Winery that serves ADK Hard Cider as well as its own wines.
They make cold-climate grape wines, fruit wines, and hard cider. Their fresh apple cider is made on-site using a cloth hydraulic apple press and antique rack. Elfs Farm has wine tastings and self-guided tours of the vineyard, and they put on events like the Friday Night Wine Down. Or, you can just come here to grab a drink! Be sure to head out to the patio as you sip on your beverage.
Valcour Brewing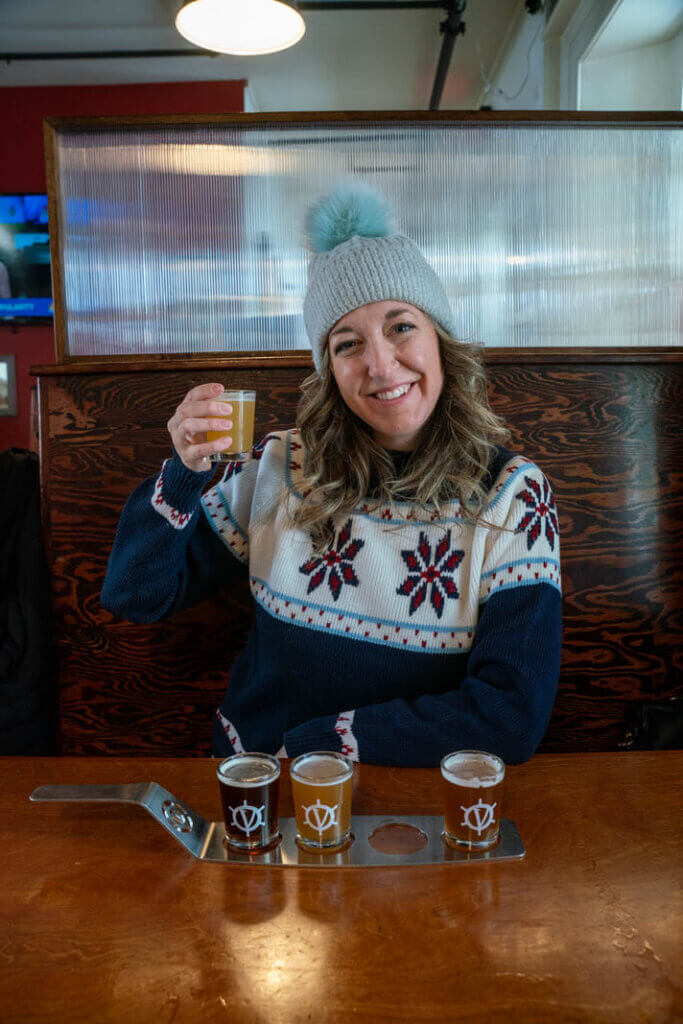 If breweries are more your speed, check out Valcour Brewing for a local brew and meal if you're hungry. What makes Valcour unique is its location in Plattsburgh's Old Stone Barracks. The barracks were built in the 1800s, as a response to the inadequate lodging that soldiers had been using. The Old Stone Barracks were placed on the National Register of Historic Places in 1971, and Valcour Brewing Company bought the barracks in 2014.
Local materials were used to construct the brewery, giving it a special feel. The bar top was made from a tree located at the What Knot Sawmill in Harkness, New York. So, what can you get here? The beer is made in-house, and the food offerings include appetizers, salads, wraps, flatbreads, sandwiches, and burgers.
Valcour Brewing has a handful of flagship brews, and closer to 10 rotating seasonal brews. You can also get New York State wine, spirits, and hard ciders. In addition to the brewery, there is also an event space and inn, and they put on weekly events like trivia night and happy hour.
Koffee Kat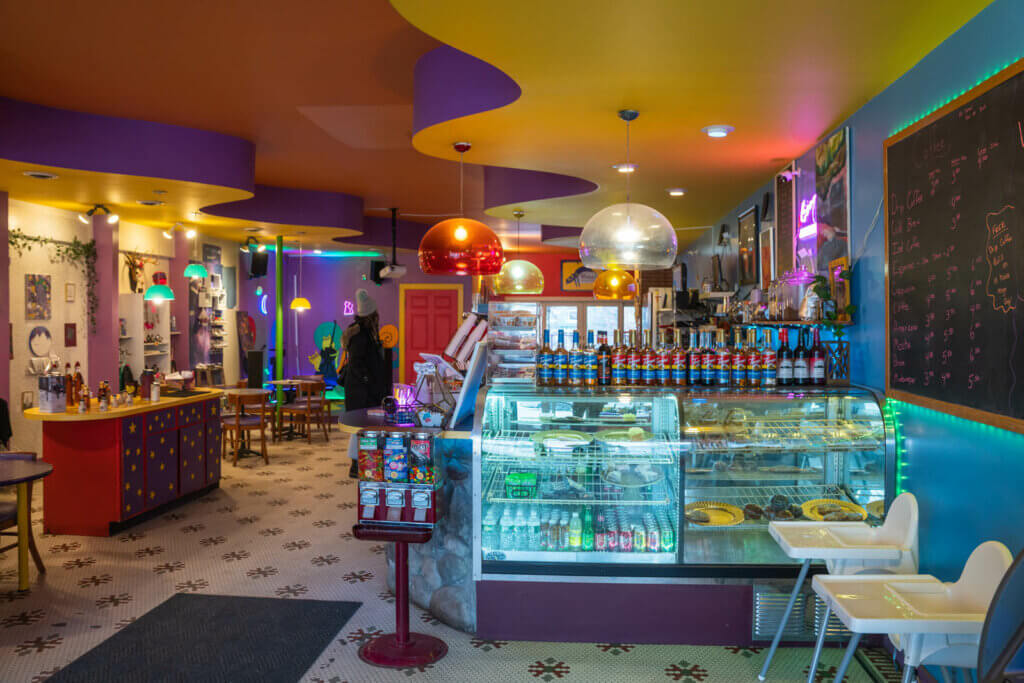 Combine an espresso bar, clubhouse, and venue, and the love of cats and you have Koffee Kat! This comfortably chaotic spot is the place to come for coffee drinks and pastries, browse and buy local artisan goods, and attend all kinds of events.
Koffee Kat came under new ownership in late 2022, when the previous owner, who was also the founder, made the decision to retire. The new owners have made Koffee Kat their own through changes in decor, the menu, and events. The first thing you will notice upon entering the shop is the hodgepodge of colors, patterns, and other visual elements related to kitty cats!
Locally made artisan goods are sold here, and they rent out wall space by the month to local artists.
As far as drinks go, Koffee Kat offers coffee, tea, milkshakes, and smoothies. And for food, they have cookies, scones, and muffins, plus more.
Koffee Kat puts on events like tarot readings, album release parties, and open mics nights called 'The Kat After Dark'. They are open each weekday from 8:00 AM – 8:00 PM, and is certainly one of the more unique things to do in Plattsburgh.
Bluff Point Lighthouse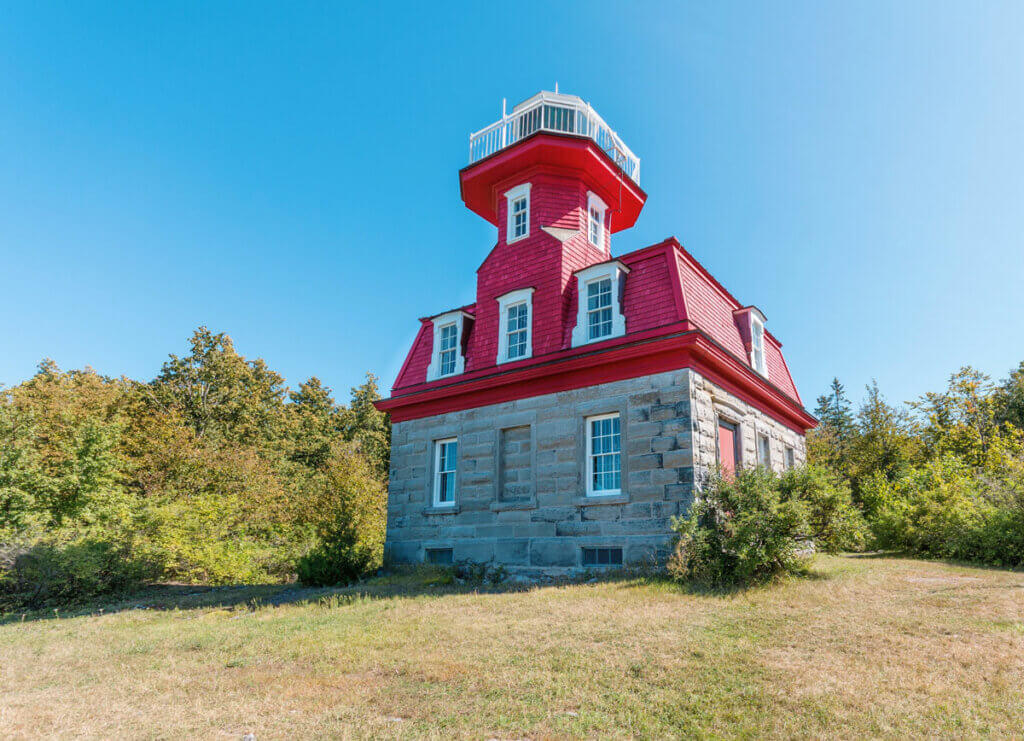 With Plattsburgh's location on Lake Champlain, it should come as no surprise that one of the local attractions is the Bluff Point Lighthouse on Valcour Island.
Constructed in 1874, its purpose was to escort boats between the shore and the west side of the island. It remained active until 1930 when a new steel tower was built and the light was moved from the old tower to the new steel tower.
Bluff Point Lighthouse doesn't look like a traditional lighthouse tower. It has the appearance of more of a square-shaped house, with the top and bottom portions horizontally separated by the vivid red paint that marks the top portion.
Additionally, there are white framed windows throughout, and the structure for the light sits atop the house. The lighthouse is surrounded by a swath of dense trees overlooking the deep blue waters.
Valcour Island can only be accessed by boat, making visiting this attraction somewhat tricky. During the summer, the Clinton County Historical Association arranges transportation to the lighthouse during specific dates, as well as ensures the lighthouse is staffed and tour guides are present.
Check Out All the Murals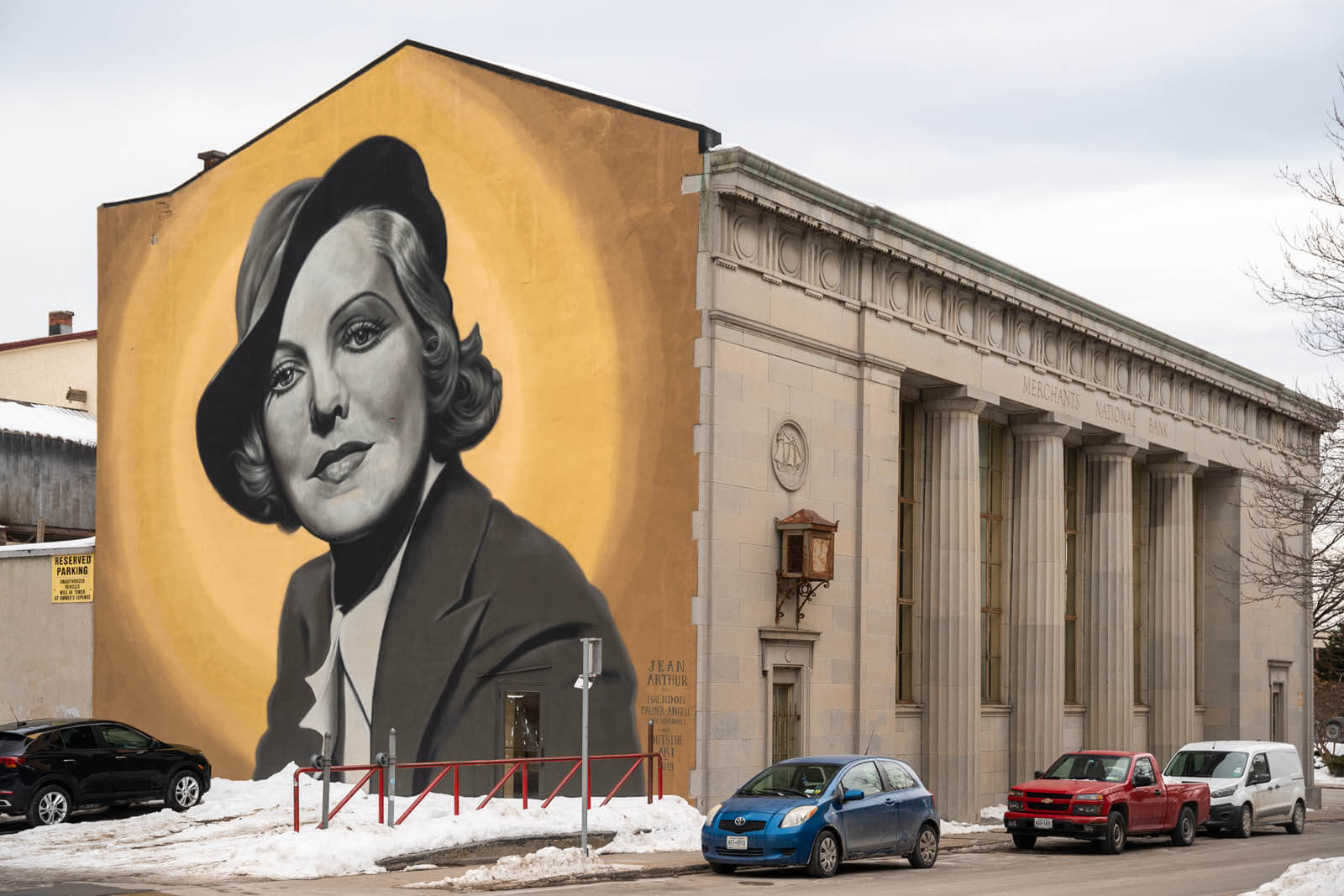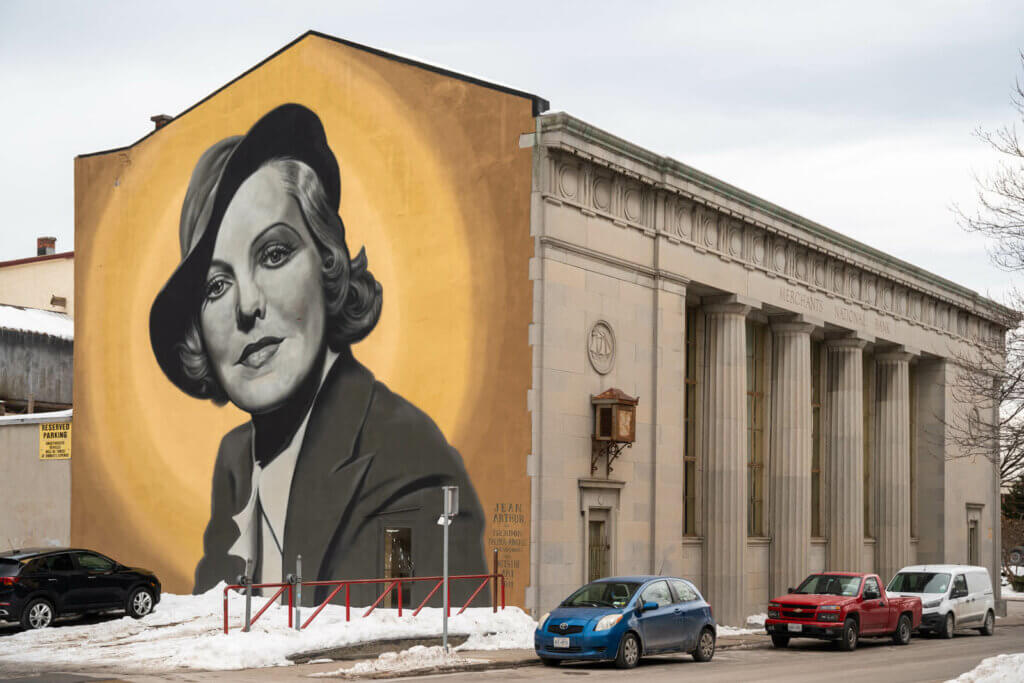 Plattsburgh, New York is actually a rather artistic city. Outside Art, known as OA, is a community group that is working to create public art around town. Founded in 2016, OA is the idea of artists Julia Devine and Amy Guglielmo, and they have a big hand in creating the murals that are scattered through the city.
So far, there are 17 murals around town, but that number is growing. With names like the Woods and Wild Things Mural, Music Mural, and Plucky Rooster Mural, you will want to check out these interesting pieces of art.
One standout is the Jean Arthur Mural. Created in 2019, this mural celebrates Hollywood actress Jean Arthur, who hailed from Plattsburgh. You will find the Jean Arthur Mural on Brinkerhoff Street.
The Reach for the Stars! The Michael Anderson Mural pays homage to NASA astronaut Michael Anderson, who was born in Plattsburgh. The mural depicts him smiling while in his astronaut gear. The Michael Anderson Mural was created in 2020 and is located on Durkee Street.
Point Au Roche State Park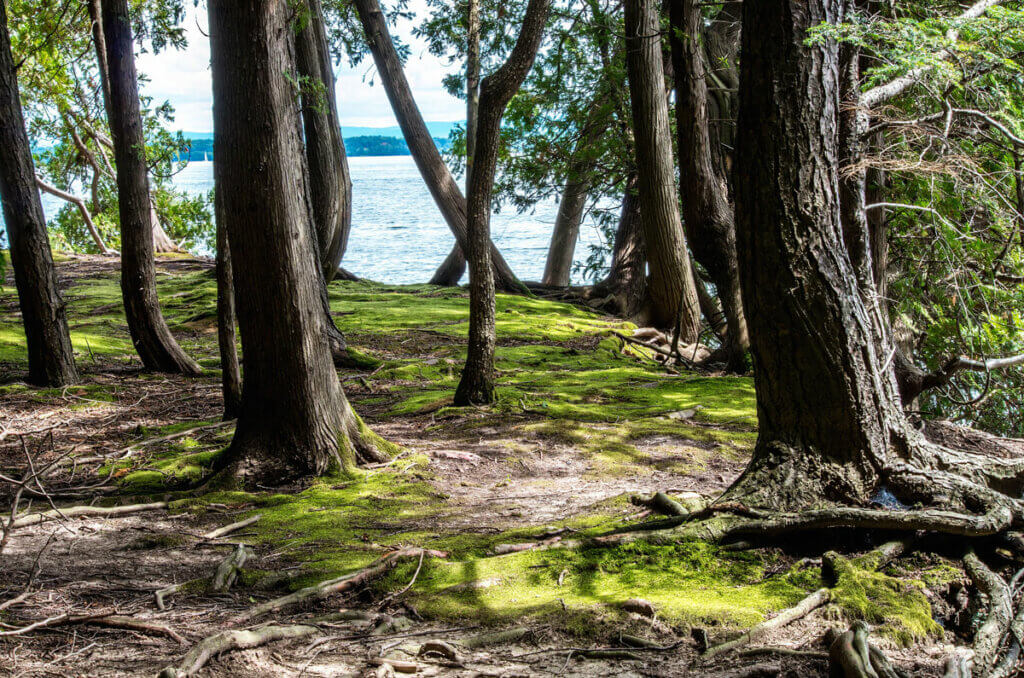 With the city's scenic setting in upstate New York, one of the things to do in Plattsburgh is get outdoors and check out the Point Au Roche State Park. Not only are the views great here, but there is so much to do!
Activities here include boating, biking, canoeing and kayaking, snowshoeing, cross-country skiing, volleyball, and softball. There's also fishing, as well as ice fishing in the winter if that is your thing. The area open to the public has a perfectly sandy beach with a specific place for swimming, as well as spots for picnics and grilling. If you enjoy hiking, you are in luck. There are many hiking, biking, and nature trails to check out. These paths take you through a diverse selection of environments, from swaths of thick trees, to wetlands, and the shore.
The Nature Center has all different types of programs, and is accessible to the public year-round. And while you're here, be sure to check out the La Roche Reef, where you will see a buoy that marks where the Point Au Roche Lighthouse once stood.
Naked Turtle
For one of your meals in Plattsburgh, make sure to hit up the Naked Turtle. This waterfront restaurant sits on the shore of Lake Champlain, next to the marina. The Naked Turtle is an excellent spot to hit up for lunch or dinner, and the menu includes soup, salad, burgers, and sandwiches featuring local and fresh ingredients.
At their bar, you can select from beer, wine, frozen drinks, and cocktails. And no matter what you order, you must sit outside on the deck, because the views are spectacular. The scenic setting is one of the highlights of this establishment. The Naked Turtle is open seasonally, and they have events occasionally, so be sure to check out the happenings here when you stop by!
Plattsburgh City Beach
A bustling area in Plattsburgh during the warmer months is the Plattsburgh City Beach. Open roughly from Memorial Day to Labor Day, this is one of the country's biggest freshwater beaches. The views here are lovely, with scenery of Lake Champlain and the mountains, specifically the Green Mountains in Vermont.
With a mile and a quarter of shoreline, you can go swimming, or rent a kayak and get out on the water. Additionally, you can go for a hike on the nature trail, or enjoy a meal at the picnic and grilling areas.
One unique feature here is the stage on the beach, where you can catch a performance! There is a beach bar here, called the Cabana Beach Bar, that serves alcoholic beverages, soft-serve ice cream, snacks, and soft drinks. The Cabana Beach Bar is open 11:00 – 9:00, as long as the weather is agreeable.
If you like food trucks, there are designated spots for food trucks to come and set up, so make sure to scope out who is here when you visit.
Country Dreams Farm
If you have kids with you, consider heading over to the Country Dreams Farm to interact with some adorable animals. This local spot has pygmy goats, fainting goats, chickens, and potbelly pigs that you can pet and feed.
Additionally, they offer seasonal activities, so be sure to check out what's happening when you visit. In September and October, there is a corn maze, wagon rides, and a pumpkin patch!
Also, you can shop farm fresh products like various types of locally grown and seasonal produce, eggs, and pick-your-own flowers while you're here. There is a gift shop and kids play area on site.
Country Dreams Farm is open to the public from May through October and is a great family-friendly thing to do in Plattsburgh.
Strand Center for the Arts
A complement to the city's art scene is the Strand Center for the Arts, which is a theatre and arts center dating back about 100 years. It was the Vaudeville Theatre when it was constructed in the 1920s, and it is on the National Register of Historic Places.
Recently, it has undergone renovations in excess of three million dollars and has a regal, classic feel. The interior has rich, red velvet trimmings, and grand arches, and has an Old Hollywood vibe.
In the theatre, you can view independent films, see concerts and other music shows, catch performances by actors and dancers, watch comedy shows, and attend film festivals. At the Arts Center, there are gallery events, artisan markets, classes, and a community studio.
The Strand Center for the Arts is located downtown, and is open Wednesday through Saturday.
Things to do Near Plattsburgh
Ausable Chasm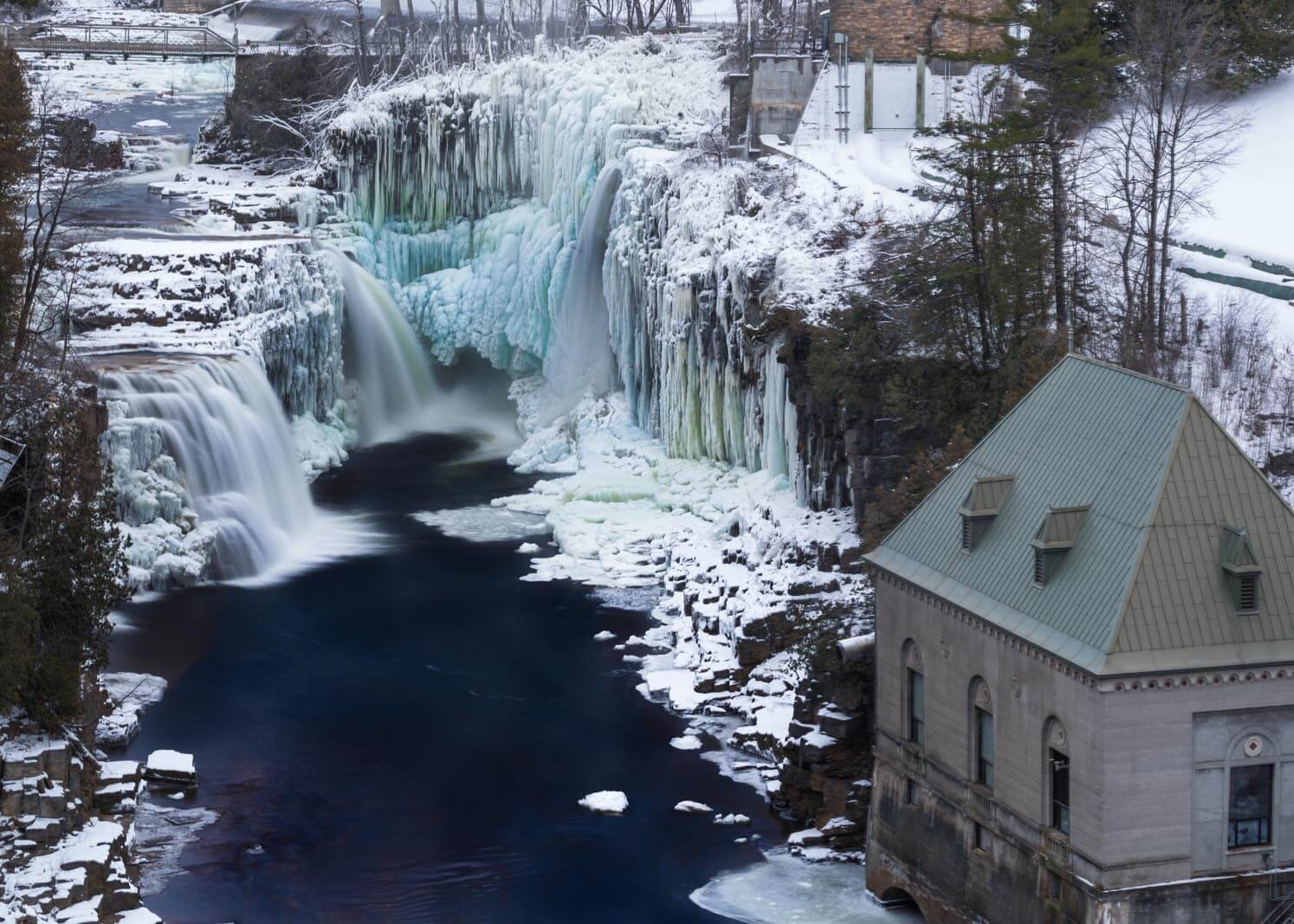 One of our absolute favorite places to visit in the Adirondacks in Ausable Chasm, which is also one of the best things to do near Plattsburgh, New York. Ausable Chasm is a pretty unique and interesting attraction that certainly falls into the "natural beauty" category. In fact, it's one of our favorite natural wonders of New York!
It was established in 1870, and it is among the first attractions in the United States. To put that into perspective, that was five years after the Civil War!
Known as the "Grand Canyon of the Adirondacks," Ausable Chasm is a canyon with vertical walls, made out of sandstone that is half a billion years old.
So, what can you do here? You can sign up for the Adventure Trail, where guides take you to the upper chasm for some hiking and rock climbing.
If you sign up for the Raft Float Tours, grab the family and hit the water for a fairly calm experience on the water. Lantern Tours are a fun nighttime activity where you explore the canyon by light.
There are more tours to choose from, from adventure packages to overnight packages. Additionally, there are walking and hiking trails that are good for pretty much any age, as well as rappelling and rock climbing.
Tours run from May to October, weather and conditions permitting. There are fees for many of the tours offered, and the fees vary depending on the tour.
Oh, and some of the trails are open in the winter making it one of the best things to do in the Adirondacks in winter too!
As far as accommodations, there is a campground, cabins that you can rent, or you can check out nearby spots for lodging. Ausable Chasm is open year-round, and should definitely be on your list of things to do near Plattsburgh, New York.
Grand Isle, Vermont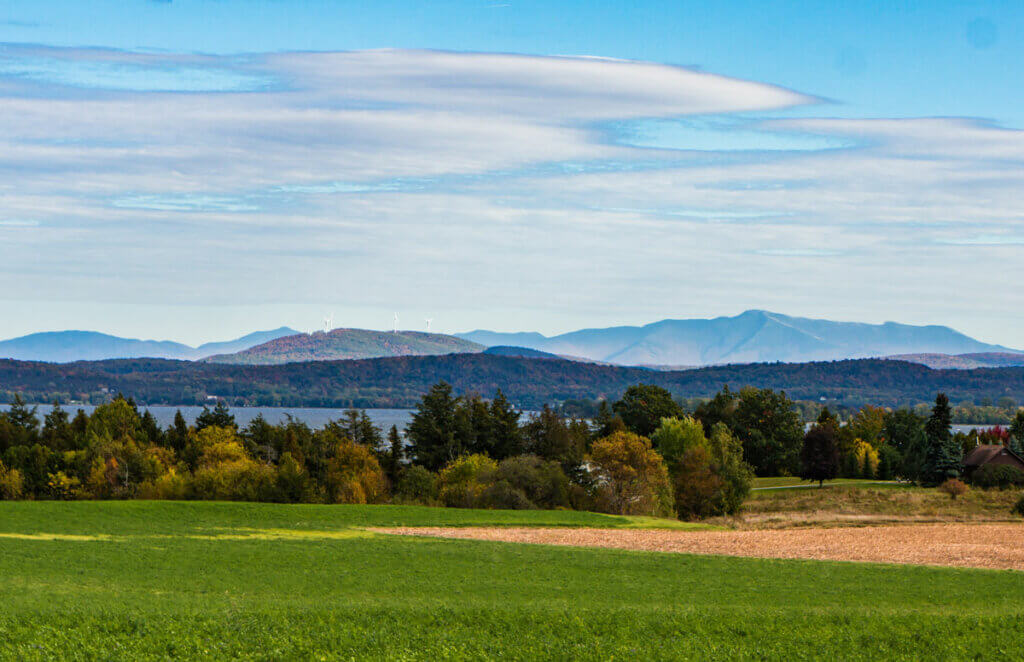 Crossing the state border into Vermont, a fantastic thing to do near Plattsburgh, New York is exploring Grand Isle. It is part of the Lake Champlain Islands, and Grand Isle is the largest island of the Lake Champlain Islands in Vermont.
It's also known as South Hero Island, and is 14 miles long and 3 miles wide. Grand Isle State Park is a popular camping destination where you can go swimming, biking, shore fishing, kayaking, play volleyball, or embark on a nature walk.
The Hyde Log Cabin is one of the oldest log cabins in the country, and is worth a quick stop while you're on the island. Hackett's Orchard is a fun place to check out, and if the time is right, you can go apple picking.
Also, you can head to the northern part of the island to hit up Hero's Welcome. This is a general store with all kinds of knick knacks and trinkets to browse.
From Plattsburgh, you can make your way to Grand Isle via car on the ferry. This Lake Champlain ferry goes between Plattsburgh and Grand Isle, and takes fifteen minutes in total to get from one place to the other.
Burlington, Vermont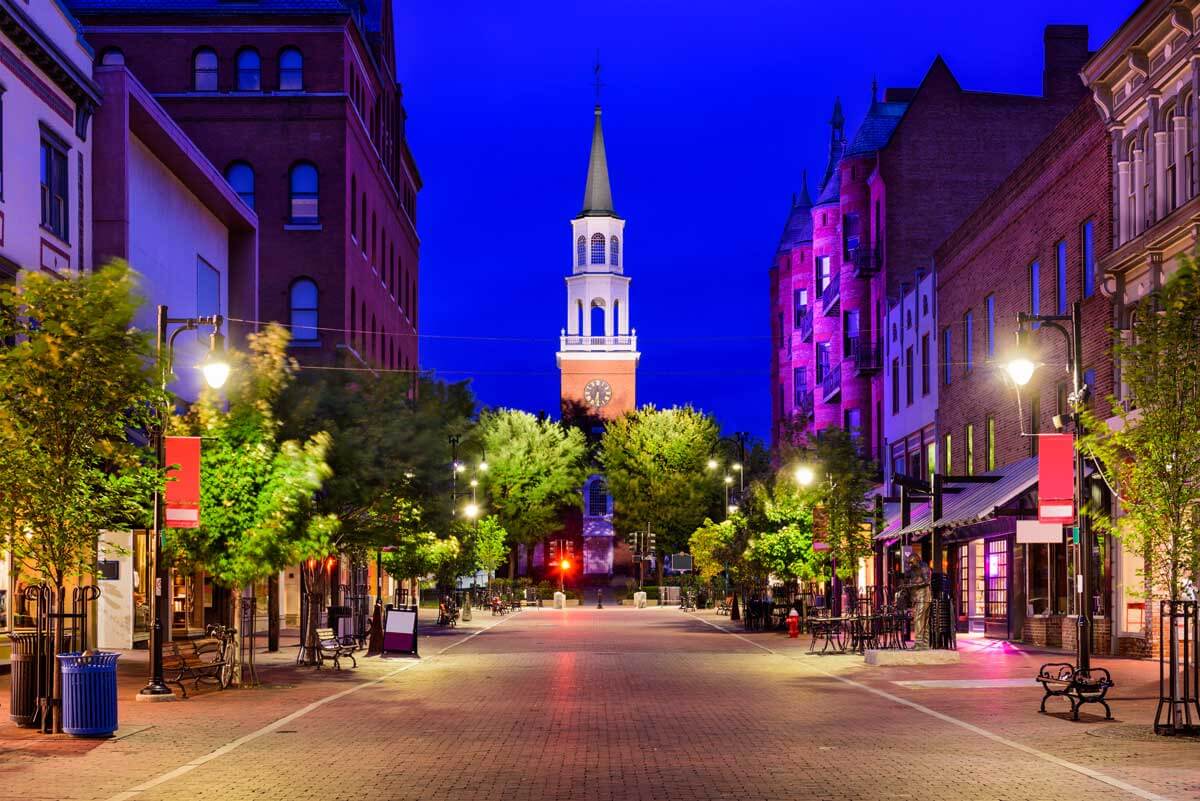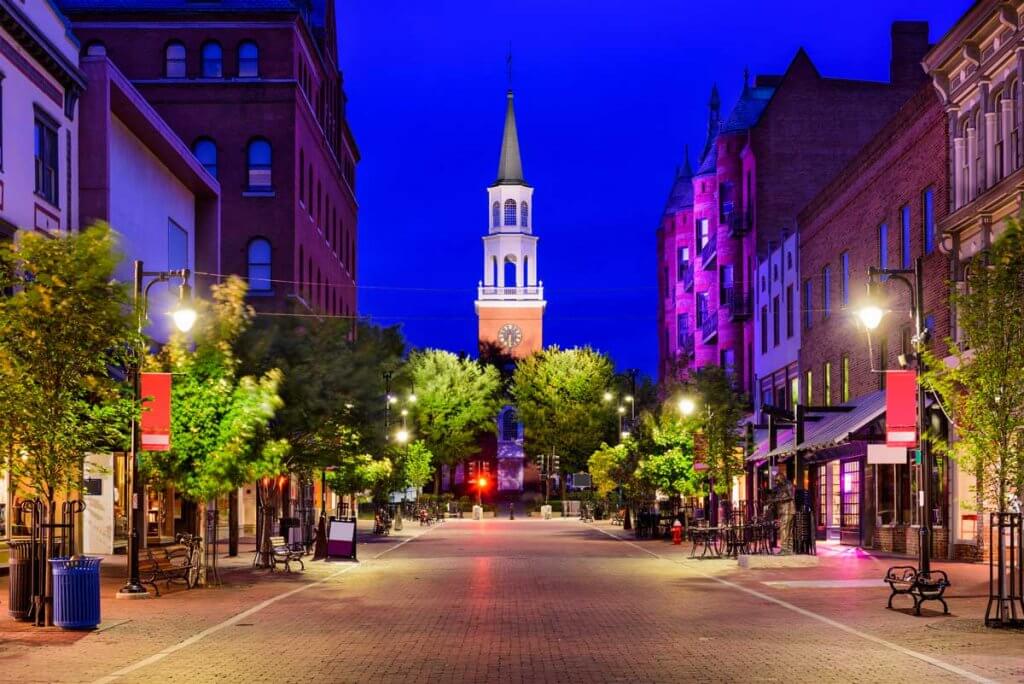 Another terrific destination with lots of great things to do near Plattsburgh, New York is the city of Burlington, Vermont. Sitting on Lake Champlain's eastern shore, Burlington is one of the more bustling cities in the state.
If you take the ferry mentioned in the Grand Isle section, you can drive from Grand Isle to Burlington in just over 30 minutes.
Once you reach Burlington, head over to Church Street Marketplace. It's four blocks of shops and restaurants, many of which are located in historic buildings that have gotten Church Street Marketplace on the National Historic Register.
ECHO, Leahy Center for Lake Champlain is a really cool place to check out. Science is the focus here, specifically marine biology, with many hands-on exhibits. ArtsRiot is an eclectic arts establishment with live music, art, and food.
The Fleming Museum of Art is an art and anthropology museum, with just about 30,000 pieces in the permanent collection.
There are so many cool things to do in Burlington, it really makes a great day trip during your visit to Plattsburgh, New York!
---
What's Plattsburgh, New York known for?
Plattsburgh, New York is known for its history tied to the War of 1812 and is a great destination in northeast New York as it is on Lake Champlain and in the Adirondacks which offers many outdoor activities and natural beauty.
Is Plattsburgh, NY walkable?
Downtown Plattsburgh, New York is very walkable! Although to really explore the beauty of the Adirondacks and Lake Champlain area, you'll want a care to explore beyond downtown.
When is the best time of year to visit Plattsburgh?
Each season offers something different if you're looking for when the best time of the year to visit Plattsburgh. January is the coldest month, but there are plenty of winter activities in the area from ice fishing, hiking, to nearby skiing. In the summer and fall you can enjoy the many activities on Lake Champlain as well as visit Valcour Island and go hiking nearby.