Looking for the best things to do in Narrowsburg, NY? We've got you covered in this getaway guide to this scenic hamlet teeter tottering on the border of Pennsylvania and New York in the Catskill Mountains and along the scenic Delaware River just a short 2.5-hour drive from New York City and not a far jaunt from the Pocono Mountains in Sullivan County.
This countryside hot spot is popular among city-goers as an escape from the city, especially during a summer in the Catskills getaway as Narrowsburg offers many options for outdoor activities as well as great dining with views, galleries, and indie boutiques worthy of a trip of their own.
Narrowsburg, NY was once home to a thriving logging industry, now they are better known for their location and entry point to the Catskills, specifically around Sullivan County. Their most notable landmark is the Narrowsburg-Darbytown Bridge towering over the Delaware River which sets as a beautiful backdrop for riverside dining, floating down the river, and passing through by car.
While you could easily spend an afternoon enjoying all the best things to do in Narrowsburg, we recommend staying the night and enjoy one of the most charming towns in New York.
Things to do in Narrowsburg

Get on the Delaware River
It's one of those things you can't understand until you experience for yourself— seeing the beauty of the region from the water of the Upper Delaware River.
Enjoy the relaxing pools and beautiful views at Skinner Falls just north of Narrowsburg. Take advantage of prime fishing spots where trout are abundant. Grab a tube and float down the river or venture over rapids. There's plenty of opportunities to get on the water around Narrowsburg, NY.
When you're looking for water activities in Narrowsburg, we recommend stopping by Landers River Trips. We rented a raft for the day and loved every relaxing minute of our 10-mile float.
They also have kayaks, canoes, and tubes for rent. Pet-owners should know that Landers is dog-friendly: there's no extra charge when you rent canoes and kayaks but a $25 fee per dog for rafts.
Landers has routes along 50-miles of the Upper Delaware National Scenic and Recreational River. They have 8 landing sites from beginning to end, 3 of which are riverside campsites, including in Narrowsburg. Book a 2.5-, 5-, or 10-mile route.
Check out their camping and rental packages that are great for groups of any size, from individuals to large groups, as well as kids.
Fort Delaware Museum
If you're looking for family-friendly things to do in Narrowsburg, NY, head up Route 97 to the Fort Delaware Museum. This is a fun-living historical museum where performers dress in period costumes and demonstrate how the first settlers of the area lived.
The Upper Delaware River was settlers in the 1750s by white migrants who called themselves "The Delaware Company." At the fort, guests will have the opportunity to tour historically accurate representations of settler cabin, a blacksmith shop, and an armory, among other types of stations that show early settlers' way of life.
Visitors can watch demonstrations by performers and even participate in crafts like quilt sewing and candle making. Learn how early settlers of the area took care of animals and prepared meals or watch the firing of a genuine cannon from the period. Visit the gift shop for souvenirs and enjoy lunch in the picnic area while you're there.
Grab a Coffee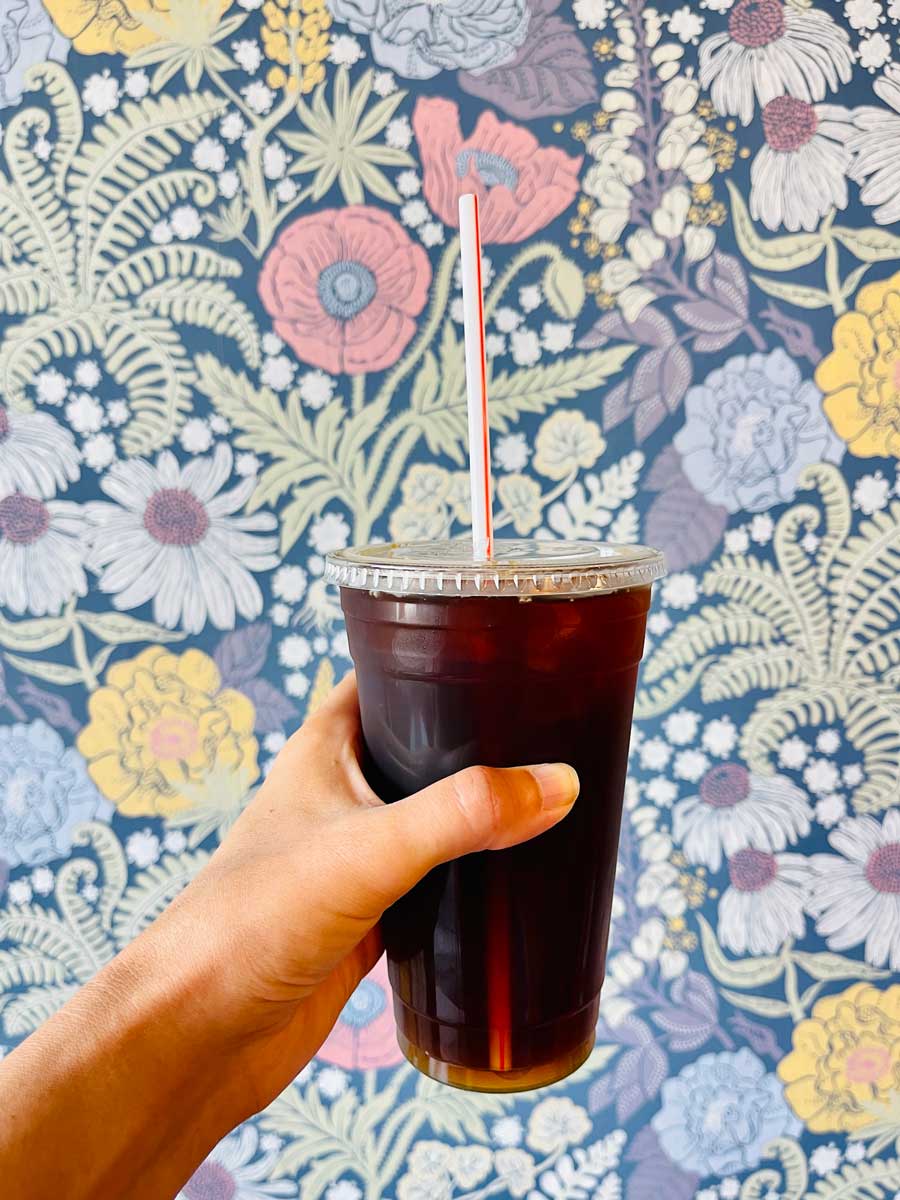 While visiting Narrowsburg, NY, take the opportunity to stop by 2 Queens Coffee on Kirks Road. You'll come for the coffee and stay for everything else.
From the cute to-go coffee cups to the filigree on the handles of the teaspoons, the attention to detail in this artisan coffee and tea shop is top-notch, pleasing to the eye, and serves up seriously good coffee roasted on-site.
The owners, Martin Higgins and Charles Wilkin raise bees, offer a line of teas that compliments their honey (and not the other way around), and roast their entire line of light, medium, and dark roast coffee beans in-house. A queer-owned business, they promote LGBTQ charities. They also offer pastries and desserts from a local bakery.
On Main Street, step into the Tusten Cup, a woman-owned business. This coffee shop is the kind of place that makes you feel right at home from the minute you step through the door. They encourage community, taking pride in being the kind of place where people gather and look for help from their fellow townspeople.
Stop by any time of day for a cup of coffee or tea. Peruse the menu for their wide selection of breakfast platters pastries and plates. Grab a soup and sandwich or wrap for lunch. Enjoy dessert in their outdoor dining area with views of the Delaware River or grab snacks on your way to the river for a float.
Shopping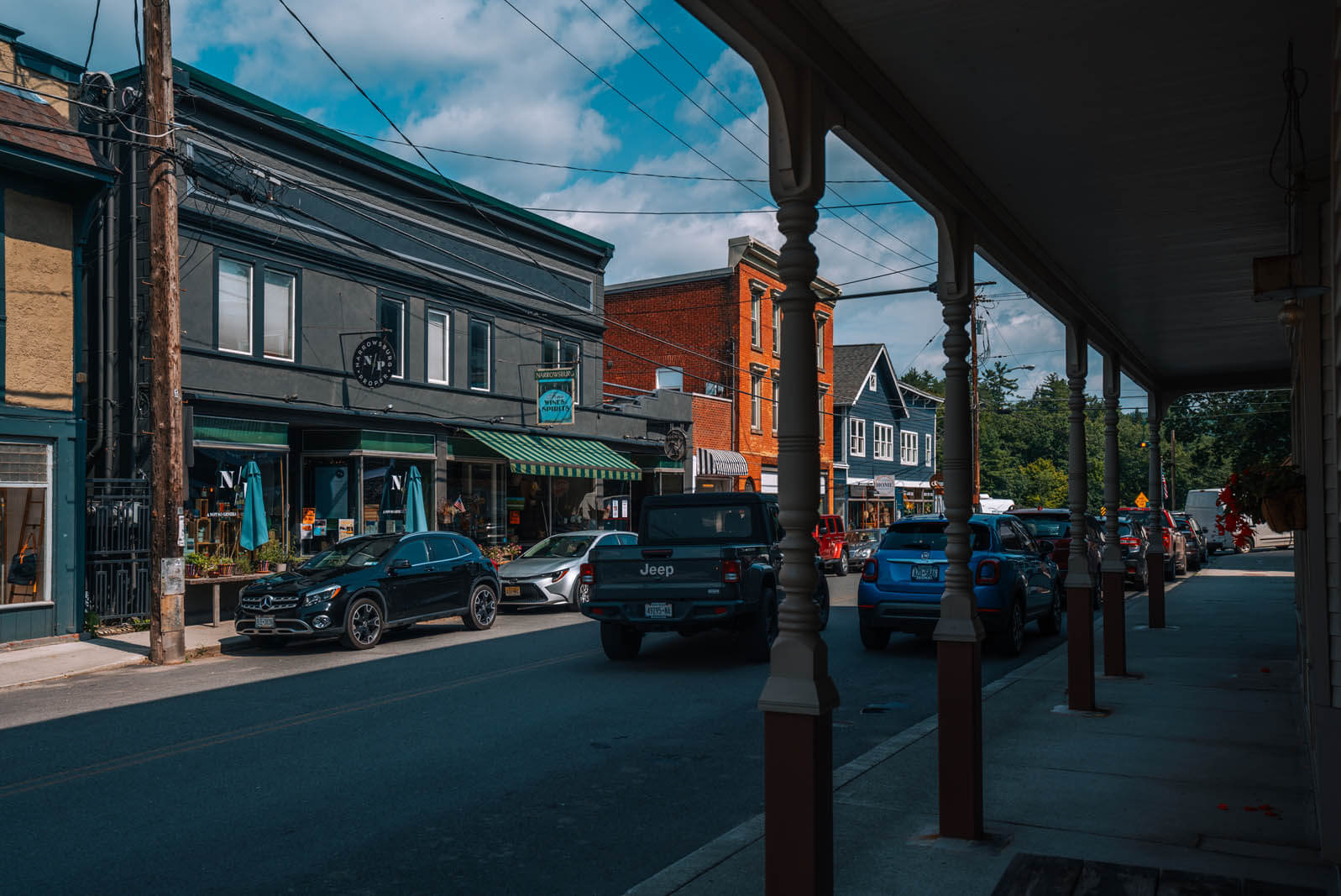 If you're looking for quality retail in Narrowsburg, you will not be disappointed. Make sure to step into Sunny's Pop. Owned by Sunshine Ruffalo, married to the actor Mark Ruffalo, she has curated an impressive collection of vintage finds, unique gifts, and handmade items. At Sunny's Pop, they believe that sustainable, low-waste retail can be successful and profitable, and sell products from creators that feel the same way.
Check out Narrowsburg Fine Wines and Spirits for a personal recommendation from the owner, Ron Santo. They have quite the offering, whether you're looking for a Mexican tequila or French wine, or a local Catskills Provisions bourbon whiskey distilled in the Catskills town of Callicoon nearby.
Visitors to Narrowsburg, NY, will want to step into Catskills Curated, your stop for all things local in the area, from handmade soap to maple syrup and everything in between. It's a great way to find out more about what's offered in the region. They even have subscription boxes.
One Grand Books has a really fun concept for a bookstore. They ask all kinds of influential creatives, from philosophers and athletes to musicians and even comedians, "if you were stranded on a desert island for the rest of your life, what ten books would you bring?" These individuals name their top 10 books, and One Grand Books shares this list with you!
Note: Some of the shops in Narrowsburg, NY are only open on the weekends! Be sure to check before your visit!
Dining Scene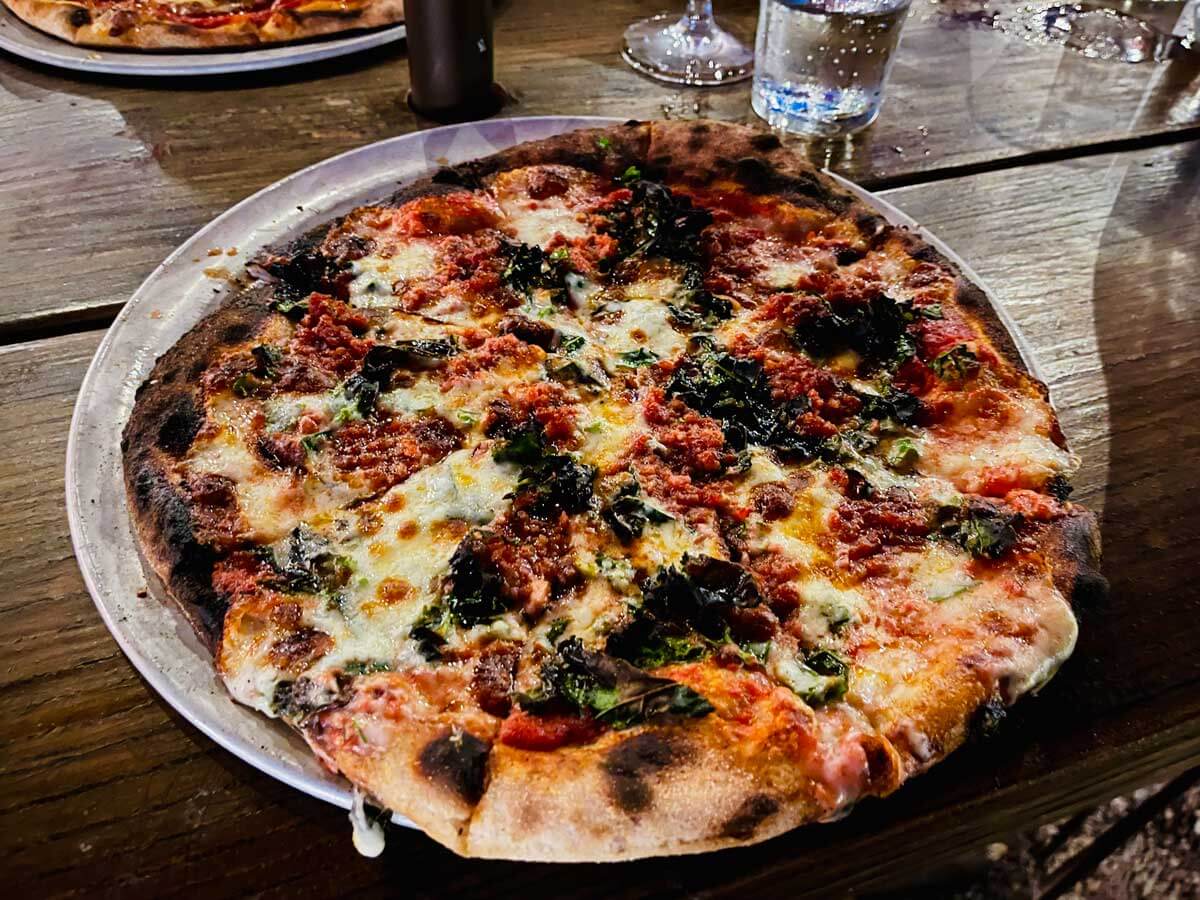 One of the best highlights of Narrowsburg is the food scene! If you're craving pizza there's the Laundrette, with outdoor dining next to the Delaware River. Try their delicious sourdough pizza straight out of their wood-fired oven or try one of their quality vegetable-based salads and warm dishes made with local ingredients.
Drop by The Heron for an elegant culinary experience with a homey feel. Choose from a menu of American dishes, from wine and oysters topped with caviar to fried chicken and cakes topped with edible flowers.
Or for a genuinely Narrowsburg taste, visit B-Line Ice Cream, open during the summer months. They make ice cream with local milk and fun mix-ins, and they sweeten all their ice cream with honey from their own bees.
Bird Watching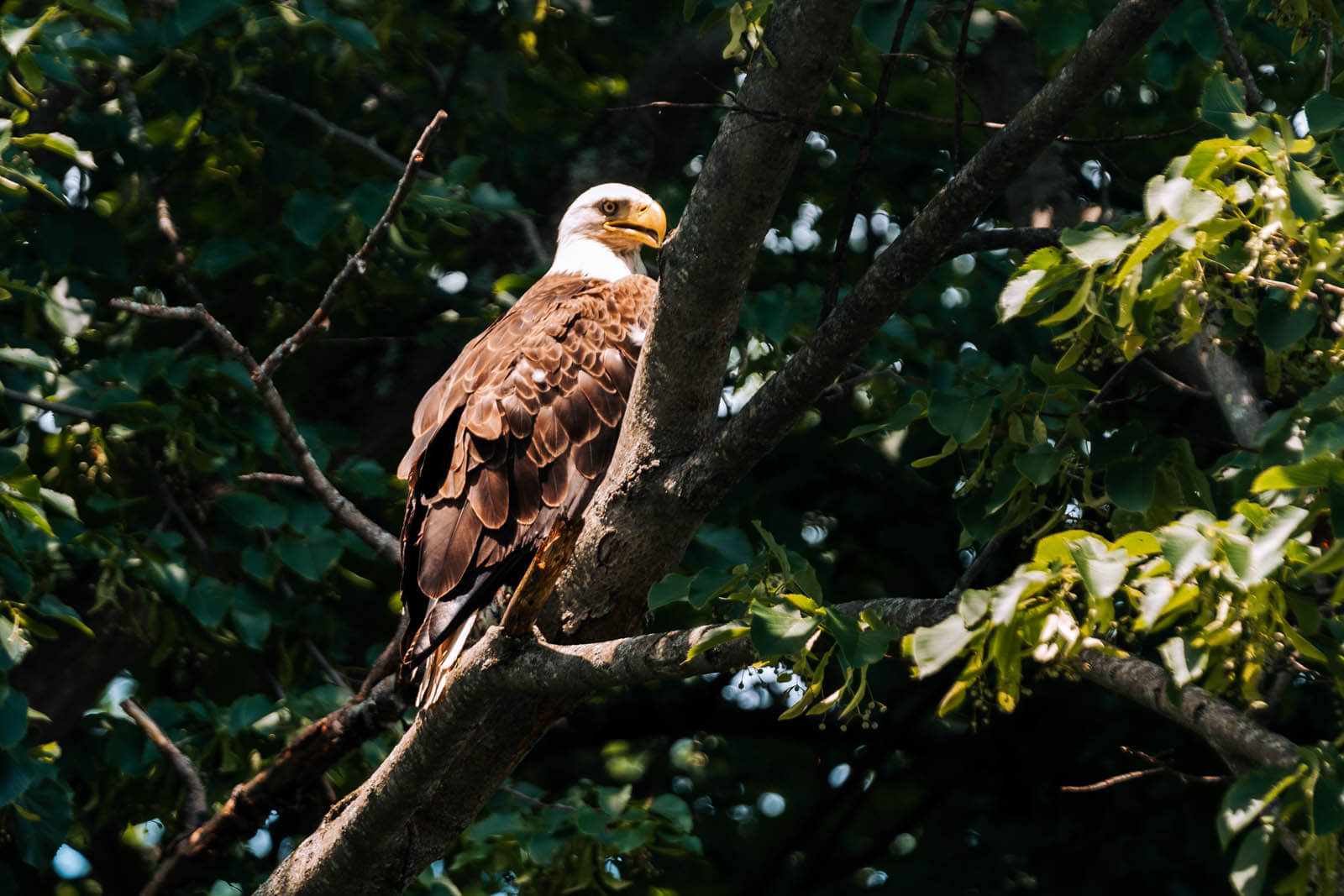 For nature-lovers looking for things to do in Narrowsburg, you'll want to take advantage of the Upper Delaware Scenic Byway Narrowsburg Lookout. This is a popular spot for visitors to spot all kinds of birds local to the area, including bald eagles.
Novice birdwatchers will want to check out the exhibit at the Ten Mile River Scout Museum to learn about eagles that migrate to the area. At the Lookout, you'll often find hobbyists and members of the Sullivan County Audubon Society hosting bird viewing events.
Or if you are going to float down the river with Lander's you can keep an eye around the trees and riverbank as we spotted several birds including bald eagles and even deer up close!
Nearby Narrowsburg, NY
Callicoon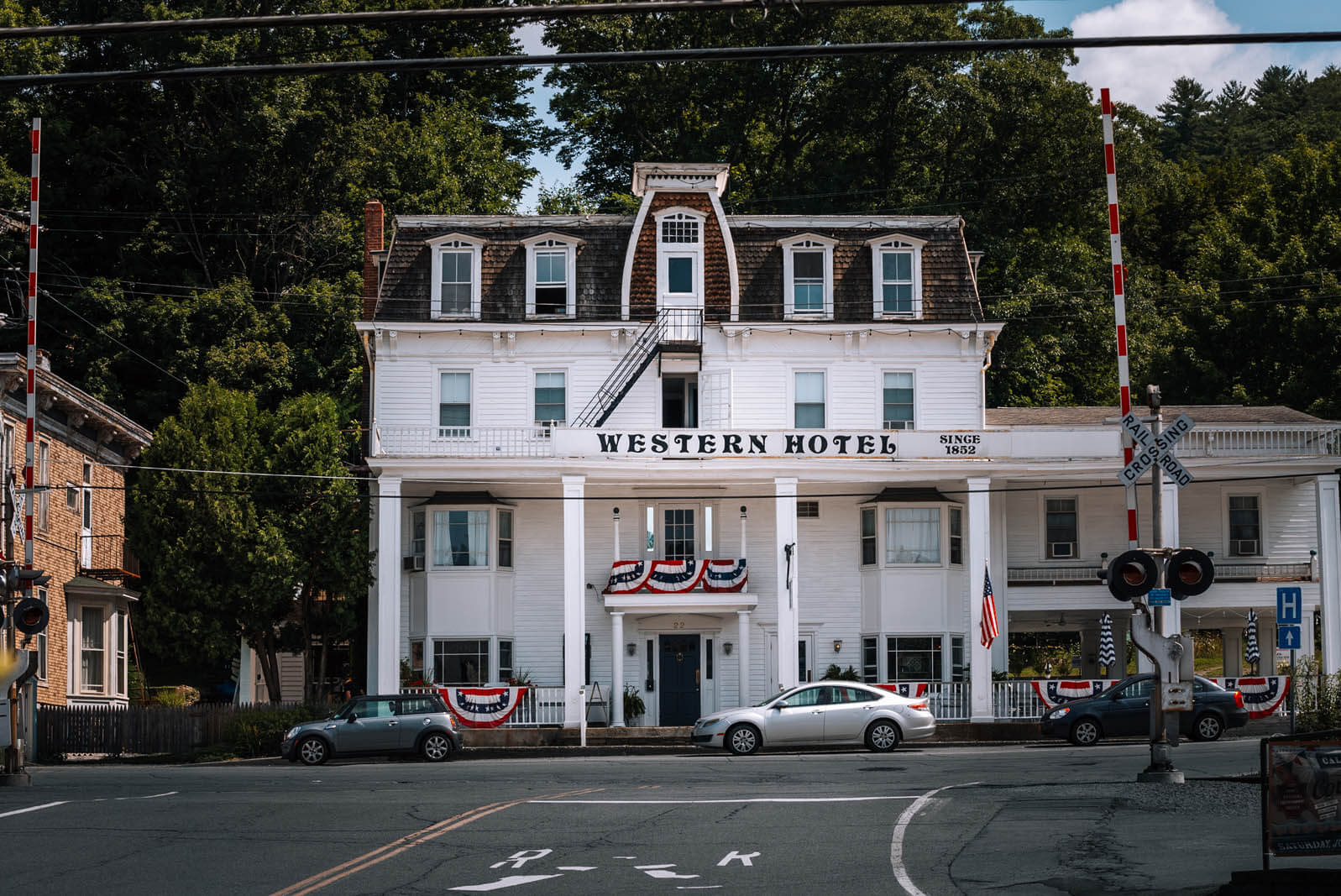 Further north on the Delaware River and only a 20-minute drive from Narrowsburg is Callicoon, NY. This unique town originally settled by Dutch hunters has retained every bit of its old charm.
Check out beautiful Victorian-style homes and businesses, including the Western Hotel. Walk Lower Main Street for delicious food and great antiquing.
Like much of Sullivan County, it's been a popular summer destination since the summer resort days of the 1950s. Today you'll find plenty of opportunities for water activities, birdwatching, and hiking around Callicoon. Learn about the area by taking a driving tour, visit the vintage Callicoon Theater, or spend a Sunday at the bustling Callicoon Farmer's Market.
Also don't miss the great shops like Spruce Home Goods downtown and stop by Catskills Provisions Distillery for a tasting, lunch, or to shop some of the best gin we've tasted to bring home with you from your getaway!
Site of Woodstock – Bethel Woods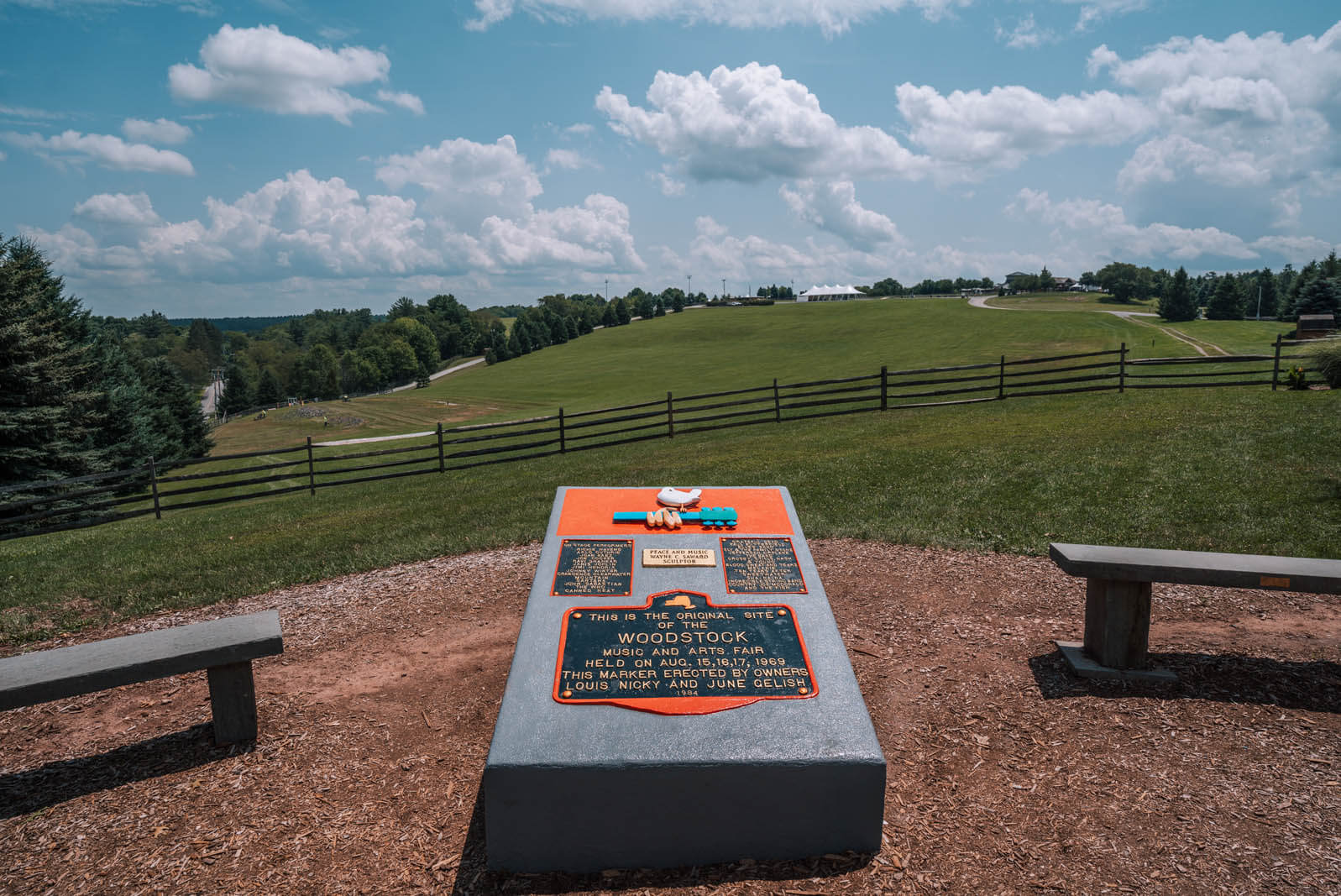 Nearby Narrowsburg, NY, is the Bethel Woods Center for the Arts, home to the famous 1969 Woodstock Festival. Not to be confused with Woodstock, NY, the actual festival was held over an hour away on the Bethel Woods grounds, and the world was forever changed!
This is one of the most unique things to do in the Catskills and for a $5 entry fee you can check out the Woodstock exhibit in the museum or attend a summer concert on the grounds that often pay homage to the likes of Janis Joplin and Jimmy Hendrix. Eat at the Yasgur's Farm Café on the grounds and take in the fun outdoor art installation of crocheted trees and trails.
Hawk's Nest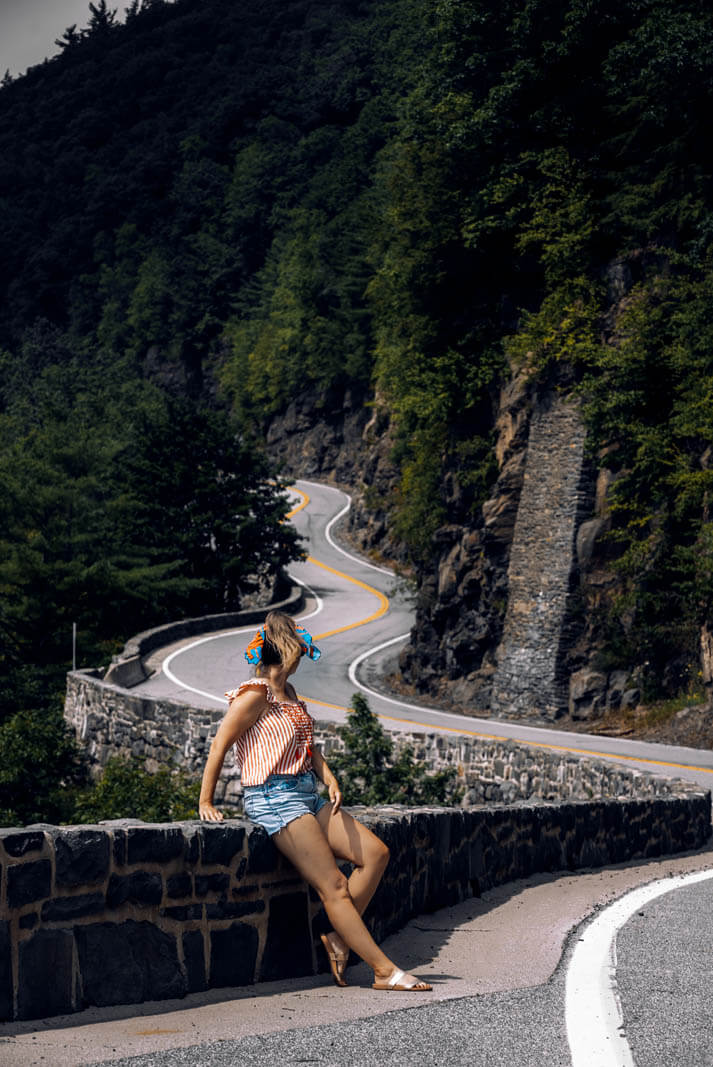 Take a scenic drive on Route 97, making sure to stop at the Hawk's Nest viewing point. With a spectacular vantage point above the Upper Delaware River, visitors can enjoy birdwatching where you can often eye migrating eagles or the hawks that give the point its name.
Check out the historical marker to learn about how the Route was once a one-lane dirt road. Enjoy driving the twists and turns of the mountainside highway, often used for movies and commercials.
You might recognize it from the car crash scene in Marvel's Dr. Strange movie!
Grey Towers National Historic Site
Located across the Delaware River from Narrowsburg, NY, in Milford, PA, Grey Towers is a historically preserved estate originally built by James and Mary Pinchot in the 1880s.
James Pinchot was the original head of the US Forest Service. During the Industrial Revolution, he began to realize the importance of protecting the natural world and developed ideas around conservation.
The Pinchot family donated the estate to the US Forest Service in the 1960s and today it is an important part of the USDA's effort to preserve national forests. Visit Milford Experimental Forest, a 1,400-acre preserve where you can learn about the important research being done concerning the future of forestry and the encouragement of gentler industrial practices in the US.
Take a tour of the mansion or a walking tour of the grounds. Walk through the beautiful Laurel Hill Cemetery. Grey Towers regularly hosts local events, educational talks, and school tours.
Roscoe & Livingston Manor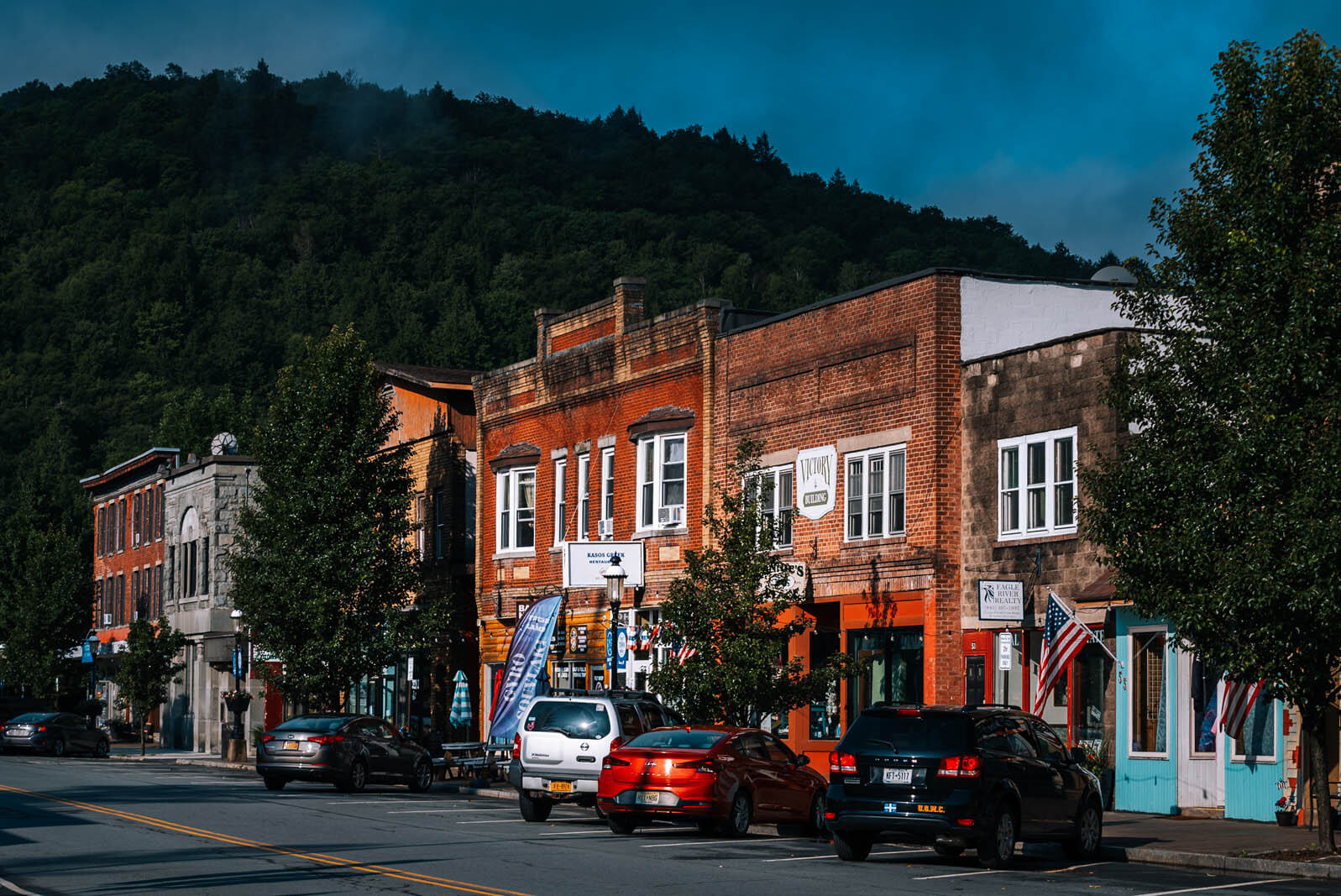 Less than 45 minutes drive away from Narrowsburg are the two towns of Roscoe and Livingston Manor which also are great for exploring the Sullivan Catskills region!
Within the two of these towns, you'll find cute shops, eateries, and coffee shops. There are also some great craft beverage options nearby including breweries like Catskills Brewery and Roscoe Beer Company and distilleries like Do Good Spirits.
Along with long stretches of roads and places to hike, fish, or picnic, this area also has a number of covered bridges that are worth exploring. The Beaverkill Covered Bridge, also known as Conklin Bridge, was constructed in 1865, and 98 foot long hemlock lattice beams have an unbeatable rustic charm.
Another noteworthy New York covered bridge in the area is the Livingston Manor Covered Bridge (or the Vantran Bridge) that was built in 1860, the 103-foot long bridge sits atop the running Willowemoc creek.
Where to Stay in Narrowsburg, NY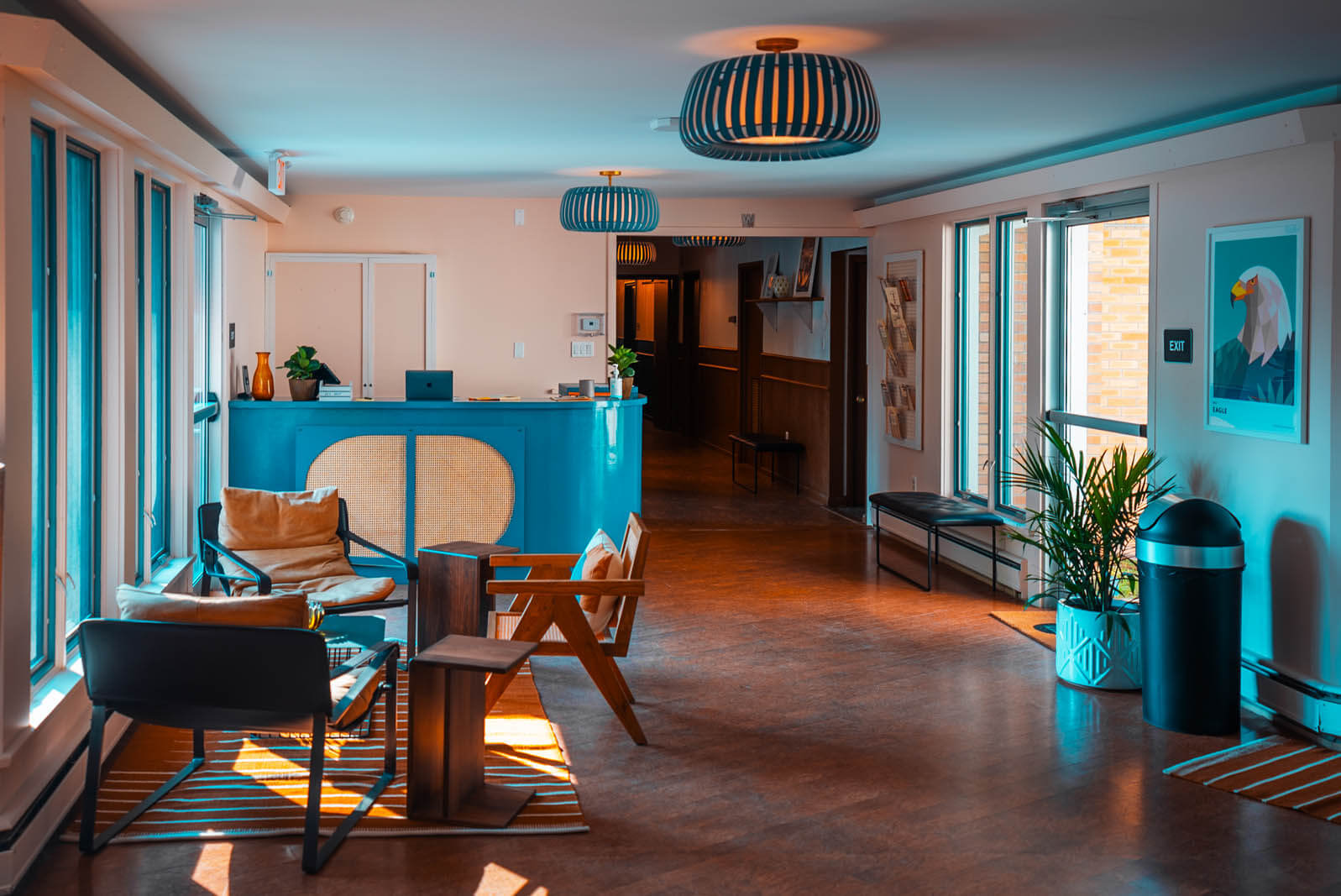 For those planning an overnight stay in Narrowsburg, NY the best place to stay is the stylish Hotel Darby, one of our picks for where to stay in the Catskills for an unforgettable trip!
Technically located on the PA side of the border, but literally a step over the border and steps away from downtown Narrowsburg, this is the perfect base for exploring the best things to do in Narrowsburg and the Upper Delaware Scenic and Recreational River region.
Hotel Darby offers an elevated old-school motel vibe with mid-century modern furnishings and touches. We particularly loved the giant bathtub overlooking the surrounded wooded area where we were lucky enough to catch glimpses of woodland creatures like curious deer exploring the property.
Amenities include access to outdoor activity gear like bird watching materials and binoculars, access to hiking trails, frisbees, coolers you can borrow for your outdoor adventures, lawn games, hammocks, and more not to mention the beautiful outdoor patio and fire pits you can enjoy on those comfortable evenings.
There is also a stylish bar and fireplace lounge that serves up cocktails and tinned fish light bites that were surprisingly gourmet and delicious.
Be sure to explore the property so you don't miss little details like the hair salon they kept on the property (it's just for looks these days though) that pays homage to the building's former use.
---
Found this guide to the best things to do in Narrowsburg, NY helpful? Bookmark for later or give us a share on social! Happy travels!