Looking for the perfect winter getaway in New York? One of the best on the East Coast is a trip to the Adirondacks in winter! This scenic mountain region in Upstate New York hosted not one but two winter Olympic games making it not only approved as a winter destination worthy of the best athletes in the world but also because there is a plethora of activities to enjoy, enough to make an entire Adirondack winter vacation out of!
So next time you're looking for a place to beat the winter blues, pack your bags and head to one of the magical luxury resorts or a cozy intimate cabin and enjoy all the best things to do in the Adirondacks in winter!
Adirondacks Winter Activities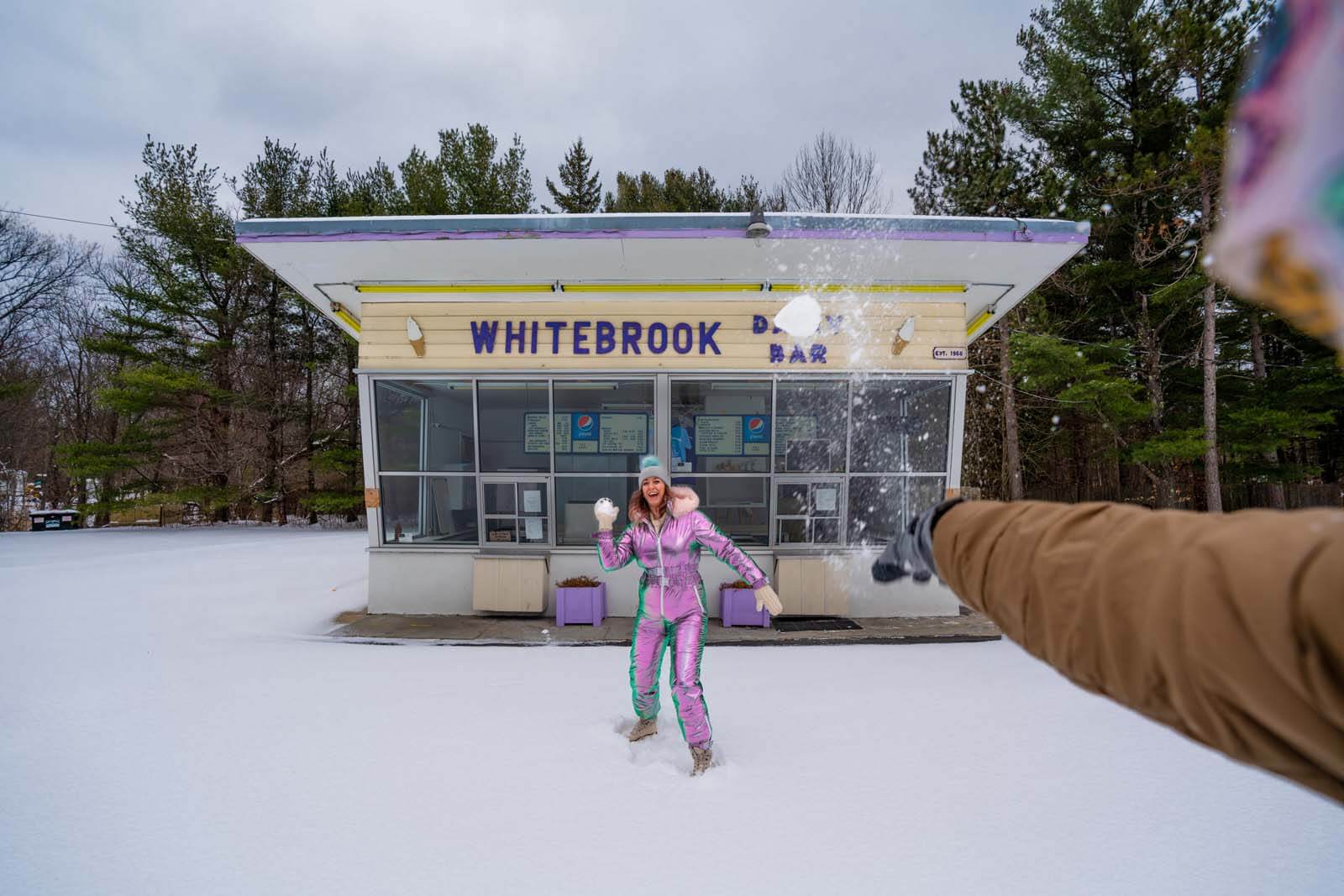 Hit the Slopes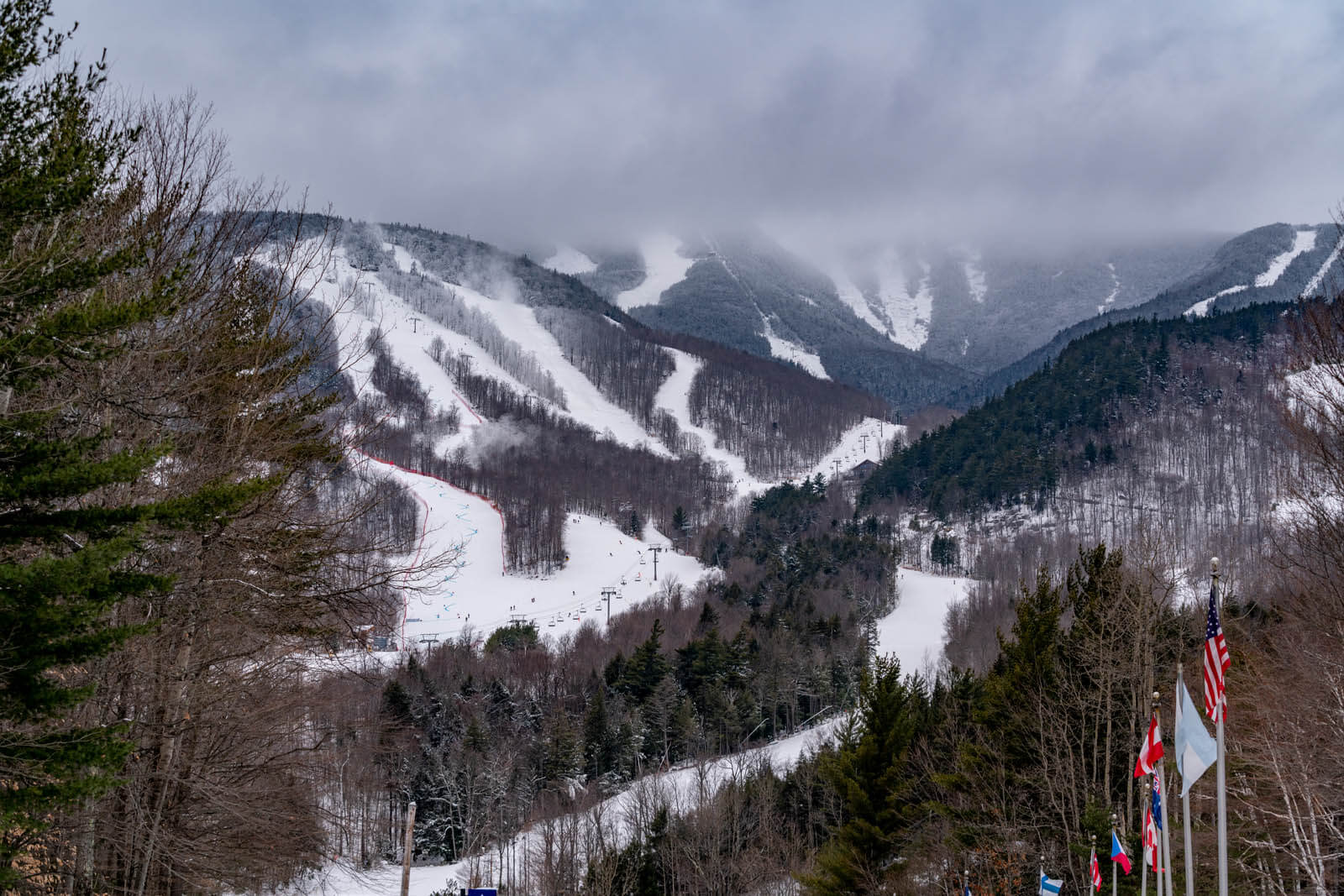 One of the best ways to enjoy the Adirondacks in winter is skiing, snowboarding, or whatever your preferred sport is on the slopes. Given the mountainous terrain, it only makes sense that there are a ton of popular ski resorts in the Adirondacks.
Imagine looking over the lift at a snow-covered mountain and then gliding down through pine-covered hillsides. Adirondacks offers longer ski seasons that last as far as early July, along with lots of trails to choose from.
Some of the popular ski resorts in the Adirondacks include Whiteface Mountain near Lake Placid where the 1932 and 1980 winter Olympics were held, where you can ski and snowboard on the same slopes as many of the world's best winter athletes!
There are also other options like Gore Mountain in North Creek, or Titus Mountain in the Northern Adirondacks close to the Canadian border just a 2-hour drive from Montreal, another great winter destination!
You can also head to the popular resort town of Lake George where you get to enjoy a plethora of outdoor activities in the Adirondacks mountains in winter like skiing for free at Dynamite Hill Recreation Area. With many options to pick from and guides for every level from beginners and professionals, visitors are sure to enjoy fun, challenging, and adventurous times.
The Adirondacks are home to some of the best ski resorts in New York and the East Coast! It's no wonder the winter Olympics came here more than once.
Olympic Sites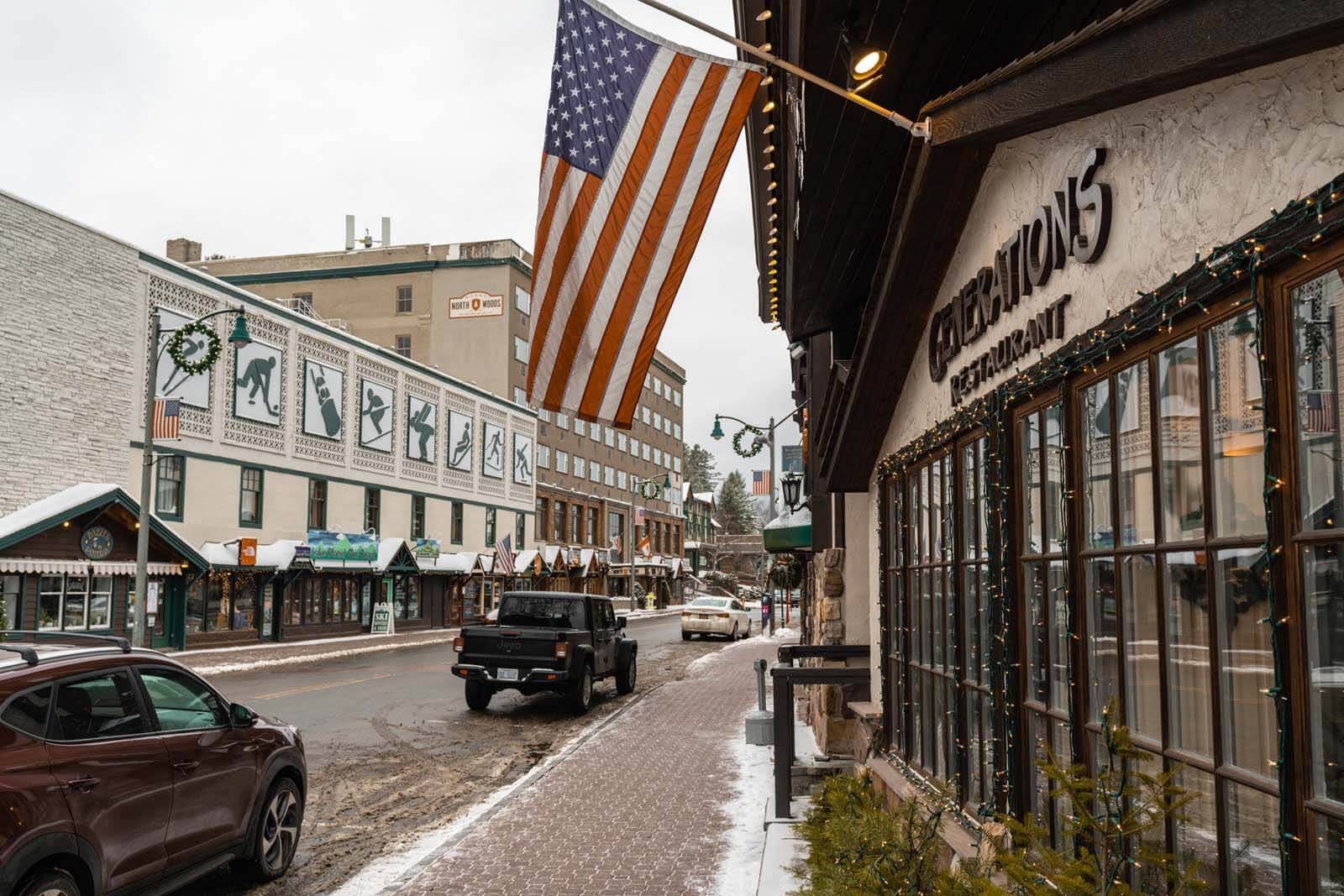 An Adirondacks winter vacation will not be complete without a visit to the famous Lake Placid Olympic sites. The Olympic sites, which were initially built in 1932 for the winter Olympics and were home to the 1980 Winter Olympics as well, have evolved into four unique tourist locations. These are the Olympic Center, Whiteface Mountain, The Olympic Jumping Complex, and Mount Van Hovenburg.
Some fun Lake Placid winter activities available for guests are:
The Cliffside Coaster: this is the longest mountain coaster in the USA. This mountain coaster ride allows you the opportunity to observe the 1980 Olympic Bobsled and Skeleton Track along with panoramic views of the Adirondack High Peaks.
The Olympic Museum: The Lake Placid Olympic Museum offers several exhibitions and is said to be the soul and heart of Lake Placid. This exclusive museum offers displays of Olympic memorabilia that immerses visitors into the iconic history of the 1932 and 1980 Winter Olympics. It is an excellent experience for both kids and adults. Be sure to purchase your tickets ahead of time as is required.
Ice Skating: The Olympic Oval is a famous outdoor ice skating rink, and it is located in the heart of the village of Lake Placid. This massive ice skating rink is 400 meters wide and houses two historic skating rinks; the 1932 Jack Shea Arena and the 1980 Herb Brooks Arena, which looks like a classic race track but for ice skating!
Enjoy skating with your friends and family in Adirondacks in the winter. Skate rental services are available, so if you cannot bring your gear with you, you need not worry.
Winter Hikes & Snowshoeing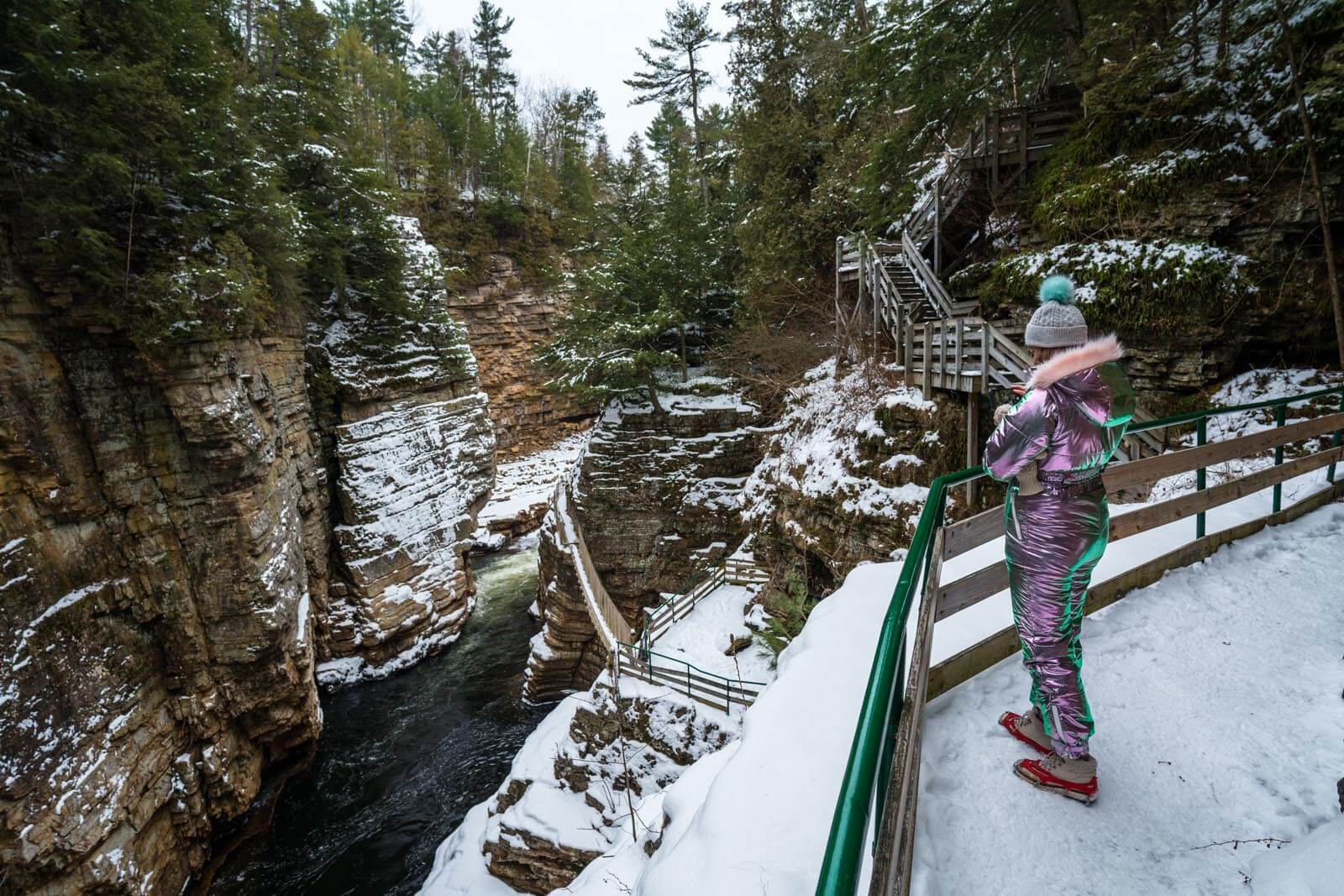 This is another popular Adirondacks winter activity that attracts visitors into this region every winter. If you're new to snowshoeing, it's a type of hiking done in the snow with the assistance of special footwear called snowshoes. The snowshoes displace your weight over a larger area so that your feet do not sink into the snow.
It is a great way to get your daily steps count and amp up your heart rate all while trekking through a winter wonderland.
Snowshoeing, particularly, is very accessible in the Adirondacks. This fun sport is very versatile and can be enjoyed on various trails.
If you only plan on hiking and don't have access to snowshoes, we recommend getting crampons which are affordable and portable and give you extra protection and grip from slipping in wintery and icy conditions.
If you are looking to explore the Adirondacks Mountains winter season via a winter hike or snowshoeing, be sure to check out the following locations:
Ausable Chasm: Ausable Chasm is one of the most popular attractions to visit in the Adirondacks with its trails through the scenic gorge of dramatic cliffs and waterfalls. In the winter, you can rent crampons, unless you have your own, and head on the Rim Trail which is open for self-guided adventures, and the Inner Sanctum Trail with a guide.
Cascade Cross Country Ski: Located in Lake Placid, this ski center has over 200 acres of unique hiking and snowshoeing trails. This full-service ski center offers snowshoes rentals and has a restaurant, bar, ski shop, and bunkroom where guests can stay overnight.
Lapland Lake Nordic Vacation Center: This year-round family resort also offers an exceptional Adirondacks winter cross country skiing and snowshoeing experience. Explore the splendor of the Adirondack Preserve as you glide through scenic views of beautiful frozen lakes, majestic woodlands, and shy rabbits, deer, and winter birds.
Snowmobile
Enjoy the crisp bite of the chilly air and fresh snow along open trails with this exhilarating outdoor adventure. With several expertly groomed snowmobile trails and an abundance of snowmobiles available for rent, you are sure to enjoy this winter experience in Adirondack in winter.
One major snowmobile tour in Adirondacks in the winter is C+C Adirondack Snowmobile Tours. Located in Chestertown, this tour is open to snowmobilers of all levels. They also offer experienced guides who will guide you through beautiful wooded trails and an overlook with a breathtaking view. They have well-maintained, high-quality machines for rent and are very family-friendly.
We advise that you make reservations ahead of time to ensure that you get the best tours.
Dog Sledding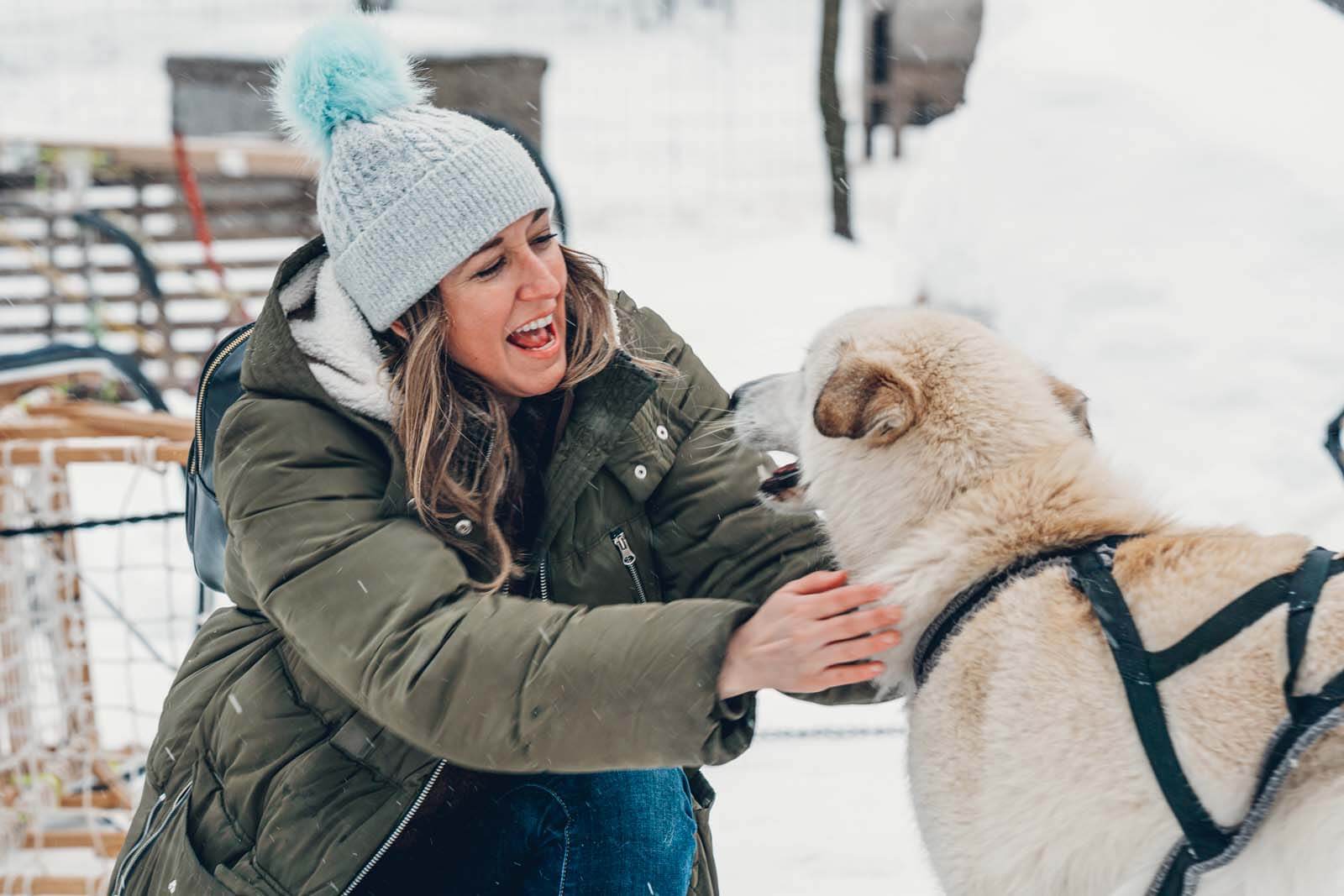 It may come as a surprise that dog sledding is a very popular Adirondack winter activity. Take advantage of your Adirondack winter vacation to enjoy this exhilarating experience.
One of the best locations to enjoy dog sledding in the Adirondacks is Mirror Lake in Lake Placid. There, you can find several dog sled tours such as Mike Arnold Dog Sled Rides and Lake Placid Dog Sledding Team.
Another location to experience dog sledding is the Golden Arrow. Each ride is on a first-come, first-serve basis, and an independent operator runs the rides.
Ausable Chasm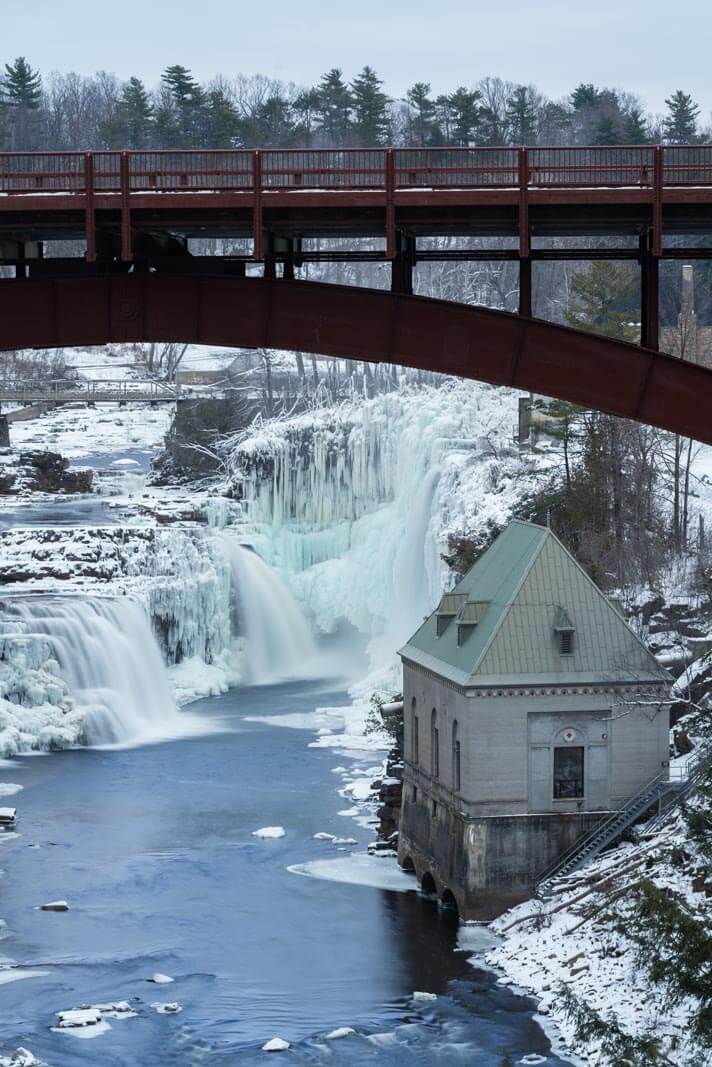 Although Ausable Chasm is a popular vacation destination in warmer months, it may come as a surprise that this is a great addition to your Adirondack winter vacation too.
Its winter tours offer a tranquil and serene experience that feel straight out of Narnia. If you are looking to escape the summer crowds, this is the perfect time to explore the famous Ausable Chasm, a scenic natural canyon formed over thousands of years with dramatic waterfalls and cliffs.
In the summer months this is a popular spot for hiking, tubing, white water rafting, and more. In the winter months, two trails are open for hiking along the waterfalls.
Guests will be able to see gigantic icicles, some towering up to 150 feet above the Ausable River. If the weather is right, you might also get to see a chasm of pristine, blanketed snow.
A closer view of the rock and ice formations along the Inner Sanctum Trail can be seen when you descend into the chasm in winter and can only be accessed with a guide.
Each Adirondacks winter tour lasts about 2 hours and is led by an experienced guide except the Rim Trail which is available for self-exploration. Ensure to book your reservations ahead of time to guarantee an entry into the chasm.
Ice shoes are compulsory and can be rented on arrival.
Toboggan & Sledding
You have not experienced the traditional winter fun if you have not experienced an Adirondack Mountains winter tobogganing and sledding. Kick your Adirondacks winter vacation up a notch with the hometown Lake Placid toboggan chute, sliding down the frozen lake into Mirror Lake.
Another popular toboggan and sledding location is Kiwanis Teddy Bear Park. Located on Elm Street, Lake Placid, the hill in this pack is perfect for little children. It is open during daylight hours and is only a walking distance from Main Street.
You do have to bring your own equipment, though, which if you're traveling and have limited space we recommend getting a fun inflatable winter tube for sledding as it packs up easier than a traditional sled.
Brewery Hopping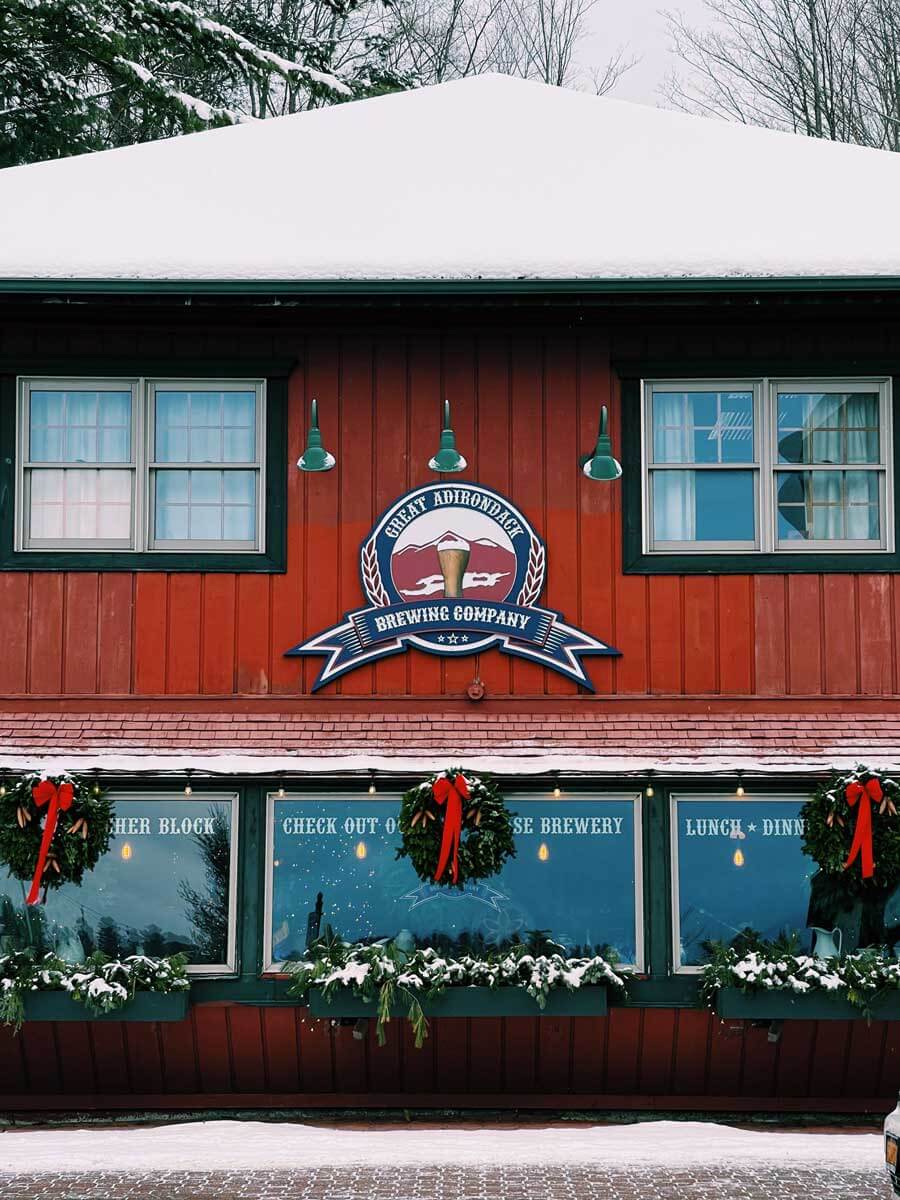 The Adirondacks is home to several microbreweries, wineries, and distilleries and guests always come to this region to enjoy great meals and refreshing drinks. What better thing to do after enjoying exhilarating outdoor activities on a crisp winter day?
Explore the different craft breweries in the region offering their own small-batch brews in a tasting flight or grab a growler or crowler to go to take back home or your cabin/lodge during your Adirondacks winter vacation.
Here are a few of the breweries worth checking out during your Adirondack Mountain winter getaway:
Great Adirondack Brewing Company: This brewery is located in the heart of downtown Lake Placid and offers a full steakhouse menu alongside their craft brews, flights, and take home beer. If you find yourself coming back over and over again on your Adirondack winter vacation consider joining their mug club for discounts.
Adirondack Pub and Brewery: This rustic, cabin-inspired pub in Lake George offers a wide range of Adirondack-themed beers. Two of their better-known and famed brews include Bear Naked Ale, the crisp Bobcat Blonde Lager, and the American-style Iroquois Pale Ale. They also serve a menu of American-fare to pair with their brews.
Lake George Distilling Company: Located at the heart of Lake George, this distillery prides itself in producing handcrafted, quality artisan spirits made from special local grains. Feel free to stop by the distillery and try out any of their unique, delicious spirits or take some to go with you.
Racquette River Brewing: Located in Tupper Lake, this is another brewery worth checking out offering a large tasting room where you can order a flight of their beers to try, eat, or grab drinks to go for your lodging or to take home with you.
Oval Craft Brewing: Located in a historic, 1890s building in Plattsburgh along Lake Champlain, this brewery is another great option for beer tasting in the region and a great way to warm up on a cold Adirondack winter day. The building was originally used as a carriage house for horse-drawn fire carts used by the Army. The Oval Craft still retains its historic features along with pictures from the "Plattsburgh Idea" and past Army officers.
Horseback Riding
Horseback riding in summer and spring is a super fun activity, but it's also a great Adirondack winter activity too for visitors looking to explore the outdoors. The beauty of the Adirondacks mountains in winter combined with the crisp winter air on your face makes for a very interesting experience.
Enjoy horseback riding on Lake Placid during your Adirondack winter vacation. Lake Placid Horse offers an amazing horseback riding experience with skilled guides and well-trained horses.
If the weather is good enough, you can enjoy up to one and a half-hour of recreational horseback riding through the woods with great views of Saranac Lake, Adirondack High Peaks, and Whiteface Mountain.
You can opt for either private horseback riding or group horseback rides. Either way, be sure that you are properly dressed for the weather. Pack gloves, hats, insulated ski pants, and warm coats.
For a full, more immersive experience, you can sign up for an instructional half-day ride. This ride is exclusive and lasts about 3 hours. It includes a thorough ground lesson along with a review quiz before mounting.
Guests who sign up for this ride will get SEI approved helmets along with warm, spicy meals and hot beverages. To enjoy easy access to this experience, be sure to make a reservation ahead of time.
Visit the North Pole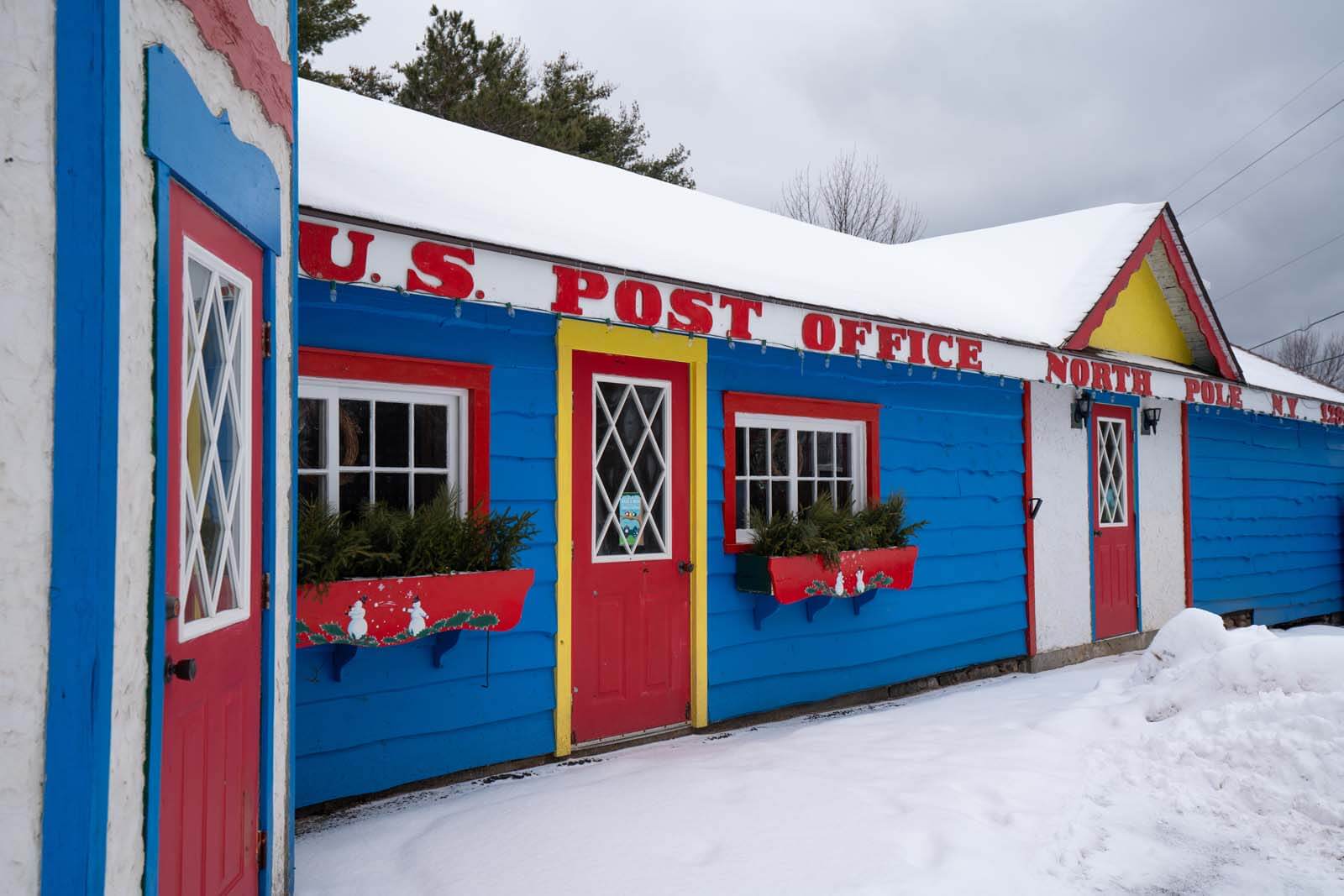 Yep, that's right everyone, you can visit Santa's Workshop at the North Pole, NY during your Adirondack winter vacation! Located near Whiteface Mountain, the popular ski resort, you can have breakfast with Santa, visit the Christmas Village and see Santa, check out the holiday lights, and all the other fun things to do and see in this whimsical holiday village amusement park!
Be sure to visit their website as there are events that take place every season, but the best, in my opinion, would be to visit around the holidays for the ultimate Santa and North Pole workshop experience!
Take a Scenic Drive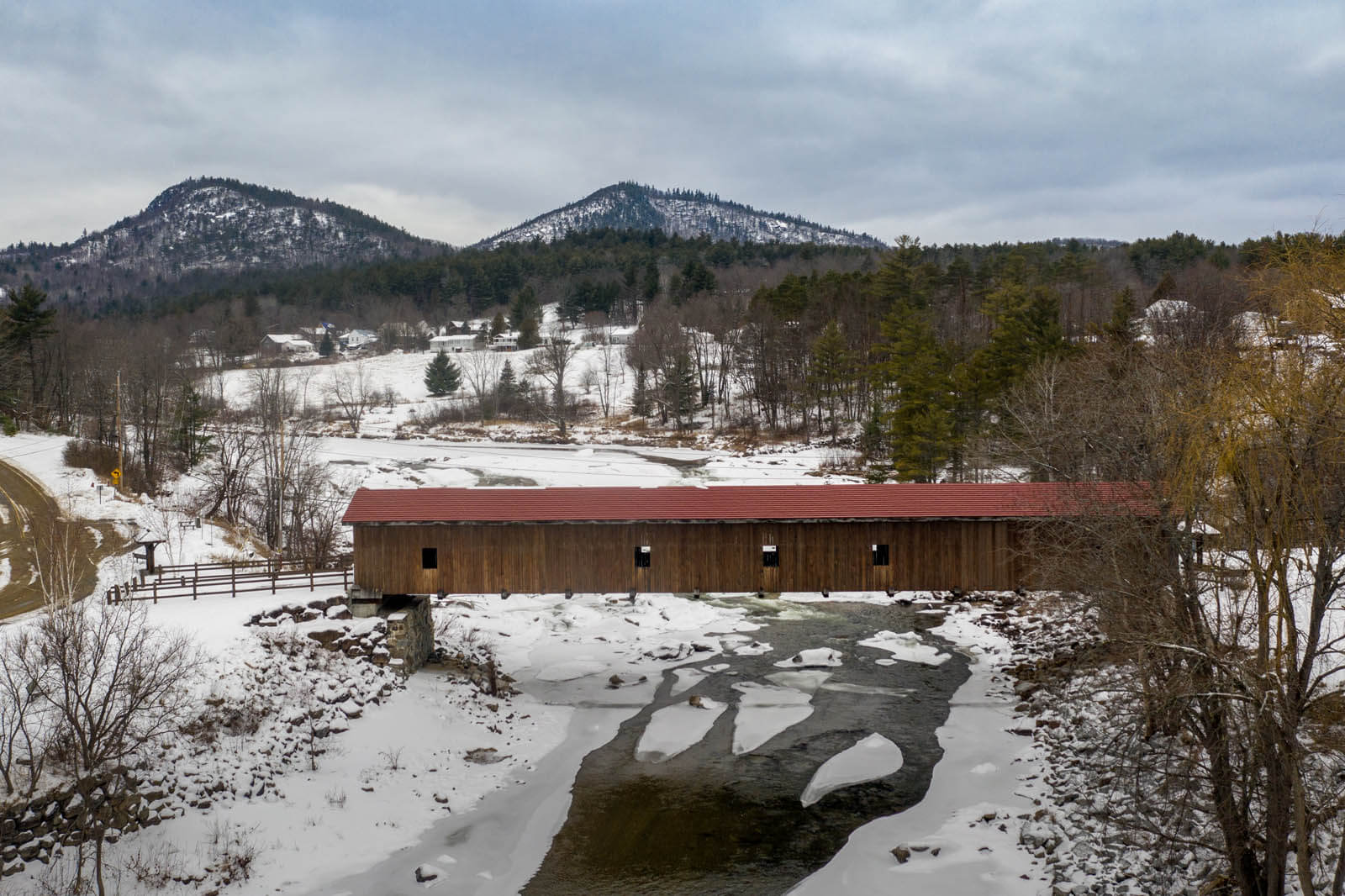 One of our favorite things to do in the Adirondacks in winter and pretty much any season we visit is just drive from one town to the next and that's where you find random stops in small towns that have cool local general stores, fun signs, antique shops, and even some of the best-covered bridges in New York!
There are multiple scenic byways that offer some of the region's best views. Some of the best include Route 86 between Wilmington and Lake Placid, Route 3 from Saranac Lake to Saranac, Route 8 to Ticonderoga, Route 9N along Lake George, and Route 28.
We recommend bringing an AWD or 4WD car during your visit to the Adirondacks in winter, while roads are well maintained, you will want the extra features to keep you safe when there are icy conditions and if you book a remote cabin getaway, some of the backroads are not maintained like the busier roads.
See our top picks for the best towns in the Adirondacks to visit!
Adirondack Winter Accommodation Options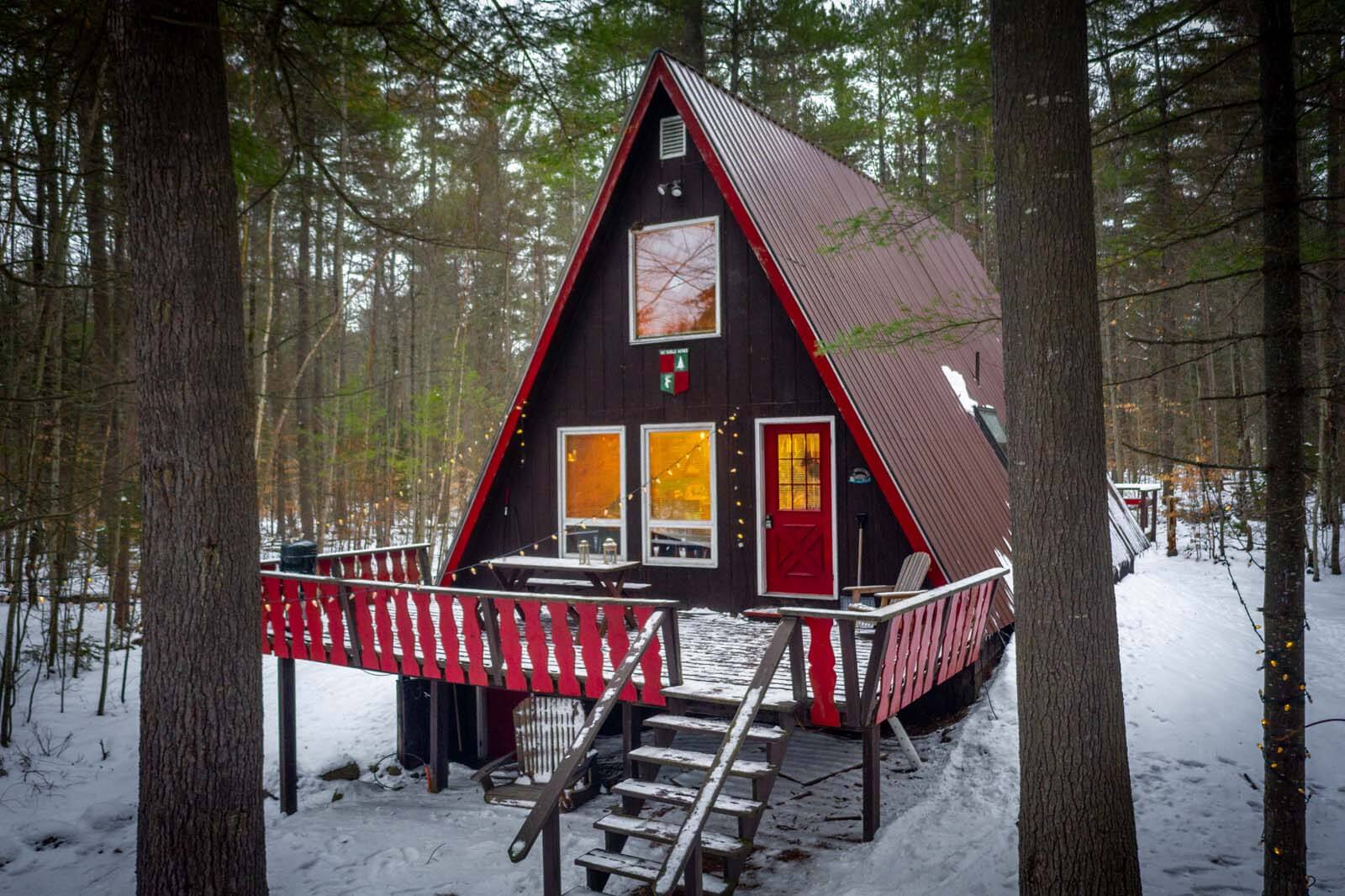 Planning a stay for your Adirondack Mountains winter getaway offers many options for where to stay, from cozy New York cabins to ski resorts and other luxury lodging options – it can be overwhelming to choose, so we've picked a few of our favorites to help you narrow down your choices!
Cozy Cabins: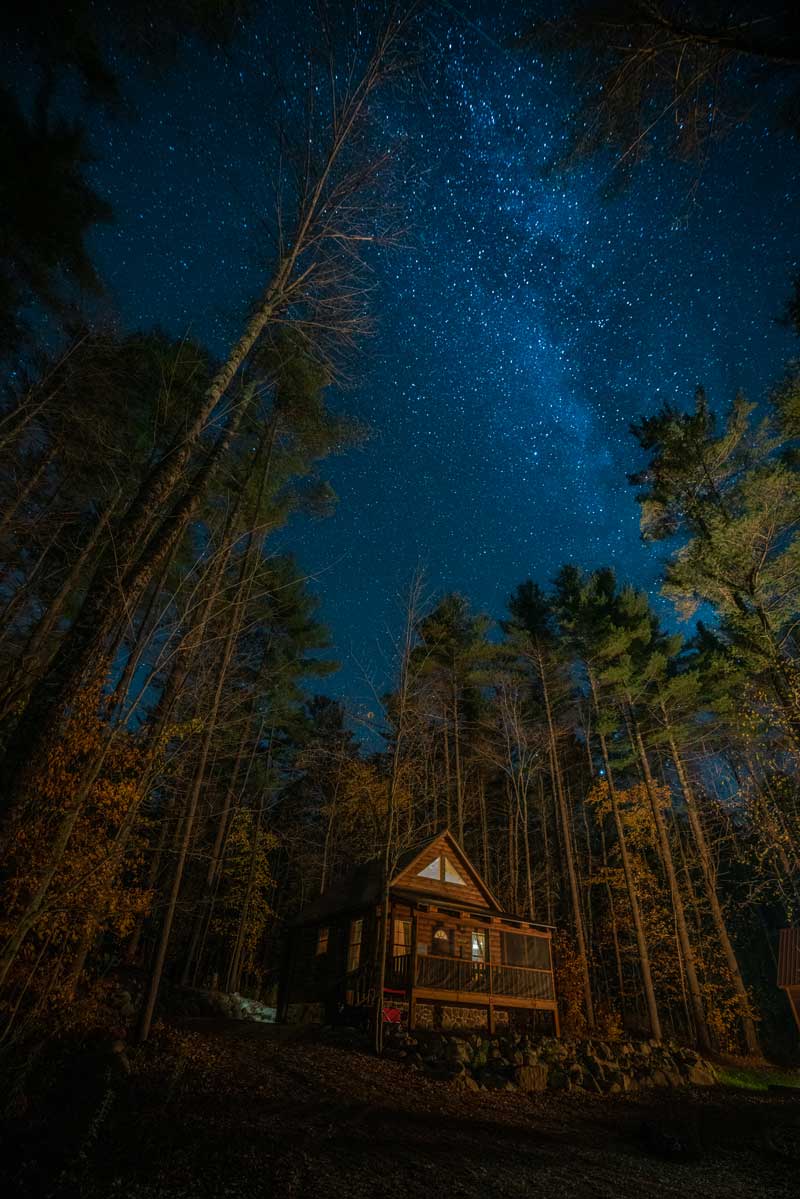 This gorgeous A-Frame cabin, the A-frame photographed above, is located in Jay which is a short drive to Lake Placid and Whiteface Mountain where you can find many of your Adirondacks winter activities and just a short drive from Ausable Chasm. This cabin can sleep up to 6 individuals and comes with board games!
Another great cabin perfect for 2-4 guests is the Ruby Hill Cabins in Wells on Lake Algonquin which is just a short drive to many of the beautiful winter outdoor activities and not too far of a drive to Lake George.
Another dreamy cabin perfect for your getaway to the Adirondacks in winter is this cabin and property at Camp Garoda that also has a fireplace and a jacuzzi to warm up to on those chilly winter evenings with a great location next to Caroga Lake that comfortably sleeps up to 4 guests.
Resorts & Lodges:
One of the most famous places to stay in the Adirondacks any season is located on an island in Lake George. The luxurious and famous Sagamore Hotel is a premier destination and property was named by Architectural Digest as being one of the most beautiful hotels in the Adirondacks as well as being an official AAA Four Diamond recipient.
This hotel dates back to the 1880s and is designated as a National Register of Historic Places. Stay in one of their condos, standard rooms, luxury suites, or a private lodge overlooking the gorgeous Lake George. Book here.
One of the best places to stay during an Adirondack winter vacation if you plan on doing any skiing or snowboarding is at the world-famous Whiteface Lodge in Lake Placid. They have several styles of rooms to choose from, a spa, heated indoor/outdoor pool area, and other great amenities for guests at this 4.5-star resort not to mention a great location. Book here.
Another great, AAA Four-Diamond hotel and member of the Small Luxury Hotels of the World located in Lake Placid, and a great base for exploring the Adirondacks in winter, is the Mirror Lake Inn. Get a gorgeous room with a balcony overlooking the mountains and Mirror Lake with a cracking fireplace to cozy up to at nights.
There's a luxury spa on site and you can walk to all the attractions and things to do in Lake Placid right from this resort which is just a short, 10 minute drive to Whiteface Mountain if you are also hoping to hit the slopes. Book here.
---
If you're looking for another dreamy Upstate getaway, check out our guide to the Catskills in winter for more inspiration.
Found this guide to visiting the Adirondacks in the winter and this Adirondack winter vacation guide helpful? Bookmark for later or share the love below on Pinterest!