Looking for the best things to do in San Clemente, California? We got you. This coastal, Southern California spot in south Orange County is full of awesome things to check out. During our final years in the 'corporate' world, I worked in San Clemente and really grew fond of this beach town.
Combine rolling and slightly rugged ocean views, with Spanish Colonial-style architecture, and you've got the serene and beautiful coastal city of San Clemente. Known as the "Spanish Village by the Sea", San Clemente, California is the southernmost city in Orange County before veering into San Diego territory, not to mention one of the most beautiful small beach towns in California to check out.
There are an array of things to do in San Clemente that make a visit to this gorgeous city well worth your time.
Best San Clemente Attractions
San Clemente Pier
First, make your way over to the anchoring landmark of any beach town, the pier! The San Clemente Pier was initially constructed in 1928, and has undergone several renovations to keep it in tip-top shape.
Casually cruise along the pier, and watch the waves rolling in while the surfers glide along the water. The pier provides an entrance to San Clemente Pier Beach, where you'll find beachgoers enjoying the sun, sand, and surf.
If you get hungry while you're here, the San Clemente Pier has some fantastic dining options. Fisherman's Restaurant & Bar has seating on both sides of the pier, so you have amazing views of the ocean while feasting on seafood dishes. They're open for breakfast, brunch, lunch, and dinner, so make sure to enjoy a meal at this scenic eatery.
The area at the end of the pier is referred to as the "Pier Bowl", and that's where you will find Pierside Kitchen + Bar. This is the place to grab a cocktail, microbrew, or wine, along with some appetizers.
Bear Coast Coffee is located just across from the pier, so come here to get your morning cup of coffee and take a stroll. The pier is one of the San Clemente attractions that you must check out when you visit!
San Clemente Beach Trail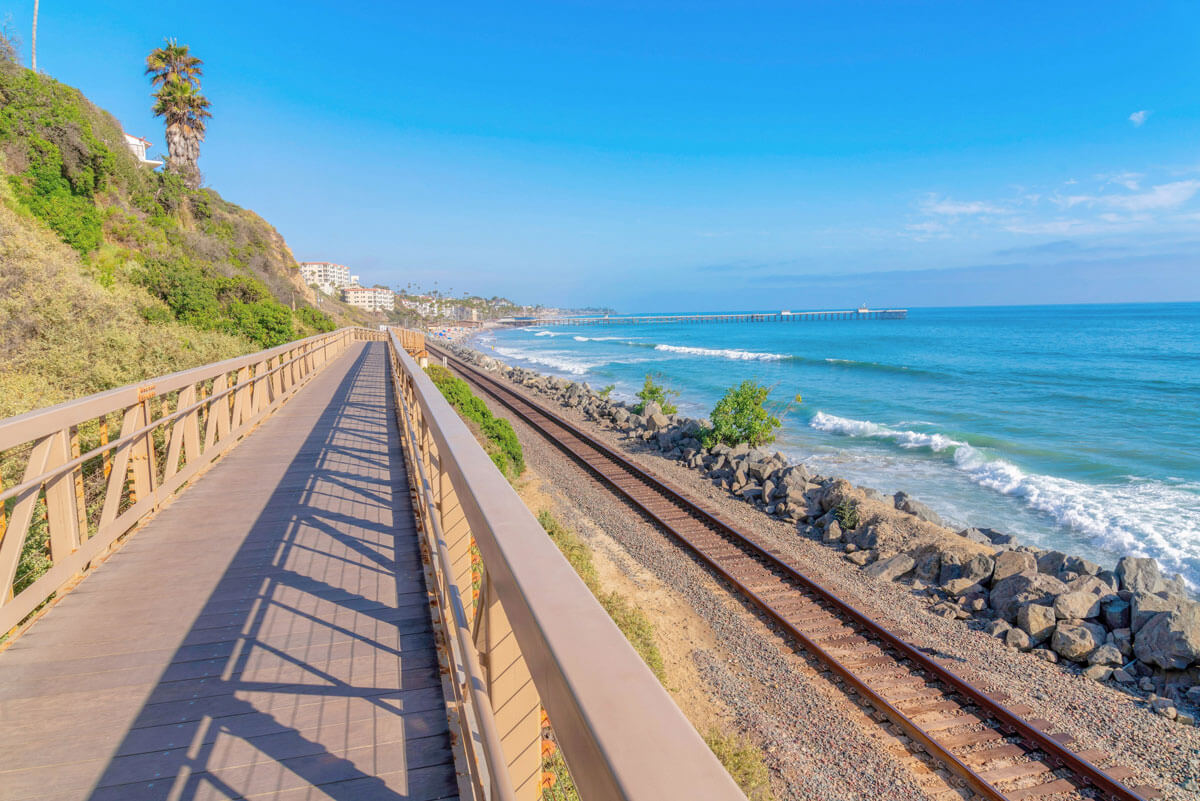 One of the most popular and well-traversed San Clemente attractions is the beach trail. You'll be treated to incredible scenery on this unique and interesting hike.
The path is next to an Amtrak line, meaning trains will whiz by you as you walk along the trail. Some of the sights you will see include sprawling flora, hilltop beach homes, and an overhead view of the delicate beach habitat.
The San Clemente Beach Trail passes by the pier and nearby shops, so you can explore that area if you need a brief break. Be sure to get out on the beach trail to take in the best views of San Clemente and the coastline.
Hit Up The Beaches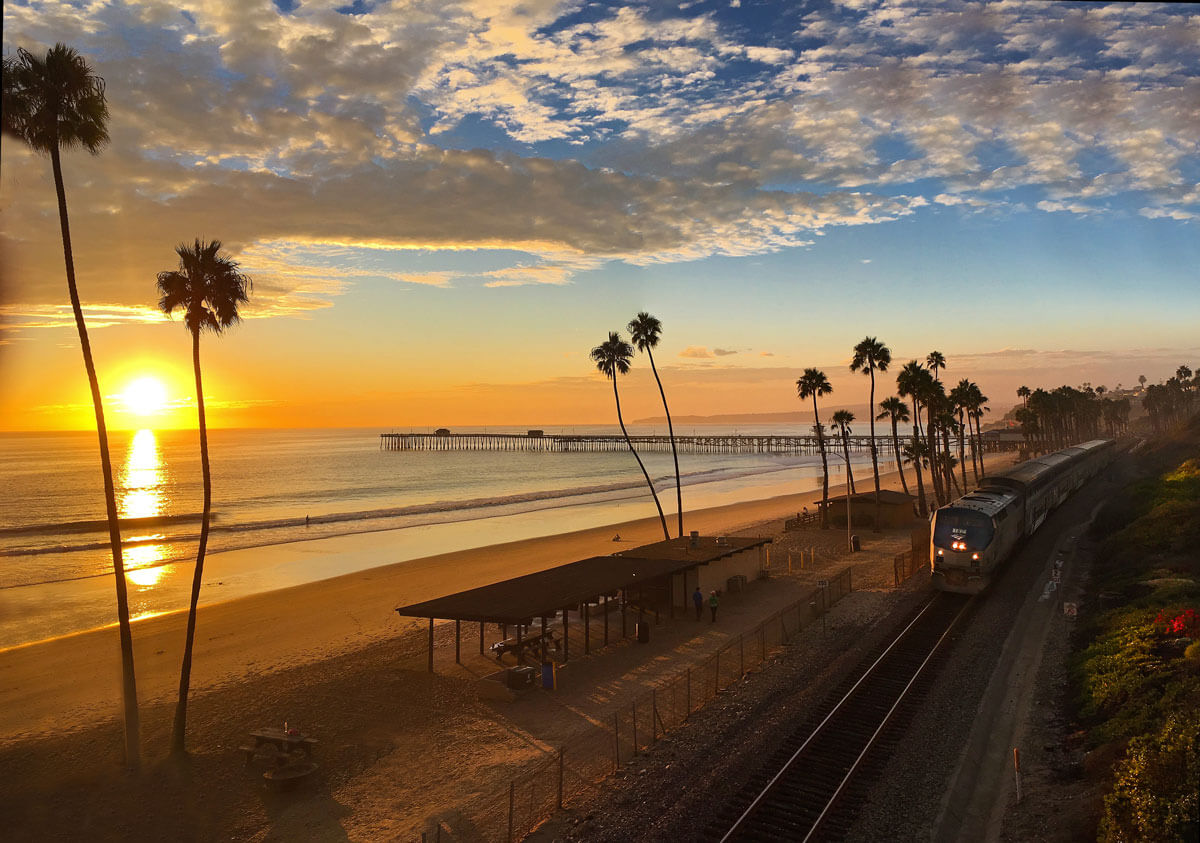 Hitting the beach is one of the things to do in San Clemente that is a quintessential activity! Some of the best beaches in Orange County are here in San Clemente and so are some of the best surfing beaches in Southern California.
San Clemente State Beach is nestled between the ocean and a towering bluff, and is made up of Calafia Beach and Riviera Beach. In particular, Calafia Beach is a great spot to spend the day and has concessions and restrooms.
Trestles Beach is famous for surfing and is a fantastic spot to enjoy great weather while watching experienced surfers catch waves. There are actually several distinctly named surfing spots within Trestles Beach, including The Church, Old Man's, and Dog Patch.
Near the San Clemente Pier is T-Street Beach, which is perfect for laying out a beach towel and sunbathing, or getting in the water to swim. There are BBQ and fire rings, concessions, and restrooms here.
Another terrific beach is San Clemente North Beach, which is great for wandering by the ocean and then exploring some local shops close by. This beach has picnic tables, BBQ and fire rings, volleyball courts, swings for kids, and restrooms.
Surfing Heritage and Culture Center
Whether you have a mild interest in surf culture or are truly fascinated by the sport and its history, be sure to check out the Surfing Heritage and Culture Center.
This San Clemente attraction holds a collection of surfboards and other artifacts, memorabilia, photos, videos, and even periodical and scholarly works that have been garnered from all over the world. There are permanent and rotating exhibits on display here, covering topics that aim to educate visitors about the background and impact of surfing. Some of the prior exhibits have featured topics like surfing in cinema, women's influence in surfing, the evolution of the shortboard, the rise of African surf culture, and the impact of surf shops on local cultures.
The Surfing Heritage and Culture Center is open Tuesdays through Saturdays from 11:00 AM – 5:00 PM. This is an awesome thing to do in San Clemente that you won't want to miss!
Shop Along Avenida Del Mar
Every city has an unofficial shopping hub, and for San Clemente, that is Avenida Del Mar. This street, located downtown, has stores up and down each side that are great for browsing and exploring.
Women's clothing stores kind of reign supreme here, including shops Melrose in the OC, Downtown Boutique, Fiorina South, COVE, and Sunny Days.
Pick up some California-cool attire and accessories from these stylish shops. If you would like to grab a gift to commemorate your time in San Clemente, pop in Gifts On Del Mar and Cottage Bliss. And if you'd like to peruse some home goods, check out San Clemente Antiques & MORE and The Warehouse on Del Mar.
Avenida Del Mar is fairly close to the pier and beach, so shopping here is a great thing to do in San Clemente to take a break from the sun and sand.
Casa Romantica Cultural Center and Gardens
A really unique and interesting San Clemente attraction is the Casa Romantica Cultural Center and Gardens. The main points of focus at this center for the arts are music, theater, dance, art, and horticulture. These are showcased through performances, exhibitions, lectures, workshops, and tours.
A distinctive feature of the property that houses Casa Romantica Cultural Center and Gardens is that it used to be the home of the founder of San Clemente, Ole Hanson. The Spanish Colonial Revival house is a registered historical landmark, and you can see the lovely architecture and flourishing gardens when you visit.
There is a small fee to purchase general admission tickets, and it's open on Tuesday through Sunday. This is an especially great place to take kids, as many of the programs and events cater to children, and ages 12 and under get free admission.
Additionally, the Casa Romantica Cultural Center and Gardens is one of the places the San Clemente Trolley stops at during certain times of the year, which you'll read more about in the next section.
Take the San Clemente Trolley
A fantastic perk of visiting San Clemente, California is the ability to hop on and off the San Clemente Trolley, which provides free transportation throughout the city.
The trolley is most active in the summer, when it offers separate routes to downtown San Clemente, as well as northern San Clemente. Typically, trolleys stop at each destination on the route every 15 minutes, so you'll never have to wait too long to get moving.
The routes mainly stay on the streets Camino Capistrano, North El Camino Real, and Avenida Del Mar, with multiple stops along each street. The San Clemente Pier, North Beach, and even the outlets are stops on the trolley's route.
One thing to note is that depending on when you visit, the trolley may be operating on a limited schedule, or not at all. In the summer, the trolley is most active, with daily operation of two routes. In the spring and fall, the trolley has limited days of operation, with only one route. And in the winter, the trolley may not be running at all. Check their website to see their current routes during your visit.
Take Surf Lessons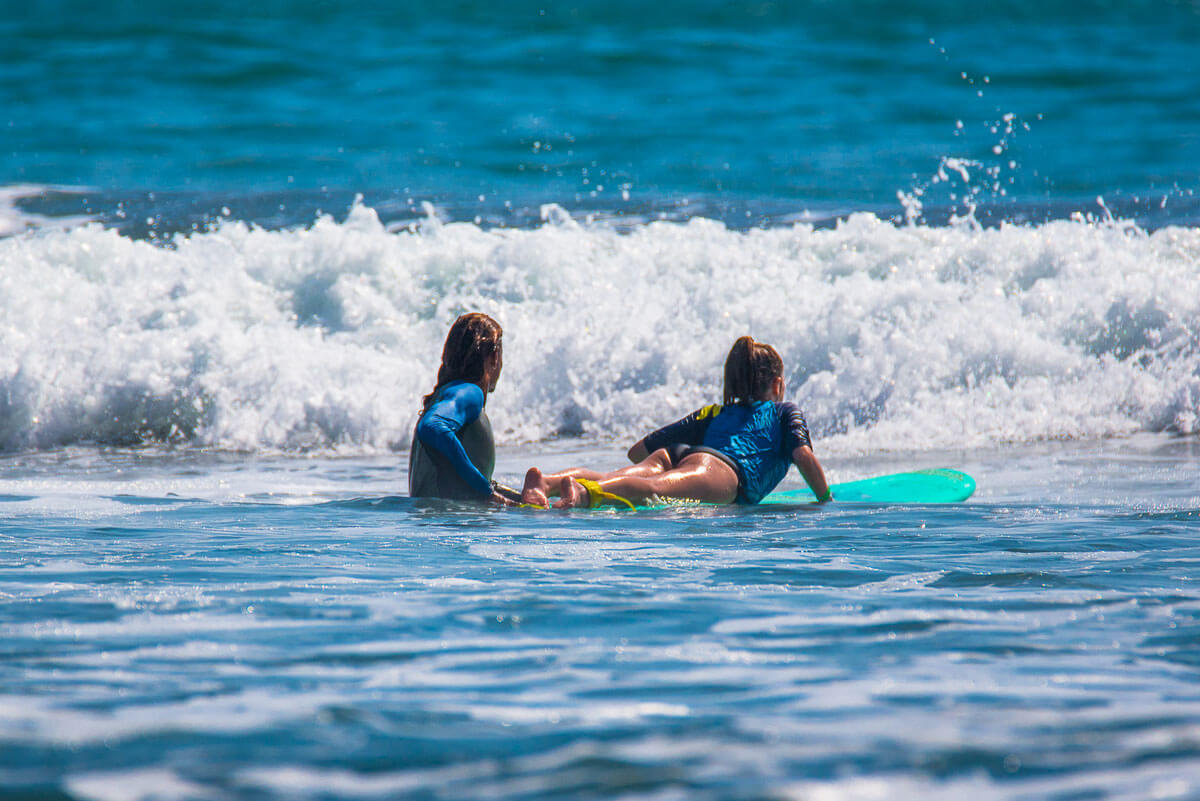 A fantastic thing to do in San Clemente to take advantage of the great surfing culture here is taking surf lessons. San Clemente Surf School is perfect for beginners and experienced surfers to get comfortable in the water and improve their skills.
They offer surf lessons, which are great for adults, as well as surf camp for the kids. Spend time with the awesome instructors to learn the ins and outs of riding the waves.
And, if you don't need the lessons but you do need the surfing equipment, San Clemente Surf School rents out soft-top surfboards and wetsuits that they will drop off and pick up.
Hit up the Breweries
San Clemente is close to North County San Diego, which is a famous craft brew destination. Consequently, there are several fantastic breweries to check out in the city.
Artifex Brewing Company is a brewery and tasting room where you can sample beers in a relaxed environment, and be sure to check for any food trucks on-site when you swing by.
At Lost Winds Brewing Company, you can enjoy one of their beers on tap inside the beach-themed space, or outside in the beer garden.
Left Coast Brewing Company is a fun brewery where you can try out full-time and seasonal releases, and there's just about always a themed daily special.
Los Molinos Beer Co. is a micro brewery that offers craft brews in an open and inviting space, and you can also grab some delicious food to savor with your drink.
Check out Local Favorite Spots
While you're visiting San Clemente, California, you'll want to leave no stone unturned, which means checking out local favorite spots.
Pizza Port is a brewing company, and it's the spot to head for pizza and beer and chill vibes. Their pizza selections are basically broken into three categories: original, anti-wimpy, and create your own. And, they offer a slew of beers brewed on-site, including several IPAs, ports, and lagers.
Board & Brew is an awesome local spot where sandwiches are the specialty. Order creations like the Turkado, Tub o Tuna, and Left Coast Pastrami. This place is a great casual spot for lunch before or after you hit the beach.
Nick's restaurant is no secret, but a great spot nonetheless. The food here is excellent, with options including fresh salads, hearty sandwiches and burgers, and house specialties. The drink menu won't leave you thirsty, with options ranging from cocktails, to wine, and beer. This is a great place to end your day on a high note in San Clemente, California.
Rainbow Sandals Factory Outlet
If there is one shop you must stop by while visiting San Clemente, California, it's the Rainbow Sandals Factory Outlet. In case you're not familiar with Rainbow Sandals, they are some of the best quality leather beach sandals that exist!
Swing by the outlet store to snag a deal on a pair of sandals from this classic brand. The store has rows upon stacked rows of Rainbow Sandals, that run the gamut of sizes and colors.
Adding to the shopping experience are the surfboards and beach-themed decor, to get you in the mood to select just the right pair. And, a little fun fact is that the Rainbow Sandals Corporate Headquarters are located in San Clemente, so it makes perfect sense that their outlet store is here as well!
Amtrak in San Clemente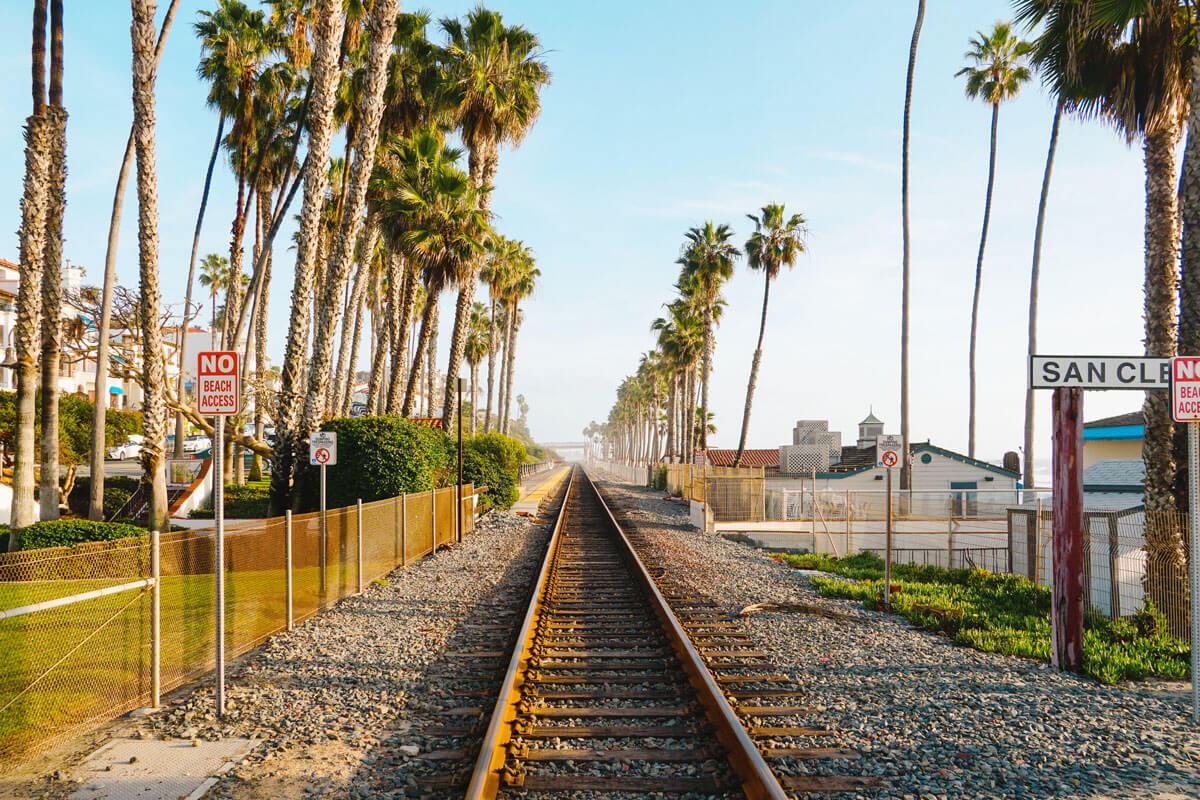 One awesome feature San Clemente has that not all destinations in Southern California (or the US for that matter) offer is that there's an Amtrak stop along the Pacific Surfliner train. This means you can come to San Clemente via train or use this as a base to explore great stops in California without a car!
A few of the best stops we recommend checking out include taking a day trip to San Juan Capistrano, another great Orange County destination home to a beautiful Spanish mission and great restaurants, shops, and activities to enjoy.
If you want to make your way down to San Diego, one of the best stops on the Pacific Surfliner is Old Town San Diego which is a great historic district known for having great Mexican food, shops, and gardens.
If you want to head north, you can take the Pacific Surfliner to Anaheim for an epic and unforgettable day at Disneyland. You'll just have to order a car share ride to the resort from the train station.
Another fun car-less day via the Pacific Surfliner from San Clemente is Ventura, whose downtown has awesome shops, a beautiful coastline and beach, great dining scene, and tons of fun things to do north of Los Angeles.
Check all the stops on the Pacific Surfliner, just keep in mind some of the stops you'll want a car once you get there, the stops mentioned above are great 'car-less' trips using the Amtrak!
Where to Stay in San Clemente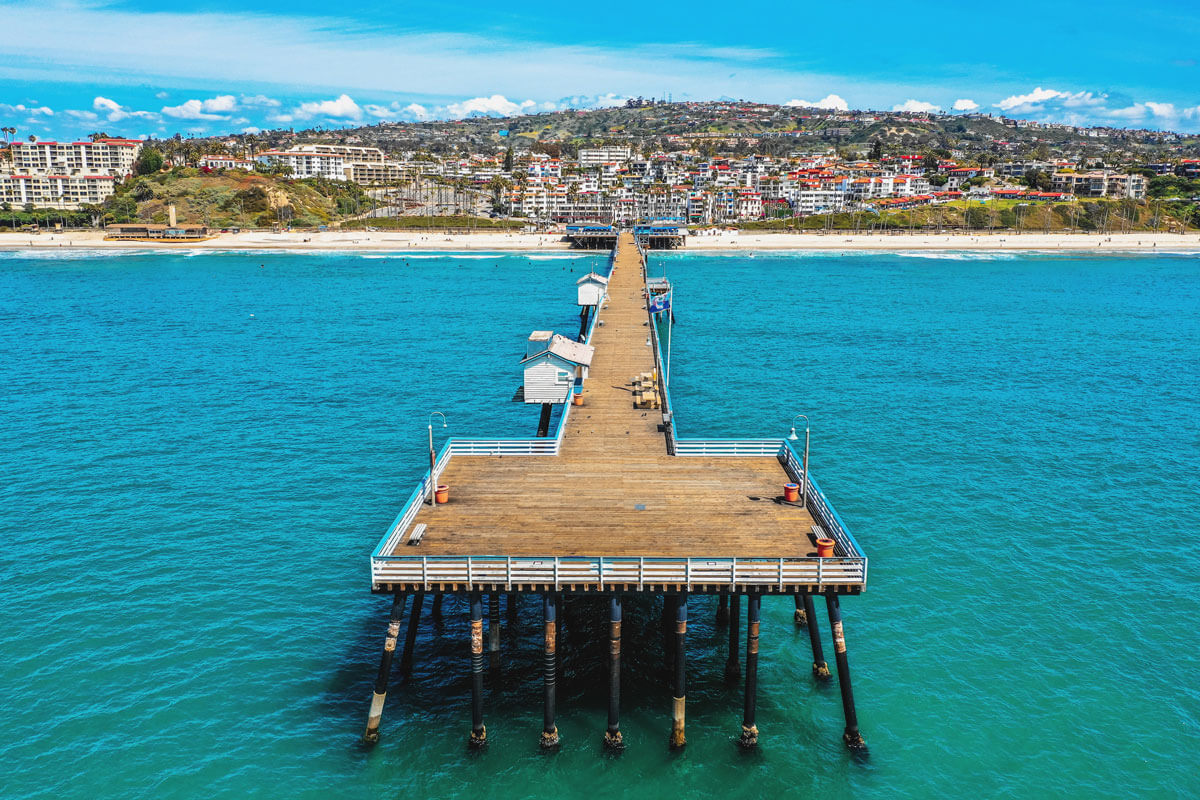 For exploring all the best things to do in San Clemente, whether you're making a stop on a Southern California road trip for a night or making a vacation out of basing in San Clemente (which is great for exploring both San Diego and Orange Counties!) there are a few great options for where to stay that's walkable to all the best things to do in San Clemente.
Casa Tropicana in San Clemente offers a great location right along the beach in San Clemente right next to the pier and walking distance to all the awesome San Clemente attractions. The hotel has parking for a fee, a restaurant and a gorgeous terrace on site, and there are rooms with ocean views.
For an upscale hotel and stay, check out the Sea Horse Resort with an ocean-view room located right along the beach in San Clemente. What's nice about this stay is that you're walking distance to all the best San Clemente attractions and the rooms are incredibly spacious. Guests can enjoy the garden terrace that overlooks the ocean and this resort offers free parking for guests.
---
Enjoyed this guide to the best things to do in San Clemente? Bookmark for later or share the love below on Pinterest!