Nolita, NYC is one of the most desirable and trendy neighborhoods to explore in all of the city. Filled to the brim with incredible restaurants, boutiques, mafia history, filming locations from many of your favorite Hollywood films and TV shows, and the historical neighborhood of Italian immigrants in the city.
Nolita, meaning North of Little Italy, is a smallish area to explore packed full of incredible things to do and see. Check out our guide to the best things to do in Nolita New York as well as our Nolita Restaurant guide.
Also, be sure to check out our weekend in NYC itinerary to help you plan your trip!
Table of Contents
Things to do in Nolita NYC
Seek Out Famous Filming Locations
One of the best things to do in Nolita New York is find all the famous filming locations in the area! Believe it or not, this area is popular for many tv shows and movies.
Some include the Godfather trilogy, The Marvelous Mrs. Maisel, Big Daddy, Mean Street, and the inspiration for Gangs of New York by Martin Scorsese.
You can use this guide to help you find the exact locations for many of these films and famous scenes like the baptism scene at St. Patrick's Cathedral with the baby Sofia Coppola in Godfather.
Martin Scorsese actually grew up right here in Nolita, NYC which is where he got much of the inspiration for many of his films including Mean Street, Who's Knocking on my Door, and his documentary Italianamerican.
His exact home location was 253 Elizabeth Street and you can learn more about his history in Little Italy and Nolita New York in this piece by the NY Times.
The Basilica of St. Patrick's Cathedral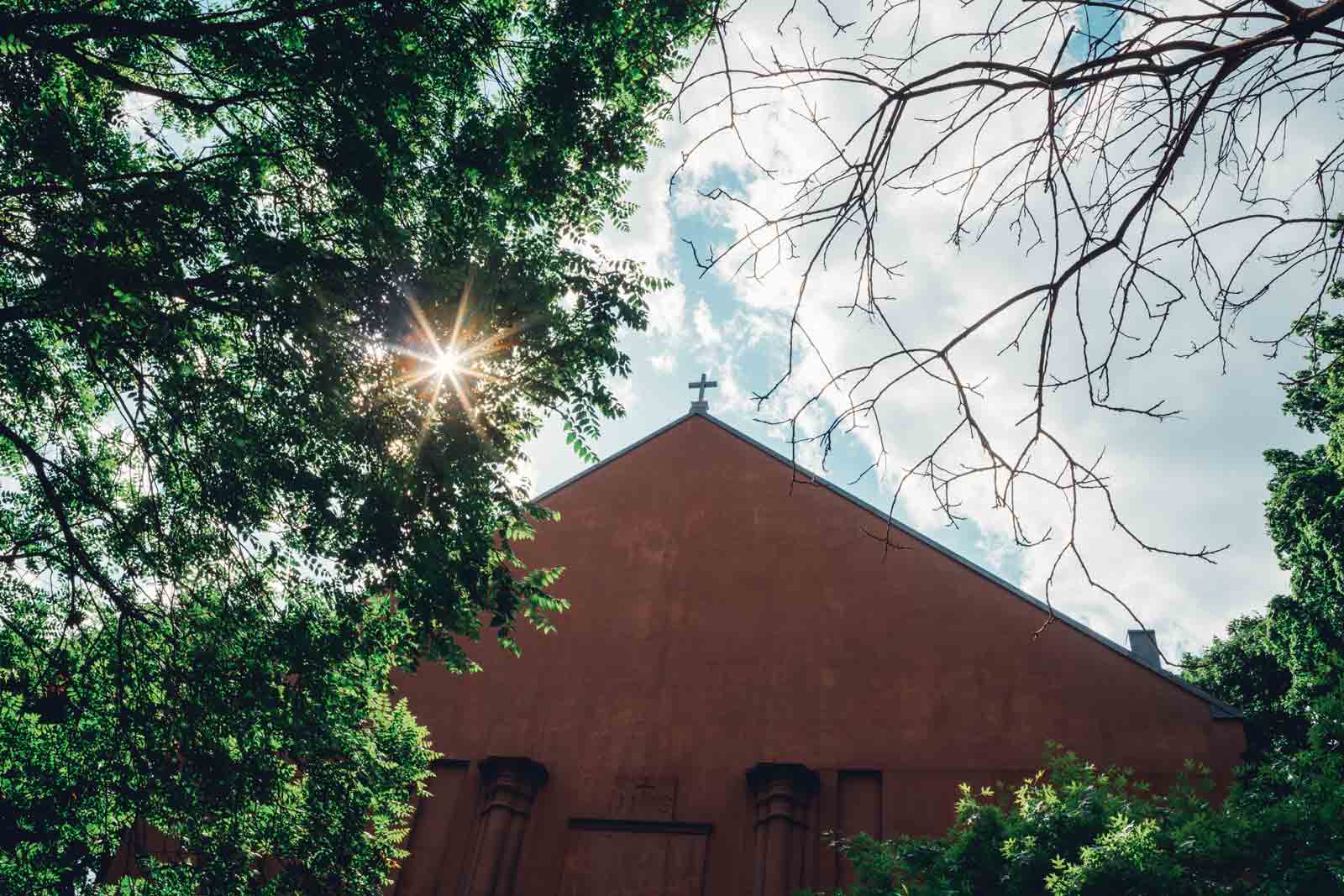 Another one of the most iconic spots in Nolita NYC is the Basilica of St. Patrick's Cathedral, also known as Old St. Patrick on Mulberry Street.
This Gothic Revival cathedral is the oldest St. Patrick's Cathedral in New York City and held as the seat of the Roman Catholic Archdiocese of New York until the other, more famous St. Patrick's Cathedral on 5th Avenue opened in 1879.
This cathedral is now a designated New York City Landmark and now offers one of the most intriguing and interesting tours in New York City in our opinions.
The interior of the Basilica was also used in Martin Scorsese's film The Godfather, the famous baptism scene and I won't say more in case there are folks who haven't seen it yet, no spoilers here!
The Catacombs by Candlelight tour takes you through a 90 minute guided journey through the catacombs, the organ, and the cemetery – all of which are off-limits to the public.
The catacomb section of the tour is done by candlelight and you'll learn about some of the most famous New Yorkers who were buried right here in Nolita NYC as well as the secrets of the cathedral.
Book your Catacombs by Candlelight tour here.
Shop Around in Nolita NYC
Another one of our favorite things to do in Nolita New York is the shopping! As you're wandering the streets you can't help but notice the incredible boutiques and shopping experiences retailers have to offer.
I am a big fan of stores that pay close attention to their displays and merchandising as it helps give you a shopping experience that you can't get by shopping online.
For any Supreme fans, there's also a Supreme sample sale and store here that always draws crowds. This legendary skate company that blew up with popularity in the recent years and is one of the hardest clothing company to get your hands on since they don't sell online.
You can visit their store here at 274 Lafayette St. Manhattan, NY 10012.
Some other noteworthy shops include Love Adorned, L'Appartment Sézane, Everlane, and Aesop Nolita to name a few.
New York Shaving Company
This next thing to do in Nolita NYC is for the men or the ladies seeking a gift for men in their lives. The New York Shaving Company on Elizabeth Street is a staple in the Nolita New York Neighborhood.
This old school barber shop offers men's services from shaving to their line of luxury haircare and men's grooming products including their famous and signature colognes worn by some of Hollywood's most famous celebrities.
While the New York Shaving Company looks old, its actually historically not that old. The owner and founder John sold everything in his name with his wife who even sacrificed her engagement ring to open up this old school barber shop to give men an experience of the lost art of the ultimate shave and barber experience as well as their line of products.
Their cologne scents are worn by celebrities like Leonardo DiCaprio and Justin Timberlake and so many more.
Feel and smell like your favorite leading man or get your man to smell like your favorite leading man ladies by picking up a bottle to take home.
8 Prince Street
Today, this spot seems just like another clothing store in Nolita, NYC but it's actually a significant landmark for what we know as the first Italian immigrant mob and mafia.
This is the previous spaghetti shop of Giuseppe Morello, aka the Clutch Hand and where he founded his gang the 1890s and is also where one of the iconic and brutal deaths of the mafia from the Morello crime family took place.
On April 14, 1903 was the murder of Benedetto Madonia, one of Morello's counterfeiting men. He was stabbed to death, chopped into pieces, and stuffed in a barrel that was dropped off at East 11th Street.
The Morello Crime family is the oldest of the famous Five Families of Italian mobs of New York City and is today known as the Genovese crime family.
Take a Tour!
If you're intrigued by the history of the mafia in the area we recommend taking a historical mafia walking tour and the Gangster Mob Prohibition Pub Crawl to learn more of the history of Little Italy and Nolita New York's ties and origins with the mafia and crime families.
G. La Rosa & Son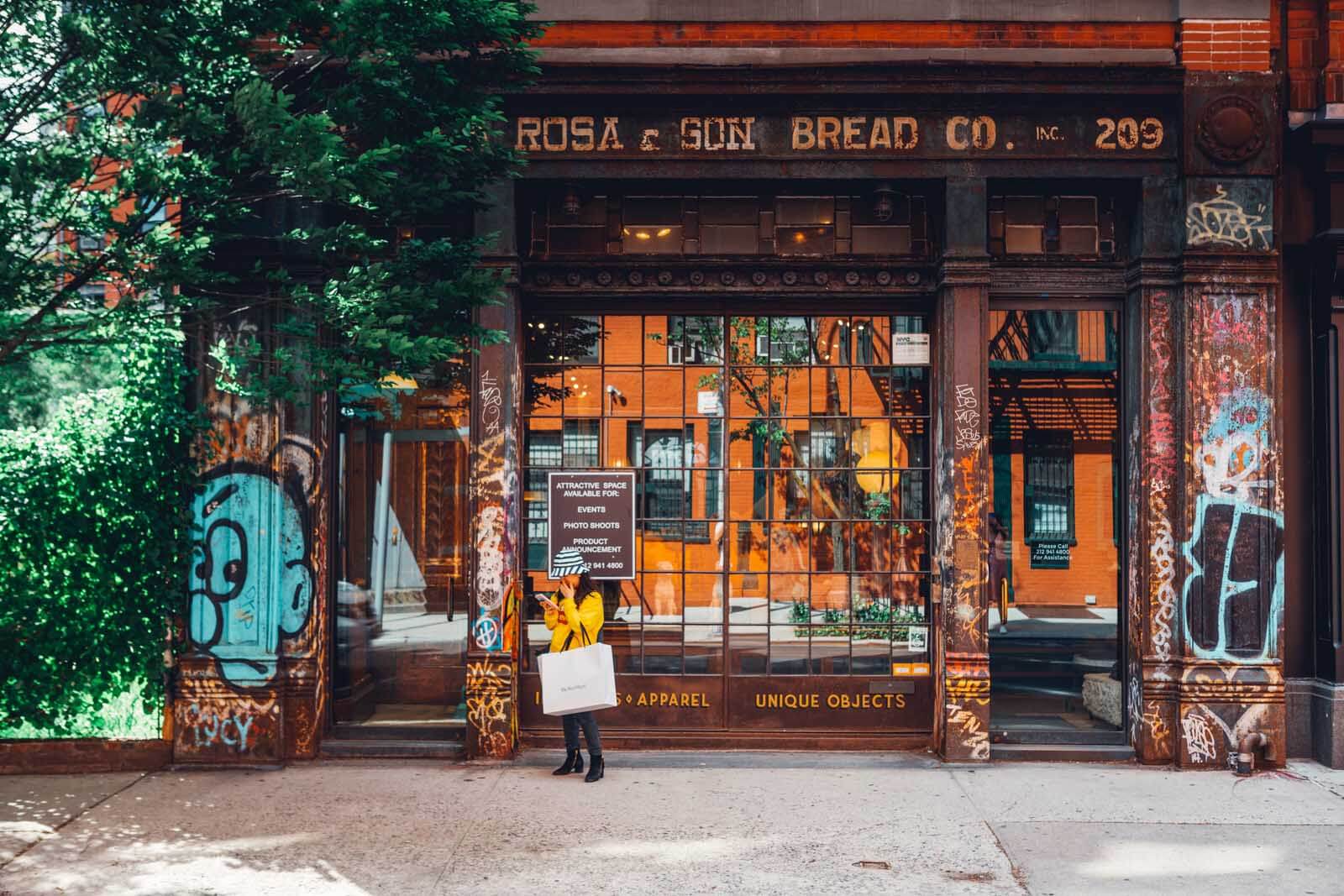 Another iconic thing to do in Nolita, New York is stop at the G. La Rosa & Son Bakery building.
This is no longer the famous bakery that once stood here and is now home to a private collector who is an avid art collector. So you can't really go inside but if you understand the significance of this building and admire from the outside where the 19th-century sign for the bakery still exists, alongside graffiti and this private collector's home.
One of the most famous lines from the Godfather movies is tied to this location when it was still a bakery. The line, "leave the gun and take the cannoli," said by Clemenza played by actor Richard S Castellano as ad-libbed.
Director, Francis Coppola loved the line so much that he left it in and had to get a cannoli to add to a scene following the new line. That cannoli for the movie was bought at G. La Rosa & Son bakery who also were the caterers for the movies.
While you can't buy one of their famous cannoli's today at this location you can actually buy the La Rosa family's cannoli kit for home online, the closest thing you can get!
Albanese Meats & Poultry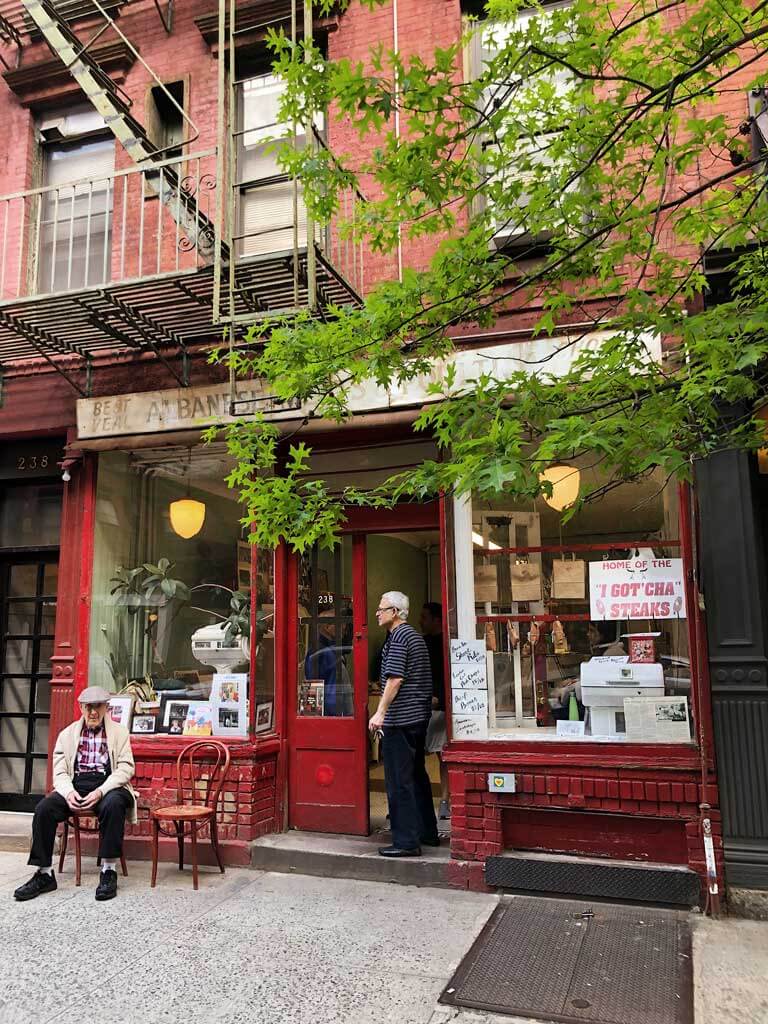 Another one of the best things to do in Nolita, NYC is visit one of the last remaining butcher shops on Butcher's Row, aka Elizabeth Street.
In its heyday, Elizabeth Street was called Butcher's Row and home to 6 different butchers shops. The only remaining one today is Albanese Meats who was still run by the Moe up until he was 95 years old.
We were told you could find Moe at Albanese Meats 6 days a week, he was the man sitting outside the shop during our visit at the age of 94, we said hello but didn't strike up a conversation, I wish we did he was very friendly and enjoying the beautiful spring weather sitting proudly outside his shop.
Moe has been ran the butcher's shop since the 1950s. Today his granddaughter, Jennifer Prezioso is doing everything she can to keep the business doors open as this neighborhood becomes more and more expensive to live in and harder to keep one of the original establishment's doors open.
The Godfather Part III filmed here as well as the location for the Butcher's shop, "Lutzi's Butcher Shop," in The Marvelous Mrs. Maisel hit tv series.
Street Art Scene
Another great thing to do in Nolita New York while you're here is check out all the colorful murals and street art scene in the area.
One of the favorites in the Nolita NYC area is the colorful Audrey Hepburn Wall by artist Tristan Eaton on the side of Café Roma.
The rest of the murals seem to be constantly changing as most street art does, but the best way to enjoy this is to just stop and admire the different murals as you're already wandering around the best things to do in Nolita, New York.
Visit the Candle Building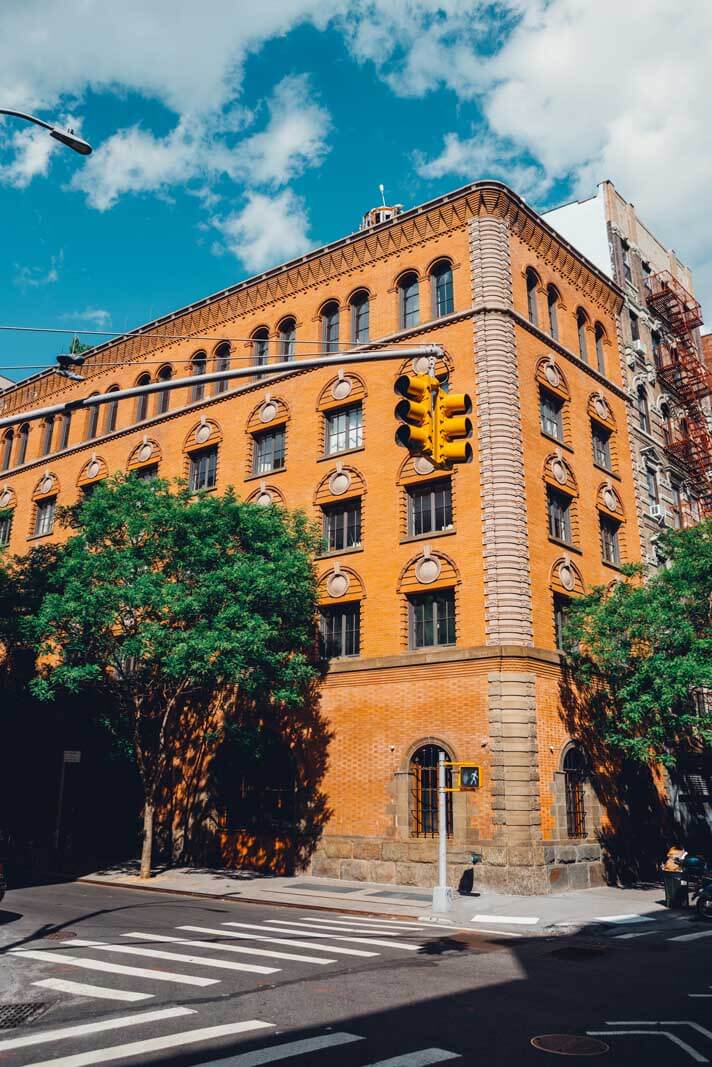 First before visiting this next thing to do in Nolita, NYC you will want to brush up on the interesting backstory behind the Candle Building, or the giant brick 19th-century building at 11 Spring Street, also connected to the street art scene here in Nolita as well.
This building is responsible for the name of the neighborhood, Nolita. For the longest time you would be able to see graffiti all over the building that remained a mystery for so many people.
Once used as a stable for police and firemen's horses with ramps and after ice storage where the mafia would store some bodies – eeek. It is said there are no stairs in this giant building, only ramps from the old stable days.
The building got the nickname the Candle Building from when IBM worker and theater set designer, John Simpson moved into this 30,000 square foot building for all to himself. He was a bit eccentric and after the Queens World Fair in 1964 he bought a ton of electric candles and placed them in every window.
As mentioned, this building was internationally famous from artists all over the world for it being a giant graffiti canvas until 2006 when it was bought by a developer.
Before destroying the graffiti to turn into condominiums, the developers paired with the Wooster Collective to put on a art show to cover the entire interior by famous graffiti artists from all over the world. The show was only open for a few days before the construction began.
You can no longer see graffiti since this has happened and even though the building is huge it only has 3 condominiums in it, all of which are multimillion-dollar homes. The developer is the one responsible for dubbing the term 'Nolita' when trying to sell the condominiums, a marketing genius one would say because now the term is what we call this area!
If you take the Foods of NY tour through Nolita, New York I mention later on this article you will be able to learn more about this building! If not, I recommend reading more about this building and checking it out while you're exploring the best things to do in Nolita, NYC.
Elizabeth Street Garden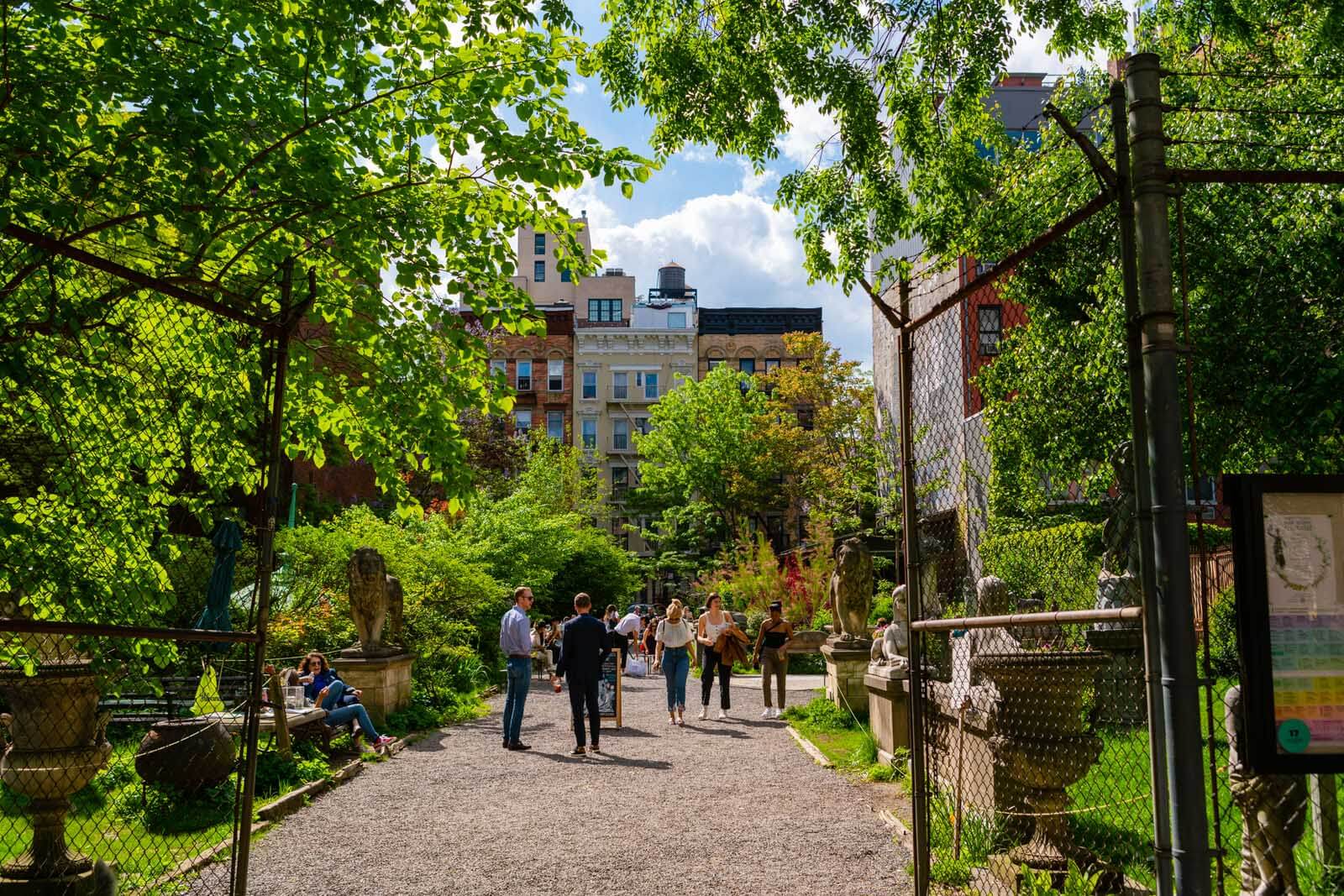 Another one of the iconic things to do in Nolita, New York is visit the Elizabeth Street Garden, while it lasts. This small community garden, outdoor space, and sculpture park is a local hang out spot whether you want to read a book, eat your lunch, or just sit outside next to some greenery among the statues in the heart of Nolita NYC.
The small park is located on Elizabeth Street between Prince Street and Spring Street. And while this is a favorite spot for the locals, its future remains unknown as a developer has bought the plot of land and is planning on building affordable senior housing.
The locals aren't against affordable senior housing, they encourage it, they just don't want to lose their special and small green space and sculpture garden in the heart of Nolita, New York.
Little Italy Sign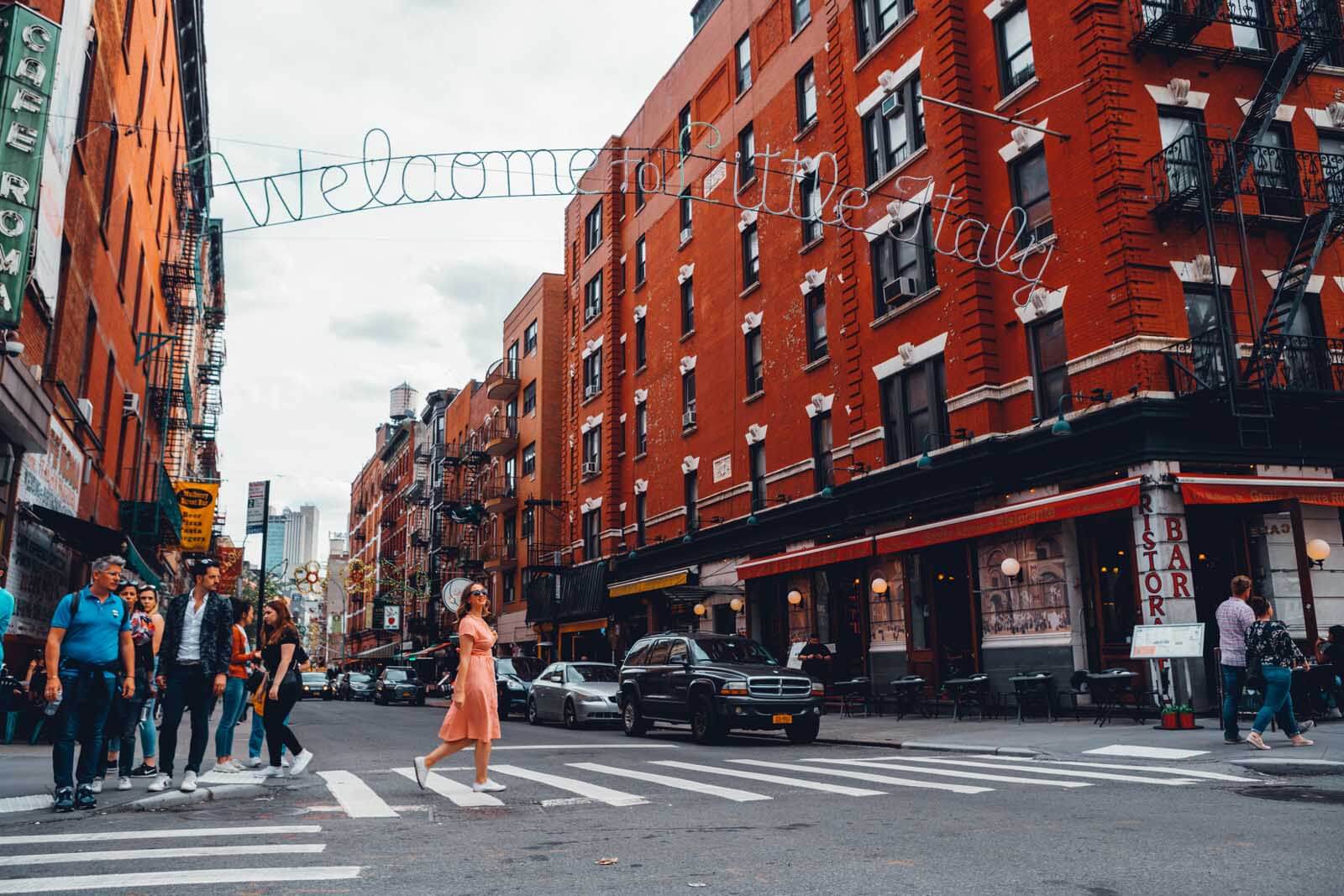 While you're in Nolita, NYC be sure to make time to visit the rest of Little Italy, it won't take too long! You can tell when you're in the heart of Little Italy when you see the famous Little Italy signs.
There are two, one on Hester Street and one on Mulberry Street. These are just the symbol of being in the area and signify you're around some of the best Italian food in the city!
Umberto's Clam House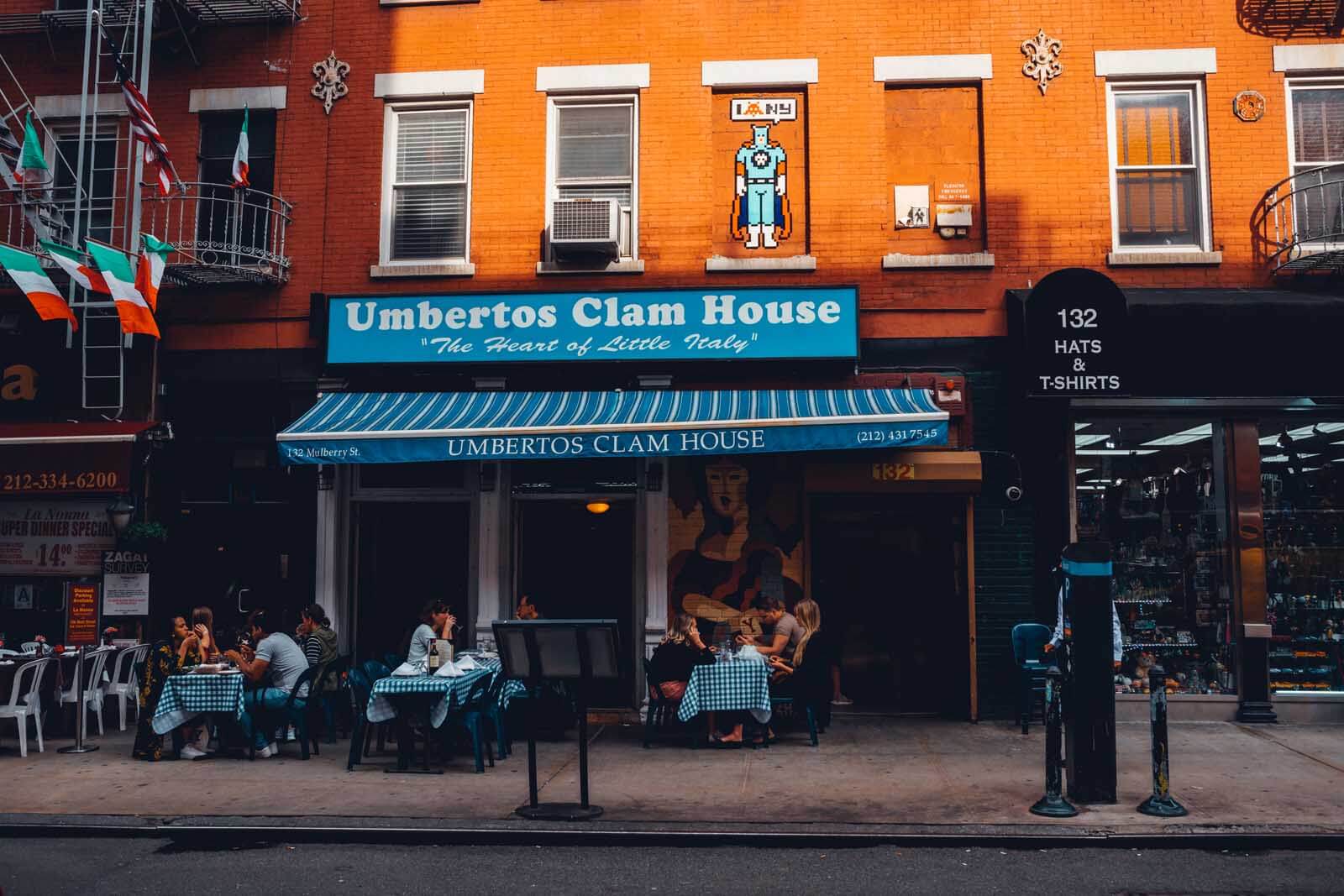 While you're in Little Italy after exploring Nolita, New York be sure to check out some of the iconic and famous spots including Umberto's Clam House run by the Ianiello family.
This is the restaurant where famous mafioso Joe Gallo, or "Crazy Joe" was gunned down on a mob hit and died on the sidewalk outside this establishment in 1972. However, this incident happened when Umberto's was located a two blocks down at 129 Mulberry Street where Ristorante Da Gennaro is today.
This is one of the most famous mob hits in history and people seek out Umberto's, the restaurant where it all took place even if it is a slightly different location.
Mulberry Street Bar
Another stop in Little Italy near all the best things to do in Nolita, New York is the Mulberry Street Bar. This is for all the HBO series Sopranos Fans.
The hit tv series filmed several scenes in different episodes here in the dining area where the New York crew would meet and hold court.
You can find a large photo of the Sopranos cast here as well.
Besides being a tourist attraction for Sopranos fans, you can still find that this is an authentic spot that's been open since 1908 in the heart of Little Italy.
Nolita Restaurants & Bars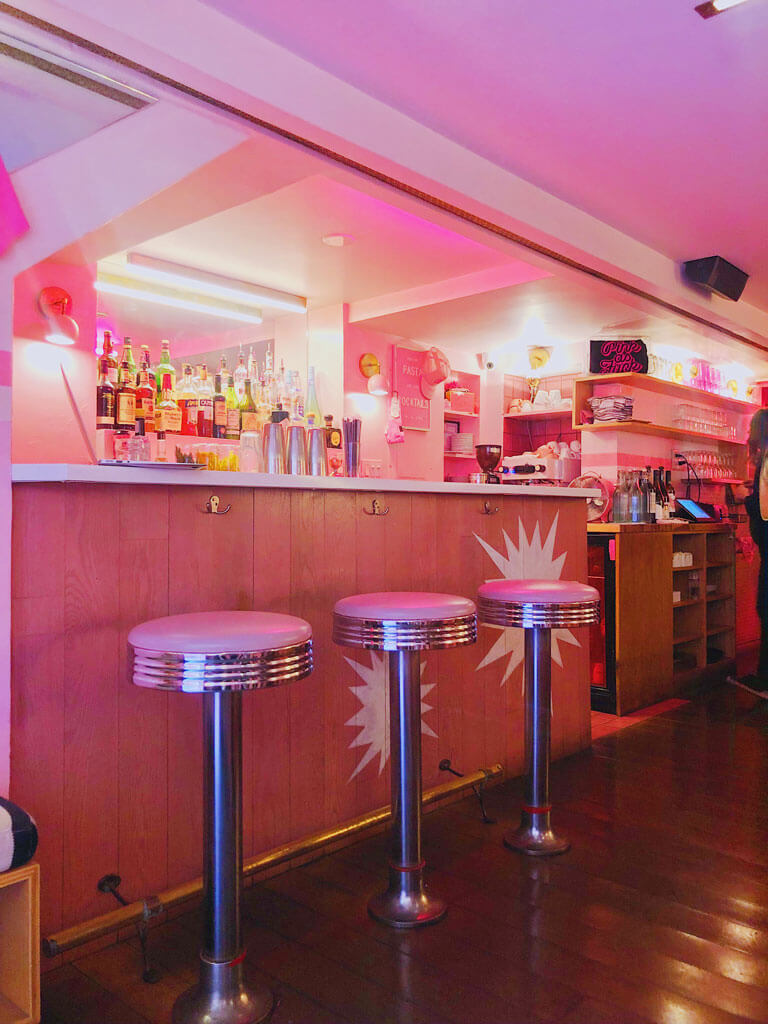 One of the best parts about exploring Nolita New York is that you can expect some of the greatest Italian restaurants and other eateries in the city as well as bars. We have put together a list of some of the best Nolita Restaurants & Bars to check out while you're here.
Pietro Nolita
One of the most famous places to go and things to do in Nolita, NYC is visit Pietro Nolita, aka the pink as fuck restaurant. This restaurant serves up some great brunch in the morning and healthy Italian fare and pink cocktails in the afternoons and evenings while sitting inside the pinkest restaurant in the city which has become a popular spot among Instagrammers who will come here just for a pink photo.
Since Scott is a lover of all things pink we had to come and get his Insta-worthy moment on his birthday at this Nolita Restaurant. It's a fun spot but expect crowds during peak times.
Seamore's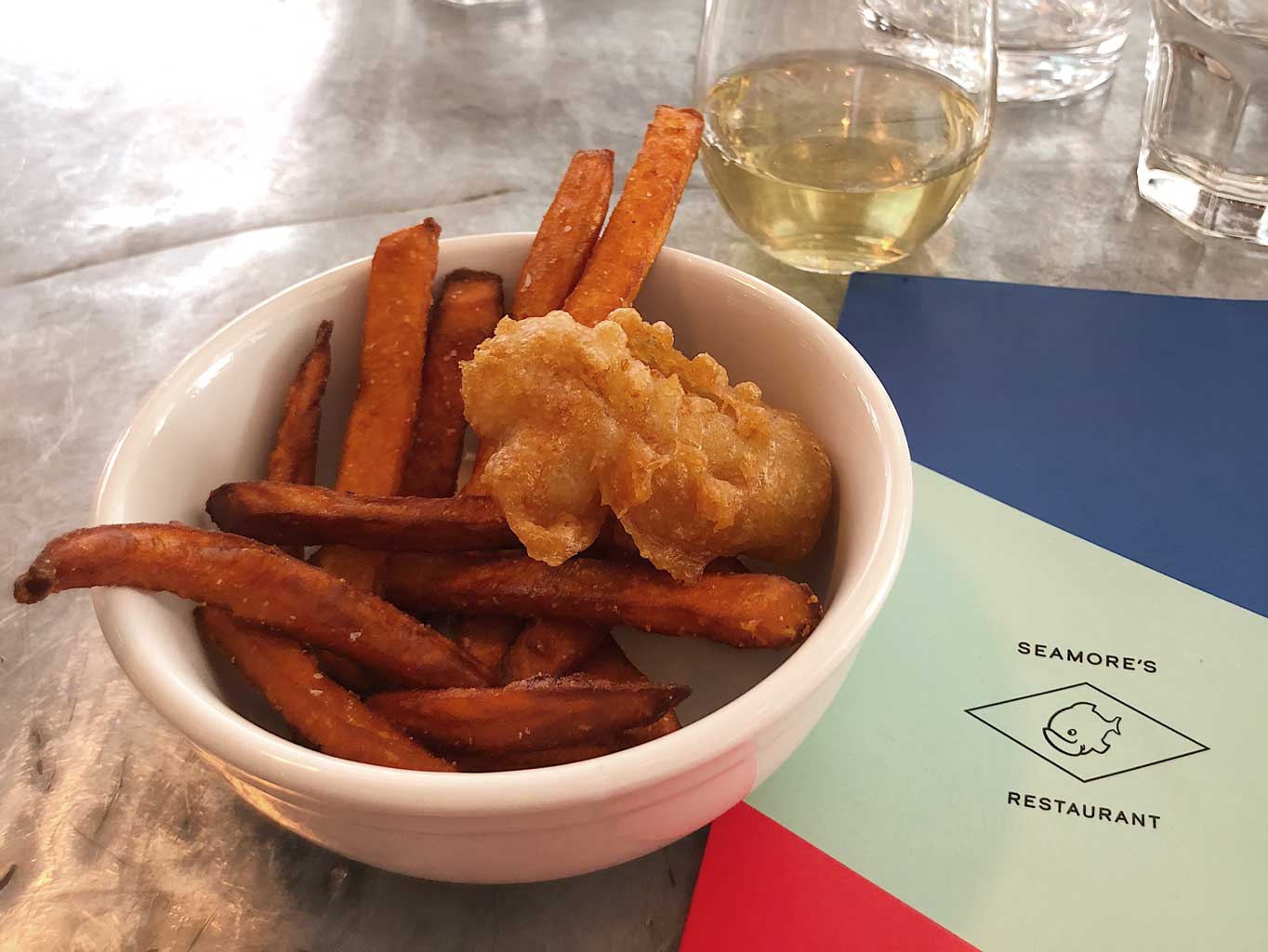 One of the best Nolita Restaurants for quality fish is at Seamore's. This restaurant serves only sustainable fish and has killer fish n chips served with the day's catch battered up with a bed of sweet potato fries.
All of the fish served at this restaurant is done sustainably and has gained popularity over the years which as led to the business's success in opening multiple locations around the city.
Besides having great food and a killer location, their happy hour is AMAZING. On weekdays you can get $3 drinks at 3, $4 drinks at 4, and $5 drinks at 5 from their selection of well drinks like Moscow mules, beer, and wines.
Tacombi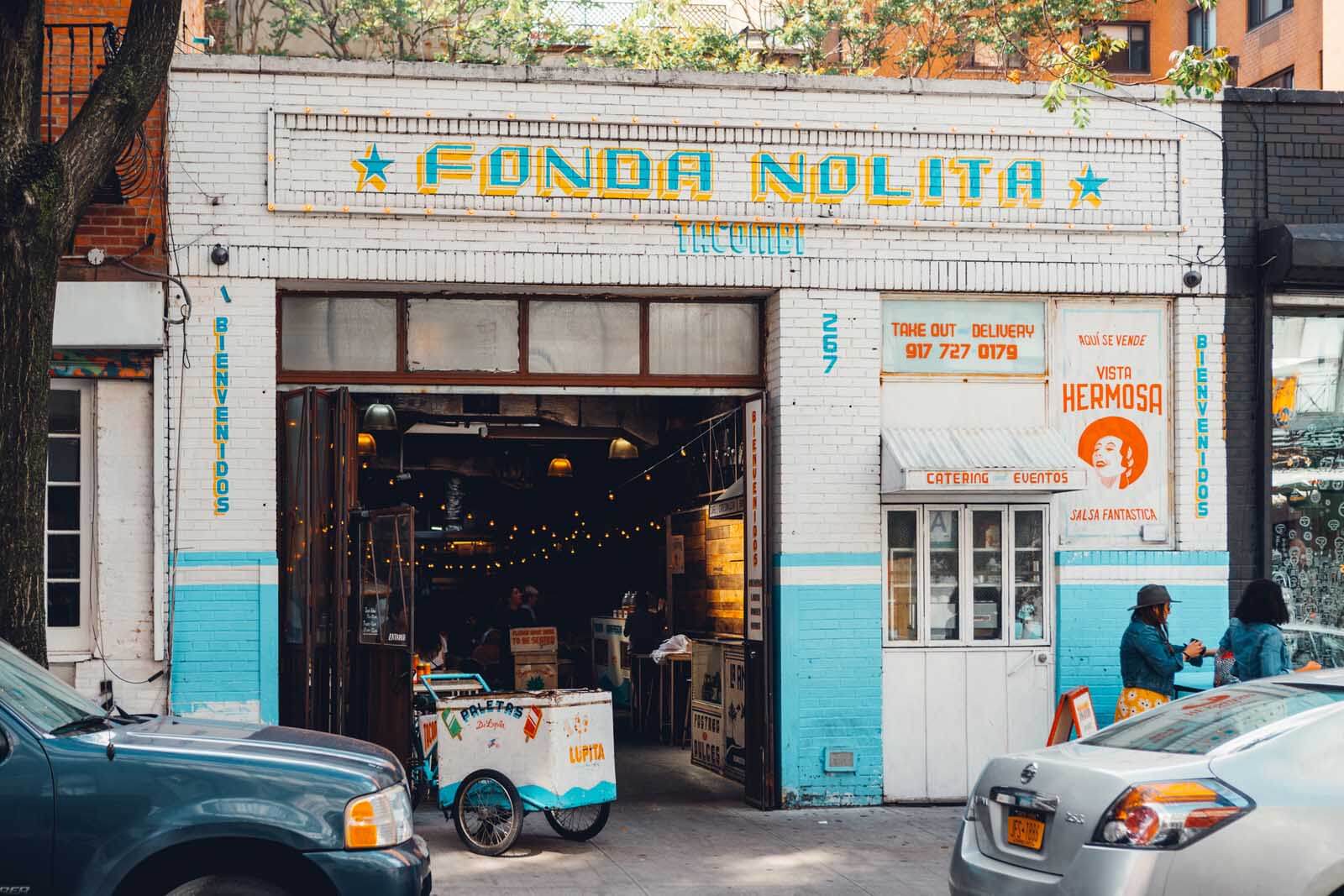 Another one of our favorite spots and Nolita restaurants is Tacombi. This open concept Mexican bar and restaurant brings us back to our days living in Merida, Mexico. There's an authentic vibe here and the menu is legit with street style tacos, delicious elote, and Mexican food.
Better yet, they have a few locations around the city in addition to their Nolita restaurant.
Emporio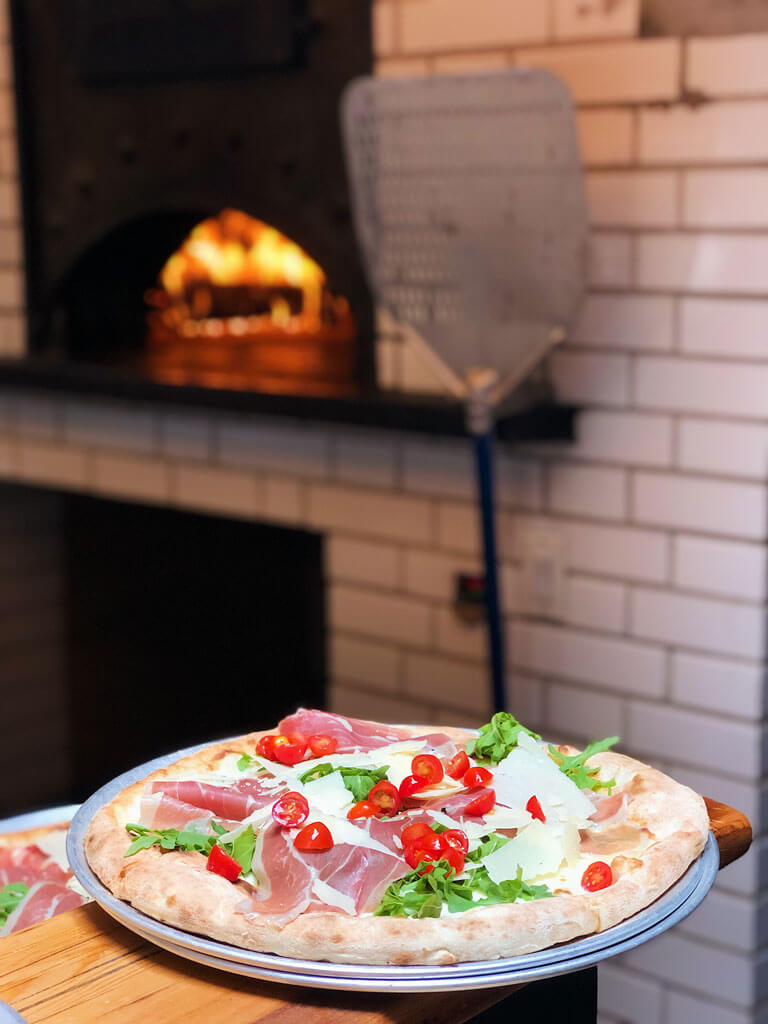 One of the best Nolita restaurants for quality pizza and a nice, romantic atmosphere is Emporio. Brick oven pizzas with a hand made stove served with only the freshest and highest quality ingredients you can taste in each bite.
This pizza is sexy, we could have each ate one ourselves.
Little Cupcake Bakeshop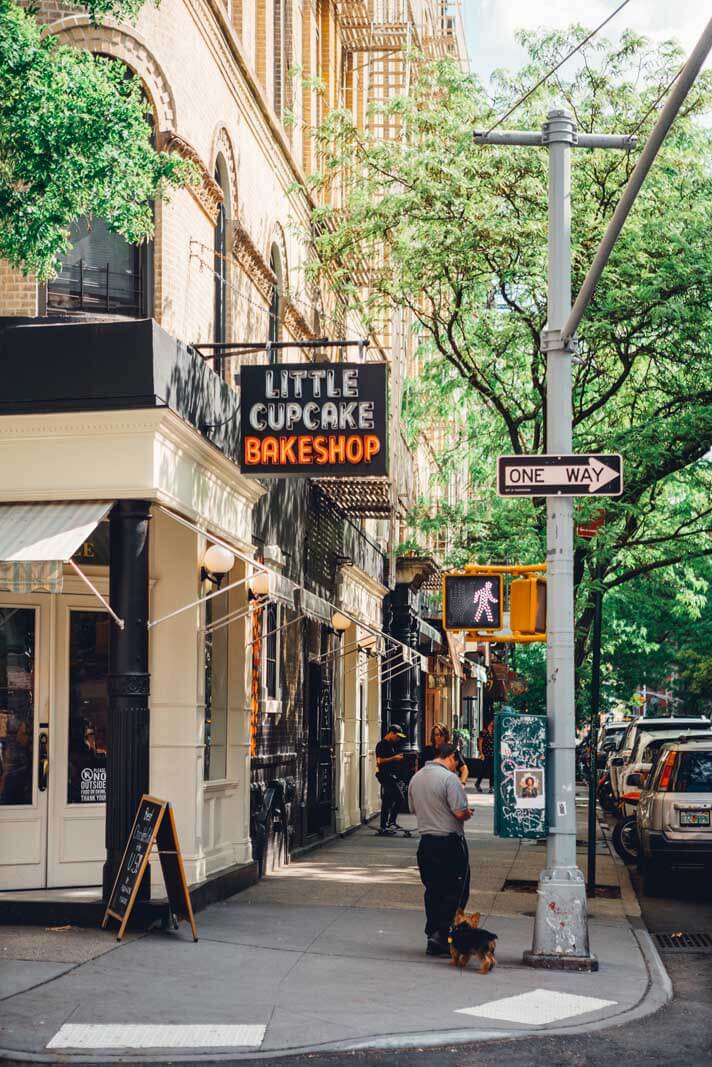 Not a Nolita Restaurant, but a bake shop on Prince Street serving up some of the best sweets in the city. Be sure to try their take on the signature Brooklyn Blackout cupcake in this retro bakery in the heart of Nolita, New York.
According to their website, they won the Best Chocolate Cake in America. Be sure to pop on over to the side of the bakeshop to catch one of graffiti artist Sheppard Fairey's art pieces.
Stick With Me Sweets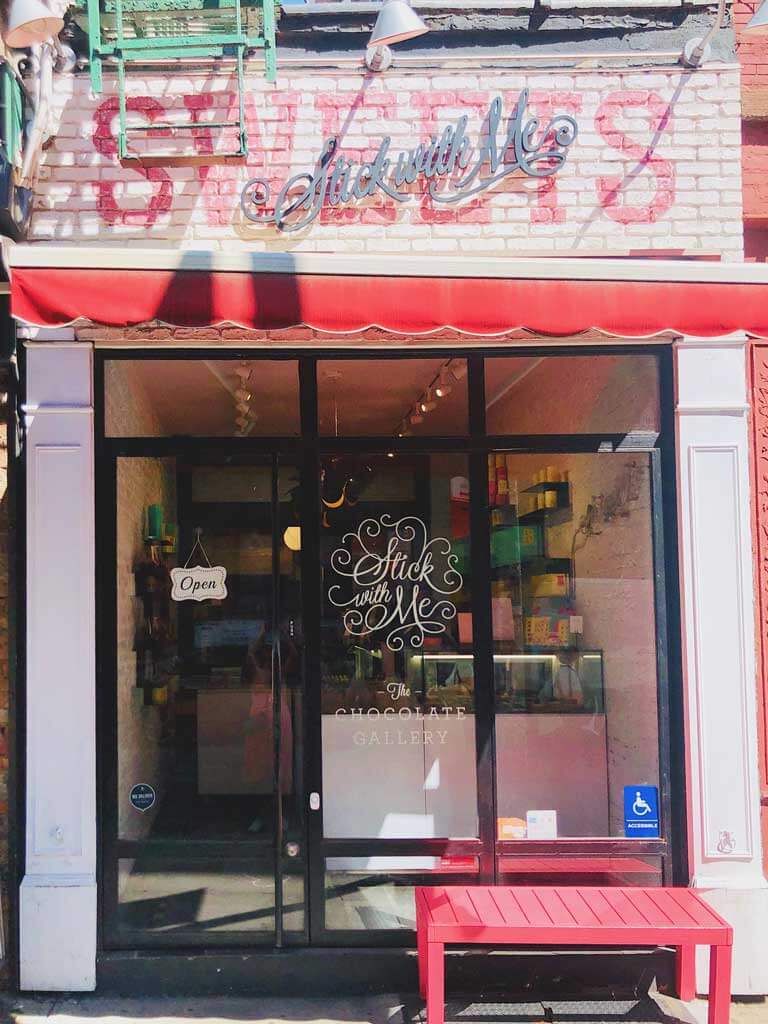 Again, not a Nolita Restaurant but worth checking out while you're exploring Nolita, NYC is home to one of the best chocolates we have ever tasted in our lives.
Stick with me Sweets is famous for their hand made bon bons that look like pieces of finely made art that are almost too pretty to eat. But seriously, you'll want to eat these. At $4 a bon bon you will want to savor these tasty, incredible treats.
Lombardi's Pizzas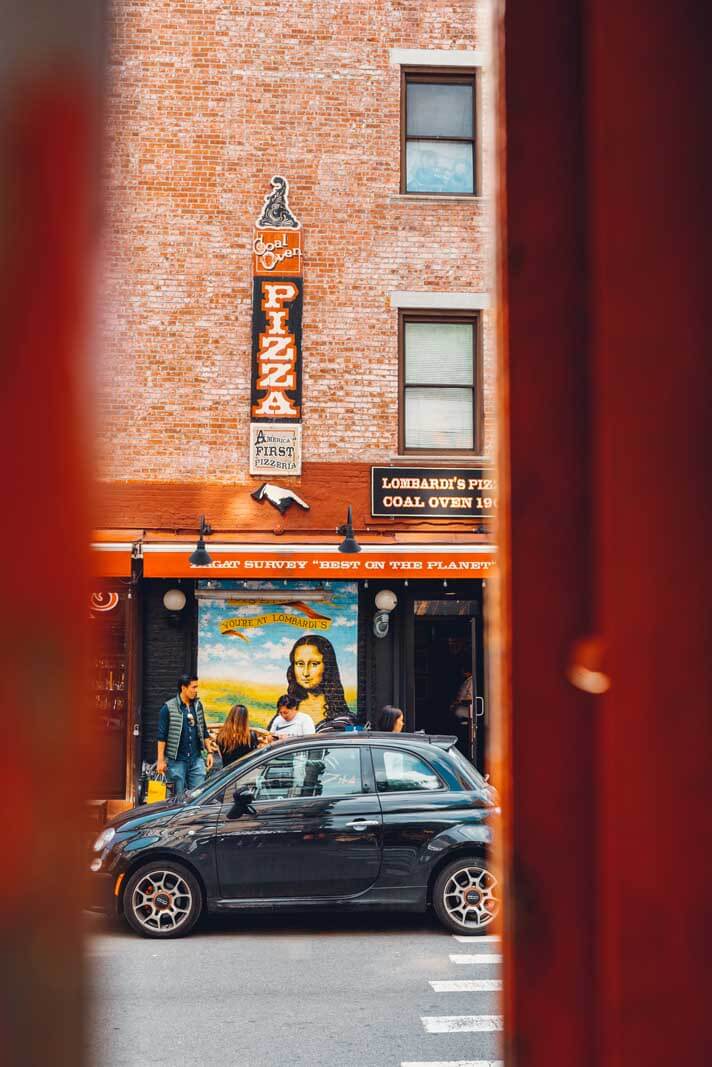 Technically in Little Italy, but close enough to be considered a Nolita Restaurant is one of the city's best pizzerias. Lombardi's is one of the only coal oven pizza joints in the city and is critically acclaimed as well as the first pizzeria in the United States!
No restaurant can have a coal oven anymore even if they had enough money to grease the right politicians, but if you already had one before this rule took into effect then you got to keep yours which is why Lombardi's being the first pizzeria in the country is able to still serve pizza this way.
This is one of those iconic things you just have to do in NYC.
Prince Street Pizza
One of the local jokes about pizza in New York City is which Ray's Pizza is the best and this debate has even made its way into pop culture including a line in the cult classic Christmas Movie, Elf. The 'original' Ray's Pizza, even though many claim this title, which is said to be the best Ray's Pizza is now known as Prince Street Pizza in Nolita, New York.
The owner of the pizzeria, Frank Morano who's family was raised here took on the tradition. There is always a line out the door for their famous square slice of pepperoni pizza.
Morano and his ex-business partner have had some drama in recent years since their split who allegedly stole the recipe for the signature spicy pepperoni slice and started his own business.
Balzem
Another great Nolita Restaurant to try is Balzem, a Mediterranean restaurant serving up delicious entrees and an impressive wine by the glass list. We only stopped here on our food tour, mentioned below, and tried their incredible burrata wrapped in prosciutto.
The atmosphere makes for a perfect date night or night out with the friends over wine, we will be back to explore this menu more.
Try a Food Tour of Nolita NY
Want to sample your way around Nolita New York as much as you possibly can in one afternoon while learning about the neighborhood? That's exactly what we did to get our base knowledge and tasting around Nolita NYC with Foods of NY tours.
This 3-hour tour takes you to many of the restaurants and things to do in Nolita NYC mentioned in this article. Afterward, you can stick around and explore some of the nearby activities to get to know the area even better.
We really love their quality tours you can find out more information on their website.
Things to do nearby Nolita New York
While you're exploring all the best things to do in Nolita, NYC you might be interested in checking out some of these great things to do just around the corner. Check out what to do nearby Nolita, New York.
Be sure to also check out our guide to our favorite places to visit in New York City.
Chinatown
Another great place for good eats, culture, shopping, and exploring is Chinatown. This area deserves an entire guide of their own. Neighboring Little Italy and Nolita NYC you can find this vibrant neighborhood with loads of great restaurants to choose from, markets, shops, and Columbus Park.
Tenement Museum
This museum is one of the most well-liked in Lower Manhattan and gives you a glimpse of what it was like to live in New York as an immigrant during the heart of the melting pot years. Located in two tenement buildings, homes to immigrants, it is estimated over 15,000 people called these buildings home from over 20 countries from the years of 1863 – 2011.
This museum covers a historical perspective on the immigrant experience in New York City.
Italian American Museum
Closed until winter 2019 for redevelopment, this museum documents the early years of Italian life and immigration to New York City through an expansive collection of various displays.
Museum of Chinese in America
Often referred to as MOCA, this museum focuses Chinese American history and immigration including and featuring Chinese American culture, experiences as immigrants, and heritage through educational and artistic exhibits.
Katz Delicatessen
See where Harry met Sally in New York City at this kosher delicatessen famous for their pastrami on rye. They even marked the table where Harry & Sally sat so the guesswork is off the table. This is truly an iconic NYC hotspot among visitors.
Ghostbusters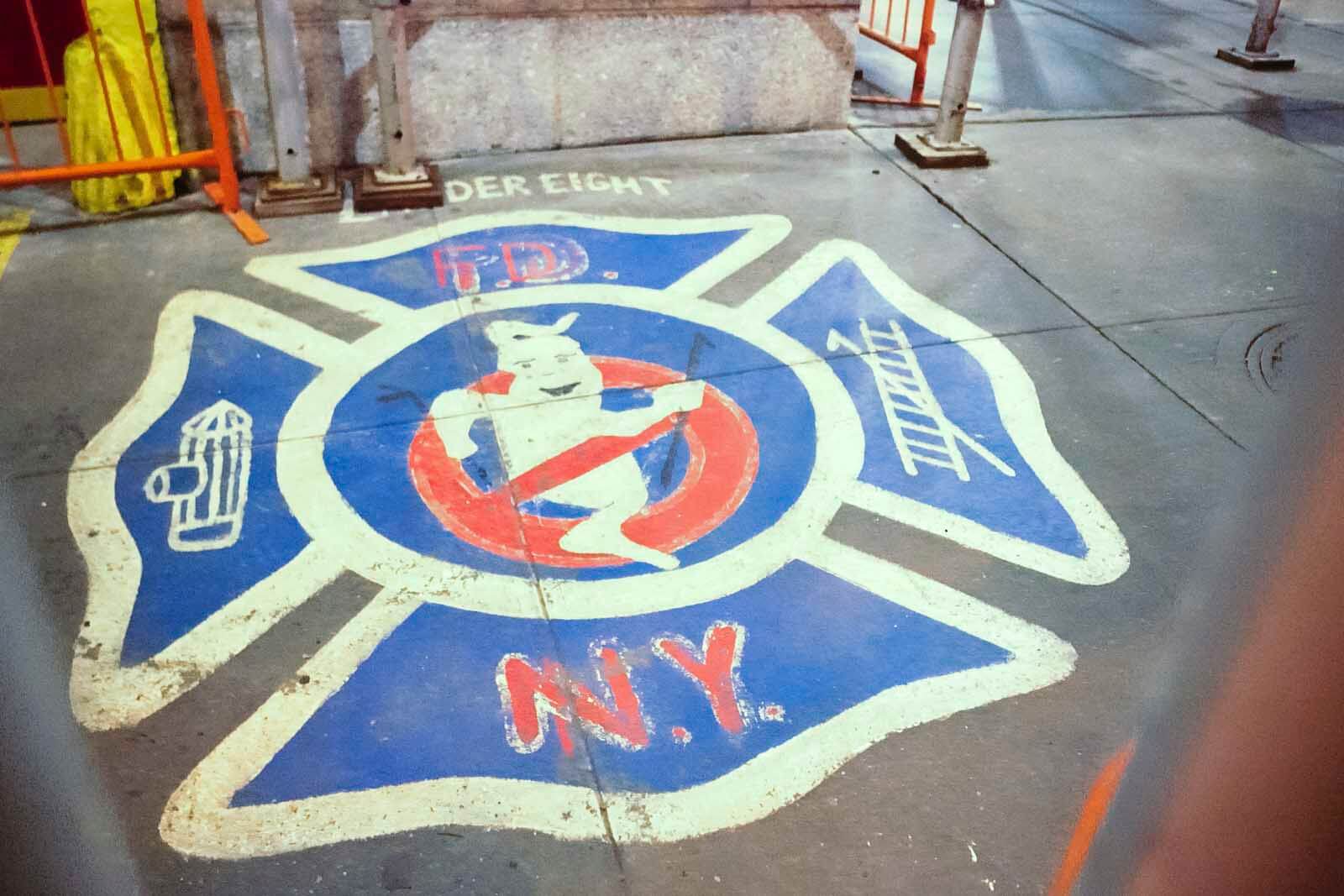 While we're covering some iconic movie spots in NYC we've got another fun iconic spot for you! The Hook & Ladder Company 8 in Tribeca is famous for being the Ghostbuster's HQ. During our visit it was under construction, we haven't gone back quite yet to see if its finished or not.
Besides being a fun movie façade, this is a working Fire House and these firefighters were some of the first responders during the September 11 attack.
Where to Stay in Nolita New York
Nolita New York is one of the most desirable and attractive neighborhoods to stay in, see our complete guide for where to stay in New York City if you want to explore more options by neighborhood in the city or stay in Nolita New York with these find options.
$ The Nolitan
The Nolitan is a great place to stay near Nolita NYC and one of the best prices you'll get in this desirable area. This boutique hotel offers a private rooftop terrace, close proximity to the nearest subway station, and a free bicycle rental for guests. The rooms are simple with a touch of mid-century modern and many offer killer views of the city.
Book Now on Booking.com | Compare Prices for Later on Agoda.com | See Prices on Hotels.com
$$ Off Soho Suites
Another great location for exploring the best things to do in Nolita New York. Off Soho Suites are for those who are looking for an apartment like accommodation rather than a hotel environment. The one bedroom suites all have fully equipped kitchens, living rooms, and spacious bathrooms. This is just a 10-minute walk to the Nolita, NYC neighborhood.
Book Now on Booking.com | Compare Prices for Later on Agoda.com | See Prices on Hotels.com
$$$ The Bowery Hotel
Probably our favorite option for hotels near Nolita, New York. The Bowery Hotel offers rooms with incredible floor to ceiling windows with city views and incredible décor with marble bathrooms. Bicycles are complimentary to guests of the hotel and there is a stylish and unique Italian restaurant on site with a cool bar.
Book Now on Booking.com | Compare Prices for Later on Agoda.com | See Prices on Hotels.com
$$$$ Crosby Street Hotel
The highest standard of luxury level hotel is the world-class Crosby Street Hotel, another perfect place to stay for luxury travelers near Nolita, NYC. Each room is designed uniquely, so no stay is alike. There's a gorgeous inner courtyard and terrace restaurant. The rooms also offer full-length windows with stunning views where you'll feel like royalty.
Book Now on Booking.com | Compare Prices for Later on Agoda.com | See Prices on Hotels.com
---
Liked this post on the best things to do in Nolita, New York or found it helpful? Be sure to bookmark for later or share the love below on Pinterest!