There are so many underrated cities in the US that are worthy of being on your radar! When people think of city escapes in the United States, cities like New York City, Chicago, Miami, Los Angeles, and other hotspots come to mind. With 50 states, there's so much more to the US than it's 'famous' cities.
This guide is going to cover some of the most underrated cities in the US to visit, make a vacation, or plan a weekend getaway to picked by travel enthusiasts and experts!
Get ready to learn about some really cool cities in the US (or see a city that you've always knew was cool). We cover some of the highlights of each of these destinations to help you pick your next city escape!
Disclaimer: This post contains commissionable links.
Underrated & Cool Cities in the US to Add to Your Radar
Madison, WI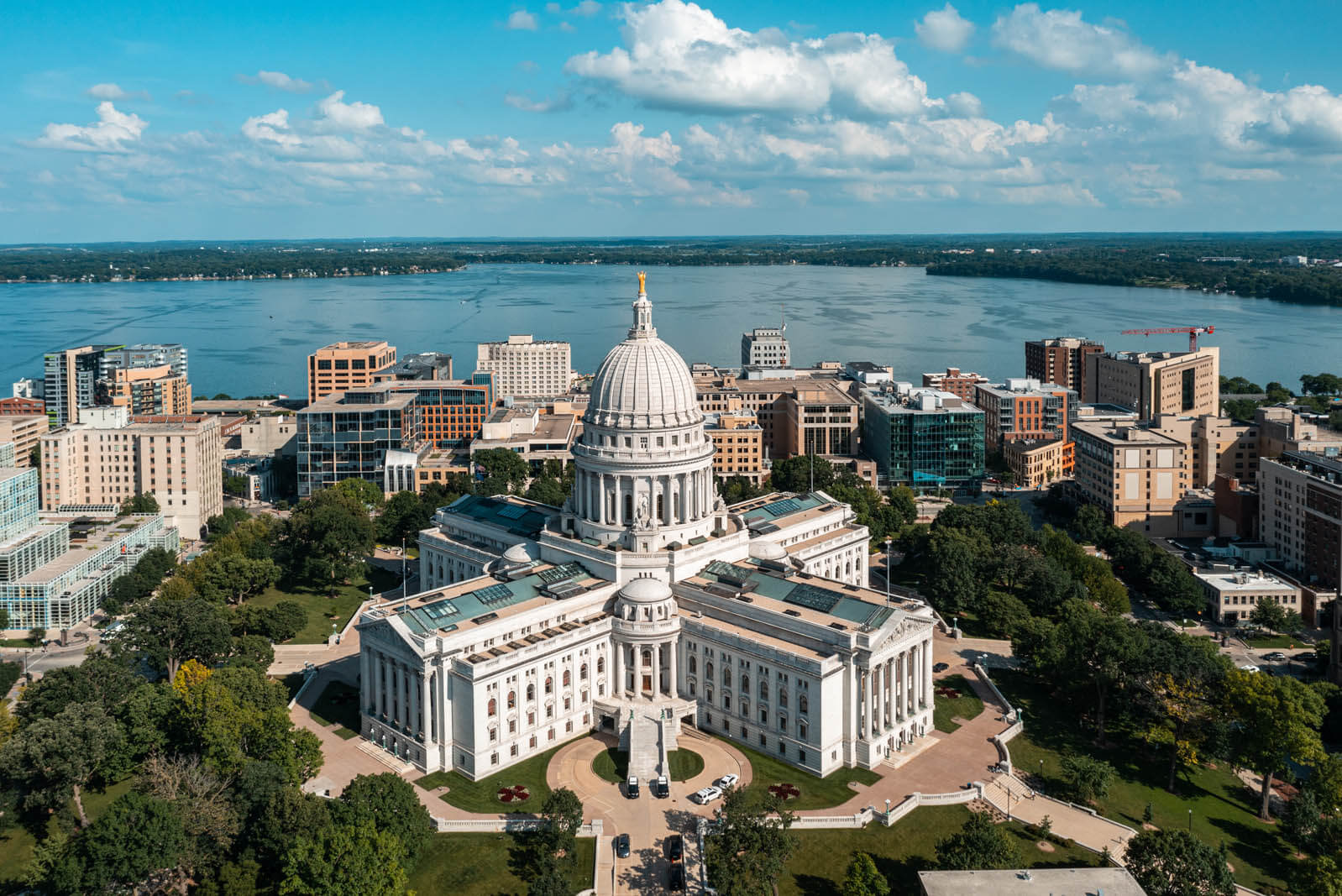 One of the coolest cities in the US is Madison, Wisconsin. This is an underrated city in the United States for a few reasons, located on an isthmus, Madison is completely surrounded by lakes making a perfect summer getaway if you are looking for any fun activities on the water. Or if biking is more your thing, be sure to rent a bike and complete the scenic Monona Lake Bike Loop.
Located in America's Dairyland, the state of Wisconsin, there's no shortage of incredible food in Madison from checking out the old-school supper clubs like the Tornado Room to hitting up all of the restaurants in town in search for what you think is the best cheese curd in Madison is!
Madison is also a college town, so the vibe here is energetic and there are a lot of cool shops and boutiques to check out, specifically along State Street, which also has museums like the Madison Museum of Contemporary Art to check out (which is completely free to visit).
There's also incredible architecture in Madison. Famed American architect Frank Lloyd Wright designed several buildings in Madison and his home estate is located just outside of the city. You also won't want to miss walking through the Mansion Hill Historic District where you can find one stunning 19th-century mansion after another.
Be sure to also enjoy a free tour of the Wisconsin State Capitol while you're here! And if you're up for a scavenger hunt, try to see how many badgers you can spot or find once you're inside the Capitol!
Honestly, there are so many great things to do in Madison to build an entire vacation out of. When you're visiting you'll want to book a room at the historic The Edgewater Hotel located on Lake Mendota just a 10-minute walk from Capitol Square.
Spokane, WA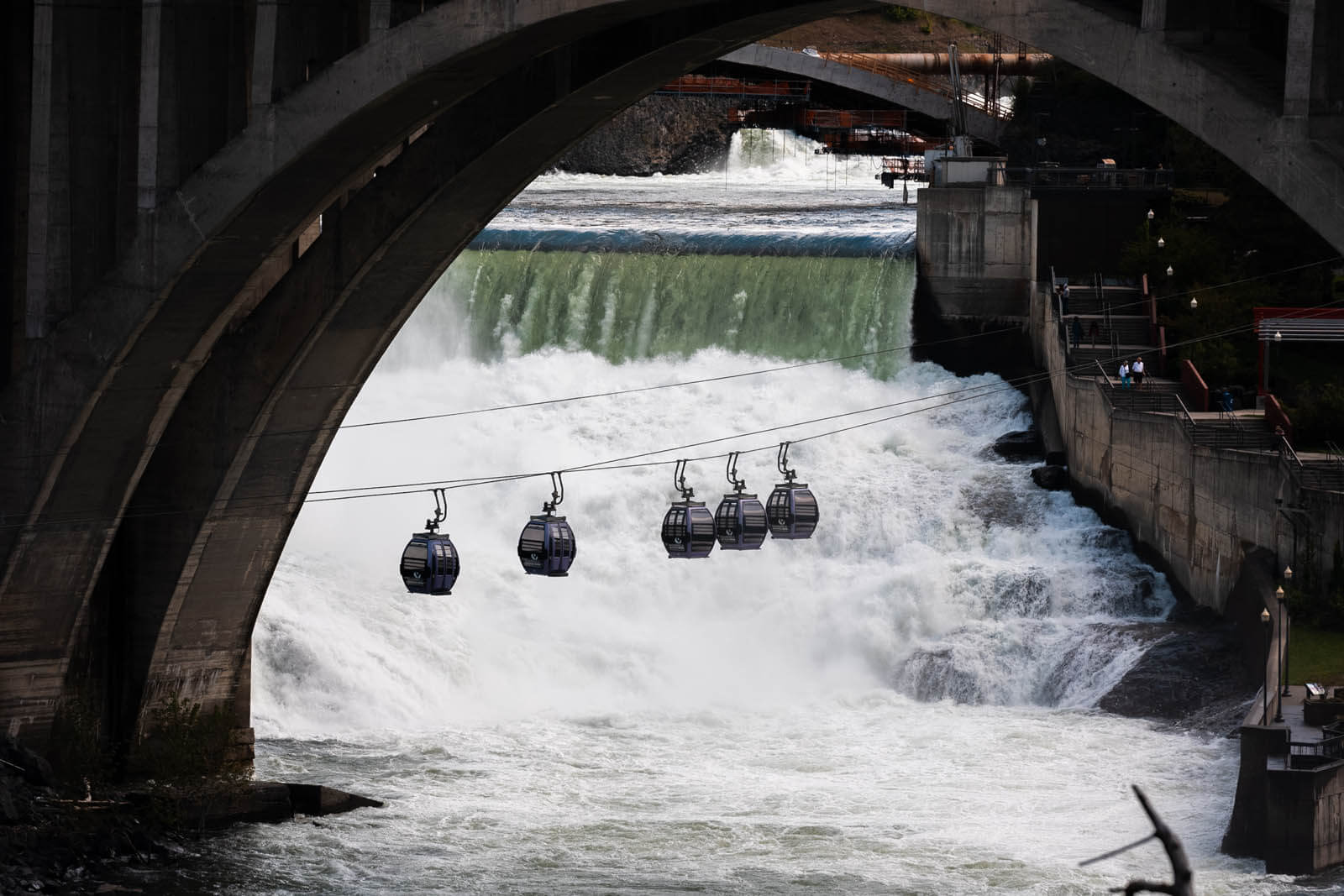 Located in the gorgeous Pacific Northwest is one of the coolest cities in the US to spend a weekend. There are so many awesome things to do in Spokane, Washington that makes this a worthy addition to any US wishlist! Whether you are looking for a few days break on an epic PNW road trip or a launching off point to checking out all the beauty and natural wonders of Washington State, you need to add Spokane to your list.
One of the best parts about Spokane is that you have a stunning, thunderous waterfall that traverses through the center of the city along with a backdrop of mountains – which is just the most picture-perfect setting for a city!
Be sure to check out Spokane Falls by either taking a stroll through Riverfront Park, Huntington Park, or directly above the falls from inside the cable car on the Numerica Skyride!
Speaking of Riverfront Park, you'll want to take a lap around to check out the unique attractions here like the Garbage Goat (a garbage sucking goat structure) or make sure to play on the Giant Radio Flyer Wagon which has a fun slide, monkey bars, and makes for a fun photo opportunity.
Spokane also has cool historic and cultural sites like the stunning Davenport Hotel, which you MUST stop by the Peacock Lounge for a cocktail under the stained glass or at the very least take a lap through the hotel lobby to see the stunning architectural features of this fine hotel. If you're looking for cultural sites that double as entertainment venues, be sure to catch a show at the Bing Crosby Theatre, named after Bing Crosby who grew up in Spokane!
There's also a fabulous dining and drinking scene here and tons of cool shops like Boo Radley's and Petunia and Loomis for quirky gifts and finds.
Another one of the best places to check out that make this one of the coolest cities in the US is the Garland District. This neighborhood of Spokane is FULL of cool, vintage neon signs on the businesses! If you're aching to see a movie be sure to check out the Garland Theater or just go grab a delicious milkshake from Mary Lou's Milk Bottle, a neon-clad restaurant in the shape of a milk bottle!
And as mentioned already, you should absolutely stay the night at The Historic Davenport Hotel, which is not only a 4-star, AAA 4 Diamond rated property but one of the best historic sites in the city!
Raleigh, NC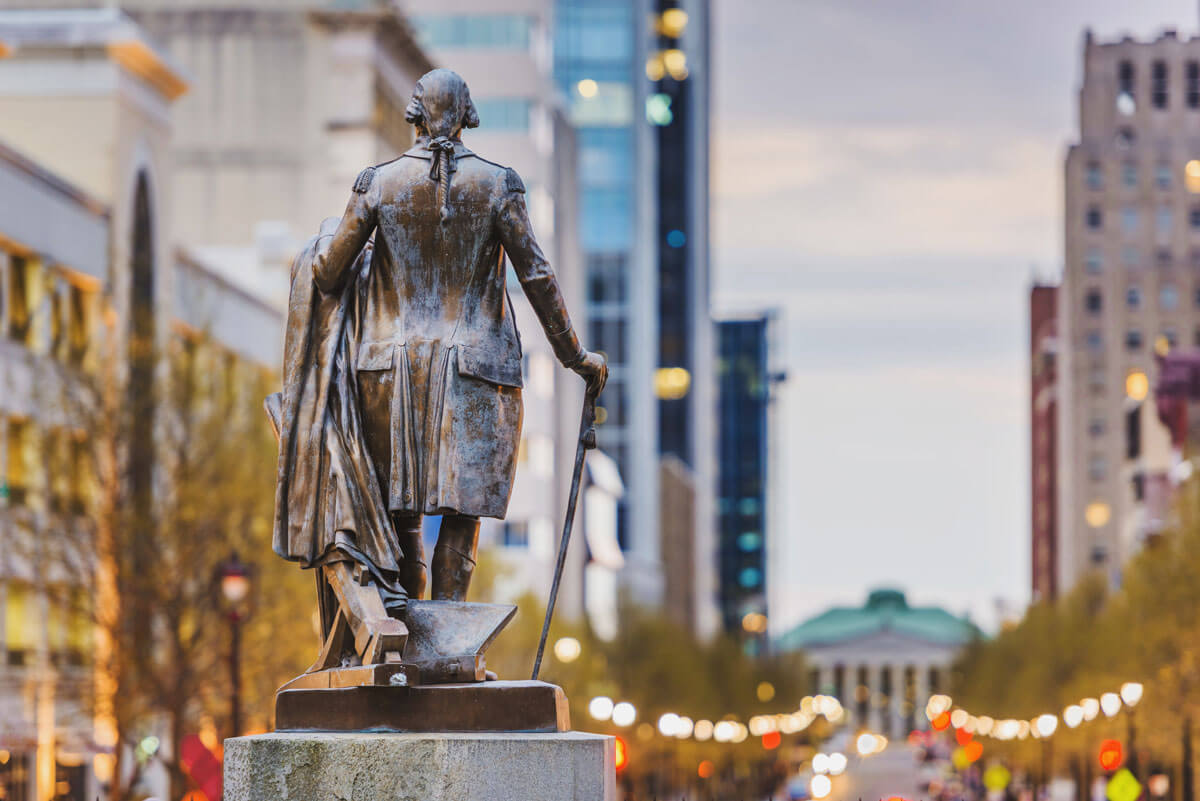 As the capital of North Carolina, Raleigh is one of the most underrated cities to visit in the US. Not only does it feature an astounding 19th-century Greek-Revival capitol building (with a nice statue of George Washington in front), but is known as the city of oaks since there are so many gorgeous oak trees here – which are just stunning.
Also, this region is home to some of the best research institutes in the world, like Duke University in Durham, Raleigh is also referred to as "The Triangle", along with Durham and Chapel Hill.
So, if you're wondering what to do in one of the most cool cities in the US, be sure to check out some of the best things to do in Raleigh, start by learning about dinosaurs at the North Carolina Museum of Natural Sciences before admiring three different man-made lakes in William B Umstead State Park.
Continue your cultural education with a stop at the North Carolina Museum of Art as you walk the trails here from sunrise to sunset and see more than 5,000 years' worth of art.
Next, grab your camera and head five miles south of downtown to the Historic Yates Mill County Park. In fact, this grist mill was first built in 1756 and is a truly charming place to take photos before exploring the walking trails here.
Finally, grab some authentic Southern fried chicken from the Morgan Street Food Hall before relaxing the night away inside a beautiful room at the Umstead Hotel and Spa. Just don't leave without indulging in one of their exquisite spa treatments first."
Contributed by Victoria of Southern Trippers
El Paso, Texas
For cool cities in the US to visit and the most underrated cities to visit in the US, El Paso checks off both boxes! This vibrant Texas metropolis sits just across the Rio Grande from Ciudad Juarez in Mexico.
As a result, El Paso is brimming over with incredible Mexican influences that include delicious Tex-Mex cuisine at L & J Cafe and Kit's Mexican Restaurant. However, the city is also nicknamed "Sun City" since it has around 302 sunny days annually.
So, if you'd like to visit and experience all the very best things to do in El Paso, start off with a stop at the El Paso Museum of Art. Not only is it free to visit but there are over 7,000 pieces on display here, including many interactive exhibits kids will love.
Next, get outside and explore the trails of Franklin Mountains State Park before soaking up a bit of local history at the El Paso Museum of History. In particular, The Changing Pass: People, Land & Memory is an epic exhibit that walks you through the entire history of the region.
Finally, check out the historic beauty and grandeur of Ysleta Mission before learning all about American expansion and seeing authentic Victorian-era decor at the Magoffin Home State Historic Site. Or check out the Socorro Mission.
Then, spend the night inside a gorgeous chic room at the Stanton House. It's conveniently located in the downtown area and is known for serving incredible food on-site along with having a stunning rooftop terrace.
Contributed by Victoria of Texas Travel 365
Louisville, KY
Louisville, Kentucky, is undoubtedly one of the most underrated cities in the United States, known for bourbon, baseball, and horses. However, Louisville offers much more beyond the Bourbon Trail and Kentucky Derby—including world-class museums, interesting architecture, and top-notch local dining.
Louisville includes several stops on the Kentucky Bourbon Trail, so you can't miss the chance to go bourbon tasting at one (or more!) distilleries in Downtown Louisville, like Old Forester, Angel's Envy, and Evan Williams.
You can also tour one of the city's incredible museums, like the Louisville Slugger Museum & Factory, Muhammad Ali Center, Kentucky Derby Museum, or Frazier History Museum. Or you can stroll around Old Louisville to see the highest concentration of restored Victorian homes in the United States!
Louisville also offers tons of unique places to eat. Get brunch at Biscuit Belly for a twist on the southern-style biscuit, make dinner reservations at Doc Crow's to enjoy a drink from the largest bourbon collection in the Western Hemisphere, or check out one of the cool speakeasies, like Hell or High Water or Pin + Proof for a nightcap.
If you want to be within walking distance of all the cool things to do in Downtown Louisville, it's best to stay on Whiskey Row. Hotel Distil, an Autograph Collection Hotel, is a luxury hotel in Downtown Louisville that pays homage to the city's bourbon history and has an on-site restaurant, Repeal Oak-Fired Steakhouse, that serves delicious breakfast, brunch, and dinner.
Contributed by Brittany from Travel by Brit
Fort Myers, FL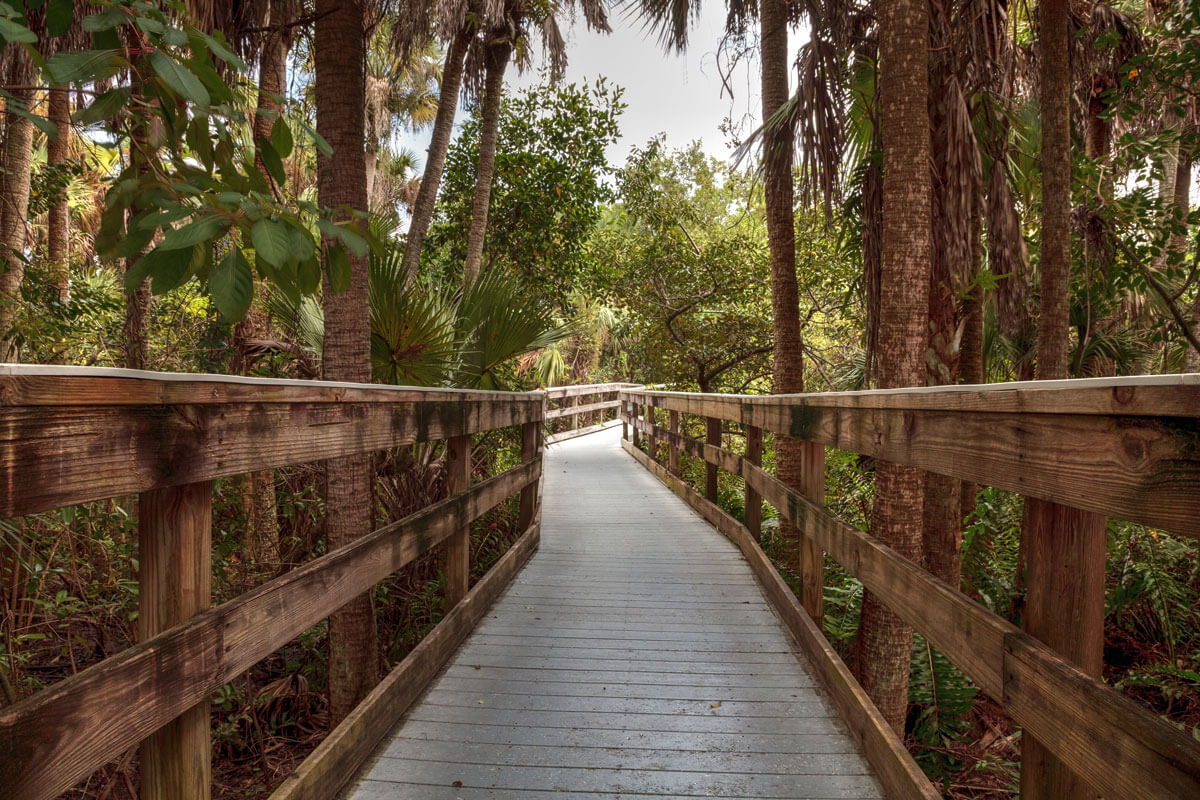 With most visitors to southwest Florida's Gulf Coast choosing Naples or Marco Island, the city of Fort Myers remains an overlooked and one of the most underrated cities in the US for travelers to consider.
Located where the Caloosahatchee River meets the Gulf of Mexico, the "City of Palms" has a wealth of historic sites to visit, easy access to hiking and wildlife reserves, plenty of fun on the water, and wonderful restaurants.
In the late 19th century Thomas Edison and his friend Henry Ford built their winter estates next door to each other in downtown Fort Myers. Visiting the homes is among the top things to do in Fort Myers, and includes 20 acres of grounds, a museum, and the original 1928 Edison Botanical Research Laboratory to explore.
The historic district of Fort Myers also has several architecturally unique neighborhoods and the lively River District Downtown with a performing arts center, cool vintage shops, microbreweries, art galleries, and restaurants.
Fort Myers is just minutes from Sanibel Island and Fort Myers Beach, where travelers can hop a sunset cruise, a boat tour to go dolphin and manatee spotting, or a full-day trip to the nearby islands of Cabbage Key and Boca Grande. For nature lovers who'd rather keep their feet on dry land, there is the Lee County Manatee Park, and it's free.
A stay at the Luminary Hotel or the Hibiscus House B&B in the River District are both excellent choices with stunning views of the Caloosahatchee River.
Contributed by Lori of Travelinmad
Kansas City, MO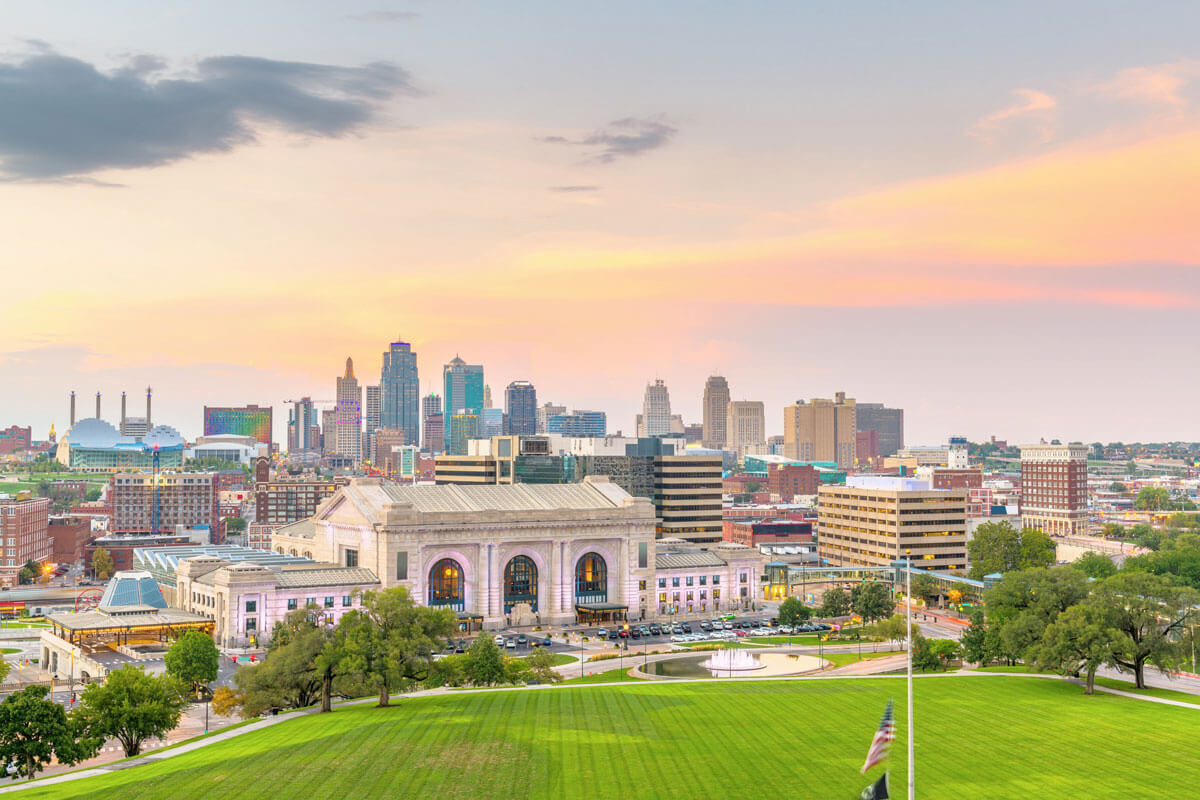 Any list of cool cities in the US to visit or underrated cities has to include this must-see destination in the Midwest. The city, which is in two states – Kansas and Missouri, is best known for being the City of Fountains, for Jazz, and for KC-style BBQ.
No matter which side of the city you become a fan of (there is a debate), there are a few quintessential things to see and experience when in Kansas City.
Union Station is a 100-year-old train station that is known for its architecture and many museums, exhibits, theater, and a planetarium.
The American Jazz Museum has interactive exhibits, a jazz club, a theater, and more. Kansas City is most known for jazz from the 1920s-1940s.
The Hallmark Visitors Center, which is free to visit, has the story of the founder of Hallmark with exhibits of greeting cards throughout the years.
While in Kansas City, a few more things that aren't as well-known, but are worthwhile, include a visit to the historical City Market, which has a farmers market and merchants; the Power and Light District, an 8-block neighborhood that has tons of restaurants, entertainment venues, and nightlife; and the Money Museum, which is free, where you can see their collection of historic coins, bills, and tour their vault.
Oak Street Mansion is an art-themed mansion built in the Georgian Revival Style and an excellent place to stay while visiting Kansas City. It has art galleries, plus it's within walking distance of major attractions.
Contributed By Sarah of Mukikapup's Travels
Homer, AK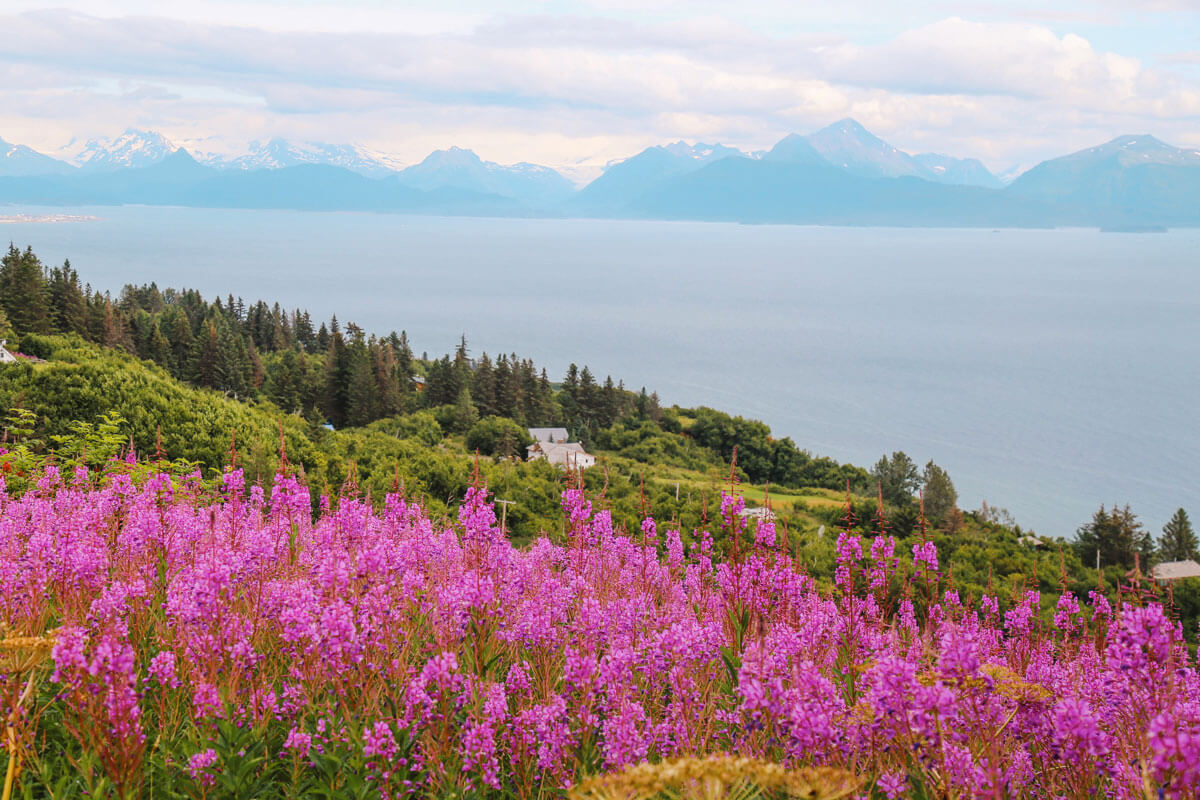 As far as underrated cities in the US are concerned, Homer, Alaska is definitely off the beaten path. In fact, its isolation from mainstream tourism is actually what makes it great! This lovely seaside town has maintained its pioneering spirit and unique charm since it was founded in the gold rush of 1895.
Homer is best known for seaside activities like fishing for halibut, sealife viewing, and tide pooling. You're not going to want to miss a Kachemak Bay wildlife tour while you're here.
The Homer Spit, which runs 4.5 miles into the ocean is a great place to spend an afternoon enjoying the cool ocean breeze while shopping and sipping on a cold beer overlooking the water. In fact, this town is so beautiful, it's where Alaskans go for vacation (now that's saying something!).
One of the most interesting things about Homer is their rich history of homesteading. Just outside of town you'll find one of Alaska's oldest operational homesteads, still running from its charter established in 1940. The Kilcher Homestead, located on 160 acres of land, is also the subject of a popular reality TV show called Alaska: The Last Frontier.
Unsurprisingly, this low-tech establishment does not have a very good website, so you should call them directly to book a day tour or accommodations to stay overnight (highly recommended!). Pro Tip: you can also book a camping (or glamping) spot on the homestead on Hipcamp.
Find this listing at Hipcamp. First time trying Hipcamp? Get $10 off your booking using my code: MEGANI4FA199 or booking through this link.
If homestead living is not your speed, the Land's End Resort is located at the end of the Homer Spit and is a lovely place to stay.
Contributed by Michele of Slow Traveling Cat
Mobile, AL
If you're looking for cool cities in the US, Mobile, Alabama needs to be on your radar. Mobile should especially be visited for its amazing food and culture. True to its nicknames of Port City and Azalea City, Mobile has a lot of water-based activities and attractions and it is absolutely gorgeous in the springtime.
Popular attractions and things to do in Mobile, Alabama include visiting several phenomenal museums, enjoying boating tours and kayaking the Tensaw Delta, and savoring superb Southern cuisine.
A few of the top museums include GulfQuest National Maritime Museum (covers the entire Gulf of Mexico region), USS Alabama battleship, Mobile Carnival Museum (learn about USA's first Mardi Gras), Hank Aaron's Childhood Home, Gulf Coast Exploreum, and Conde-Charlotte Museum.
Guided walking tours in Mobile are also really fun and two favorites are Bienville Bites Food Tour and Secret History Prohibition Tour.
One of the top chefs in the South (Duane Nutter) chose to move from Atlanta to Mobile and his restaurant Southern National should top the list of anyone who loves food. Other recommended restaurants include The Noble South, Noja, Dauphin's, Spot of Tea, and Wintzell's Oyster House. The most classic, old-school place to eat in Mobile is Dew Drop Inn, where the traditional order is a loaded hot dog with a side order of half fries and half onion rings.
The best place to stay in Mobile Alabama is the Battle House Renaissance—a member of Historic Hotels of America and housing Mobile's only four-star restaurant.
Contributed by Charles of McCool Travel
Milwaukee, WI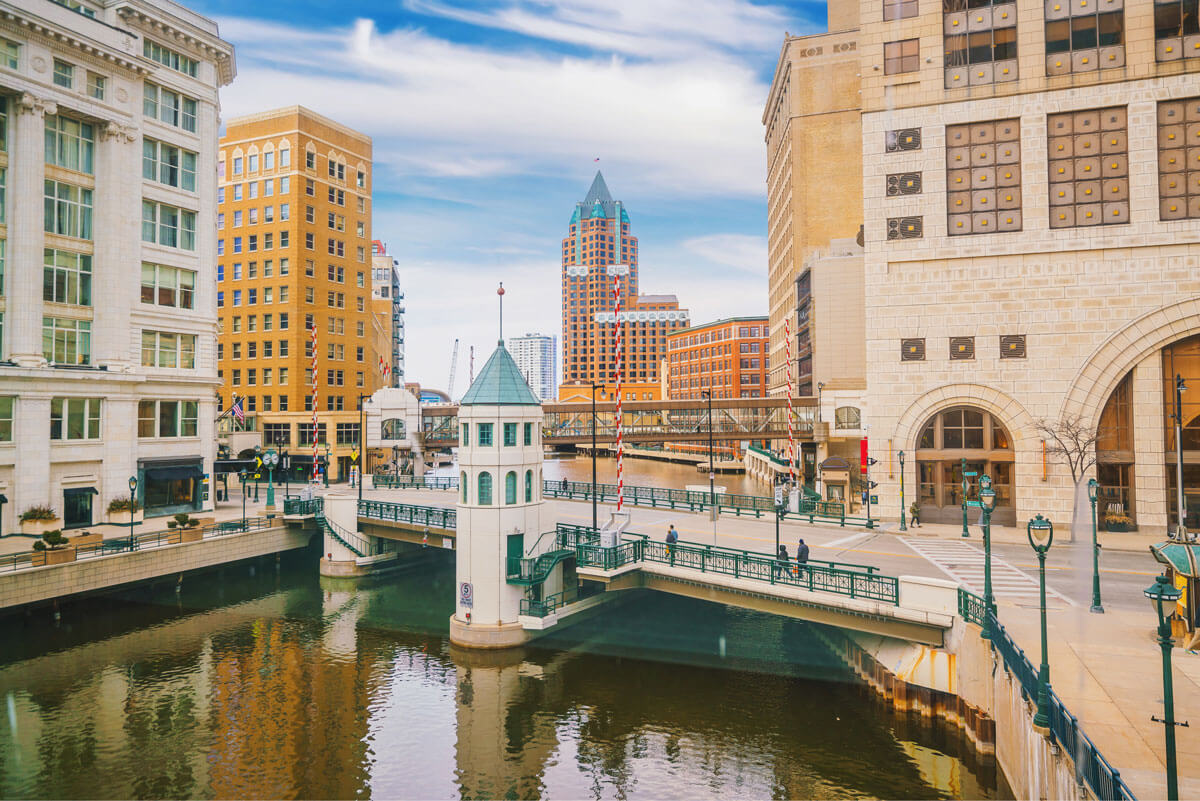 If you're looking for cool cities in the US to visit, Milwaukee, Wisconsin needs to be on your radar. The city is called 'The City That Beer Built', and is famous for its many major breweries. Even the name of their major league baseball team, the Milwaukee Brewers, reflects this key industry.
But there is a lot more to Milwaukee than just beer! You'll be surprised by all of the great things to do in Milwaukee.
Visit Old World Third Street, a little slice of Milwaukee's German heritage, and sample local favorites such as bratwurst, fried cheese curds, and, of course, beer.
Next, take a stroll along Milwaukee's Riverwalk and take in the cool public artwork, including the life-sized statue The Bronze Fonz.
You'll be amazed by all of the museum options in Milwaukee. The most impressive is the Milwaukee Art Museum — if you time it right, you can watch the museum's Burke Brise Soleil 'wings' open and close.
Looking for something unique to do? Milwaukee boasts the world's only Harley-Davidson Museum and the National Bobblehead Hall of Fame and Museum, which contains over 10,000 bobbleheads from around the world!
Nature lovers will enjoy a visit to the Mitchell Park Domes, a horticultural conservancy. This botanical garden's three eye-catching domes contain plants native to the desert and tropical climates, as well as gorgeous floral displays in the show dome.
Plan to stay at the vintage Plaza Hotel. This hotel has a perfect downtown location between the Riverwalk and the shore of Lake Michigan, so you can walk to most of Milwaukee's major attractions.
Contributed by Lisa of Waves and Cobblestones
Keene, NH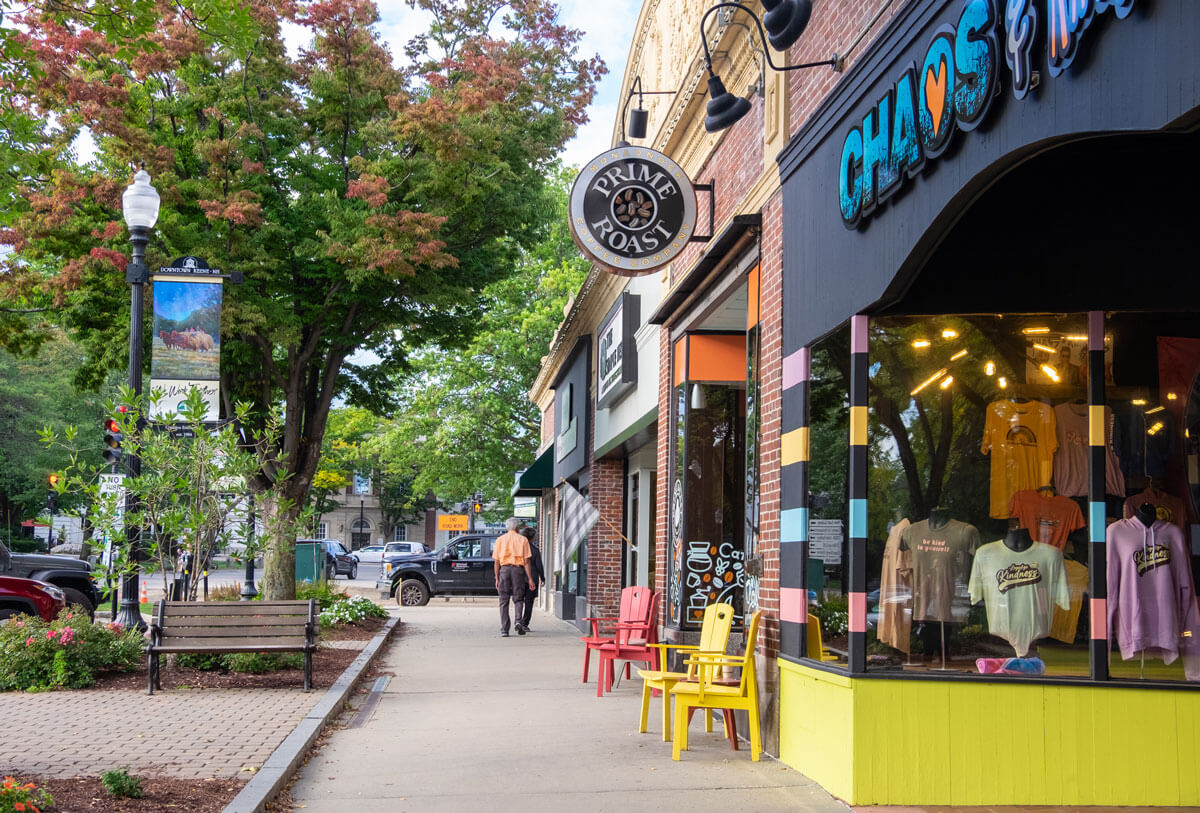 Keene, NH is one of the most underrated cities in the US located in gorgeous New England! Long dwelling in the shadow of the Granite State's most popular destinations, like the White Mountains and Seacoast, Keene is a college town with a big personality.
Keene is home to Keene State College, and like most college towns, student events bring a lot of culture to the city. Whether you want to catch a sports game, art show, or music performance, Keene's students are always putting on something interesting. October brings the Keene Pumpkin Festival, where locals once broke the Guinness World Record for most jack-o'-lanterns!
Some more fun things to do in Keene NH include visiting the three breweries in town (Branch & Blade comes up with some especially outlandish beers!), exploring the shops and restaurants of Keene's picturesque downtown, and dropping by Lindy's Diner, where just about everyone running for president stops at some point. Keep your eyes peeled for the Parrish Shoes mural — an homage to the Robin Williams Jumanji film, which was filmed here in Keene.
And if you love the outdoors, Keene makes a fabulous base. Just 30 minutes away is Mount Monadnock, one of the most climbed mountains in the US, and the Chester Rail Trail makes for a serene walk or bike ride through the woods. Winter brings snow tubing at Granite Gorge and cross-country skiing at Otter Brook State Park.
If you think good things can come in small packages, you're going to love your time in Keene. No stay in New England isn't complete without staying in a charming B&B. The Burrell House can be your cozy home away from home while you're in Keene.
Contributed By Kate of New Hampshire Way
Little Rock, AR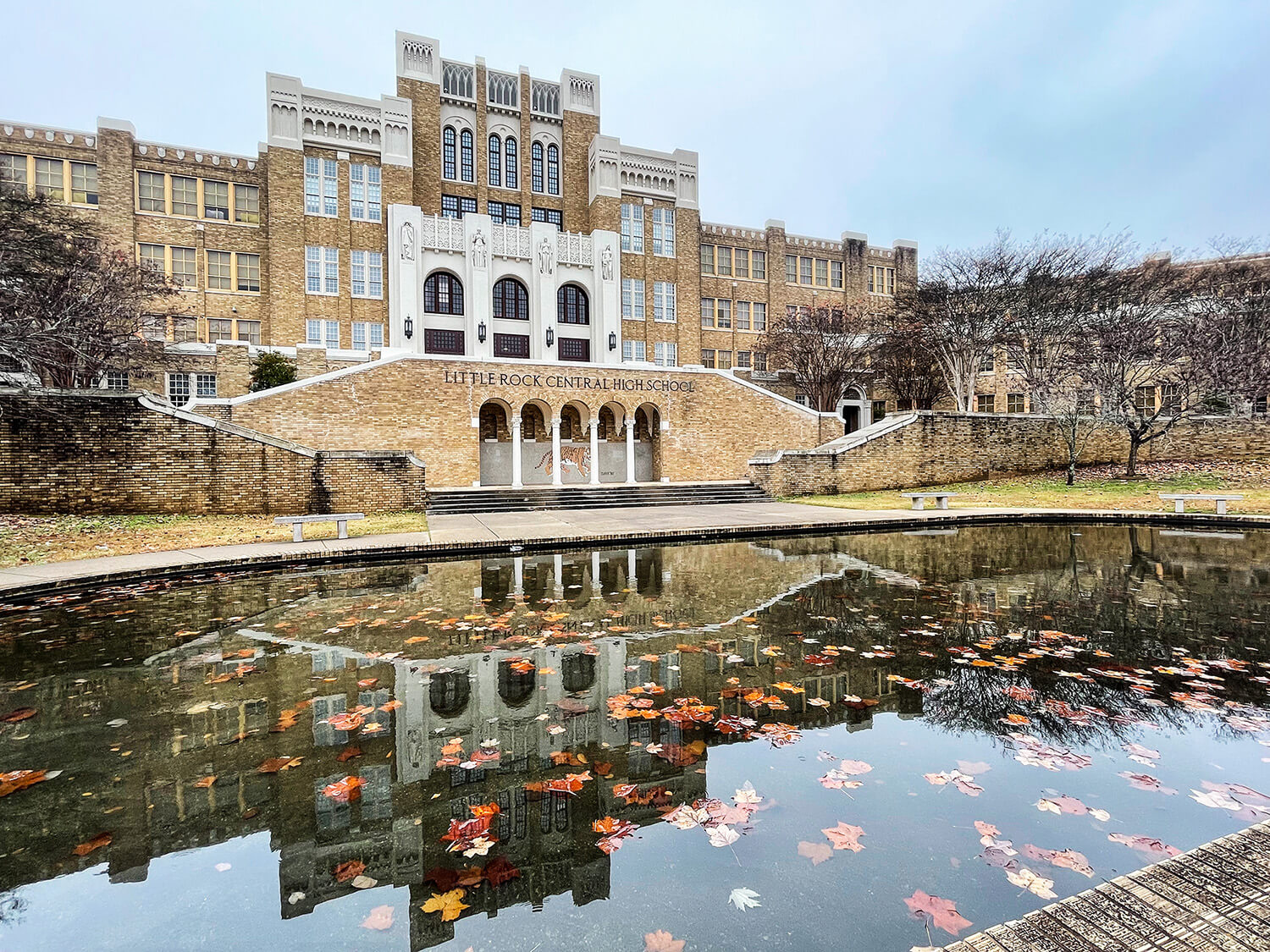 Little Rock, the capital city of Arkansas, is often overlooked by travelers but it has so much to offer and is without a doubt one of the most underrated cities in the US to visit. The city has unique historic sites, nearby hiking, and wonderful dining and drinking establishments.
One unique attraction in Little Rock is the Old Mill. This water-powered mill is modeled after a mill from the 1880s and was featured in the opening sequence of the classic film Gone With The Wind.
Another must-see place in Little Rock is the Little Rock Central High School. In 1957, nine Black students enrolled at this all-white school as a test of the Brown v. Board of Education Supreme Court ruling that declared segregation unconstitutional in schools. Today, there is a powerful museum across the street where you can learn more about the Civil Rights Movement.
When you get hungry, be sure to explore the SoMa District in the city. This four block area has some great bars and restaurants including Community Bakery, Root Cafe, and Rock Town Distillery.
Finally, head a few minutes outside of town and hike to the top of Pinnacle Mountain for incredible views of the surrounding area.
Stay in downtown Little Rock to be centrally located for the city's main attractions. One of the most iconic places to stay is the Capital Hotel, a historic hotel that considers itself the "Front Porch of Little Rock."
Contributed by Lydia of Lost With Lydia
Cincinnati, OH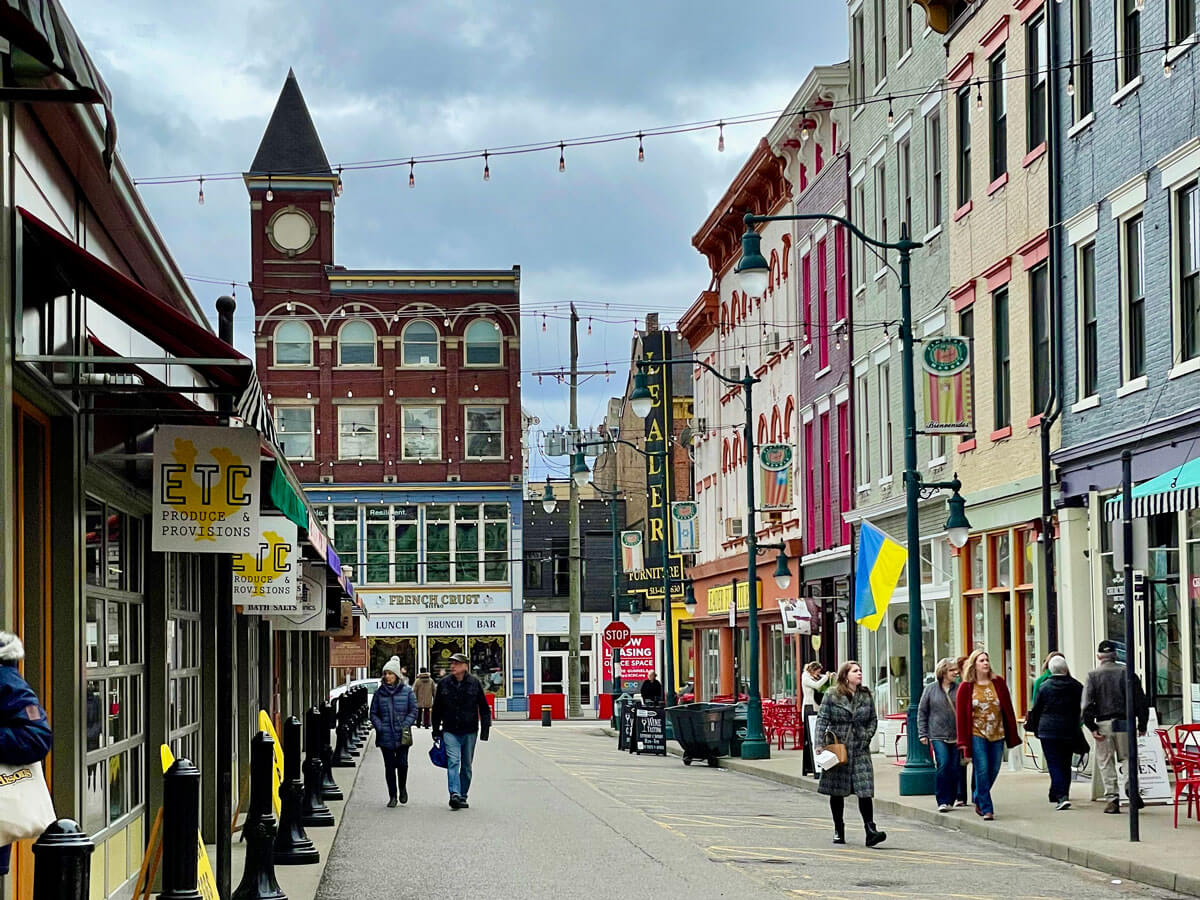 The first American city formed after the American Revolution, Cincinnati's literally the oldest Midwestern city you can visit. But don't write it off as another sleepy Midwestern city. From its location just across the Ohio River from Kentucky, Cincinnati serves up culture, history, and delicious food and is one of the most underrated cities in the US!
Take a walk along the River Walk to take in Cincinnati's many bridges, including the Roebling Suspension Bridge which served as the model for the Brooklyn Bridge.
Don't miss the National Underground Railroad Freedom Center to learn about Cincinnati's important role as the first city in a free state that many enslaved people reached pre-Civil War.
If you love small independent shops, you'll love Findlay Market in the Over-the-Rhine neighborhood where you can also soak up the influence of a 19th-century influx of German immigrants. And of course, you can visit the social media sensation Fiona the Hippo and her baby brother at the Cincinnati Zoo.
Cincinnati's dynamic food scene ensures a visit to the city is extra delicious. Yes, this is the city that puts chili on spaghetti noodles, but Cincinnati's culinary offerings also include blue soft serve ice cream cones and a strong beer hall culture.
Lytle Park Hotel in the Lytle Park neighborhood provides a convenient, and historic, place to stay. From there you can easily walk to a Cincinnati Bell Connector station. Not only is this electric street car completely free to use, it runs seven days a week, connecting downtown with the Over-the-Rhine neighborhood.
Contributed by Ada of Beyond Yellow Brick Blog
Flagstaff, AZ
Flagstaff is perhaps most famous as a gateway town to Grand Canyon National Park, which is only 80 miles away. However, Flagstaff has so much to offer it's worth basing here and spending time exploring this underrated city in the US.
Flagstaff sits right on the famous Route 66 and there are still several iconic buildings with bright neon signs from the 60s that conjure up the romanticism that Route 66 evokes. To fully experience the Route 66 fun in Flagstaff, stop by the Amtrak Train Station for a cool photo opp. at a hand-painted mural featuring the Route 66 logo and go country dancing in the historic Museum Club.
Flagstaff is also home to the 19th-century Lowell Observatory, one of the oldest observatories in the country. It was here that the dwarf planet Pluto was discovered in 1930 and it makes for a fascinating tour.
Also not to miss is the Museum of Northern Arizona, with exhibits on the history, geology, and ethnography of the region. It's a great place to learn more about the native American people who call this area home. Flagstaff is also a great place to buy native American handicrafts, including Kachina Dolls and pottery.
For a little more nature, head to The Arboretum at Flagstaff, a 200-acre space that is home to 750 species of native plants.
A top place to stay is the Little America Hotel Flagstaff, a modern lodge-style hotel set among a beautiful ponderosa pine forest with an outdoor pool.
Contributed by James from Parks Collecting
Grand Junction, CO
Located on the Western Slope of Colorado, Grand Junction is without a doubt one of the most underrated cities in the US. While Grand Junction is often seen as just a place to grab some food and spend the night before continuing a Colorado road trip, the city offers plenty of things to do.
Begin your trip in downtown Grand Junction where you can grab a bite in locally owned farm-to-table restaurants, check out a few galleries and stock up on some hiking gear before heading outside.
The best way to explore the art scene in Grand Junction are the First Fridays of each month when art venues and galleries in Grand Junction are open late until 9 PM. Locals and visitors gather downtown and it's an entire evening of events that's worth checking out if your timing works out. To take advantage of First Fridays, come to the Art Center at the corner of Seventh Street and Orchard Avenue in Grand Junction.
And if you don't make it to First Friday, you can enjoy the "Legends of the Grand Valley" sculptures on Main Street that commemorates prominent people who lived in Grand Junction throughout the years.
Grand Junction also offers access to many natural wonders. Unlike popular Colorado destinations in the Rockies, Grand Junction doesn't have larger crowds, so you will have plenty of space to enjoy all the outdoor opportunities. Summer is best for the outdoor adventures and Grand Junction is a great base for exploring the natural beauty of the area.
The most popular landmark in Grand Junction is Colorado National Monument, a scenic area that is home to red sandstone canyons and sprawling mesas. Colorado National Monument is a popular spot for hiking, and camping, and makes for a perfect escape from the city.
Another place to escape the summer heat in Grand Junction is Grand Mesa, the largest flat-top mountain in the world at 6,000 feet. To reach this natural landmark, take the Grand Mesa Scenic Byway that stretches for 63 miles past alpine lakes and stunning meadows dotted with wildflowers.
If you like wine, stop at Two Rivers Winery just west of downtown Grand Junction where you can sample locally produced wine. Since Grand Junction is in the high desert, the climate here is different from the Rockies. As you drive through the area, you will see several vineyards.
The most interesting hotel in Grand Junction to stay at is the Maverick Hotel, located near the Colorado Mesa University campus.
Contributed By Daria of the Discovery Nut
St. Petersburg, FL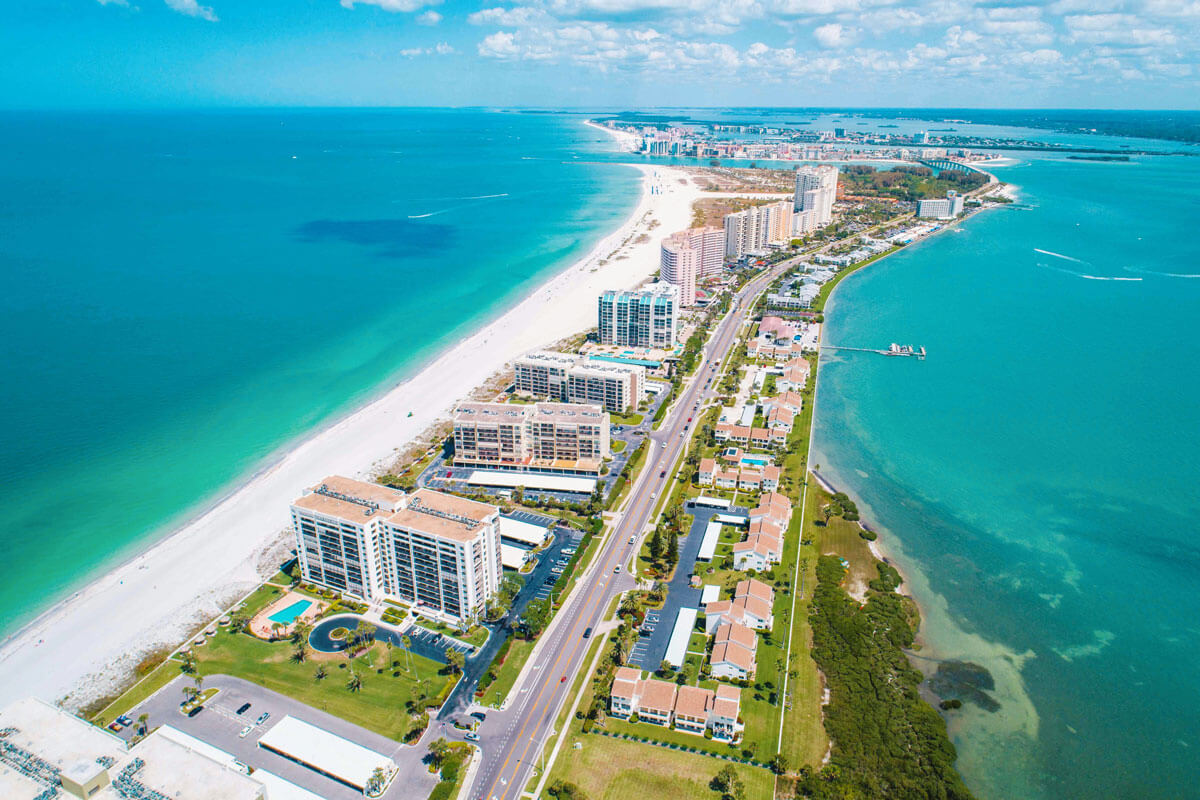 Cool cities in the US that should be on your radar include the quaint city of St. Petersburg, Florida, the perfect vacation destination for any type of traveler. Many visit as a day trip from Tampa, or just pass through to get to Clearwater Beach, but St. Petersburg is well deserving of its own vacation.
St. Pete, as the locals call it, is located on the west coast of Florida, on Tampa Bay, about an hour and a half from Orlando. The city is known for its art scene, relaxed hip atmosphere, and pretty beaches.
You'll want to visit for the art, so check out the Museum of Fine Arts and the Dali, both located in the heart of downtown. In addition to that, you must explore the extensive wall art located all throughout the city, or the artwork located on St. Pete Pier.
The St. Pete Pier is the new popular spot in town, jutting into the Bay, right off of downtown. The 3,000-foot-long pier features art, vendors, a splash pad for kids, a museum, and 5 different restaurants.
The city is also home to lots of live music, film festivals, and a large annual pride parade each year. There are two professional sports teams in town, the Tampa Bay Rays (MLB) and the Tampa Bay Rowdies (USL), and both are fun ways to spend an evening if you're a sports fan.
St. Pete will blow you away with the huge variety of restaurants thanks to its incredibly diverse population. Visit Bodega at lunch for a Cuban Sandwich and Trophy Fish at dinner for seafood and spirits in a hidden garden-style atmosphere.
At the end of the day you'll want to stay at the best spot in town, The Vinoy Renaissance St. Petersburg Resort & Golf Club. This historic "Pink Palace" is located in the heart of the city overlooking the bay and the beautiful new pier. There's a reason why this is one of the most popular winter getaways in the US, but it's really great all year long too!
Contributed by Tori of Tori Pines Travels
Albuquerque, NM
Albuquerque, New Mexico may not necessarily spring to the top of your next vacation destination list, but the desert city has a lot to offer and is without a doubt one of the most underrated cities in the US.
At the top of the list of attractions and events is the world-famous Albuquerque International Balloon Fiesta. The annual event takes place at the beginning of each October and is the largest hot air balloon festival in the world. Over 600 hot air balloons are featured each year, decorating the grand blue skies of Albuquerque with a photogenic tableau of bright colors and designs. Not visiting in October? Don't worry they have hot air balloon rides available throughout the year for an unforgettable aerial experience above New Mexico!
Albuquerque also has a rich history of Spanish and Native American culture, and you can find it on display in Old Town Albuquerque. This historic section of town features lovely adobe buildings and the San Felipe de Neri Church, which dates back to 1706.
The Albuquerque Museum is another notable attraction near Old Town. It includes a diverse collection ranging from Spanish artifacts to works by local artist Georgia O'Keefe.
Albuquerque also has much to offer for nature lovers. Petroglyph National Monument has excellent hiking trails and over 24,000 petroglyphs. The ABQ BioPark includes plenty of walking paths, a zoo, an aquarium, and botanical gardens.
For accommodations, Old Town Albuquerque offers visitors a good central location for seeing many of the main attractions. Two great options for where to stay in Albuquerque include El Vado Motel and the luxurious Hotel Chaco.
Contributed by Merry of Virginia Vacation Guide
Richmond, VA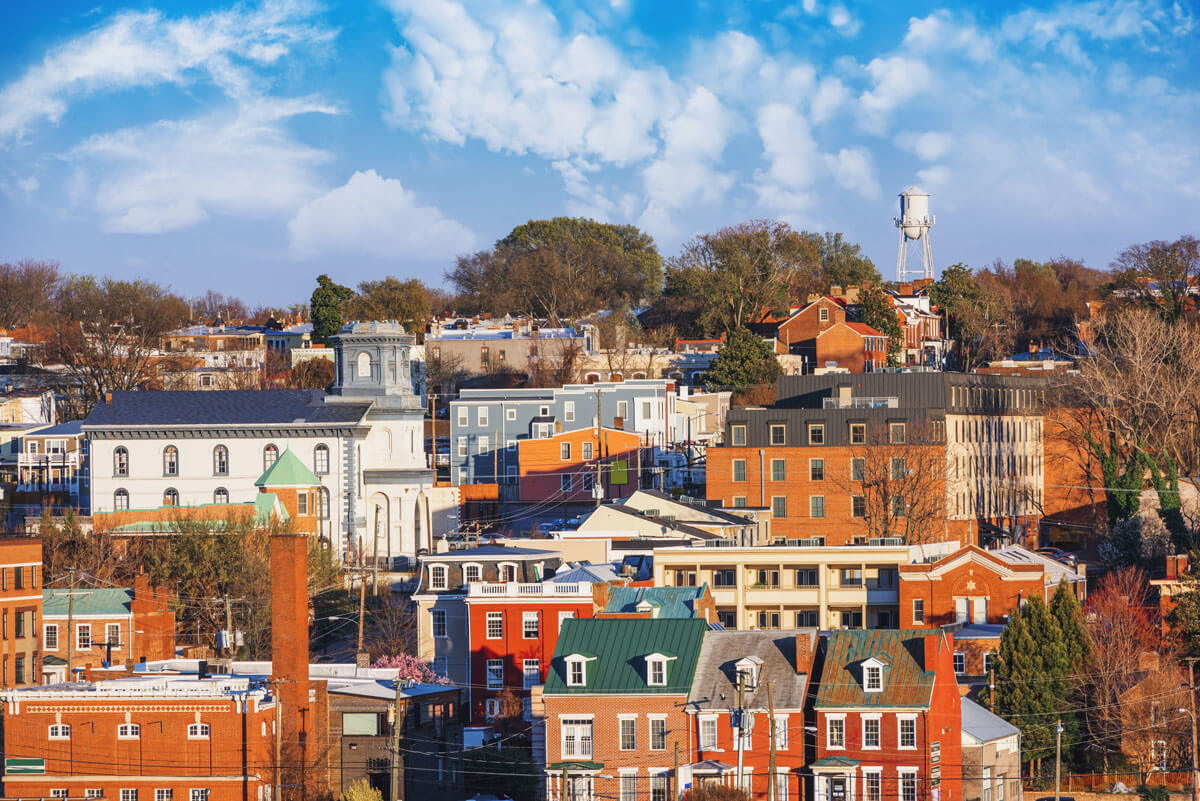 One of the most underrated cities in the US is Richmond, the state of Virginia's capital city. The city is home to over 40 craft breweries, half a dozen cideries, an undiscovered food scene, and is a short distance from some of the top wineries on the East Coast, making it a hub for those looking to dive into the state's gastro-culture.
A fantastic introduction to Richmond's creative side is the neighborhood of Carytown. Home to the famous Byrd Theatre, this colorful district has plenty of street art, specialty coffee shops, and small eateries.
Be sure to check out Carytown's great food scene by either joining a Carytown food tour or stopping at a few great spots on your own like Roastology (coffee), East Coast Provisions (a restaurant that specializes in Mid-Atlantic seafood), and The Broken Tulip (supper club-style restaurant with seasonal dishes). From Carytown, you can head along South Boulevard where you'll start entering the Museum District.
The Virginia Museum of Fine Arts and the Virginia Museum of History & Culture are two Richmond must-visits (especially if you're in the city on a rainy day).
Scott's Addition neighborhood is a fantastic nearby stop for craft beer lovers as it is the home of Veil Brewing Co. and Strangeways. ZZQ Texas Craft Barbecue is one of the most renowned stops for food in the city, and it is just down the road from the two breweries.
While Richmond is well-known for its pivotal role in US history, today, the city is becoming more and more synonymous with food, art, and culture. The city also has plenty of green spaces and opportunities for the active traveler.
Richmond has been voted one of the best cities for whitewater rafting with its natural class III and IV rapids on the James River directly in front of the city skyline, and you can put your skills to the test with Riverside Outfitters or River City Adventures. If you're looking for a more relaxing kind of day, stop by Maymont Park for a picnic and stroll around its beautiful gardens.
For staying in Richmond, check out The Commonwealth which is located in the heart of downtown, which is a great central location for exploring this underrated city.
Contributed by Megan of Virginia Travel Tips
Pittsburgh, PA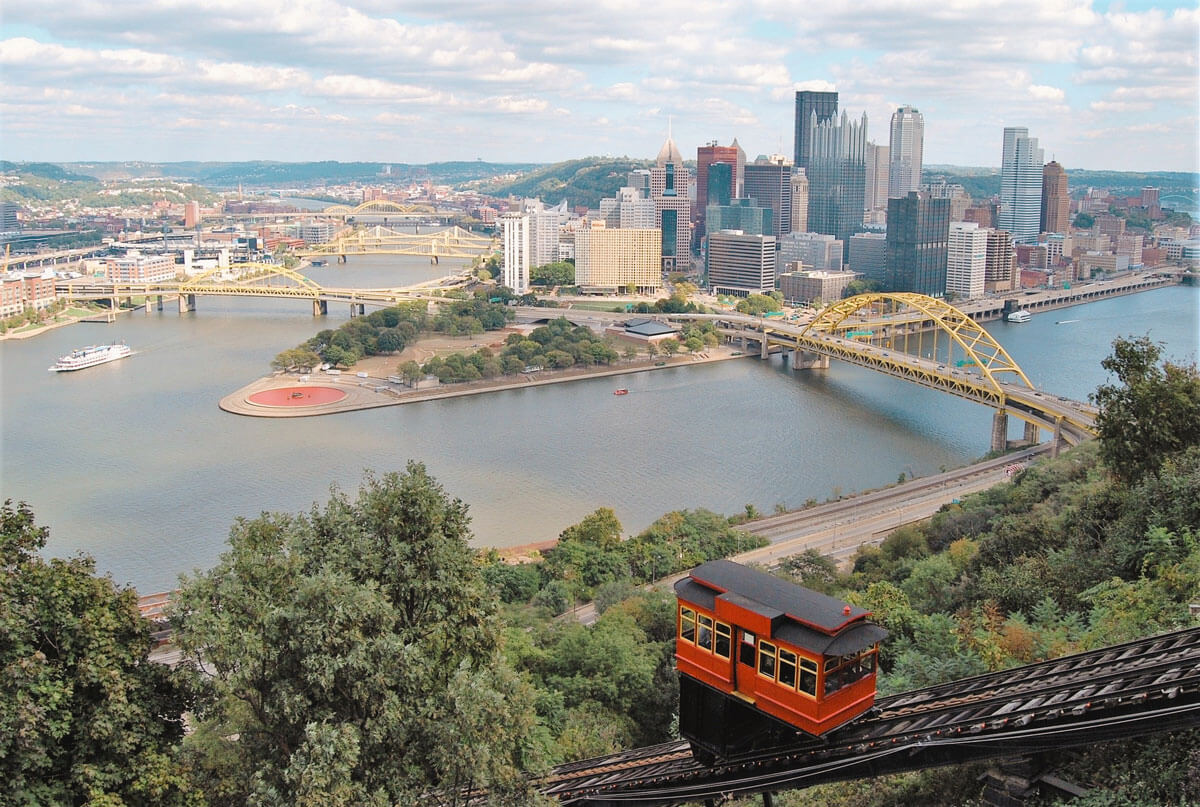 For cool cities in the US that are underrated, Pittsburgh definitely fits the bill. Pittsburgh still remains under the radar of many travelers as its former stigma of being one of the US' industrial hubs still somewhat plagues the city. However, Pittsburgh is now one of the greenest cities in the United States and is a place that has something for every visitor!
The Western Pennsylvania city is relatively small, with only 300,000 residents… making it feel a bit more intimate and humanly connected than other cities in the United States. You can easily head to a Pittsburgh Steelers, Pirates, or Penguins game and fit right in (if wearing the right attire!) and have a good time with the locals.
There are 90 neighborhoods in the Burgh and over 446 bridges – making the city appear just as dynamic as the people that call it home.
By visiting various places around Pittsburgh, you can take a deep-dive into the history of the metropolis. The 'Strip District' is a fantastic place to do this, as a walk down the street can lead you to Kaya (Caribbean food), Primanti Bros. (famous Pittsburgh eatery where they put fries on sandwiches), Little Bangkok on the Strip (Thai food), and Colangelo's Bakery and Cafe (Italian food). You'll also pass Polish and Lebanese grocery stores before running into some of the city's tastiest craft breweries, Helltown Brewing and Insurrection AleWorks.
Pittsburgh's hilly landscape makes it a great place to find incredible skyline views, and two of the top places to do so are Mount Washington and the West End Overlook (in the Elliott neighborhood). To reach some of the city's best viewpoints, be sure to take one of the two inclines in the city – the Duquense or the Monongahela Incline. The famous funiculars date back to the 1870s and are open 365 days a year.
Some famous (and unique!) places to visit in Pittsburgh are the Andy Warhol Museum, Heinz History Center, and the Pinball Perfection game room. There are hundreds of reasons why Pittsburgh is so underrated, but travelers will have to book a trip there to find out for themselves!
For a gorgeous, art-forward hotel stay with a central location, check out The Kimpton Hotel Monaco Pittsburgh for your stay.
Contributed by Megan of Great Lakes Guides
Cleveland, Ohio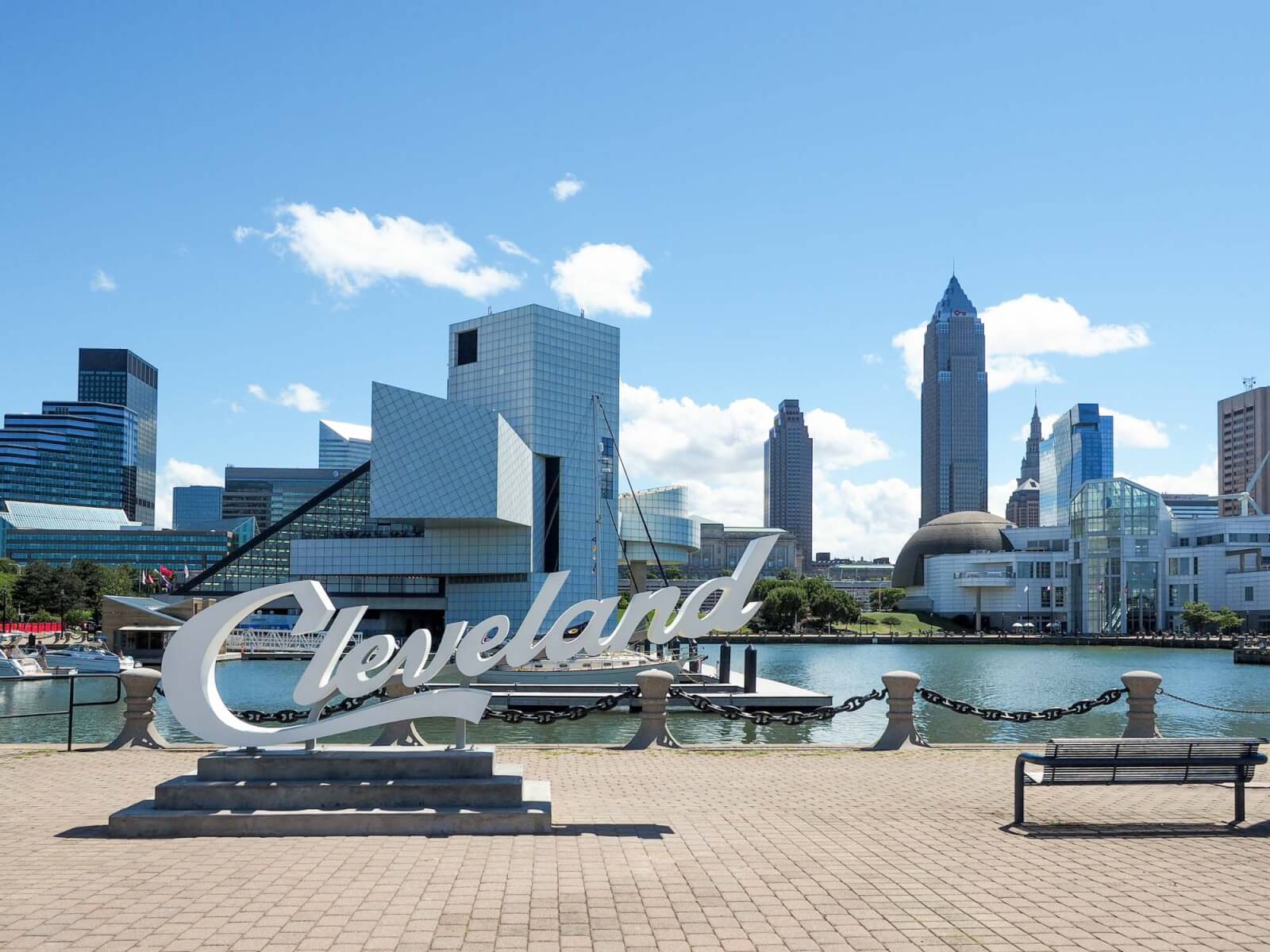 Cleveland is arguably one of the most overlooked and underrated cities in the Midwest (according to me, at least!). This city on the shores of Lake Erie in northeast Ohio has a long and storied history that has included oil barons, sports stars, superheroes, and more. It has experienced both booms and busts throughout the years, but currently is a young and vibrant city reinventing itself once more.
Cleveland is an affordable getaway, with excellent restaurants, more than 30 craft breweries, world-class museums and entertainment, and of course the lakeshore to enjoy.
A few of the most unique things to do in Cleveland include: visiting the Rock and Roll Hall of Fame, admiring art at the (completely FREE) Cleveland Museum of Art, shopping at the 100+-year-old West Side Market, seeing a show at one of the theaters in Playhouse Square, going for a hike or bike ride in one of the award-winning Cleveland Metroparks, and catching a Lake Erie sunset from the city beach (yes, we have beaches!) at Edgewater Park.
Ohio City, Tremont, and University Circle are all great neighborhoods to explore while you're in Cleveland, but I recommend staying downtown where you can admire all the city's best architecture. Hotel favorites include the Hyatt Regency at the Arcade (which is located in an 1890s shopping mall) and the Kimpton Schofield Hotel.
Contributed by Amanda of Cleveland Traveler
Oklahoma City, OK
Oklahoma City, or OKC for short, is one of the most underrated cities in the US because of its subtle art scene, incredible food, and easy-going nightlife. While Oklahoma City is both the capital of Oklahoma and the state's largest city, it doesn't feel crowded or busy because the city is spread out.
With that in mind, either stay at Bradford House, a small boutique hotel in Uptown, or 21c Museum Hotel in downtown so you don't have to spend so much time in transit during your trip.
One of the best things to do in OKC is exploring the quirky museums and unconventional art scene. In Oklahoma City, museums are the opposite of boring when you visit the American Pigeon Museum and the American Banjo Museum. Plus, the newly opened First Americans Museum explores the history of the Americas through the lens of the land's Indigenous knowledge and visitors can learn more about the thirty-nine Tribes that are currently in Oklahoma today.
On the more artistic side, Factory Obscura is an interactive art exhibit where visitors can done 3D glasses and get lost in a kaleidoscope maze of different themed rooms. Psychedelics aren't yet recreationally legal in Oklahoma, so Factory Obscura is the next best thing.
Oklahoma City is one of the lucky cities that lies along Route 66, one of the kitschiest highways in the country. Specifically, along the OKC portion, you can find oversized soda bottles and vintage Volkswagen beetles. End your nights by strolling through shops and boutiques in the Bricktown and Deep Deuce neighborhoods before hitting a comedy show at Bricktown Comedy Club, which hosts both local and celebrity comedians.
Contributed by Kay of The Awkward Traveller
San Antonio, TX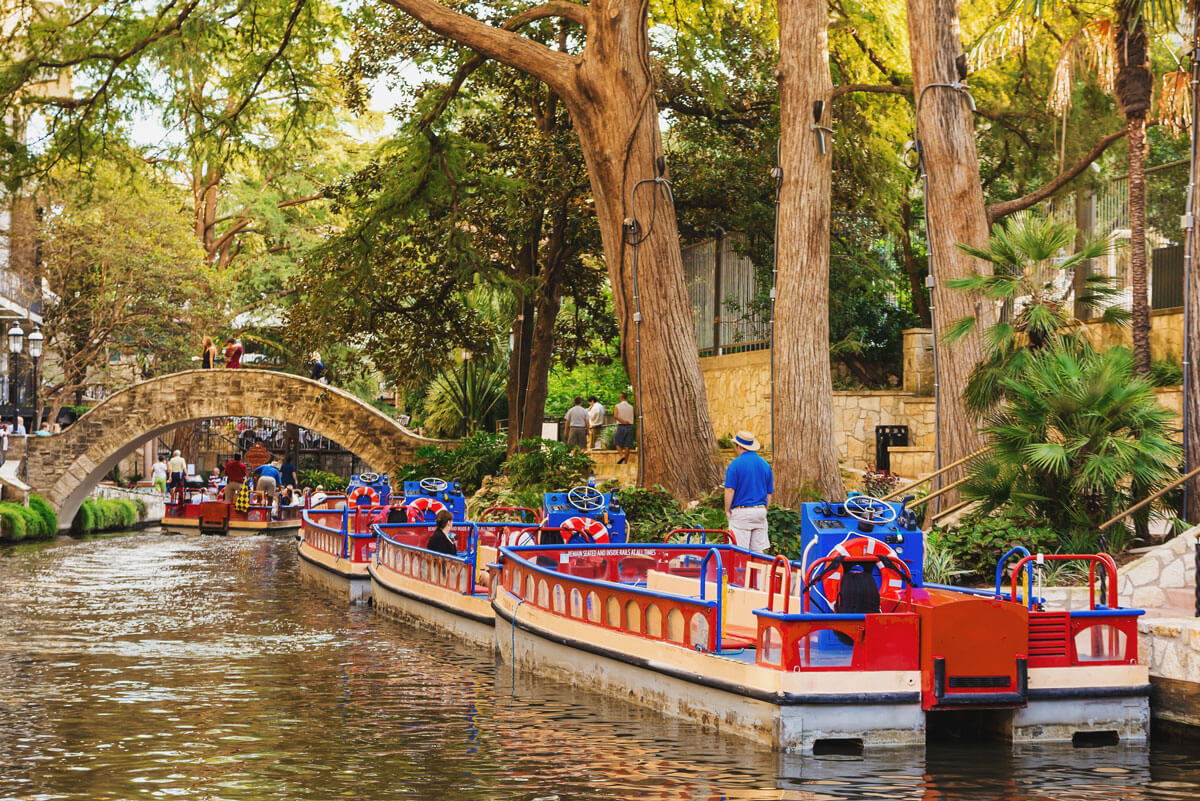 When it comes to Texas, Austin has become a major destination, meanwhile, nearby San Antonio has flown under the radar and is an underrated city in the US to check out. This underappreciated city also lies in the Hill Country, one of the most beautiful places in Texas and it is the perfect weekend getaway destination.
San Antonio played a major role in Texas' infamous history and battle for independence from Mexico. Everyone has heard the cry "Remember the Alamo!" and in San Antonio, you can see it with your own eyes.
Visitors can tour the Alamo along with four other historic missions. The National Historic Park stretches over 8 miles and can be seen by car, walking, or even by bike.
San Antonio also has a river that it has made excellent use of. The River Walk is one of the city's highlights, with restaurants and hotels lining the riverfront downtown. Grab a margarita and authentic Mexican food for lunch. Be sure to join a river cruise for the best experience.
Another must-visit site in San Antonio is El Mercado in Market Square. This is the largest Mexican market outside of Mexico.
The area around the Alamo is the best place to stay in San Antonio with historic hotels like the Crockett Hotel, The St Anthony, and the Menger Hotel. These hotels all lived through the city's turbulent history and are just steps from The Alamo and the River Walk.
Contributed by Erin of SolSalute
Chattanooga, TN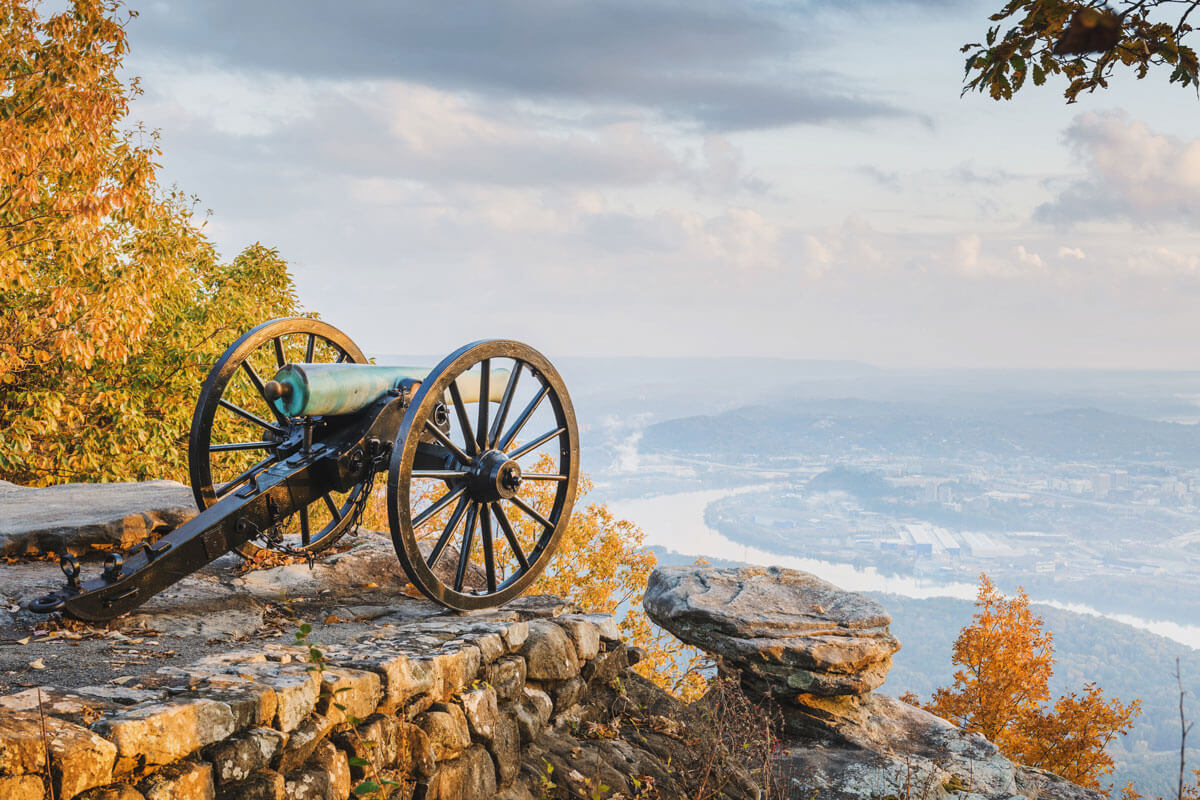 One of the most underrated cities in the US can be found in southeastern Tennessee. Chattanooga, located at the foothills of the Appalachian Mountains has plenty of outdoor activities to enjoy from hiking, traversing rocky caverns and underground waterfalls, boating across the Tennessee River, and driving out of the city for scenic hilly drives.
Not only is Chattanooga blessed with beautiful natural surroundings, but it also has a past steeped with history. From being a crucial city in the Civil War to have a packed history around railroads in the country.
One unique attraction in Chattanooga is the Ruby Falls tour, where you explore 1120 ft deeply buried waterfalls underground.
There are also plenty of other great outdoor attractions for adrenaline junkies like ziplining, biking mountain tracks, white water rafting nearby, and many forest trails for adventure lovers.
Chattanooga Downtown has a fantastic aquarium, Walnut Street Bridge, Tennessee Railroad Valley – Choo Choo Historic Railway station, Coolidge Park, Chattanooga Riverwalk, and Hunter Museum of American art on the beautiful river banks of Tennessee.
Lookout Mountain in Chattanooga has one spot in Rock City, where you can overlook seven states of the USA at one point.
Being a music and foodie city, Chattanooga hosts many music concerts all over the city. You will find several cafes and rustic restaurants in Historic downtown of Chattanooga with various cuisines to suit your tastebuds.
There is a free shuttle trolley tour by Chattanooga tourism to explore the historic downtown. You can also book private vintage carriage tours and historic walking tours all over the city.
The best place to stay in Chattanooga is near the Walnut Pedestrian Bridge or Historic Downtown, a great option here is the Hilton Garden Inn Chattanooga Downtown.
Contributed by Yutki of Travel With Me 247 Blog
Marfa, TX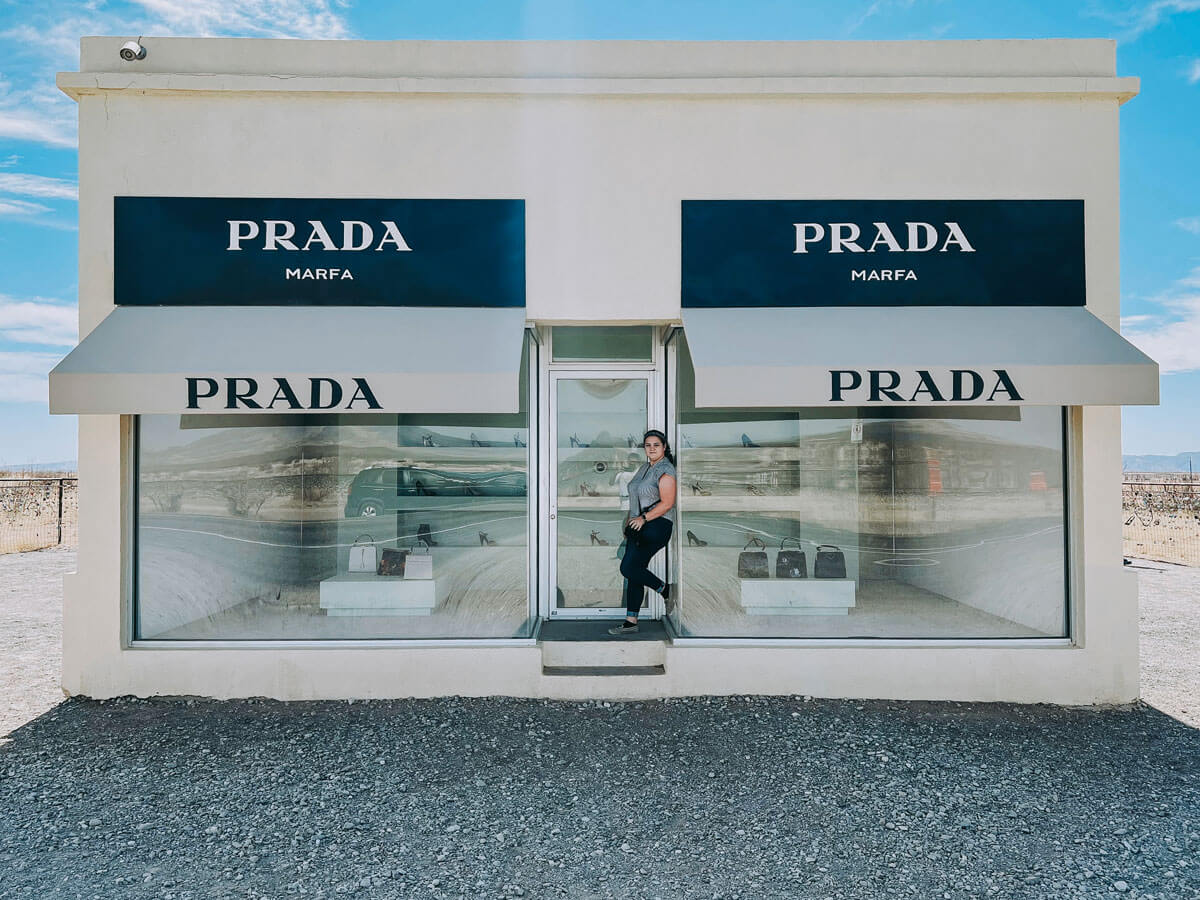 One of the most underrated cities in the United States is Marfa, Texas. Located in the middle of nowhere in northern Texas, this hidden gem took the internet by storm when it became the location of an art project that became an Instagram sensation.
This art project is a completely fake "Prada" store that appears to be located in the middle of nowhere. This exhibit was created in 2005 by two artists who wanted to make a commentary on the overconsumption caused by consumerism. The store, though it looks real, is made of completely biodegradable materials that will slowly deteriorate over time. The artists filled it with real Prada pieces and hope to see nature take its toll on the building over time. The art installation made the town famous, and it has grown around it.
Marfa is located on route 67/90 in Northwestern Texas and is the perfect quick stop on your way to the Guadalupe Mountains National Park or Big Bend National Park. Marfa has grown into an art-oriented town that is filled with galleries and hosts art festivals. The Prada store put it on the map, but the town itself has risen to the occasion.
There are now many different things to do in Marfa for anyone who enjoys art like visiting the Chinati Foundation which is a famous contemporary art museum and shopping at one of the cute boutique art stores like the "Wrong" store.
If you are looking for something extra unique to do, you can drive outside the city and wait for the Marfa Lights to appear. There is an urban legend that aliens frequent the area and cause the Marfa lights.
One of the best places to stay in Marfa is the Hotel Paisano which is centrally located and famous for housing both Elizabeth Taylor and James Dean while they were filming movies in the area.
Contributed by Shannon of Adventuring With Shannon
Portland, ME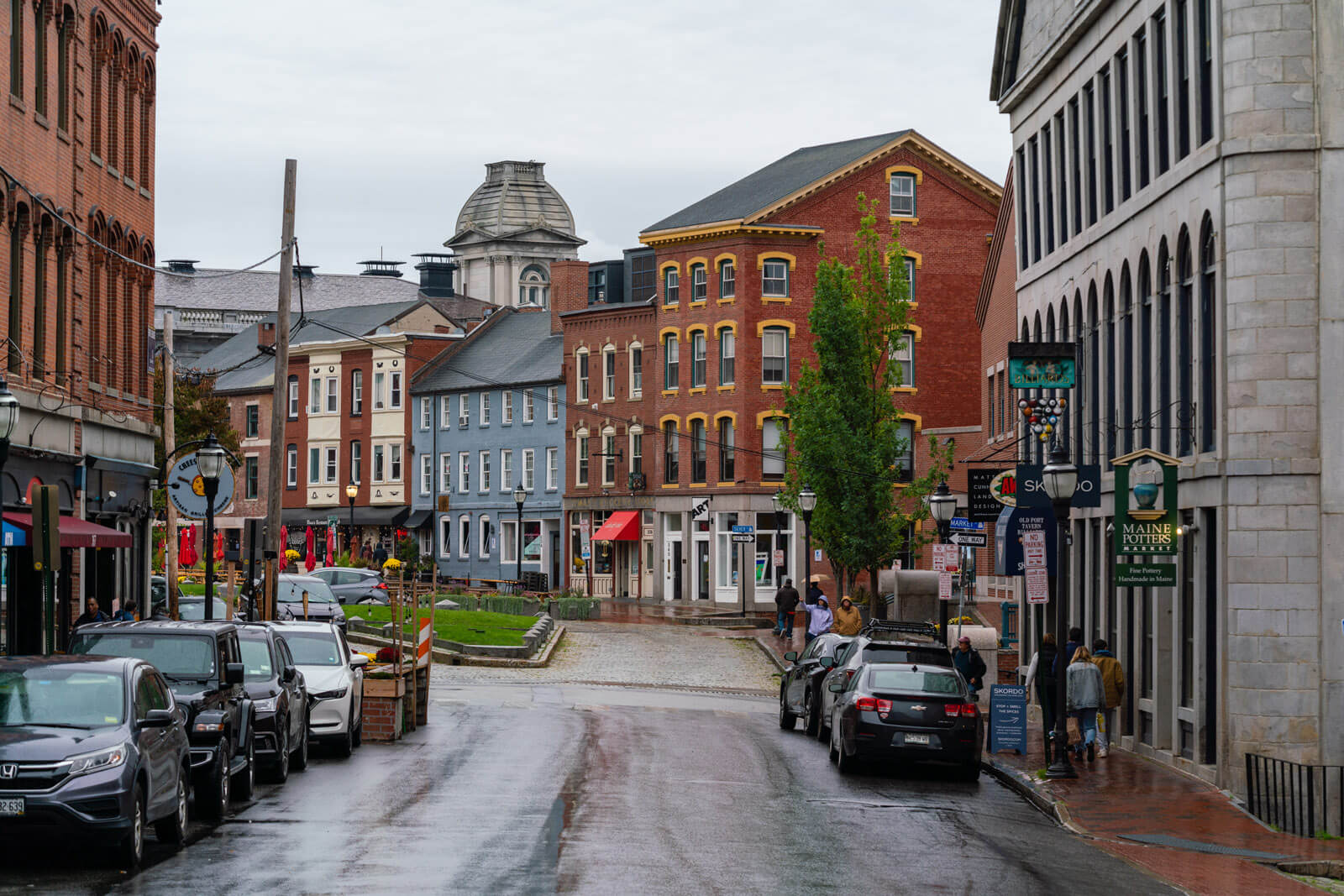 Cool cities in the US that also is on the coast and underrated is Portland, Maine! Right on the water, Portland is the perfect stop on any coastal Maine itinerary or it's worth visiting for a weekend getaway all on its own.
While the West Coast's Portland surely gets more attention, Portland, ME is certainly worthy of a city break… and in fact, you may find yourself liking it more than Portland, OR!
Portland is a small but scenic city known for its Old Port neighborhood, with cobblestone streets, funky boutiques, and delicious restaurants to dine in.
Be sure to grab potato donuts at the Holy Donut while you're in the Old Port — it's a local classic! And don't forget to eat a lobster roll while you're in town — The Highroller Lobster Co. is a crowd favorite.
Other fun things to do include visiting The Portland Museum of Art and taking a tour of the ornate Victoria Mansion, one of the most beautiful buildings in Portland.
You can also take boat trips from Portland to small islands off the coast of Maine, like Peaks Island, or sea kayak or SUP in Casco Bay for a view of the city from another angle.
The best place to stay in Portland is the Old Port neighborhood. One of the nicest hotels in the area is the Portland Regency Hotel & Spa, right in the heart of Old Port so it's walking distance to everything you'd want to see, plus it has all sorts of luxurious spa amenities to enjoy in your downtime!
Contributed by Allison of Eternal Arrival
---
Enjoyed this guide to cool cities in the US that are underrated? Bookmark for later or share the love below on Pinterest!