Looking for the best things to do in the Berkshires? We got you. The Berkshires, pronounced burk-sheerz, is a popular rural and mountainous region in Western Massachusetts bordering New York state famous for its outdoor recreation throughout the seasons including being a gorgeous place for fall foliage, winter sports, and summer getaways for New Yorkers (even more so than Bostonians) as well as a place that's inspired creatives for ages including being a cultural and entertainment hub in the Northeast!
Whether you're visiting in the summer for a countryside escape full of hiking and performing arts, visiting in the autumn for the incredible fall foliage, or the winter months for a fun-filled snowy getaway, this guide covers all the best Berkshires attractions and places to visit for an unforgettable getaway.
The summer months draw visitors to all the outdoor performance venues and the fall attracts visitors to the gorgeous fall foliage, not to mention both seasons are popular among outdoor enthusiasts as well. Then every season is amazing for those wanting to take advantage of all the incredible museums and charming small towns in the Berkshires.
With so many incredible things to do in the Berkshires, you can use this guide to help you plan your trip and decide what to do and see in this gorgeous region.
Disclaimer: this post contains affiliate links
Performing Arts & Museums in the Berkshires
Tanglewood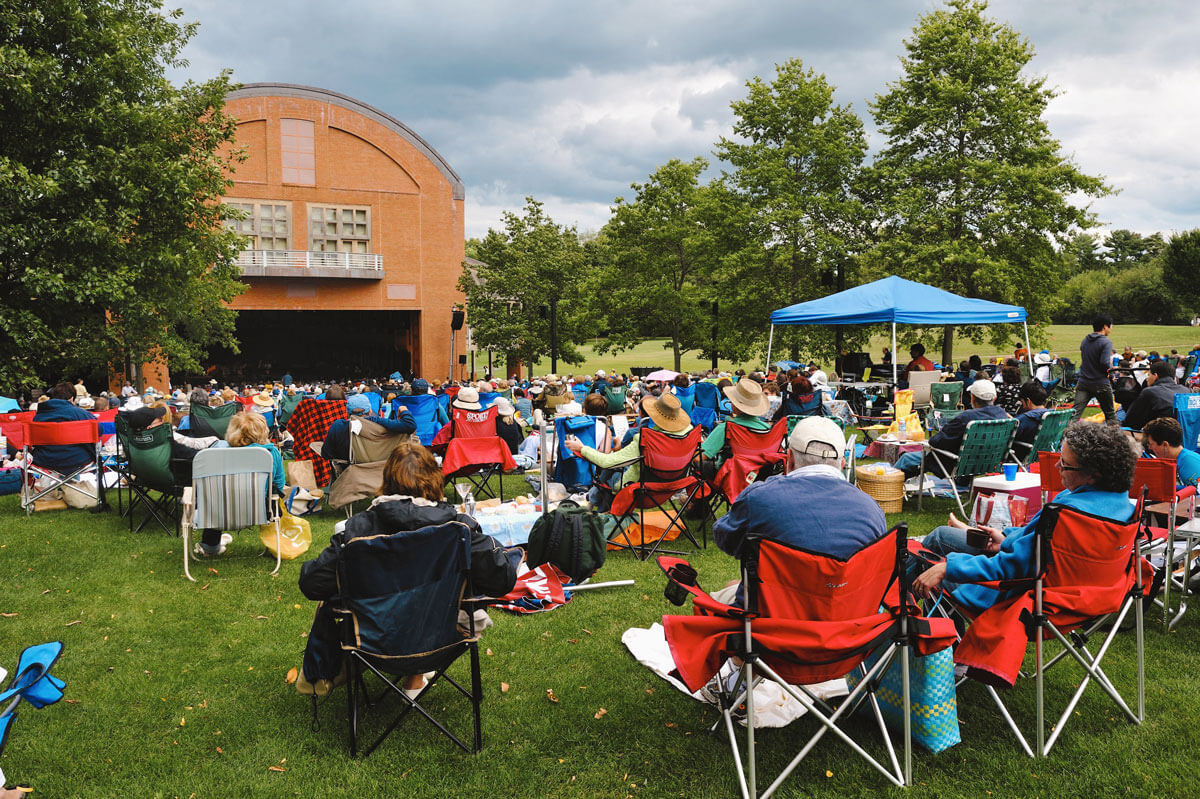 297 West St, Lenox, MA
The Berkshires is famous for its vast performing arts scene, but probably none more famous than Tanglewood. It's been the summer home of the Boston Symphony Orchestra since it opened in 1937. Today, attending a music or performing arts event here is one of the top things to do in the Berkshires.
You can see the Boston Symphony Orchestra here every mid-June through mid-September. For the rest of the year, Tanglewood is home to 3 different music schools, besides also hosting different music festivals, concerts, and other arts events.
The main indoor amphitheater of Tanglewood is The Koussevitzky Music Shed which was built in 1937. But there's also the Seiji Ozawa Hall was added in 1994 and today is recognized as one of the best concert halls in all of America.
Jacob's Pillow
58 George Carter Rd, Becket, MA
Another name synonymous with the Berkshires today is Jacob's Pillow. It was purchased by dancer Ted Shawn in 1931. Shawn changed the way we think of modern dance when he created the first all-men modern dance troupe. He had the vision to create a men-only dance retreat in the Berkshires. Today it continues to be a space for workshops, performances, and education around dance.
Events at Jacob's Pillow center around it's the Jacob's Pillow Dance Festival which covers 10 weeks during the summer season. You can attend 200 different events around all different styles and forms of dance, as well as workshops, exhibits, films, and more.
Throughout the year, Jacob's Pillow houses historical dance archives, community programs, and a fully professional dance academy. You can come and take a self-guided tour of the grounds. The farm itself dates back to 1780 and the whole place has historical landmark status. There are 2 different indoor performance spaces, outdoor spaces with panoramic views of the Berkshires, gardens, and historic buildings. It's just an iconic, rugged setting in the gorgeous New England countryside!
The Norman Rockwell Museum
9 Glendale Rd, Stockbridge, MA
One of the must-see Berkshires attractions is the Norman Rockwell Museum in Rockwell's hometown of Stockbridge, Massachusetts. The 20th-century artist was known for his impressive illustrations that covered a range of topics from adolescence and patriotism to race and civil rights.
You can visit the museum for a fee. It houses many of his Saturday Evening Post covers and an original collection of his most famous work. There's also Rockwell's last art studio that's been moved to the grounds.
If you're a fan of the artist, you'll want to book a guided tour to see it! Besides Rockwell, there are other featured artists including outdoor installations across the grounds.
Clark Art Institute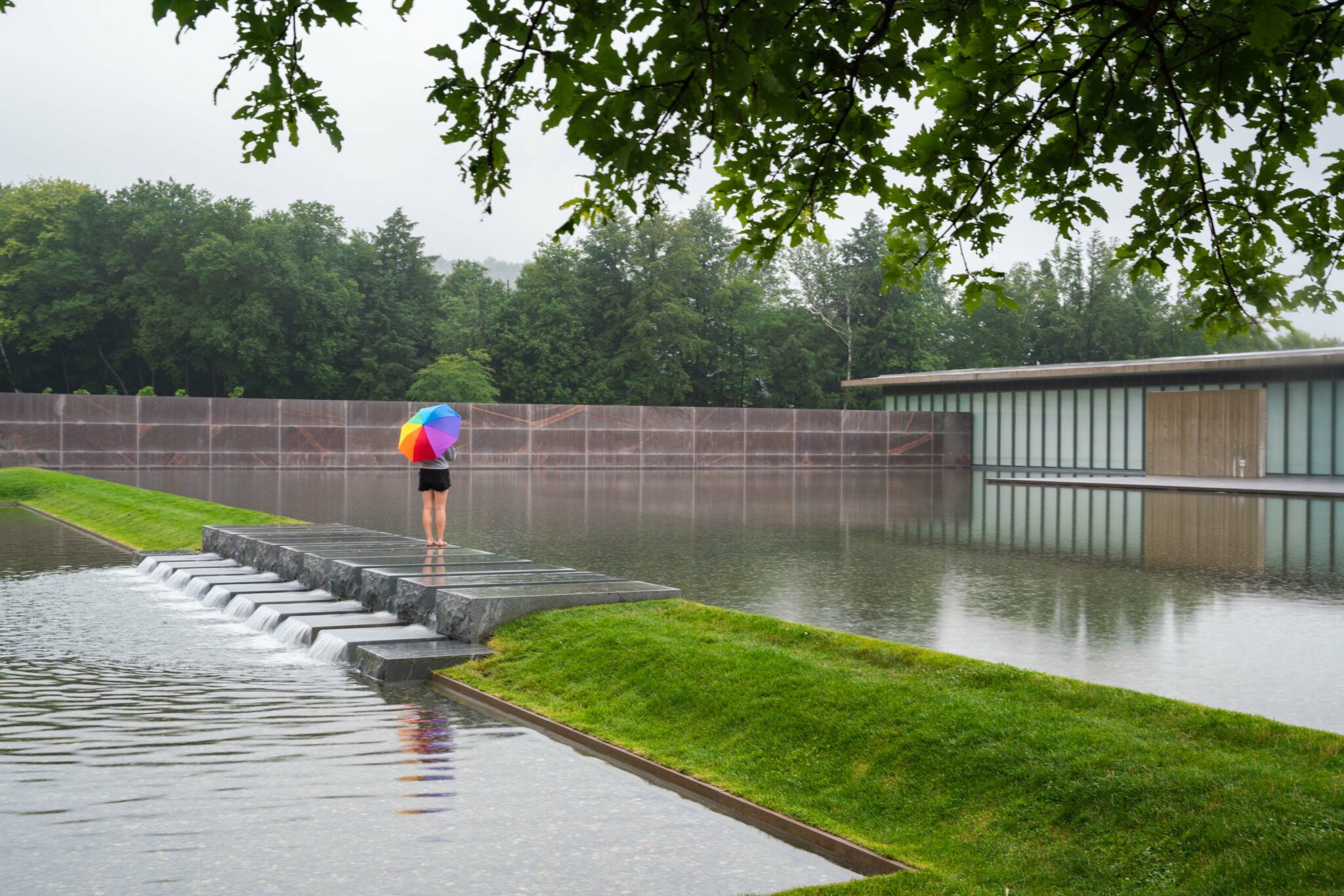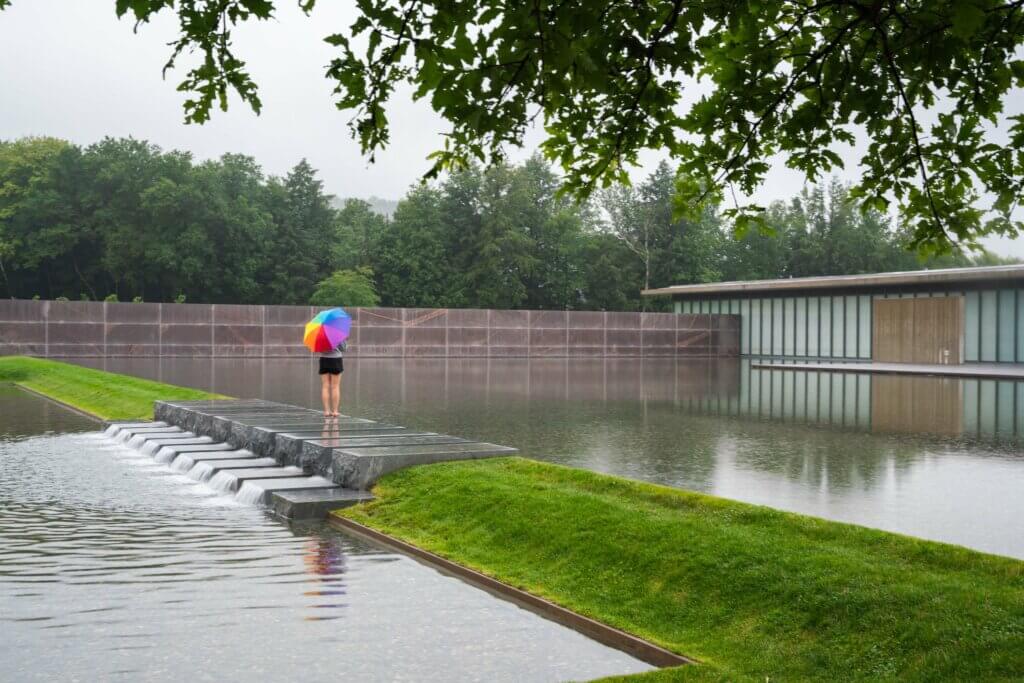 225 South St, Williamstown, MA
the Sterling and Francine Clark Art Institute was started in the 1950s around the couple's passion for 14th to 19th-century art from America and Europe. Besides the art museum, the institute also offers extensive research and academic programs covering art theory, art history, and living artists.
You can visit the museum and see famous sculptures and paintings from the likes of Renoir, Picasso, Rodin, and more, including any special exhibitions they may have on display during your visit. During our visit they had an excellent exhibit featuring works by Edvard Munch.
You can visit the museum or walk the beautiful 140-acre grounds around the institute. Enjoy lawns, reflecting pools, and nature paths featuring installations and outdoor exhibits. It's located on the grounds of Williams College in Williamstown.
Shakespeare and Company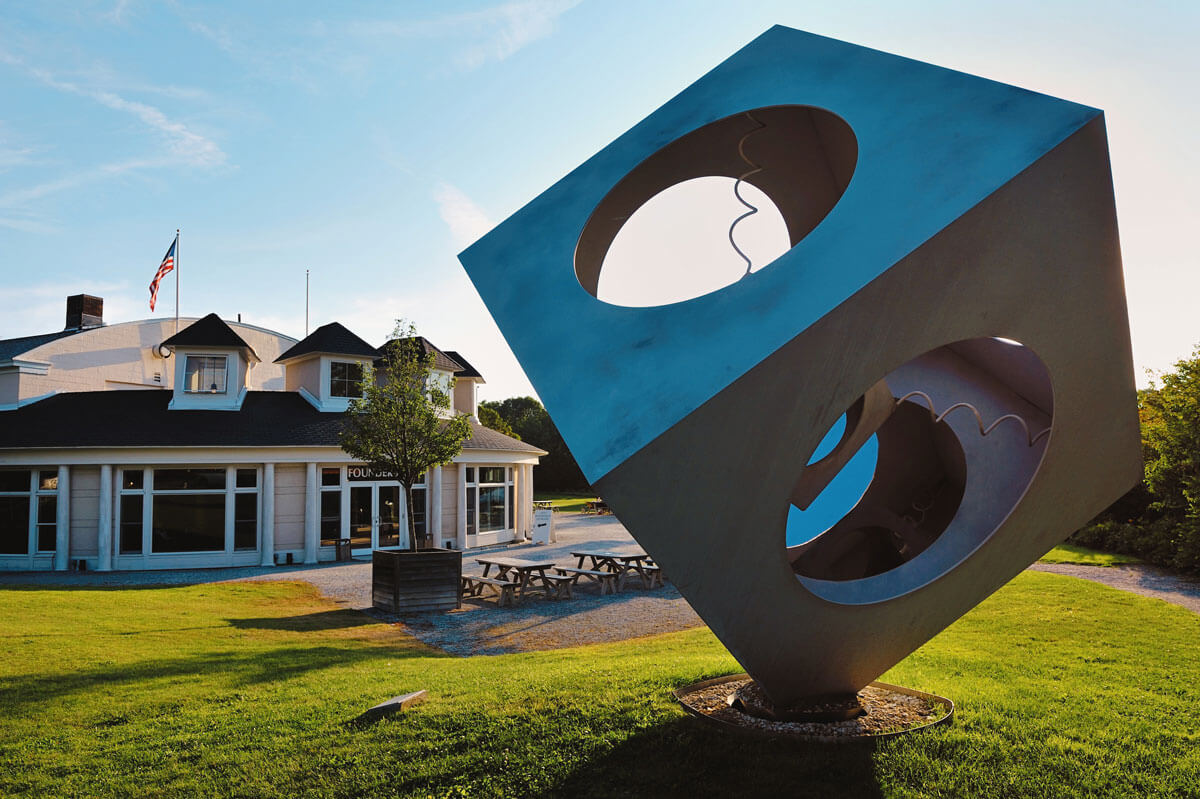 70 Kemble St, Lenox, MA
A trip to the Berkshires in the summer isn't complete without a night at Shakespeare and Company in Lenox, Massachusetts. The famous community stage does classic English theater, inspired by Shakespeare's work.
The program is world renowned for its summer performance season with Bard's most famous plays like Much Ado About Nothing and King Lear. But throughout the year, Shakespeare and Company offers actor training programs for youth and adults and puts on different plays at their 3 theater spaces.
You might even see someone famous! Over the years big names like Christopher Lloyd, Keanu Reeves, and Sigourney Weaver have performed on the stage.
Williamstown Theatre Festival
1000 Main St, Williamstown, MA
A show at the Williamstown Theatre Festival is one of the best things to do in the Berkshires. An award-winning summer theater program at Williams College, it's a prestigious, quality production that frequently attracts well-known stage and film actors.
In fact, the festival is known for having several productions over the years that went on Broadway, such as The Bridges of Madison County. Besides the summer program, throughout the year the WTF puts on their Community Works theater program, actor training programs, and play development workshops. And they are free for the public to attend!
MASS MoCa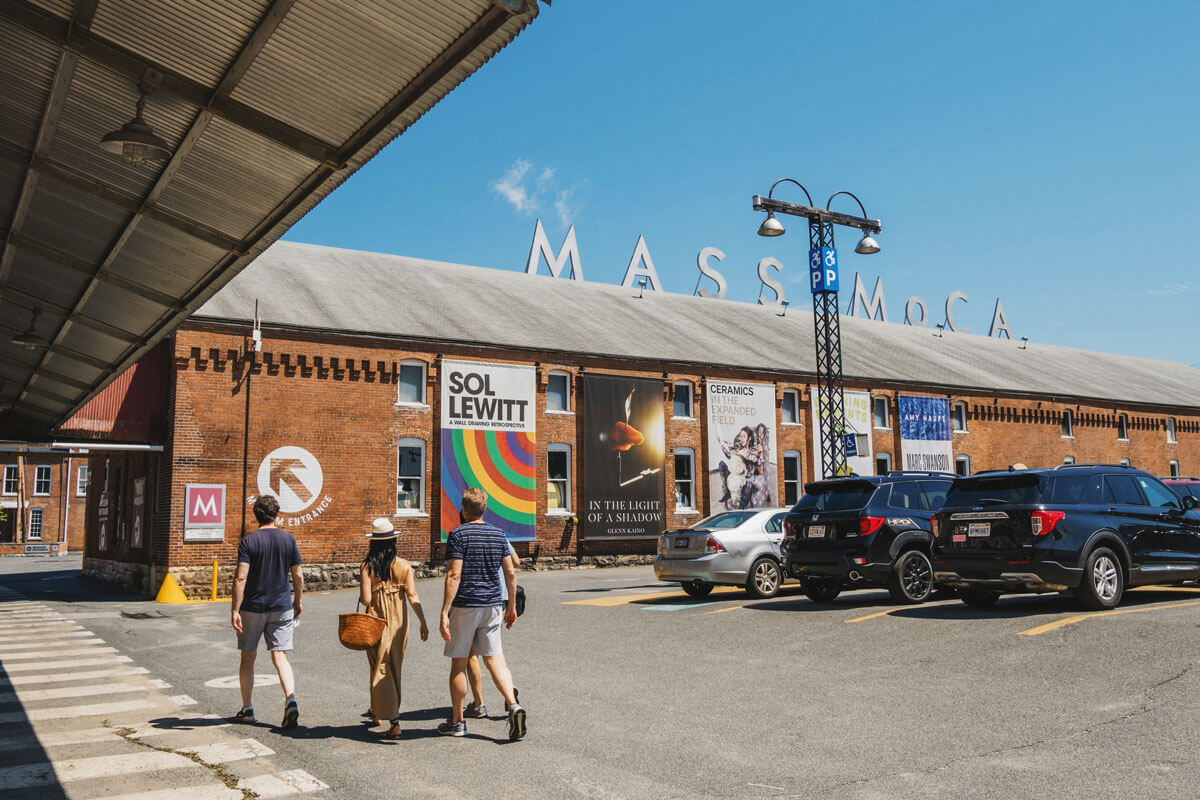 1040 MASS MoCA WAY North Adams, MA
The Massachusetts Museum of Contemporary Art (MASS MoCA) is a contemporary art museum and performance arts center. You can see art exhibits and performances in both indoor and outdoor spaces on the campus which is set at a giant, former factory complex. It's a fun place to explore the old industrial buildings that work like blank canvases for the work inside!
This might be one of our new favorite museums of all time. There are special exhibitions that require a reservation, like for a few of the James Turrell rooms, and during our visit there were also two incredible Virtual Reality experiences by artist Laurie Anderson. Artist EJ Hill had a rollercoaster installation that let one lucky registered guest per hour actually ride it!
You definitely will want to check out what special exhibits they have in advance and secure reservations if you can during your visit and plan around coming to the museum that way. We only got one reservation in advance and were able to walk into another later in the day when they accepted walk-ins. 
But even without the reservations, there were so many areas to explore and multiple slow art exhibits by James Turrell where you'll want to plan time visiting, some of his works require you to sit in a darker room for at least 15 minutes to give your eyes a chance to adjust to the dark room to see the work more vividly.
If you have kids, there's even a children's art gallery with hands-on exhibits and fun educational activities. You can also take a guided tour of the museum. Or attend one of their arts programs with classes for all ages. They offer art-making classes, workshops, and talks.
They also have restaurants and a microbrewery that you'll want to check out after spending hours here. We easily spent 3 hours and could have spent more.
Berkshire Museum
39 South St, Pittsfield, MA
The Berkshire Museum in Pittsfield has an impressive number of exhibits for a small-town program! It's a natural history and art museum with a mix of permanent and rotating temporary exhibits across 3 floors.
There are child-centered exhibits, a quality aquarium, and a reptile exhibit, as well as a small cinema. You can enjoy educational displays on local Berkshire artists as well as more in-depth exhibits on things like art theory, minerals and gems, and even the history of local first peoples.
Berkshire Botanical Garden
5 W Stockbridge Rd, Stockbridge, MA
Located just north of the town of Stockbridge is the Berkshire Botanical Garden. You can enjoy 24 acres with dozens of different kinds of gardens. Walk the paths and see vegetable gardens, herb gardens, flower gardens, rock gardens, orchards, and more. Or you can attend educational workshops or special events to learn more about the local flora.
There's also an art museum at the botanical gardens. It includes both indoor and outdoor art exhibits by contemporary artists who were inspired by nature. They usually include garden sculptures, photography, paintings, drawings, and fiber work. Some involve plants themselves like live sculptures, woven structures, or even quirky topiaries.
You can take self-guided tours or enjoy guided tours that are free with admission and are held June 1 through September 1 starting at 11 AM. Or you can just enjoy the gardens when their open between May 1 and October 31, from 9 AM to 5 PM every day.
Historic Sites in the Berkshires
Arrowhead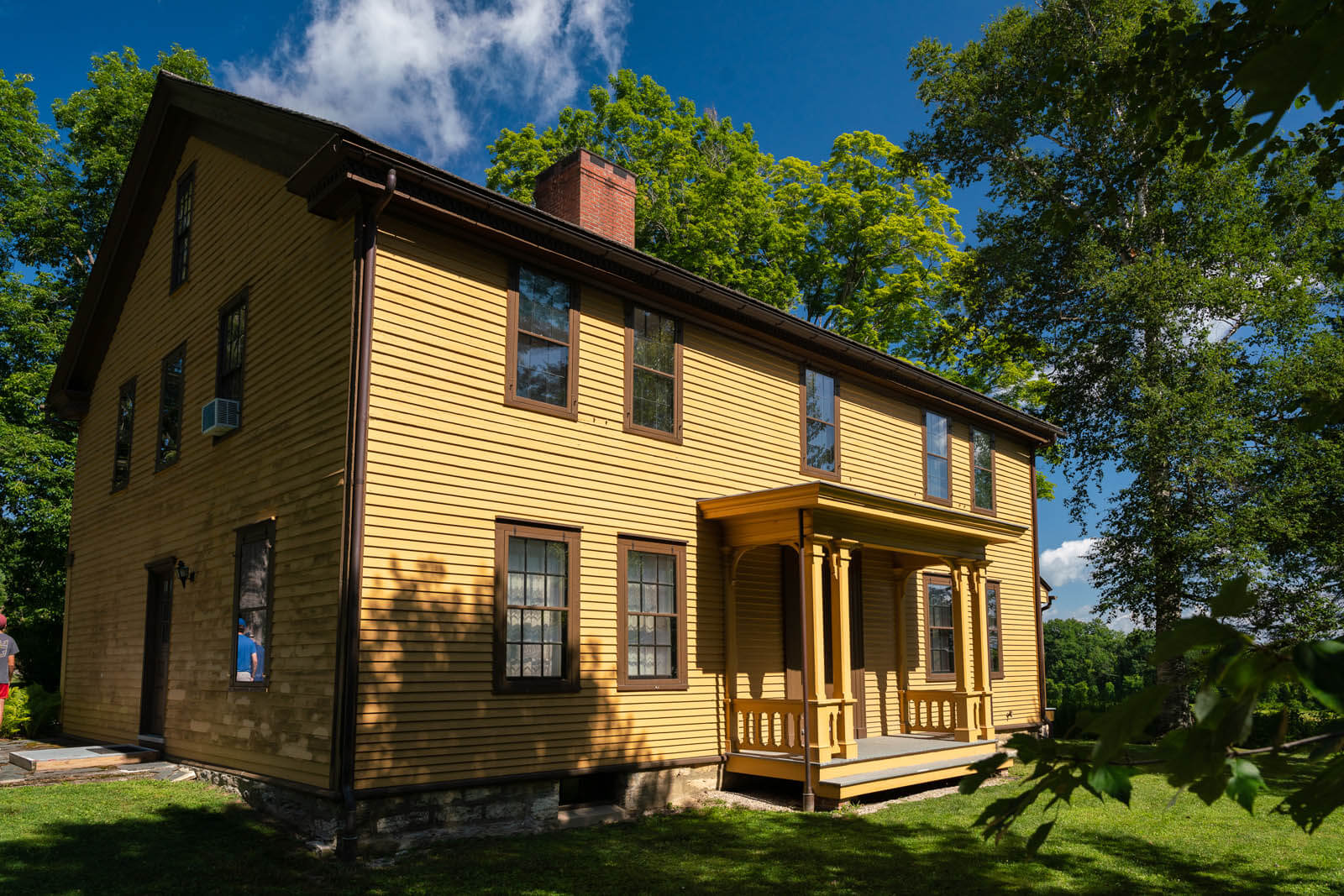 780 Holmes Rd, Pittsfield, MA
One of the top Berkshires attractions is definitely Arrowhead. The Berkshires region of Massachusetts has always inspired creatives, including Herman Melville. Arrowhead was his home near Pittsfield where he wrote Moby Dick and many other works of literature. In fact, the area surrounding Pittsfield, including Mount Greylock inspired and is mentioned in some of his writings.
Today you can pay a fee and take a guided tour of Arrowhead and see the very space where Melville wrote Moby Dick! Tours take place year-round Thursday through Monday from 10 AM to 4 PM. There are also natural trails around the property that highlight some of Melville's favorite views.
For writers who are true Melville fans, you might be interested in the "writer in residence" program at Arrowhead. For a season, you can stay in one of the cabins next to Arrowhead. Let the same views that inspired Melville inspire your next publication!
Hancock Shaker Village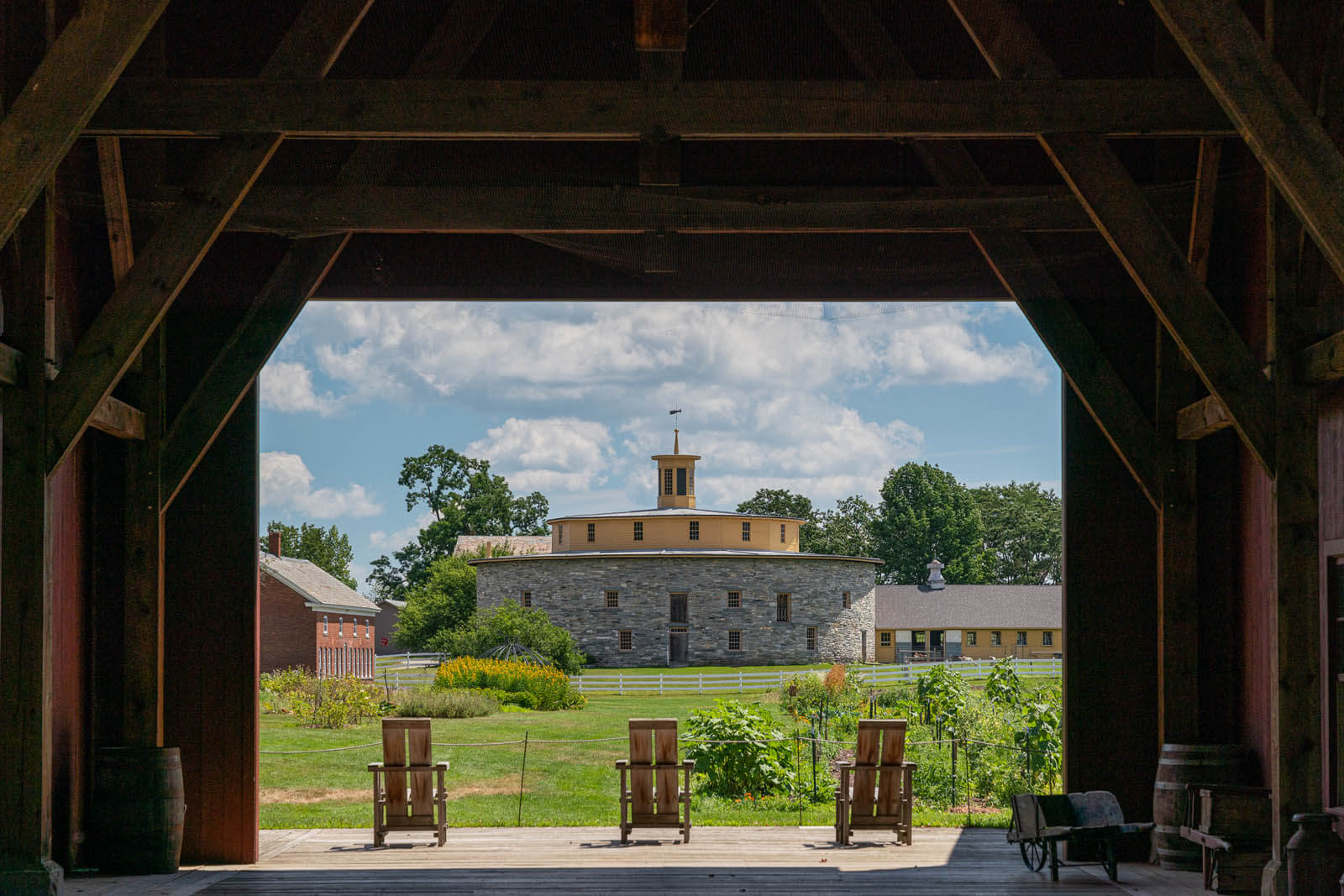 1843 W Housatonic St, Pittsfield, MA
While there are Amtrak trains that come to Pittsfield, the Berkshires is a very drivable destination. In fact, we recommend you have a car, especially if you want to visit places like Hancock Shaker Village. It's located about 15-minutes west of Pittsfield and it's a must-see!
This is a living museum that features actual buildings where a small Shaker community lived for almost 200 years. Walk through the village and see how this small Christian sect lived. Their beliefs and practice were interesting. They basically lived in a self-sustaining commune, practiced pacifism, believed in gender equality, had anti-slavery views, and were also celibate (believed in adoption but I am left to wonder if their celibacy is why this religious group is pretty much non-existent with only around ~2 known Shakers left).
There's a farm and petting zoo where you can learn how cows are milked and how to churn butter. Walk through the museum or attend a talk about how to care for sheep.
There are also regular events at the village such as fall festivals, ghost tours, and craft workshops. You can visit every day between 10 AM and 5 PM with an admission fee.
Chesterwood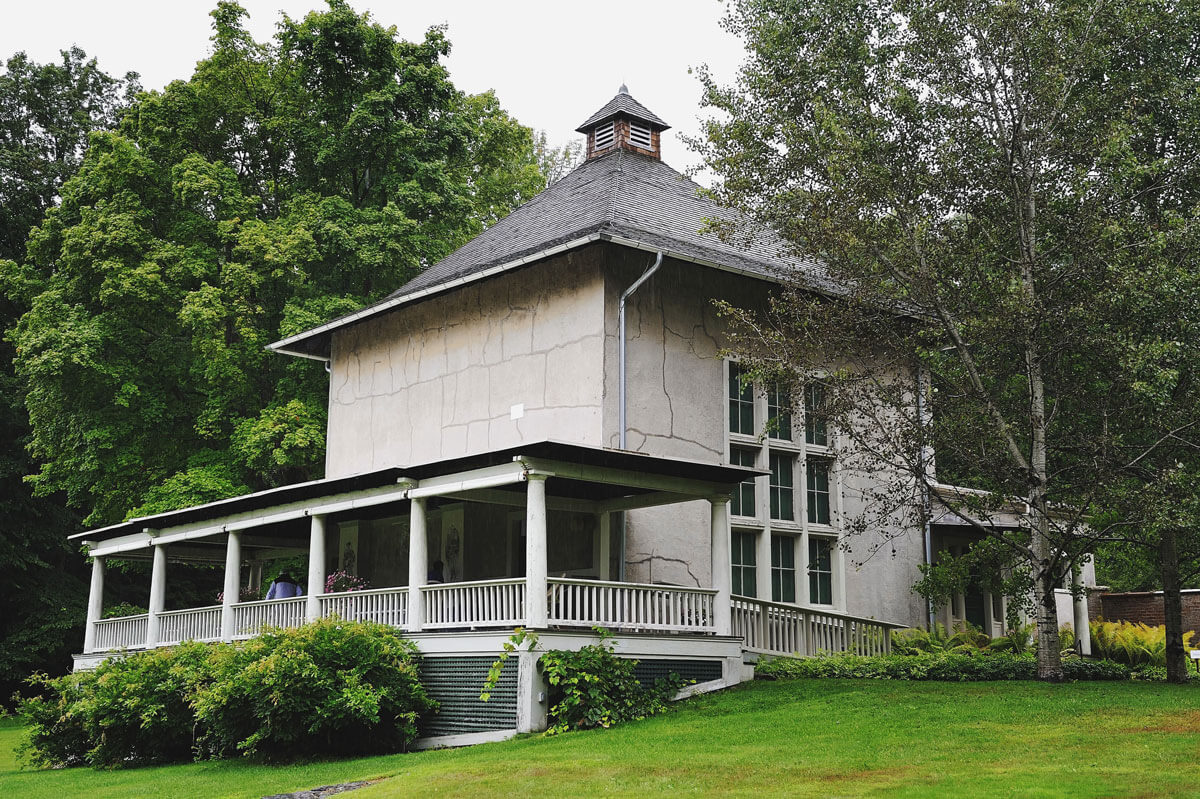 4 Williamsville Rd, Stockbridge, MA
Just outside of Stockbridge is Chesterwood, the home of famed American sculptor and Concord native, Daniel Chester French. He's most famous for creating the statue of Abraham Lincoln that sits in the Lincoln Memorial in Washington DC.
In 1896 French bought Chesterwood, a farm that dated back to the 1820s. He built himself a studio that remained his main studio until his passing in 1931. It's exciting to know that he drew up the original plans for the Lincoln Memorial right there in that studio!
The farm is a historic landmark that functions today as a museum gallery of French's work, as well as a sculpture garden featuring modern American sculptures. May through October you can attend artist talks and learn about a seasonal artist residency program. The old barn has been converted into the museum and a visitors center. When you pay an admission fee you can take different tours of the grounds.
Naumkeag
5 Prospect Hill Rd, Stockbridge, MA
American history lovers looking for things to do in the Berkshires need to see Naumkeag. This Gilded Age mansion was once the summer home for the family of New Yorker Joseph Choate. He was a big-time attorney and US Ambassador to Great Britain.
Take a tour of the 44-room mansion and see how the house would have looked when the Choate family lived there in 1885. You can also tour the 8-acres of themed gardens filled with statues, deep blue fountains, stone terraces, and stairways, all with amazing views of the Housatonic River Valley.
And if you're there in the springtime book tickets for the Daffodil and Tulip Festival! The Incredible Naumkeag Pumpkin Show is held here during the entire month of October, and at Christmas, you can see the Winterlights.
The Mount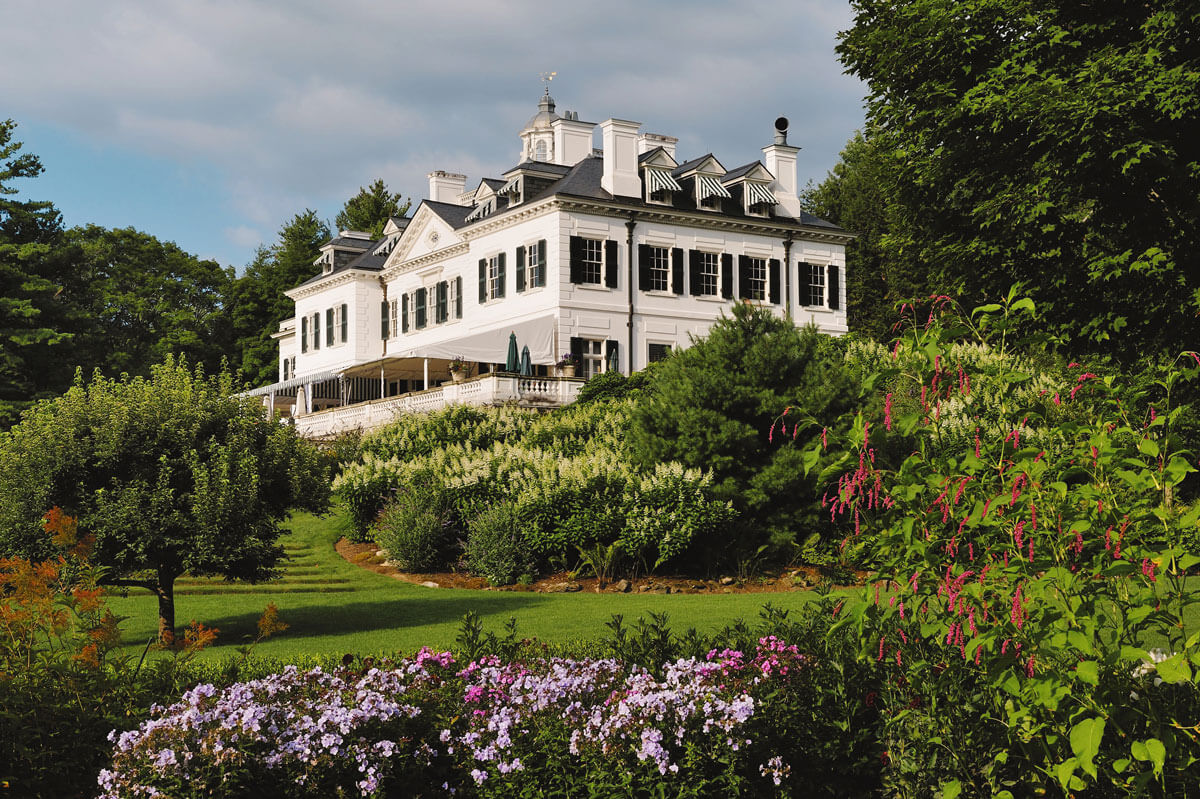 2 Plunkett St, Lenox, MA
The Mount is writer Edith Wharton's Home in Lenox, Massachusetts. It's a massive Gilded Age Mansion that Wharton designed herself and built in 1902. The home was groundbreaking for American interior design at the time and has to be seen in person!
Wharton is known for being the Pulitzer Prize-winning writer of The Age of Innocence, among other famous works of literature. She was also a lifelong philanthropist and humanitarian who worked with European refugees during World War I.
You can visit the estate and tour the black and white limestone mansion and its impressive gardens. There's also a bookstore and gift shop that features all of Wharton's titles. And the estate works not only as a historic landmark but continues Wharton's legacy in humanitarian work. All year long there are artistic and literary programs, as well as cultural events that you can support or attend at The Mount.
Ventfort Hall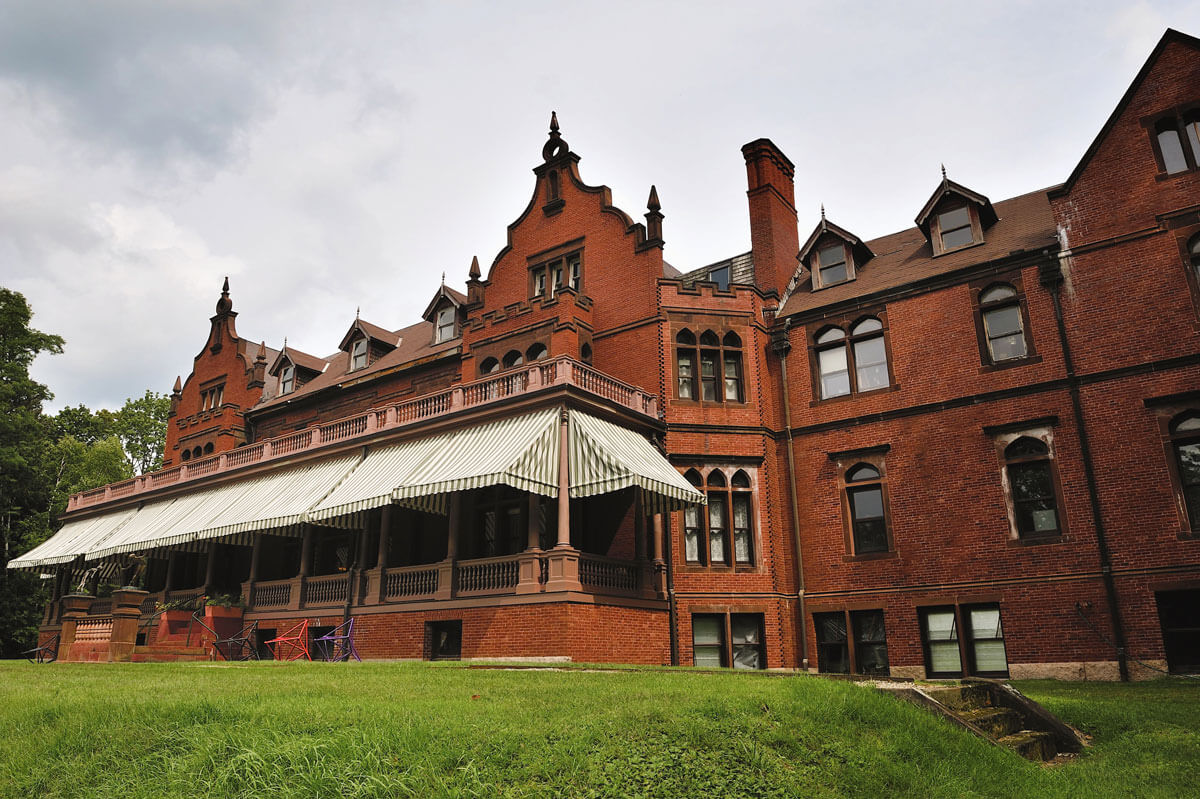 104 Walker St, Lenox, MA
Another Gilded Age mansion in Lenox is Ventfort Hall. This is a gorgeous red brick home with brownstone trim. It was built in 1893 for Sarah Morgan, the sister of banker J.P. Morgan. Today it houses The Museum of the Gilded Age with exhibits like women's fashion and the history of Berkshire County.
While the house is still being restored, the first floor is complete and open to the public daily from 10 AM to 4 PM. You can take a self-guided audio tour or attend a guided tour. There are also regular historical talks and special events held at Ventfort Hall if you want to learn more about the Guided Age in American history.
The Homesite
612 S Egremont Rd, Great Barrington, MA
For those interested in civil rights, you'll have plenty of things to do in the Berkshires. Whether you know it or not, the region was home to many important Black figures in the Civil Rights Movement, including James Weldon Johnson, Elizabeth Freeman, and W.E.B Du Bois.
Just south of Great Barrington is The Homesite, where W.E.B. Du Bois was born. A founding member of the NAACP, Du Bois was known for his academic work as a historian, sociologist, and socialist that influenced the Civil Rights Act of 1964.
Today you can walk trails on the Du Bois' family land. Along the beautiful path, there are informational signs that will guide you through Du Bois' life and the work he accomplished. Spring through fall you can enjoy old-growth forests and see the site of his childhood home, though no buildings are on the land now.
Susan B. Anthony Birthplace Museum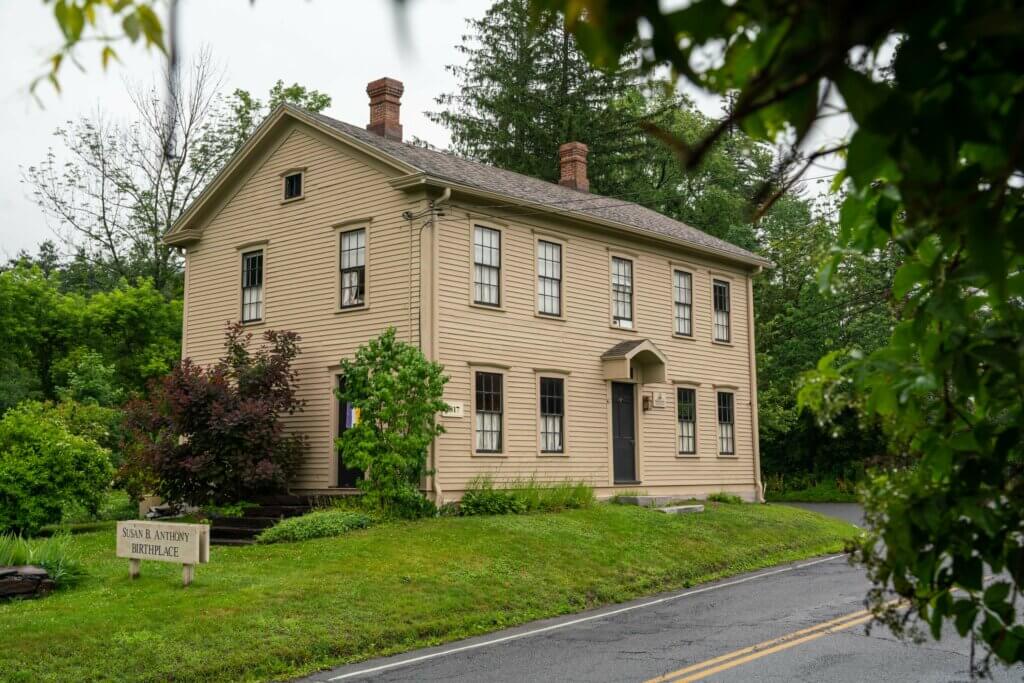 67 East Road, Adams, MA
Another one of the best cultural landmarks and things to do in the Berkshires is visit the Susan B Anthony Birthplace Museum just outside of the town of Adams.
The museum is dedicated to preserving the memory of Susan B. Anthony, a prominent women's rights activist. The museum provides a glimpse into the early years of Susan B. Anthony and her family through exhibits, artifacts, and informative displays. Visitors can learn about her upbringing, education, and the influences that shaped her beliefs.
The museum offers guided tours that provide insights into Anthony's pivotal role in the suffrage movement and her fight for women's rights.
You can explore the historic home where she was born and gain a deeper understanding of her journey and the challenges she faced along with her role and influence in social justice, women's rights, and history.
Outdoor Activities in the Berkshires
Mount Greylock
A visit to Mount Greylock is one of the most popular Berkshires activities any time of year. It's the highest point in Massachusetts, and at the top, you can enjoy panoramic views of the mountains of New York to the west.
In the fall it's the ideal place for ultimate leaf peeping, and in the summer you can take a scenic drive along the road that crosses the peak from north to south.
There are trailheads all along the mountainside, the base, and the peak. And you can camp year-round at either the foot of Greylock Mountain or at a campsite near the highest point. The beauty of the mountain has inspired creatives across generations. It's even been mentioned in novels by Nathaniel Hawthorn, Herman Melville, and J.K. Rowling.
And those interested in local flora will be interested to know that the mountain is home to the only known sub-alpine forest in Massachusetts. You can see forests of spruce, pines, and more. There are even old-growth forests of red spruce trees, some of which are 350 years old!
Monument Mountain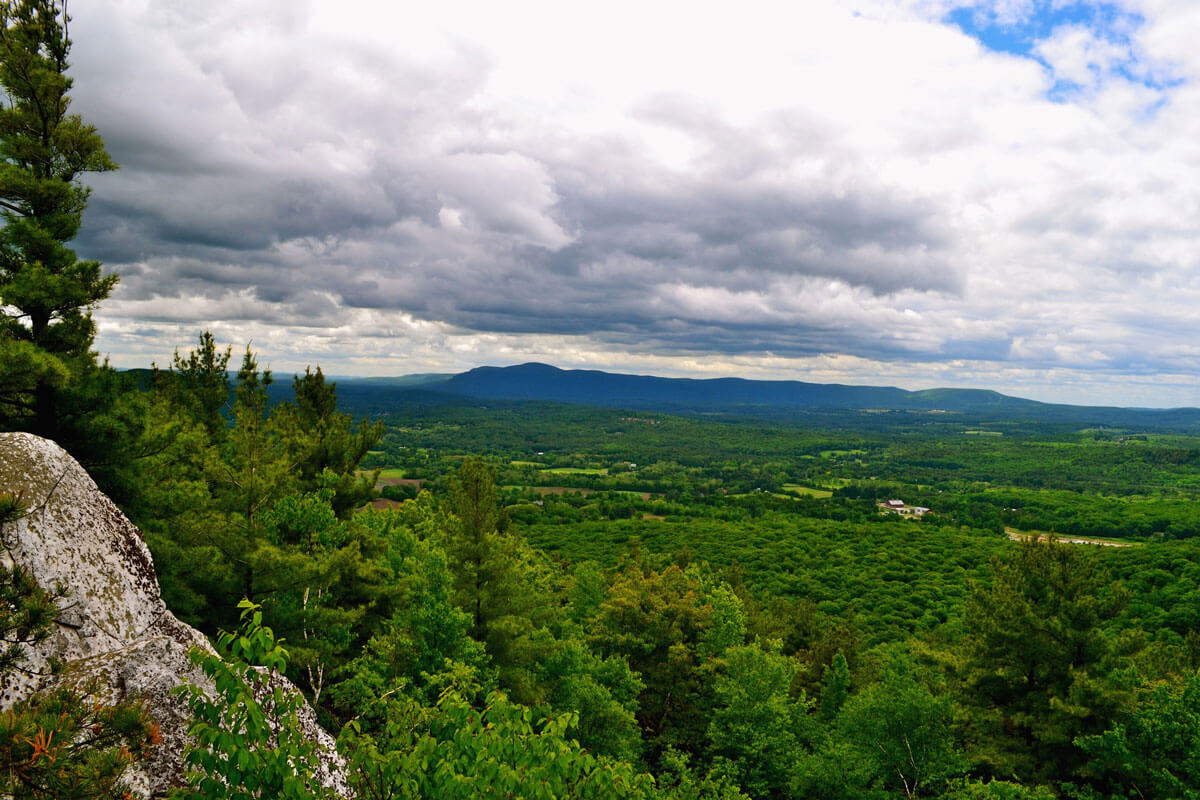 Monument Mountain is another great place to visit to enjoy the wonders of nature in a place with rich history and stunning views. It's famous for being the place where Herman Melville and Nathanial Hawthorne met on a literary date! When you visit, you'll see what's so inspiring.
Most people like to hike one of the many trails to the highest point, Peeskawso Peak. There are trails for everyone, from easy to difficult, with great places to stop along the way and enjoy the views of the Housatonic Valley. Take the moderate yellow trail to the top to see beautiful waterfalls and limestone cliffs.
Hike With Berkshire Camino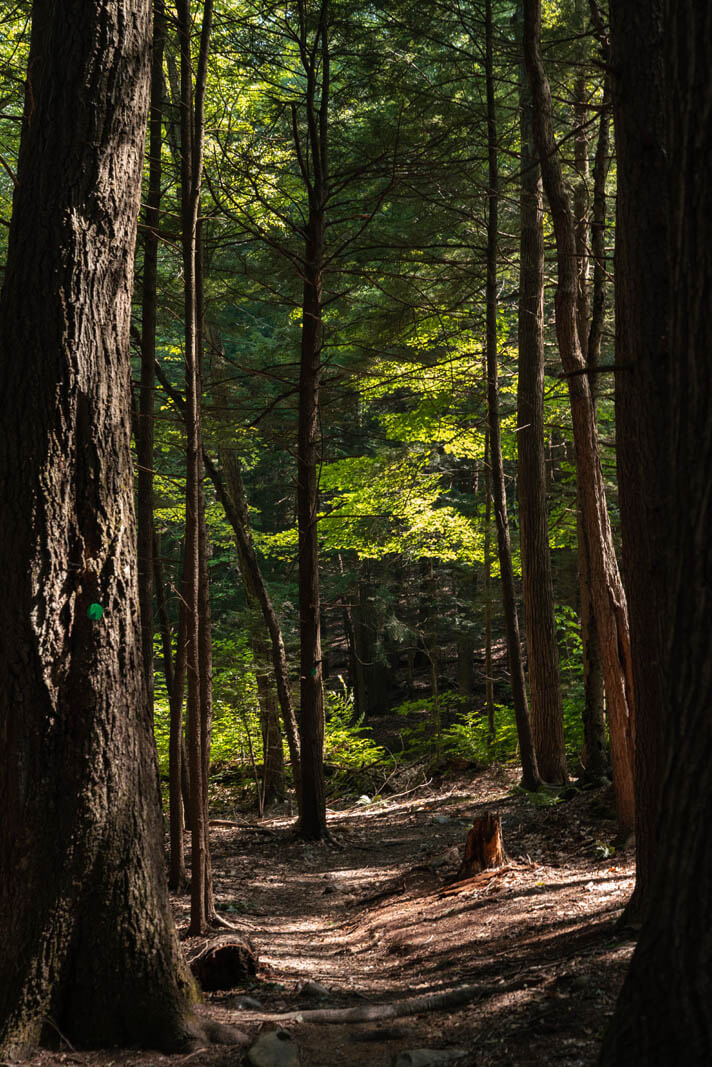 Especially if you're new to the area, a knowledgeable and passionate guide is the best way to see the Berkshires! We had a great time when we went on a hike with Berkshire Camino and highly recommend their services.
Go on a multi-day group hike through the Berkshires with a small group of people who love the outdoors as much as you do! Berkshire Camino specializes in curated experiences and well-educated guides that can teach you about the history of the region. Become one with nature while you get to know new people and hike 6 to 10 miles a day.
Berkshire Camino offers a large range of day hikes, multi-day hikes, and private hikes. You can find a list of day hikes on their website and book them online. But you're encouraged to call and book a multi-day hike or curated guided hike. The company will work directly with you to create a satisfying experience tailored to what you want out of the experience.
They offer hikes throughout the year and any season through the beautiful region.
Leaf Peeping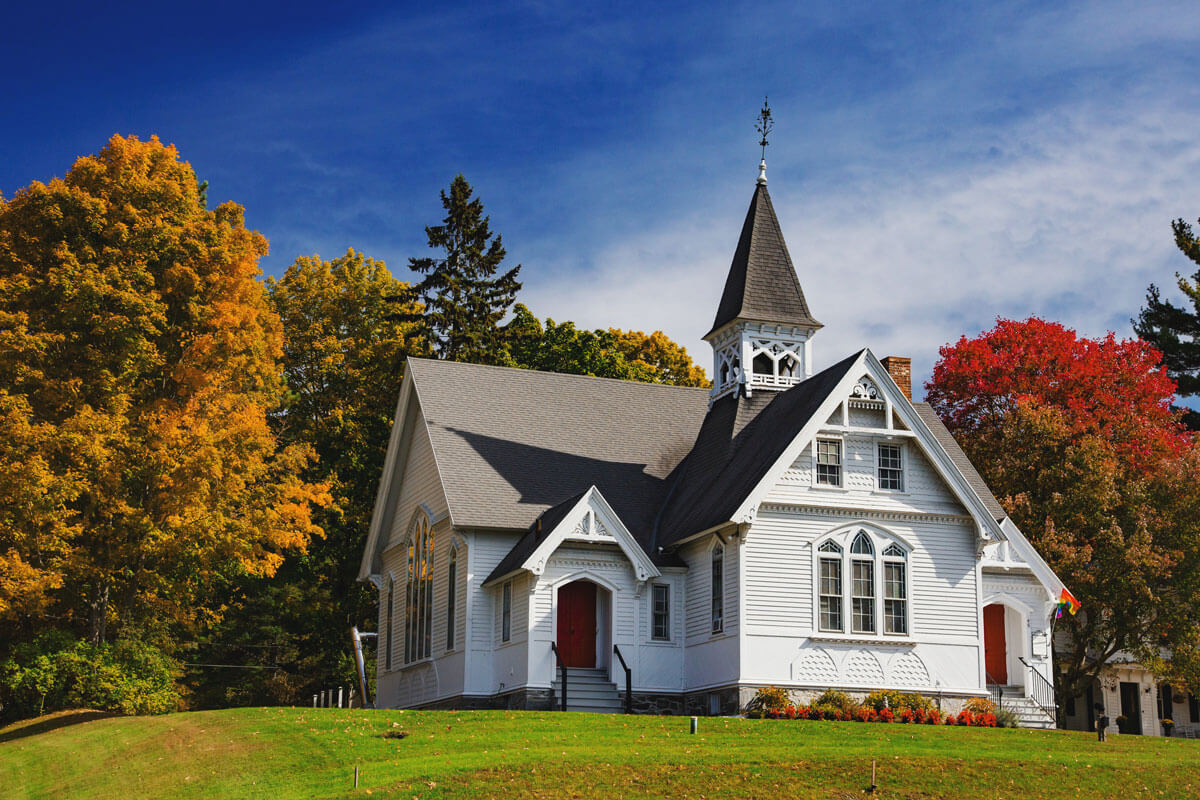 Fall foliage is one of the top things to see in the Berkshires, especially with New York City folks! It's close enough for a weekend getaway from NYC, more so than Boston since Bostonians typically just travel up the New England coast.
Foliage in the Berkshires usually peaks by the second week of October. Take a scenic hike or drive to the peak of Mount Greylock for the best autumn colors. If you want to stay near Pittsfield, Lake Onota and Pontoosuc Lake are breathtaking in the fall!
Or go for a leisurely drive on Route 7 through the best towns in the Berkshires like Great Barrington, Lenox, and all the way to North Adams. Wander around the charming town of Stockbridge and the nearby areas for more gorgeous scenery!
Winter Recreation
Ski bunnies won't run out of things to do in the Berkshires with the many ski resorts in the area. There's Butternut Ski Area and Otis Ridge, both outside of Great Barrington. Or you can visit the famous Bousquet Mountain Ski Area outside of Pittsfield.
Further north are the larger ski resorts with lodges, Jiminy Peak and Berkshire East Mountain, which are some of the most popular ski resorts near NYC as it's just a few hours away from the city and popular among New Yorkers to visit. Not only can you ski the mountain, but there's snow tubing, snowboarding, cross-country skiing, and more at most locations.
Ashuwillticook Branch Rail Trail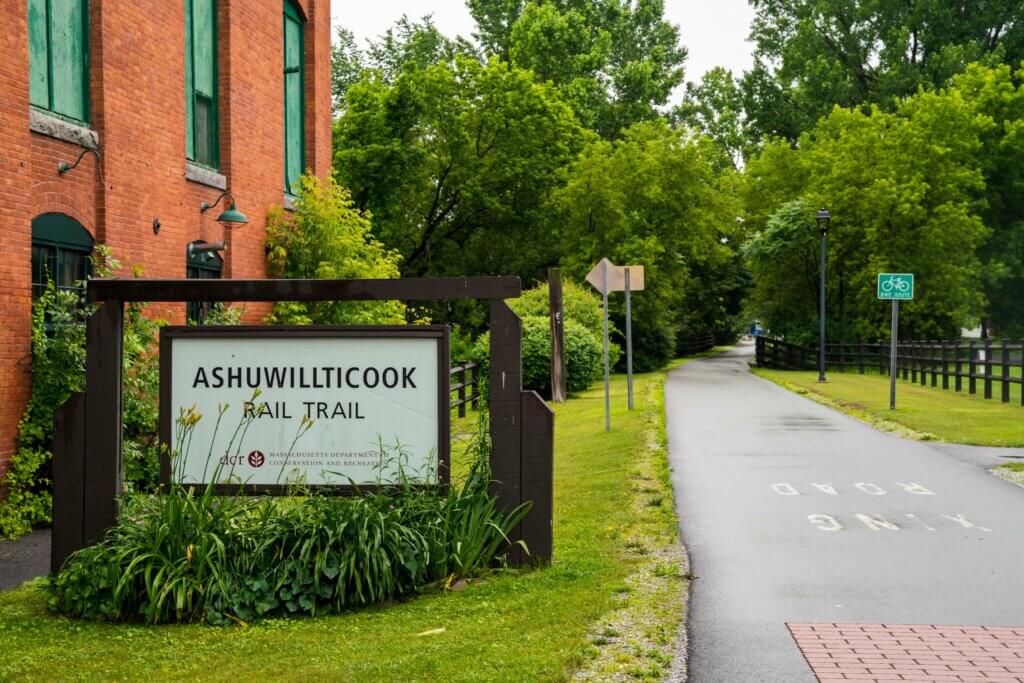 If you're a fan of rail trails or never heard of one and want to try one out, head to Pittsfield, Massachusetts. Just north of town you'll find the Ashuwillticook Branch Rail Trail that follows 12.7 miles of old railroad tracks from US 7 Rt 8 in Pittsfield all the way to Lime Street in North Adams.
You can do the entire trail or just a part of it. It's a clear, clearly marked path that's popular with cyclists and runners, as well as families enjoying nature walks. At the start, there are restrooms and a visitors center with maps. Walk the trail and enjoy local lakes with benches and picnic tables beside them.
Take in scenic mountains, wildflowers, and wildlife like rabbits and egrets all along the way. During the spring and summer, there's a lot of tree cover overhead so the sun isn't overbearing. The foliage is beautiful in the fall, and in the winter it's a popular trail for cross-country skiers.
October Mountain State Forest
At over 16,000 acres, October Mountain is the largest state forest in Massachusetts. It's popular for the portion of the Appalachian Trail that runs through it. But there are also other hiking trails of all levels, as well as accessible nature trails.
The forest is where a lot of people go to go off-roading and snowmobiling, as well as hunting and fishing in season. It's a great place to go camping, whether you are pitching a tent or parking your RV. Or you can use the boat ramp on the reservoir.
Pittsfield State Forest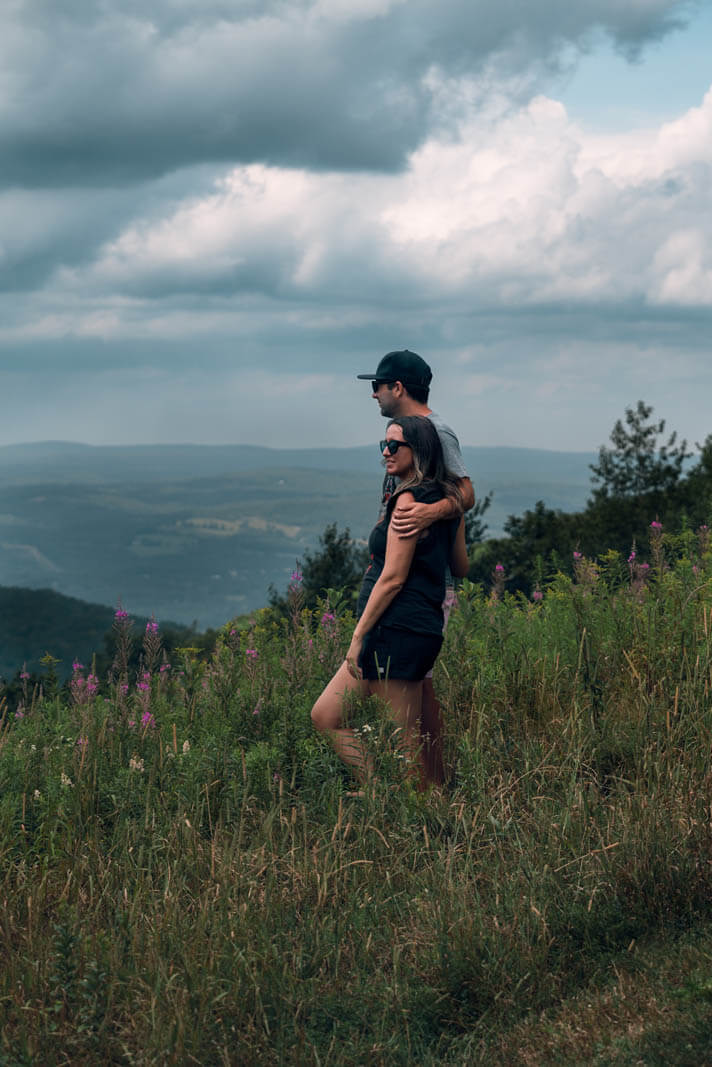 For those staying close to Pittsfield, check out the state forest off Shamrock Boulevard on the northwest side of town. It's a huge, rugged park with different ponds and mountains. Plus, there's a gorgeous overlook here near Berry Pond you can drive to with great scenic views.
If you want to go camping, there are different campsites to choose from. There's one on top of Berry Mountain where you can enjoy stunning sunrises over the hills! Or just come for the day to mountain bike or do some day hikes.
Hike Part of the Appalachian Trail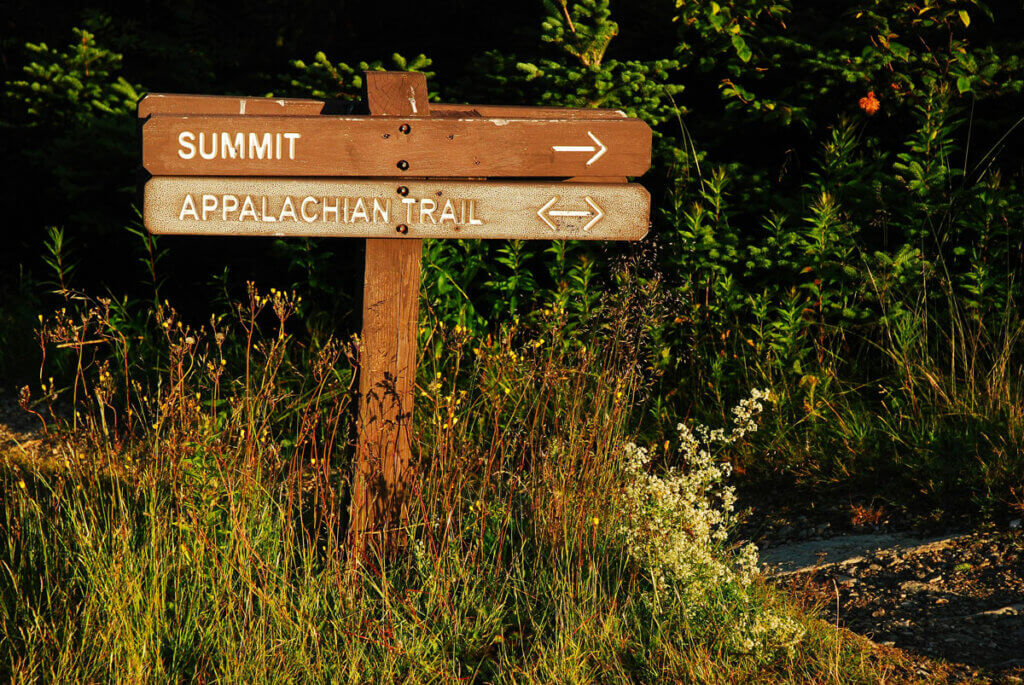 We mentioned that part of the Appalachian Trail cuts through October Mountain State Park. It's part of a larger portion that runs through the Berkshires. Why not enjoy a piece of the trail, instead of hiking thousands of miles?
You can find the start of the Massachusetts portion of the trail at the state's border with Vermont, a few miles north of Williamstown and North Adams. It runs all the way to the southwest corner at Sage Ravine. In the Berkshires, it passes through many of the region's popular natural areas, including Mount Greylock and October Mountain.
Along the Berkshires portion of the Appalachian Trail, you'll find several parking areas with trailheads, and the trail difficulty varies from easy to difficult across the state. For an easier time, head to Gulf Road between Pittsfield and Dalton. There's a parking lot there where the trail literally follows Dalton's Main Street. Others choose the trickier climb in Mount Greylock State Preserve. Park at Pattison Road and follow the trail as it literally crosses the peak of Massachusetts' highest point before continuing south!
Catamount Aerial Adventure Park
17 Catamount Rd, South Egremont, MA
You might be looking for things to do in the Berkshires to get your heart racing. If so, head to the Catamount Aerial Adventure Park. It's located at the Catamount Mountain Resort right at the New York/Massachusetts state border.
In the summer and fall, you can spend the day trying 9 different courses under the tall canopy of the Berkshire forests at the base of Catamount Mountain. Try dozens of different obstacles from suspension bridges, ziplines, cable ladders, and more.
Or take a zipline tour on the longest zipline in the United States! In total, the experience is over 2-hours long and covers 1,000 feet of elevation and 3 different zipline courses. It's an exciting way to see the Berkshires from a high-up perspective that few people ever get to enjoy!
Bash Bish Falls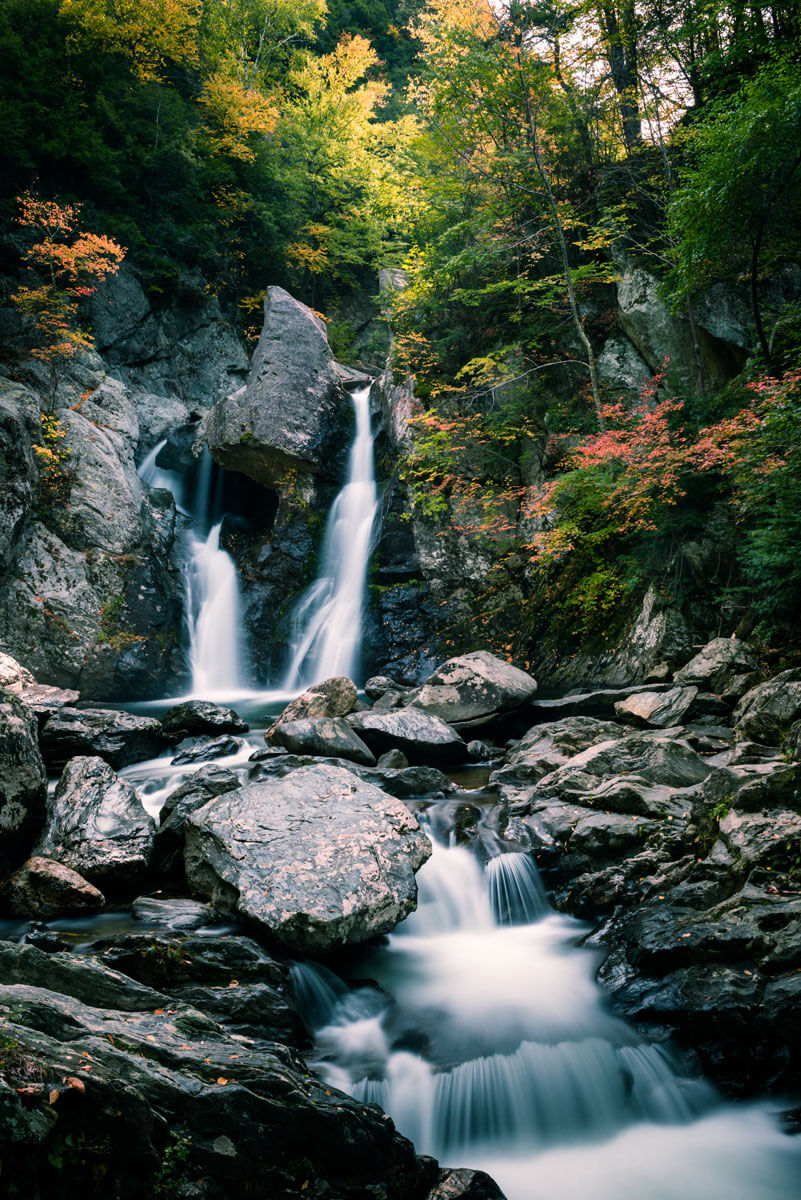 Waterfalls chasers will want to take the scenic drive south to Bash Bish Falls State Park along the state line. Just off Falls Road is a parking lot and an easy ¾-mile hike to Bash Bish Falls, the largest falls in the state! Plus, the trail is kid and dog friendly.
At the end of the trail, you can see the falls from afar or walk down a long staircase to get close to the water at the bottom of the falls. It's stunning in every season! The waterfalls cascade almost 200 feet from mountainous ridges that split them at the top. It's framed by rocks and trees on both sides. For part of the winter, it usually freezes over, and even then it's a site to behold.
Peck's Falls
Another pretty waterfall to visit and an amazing thing to do in the Berkshires in the outdoors is visit Peck's Falls. Located just outside of the town of Adams, you can check out this easy-to-visit waterfall in Greylock Glen Park. This horsetail and cascading waterfall has two drops, the upper and lower falls.
In the warmer months, this is a popular swimming and wading spot as the creek in which the waterfall flows has shallow pools perfect for wading.
To get here is really easy, follow driving directions to Peck's Falls along Gould Road. From here you can park and look for the trail sign. The trail is .1 mile to the waterfall down a sloped, rocky hill and path to a beautiful viewing area to see the falls. We loved how quickly it was to get to a point to view the falls as we didn't have a lot of time to do a longer hike during our visit.
Other Fun Things to do in the Berkshires
Balderdash Cellars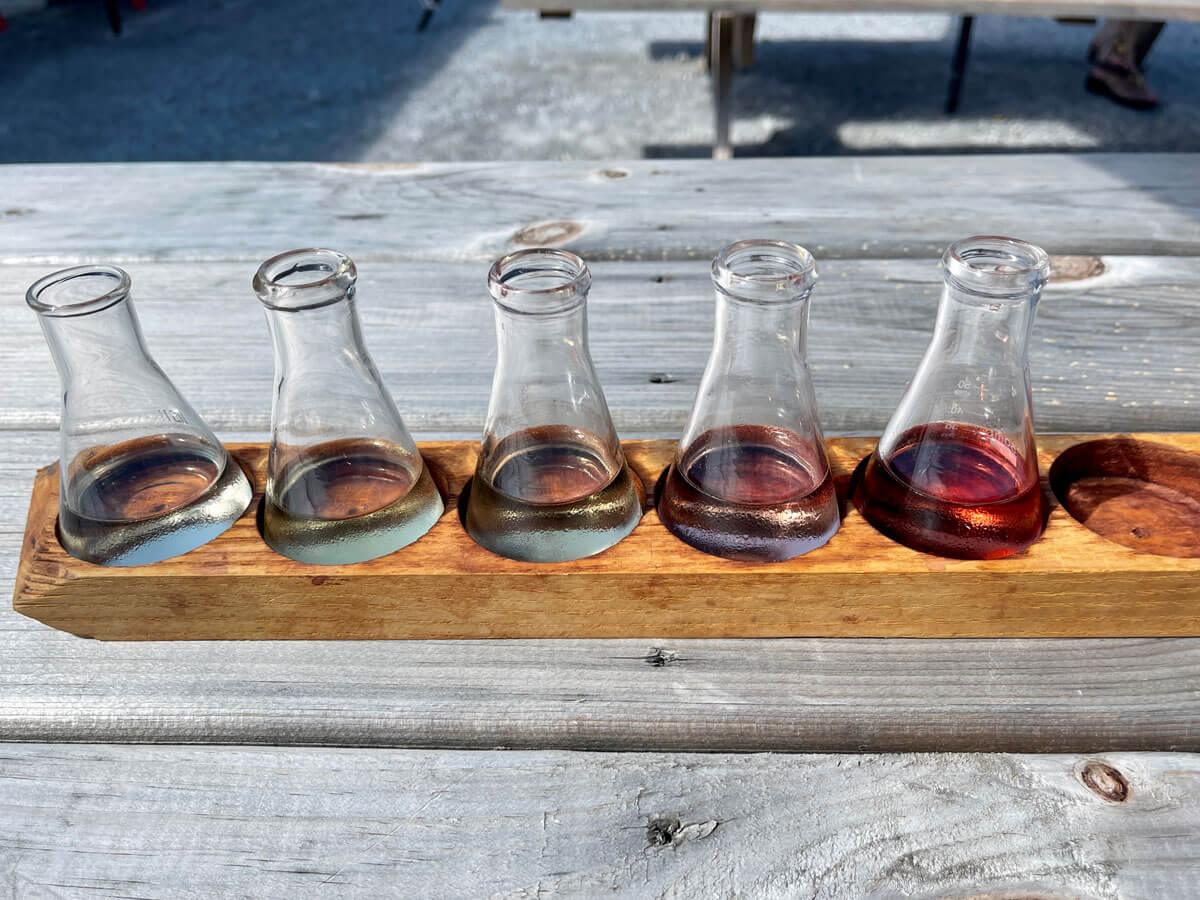 81 State Rd, Richmond, MA
Head back towards Pittsfield, and you can enjoy the area's numerous wineries and vineyards. We loved Balderdash Cellars overlooking Richmond Pond and suggest going for a wine tasting! The winery is a vision of Christian and Donna Hanson who have a passion for the highest quality of California grapes.
The family-owned Balderdash Cellars is all about community and their tasting room is the kind of place that makes you want to stay a while. Come at noon Wednesday through Sunday and enjoy their white, red, and rosé varietals. They usually carry local beer and cider, as well as a few snacky food options.
On the weekends the party kicks up with food trucks out back, outdoor seating on the lawn, and live musical performances!
Hit up the Breweries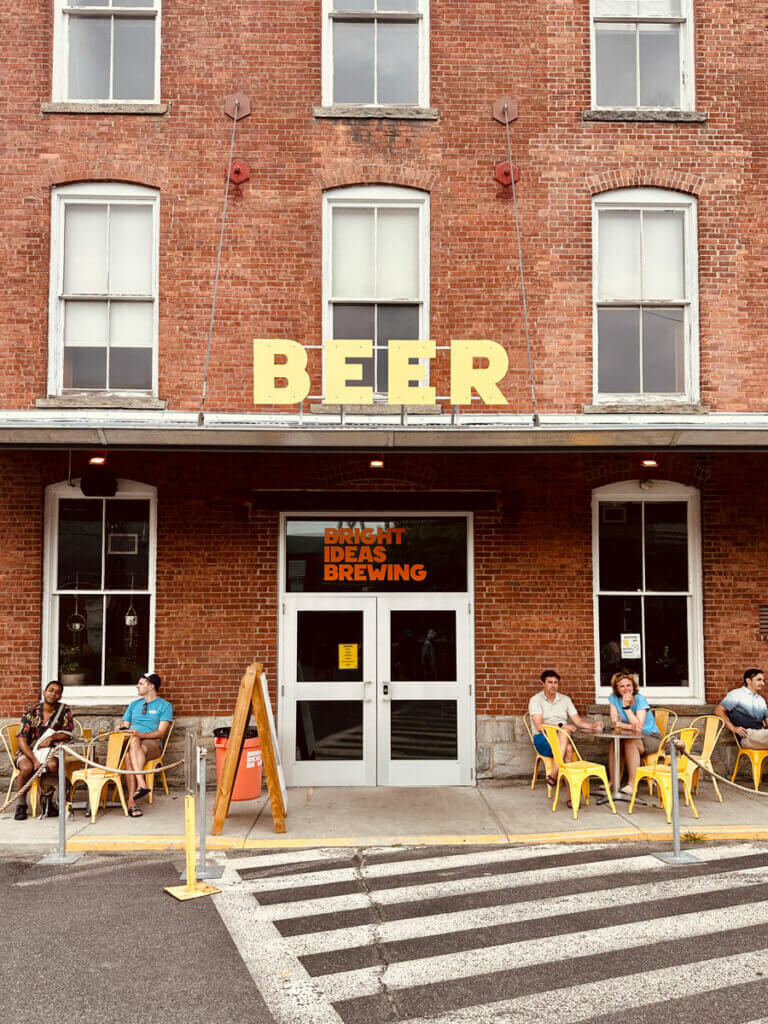 And there are so many great places to choose from in the Berkshires when it comes to local breweries and cider mills. There's Wandering Star Craft Brewery in Pittsfield or Hilltop Orchards in Richmond. Or check out Big Elm Brewery in Sheffield. And Barrington Brewery in Great Barrington offers a full sit-down restaurant.
Our favorite we went to was Bright Ideas Brewing at MASS MoCa in downtown North Adams. They had some games and great beers on draft, plus it's a great way to end a day at such a cool museum.
In fact, one of the most fun things to do in the Berkshires is going on a beer and cider trail. We suggest heading to Berkshire Farm & Table and checking out the amazing Taste Trails they've created. Why not combine their virtual Beer & Cider Trail with either their Cheese or Charcuterie Trail for a day full of good food and amazing beverages?
Kripalu Center for Yoga and Health
57 Interlaken Rd, Stockbridge, MA
For yogis, a trip to the Berkshires wouldn't be complete without a visit to the Kripalu Center. It's the Yoga Mecca of the US and it's located near Tanglewood between Stockbridge and Lenox.
You could book a few days at the center for some much-needed rest and relaxation, or just come for the day and attend a workshop around yoga or self-improvement. They also offer a variety of professional programs in yoga, Ayurveda, and more. And if you can't commit to a 10-day program, they also offer an online program or a hybrid model.
Note that the dining hall is only open to registered guests on retreat or staying for a training program. But while you're at the center, stop by the shop and café that are open to the public every day from 10 AM to 5 PM.
Berkshire Scenic Train Ride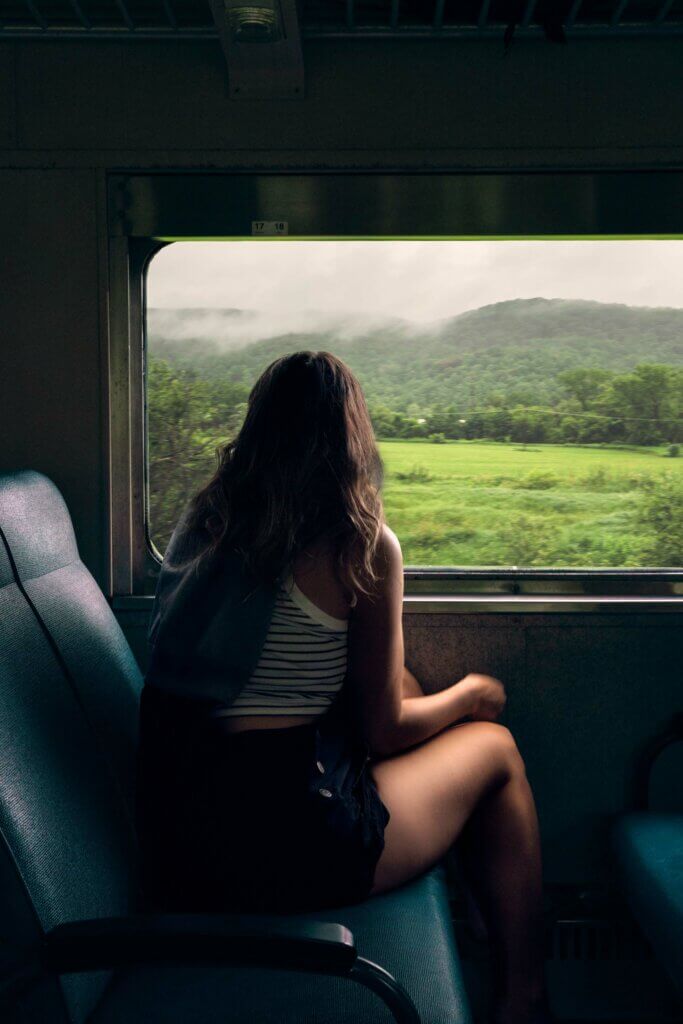 One of our favorite things to do in the Berkshires was ride a historic train along a scenic route through the area! We love a nostalgic train ride with views, and even on a rainy day (as it was during our visit) the train ride was so relaxing and soothing to see the misty, atmospheric haze through the rolling landscape of the Berkshires!
The Berkshire Scenic Railway Museum offers two sites, the Lenox Station Museum in Lenox and Hoosac Valley train rides departing from Adams along the Ashuwillticook Rail Trail. They offer scenic train rides in their century-old train car on an hour long round trip journey between Adams and North Adams.
This is more of a seasonal Berkshires attraction as they offer most of their rides on the weekends only in the summer and fall. In addition to their regular train rides, they offer special events for holidays like watching the fireworks on 4th of July and a few themed train rides that have live music while you ride.
We noticed this seemed like a really popular thing to do in the Berkshires for families with kids, but it was fun for adults too as you just sit back and relax watching the scenery pass you from a historic train car!
Where to Stay in the Berkshires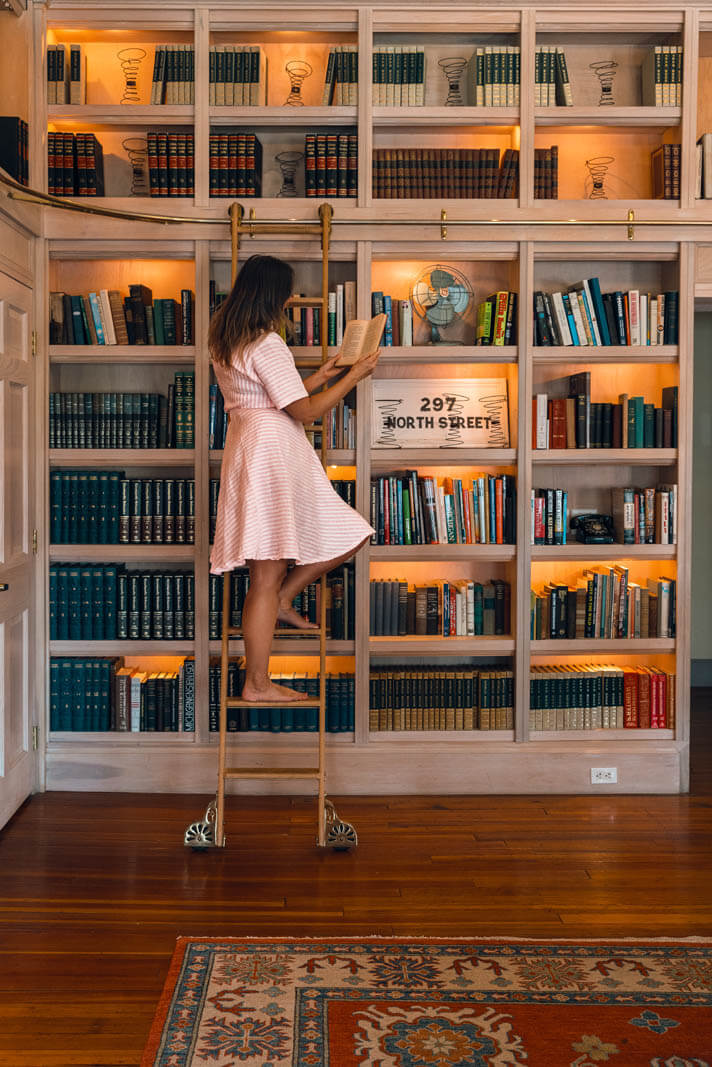 With everything there is to do in the Berkshires we recommend basing in Pittsfield, which is considered a central point in the Berkshires for your base exploring the area. We stayed at Hotel on North, a local boutique hotel that really honors its small-town roots through its design and is a really great stay.
The hotel is set in a building in central Pittsfield from back in the 1880s. Prior to being the best hotel in town, the building served many purposes from being used to be a menswear and sporting goods emporium to even being a Goodwill location.
Local owners David and Laurie Tierney have done an outstanding job restoring and preserving the original architectural details and curating individually designed rooms featuring works by local artists. Speaking of that art, if you LOVE the art you see on display, you can purchase it!
We think you'll love the beauty of the Hotel on North as you come and go. Choose from a range of standard and premier rooms, as well as suites. If you want a truly unique experience, see if the Library Suite is available during your stay. This room is surrounded by books and looks like a library!
All of the rooms feature impeccable interior design with early American elements combined with modern textures and shapes. Our room had a great clawfoot tub which was really nice to soak in after all of the fun things we did during our weekend in Pittsfield.
During your stay, enjoy The Gallery. It's a small, curated art museum inside the hotel! There's also a fitness center, as well as The Atrium, a sun-filled private lounge on the upper floors. Hotel on North also hosts a restaurant and is a pet-friendly hotel. Book Hotel on North here.
Another cool option for where to stay in North County of the Berkshires in North Adams is Hotel Downstreet. This is the only hotel in North Adams on Main Street and you're only steps away from some of the best things to do in the Berkshires (and best things to do in North Adams) like MASS MoCA. 
The location is great and they offer spacious rooms with an art focus. Since you're in such a culturally rich region of the United States, it's only fitting that there are also galleries located on the first floor of the hotel too. There's also an indoor pool and hot tub on the lower level, which has a fun mural painted down there.
We stayed here on our second visit to the Berkshires and really enjoyed the location as we were such a short distance away to so many cultural institutions and Berkshires attractions. Book Hotel Downstreet here.
---
What is so special about the Berkshires?
The Berkshires in Massachusetts are unique for their combination of natural beauty, cultural richness, and artistic vibrancy. With picturesque landscapes, thriving arts institutions, music festivals, outdoor activities, and charming New England towns, the region offers a diverse and enriching experience for visitors.
What are the Berkshires famous for?
The Berkshires in Massachusetts are best known for their scenic beauty, cultural attractions, and artistic legacy. The region is renowned for its stunning landscapes, world-class music festivals, prestigious art museums, theater performances, and historic architecture.
What time of year is best to visit the Berkshires?
The best time of year to visit the Berkshires is either the summer or fall season as both seasons include some of the best performing arts and cultural events, outdoor recreation, and also a great time to enjoy the charming small towns and museums here. The fall is also really popular among travelers to see New England leaf-peeping.
What is the most famous attraction in the Berkshires?
Tanglewood, the summer home of the Boston Symphony Orchestra, is the most famous attraction in the Berkshires. It offers spectacular outdoor concerts and a rich musical experience in a beautiful setting.
How long do you need to visit the Berkshires?
You need at least 3 days to see the Berkshires highlights and even more depending how extensively you want to visit the region.
How far are the Berkshires from New York City?
The Berkshires are approximately 140 miles (225 kilometers) away from New York City, making it a convenient weekend getaway or day trip destination for city dwellers who can drive here or take the Berkshire flyer train up here.
---
Best Things to do in the Berkshires (Post Summary):
Tanglewood
Jacob's Pillow
The Norman Rockwell Museum
Clark Art Institute
Shakespeare and Company
Williamstown Theatre Festival
MASS MoCA
Berkshire Museum
Berkshire Botanical Garden
Arrowhead, Herman Melville's Estate
Hancock Shaker Village
Chesterwood
Naumkeag
The Mount, Edith Wharton's Home
Ventfort Hall
The Homesite
Susan B. Anthony Birthplace Museum
Mount Greylock
Monument Mountain
Hike with Berkshire Camino
Leaf Peeping
Winter Recreation
Ashuwillticook Branch Rail Trail
October Mountain State Forest
Pittsfield State Forest
Hike Part of the Appalachian Trail
Catamount Aerial Adventure Park
Bash Bish Falls
Peck's Falls
Balderdash Cellars
Hit up the Breweries
Kripalu Center for Yoga and Health
Berkshire Scenic Train Ride
---
Enjoyed this guide to the best things to do in the Berkshires, Massachusetts? Bookmark for later or share the love below on Pinterest.