Do you fancy yourself a waterfall hunter like ourselves? Grimes Glen Park in Naples, New York is home to more stunning waterfalls in the Finger Lakes region to visit Upstate. The region is teeming with waterfall trails and even road side waterfalls worthy of exploring.
While exploring waterfalls is one of the most popular things to do in the Finger Lakes, you'll find that areas like Ithaca, which has 150 waterfalls within a 10-mile radius, Watkins Glen, and Letchworth State Park are some of the most well-known waterfalls not only in the region but some of the best-known waterfalls in New York.
Grimes Glen Park offers an easy hiking route through a creekbed to two of the three waterfalls here, the third is a bit tricky to get to and only meant for advanced adventurers who can rock climb. The first two waterfalls are really beautiful and more rugged to visit vs other waterfalls in the region who have easier to access pathways.
You'll want to wear shoes you don't mind getting wet or proper footwear for traction in water as you traverse through this scenic gorge through shallow water to these pretty cascading drops.
What we love about Grimes Glen Park in Naples is that this waterfall trail is one of the best-hidden gems of the region and one of our favorites we've explored on our many trips to the area and around New York. Whether you're just stopping by to eat some the famous local grape pie and go on a waterfall hike or you're spending a whole weekend enjoying the best things to do in Naples, New York this guide has you covered with everything you need to know about visiting Grimes Glen Park and the waterfalls here.
And if you're able to plan a trip around autumn and changing of the leaves, this is one of the most beautiful places to visit in Upstate New York in fall.
Where is Grimes Glen Park?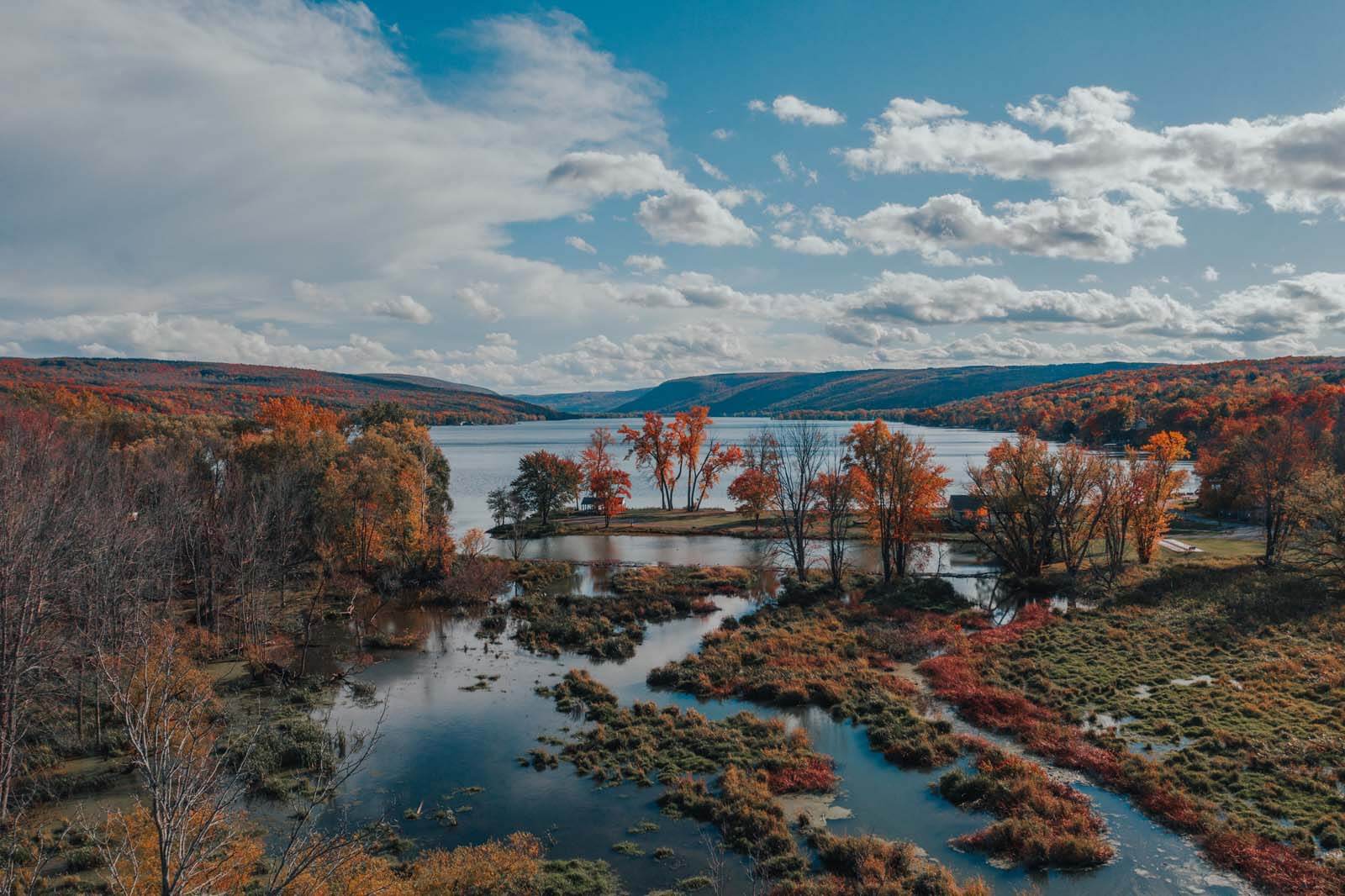 Grimes Glen Park is located in Naples, New York in the Finger Lakes region of the state with the closest lakes being Canandaigua and Honeoye in Ontario County.
Neighboring this town, and within walking distance from the Village of Naples, is where visitors will find the 32-acre hidden gem known as Grimes Glen Park, which is one of our favorite towns in the Finger Lakes!
To access the park, visitors should take Vine Street, which runs off Main Street in downtown Napes, until they see a sign that reads, "Grimes Glen County Park."
Although the park is relatively undeveloped, there is a bit of infrastructure located at its entrance, including a parking lot that will hold about a dozen vehicles, as well as a building with restrooms for men and women.
Visitors should keep in mind that even though this is a 'hidden gem' that parking can fill up quickly and there is no parking along Vine Street, and there is limited parking in the lot. During more popular times to visit, like the summer, you may want to try and get to Grimes Glen Park early so you can secure a parking spot.
The exact coordinates for the parking area are: 42.615230, -77.413532. In the event that this parking lot is filled up, all hope is not lost, as visitors can park at the municipal parking lot on Mill Street, with the following coordinates: 42.61530, -77.403714. This is about a 0.7-mile walk from the beginning of the trail at Grimes Glen Park.
It is also wise for visitors to Grimes Glen Park to be aware that the lot does not accommodate enough space for large RV's or vehicles accompanied by trailers.
Grimes Glen Park Driving Distance to:
Rochester: ~1 hour
Syracuse: ~1.5 hours
Buffalo/Niagara Falls: ~2 hours
Albany: ~3.5 hours
NYC: ~5 hours
About Grimes Glen
History
Early settlers made home to the Town of Naples as early as 1790 and upon doing so, they constructed a mill race to power mills by extending water from Grimes Glen to the village.
Paul Grimes (namesake for Grimes Glen) was one of the first entrepreneurs to create mills along this race. Most of the water-powered mills were razed since with onset of electricity, and the property comprising the park remained privately owned until the 21st century.
The previous owner, Donald Braun, kindly welcomed this private property to both native visitors and those who came from out-of-town.
Constant pressures of development threatened the beautiful land, until the Finger Lakes Land Trust (FLLT) purchased the property in 2005. Grimes Glen Park officially became a public park in 2008, under the Land Trust's stewardship, and efforts to preserve the park's pristine state is ongoing.
Interesting Fact – Fossilized Tree
Although more recently known for its glimmering waterfalls, Grimes Glen Park is also remembered as home to the oldest fossilized tree in New York, dating back to more than 350 million years ago.
This tree, referred to as Naples Devonian Tree, was first discovered in 1882 by a Naples native and once President of the village, D. Dana Luther.
The tree was removed by paleontologists five years later and is currently showcased in the State Museum in Albany, New York.
Unsurpassed Natural Beauty – Flora & Fauna
The beautiful slice of land known as Grimes Glen Park is home to an abundance of flora and fauna, awaiting the gentle discovery of nature-goers. Dense woods and foliage line the creek, while a plethora of bushes and shrubs pepper the ground. Canadian yew, flowering raspberry, Lion's foot, marginal woodfern, mountain maple, weed orchid, and wood nettle are some of the plants native to this area.
As visitors wander through the shale bluffs and massive hemlock trees, furry and feathered critters seek refuge within the forestry. Chipmunks, squirrels, and various animals of flight including songbirds, hawks, falcons, and owls can be spotted with a keen eye.
Creatures of amphibious decent make home to the watery creek and may be more difficult to find. Grimes Glen Park is truly a remarkable place for a serene nature-walk.
We visited in the fall and the changing of the leaves really added another dimension to the pretty waterfalls of Grimes Glen Park.
Best Time to Visit Grimes Glen Park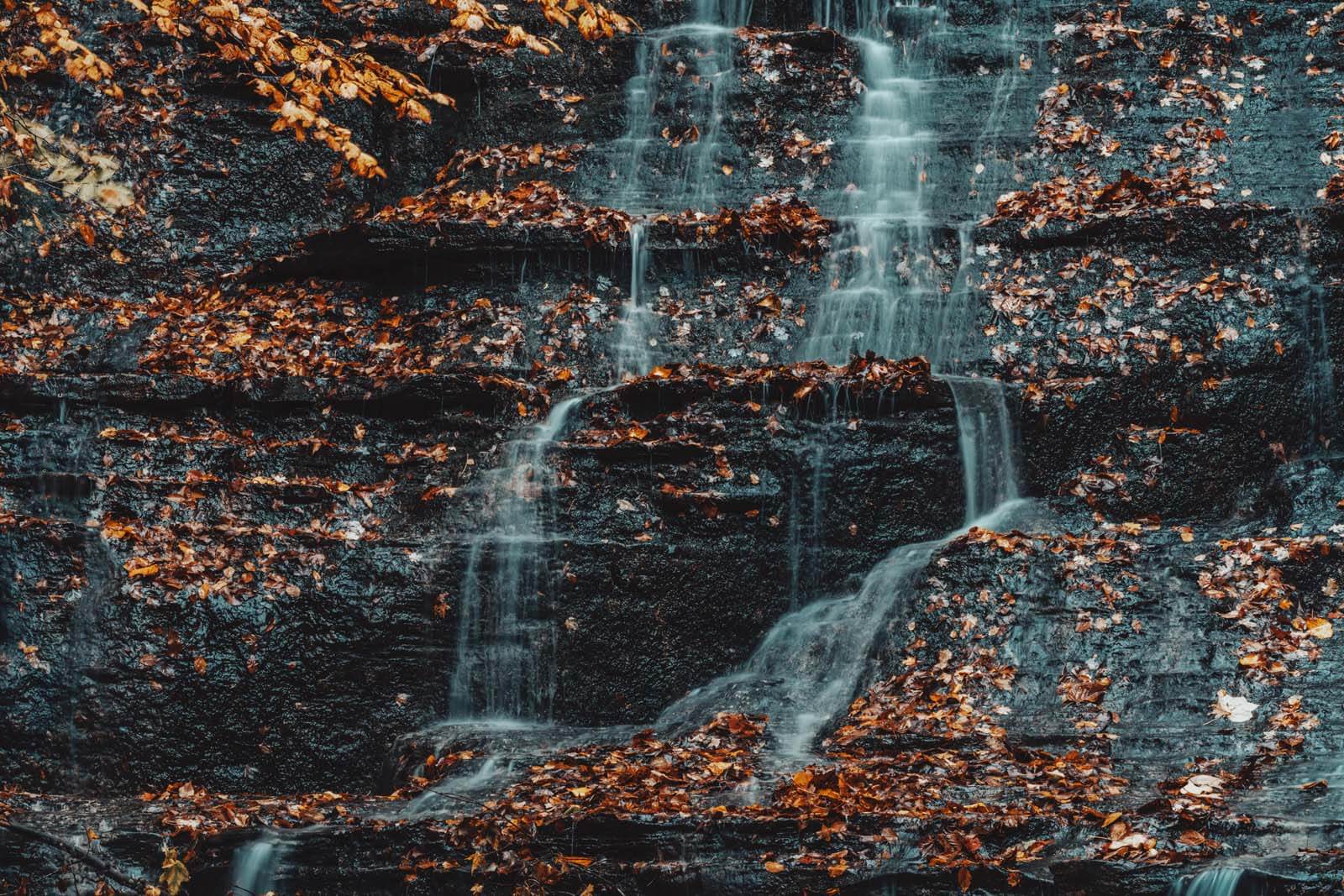 Grimes Glen Park is open daily from dusk to dawn and is available for year-round visitation although each season offers a different experience.
Although season-agnostic, frequent visitors often claim the best time to visit is during springtime, when the water flow is at its peak which means the waterfalls are flowing more.
By visiting during the season of bloom, visitors can benefit from the spring rain deepening the creek and look forward to warmer waters beneath their feet. So you will want to be prepared with footwear with this in mind. Visitors may notice that Grimes Glen is a bit more bustling during this time, with sounds of songbirds chirping and creatures scurrying and people are eager to get back outdoors after winter.
The other most popular time to visit Grimes Glen Park and the waterfalls here are in the summer months when people from all the nearby cities vacation to the Finger Lakes region for summer fun. Since the weather is warmer, the water is too and this is a popular time for people to hike through Grimes Glen Park and swim at the pool at the second waterfall.
Fall at Grimes Glen Park brings a sense of tranquility and quietness and is a great opportunity to have this hike pretty much to yourself. With colorful fall foliage painting the glen, this season offers some of the most gorgeous scenery
Visitors should keep in mind that the wet leaves can make the creek floors extra slippery during this time, so be sure to pack a good pair shoes that have some traction and that can get wet as you'll be walking through the creekbed. I was able to wear duck boots that were just waterproof around the foot area during our fall visit to Grimes Glen and my feet kept dry.
As the winter rolls in, the glen transforms into a winter wonderland, presenting visitors with a rare opportunity to hike to frozen waterfalls. If you do plan on visiting Grimes Glen Park in the winter, you will want to have insulated, waterproof boots so that your feet stay dry and warm after hiking through the shallow creek.
If you do plan on visiting in the winter, make sure you do have a change of dry socks and other equipment in case you get wet or heaven forbid you slip on ice or snow in the water and dress appropriately.
Grimes Glen Park Waterfalls
So now that we covered where Grimes Glen Park is and the difference in visiting each season, now we are going to get into the hikes to the waterfalls.
I know I've already mentioned it before, but I am going to mention it again as I want to make sure you have clear expectations about this waterfall hike. Grimes Glen Park is incredibly stunning but this trail is considered a bit more rugged since there is no paved pathway, bridges, or trail.
Getting to the waterfalls has no infrastructure for accessibility and people who aren't comfortable possibly getting their feet wet should reconsider as this hike is flat and easy, but requires you to walk and tread through the shallow creekbed.
Wear proper waterproof footwear with traction! And if you don't have waterproof footwear, bring a pair of shoes that have traction, can get wet, and bring a change of socks and shoes for after.
First Waterfall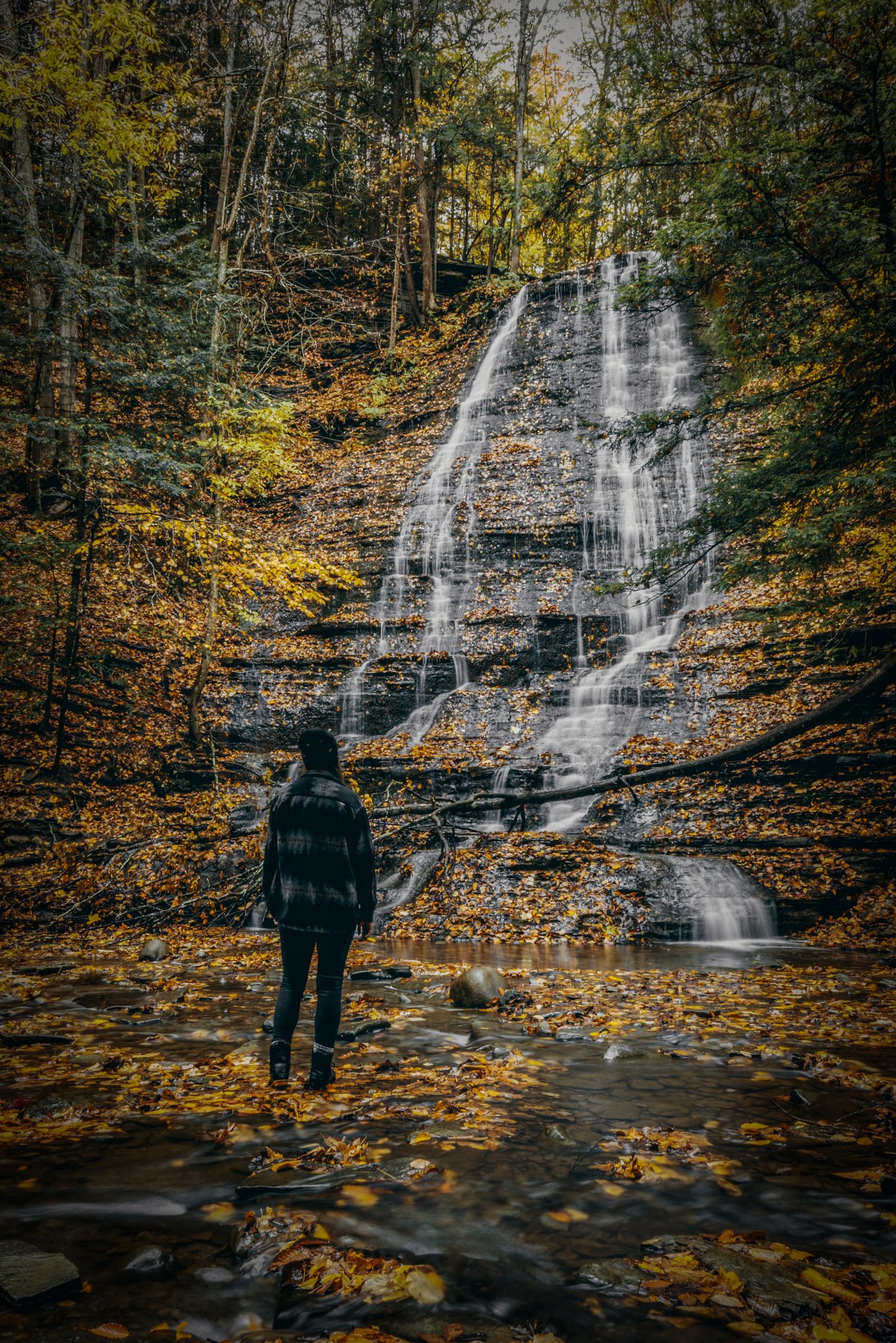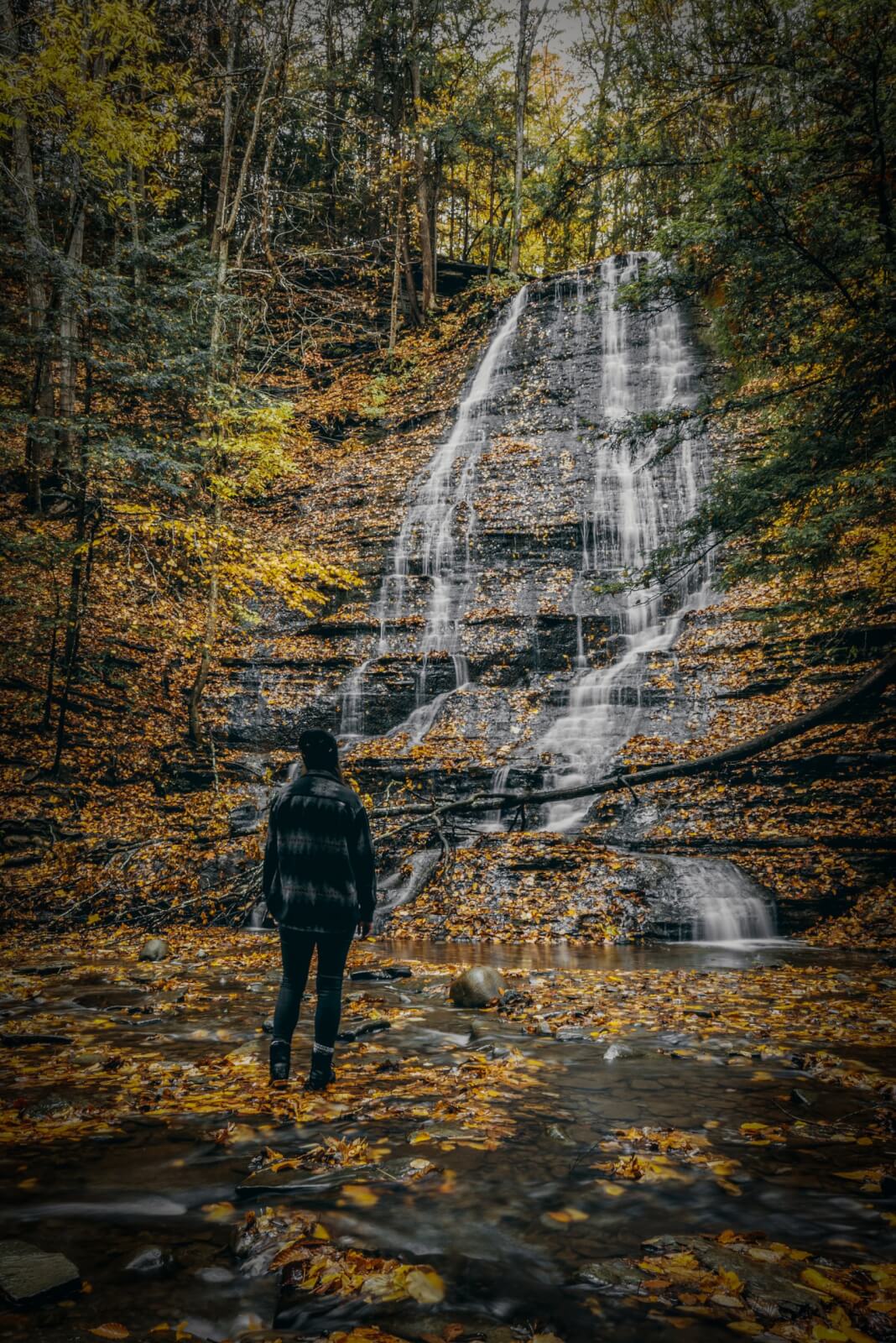 The most famous feature of Grimes Glen Park includes three impressive waterfalls, and the entire hike is about one mile long and takes roughly an hour to complete in and out.
The first waterfall, also known as French Hill Falls, can be found about a half-mile from the parking area. Visitors begin their journey by taking the only trail in the park, which passes over Grimes Creek on a wooden pedestrian bridge. A picnic table reveals itself up ahead and makes for a great spot for a quick pit-stop and a snack.
At this point, the trail is relatively flat and wide. Following the winding trail upstream, before reaching the first waterfall in Grimes Glen Park you will have to step into the creek bed to complete the last little stretch of the trail and trek.
As you're walking through the creek, the trail opens up to the left and you'll see a tributary flowing until it cascades about 62 feet into the creek.
Since there is no plunge pool, visitors can stand right at the face of the falls and when waterflow is lower you can actually climb the lower cascades fairly easily.
Marvel at how the striking waters pour over the sides of the glen, before dispersing over mossy layers of shale and limestone. I personally love how you are just surprised with another vein of water that feeds this waterfall off to the side of the creek, if I were a painter I would definitely find a spot to sit and just paint here for hours as the scene was so relaxing and picturesque!
Second Waterfall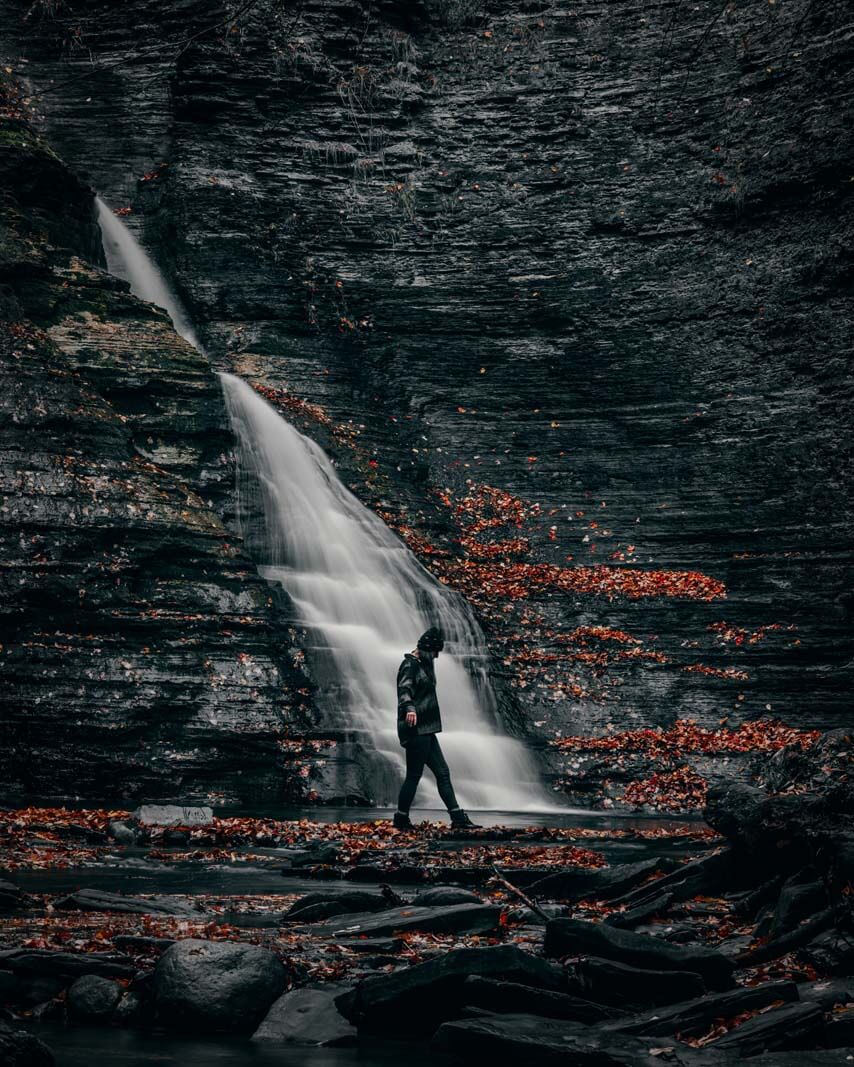 The second waterfall in Grimes Glen Park is about a quarter of a mile past the first and located directly along the main creek. Explorers may notice that the trail reappears on the left approximately 30 feet after the first waterfall – this is not for long as it ends again before the falls and forces hikers to once again venture into the stream bed.
It only took us about 5-8 minutes of walking slowly through the creek to reach the second waterfall. This waterfall is slightly smaller than the first, but typically carries more water and has a much more ferocious roar.
The main stream drops into a dramatic amphitheater, creating a waterfall just under 60 feet high, with the surrounding walls reaching up to 200 feet in height.
A sweet spot for summer visitors is located just below these falls, where the gorge opens up into a shallow wading pool. This swimming hole is nice for cooling off in after hiking in the warmer months, but can be quite dangerous during fall with the slippery leaves, as well as during the frozen months of winter.
Ropes are located to the left of this waterfall and allow hikers to climb to the top. I only recommend doing this for an alternate peek of the Grimes Glen falls in the summer as the spring is super slippery, its icy and dangerous in the winter, and the fall presents its own challenge with wet, slippery leaves. A fall from here could be seriously injure someone.
Usually, hikers stop here and turn back to complete their mile-long creek walk.
Third Waterfall
Visitors beware that skill is required if this portion of the hike is to be explored. The third and final waterfall in Grimes Glen Park is only to be endeavored by the more experienced, as it requires hikers to precariously balance as they climb up the cliff using the rope off to the left of the second waterfall in Grimes Glen.
The left side of the second waterfall leads to Indian Falls, also known as "Third Falls," which drops approximately 50 feet. Due to recent erosion over the years, there is now overhang and loose dirt that makes the trek very dangerous and there are sections of this that require rock scrambling with a long, dangerous drop below.
Most hikers turn around before the third waterfall, due to the increase in potential injury or worse. In fact, the Ontario County Parks department recently deemed this section of the gorge as private property, and thus is technically off-limits even though many hiking apps and trail guides don't mention this.
It is important for visitors to understand that nature parks such as Grimes Glen Park carry risks, and should take precautions if attempting to go off the trail, climbing any of the falls, or jumping into the second fall's shallow pool. Given the dangerous nature, only skilled hikers that have experience with rock climbing and should even consider attempting to visit the third waterfall in only the right conditions.
Nearby Grimes Glen Park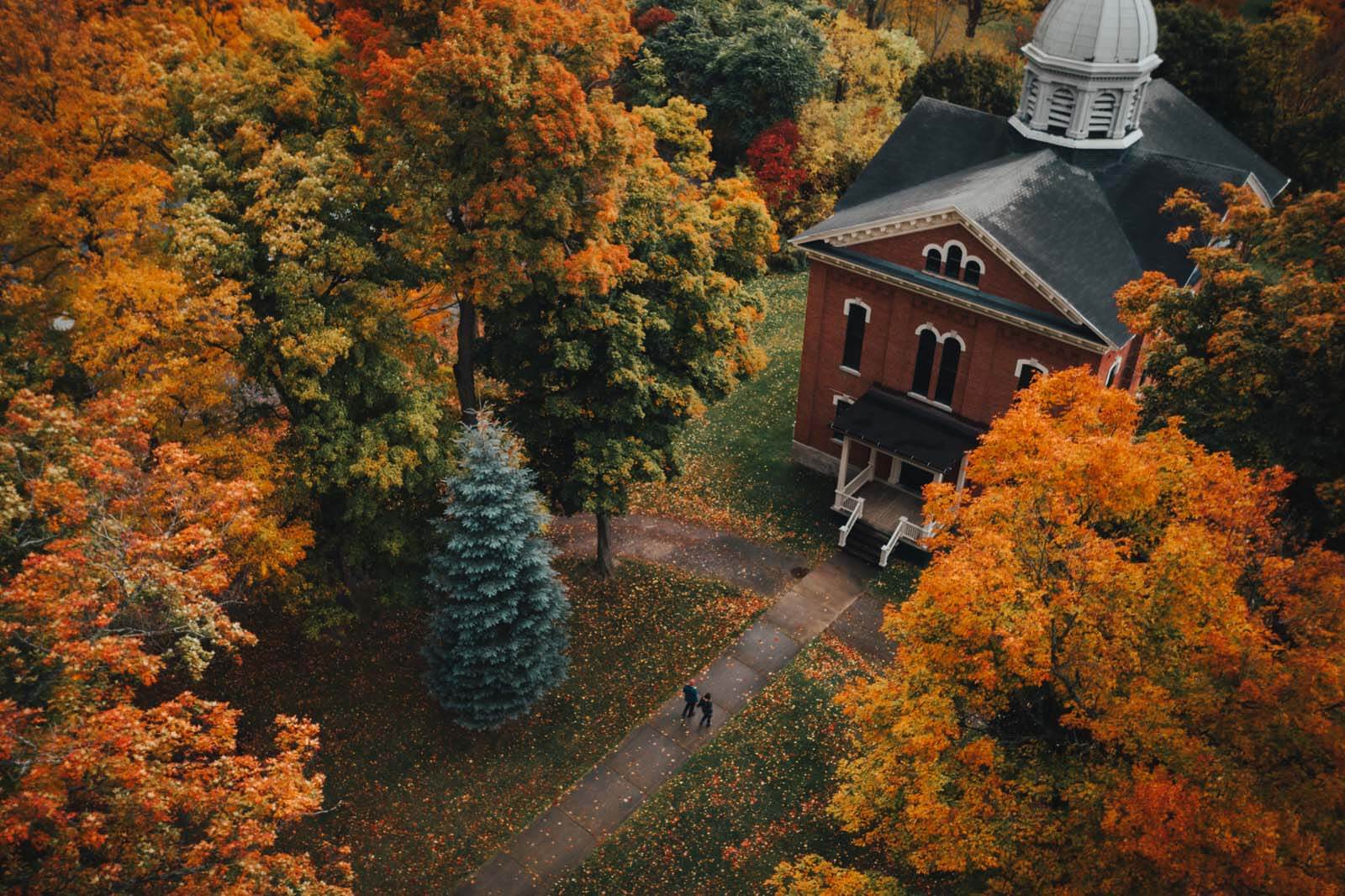 After you complete your Grimes Glen Park and waterfall hike you might build up an appetite and need to eat! There are some great options nearby in the town of Naples including Roots Cafe which serves up farm to table fare sourced locally and has a winery right next door.
If you stick around Naples for lunch or dinner, depending on the time of your Grimes Glen Park visit, you will want to get a slice of grape pie in the Grape Pie Capital of the World right here! There are a few spots in town, although some say the best pie is from Monica's, which we tried and can confirm its delicious!
Another option for dining is Brew and Brats at Arbor Hill just around a 10 minute drive away. This low-key spot serves up signature brats and dogs alongside craft brews. If you like wine, there's a winery and tasting room right nextdoor too.
If you can hold off a bit longer, drive around 30 minutes to the village of Hammondsport at the south end of Keuka Lake which has several options in their charming downtown.