Catalina Island is one of the most underrated destinations in Southern California and worth a visit whether you live or are visiting the West Coast. The island is full of history, charm, and where Hollywood's biggest stars in the 1920s would come and spend their free time. People like Marilyn Monroe and Ronald Reagan called Catalina Island home, where the Chicago Cubs used to do their spring training, and where Winston Churchill caught a marlin in record breaking time.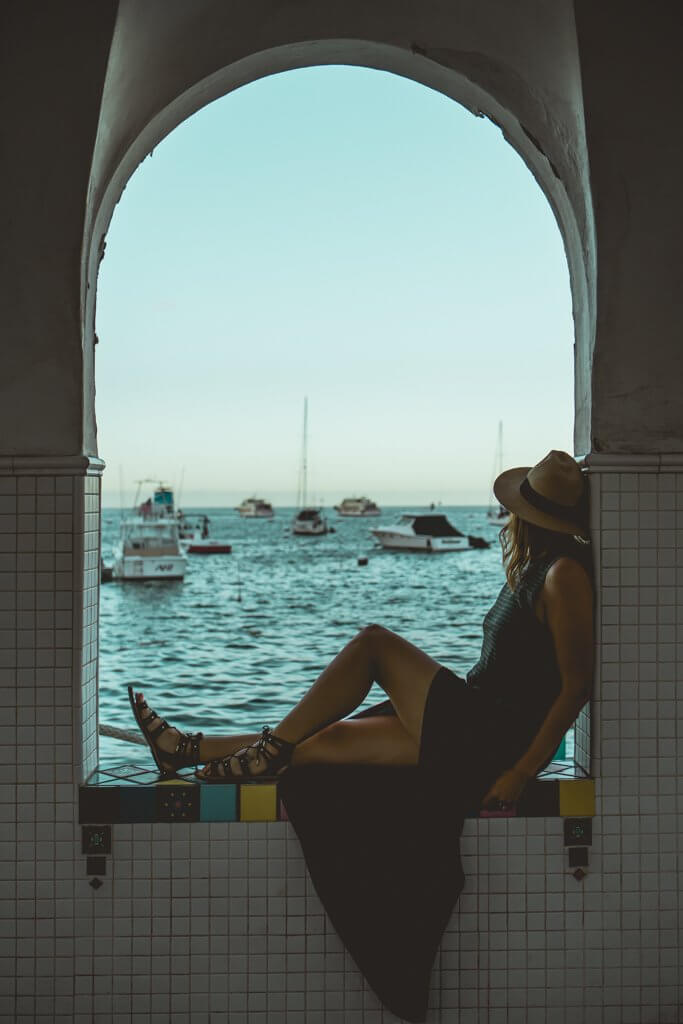 There are two different places you can visit on the island, Two Harbors a tiny resort town with one restaurant and one store or Avalon, the charming 1 square mile town full of colorful homes, shops, fine dining, amazing hotels, and activities to enjoy.
Catalina Island can be sampled on an easy day trip or what we prefer a multi-day getaway on this island paradise. Check out our guide to Catalina Island, the girl next door you didn't know about but will fall head over heels in love once you discover her.
Some Fun Facts about Catalina Island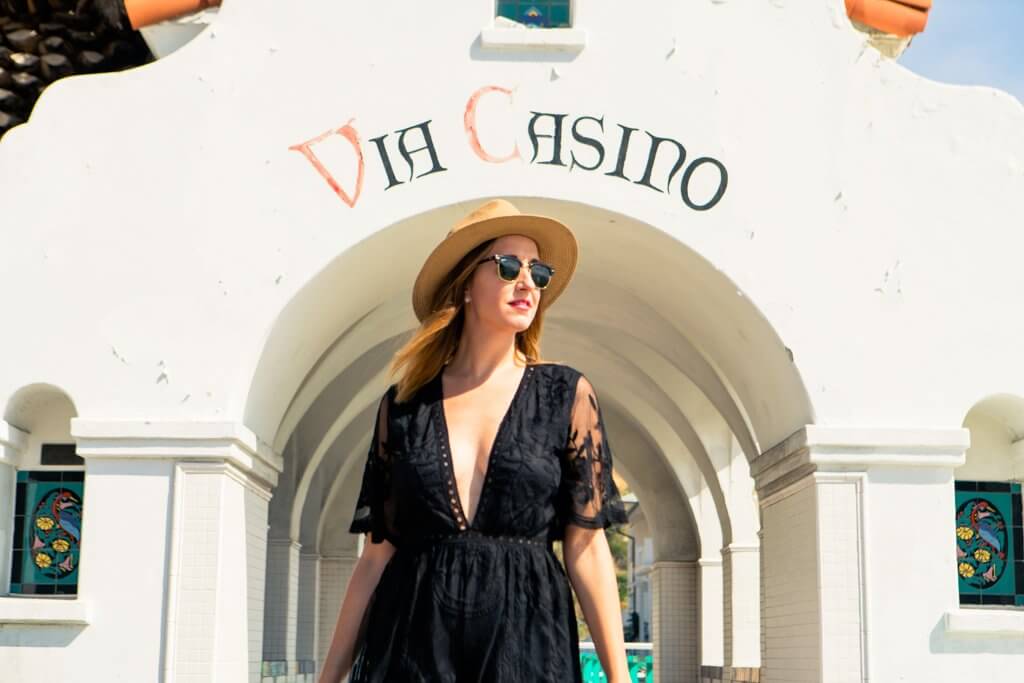 Catalina Island was bought sight unseen by William Wrigley Jr, the chewing gum tycoon and former owner of the Chicago Cubs. He is responsible for bringing the Chicago Cubs to do their spring training annually and making the entire island a reserve and conservancy so that the island would remain pristine and not able to become overrun by resorts on this 22-mile long island.
The island was used as a famous filming location for Hollywood movies including the popular more recent Will Ferrel movie, Step Brothers with the famous line, "The motherf*ing Catalina Wine Mixer." A herd of bison were brought on the island for the filming of a movie and were left behind to live on the island where some of their descendants still call home today.
Norma Jean Baker, a taffy puller at the local candy shop, was discovered here and became Hollywood's biggest starlets of all time known as Marilyn Monroe.
Ronald Reagan called Catalina Island home before making his way to Hollywood and before becoming president of the United States.
And the casino on the island, which was never actually a gambling hall and never will be, was a gathering place on the island with a movie theater featuring the first motion picture with sound!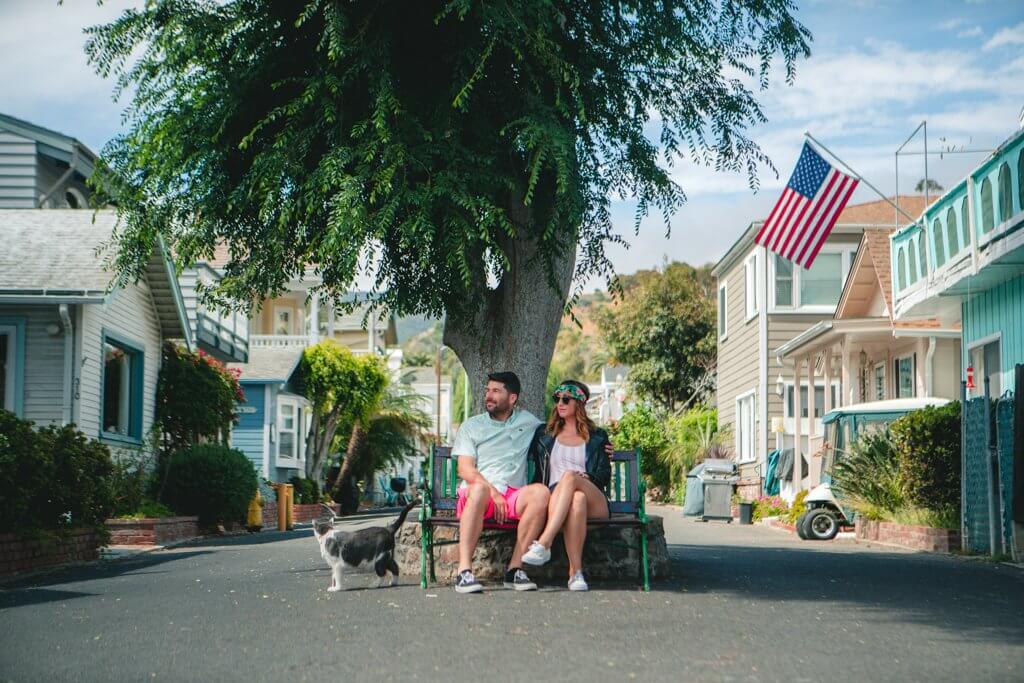 Considered to have the perfect year round climate averaging 68 degrees Fahrenheit in the winter and averaging a cool and comfortable 70s in the summer makes Catalina one of the best getaways any season.
Outdoor Adventures
There are tons of outdoor adventures to enjoy on Catalina Island including everything from kayaking to ziplining.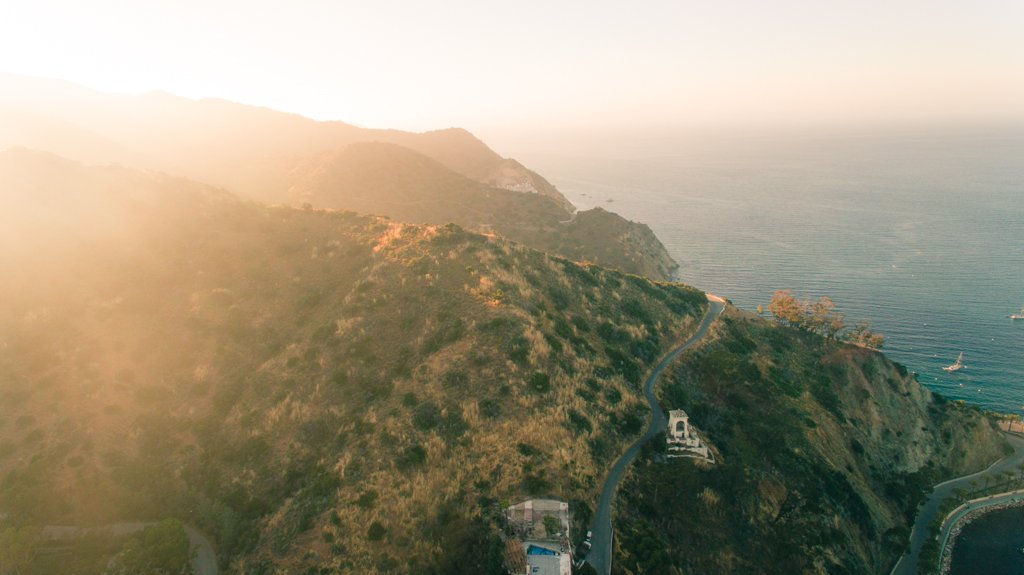 Ziplinine Eco Tour
Probably our favorite of the outdoor activities. The Zipline Eco Tour starts at the top of a hill and works its way down to Descanso Beach Club after enjoying 5 different lines! This was our first go at ziplining and it was a blast, we also had two great guides Denny and Greg who were entertaining and made our small group feel safe and have a good time! What really stands out about this experience would be the view of the ocean and the flora and fauna of Catalina Island as you zip on by!
Scuba Diving
If you're into scuba diving then you're in for a treat at Catalina. Named the "World's Healthiest Marine Environment" by Scuba Diving Magazine you should really come and see it for yourself. The most popular spot is diving from Two Harbors, all levels welcome.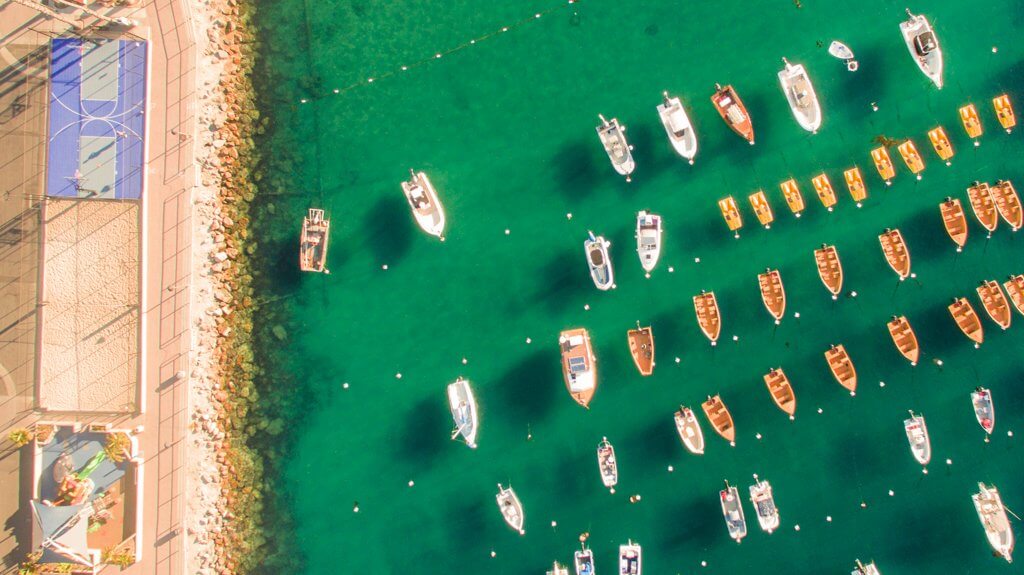 Snorkel
If you're not into scuba diving then you still can take advantage of the excellent snorkeling from Catalina Island. Check out what's under the turquoise waters by paddling around. You'll be surrounded by tons of the local, iconic orange Garibaldi fish too.
Kayak
Rent kayaks by the hour and paddle around the harbor while basking in the sun. If you're ambitious you can kayak around the island a bit.
Boat Tours
There are various different boat tours available on Catalina Island including a glass bottom boat, an under the sea submersible boat, the new Cyclone high-speed boat that takes you on a 40 minute ride to Seal Rocks, or the seasonal flying fish boat tours at night where you can literally see fish soar in the sky towards light for an unforgettable experience.
Inland Tours
Explore different parts of Catalina Island by taking an inland tour or expedition. There are different tours to choose from ranging anywhere from 45 minutes to 3.5 hours. Some of the tours take you to places you wouldn't be able to access on the island without an offroading vehicle. You can also take a vintage bus around the island. Enjoy the beauty of Catalina outside of Avalon and Two Harbors by exploring the island's towns and maybe you'll even see the bison on the island!
Descanso Beach
The best area to lay out on the beach in Avalon would be Descanso Beach club. Bring a towel or snag one of the comfortable beach chairs for a relaxing day. You don't even have to leave for food or drinks since you can get served by the local restaurant right on the sand!
Wrigley's Botanical Garden
Check out the inland Catalina Island Conservancy and botanical garden and memorial to William Wrigley Jr. Walk, bike, or take the local transport up the entrance where you will be greeted with endemic plants to the island as well as plants that are only found on Catalina Island. With these unique discoveries, you will also see rare and endangered plant species. We especially loved the view from the Wrigley Memorial and the beautiful tile murals.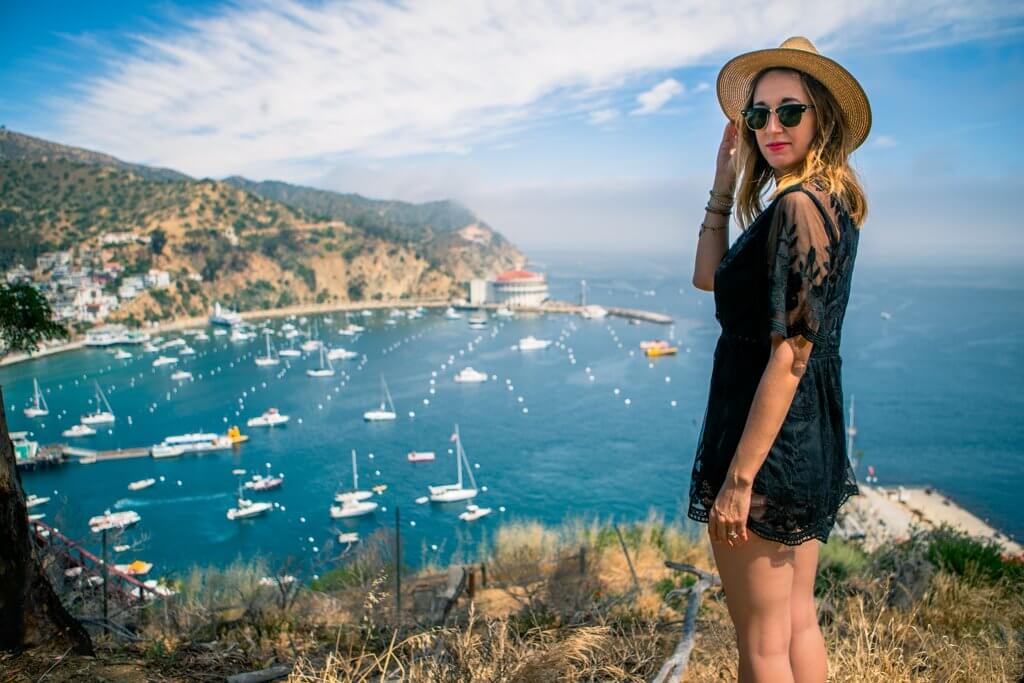 BONUS- get a day pass!
If you want the most bang for your buck and experience tons of the island excursions then we recommend purchasing a day pass for $179/person. The day pass will give you access to different inland tours, boat tours, and ziplining. Save money while enjoying some of the most fun activities on Catalina Island.
Tours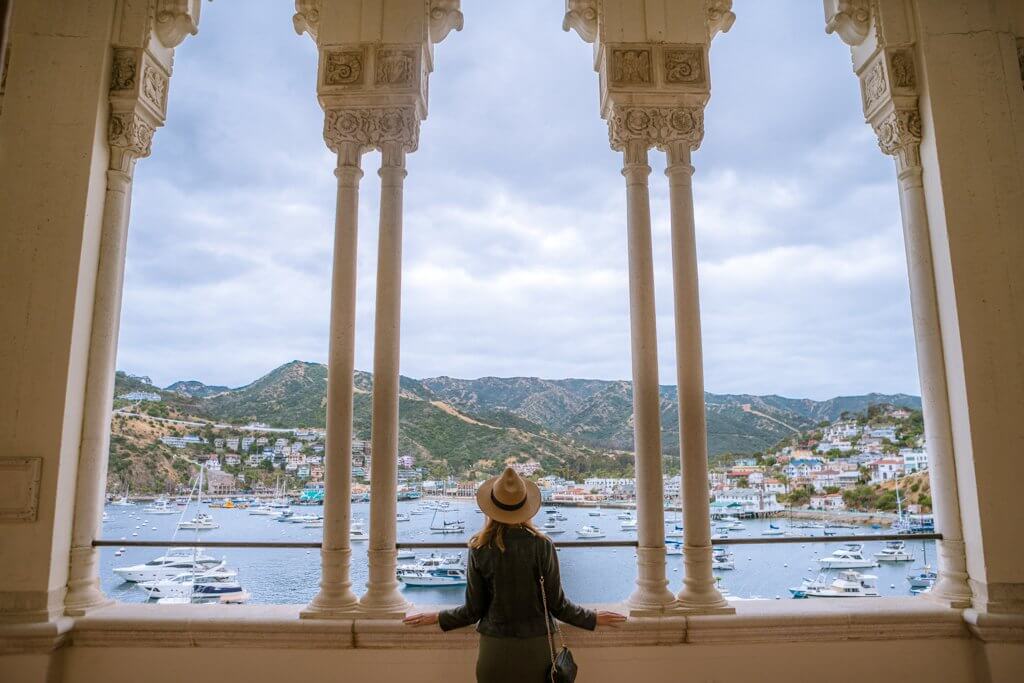 Since there is so much history and interesting information about Catalina Island why not take a tour and brush up on some knowledge from a local? If history isn't your thing then you can enjoy a scenic or culinary tour that are totally worth your time as well.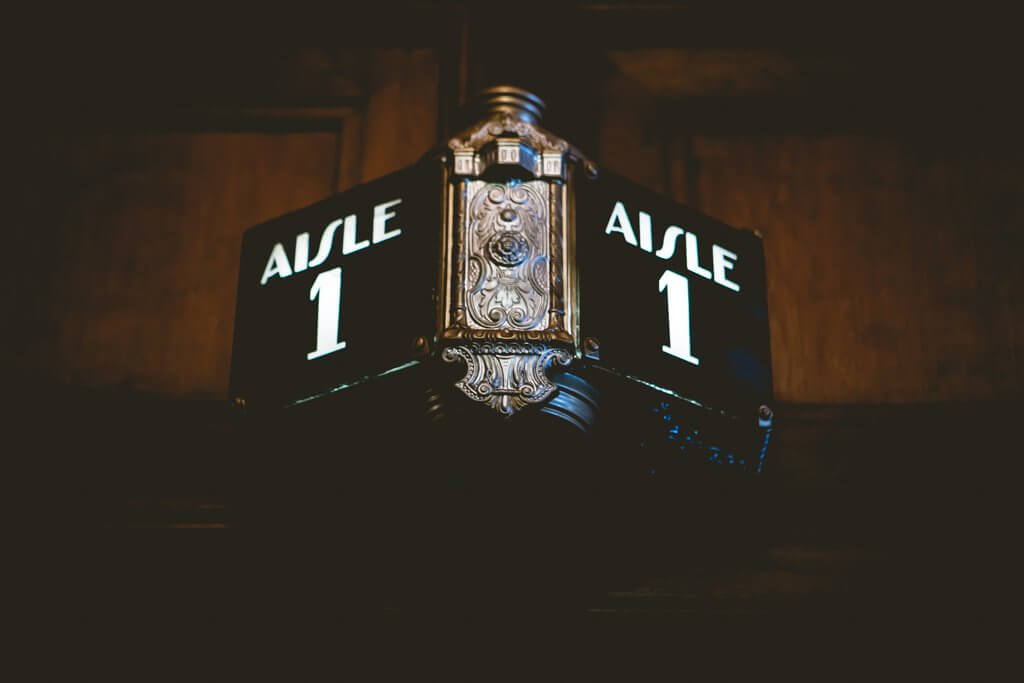 Historical Tours
If you're a history buff we recommend taking a casino tour. There are two different tour options available, one is a 40-minute tour that takes you through the movie theater, the ballroom, and ends with a fantastic view from the top of the casino. The other is a more in-depth 90-minute tour that gives you more of a behind the scenes look into the casino and all of the famous events that have been held there.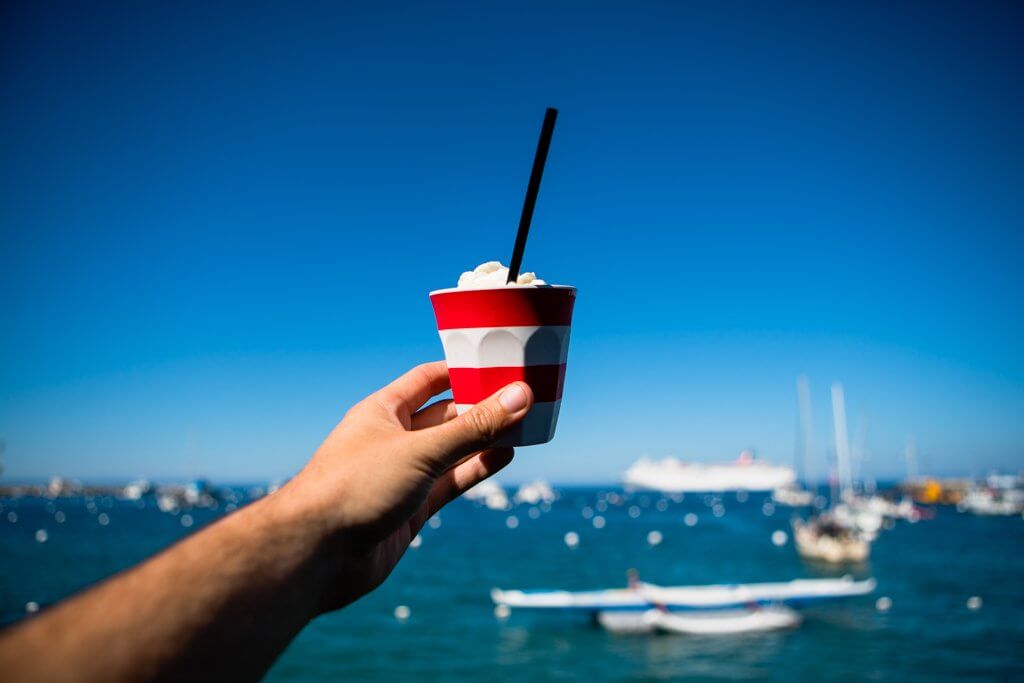 Happy Hour Tour
If you're spending the night on the island we recommend checking out the fun Happy Hour tour sampling your way through 5 different bars with snacks and drinks along the way. There's even a fun scavenger hunt bingo game to play along with the way. We had such a blast on our tour getting to know the locals and sampling different drinks along the way! You will even get to try a local specialty drink called, "Buffalo Milk," a dessert cocktail that is to die for! Afterwards, you'll know the best spots in town to hang out and have a drink.
Taste of Catalina Food Tour
We are obsessed with food tours ever since we ate our way through Israel a few months ago. Now it's a goal of ours to do as many food tours as possible when we visit a new place. Even though we weren't trying exotic foreign cuisine, we were able to sample some of the greatest food on the island at the best restaurants. You sample your way through 6 different restaurants having everything from appetizers to dessert. We were able to check out all the amazing dining establishments on the island in just a few short hours. This tour is perfect for day or overnight visitors! It was a great introduction to restaurants we may not have normally ate at, we ended up going back to the restaurants on the tour during the rest of our stay!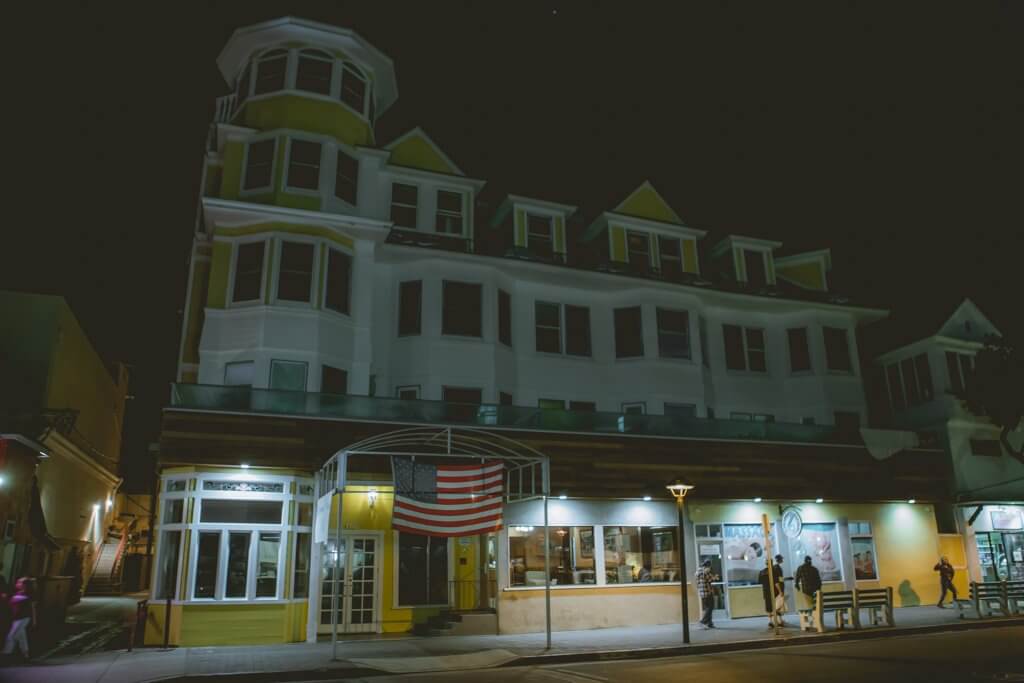 Spooky Tours
If you're going to be around at night and are interested in the paranormal or aliens then you have two tours to choose from! We didn't know this until visiting the island, but apparently, there have been hundreds of UFO sightings on Catalina Island. Walk along the shores at dusk with a guide to hear about the local tales of UFOs. Another popular tour would be the ghost tour held on the evenings. Find out about the local and famous ghost sightings on the island. We were a bit disappointed with this tour as the guide didn't cover all the stories that were advertised in the brochure like what happened to Natalie Wood . This tour was ranked one of the top 10 ghost tours in the United States, so perhaps our guide was just having an off night! Be sure to check out current reviews if this is something that interests you!
Entertainment
For being such a small town we were impressed with the different entertainment options on Catalina Island!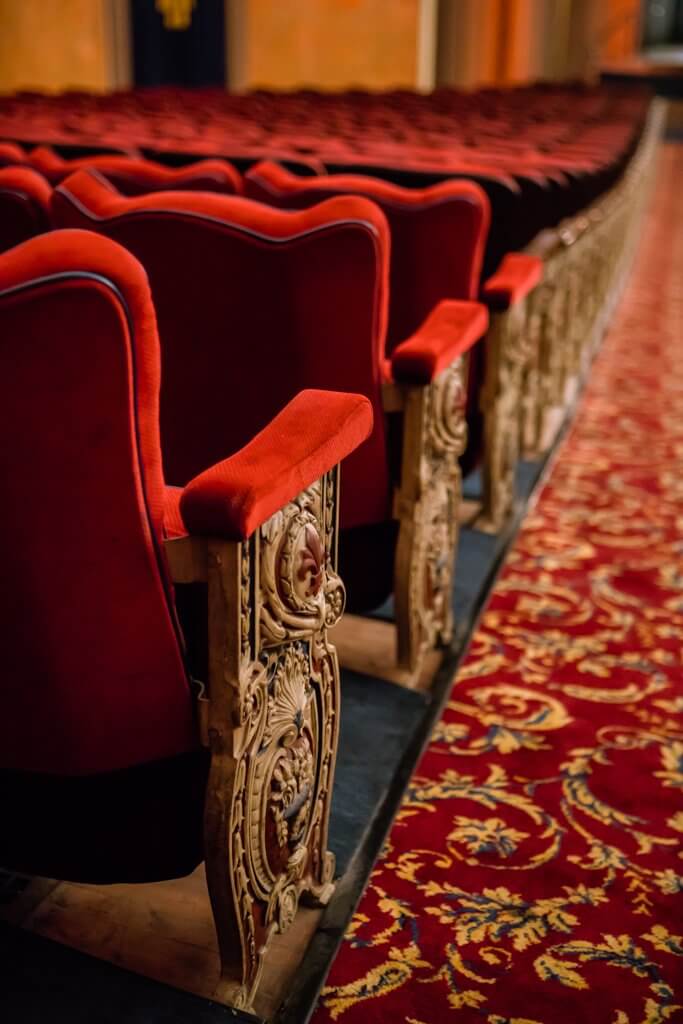 Casino movie theater
If you want a unique movie theater experience then you will want to check out the Casino movie theater on Catalina Island. Step back in time as you enter the beautifully preserved theater with the 1920s era seats and original art deco murals on the ceiling. Every evening at 7:30 there is one showing of a current movie, we were lucky to experience Guardians of the Galaxy Vol. 2 here! If you come wearing a hat you can use the old-fashioned hat holder men and women used in the 1920s under the seats. Come a bit early on the weekends and you can experience a local man playing the antique organ in the cinema. The organ itself is the 3rd oldest organ in the world of it's kind and only 4 left in existence!
Mini Golf
One of our favorite things to do on Catalina Island is play mini golf, we love playing mini golf anywhere but to have a chance to play here is extra fun! The 18 hole course is situated in a lush garden in the center of town in Avalon. There are some great trick shots so be sure to channel your inner Happy Gilmore here. Brush up on island facts at each hole where there's a sign describing something about the island as well as the best way to tackle your shot!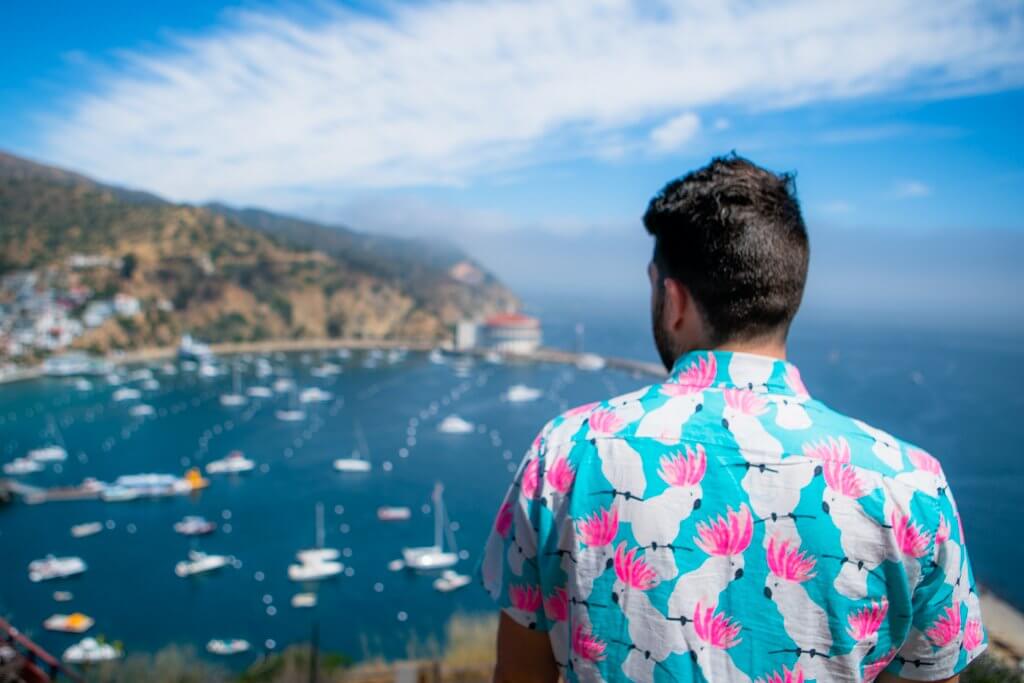 Rent A Golf Cart
The local mode of transport are golf carts and you can see locals buzzing around town with their dogs as if these carts were real cars. If you're short on time or sick of walking this is the perfect way to explore the nooks and crannies of Avalon. You can rent golf carts by the hour at a few different spots in Avalon.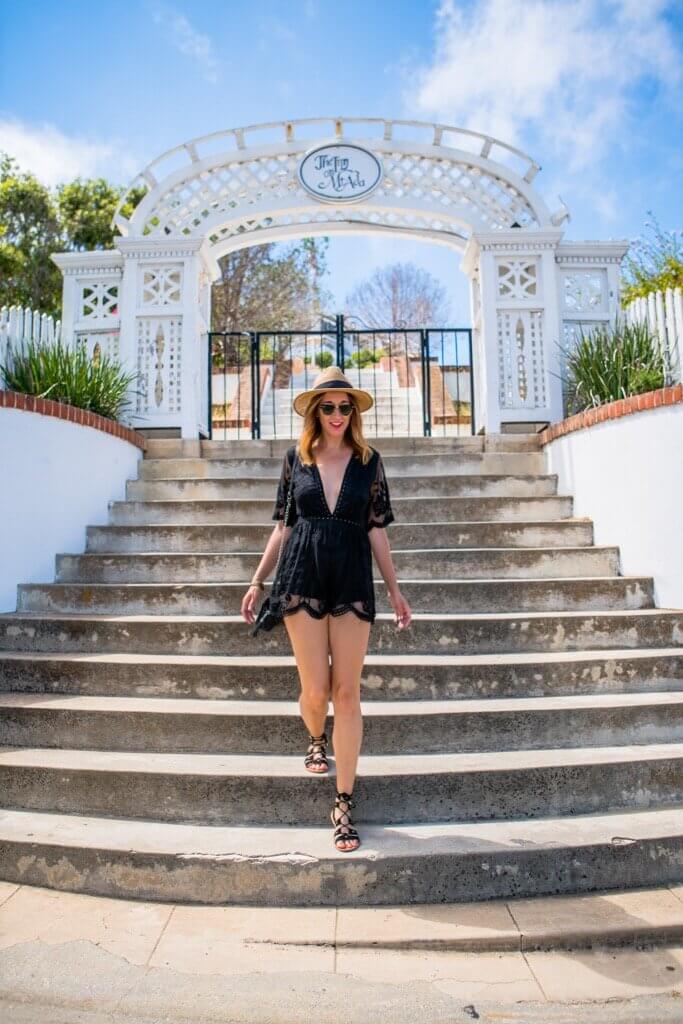 Be sure to ride up to Wrigley's old house on the hill for an amazing view of Avalon! You can stay at the house, now a running B&B, but be prepared to be on a 3 year waiting list!
Play at the Arcade
Not just for kids! Play mini bowling, shooting pirate games, Deal or No Deal, and many other fun arcade games at Three Palms Arcade in Avalon. They even have a ticket system where you can trade in your winnings for fun island prizes!
Best Eats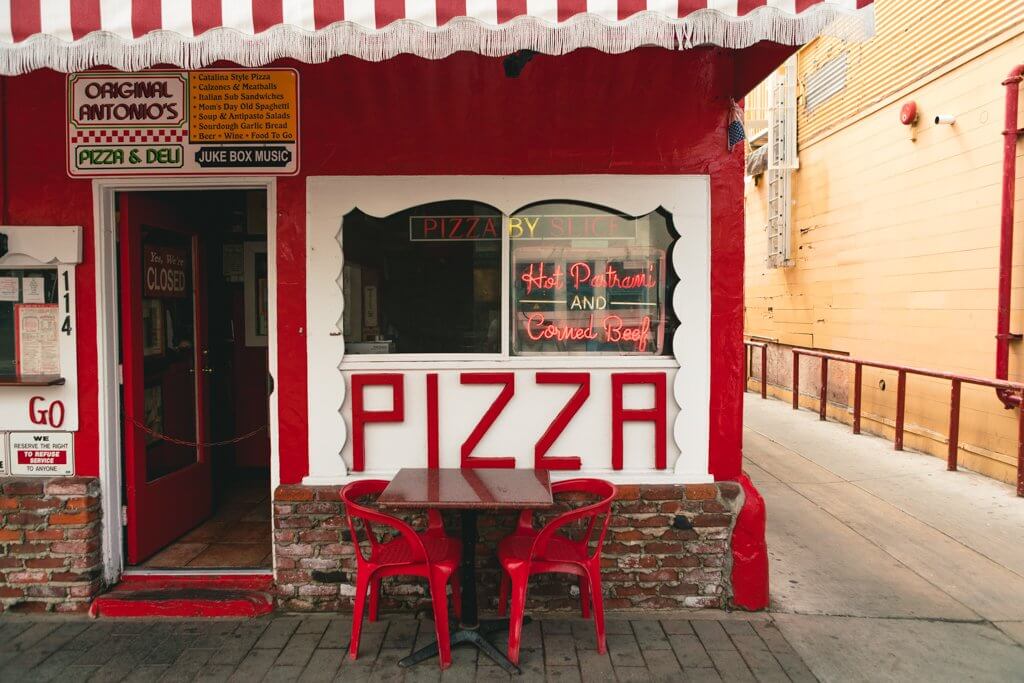 There are so many great dining options on Catalina Island that it's hard to choose just a few. We recommend doing the Food Tour mentioned earlier in the post to sample the best food on the island. Here are our picks for best places to eat in Avalon.
Maggie's Blue Rose
Overlooking Avalon Bay this is the best spot in town for amazing margaritas and Mexican cuisine. We were impressed with how delicious and addicting the homemade tortilla chips and salsa were. We decided we had the best nachos in the world here and came back twice for them during our trip!
Descanso Beach Club
Enjoy a drink and tasty food on the beach at Descanso Beach Club. This laidback place is the perfect spot to enjoy lunch while relaxing on the beach. Sit at the bar, on a towel at the beach, or find a lounge chair with an umbrella and enjoy your meal and drinks all day.
Antonios Pizza
For a quick and tasty bite to eat grab Antonio's pizza by the slice at the location on Summer Ave. There are actually two locations, one being on the water for sit down dining and the other being a grab and go pizza by the slice.
Blue Water Grille
Located right on the water with a great outdoor deck to enjoy delicious food and drinks. We loved the beer selection on tap and the fresh ceviche and chips.
Steve's Steakhouse
Where to Stay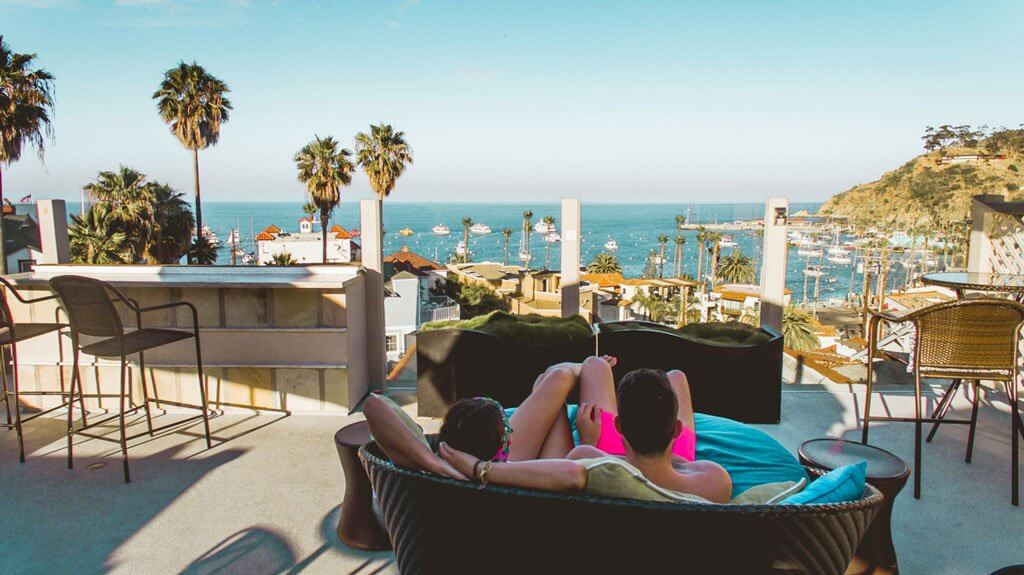 We recommend staying where we stayed, at the Aurora Hotel & Spa nestled up on the hill on Marilla Ave. We loved how Aurora Hotel was a bit removed from the downtown area and was always quiet. We especially loved the view from the rooftop patio and the friendly staff too. Be sure to read about our stay.
Transportation
There are daily ferry routes from multiple different ports in Southern California including Long Beach, Newport Beach, and Dana Point and if you're looking to splurge you can take a 15 minute helicopter ride.
---
When you're in Southern California make sure you have time to check out the girl next door, Catalina Island! There's so much to enjoy here and you really can't beat the breathtaking views, charming town, and friendly locals! Spend a day or spend a week.
If you liked this post share the love on Pinterest below!