Bermuda's Horseshoe Bay Beach is one of the most beautiful beaches in the world. Famous for its pink sand, gorgeous shades of Bermuda blue water, and a dream vacation spot that is on many people's bucket list thanks to its many features on travel shows and round-ups of pristine beaches to visit!
Named after its curved shape, this beach is home to rosy-hued and blush tone sands, crystal clear shades of blue water, and better yet Horseshoe Bay Beach has walking trails along the sand dunes that also lead you to more, smaller coves and secluded Bermuda pink sand beaches along South Shore Park, a 1.2 mile trail through the sand dunes that stretch from Horseshoe Bay to Warwick Long Bay.
There are two main sections of Horseshoe Bay Beach, there's the main horseshoe shape area which is the large stretch (about 1/4 of a mile) of pink sandy shores to hang out for swimming and watching the waves come in and there's also Horseshoe Bay Cove, which is an enclosed bay adjacent to the beach that keeps the waves out which is perfect for those timid of swimming in the ocean with waves and those with young kids.
There are gorgeous rock outcroppings and formations along the beach here which provide dramatic landscapes plus hidden caves that can be explored by those up for a little beach adventure.
Here's everything you need to know about visiting Horseshoe Bay Beach in Bermuda to have an unforgettable time whether you're just popping by or planning on spending an entire day!
Be sure to also read up on all our tips and things to know before visiting Bermuda too for more helpful information to plan your visit plus how to get around Bermuda as transportation is a little different here and requires some planning before your dream trip! Also, don't miss our guide to all the best things to do in Bermuda and the best places to stay in Bermuda too.
Horseshoe Bay Beach in Bermuda
Main Beach (Horseshoe Bay Beach)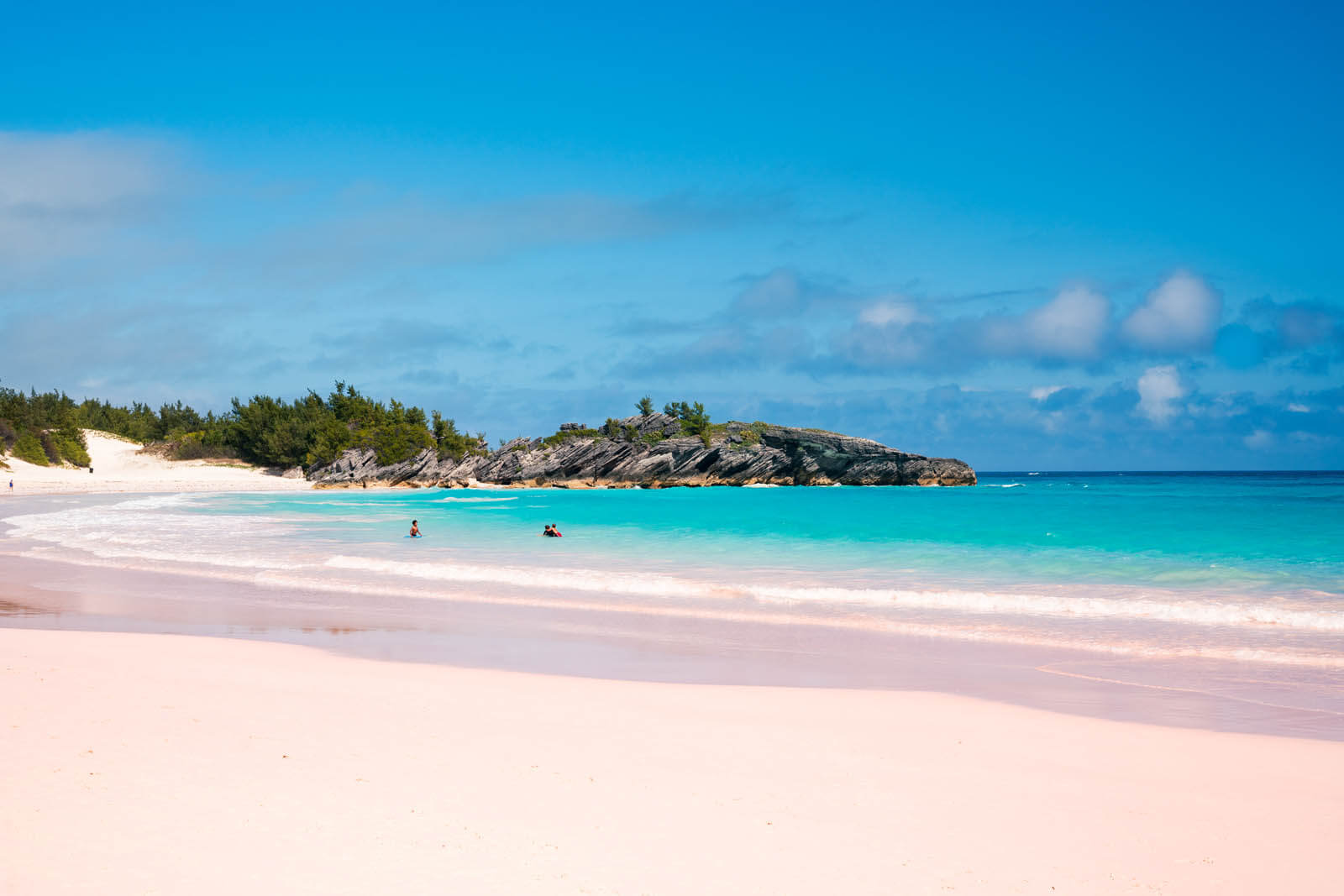 Horseshoe Bay Beach is the most famous pink sand beach in Bermuda as well as the most popular of Bermuda beaches! This popular tourist destination is on the main island's south coast. Horseshoe Bay Beach is known for its limestone cliffs, pink sand, and unique horseshoe shape.
Bermuda's Horseshoe Bay Beach is a great place to spend a few hours or an entire day! This beach is awesome as not only has it been featured as one of the best beaches in the world, but it has some great amenities to make spending a day at the beach really comfortable and easy.
There are public restrooms, a beach cafe, and umbrellas and beach chairs that are available for a rental fee during the peak season (typically May – October). On top of the beach cafe, there is also a gift shop and bar & grill that will keep you busy!
On a calm day, the waves are relatively small but when the wind kicks up there are waves, but nothing too terribly intimidating, just keep in mind that this can kick up a current and should be avoided. Don't worry though, there are protected and secluded coves here you can swim in that are great for kids or beginner swimmers.
Horseshoe Bay Cove aka Port Royal Cove (Baby Beach)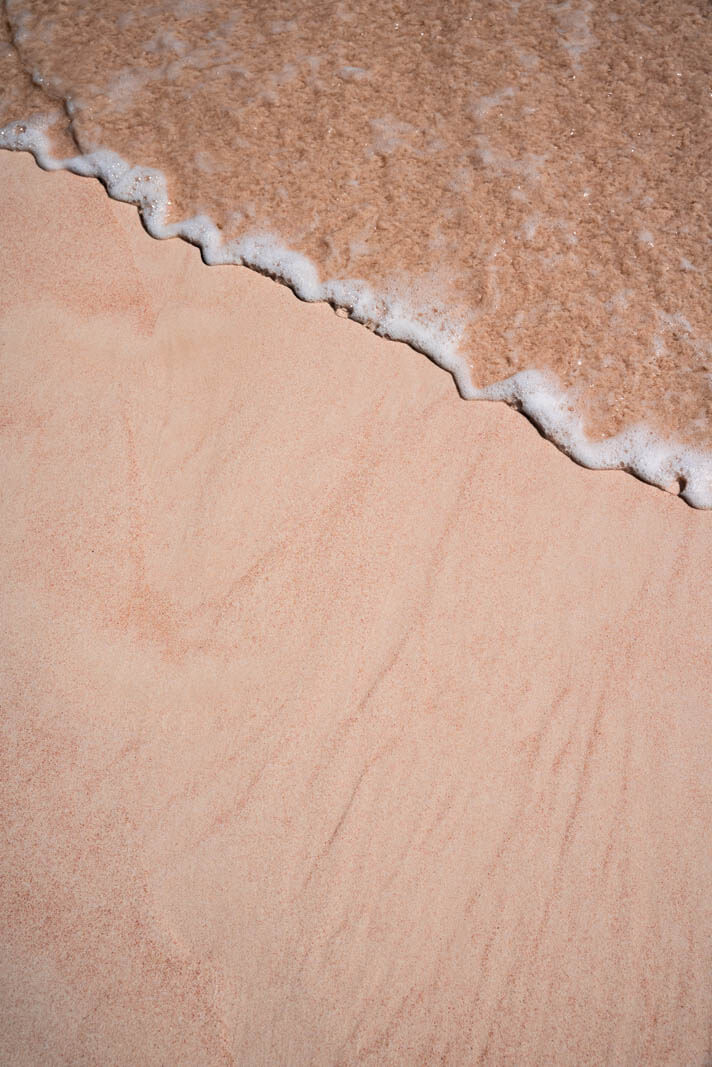 Right next to Horseshoe Bay Beach is Horseshoe Bay Cove sometimes referred to as Port Royal Cova, aka Baby Beach– a beautiful small, cove beach with calm, blue water and pink sand. This mellow beach and its clear, blue, shallow water are great for children and those not familiar with swimming in the ocean as it's protected by a cove and you don't get waves here.
The beach is separated by a large rock formation, so this is a great place to go for families!
How Horseshoe Bay Beach Gets Pink Sand
You may be asking yourself: Why are the beaches in Bermuda pink? These stunning beaches get their color from the red foram (red foraminifera). Red foram is an invertebrate whose shells get stuck to the ocean floor and mix with the sand! Over time, these tiny shell particles wash up to the sea and mix in with the sand, turning it into a beautiful pastel pink or rosy hue.
When you look at photos online, if you see any that are REALLY pink, there's a chance they've been digitally altered or heavily edited. But we assure you, the sand is pink! It does look different based on the way the light is hitting it though, even during our visit depending on the angle we were looking and the way the light was hitting the sand varied the rosy hues and their visibility.
We have some photos that look like a white sand beach and somewhere the pink sand is clearly evident! We noticed that right where the shore breaks where the sand is wet is the easiest place to really notice the pink hues. Also, if you take a close look at the sand you can see the little pink bits from the crushed up red foram in the sand!
Amenities at Horseshoe Bay Beach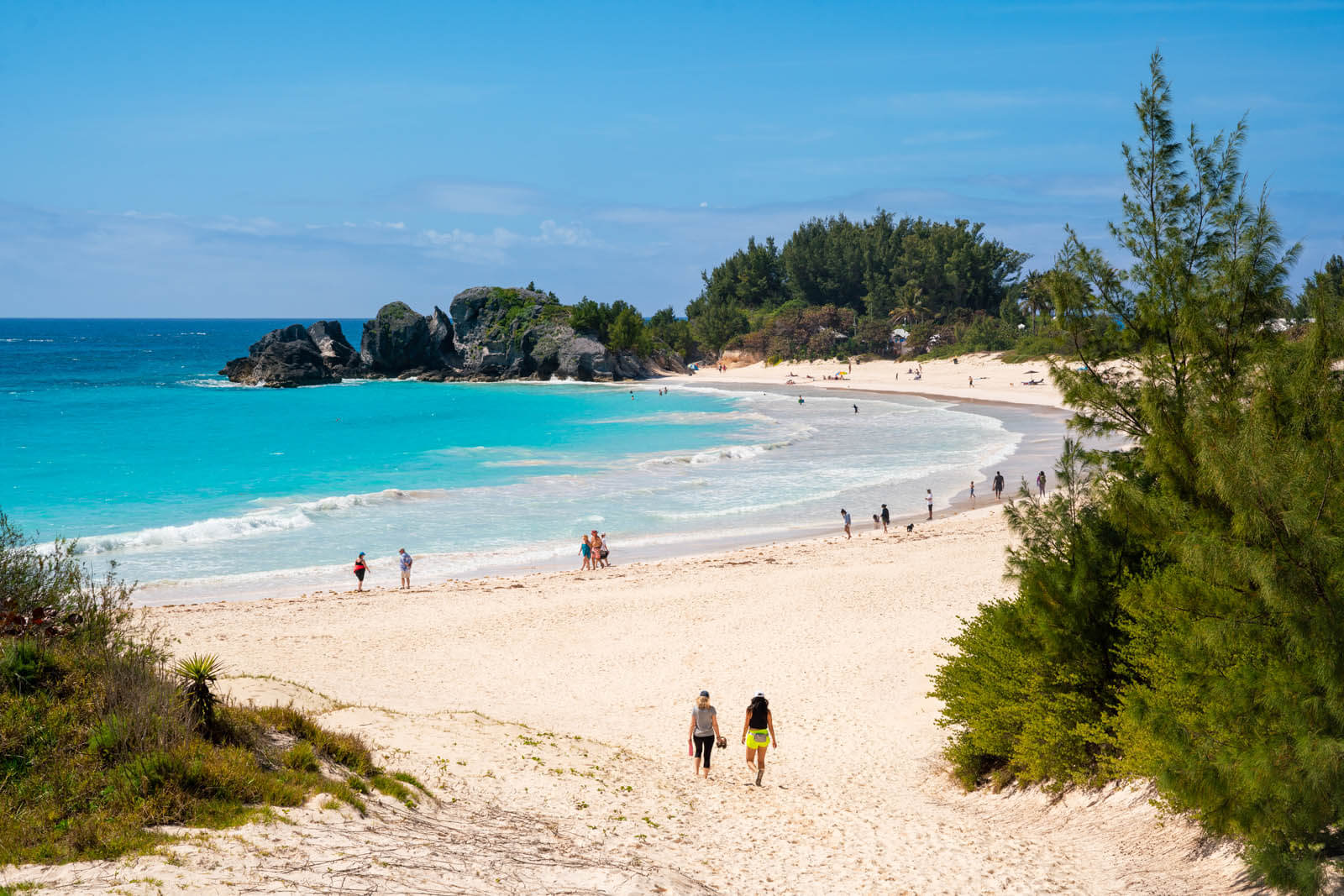 Rest assured that if you visit Bermuda's Horseshoe Bay Beach during the summer months, you'll have all you need right there with you. There is a wide range of beach items that you can rent during the peak season. Keep in mind, if you're visiting on the shoulder season, like we did in mid-March, these amenities may not be available during your visit.
Before your visit, it's best to ask your resort or hotel if the amenities are available on your visit. If not, make sure you pack or bring with you your beach snacks, water, and other things you'll need for an unforgettable day at Bermuda's Horseshoe Bay Beach.
Here are some of the amenities you can expect during peak season for rent:
Paddleboards
Snorkeling equipment
Boogie boards
Beach chairs
Towels
Umbrellas
If you don't want to rent out a ton of items but still want to have fun, consider building sandcastles and exploring the nearby caves! If you have younger ones with you that you want to keep a close eye on, check out the nearby Horseshoe Bay Cove (Port Royal Cove). This picturesque, enclosed bay keeps the big waves out and is super safe for kids.
Staying at Horseshoe Bay Beach all day won't be a problem– this beach has food options during peak season. There will be vendors selling beach snacks and drinks. We also recommend grabbing some and bringing them to the beach with you, especially if you plan on exploring the other beaches along the sand dunes and trails of South Shore Park!
For another food option, you can walk or drive to Gulfstream, an upscale restaurant around a 10 minute walk up the road (keep in mind you will have to walk up an incline). This Italian restaurant is known for its pasta and seafood. Even though this restaurant isn't on the shoreline, it's just a few minutes away from the beaches, making it a perfect spot to end your day!
Nearby Beaches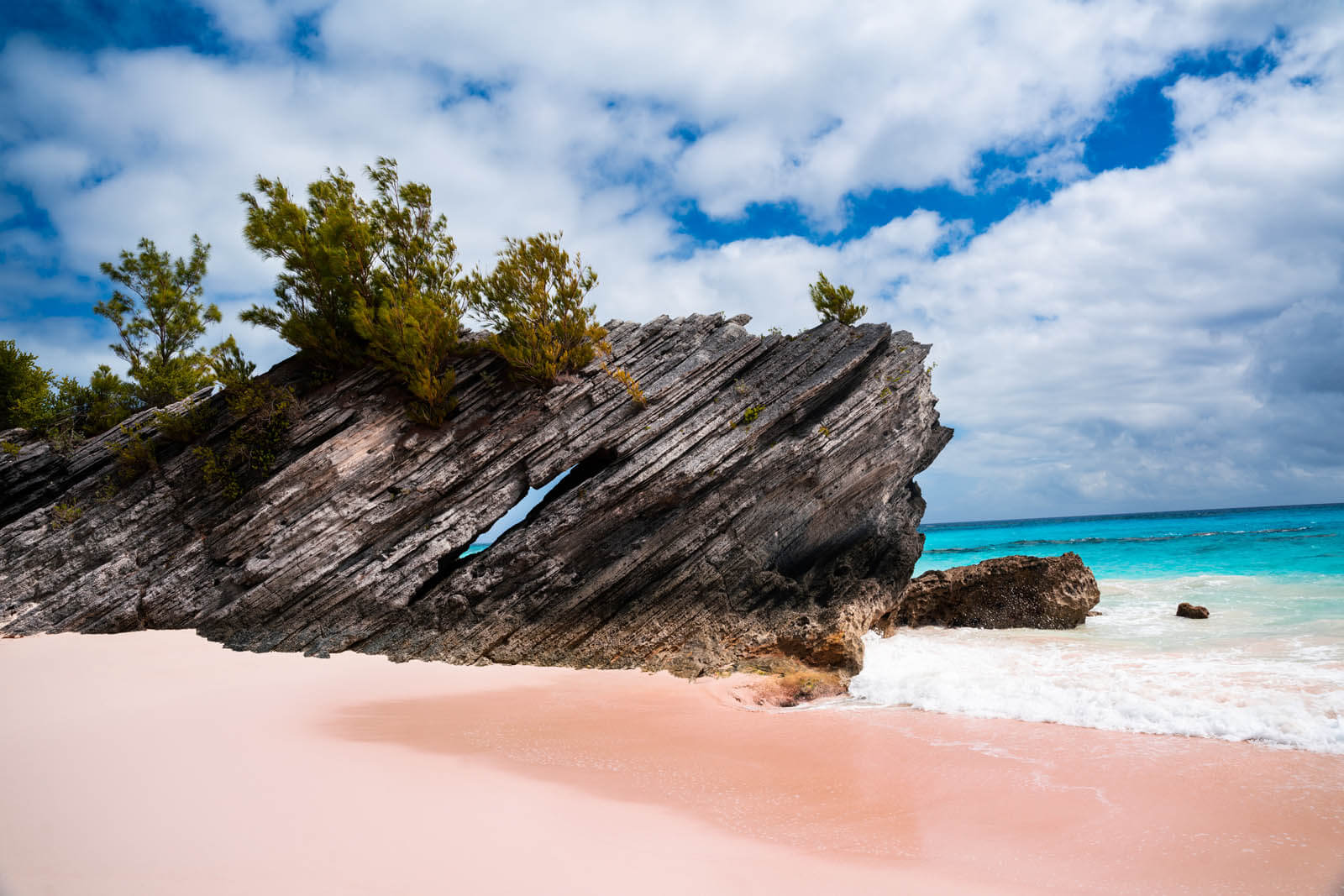 Another reason that Bermuda's Horseshoe Bay Beach is so awesome is that there are many other beaches nearby that are worth checking out within walking distance. Horseshoe Bay Beach has South Shore Park, a 1.2 mile trail that starts at the east end of Horseshoe Bay Beach and connects to sand dunes that have several pink sand beaches and secluded coves you can swim at all the way to Warwick Long Bay Beach, another one of the best beaches with pink sand at Bermuda.
This was actually one of our favorite things to do at Horseshoe Bay Beach and one of the best ways to avoid crowds if you're visiting peak season, the further you explore the more secluded things get. Just keep in mind on a hot day you'll want to pack plenty of water since you'll be distancing yourself from the amenities available at Horseshoe Bay Beach.
The walk isn't too long, but keep in mind walking through the sand dunes means that walking any distance will take just slightly longer – but it's worth it!
Walking along the sand dunes you'll find gorgeous rock formations jutting into the water and multiple beaches, the order of the beaches are: Horseshoe Bay Beach, Butts Beach, Middle Beach, Water Rocks Beach, Angle Beach, Hidden Beach, Chaplin Bay Beach, Elsbeth Beach, Jobson's Cove, and Warwick Long Bay Beach.
Butts Beach has the same pink sand and clear Bermuda blue water but you'll notice the crowds start thinning out here and even more further along the South Shore Park trail you explore. So if you're on the hunt for a beach with super calm waters, look no further than Butt's Beach. This beach is more popular among the locals and is great for snorkeling and exploring the shallow pools!
Middle Beach is another secluded sandy cove is so close to Horseshoe Bay Beach that you can still are close enough to all of the amenities of Horseshoe Bay Beach, but more privacy! This beach is great for snorkeling in the clear waters by the rocks.
We loved all the beaches, but one of the most beautiful in our opinion was Water Rocks Beach. This secluded, white sand beach has a massive rock formation that juts out from the shoreline with a little window in it! This hidden spot is great for swimming in the clear waters and lounging on the sand or in the shade underneath the rock.
If you're searching for more privacy but still want to stay close to the amenities at Horseshoe Bay Beach, consider hiking down to Angle Beach! This beach is not too popular among tourists and is great for anyone that wants a more secluded spot. Angle Beach has limited shade but is great for some solo sun-bathing. This beach is also great for snorkeling and has massive rock formations that conveniently block the wind.
If you're looking for a super-hidden beach, look no further than Hidden Beach! This secluded beach is rarely crowded and is relatively far away from everything. Here, you'll find some larger waves and stunning rock formations that jut out from the sand. However, be sure to take advantage of the amenities at Horseshoe Bay Beach before heading over here, as it is more of a walk than the other spots.
Chaplin Bay Beach is another underrated spot that's worth checking out. Even though this beach practically vanishes during high tide, it often showcases stunning rocky sea cliffs and multi-colored blue waters. You can expect to find rougher waves on windy days that are perfect for boogie boarding, but would advise beginners avoid these windy days and to exercise caution. Although this beach is quite secluded, it conveniently connects to the other walking paths and is easy to get to, but at low tide.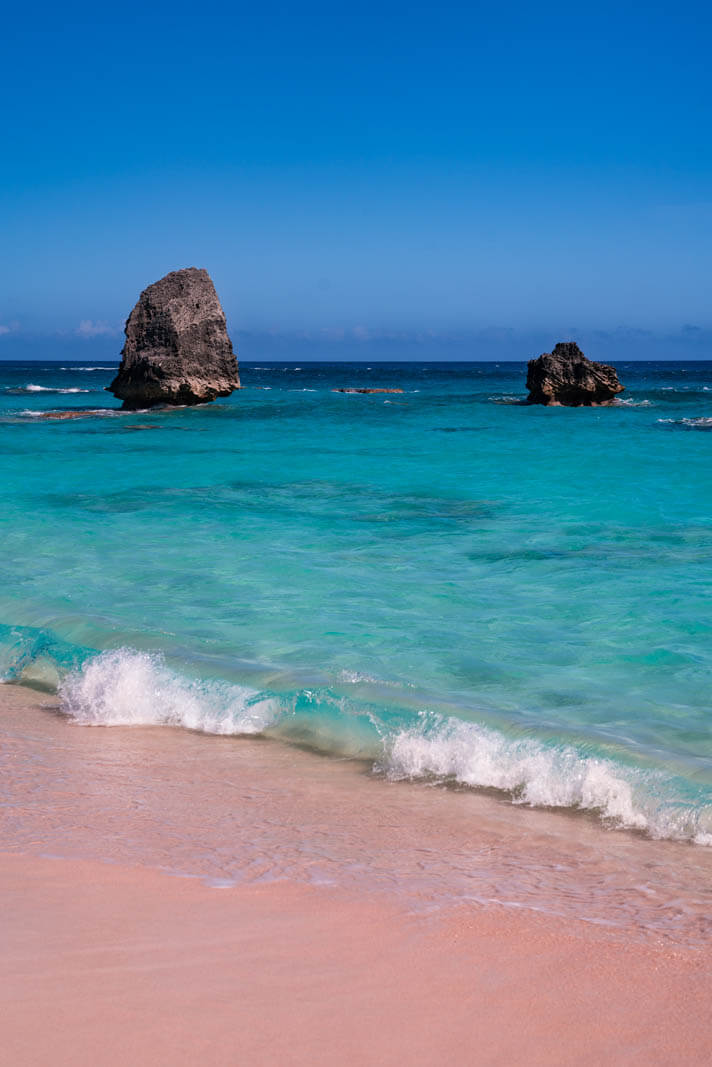 Once you get to the last few beaches near Warwick Long Bay Beach, you may want to consider exploring from the opposite end if you rented an electric car or motorbike, especially on a hot day. If you're up for the adventure and don't mind walking up to a mile back to Horseshoe Bay Beach, you can totally visit by just trekking along the sand dunes of South Shore Park trail.
Elsbeth Beach is seclude and has pretty rock outcroppings jutting into the gorgeous blue water! You can also easily access the amenities available at Warwick Long Bay Beach, which are similar to those available at Horseshoe Bay Beach if you need anything.
Jobson's Cove is the calm, protected cove that is the 'baby beach' or calmer waters perfect for children or newbie swimmers at Warwick Long Bay Beach.
And last but not least, the final and impressive pink sand beach along the South Shore Park Trail is Warwick Long Bay Beach which is the longest beach in Bermuda! On calmer days, this is a popular swimming beach and you may even spot a colorful parrotfish as the coral reefs are located just around 200 feet from the shore here which attracts those beauties!
Something to keep in mind is that on windy days you'll want to avoid swimming here as there's a steep drop off along the shoreline and without any natural barriers, the larger waves can cause a dangerous undertow even for experienced swimmers. However, on a calm day there is not much to worry about and swimming can be enjoyed, alternatively, Jobson's Cove is great for swimming any day!
Warning at Horseshoe Bay Beach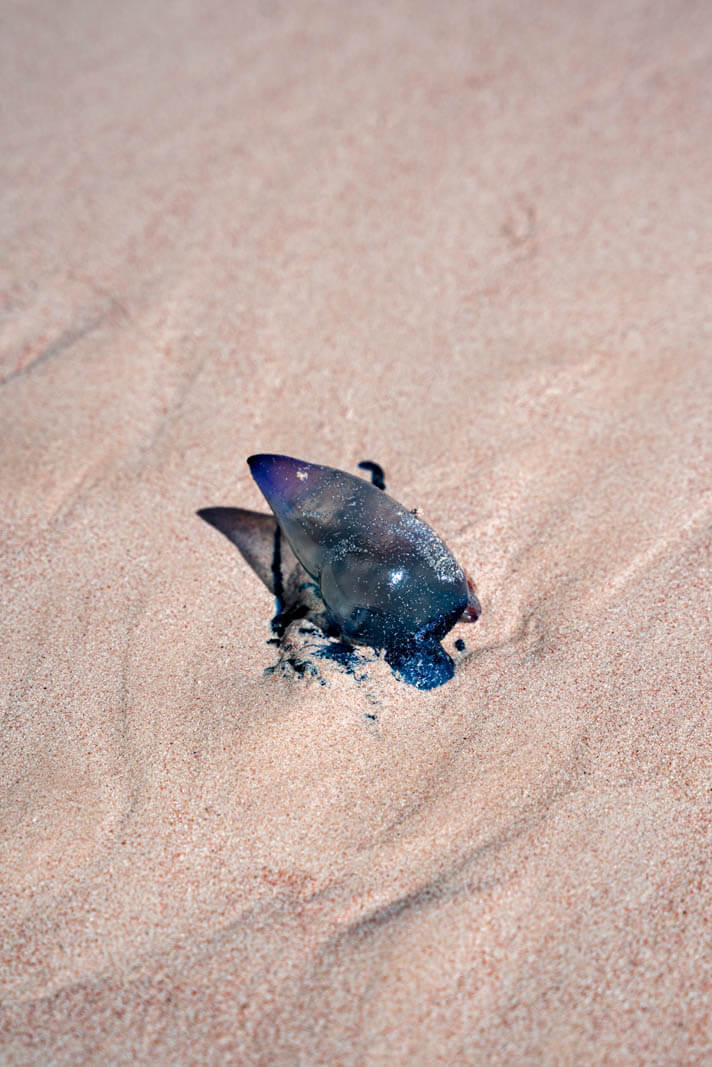 One thing to watch out for at Bermuda's Horseshoe Bay Beach is the Man-O-War. Portuguese Man-O-War are closely related to jellyfish and have venomous tentacles that can kill small fish around them. Man-O-War float on top of the ocean water but are often seen washed up on the shore.
If you happen to see one on the shore, be sure not to touch them, as they can still sting you while they're out of the water! The thing that makes them tricky is that they also have long tentacles, so you may not see one right in front of you but floating nearby, it's tentacles can still reach you.
Being stung by Man-O-War is extremely painful and often creates large welts. Even though these animals' stings are not (often) lethal to humans, being stung can definitely ruin the vibe of your beach day and sometimes even require hospitalization if their tentacles get wrapped around your body.
However, rest assured that Man-O-War are typically spotted on windy days and during the spring months. If you're worried about yourself or your family members being stung, keep them in the clear, shallow waters or in more secluded areas with extra visibility.
We were visiting in mid-March and on a windy day, we did spot quite a few on this day and didn't swim much. However, the following days when the wind wasn't as rampant, we were able to swim with ease. This isn't meant to be a deterrent but to be meant as something to be aware of and watch out for! Even though we visited peak Man-o-War season we had plenty of beach days where we didn't spot any!
How to Get To Horseshoe Bay Beach
There are many ways to get to Bermuda's Horseshoe Bay Beach, depending on how you're getting around Bermuda in general this can vary. Since this is the most popular beach in Bermuda, there are a few options including public transportation.
For public transportation, you can take the #7 bus from Hamilton or the Royal Naval Dockyard! From Hamilton, it's about a 25-minute bus ride. Get off at the Horseshoe Bay Beach stop, then you will walk down to the beach. Keep in mind you will have to walk up a slight incline to get back up to the bus stop to return.
If you start at Horseshoe Bay Beach and walk along the South Shore Park Trail all the way to Warwick Long Bay Beach, you can also walk up to the Warwick Long Bay Beach bus stop and hop on the #7 bus to return to Hamilton or Royal Navy Dockyard if you don't want to walk all the way back to Horseshoe Bay Beach.
You can also take a taxi, which we recommend getting the local transportation app Hitch in advance so you can set up your payment and order a taxi when you need it. If you don't use the app, you will need to have cash to pay for your taxi and getting a taxi at the beach back to wherever you're staying isn't guaranteed.
Another essential thing to keep in mind is that taking a taxi is almost always the most expensive option. Taxi prices in Bermuda are similar to New York City taxi prices.
The best way, in our opinion, is to rent the electric cars or scooter motorbikes so you can explore Bermuda and its beaches, including Horseshoe Bay Beach at your own pace. This gives you the freedom to stop at a grocery store too and easily pack your own snacks and whatnot too!
Both Horseshoe Bay Beach and Warwick Long Bay Beach have plenty of parking options.
---
Found this guide to Bermuda's Horseshoe Bay Beach and its surrounding pink sand beaches like Warwick Long Bay Beach helpful? Bookmark for later or share the love below on Pinterest!