This Seattle neighborhood guide will help you plan your unforgettable trip to the Emerald City whether you're a first time visitor or returning for another visit! This is absolutely one of our favorite cities to explore and get to know through multiple and extended visits.
With a city with so much to offer it can be tough to choose what to do and see, but after many visits and many posts, we have written to cover this awesome city we have chose what we think are the best neighborhoods in Seattle, Washington to check out on a visit or even base yourself during your stay – for more on that check out our guide for where to stay in Seattle by neighborhood.
For more helpful guides to help you plan your trip be sure to check out what to do in Seattle for a first time visitor, unusual and unique things to do in Seattle, the best day trips from Seattle, and for those enjoying a short stay check out how to spend an action-packed one day in Seattle (with a video) as well as a weekend in Seattle itinerary.
Without further ado, here is our Seattle neighborhood guide! Enjoy your trip!
Best Seattle Neighborhoods to Visit
Queen Anne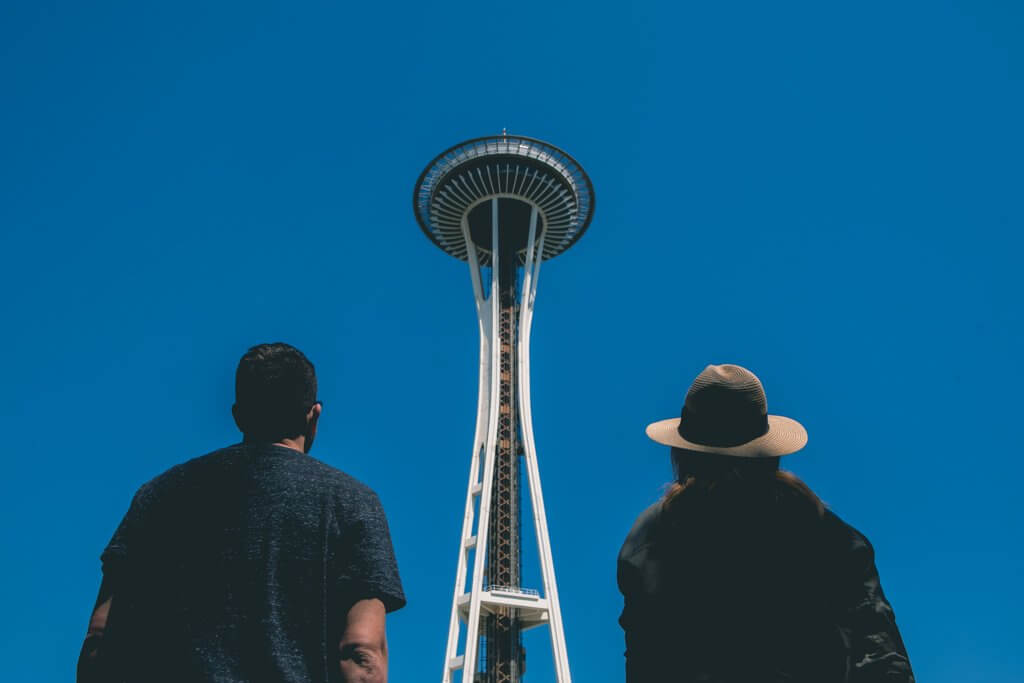 Looking for a lively neighborhood is known for keeping its visitors busy with sightseeing spots and tours? Look no further, Queen Anne is a residential neighborhood in Seattle near Lake Union.
Queen Anne actually covers alot of area and is broken down into North Queen Anne, West Queen Anne, East Queen Anne, Queen Anne, and Lower Queen Anne which is home to the Space Needle, the most famous tourist attraction in the city as well one of the most recognizable landmarks globally that was built for the 1962 World Fair to symbolize our space age aspirations during a time when America was all about the 'space race.'
Queen Anne is one of the best Seattle neighborhoods to visit if you want to hit up some of the city's best tourist attractions and museums. Nearby the Space Needle is Chihuly Garden & Glass. This art museum is located in The Seattle Center and is directly next to the famed needle. This glasshouse is just as picturesque as the artwork on the inside by American glass sculptor Dale Chihuly.
If you're into museums, another great place to stop by in this Seattle neighborhood is The Museum of Pop Culture. This museum is dedicated to contemporary pop culture and was founded by Microsoft co-founder Paul Allen.
Many Seattle neighborhoods are also known for their extensive outdoor activities and beautiful parks. Queen Anne has Kerry Park and Olympic Park.
Kerry Park is a small public park that overlooks all of downtown Seattle with some of the most breathtaking views possible in the city surrounded by beautiful 19th-century homes, stylish cafes, and boutiques too.
Nearby is Olympic Park, a sculpture park that the Seattle Art Museum created. This park is 9 acres and is similar to an outdoor museum! It also has a beach and indoor pavilion.
Capitol Hill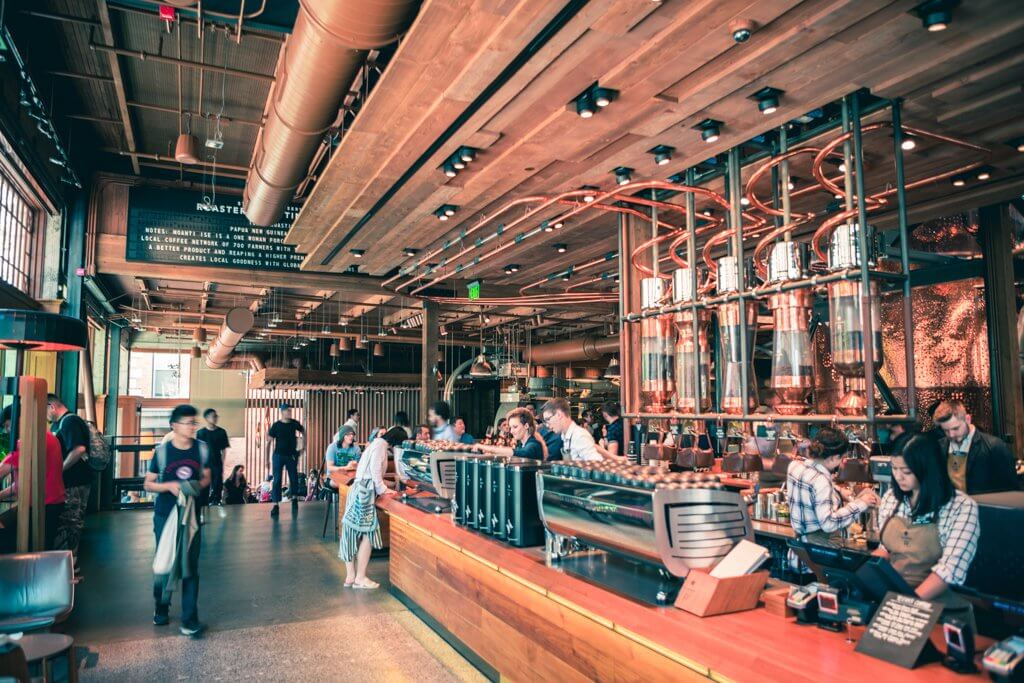 Capitol Hill is known as the pulse of the city and LGBTQIA hub of Seattle. This lively neighborhood is known for its great dining scene, bars, cafes, and extensive shopping opportunities.
One of the most popular restaurants here is Metropolitan Grill, an upscale steakhouse in the heart of this Seattle neighborhood and is where you can find one of the best steaks in the city. For lunch check out Capitol Hill's delis, including Tat's Deli and Salumi.
One of the most popular places to get coffee in this vibrant neighborhood in Seattle is Starbucks Reserve Roastery. This is basically the Willy Wonka world of coffee and the first location (there are now six globally) which is only fitting since the first Starbucks was at Pike Place Market here in Seattle.
Grab your favorite coffee or try one of their specialty items like Irish Coffee, Espresso Martinis (& Espresso Martini flights!), coffee floats with ice cream, and seasonal specialties! This isn't your typical corner Starbucks, this is an immersive experience complete with a bar and tons of merchandise and a highlight to be added to your trip and this Seattle neighborhoods guide.
If your perfect neighborhood guide to Seattle has lots of outdoor activities, check out Volunteer Park! This is a public outdoor park in Capitol Hill that is almost 50 acres total.
Nearby is also Cal Anderson Park, a public park and reflecting pool that has Lincoln Reservoir and Bobby Morris Playfield!
If you want to keep learning about the history of Seattle while spending time outdoors, check out Lake View Cemetary. This famous spot is an independent, private cemetery known for its famous graves, including those of Bruce Lee and John D. Rockefeller.
No Seattle neighborhood guide is complete without a quick visit to a museum. One of the best museums to visit in Capitol Hill is the Seattle Asian Art Museum. This museum is located in Volunteer Park and has many art exhibits that honor contemporary art from all around different Asian countries and cultures.
Pioneer Square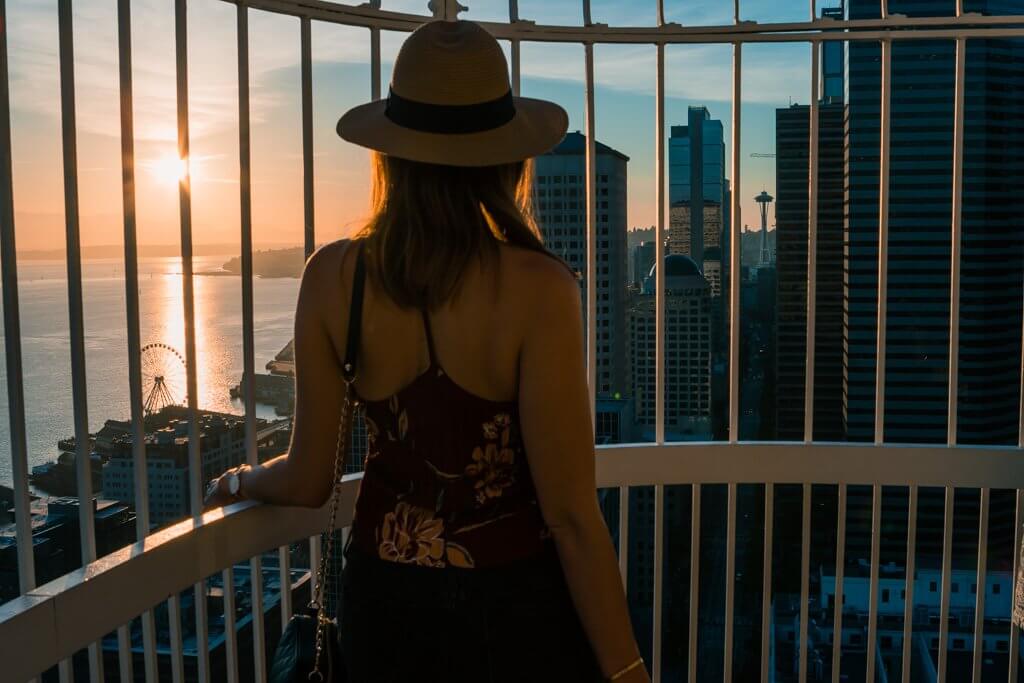 Pioneer Square is one of the best Seattle neighborhoods to visit for those craving some downtown action! This downtown Seattle area is known for its coffee shops, art galleries, and rich history as is considered the birthplace of the city. Plus it's our favorite neighborhood!
One of the best ways to immerse yourself in the history of Pioneer Square is to check out a Seattle Underground tour. There are many tours you can take that will allow you to learn more about the history of this neighborhood! Known as Seattle's birthplace, the underground section of Pioneer Square is filled with subterranean storefronts, sidewalks, and unique architecture.
For those who love exploring the paranormal side to destinations, be sure to check out this ghost tour of Pioneer Square led by real paranormal investigators! This was one of the best ghost tours we have ever taken and this neighborhood in Seattle has alot of spooky stories!
Nearby is Smith Tower, one of the most well-known skyscrapers in Seattle. If you visit Smith Tower, you'll be able to see the neighborhoods in Seattle, Washington from a bird's eye point of view. This tower is 38 stories and almost 500 feet tall. At the time it was built, it was one of the tallest skyscrapers outside of New York City!
Personally, this is our favorite Seattle observation deck even though the Space Needle is the most well known and the impressive Sky View Observatory at Columbia Tower is next door. Smith Tower is an entire experience since this historic building uses man operated elevators still and the bar looks straight out of the Great Gatsby not to mention you get a great view of the Space Needle from here!
If your ideal Seattle neighborhoods guide includes some shopping, be sure to check out Occidental Square. Occidental Square is a park and mall located in Pioneer Square with many great shopping options and restaurants.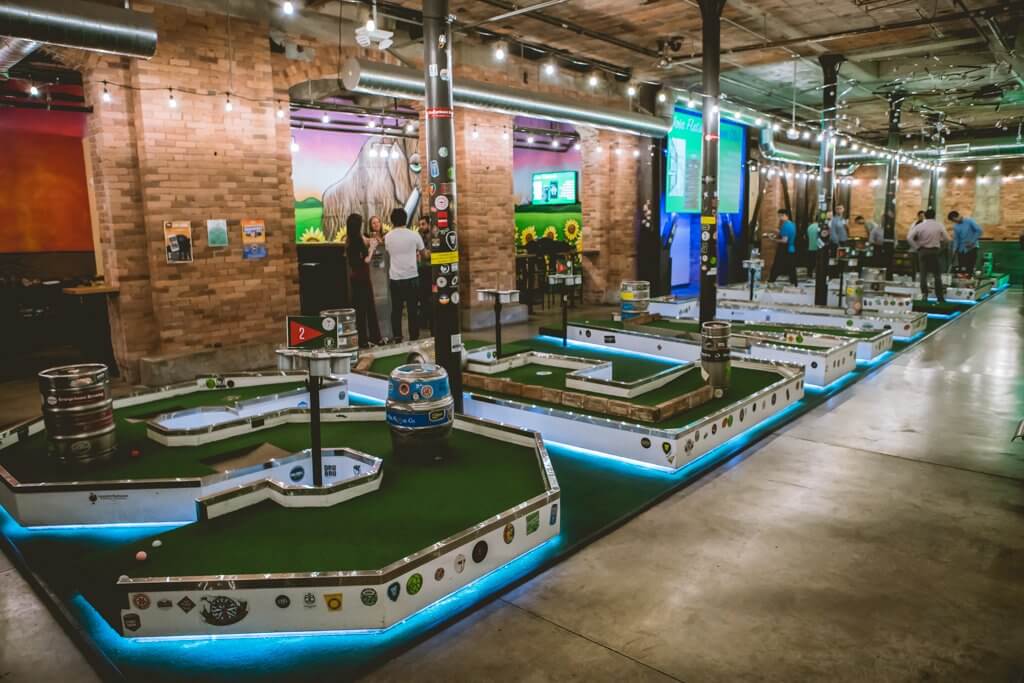 Pioneer Square is one of the best neighborhoods in Seattle, Washington, to also try out some beer. One of the most popular pubs here is Flatstick Pub, where you can expect to find a fun environment complete with a Seattle themed mini-golf course, billiards, great tacos, and a large selection of draft brews and cider.
Of course, no night out would be complete without some bar hopping. After stopping by Flatstick Pub, be sure to check out Merchant's Cafe! This cafe and bar has a great atmosphere and delicious home-cooked food and is said to be haunted! Spooky! Check out the basement if you want to increase your chances of a paranormal encounter.
Want to catch a game? Head to Lumen Field and catch a Seattle Seahawks game.
If you want to see a national park, Klondike Gold Rush National Historical Park is the way to go. This historical park & visitor center commemorates The Klondike Gold Rush of the late 1890s! It's also in a quaint part of town that has many shopping and eating opportunities.
South Lake Union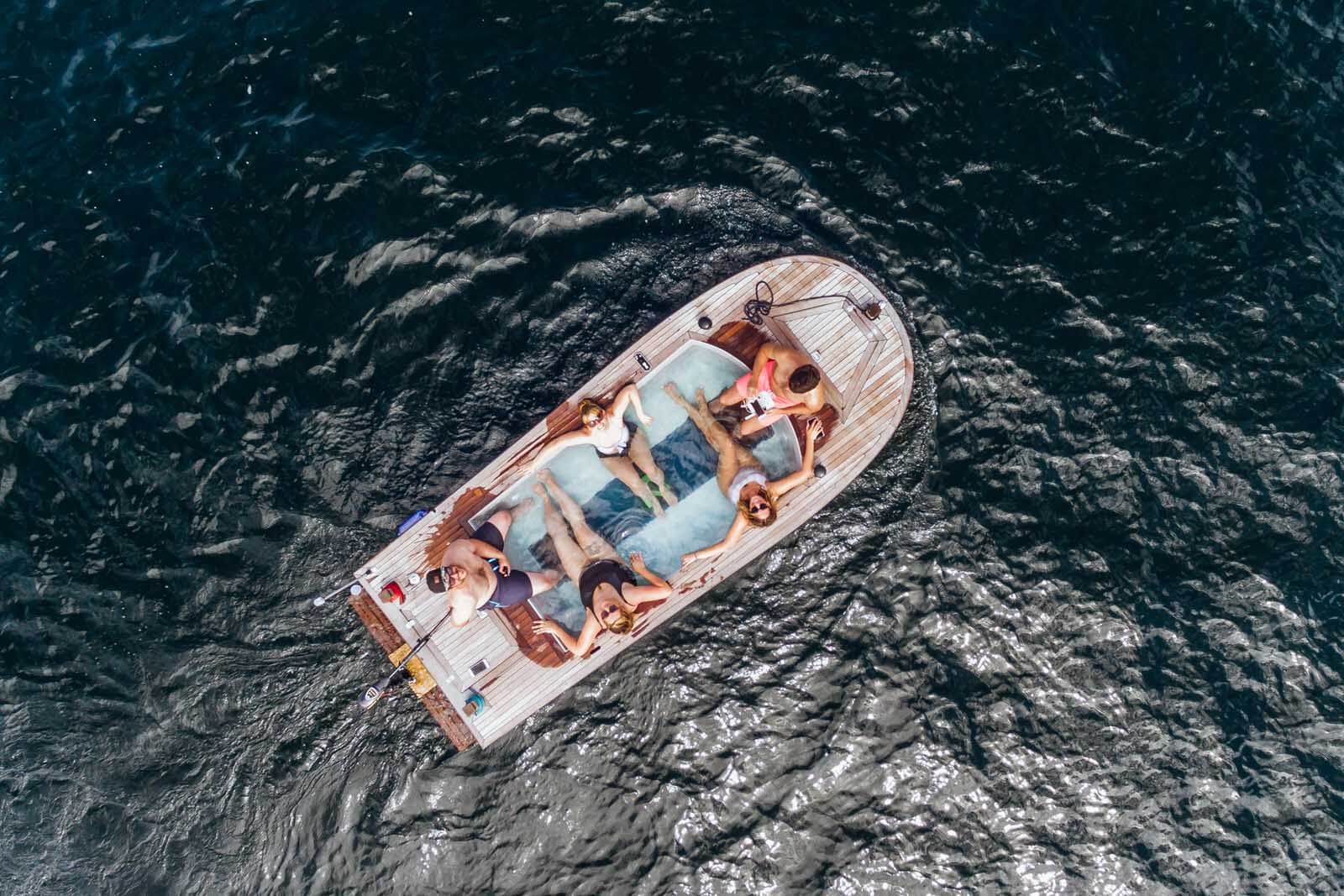 No Seattle neighborhoods guide would be complete without waterfront activities! Lake Union is a freshwater lake in the heart of downtown Seattle neighborhood South Lake Union! This neighborhood is more residential with local eateries that you won't find many tourists at and water activities.
South Lake Union has alot going on when it comes to getting on the lake. One of the best places to visit is the Center for Wooden Boats, where you can rent anything from hot tub boats to kayaks! Once you embark on your water tour, be sure to check out The Sleepless in Seattle houseboat!
If this interests you be sure to check out which houseboats in Seattle you can rent and stay in during your trip!
Another great way to explore Lake Union is to take a seaplane tour! Be sure to check out Kenmore Air, a seaplane base and seaplane international airport! This is one of the most scenic ways to see Seattle plus you get the adrenaline rush of taking off and landing on Lake Union.
If you still want to learn more about neighborhoods in Seattle, Washington, check out The Museum of History & Industry. Located in South Lake Union, this museum is family-friendly and has a large exhibit, coffee shop, and cafe on the inside!
And if you have time to explore head over to one of the most unique parks in the city at the north end of the lake. Gas Works Park is now an outdoor public space built on the former Seattle Gas Light Company plant. While this technically is a different neighborhood in Seattle to visit, you can get up close if you do any of the boat rentals on Lake Union and see the park from the water!
Downtown Seattle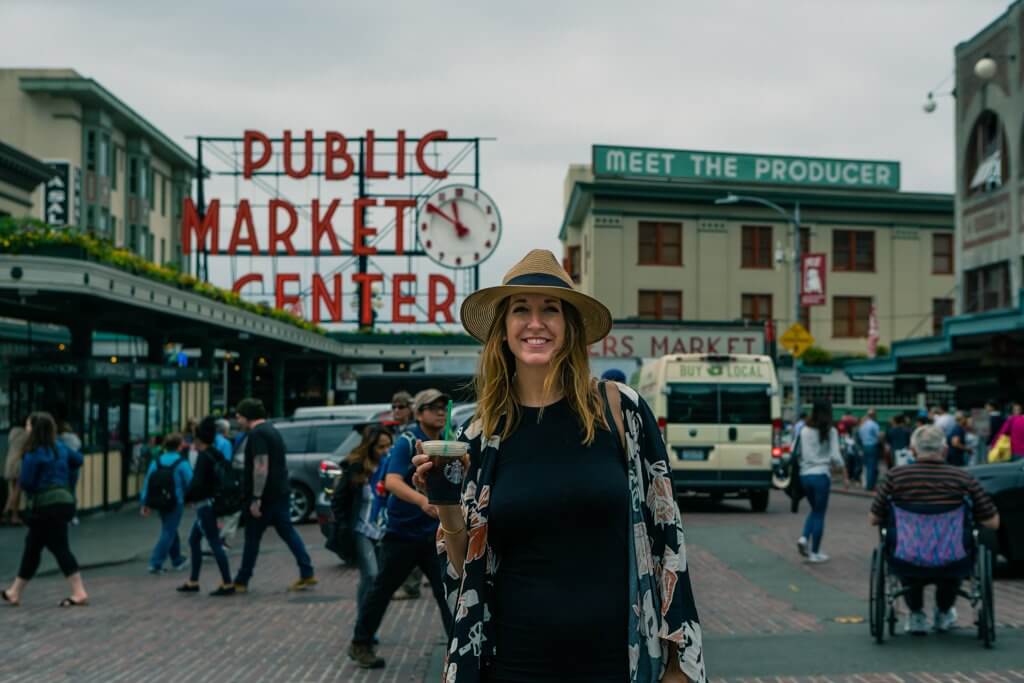 One of the best Seattle neighborhoods to visit is Pike Place Market which is located in downtown Seattle! At Pike Place Market, you can find many incredible places to eat, the original Starbucks that started it all, and The Seattle Art Museum to name a few of the many highlights in this area.
You really need to come hungry so you can sample around Pike Place Market. If you're not sure what to try the perfect solution is to join a food tour! We are huge fans of food tours and it's a great way not to only learn the history but sample the best spots!
Join this 2-hour cultural walking and food tour of Pike Place Market sampling everything from donuts to seafood or this 2-hour tasting tour of Pike Place Market led by a chef! Who better to lead a food tour than someone who's familiar with flavors in the kitchen!
While you're here don't miss the fishmonger's tradition of throwing the fish too! This is one of those Seattle moments you don't want to miss.
Be sure to also stop by the Gum Wall, one of the most popular tourist attractions in the area. This wall covered in chewing gum is a local landmark, so don't forget to get a pack of gum before you go to leave your contribution. Don't worry you're not committing any crimes here – this is an official 'thing to do' and allowed.
Nearby Pike Place Market is the Seattle Central Library. This library is known as the flagship of the public library system in Seattle and is one of the most beautiful libraries in the world. This 11-story glass building is a great place to check out from the inside, there are art installations and the entire building is a modern marvel when it comes to architecture and design.
If you want to watch a performance in downtown Seattle, Benaroya Hall is the place to go. This performance venue has over 3,000 seats total and is home to the Seattle Symphony!
Another great place to see performances nearby is the Paramount Theater. The Paramount Theater is another performing arts venue that can hold up to 2,8000 people! Another famous landmark building that's great for watching performances is The 5th Avenue Theater.
The 5th Avenue Theater has hosted many theater productions and motion pictures since the 1900s when it was first built! It is also owned and was created by The University of Washington.
If you're more into music than theater, you won't want to miss out on seeing something at Showbox! Showbox is a music venue owned by AEG that is known for its live music and delicious cocktails. So if you're looking for an upscale venue, this is the place to be.
No Seattle neighborhood guide would be complete without shopping options. The best place to shop in downtown Seattle is Westlake Center. This large shopping mall is a 4-story, glass-enclosed retail center that's great for shopping and trying new foods at the food court! It's also directly across from Westlake Park! Another excellent place for upscale shopping and dining is Pacific Place. Pacific Place is over 300,000 square feet and is known for its many well-known stores, AMC theater, and unique restaurants.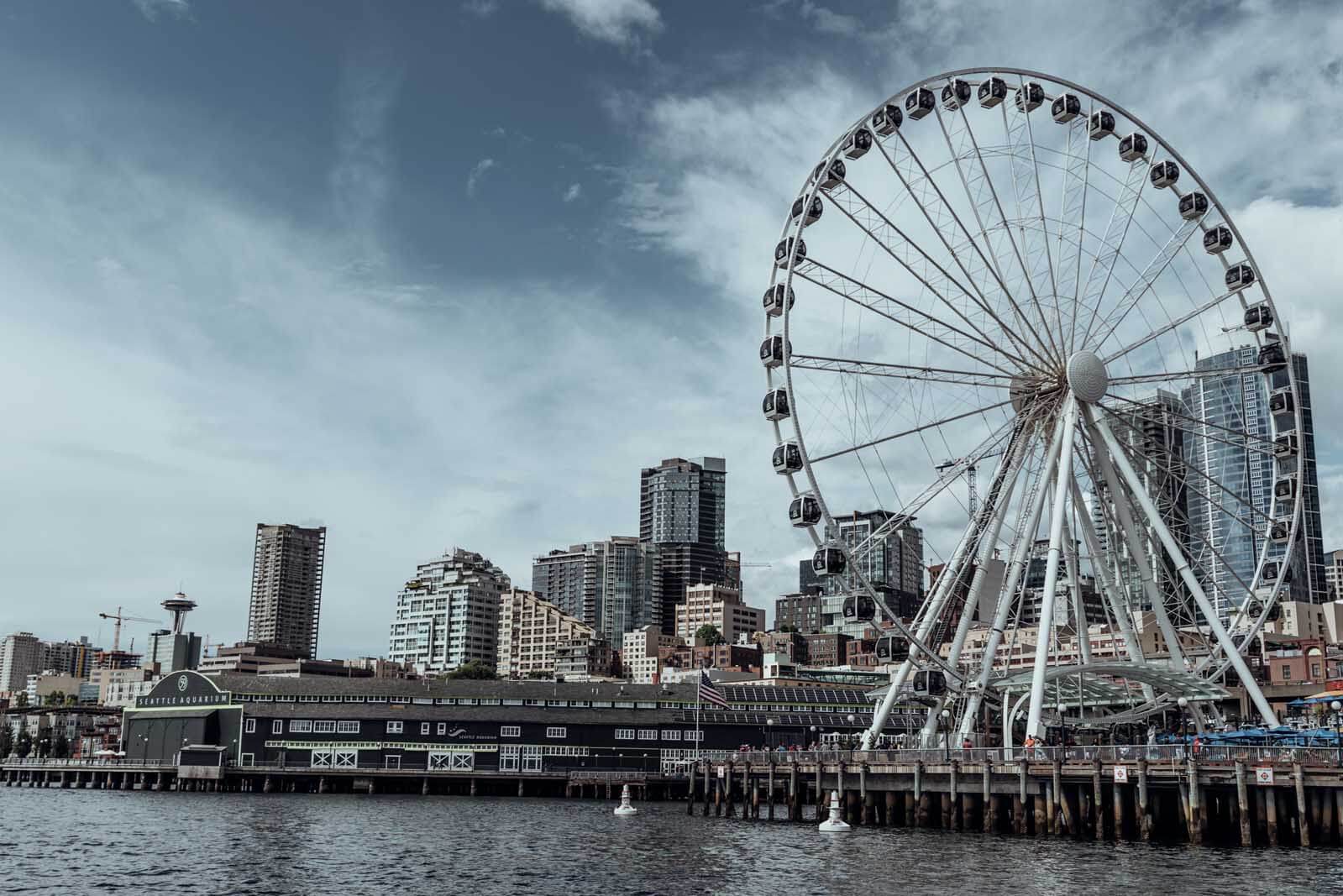 If you're in downtown Seattle, be sure to check out at least one of the many piers on the Seattle waterfront. Some of the most popular include Pier 55, Pier 62, and Pier 66. These piers have easy access and are open to the public. They're great for anyone who wants to take a waterfront stroll or participate in a water activity!
Fremont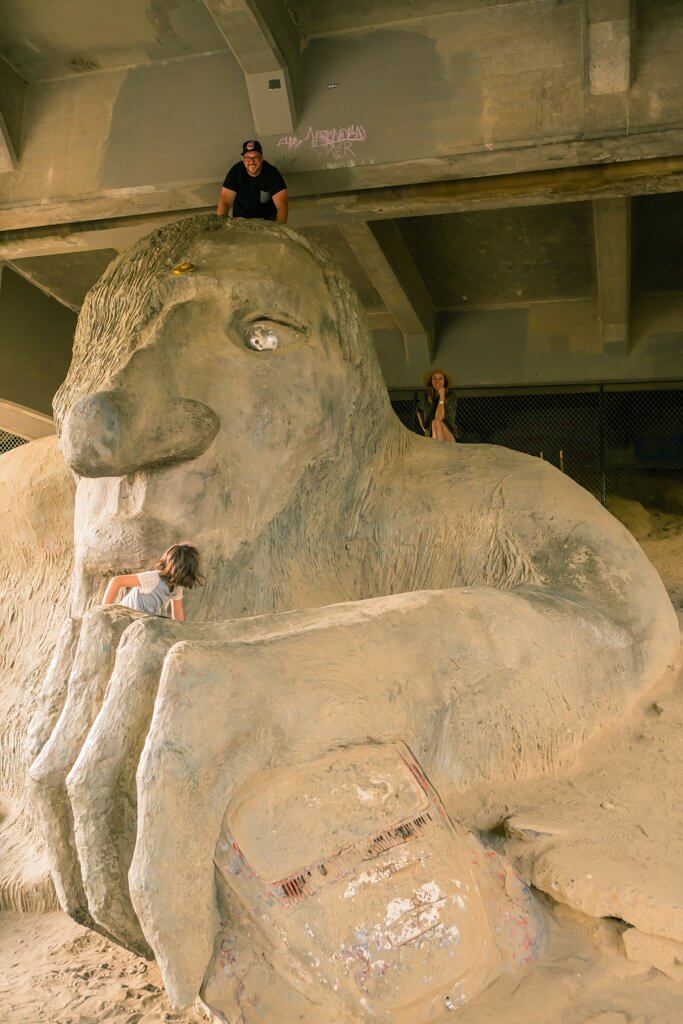 Fremont is one of the best neighborhoods in Seattle, Washington, to go sightseeing around a beautiful residential neighborhood.
One of the most famous landmarks in this Seattle neighborhood is the Fremont Troll. Fremont Troll is a public statue under the Aurora Bridge, a bridge that is linked to many alleged troll sightings!
Another interesting statue nearby is Lenin Statue. The Lenin Statue is a statue of Vladimir Lenin and was put on display in 1988.
One of the best ways to complete your neighborhood guide to Seattle is to visit a brewery! One of the most popular breweries is Fremont Brewing Co. This urban beer garden is a beer hall that offers seasonal ales and free pretzels. This brewery is great for families who want some outdoor dining!
Fremont is one of the best Seattle neighborhoods for families with children. If you have a sweet tooth or younger children with you, be sure to stop by Theo Chocolate! This famous chocolate shop offers a tour of the place, free samples, and organic desserts that you can't find anywhere else.
Last but not least, if you didn't get to see Gas Works Park from Lake Union be sure to check out Gas Works Park as it's easily accessible to visit from Fremont.
Ballard
Ballard is one of the best Seattle neighborhoods to visit if you want to hang out in more of a local's spot with great dining and drinking options filling the space of old historic warehouses not to mention the cool views from the boats passing through the Ballard Locks.
One of the most popular places to explore is Golden Gardens Park, a public park with many wetlands, beaches, and hiking trails. There are also many playgrounds and areas to have a picnic that is great for larger groups or those traveling with kids. Not to mention on a clear day you get gorgeous views of the Olympic Mountains.
Another great way to spend time outdoors is to visit Woodland Park Zoo. Woodland Park Zoo is a wildlife conservation organization and zoo garden. It has served over 1 million visitors and is the most popular zoo in Seattle.
Another popular spot in Ballard is the Fremont Brewing Company. This museum is dedicated to the Nordic immigrants in the area! It covers Scandinavian immigration, art, history, and culture. This place also offers educational classes and has many great restaurants!
If you're craving some waterfront time, be sure to check out Ballard Locks. Ballard Locks is a complex of locks connecting Puget Sound from the canals and it's interesting to see the boats pass through. This family-friendly spot is excellent for fishing and waterfront dining!
University District
For another beautiful neighborhood in Seattle, Washington head to University District. This is a college town with great dining options, shopping, and views of Mt. Rainer on a clear day.
Expect to find shopping options, coffee houses, and casual eateries surrounding the "U District" on University Way as well as beautiful mansions on 17th Ave NE known as "Greek Row" as many of these homes house the sororities and fraternities of the university.
Head to the University of Washington to see their campus and check out Henry Art Gallery. This art museum is located on the west edge of the university and was the first public art museum in the entire state at the time of its opening! It commemorates many contemporary and modern artists.
Right outside of the University of Washington campus is Burke Museum of Natural History and Culture. This natural history museum was created in 1899 by a high school naturalist club that formed in 1879! Today, this museum explores Native American life, the history of the dinosaurs, and much more regarding Northwest history.
As mentioned, University District is one of the best neighborhoods in Seattle, Washington to get some shopping done! Two of the best commercial districts for shopping here include University Way and Portage Bay. University Way is near the University of Washington and is the main street in town. This popular spot is known for its unique eateries and independent stores!
Another great place to walk around, grab a bite to eat, or go shopping is Portage Bay. This waterfront spot is known as the eastern arm of Lake Union. If you make your way to Portage Bay, be sure to check out Portage Bay Cafe. This cafe has a few locations around the lake & is one of the best breakfast spots in town!
Belltown
This Seattle neighborhood neighbors Downtown Seattle and Queen Anne so it's a great place to stop between popular sightseeing spots like the Space Needle and Pike Place Market or the waterfront.
Belltown has busy and happening 1st Ave and 2nd Ave that are great for shopping or grabbing a bite to eat. These avenues also have many live music venues and bars with great happy hour options too.
One of the most popular places to eat in Belltown is Six Seven Restaurant at the Edgewater Hotel. This well-known seafood spot offers upscale seafood dishes as well as many vegan options. They also have great happy hour options and stunning waterfront views.
Chinatown-International District
Chinatown-International District is a lively neighborhood and enclave to Asian-American communities in Seattle! Here, you can expect to find many amazing eateries from dim sum to dumplings and sushi – but there's so much more as there are actually three micro-neighborhoods here including Chinatown, Japantown, and Little Saigon.
This cluster of Seattle neighborhoods is also known for many historical and cultural exhibits. One of the most popular is the Wing Luke Museum of the Asia Pacific American Experience. This history museum focuses on the art and history of Asian Pacific Americans.
If you want to sing your heart out head to Bush Garden, the first restaurant in the US to have a karaoke bar!
Nearby this museum is also the Pinball Museum. This is a museum and entertainment center that has unlimited arcade games for just one entry fee! They offer light snacks, great beer, and lots of pinball tables to choose from!
Don't miss Hing Hay Park on a beautiful day either! This is a great spot to just sit and enjoy a takeaway treat that you pick up at Uwajimaya. This is also a popular gathering place during festivals throughout the year including Lunar New Year celebrations.
---
Enjoyed this Seattle neighborhood guide and the best neighborhoods in Seattle to visit? Bookmark for later or share the love below on Pinterest!