Looking for the best things to do in Huntington Beach? We got you. Scott was born and raised in good ol' Huntington Beach, California and we both lived here together for a few years before relocating to the East Coast.
When you think of Southern California, you might envision bright sunshine, ocean breezes, palm trees, surfers, skateboarders, and an overall casual and easygoing vibe. Huntington Beach, California embodies the Southern California lifestyle, making it one of the coolest beachside cities to visit in California and on the West Coast.
They are especially famous for their rich surf culture, which has earned them the nickname "Surf City USA". But beyond surfing, there are tons of other Huntington Beach activities and things to do in Huntington Beach you will want to be sure to check out on your Southern California road trip or vacation!
Huntington Beach, California Guide
Huntington Beach Pier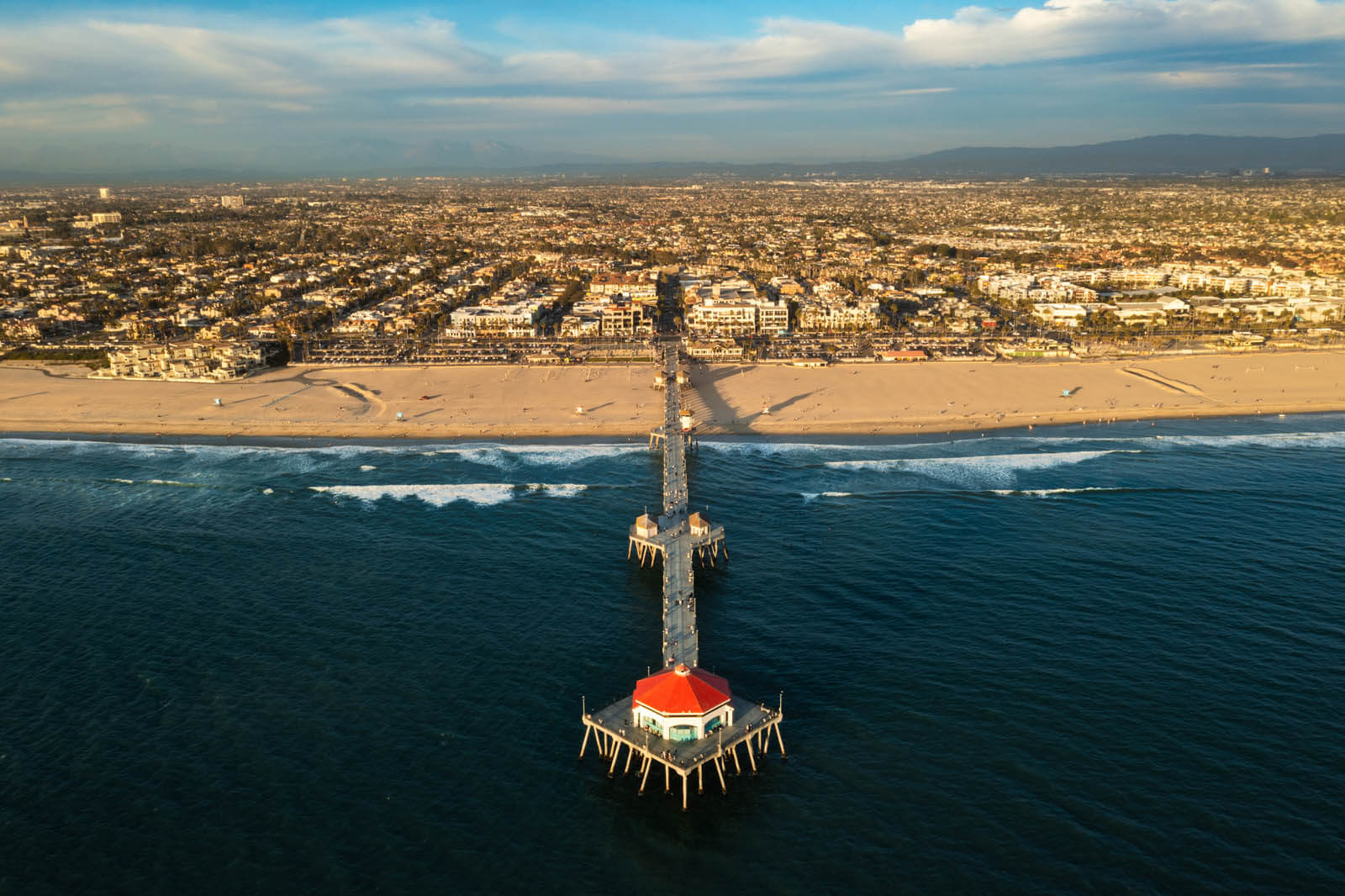 Every city has that one landmark that is a defining feature of the area, and for Huntington Beach, it's the iconic pier. It's over a quarter of a mile long, making it one of the most extensive piers on the West Coast and up until recently, the end of the pier had a Ruby's location (RIP) which was the perfect place to grab classic American diner fare and end with a milk shake with a cherry on top with ocean views!
Sadly, the Ruby's location is gone and a new restaurant made way. Regardless if you eat on the pier or not (there are many amazing places to dine in Huntington Beach, you should still at least walk the pier where you can hear the soft crush of the waves, smell and feel the salty ocean air, and it's a prime people-watching spot (and ocean wildlife spotting location).
As you stroll along the pier, take in the sights of Catalina Island out in the ocean on a clear day or you can spot Newport Beach along the coast to the south and Long Beach and San Pedro along the coastline to the north.
If fishing is your thing, you're in luck because fishing off the pier is allowed. You can also find a few stores here, including Surf City Store, The Kite Connection, and Let's Go Fishing. Visiting the pier is a must-see Huntington Beach attraction!
Don't forget about hanging out under the pier too! A great photo spot as well I might add!
Huntington City Beach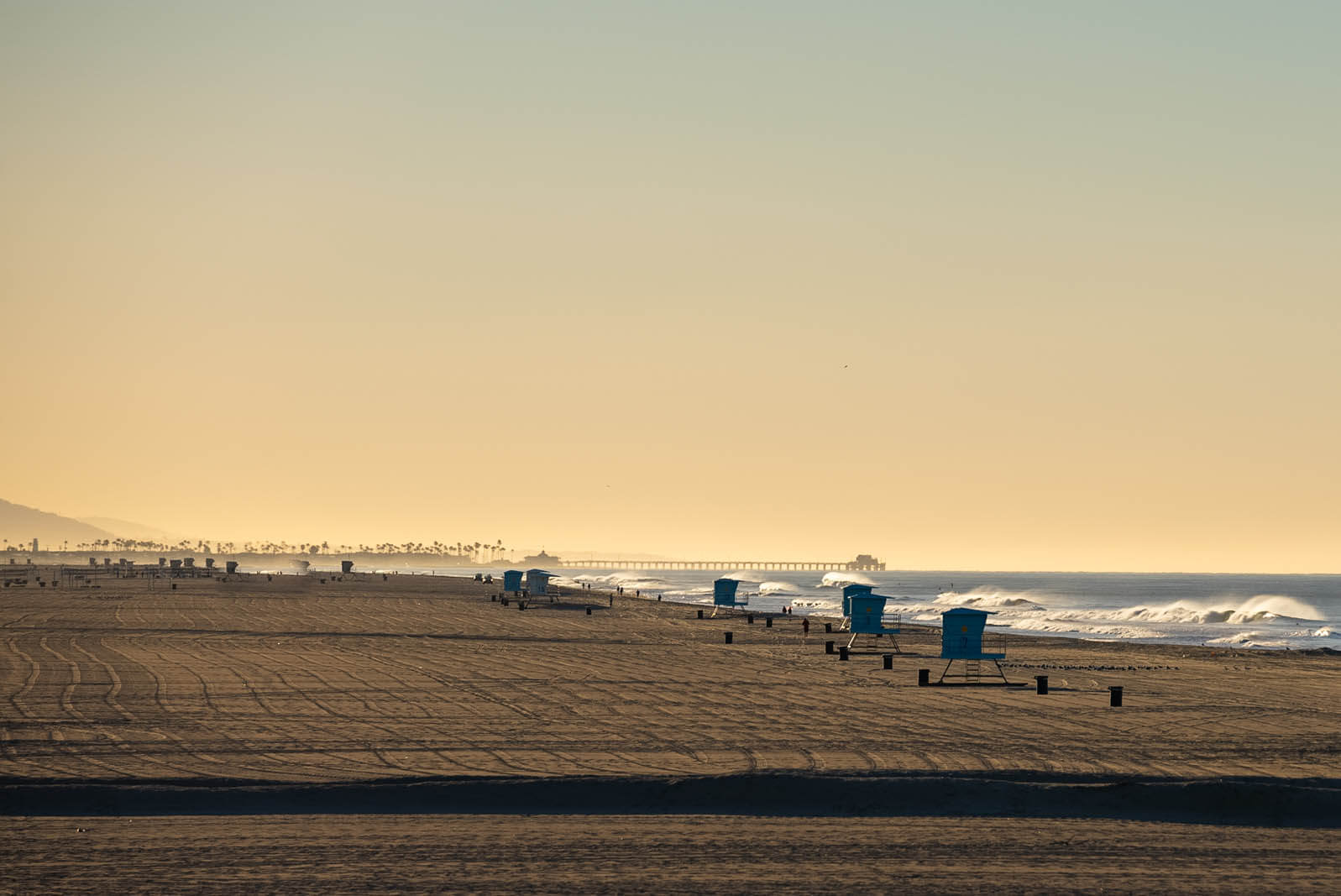 One of the most famous beaches in Orange County is located right along the pier is Huntington City Beach, famous for attracting surfers due to the ideal surfing conditions. In fact, this beach is so renowned for surfing that it's where the US Open of Surfing competition takes place annually. And without a doubt, hanging out at the beach is one of the best things to do in Huntington Beach.
When you visit, it's almost guaranteed that you will see amateur or professional surfers catching some waves. Watching from above while on the Huntington Beach pier offers a great vantage point and even some benches you can sit at and watch the sufers from.
Cruise along the beach to watch the surfers, bring a volleyball to use at one of the volleyball courts, or pack the makings for s'mores to prepare at a bonfire pit in the evenings.
There's also a large paved pathway you can ride a bike on, rollerblade/skate, or take a beachside stroll along! This stretch of beach is located between Goldenwest Street and Beach Boulevard.
There are also public restrooms, outdoor showers, and concessions available.
Huntington State Beach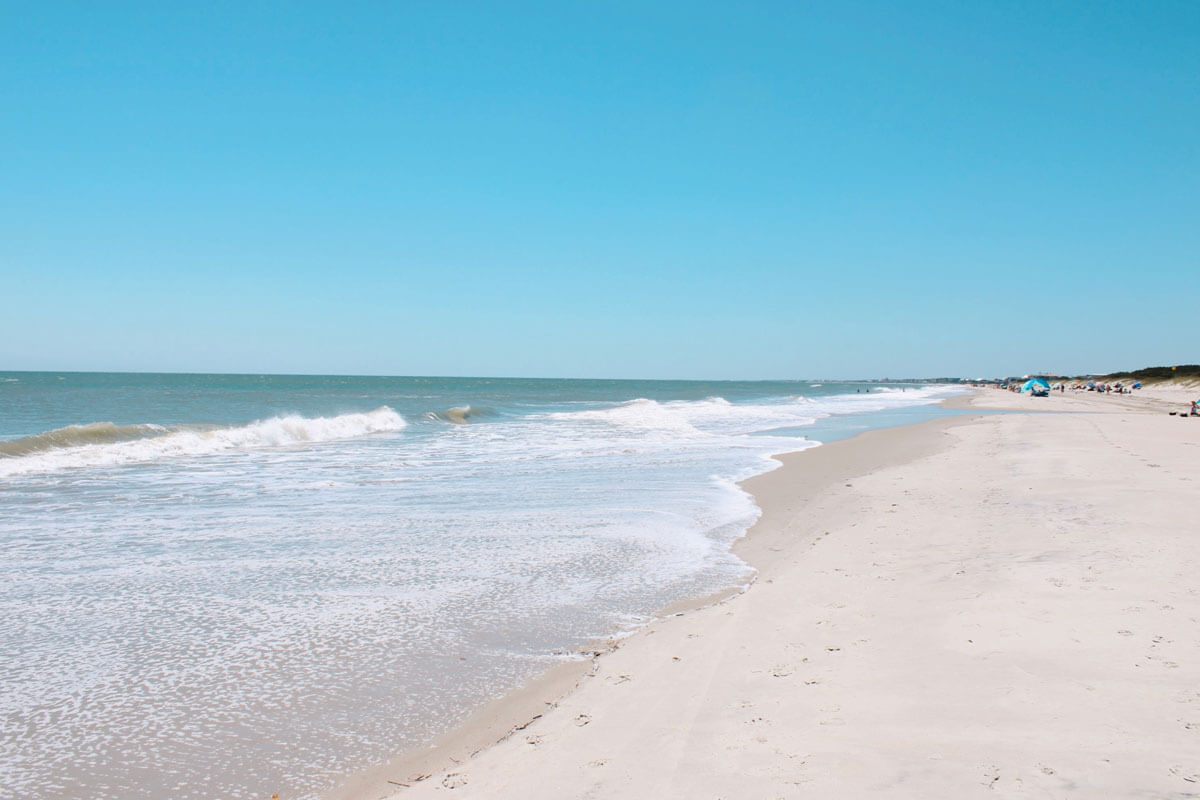 Another fantastic spot to enjoy the sun, sand, and surf is Huntington State Beach, not to be confused with Huntington City Beach, but they're are similar and close to one another.
Huntington State Beach spans over 2 miles from Newport Beach (Santa Ana River) to Beach Boulevard and is great for surfing, swimming, sunbathing, fishing, and birdwatching. Lifeguards are on duty year round, to ensure the safety of those who are swimming or surfing.
A perfect activity to do here is have a cozy beach bonfire, as there are several fire pits along the beach. There are designated fire pits scattered across the beach, which provide the perfect warm and comfortable setting for watching a beautiful sunset. But make sure that you don't try to have a fire anywhere else, that's illegal and you will get cited for a violation.
There are also facilities here including restrooms, outdoor showers, wheelchair accessibility, and designated barbeque grills in addition to the bonfire rings. There's a concession stand open in the summer too.
You'll have to pay for parking in one of the lots for the day. Make sure you check out this quintessential Huntington Beach attraction.
Bolsa Chica State Beach
The question isn't what can you do at Bolsa Chica State Beach, but what can't you do at Bolsa Chica State Beach? If you're feeling active, you can go surfing, play volleyball and other water sports, and even surf fish for perch, corbina, and shovelnose guitar fish.
Leisurely activities include catching some rays sunbathing, gazing at vibrant sunsets, and watching birds and other wildlife. A 8.5-mile paved trail connects Bolsa Chica State Beach and Huntington State Beach, great for traversing the area.
If you have a self-contained RV, there are 50 campsites with electric and water hookups for your recreational vehicle.
Additionally, there are picnic tables, outdoor showers, and restrooms. Bolsa Chica State Beach has a great variety of things to do in Huntington Beach, so be sure to include this spot on your itinerary!
Bolsa Chica Ecological Reserve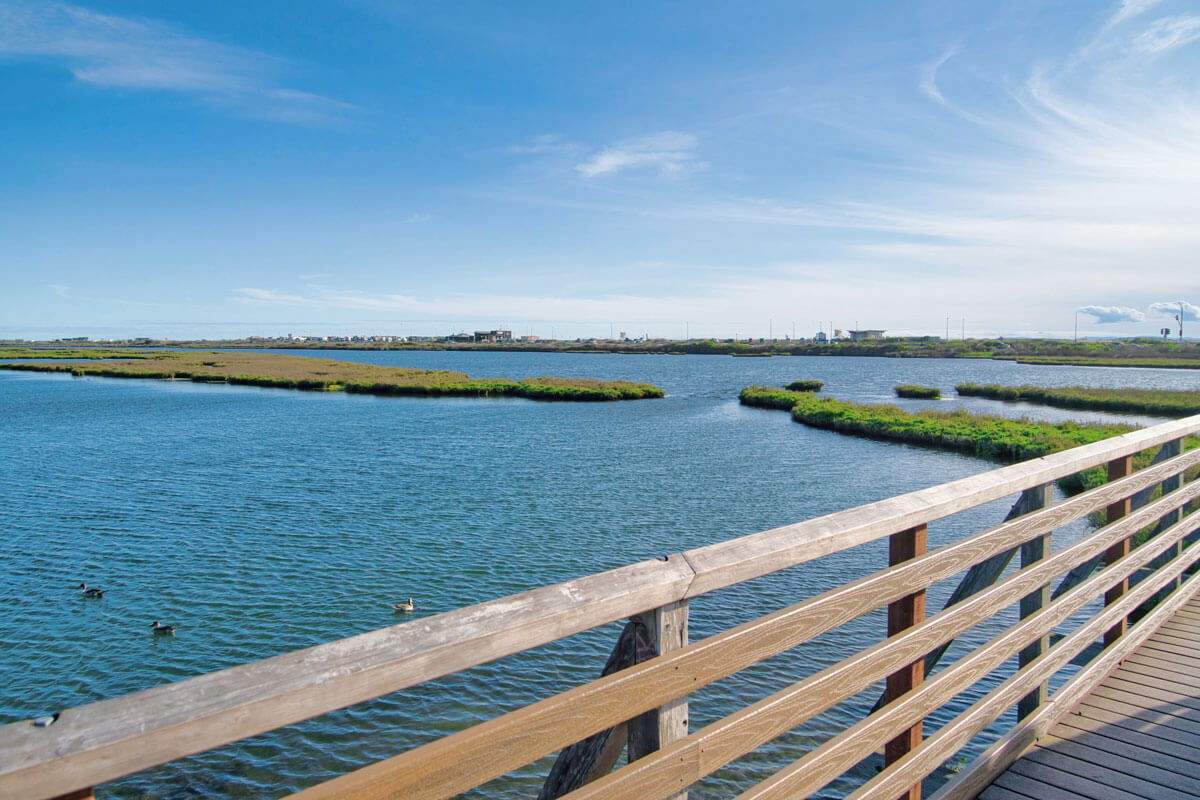 Located just across the highway from Bolsa Chica State Beach is the Bolsa Chica Ecological Reserve. This estuary is home to salt marsh, mudflats, coastal dunes, seabird nesting islands, riparian, freshwater marsh, and open water habitats.
Activities to do at this Huntington Beach, California hotspot include hiking on public trails, and viewing the wildlife. In particular, the reserve is great for bird watching, as there are over 200 species of birds that have been found here.
If you're a nature or wildlife enthusiast, include the Bolsa Chica Ecological Reserve on your list of things to do in Huntington Beach.
Yoga on the Beach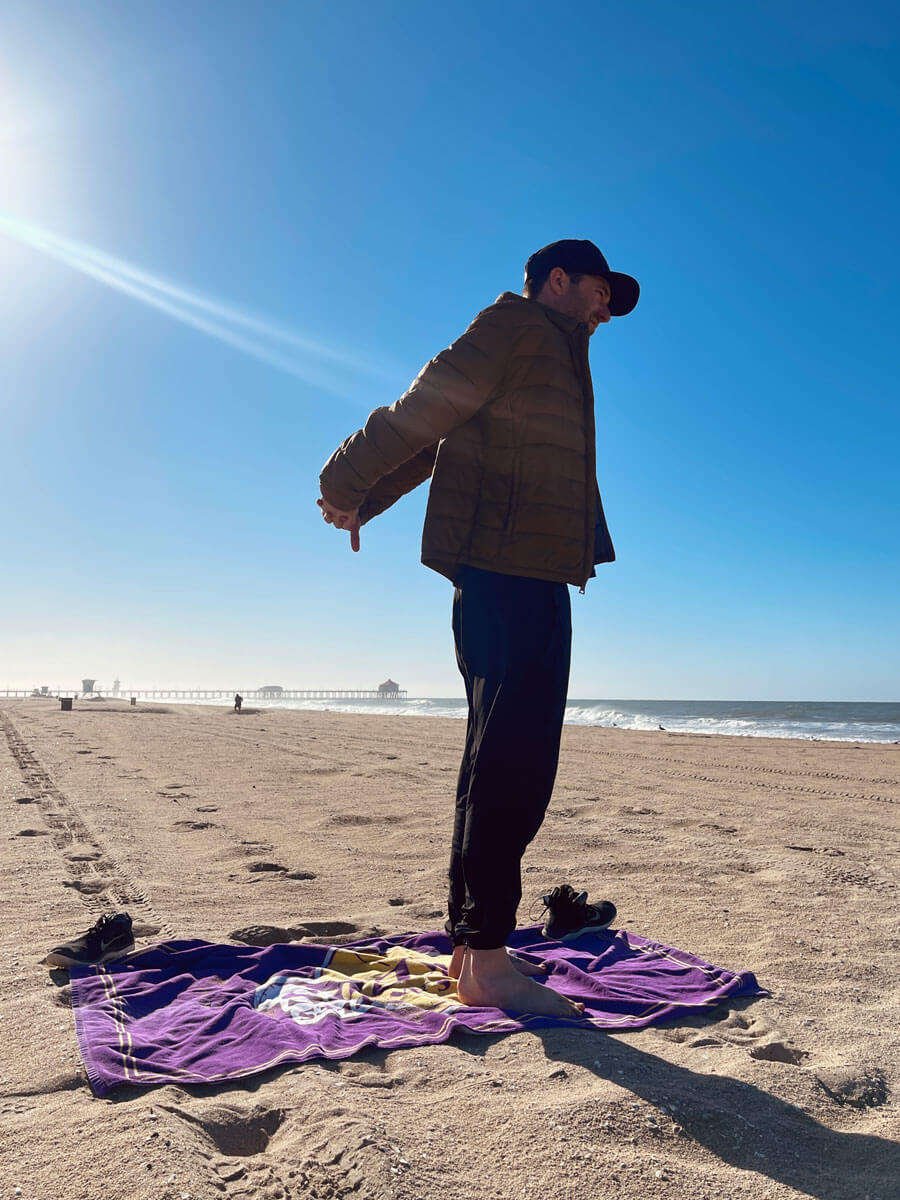 If you're used to taking yoga in a studio, you are in for a lovely treat! Every day, you can make your way over to the shore and practice downward dog by the ocean with yoga on the beach.
Spend time relaxing and connecting with your surroundings with this Huntington Beach activity. All levels of experience are welcome, and classes are taught by certified instructors. There is no fee to attend, however, the yoga classes are donation-based.
Check Meetup for a list of the yoga on the beach classes offered daily. This is one of my favorite things to do in Huntington Beach, which is available year-round. I can't think of a more relaxing place to enjoy yoga than on the beach while listening to the waves crash and the sand beneath your toes!
I recommend using an oversized beach towel as your yoga mat and bring a light layer as in the winter months there can be a chill in the air and you want to be dressed appropriately!
Watch the Surfers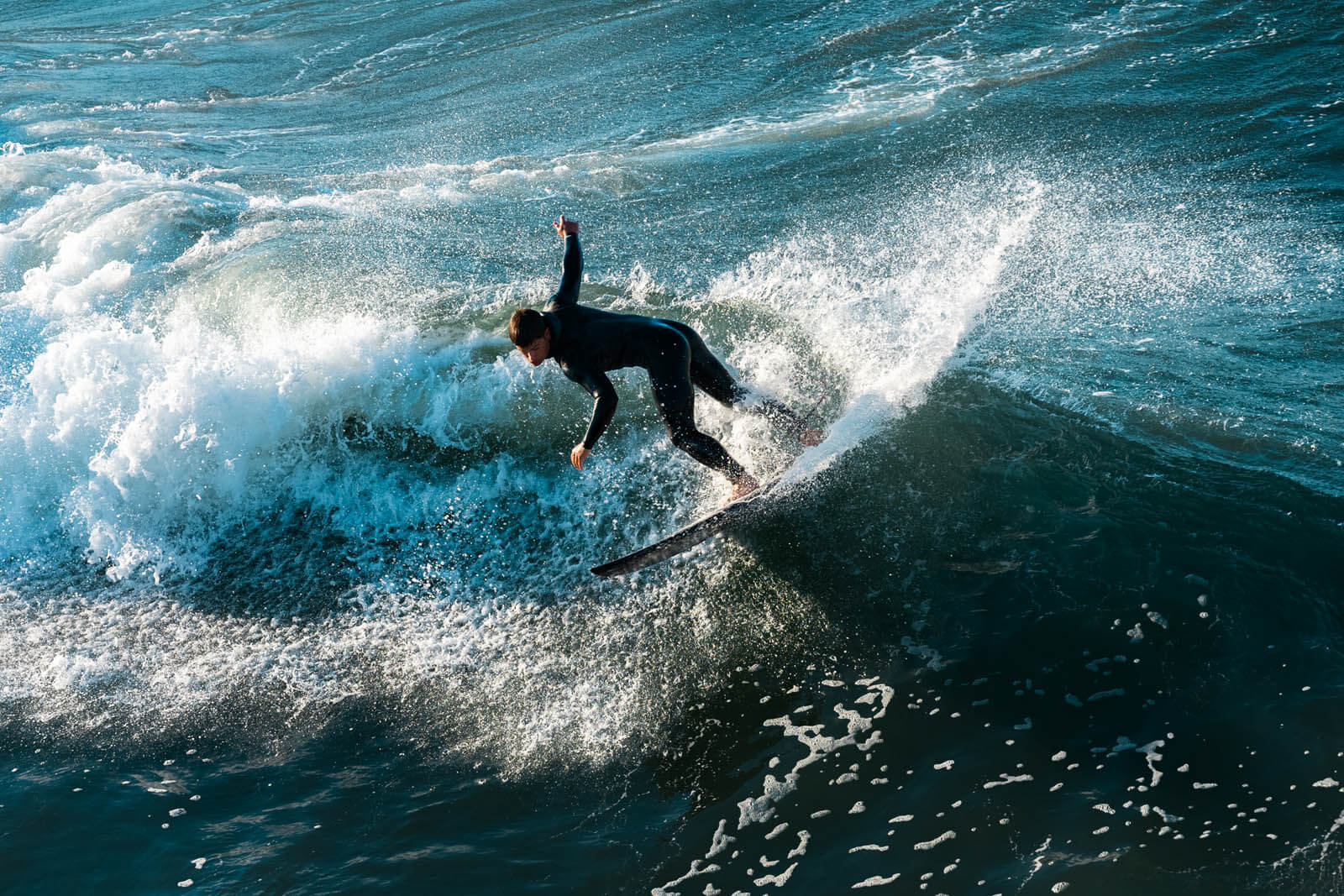 This was already mentioned lightly, but worth mentioning again that one of the best things to do in Huntington Beach is watch the surfers! It feels like every day is a surfing day at Huntington Beach. And that's because there is steady surf all year long, making conditions ideal for surfers to catch waves. Hence the nickname, Surf City USA!
You're pretty much guaranteed to be able to watch surfers of all experience levels ride the waves, as they're out there all day, every day.
There are plenty of great spots to watch surfers including from above when you're on the pier, the amphitheater seating next to the pier, and there are several benches north of the pier along the Huntington Beach Bike Trail situated on the bluffs where you can get a nice view too.
Also, if you'd like to give surfing a try, Banzia Surf School offers lessons. Watching the surfers should be high up on your list of things to do in Huntington Beach.
Shopping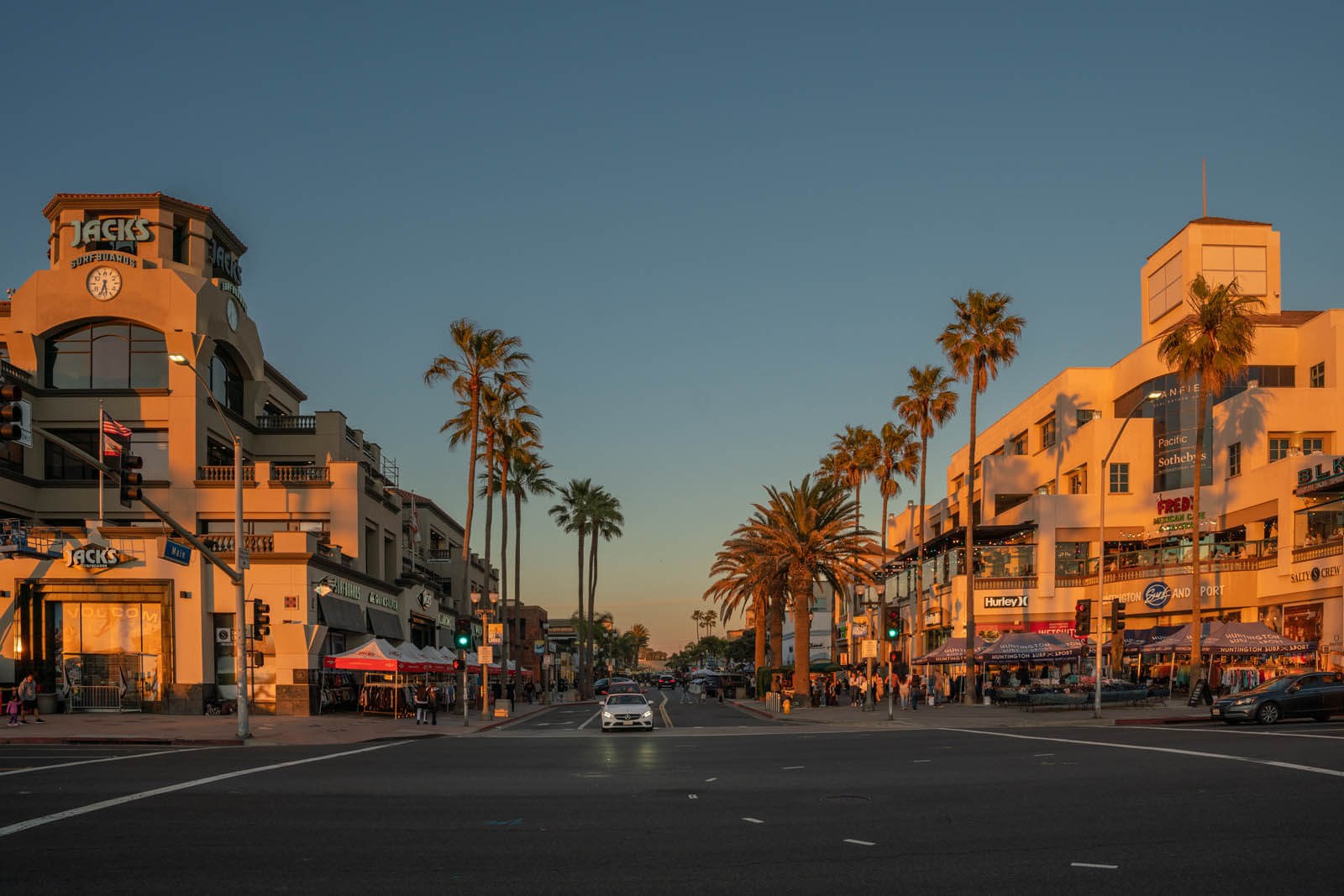 Calling all the shopaholics, one of the best things to do in Huntington Beach is check out their awesome surf shops and boutiques!
One of the best places to do some shopping is Surf City Nights, which is a street fair and farmers market. On Tuesday nights, the streets are closed off and tents are set up, and you can peruse offerings by local vendors.
While you're here, you can pop in shops that are local institutions in the area. Jack's Surfboards is the place to hit up for your surfing needs, clothing and accessories, camping and skate gear. At the spot where Jack's Surfboards is located, you can spot the Surfing Hall of Fame on the sidewalk. Huntington Surf Sport, or HSS for short, will get you ready to catch some waves with their selection of surfboards, wetsuits, and surf accessories. Both of these surf shops are local institutions.
If you want to add a bathing suit to your collection, Diane's Bikini and Merilee's Swimwear both have great options! Although, the Merilee's Swimwear has a way larger and better location in Laguna Beach!
Also, for more shopping you can head to Pacific City – which is mentioned in more detail further down.
Rent A Boat at Huntington Harbor
If you venture to the northwest corner of Huntington Beach, you'll encounter Huntington Harbor. It's quieter than the beach and offers scenic views of the islands and waterfront homes in the area. A great way to explore Huntington Harbor is by boat.
Huntington Harbor Boat Rentals has electric duffy boats available for rent, so you can cruise on the water while taking in the picturesque setting, not to mention these are easy to learn how to operate if you've never operated a boat before.
If you are in the mood for relaxed Huntington Beach activities, look into renting a boat at Huntington Harbor.
Hit up a Skate Park
In addition to surfing, the skateboarding culture in Huntington Beach, California is very popular. In fact, many of the biggest skate brands are based in Orange County. If you're a fan of Tony Hawk video games, you may recognize many of the Huntington Beach landmarks used in the game while you're visiting here in person too!
You can hit up one of the skateparks, and watch the next Tony Hawk do their thing. Vans Off The Wall Skatepark is huge, and has a Vans retail shop and a burger eatery. Edison Skatepark is another popular spot, with street-style characteristics for skateboarders to work on their skills. Additionally, Murdy Park has a skatepark, and it has the distinction of being the first skating park constructed in Orange County.
This should definitely be on your list of Huntington Beach activities if you enjoy skateboarding culture. Not to mention these are just a few of the skateparks in the area!
Old World Village
For a change of scenery from the bustling beach scene, check out the Bavarian-inspired town of Old World Village that's been around since 1978. Cobblestone walkways lead you around this center that has a unique variety of shops and restaurants in this German-inspired center. You can explore stores that carry beauty, health, and various specialty products. And when you're ready for a bite, check out one of the eateries that match the theme of the property.
Old World Village is also known for hosting a variety of events, like Oktoberfest and other fun activities including dauchsund dog races! Being a huge fan of German beer festivals, we love this little slice of Central Europe here in Huntington Beach!
Old World Village is also next to Vans Off The Wall Skatepark and Bella Terra shopping center where you can find more shops, restaurants, and a movie theater.
Pacific City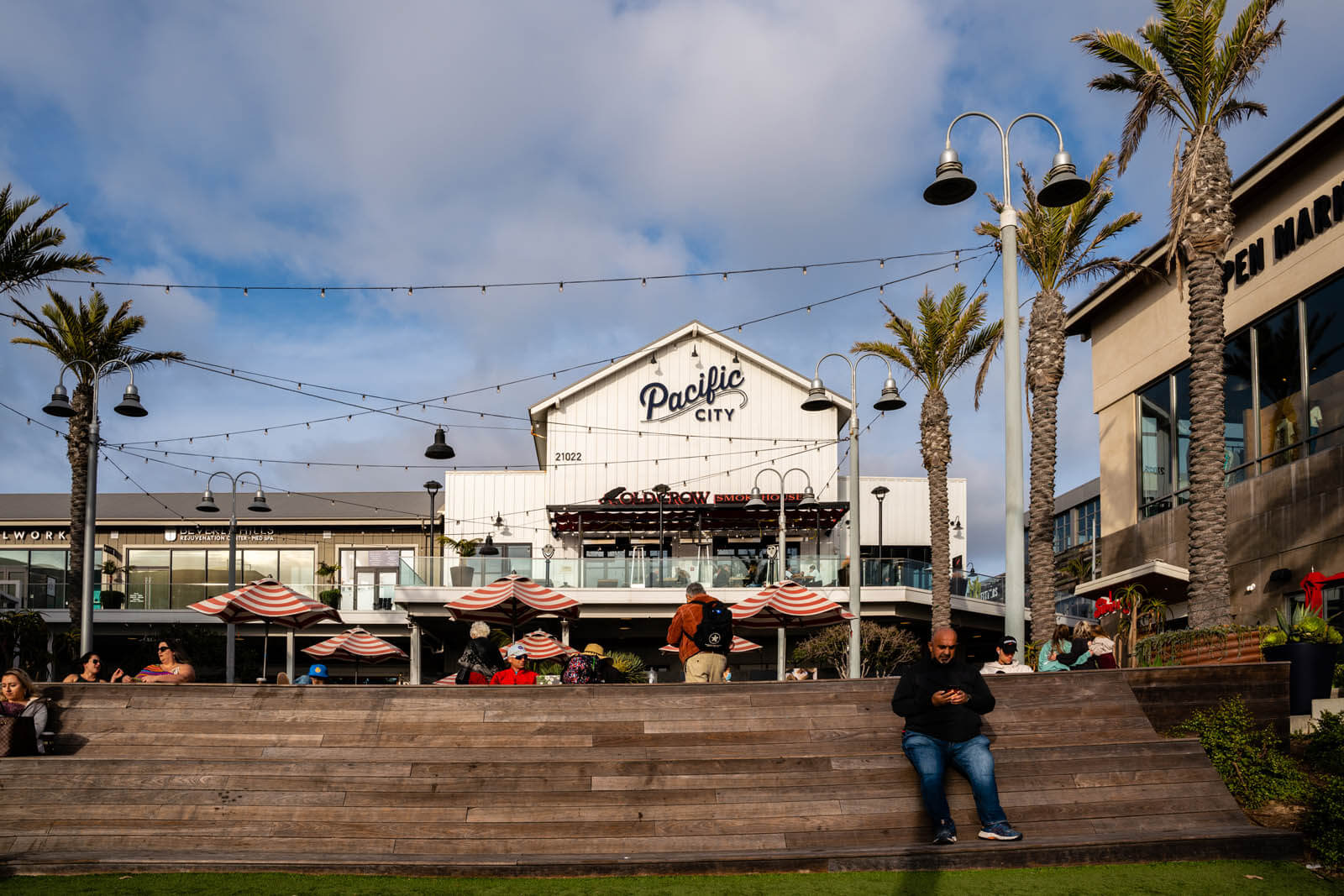 When you're ready for an escape from the sand and surf, head over to Pacific City. This mall is a fairly new addition to the area, and it's situated right along the beach south of the Huntington Beach Pier.
There is a great array of shops, restaurants, bars, all with fantastic views of Huntington Beach, California. For dining options, there are several standout spots at this Huntington Beach attraction. For fresh, flavorful poke, check out Bear Flag Fish Co. They also have sushi, fish tacos, and burritos, which you can enjoy with a drink from their full bar while checking out the spectacular view.
At Ola Mexican Kitchen, you can savor authentic Mexican dishes in an oceanfront restaurant, their house chips and salsa are also some of the best we've ever had. An added bonus is that just about wherever you are seated, you are guaranteed a scenic view!
Lemonade restaurant is a great place to go if you're in the mood for a light and healthy lunch. Their selections include bowls, sandwiches, toasts, and various refreshing beverages. Take advantage of sampling dishes before committing too!
And if you're looking for one of the coolest bars in Orange County, check out The Bungalow here.
There are also popular shops including a few independent boutiques and large brick-and-mortar retailers like Sephora here too.
TK Burger
View this post on Instagram
How does sitting down to a juicy, charbroiled burger and crispy onion rings in a cozy restaurant with a California-cool vibe sound? TK Burger is a local institution in Huntington Beach, California that's been around since the 1980s, and this beach burger shack serves up perfect beach day food.
All of the offerings on the menu are prepared on site and cooked to order, ensuring deliciously fresh food. With its location just across the street from the beach, it's a fantastic place to grab a bite before checking out the surf.
Newland House Museum
If you would like to see what types of homes dotted Huntington Beach at the turn of the century, head over to the Newland House Museum. This Queen Anne-style property belonged to early Huntington Beach residents William and Mary Newland.
They raised their family here in the early 1900s, and Mr. Newland ran his business out of the home. In the 1970s, the Historical Society swooped in and gave the home a much-needed restoration.
You can visit the Newland House Museum during sunny afternoons on the first and third weekend of each month. There is no set price for admission, although a donation in the amount of $1 or $2 dollars is recommended to visit this Huntington Beach attraction.
Huntington Surfing Museum
If you enjoy watching the surfers ride the waves, and would like to know some local history about the sport, head over to the Huntington Surfing Museum. This Huntington Beach attraction was founded by a Canadian transplant in Huntington Beach who has never surfed themselves but has a deep love for surf culture.
The museum has grown to contain a collection of notable surfboards, as well as historical surfing memorabilia related to Huntington Beach. There is a small fee to gain admission to the museum.
Bike Along the Coast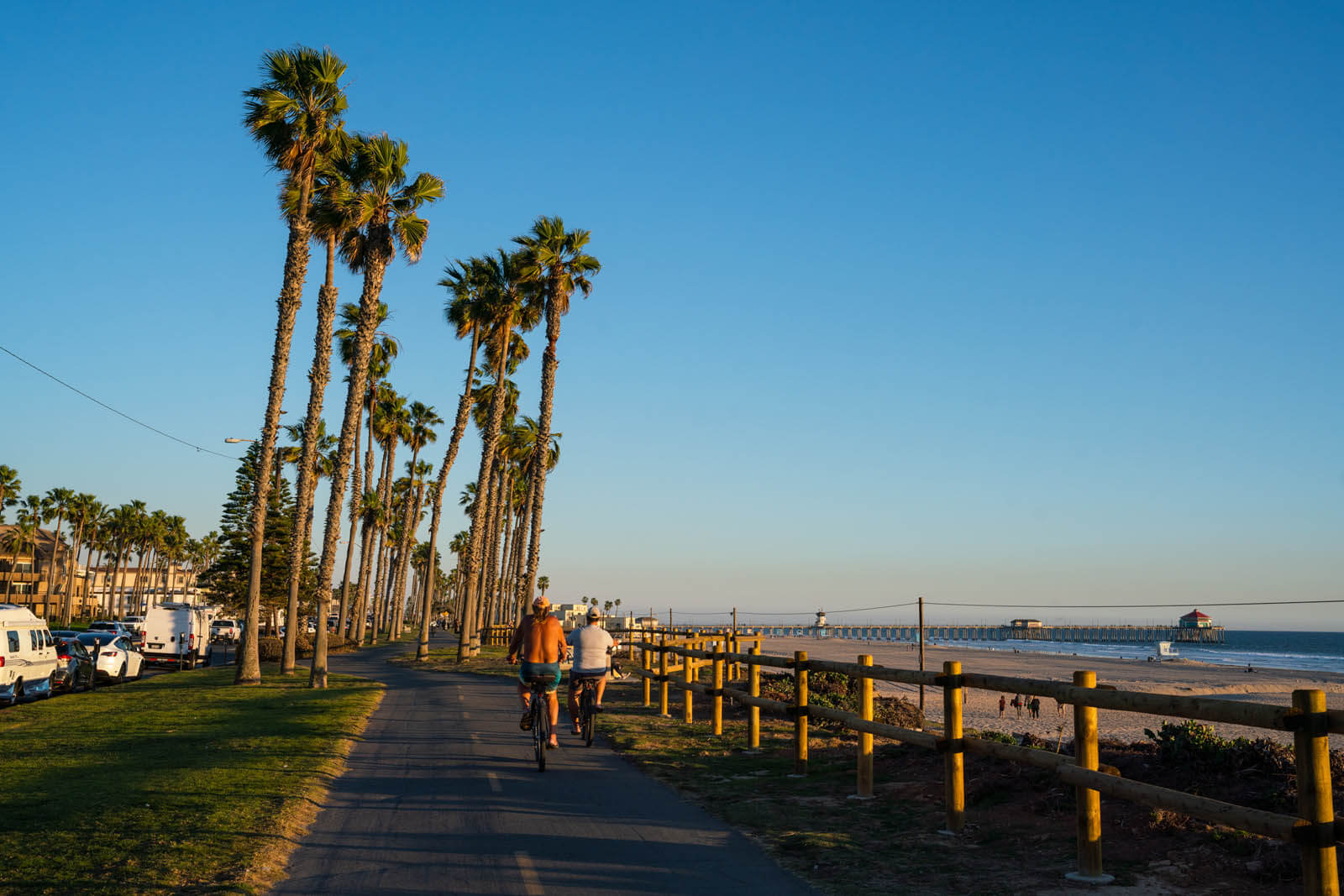 Another terrific way to explore Huntington Beach is by bike. Riding along the coast, hair blowing in the wind with the ocean breeze all around you, it doesn't get much better than that! You'll be able to get beautiful scenic views and catch all the activities happening as you cruise along.
The Huntington Beach Bicycle Trail is an oceanfront path that goes from Bolsa Chica State Beach to Huntington State Beach, perfect for biking by the shore. This is actually one of my favorite places to take a coastal run too!
Don't have your own bike? No worries, hit up Zack's By The Beach, which is right by the pier, to rent a beach cruiser, electric bicycle, or scooter. Biking along the coast is one Huntington Beach activity you will want to be sure to do when you visit the city!
Where to Stay in Huntington Beach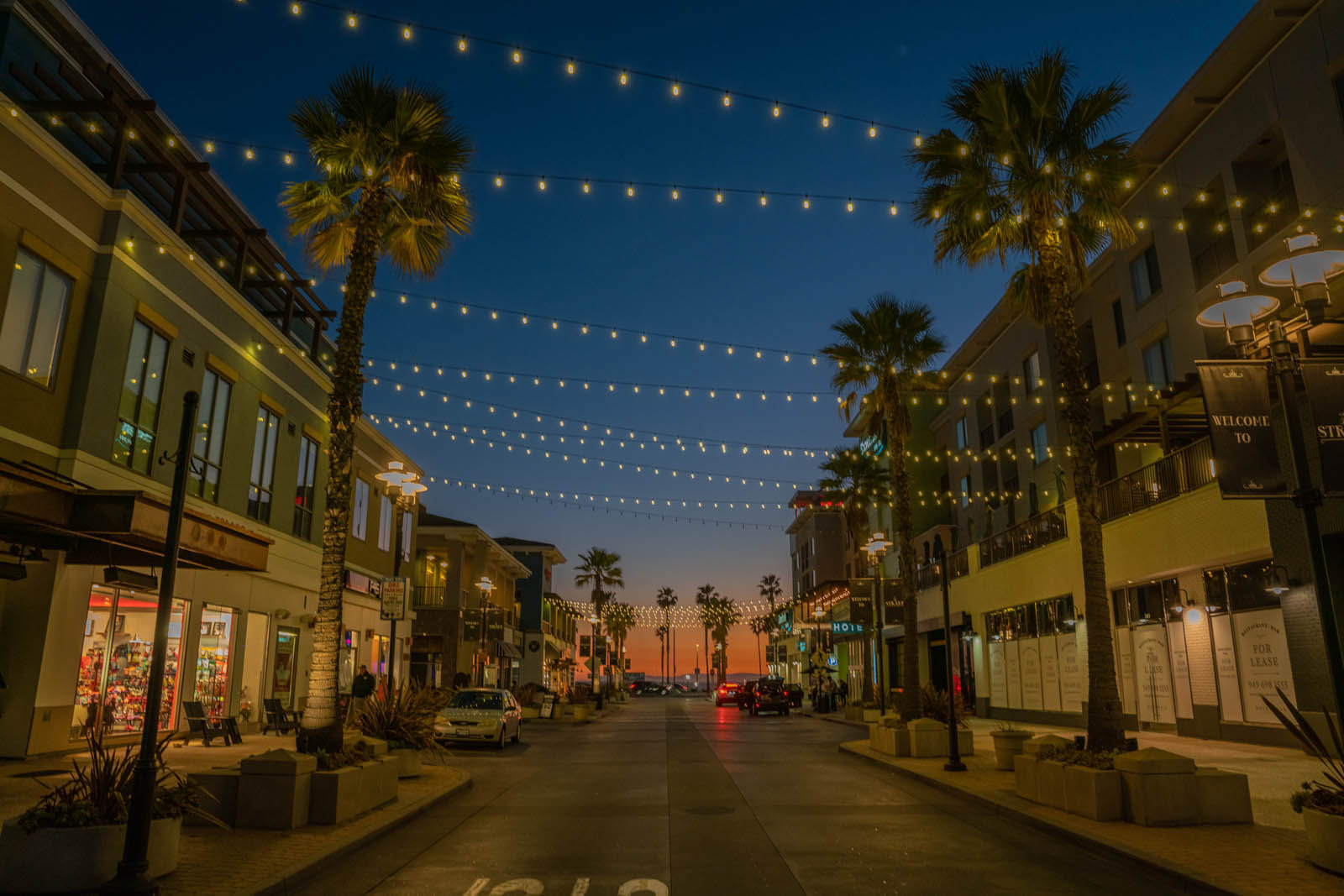 Located in the heart of downtown Huntington Beach, you can't beat the location of this hotel! You're literally steps away from all the best things to do in Huntington Beach including the best shops, dining options, bars, and of course the Huntington Beach Pier and beaches! The Kimpton Shorebreak Huntington Beach Resort is the closest hotel option near Main Street!
Besides having a great location, this hotel and resort is modern surfer chic. You'll spot all the surfing scene influences through the decor and art. The rooms are stylish and bright and there are ocean front and ocean view options! There are common areas that have comfortable couches to lounge at with a nice glass of wine (they host a complimentary wine happy hour nightly) or the communal recreation area with games to play.
They also have a state of the art gym featuring a rock climbing wall, MIRROR, and Peleton bikes! In addition, they also offer guests loaner beach cruiser bikes and beach gear from towels, beach toys, and umbrellas. Book Kimpton Shorebreak Huntington Beach Resort here.
Another gorgeous option for where to stay in Huntington Beach is the Paséa Hotel and Spa, a beautiful modern hotel located next to Pacific City right along the coastline! You'll be steps away from the beach and just a short, scenic walk to all the Huntington Beach attractions downtown.
This is one of the most stylish accommodation options in Huntington Beach with light, airy rooms with decor inspired by the ocean. Be sure to book a room with a balcony overlooking the ocean for the ultimate oceanside experience.
There's a gorgeous pool with ocean views plus the option to book a cabana for poolside lounging. Guests can also borrow complimentary electric bikes, scooters, and beach accessories like towels, umbrellas, and chairs. Book Paséa Hotel and Spa here.
This is the most luxurious place to stay in Huntington Beach located along the PCH just steps away from the sand and shore! Just a few minutes walk from Pacific City and a comfortable coastal walking distance to downtown Huntington Beach, when you are staying at Hyatt Regency Huntington Beach Resort and Spa you are close enough to everything while also being far enough away for a quiet, beach getaway.
Not to mention, this hotel is only a 20-minute drive from Disneyland too! The hotel is designed with Spanish-architecture influences with spacious rooms, if you want an ocean view be sure to book one of their ocean facing rooms or suites. There's also a great pool with an option to lounge poolside in a cabana all day. The hotel offers guests loaner beach towels, beach umbrellas, and other beach accessories for a fun day at the beach too. Oh, and if you're looking to pamper yourself, be sure to book a treatment at the onsite spa. Book Hyatt Regency Huntington Beach Resort and Spa here.
---
Enjoyed this guide to the best things to do in Huntington Beach, California? Bookmark for later or share the love below on Pinterest! And enjoy Scott's hometown!!