Looking for the best things to do in the Catskills in summer for an unforgettable getaway? We've got you covered! One of the best getaways on the East Coast is a Catskills summer vacation located just outside of New York City making it an easy escape for city dwellers like us but boasts enough wonderful things to do in the Catskills that its a popular destination for the North East US.
This scenic mountain region in New York has attracted and inspired artists and creatives is the setting of Rip Van Winkle, a classic literary work by Washington Irving (whose home you can visit in Tarrytown in the Hudson Valley), and is an all-season getaway for adventures, explorers, and anyone looking for some fun in the great outdoors during summer in the Catskills.
So next time you're looking for a place to beat the heat, pack your bags and head to the Catskills and enjoy some of these fun Catskills summer getaway activity suggestions.
10 Activities for a Catskills Summer Vacation
Visit The Upper Delaware National Scenic and Recreational River
Visting The Upper Delaware National Scenic and Recreational River is one of the most popular things to do during summer in the Catskills! Visiting this river during your Catskills summer getaway is a great way to see beautiful nature and wildlife, including bald eagles and deer. It's also great for anyone who wants to take a long, scenic drive along the Upper Delaware Scenic Highway.
No Catskills summer vacation is complete without heading on or in the water, it's the best way to cool off and there are alot of options for how to enjoy the Delaware River.
We recommend heading to the charming town of Narrowsburg where you can head off on a river adventure with Landers River Trips. They offer rentals for water activities like rafting, kayaking, and tubing.
We floated 10 miles down the Delaware River in a raft with a packed picnic and drinks and were greeted with gorgeous views, wildlife spotting including a deer hanging out by the river's edge, and bald eagles! If you want to do a shorter route that's totally possible too, you can opt for the 5 mile route instead which will end in Narrowsburg at one of Lander's campsites. There are options for doing as little as 2.5 – 5 hour river adventures, just let them know when you make your reservation.
Go Camping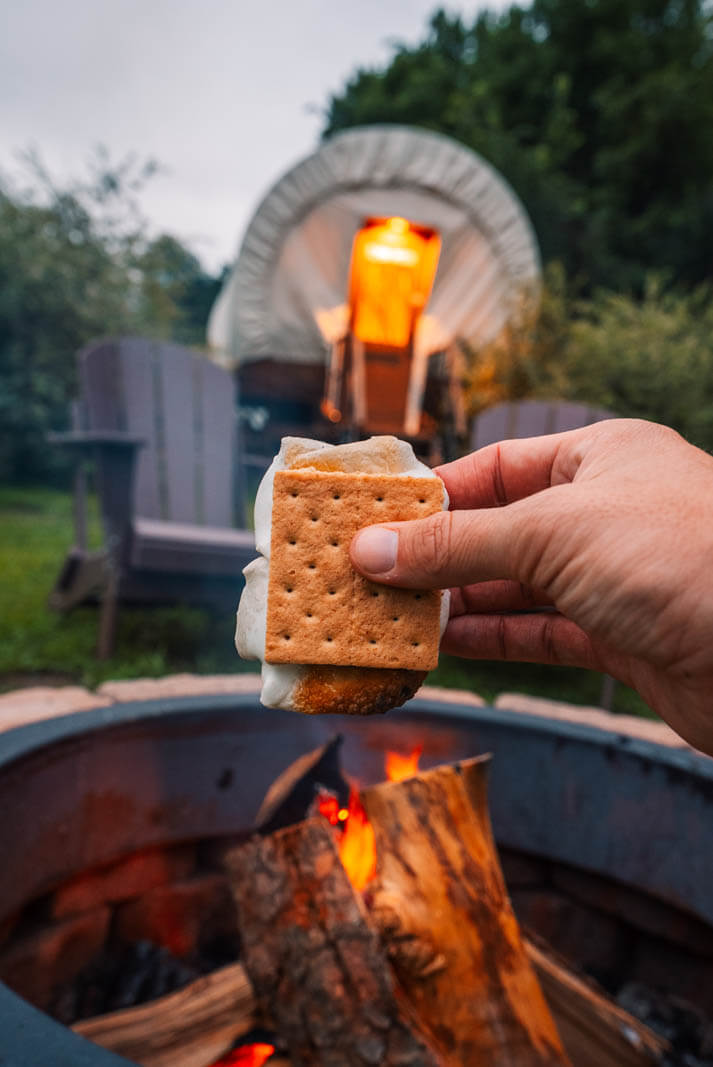 Out of all the things to do in Catskills in summer, camping is one of the most popular. One of the best campsites in the Catskills is Roscoe Campsite. Here, you can bird-watch from your cabin, campsite, or covered wagon, go fishing by the water, or bike along a trail nearby!
You might be wondering, covered wagon? Yes, you read that right! One of the best parts of Roscoe Campsite is they have a Conestoga Covered Wagon Outpost a few miles down the road from their main campsite in Roscoe in Cooks Falls.
This is where we 'glamped' during our stay and it was an absolute dream! I mean, who doesn't love glamping in New York?! These wagons are extra cozy and surprisingly spacious decked out with bunk beds and a king size bed, table and chairs, fridge, tv, wifi, and even airconditioning to help you control the temperature and be extra cozy.
There are 5 Conestoga-covered wagons at this outpost that a group can rent out if you're traveling with a caravan and want to do it Oregon Trail style! Each of the campsites have their own Adirondack chairs, fire pit, and even a kettle to grill on.
There's also a shared pavilion with picnic tables and coal grills for guests to use. The restrooms are a brand new building and extremely nice equipped with air conditioning so they are always cool and comfortable for even the hottest of summer days.
This campsite also has many different camping options to choose from during your Catskills summer vacation. If you prefer glamping over camping, they have many slightly upscale cabins to choose from as well!
In fact, you can choose between deluxe cabins, riverfront woodland cabins, themed cabins, and barn-style bunk cabins. This campsite will instantly make your Catskills summer getaway more fun and has animals like alpacas, goats, and chickens!
And for the kids, or the kids at heart like us you can mine for gems and cool rocks at the main campsite!
The campsite is also situated along the Beaverkill River so for any fly fishing enthusiasts, you can bring your own gear and fish right at the site. Happy campers also can swim and play in the river and the campsite also offers kayaks and canoes for guests to use.
Take a Hike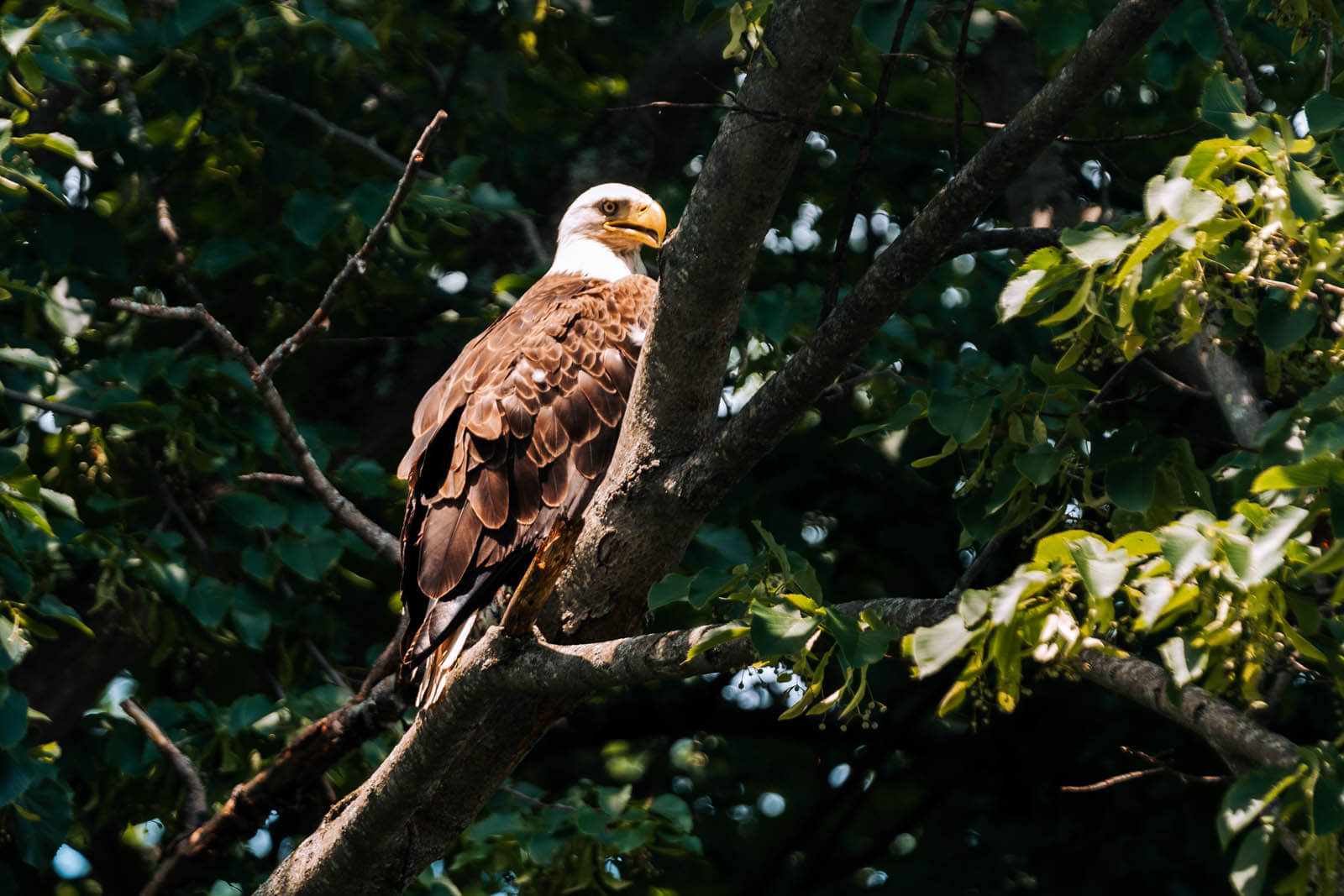 Another great outdoor activity for your Catskills summer vacation is taking one of the many scenic hikes offered in the region. One of the most popular trails is The Willowemoc Wild Forest in Livingston Manor! Here, you can find different hiking trails to choose from that range from easy to difficult. You can also participate in outdoor sports like fishing and other water sports here!
If you want an easy but scenic hike, The Mud Pond & Trout Pond Hiking Trail is a great place to start in Roscoe. This spot offers parking just 500 feet away from Russel Brooks Falls! It's also great for anyone who wants to take a dip in the water or immerse themselves with nature during their Catskills summer getaway.
Another great hiking trail that's best for experienced hikers is The Damascus Forest Trail in Narrowsburg. This trail has a few hills and narrow pathways that make you feel like you're part of nature the entire time. This 2-mile loop is off the beaten pathway and has no rest stops or restrooms.
Furthermore, visitors must stay on the pathway since the surrounding properties are all private. If you go on this hike, you can expect to see some gorgeous birds, unique plants, and other wildlife!
If you're spending your Catskills summer getaway at Arnold House in Livingston Manor, we recommend checking out Sam's Point! This preserve hike is nearby the hotel and is a 4,600-acre preserve that has outstanding views and many areas to explore!
This is an easy hike that can be self-guided. However, there is a staff at this location that can guide you through the site and help you learn more about the Catskills in summer!
Before setting off on a hiking adventure, be sure to visit this guide on what to wear when you go hiking to ensure you're prepared for the incredible trails available in the Catskills region!
Go to the Site of Woodstock!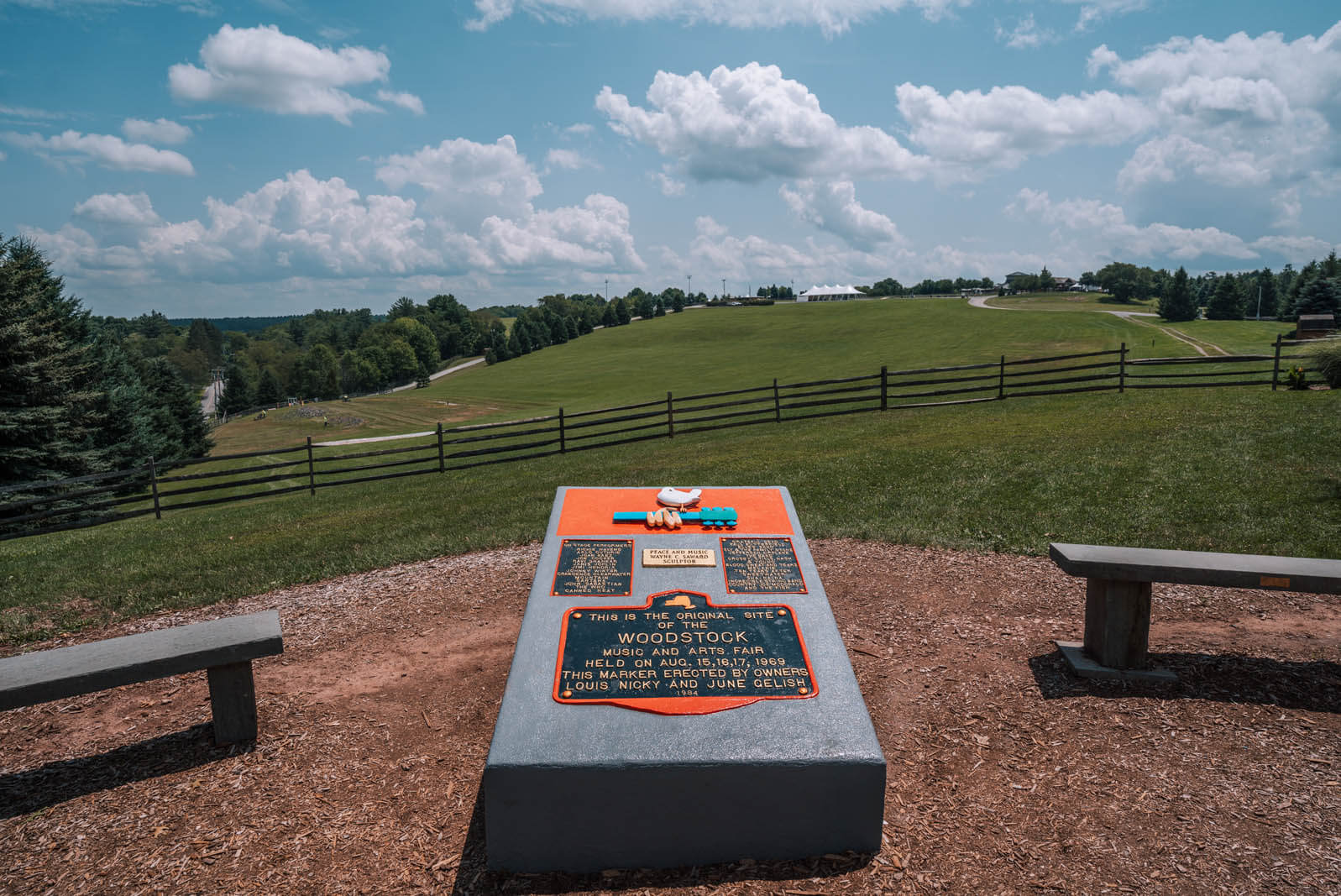 If you want to channel you're inner peace, love, and happiness head to the site of the most legendary music festival on the globe that at its time, was the largest attended music festival in the world.
Summer in the Catskills is not complete without visiting the historic site of the 1969 Woodstock Festival at Bethel Woods Center for the Arts. Here, you can visit the museum for only $5 or walk around the land that was the site of the gathering of roughly 400,000 people came to listen to some of the most iconic names in music from Jimi Hendrix, Carlos Santana, Grateful Dead, Janis Joplin, Credence Clearwater Revival, and MANY more.
You can spend hours exploring the museum, we also recommend driving to Bethel Market Cafe down the road which also doubles as a great spot for lunch if you need a bite to eat. This stop was a popular resting post during the music festival and was where festival attendees would leave notes and signs looking for others in their group, you know how to communicate before we could text!
At the time of the festival, this site was called Bethel General Store and Bethel Post Office, but now its a cute cafe.
What's a little confusing about the site of Woodstock is that it's actually not in the town of Woodstock, which is another one of the most charming towns in the Catskills to visit. The town of Woodstock is about 1.5 hours drive from the site of the festival. It's a bit confusing for first timers to the region, but essentially the festival was supposed to be held in the actual town of Woodstock then the location changed but they decided to keep the same name.
The movie Taking Woodstock directed by Ang Lee does a good job of showing how that happened in the film based on true events from the point of view of a family who owned a struggling motel.
We recommend taking time to check out all the best things to do in Woodstock too if you have the time. Many of the shops and art galleries in town also pay homage to peace and love too!
Also, if you're looking to take home a souvenir or keepsake from the actual festival, from Bethel you can hit up some of the antique shops. We stopped at both Country Bum'kin and Laughing Ladies Antiques across from one another on County Road 117 who had real Woodstock memorabilia like the local dairy milk bottles that were handed out to concert go-ers and other memorabilia like the original poster designs.
Visit Breweries & Distilleries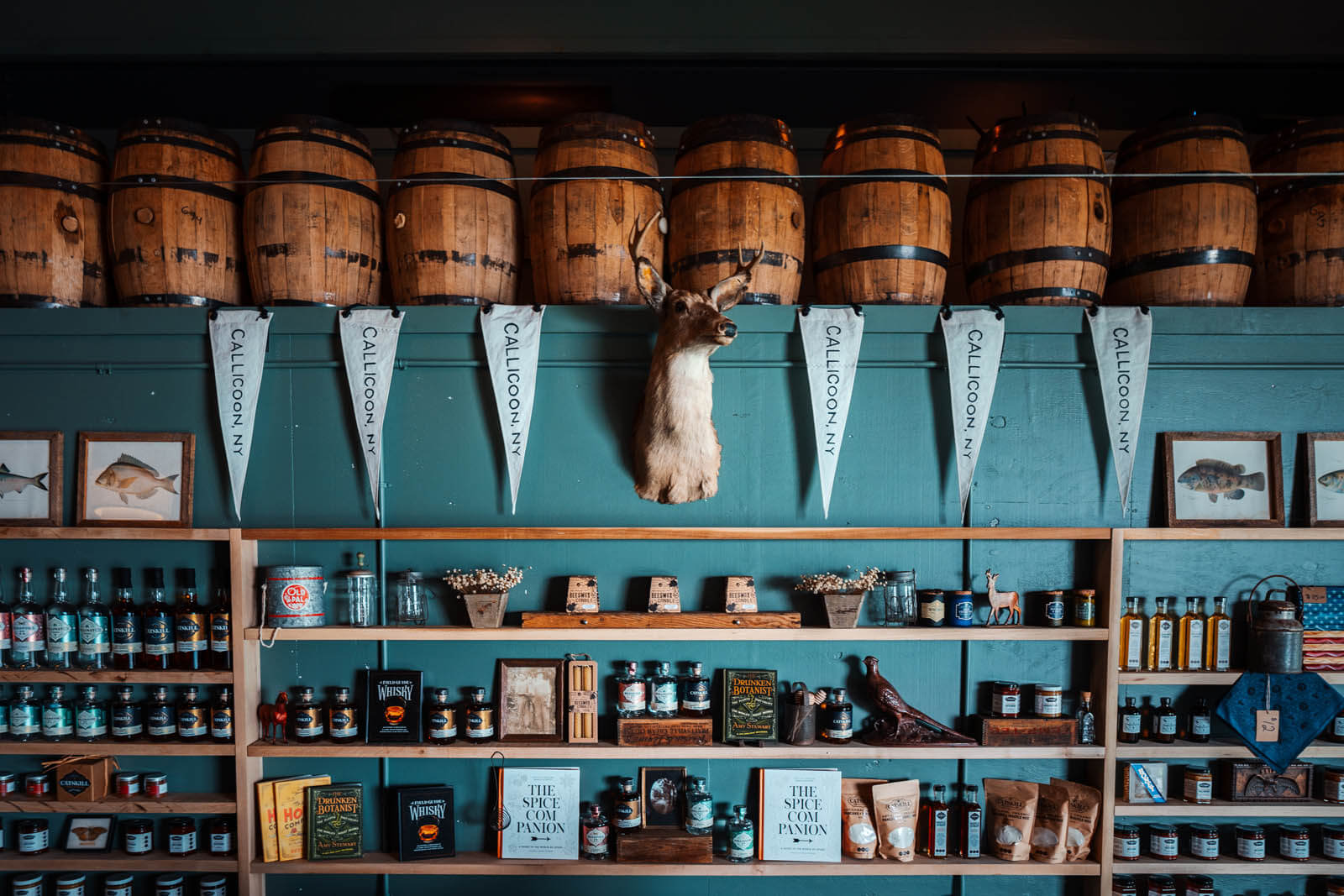 One of the most popular things to do in the Catskills in summer is visiting all the craft beverage hot spots like breweries and distilleries!
One of the most stunning breweries in the region is Upward Brewing Company in Livingston Manor. This popular brewery offers many great craft brews from their gorgeous location atop 'Beer Mountain' and bites from their kitchen. The entire aesthetic of their interior is enough to make you want to come here for a relaxing, casual dinner.
If you're into frisbee golf, they've got a course for that too! Choose between indoor seating in their gorgeous space or their great outdoor dining set up.
Nearby another brewery in the Livingston Manor area is Catskill Brewery, which offers great beers and scenic outdoor seating options! We love their beer and I personally love their branding featuring a feisty raccoon!
If you're spending your Catskills summer vacation in Roscoe, check out Roscoe Beer Company! This popular brewery is as a great selection of beer and ample indoor and outdoor seating. They also have lots of food options and the large outdoor area that's great for groups!
Nearby this brewery is in downtown Roscoe is also Do Good Spirits. Do Good Spirits is a distillery that's known for its great spirits, inviting atmosphere and delicious food. Here, you can do a tasting and try their gin, vodka, whiskey, and other goodies they carry. We love their Bootleggers Gin and brought a bottle back home with us.
Another great spot to hit up if you love distilleries located in Callicoon is Catskills Provisions Distillery! This distillery is known for its good spirits to taste, unique cocktails, and delicious food. They also have many artisanal products and their space is probably one of the most beautiful distilleries we've ever been to! They also have a gorgeous private event space if you want to plan something special here.
Looking for more breweries and distilleries? Check out our guide to Catskills in winter where we mention quite a few around the Hunter and Phoenicia area of the Catskills.
Go Town Hopping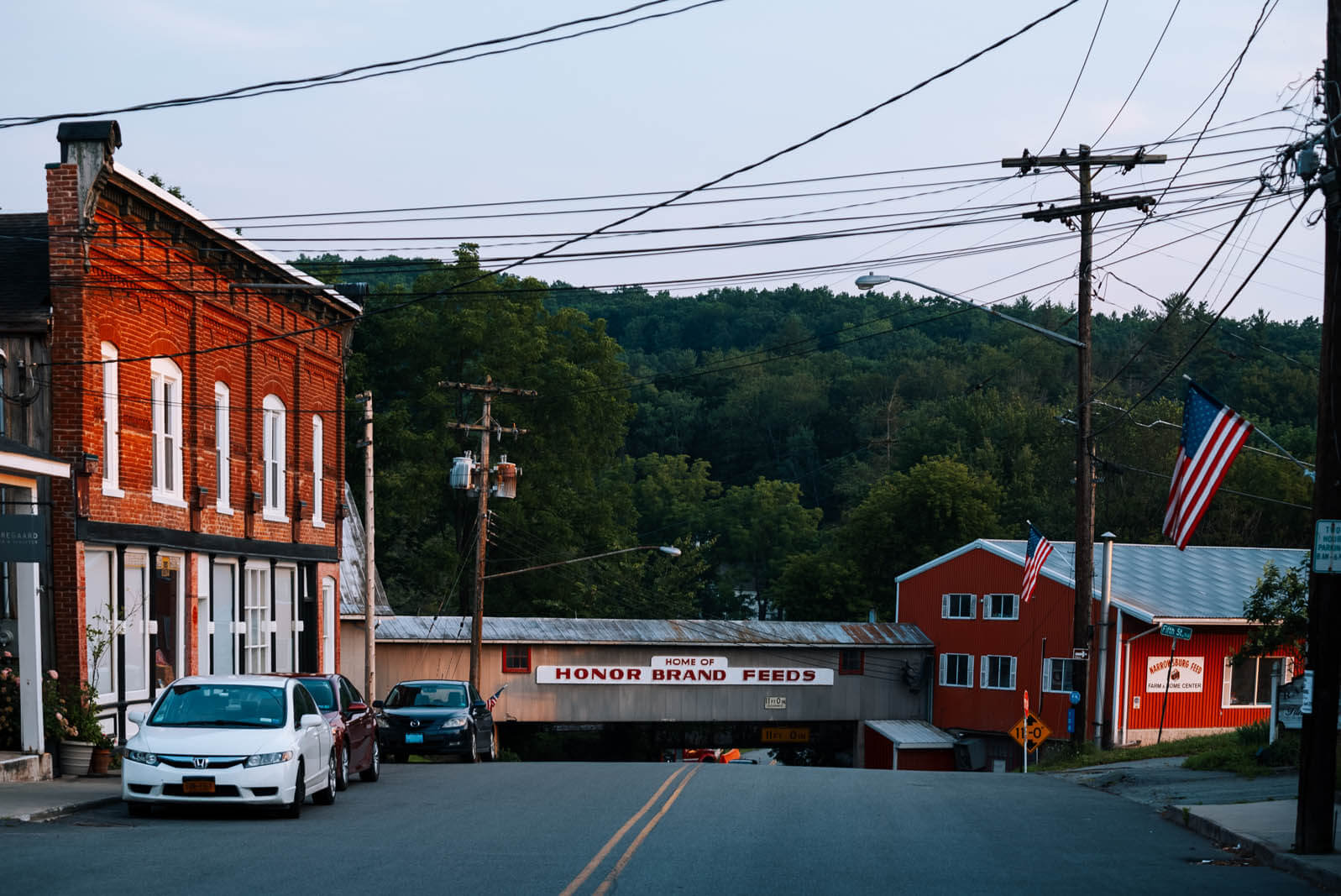 One of the best things to do during summer in the Catskills (or anytime of the year) is go town hopping! The Catskills are home to some of the best charming towns in New York to visit and you'll want to pick a few!
The activities we've featured in this guide to Catskills in summer are pretty much around Roscoe, Livingston Manor, Narrowsburg, and Callicoon — although all the towns in this area are pretty special.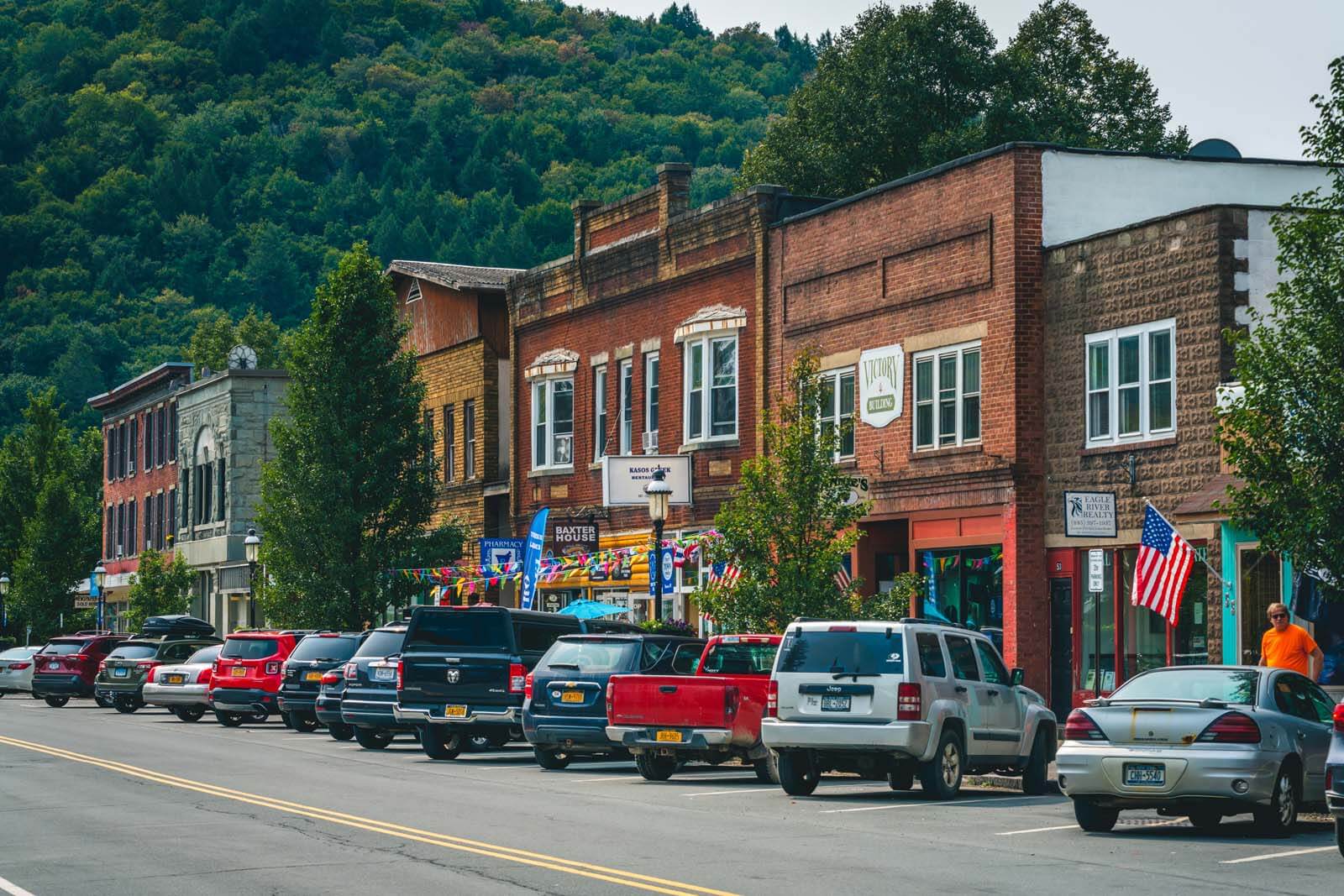 One of the most charming and popular towns is Roscoe. This hamlet is known as Trout Town USA and is known for its pristine lakes and reservoirs, making it a great place to hike or do water sports like getting on the rivers and small lakes on canoes, kayaks, or rafts. If you're into fly fishing, this is a world-class spot popular for catching trout, hence the nickname Trout Town.
Stewart Avenue and Union Street have different shops and spots to check out and is a pretty adorable, small downtown. Also, check out the Roscoe O&W Railroad Museum here!
Another small but popular town that's great for a Catskills summer vacation is Livingston Manor. This hamlet, which is also located in Sullivan County and very close to Roscoe. Some of the best things to do near this scenic town include visiting The Balsam Lake Mountain Wild Forest and checking out The Sonoma Falls!
In town, you need to stop down Main Street where you can find some cute shops like Homestedt and Concrete + Water who sell stylish home furnishings. Check out Main Street Farm for local provisions and if you need a bite to eat, they do have counter service, however, if you're short on time we recommend grabbing something a little quicker or grabbing snacks to go from their pantry items.
Be sure read our full getaway guide to Livingston Manor and Roscoe, New York too for more ideas of what to do in and nearby both of these towns.
Another town worth checking out is Callicoon. Nestled in the foothills of the Catskill mountains, this small town has a population of just over 3,000 and is a really charming stop!
Be sure to walk around and pop in the shops like Spruce Home Goods and Litt Home & Books. Both of these are open on weekdays too!
Narrowsburg is an even smaller town with a population of just over 400 people! This peaceful area sits over the Delaware River. Here, you can grab a great cup of coffee at the local cafes like 2 Queens Coffee, or the Tusten Cup. Grab a bite to eat at some of the restaurants in town, The Laundrette serves up sourdough woodfired pizzas with a gorgeous view of the river below.
While you're here check out some of the popular art galleries nearby or small shops downtown like Sunny's Pop and Narrowsburg Proper.
Another popular but small town is Phoenicia. Here, you can find retro diners, water activities, and many hiking trails with great views!
Keep in mind that before visiting any of these small towns during your summer in the Catskills, it's best to check what will be opened during your visit since many of the establishments are on limited hours! Many of the shops are only on the weekends!
Take a Scenic Drive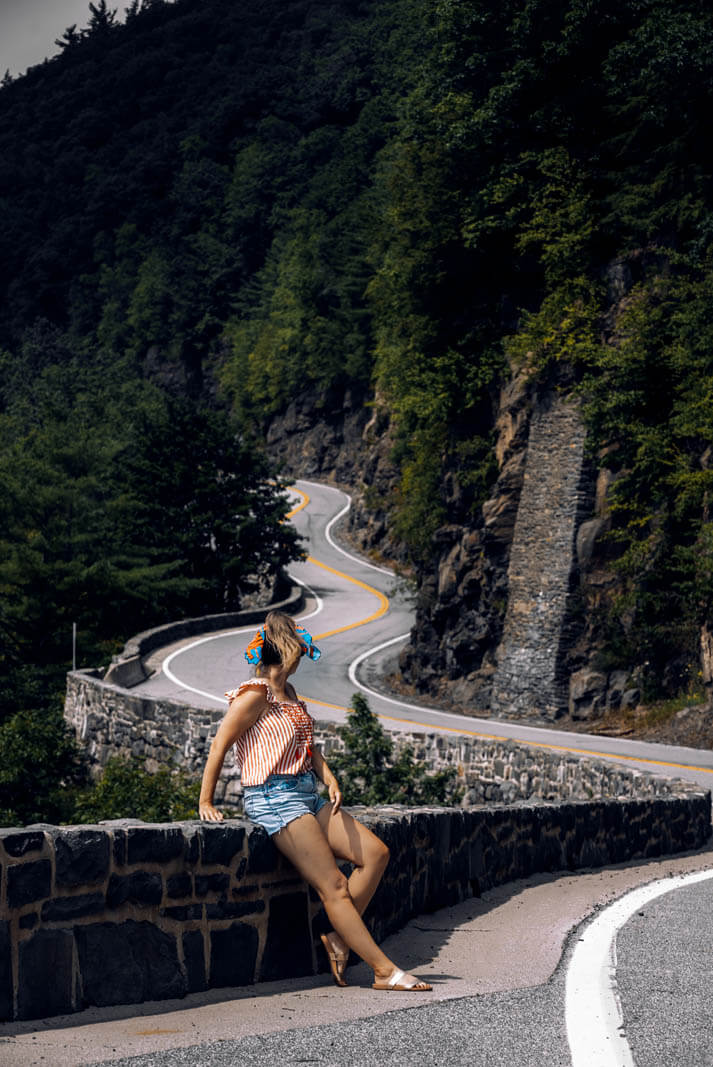 Another great thing to do in Catskills in summer is to take a scenic drive! One of the most popular scenic locations is Hawks Nest on State Route 97 near Port Jervis. This drive is a dramatic winding road perched above and overlooks the Delaware River. Its name comes from the birds of prey that live in that area and there are pull off areas for you to take in the view and if you're lucky like we were you may even see a hawk return to its nest!
This is a popular motorcycle route, but really all motorists stop here to catch a peek at this insanely gorgeous view that's been featured in many car commercials and was even the filming location for Marvel's Doctor Strange car accident scene.
Rated one of the most scenic drives in all of America, The Upper Delaware Scenic Byway is a great place to drive at any time of the year. It includes many scenic overlooks and greenery that change colors with the fall foliage.
Another popular place to drive is The Palmer Hill Scenic Overlook. This area has lots of parking and scenic overlooks where you can stroll through the meadow trails!
Hunt Down Covered Bridges
Now that we mentioned one of the best things to do in the Catskills in summer is to take a scenic drive, why not look for some of the best New York covered bridges you can find in the area while you're out and about! Many of the bridges are off the beaten path and some are right in town!
One of the most popular and oldest bridges in Catskills is Livingston Manor Covered Bridge located close to town making it an easy visit when you're exploring Livingston Manor. This one-lane bridge is over 117 feet long and is directly over the Willowemoc Creek which you can drive over. There's also parking on the side of the bridge so you can stop and take in the view.
Another popular bridge is Beaverkill Covered Bridge which dates back to 1865 and spans across the Beaver Kill and is another covered bridge beauty you can drive over. This covered bridge is more remote, fair warning you won't have signal around here so make sure to have your directions loaded and ready to go.
The secluded location makes it even more peaceful, visitors enjoy swimming and playing in the river here and there are picnic tables so you can enjoy a nice afternoon at this spot.
Another covered bridge in the area is the Downsville Covered Bridge dating back to 1854 spanning the East Branch of The Delaware River in Delaware County.
Visit a Farm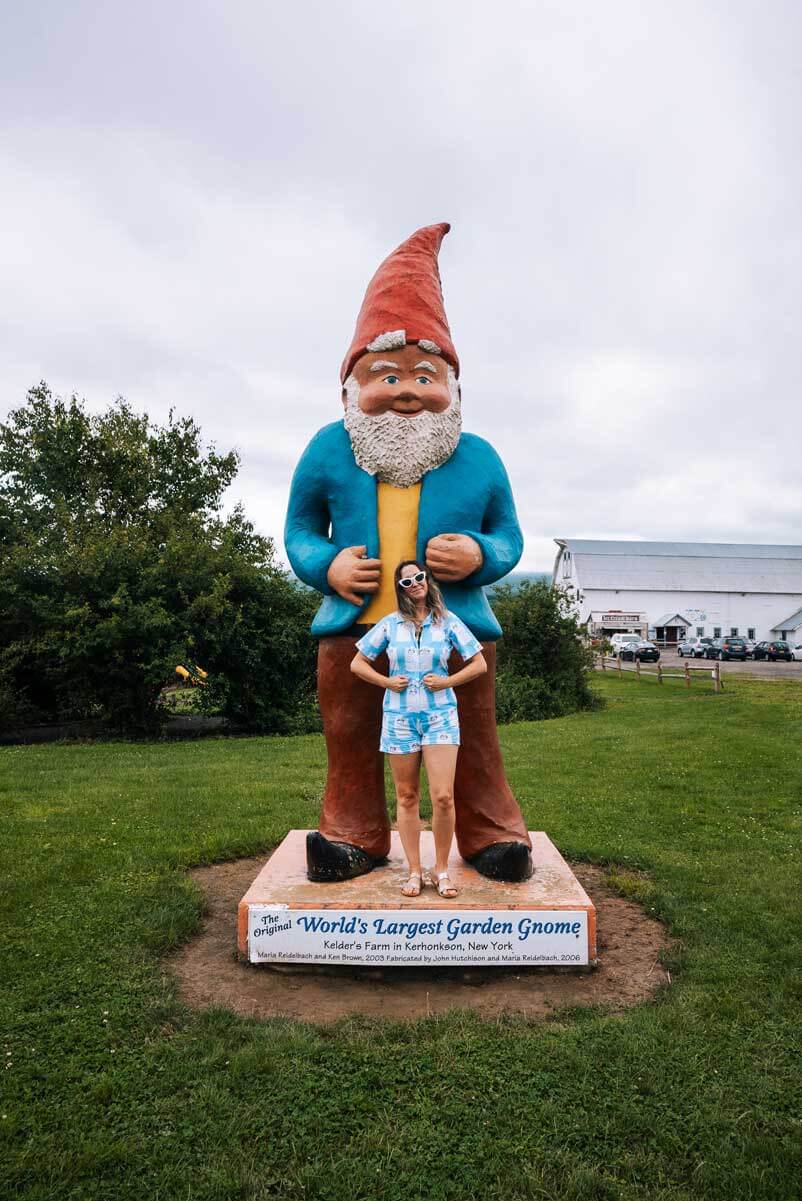 You came all the way to the countryside for a Catskills summer getaway, why not enjoy the country life by visiting one of the farms in the area.
Buck Brook Alpacas is an alpaca farm that also has chickens, bunnies, and other animals! This is a great place to visit in Catskills in summer for families that have younger children or anyone who just loves animals like us.
If you're staying at Roscoe Campsite, you can hang out with alpacas, goats, and chickens here too! We grew very fond of our new alpaca and goat friends during our stay.
If you're into locally grown produce and beautiful flowers, Story Farms is another great farm to check out! Here, you can buy fresh produce at a great price and admire the garden.
Another great farm is Kelder's Farm in Kerhonkson. Here, you can pick your own fruits and vegetables, stroll through the garden, or buy your food from the market! You can also visit the large sunflower garden, a corn maze, and the dessert spot where they serve ice cream at this family-owned farm!
This is also home to the "original World's Largest Gnome" roadside attraction known as Gnome Chomsky which is one of our top picks for unique things to do in the Catskills! While this was at one time the world's largest, Gnome Chomsky has been dethroned and is now the third-largest. We still love him anyway and its a fun photo!
Go Fly Fishing
Did you know that the Catskills town of Roscoe is known as being one of the best spots in the world for fly fishing?! We already mentioned that briefly earlier, but Roscoe isn't known as Trout Town for no reason!
In fact, Roscoe and Livingston Manor are two of the best destinations in all of America for fly fishing. Even if you're not into catching the fish yourself, these are some of the best towns to try waterfront dining or find the local specialty, trout on the menu.
If you are interested in fly fishing, check out Baxter House Outfitters. This fly & tackle shop offers a fishing guide service and fly fishing with an instructor.
Blast or Cast is also nearby and offers guided fishing & hunting. Here, you can expect to fish for steelhead, brown trout, rainbow trout, salmon, and walleye. You can also choose between fishing on The Delaware River, Beaverkill River, or The Willowemac River. Source: Besthuntingadvice.com
Summer Catskills Vacation Lodging
This guide to summer in the Catskills focuses mostly on the Sullivan County area, so we are going to recommend lodging around this area so you're close to all the attractions and activities we've mentioned.
Be sure to see our full guide for where to stay in the Catskills for more ideas though as the region is full of incredible accommodation options from more glamping, camping, cabins, and gorgeous mountain resorts!
Roscoe Campsite Park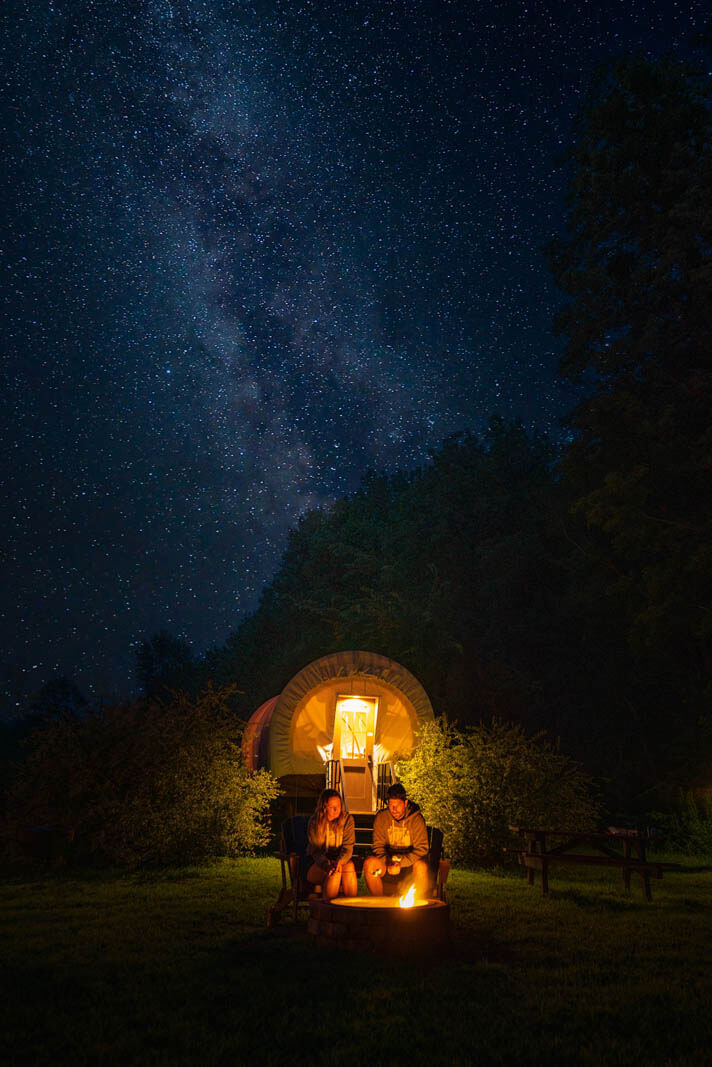 We know we mentioned this earlier, but it's worth mentioning again. Roscoe Campsite offers great lodging options from full on campsites for your RV or tent to creekside cabins and our favorite, the Conestoga Covered Wagon glamping experience for an unforgettable Catskills summer vacation.
There are 5 covered wagons at the outpost which also runs along the Beaverkill River which is perfect to rent out the entire campsite if you're traveling with a group of friends or several family members. Each wagon comes with its own Adirondack chairs, fire pit, and kettle to cook over.
Each wagon comes with air conditioning, tvs, fridges, wifi, and are incredibly spacious fitting a twin bunk bed and a king size bed inside the wagons!
The bathrooms are shared and located outside the wagons. Don't be fooled though, these bathrooms are kept cool in the summer and are incredibly clean and modern. There is also a small pavilion with grills and picnic tables for guests to use.
At their main campsite location in Roscoe, you can also choose between several different cabin rentals including riverfront cabins along the trickling Beaverkill River as well as campsites, RV sites, and fun activities like mining for kids (or adults we thought this was fun) and seeing all the fun animals like alpacas, goats, and chickens!
Another perk about picking this spot for where to stay in the Catskills in the summer months is that you have access to fly fishing right at the campsite along the river as well as hiking and water activities like rafting, tubing, canoeing, and kayaking all of which they can provide to guests!
Hotel Darby in Narrowsburg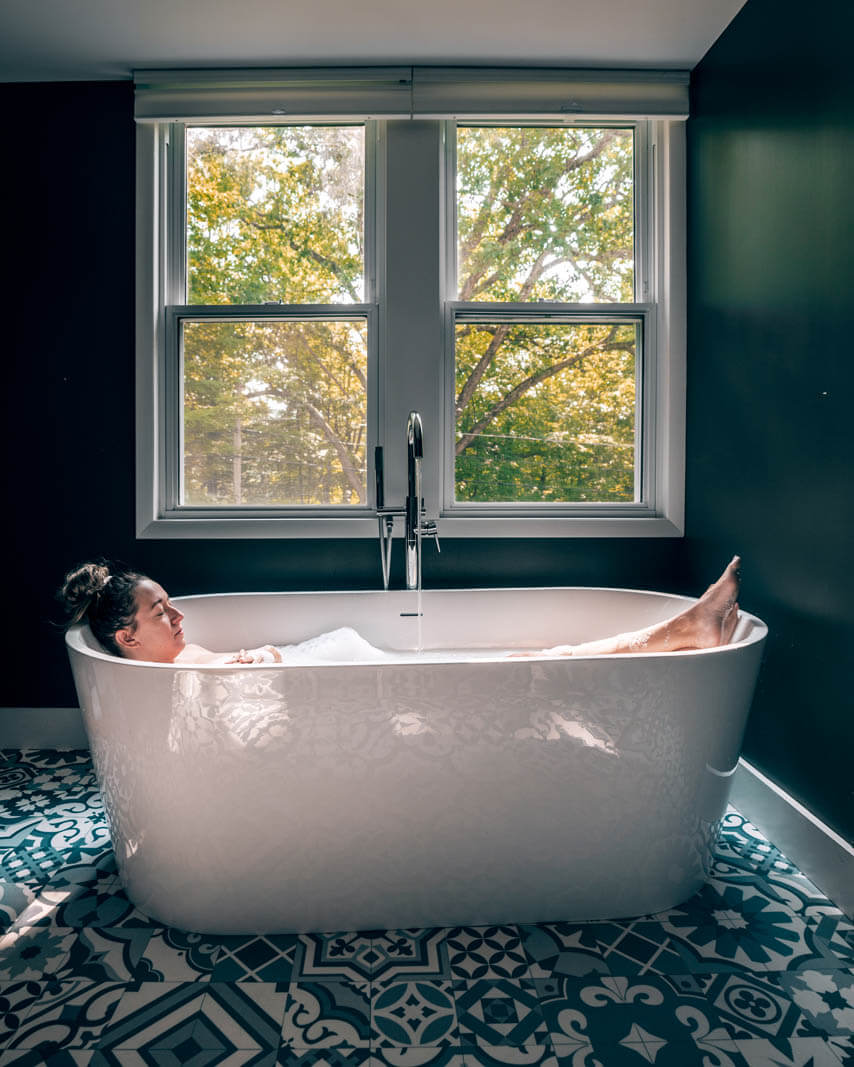 A stylish place on your Catskills summer getaway located in the charming town of Narrowsburg on the border of New York and Pennsylvania along the scenic Delaware River is the newest addition to the Foster Supply Hospitality Group, Hotel Darby.
Technically located on the PA side of the border, but teedle toddling on the border and steps away from downtown Narrowsburg, this is the perfect base if you're exploring the Upper Delaware Scenic and Recreational River.
Hotel Darby offers an elevated old-school motel vibe with mid-century modern furnishings and touches. We particularly loved the giant bathtub overlooking the surrounded wooded area where we were lucky enough to catch glimpses of woodland creatures like curious deer exploring the property.
Amenities include access to outdoor activity gear like bird watching materials and binoculars, access to hiking trails, frisbees, coolers you can borrow for your outdoor adventures, lawn games, hammocks, and more not to mention the beautiful outdoor patio and fire pits you can enjoy on those comfortable evenings.
There is also a stylish bar and fireplace lounge that serves up cocktails and tinned fish light bites that were surprisingly gourmet and delicious.
Be sure to explore the property so you don't miss little details like the hair salon they kept on the property (it's just for looks these days though) that pays homage to the building's former use.
Arnold House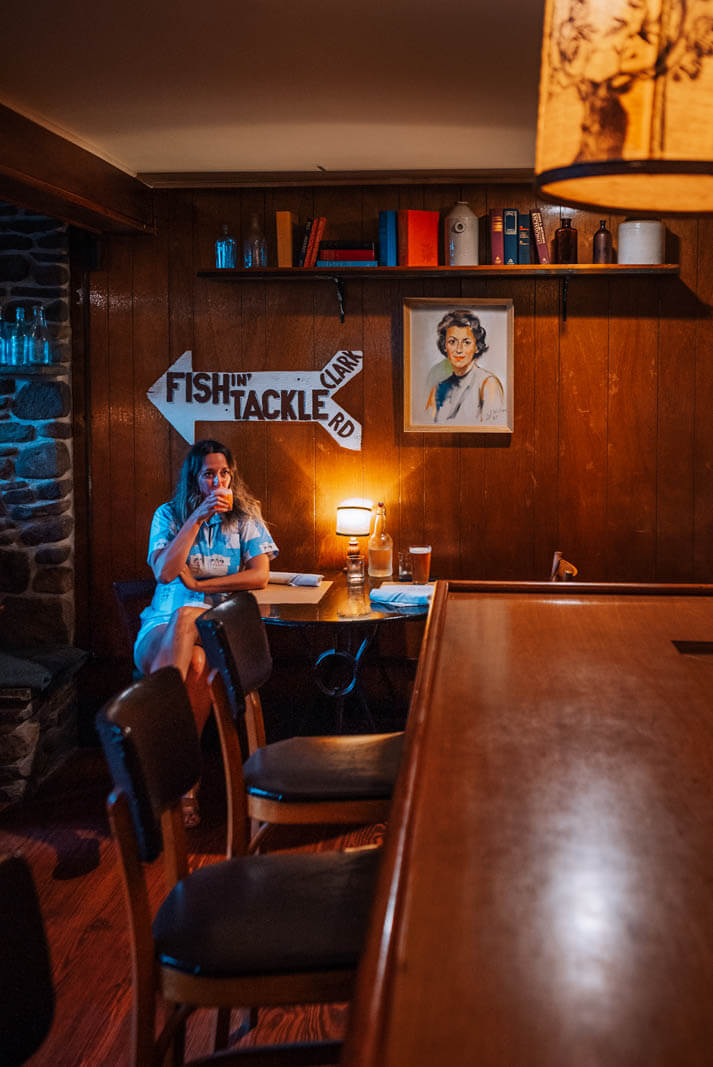 Another cool stay and stylish place to stay during your Catskills summer vacation located on Shandalee Mountain near the town of Livingston Manor is Arnold House also by the group at Foster Supply Hospitality.
This property is more than a stay too offering not only B&B style rooms but a spa, barn, and greenhouse that often hosts live music performances and their tavern which is an excellent place to come for dinner even if are staying somewhere else in the Catskills.
Guests can enjoy country living in one of their 14 guestrooms scattered across three different buildings on their property furnished with antique furniture with a relaxed, country charm. Rooms range from twin to King beds as well as a split level suite for anyone traveling with families and want extra space.
---
Found this guide to the best things to do in Catskills in summer helpful? Bookmark for later or share the love below on Pinterest for planning a Catskills summer vacation!