Check out all the best things to do in Naples, New York, a great escape in the Finger Lakes region that offers ample outdoor activities, great dining and craft beverage options, waterfalls, scenic lakes, and more!
Naples, New York is a great stop for the day, if you plan ahead using our guide making sure to see everything there is to do, or this is a great base for exploring the region's lakes, wine trails, museums, small towns, and outdoor activities.
It's no secret we are huge fans of the Finger Lakes, we have been over a dozen times and keep finding incredible places we haven't been to yet, just like when we discovered the charming town of Naples and everything there is to do nearby!
And if you're still planning your trip, we also have great suggestions for what to do near Naples, New York, and where to stay!
Where is Naples, New York?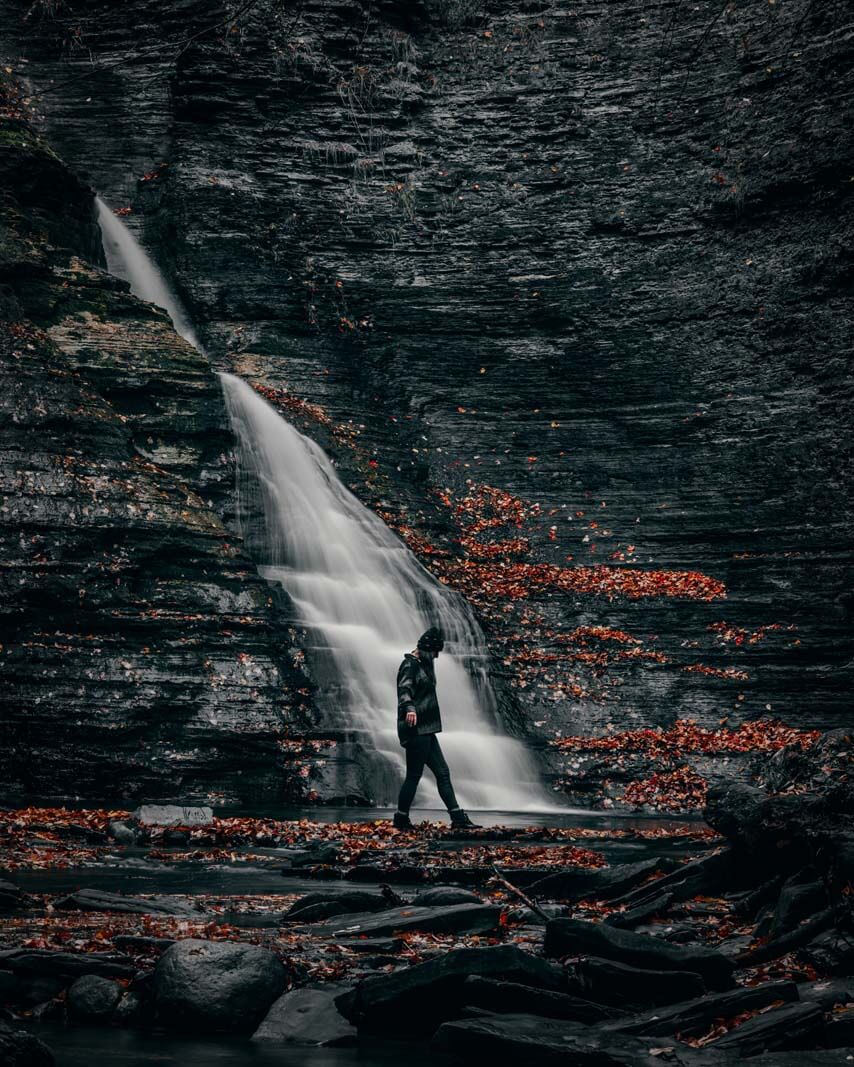 Naples, New York is a quaint village located in Ontario County, New York, and is the beating heart of the iconic Finger Lakes Region between Honeoye Lake and Canandaigua Lake and one of our favorite charming small towns in New York!
This four-season sweet spot is a treasure trove for admirers of the arts and natural earth. Known for its grape growing and vineyards, artistic flair and culture, and picturesque scenery, a visit to Naples, New York is truly a great weekend getaway or gateway into exploring all the best things to do in the Finger Lakes region.
Things to do in Naples, New York
Visit Grimes Glen Park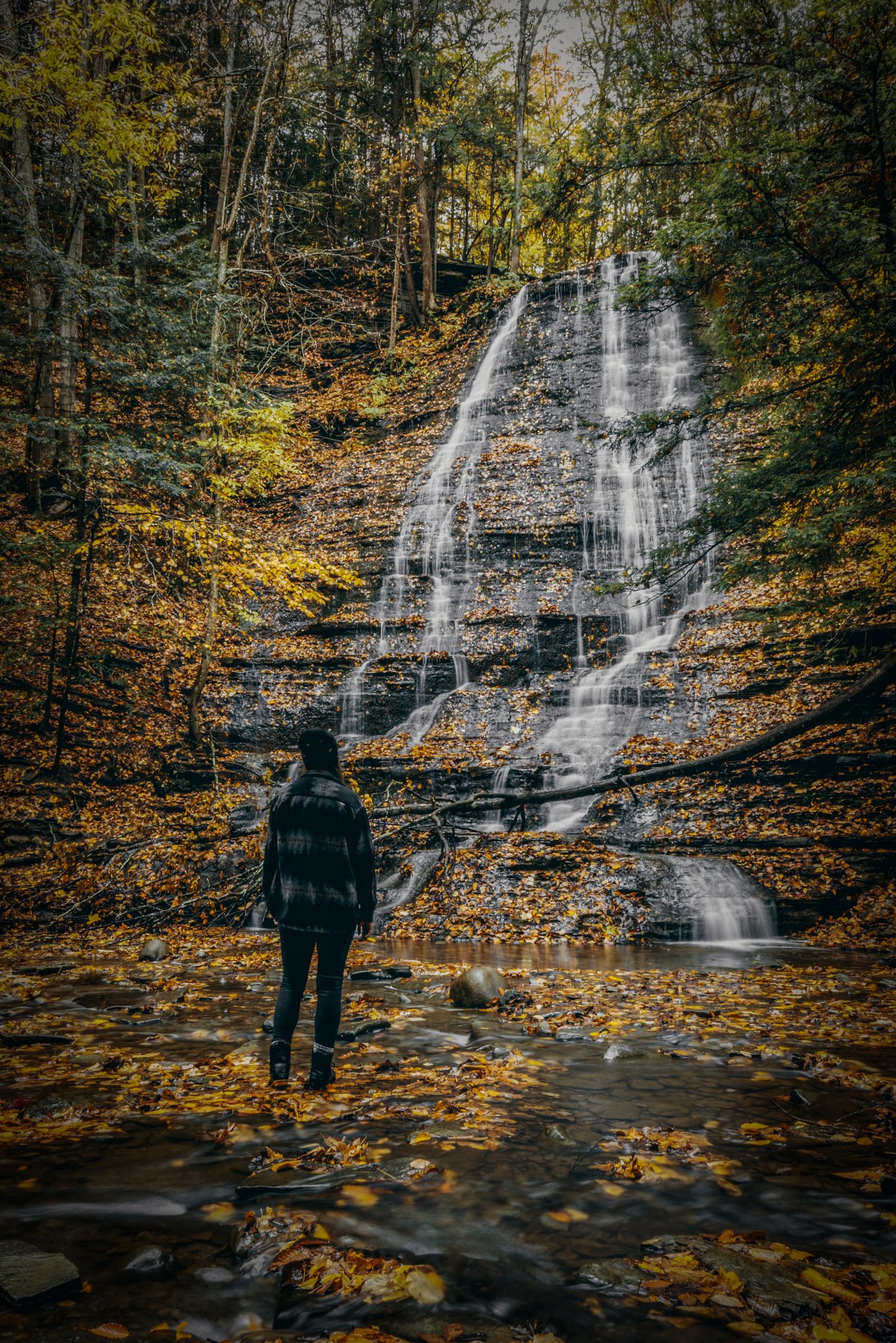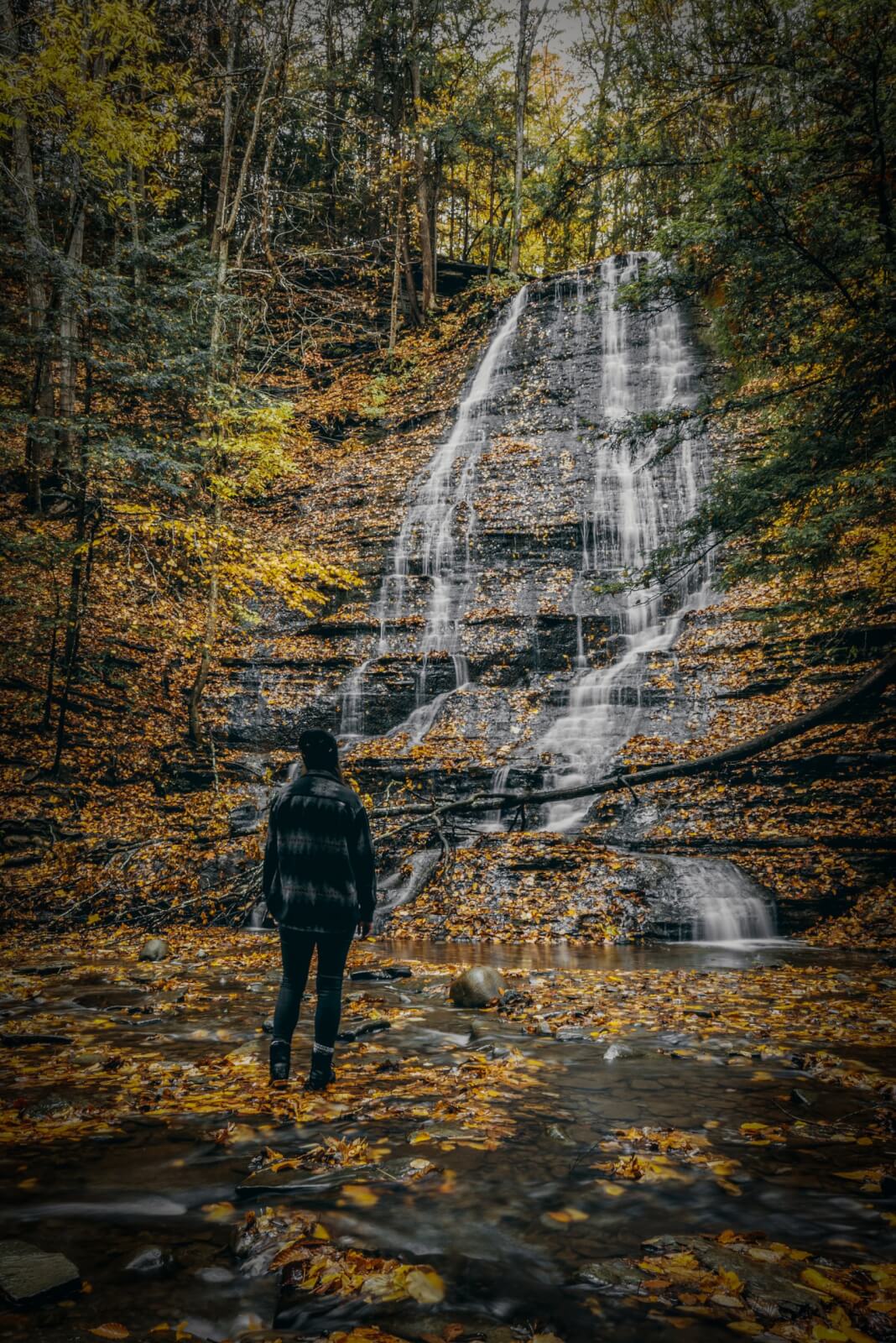 Known for its cascading waterfalls and fossil-rich history as home to the oldest petrified tree in New York, one of the best things to do in Naples, New York is to take a hike through Grimes Glen Park.
This 1.1-mile-long creek walk rewards hikers with three 60-foot waterfalls, but newbies beware – the third may require a bit more strenuous climbing to reach.
Visitors can park at the end of Vine Street and begin their hike just before the gorge. The first tributary fall, French Hills Falls, is about a ½ mile into the trek.
The second waterfall is located approximately ¼ mile past the first, but hike with caution as the mainstream drops a deep 60 feet into a slippery amphitheater.
This part of the hike also tends to be pretty slick, so pay careful attention to where you step and be sure to hold on to the accompanying ropes. If you successfully master the second falls, you might just be daring enough to make it to the third.
Also, part of this hike requires you to walk in the creekbed, you will want to wear waterproof shoes or waders since you will be walking in the water. During our visit in the fall, I was able to walk around to more shallow areas where the water didn't exceed over 2-5 inches. But expect higher levels of water during the wetter season.
Grimes Glen are not only some of the best waterfalls in the Finger Lakes region but also where you can find some of the best waterfalls in New York!
Try the Famous Grape Pie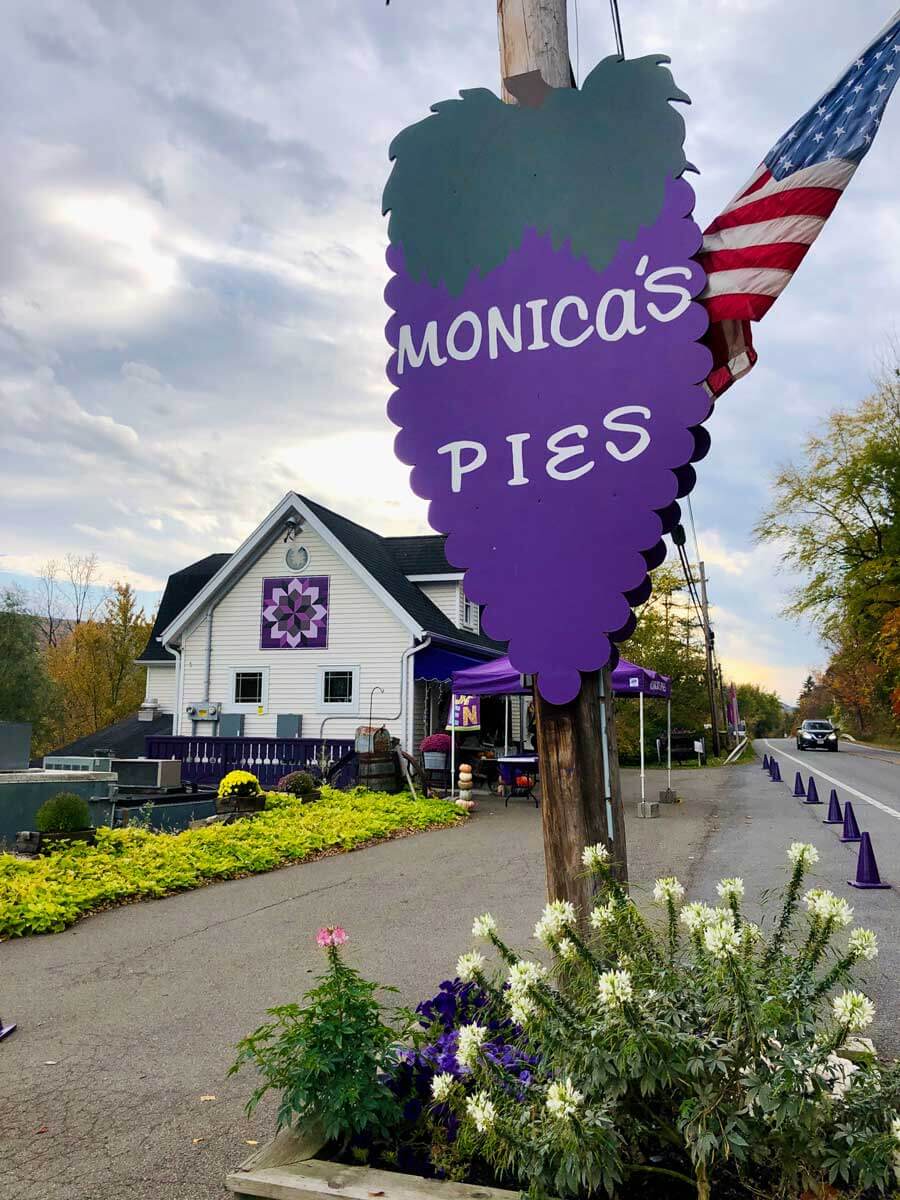 A local specialty and an absolute favorite for any Naples, New York visitor is grabbing a slice from one of the town's award-winning pies. Fun fact – the Grape Pie Capital of the World is located in Naples, New York and hosts the Naples Grape Festival. This splendid event features the World's Greatest Grape Pie Contest, where the locals jive over their favorite competitors.
Grabbing some grape pie is one of the most quintessential things to do Naples, New York! Although it depends on who you ask, you can never go wrong with Monica's Pies or Cindy's Pies.
Of the various stores and farmer stands prepped for pie purchasing, you mustn't miss your chance to chow on some grape pie from the Heart N' Hand pie shop or Joseph's Wayside Market.
Try the famous grape pie at local restaurants too! With an assortment of fruit pies, seasonal pies, savory pies, and other goodies, you're sure to find a slice of sweetness to enjoy.
Conklin Gulley
Located in the High Tor Wildlife Management Area, the Conklin Gulley is home to a plethora of adventurous things to do in Naples, New York, many of which involve hiking to different waterfalls.
Prepare for wet feet because the first main trail, found just off the mouth of the gully on Parish Hill Road, is a creek bed. Keep following the creek path and you will see a series of smaller waterfalls between 15 to 20 feet in height before hitting a fork in the trail.
Once you do, take the right course (facing upstream) and you will reach more impressive falls of over 50 feet high. If you'd like to bypass climbing the smaller waterfalls, park in the designated area on Route 245 and take the less obvious trail up the hill to the Angel Falls and rim trails. The latter will give you access to the upper part of the gorge, where you may view the larger falls with less effort. Always be cautious of the weather, as gullies can be quite dangerous with rainfall.
West Hill Preserve
This beautifully forested landscape, located on the south side of Bristol Hills, gives visitors an unparalleled opportunity to witness ecological succession in action – one of the more unique things to do in Naples, New York.
For those who may be unfamiliar, ecological succession can be described as the gradual change in plant communities of a particular area. Typically, succession occurs when natural vegetation is disturbed and eventually reaches a stable condition, which could take over a century.
Over 125 years ago, field cultivation phased out and the abandoned fields now mature at their own pace, giving visitors a unique grassland experience as they engage in activities like hiking, nature-journaling, or bird watching during migration. This is also a fantastic way to spot some of the nearby wildlife.
Visitors should keep in mind that since this is a nature preserve, there are no available amenities, only nature for stimulation. However, this does make it a great way to get away from some of the typical hustle and bustle. This 4.7-mile back trail is rated as difficult and deemed best to take a trip in the months from March to October.
Farmer's Markets & Roadside Stands
As a seasonal haven of fun, Naples, New York offers farmer's markets and roadside stands to the best scavengers. The classic American road-side farm market, Joseph's Wayside Market boasts fresh produce, local jams and preserves, and of course – some of the best pies the town has to offer.
Grab a slice of berry pie before checking out their private wine shop and greenhouses. If you're looking for a place to pick a pumpkin, head 2 miles south of the village to Jerome's U-Pick Fruit Farm, featuring grapes, peas, and pumpkins – oh my!
Visitors are required to bring their own shears, while containers and wagons are available for use. If you'd like to skip the self-picking, baskets of grapes can be purchased at their retail stand. If at any point you'd like to inquire about what kind of pickings are currently going on, call 1-800-UPICKIT and a representative will be pleased to share their seasonal options.
Inspire Moore Winery
If you're looking for some award-winning wines, you've got to try Inspire Moore Winery. They produce over 12 different varieties, including Chardonnay, Grüner Veltliner, Riesling, Pinot Noir, Merlot, Zweigelt, and Blaufrankisch to name a few.
Gruner Veltliner and Zweigelt were more recently introduced into their cool climate wine portfolio, while Riesling remains their dominant varietal in the cellar. Before shopping this prime selection of wines, consider visiting their tasting room for your choice of tiered tastings.
You can swirl, sniff, and sip to your heart's content until you find the perfect wine to bring home. Although walk-ins are welcome, it is highly recommended that visitors make reservations in advance.
A party of 8 or more require an appointment, which can be seamlessly scheduled by visiting their website. Keep a look out on their site for listed events, typically offered in the summer months of June, July, and August – wine club gatherings and dinner celebrations galore!
Roots Café
One of the tastiest things to do in Naples, New York involves a trip to Roots Café for some mouth-watering bites and drinks. A community-driven restaurant, this café thrives by supporting local farmers who grow the café's produce, provide their meats, and supply floral centerpieces for décor.
Celebration is the nature of this place and they welcome folks to enjoy food, drink, and live music by visiting for lunch or dinner any day between Thursday and Saturday, or during brunch on Sunday.
Regardless of party size, visitors are encouraged to make reservations in advance as this is a very popular spot not just for Naples, New York but also the surrounding Finger Lakes come here to dine.
Take a peek at their menu before making a reservation as it often changes with the seasons to reflect what the farmers have to currently offer. For those who enjoy crafty cocktails, regulars tout the Toasted Pecan Old Fashioned and Jalapeño Hot Chocolate Martini.
Canandaigua Lake
Dubbed as "The Chosen Spot" by Seneca Native Americans, one of the most memorable things to do in Naples, New York is to visit Canandaigua Lake, one of the 11 lakes that make up the Finger Lakes region.
Northeast of the town of Naples, this serene lake casts a spell of reverential respect and wonder upon all visitors who bask in its expansive lakefront views. A mysterious ambiance fills the air as once operable ships now lay sunken beneath the waters and tales of a serpent bear markings on the trails.
This enchanting lake body of water offers endless views from a scenic car drive to a gentle stroll down the Canandaigua City Pier. From here, you'll notice wildflowers paint the grasslands and historic boathouses line the waterfront – such a charming spot to snap a photo.
Head on down to the water for some lakeside activities like swimming, boating, and fishing. Afterward, enjoy some ice cream from one of the pop-up stands or lay out a blanket for picnic on the lush lawn.
Tannery Creek
Located on the south end of Canandaigua Lake, Tannery Creek offers explorers an easy-going voyage to waterfalls of varying heights. Perhaps not as well-known as its more famous companion, Grimes Glen, Tannery Creek Falls boasts several falls that often cascade into combinations of overhanging plunges.
Visitors beware – signage is lacking for this destination so be on the lookout for Tannery Creek Rd during your arrival. The best time to visit is during spring or fall, and newcomers are advised to explore during the weekends to avoid unnecessary interference with Naples' highway department operations.
Allow for about an hour to make it through the creek walk but be sure to check the weather to ensure you visit when the waterfalls are flowing well.
Clark's Gulley
Just a few short miles northeast of Naples, New York is Clark's Gully, the most adventurous of the four glens and gullies. This wild ride begins with a short creek walk to a waterfall about 20-feet tall. Conquering the first fall is the easy part, as the rest of the hike involves quite a bit of climbing that may be trivial to some.
Hikers who often stop once they reach this lower side, describe this part of the adventure as more isolated and intimate. The presence of surrounding wildlife and crushed rock with pine needles underfoot will make you feel a heightened connection with nature.
Reaching the upper side is a greater accolade requiring much more effort. However, if you do claim this victory, you'll be prized with two more waterfalls that drop from heights greater than 60 feet.
It is wise for visitors to know this is a moderate to difficult trail that may require 2 to 4 hours to complete in its entirety. Explorers can enjoy plenty of hiking, nature-gazing, and birdwatching along the journey.
Brews & Brats
If you're in need of a good pit stop, look no further than Brews & Brats at Arbor Hill, located on the southwest end of Canandaigua Lake. This carriage barn-turned-restaurant sports a rustic appeal and has been serving up homemade sausages since 2011.
Known as a hidden gem, visitors describe Brew & Brats as homey and quaint, and after our visit we will have to agree. The atmosphere is pleasant no matter the occasion – be it a relaxing early afternoon for lunch or a lively evening when local bands perform during dinner.
Speaking of dinner, Brews & Brats offers 6 different locally made brats, each with its own signature taste. If you're having trouble deciding, opt for the Sherried Wine Sausage and pair it with their Winemaster's Sauerkraut and German Potato Salad.
Craving something a bit heavier? Go for the Steak Wagon during their Steak Night on Friday and Saturday nights, featuring Certified Black Angus Beef, two sides, and a drink.
Of the many sites to see and bites to eat, Brews & Brats is sure to please as one of the best off the beaten path things to do in Naples, New York.
Also, you can bang out two of the best things to do in Naples, New York here! Brews & Brats is at Arbor Hill, so you can visit the winery while you're here – mentioned next!
Arbor Hill Winery
Situated a right next to Brews & Brats is the Arbor Hill Grapery & Winery, home to selection of wines, gourmet foods, and even its very own unique gift shop.
Proud producers of over 27 award-winning wines and over 55 food products, this is a go-to stop during any Naples, New York getaway.
Arbor Hill Winery, with its New England country setting, has its own country complex, with several buildings including their retail store, Brews & Brats, and then a barn each for the wine cellar and food production.
Keep in mind that reservations are required, and wine tasting is only available Friday through Sunday. Be sure to grab some of their jarred goodies from their retail store on your way out.
Nearby Naples, New York
Honeoye Lake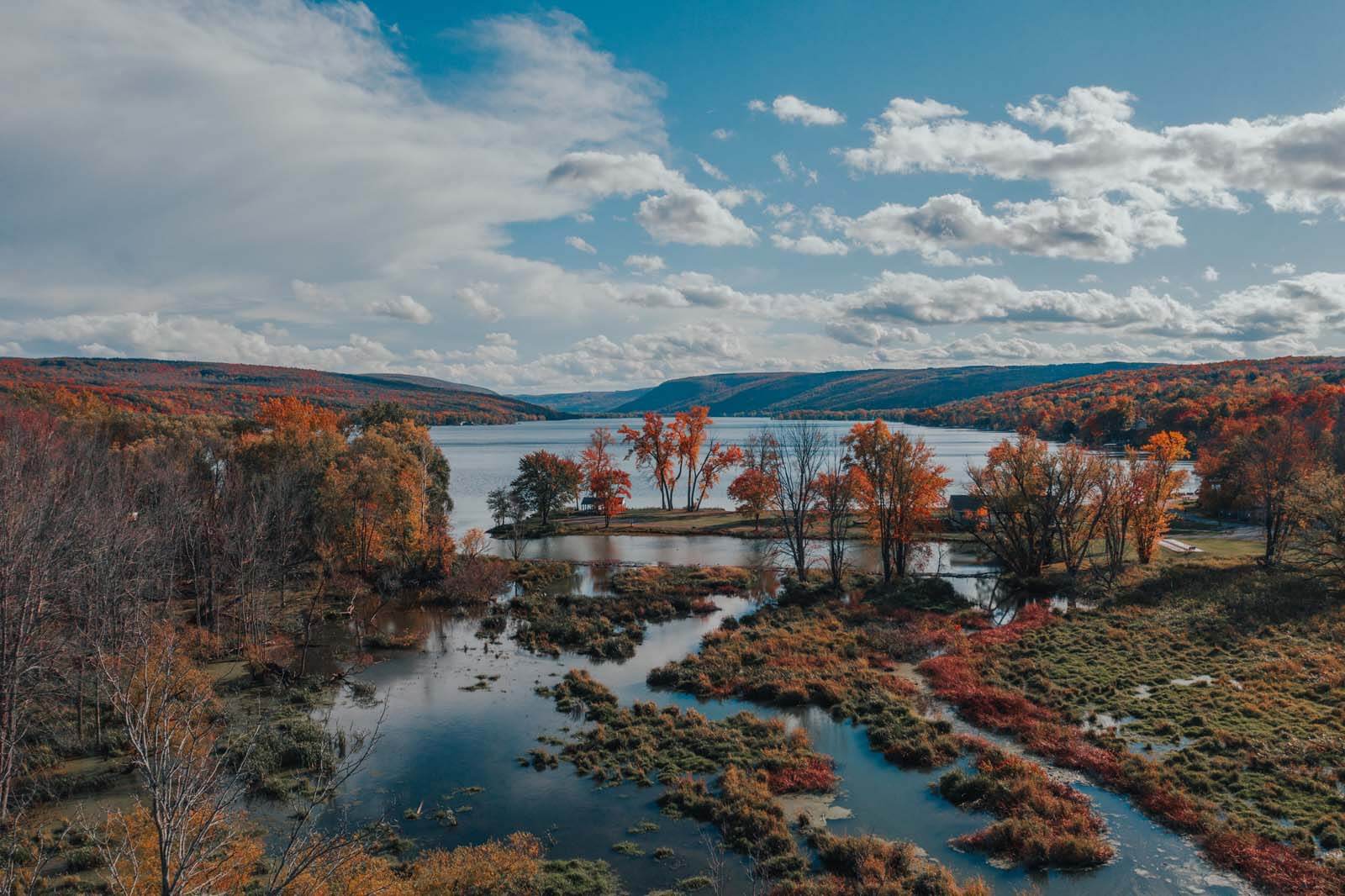 A fabulous stop near Naples, New York is at Honeoye Lake, also known as "Lying Finger" by the locals. The shores of this shallow body of water are favorable to bikers because they are about 19 miles around, relatively flat, and dotted with delightful cottages.
After wallowing in the beautiful scenery, head over to the Wizard of Clay in Bloomfield for some creative fun. Here you'll find a unique variety of hand-thrown pottery pieces, many of which are adorned with the leaves of indigenous plants. After some play with clay, grab a beer from the neighbors at Noble Shepherd Craft Brewery.
Venture further north of the lake and into town, where you will find Sandy Bottom Park. Hang out here for some year-round picnicking and nature trail exploration. Some local Honeoye sweet spots include the Mill Creek Café and Birdhouse Brewing Company.
Directly across the street from Birdhouse Brewing you can access the trails that are around Honeoye Lake and worth exploring!
Keuka Lake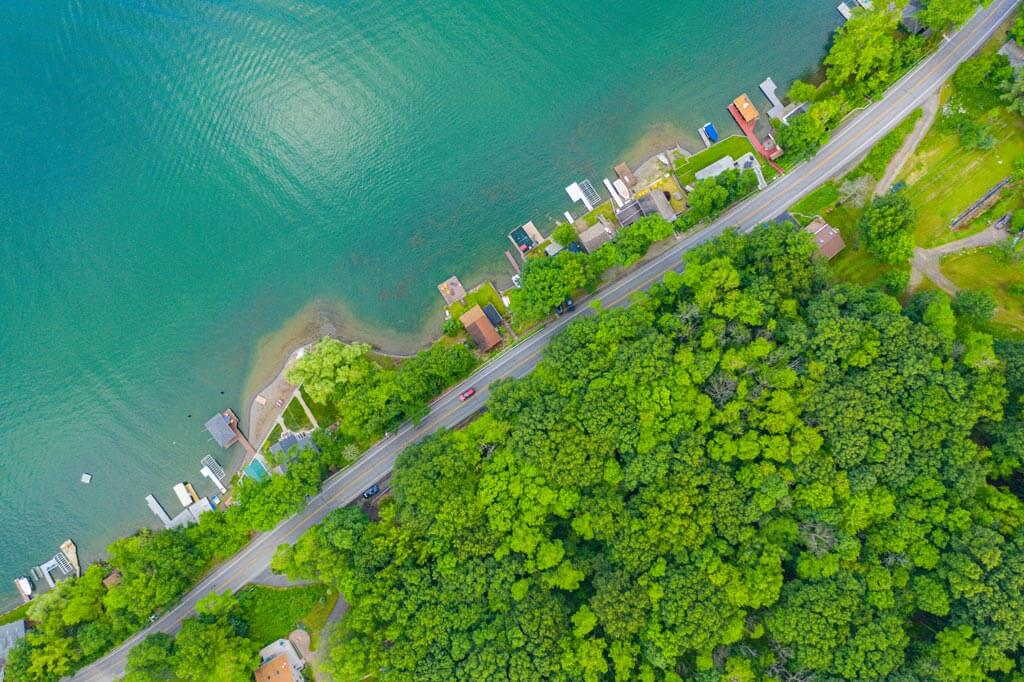 This is one of the first places we went to in this region that really blew us away and made us realize that the Finger Lakes is one of the most underrated destinations in the US.
Nicknamed the "Crooked Lake" – the body of water is "Y" shaped and offers exceptional sweeping views from just about any location around the lake including the vineyards and farms on the hills overlooking the lake and the bluff where the Y shape of the land meets.
If you're up for some nature-viewing and wildlife-watching, be sure to take a stroll through the wooded and peaceful Keuka Outlet Trail, connecting the Keuka and Seneca Lakes passing by not one but three waterfalls near the village of Penn Yan.
Don't miss all the best things to do in Penn Yan either, this is another charming small town in the region with great stops like the Penn Yan Diner and Amity Coffee Co plus the world's largest pancake griddle.
Located on the southern tip of Keuka Lake is the quiet little town of Hammondsport, another charmer full of restaurants, shops, and beautiful homes on the shores of Keuka Lake. Don't miss attractions like the Glenn H. Curtiss Museum and antique shops!
Keuka Lake is known as a world-class wine destination along the Keuka Lake Wine Trail. Fun fact, Pleasant Valley Wine Company is the first winery and where the first grapes in the region were planted in 1829 as well where the first winery in the region was founded in 1860. When the prohibition closed down most alcohol producers, Pleasant Valley continued to produce sacramental wines for religious reasons!
Enjoy the idyllic town and stop by Crooked Lake Ice Cream Company or Keuka Creamery for ice cream parlor for a sweet treat.
To complete the full circuit of Keuka Lake takes a little over an hour by car, leaving ample time to visit its member wineries including Heron Hill Winery, Hunt Country Vineyards, Keuka Spring Vineyards, Stever Hill Vineyards, and Vineyard View Winery.
Get more inspiration of what to do nearby in our guide of photos that will inspire you to visit the Finger Lakes.
Where to Stay Near Naples, New York
There are a few great options for where to stay in or near Naples, New York. If you're just doing a day trip to check out the best things to do in Naples, New York, we recommend checking out our complete guide for where to stay in the Finger Lakes as if you're hitting up many of the attractions in the region, you may want to strategically stay somewhere in the middle of everywhere you want to go.
Otherwise, here are a few accommodation options close to Naples, New York.
The Fox Den on Honeoye Lake
This adorable rustic cabin getaway in New York is where we stayed on our fall trip to Naples, New York. Located about a 15-minute drive to downtown Naples, this rustic cabin stay is more like a glamping experience. Located at Turtle Rock Hollow, this spot has a few individual cabins like this one and even teepees and yurts.
There's no running water or toilets inside these little cabins, but there is a shared kitchen, game room, and two complete bathrooms guests can use that are cleaned frequently. The homes do have fans for the hot days and heat for those chilly autumn days like during our visit.
This adorable cabin has a queen bed and a lofted sleeping area for small children.
This is more of a glamping cabin as the bathroom is a shared facility between the other yurts and cabins at Turtle Rock Hollow. Don't let that dissuade you, we stayed here in the fall and it was such a cozy stay with our own charcoal grill and fire pit. This simple, yet adorable stay is perfect for a weekend getaway! In the shared lounge space, there are also board games and books about the area to help you pick where to explore!
Find this listing at Hipcamp. First time trying Hipcamp? Get $10 off your booking using my code: MEGANI4FA199 or booking through this link.
18 Vine Inn & Carriage House Bed & Breakfast in Hammondsport
18 Vine Inn & Carriage House Bed and Breakfast Finger Lakes is an amazing option in Hammondsport, not a far drive from Naples, New York and right on Keuka Lake in this charming village.
Located in a gorgeous, large house, the cozy rooms are perfect to make you feel right at home. This bed and breakfast have a pool and gardens to enjoy with 6 themed rooms to enjoy. Book Now
1840 Inn on Main in Canandaigua
Another great Bed and Breakfast pick in Canandaigua near Naples, New York is 1840 Inn on Main. This is a perfect pick for if you're looking for an authentic bed and breakfast in a turn-of-the-century Victorian house.
You're just steps away from restaurants and shops in downtown Canandaigua from your quaint and comfy room. There are 6 different themed rooms to choose from that all include continental breakfast.
Book Now | Compare Prices for Later | See More Options in Canandaigua
Luxury Cabin on Canandaigua Lake
This luxury cabin can sleep up to 6 adults and offers a gorgeous wrap-around patio and deck overlooking the scenic Canandaigua Lake near Naples, New York. This cabin is enormous and has a 28-foot cathedral ceiling and exposed wood beams with floor-to-ceiling windows and skylights offering great natural lighting with amazing views of the lake! Book Now
---
Liked this guide to the best things to do in Naples, New York? Bookmark for later or share the love below on Pinterest!