There's no place like Upstate New York in winter. That's why each year we at least book one romantic winter getaway in Upstate New York, if not more. From our mountains like the Catskills and Adirondacks to the charming towns in New York, to our lake destinations where they get dumped with snow. There are endless winter activities in New York to enjoy as well as plenty of great romantic winter getaways.
Check out all the fun places to plan a winter getaway in New York plus all the incredible winter activities to enjoy at each from outdoor adventures, romantic stays, wine tasting, a day at the spa, and more!
Disclaimer: This post contains commissionable links.
Romantic Winter Getaways in Upstate New York
Lake Placid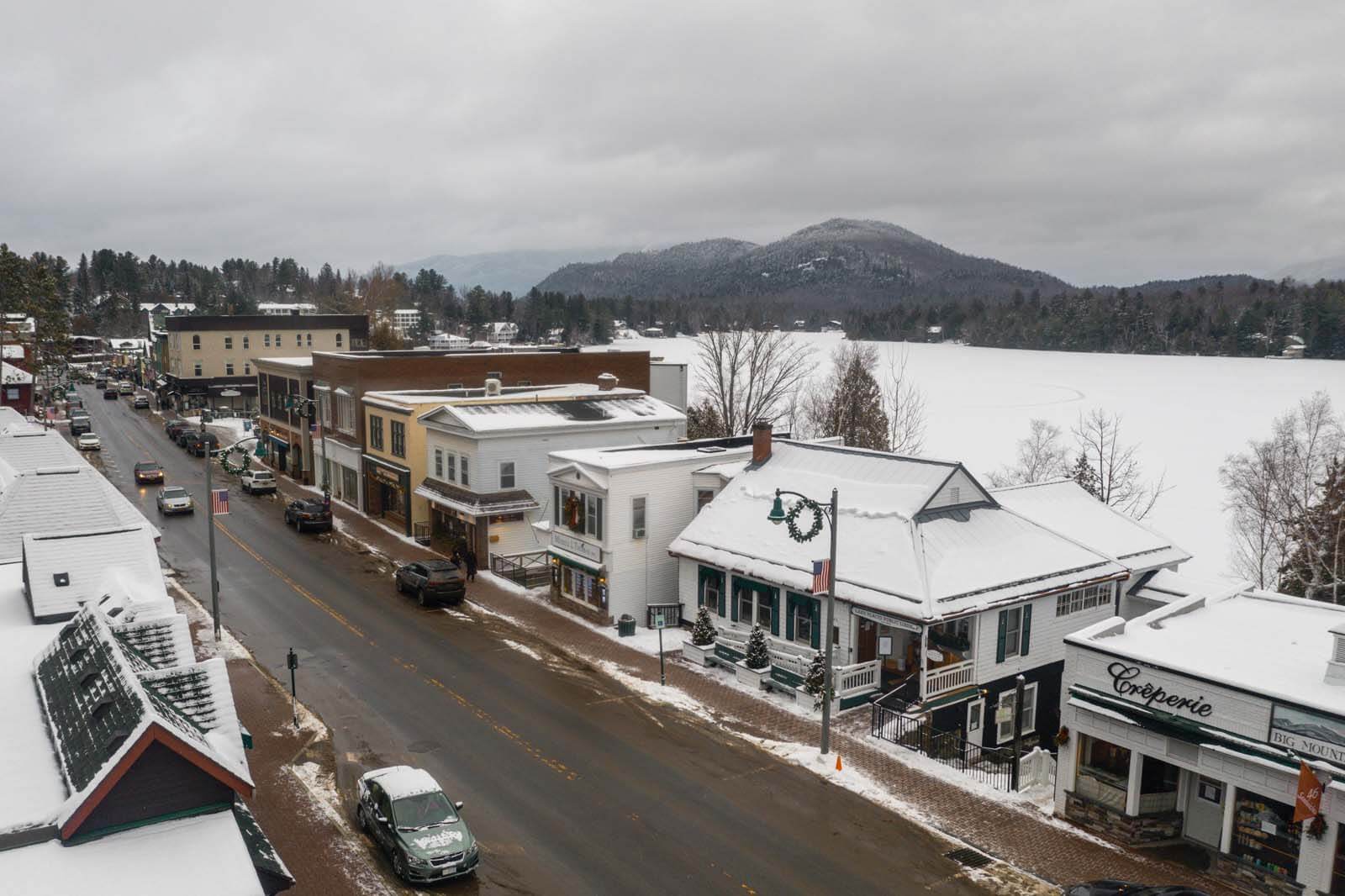 Lake Placid offers so many great things to do all throughout the year, but their winter activities are next level! In fact, this Adirondack village hosted not just one, but two different Winter Olympic Games (in 1932 and 1980)! So, you know when of the best places to enjoy New York in winter Lake Placid is up there with some of the best skiing in Upstate New York and the East Coast.
It's without a doubt one of the best places to visit in the Adirondacks in winter.
Things to do in Lake Placid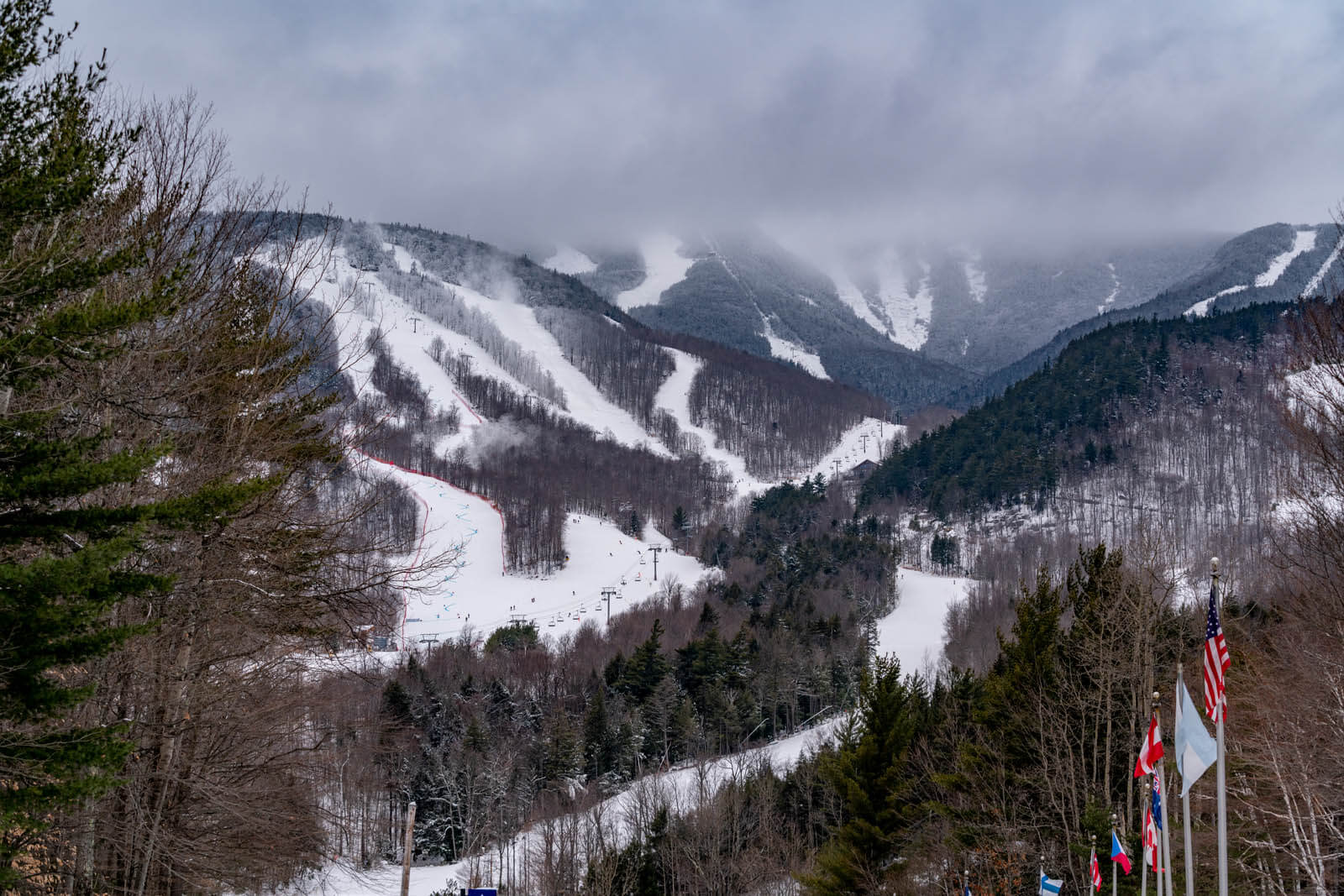 You can't visit Lake Placid in the winter without stopping by the Olympic sites. They include four individual sites with different exhibits and things to do. You can tour actual sites from both the 1932 and 1980 Olympic games. Or check out exhibits with memorabilia like medals and uniforms.
There's Whiteface Mountain, where you can ski and snowboard the very same slopes that the Olympic athletes used! It's no surprise that Whiteface is considered one of the best ski destinations on the east coast for skiers at every skill level. You can bring your own gear or take advantage of the ski resort's great rentals.
And ice skating is a must while you're in Lake Placid. You have several options. Create a memory and skate at the historic Olympic ice-skating rinks from each winter game! They're indoor rinks that are open year-round, but you'll want to check dates online before you go to make sure they're open. But there's nothing more magical than a dark winter evening skating on Mirror Lake with Lake Placid covered in snow before you!
Where to Stay
Some of the best parts of winter getaways in Upstate New York are the cozy, rustic inns where you'll retreat at the end of the day. Mirror Lake Inn is the perfect place to warm your bones with a roaring fire. Book a room or suite with views of the frozen lake and the surrounding Adirondack Mountains.
You can also book spa treatments to relieve sore muscles after an exciting day on the slopes. Try massage treatments, yoga sessions, or even a therapeutic salt room.
Phoenicia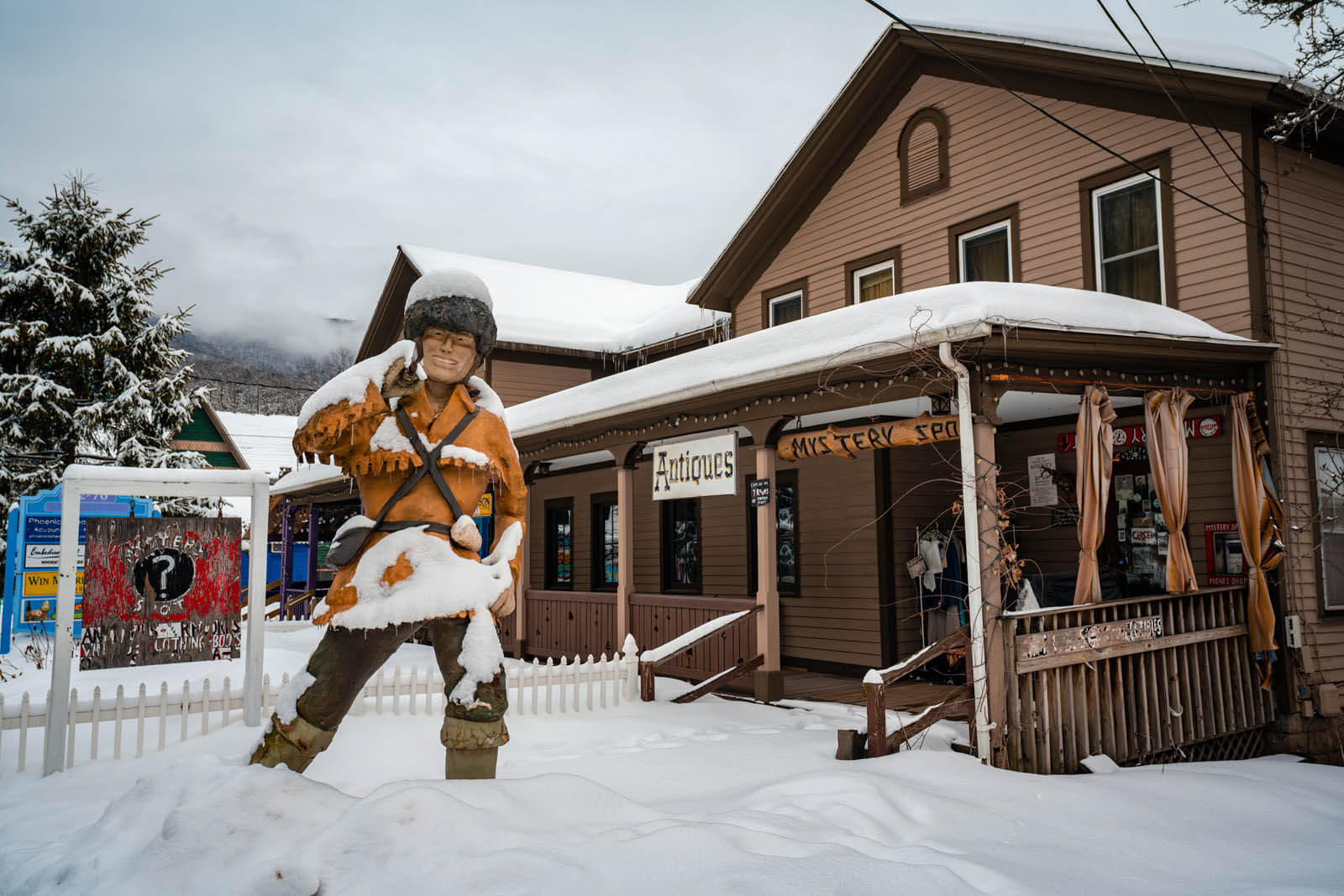 If you love the idea of a sleepy town in the Catskills where you can watch the snow fall, Phoenicia might be right up your alley. This historic little town has always been known for its prime hunting and fishing, but we love it for its charming Main Street and all the fun outdoor activities to do close by!
Things to do in Phoenicia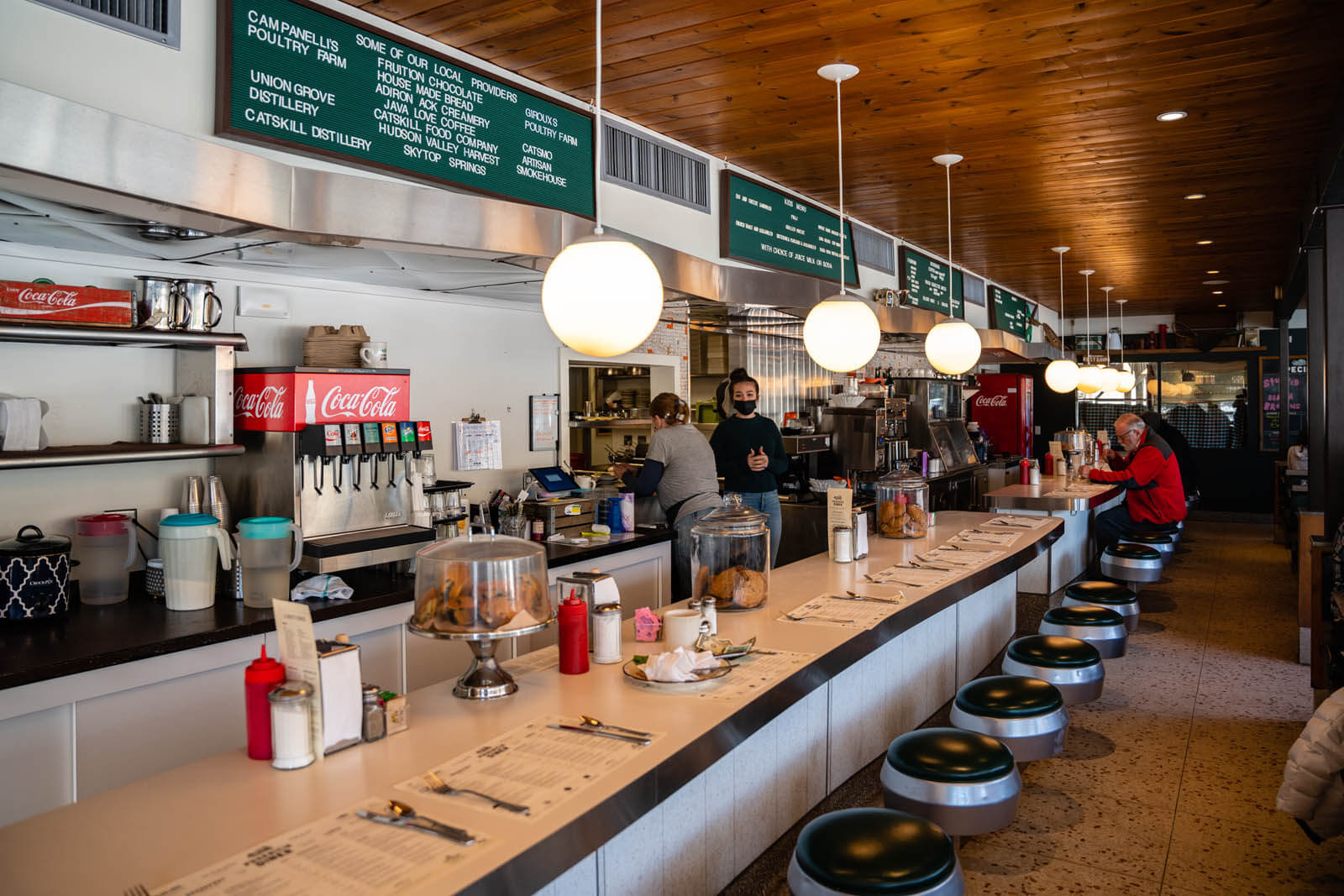 Because of the sweeping mountainous terrain, one of the most popular winter activities in New York is skiing. It's true that perusing the old storefronts and enjoying the local diner is a great way to spend your time here. But with all the great skiing nearby, there are plenty of ways to get your heart rate up during the daylight hours!
Not far from Phoenicia is Hunter Mountain Resort, a massive ski area with 64 different trails that reach up to 3,200 feet. But that's just the beginning at Hunter Mountain! Take ski lessons, snowboard, go snowtubing, or ride a year-round zipline. And at Hunter, you can rent a variety of ski and snowboarding gear.
Belleayre Mountain Ski Center is another quality choice. They're known for having the highest peaks in the Catskills! They have 50 trails with varying terrains for both beginners and advanced skiiers alike. There's a fast gondola that leaves you at a mountainside restaurant and pub and different parks for additional snow sports.
If you're looking for snow gear rentals, like snowshoes, we suggest visiting Catskill Outfitters. The owners, Paul and Doug, are very knowledgeable in all things outdoors and are ready to help. You'll find them just off Main Street in Phoenicia, at 7 Church Street.
Plus one of the best things to do in Phoenicia is to stop by and enjoy a meal at Phoenicia Diner, it's seriously the best. Or one of the most unique things to do in the Catskills can be found at Emerson Resort, the world's largest kaleidoscope housed in an old silo with a mesmerizing 'kaleidoshow' you can enjoy!
Where to Stay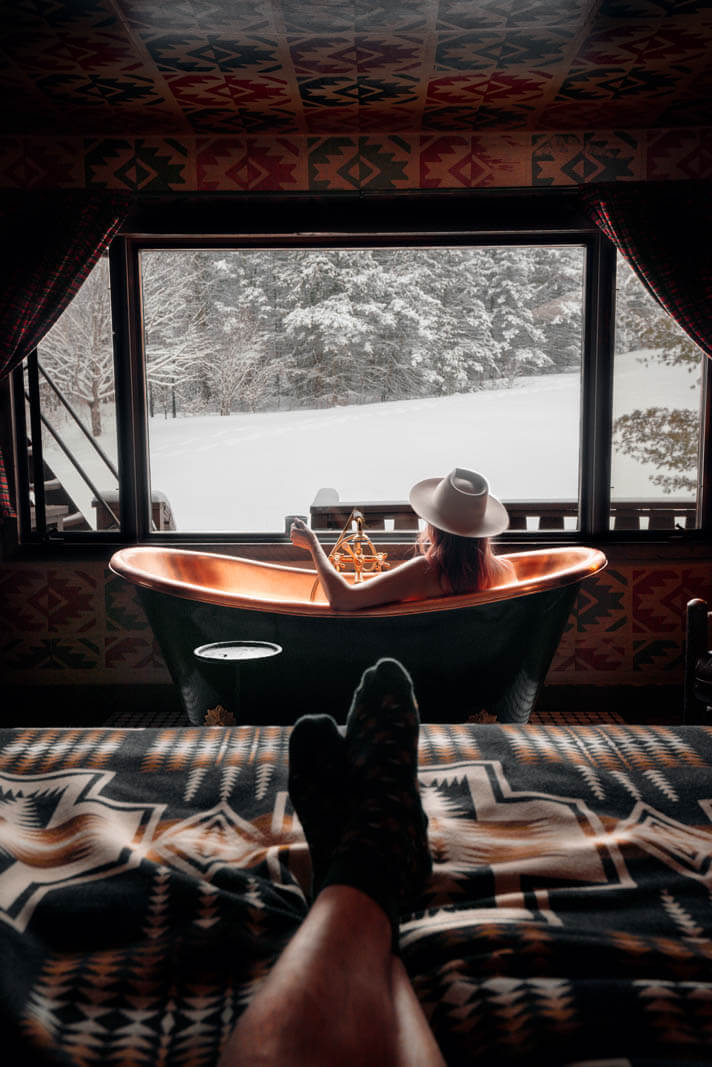 A stay at Urban Cowboy Lodge is what romantic winter getaways in upstate New York are supposed to be! This beautiful old Bavarian lodge has the Catskill spirit but in the most elegant way and is one of the best places to stay in the Catskills (we've been two years in a row already). It's been designed so each room has a special touch, and there are no TVs, so it's the perfect place to unwind with your special someone.
You'll love the giant windows for snow-covered mountain views. The room we stayed in had a beautiful clawfoot tub overlooking a panoramic window of the snow falling next to the glowing fireplace in the Alpine Bathing Suite. Picture yourself piping your favorite music to the Bluetooth speakers in the room and enjoying a warm soak while you look out over a winter wonderland! Book here.
New Paltz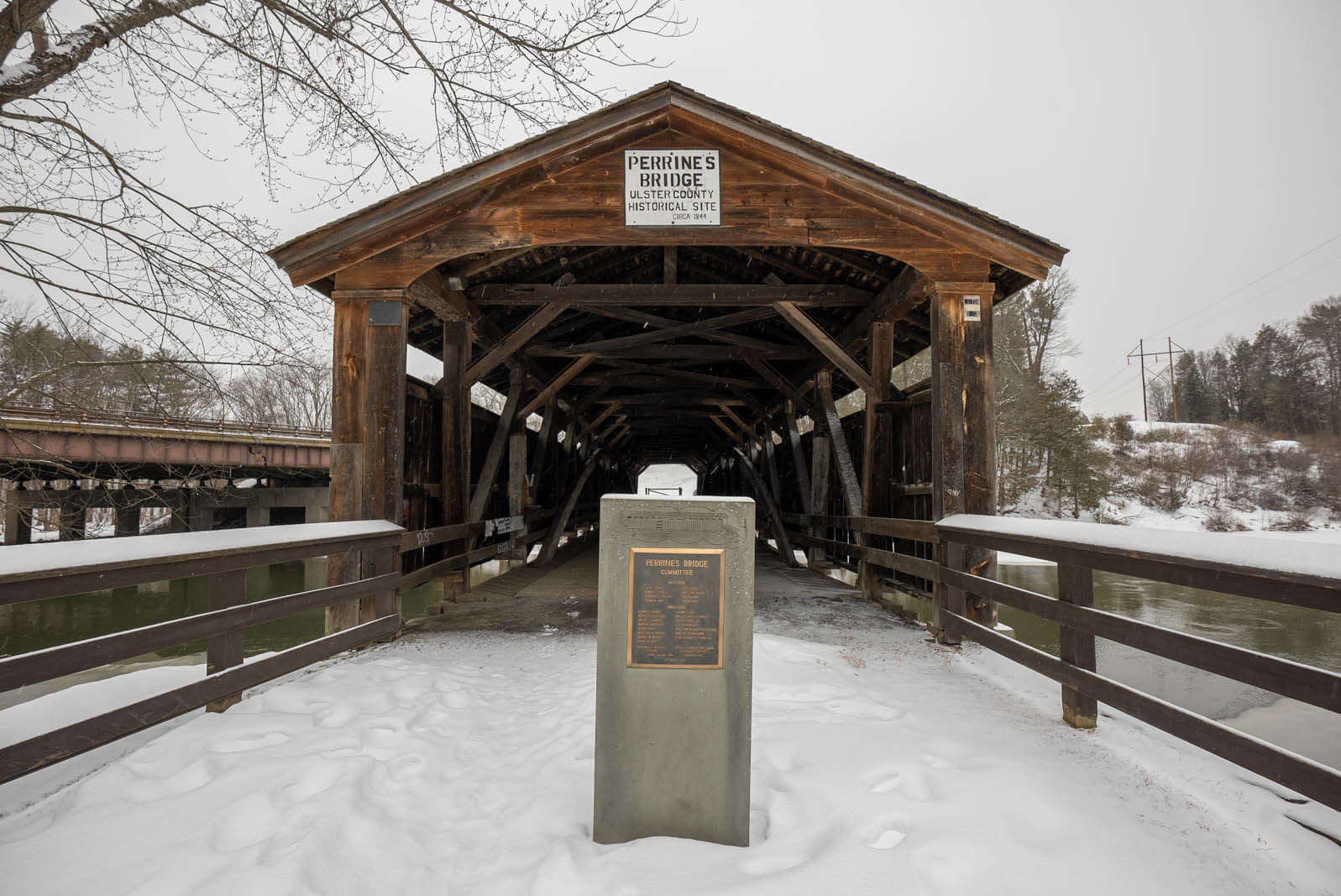 Less than 2-hours from New York City, you can run away for a wintery weekend to New Paltz. The town is worth a visit during every season of the year, but in the winter, this Hudson Valley town offers a sweet setting for a wide range of things to do!
New Paltz is in the popular Ulster County, just south of the Catskill Mountains. It's an area packed with fascinating history, especially this town, which was settled by French Huguenots fleeing religious persecution. The city is a mix of unique historic sites, a cozy, quaint Main Street, and a great wine scene!
When you're not enjoying the warmth of Main Street Bistro or exploring the Shawangunk Wine Trail, New Paltz is a great base for exploring the ski resorts and natural areas all around it!
Things to do in New Paltz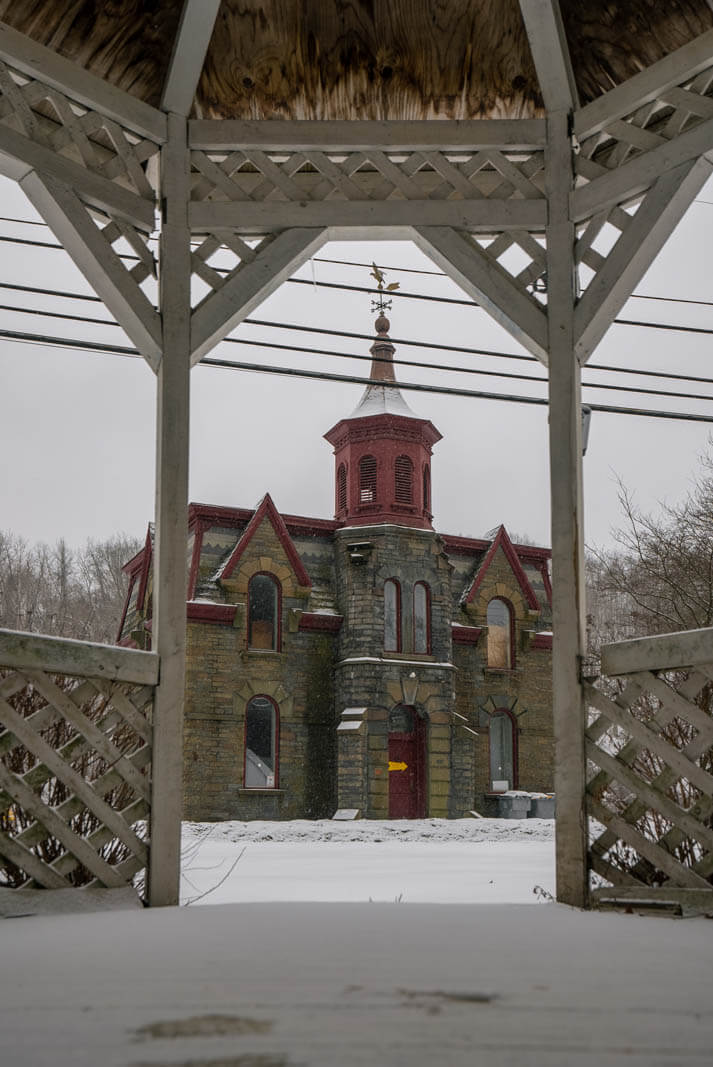 Less than an hour from New Paltz is Victor Constant Ski Area, a no-frills ski with a cool old lodge from the 1940s. It's located at West Point, but it's open to the public. There are a few blue and black diamond slopes, as well as a terrain park and a café. It has all the makings for a nice day close to New Paltz.
Also, less than an hour's drive away is Holiday Mountain Ski & Fun. This is an excellent option if you're new to skiing. There are slopes for all levels of skill but are especially known for their welcoming staff and beginner-friendly trails. There's also a huge snow tubing area, which is another must-do activity in New York in winter!
If you have your own gear, you can bring it and use lockers at each of the ski areas we've mentioned. But if you're in New Paltz and find yourself in need of snowshoes, we recommend Rock and Snow at 44 Main Street.
And be sure to check out all the other cool things to do in New Paltz from visiting the historic Huguenot Village, find scenic trails to enjoy a romantic winter walk, drive to the pretty covered bridges nearby, or check out more of the coolest things to do in the Hudson Valley nearby.
Where to Stay
The ultimate winter getaway in Upstate New York calls for a magical place to stay. Mohonk Mountain House fits the bill, with a vast, stunning Victorian-era lodge sitting on a mountain ridge overlooking a lake. It's simply magical in the winter when it's covered in snow.
Enjoy suites and lodges all with expansive views of the surrounding 44,000-acre natural area. Pamper yourself at the spa or rent skates and head to the skating rink next to the lodge. The resort also offers countless winter activities with guided winter hikes and cross-country ski trips.
Ithaca
So many places we've been to in New York have these fascinating stories that make you fall in love with each town. But none are quite like Ithaca, one of our favorite places to visit in the Finger Lakes, with its whopping 150 waterfalls, fascinating history of political activism, and magnetizing town center. Add to that a snowy blanket of fall and you can't keep us away!
It's a college town, home to the beautiful Cornell University. With that comes all the fun watering holes and shops on Ithaca Commons. In the cold of winter, you have a blast warming up in trendy cafes and restaurants downtown along pedestrian streets lit with twinkle lights.
Things to do in Ithaca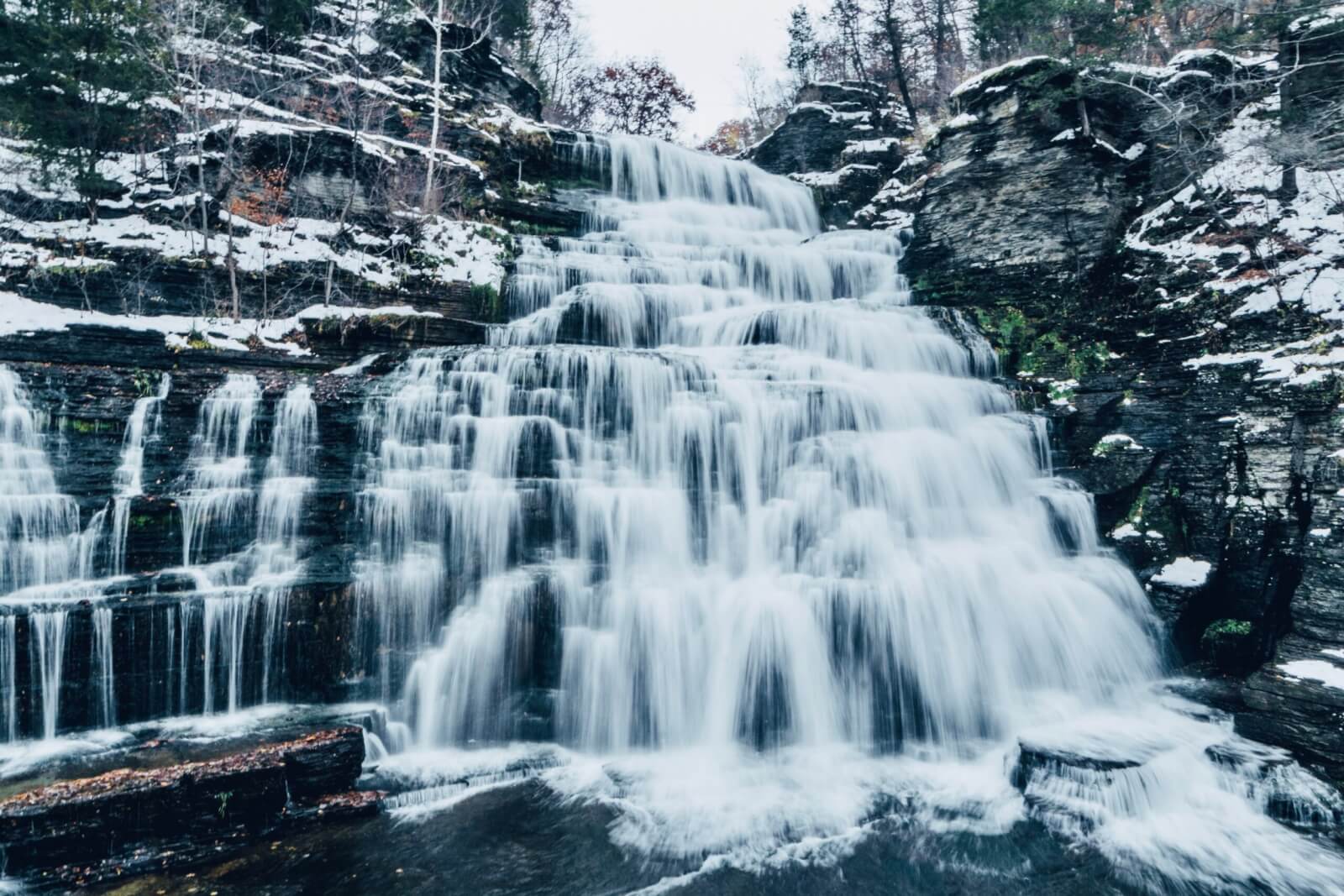 There are so many incredible things to do in Ithaca from visiting all of the impressive Ithaca waterfalls in outdoors or warm up inside at one of Ithaca's many museums. You'll find lots of great options, including The Museum of the Earth, an interactive geological museum with cool fossils. There's also the Johnson Museum of Art, a massive art history museum at Cornell University that's open to the public. And if you like old mansions, nearby in Cortland is the 1890 House, the beautifully preserved home of a Victorian scientist.
The natural beauty of Ithaca is what makes it one of the best winter getaways in Upstate New York. If you've never seen a waterfall frozen in the winter, you need to! But be careful hiking for waterfalls in the winter, when everything is iced over and check to see if the trails are open, do not go if they are not. An easy waterfall to view, and one of the best waterfalls in New York, is Taughannock Falls where you can witness the falls from the scenic overlook or grab your snow gear and hike through the gorge.
Instead, take a drive to Watkins Glen, where you can see the different frozen roadside Finger Lakes waterfalls in the village of Montour Falls. Or drive north a bit and see the impressive Hector Falls along Seneca Lake on Route 414.
Winter is also a wonderful time to enjoy winter wine tasting around Seneca Lake. This time of year, the little towns around the lake are quiet, wineries are going strong, and tasting rooms are cozy and warm. A few of our favorites along Seneca Lake include Lakewood Vineyards, Fulkerson Winery, and Catharine Valley Winery to name a few.
Where to Stay
La Tourelle is ideal for romantic winter getaways in upstate New York. You'll love the King-sized rooms with toasty fireplaces and special packages like champagne and chocolate-covered strawberries welcoming you to the hotel! You can also enjoy waterfall massages and saunas at the August Moon Spa.
Skaneateles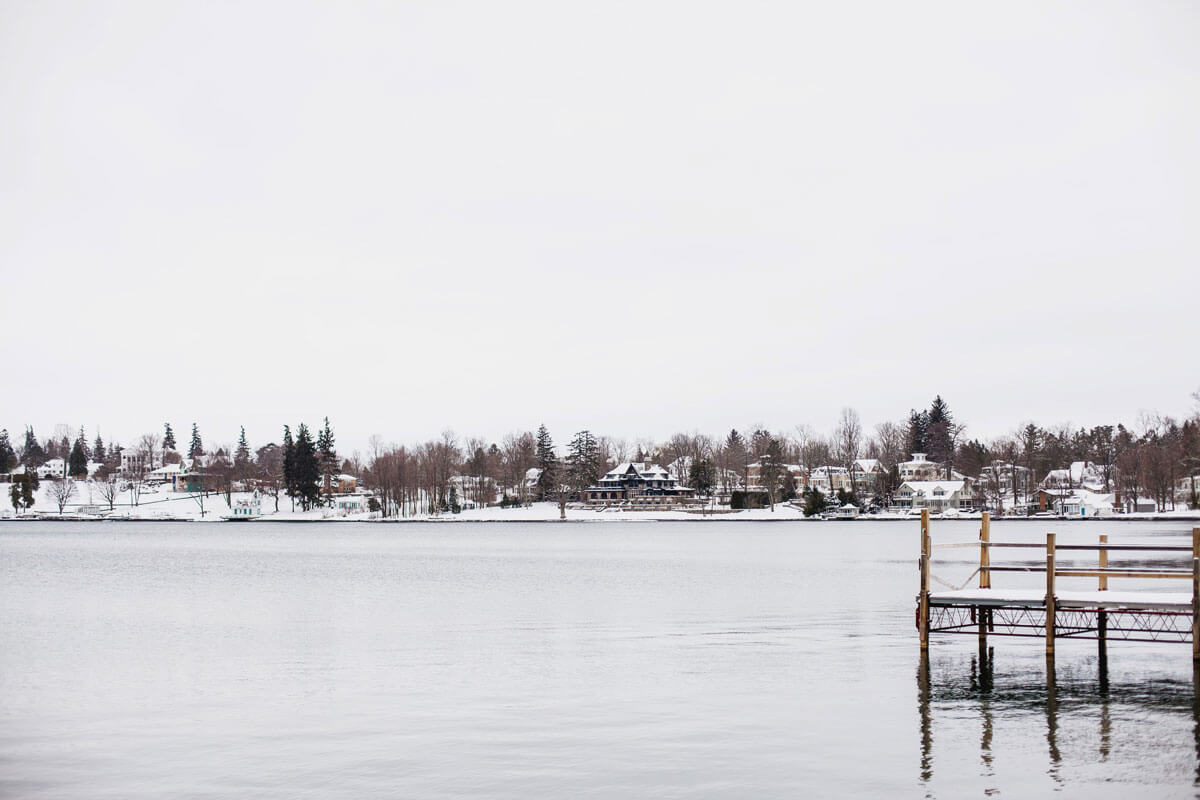 The charming little town of Skaneateles, pronounced 'skinny atlas' sits on the northern end of the finger lake by the same name. The town dates back to the 1830s and has a notable past as an abolitionist community, even having documented Underground Railroad sites. Today, it's the kind of town where you want to book a local hotel or vacation rental and just soak up the local culture!
Things to do in Skaneateles
Skaneateles is the perfect New York in winter experience with a historic town overlooking a white frozen lake. Come at the end of January when Winterfest is held at the lakeside Clift Park. It includes a Polar Bear Plunge, an ice sculpture contest, bonfires by the lake, and a local food festival.
All along the Finger Lakes, you have the perfect conditions for grape growing. Wineries are abundant and wine trails are super popular. Skaneateles is no different, and you should definitely do a winter wine tasting at Anyela's Vineyard. Deep into the winter, you can enjoy Anyela's beautiful tasting room that hosts live bands.
And if you're looking for a thrill outdoors in the winter, take a short drive from Skaneateles to Greek Peak Mountain Resort. The largest 6 resort in central New York, it has 56 trails, 4 terrain parks, tubing, and nighttime skiing every day of the week. There are also 4 different eateries and a pub, as well as a spa.
Where to Stay
The luxurious Mirabeau Inn and Spa is a necessity when visiting Skaneateles. It's a high-end French-inspired hotel resort that feels like you've been transported to Europe. There are stone turrets, cobblestone paths, and wooden bridges over lily pad-dappled ponds. In the winter, it's magical, half-asleep and glowing with ground lights in the snow.
You have so many options for inducing relaxation on a winter getaway at Mirbeau, with herbal saunas, heated infinity pools, mineral baths, massages, and more. Rooms and free-standing cottages look out over a replica of Monet's gardens and include huge fireplaces and clawfoot tubs.
Geneva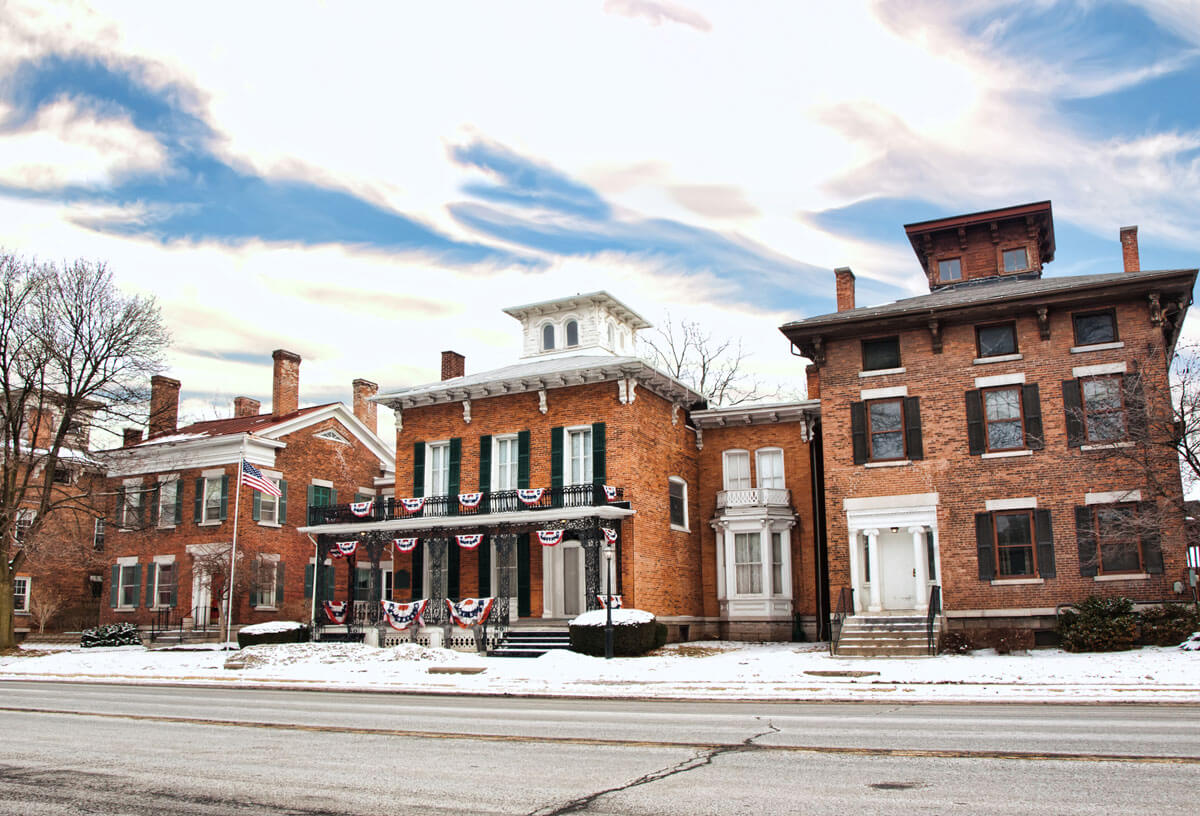 Geneva is a lovely town at the northern end of Seneca Lake, the largest lake of the Finger Lakes and one of the best lake vacations in New York. The self-proclaimed "Lake Trout Capital of the World," the city is known for its fishing and watersports. In the winter, it's the perfect place to relax after a long winter day of exploring the area around Seneca Lake.
Things to do in Geneva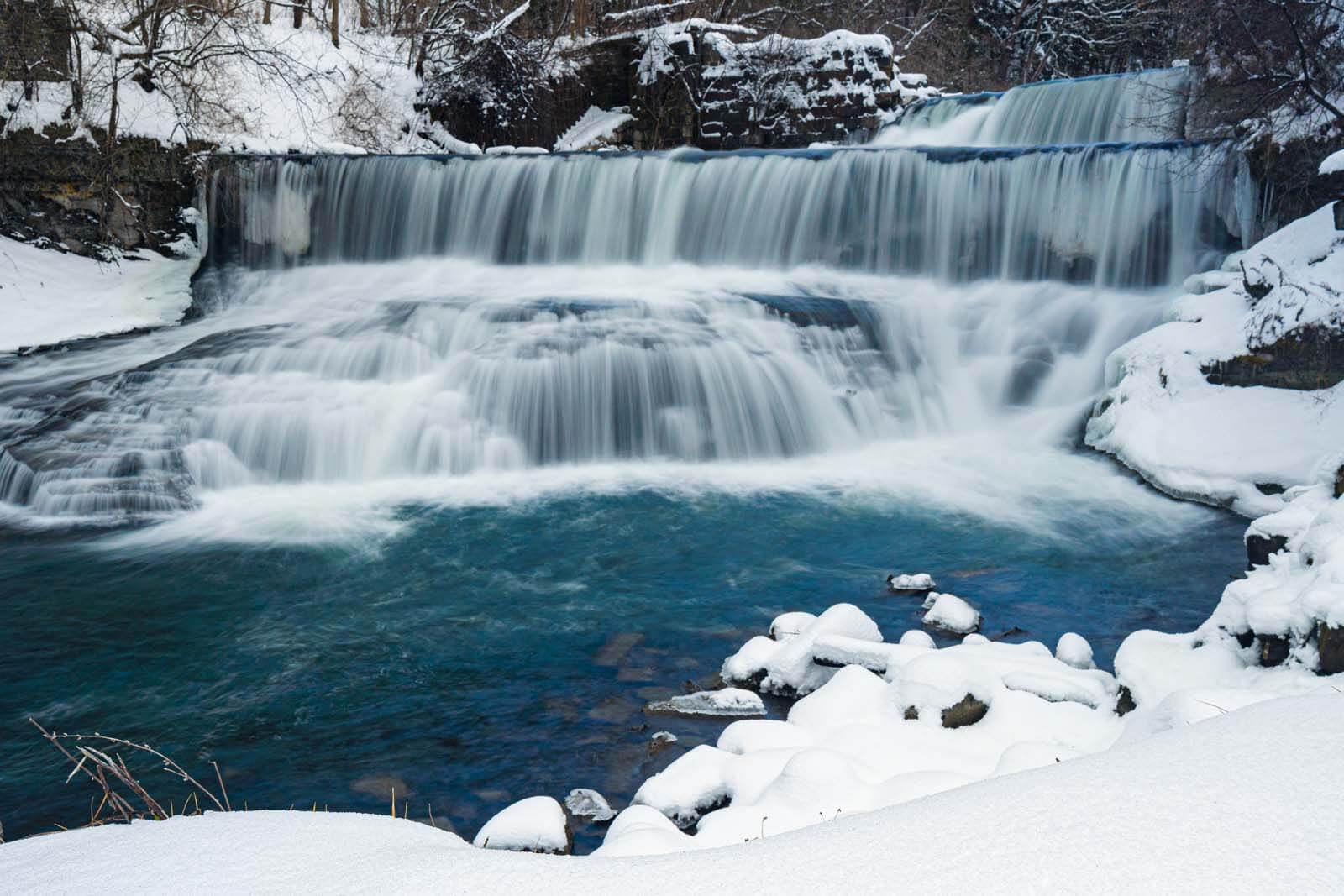 Geneva is great for winter getaways in Upstate New York because of its ideal location for wine tasting along Seneca Lake. Starting in Geneva and circling the lake, there are dozens of different wineries that you can enjoy! In fact, the town is home to Winewagen Tours, which you can book to take you around Seneca Lake for a day of wine tastings.
Near Geneva, the village of Penn Yan is worth a visit! It's another town on the northern tip of neighboring Keuka Lake to the west. Come here for the historic Main Street lined with beautiful 19th-century storefronts painted every color you can imagine. And the Keuka Lake Outlet Trail nearby would make a great winter hike with flat, paved paths.
To the east, take a day to explore the historic town of Seneca Falls. There's so much to see here, from the Women's Rights National Historical Park (which is said to be the birthplace of the suffragette movement) to the bridge that was in the movie, It's a Wonderful Life! After a wintery stroll around town, thaw out in the It's a Wonderful Life Museum.
Where to Stay
Experience New York in winter at Belhurst Castle and Spa. It's a gorgeous old mansion with an interesting past full of drama. But today, you can enjoy a stay in the castle on the snowy banks of frozen Seneca Lake.
The castle is actually one of three hotels that make up Belhurst, and we think it's the best choice! Belhurst Castle has beautiful Victorian-style rooms and suites that feel frozen in time but in the best way. And don't forget about the spa, where you can get massages, facials, and body treatments.
Hunter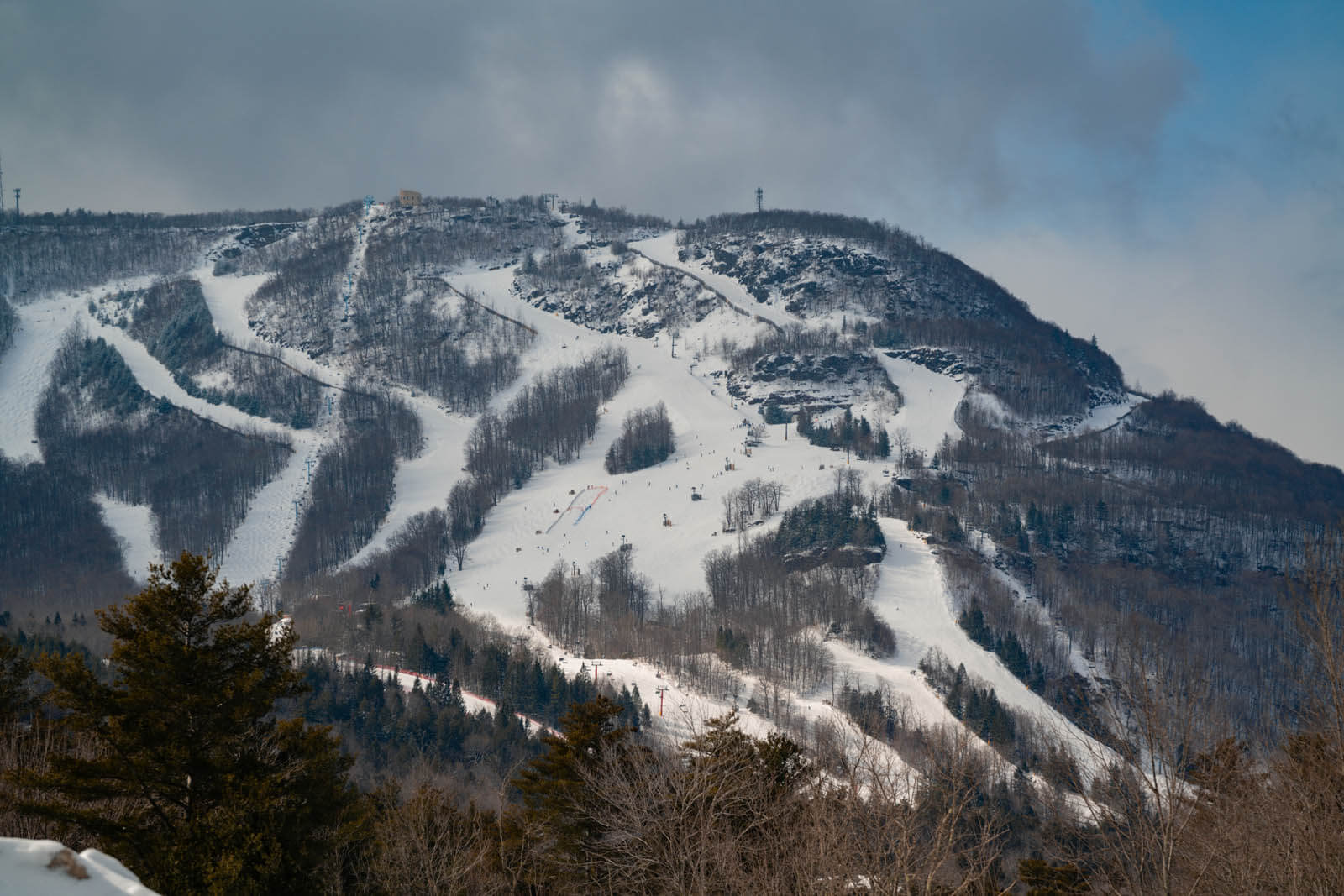 Another magical place to visit in the Catskills in winter and one of the best winter getaways in Upstate New York close to the city. Everything in Hunter is all about Hunter Mountain Ski Resort. But drive down Main Street and you realize that, besides the looming Hunter Mountain to the west, this town has tons of history! It was established in 1813 and has been a Catskill destination for vacationing New Yorkers ever since. Today, you can savor this little mountain town with a winter getaway.
Things to do in Hunter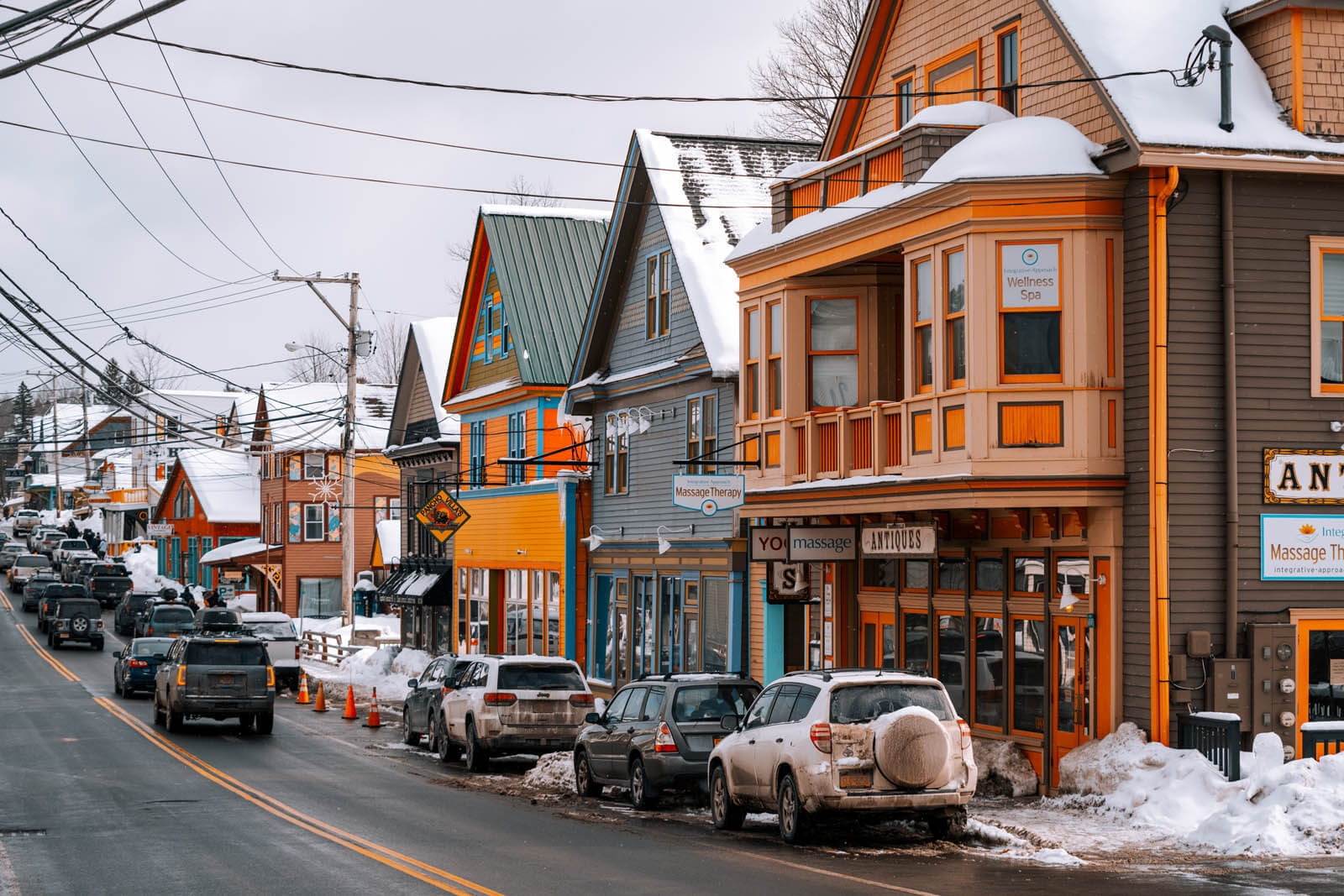 The Catskills are one of the most popular places for winter activities in New York because of the rolling mountain scenery. We've already mentioned Hunter Mountain Resort, but this expansive ski area is worth highlighting. It's the 2nd tallest peak in the region with over 60 amazing trails and a variety of snow sports that you can try. And a little further north, there's also the town of Windham, another ski town that's home to the Windham Mountain Resort.
For a morning or afternoon full of winter beauty, take a scenic drive down 23A to the Kaaterskill Falls trailhead. You'll park and take a 3-mile winter hike (or park on Laurel House Road and take an easier .2-miles in) to the stunning Kaaterskill Falls, one of the most impressive natural wonders in New York.
This hike is completely worth it to see the state's tallest cascading waterfalls that reach 260 feet and cascade over a massive rock face. It's stunning with blue ice, fluffy snow, and icicles dripping from the mountainside. You can even go up behind the waterfall!
Most people assume Hunter and Tannersville are the same towns because they're so close. We loved this quirky town, with its multicolor 19th-century storefronts. You can enjoy a walk along Main Street and explore antique shops and gift stores. Keep an eye out for all the Rip Van Winkle paintings, too!
Where to Stay
Hunter is where you can stay at Scribners Lodge, one of the best stays for winter getaways in New York. You'll love this modern take on a rustic ski lodge with suites and lofts featuring handcrafted furniture, vintage rugs, and sweeping views of the mountains outside. There's a skating rink, saunas, and heated pools, too.
Lake George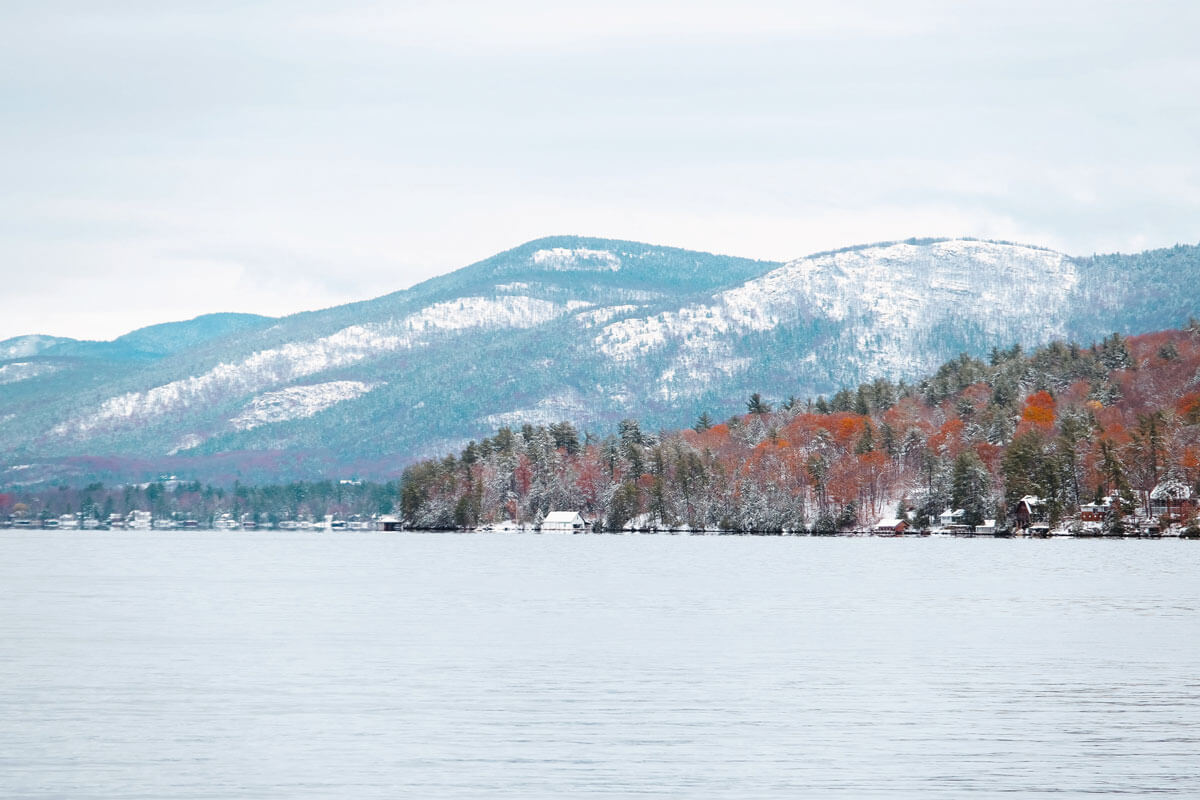 Lake George is a 33-mile long waterway that's earned the name "Queen of American Lakes." The village of Lake George sits on the lake's southern tip, within the giant Adirondack Park and its old-growth forests and rolling mountain peaks. Because of this, the village of Lake George has always been an outdoor lover's dream and is one of the best towns in the Adirondacks to visit too.
Settled in the 1800s, it quickly became a vacation destination and never looked back! But even before that, it was an important site, with historic landmarks dating back to the French and Indian War. All throughout the year, Lake George offers a variety of activities, but none are as unique as in the winter.
Things to do in Lake George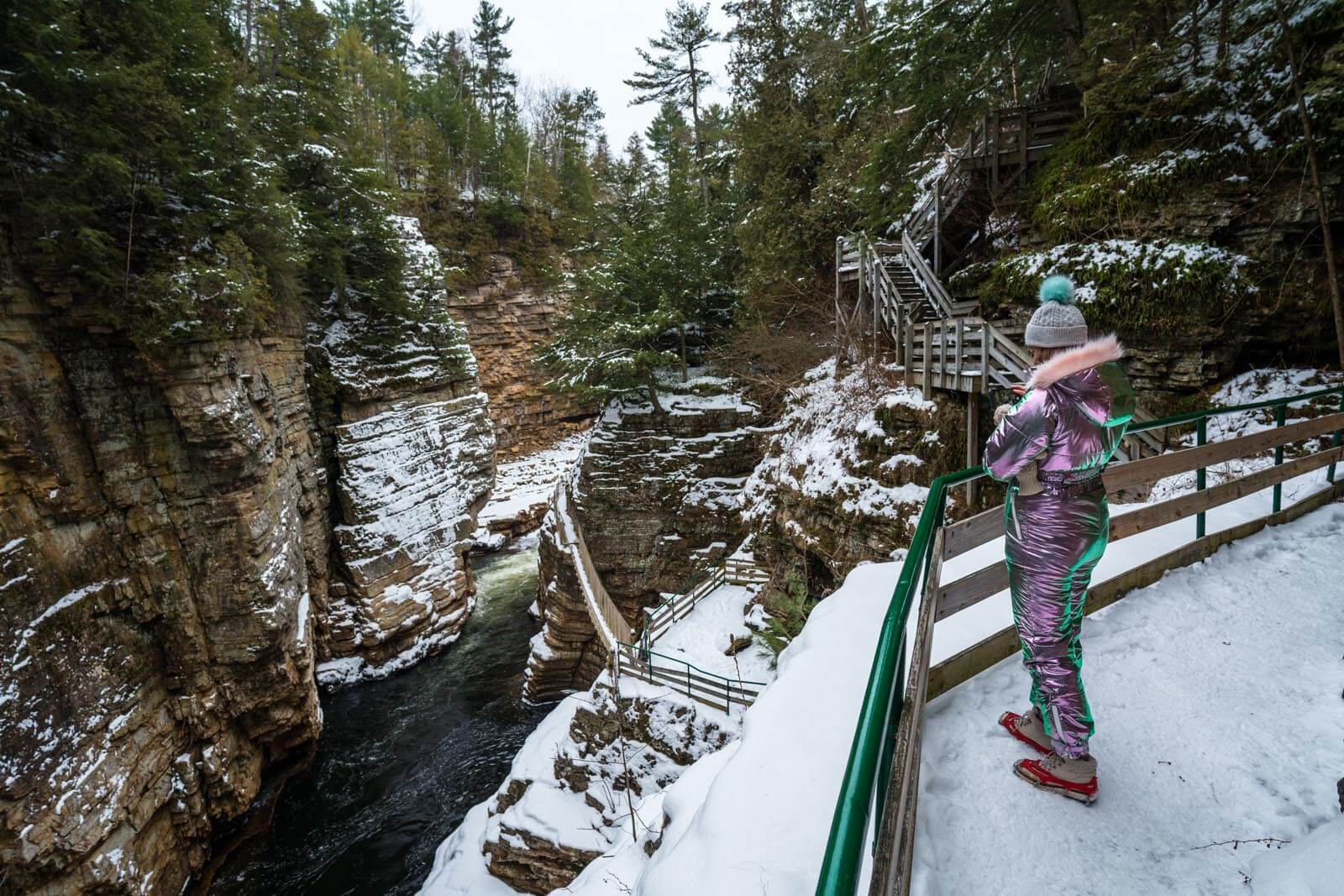 One of the best things to do in Lake George in the winter, you have to see all the Ice Castles and Ice Bars! The Ice Castles Festival happens sometime around the end of January when temperatures hit their lowest. In Charles R. Wood Park, life-size mansions made of ice are built! Inside there are tunnels, passageways, lights, and even mazes.
Ice Castles is a family-friendly event and a lot of fun for everyone. But perhaps as an adult alternative, another tradition that's naturally occurred is Ice Bars! Elaborate, simply beautiful bars made of ice can be found through late winter at some of the most popular hotels, bars, and restaurants in town. It's a unique experience to order your favorite drink from a frozen bar.
While you're at Lake George, plan a day trip to the Ausable Chasm. Throughout the warmer months, this is a popular Adirondack destination where you can see stunning waterfalls and dramatic cliffs running through a river gorge. But in the winter, the chasm is transformed into an icy wonderland. In the winter, you can take self-guided hikes of the Rim Trail. The Sanctum Trail is normally closed in the winter, but you can take guided hikes. If you have crampons, bring them, or they have some that you can rent.
Or take a short drive north of the village to Gore Mountain, a skiing and snowboarding resort. This impressive mountain boasts a height of 3,600 feet with 110 trails, including some of the steepest vertical drops on the east coast! There are trails for all skill levels, but this resort really caters to experienced skiers.
Where to Stay
For a unique way to experience New York in the winter, book a room or suite at the Sagamore. This luxury island resort feels exclusive, with 360-degree views of the Adirondacks on the icy lake. Enjoy the quiet while you try out all the decadent amenities at the Sagamore, like outdoor heated pools and a spa with 14 different treatment rooms.
This is definitely one of the most iconic things to do in the Adirondacks and one of the most luxurious romantic getaways in Upstate New York in winter and all year long.
Woodstock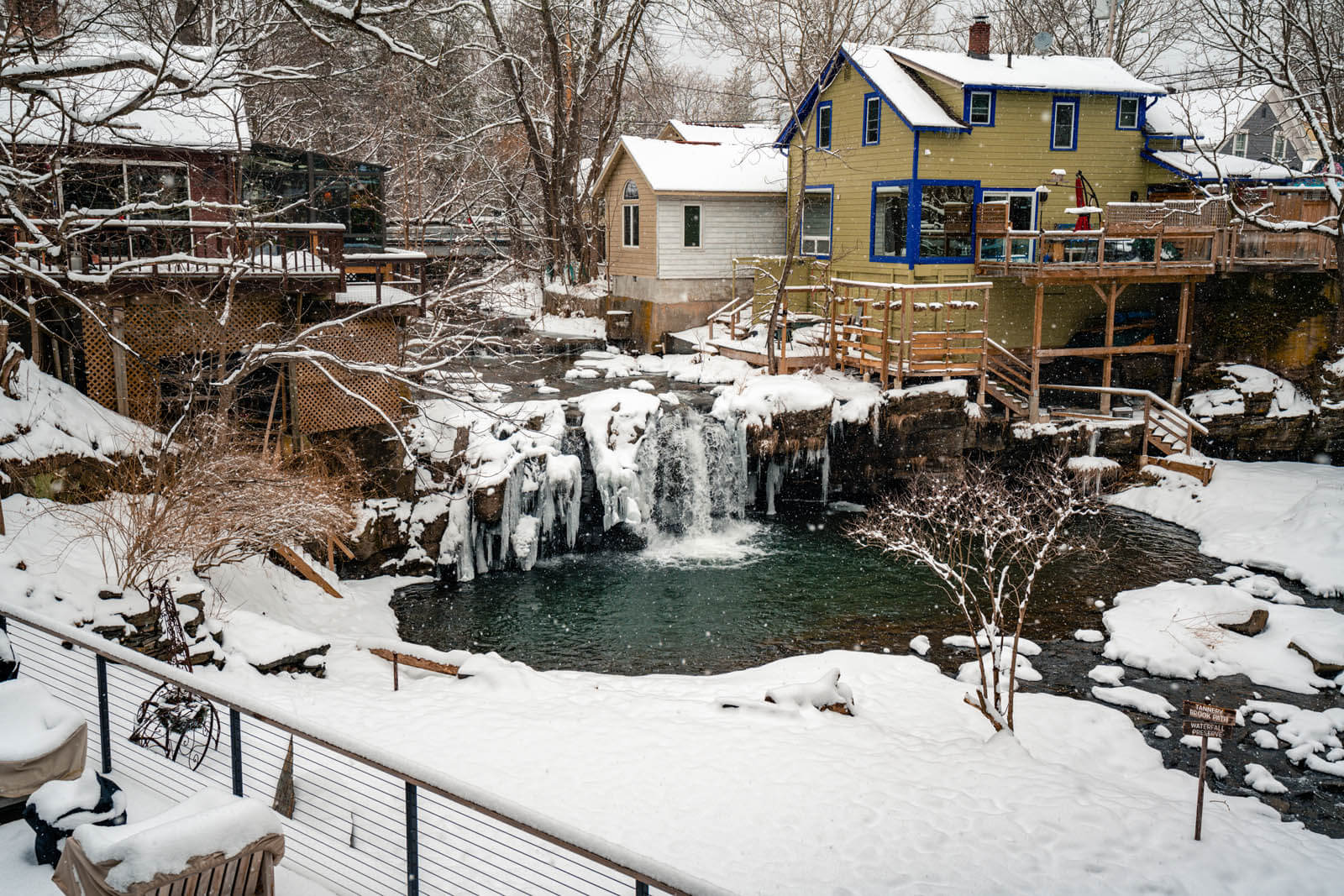 Woodstock has always been home to the arts, with the natural beauty of the area inspiring painters as far back as the late 1800s. In the 1960s and 1970s, local music festivals inspired what would become the notorious "Woodstock" Music Festival. Funny enough, that festival was held 60 miles away in Bethel!
But even today, you can visit the town of Woodstock and have fun with all the craft shops and artsy experiences. Especially in the winter, it's a great time to explore shops and museums and explore the great outdoors!
Things to do in Woodstock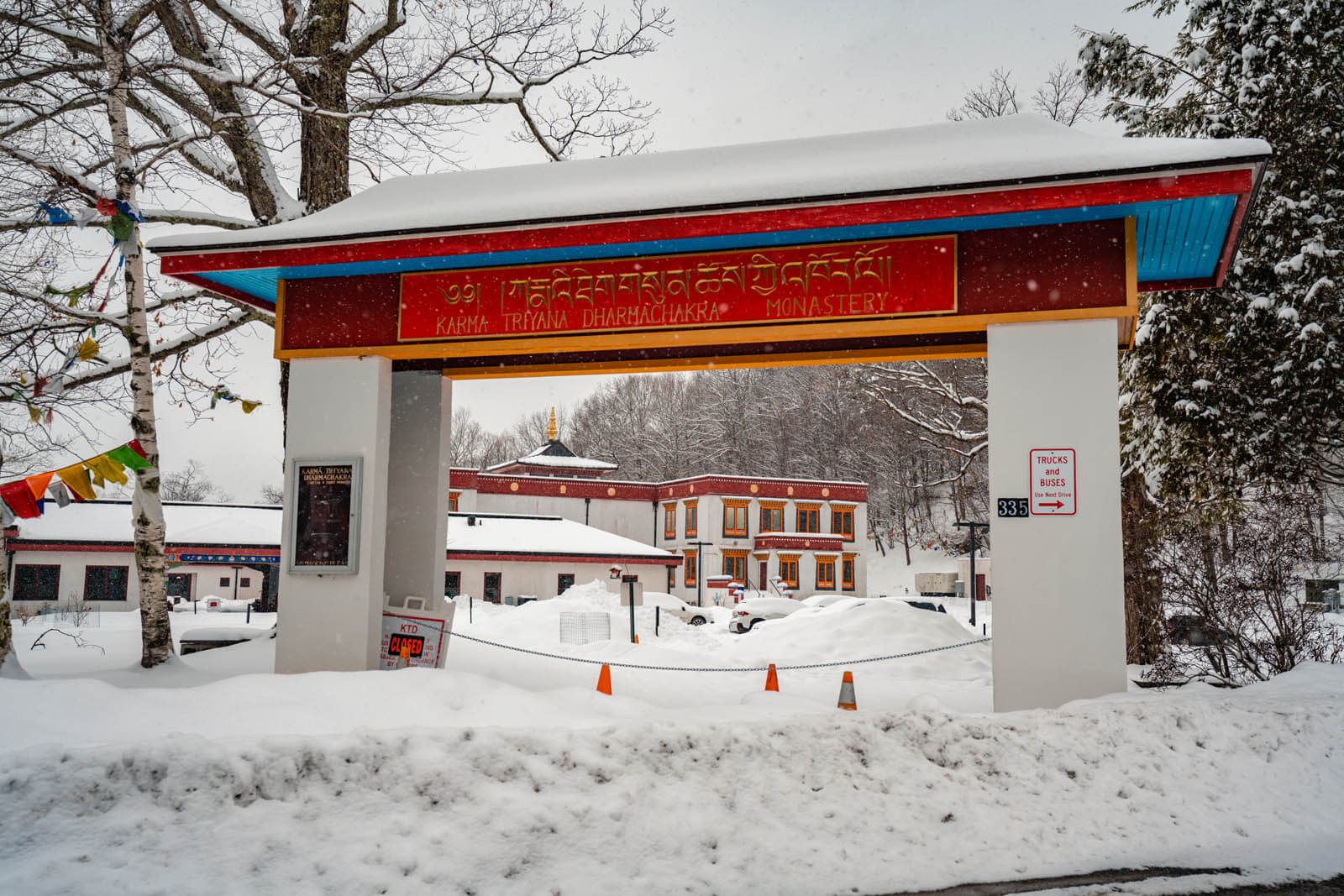 Take in scenic views of New York in winter by going snowshoeing along the Ashokan Rail Trail. You'll find it a few miles south of Woodstock in West Hurley near parking on 28A. "Ooh" and "aah" over snow mounds and the glassy Ashokan Reserve as you enjoy this easy, defined path.
When in Woodstock, don't miss out on the amazing shopping and food culture! Tinker Street is lined with a smattering of Arts & Crafts style houses, each with their own personality and purpose. You'll find gift shops, thrifted clothes, bakeries, bookstores, and more. You can also warm up from your travels with some amazing soup or a good brew at one of the many restaurants and bars in town.
Woodstock is also famously known for its Tibetan Buddhist Monastery in town! Karma Tryana Dharmachakra (KTD) is just north of town. KTD is the North American seat of His Holiness the 17th Gyalwang Karmapa, and it's a spiritual experience to visit. The grounds of the monastery are beautiful, especially in the snowy winter, but you can take tours on the weekend, too.
Where to Stay
A visit to Woodstock goes hand in hand with a stay at the Hotel Dylan. You'll love this boutique hotel with beautiful, bohemian rooms, each named after a music artist associated with Woodstock Music Festival! Enjoy laid-back amenities like a pool, game room, fire pits, and more. There's even a hard cider tasting room!
Hudson
On one hand, the town of Hudson is a sleepy, 250-years-old town on the banks of the Hudson River packed with historic buildings. On the other hand, it's experiencing a new wave of popularity with visitors to its historic Warren Street. There you can find trendy restaurants, beautifully restored buildings, art galleries, and boutique inns. It's also a great gateway to excellent outdoor winter activities.
Things to do in Hudson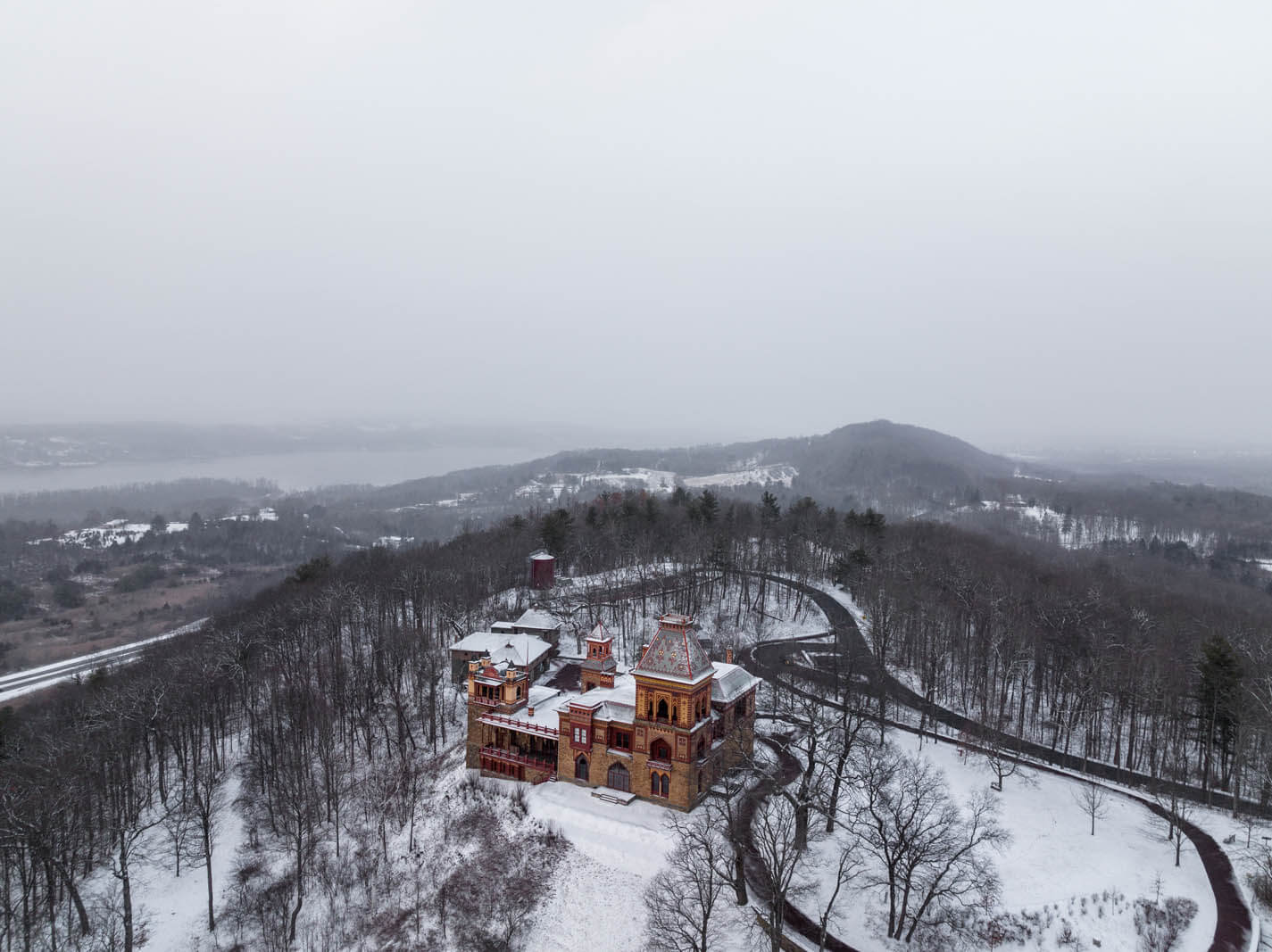 Hudson ended up being one of our favorite Hudson Valley towns we've ever visited that's especially dreamy in winter. There are plenty of cool things to do in Hudson to plan an entire weekend around.
There's a stunning mansion near Hudson that was the home and studio of the American painter, Frederic Edwin Church. The 19th-century Olana State Historic Site also includes 250 acres of forests on a hill overlooking the Hudson River. The grounds include miles of paved carriage roads that are great for snowshoeing! While tours of the house cost a fee, access to the estate grounds are free and open to the public as a park.
Literally sitting on the border of New York and the Berkshires in Massachusetts is Catamount Ski Resort. It's a modest ski area with a variety of trails, lifts, and a brand-new lodge. You can enjoy nighttime access to several trails and 2 terrain parks for a fun time! There's snow tubing, and you sign up for alpine racing competitions. Plus, at Catamount, you have the option to rent a variety of ski and snowboarding gear.
Where to Stay
Book an elegant B&B in Hudson for one of your winter getaways in Upstate New York. We recommend the beautiful Batterby House, a large Victorian-era house designed with amazing taste! Each of the 21 rooms shines with top-notch interior design and luxurious details like designer toiletries and flax and cotton linens. At Batterby House, you're minutes from bustling Warren Street, within walking distance from all the things to do in Hudson.
Or, if you want something a little more intimate about 20 minutes away, you can stay in one of the adorable cabins at Gather Greene. This is where we stayed during our winter weekend getaway, which is a great base for exploring around.
They have such a cool little retreat overlooking the Catskill Mountains from their hillside tiny cabins. These thoughtfully designed cabins may seem small, but they have the perfect nooks and crannies to tuck away your luggage and you can wake up to an incredible view!
The cabins do not have wifi or tvs, but we found ourselves spending hours playing board games! It's a really cool stay and we both enjoyed the time to connect without screens!
Chautauqua Lake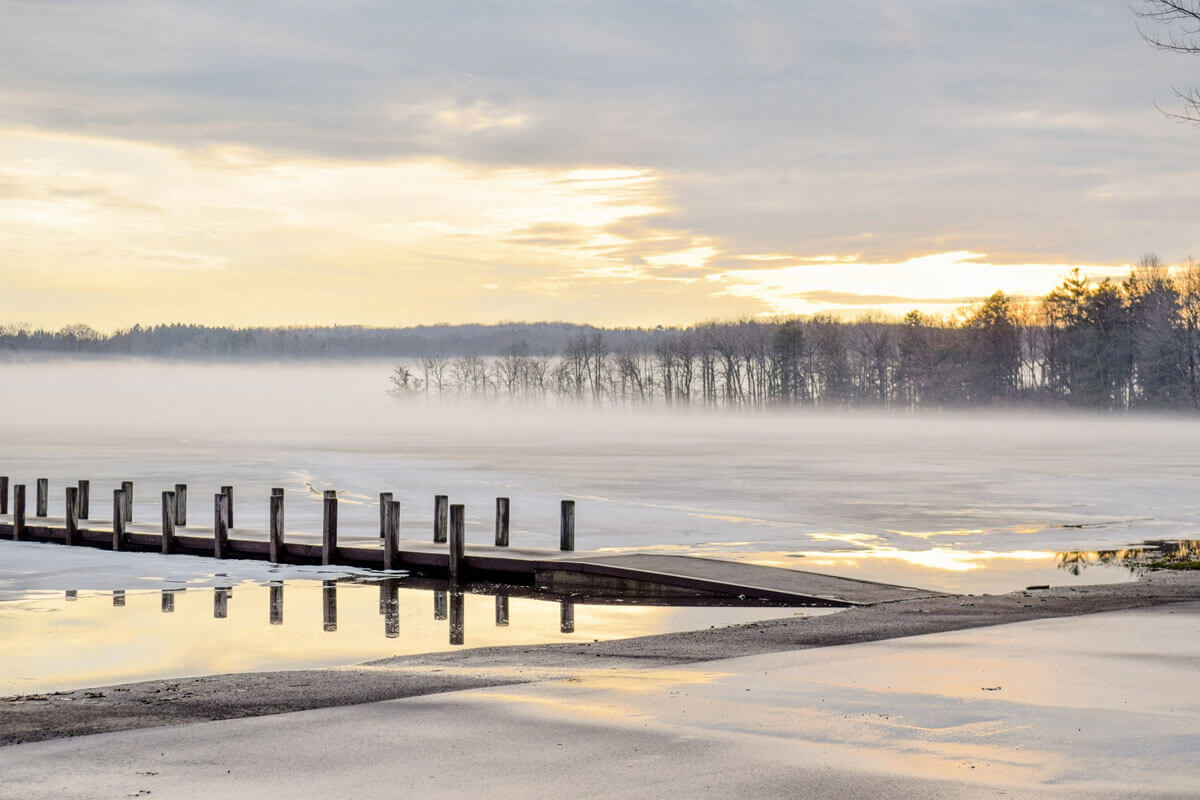 So I might get in trouble with including in this in the best places to visit in Upstate New York in winter because it's technically western New York. But, as a child that grew up in Ohio, we always went to Chautauqua Lake in the winter for snowmobiling and I decided to throw it in the mix.
When it snows, the entire coastline around Chautauqua Lake turns into one of those Christmas villages, with colorful Victorian homes covered in snow! You'll see people ice skating on the lake and the coastline is often busy with winter festivals. This is one of those Hallmark-feeling winter destinations, and I had to privilege of going here frequently in the winters as a child for the snowmobiling scene!
You can see why Chautauqua Lake has been one of the top summer destinations for lake activities since the early 20th century. In the winter, it still holds all its charm, but you can benefit from fewer crowds and more locals, plus plenty of outdoor winter activities from ice castles to one of the top snowmobiling destinations in the Northeast!
Things to do at Chautauqua Lake
For more fun winter activities in New York, Chautauqua Lake's got you covered. Snowmobiling and ice skating are popular past times around the entire lake. You can find snowmobile rentals and trails all over. And on the coldest days of winter, it's magical to ice skate right on Chautauqua Lake.
Eastern New York in winter absolutely freezes over, and you can make the best of it by enjoying all the local things to do, like ice fishing! Chautauqua Lake is one of the top ice fishing destinations, with an abundance of freshwater fish. And your getaway to the lake is the perfect time to try ice wine. It's made of grapes harvested after they've frozen on the vine, and it's a lot sweeter and more concentrated than regular wine!
If you want to ski near the lake, Peek N Peak Ski Resort is a must. This is a beautiful Old English-style lodge with user-friendly trails, cozy rooms, and a spa. And Holiday Valley is another great option with a variety of snow sports like Nordic skiing, or you can rent snowshoes at the lodge and head to the miles of trails around the mountain.
At Chautauqua Lake, there's always something going on in the wintertime! The Mayville Ice Castle Festival is a big one with chili cook-offs, snowmobile rides, and live music. The big event is when you watch the ice castle being built from blocks of ice, and then you can go inside!
Where to Stay
Do yourself a favor and book a stay in Chautauqua Lake at the stunning Athenaeum Hotel. This is an unbelievably beautiful old Victorian mansion set on the Chautauqua Institute, with the perfect location right on the lake. And make sure to book services at the hotel's St Elmo Spa.
Roxbury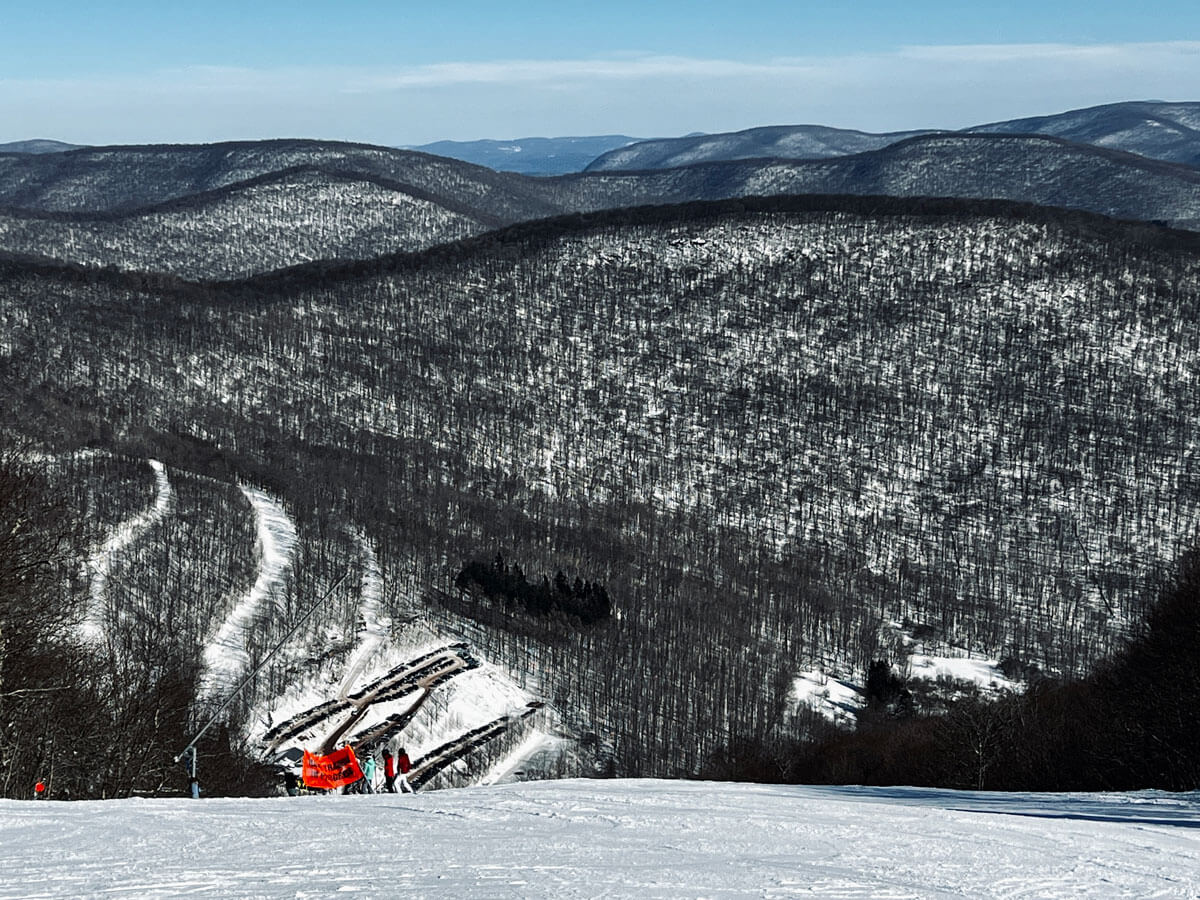 The town of Roxbury is an idyllic Catskills town surrounded by giant rolling mountains. A drive down Main Street is a feast for the eyes with whitewashed churches, schools, and homes that date back to the 19th century. Let time slow down on your winter getaway in Upstate New York with Roxbury as your base as you explore the abundance of old forests and winding creeks all around!
Things to do in Roxbury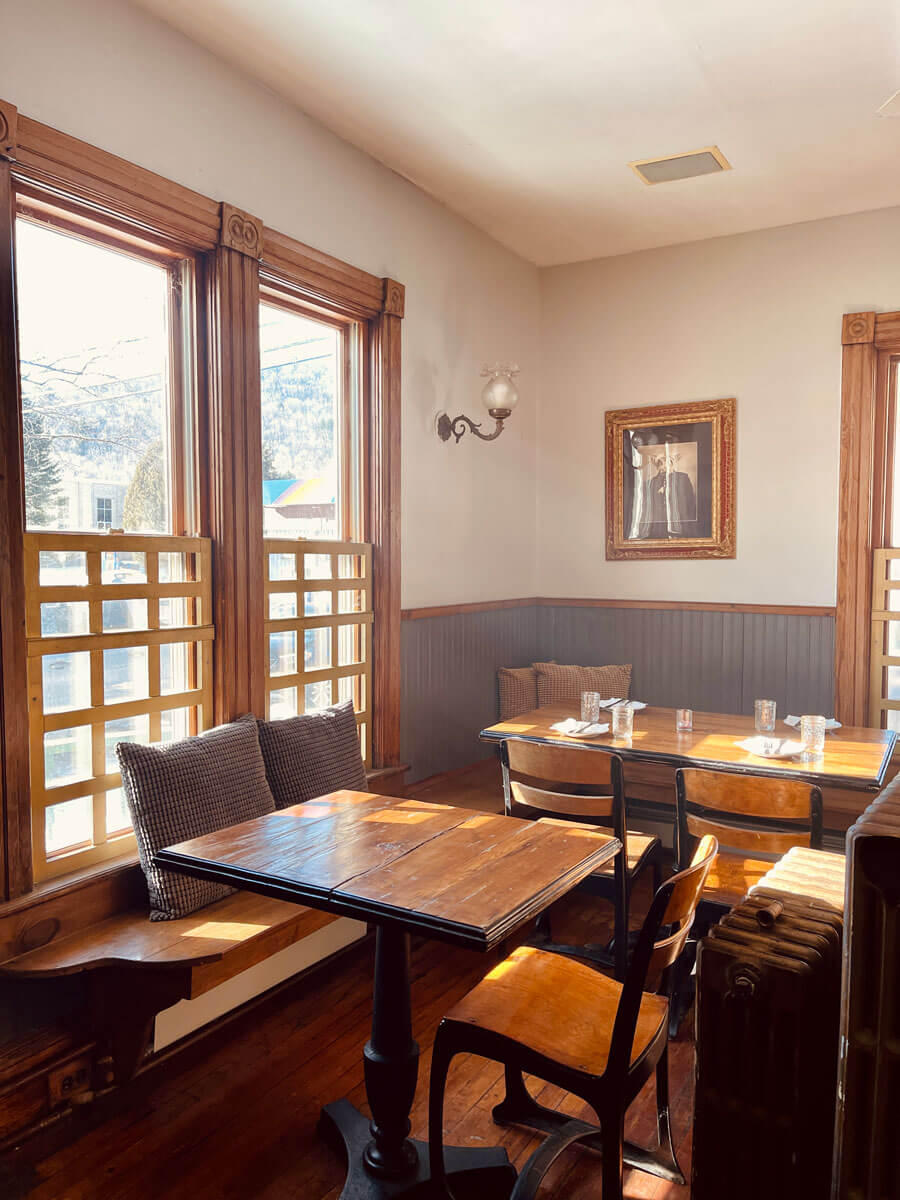 Use Roxbury as your base for thrilling days on the trails of Plattekill Mountain. The ski area is an independent, family-owned operation that runs 35 trails on the 3,500-foot mountain. It's great for beginners and families, but you can also find quality black-diamond and double-black-diamond slopes, reaching up to 2-miles long!
New York in winter also creates the perfect snowy setting for the beautiful historic covered bridges that you'll find in the Catskills, there are at least six in the area including Downsville, Fitches, and Hamden Covered Bridge to name a few. We love going for scenic drives and finding them! Just around Roxbury, you can find 6 within an hour's drive.
Also, head to Trattoria Locale, a quaint and incredible Italian restaurant in Margaretville near Roxbury for an intimate dinner experience to add to your romantic getaway in New York! We also loved dinning at the Fierce Grizzly in downtown Roxbury!
Where to Stay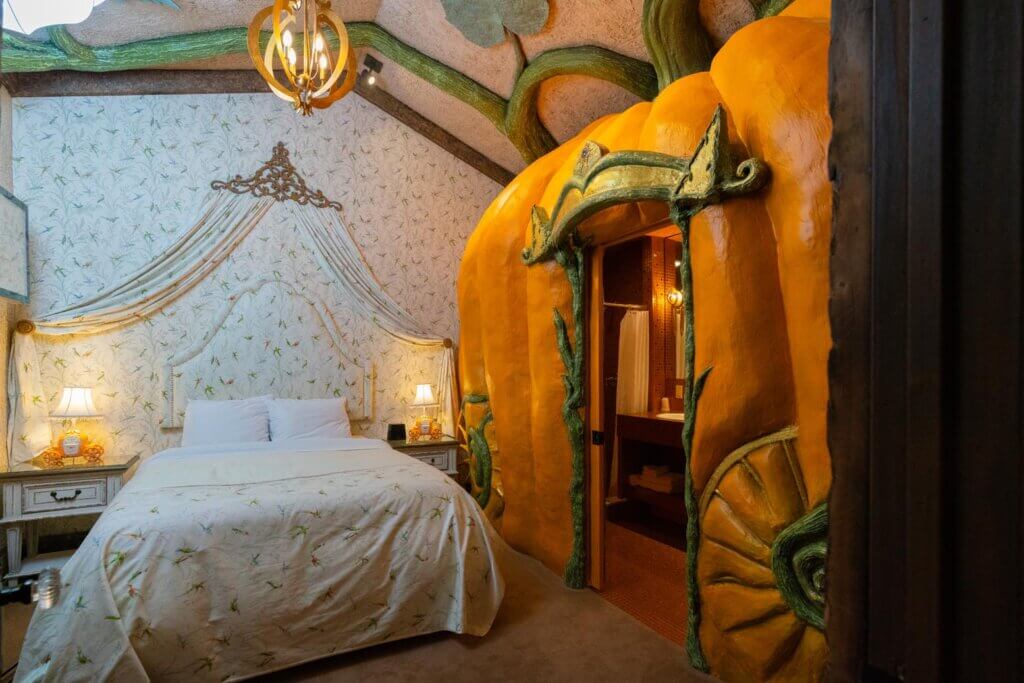 Enjoy cozy digs at a themed hotel when you stay at The Roxbury. There are actually two locations just down the road from one another. Not only are the rooms beautiful, but they're a lot of fun to experience with themes like the Wizard of Oz and Dracula's Fangs.
The cottages at the Stratton Falls location is the spot that has the over-the-top and whimsical themed rooms like Dracula's Fangs and Cinderella's Gown, the two rooms we stayed in.
The Roxbury sites also include great amenities like spas and outdoor activities right outside your door. Oh, and they have their own waterfall on site!
Best Winter Getaways in Upstate New York in Winter (Post Summary):
Lake Placid
Phoenicia
New Paltz
Ithaca
Skaneateles
Geneva
Hunter
Lake George
Woodstock
Hudson
Chautauqua Lake
Roxbury
---
Found this guide to the most romantic winter getaways in Upstate New York helpful? Bookmark for later or share the love below on Pinterest.